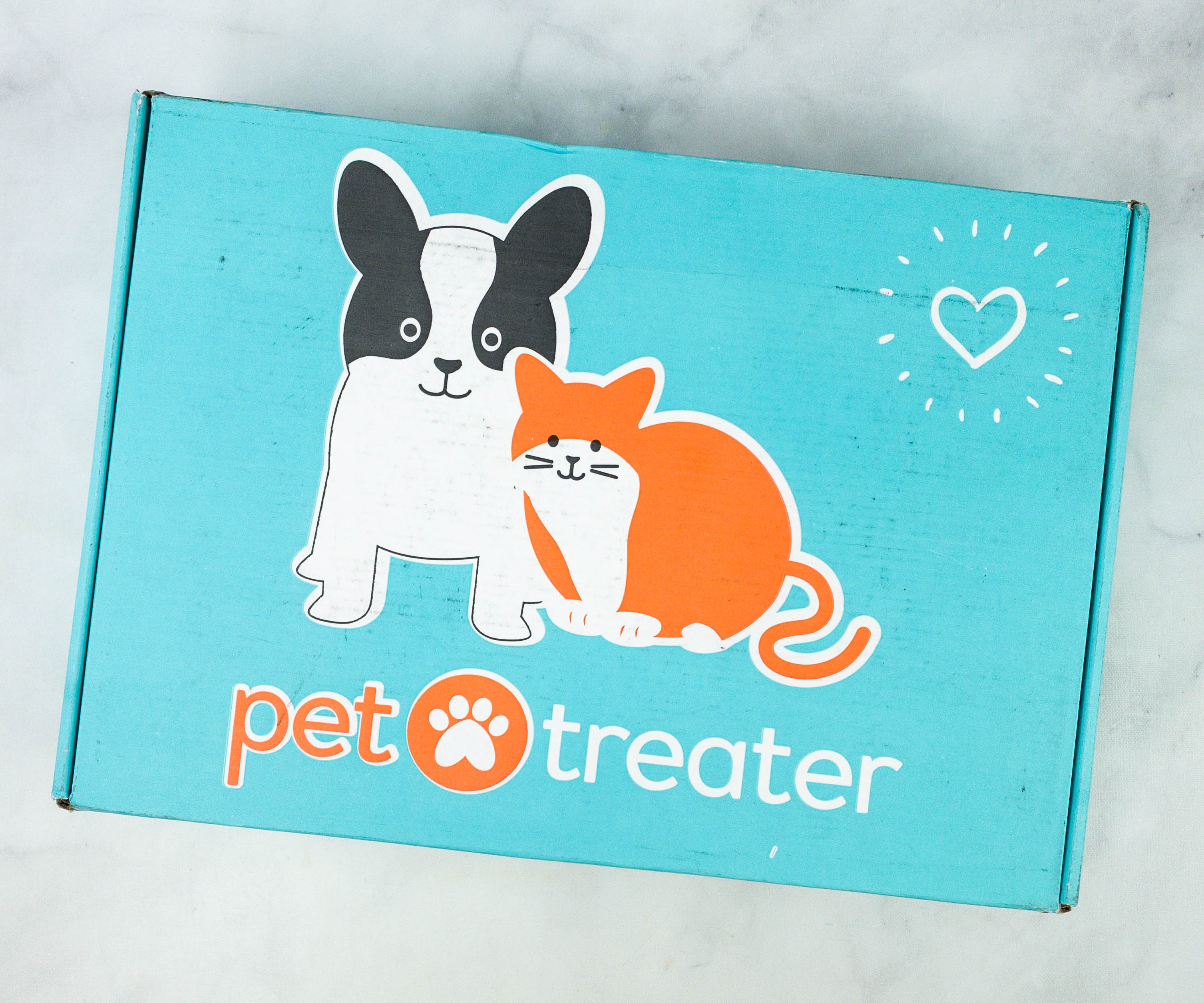 Pet Treater Deluxe Dog Pack is a monthly dog subscription. For $25 a month, each pack is filled with 5-8 hand-selected items which may include fun toys, mostly USA & Canada made treats, and extra goodies! Small, medium, and large dog options are available. They also offer a smaller version for $15 called Pet Treater Dog Pack.
DEAL: Get 10% off your first month with coupon code DOGPACK10.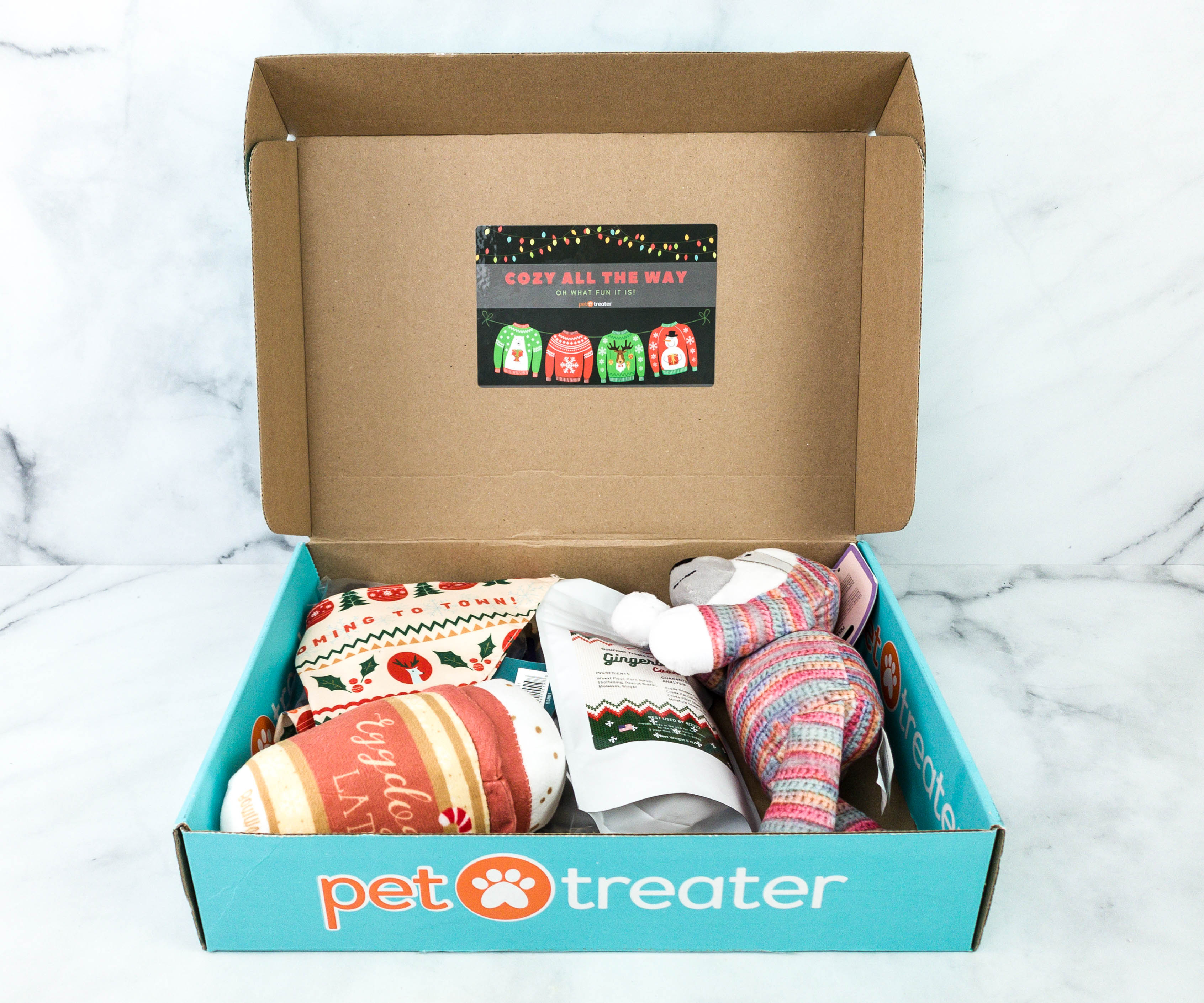 The items came in a sturdy blue box.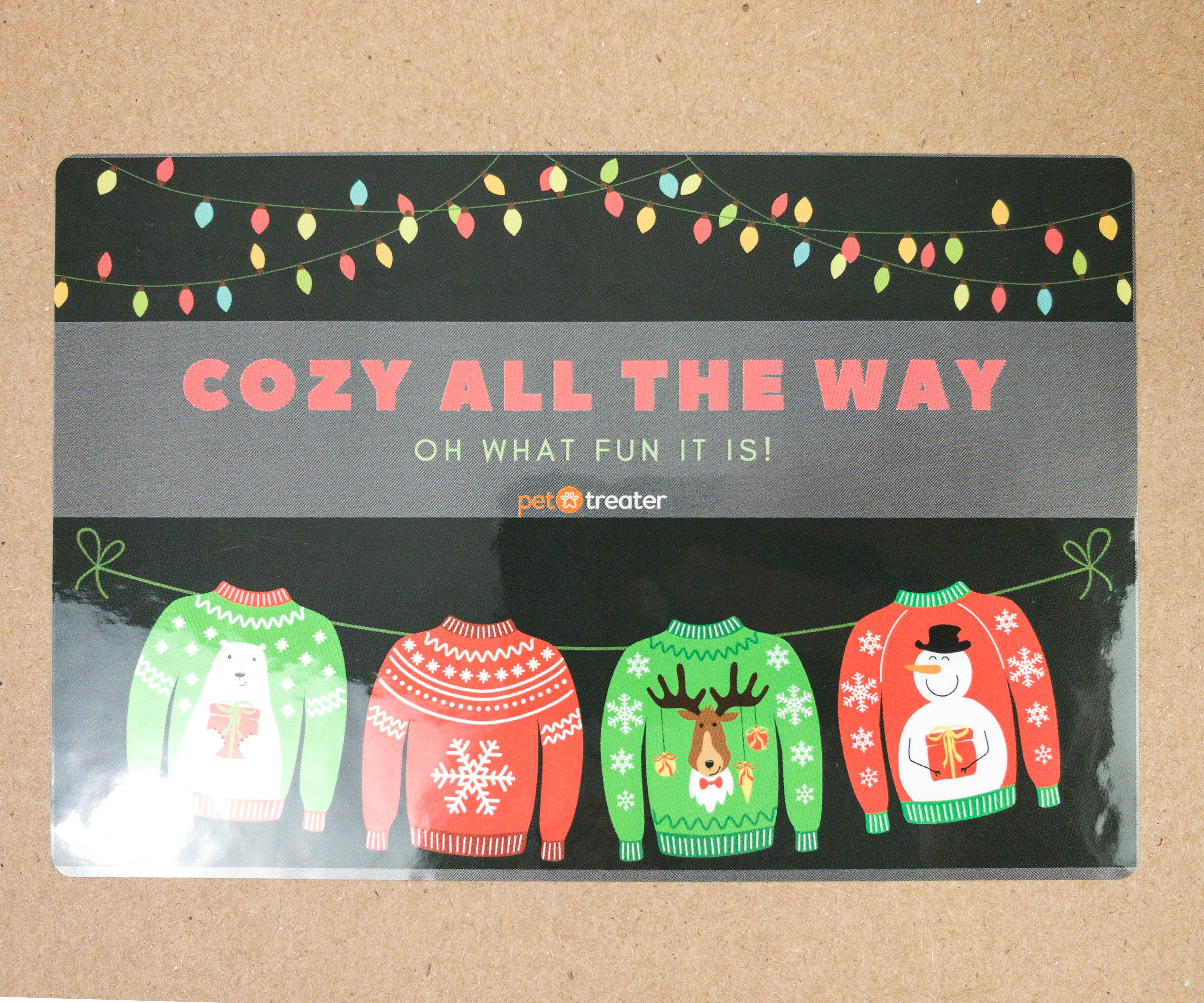 The box's flap comes with a sticker featuring the box's theme. This month's theme is Cozy All The Way!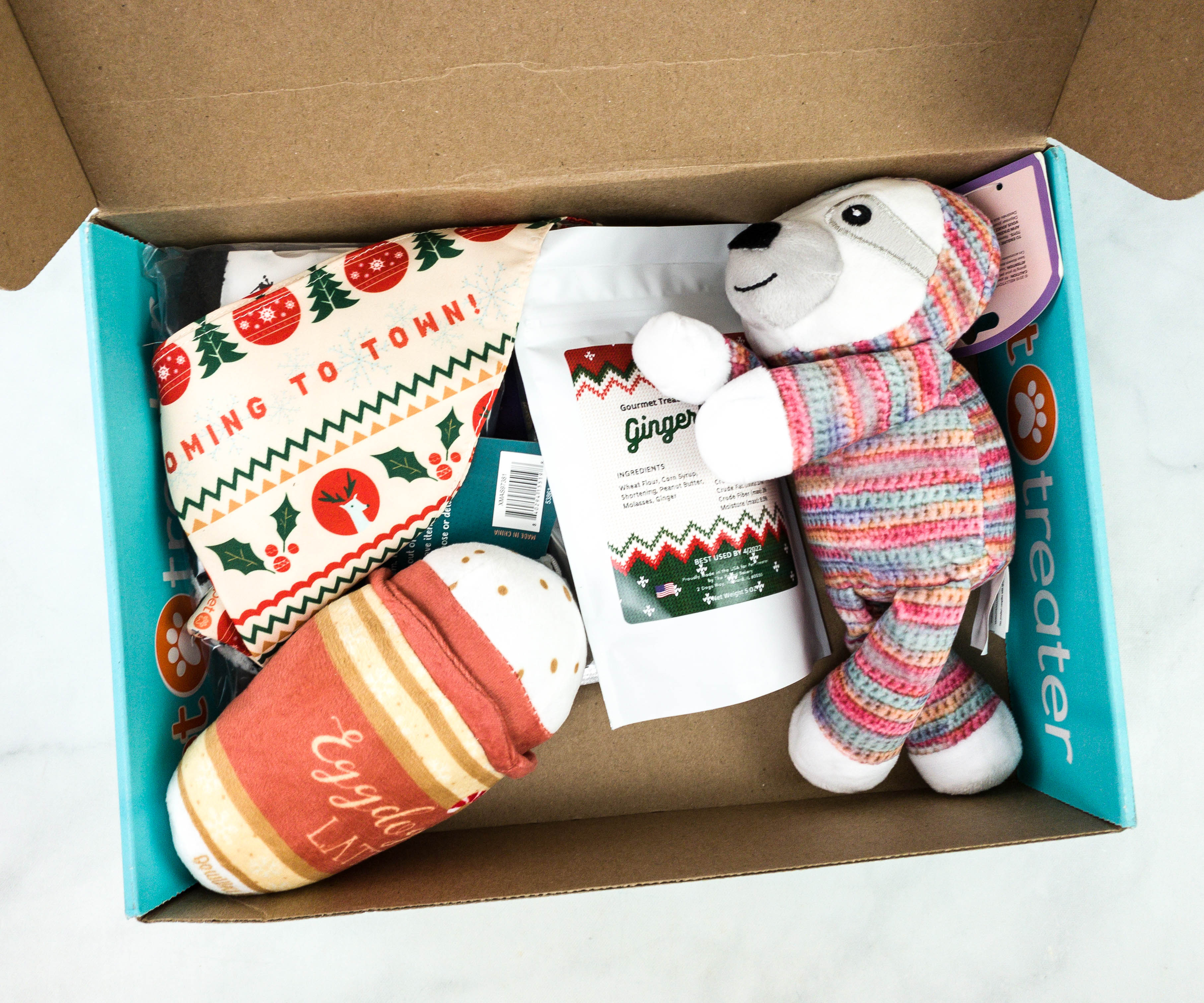 The box doesn't contain any fillers or extra packaging yet the items arrived in perfect condition.
It also includes a greeting card from Pet Treater.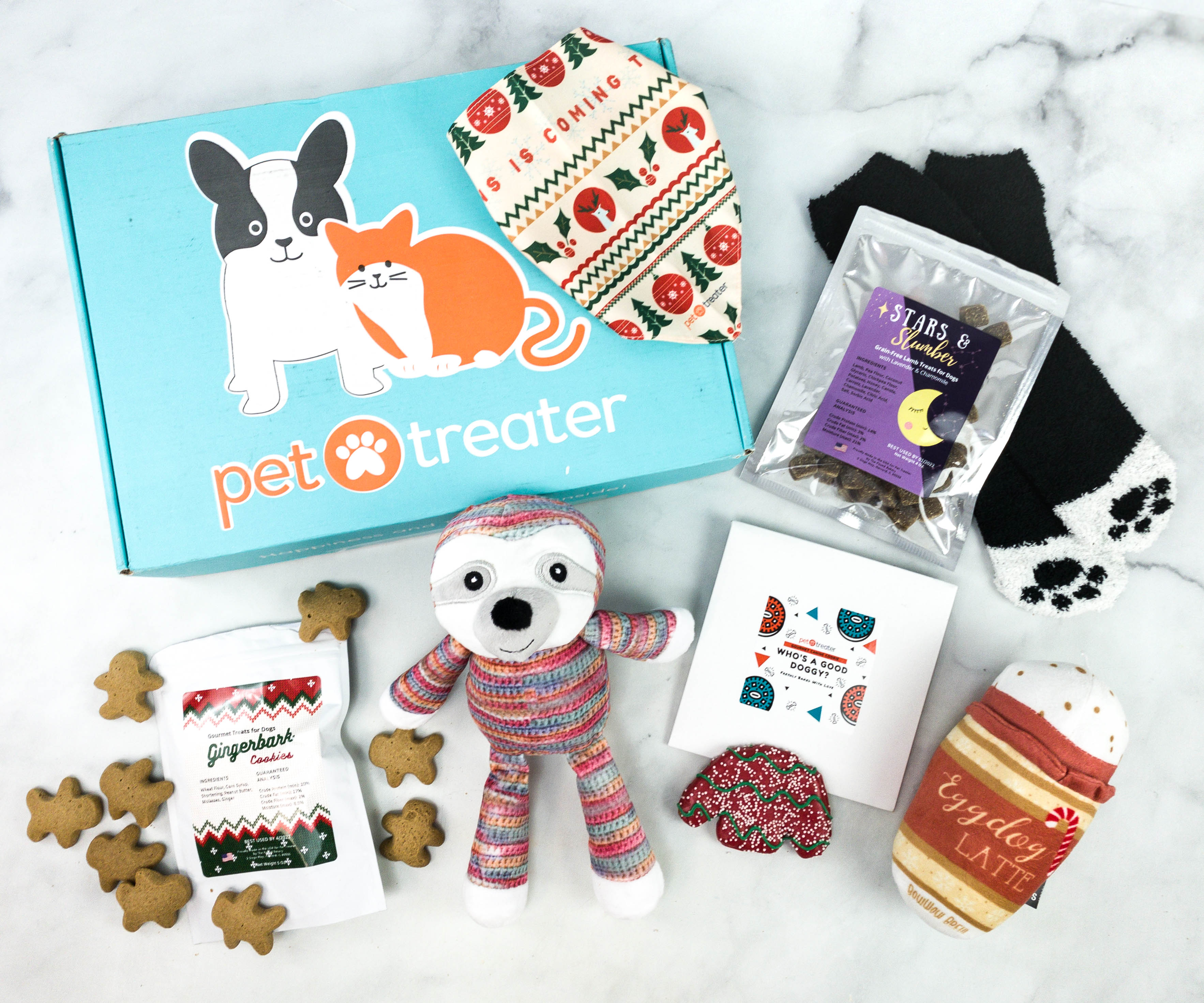 Everything in the December 2020 Deluxe Box!
Bandana. This month's bandana features a colorful and festive Christmas-themed print. It includes Christmas trees, Christmas balls, reindeers, and ornament prints.
As always, the bandana is made with high-quality materials. It's soft and lightweight, keeping pups comfortable!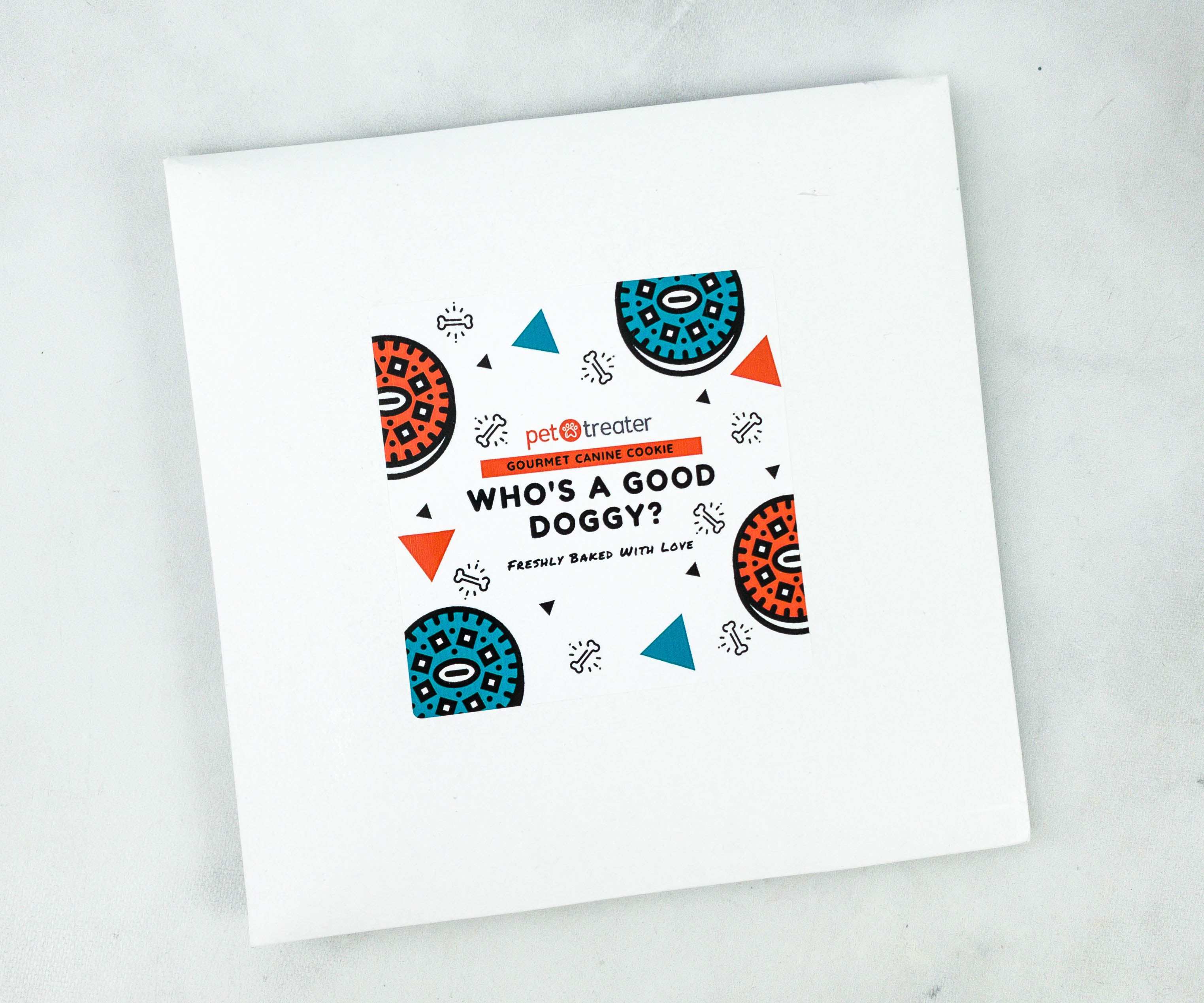 Gourmet Canine Cookie. It's a freshly baked cookie for dogs! This biscuit is made from delicious ingredients that includes a whole wheat flour, oats, canola oil, and honey.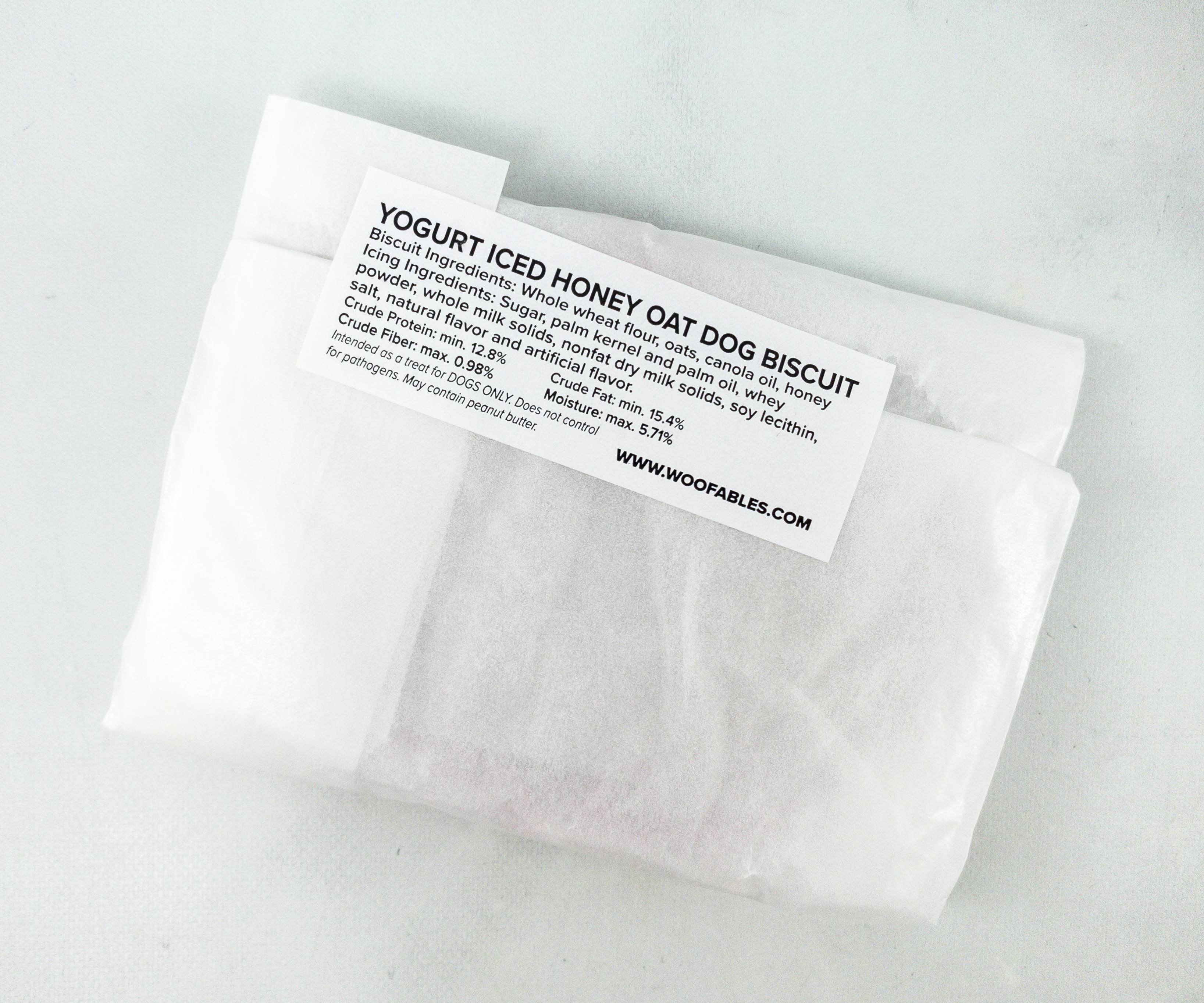 The icing on top is made from sugar, palm kernel and palm oil, whey powder, whole milk solids, non-fat dry milk, soy lecithin with natural and artificial flavorings.
The cookie is shaped like a Christmas sweater. It's also crunchy and chewy! Buffy enjoyed it so much!
Cozy Paw Socks. Here's a bonus item for the fur parents, a cute and cozy pair of socks!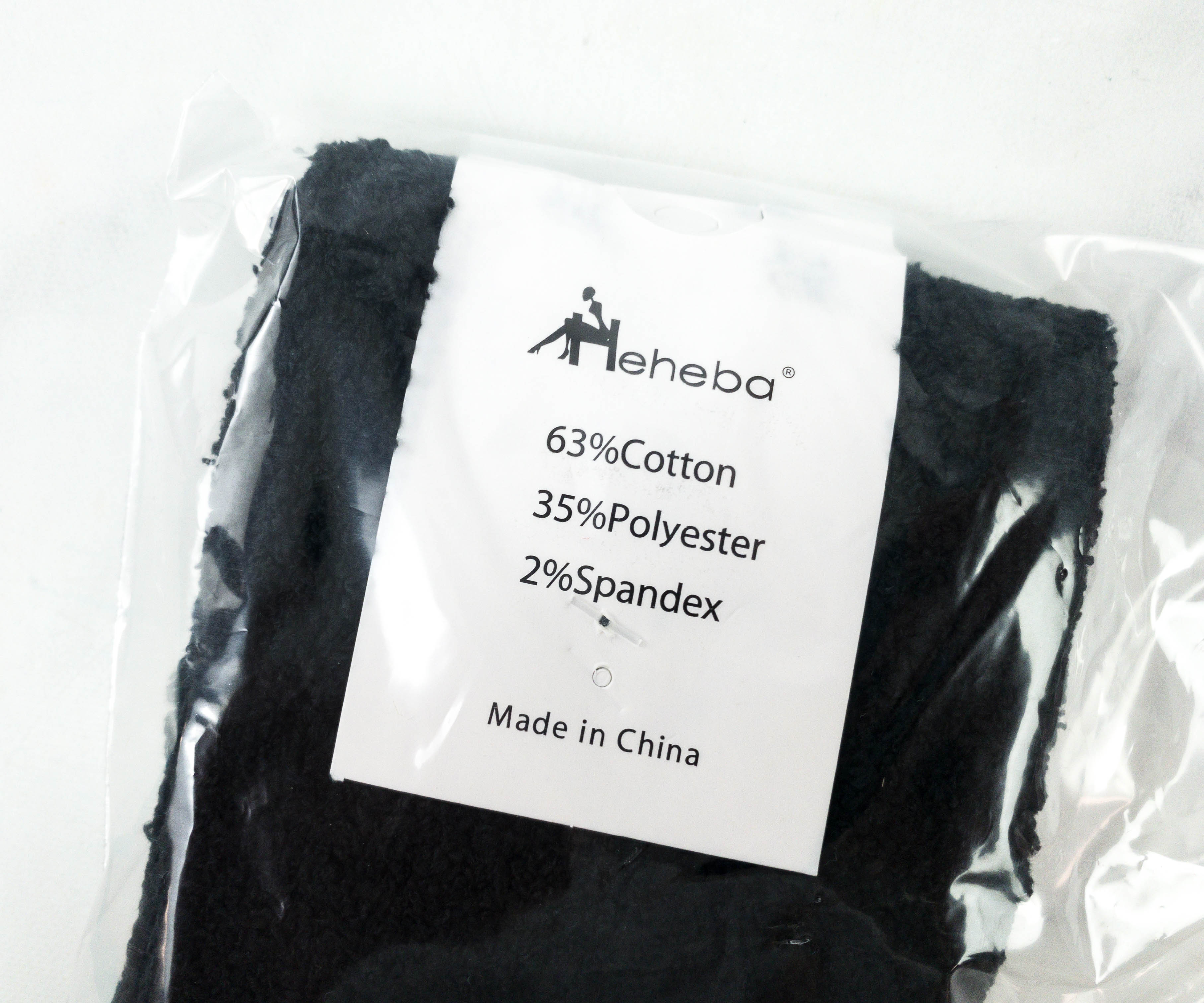 These socks are made from 63% cotton, 35% polyester, and 2% spandex.
The socks have a black base color with a paw design on the toes. They are fuzzy and they help keep my feet warm!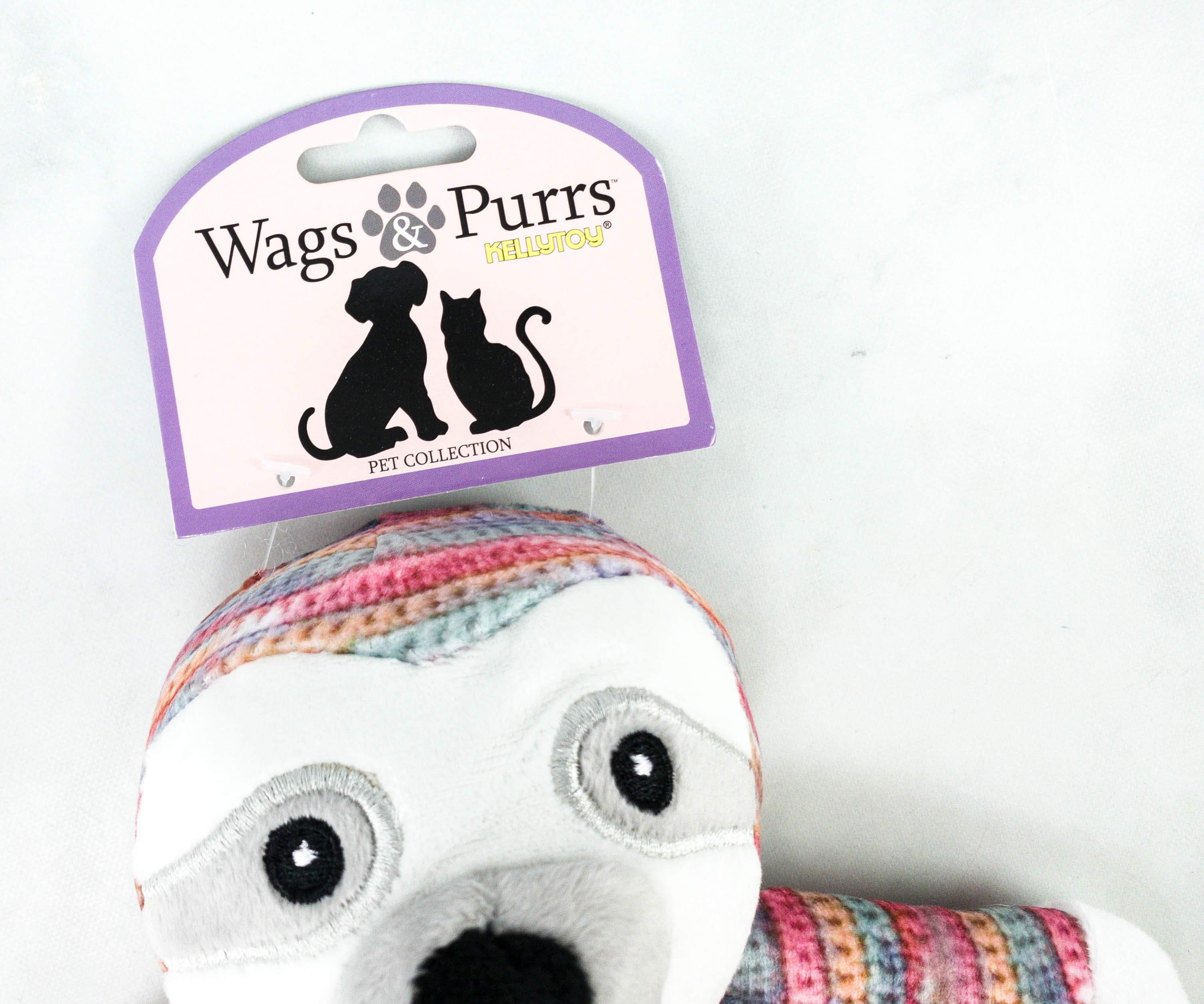 Wags & Purrs Kellytoy Dog Plushie. This month's featured plush toy is a cute and squishy sloth wearing a colorful and cozy sweater!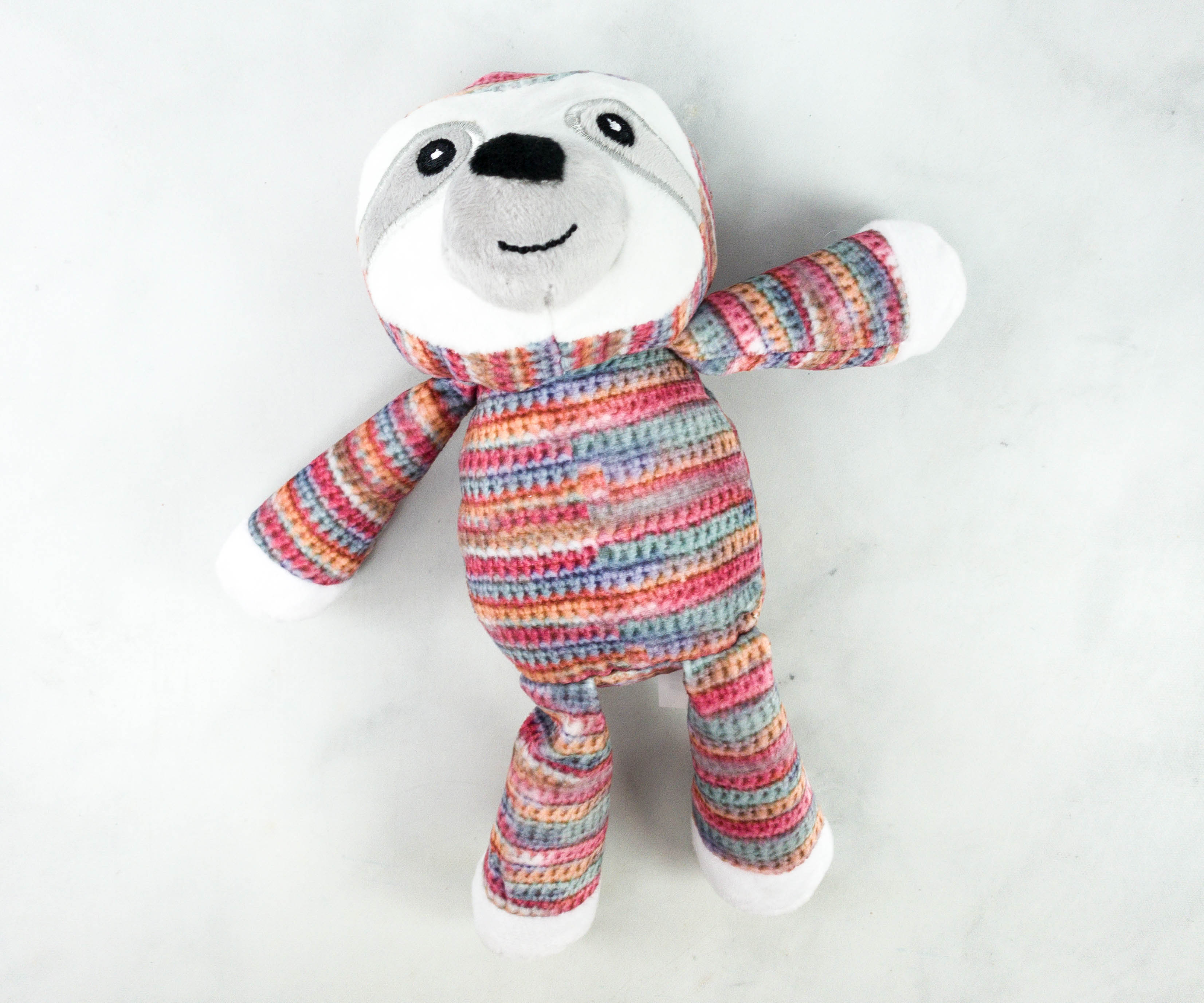 The toy's design is great. The exterior seems like it's knitted, but when you look closer, you'll notice that it's actually printed fabric. It's soft yet durable, and it's puncture-proof as well!
If you turn the toy over, you can see the reinforced stitching on the seams which makes it tougher!
Buffy loves her new toy! I gave it to her and she never let go!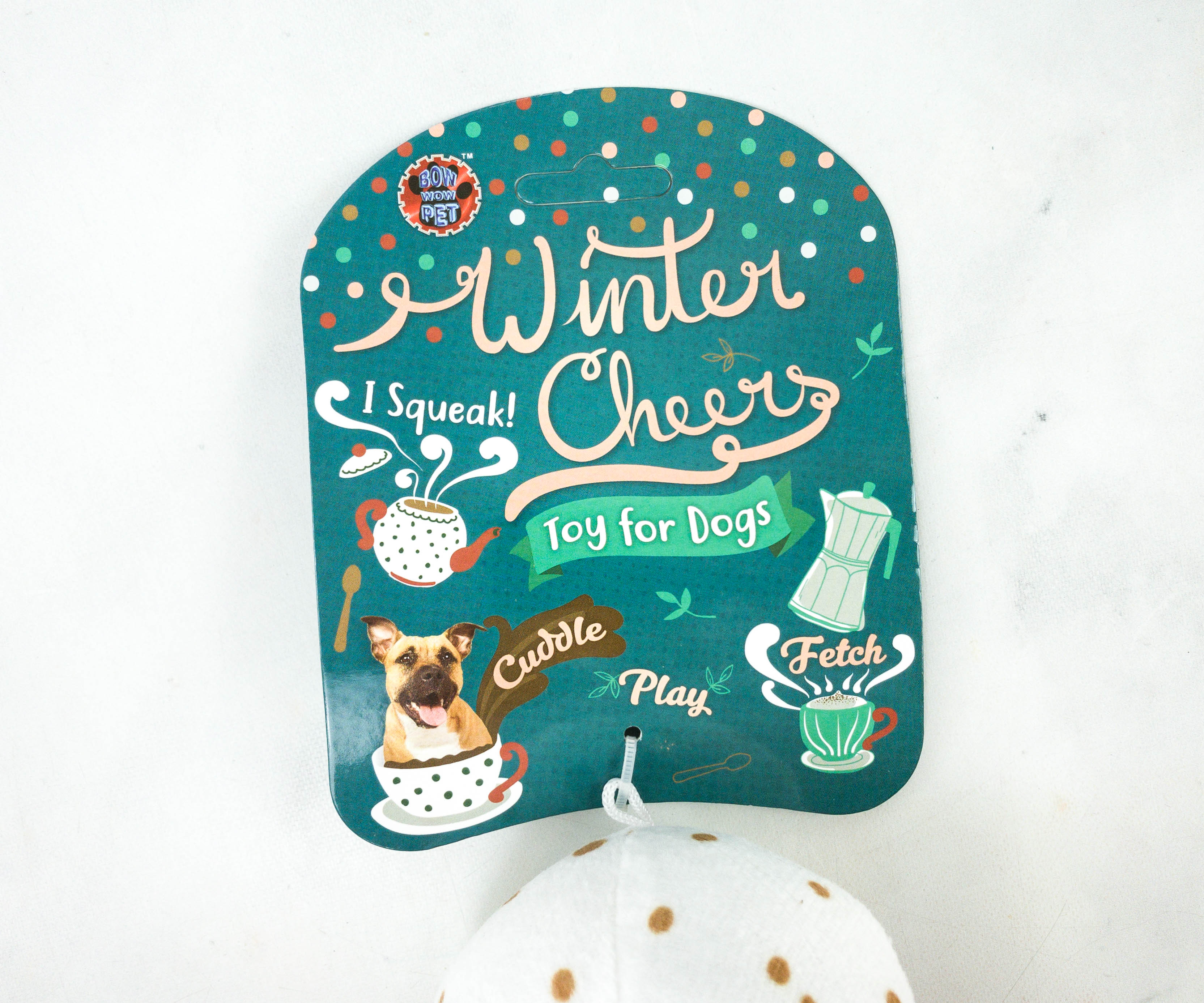 Bow Wow Pet Winter Cheers Dog Toy. Here's another toy in the box, and this time it's a latte squeaker.
This dog toy has a soft and squishy outer layer, plus a durable inner part.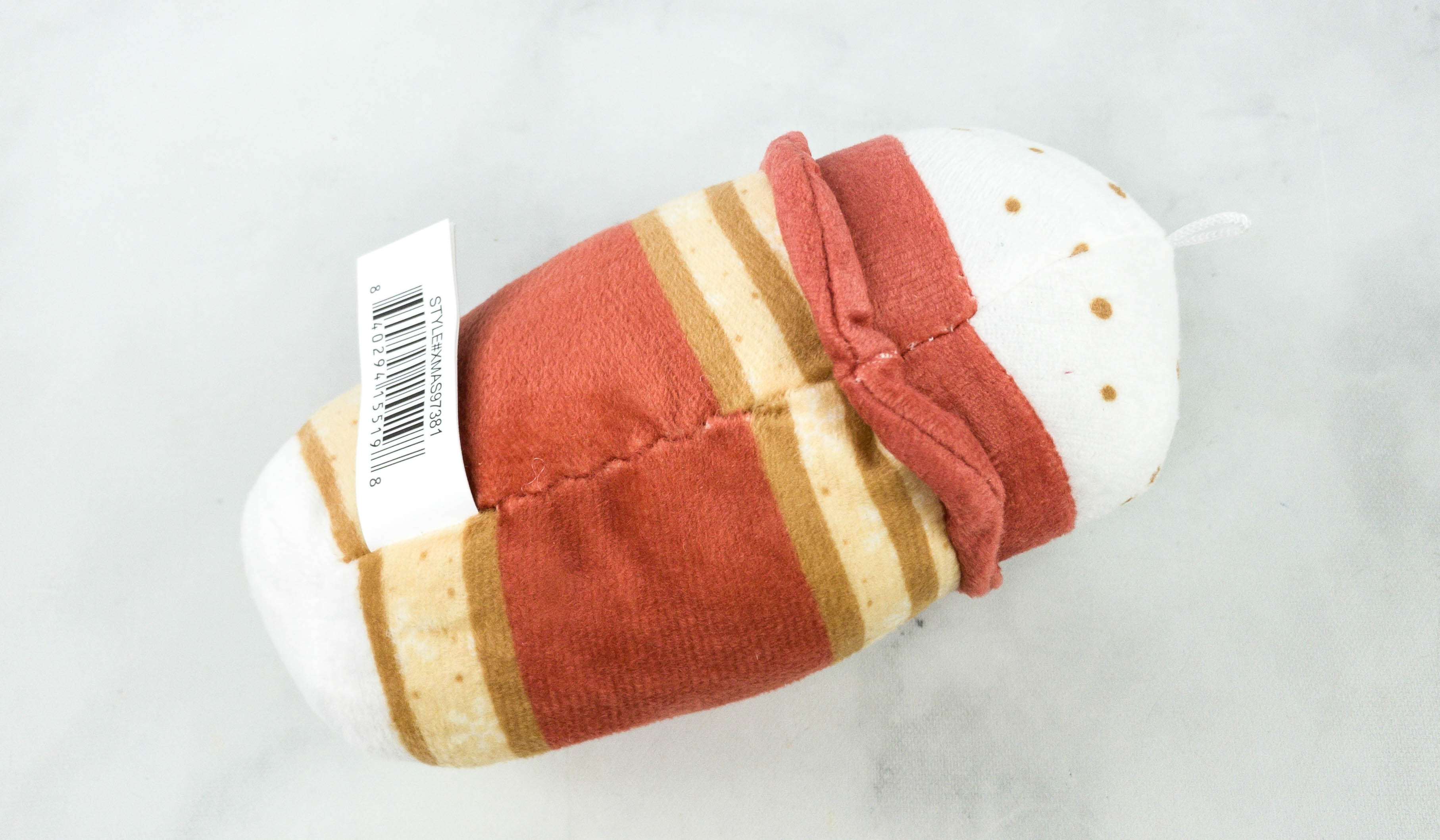 It comes with a built-in squeaker to entertain dogs and a reinforced stitching for added durability. It's tough and bouncy, making it an ideal toy for playing fetch!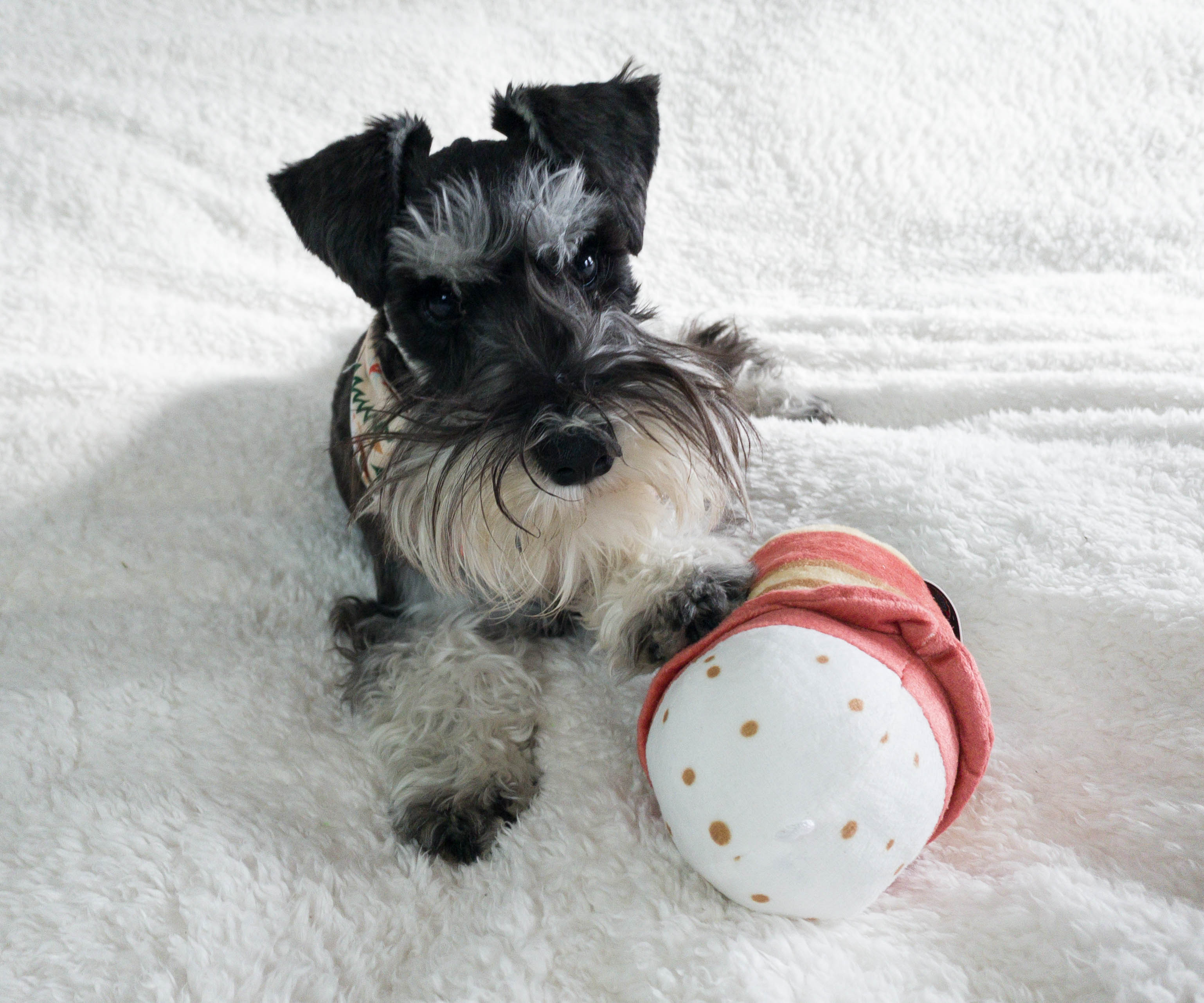 Buffy loves playing with this cute latte toy!
Stars & Slumber Grain-Free Lamb Treats for Dogs. The box also includes 2 bags of dog treats! The first one is made from real lamb, potatoes, honey, carrots, lavender, and chamomile.
The treats are chewy and bite-sized, and since they are infused with lavender and chamomile, they help dogs stay calm and relaxed.
Gingerbark Cookies Dog Treats. The second bag contains gingerbread cookies for dogs. These  are made with wheat flour, corn syrup, shortening, peanut butter, molasses, and ginger.
Inside the bag are bite-sized, gingerbread-shaped treats with soft and chewy texture. It's a nutritious treat packed with protein, fiber, and fat that is perfect for your pup to achieve a healthier stronger body.
This month's holiday-themed Pet Treater Deluxe box was a blast! Buffy had so much fun with the toys, and she also loved munching on the treats. As expected, the toys are durable. They have withstood hours of playtime and so far they are still intact. Meanwhile, the treats contain nutritious ingredients and they are easy to feed to small dogs. Of course, there's also a bandana related to the theme. It can be a good prop for photo ops, or as a regular accessory when you walk them outdoors. This box always finds ways to make pets and pet parents happy! They send only high-quality items, which is exactly what our fur babies deserve!
What do you think of this dog subscription?