Once Upon a Book Club is a subscription that offers a unique reading experience. Each month, you'll receive a book to read, a 5″ x 7″ quote print, along with 2-4 corresponding gifts to match a quote/item mentioned in the book. Readers are advised to open the gifts as they finish the corresponding page to make them feel as if the book is coming to life!
You can choose between Once Upon a Book Club's Young Adult edition and Adult edition. This is the review of the Adult box.
DEAL: Enjoy 10% off your first box. Use coupon code BOOKNERD.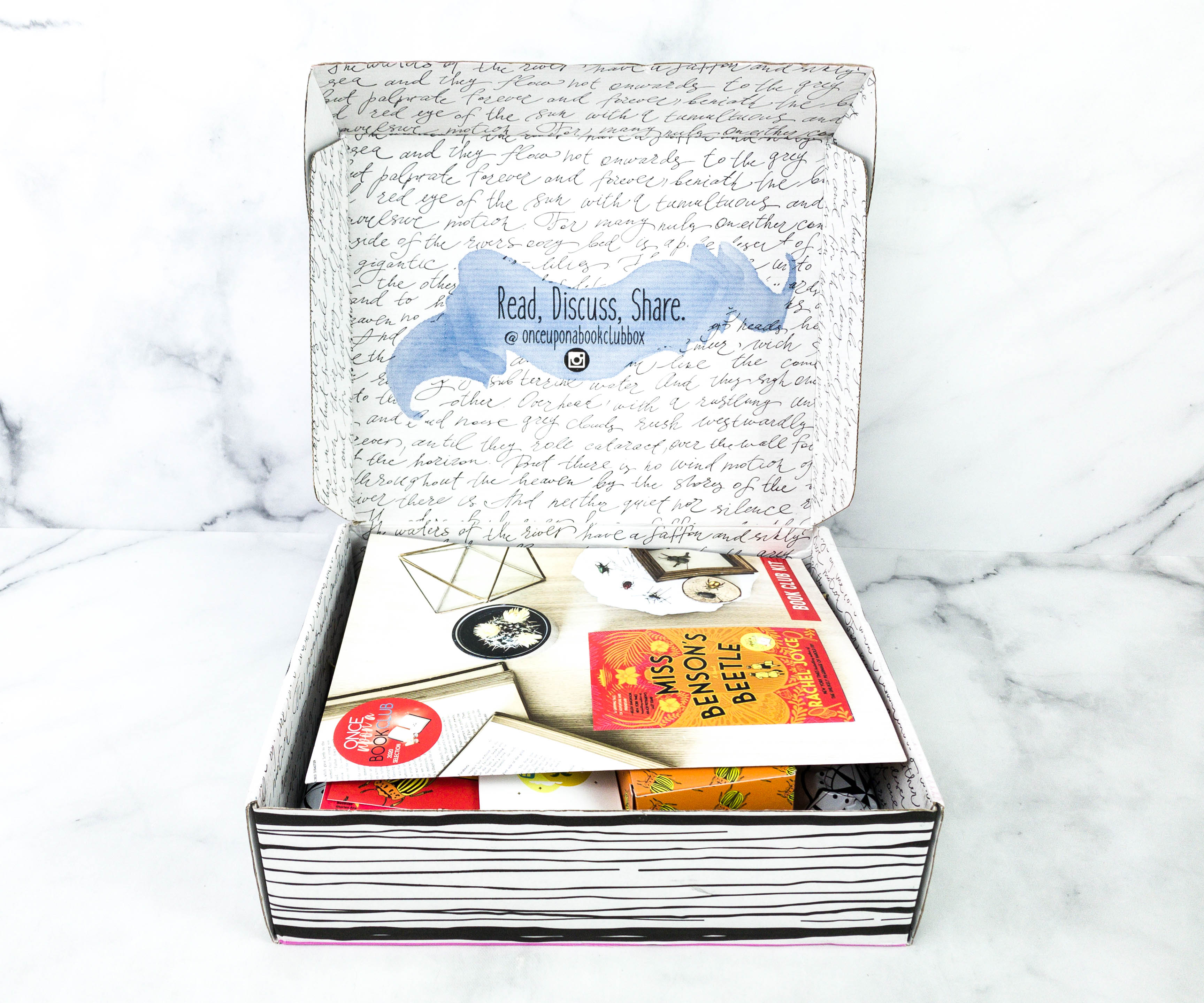 The box interior looks lovely with those words in script.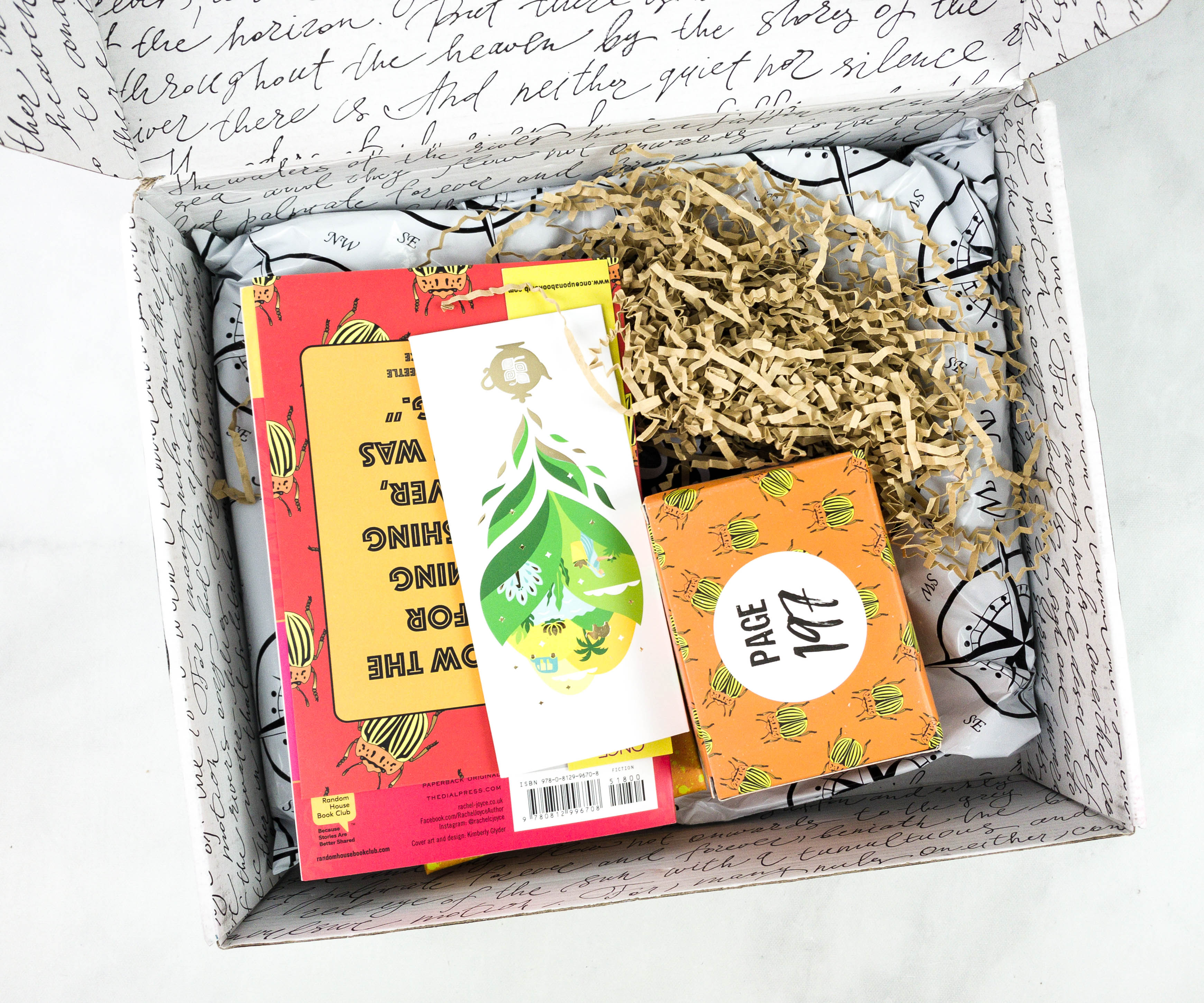 The items were neatly stacked inside the box.
The box includes a Book Club Kit guide.
At the back, there are illustrations of different kinds of beetles!
Inside, there's an Author's Note featuring Rachel Joyce. There are also read along dates and some discussion questions.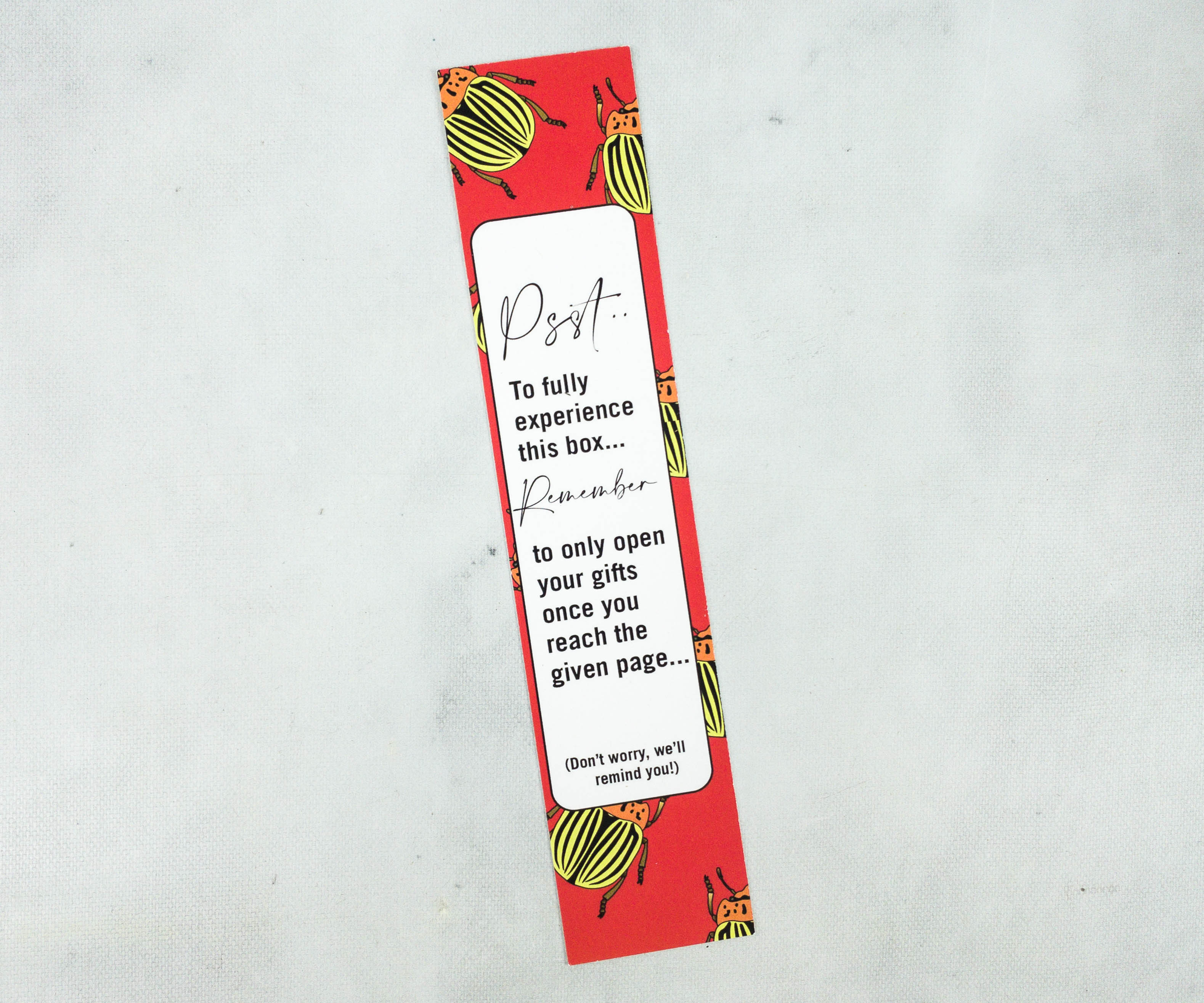 As always, the bookmark reminds us to only open the gifts once we're on the given page.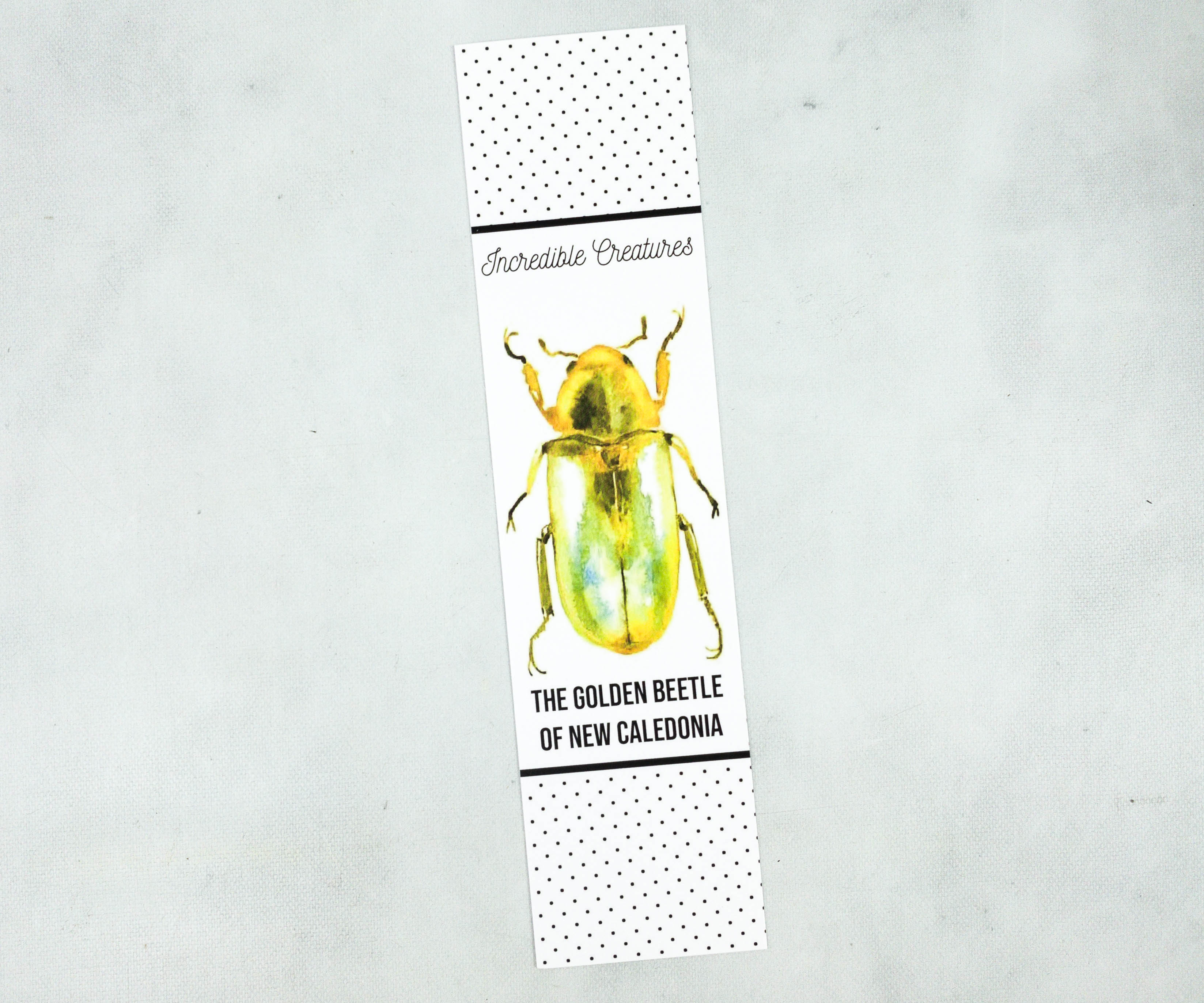 At the back, it features The Golden Beetle of New Caledonia.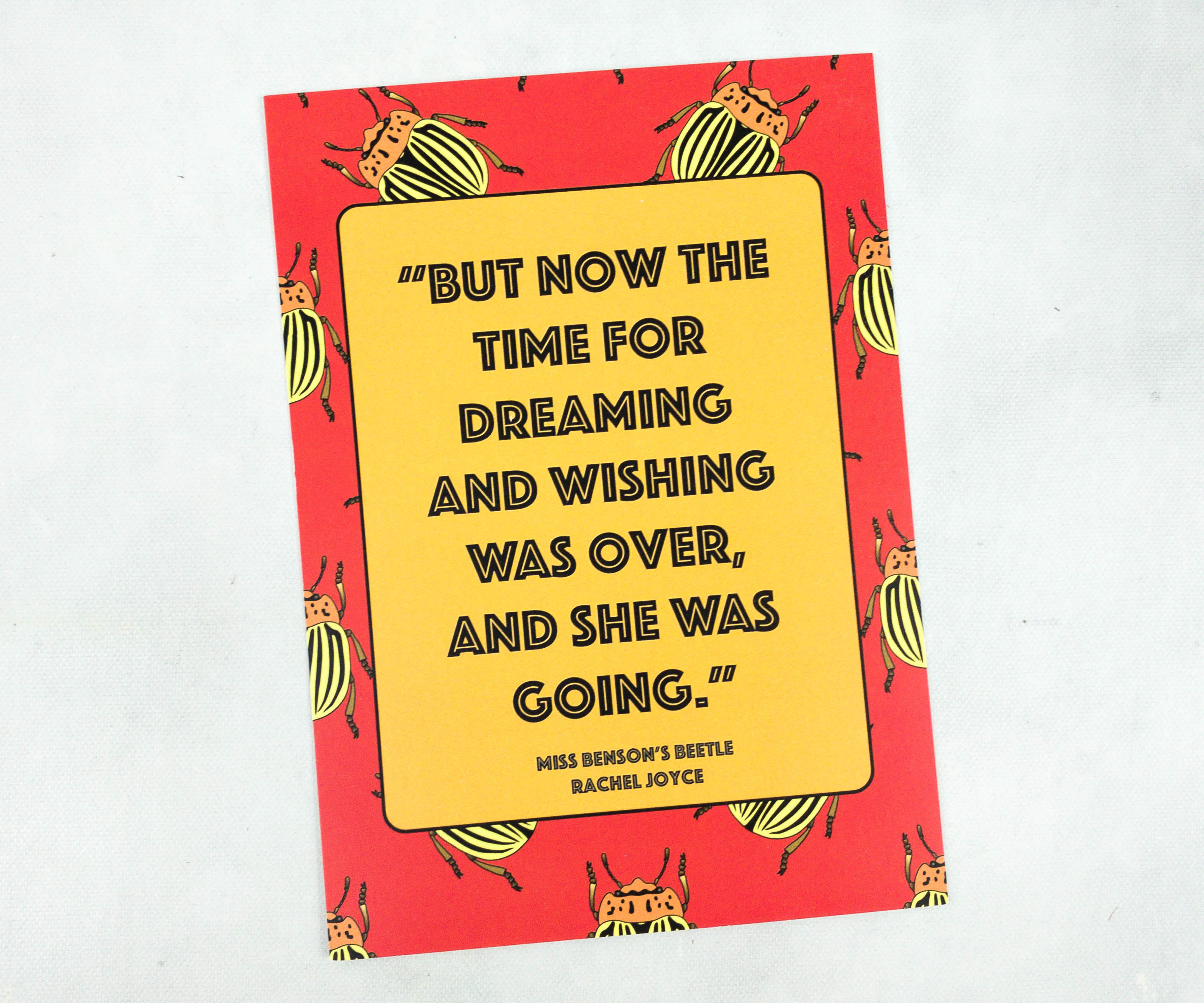 But now the time for dreaming and wishing was over, and she was going.

– Miss Benson's Beetle, Rachel Joyce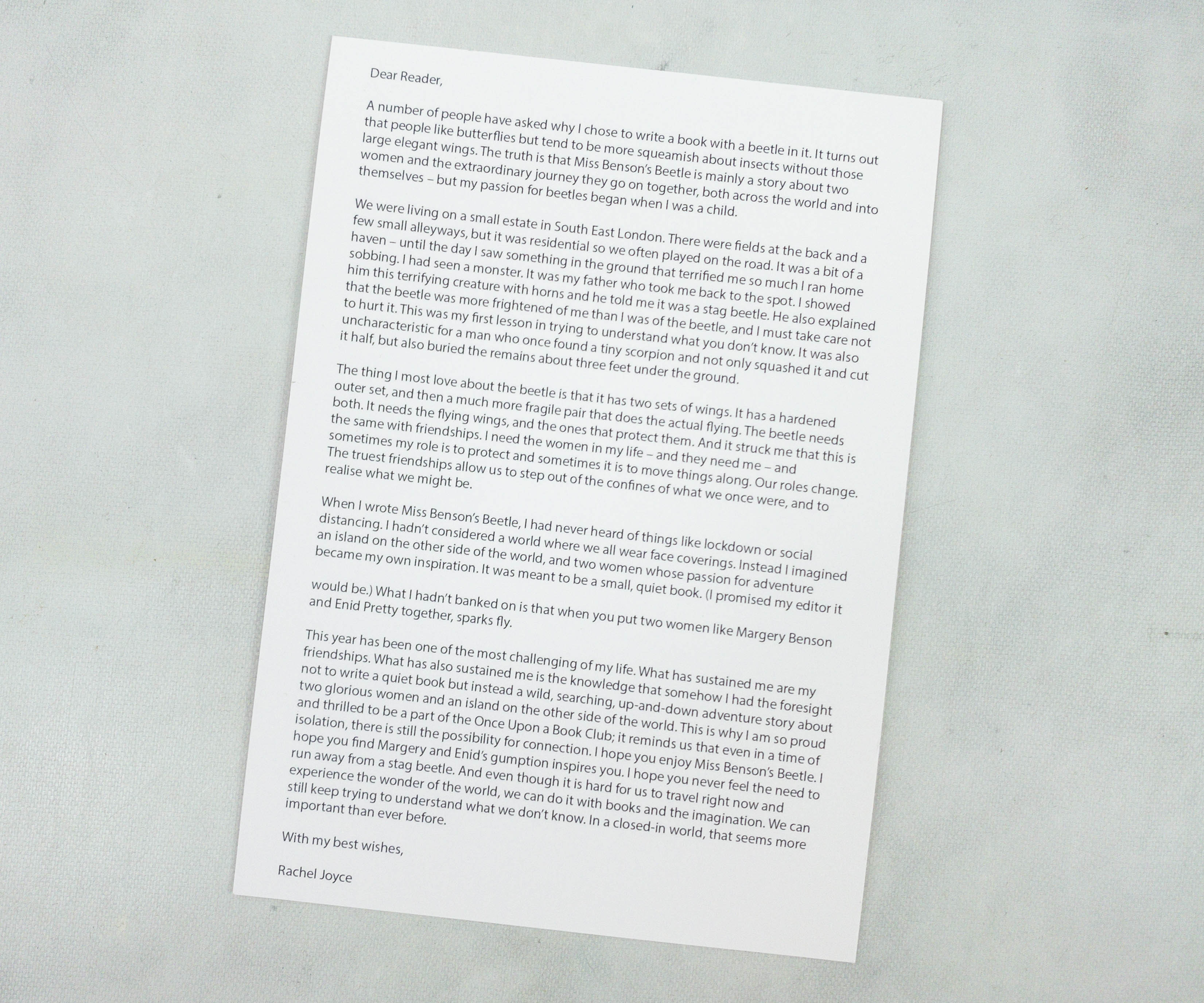 There is a message from the author for the readers.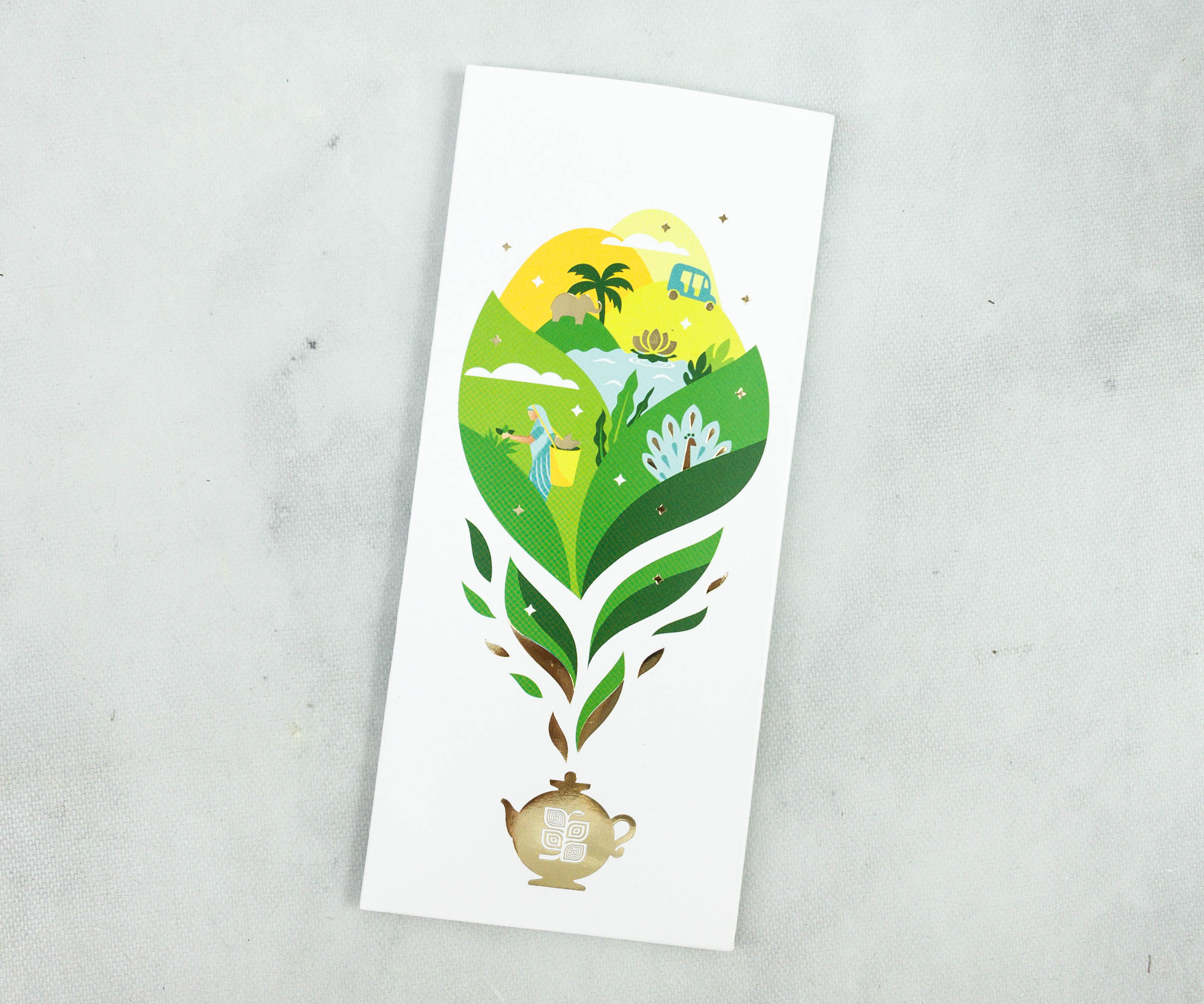 I also received this cute card, which can double as a bookmark.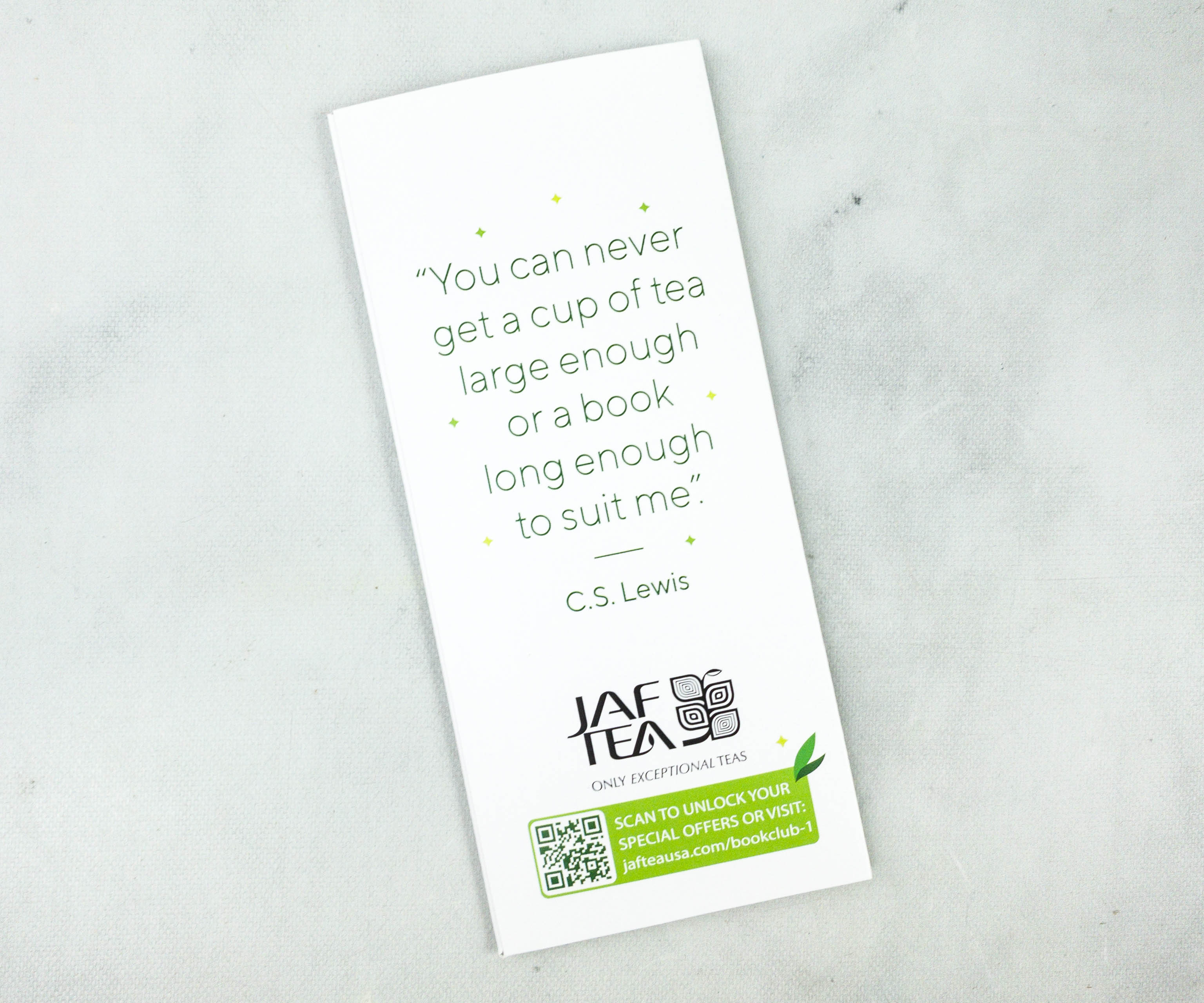 At the back is a QR code that can be scanned to unlock special offers!
I'm excited to open the gifts!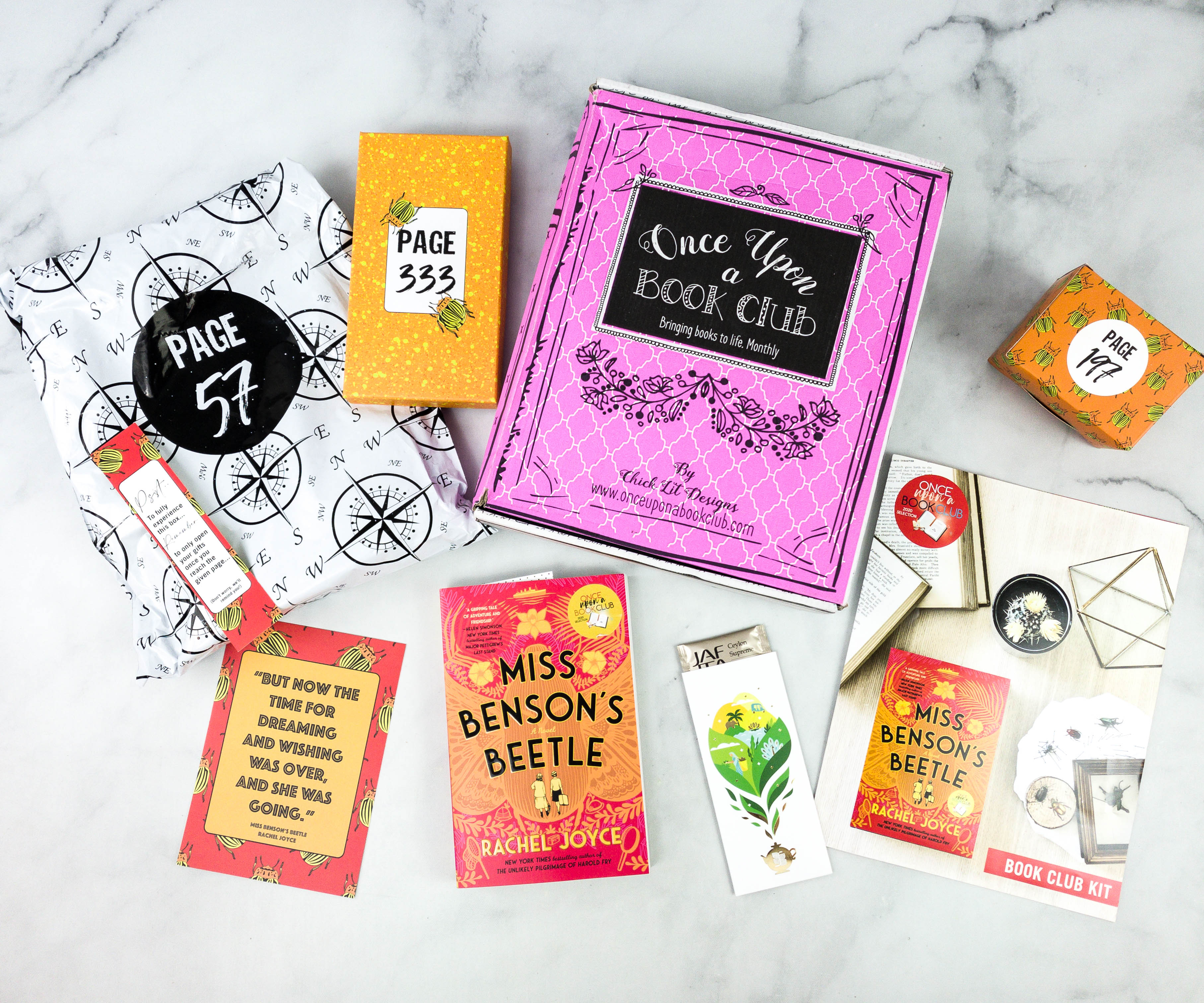 Everything in my box!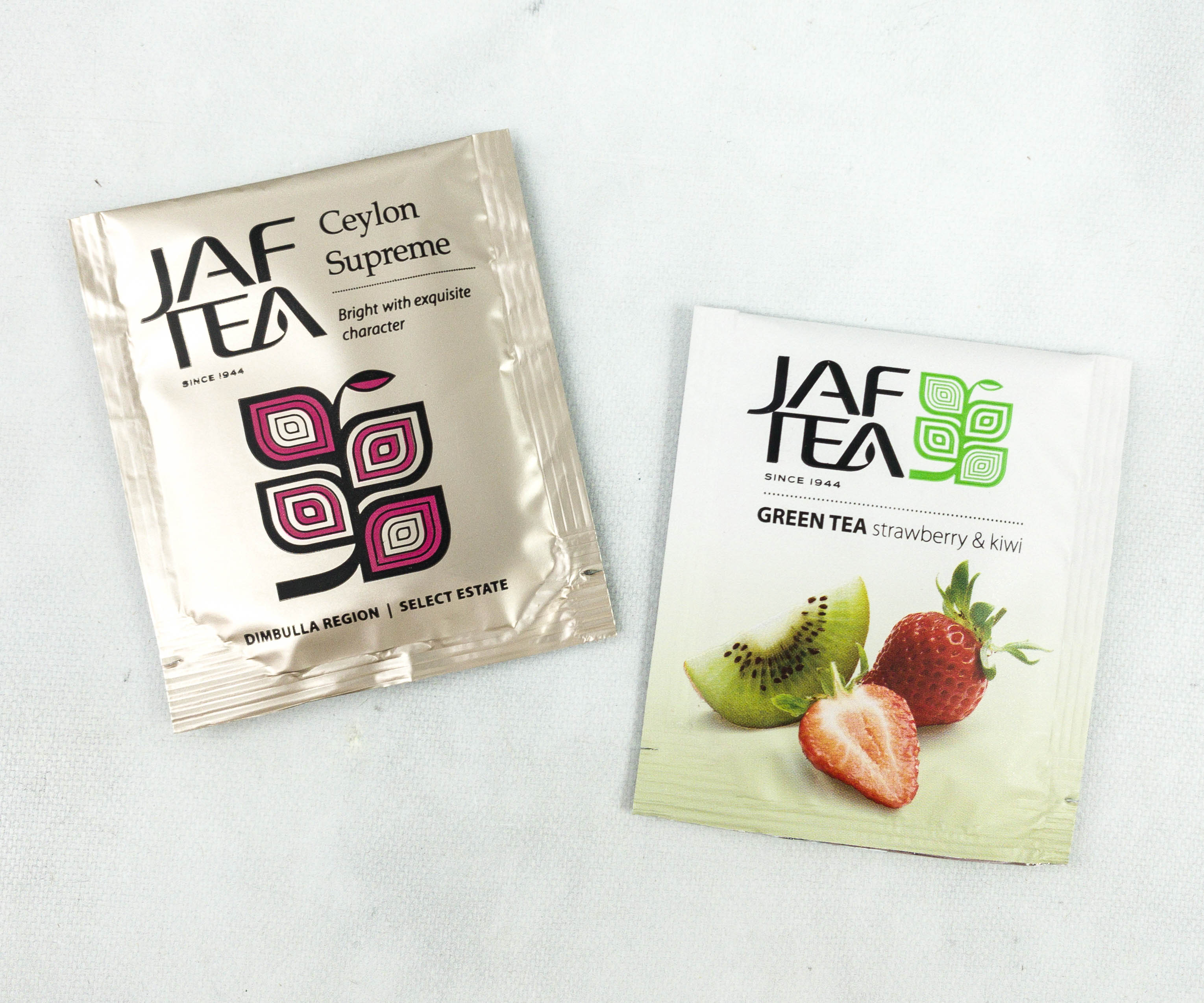 Tea. This box has a promotional card from Jaf Tea and they also sent a sample along with it! I received a strawberry and kiwi flavored green tea and it tastes really good.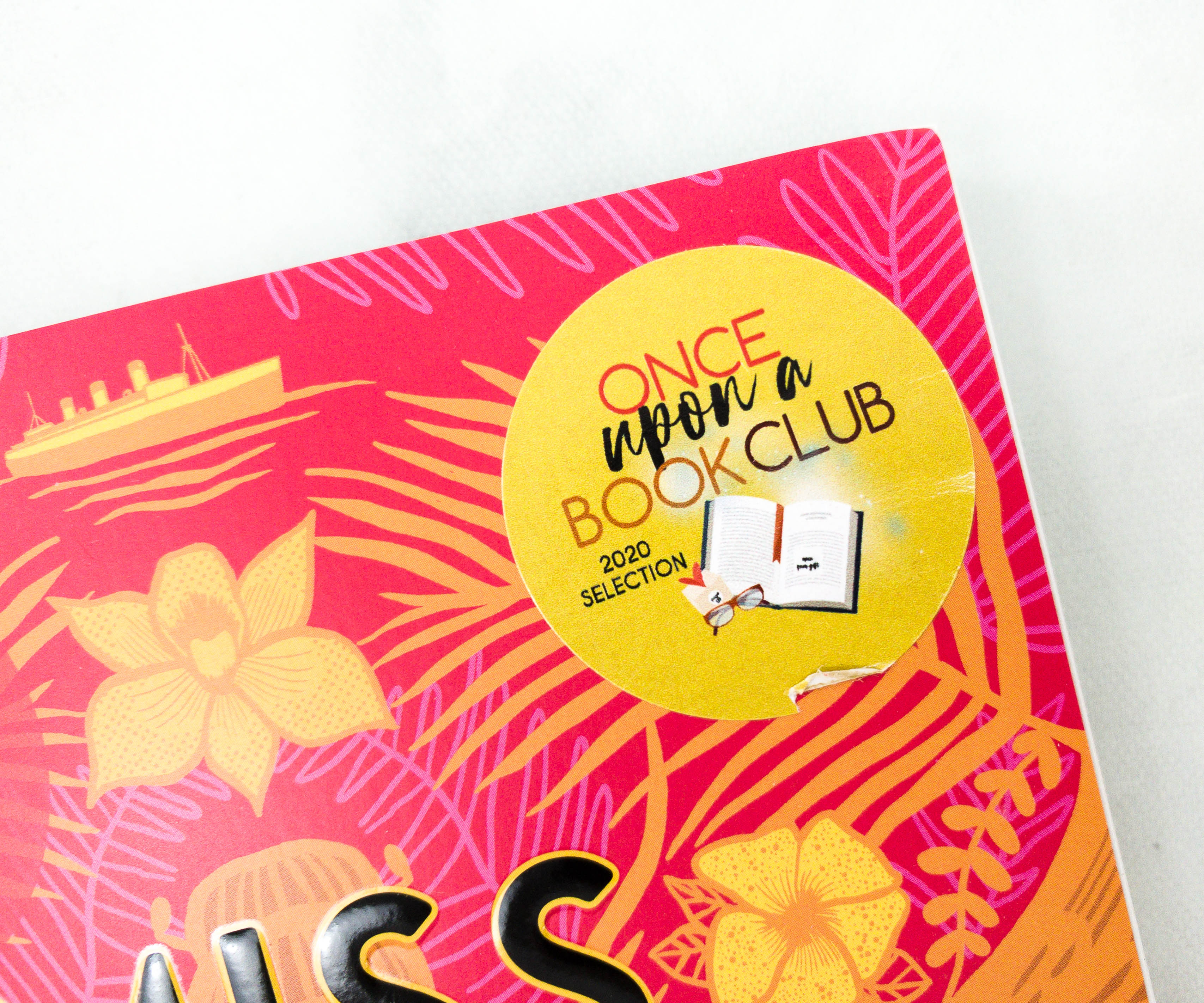 Miss Benson's Beetle by Rachel Zoe ($14.95)
She's going too far to go it alone.

It is 1950. London is still reeling from World War II, and Margery Benson, a schoolteacher and spinster, is trying to get through life, surviving on scraps. One day, she reaches her breaking point, abandoning her job and small existence to set out on an expedition to the other side of the world in search of her childhood obsession: an insect that may or may not exist—the golden beetle of New Caledonia. When she advertises for an assistant to accompany her, the woman she ends up with is the last person she had in mind. Fun-loving Enid Pretty in her tight-fitting pink suit and pom-pom sandals seems to attract trouble wherever she goes. But together these two British women find themselves drawn into a cross-ocean adventure that exceeds all expectations and delivers something neither of them expected to find: the transformative power of friendship.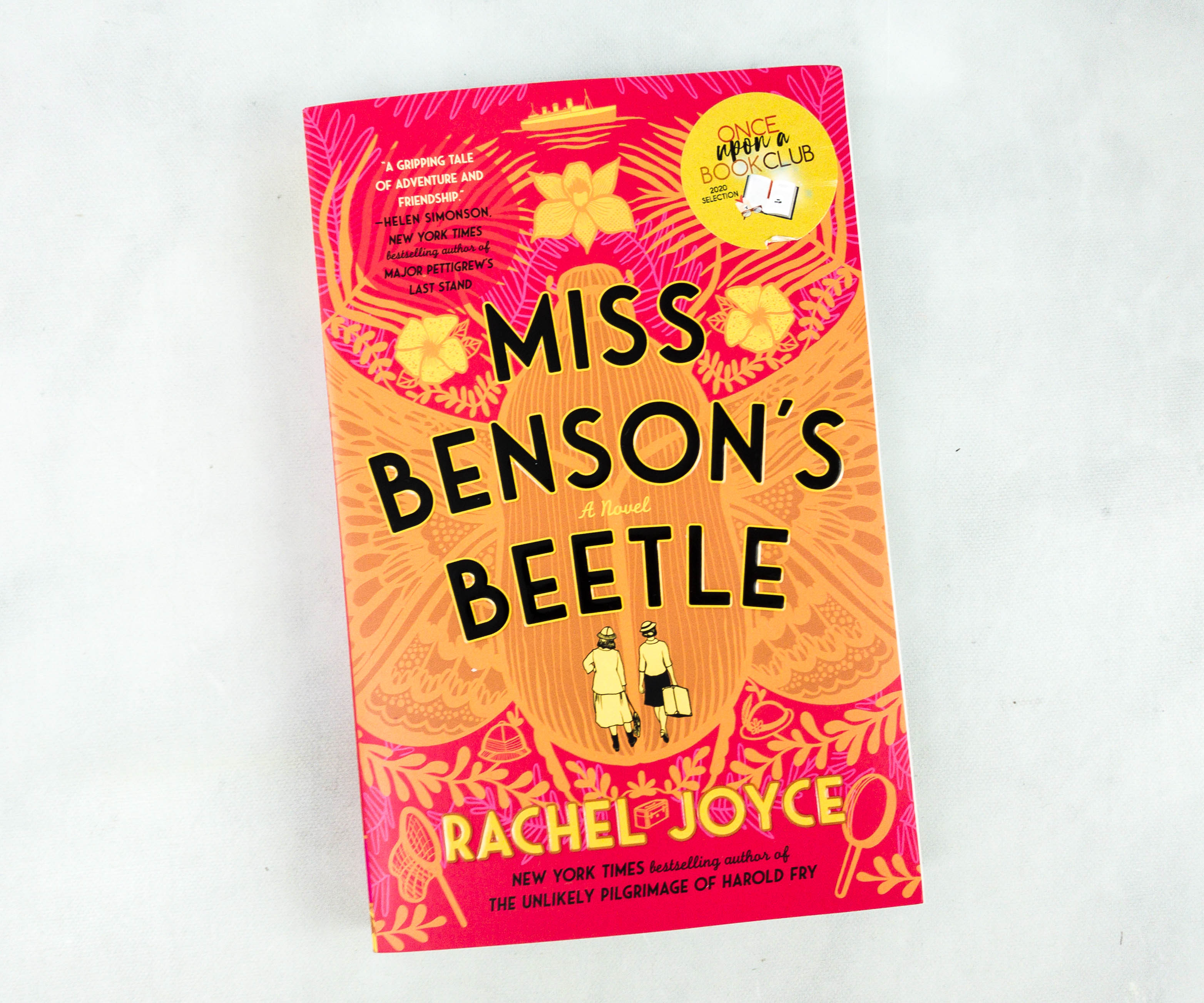 The book has the Once Upon A BookClub 2020 Selection sticker!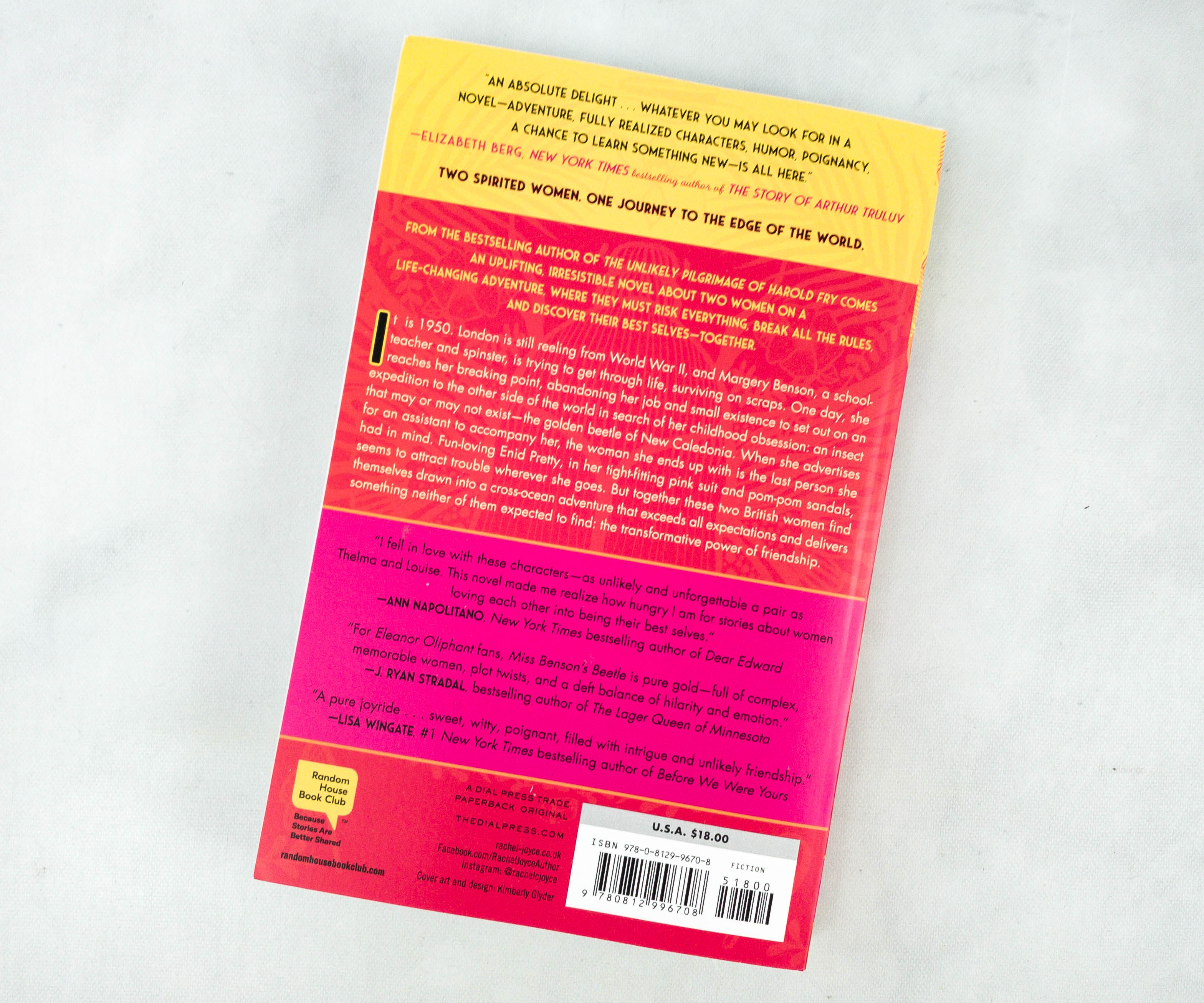 The cover is colorful and vibrant! In front, there is an illustration of two women walking together, set out to find an insect that may or may not even exist.
The story follows Margery Benson as she travels in search of The Golden Beetle of New Caledonia. She was also looking for someone to accompany her on this journey and this is where she meets Enid Pretty, a woman who seems to attract trouble wherever she goes!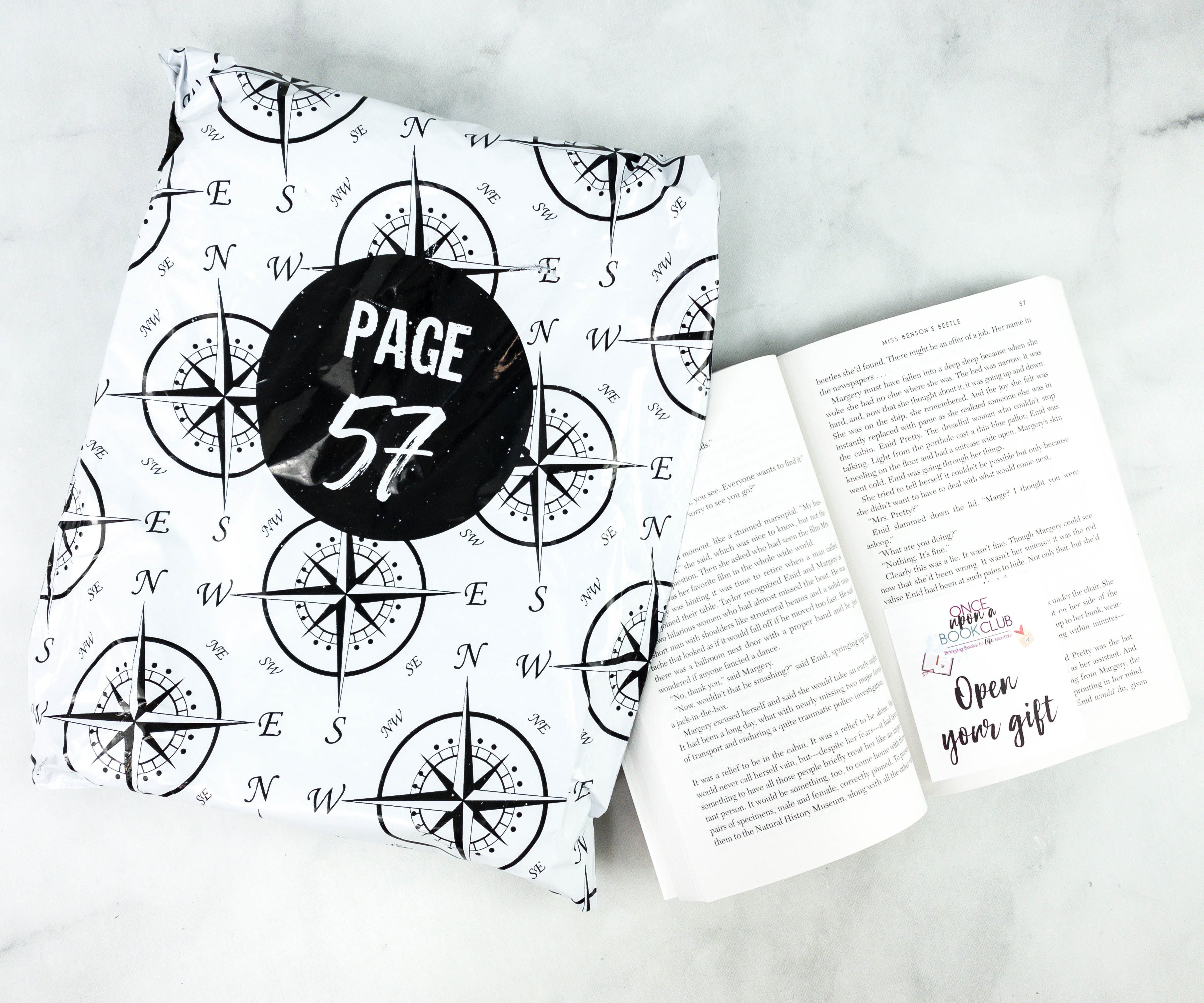 I opened the first gift upon reaching page 57!
The gift was wrapped in paper featuring compass prints.
Suitcase bag. Since the book is travel-themed, they sent a foldable suitcase along with a bag tag. The back has an opening where this slips right over the handle of your carry-on.
The bag is quite big, with a red and white polka dot exterior and a plain black interior.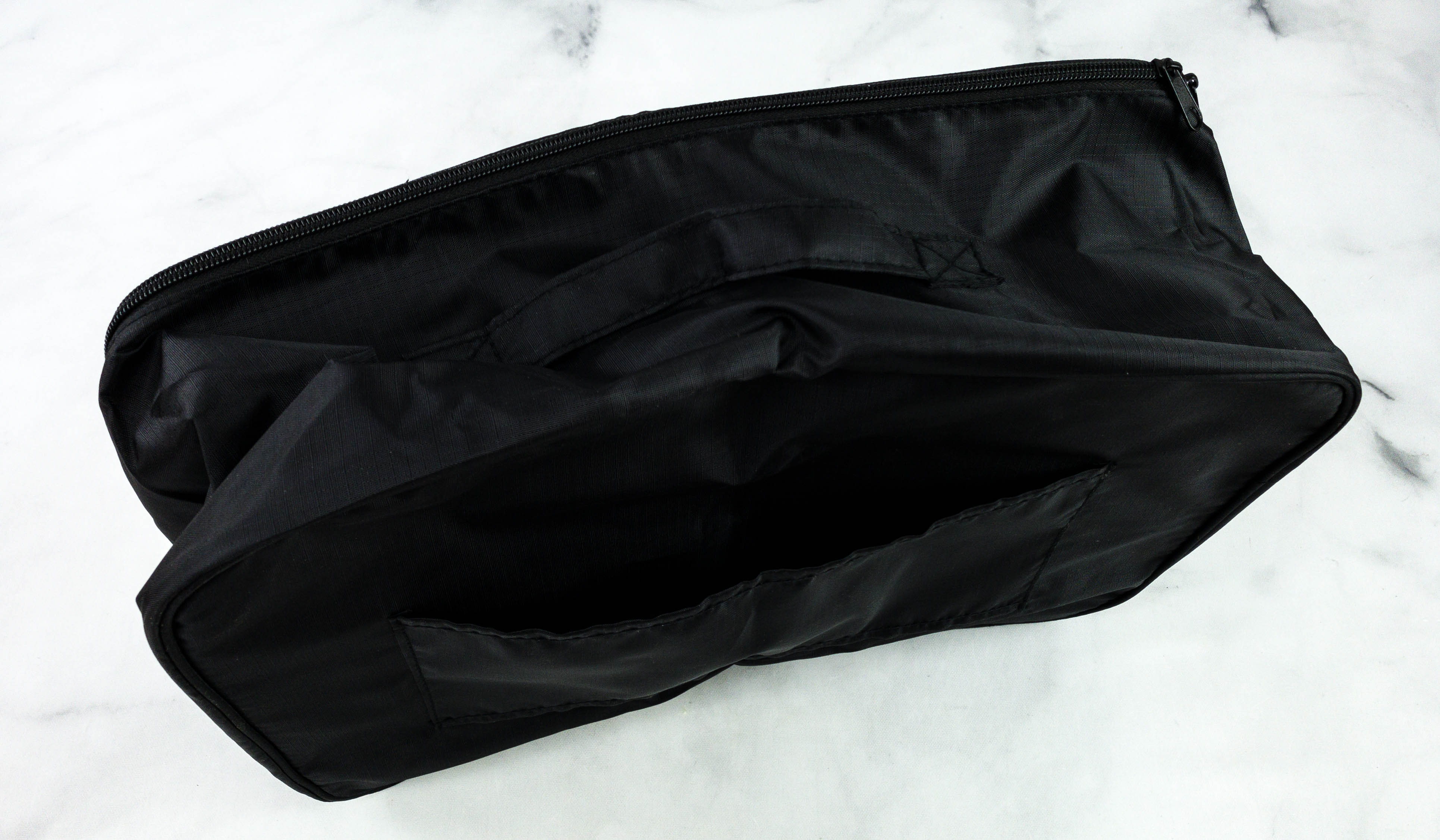 I like that it has partitions inside so I can easily organize my things. It even has a zippered net enclosure for small items.
Bag Tag. The bright orange bag tag contains the words we also saw in the card with the author's message to the readers. It's an excerpt from the book.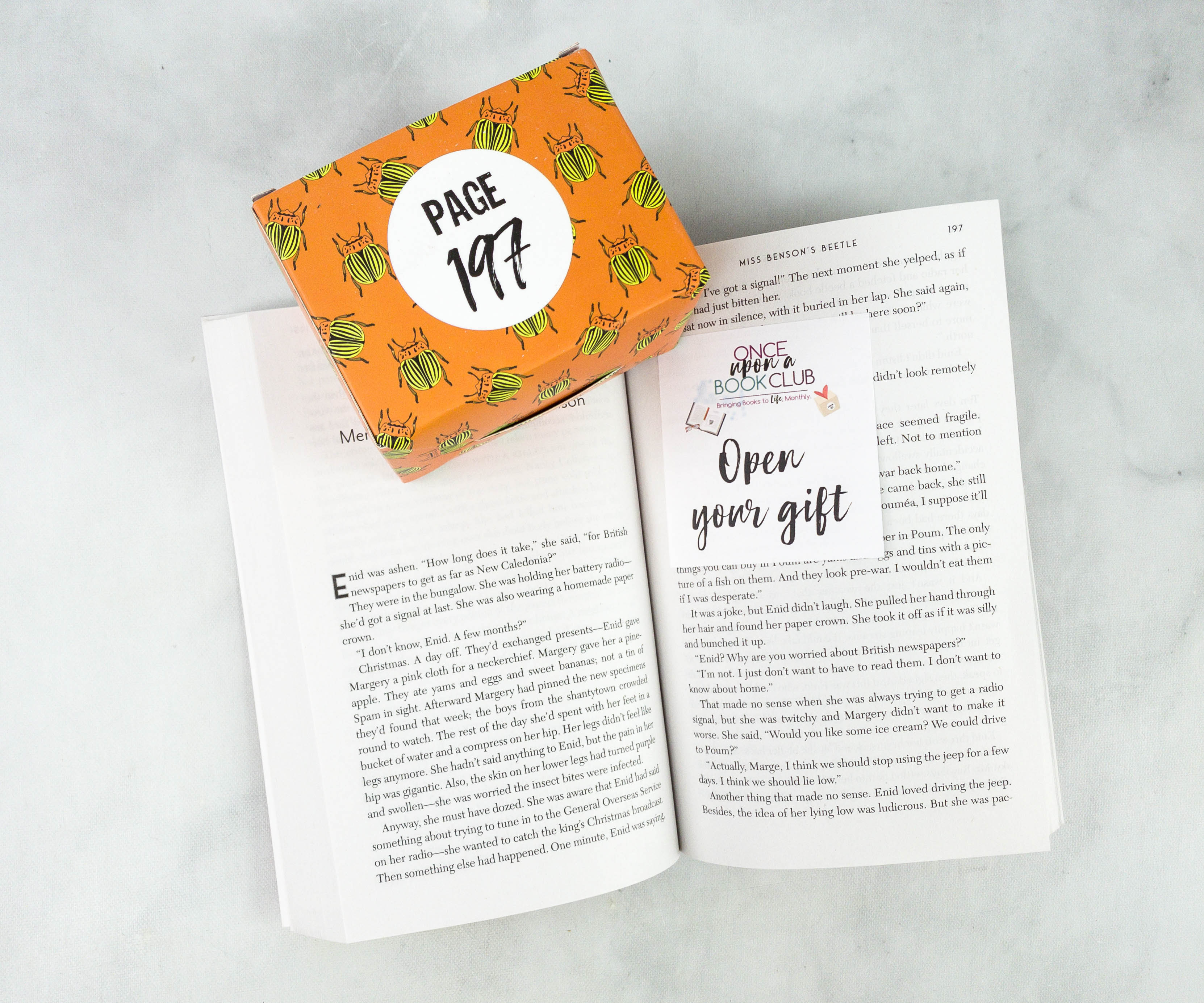 Upon reaching page 197, I opened another surprise!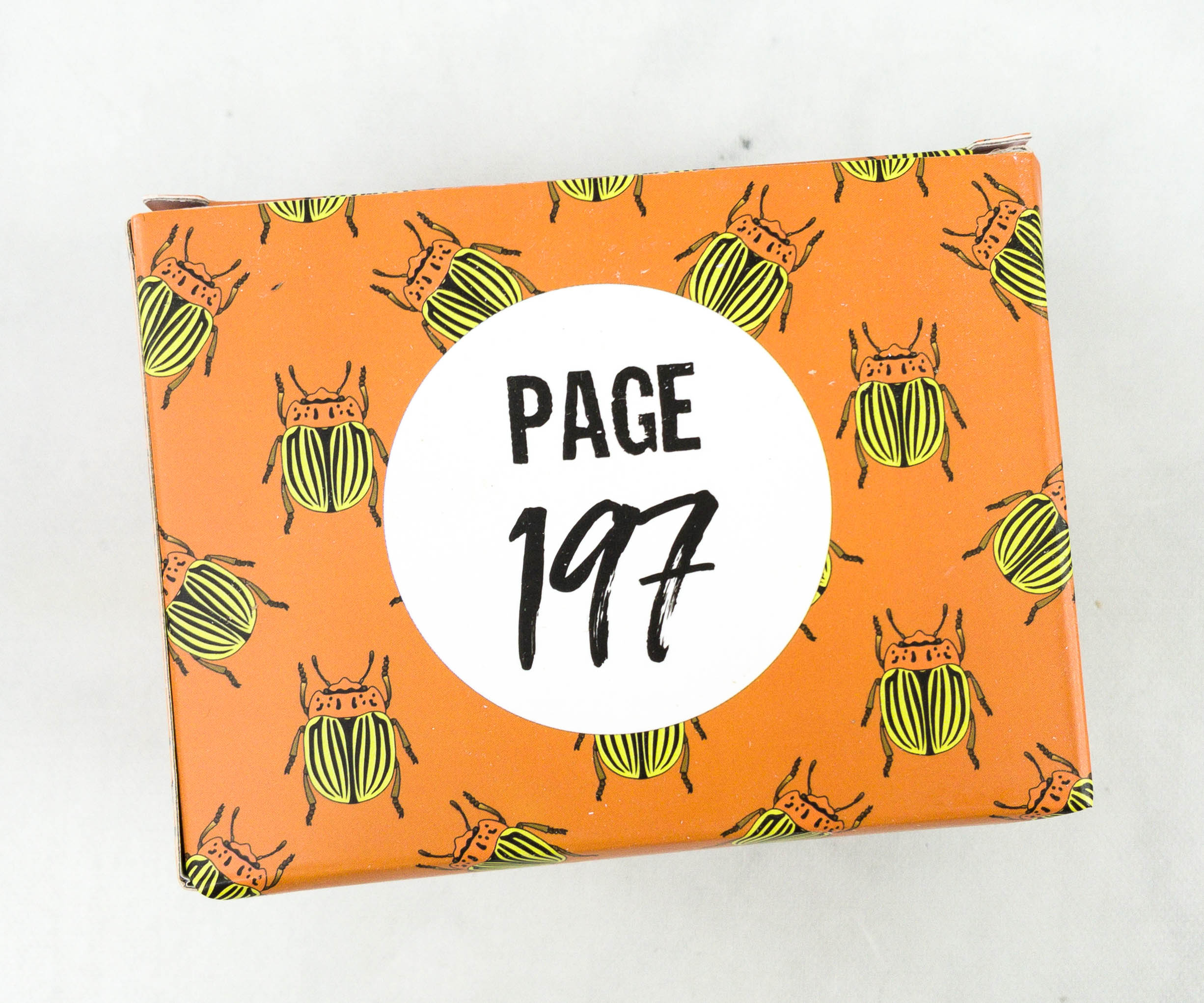 This one came in an orange box with a yellow beetle illustration all over it!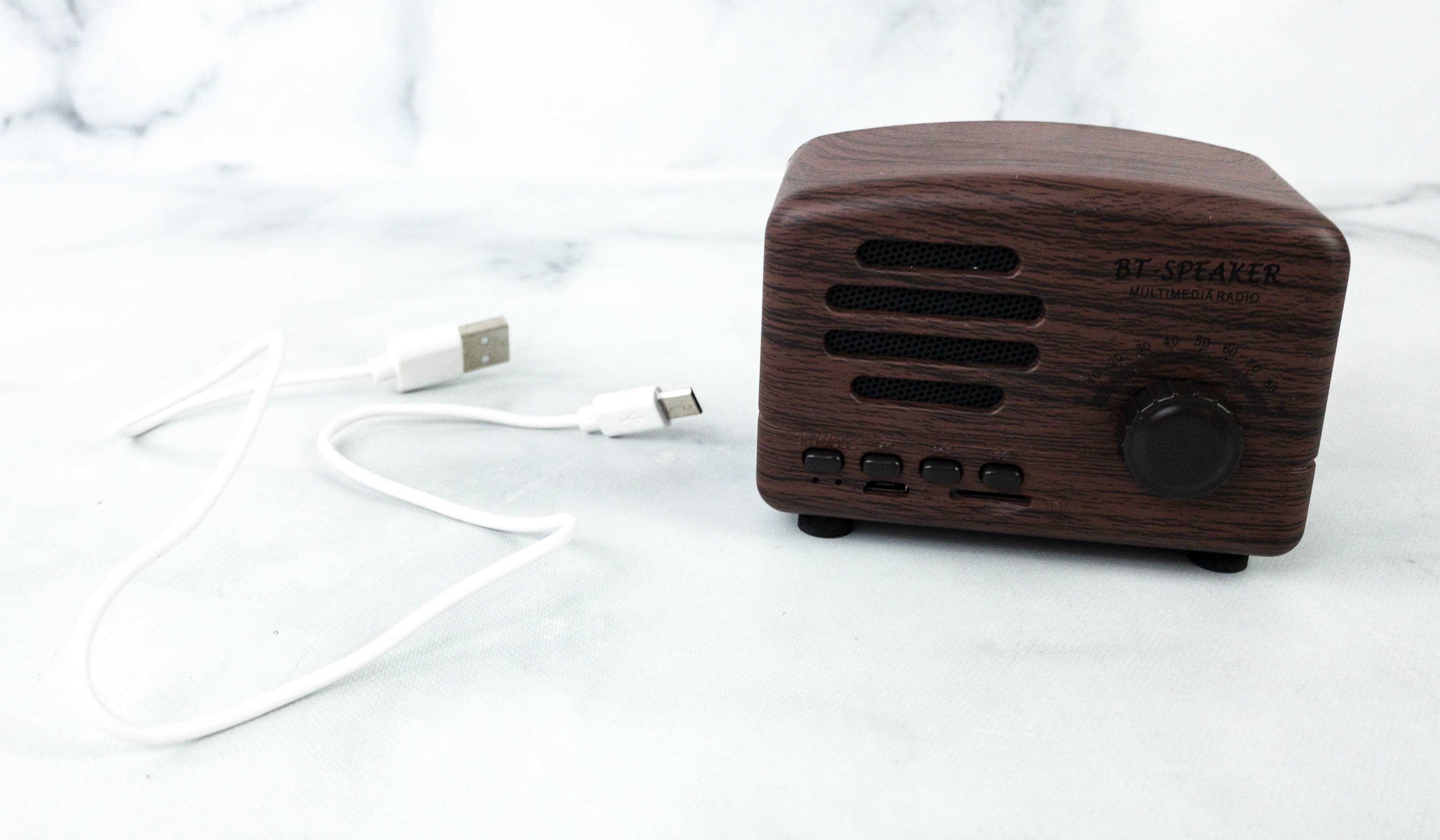 Radio. It's a rechargeable radio! I like it because it has that old school vibe to it!
The speaker is quite good and I love how the noise isn't glaring. This is a really awesome surprise from this box! They included this gift because in the book, Enid was telling Marge to tune in to the radio!
The last gift is supposed to be opened upon reaching page 333.
Here, we get to see more of Miss Benson's Beetle!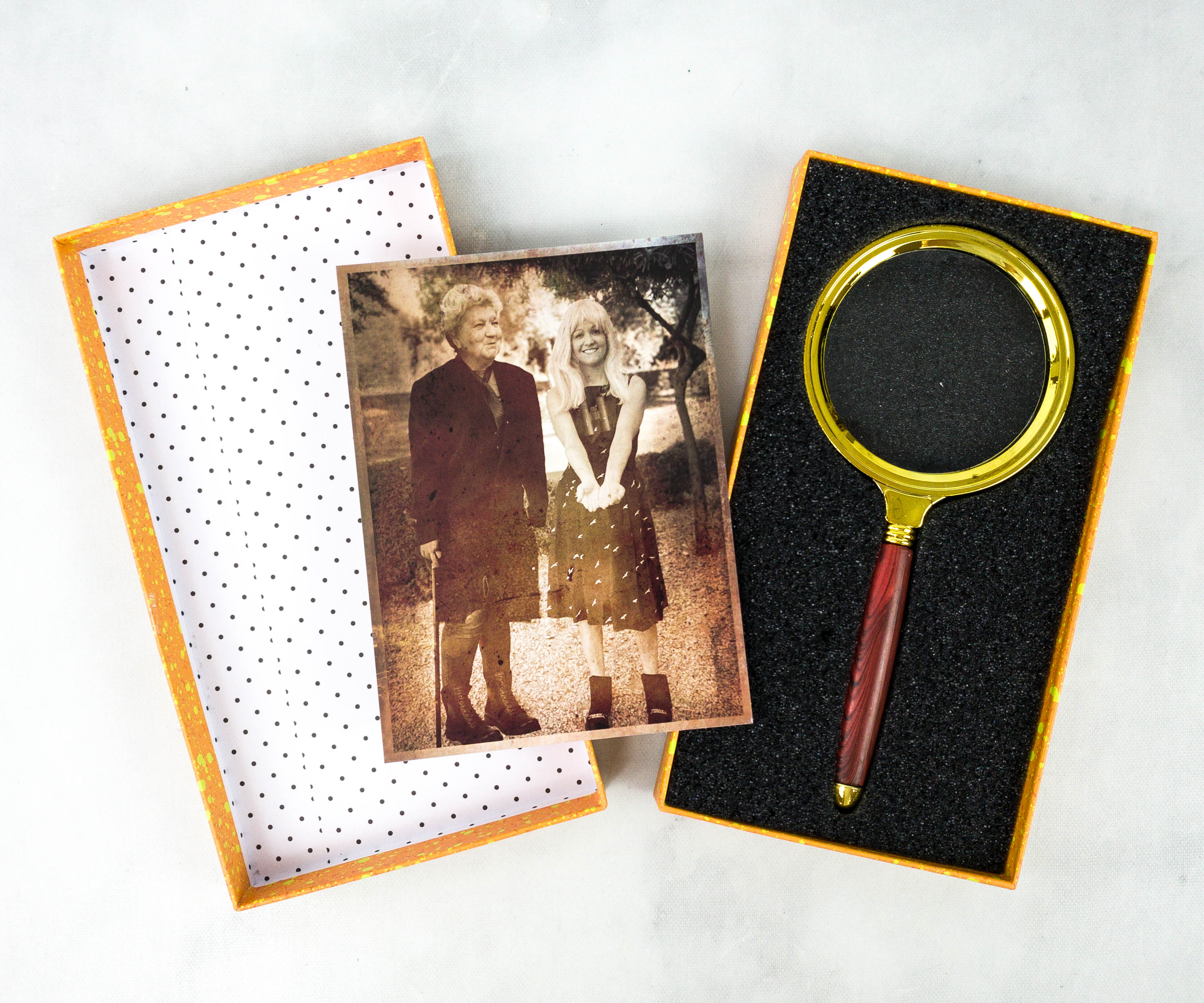 Magnifying Glass. Inside is a magnifying glass which is often used when observing insects such as beetles.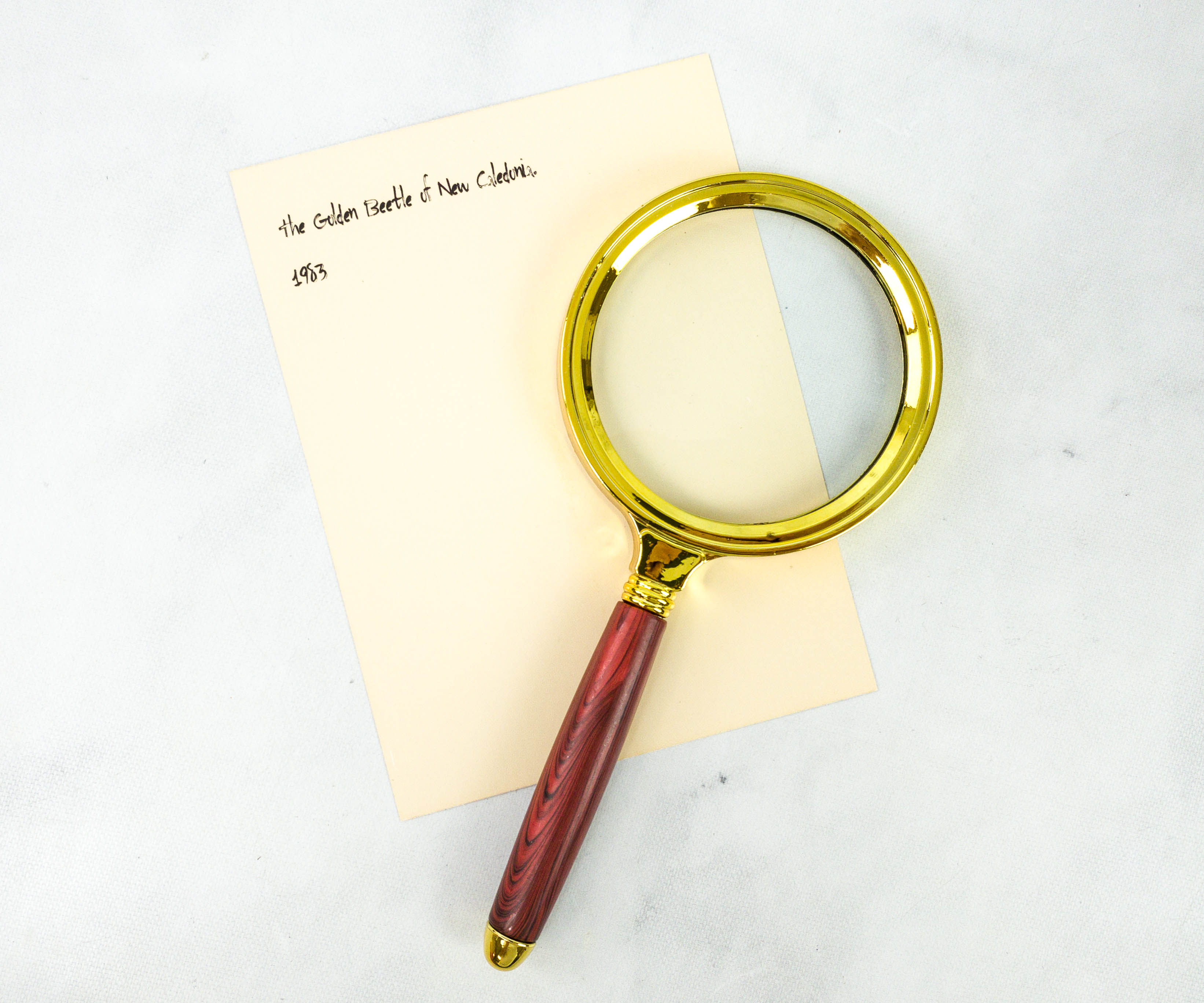 It came with a photo, just as it was described in the book. It shows two women, an entomologist and a younger woman holding out The Golden Beetle of New Caledonia!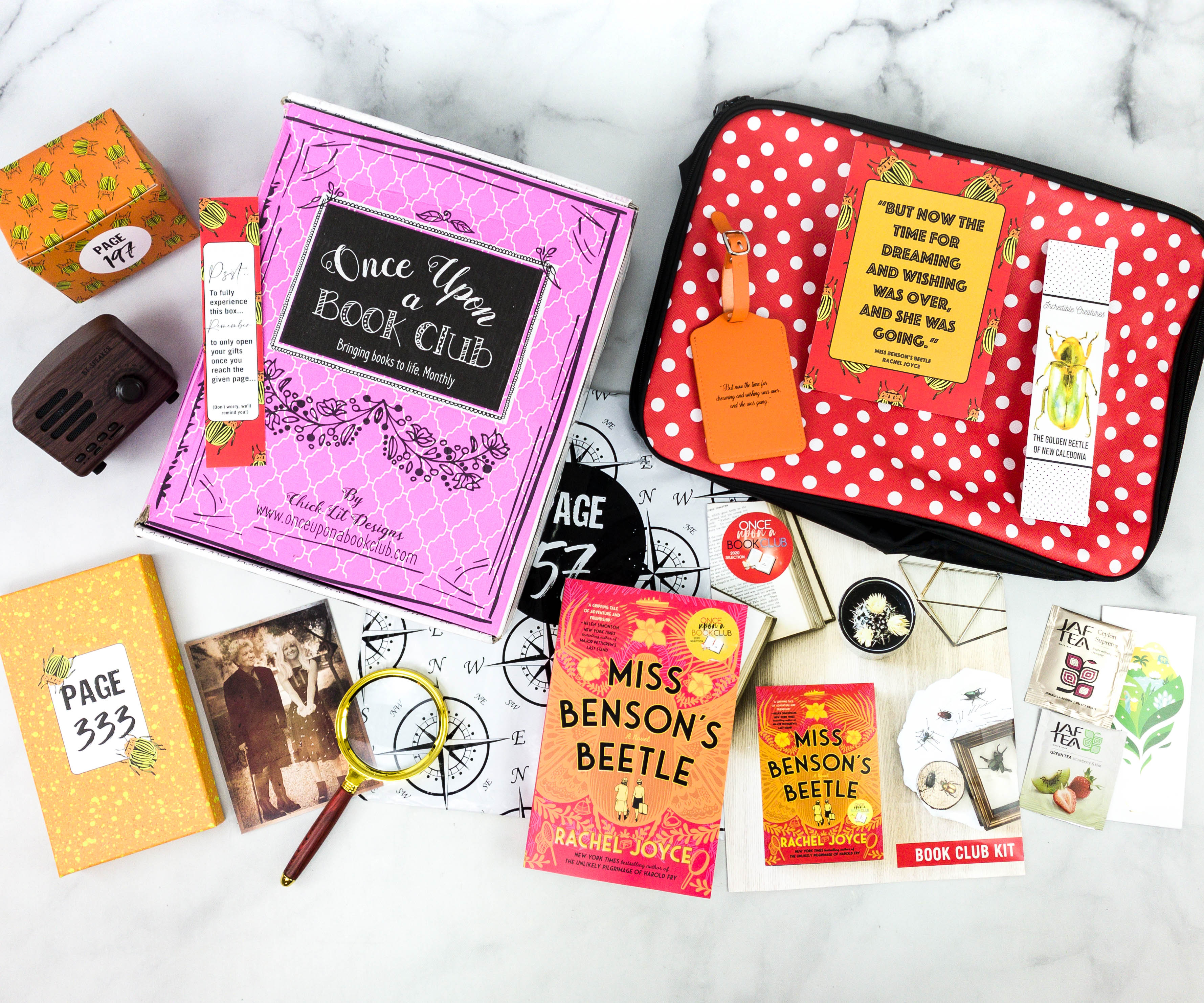 This book is such a fun read! It featured two amazing women, and with all the hardships life threw their way, I loved that they still found the strength in themselves. In the end, it even helped their friendship blossom into something more wonderful!
It's always a delight reading books from Once Upon A Book Club. Not only do I get to enjoy the story, but it feels like I get to experience them as well through the gifts that they send. This month, I received a suitcase accessory, a radio, and a magnifying glass along with a photo that is just as described in the book. This box is a nice monthly treat especially if you love reading! They introduce new stories and broaden your imagination!
What do you think of this month's Once Upon a Book Club?