New Catalina Crunch Keto Sandwich Cookie flavors are now available for pre-order (shipping starts 1/18)! The new flavors are Vanilla Creme, Chocolate Mint, and Peanut Butter, and available in a subscription for $29 per month ($35 as one-time), along with other Catalina Crunch product subscriptions – Cereal (starts at $39 per month), Cheese Bites (starts at $39 per month), and Smoothies ($89 per month).
Since the overwhelmingly successful launch of our Keto Sandwich cookies last year, our bakers have been working tirelessly on three new flavors… and boy did they crush it!

Introducing: Vanilla Creme, Chocolate Mint and Peanut Butter Sandwich Cookies!

I'm thrilled to announce that our new flavors are now available for Pre-Order and shipping on January 18, 2021.  I know you are going to LOVE these new Keto Cookie flavors, but we only have a limited supply, so hurry and get your Cookies now, before we sell out!
DEAL: Get 10% off your first order of the new cookie flavors when you use the coupon code COOKIES10. Ends 1/17.
Here are the flavors:
Chocolate Vanilla One of the finest Dutch cocoa powders combined with a delicious vanilla creme filling delivers a signature cookies and cream flavor.
Vanilla Creme* NEW Crunchy vanilla cookies paired with creamy vanilla filling create a delectable vanilla flavor that will keep you coming back for more.
Chocolate Mint * NEW Decadent chocolate cookies and refreshing mint filling come together perfectly, giving you a flavor combination that is hard to resist.
Peanut Butter* NEW Smooth peanut butter filling sandwiched between two peanut butter cookies offers a delicious combination of sweet, salty, and nutty all wrapped into one.
About the Keto Cookie Sandwich:
PREMIUM, ALL-NATURAL INGREDIENTS

Our Sandwich Cookies are made with a blend of Organic, Non-GMO pea protein and Prebiotic Fiber from plants.

Non-GMO Blend of Plant-Proteins & Fibers The combination delivers over 4g Protein in just two cookies. That's about as much protein as a small egg.
Zero Artificial Ingredients We never have and never will use any artificial sweeteners, flavors or colors of any kind.
Here are the other products available:
Cereal (starts at $39 per month)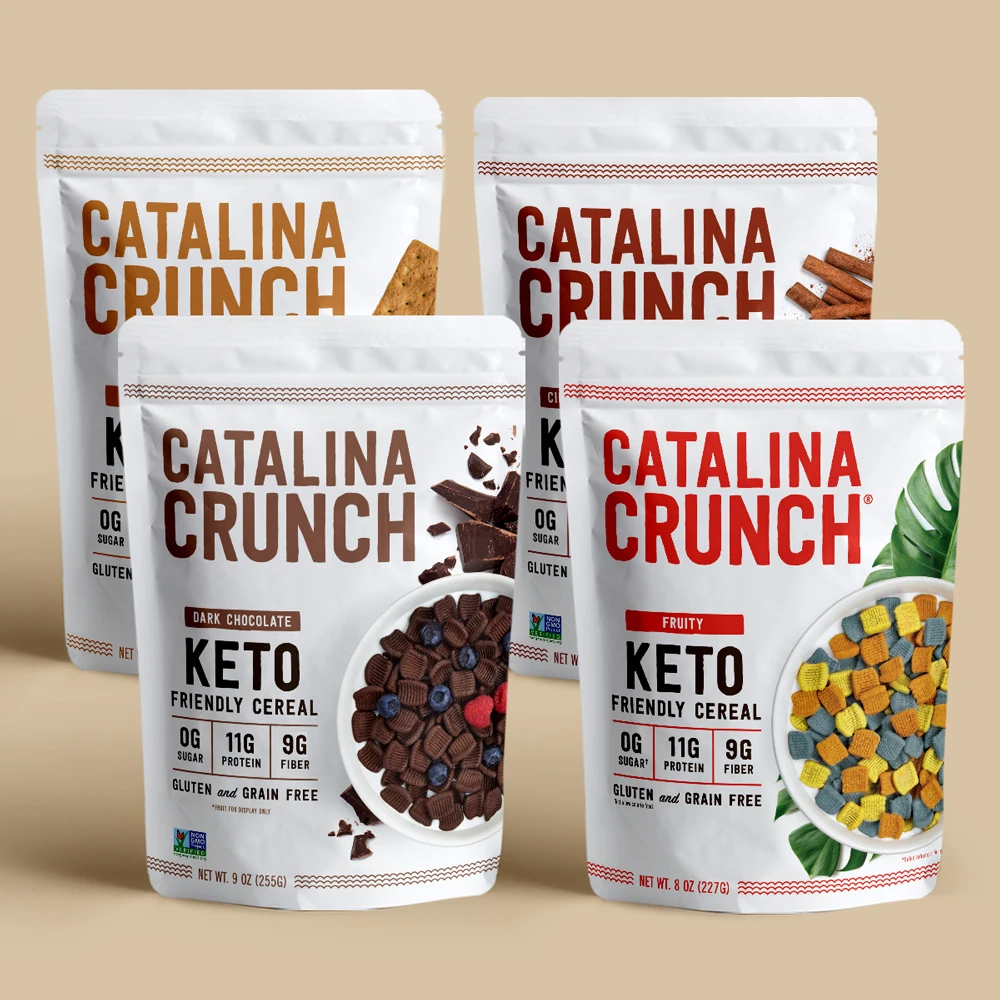 PREMIUM, ALL-NATURAL INGREDIENTS We believe what you put in your body matters. So we only use the highest-quality, all-natural ingredients available.

Non-GMO blend of plant proteins and fibers Our blend of seven plant proteins and fibers is designed to keep you full longer and promote gut health.

Zero artificial ingredients We never have and never will use any artificial sweeteners, flavors or colors of any kind.
Here are the flavors available:
Chocolate Peanut Butter
Fruity
Dark Chocolate
Cinnamon Toast
Maple Waffle
Honey Graham
Chocolate Banana
Mint Chocolate Chip
---
Keto Smoothies ($89 per month)
Loaded with Brazil Nuts Brazil nuts are among the richest dietary sources of selenium, a mineral with antioxidant properties. They also contain plenty of protein & healthy fats.

Packed with 3 Cups of Spinach Spinach is a superfood. It is loaded with tons of nutrients in a low-calorie package. Iron and Calcium galore.

Freeze-Dried Whole Fruits and Vegetables Freeze-drying these foods right after they are picked locks in the flavor, vitamins, minerals and antioxidants so they are still fresh when you get them.

Boosts Your Energy Catalina Crunch Smoothies are a great source of Macros to kick-start your day: 6g Plant-Protein, 14g Healthy Fats, just 3g Sugar and only 5g Net Carbs.
How the Keto Smoothie subscription works:
We ship our freeze-dried whole fruits and veggies right to your door, pre-cut into individual cups.
You pour the ingredients into your blender, add 4-5 ice cubes plus water, and blend for 30 seconds.
Voila! Enjoy your low carb, low sugar smoothie packed with all the right stuff you need to start your day full of energy.
Here are the flavors available:
Smoothie Variety Pack
Mixed Berry
Strawberry Banana
Tropical Pineapple
Here are the benefits:
KEEPS YOU FULL LONGER Crunchy foods that are high in fiber and protein take up more room in your stomach, which means you stay full, longer.

BURNS MORE CALORIES Just like celery, when you crunch on Catalina Crunch, you burn calories in the process.

PREVENTS OVEREATING According to science, crunchy foods are more pleasurable to eat and thus your brain tells your stomach you are full sooner.

BOOSTS YOUR ENERGY Crunching on Catalina Crunch gets your blood flowing to your jaws and brain, waking you up and boosting your energy.
Are you getting anything from Catalina Crunch?