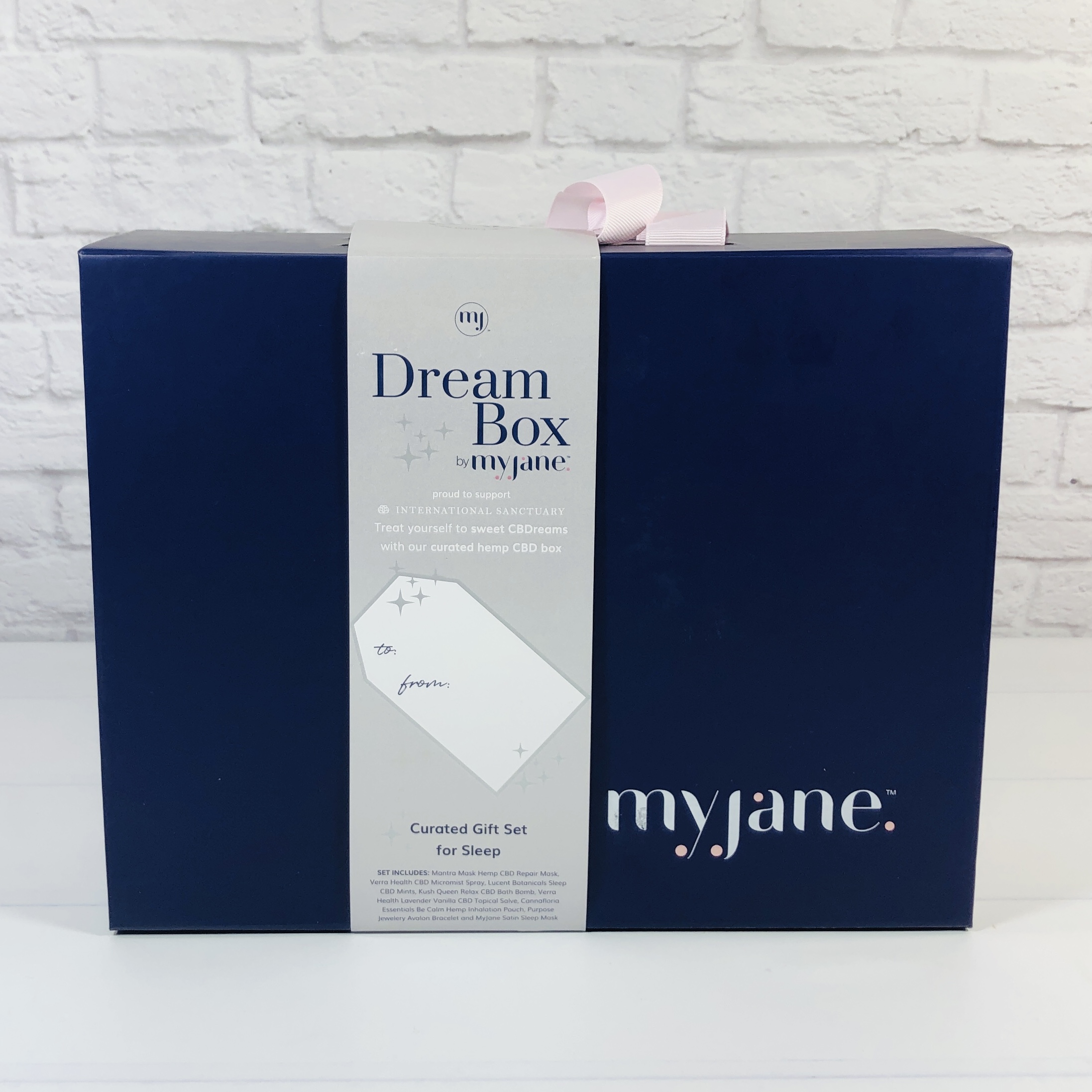 MyJane curates CBD experience boxes for women. They aim to help women feel better with their special curatuon of luxury CBD items! Currently, there are 4 one-time boxes available: SheSurvival Box Hedger Humor ($59), Girlfriends Box by MyJane ($89), Romance Box ($149), and Dream Box by My Jane ($89). They have an online store for individual CBD items as well.
This is the review of Dream Box. It contains CBD products designed for better sleep and relaxation. The box is $89 and valued at $120.
Curated, experienced, evaluated and designed by women, this Dream Box by MyJane is the perfect pre-approved gift for a night of rest. Let your dreams come true with this specially curated Dream Box.

The box is packaged with a fine piece of PURPOSE jewelry handcrafted by a survivor of human trafficking.  Furthermore, you'll sleep well knowing that a proceed of the sales goes to International Sanctuary to help empower women survivors of human trafficking.
The box is reusable and has pretty pink ribbon handles.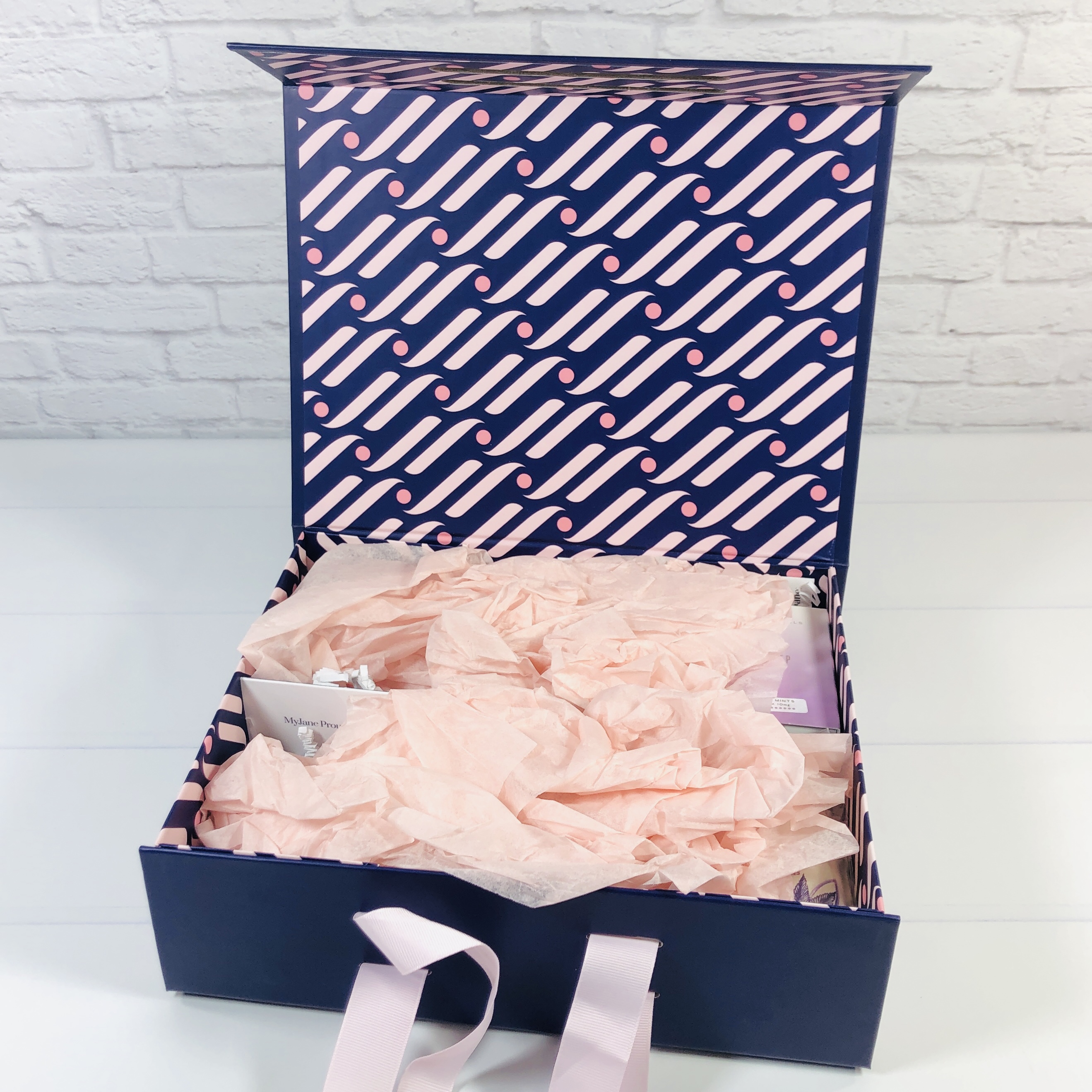 Tissue paper and shredded paper squiggles kept everything cushioned during shipping.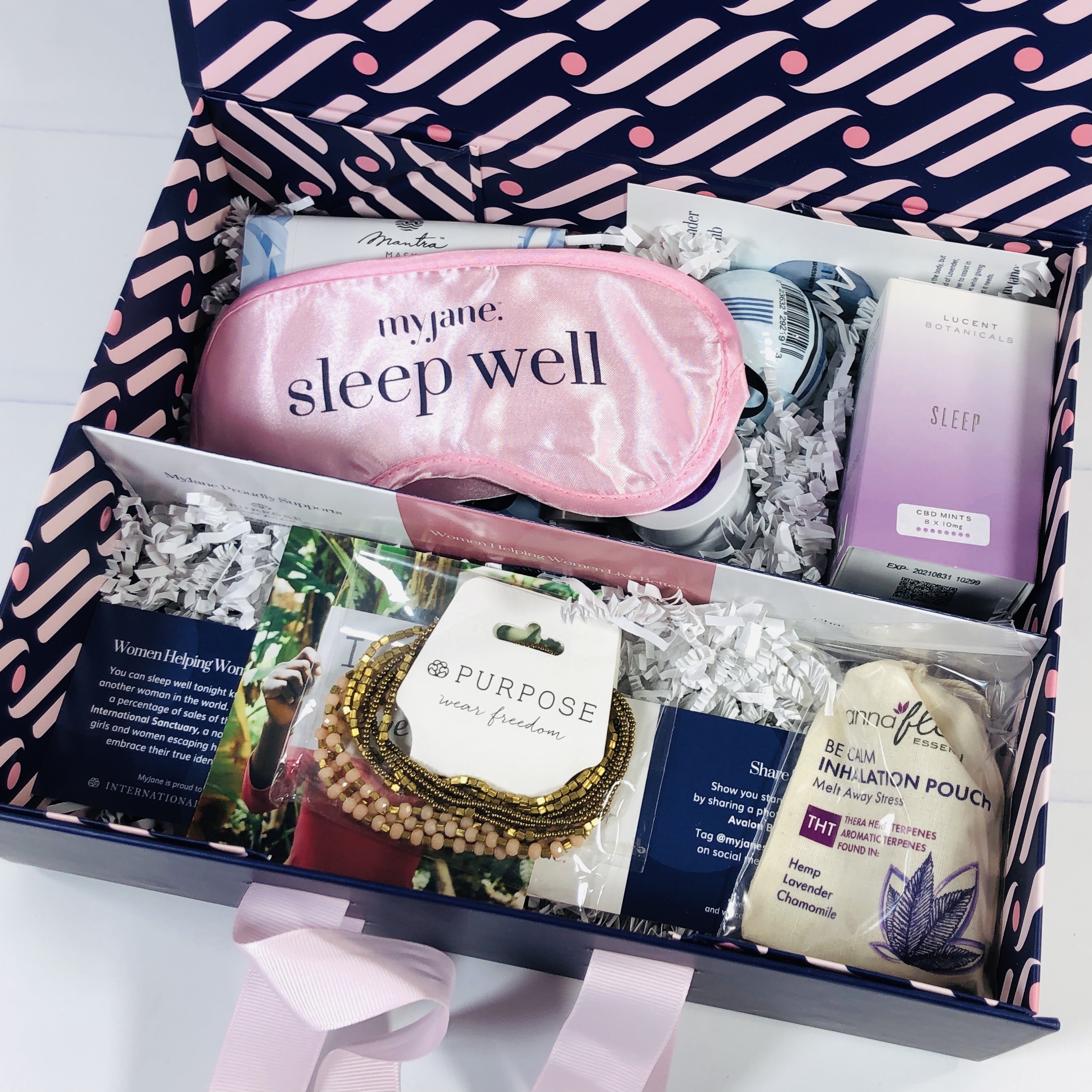 Looking good! The whole box smelled of lavender as I opened it up.
The box is suitable for gifting and the outside had a list of what I would find inside.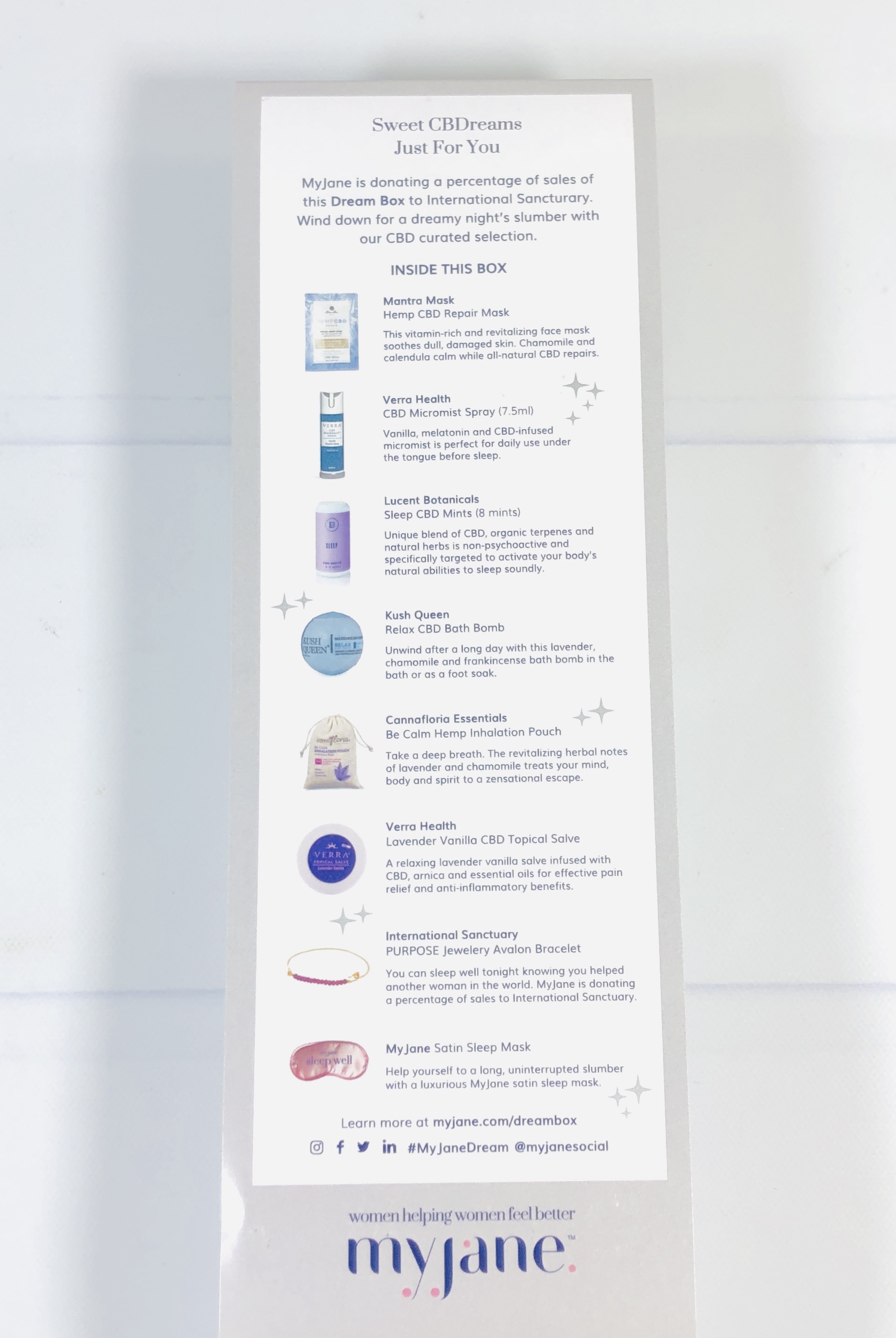 A brief description was shown on the back.
The box reminds us that they can't promise medical benefits from using the products and pregnant or nursing women should avoid using these items. That goes for people under 21 years of age too.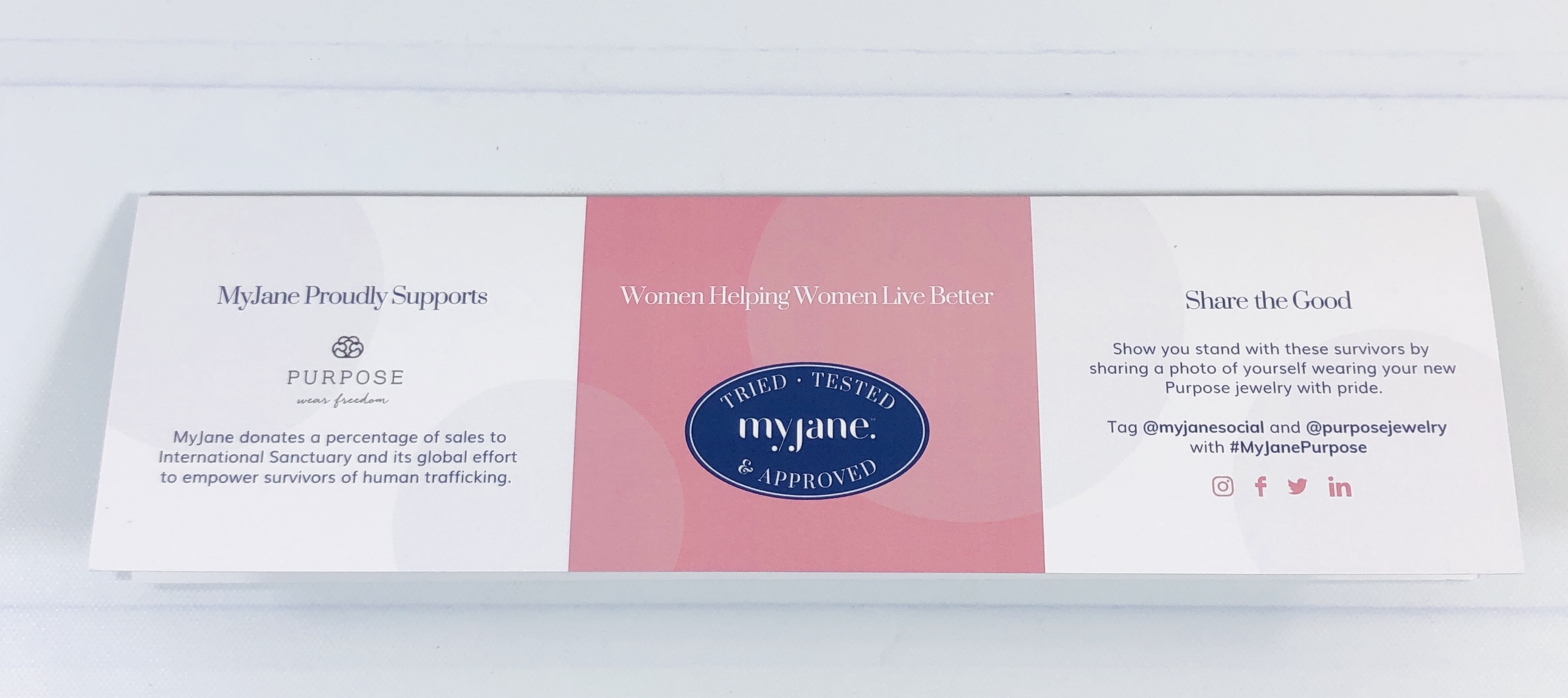 Inside I found a card that reminds me that MyJane donates a percentage of sales to help end human trafficking.
You can learn more by visiting the MyJane website, or email or call for more info.
Here are some usage guidelines.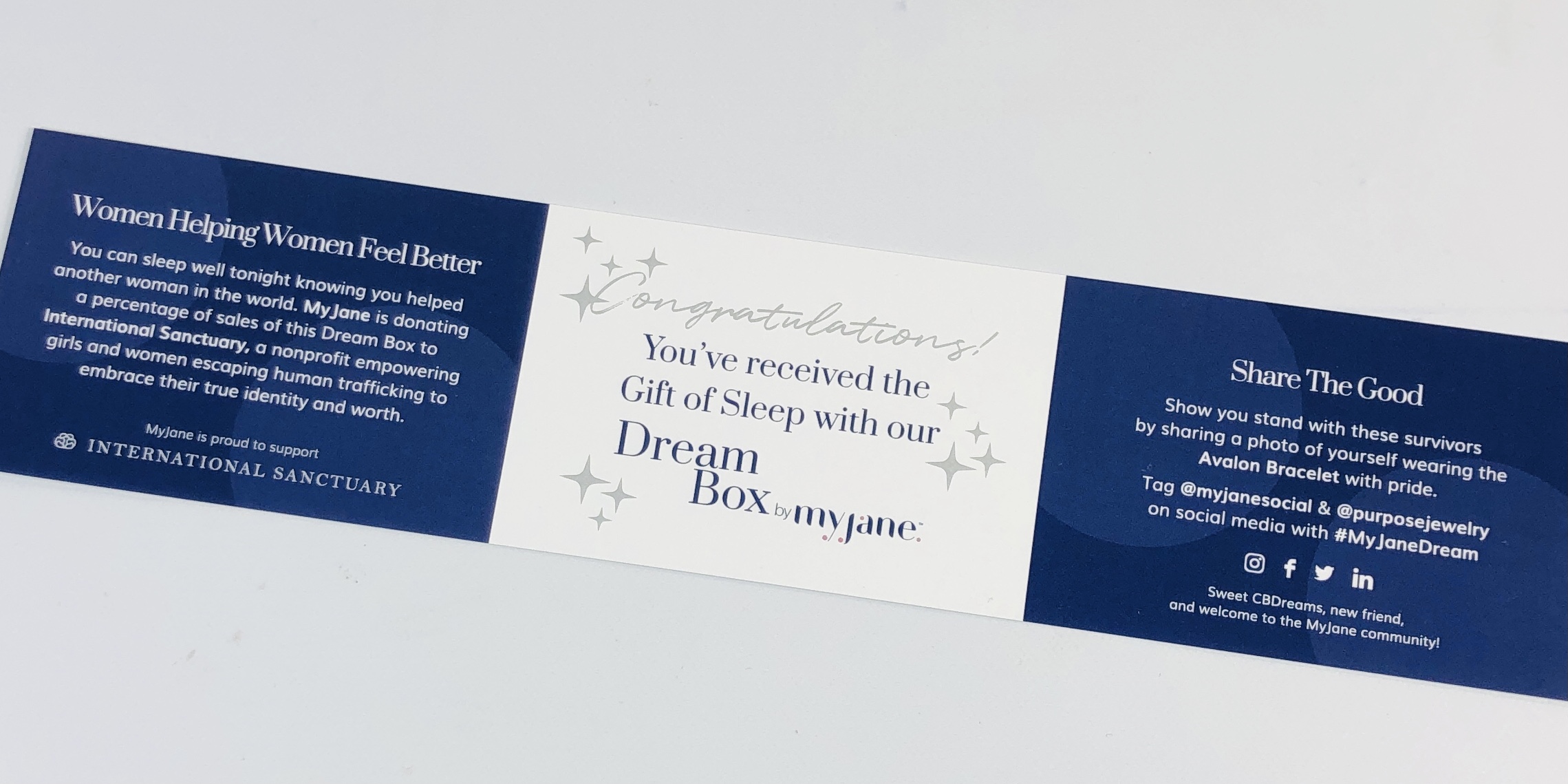 More info.

A picture of the items was on the back.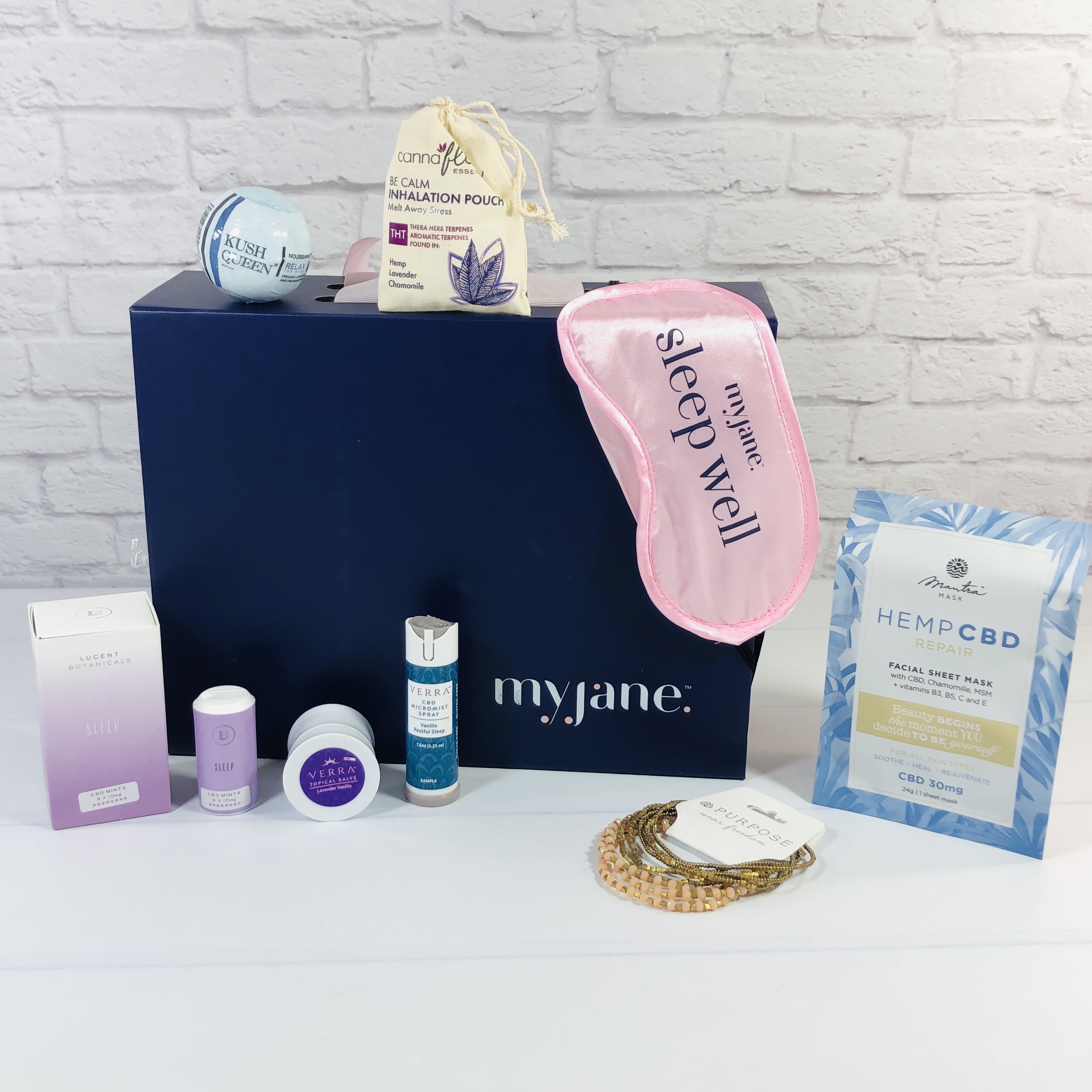 Everything in my box!
Kush Queen Lavender Relax Bath Bomb ($6.50 for full size, about $2.32 value) Our next product came with an info card. The front of the card mentioned that the bath bomb can help relax both body and mind.
The ingredients were listed on the back.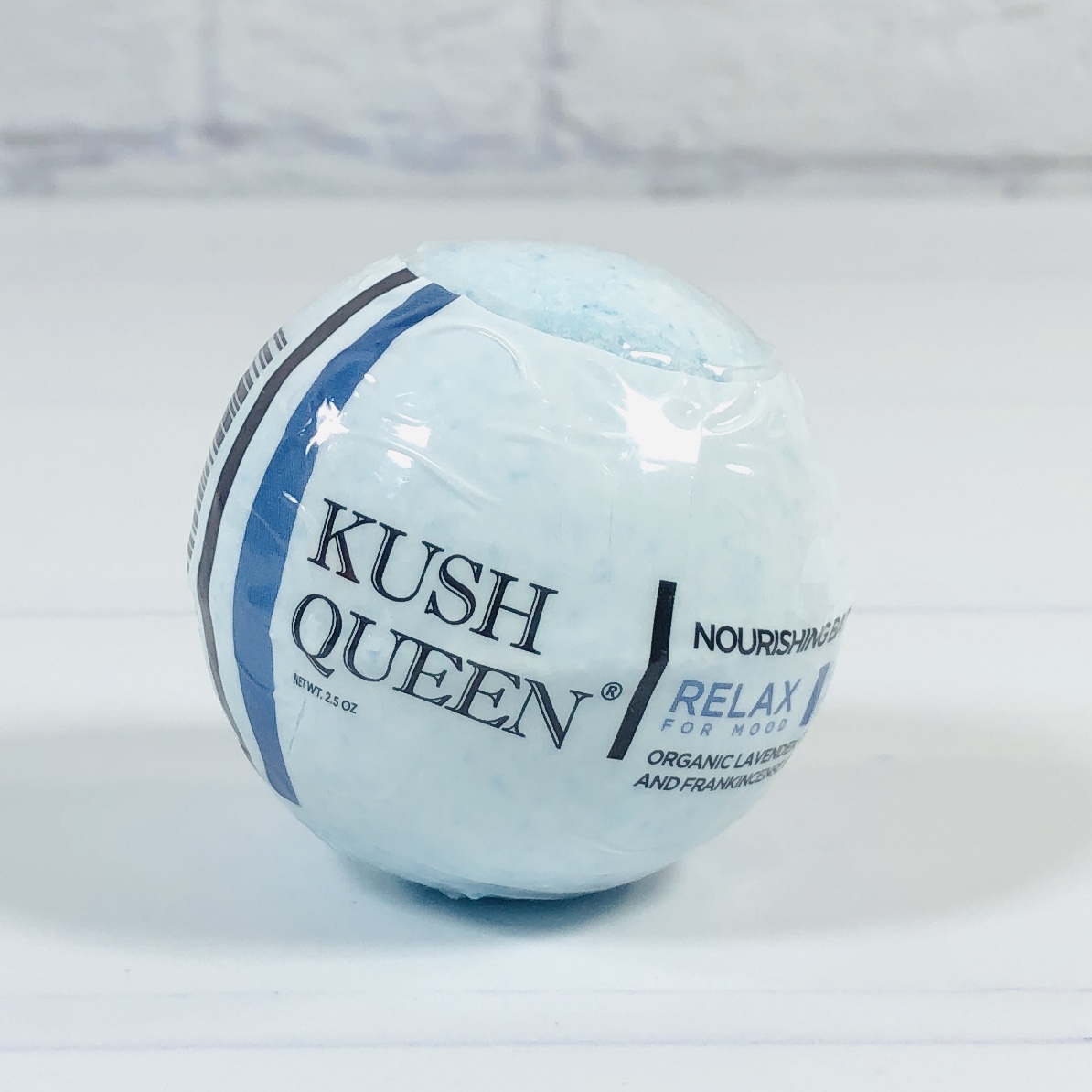 This is the mini version and if a full bath seems like too much trouble, it is suggested to use this as a foot soak for similar relaxing benefits.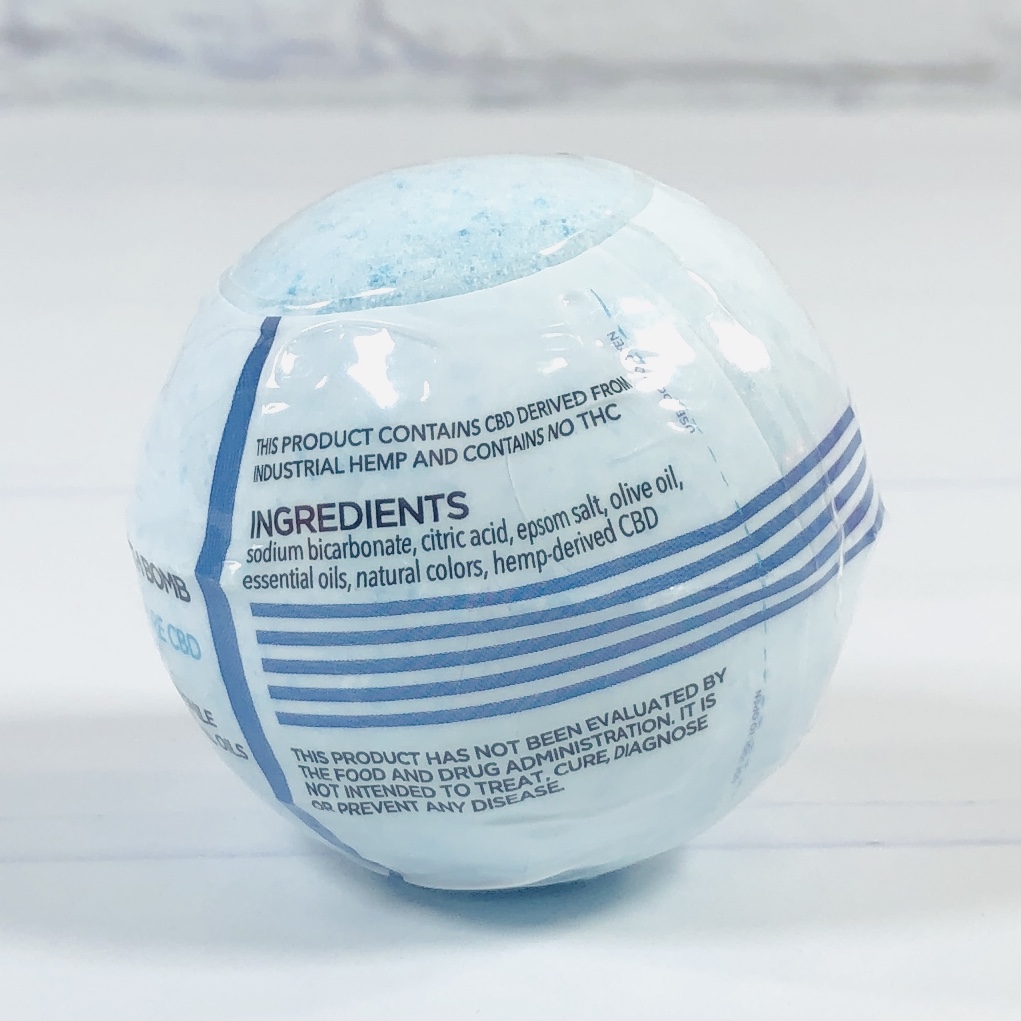 Baking soda and citric acid get the fizzing started while Epsom salts, CBD, and essential oils such as lavender and chamomile all help calm the body and prime it for sleep. It smells wonderful of course!
MyJane Satin Sleep Mask ($7.99) One way to fall asleep at night (or during the day, if you work the night shift) is to wear a sleep mask to block out light.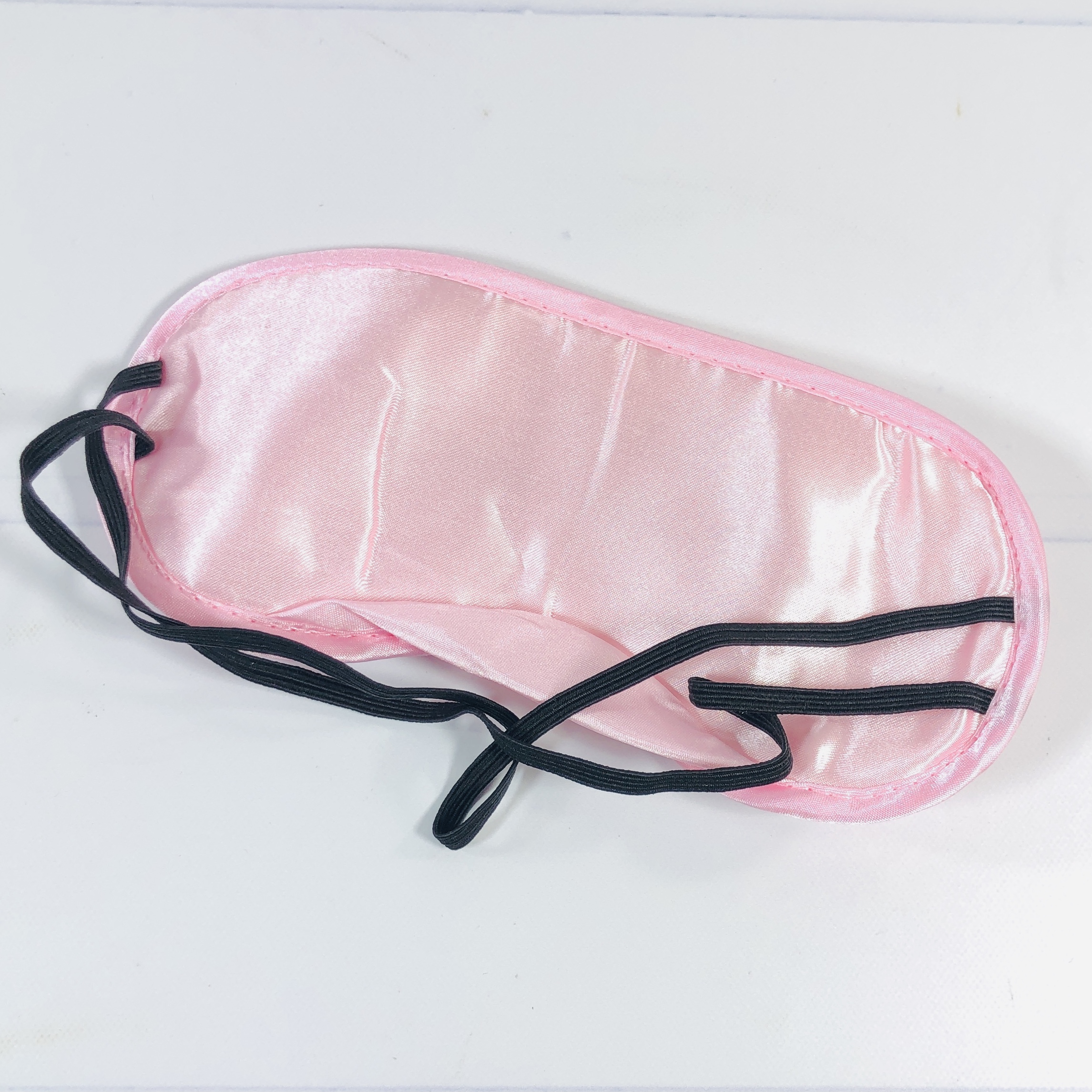 The mask is light-weight so it doesn't feel restrictive and the straps are thin but sturdy so they don't feel too tight on my head.
Cannafloria Essentials Be Calm Hemp Inhalation Pouch ($16 for 2, $8 value) This inhalation pouch is a great way to feel immediately relaxed as taking a deep breath will calm you down ASAP. Add in some relaxing herbs and CBD and it helps alleviate all kinds of stress.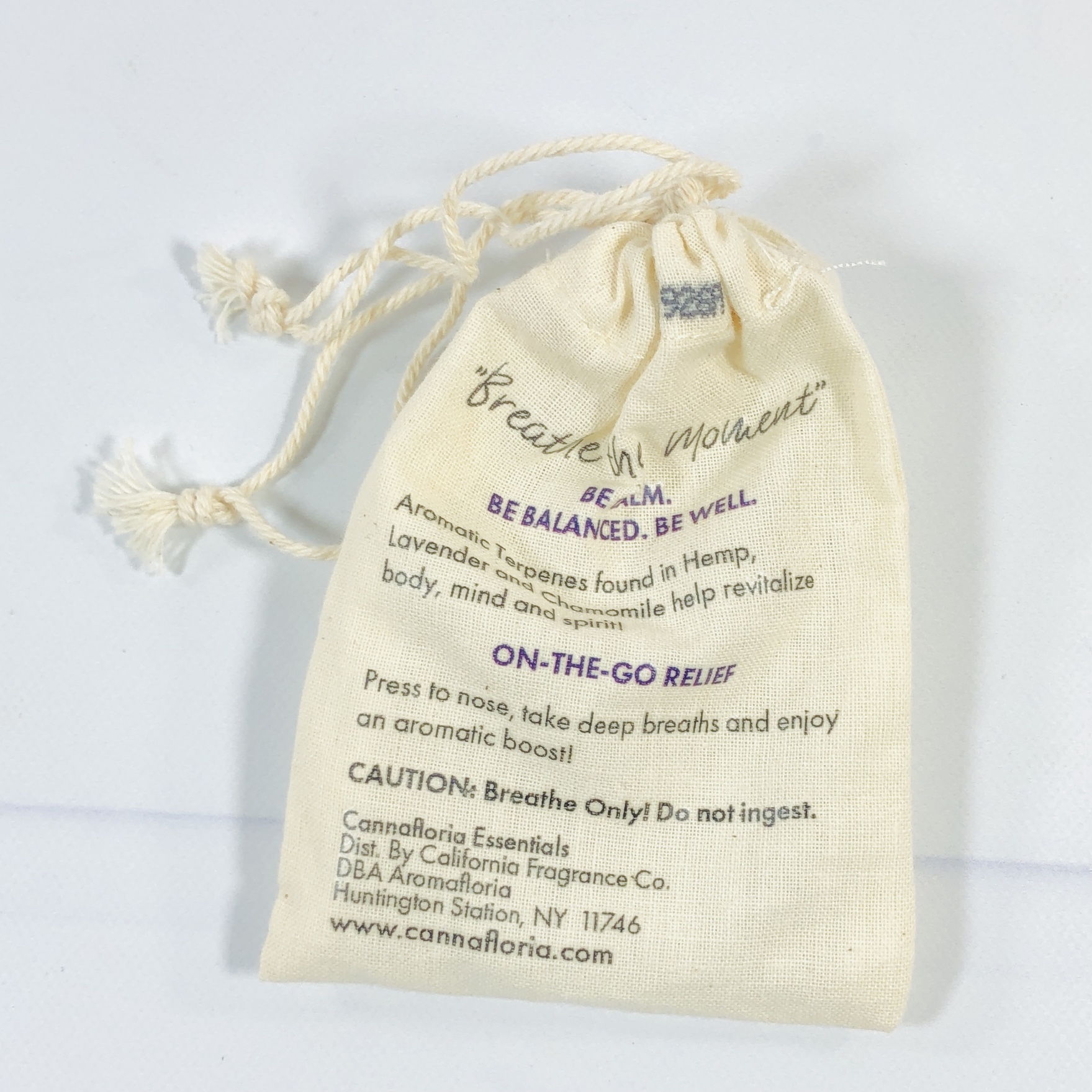 The beads inside the bag are scented with lavender, chamomile, and CBD and are surprisingly strong and kind of have a perfumed smell. Keep them near your bed or in a bedside drawer and sniff as needed.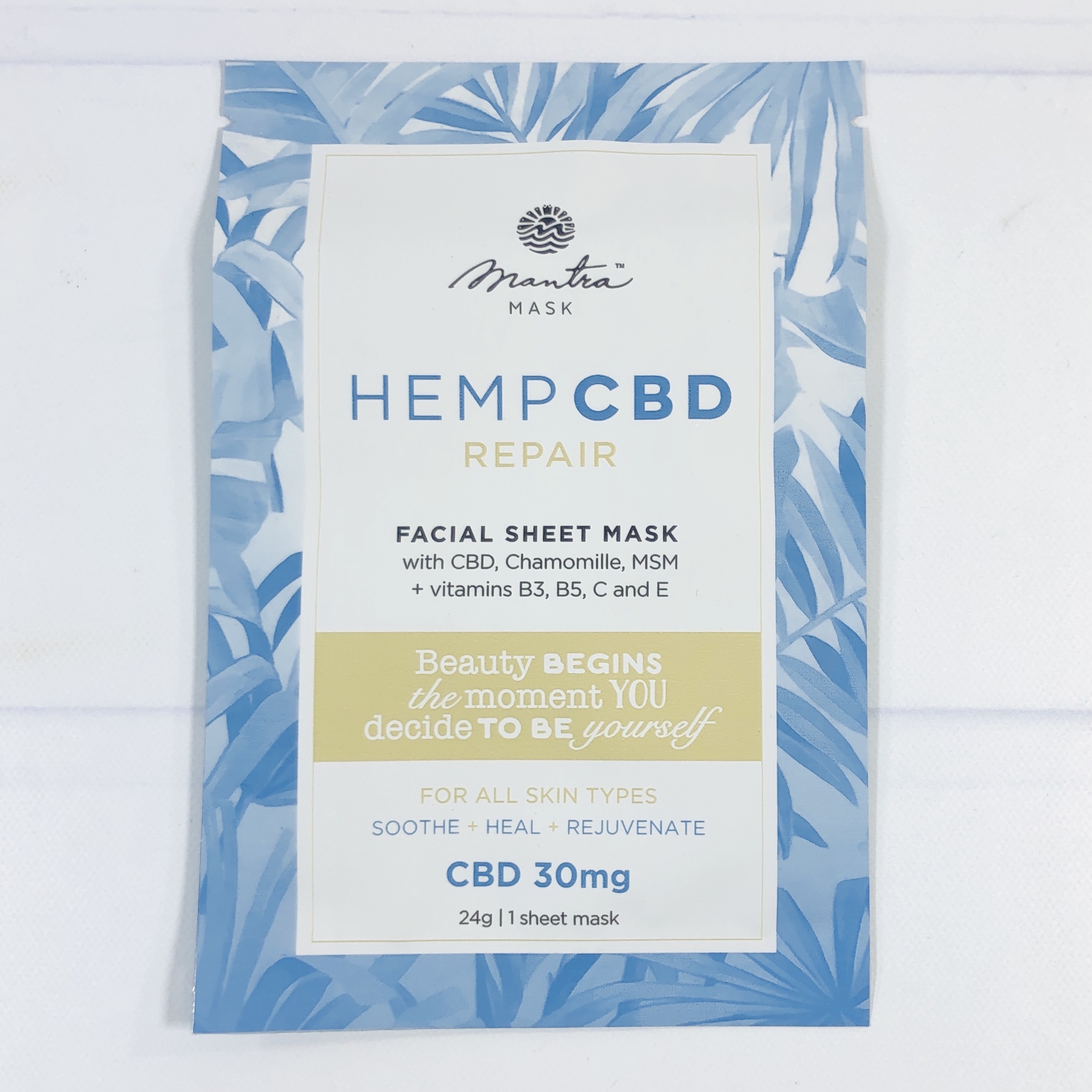 Mantra Mask Hemp CBD Repair Mask ($15) is a face mask that is supposed to help the skin replenish cells, such as after a skin treatment, by providing vitamins and CBD.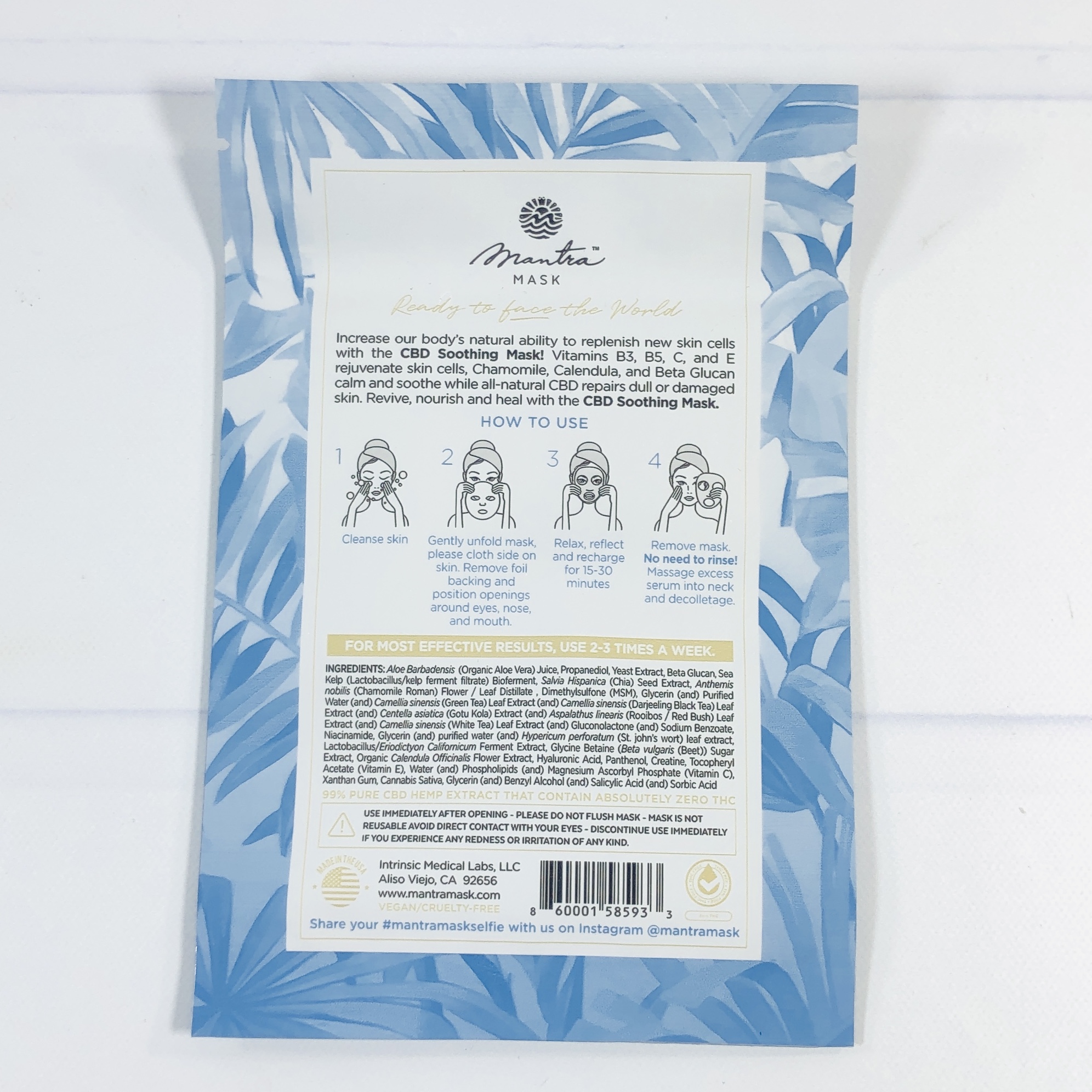 The base is aloe and there are lots of plant extracts such as those from chia, chamomile, cica, white tea, and calendula. MSM and niacinamide may act as anti-inflammatories. Apply to clean skin and leave on for 15-30 minutes. You can pat in any remaining serum.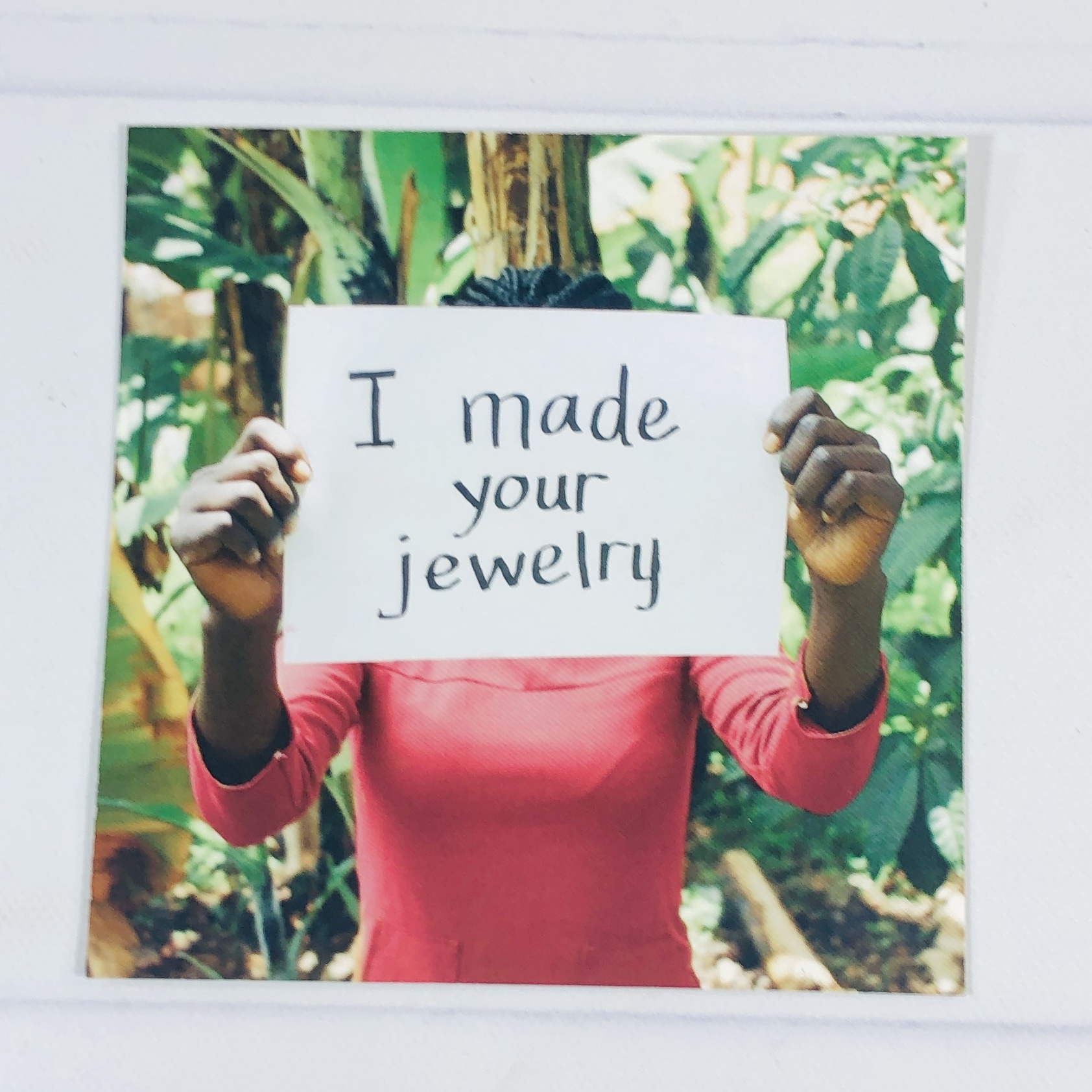 International Sanctuary Purpose Jewelry Bracelet The next item came with a card.
This brand donates proceeds to help girls and woman rebuild their lives after escaping human trafficking.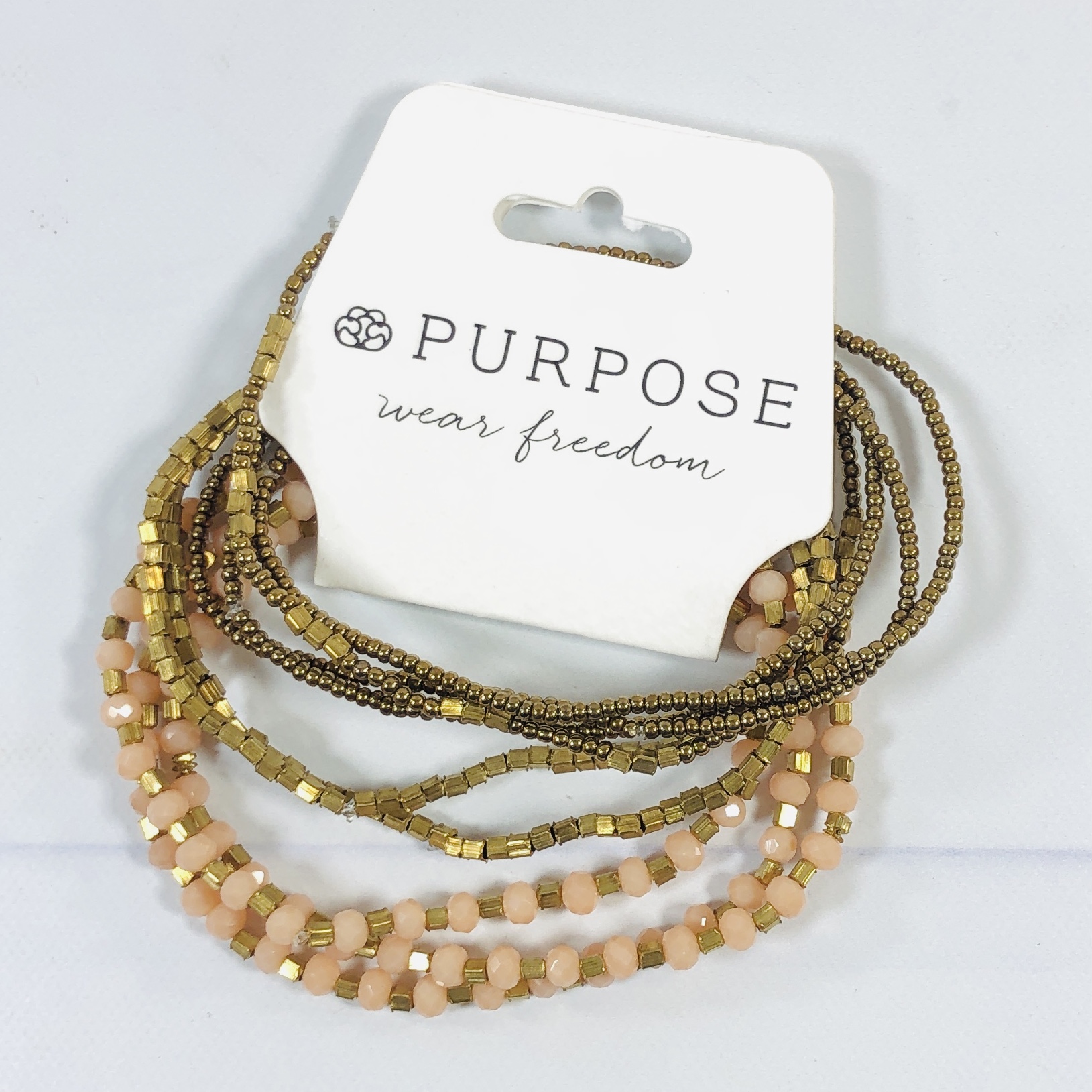 I couldn't find this on the brand's website and this set is different from the item mentioned on the card and MyJane website.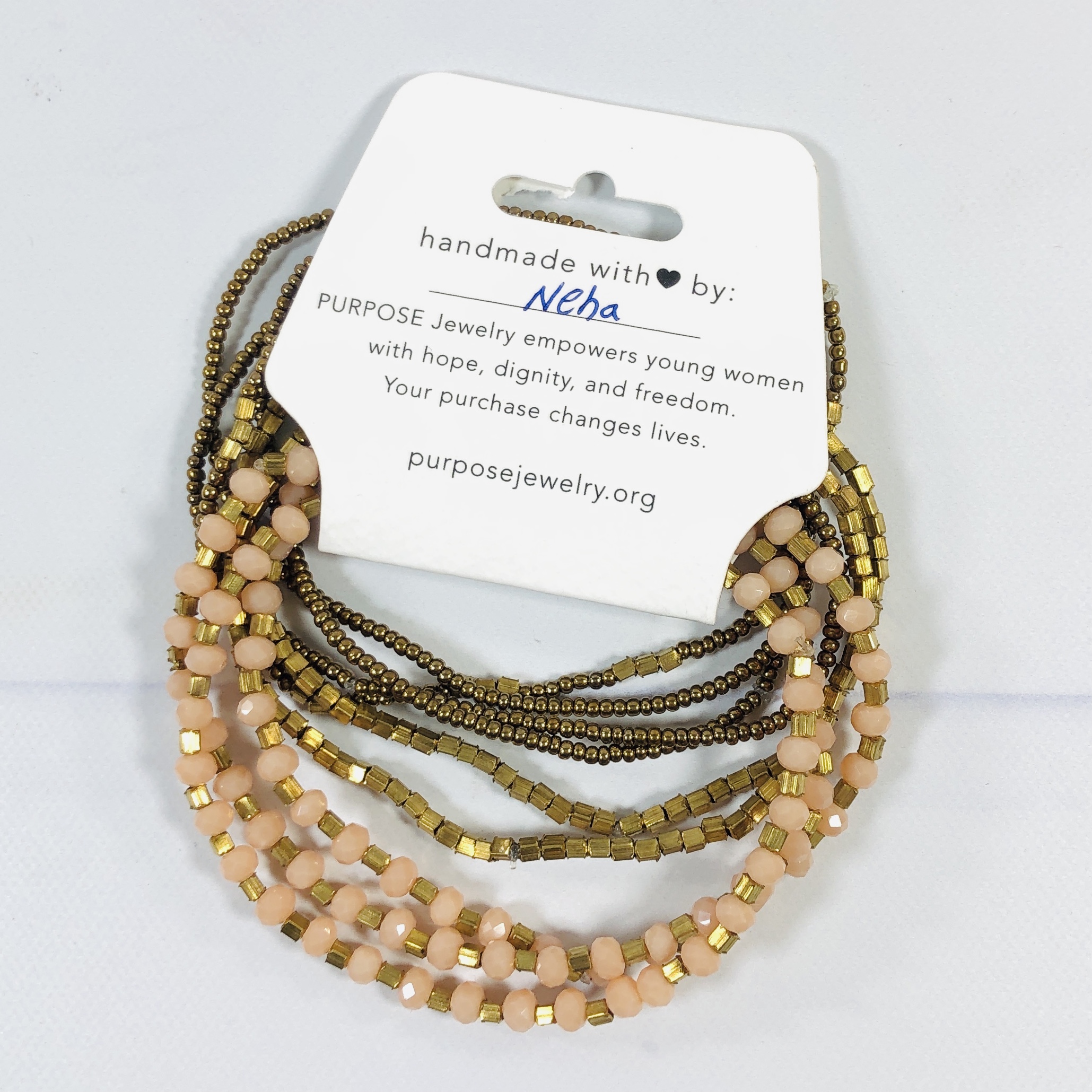 The back of the tag has the maker's name.
There are 9 bracelets total, 3 each of 3 different designs. They look like bronze, gold, and peach colored beads.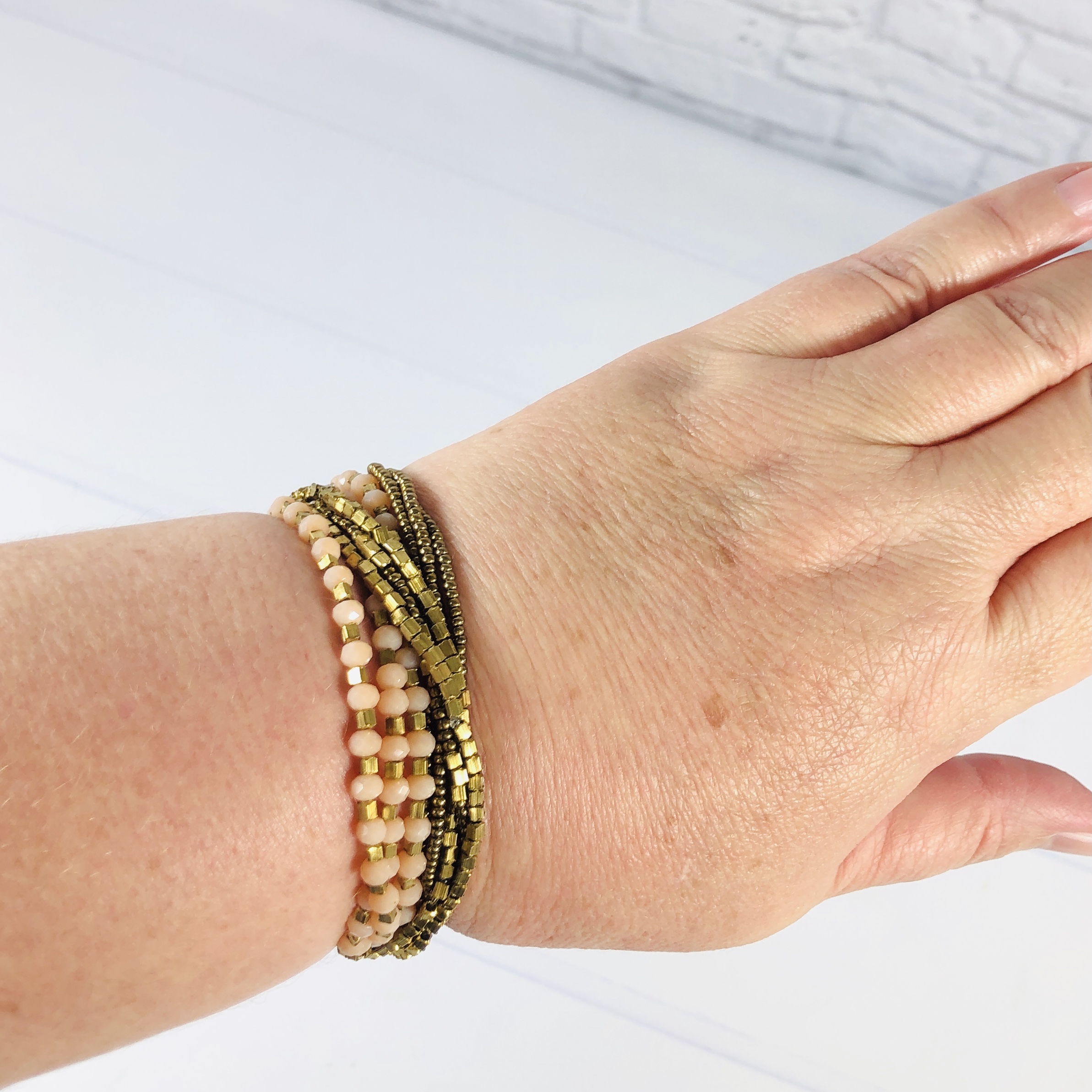 They are slightly stretchy but are too tight for my plus-size wrists.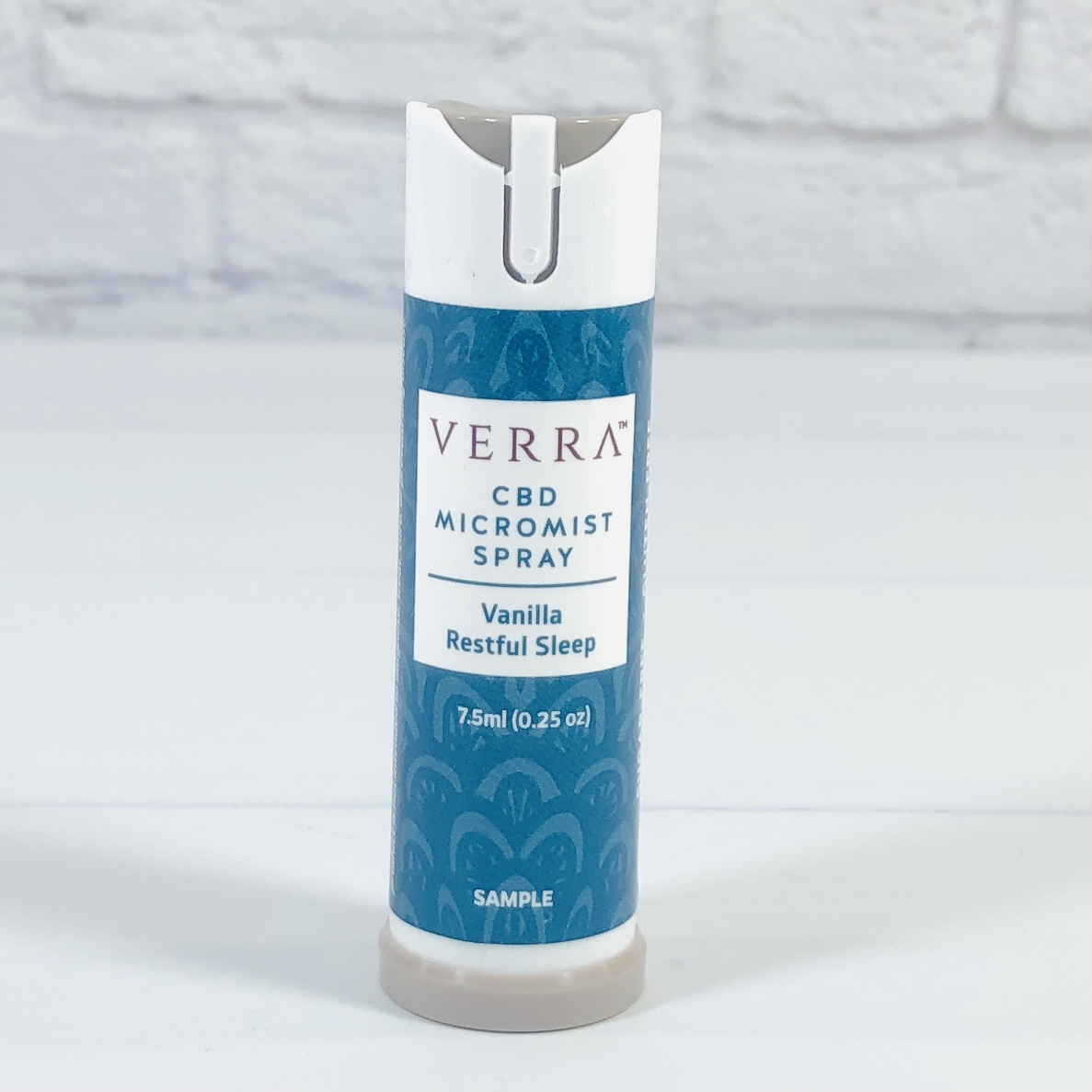 Verra Health CBD Micromist Spray ($18) A sample of a CBD micromist spray in Vanilla is an easy way to both administer and try CBD for newbies like me. Note that the white plastic that covers the nozzle should be broken off before using.
The mist includes melatonin, which is a proven sleep inducer. I have never tried melatonin before but I did fall asleep easily afterward and only woke up once during the night. I simply sprayed it once under my tongue and waited a minute before swallowing. The flavor was pleasant.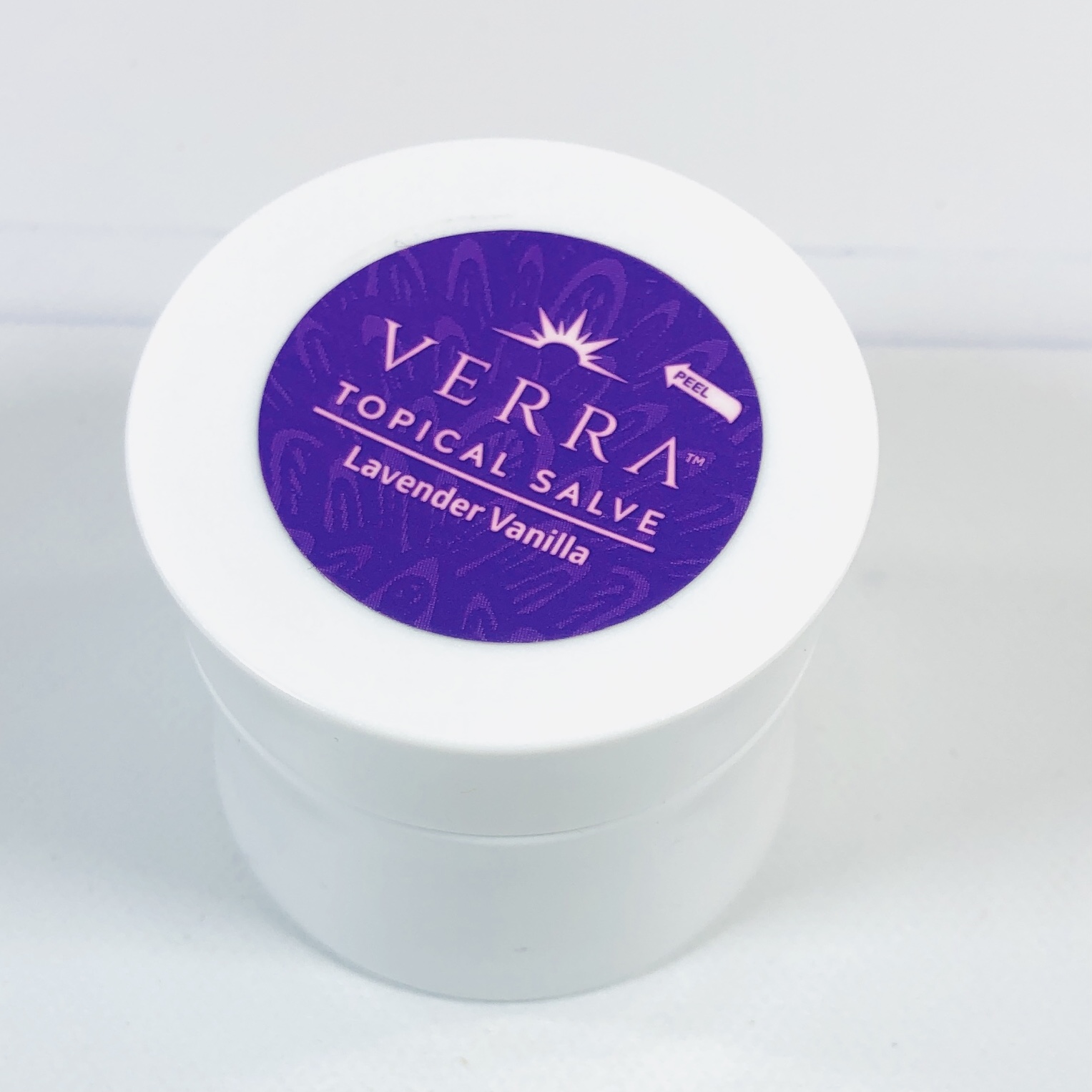 Verra Health Lavender Vanilla CBD Topical Salve ($10) is a pain-relieving salve that is applied topically to soothe aches and pains with arnica and CBD. Other ingredients include beeswax, coconut butter, coconut oil, and vitamin E.
I liked the smell, which was mostly cocoa butter and lavender, and applied this to my lower back before bed. Unlike other muscle rubs, this one didn't tingle or feel icy or hot. I still woke up with a sore back but the salve felt soothing as I applied it.
Lucent Botanicals Sleep CBD Mints ($29.99 for a box of 40 or get 8 for $12 here) is a sleep enhancer that is taken orally, just let it dissolve in your mouth.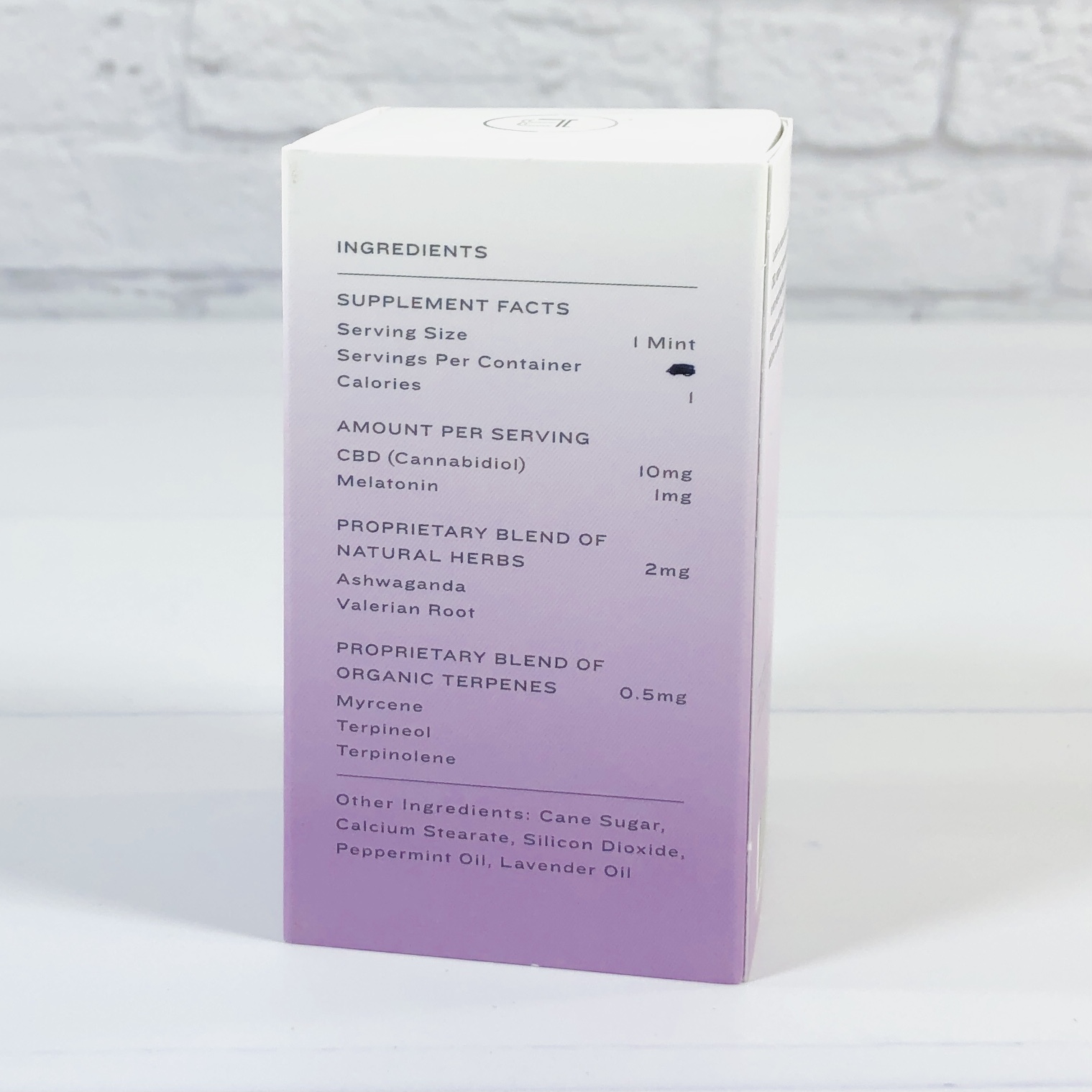 Of course, it has CBD but it also has melatonin and valerian root, which are also sleep enhancers.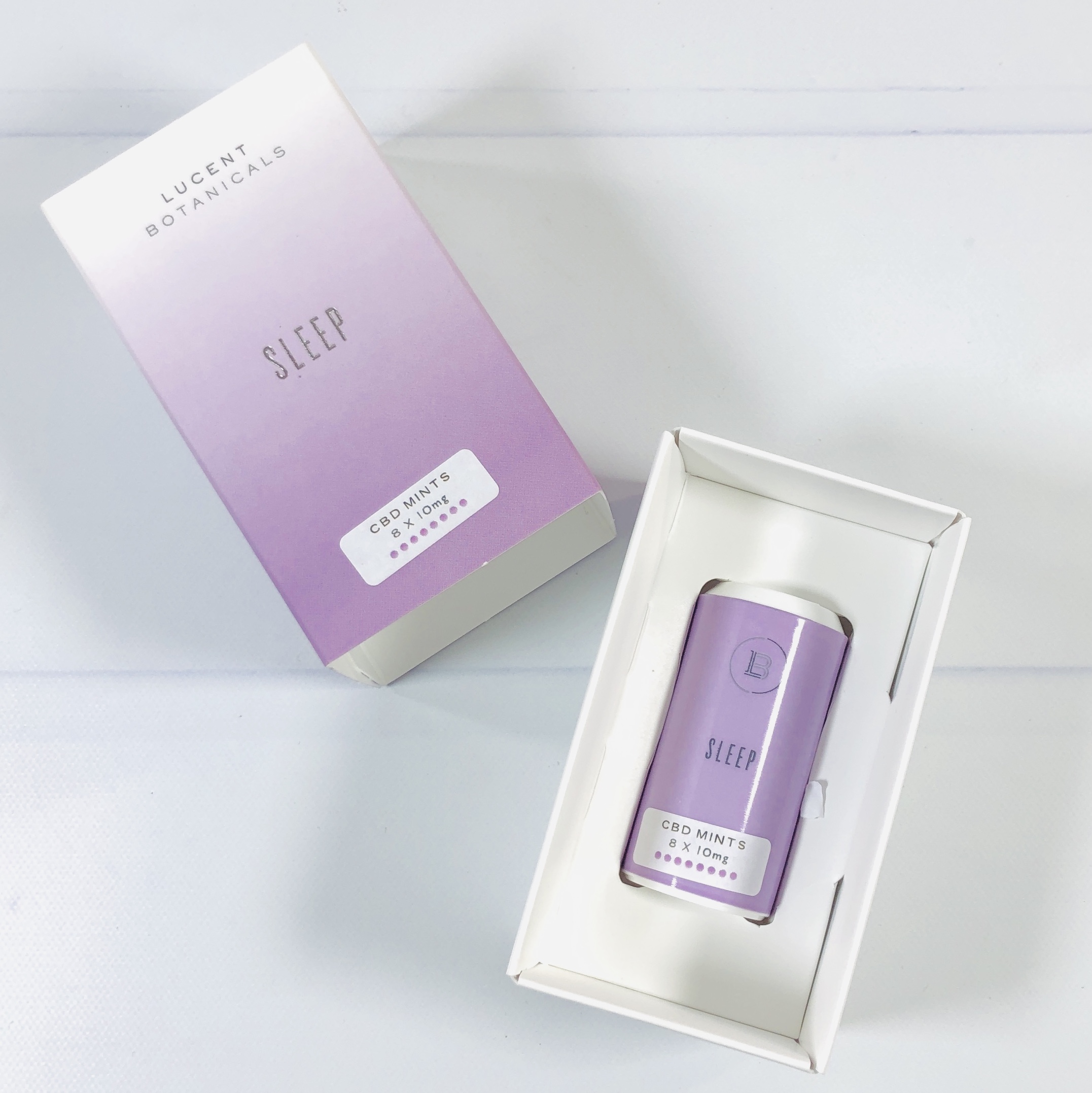 I took one since I am new to CBD but some people may need to take up to 5 mints. You would need to see what dosage works best for you.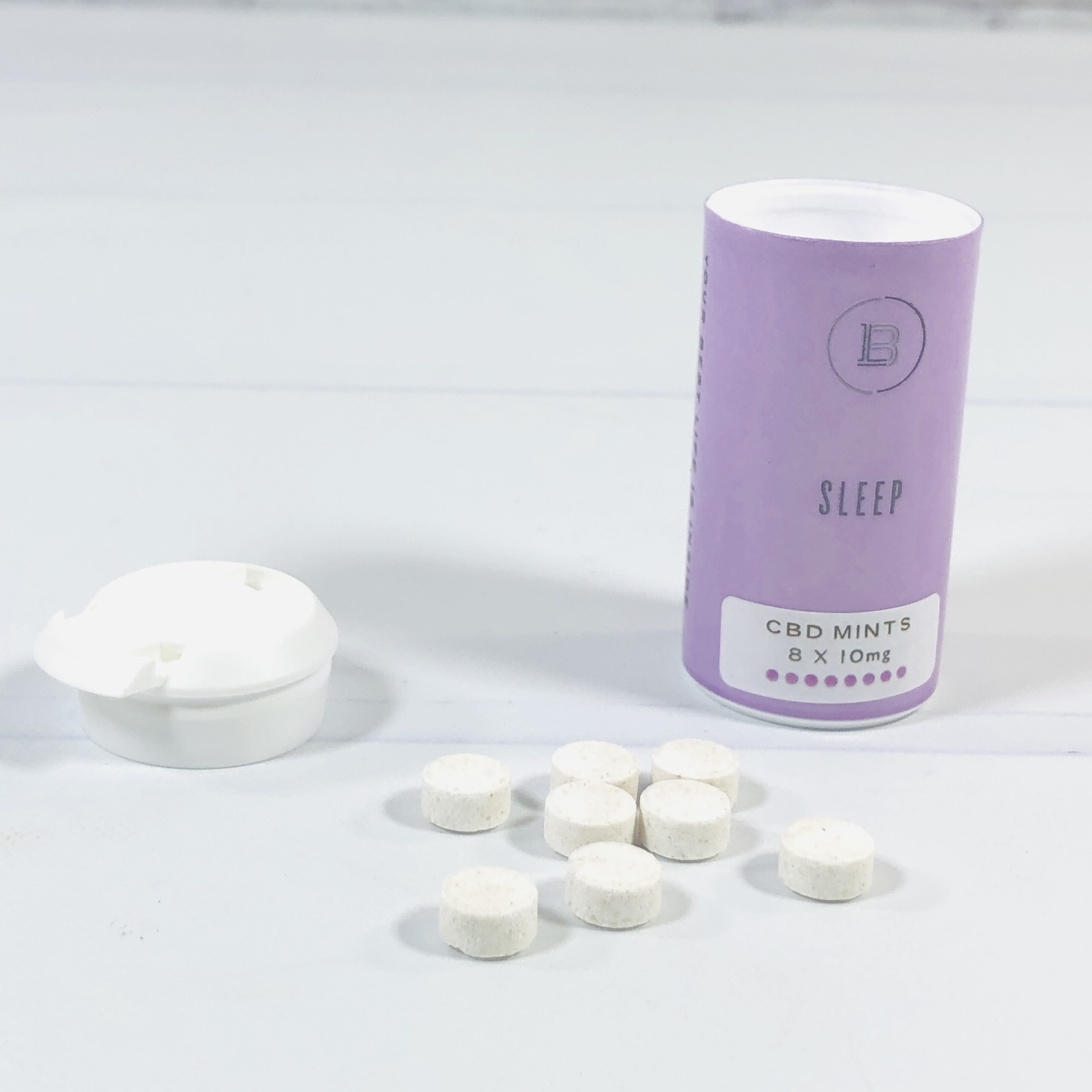 The mints had an herbal flavor and dissolved quickly. I still woke up twice during the night but fell asleep easily and maybe I need to take more but I think valerian doesn't mix well with my allergy medication.
I enjoyed gently sticking my toes into the world of CBD with the MyJane Dream Box! I'm a fan of lavender to begin with so that was a plus and of course, self-care is always in style. The products helped me fall into dreamland easily, but I can't say with certainty if it was CBD alone because it's combined with other sleep inducers like melatonin and lavender but I don't think it hurts to add that extra oomph. The bracelets are pretty and I think it's wonderful that they help put women to work and I know someone to pass them along to. You can use all of these items separately or combine a few, like wearing the face mask while soaking in the tub with the bath bomb. Before you know it you will be in bed and hopefully have sweet dreams!
What do you think of this box?