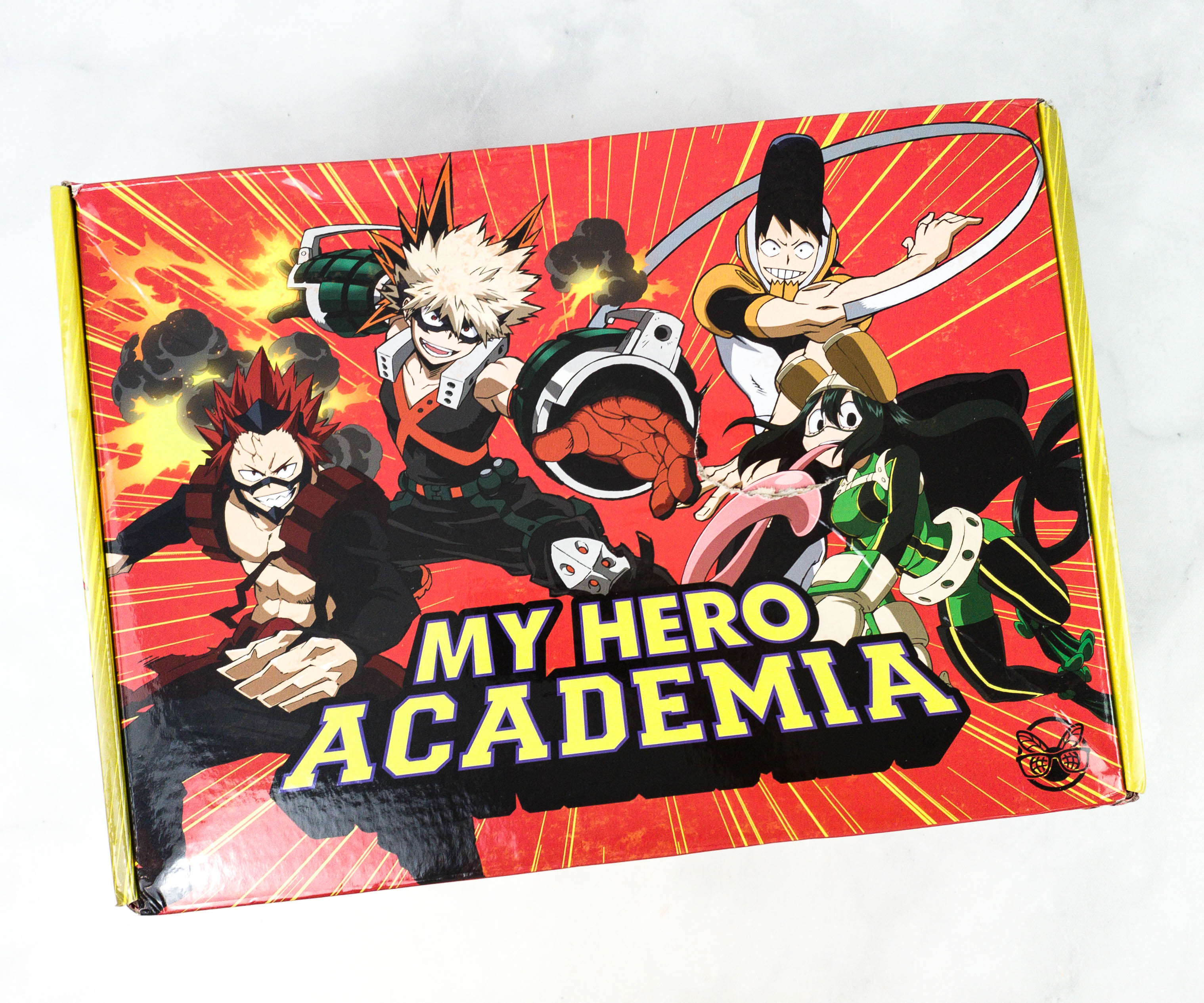 My Hero Academia box is a quarterly subscription that delivers exclusive My Hero Academia merchandise. Each box costs $39.99, or $35.99 a quarter when an annual subscription is purchased in advance. The box contains 7 to 10 limited edition products such as apparel, accessories, collectibles, stationery, homeware, decors, and more! This box is produced by Culturefly and contains items licensed and produced exclusively for this box – you can check out all of Culturefly's other fandom boxes here!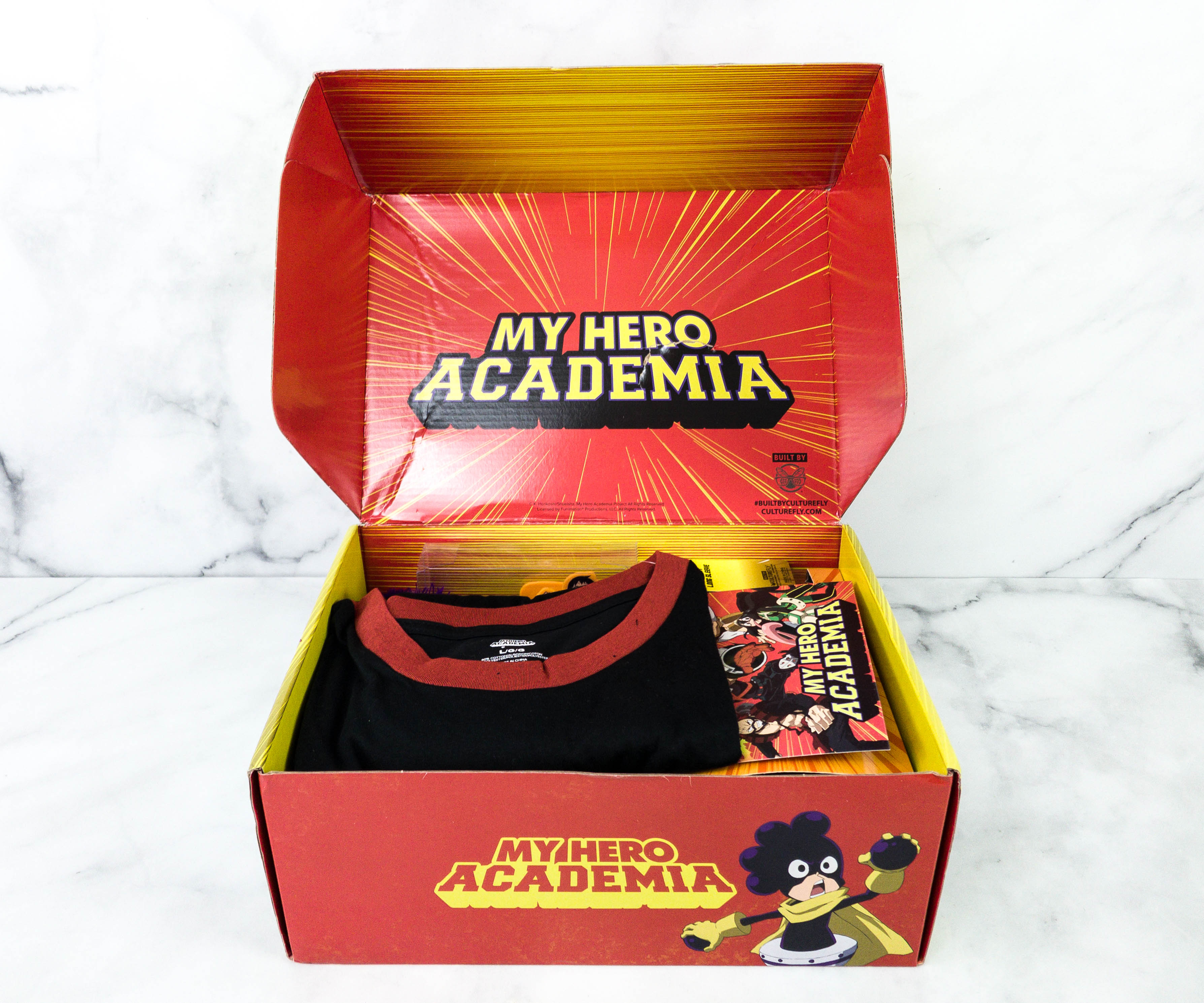 The box is full to the brim, and I'm so excited to see all the contents!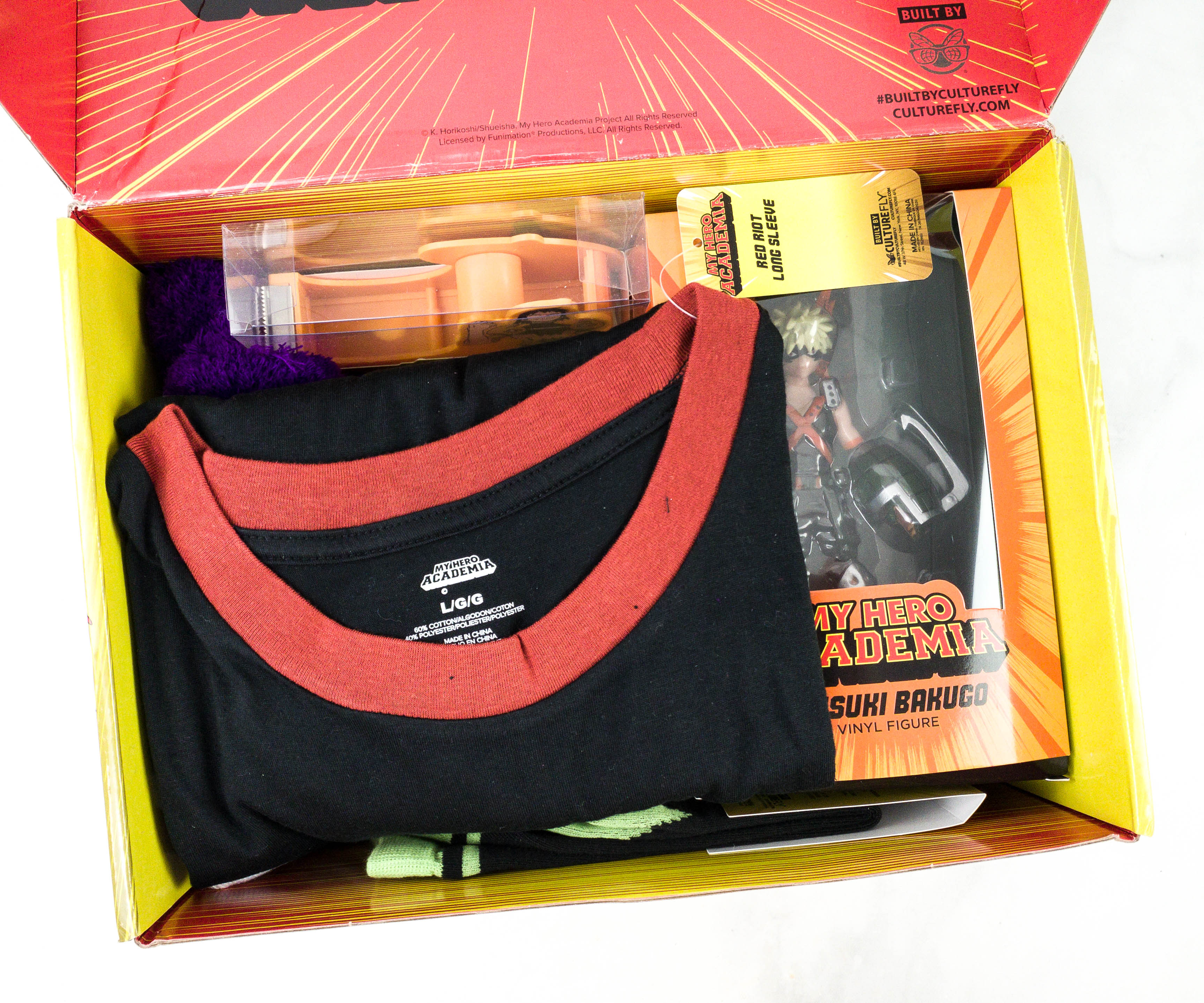 Some of the items come in their original packaging.
The box also includes an info card. This quarter's theme is QUIRKS!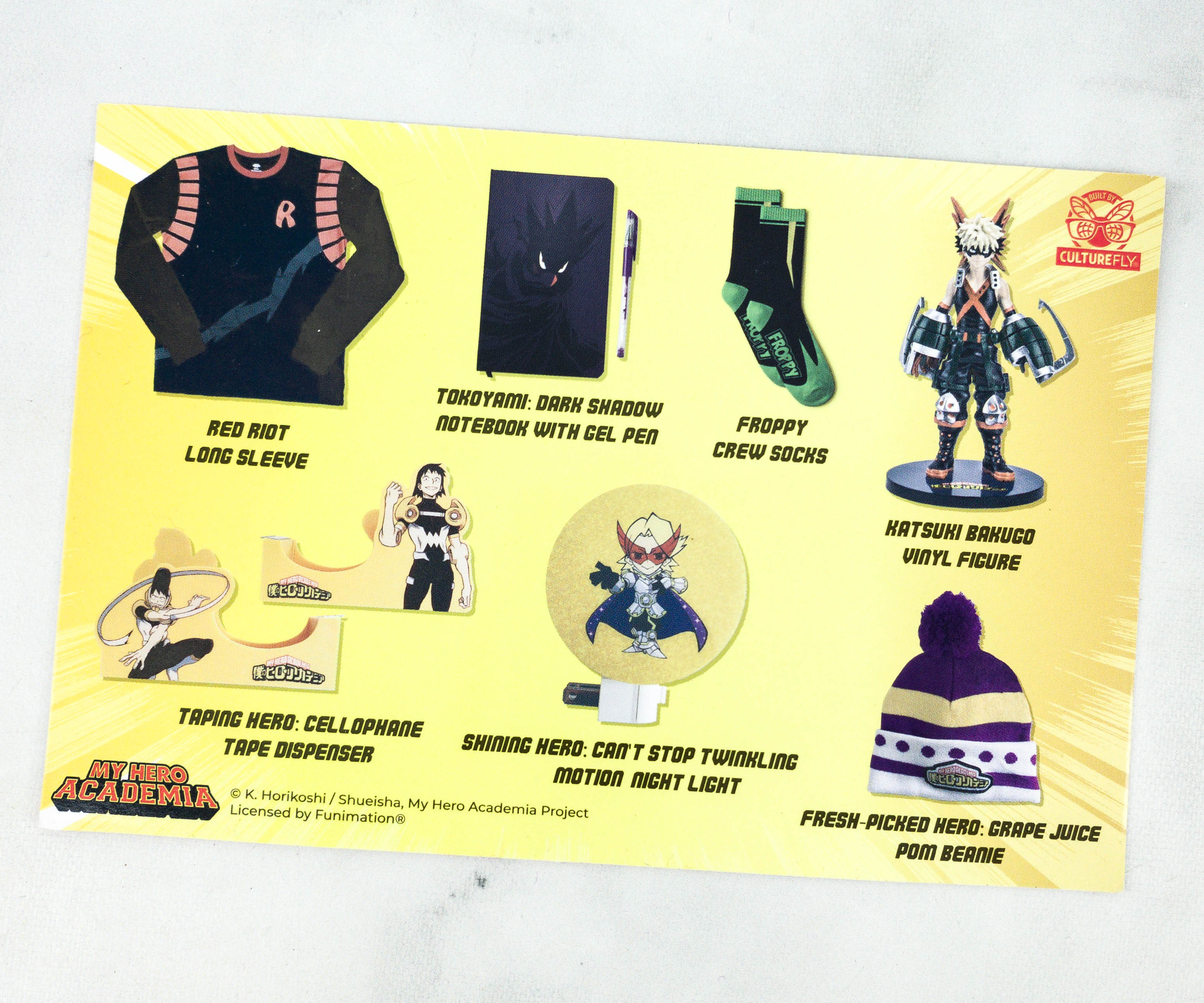 The flip side of the card lists all the items this quarter, including their individual photos.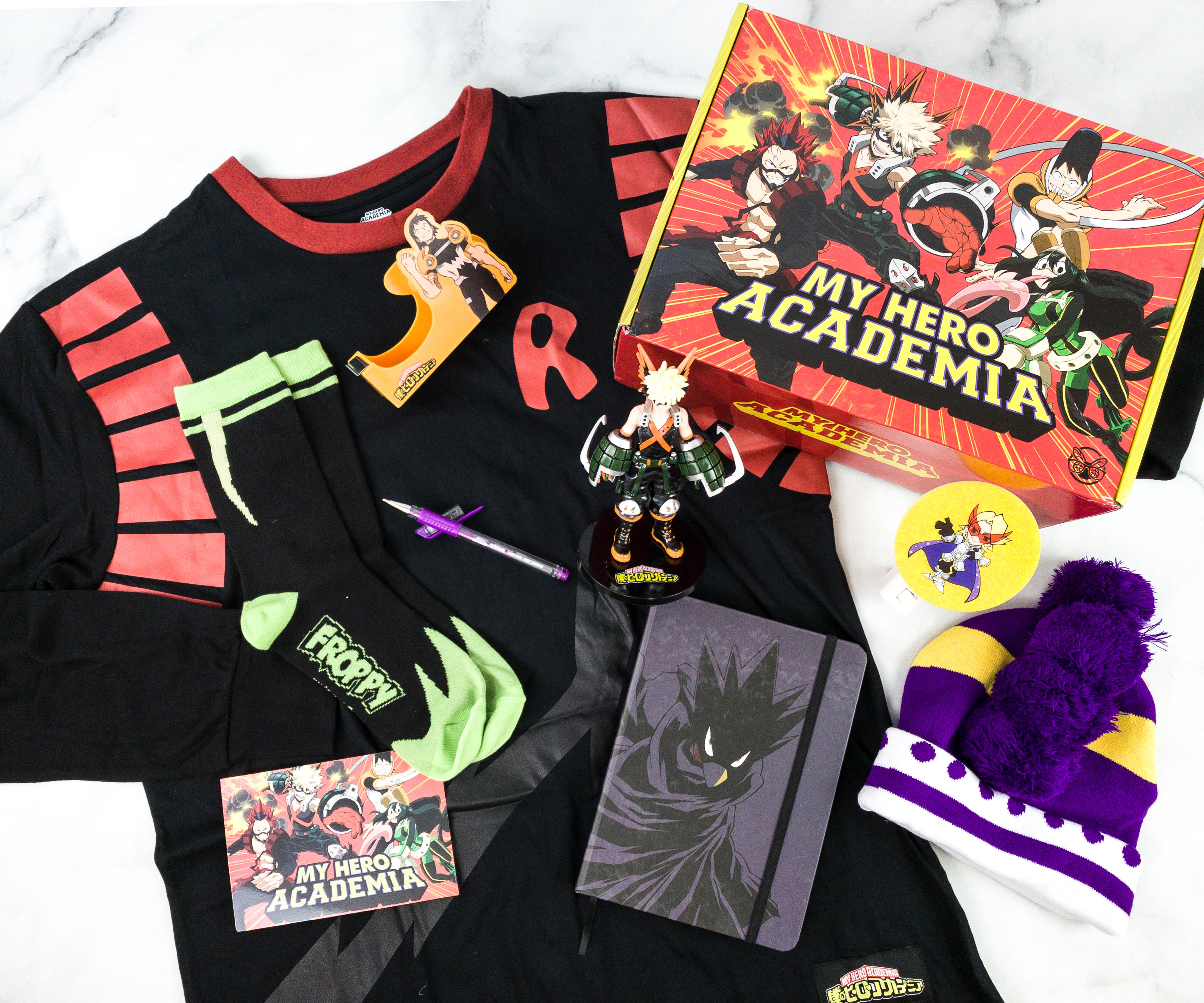 Everything in my box!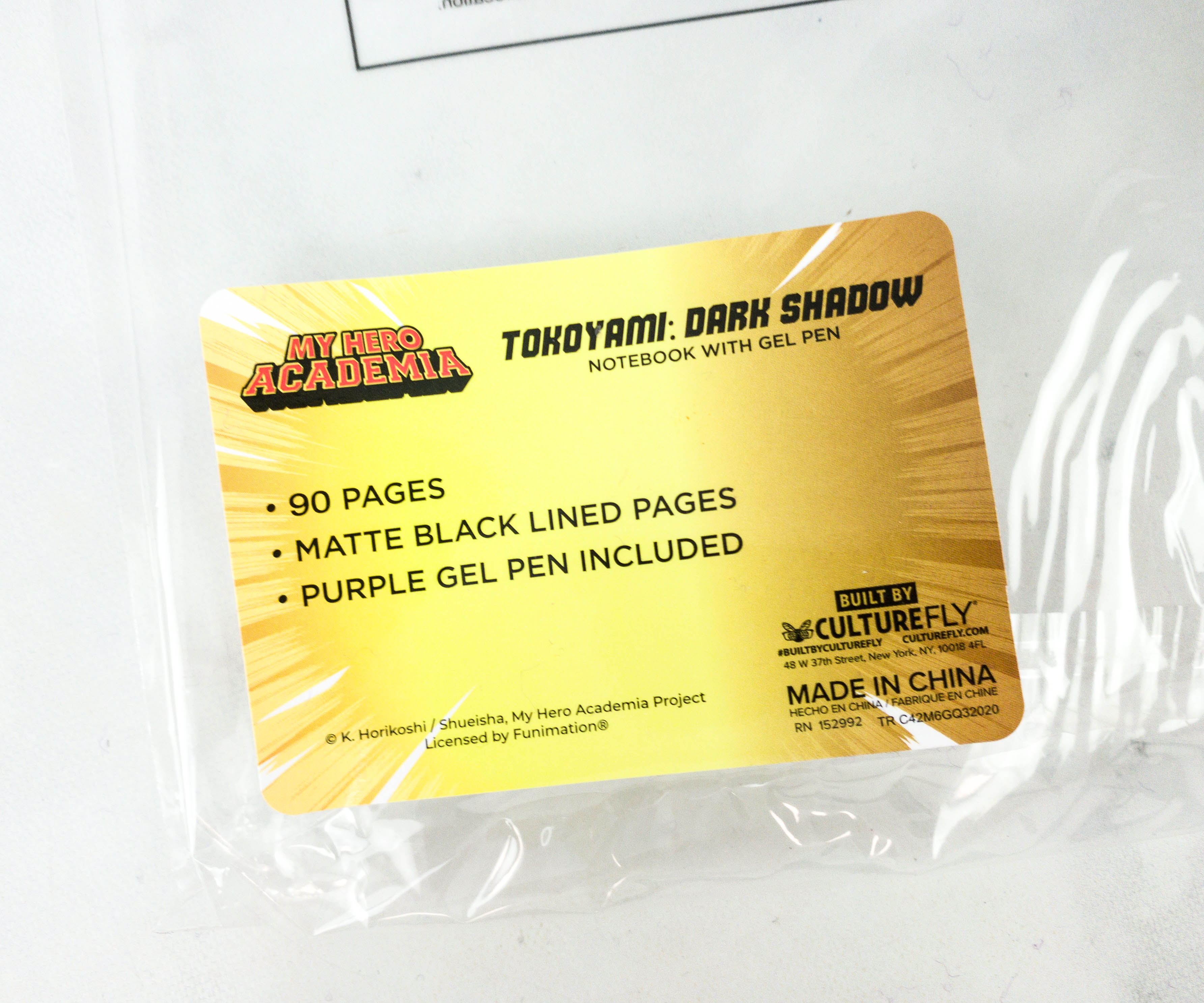 Fumikage Tokoyami Dark Shadow Notebook With Gel Pen. Ideal for note-taking or journaling, they sent a My Hero Academia themed notebook and gel pen!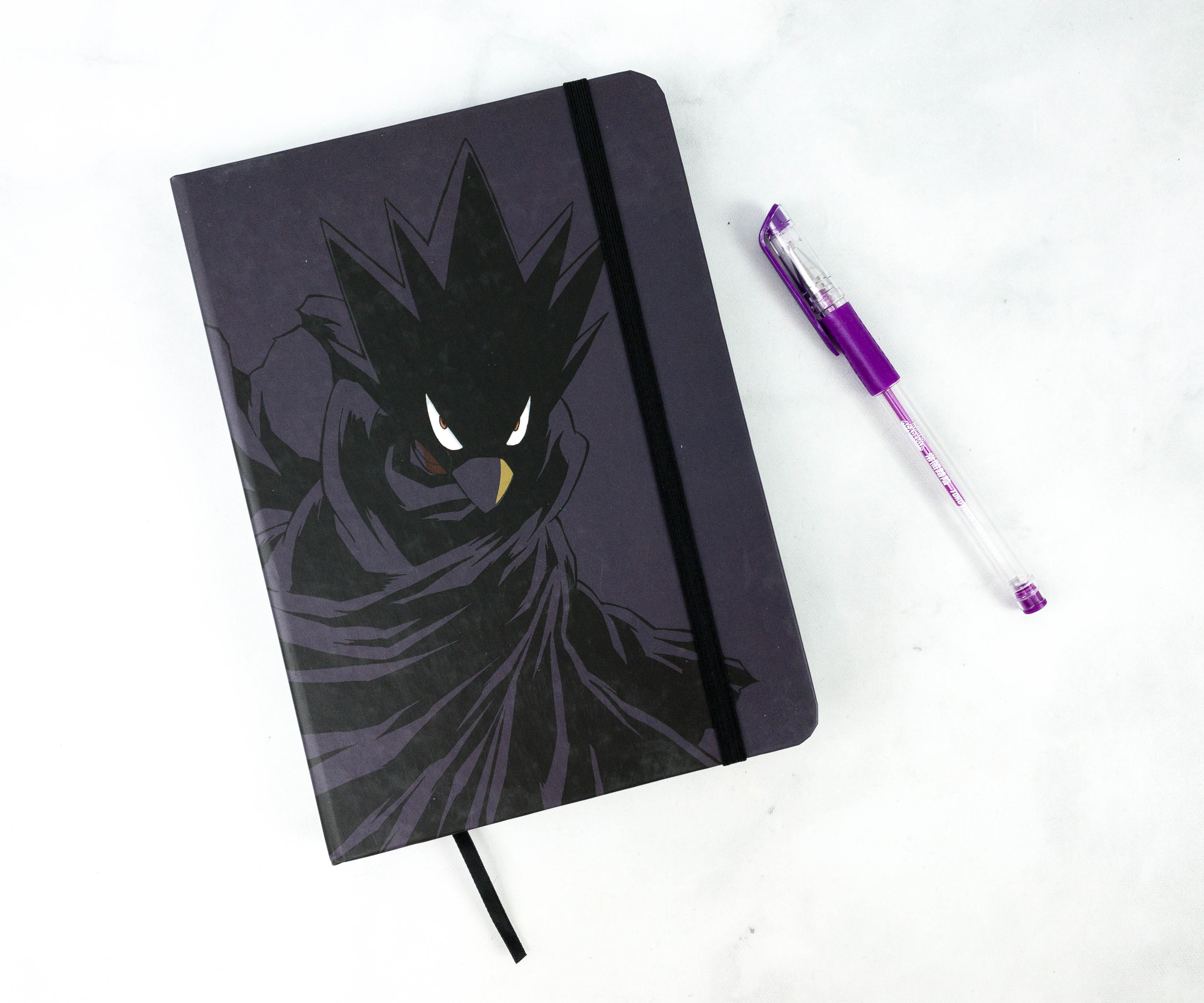 The notebook has 90 pages and it's also hardbound.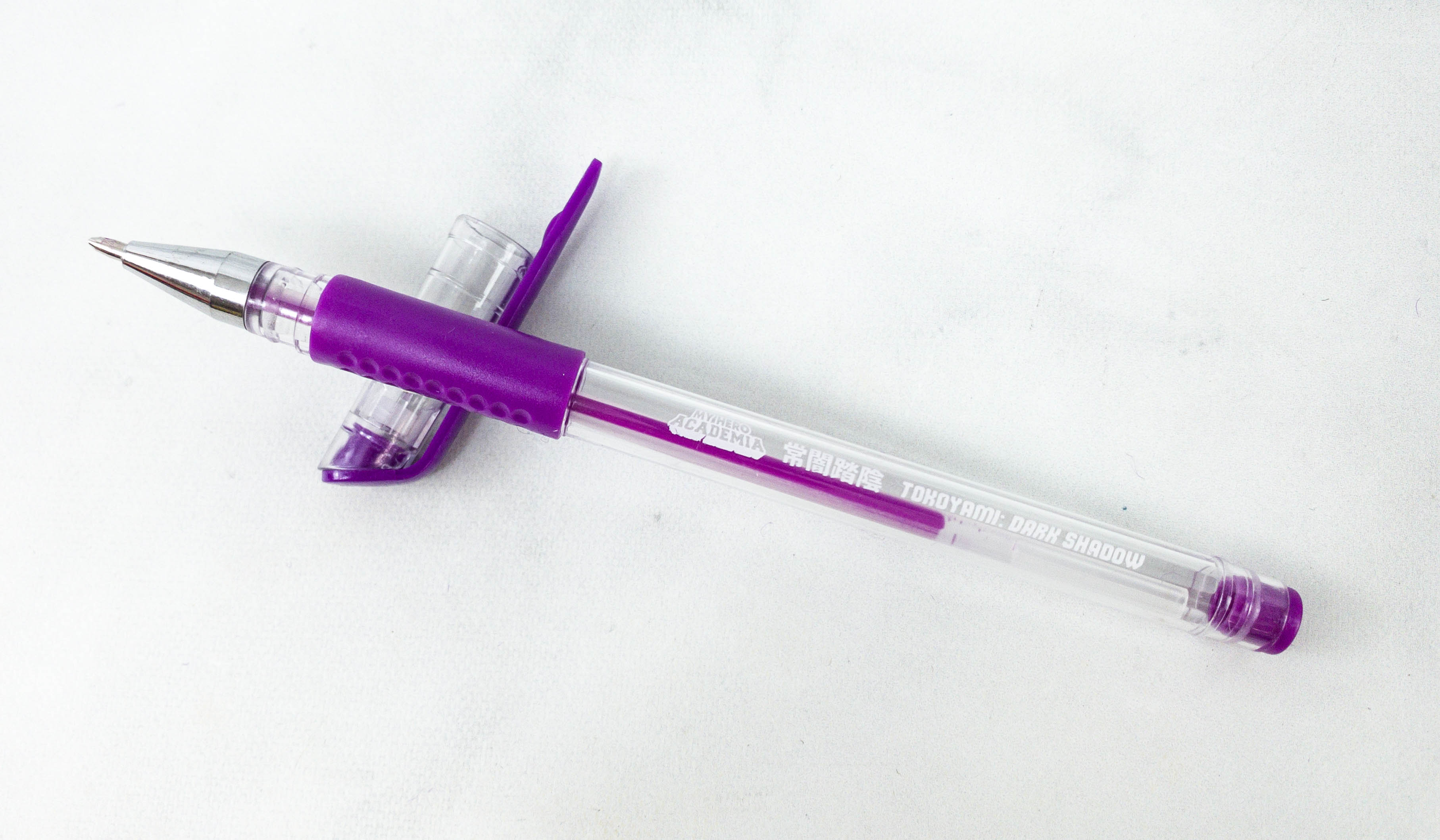 Here's a closer look at the exclusive My Hero Academia gel pen with purple ink.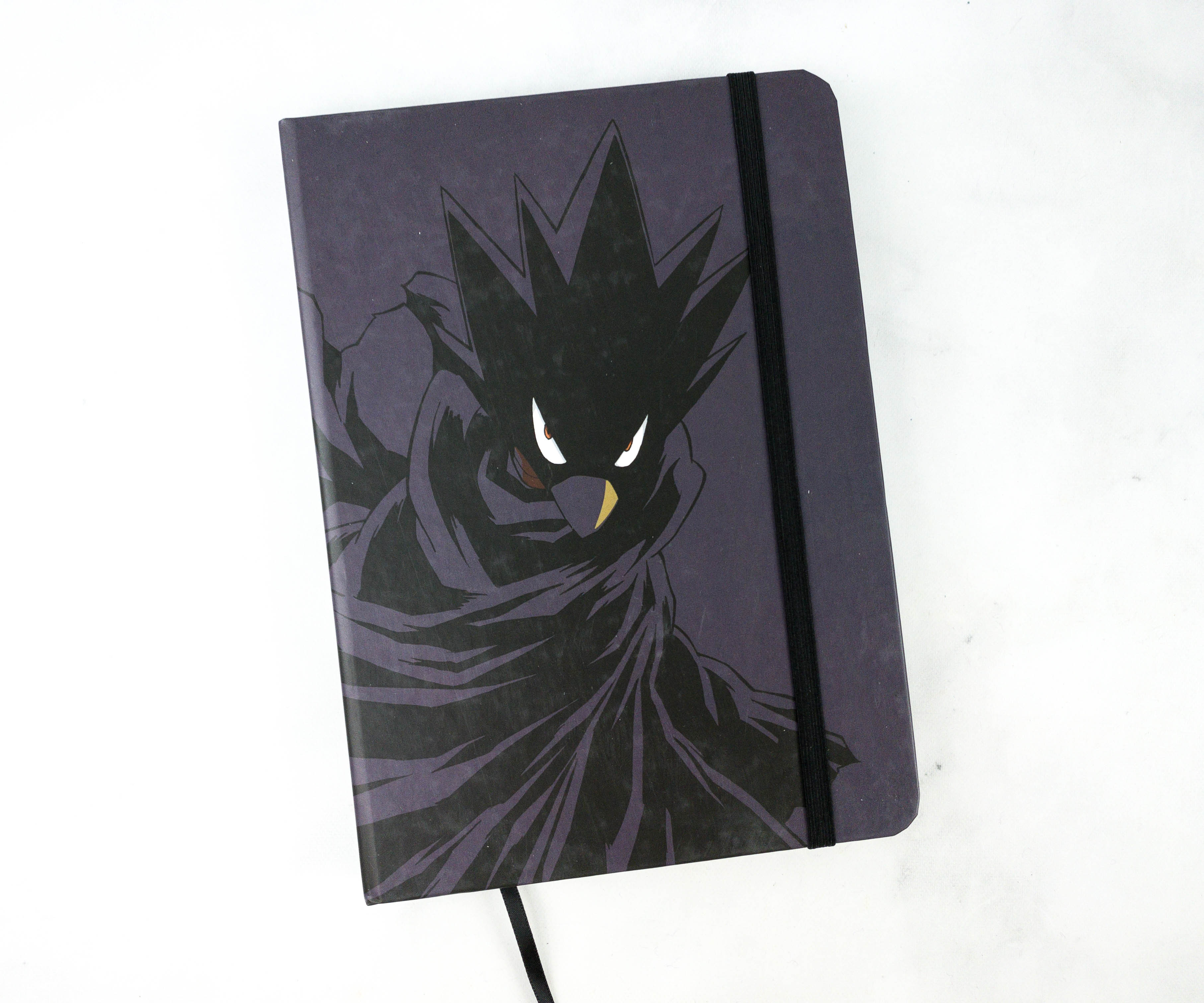 On the notebook cover is Fumikage Tokoyami, also known as the Jet-Black Hero. He's one of the main characters of My Hero Academia.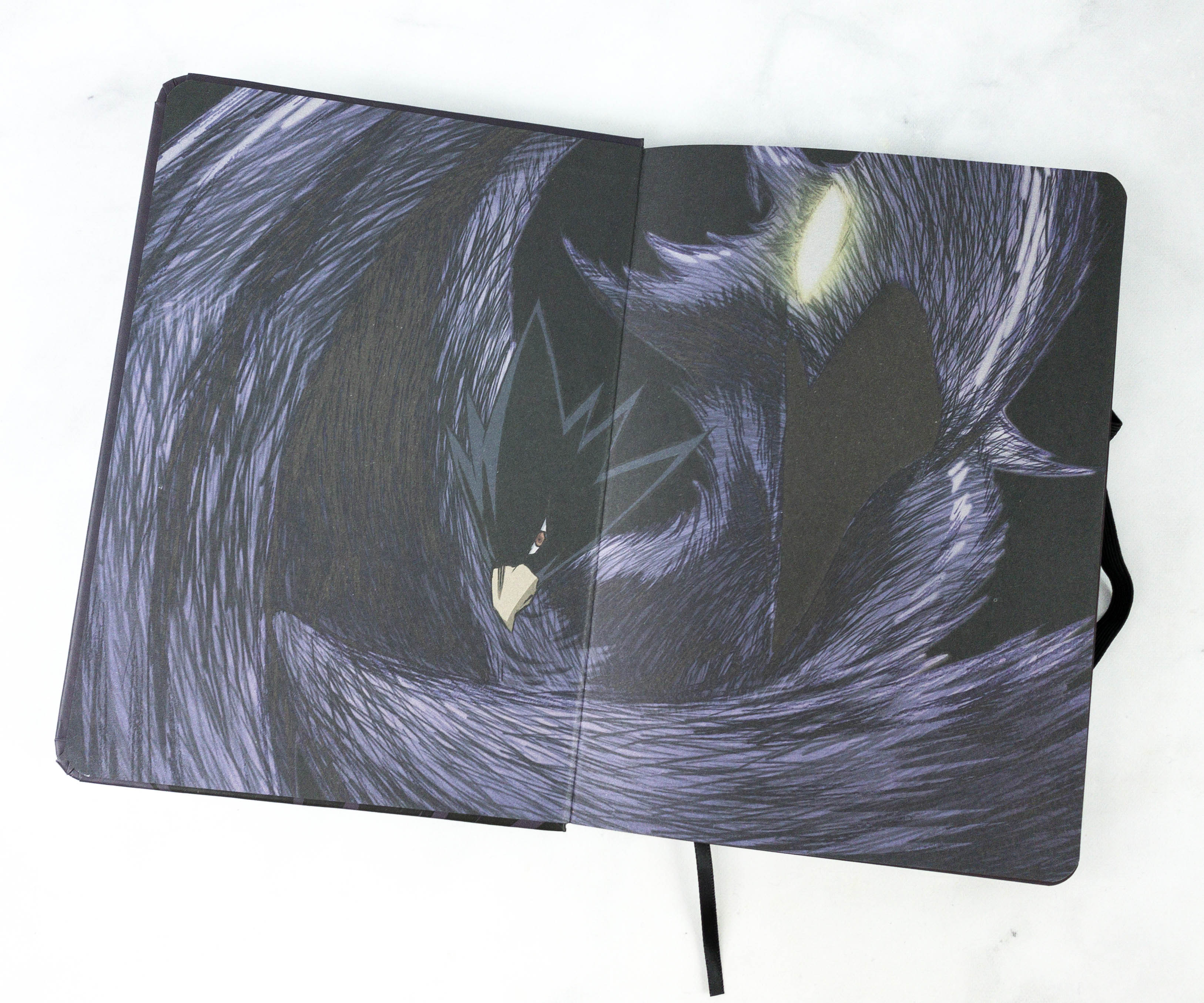 Fumikage's quirk is called Dark Shadow, a shadow monster that lives in his body which he can materialize, contract, and use freely. His quirk is weak in bright places but is far much stronger and almost unstoppable in the dark!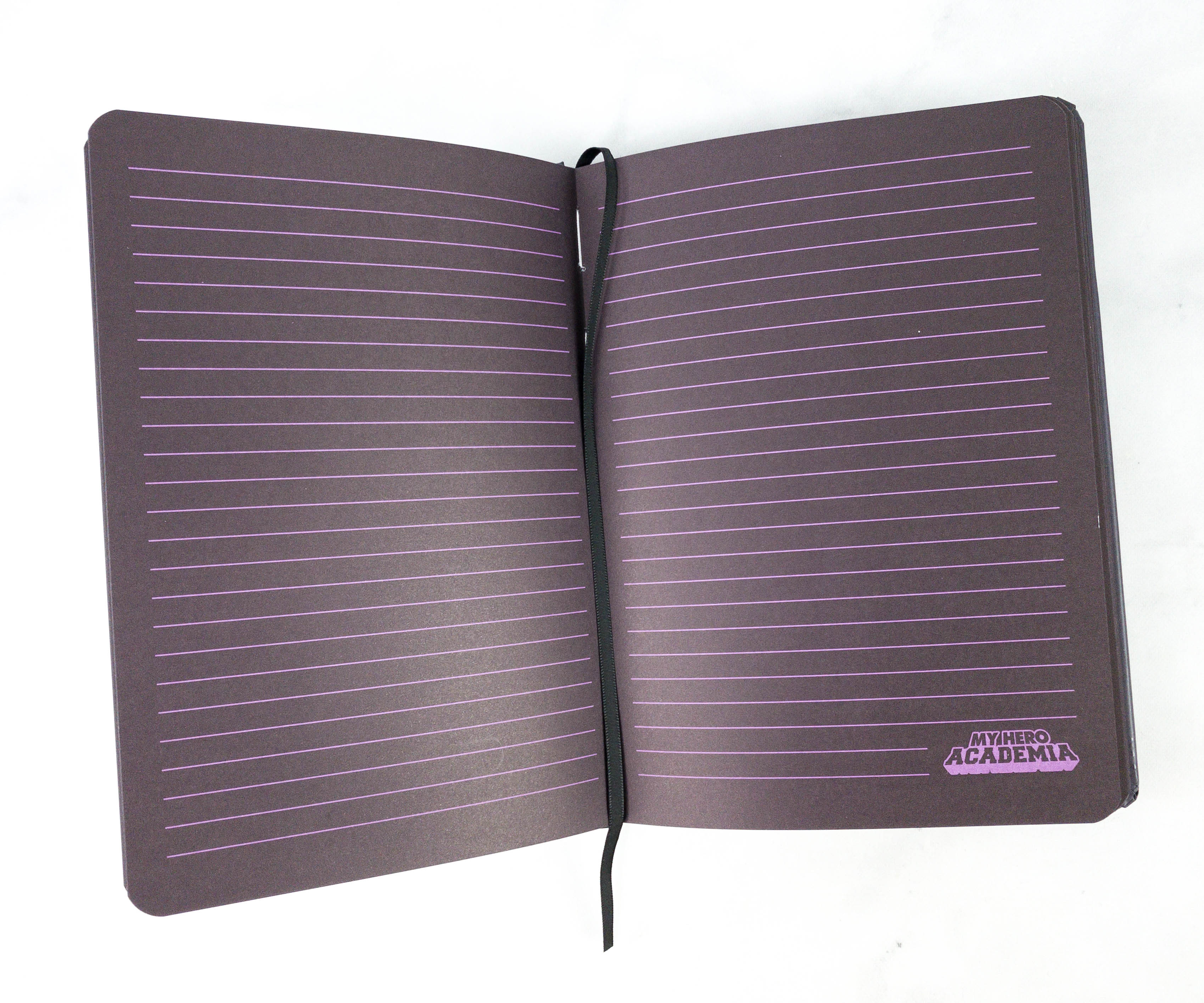 It's a unique type of notebook with matte black pages, purple-colored lining, and a ribbon bookmark. Regular pens won't probably work well on this but the pen they included does! It's also great to use with white pens, in case you have that in your stash.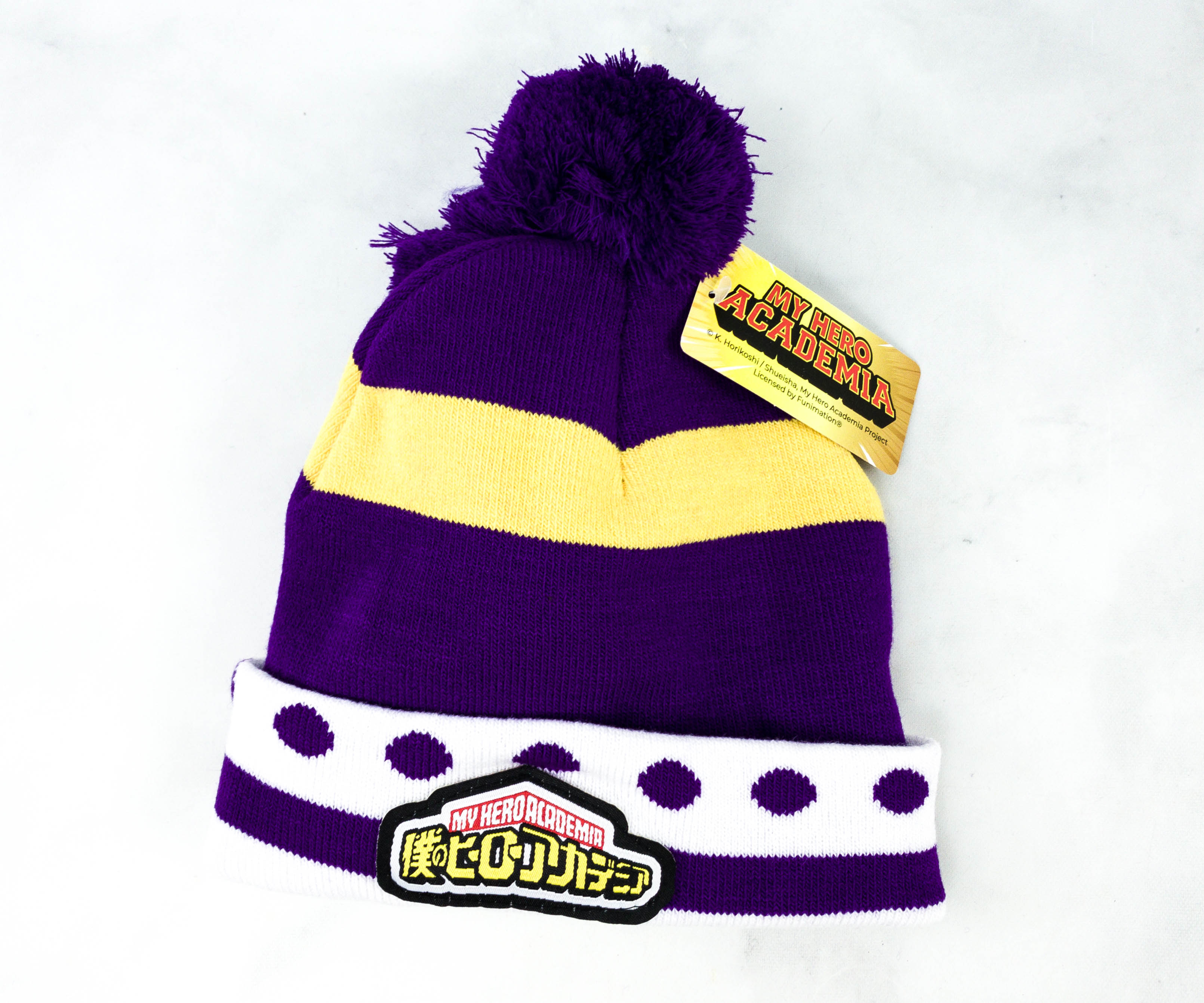 Fresh Picked Hero: Grape Juice Pom Beanie. This beanie is designed based on the quirk of Minoru Mineta, also known as the Fresh-Picked Hero: Grape Juice. His quirk is to produce a purple, ball-shaped object on his head!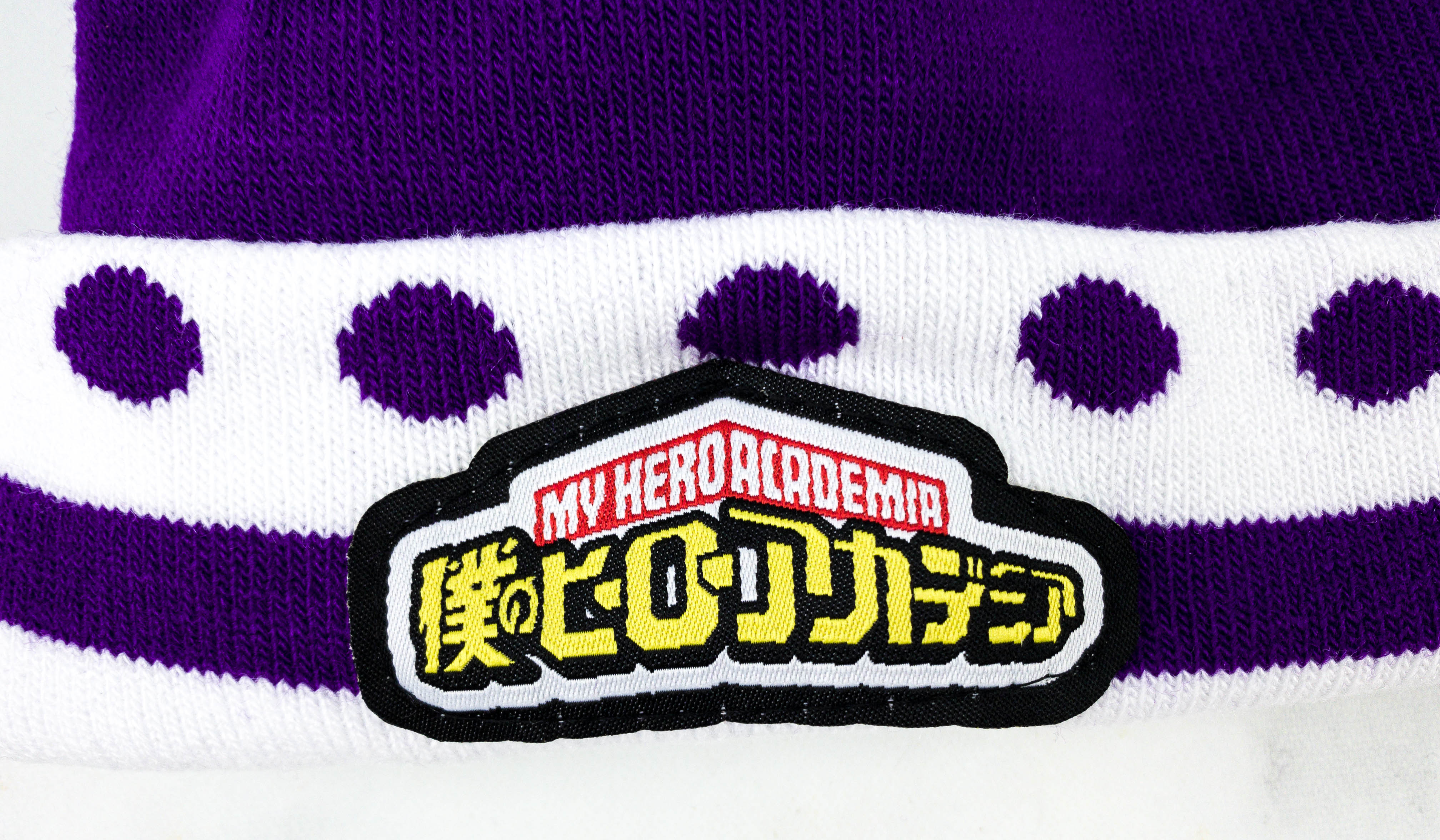 This beanie features purple and white stripes, with a block of yellow in the middle. Also embroidered on the front part of the beanie is the My Hero Academia logo!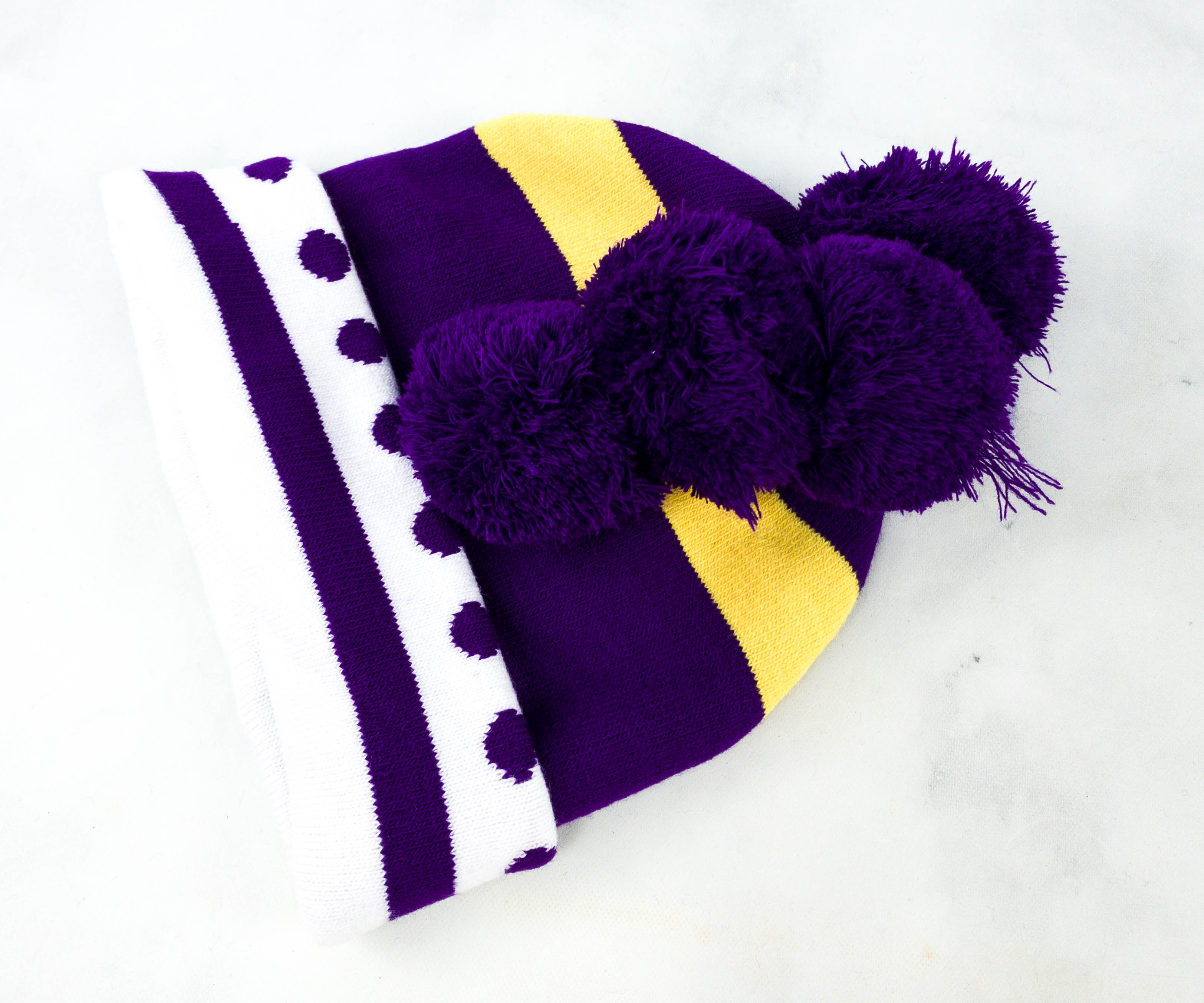 Like the head of Minoru, this beanie features four large purple balls aligned in a straight line forming a Mohawk-like hairstyle. It's cool!
Froppy Crew Socks. Here's another My Hero Academia wearable, a pair of crew-cut style socks! It's inspired by Tsuyu Asui, whose alias is Rainy Season Hero: Froppy.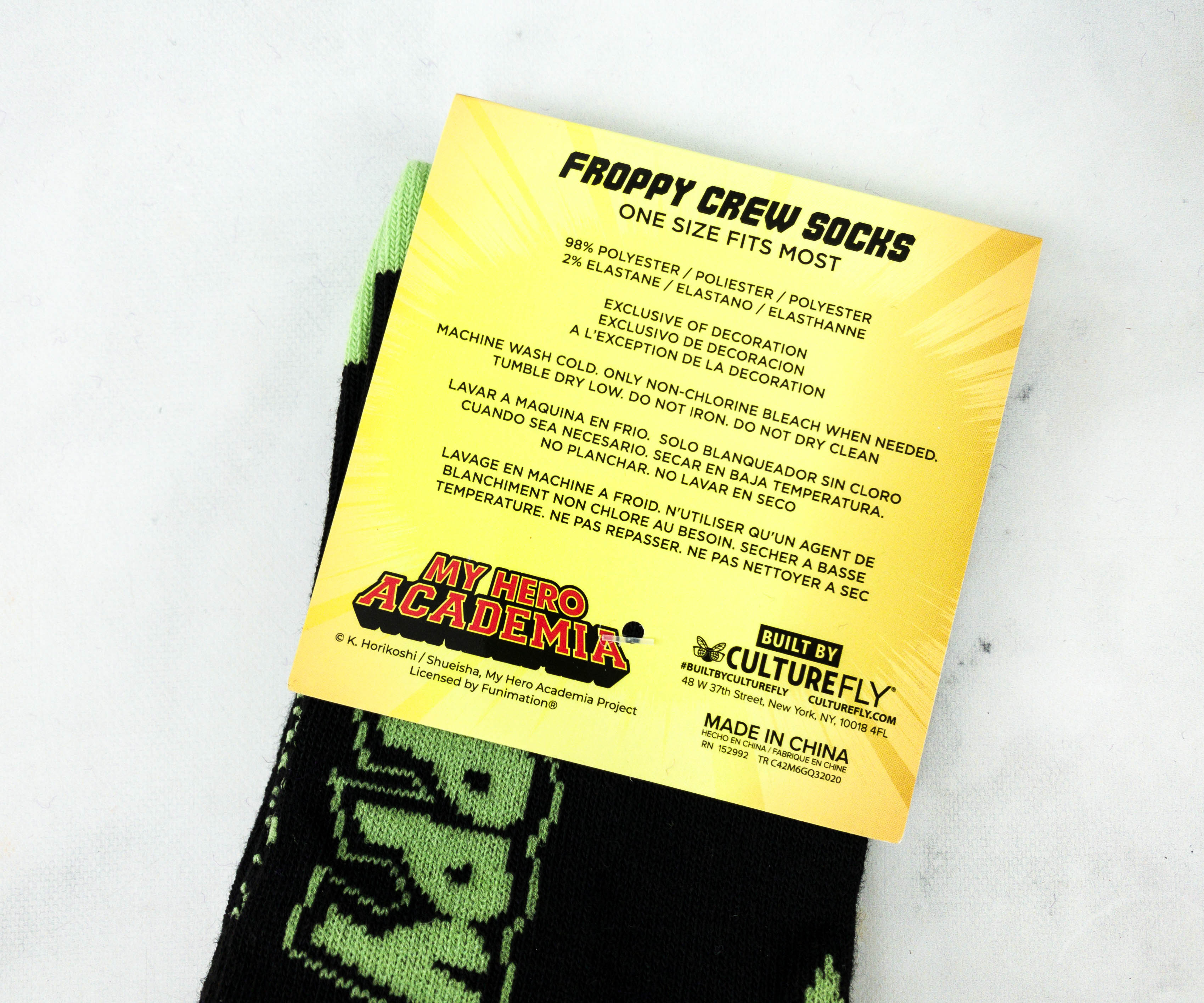 These socks are made from 98% polyester and 2% elastane.
These socks feature a black base color with light green cuffs, heels, and toes. I love them because they're so soft and comfortable to wear!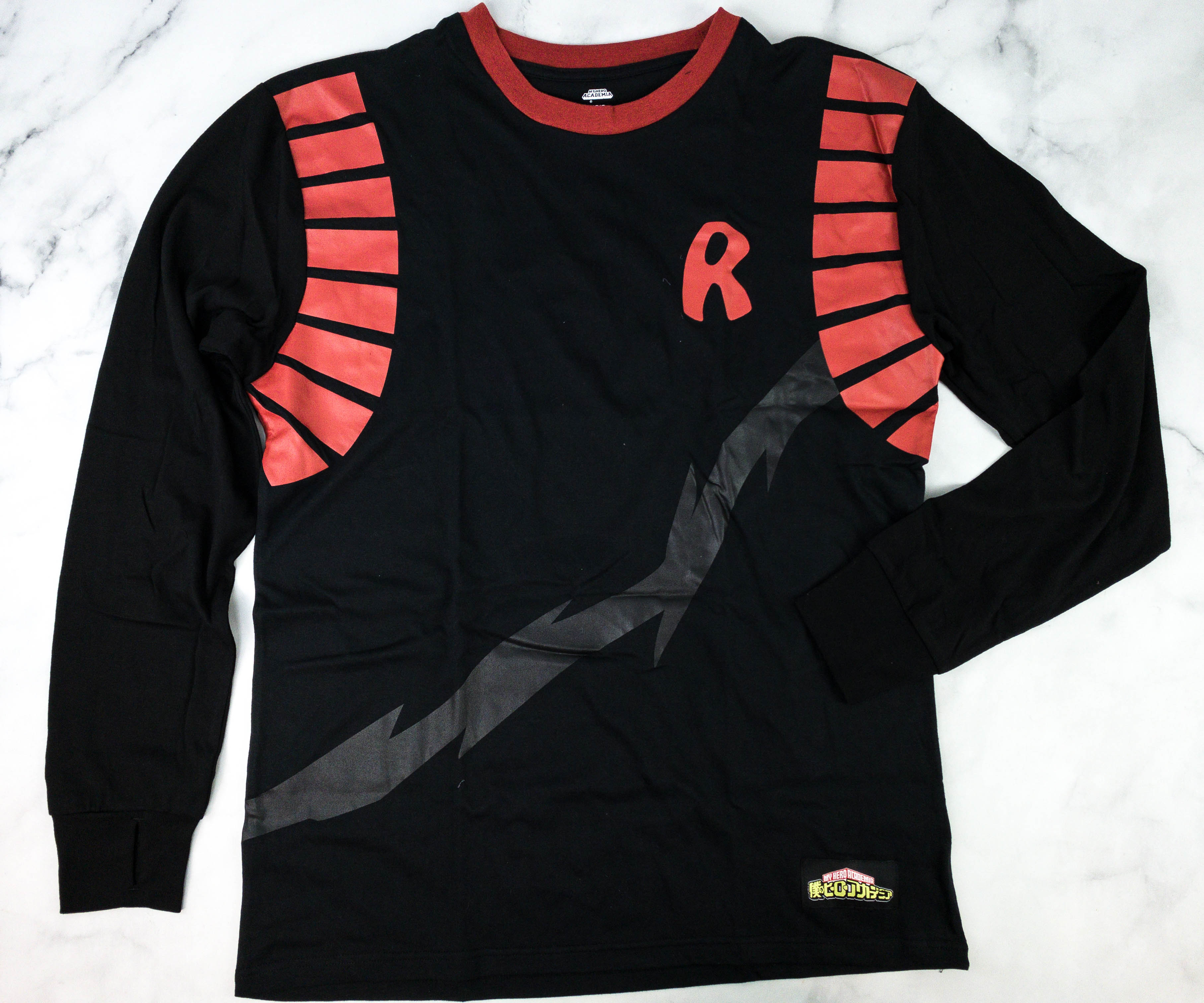 Red Riot Long Sleeve. This long-sleeved top is made from high-quality cotton and polyester fabric. It looks simple but cool with its black base color and red prints.
Near the hem part is the trademark logo of My Hero Academia for authenticity!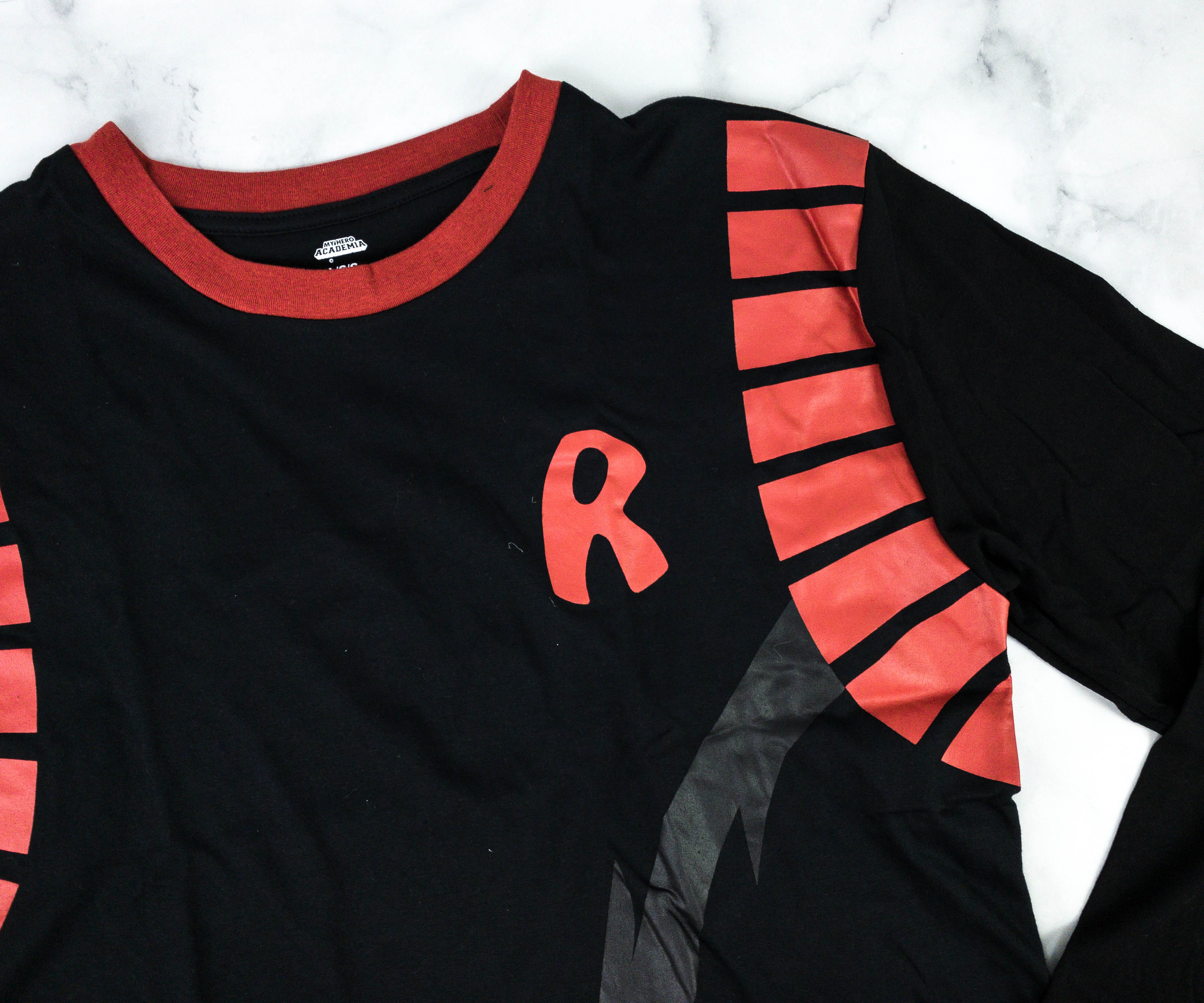 This long-sleeved top's design is based on Eijiro Kirishima's Red Riot costume which features a pair of black arm bands and red gear-shaped shoulder pads. Printed on the upper left part of the shirt is Red Riot's logo!
The black print across the shirt is almost unnoticeable unless you look at it up close. There were some folds and creases on it, which probably happened during shipping.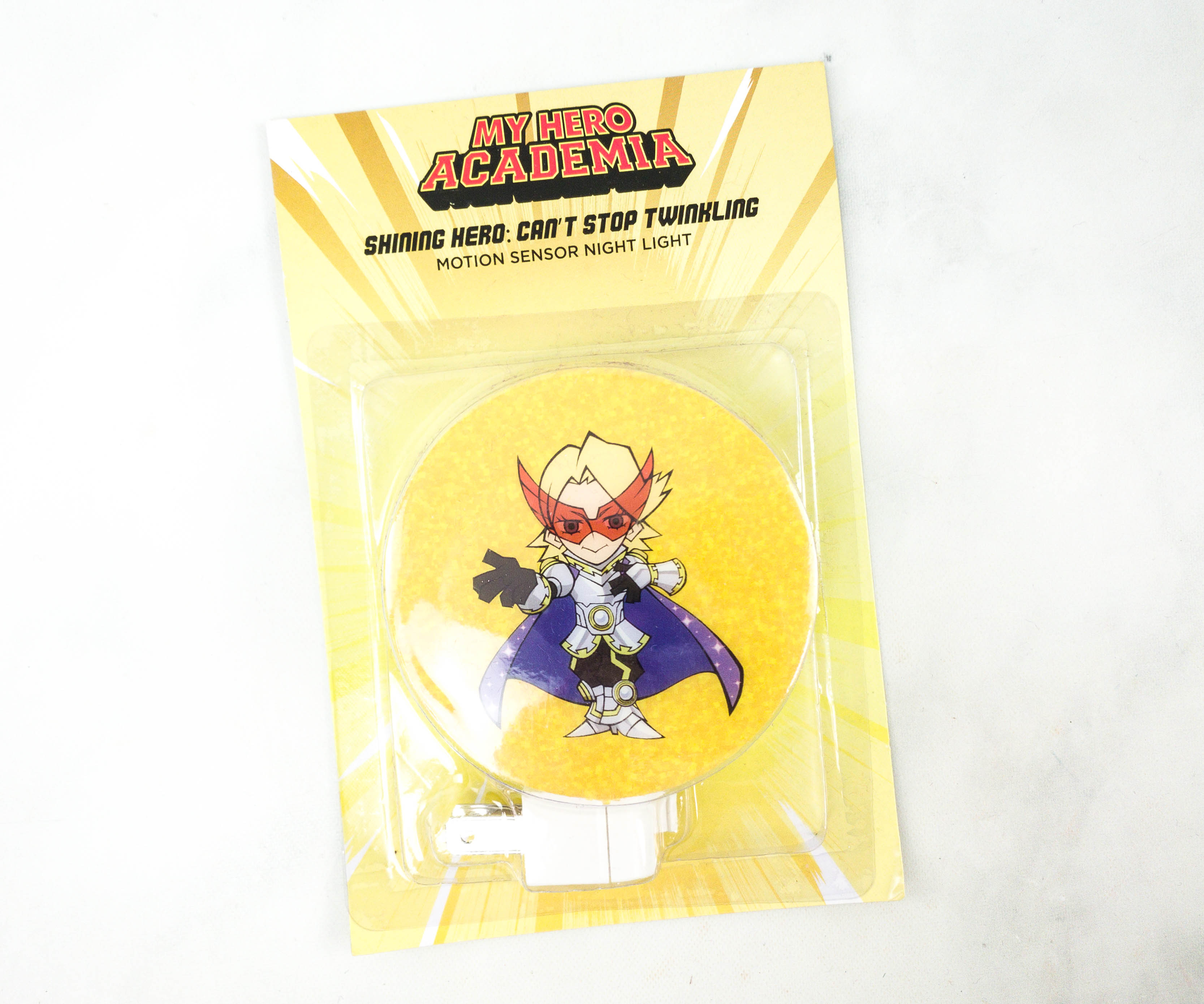 Shining Hero Can't Stop Twinkling Motion Night Light. It's a motion sensor bulb that automatically activates when someone or something moves within its range!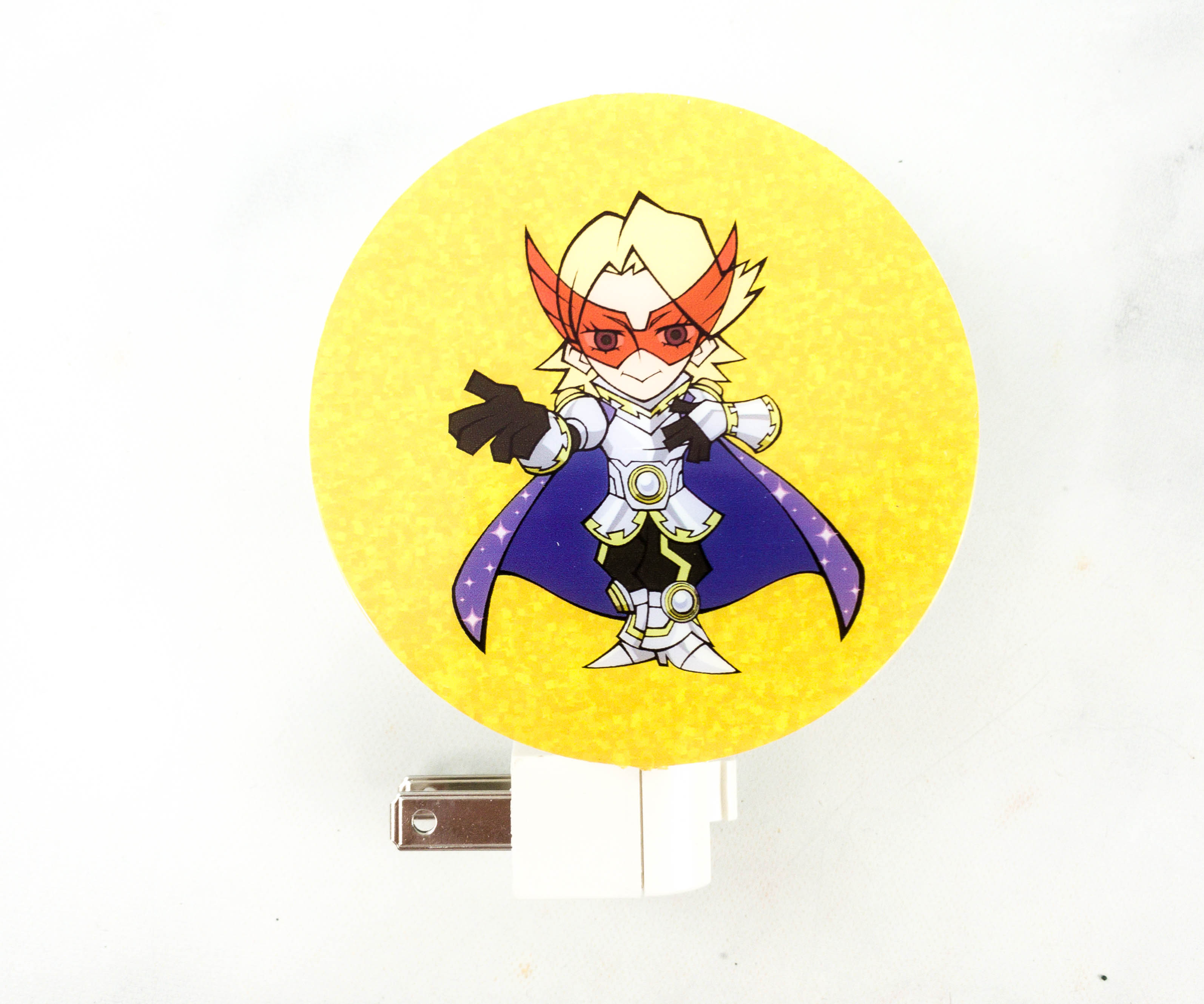 This bulb features Yuga Aoyama, also known as the Shining Hero. His quirk is called Navel Laser, allowing him to shoot powerful laser cannon from his navel.
It's a handy tool that consists of a plug with a built-in motion sensor and light bulb.
This one is very simple to use, just plug this motion night light on the socket and it will automatically light up when it detects movement. This is perfect to use in hallways or even in your kitchen, so you will no longer have any trouble finding the switch at night when you need to get a glass of water!
Hanta Sero Tape Dispenser. This themed tape dispenser features Hanta Sero, also known as the Taping Hero: Cellophane! Hanta's quirk is a tape dispenser which is located on both his elbows. He can shoot long cellophane tape-like strips to constrict his enemies.
The tape dispenser is made from plastic. It also has the logo of My Hero Academia on one side and the Hanta Sero illustration on the other.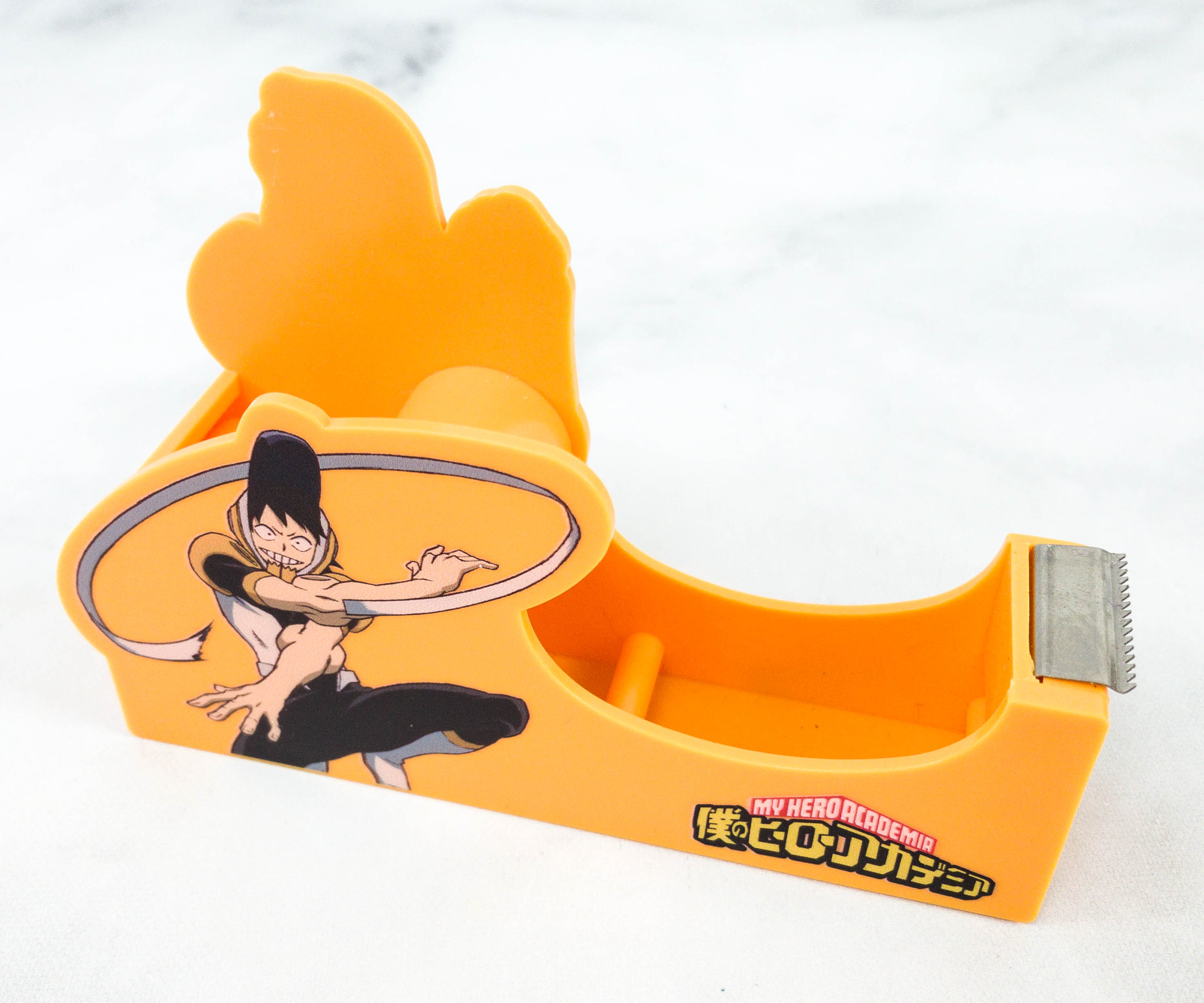 The other side of the dispenser features Hanta Sero using his tape dispenser quirk!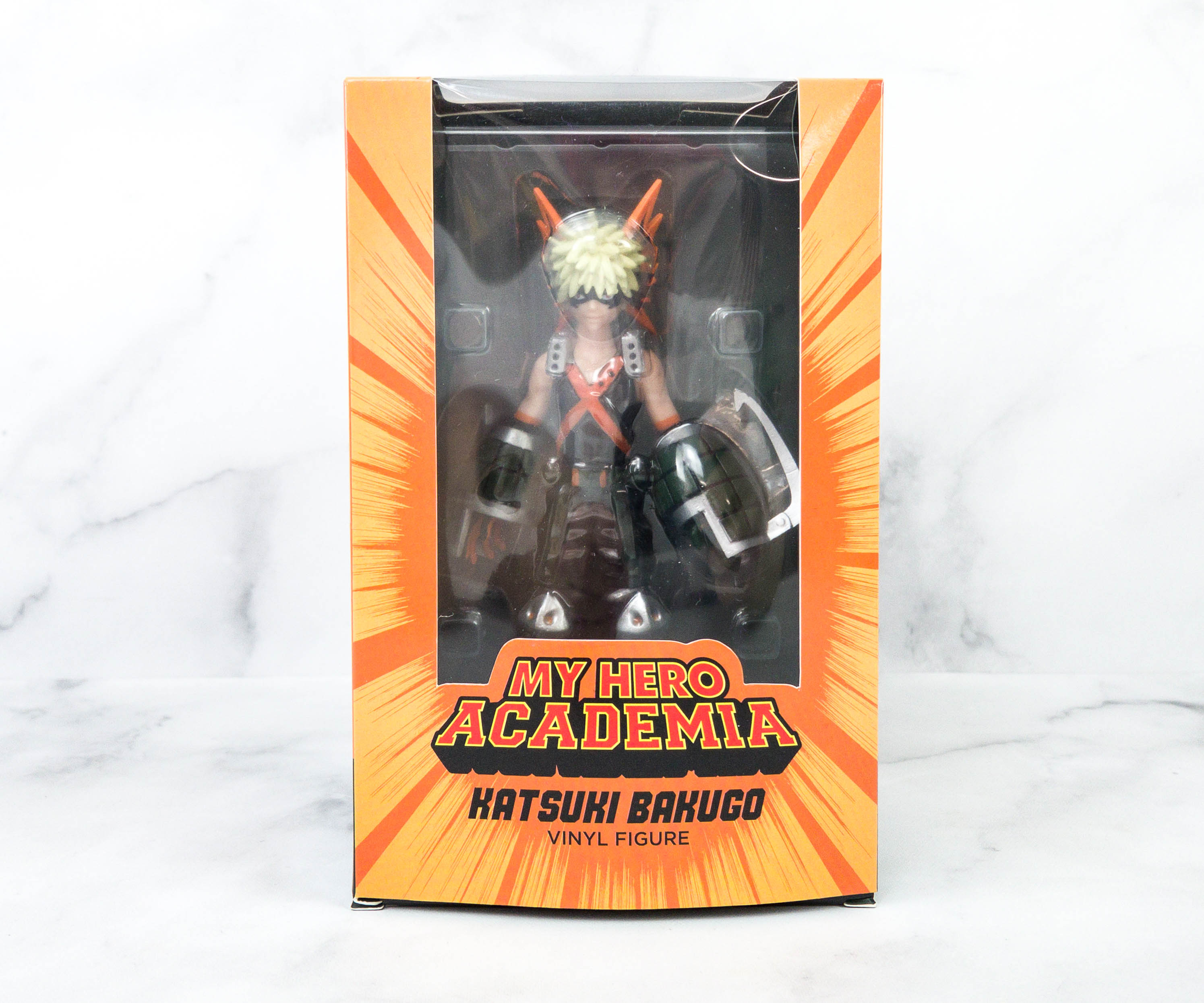 Katsuki Bakugo Vinyl Figure. My Hero Academia Box won't be complete without a vinyl mini-hero figurine! In this quarter's box, I received Katsuki Bakugo!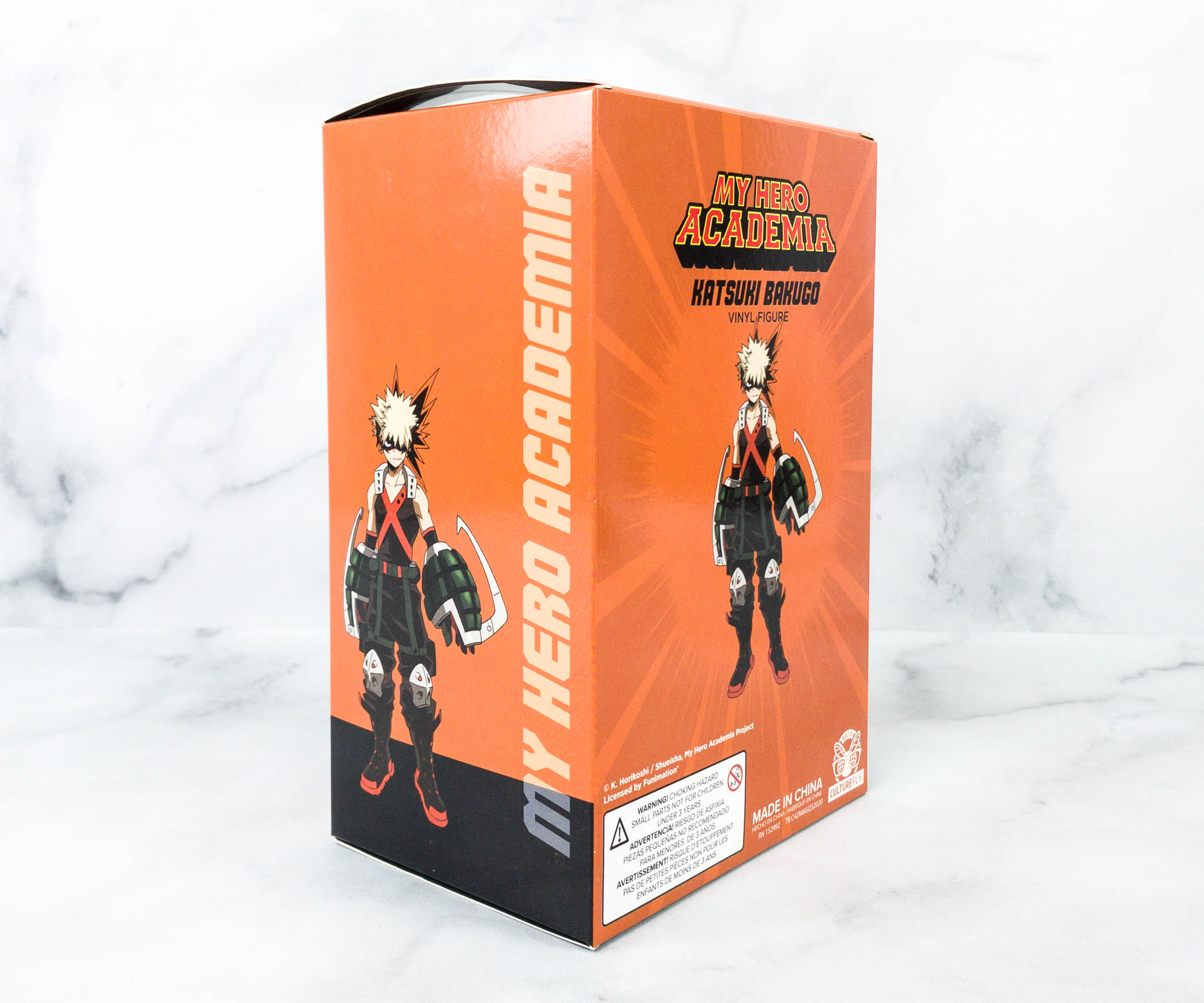 The back and the sides of the box feature an image of Kacchan!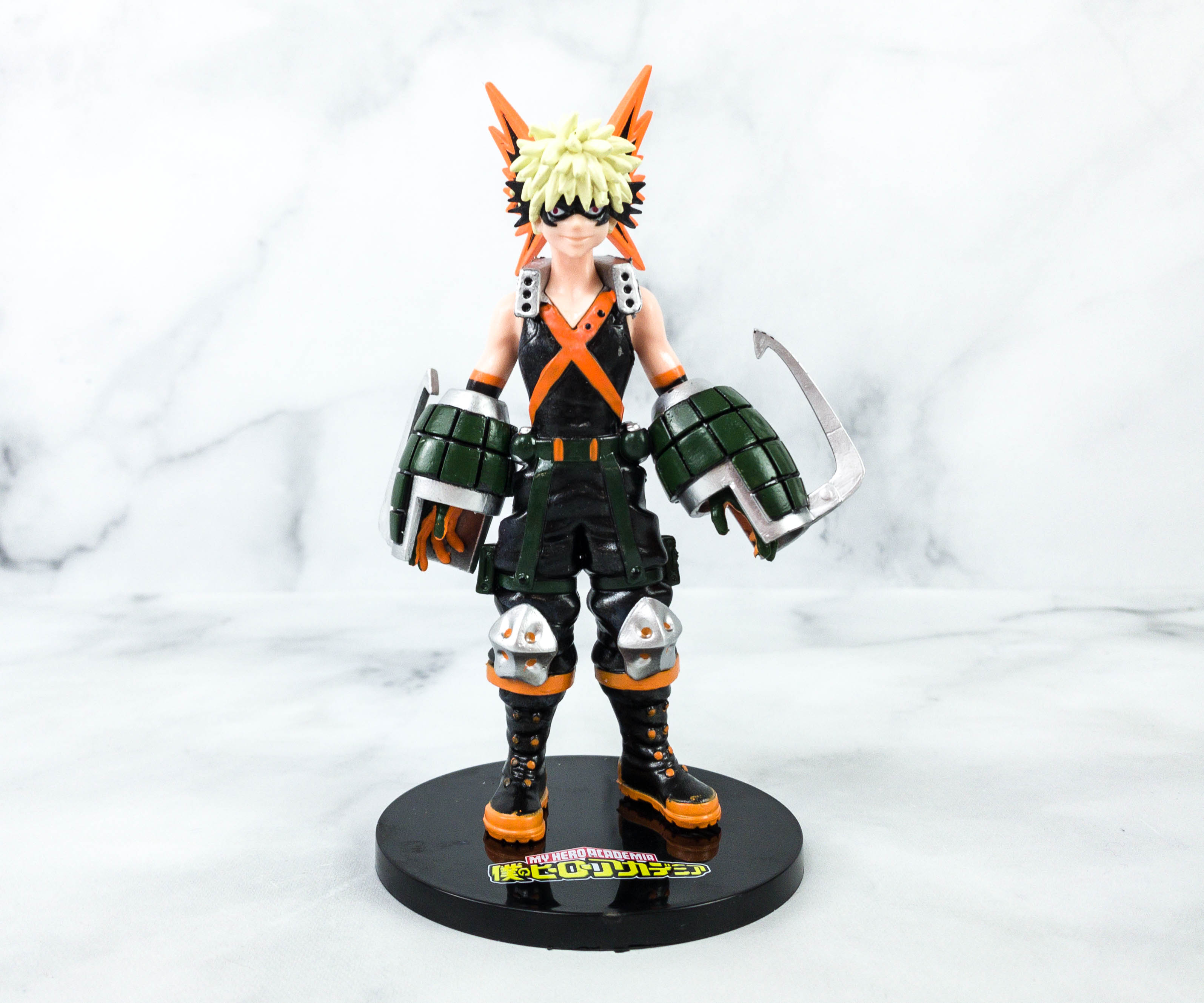 Katsuki Bakugo is one of the main characters in the anime series, My Hero Academia. He's a strong U.A. High School student that works hand-in-hand with his friend and rival Izuku Midoriya.
His hero name is the Great Explosion Murder God Dynamight, which is also based from his explosion quirk. He's one of the top tier student of class 1-A.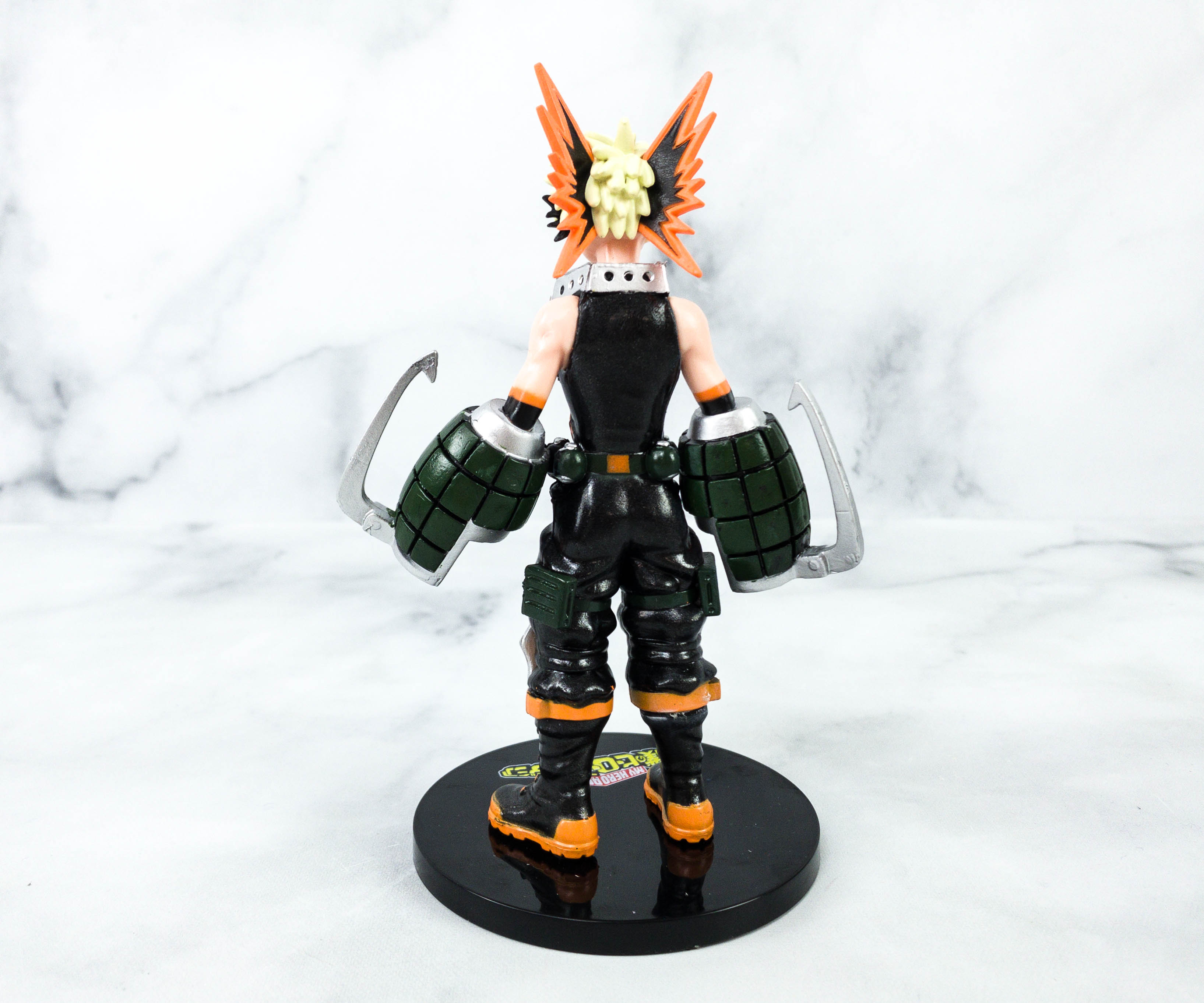 This figurine looks really awesome! It's so detailed, everything was perfectly made, from his face, physique, hair, and even his flashy costume. I love it!
My Hero Academia Winter box was truly fantastic! It's designed to please fans and collectors as it includes high-quality, licensed My Hero Academia merchandise. This quarter, I received wearables such as a long sleeved tee, beanie, and socks. They're a stylish way to show off your love for the anime and they also help keep me warm this winter! I also like the notebook and gel pen. They can be used for writing notes after watching the episodes or for everyday note-taking. Of course, my favorite item in this box would have to be the vinyl figurine that features Bakugo. They captured the character's details really well and it looks good from head to toe! If you've been wanting to get MHA merch for yourself or for someone you know, this is a great subscription to consider because the items they send are authentic and definitely worth adding to a MHA collection!
What do you think of this quarter's box?
Visit My Hero Academia Subscription Box to subscribe or find out more!