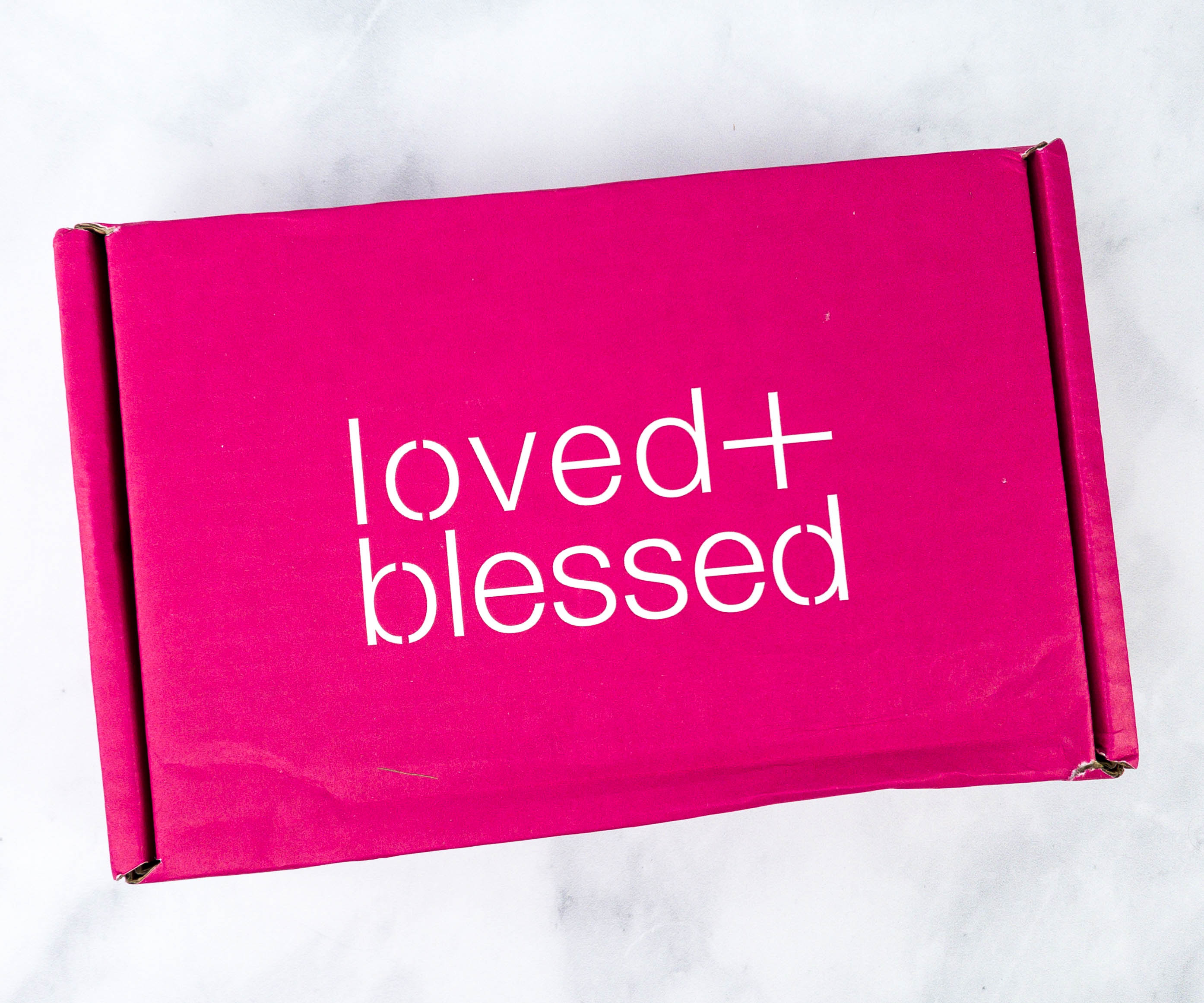 Loved + Blessed is a monthly membership and Christian subscription care package for women who want to live life encouraged. Aside from the box of encouragement, subscribers will also receive access to a blog article, a 4-week life appreciation workbook, 4 video lessons, an online fellowship in their private community, and access to their library of past videos and workbooks. A month-to-month subscription costs $25 and you can also opt to get a 3-month prepaid subscription for $60, which means you'll save $15!
DEAL: Get $5 off your first box! Use coupon code HELLO5. Cannot be combined with other offers.
The items were packed with bright pink wrapping paper.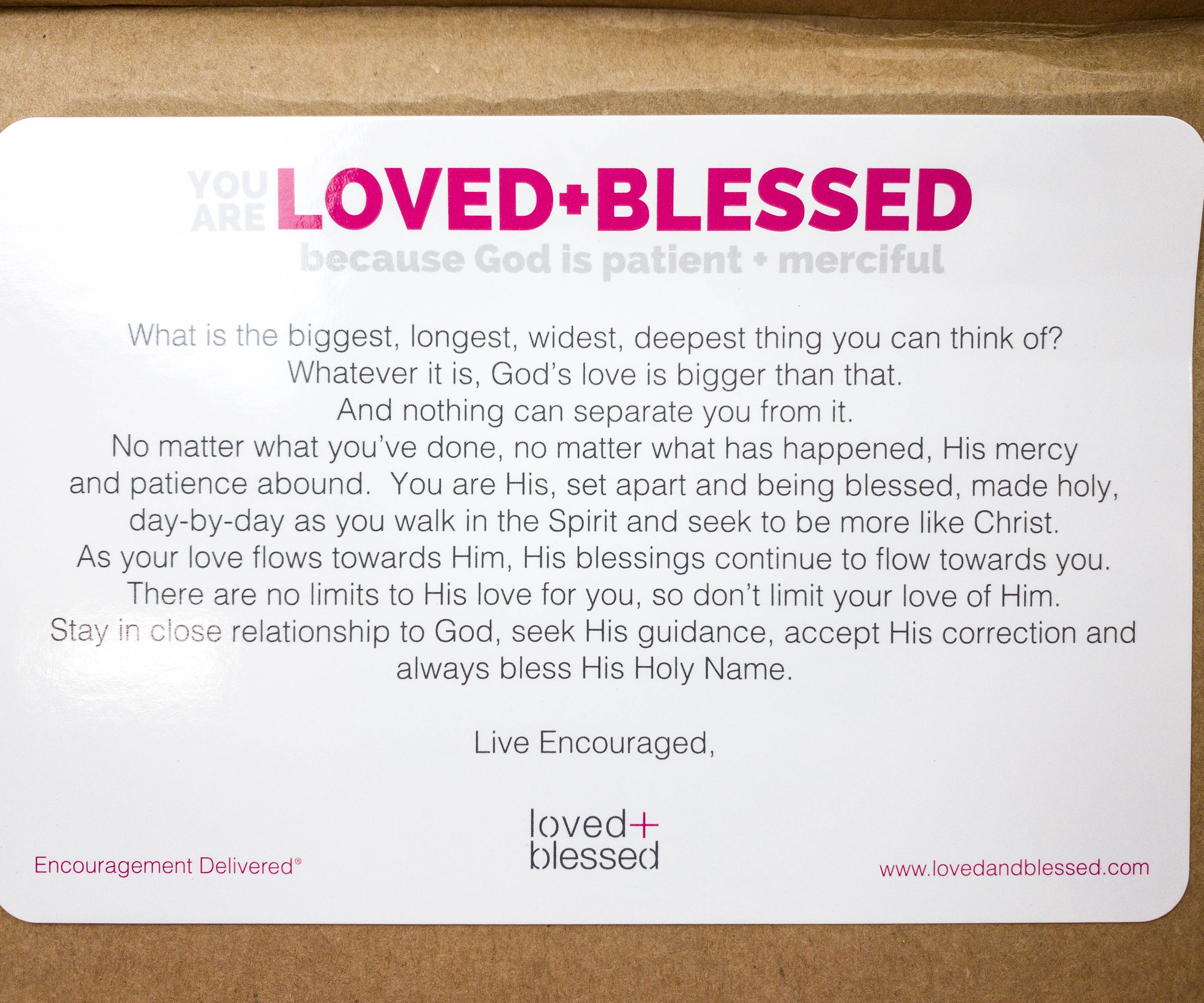 This month's theme is LOVED BLESSED.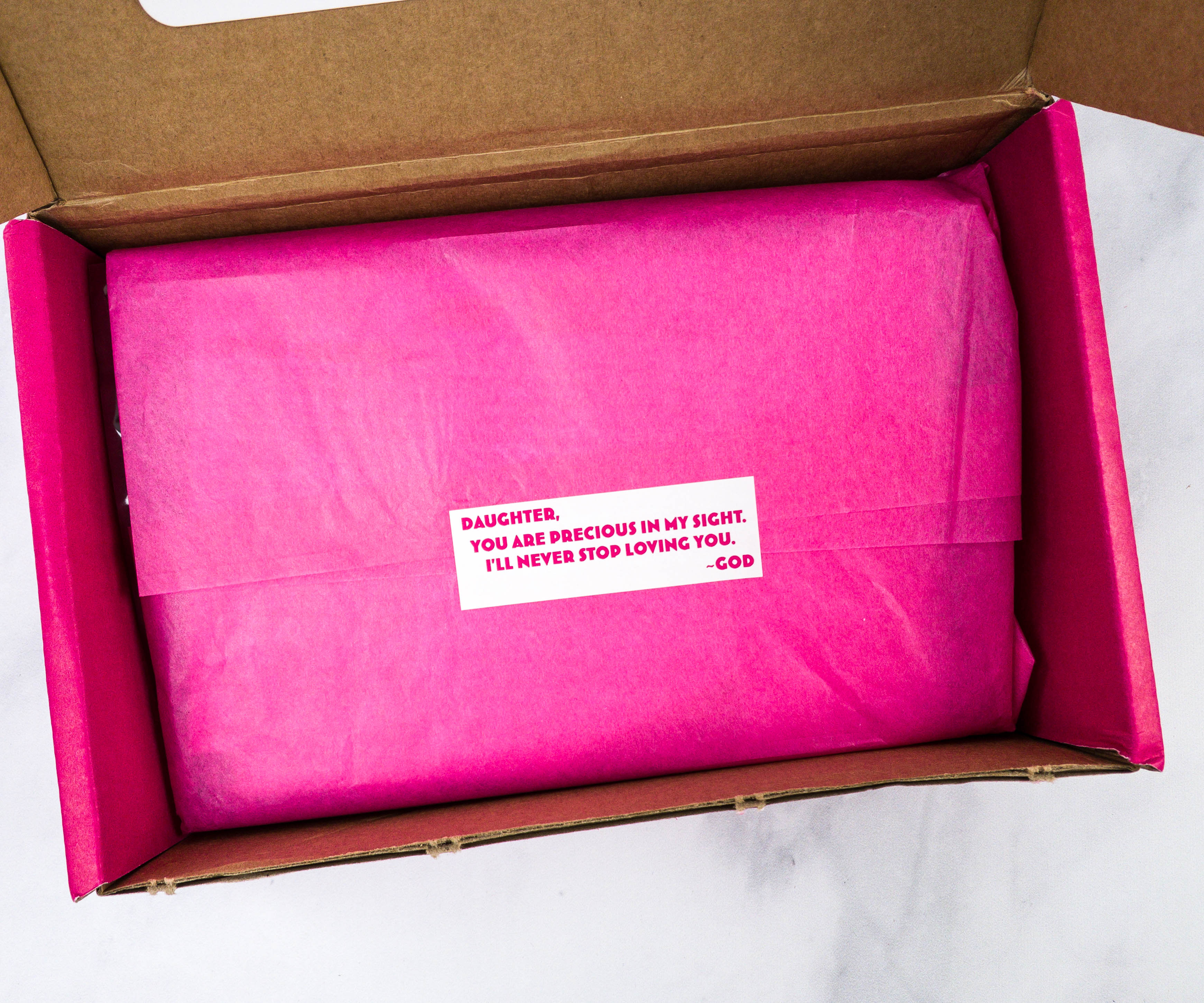 There's a sticker that seals the wrapping paper. It says…
Daughter,

You are precious in my sight.

I'll never stop loving you.

– God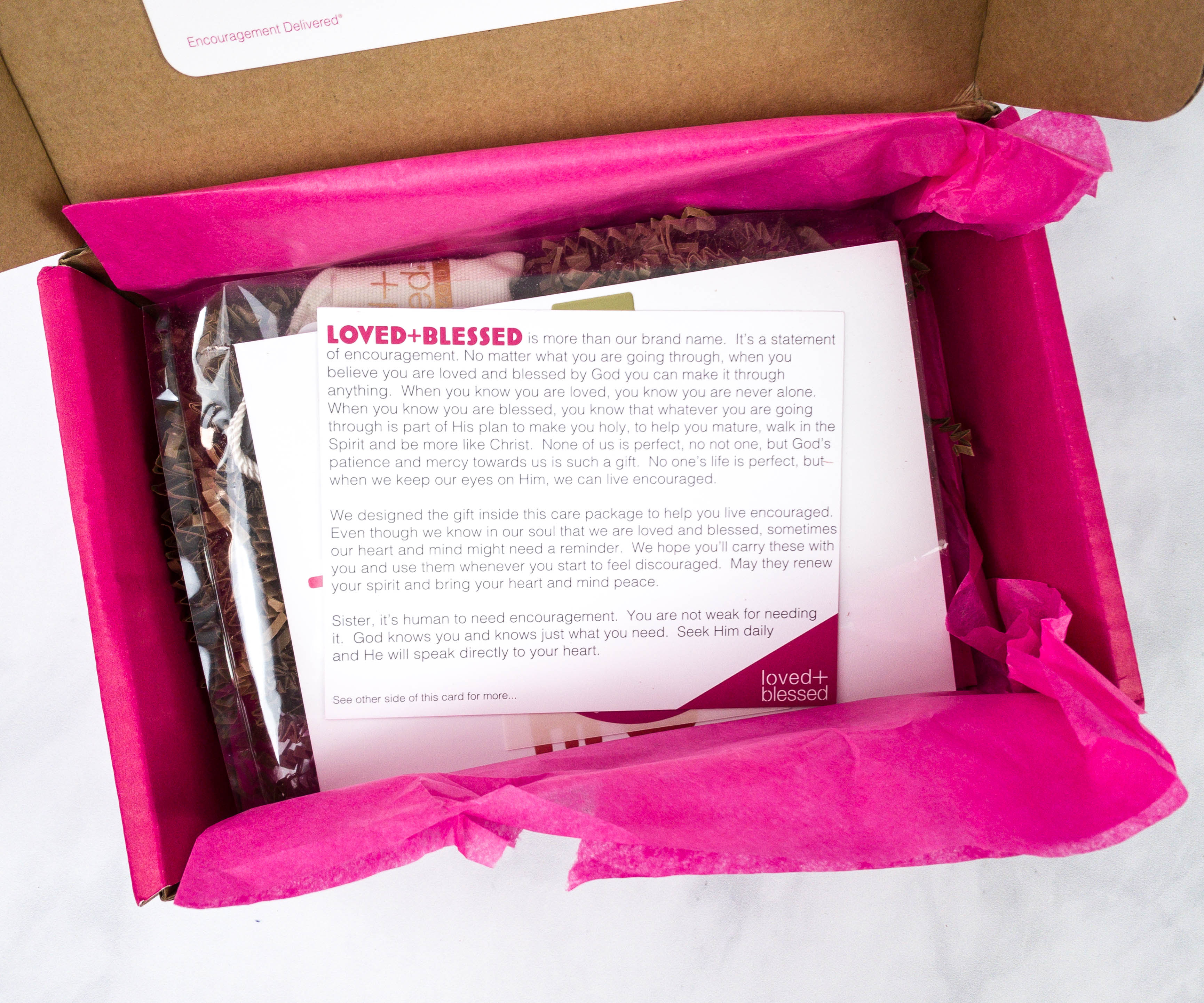 The items were also cushioned with brown squiggles.
The card features a lot of nice things about this month's box and theme.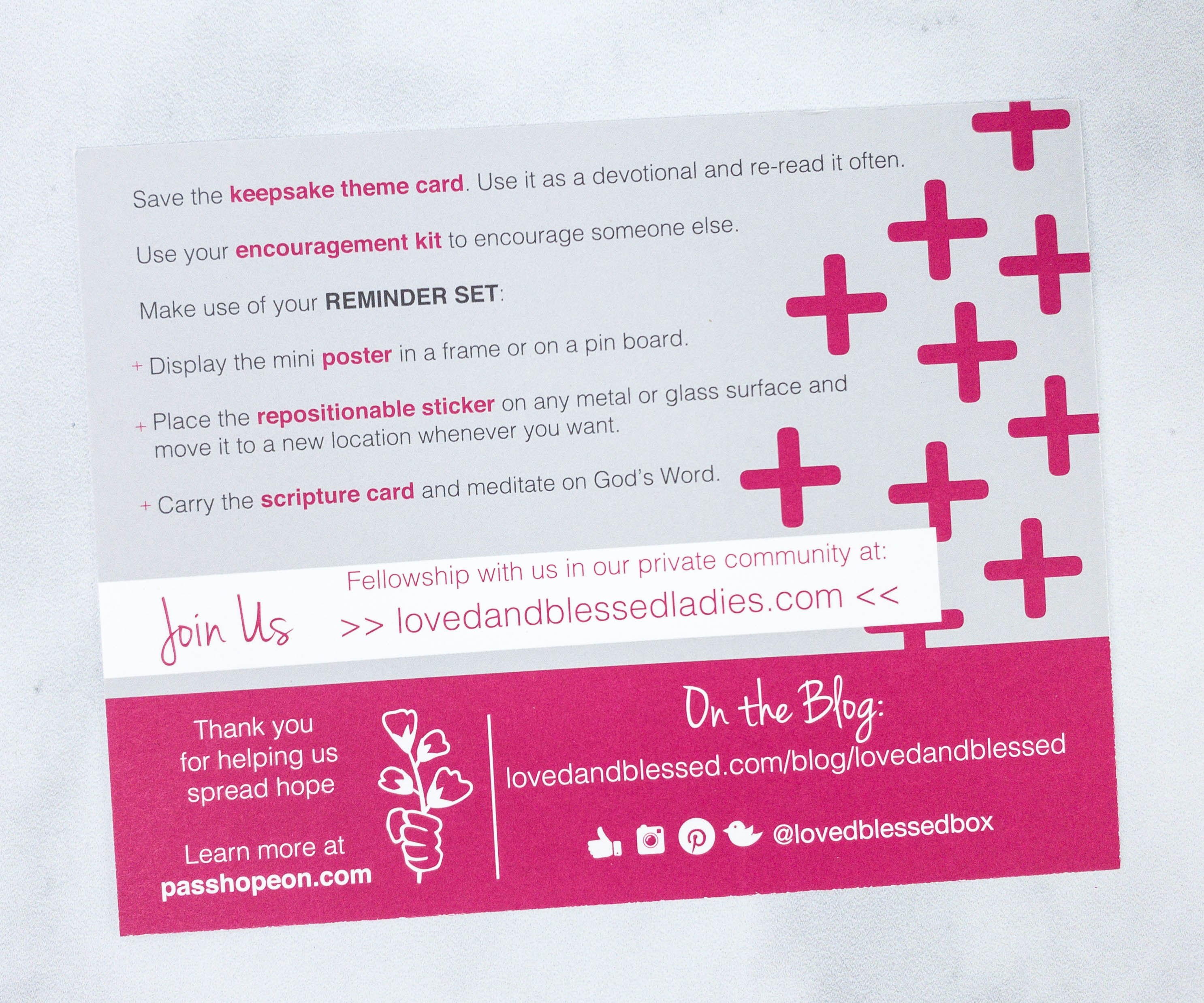 Listed at the back of the card are some reminders about the items inside the box.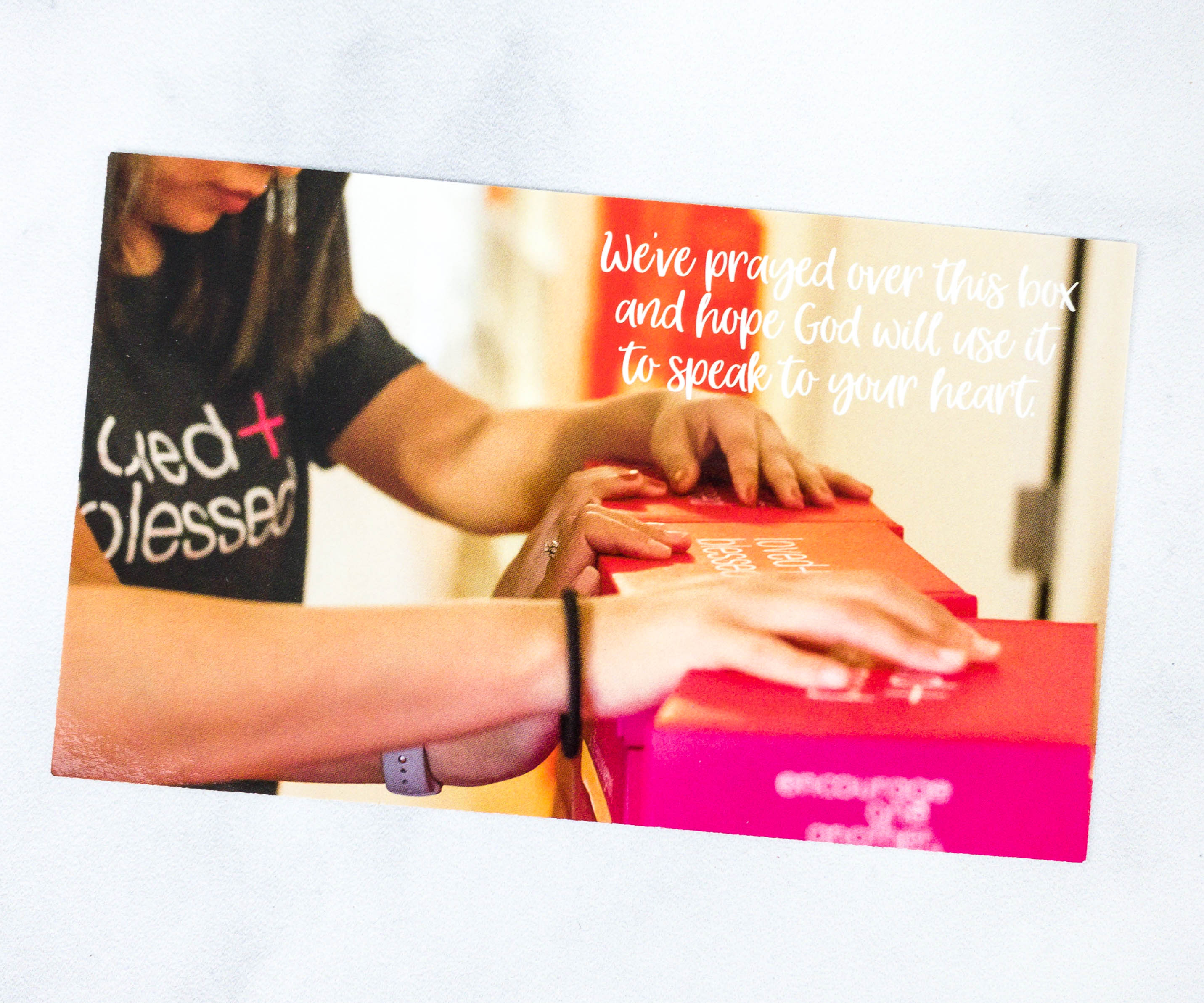 Here's another info card! It features a heartwarming message:
We've prayed over this box and hope God will use it to speak to your heart.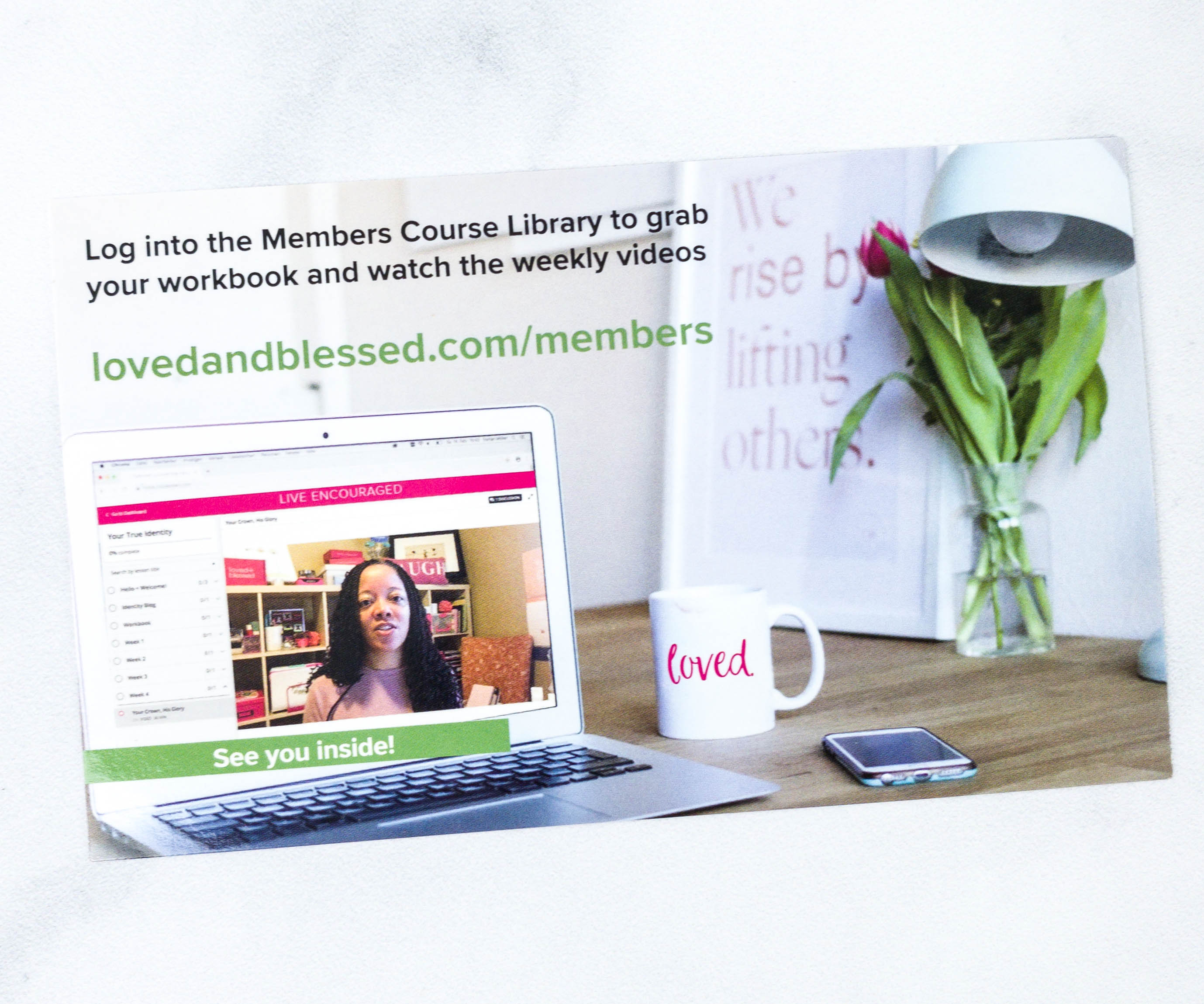 On the other side of the card, there's a reminder to log into the Members Course Library!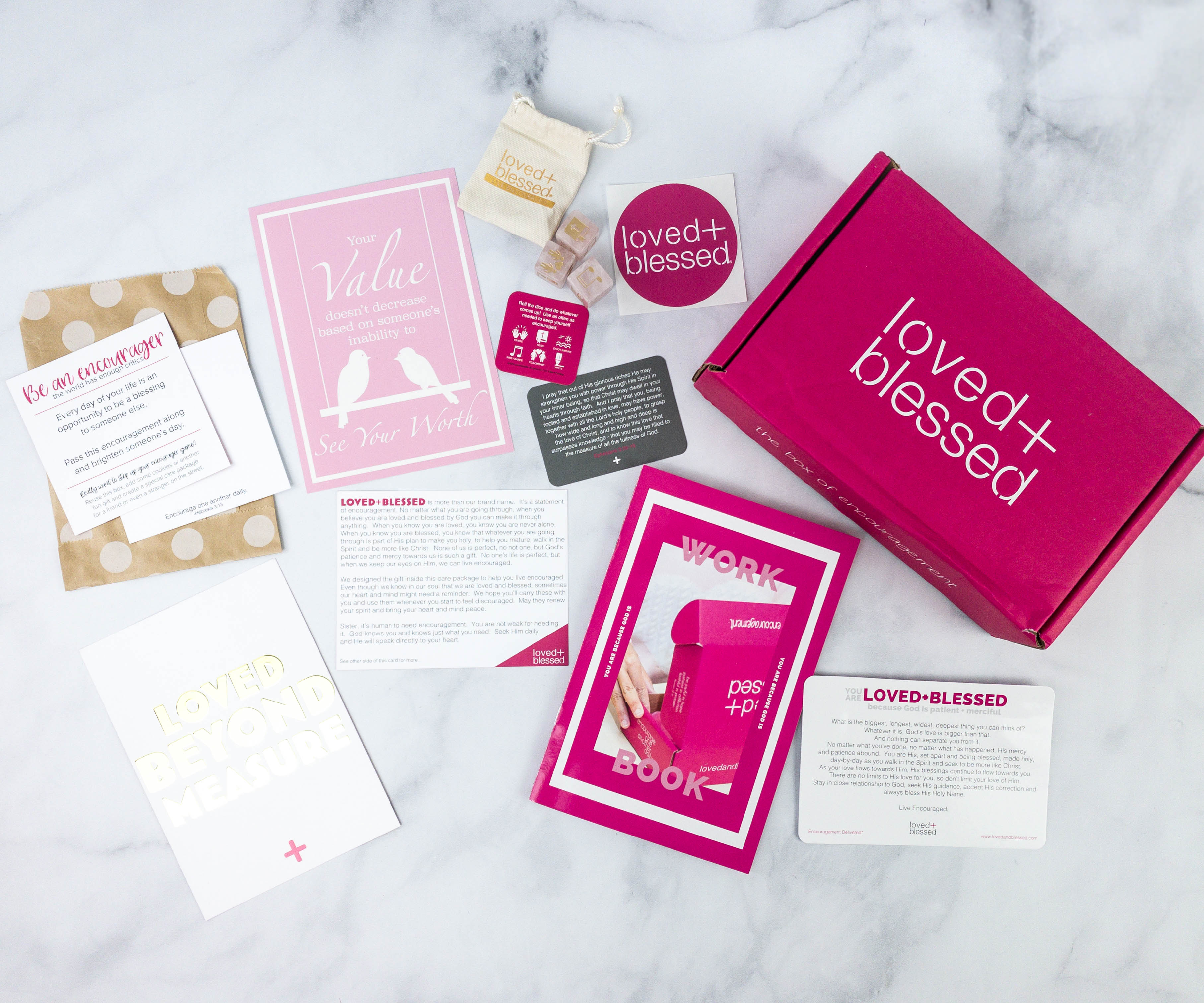 Everything in the January 2021 box!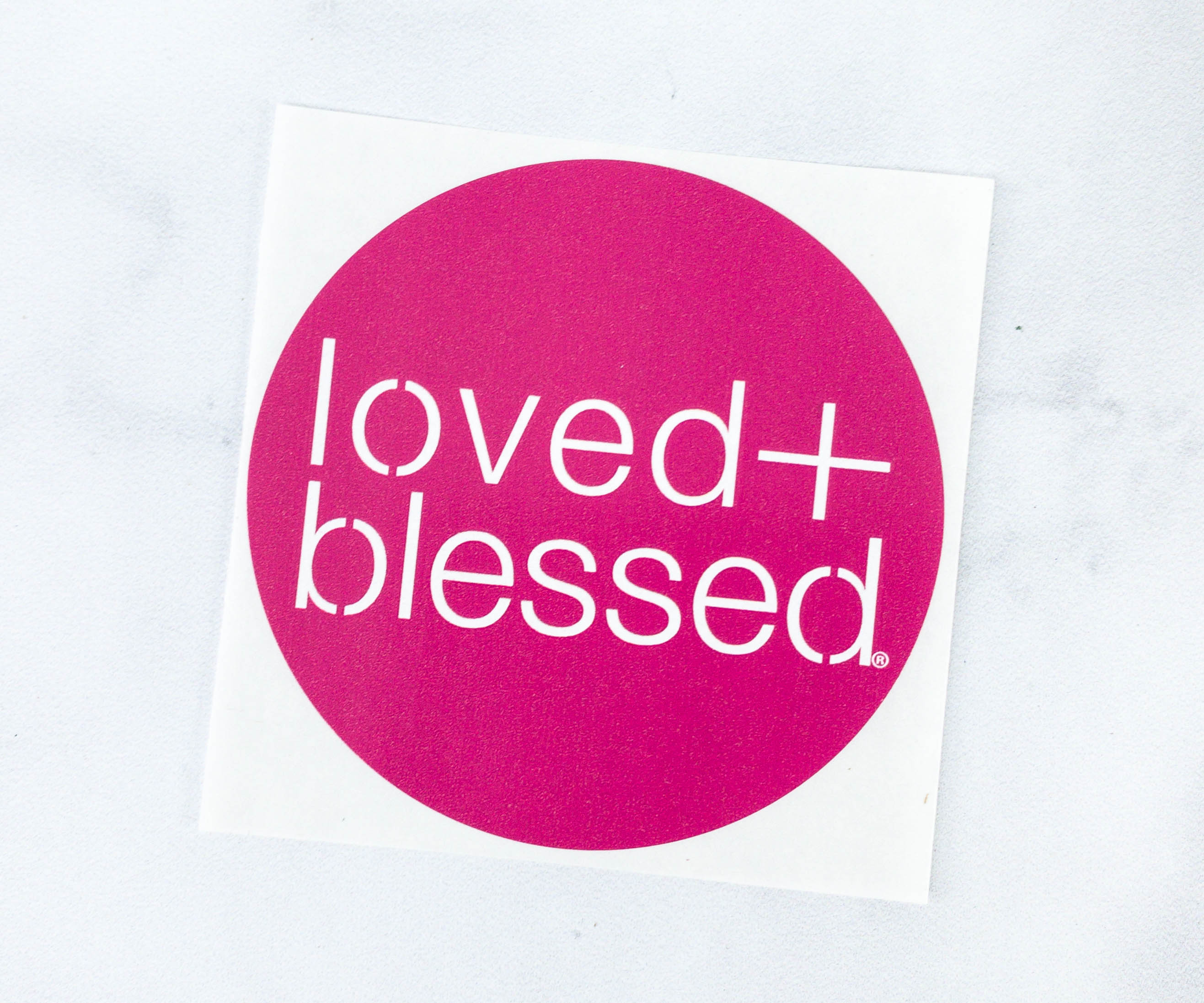 Repositionable Sticker. This month's featured sticker has the Loved + Blessed logo. You can put this on your laptop, or even your journal cover to remind yourself that you are loved and blessed. It's repositionable as well, which means you can transfer it somewhere else if you like.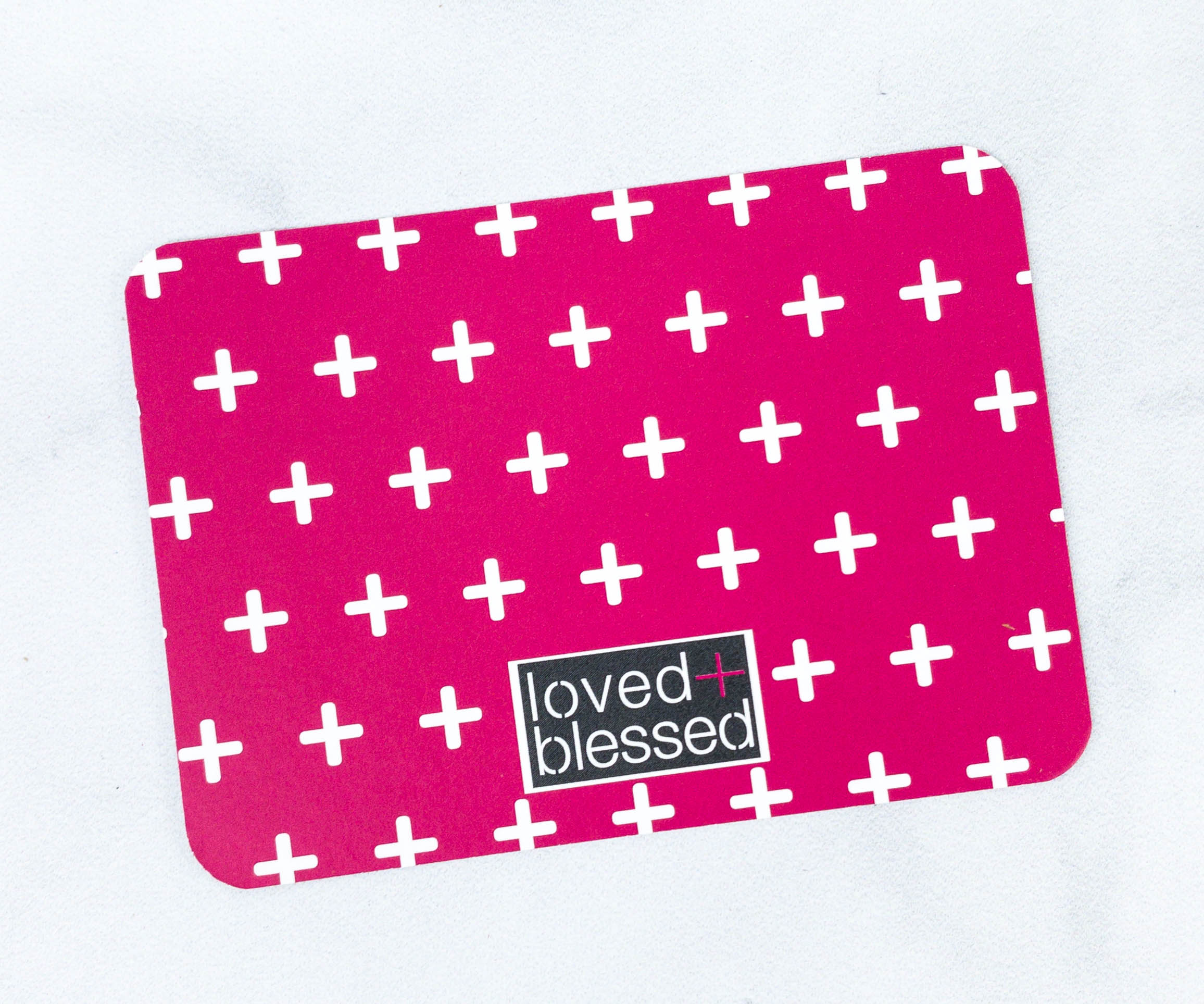 Scripture Card. Every box includes a scripture card. It's small enough so you can put it in your wallet and bring it with you wherever you go.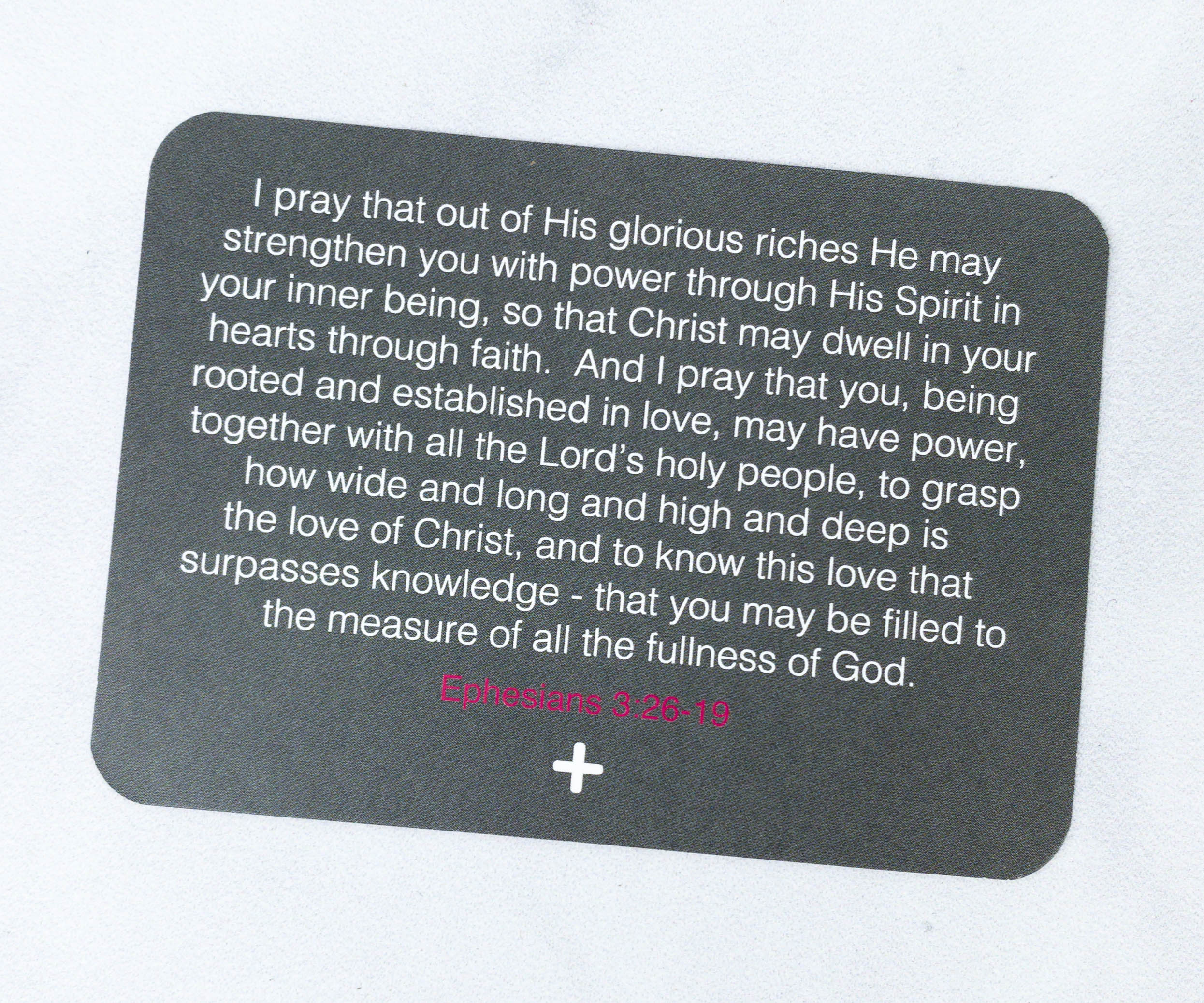 This month's featured scripture is Ephesians 3:26-19.
I pray that out of His glorious riches He may strengthen you with power through His Spirit in your inner being, so that Christ may dwell in your hearts through faith. And I pray that you, being rooted and established in love, may have power, together with all the Lord's holy people, to grasp how wide and long and high and deep is the love of Christ, and know this love that surpasses knowledge – that you may be filled to the measure of all the fullness of God.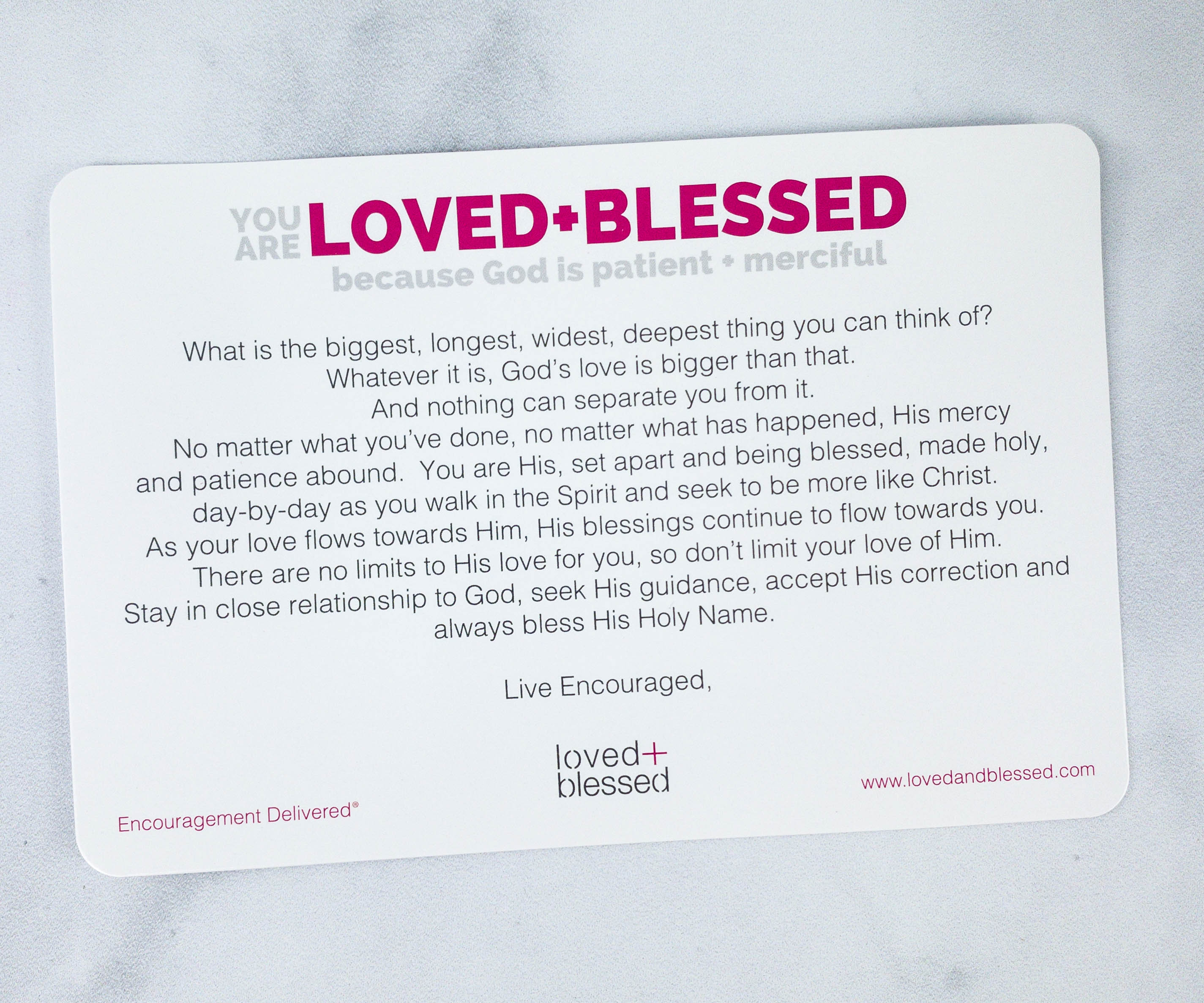 Keepsake Theme Card. The keepsake card explains further about this month's theme. It tells us that God's love is bigger than what we think and that there is no limits to it!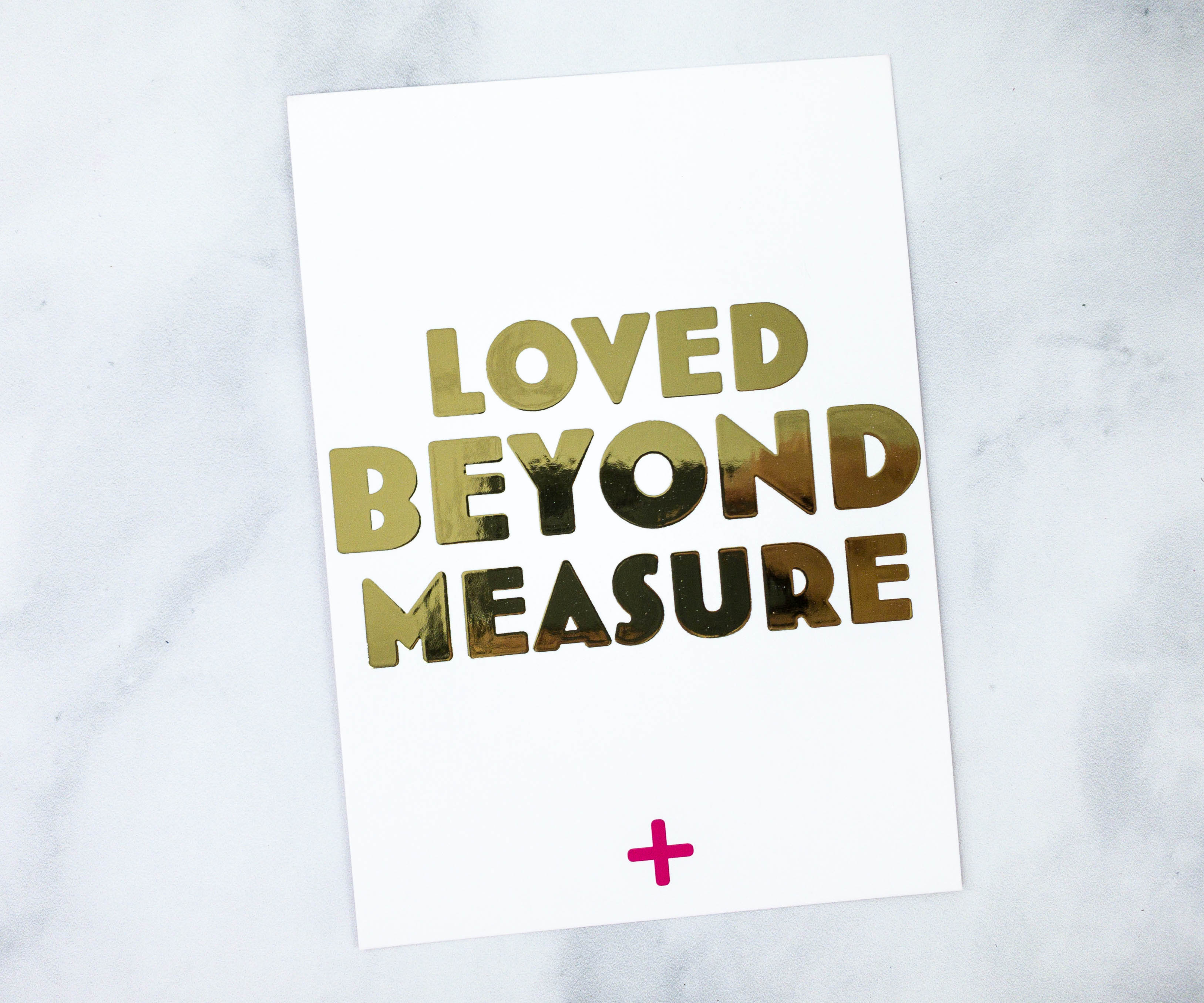 Poster. The poster features a gold foiled text that says "loved beyond measure". It's perfect for displaying on a desk or framed to be hung on your wall!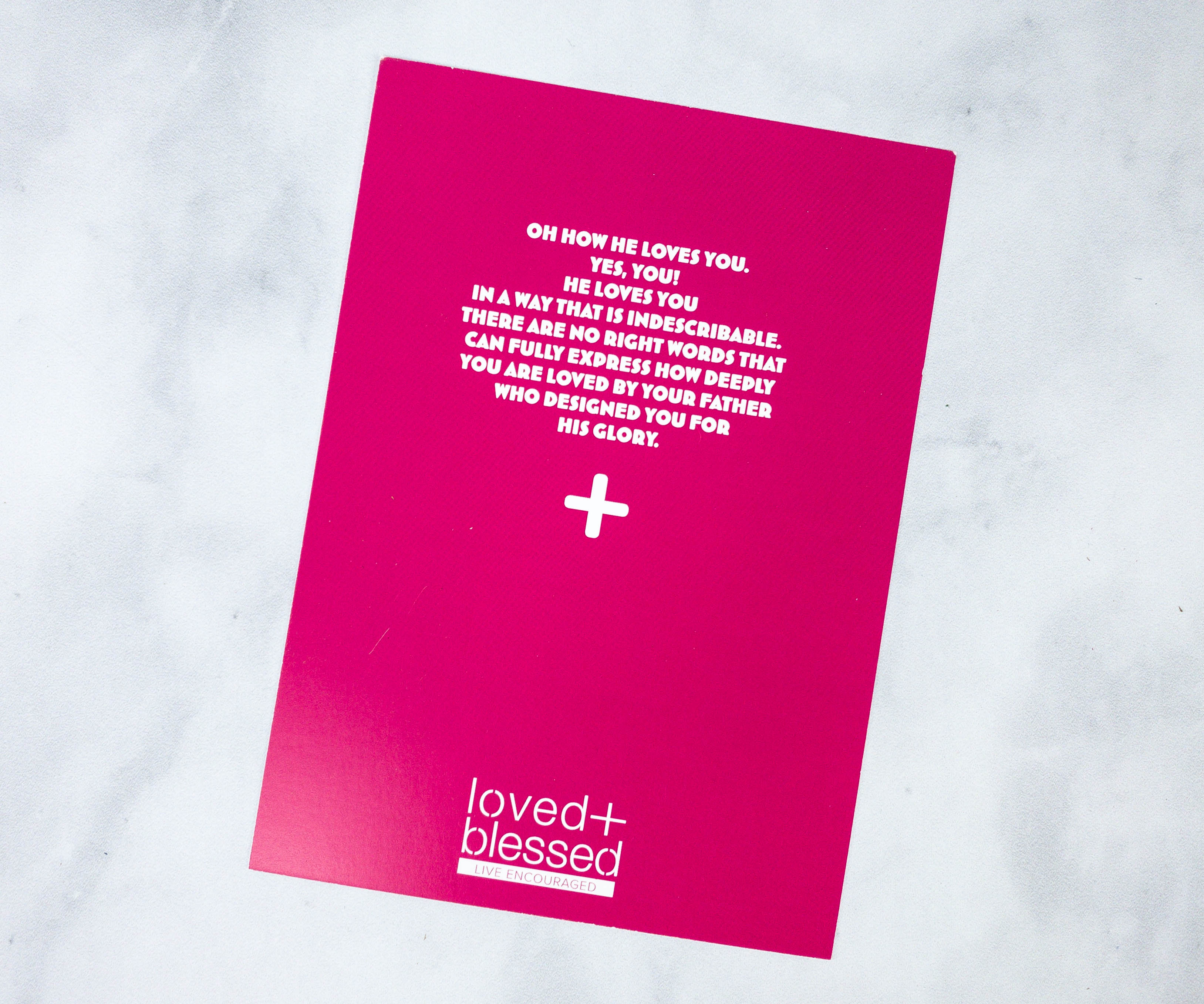 At the back is another inspiring message.
Oh how He loves you.

Yes, you!

He loves you

in a way that is indescribable.

There are no right words that

can fully express how deeply

You are loved by your Father

who designed you for

His glory.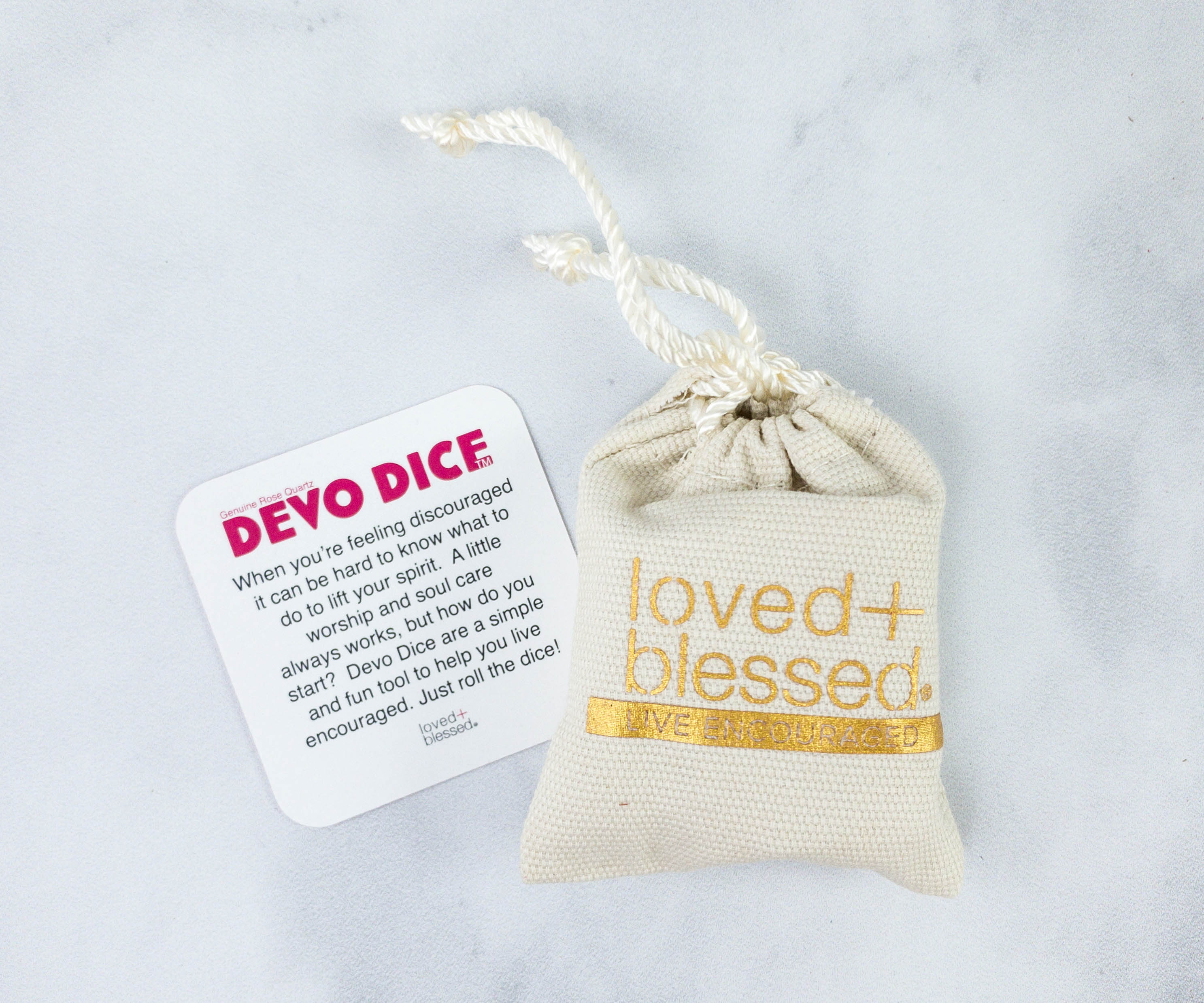 Devo Dice. The dice kit was packed in a cute drawstring pouch with the Loved + Blessed branding.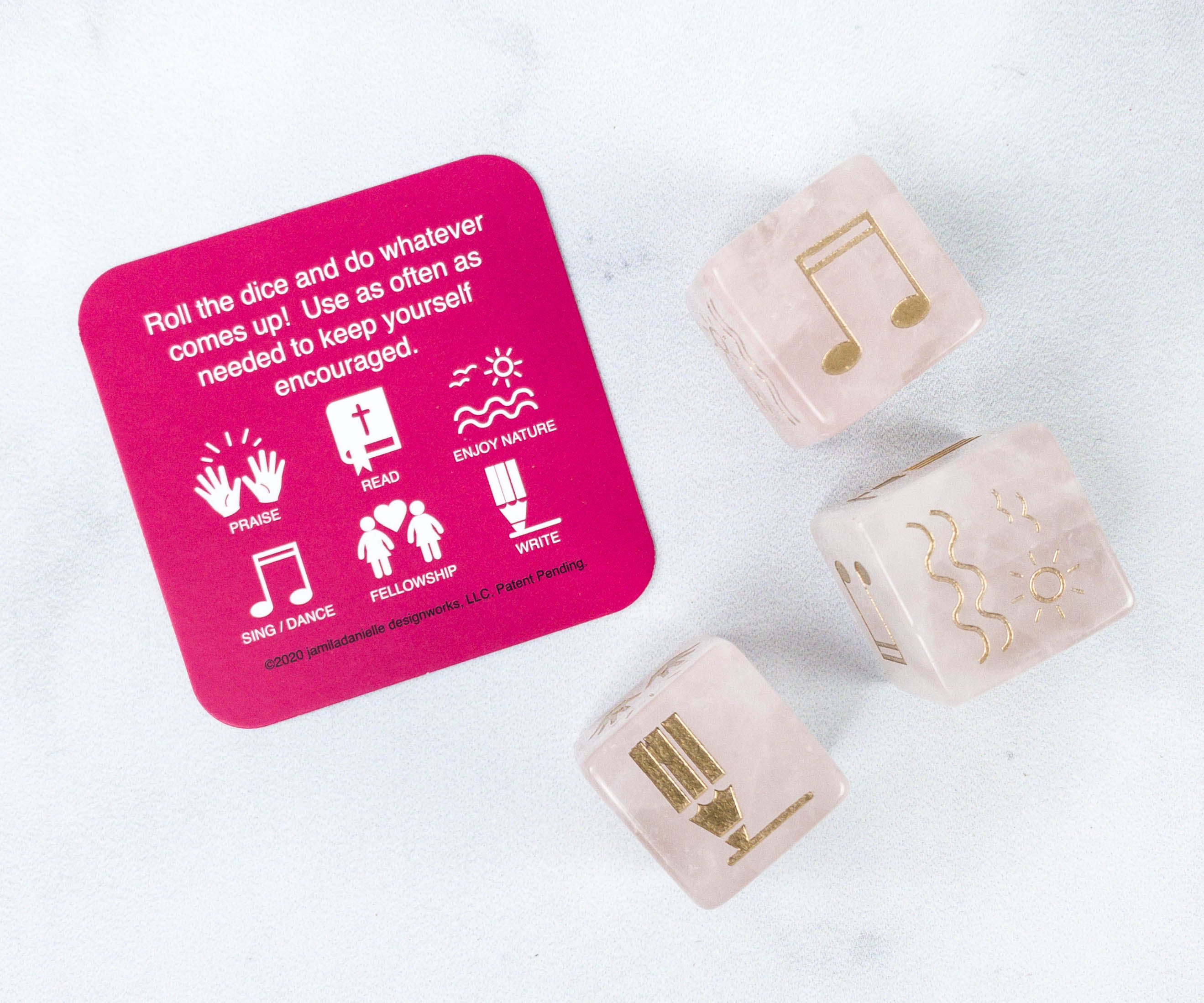 It comes with a card that describes how to use the dice whenever you need encouragement. Just roll it and do whatever comes up! The icons include praise, read, enjoy nature, sing/dance, fellowship, and write.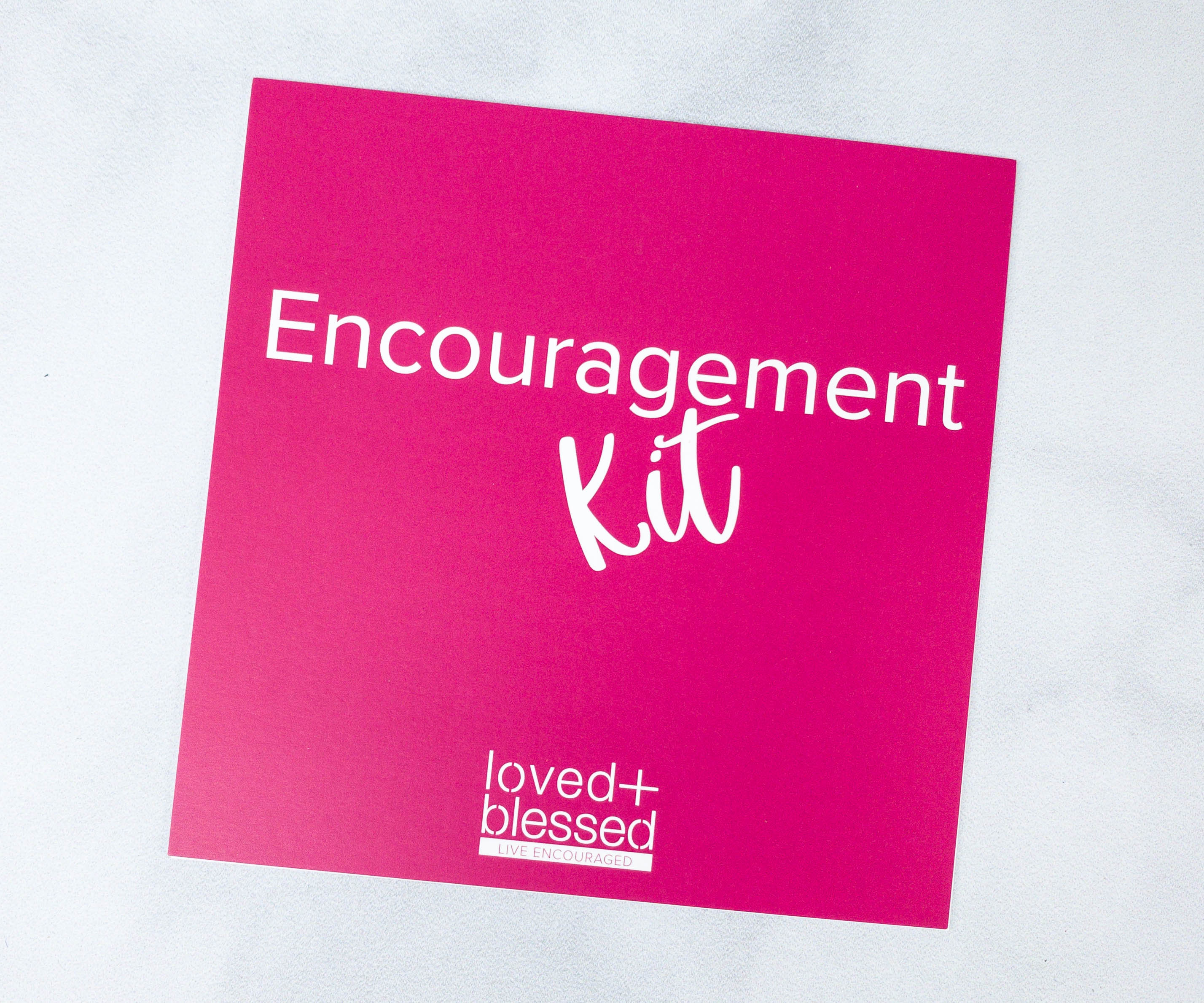 Encouragement Kit. Here's another staple in Loved + Blessed boxes! It's an encouragement kit that you can pass to family, friends, or strangers.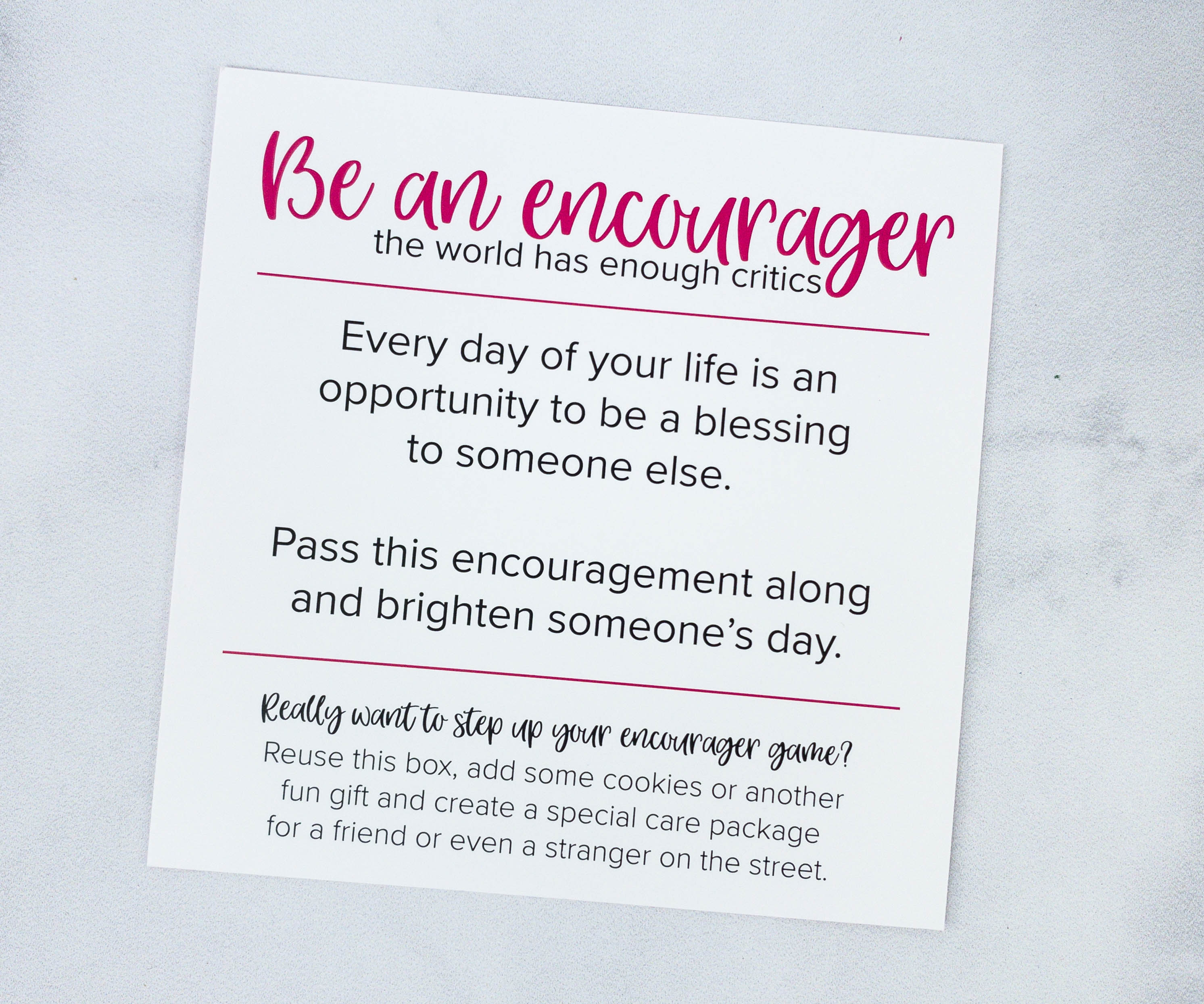 They suggest to reuse the box and add cookies or other gifts to create a care package that you can give along with the encouragement kit.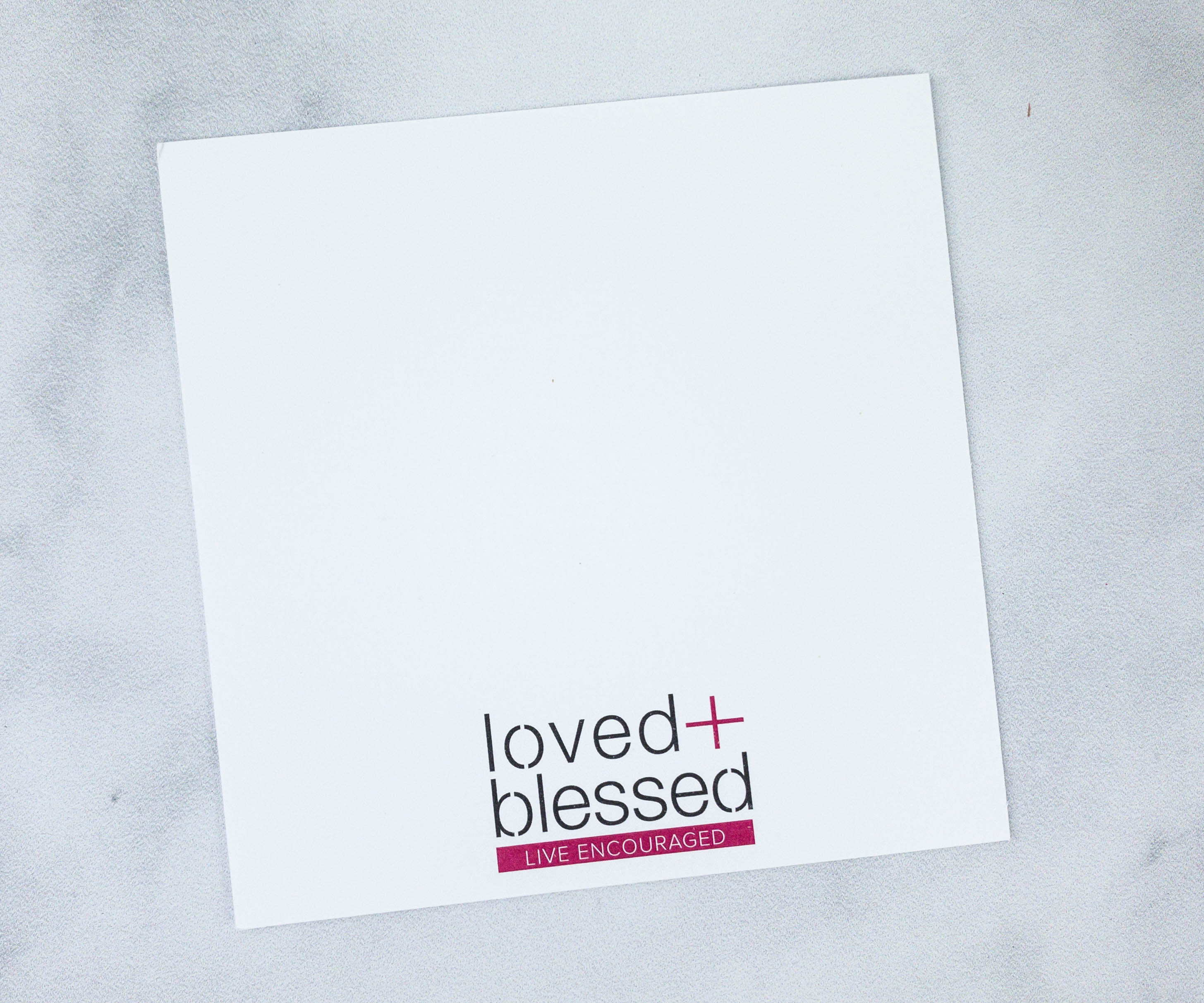 There's a blank card where you can write a message.
The back is also blank, with a simple quote at the bottom part.
Encourage one another daily.

– Hebrews 3:13
Another poster is included in the box and this time it has a light pink color.
Your value doesn't decrease based on someone's inability to see your worth.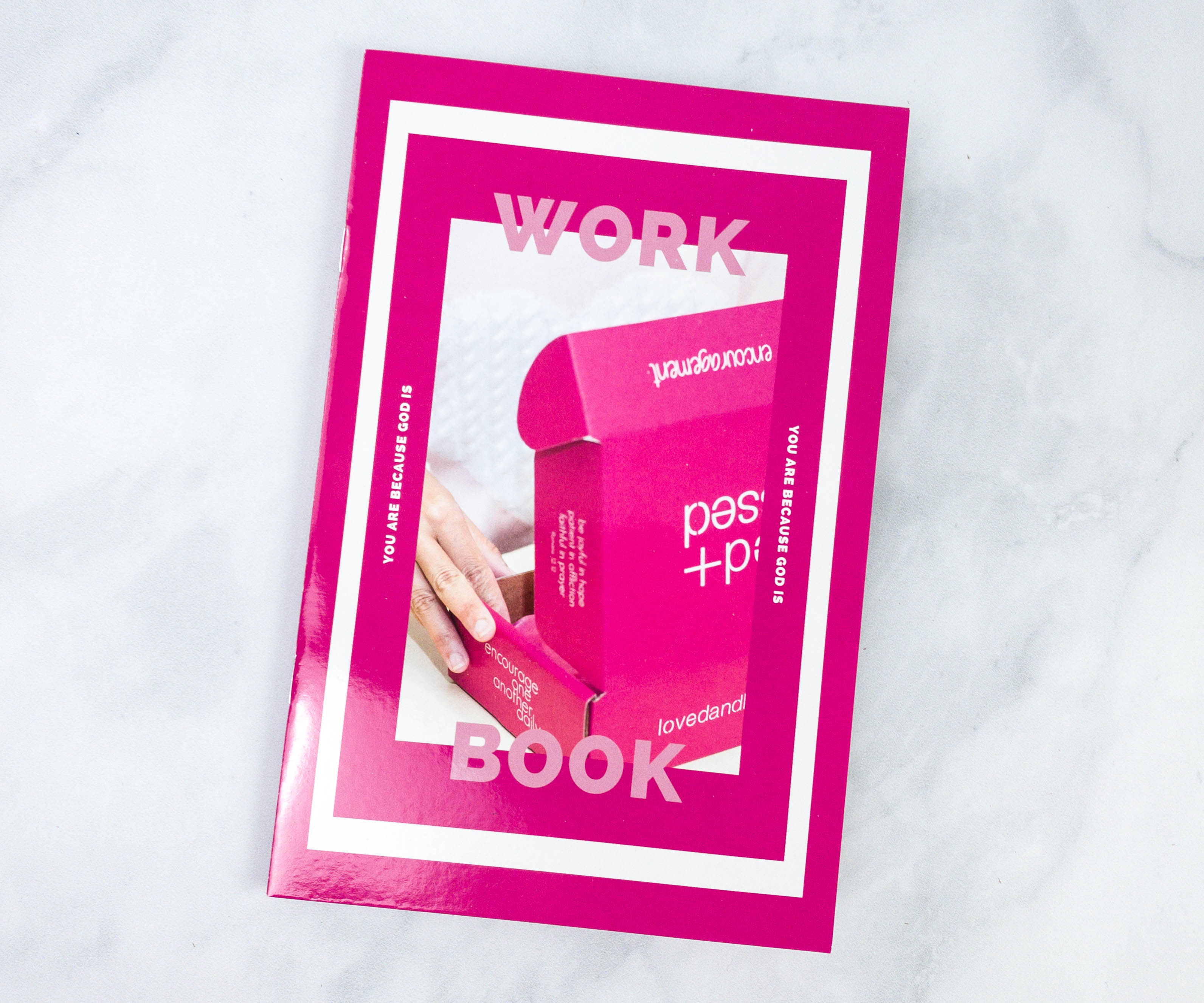 Work Book. This workbook is a perfect gift for the New Year. It works like a journal!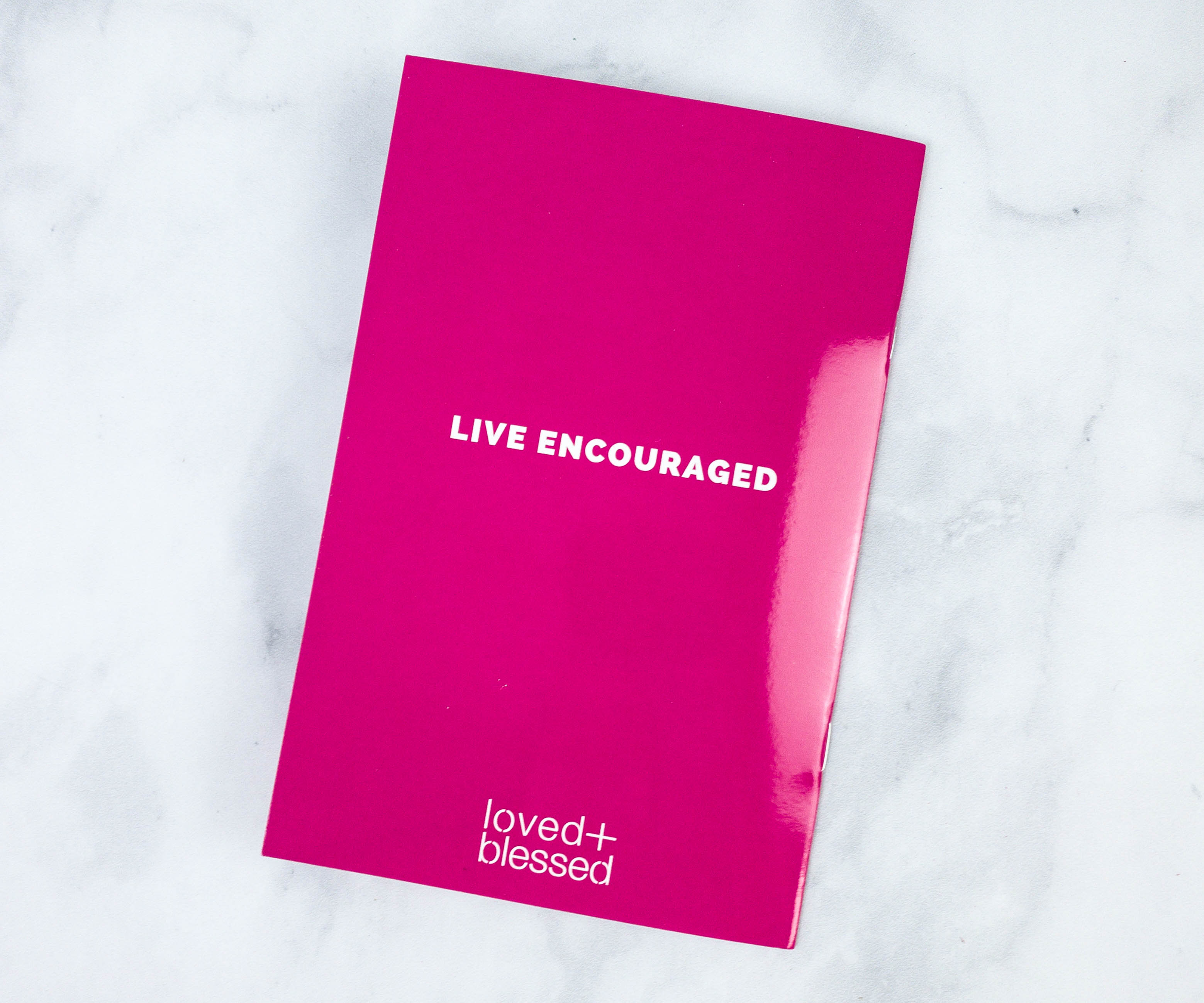 The cover is glossy and pretty!
Inside, there's a message from Loved + Blessed founder, Jamila.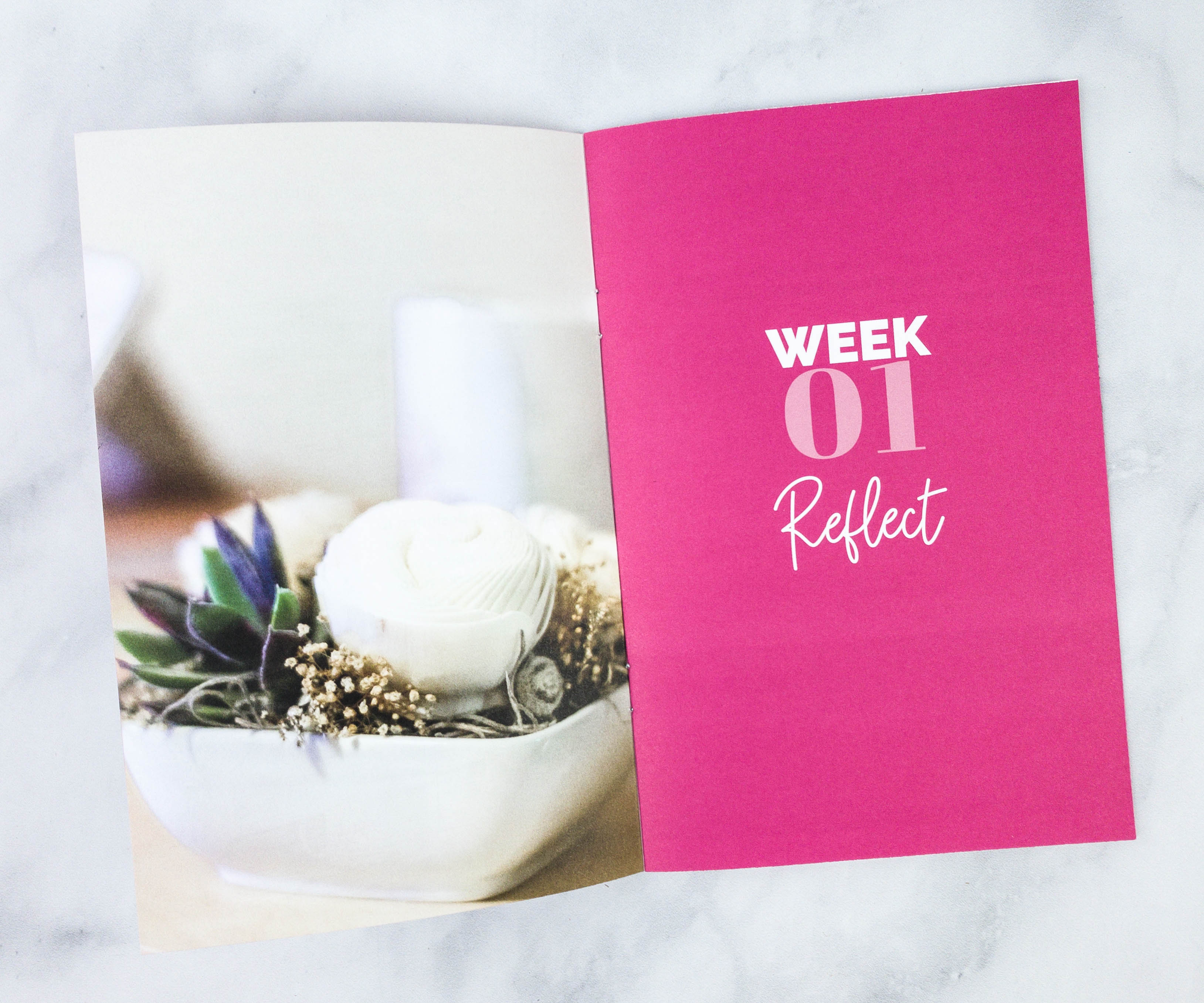 It is divided per week, and each week has a theme.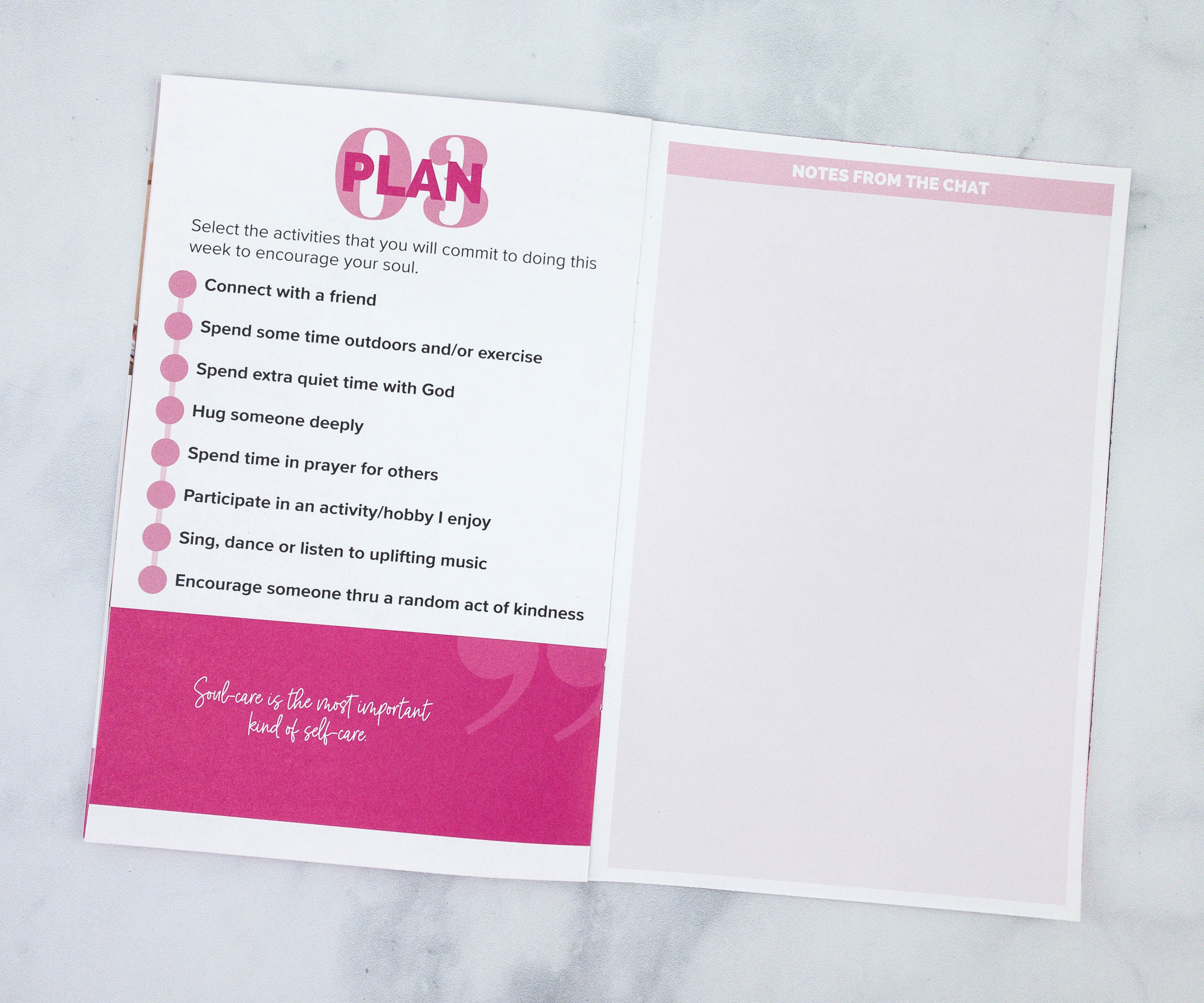 There are checklists inside, as well as space where you can jot down notes from the weekly live chats in Loved + Blessed private Members Group on Facebook.
My favorite feature of this workbook is probably the space where I can write prayers!
I love everything in this month's Loved + Blessed box! The theme is closely related to the box name, reminding us how much we are loved and blessed by God. Aside from the staple items in this box (the sticker, theme card, and poster), I also liked the workbook that they sent. It came right in time as the year started, and it's a good way to reflect on my faith! If you love receiving inspirational items, this subscription would make a good treat. It's also perfect for anyone who wants to share encouragement to those around them!
What did you think of Loved + Blessed this month?