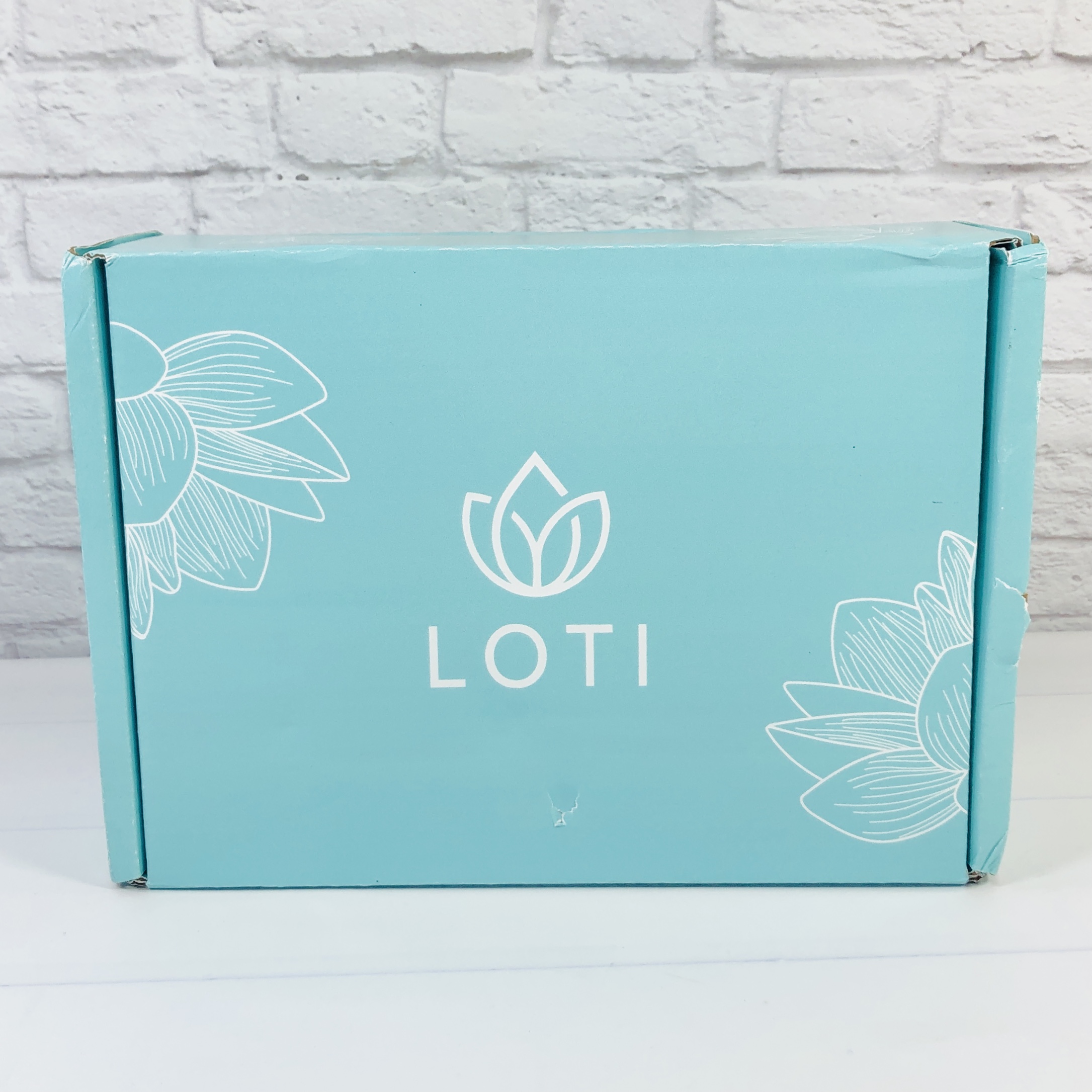 Loti Wellness is a subscription box with a focus on self-care. The box has a monthly theme curated by therapists to focus on items and rituals to promote positivity and improving one's self. Loti Wellness works with local brands and small businesses whenever they can, and choose cruelty-free and natural products. The box will have 5-8 products for self-care and wellness. The box is $49.95 CAD with lower prices on annual subscriptions – $37.95 USD – Use this link to access prices in USD. Shipping is $5.99 CAD to Canada and $7.99 CAD to the US (about $6 USD). A portion of proceeds go to CanadaHelps COVID-19 Fund.
A lotus is a flower that blooms from the mud. It symbolizes overcoming adversity and achieving your greatest potential. The Loti Wellness Box offers practical skills and products to reduce stress and anxiety, and improve your overall wellbeing.

Each Loti Wellness Box delivers the tools and strategies you need to cope with life's challenges, using research based in psychology and psychotherapy. The monthly themes focus on topics like reducing anxiety, setting goals, and even boosting positive mindsets to help you discover self-care and self-love.
DEAL: Save 10% on your first box! Just use this link and coupon code SUBSCRIBE10.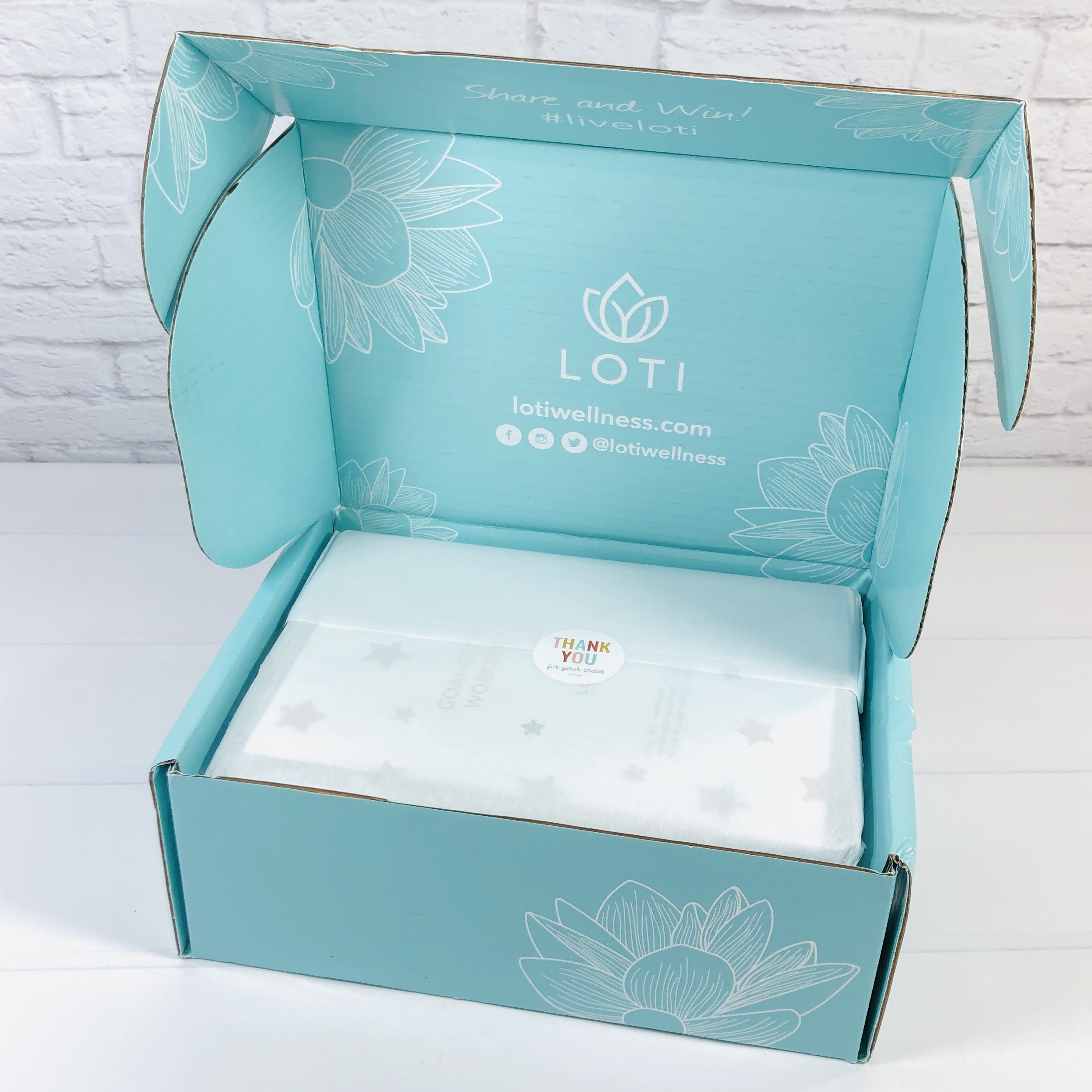 My items arrived in a lovely blue box and were wrapped in white tissue paper that was sealed with a sticker.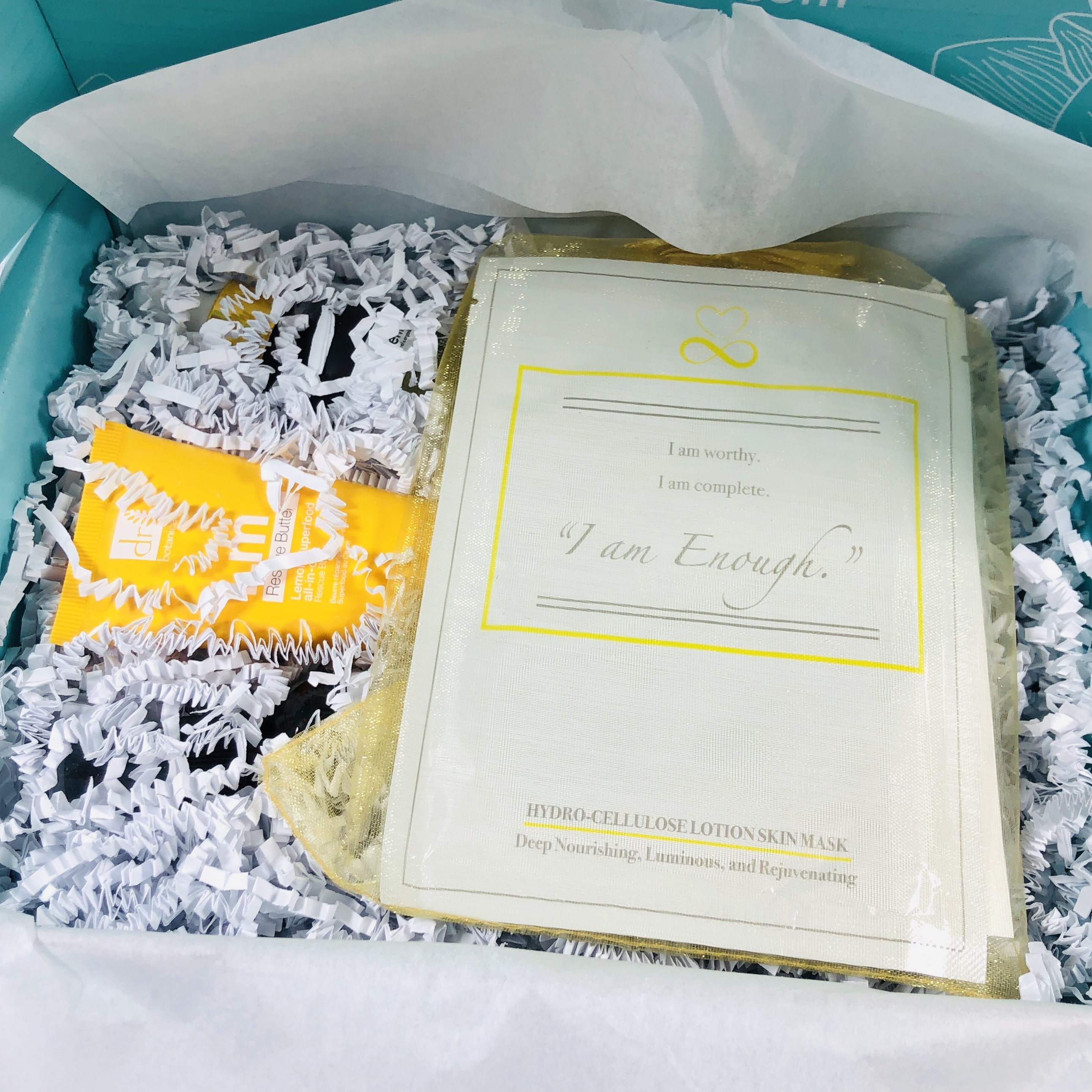 The items were snuggled into white paper squiggles.
I see both familiar and new-to-me brands!
I received a brochure with the theme for January: Goal Getter!
The inside of the brochure listed each item, MSRP, and website so you can stock up on more wonderful items from these brands.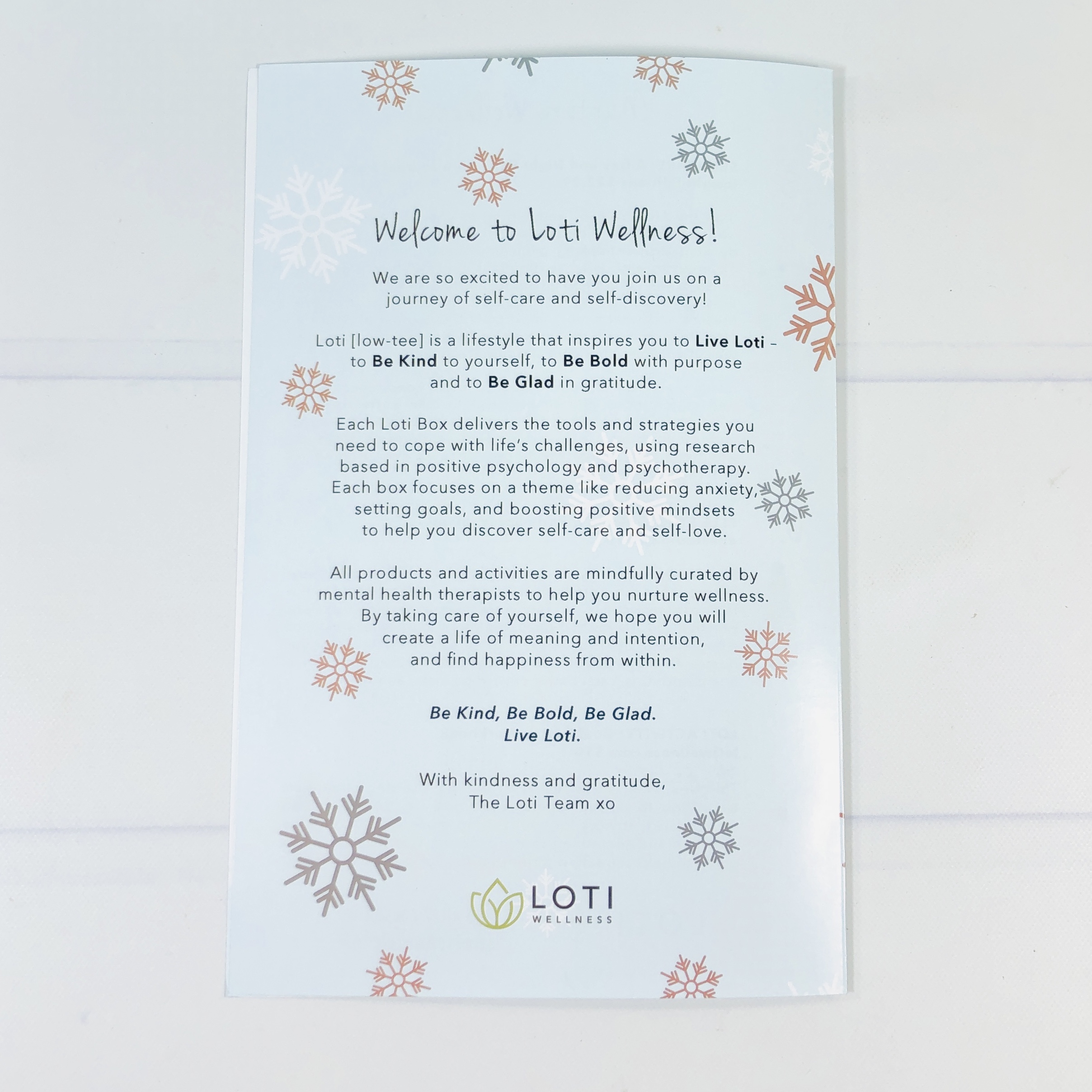 The back of the brochure discussed some of the intentions of Loti.
Next up was a Goal Getter Workbook ($10 listed value).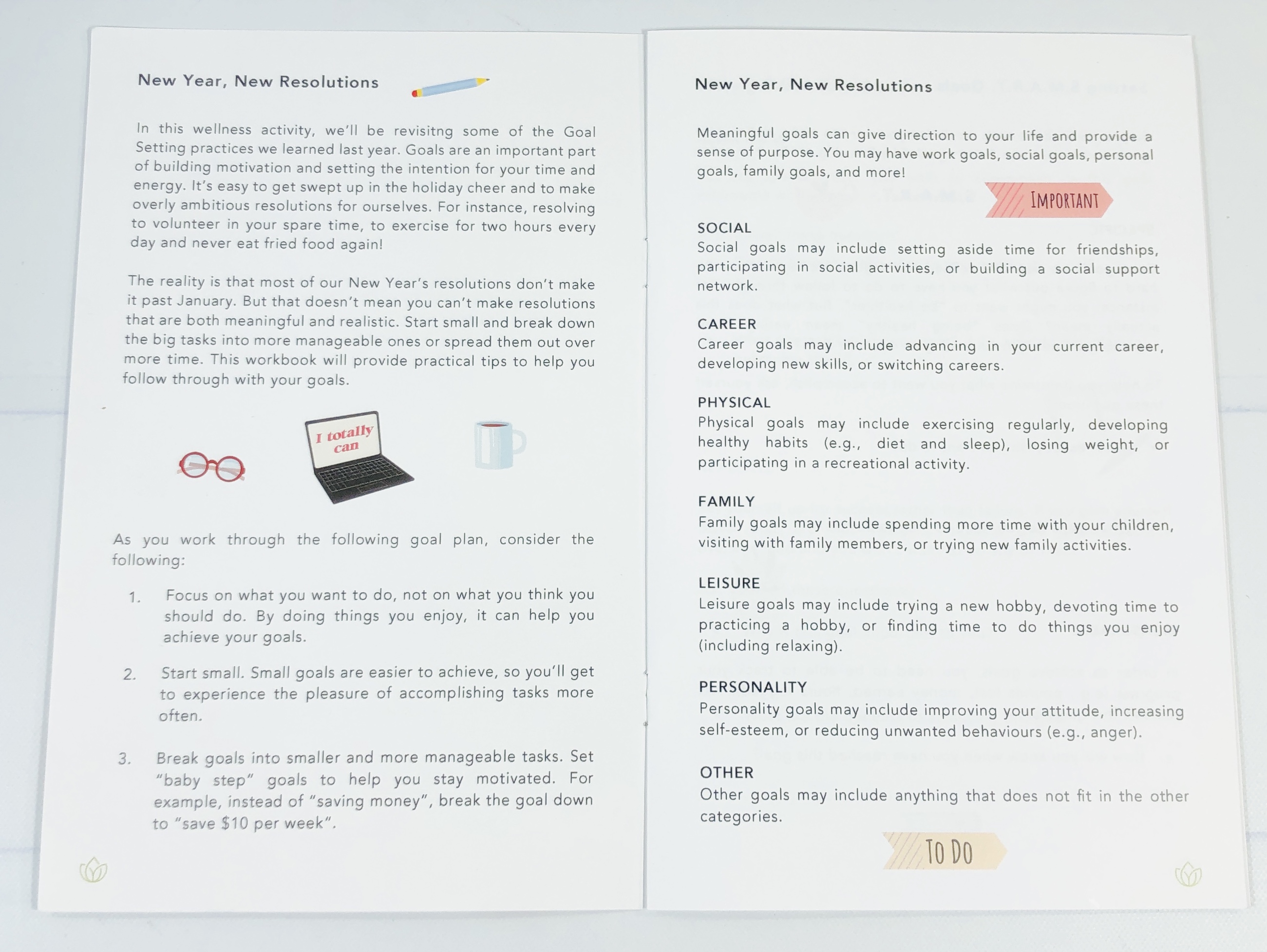 This month's focus was on setting SMART Goals, which means they are Specific, Measurable, Achievable, Realistic, and Timely.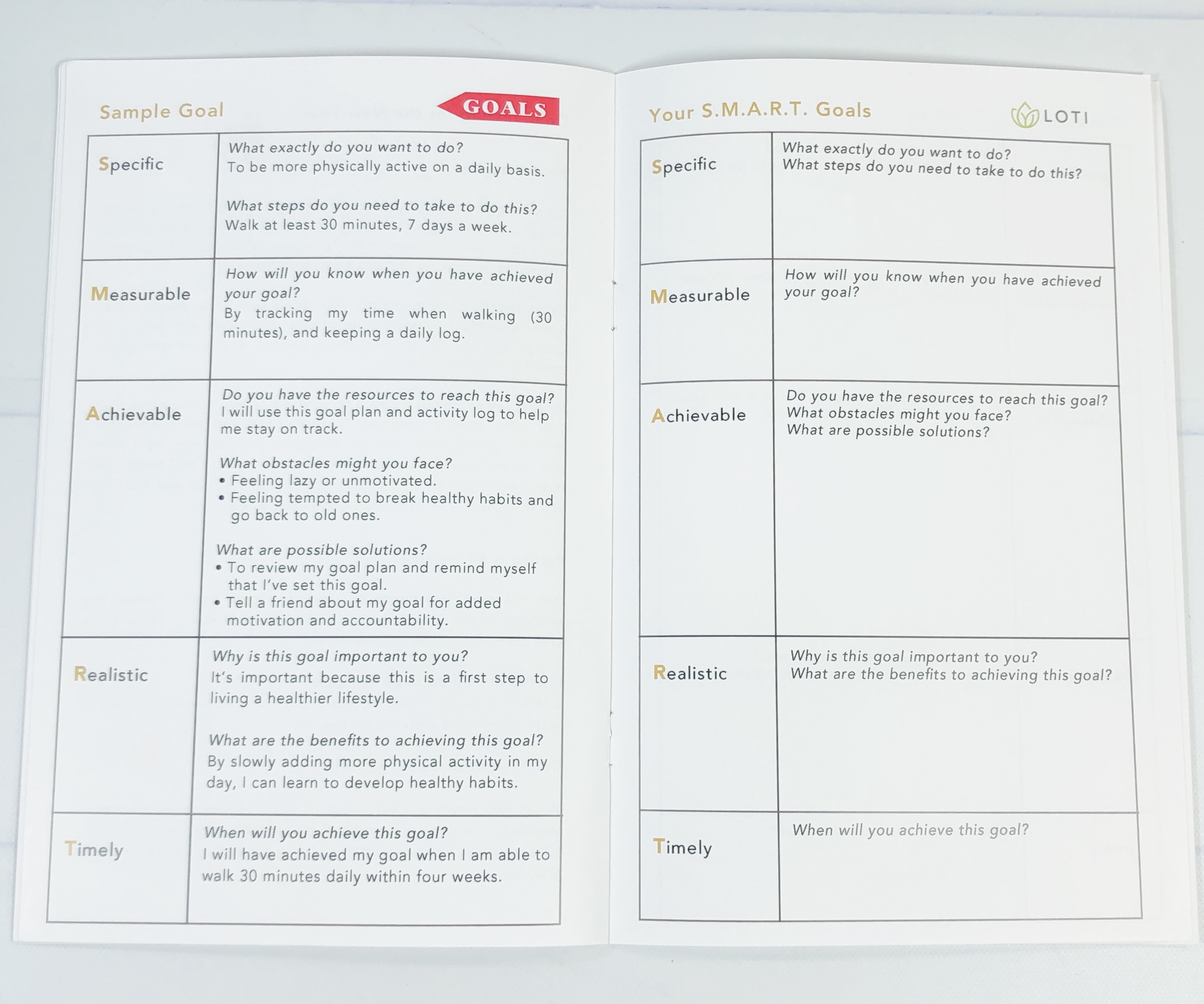 The booklet discussed setting resolutions and how to break them down into do-able tasks. This spread shows a sample of how you might break down a resolution into steps. There were 10 pages in all including 3 pages for goals.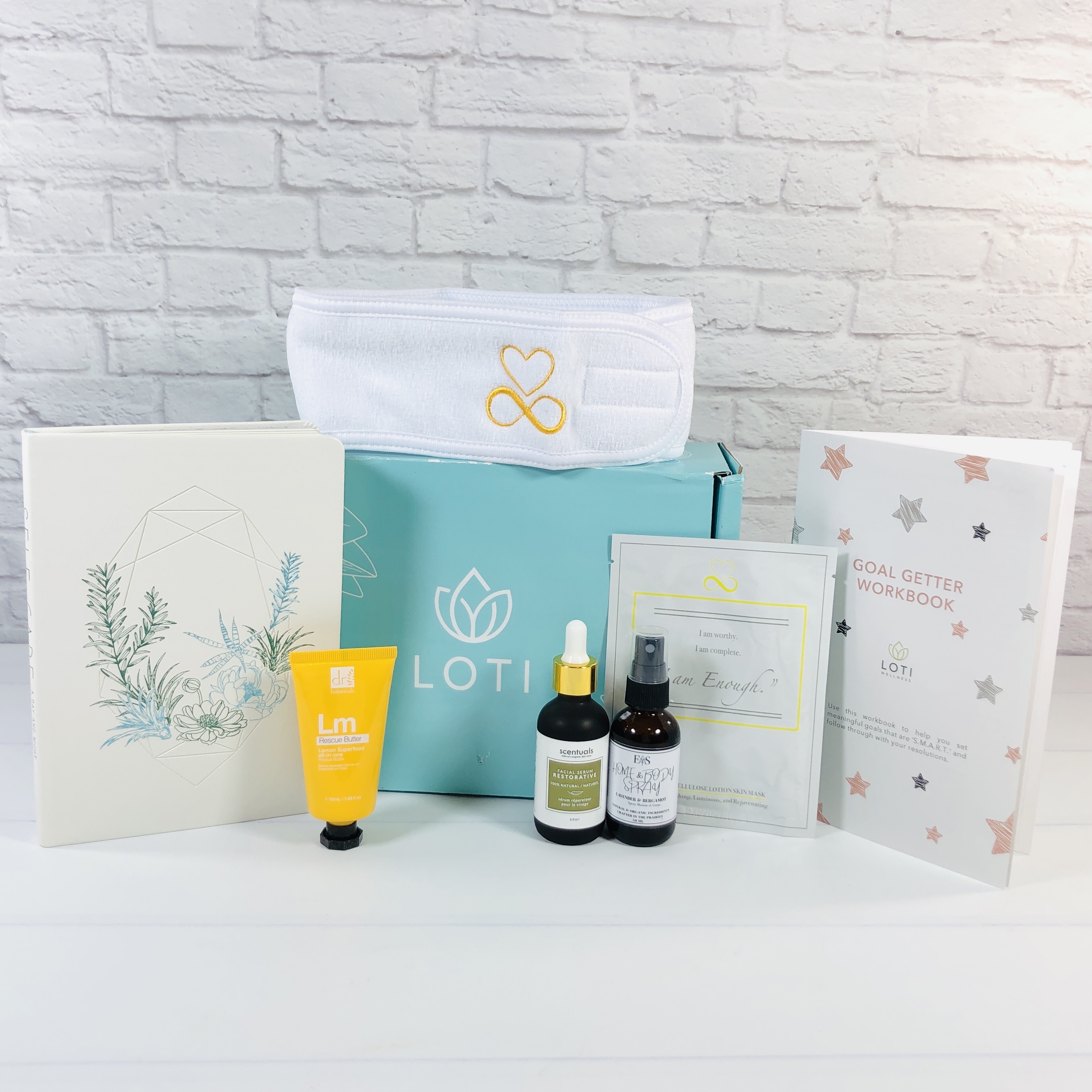 Everything in my box!
Skin-fulness 'I Am Enough' Sheet Mask & Headband ($15) This set was packaged in a reusable organza bag.
It's a mask and headband!
It came with a card…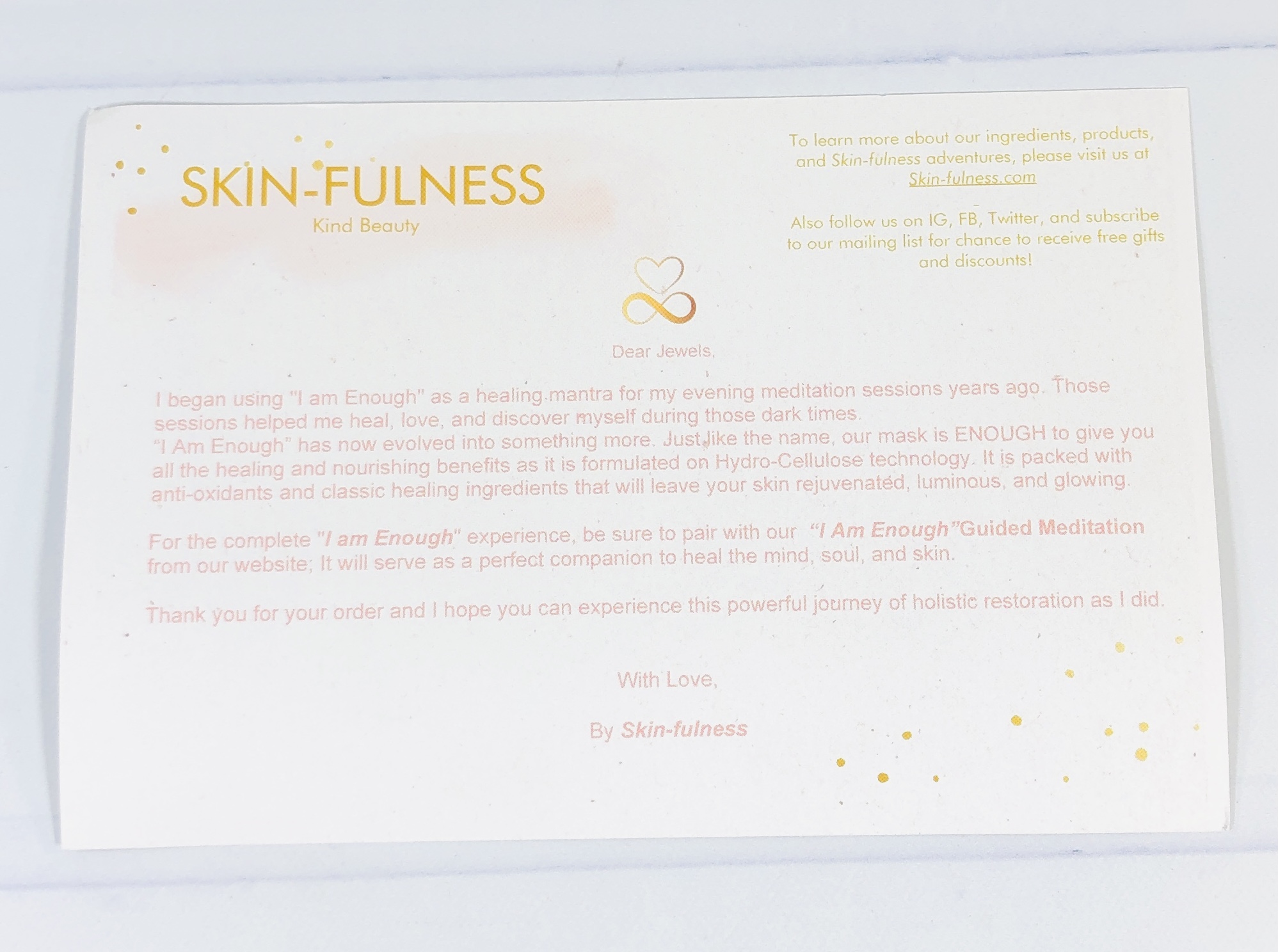 …which mentioned a guided meditation that can be found on the brand's website.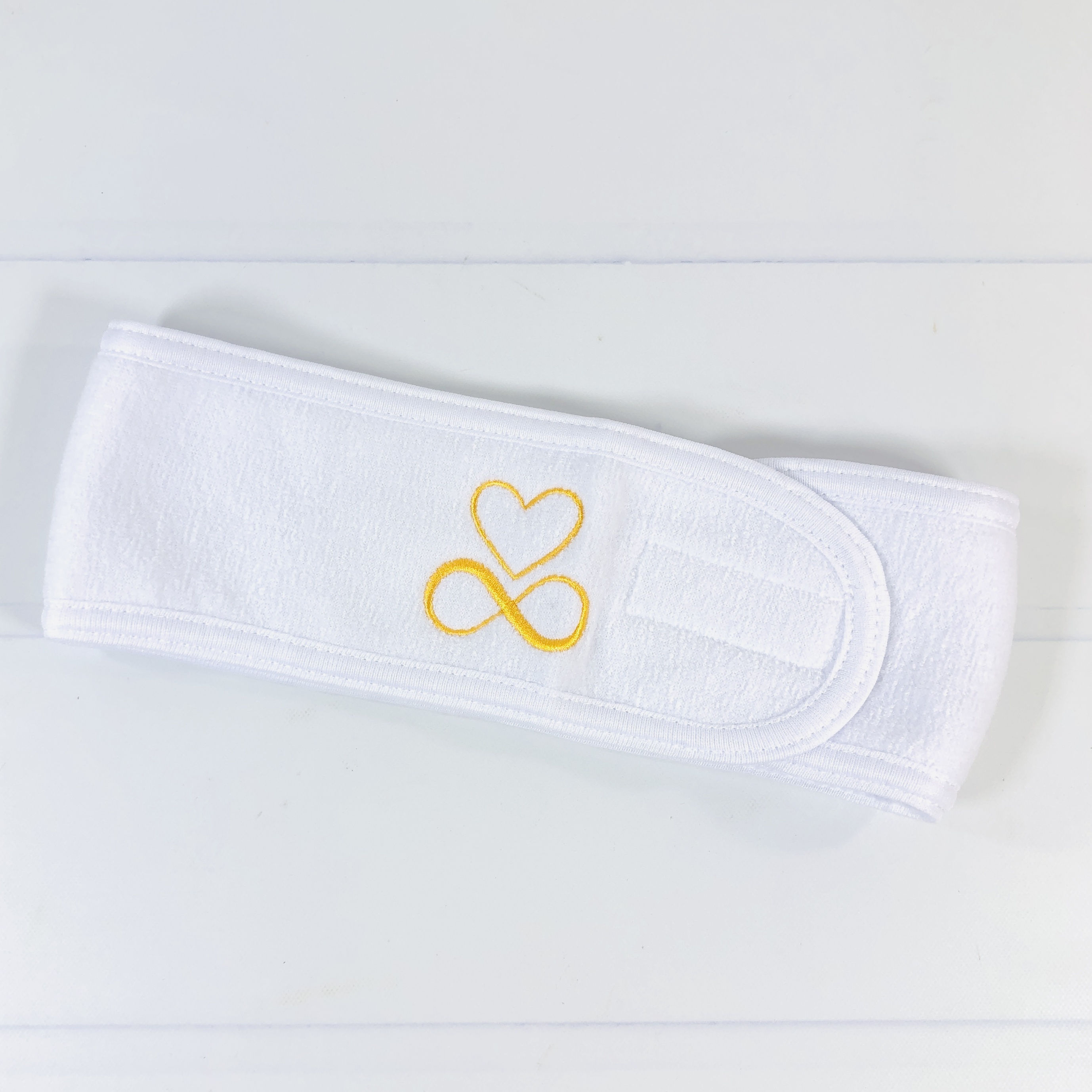 The Love Always Headband looks like it is made of white terry cloth that feels padded and has a gold metallic heart and infinity sign.
It has a velcro closure and measures 3.3″ x 24″ to fit a "standard S to M sized head". It fit fine on my head and is machine washable.
The I Am Enough Sheet Mask is a hydro cellulose mask that is coated with collagen (derived from fish) to help lock in moisture. The mask itself is made of tencel that comes from eucalyptus trees.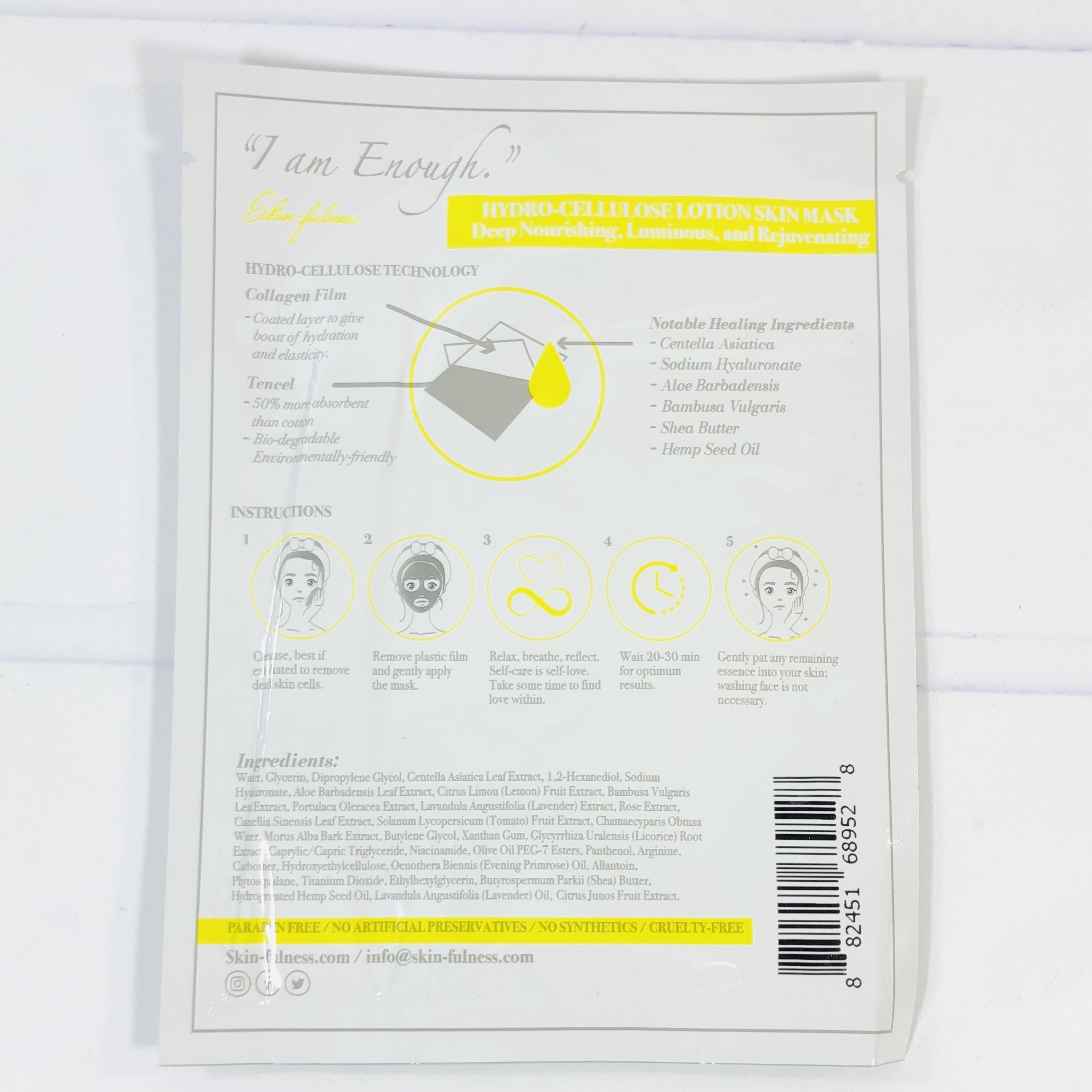 The ingredients are on the back and this list is longer than what they show on their website. It has some skin soothers such as cica, hyaluronic acid, aloe, and niacinamide. It has a lot of plant extracts too, such as lavender, lemon, and rose.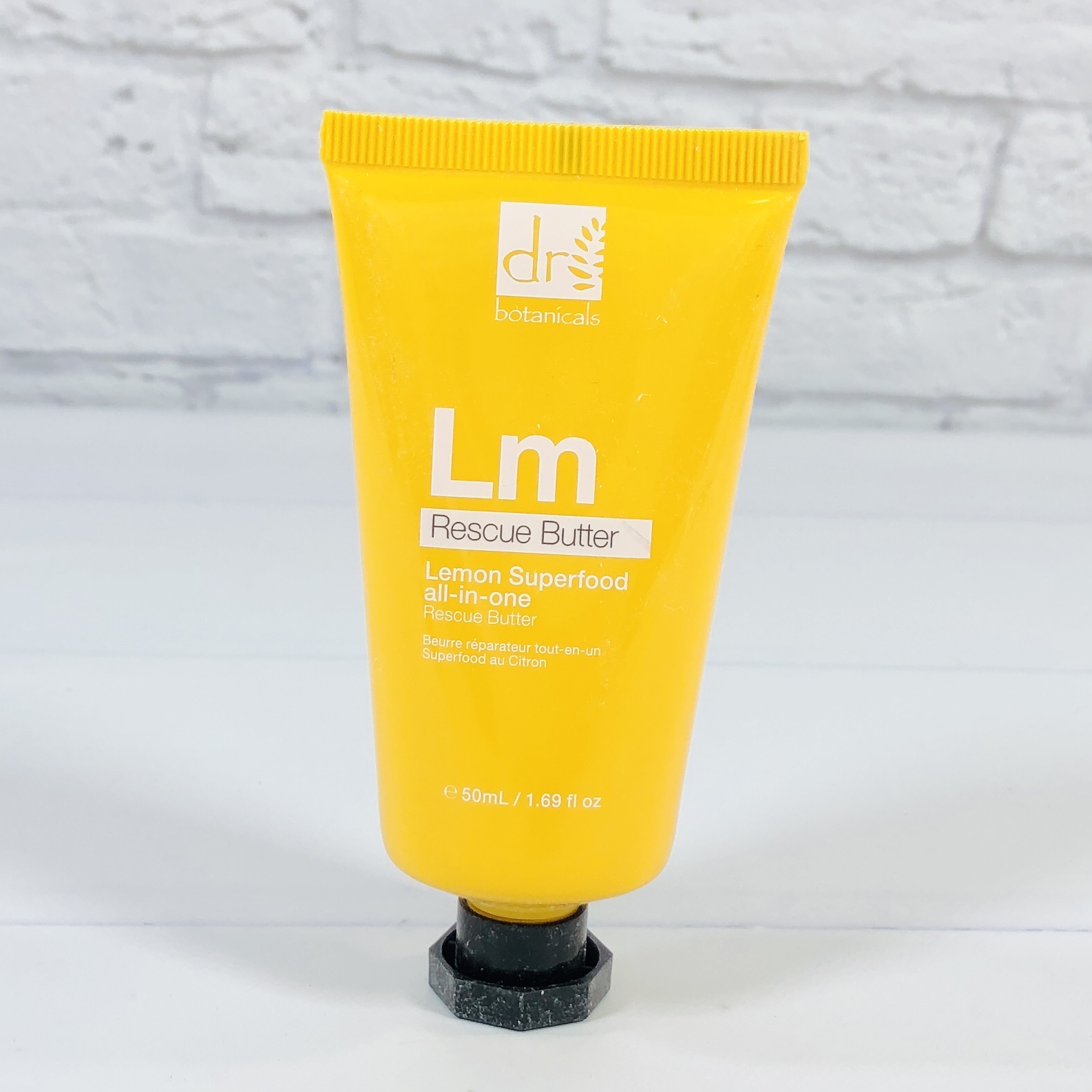 Dr. Botanicals Lemon Superfood Rescue Butter ($11.37) is a multitasker that can moisturize hands, elbows, cuticles, face, or lips. You can also use it as a makeup remover!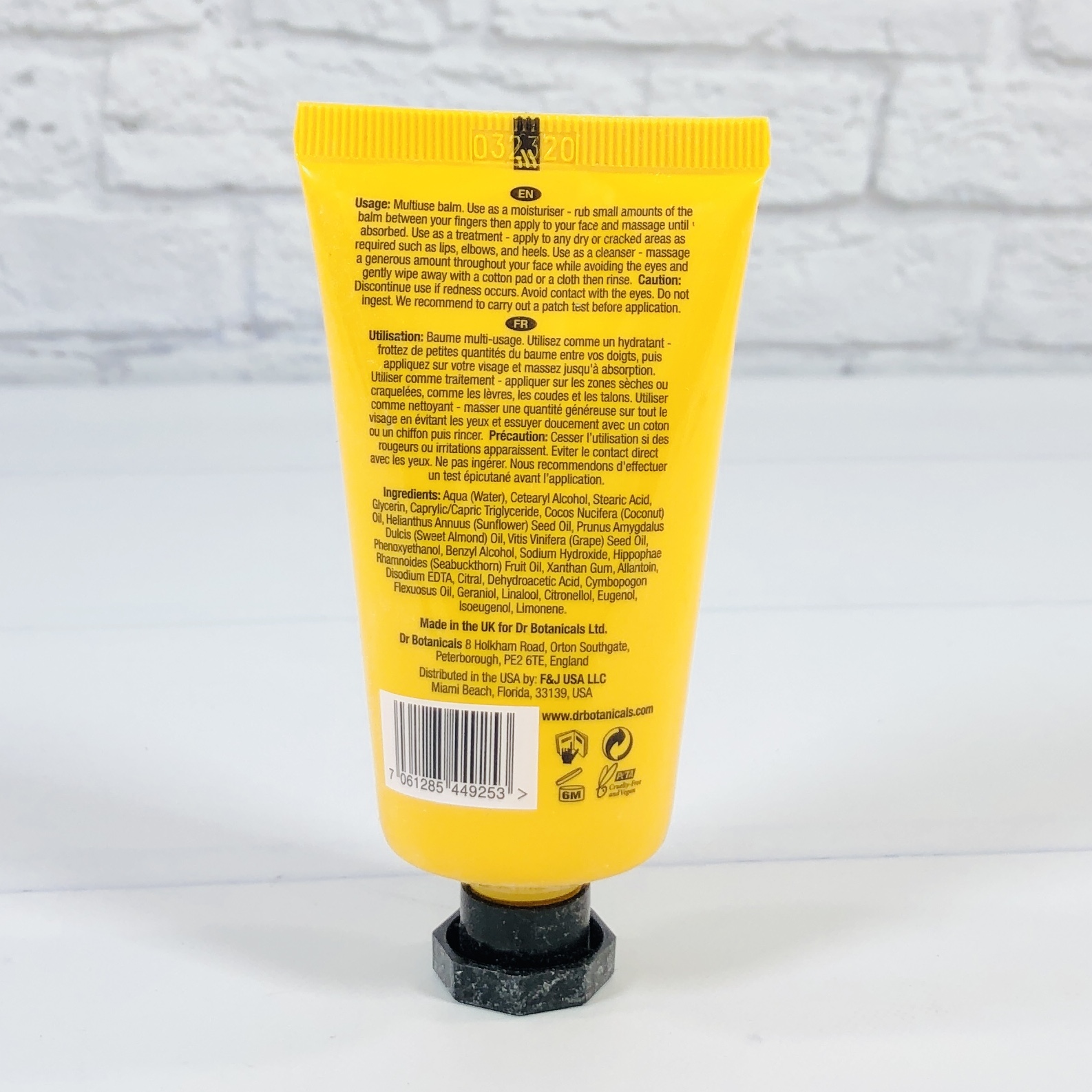 The ingredients include plant oils such as coconut, sunflower, sweet almond, and grapeseed. The scent comes from lemongrass oil so it's uplifting and just as sunny as its container. It isn't super greasy and I think it works well as a hand cream whether during the day (yay, I can type after applying!) or before bed.
Elle Studio Home & Body Spray in Unwind ($16 CAD, about $12.66 USD) is a room spray that can be used on the body. It's good for general refreshing or aromatherapy uses and can be spritzed on pillows, yoga mats, or shoes.
This is scented with lavender and bergamot so it has a clean scent that can help contribute to stress reduction when combined with deep breaths. There is an uplifting version that is scented with lemon and patchouli and that sounds lovely too. The scent isn't long lasting, but it sticks around long enough so you know it's there and can get in those deep breaths before it's gone.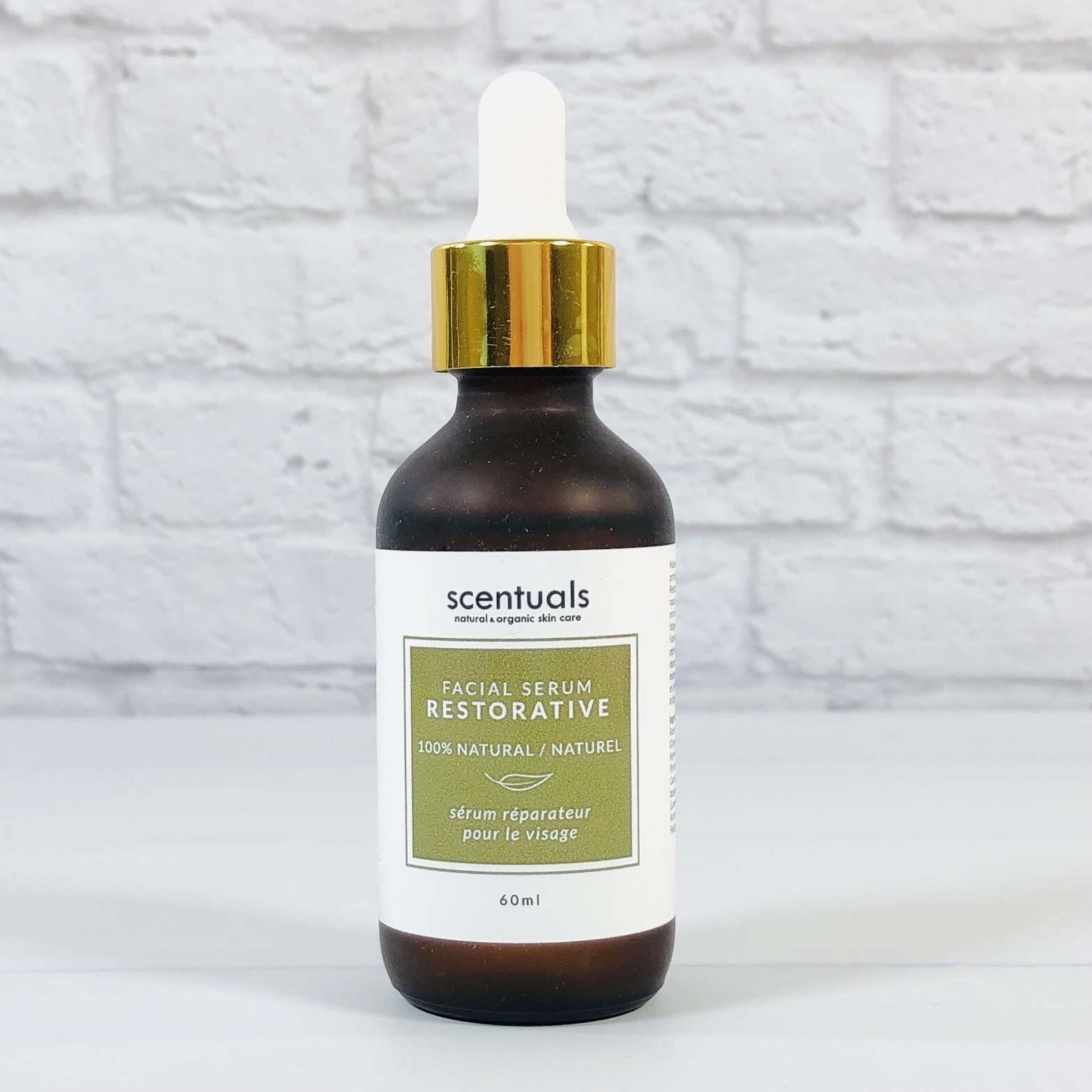 Scentuals Restorative Facial Serum ($45 CAD, about $35.61 USD) Scentuals is one of my favorite natural beauty brands, and I have grown quite the collection thanks to subscription boxes.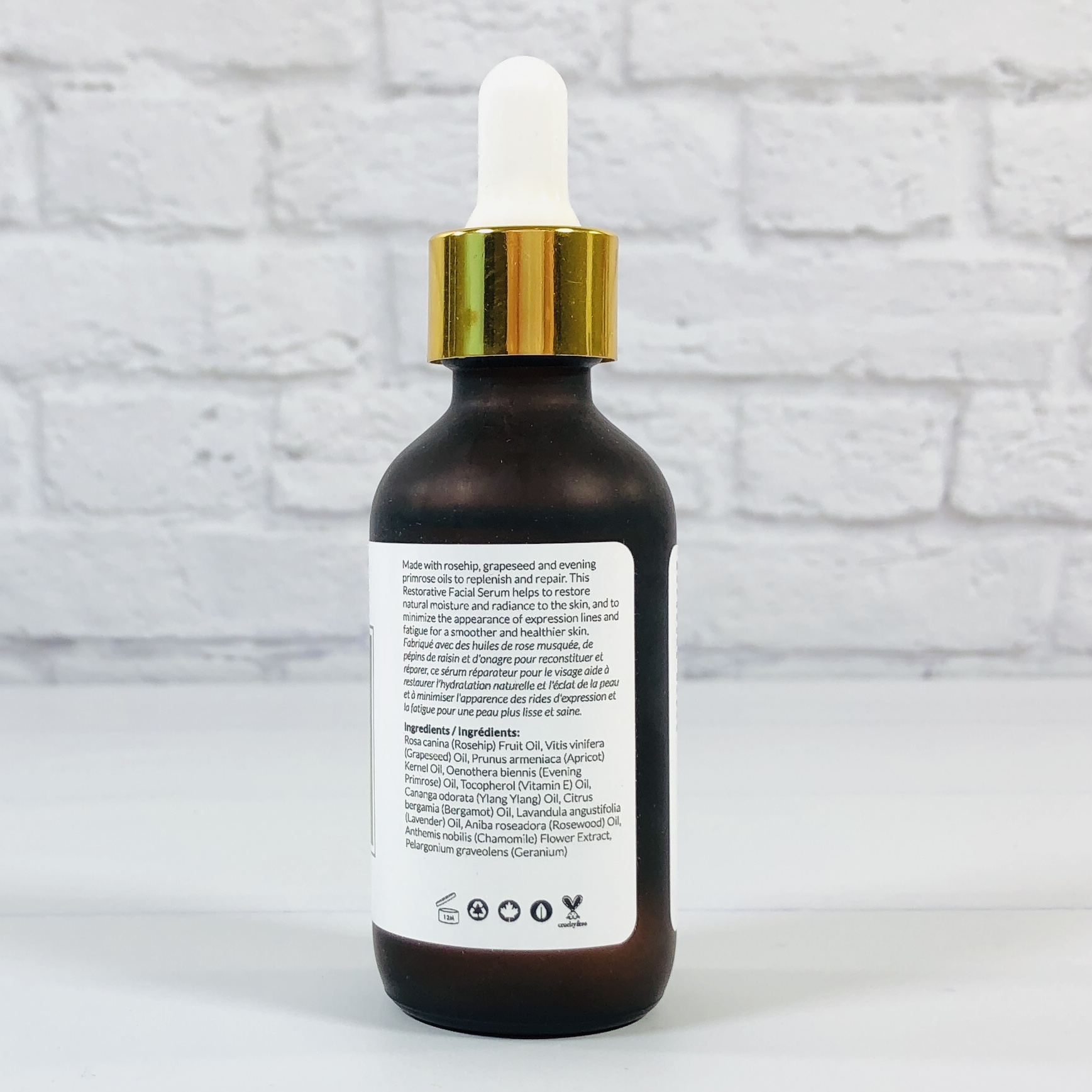 This can be used by all skin types but may be especially beneficial for those with dryness or fine lines. Rosehip, grapeseed, apricot kernel, and evening primrose oil all start the list and offer their moisturizing and antioxidant benefits. The rest is mostly essential oils for scent and possible age-fighting powers.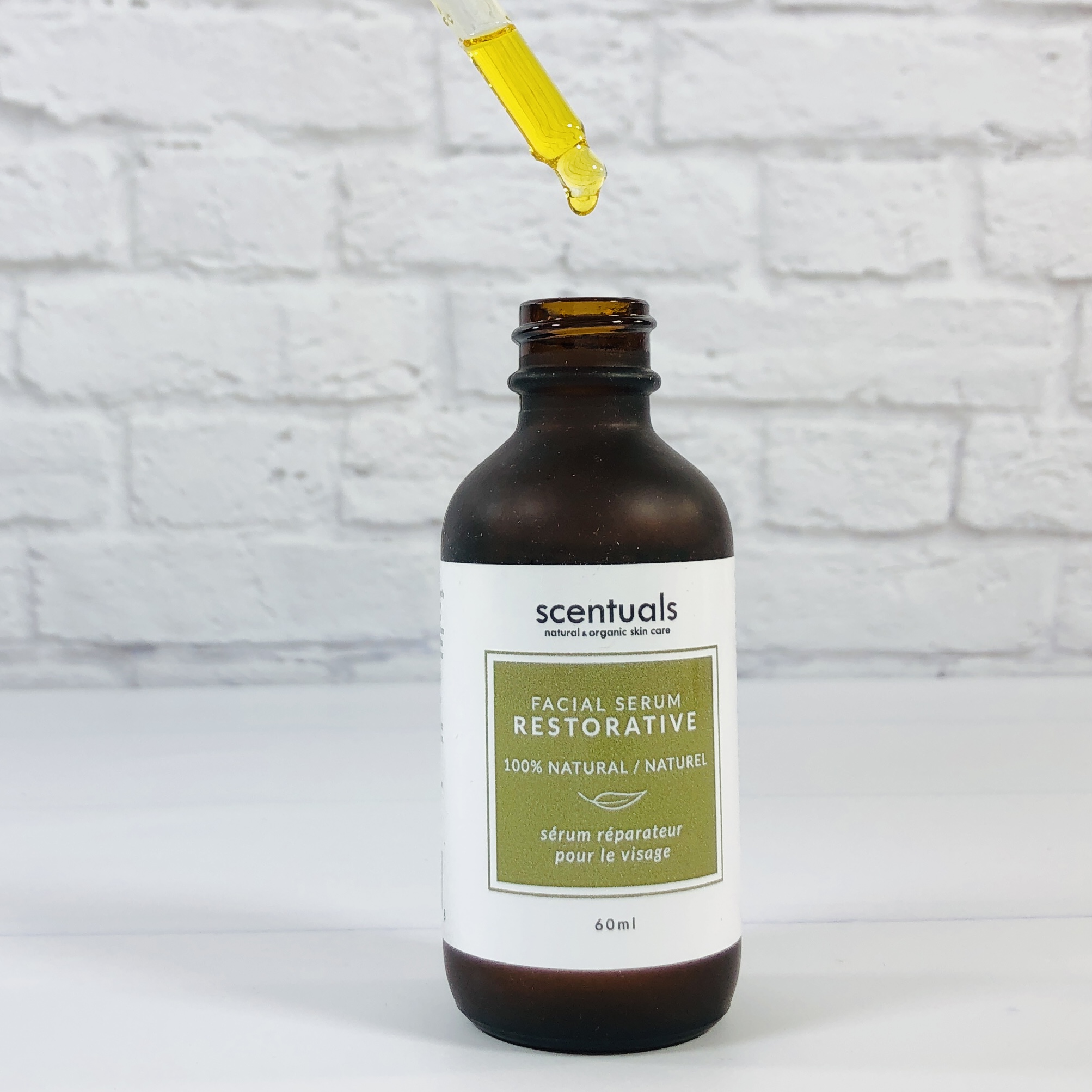 I applied the serum/oil to my face after washing and took a few moments to breathe in the herbal scent while massaging it all over my face and neck. I didn't need a separate moisturizer afterwards and woke up to glowing skin that felt hydrated.
Self-Care: A Day And Night Reflection Journal From Insight Editions ($15.29 USD) is a 90 day journal and although journals can be started at any time of the year, January seems like an especially opportune time.
This guided journal encourages the cultivation of mindfulness and general well-being amid a busy modern lifestyle.

Self-Care: A Day and Night Reflection Journal offers a space to commit to your self-care routine with intention and dedication—helping you develop positive thinking, overcome challenging and stressful experiences and negative emotions, and cultivate a general sense of well-being and a healthy lifestyle. This 90-day journal gives you a path to creating a habit of regular self-care that you can carry with you throughout your life. Immersed in your busy day-to-day activities, it's easy to forget to focus on the present and what's most important. This journal provides a place to record your thoughts and activities and consider how they affect your emotional and physical health.

The journal is intended for those who want to foster deep reflection as well as for those who simply want to take better care of themselves. Having filled the journal with positive thoughts and routines, you will end up with a personal trove of wonderful reflections, which can be a source of positive inspiration at any time.

Filled with delicate illustrations, this 90-day journal will help you integrate self-care and deep reflection into your life. Its 184 lined, acid-free pages made from archival paper take both pen and pencil nicely.
The journal is illustrated with botanical designs and is in shades of terra cotta and sage on cream pages.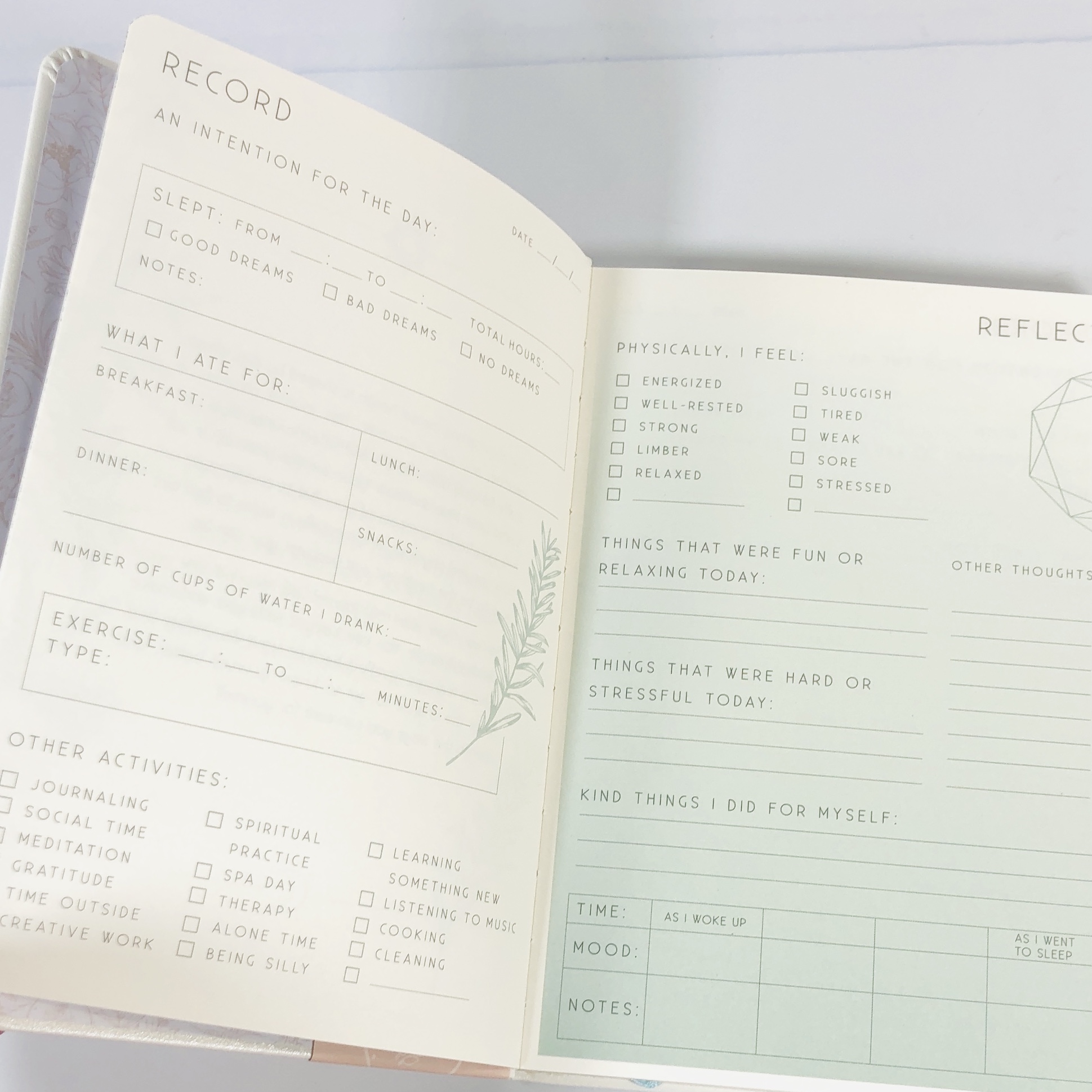 The left is where you set your intentions for the day and the right is where you reflect on what came to pass. You can record your meals, exercise, water intake, hours slept, and activities performed. There are enough pages for 90 days worth of notations.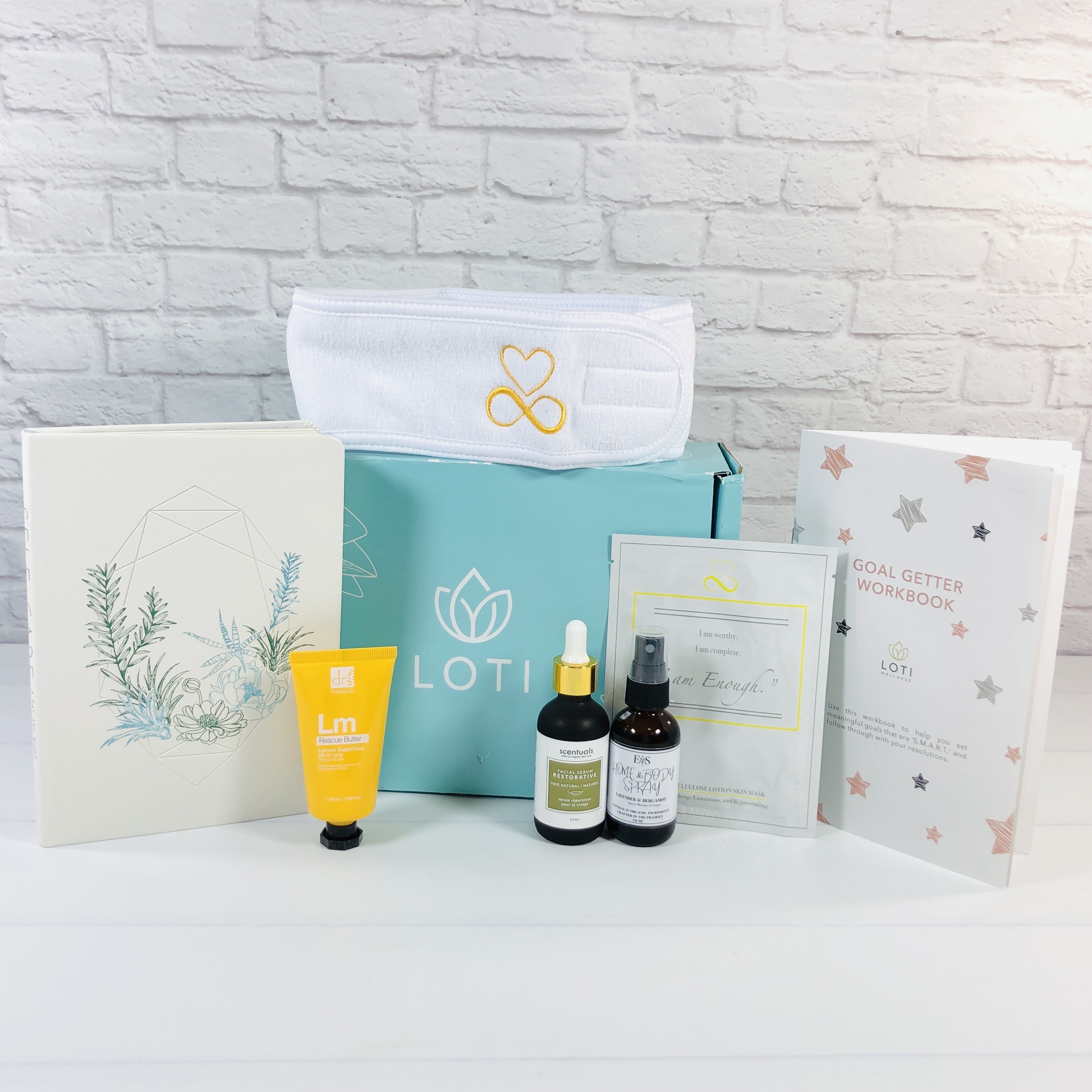 The January Loti Wellness Box has me armed and ready to face the new year and its challenges. I have items to help me relax and take care of my physical, mental, and even emotional health, which has suffered the past year due to the pandemic. The workbook and the journal will help me set goals and reflect on the day. The mask and face oil help me take care of my face while the lotion helps heal my hands (so much washing and sanitizing). The spray reminds me to stop and take a deep breath, which has been shown to reduce anxiety. The headband will be used for a long time to come and looks like something you might wear at a spa. Overall I really enjoyed the theme, curation, and assortment.
What do you think of this self-care subscription?