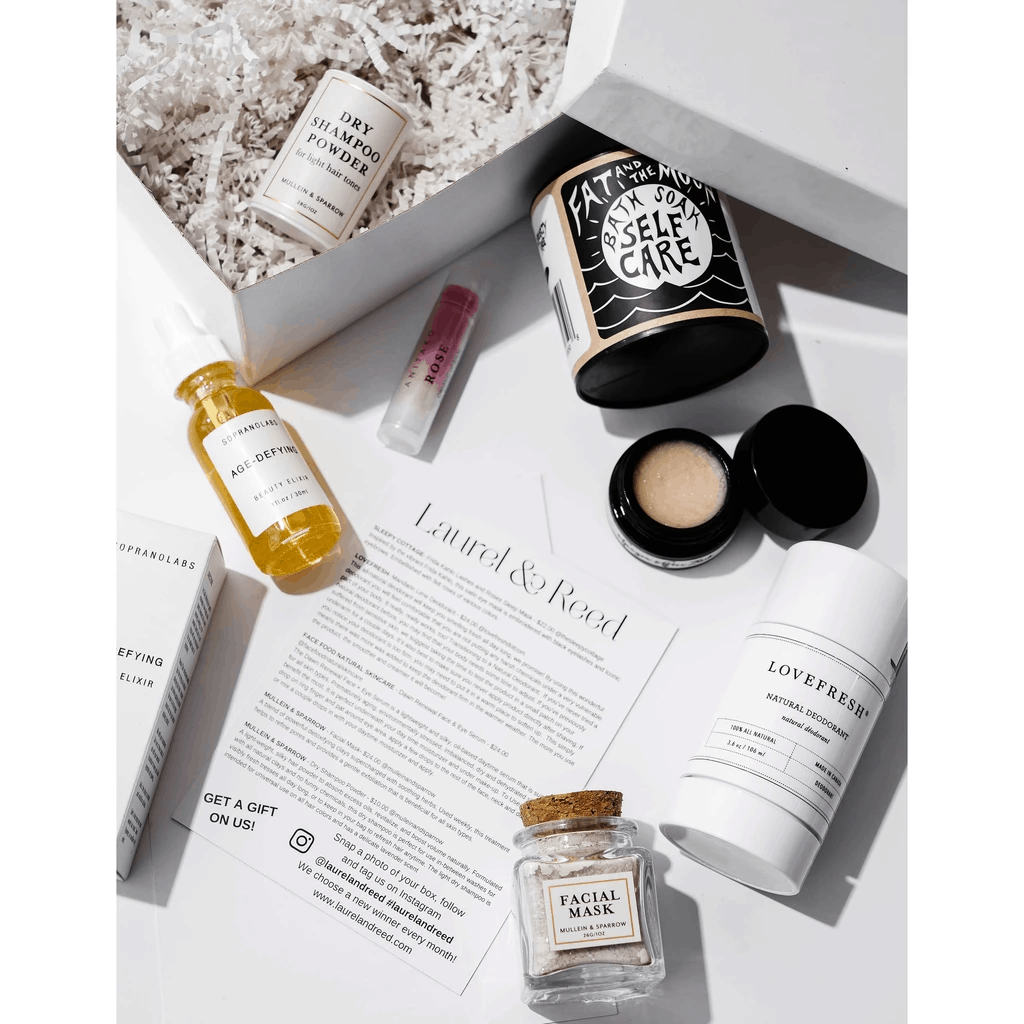 We have full spoilers for the Laurel & Reed January 2021 beauty box!
DEAL: Use coupon code NEW15 at checkout for 15% off!
Elevate your daily routine with a subscription to Laurel & Reed's luxury-curated, cruelty-free and non-toxic beauty box. In need of some selfcare or looking for that perfect GIFT? Every month we will delight your doorstep with a mix of 3+ full-size products with a min. total retail value of $100+. All boxes come gift wrapped.
This month's box contains:
MĀLAYĀ ORGANICS Rejuvenating Face Serum  – .85oz – $95.00
ETERNAL APOTHIC Super C Skin Crystals – $36.00
HONUA SKINCARE Aloha Youth Serum – 2oz – $92.00
More details from Laurel & Reed:
MĀLAYĀ ORGANICS Rejuvenating Face Serum  – .85oz – $95.00
The Rejuvenating Face Serum is an extraordinary blend of 26 active botanical ingredients in a lightweight, deeply hydrating, vitamin-rich formula. Anti-inflammatory and Lenoleic Acid rich Siberian Cedar Nut Oil coupled with Gardenia Absolute's antioxidant and collagen-synthesizing properties nourish skin, keeping it healthy and balanced. This harmonious fusion of bioactive essences, solar charged herbal extracts and nourishing omega fatty acid rich oils quickly absorb into skin, helping maintain and replenish moisture levels and restore skin's elasticity. Teeming with ingredients rich in vitamins, minerals, and phytonutrients, this 100% natural elixir is both youth promoting and suitable for problematic skin.
The ingredients in our best-selling multi-corrective serum are known to:
balance skin tone
improve the appearance of fine lines
increase cell turnover
improve the appearance of acne scars
encourage even skin tone and texture
great for soothing skin after sun exposure
ETERNAL APOTHIC Super C Skin Crystals – $36.00
A true super-hero for encouraging a healthy and radiant complexion. Unique antioxidant crystals activate upon the time of use ensures the highest potency to fortify skin. This powerful, age defying Vitamin C powder helps to adjust the pH of skin while providing protection from environmental stressors making this unique product an ideal toner for any skin care routine.
With the ability to slow the ageing process and improve the overall complexion by stimulating collagen production, brightening and tightening skin tone and protecting from free radical damage our skin crystals are synergistically formulated with inflammation reducer MSM, which also works detoxify skin cells while enhancing the absorption of Vitamin C, and nutrient dense Coconut to revitalize and regenerate skin.
HONUA SKINCARE Aloha Youth Serum – 2oz – $92.00
A luminous serum made with a select blend of Hawaiian botanicals AND enriched with bakuchiol – a plant-derived retinol alternative.  Designed to hydrate, smooth, brighten and tighten; this carefully curated blend will boost skin's immunity by providing the nutrients needed for a youthful glow. A unique formula that penetrates easily into skin delivering concentrated nutrition, leaving skin fresh and dewy.