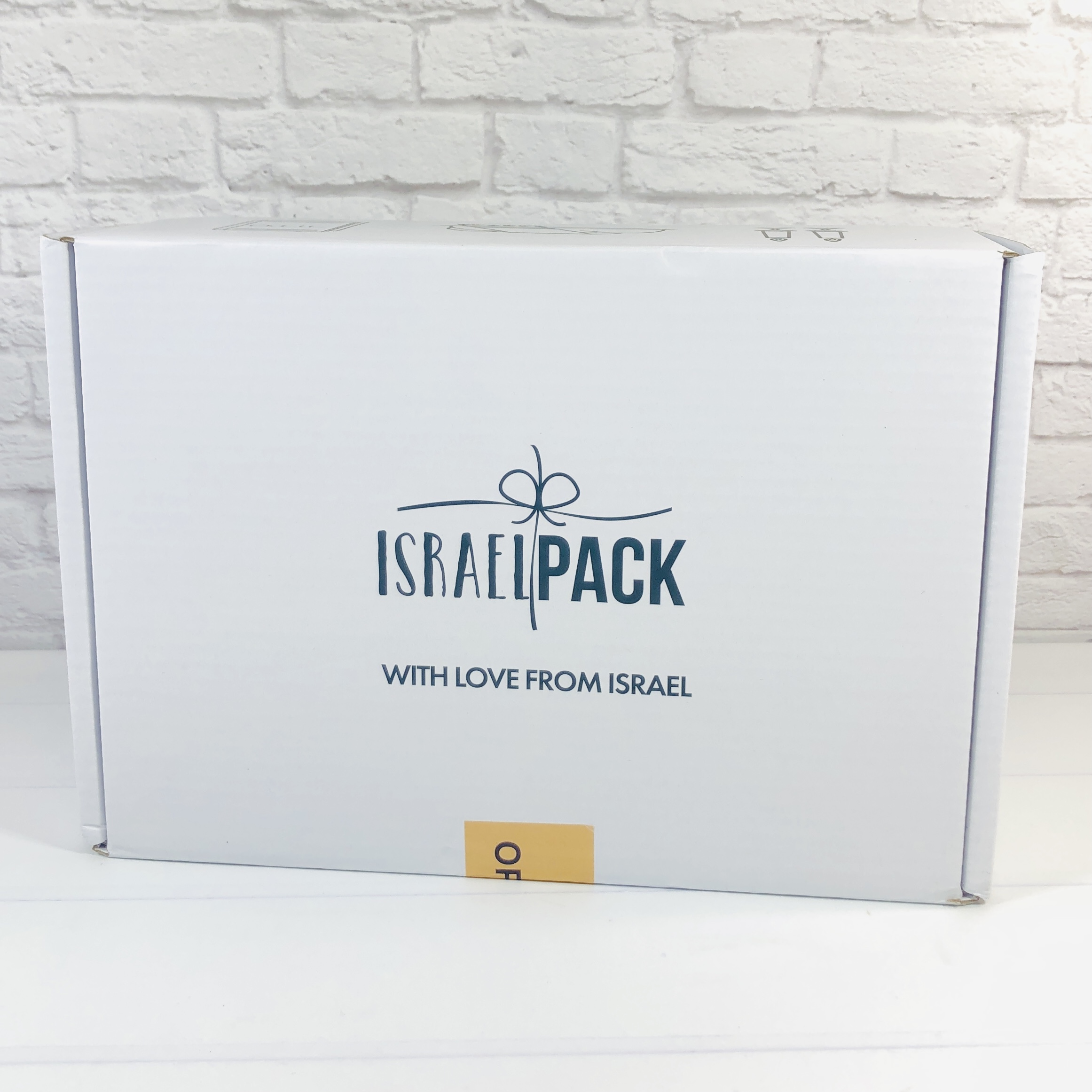 Israel Pack is a monthly subscription box with unique products from Israel handmade by local farmers and artisans. Each month you will receive 6-8 full-sized products such as tea, honey, olives, soap, home decor, or snacks. The subscription box is family-friendly and aims to promote a learning of the culture and history of Israel while giving back to the local farmers and artisans who make the products included in the box. Israel Pack is $99 a month and includes free worldwide shipping!
Learn about Israel's history & culture and acquaint your children with the Holy Land
We believe that engaging with the world of Jewish arts, crafts and cuisine is the best way to learn about the Holy Land and to pass on the traditions to future generations.
DEAL: Get 35% off of your first box! Use coupon code GET35.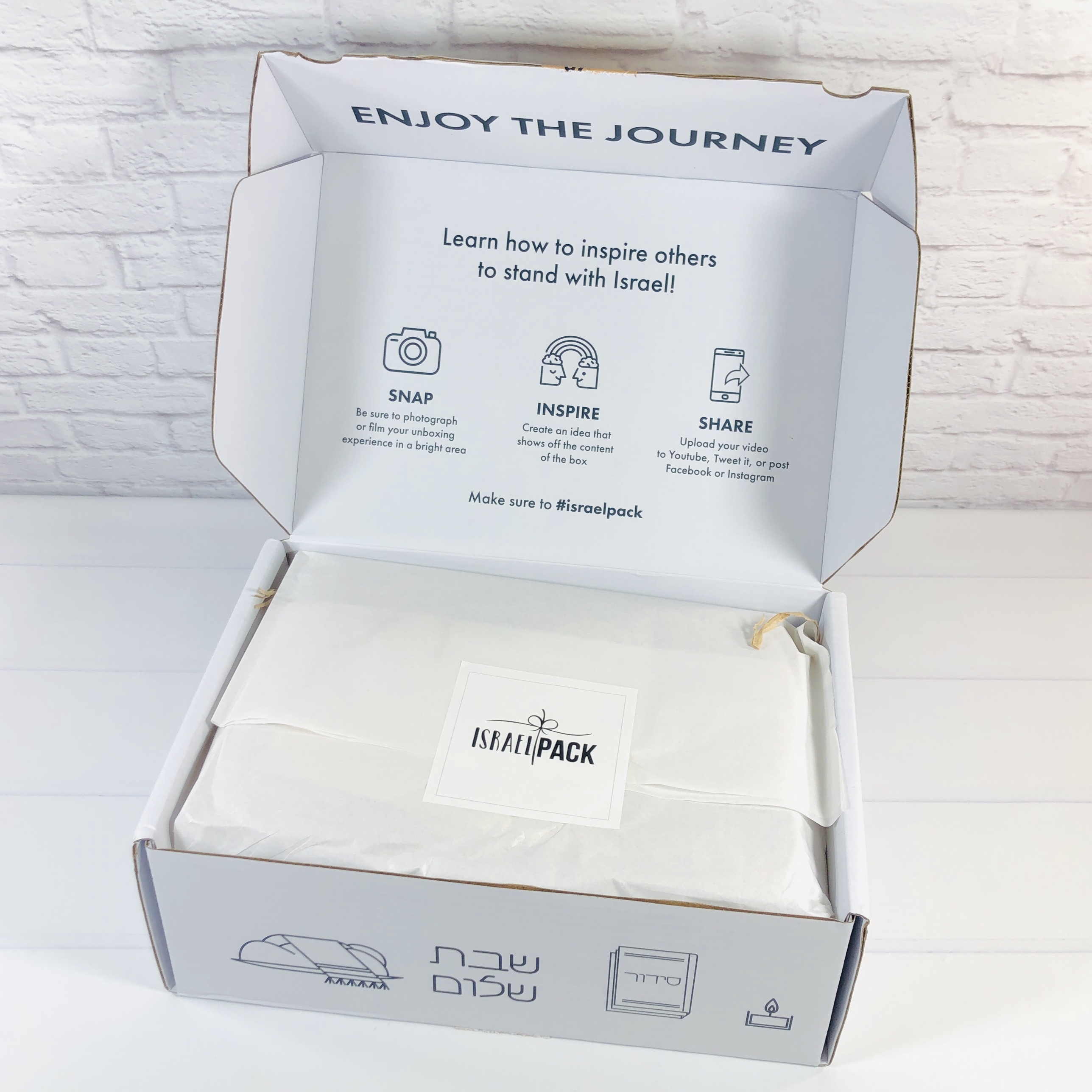 My items were wrapped in tissue paper and sealed with a sticker.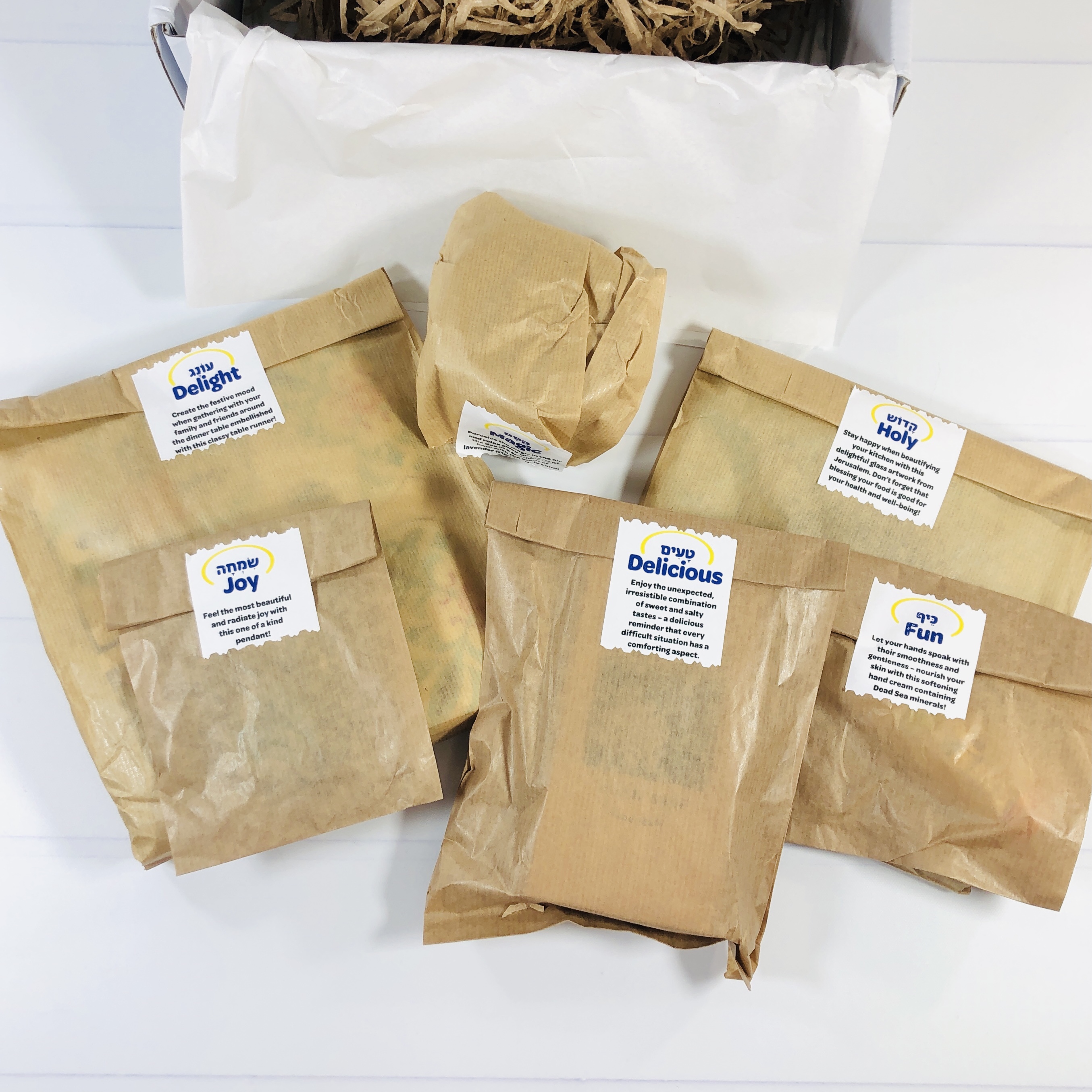 Everything's wrapped individually so it's like opening a box of presents! Gone were the packing peanuts and they have been replaced with shredded paper squiggles.
The theme this month is Delight Box!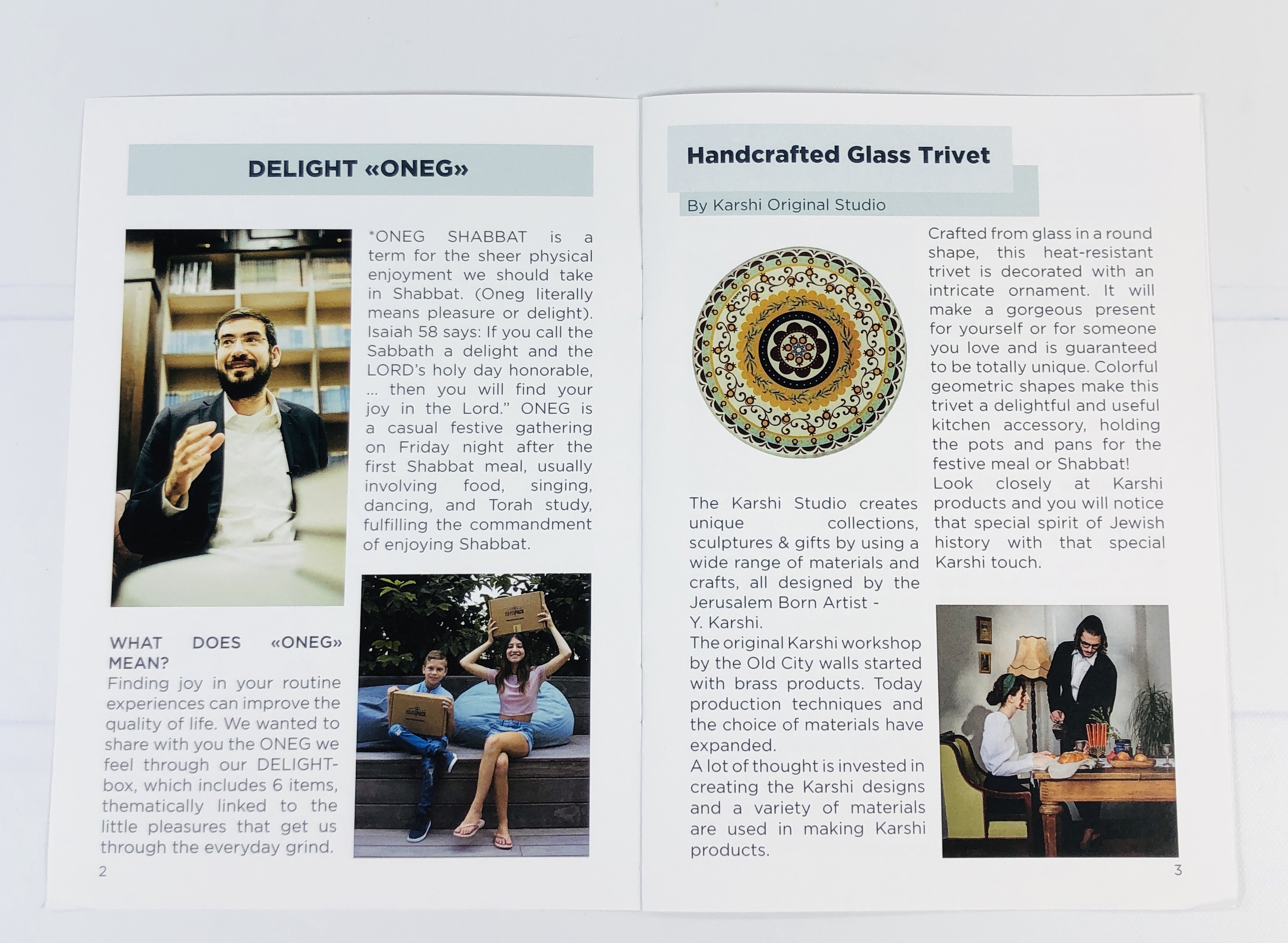 The catalog discussed the items and makers featured in this box. I would encourage you to read their stories here, and I will describe my experience with their products below. This box is themed around Oneg, which sounds like a laid-back gathering around Shabbat.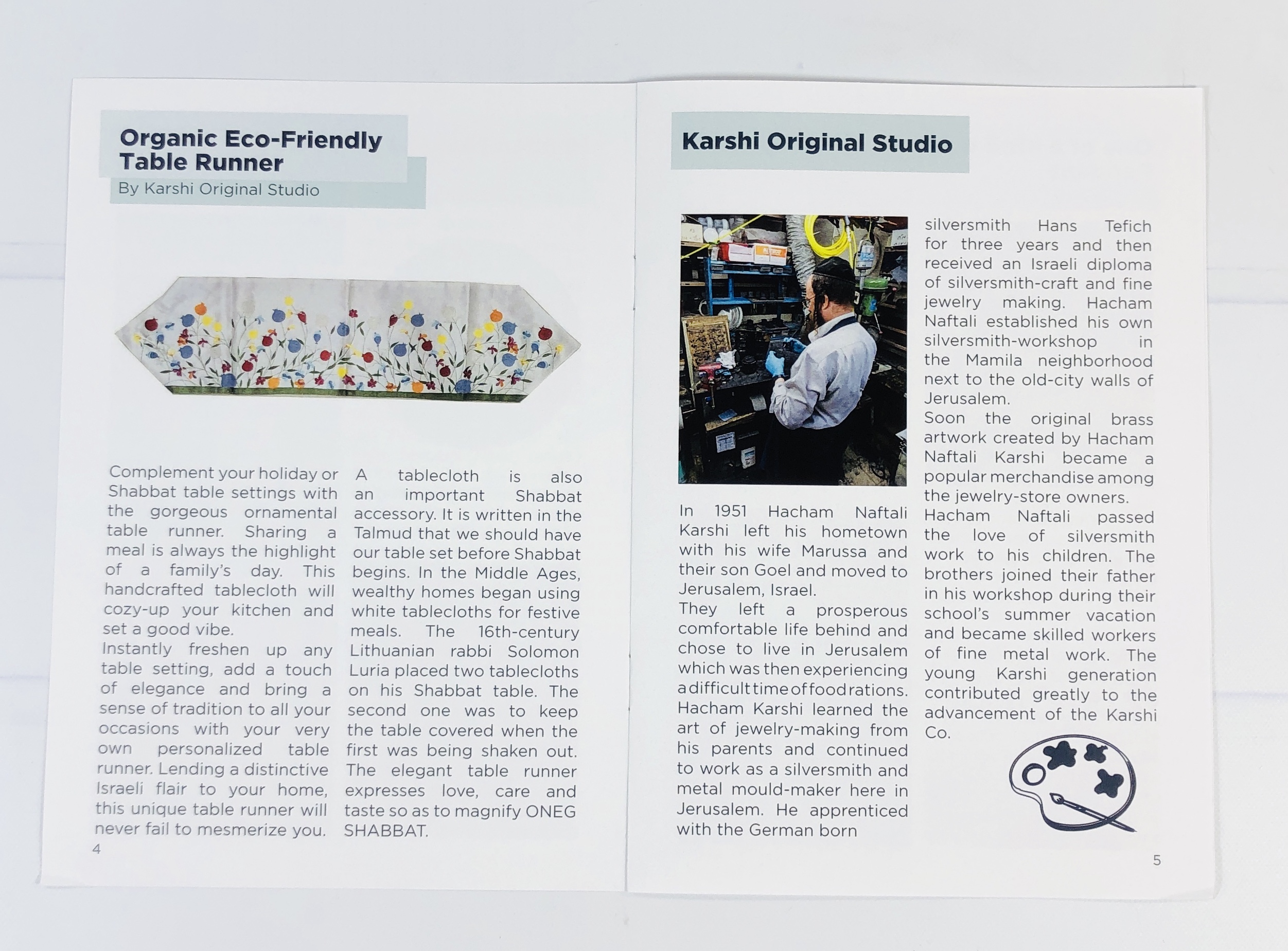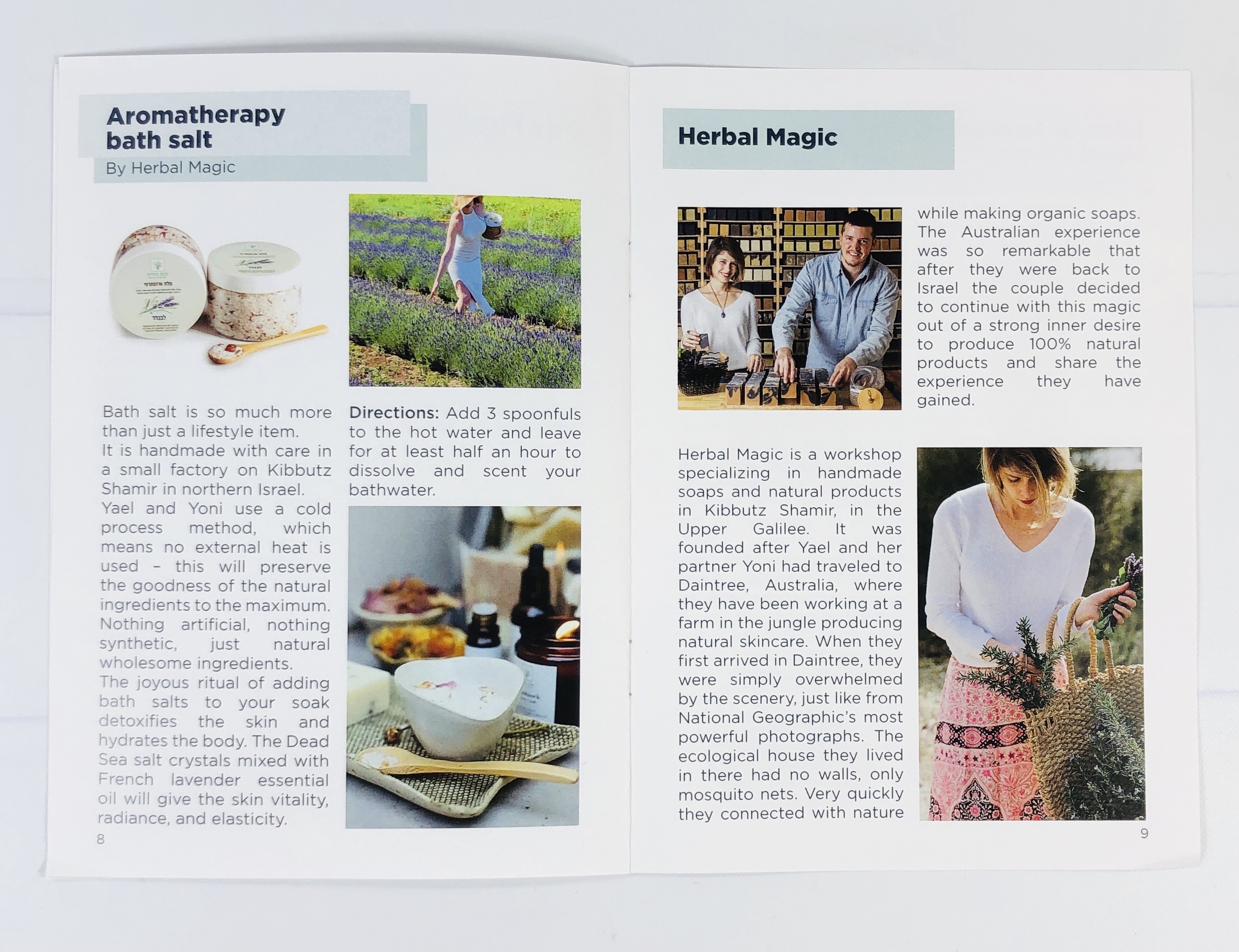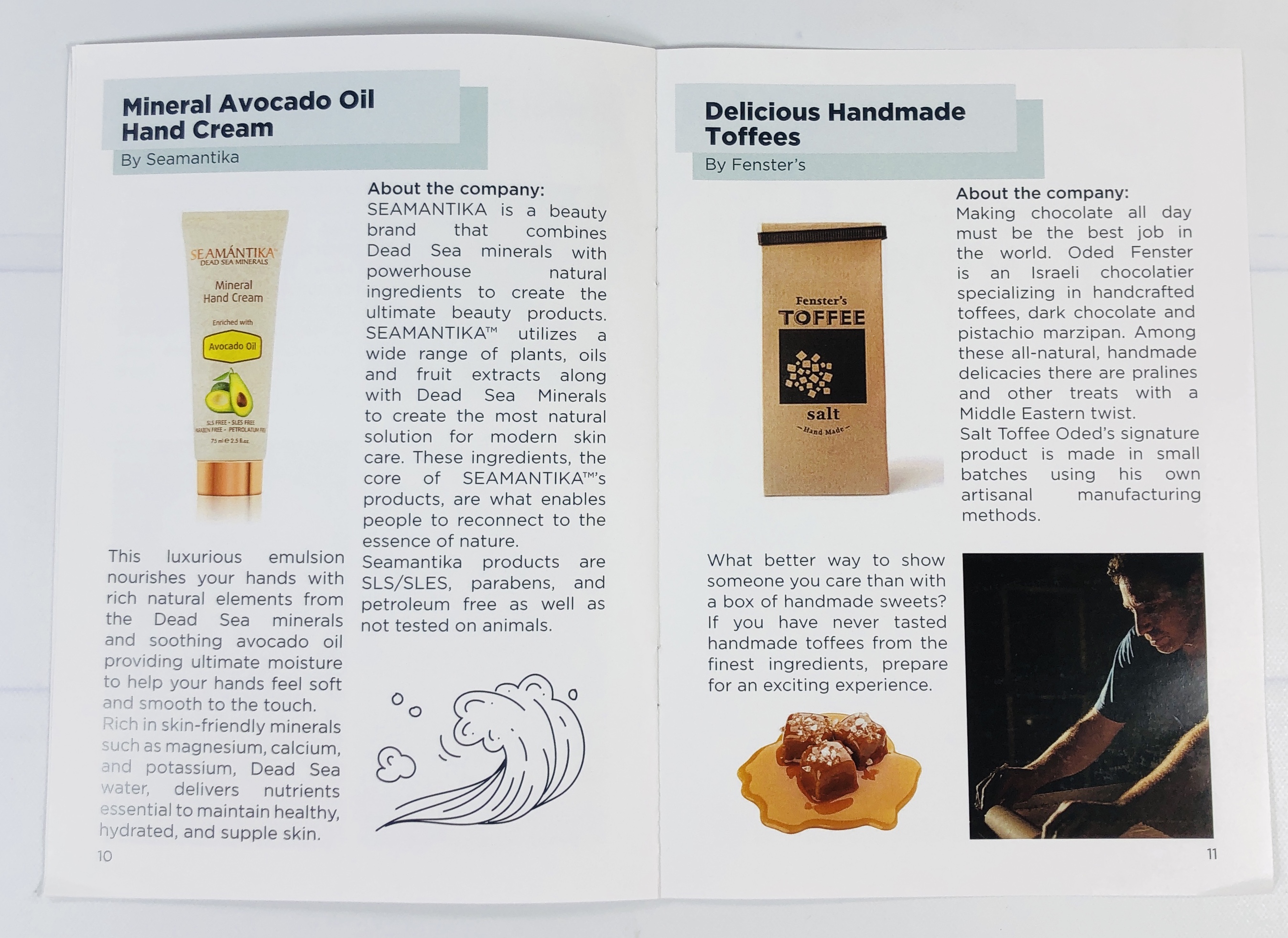 The back of the catalog had contact info and social media accounts listed.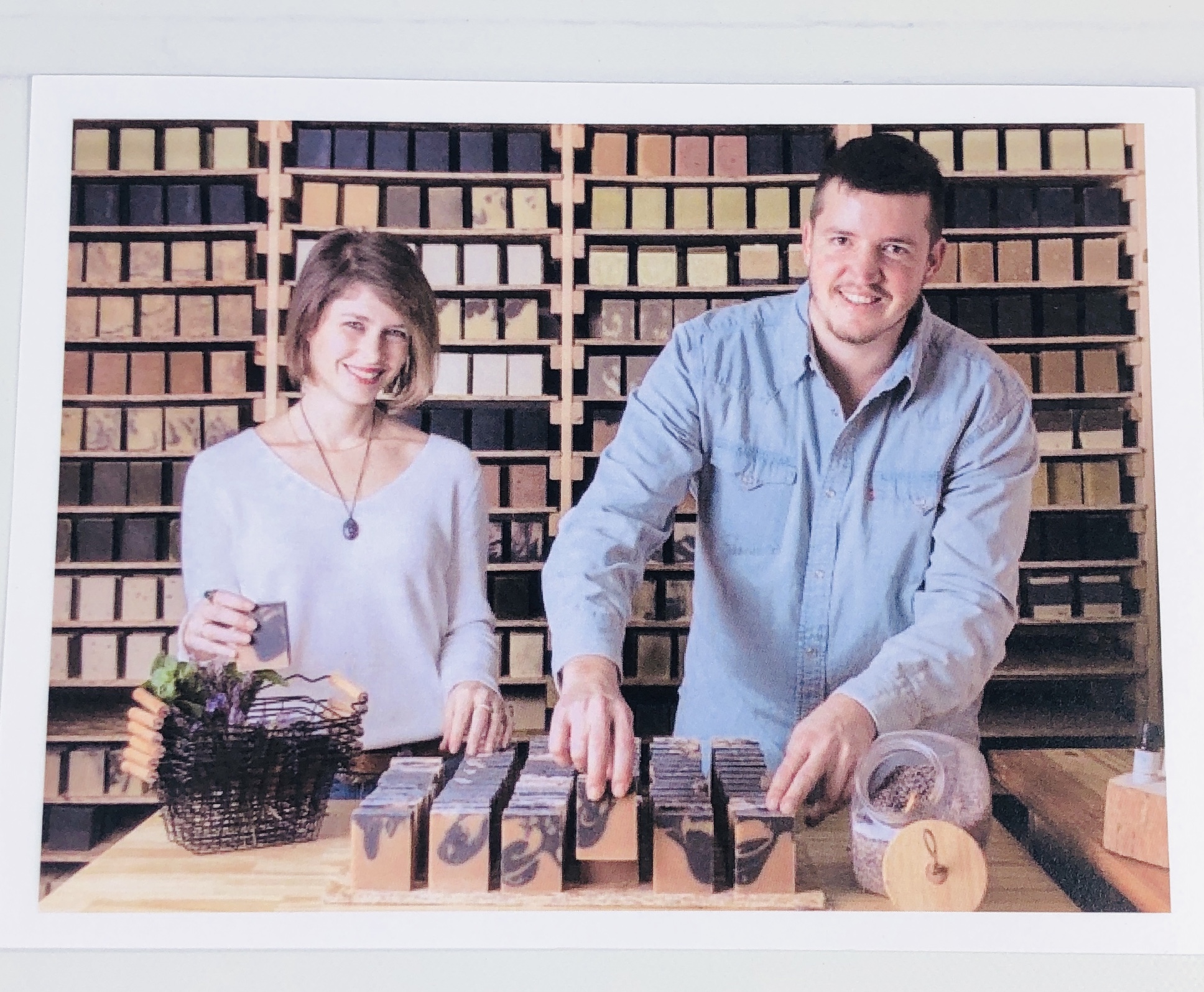 Inside I found an insert…
…with info on how the box helps support Israeli artists.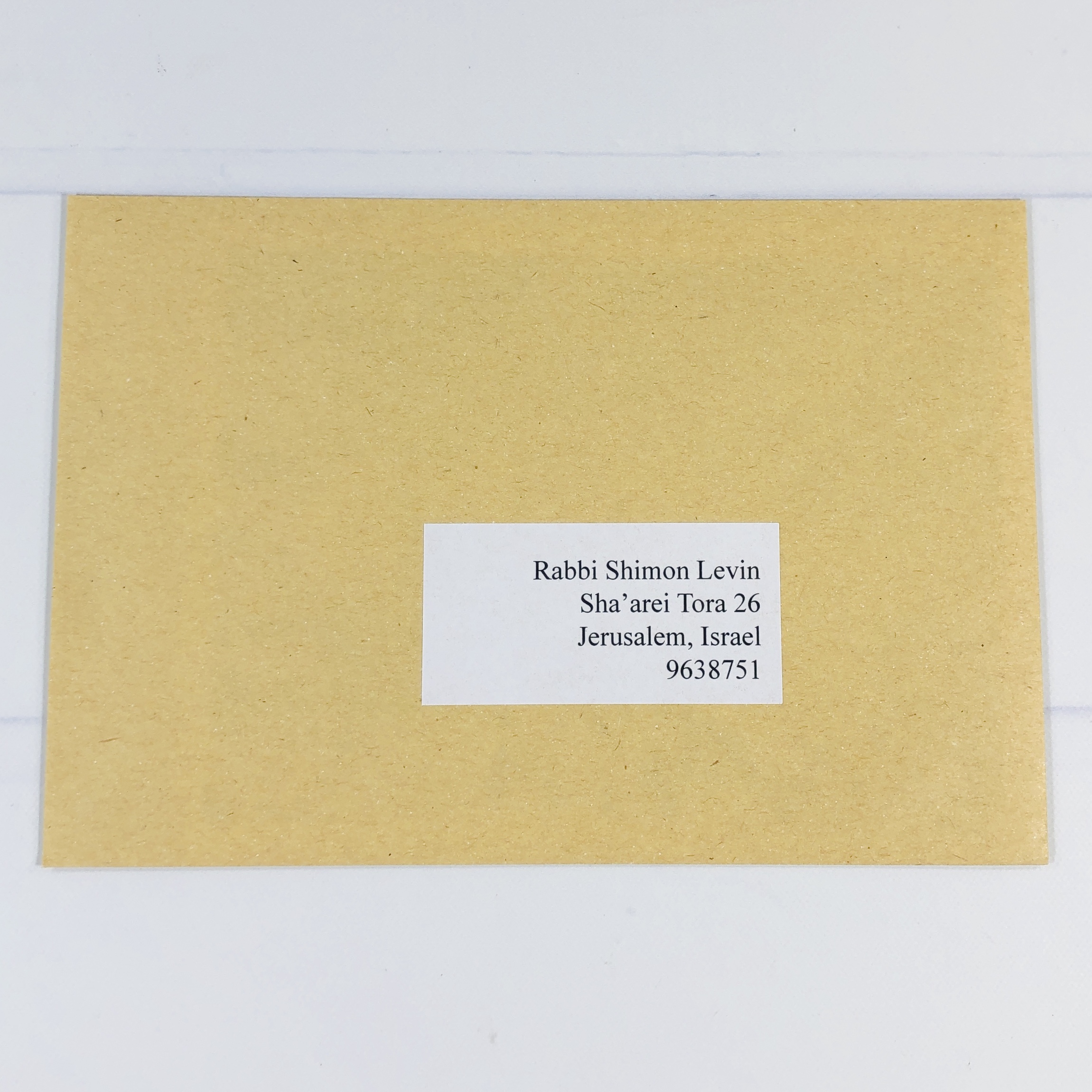 I received two envelopes like this, with a return address in Israel.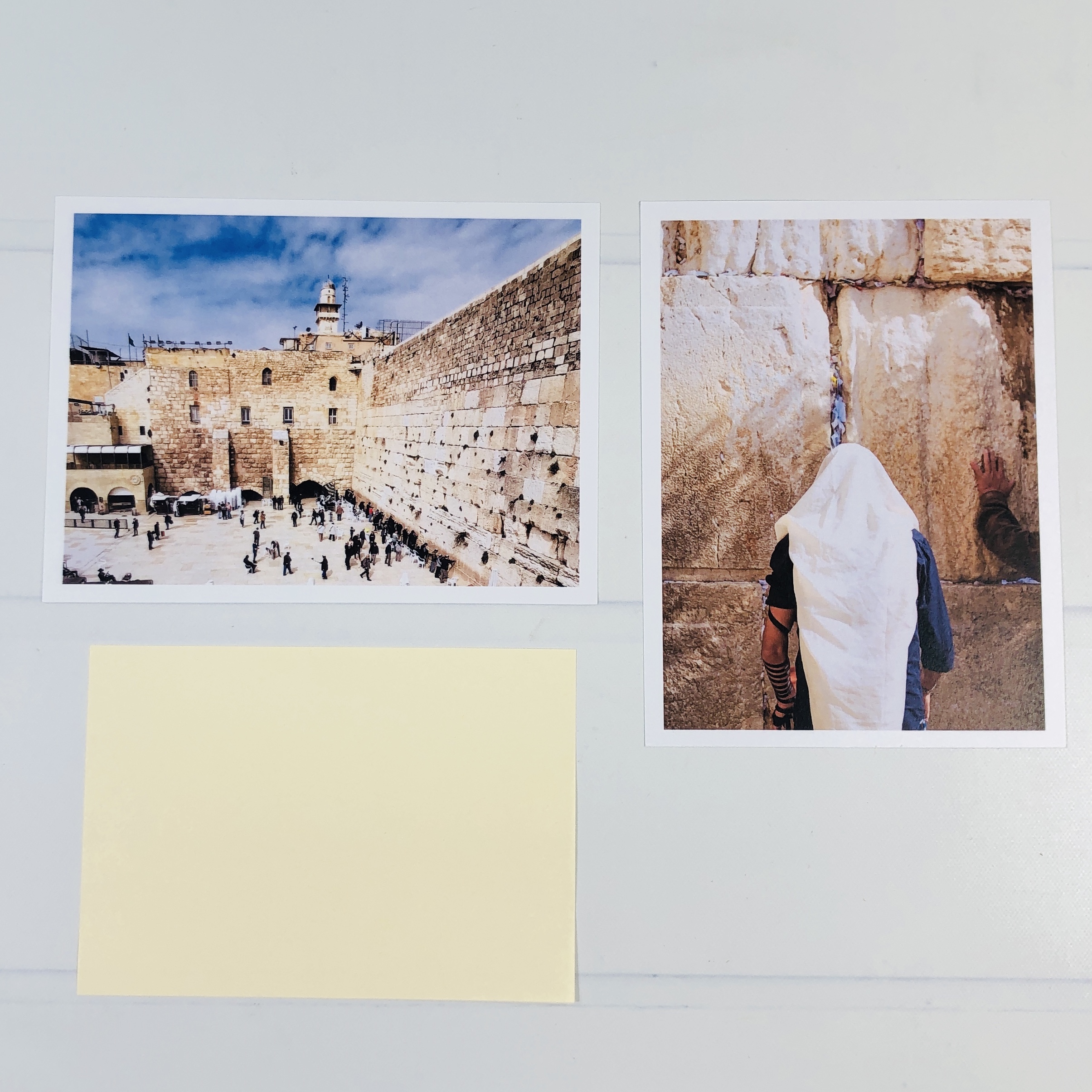 Inside each were two pictures and a blank piece of paper.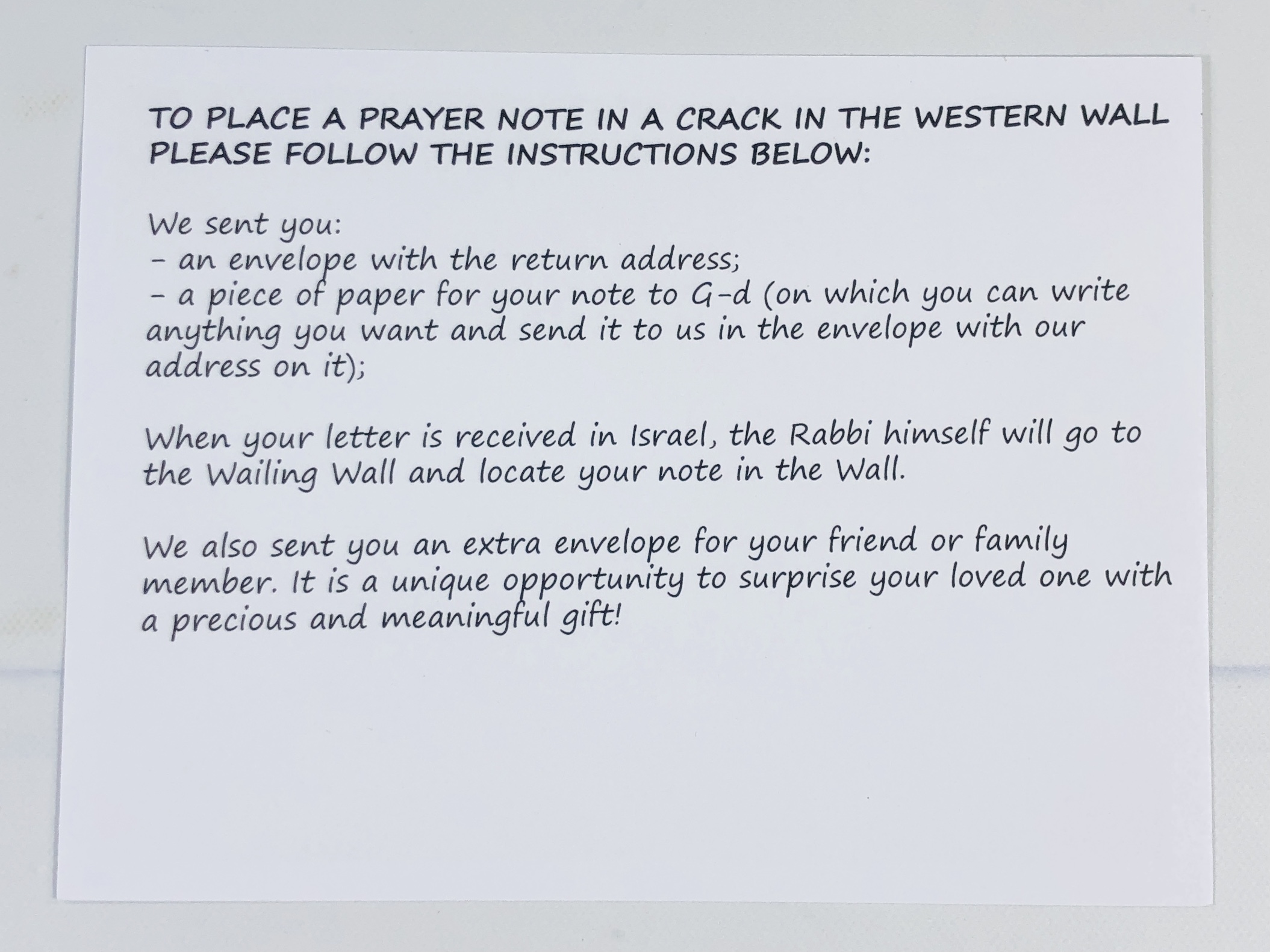 One card told me that I can write a note and send it back and a rabbi will place it in the Wailing Wall! The other envelope is meant to be passed to a friend so they can do the same.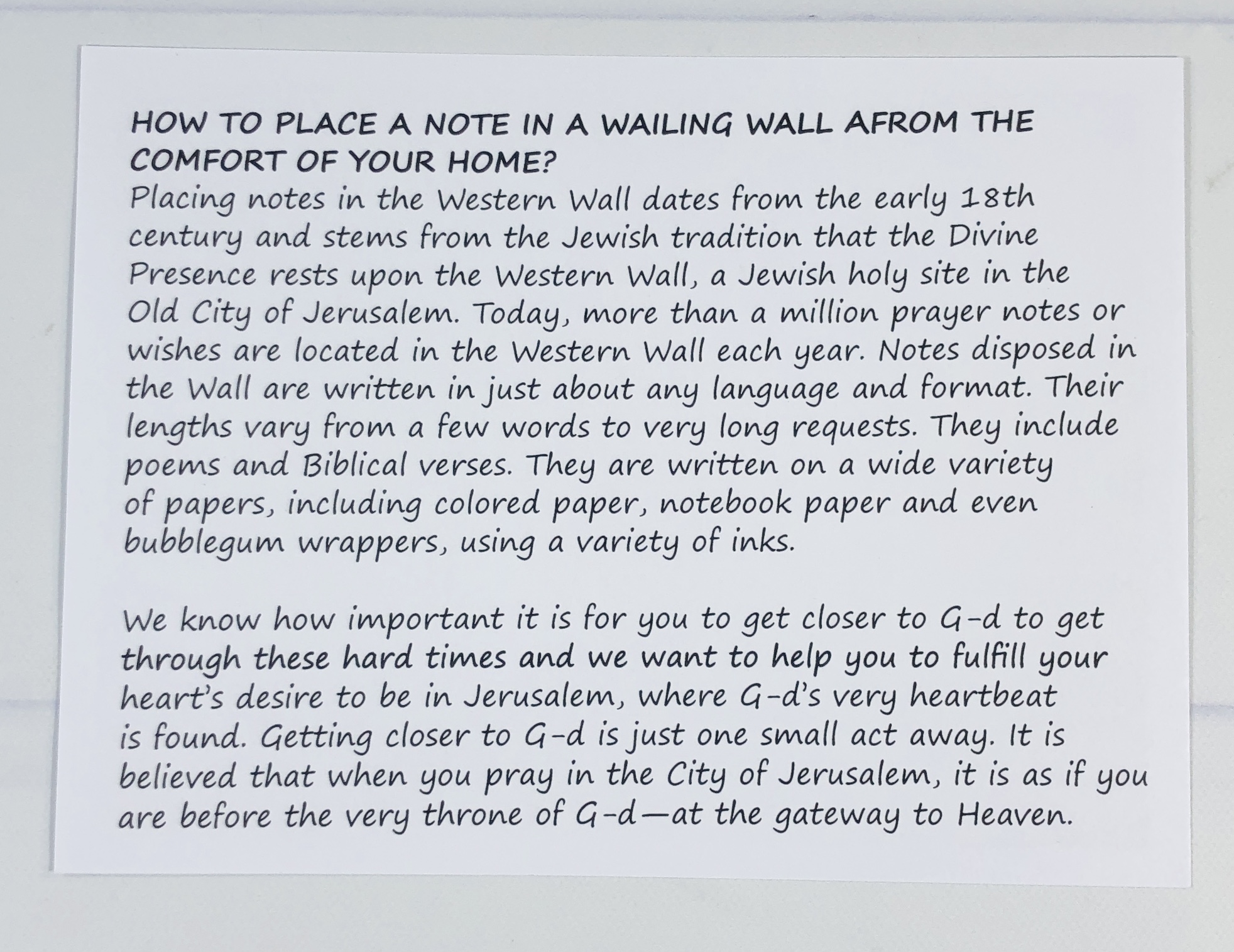 There was more info behind the Western, or Wailing, Wall. What an extraordinary idea! You might need to make a trip to the post office for an international stamp and keep in mind that there may be delivery delays due to Covid.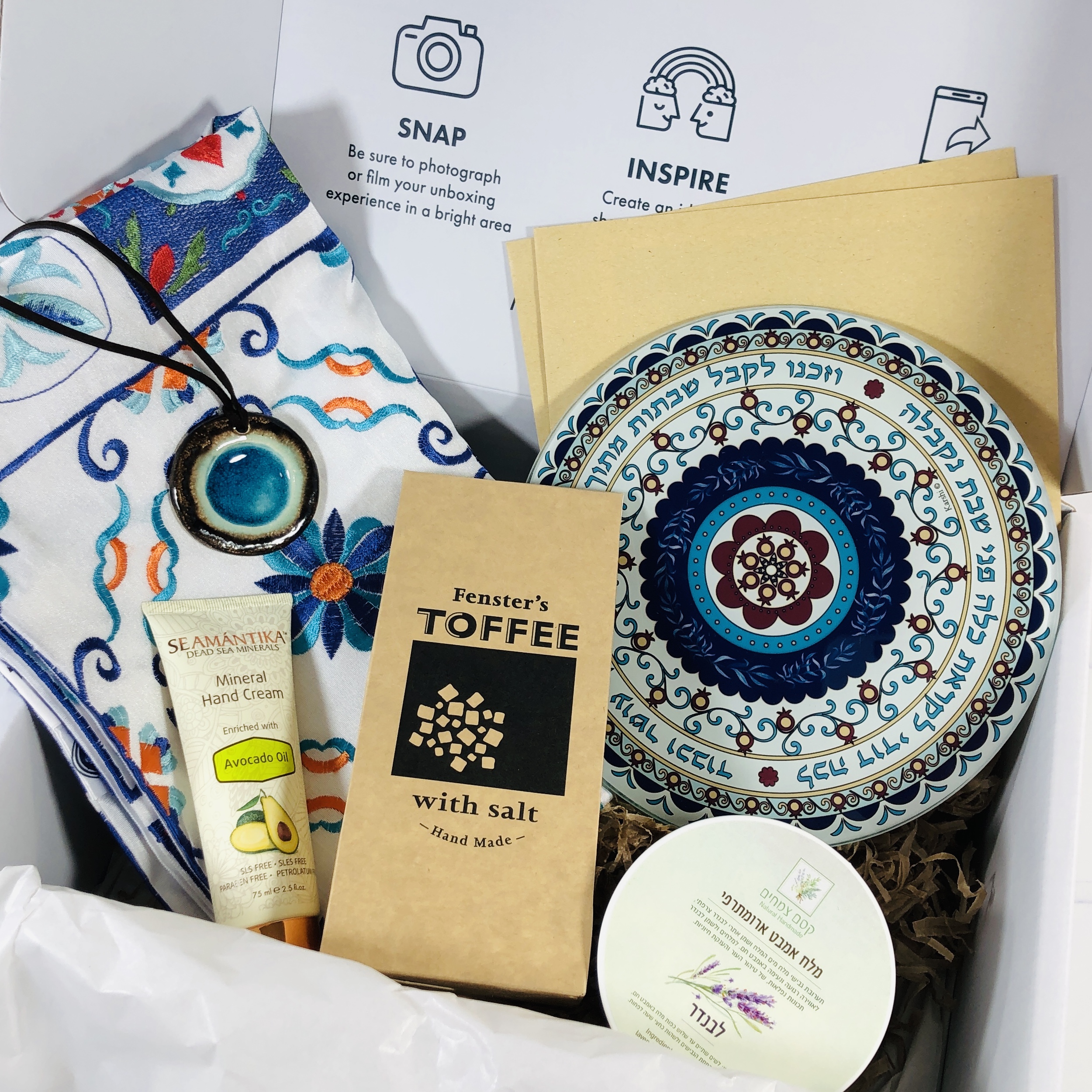 What a beautiful assortment, so pretty!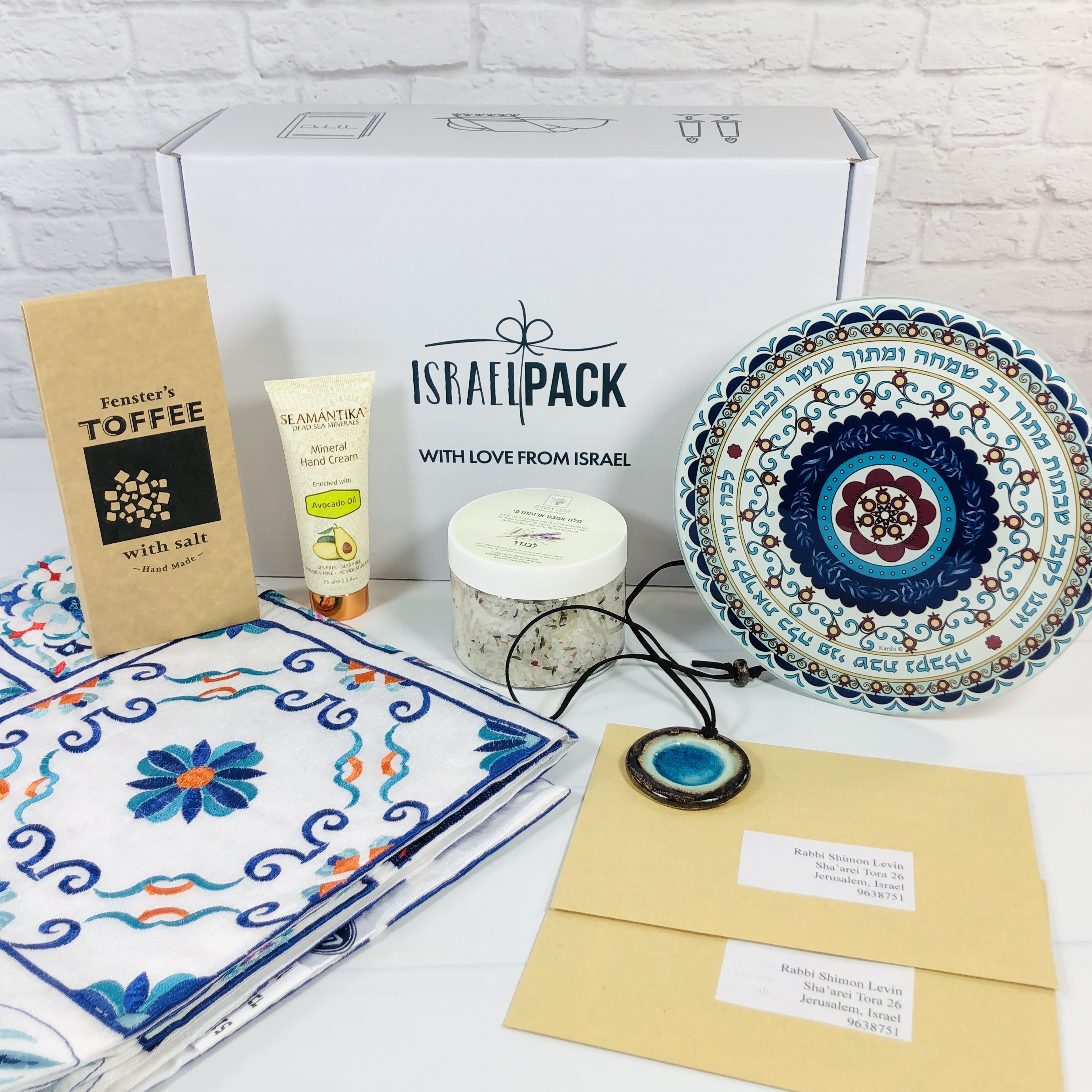 Everything in my box!
Please note: These items shipped direct from Israel and the writing on some of the containers is in Hebrew, which I cannot read. I linked to websites where available, but you may need Google to translate the linked pages.
Each item is individually wrapped and there was a note with a hint to the contents.
Herbal Magic Aromatherapy Bath Salt (39 ILS, about $12.14 USD) It's a huge tub of bath salts from the Dead Sea!
The other ingredients are lavender essential oil, lavender flowers, and rose petals.
It smells amazing, just like real lavender! You can throw a palmful into a bath tub and then soak the day away with this blissful scent. If you are worried about the petals making a mess, place it in a disposable tea bag or a reusable tea ball if you have one.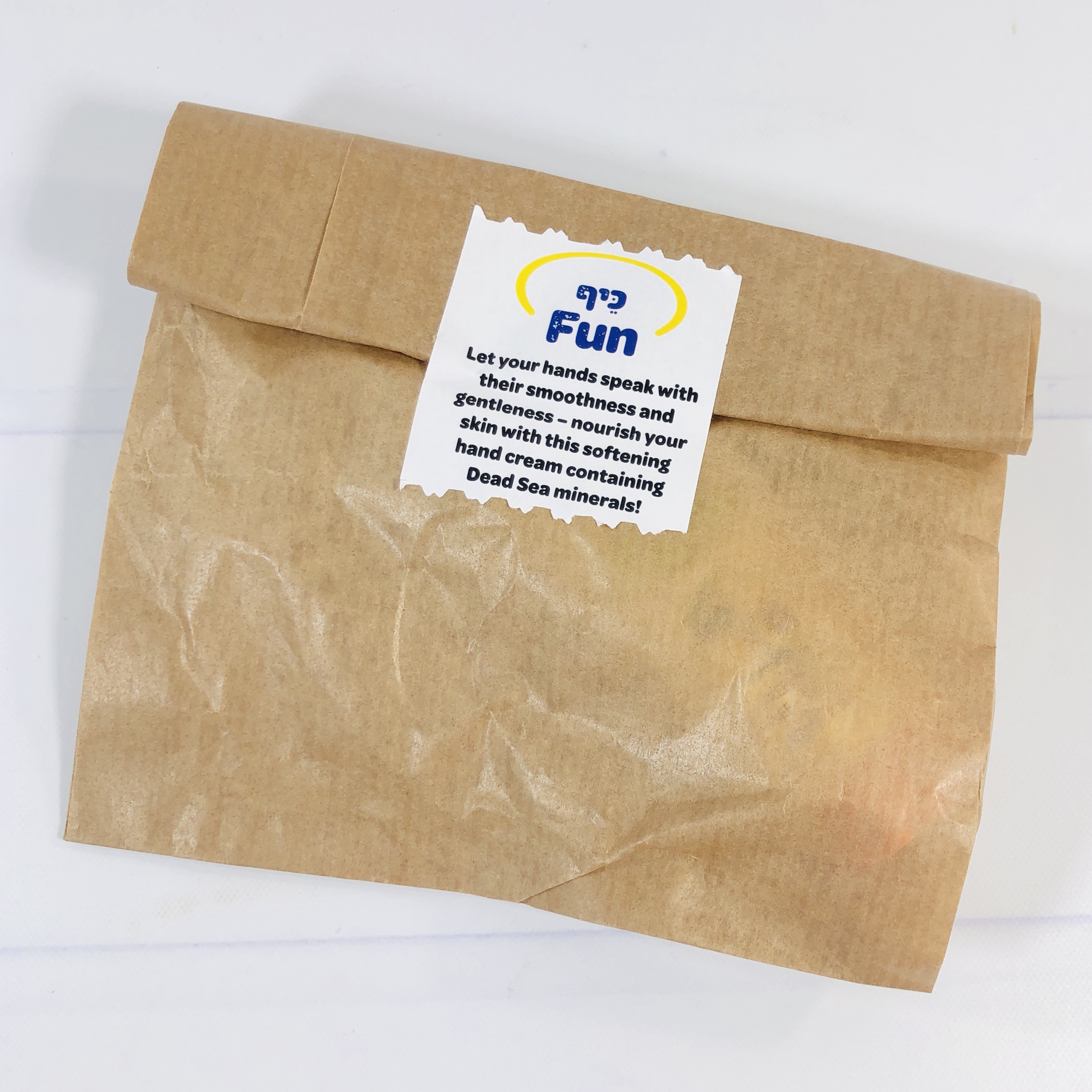 Looks like this next item also has Dead Sea minerals!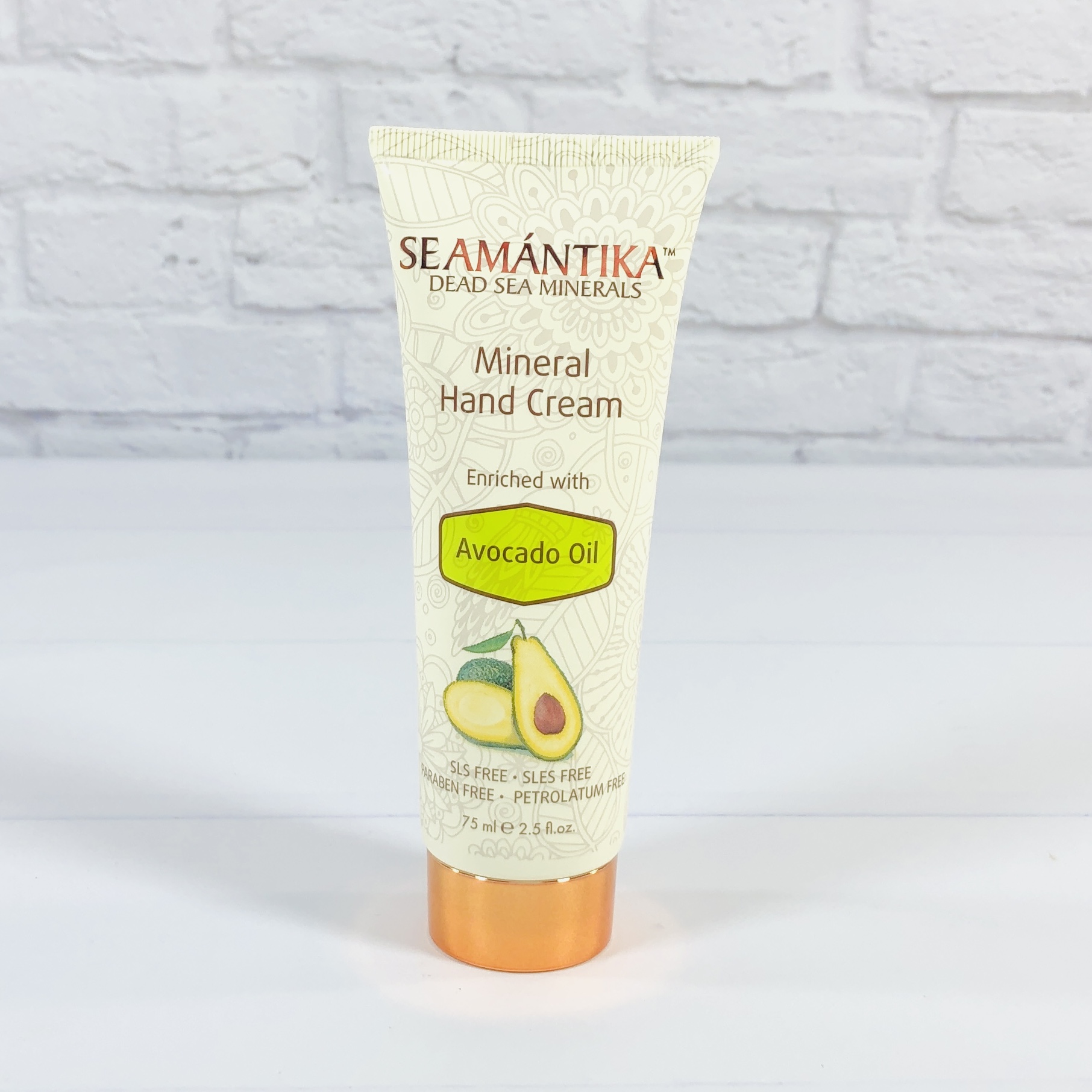 Seamantika Mineral Avocado Oil Hand Cream ($16) Ooh, it's a lovely hand cream, perfect any time of year but especially welcome in the winter.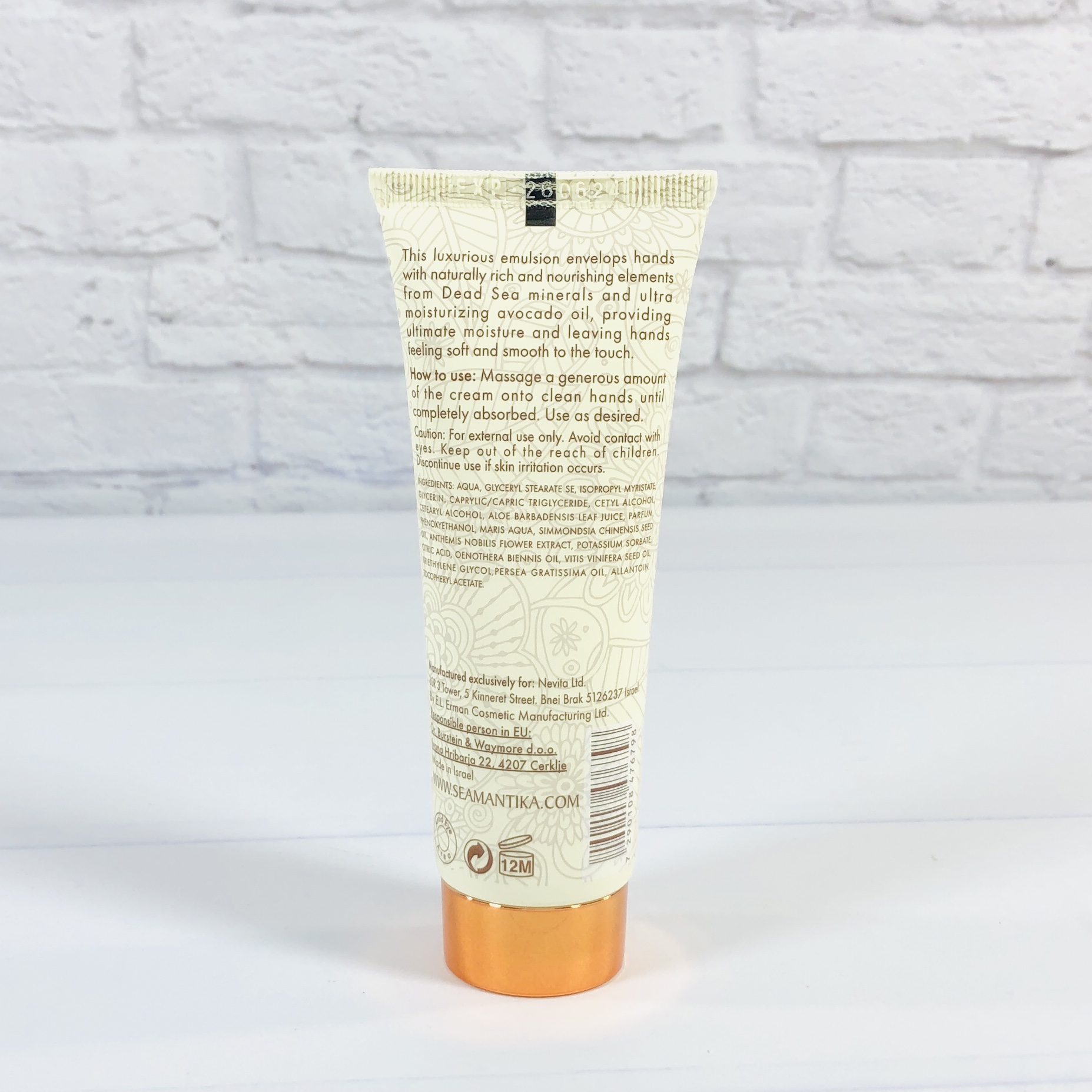 Aloe and jojoba oil are in here along with avocado oil and chamomile. It is non-greasy and has a floral scent and left my hands soft!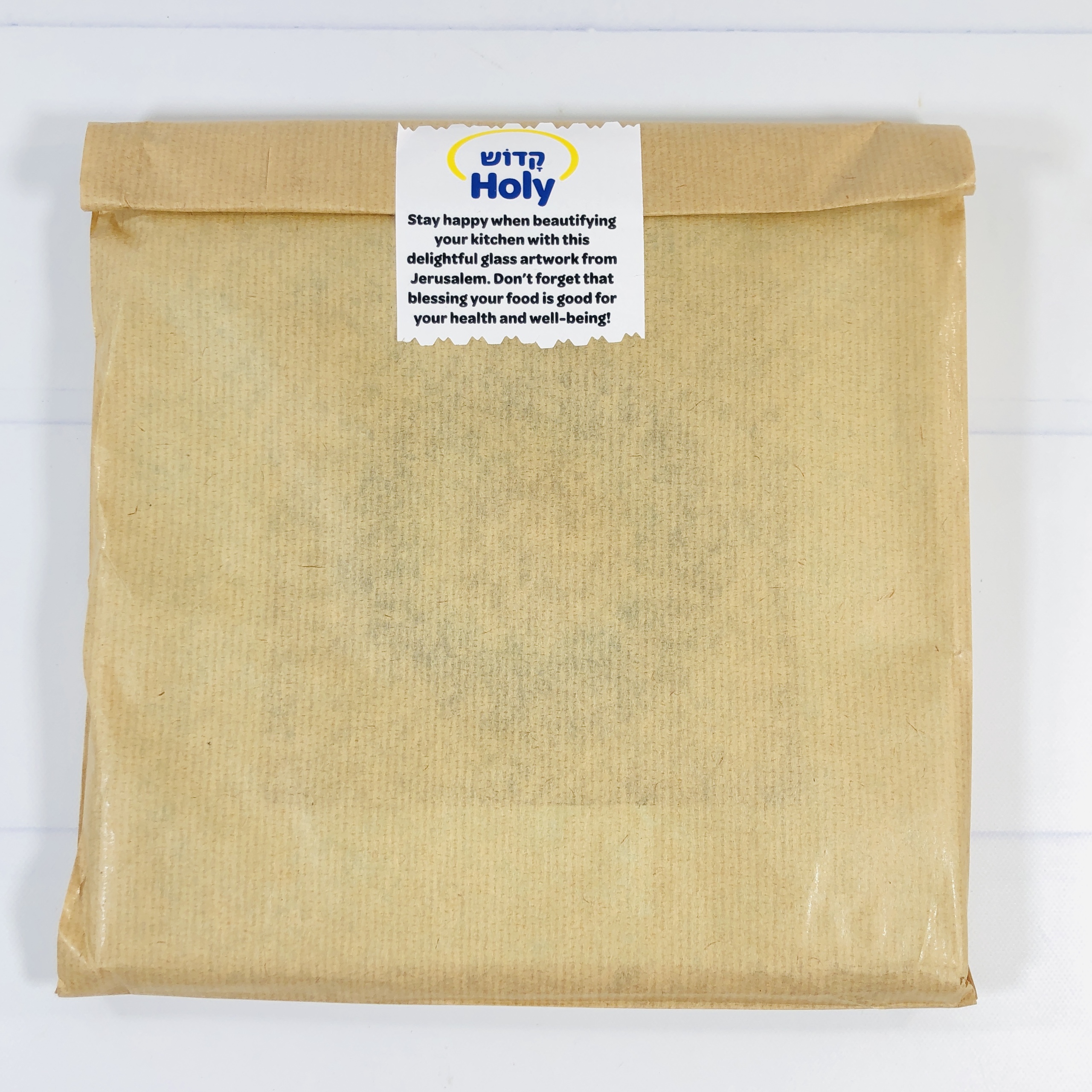 The next item is meant for my kitchen and reminds me to say a prayer before eating.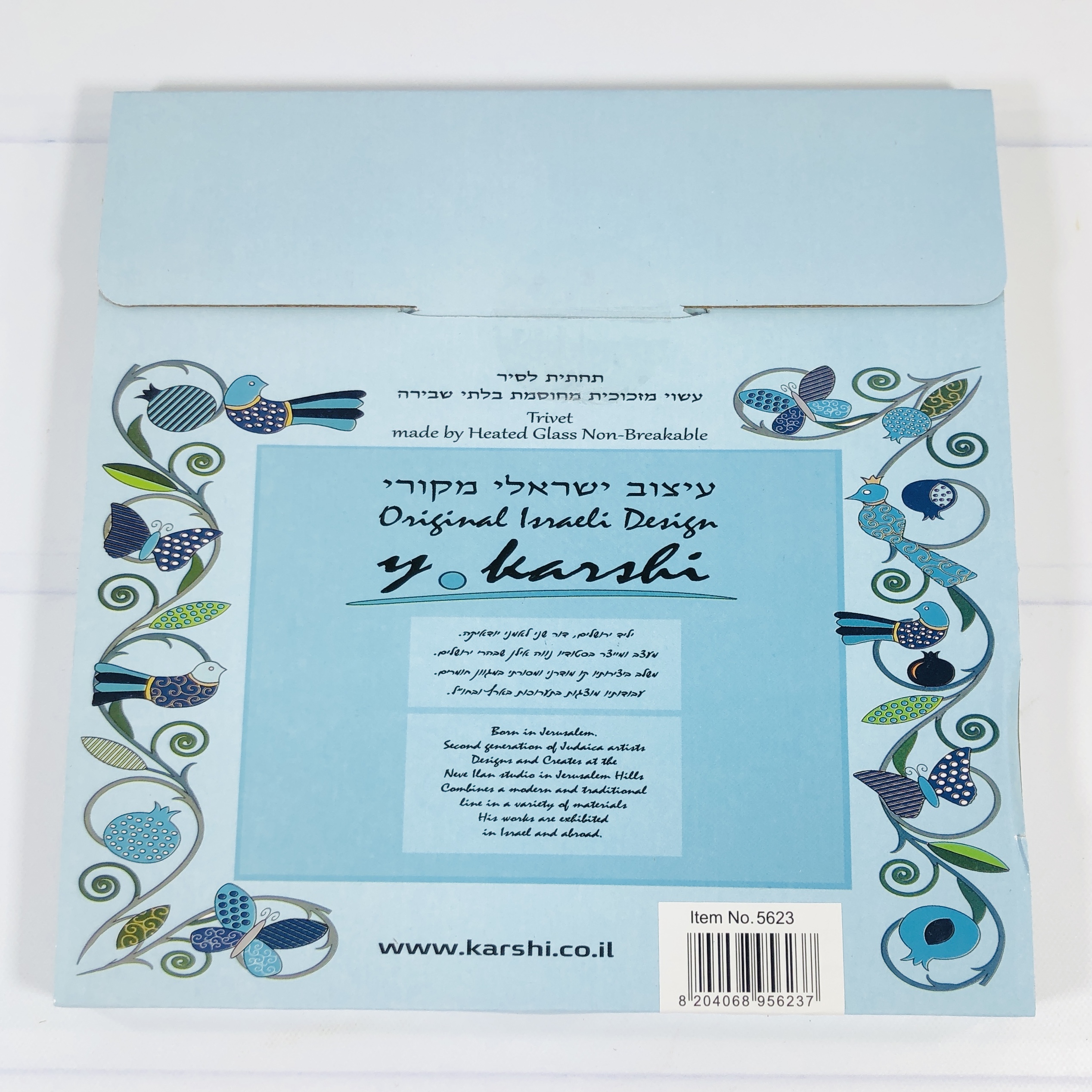 Karshi Original Studio Handcrafted Glass Trivet The back of the box tells me this is made of glass and although it says non-breakable, I'm sure it wouldn't do to well if it hit my tile floor. I think it means it is heat-resistant and therefore safe for hot items.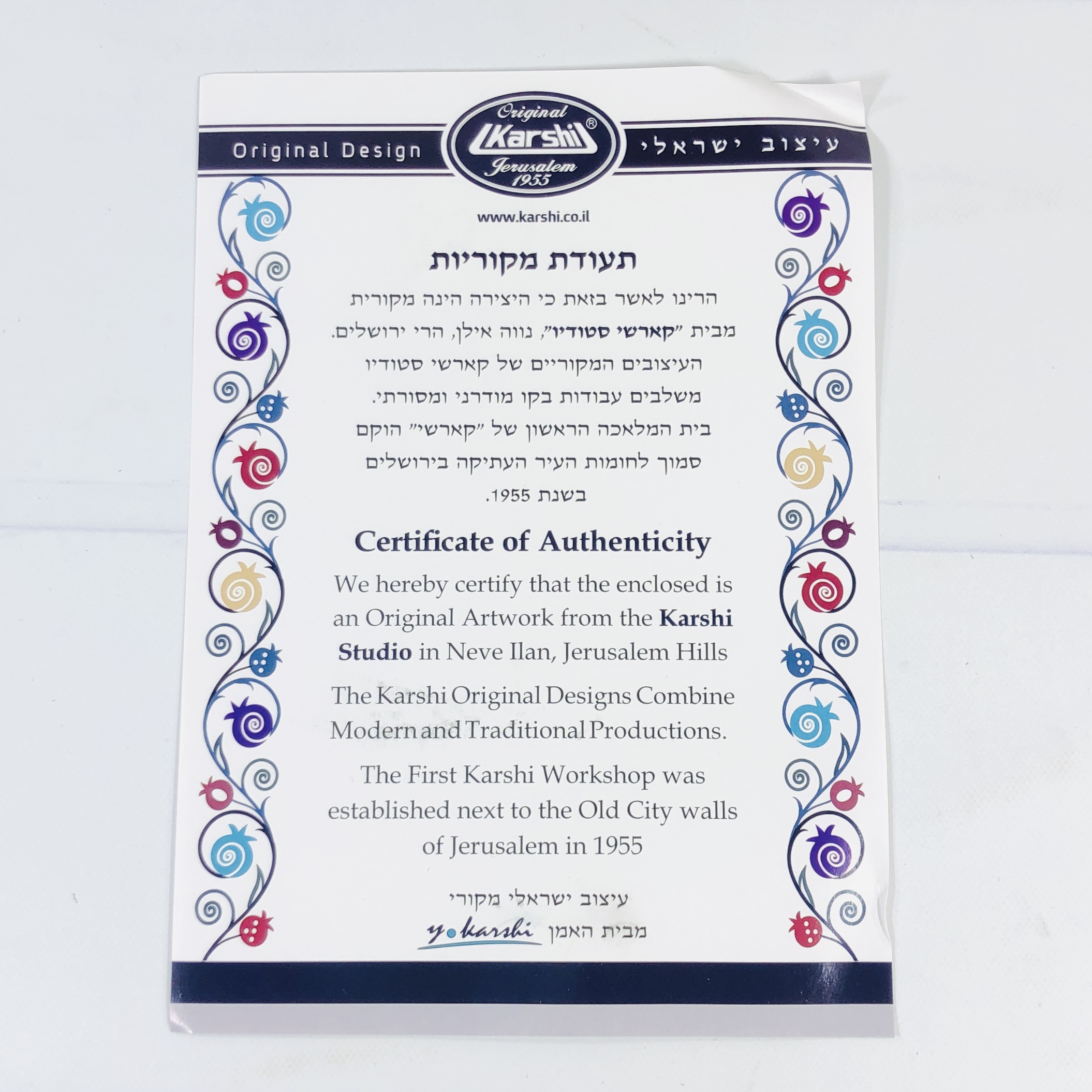 There was a certificate of authenticity inside.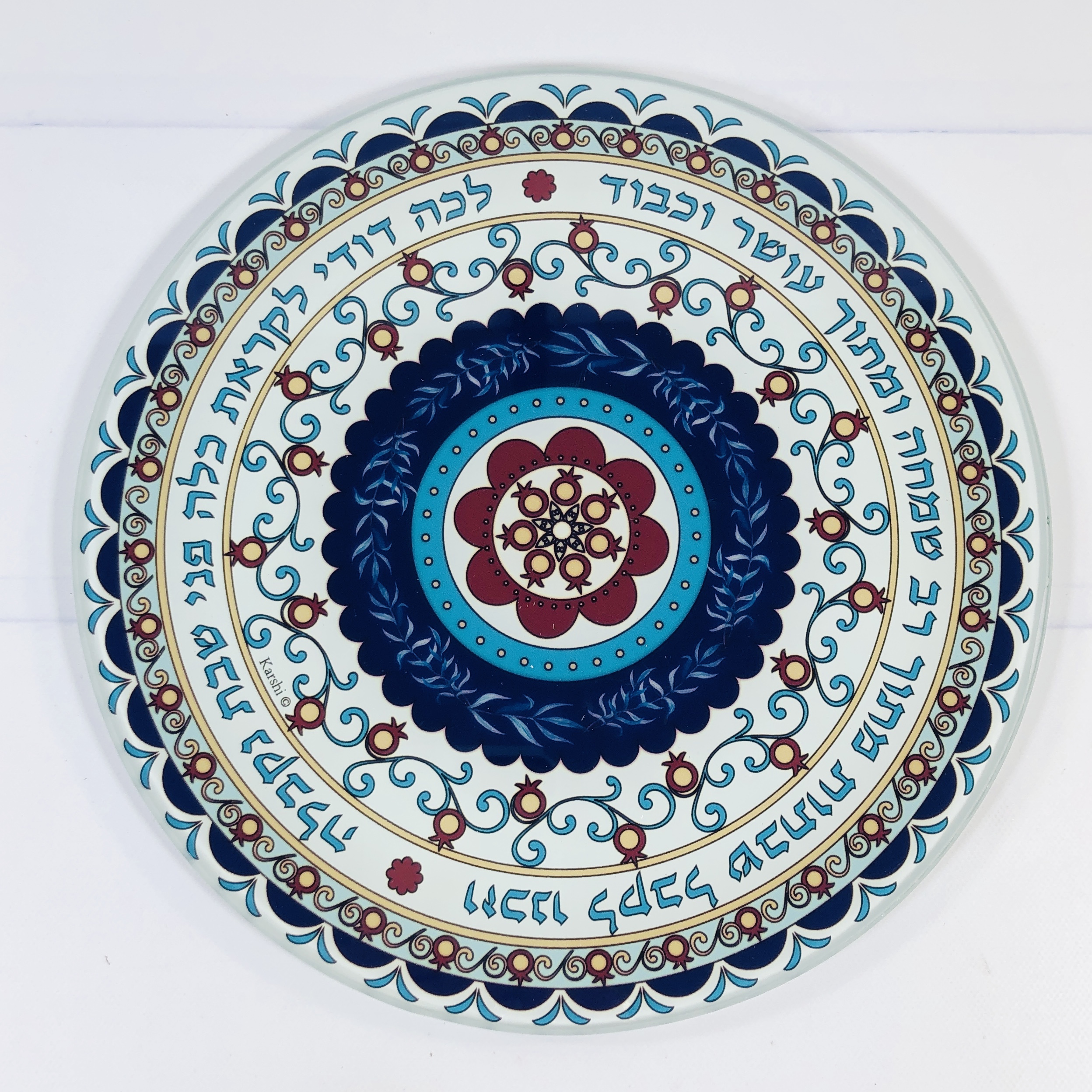 I think this is a stunningly beautiful piece and I am so excited to put it to work in my kitchen! It measures 8″ across and is done in shades of blue, maroon, mustard, and white. I believe it has pomegranates in the design. I can't read Hebrew so I'm not sure what it says but I am really pleased with this piece.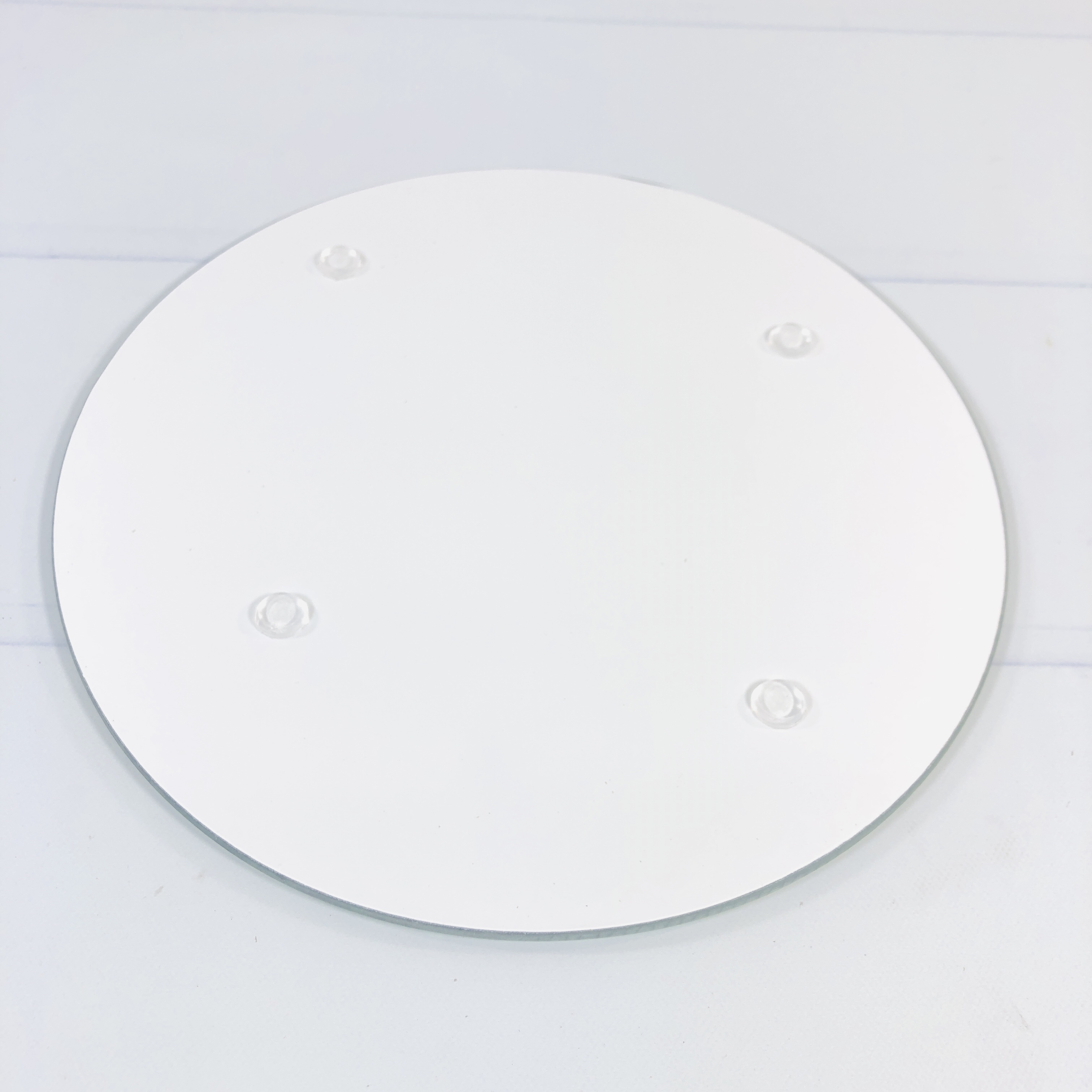 The back has four feet to keep the heat away from my countertop.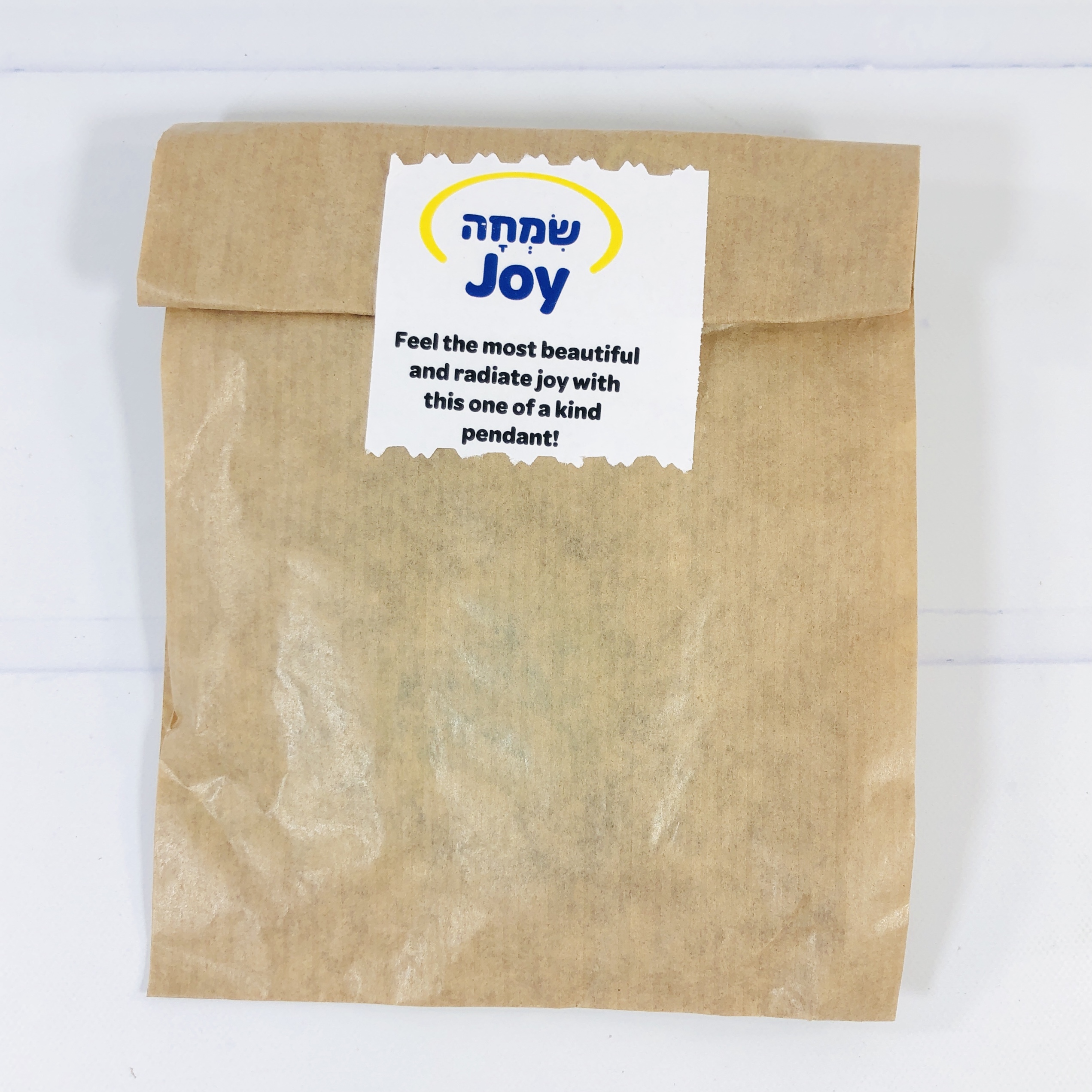 Oh, a pendant is next!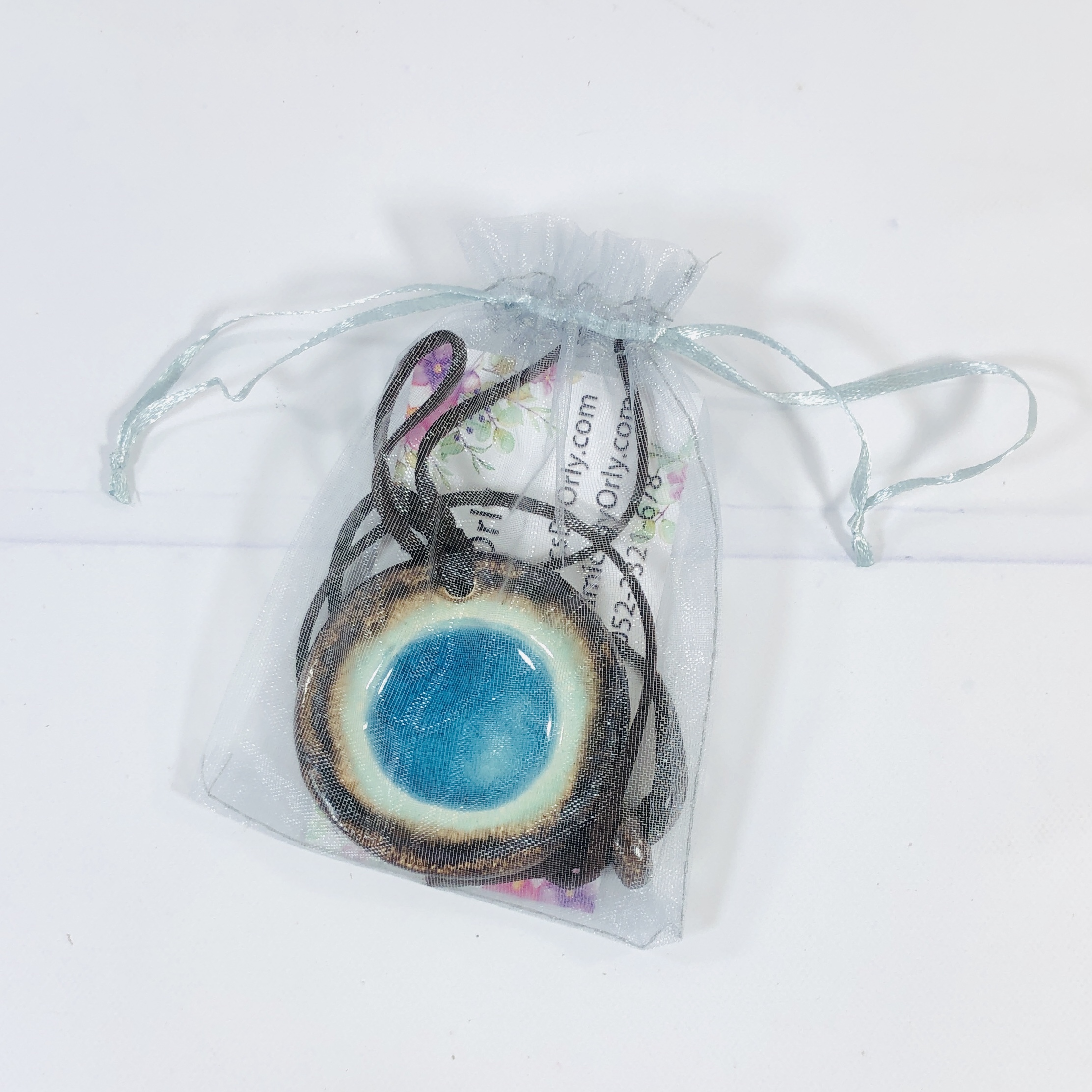 Ceramics by Orly Statement Necklace ($42) came in an organza bag and had a card with a discount code on the back.
It's a large hand-made glazed ceramic pendant and each one is unique because the glaze and color will vary with each item.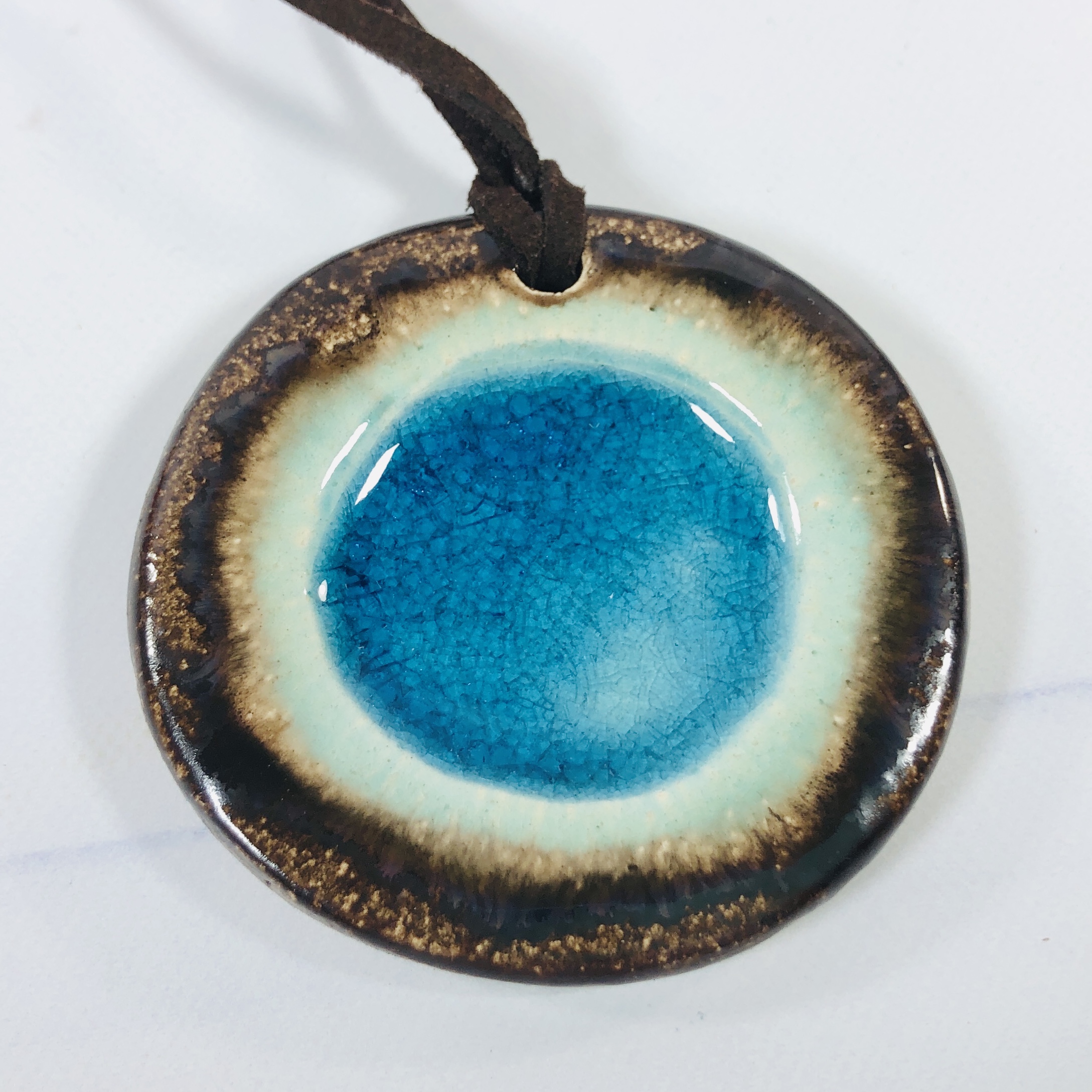 The pendant is 2″ around and it's on an adjustable cord. The cord is probably 24″ total and it fits over my head. It can be made into a choker.
It's really a beautiful piece and I love the turquoise, light blue, and brown shades in the glaze.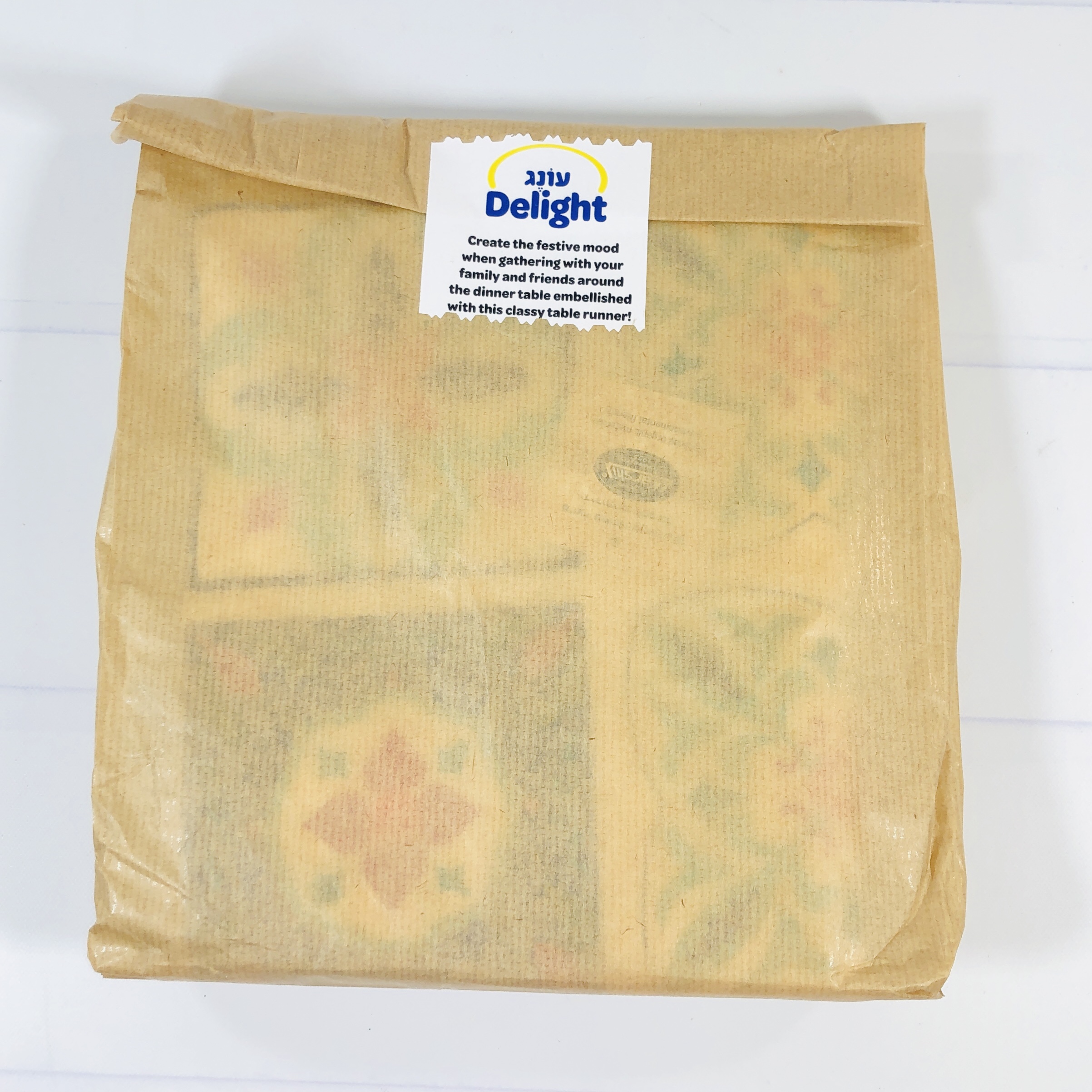 I don't own a table runner, but I'm about to!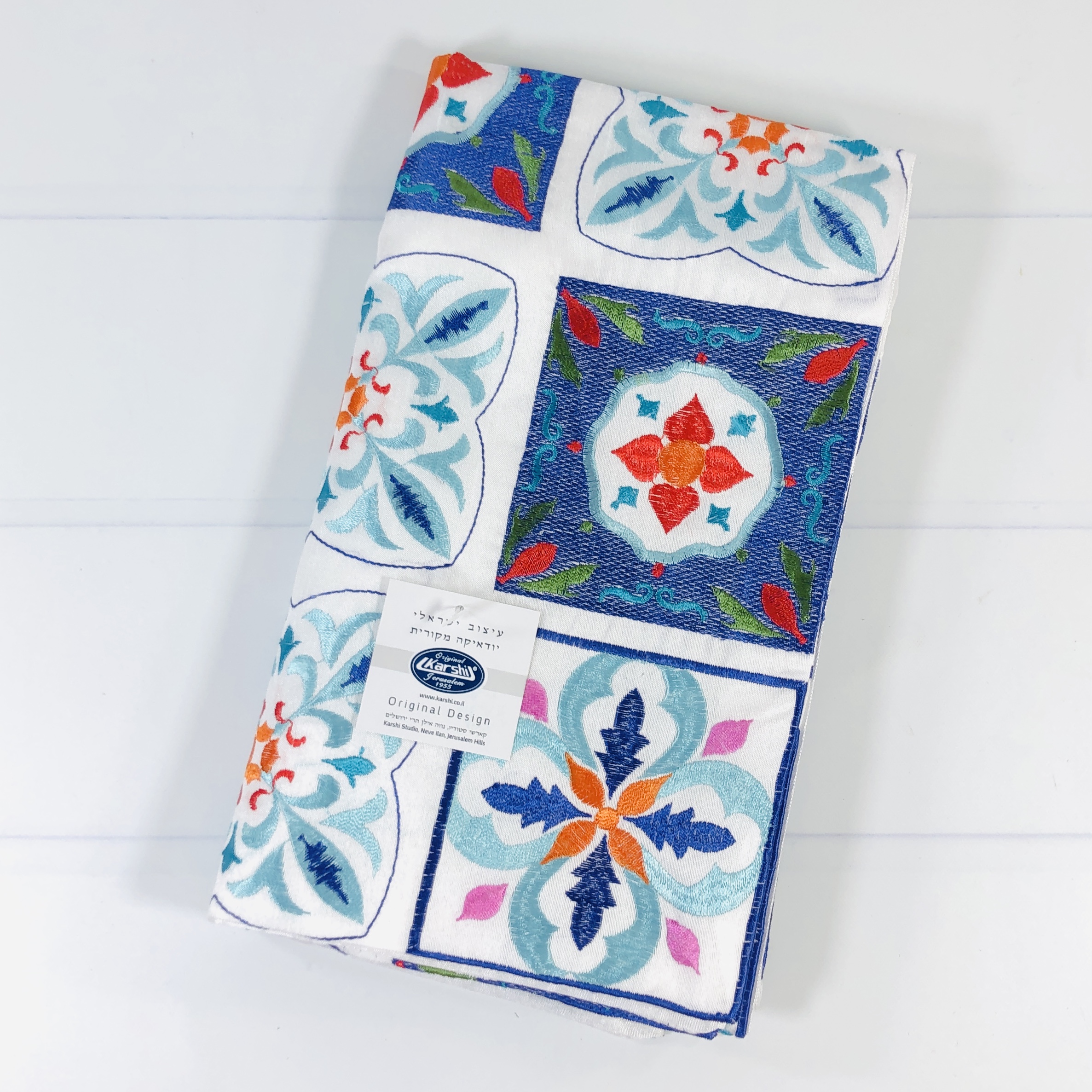 Karshi Original Studio Organic Eco-Friendly Table Runner The colors of this piece are so vibrant and I love it!
There are Hebrew letters in the middle but I'm not sure what it says, and I hope I have them the right way round. The letters are in silver metallic.
The embroidery is beautiful, and the colors include blues, orange, green, white, pink, and teal. It measures about 69″ x 13″.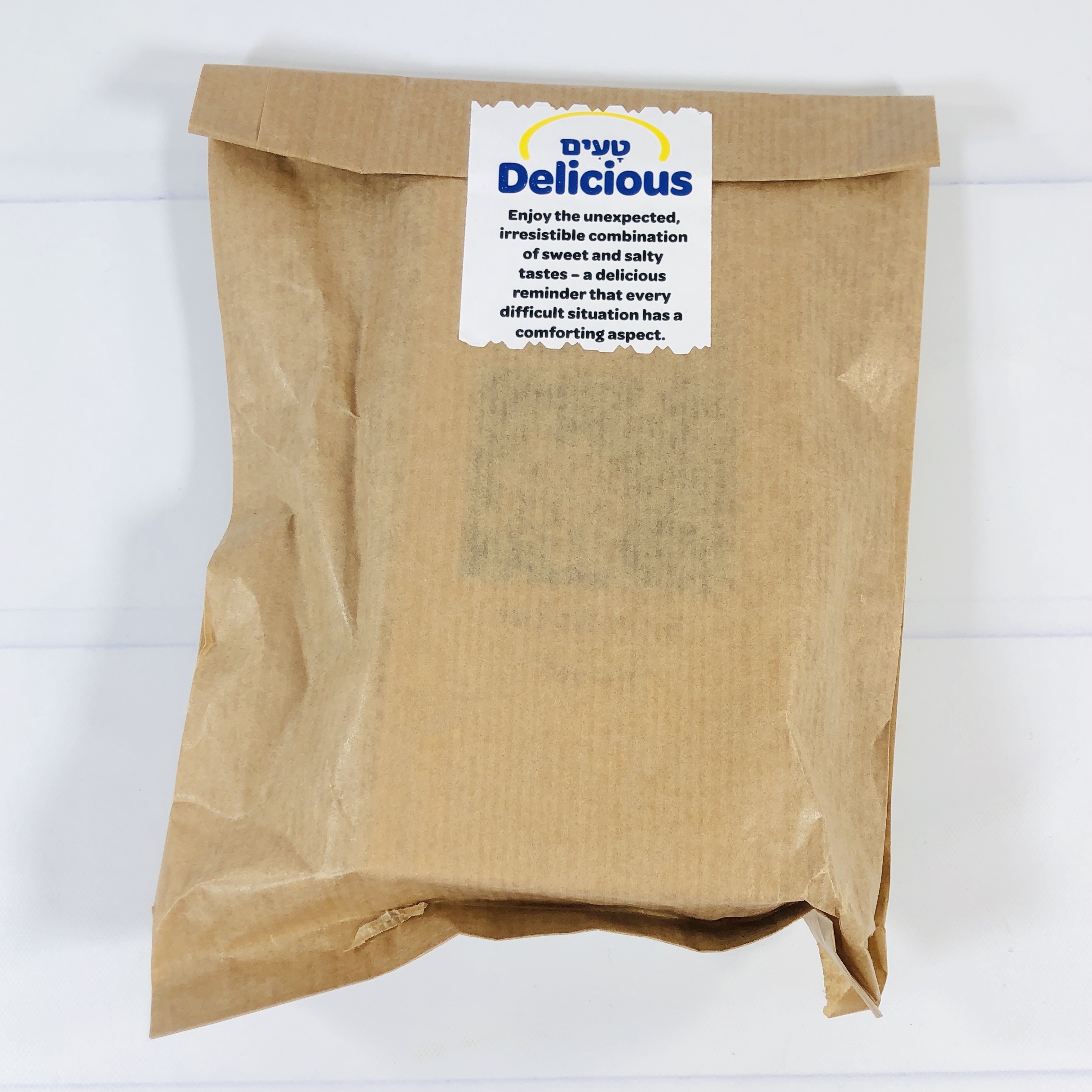 The last surprise is something sweet to eat!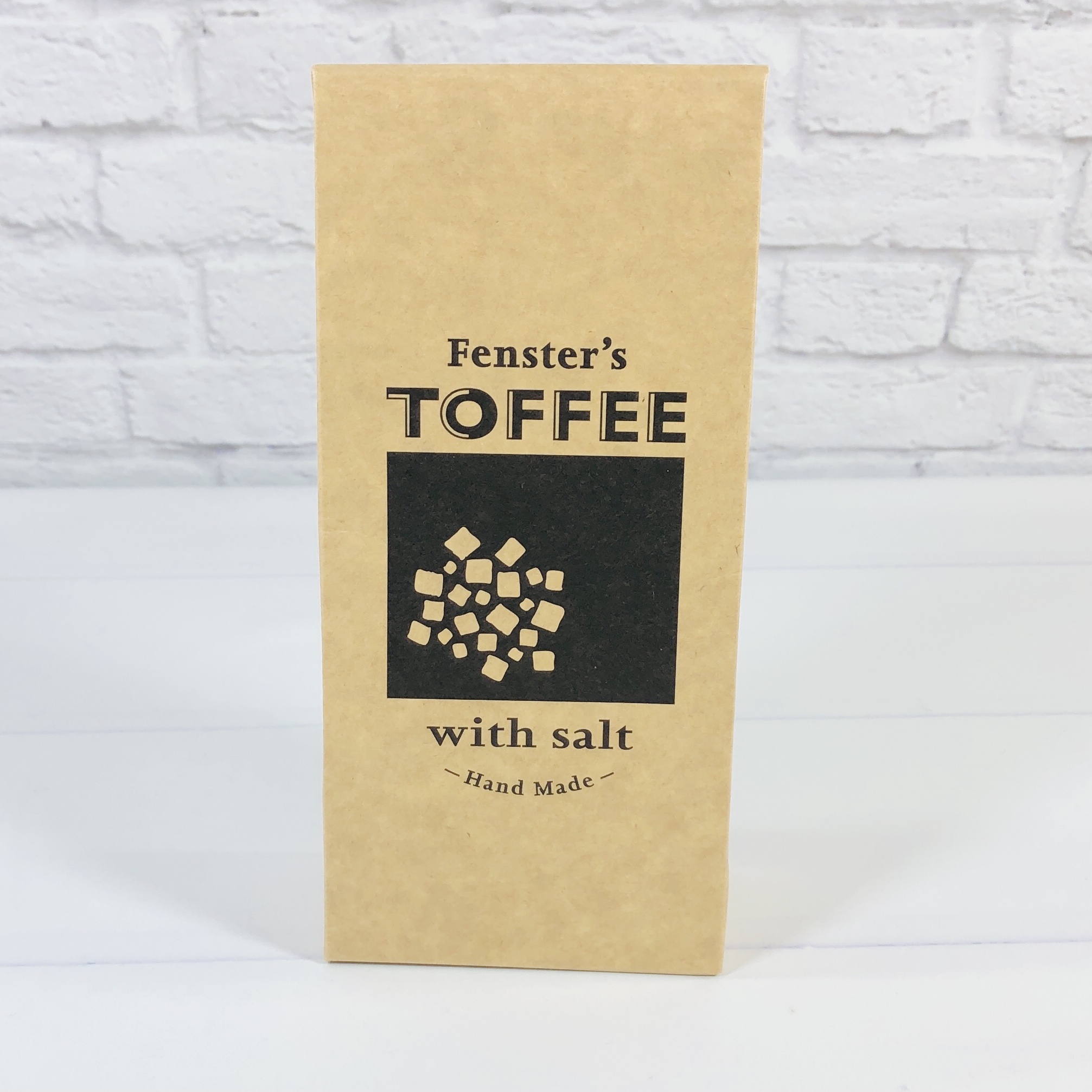 Fenster's Delicious Handmade Toffees I love toffee, and this one was soft so even better.
I have no idea what it says but it possibly has the ingredients listed?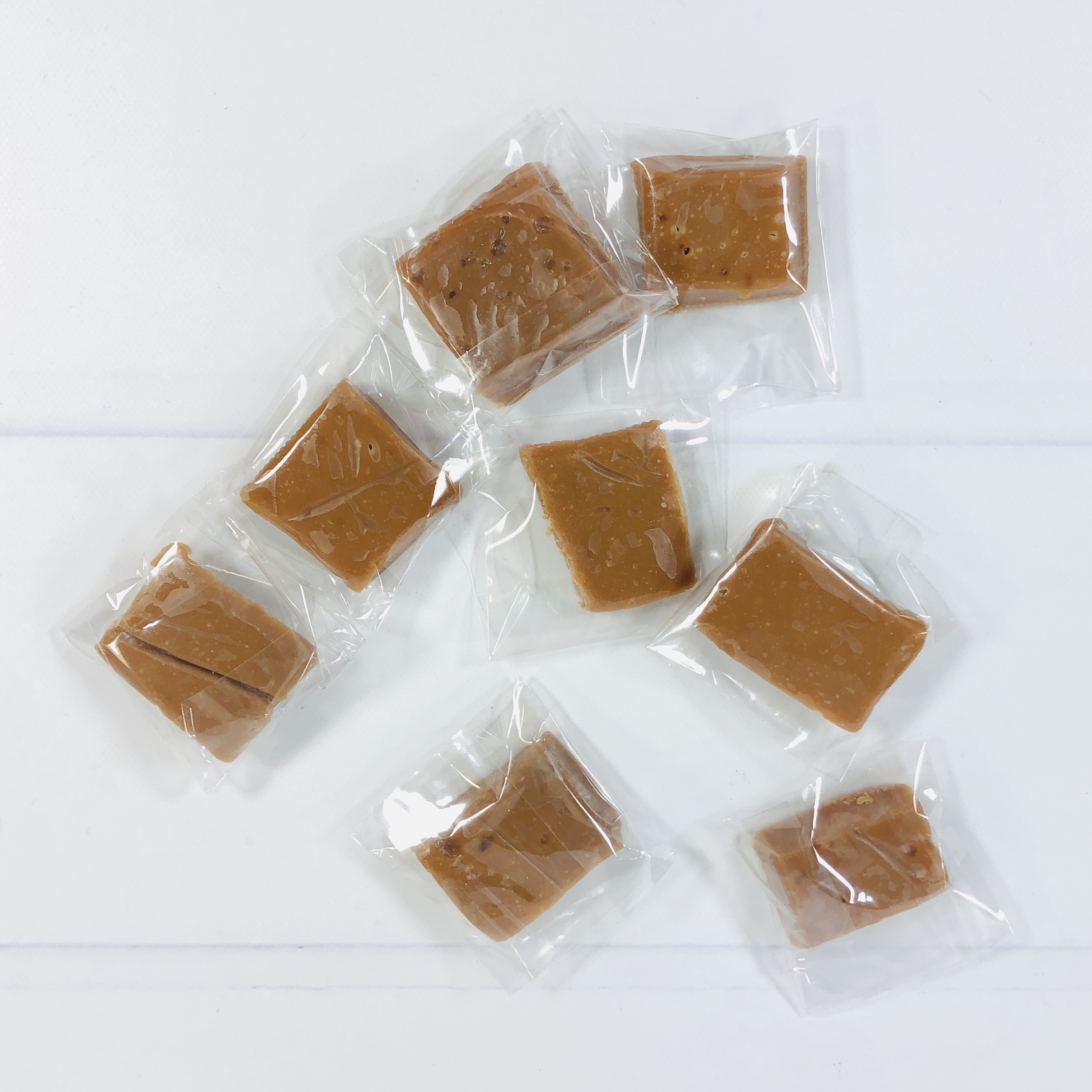 There were 8 individually wrapped toffees in the box and they are sweet, chewy, and there are grains of salt here and there. There's also a hint of spice, like cardamom or something along those lines. I think of toffee as being hard and crackly, so maybe this is comparable to caramel. Either way, it is delish.
The December Delight Box from Israel Pack was one of my favorites from this subscription! The items were high quality and well made, plus they were simply magnificent to look at. The colors spoke to me, but then blue is one of my favorite colors. That shade was in the table runner and trivet and the stunning necklace. The salted toffee melted in my mouth and the bath salts smelled so lovely, with a strong scent of lavender. The lotion left my hands soft and softly scented. I love the idea of writing a note to be placed in the Western Wall, and will most likely have my daughters send a note since there was a set for each of them. I think Israel Pack does a great job of showcasing the artisans of Israel as well as teaching me of that country's lifestyle and history.
What do you think of the Israel Pack review? Let us know your thoughts!