Gobble is a weekly dinner kit subscription box. Each delivery includes 3 dinner kits, each with 2 or 4 meals, but you can add on meals and get as many as you want! Each meal comes with a simple three-step recipe card to guide you in getting your dinner to the table. Gobble's focus is on making dinner preparation as quick and easy as possible without compromising on freshness. They speed up the process through the strategic use of pre-prepped items, allowing them to promise a prep time of 15 minutes or less for all of their meals!
DEAL: Get 50% off your first box – that's 6 meals for $36! USE THIS LINK to get the deal.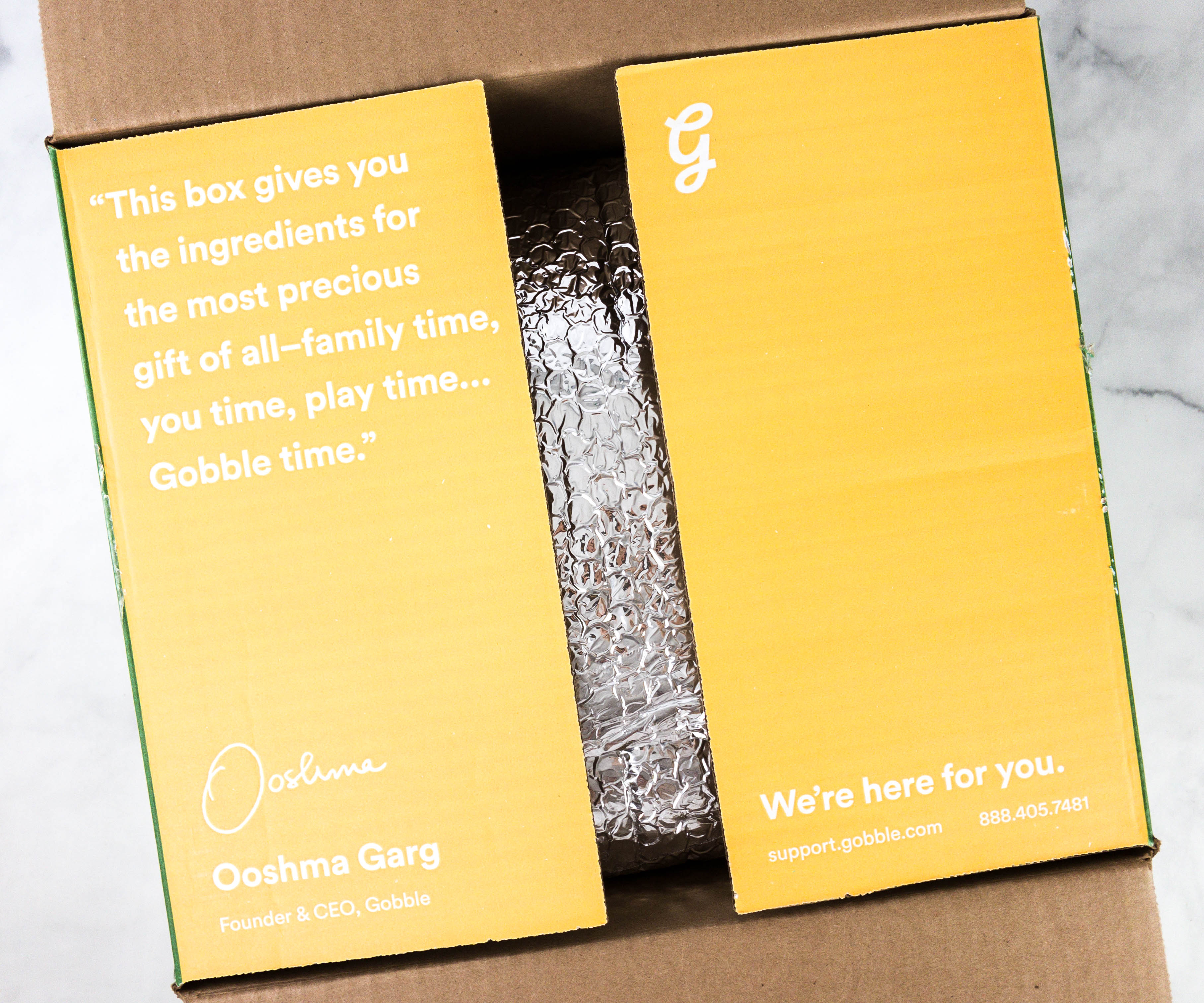 Their boxes are always well packed, to ensure the safety and the freshness of the ingredients!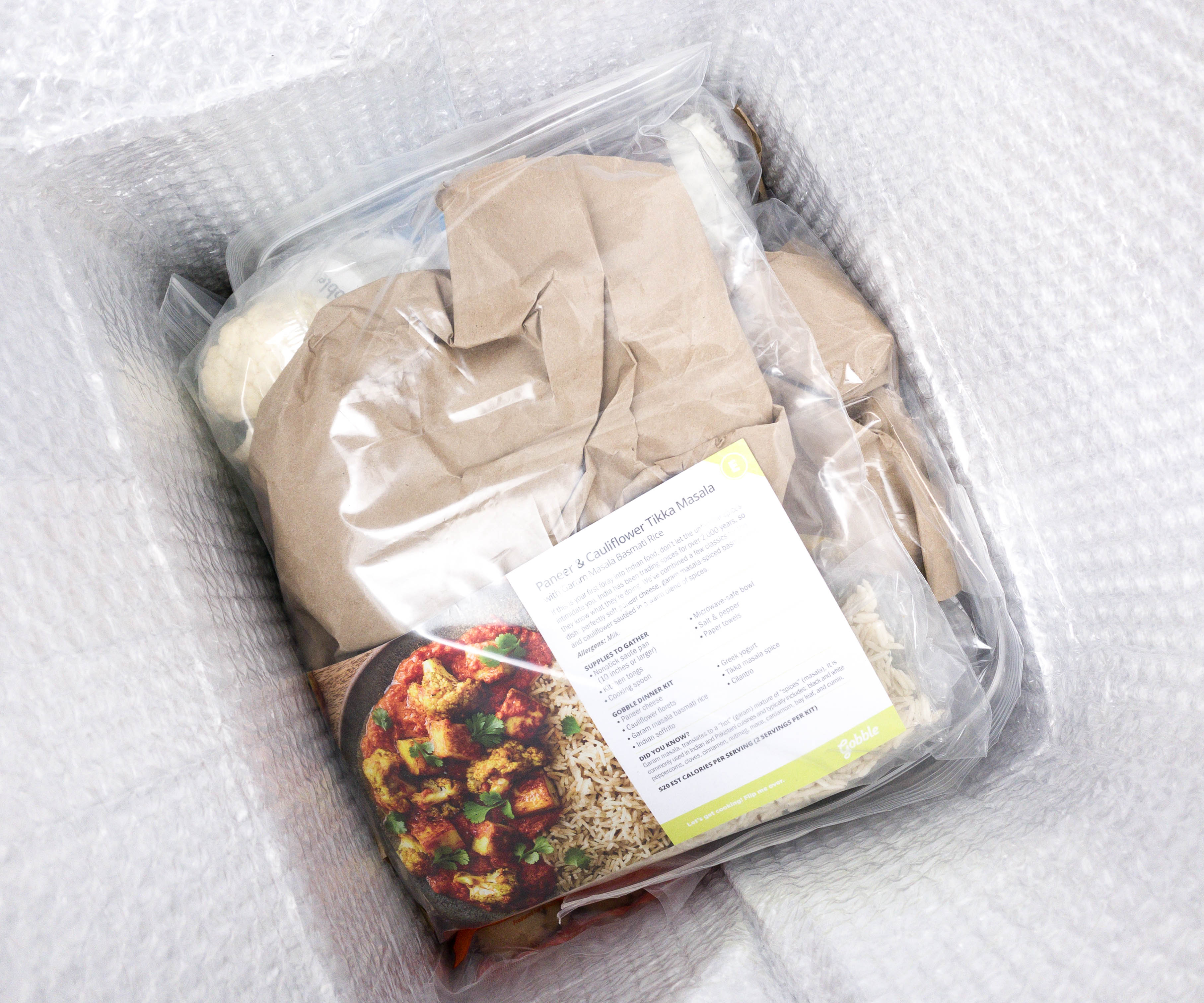 All of the items are topped with ice packs to keep them fresh.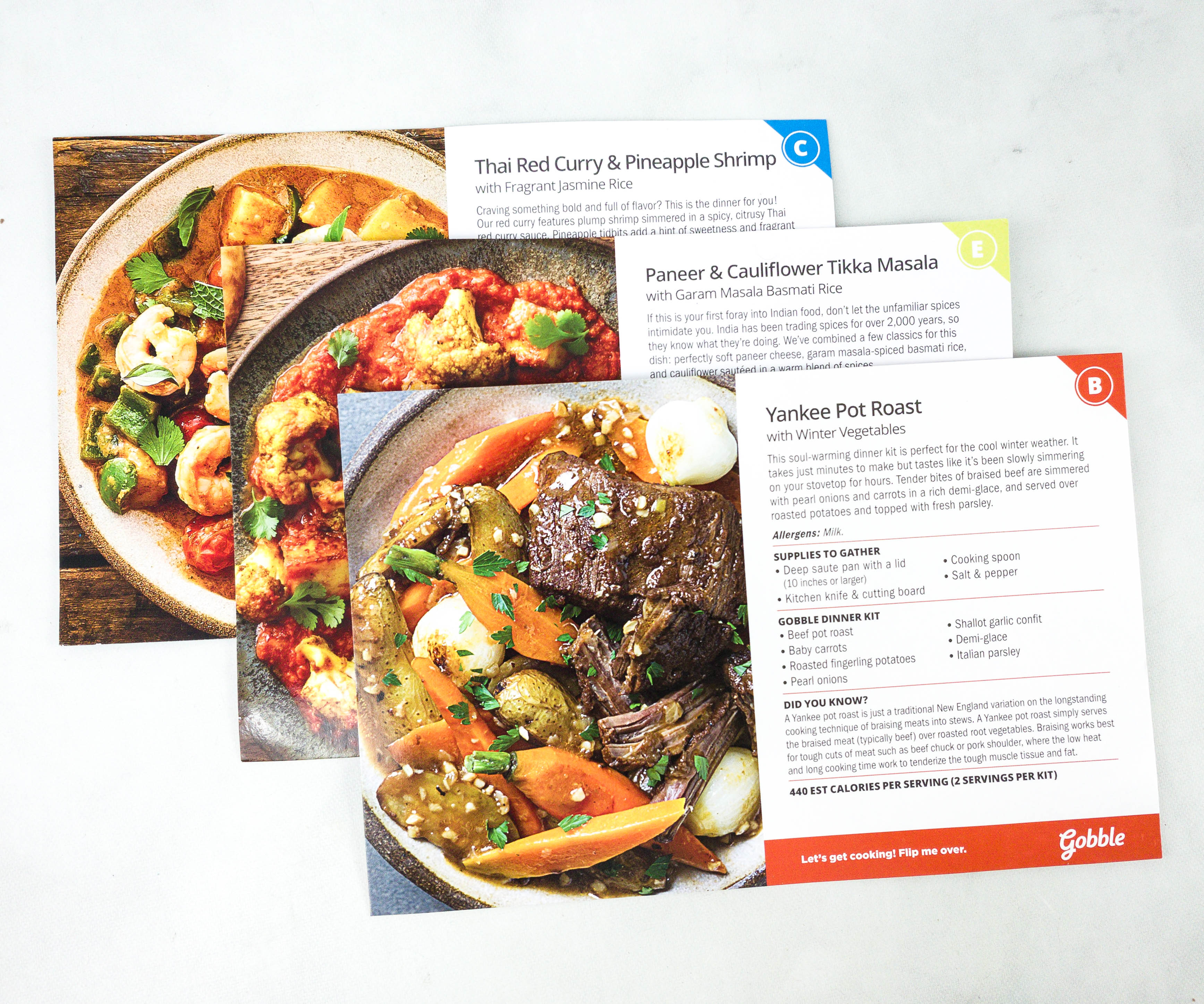 Each Gobble recipe has its own lovely card with a picture of the plated dish, calorie count per serving, a list of supplies you need to gather from your own kitchen, a list of items from the dinner kit, and some useful trivia. The card is tinier than that used by other kits (about half again the size of a classic recipe card), but they've managed to fit everything you need on it.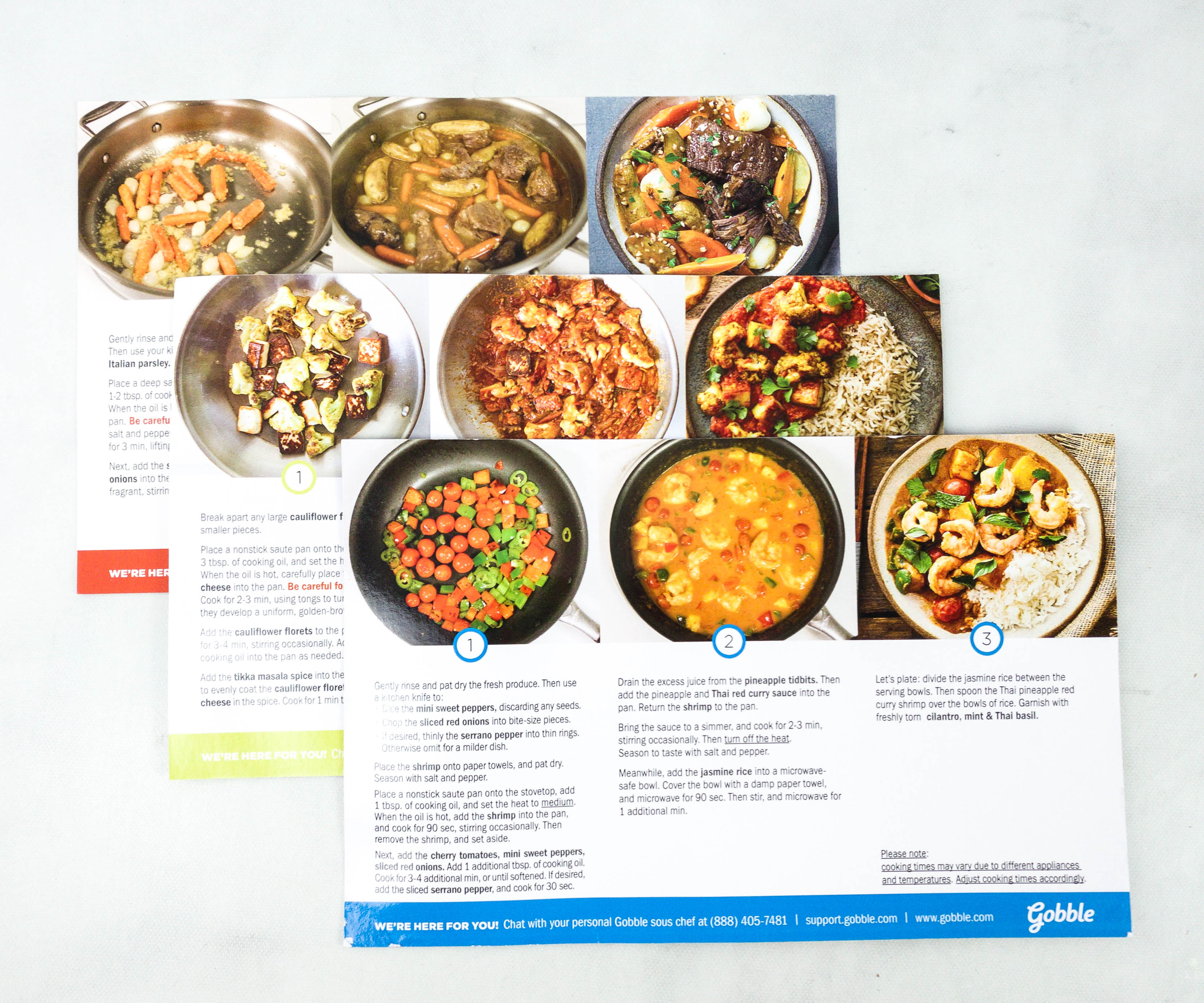 There are also step-by-step procedures at the back. They look easy enough and I'm excited to give them a try!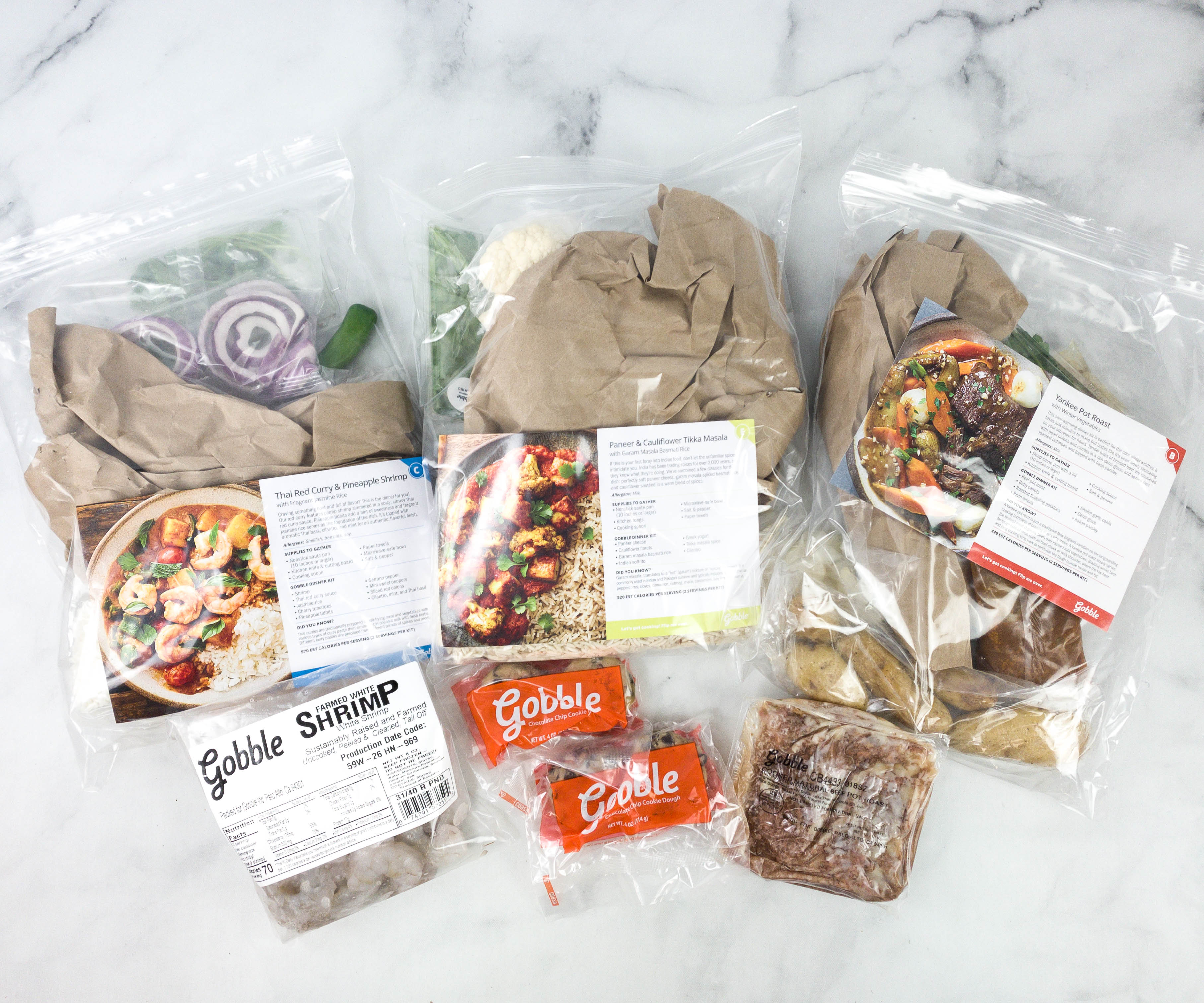 The ingredients were neatly packaged and bagged together by recipe. This box has my favorite packaging of any kit — it is similar to Plated or Home Chef, with a combination of bags and screw-top canisters, but it was very neatly packed, and the bags were thick and pleasant to handle. It seems odd to note the quality of the plastic bags, but they stood out enough for me to notice them. I was also immediately impressed by the cleanliness and freshness of the ingredients — everything was absolutely pristine and extremely fresh looking.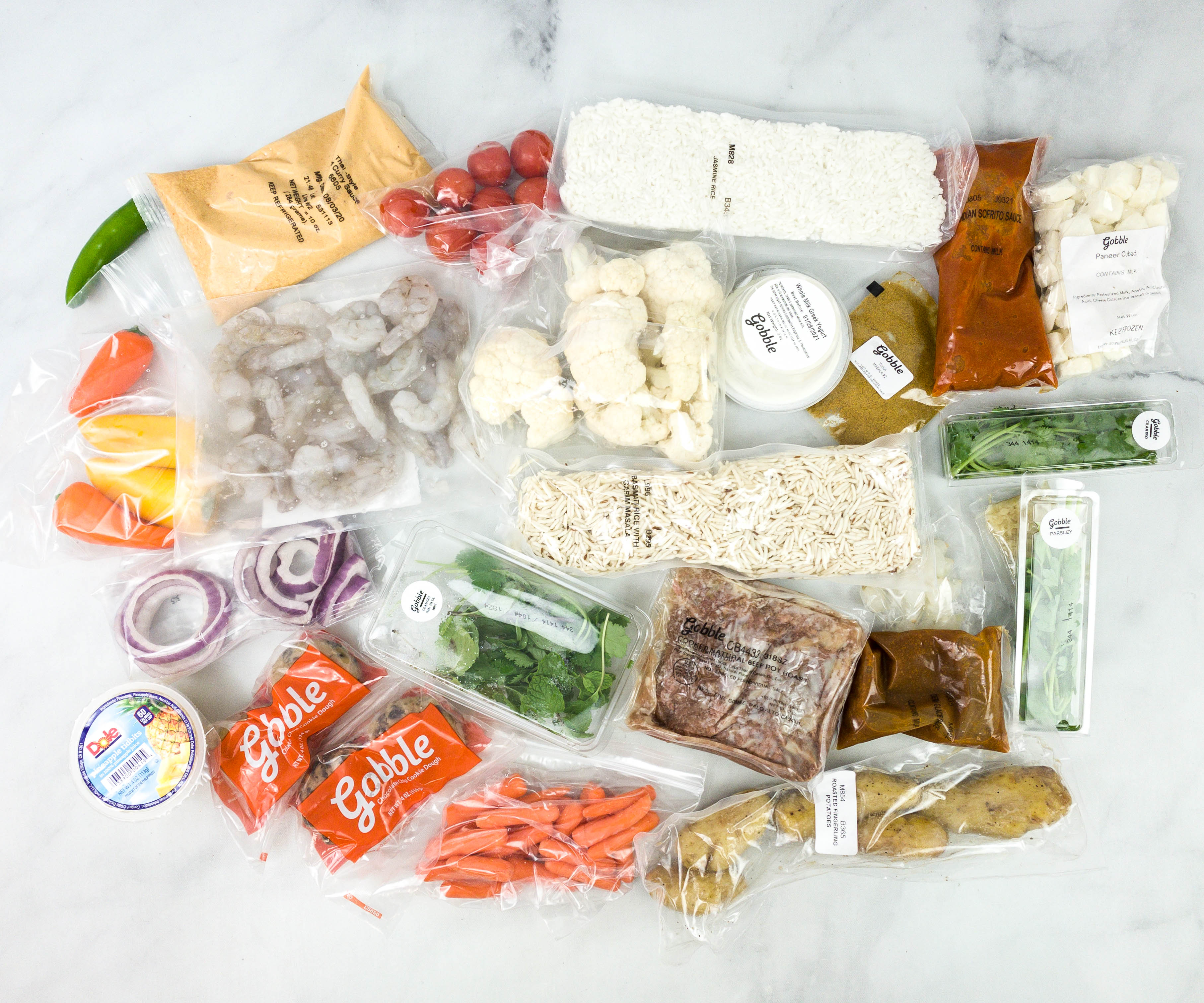 Everything in my box!
Thai Red Curry & Pineapple Shrimp. First up is a Southeast Asian dish with spicy and tropical flavors. It contains an estimated 570 calories per serving and all these ingredients can serve two people.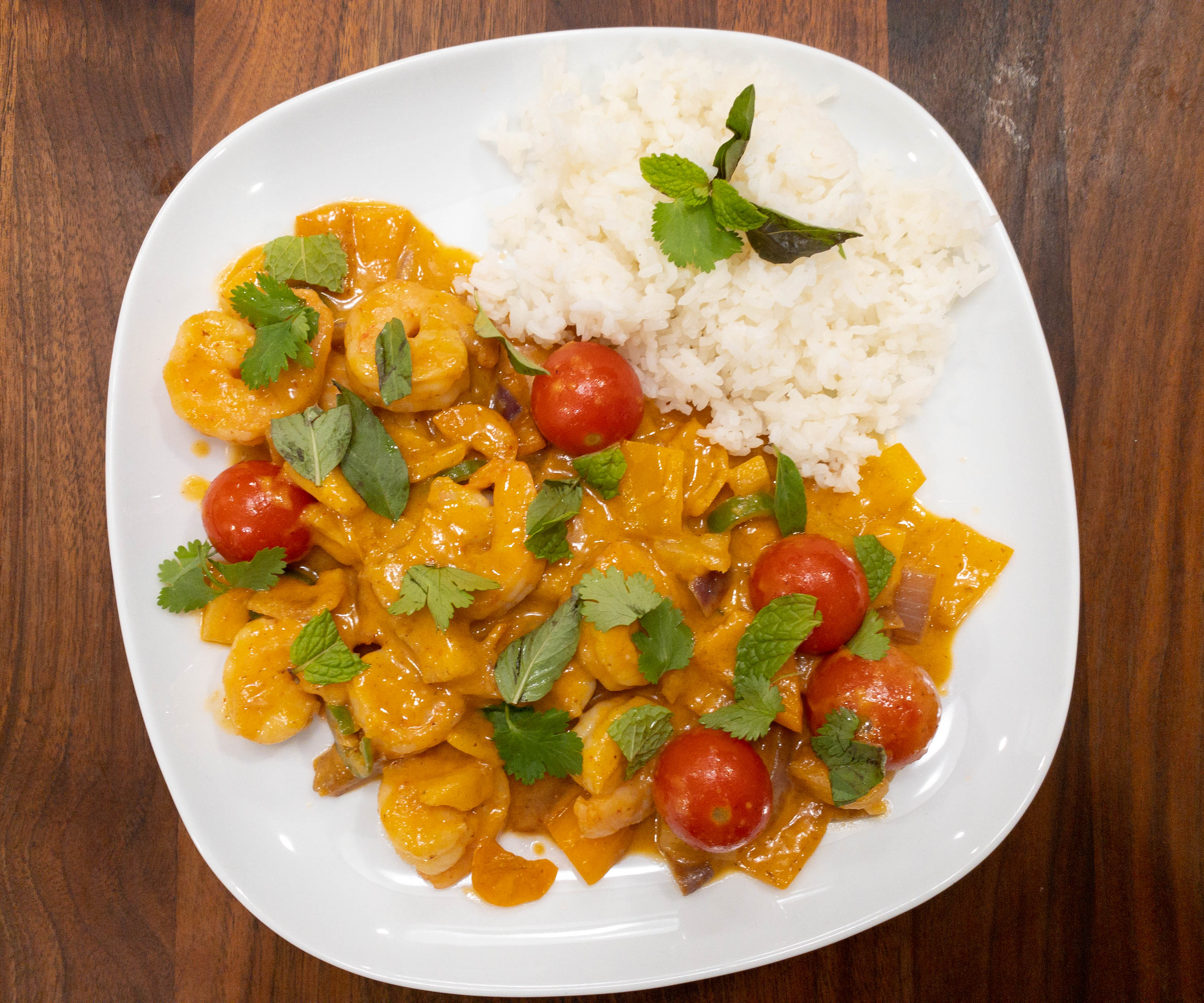 I love how easy it is to prepare and cook this dish. I just needed one pan to cook the shrimp and the sauce and the jasmine rice can be cooked in the microwave while you're waiting for the sauce to simmer!
The fusion of flavors makes my mouth water at just the thought and I like how this one has seafood but I'm pretty sure the sauce can be served with any meat or meat alternative and it would still taste amazing!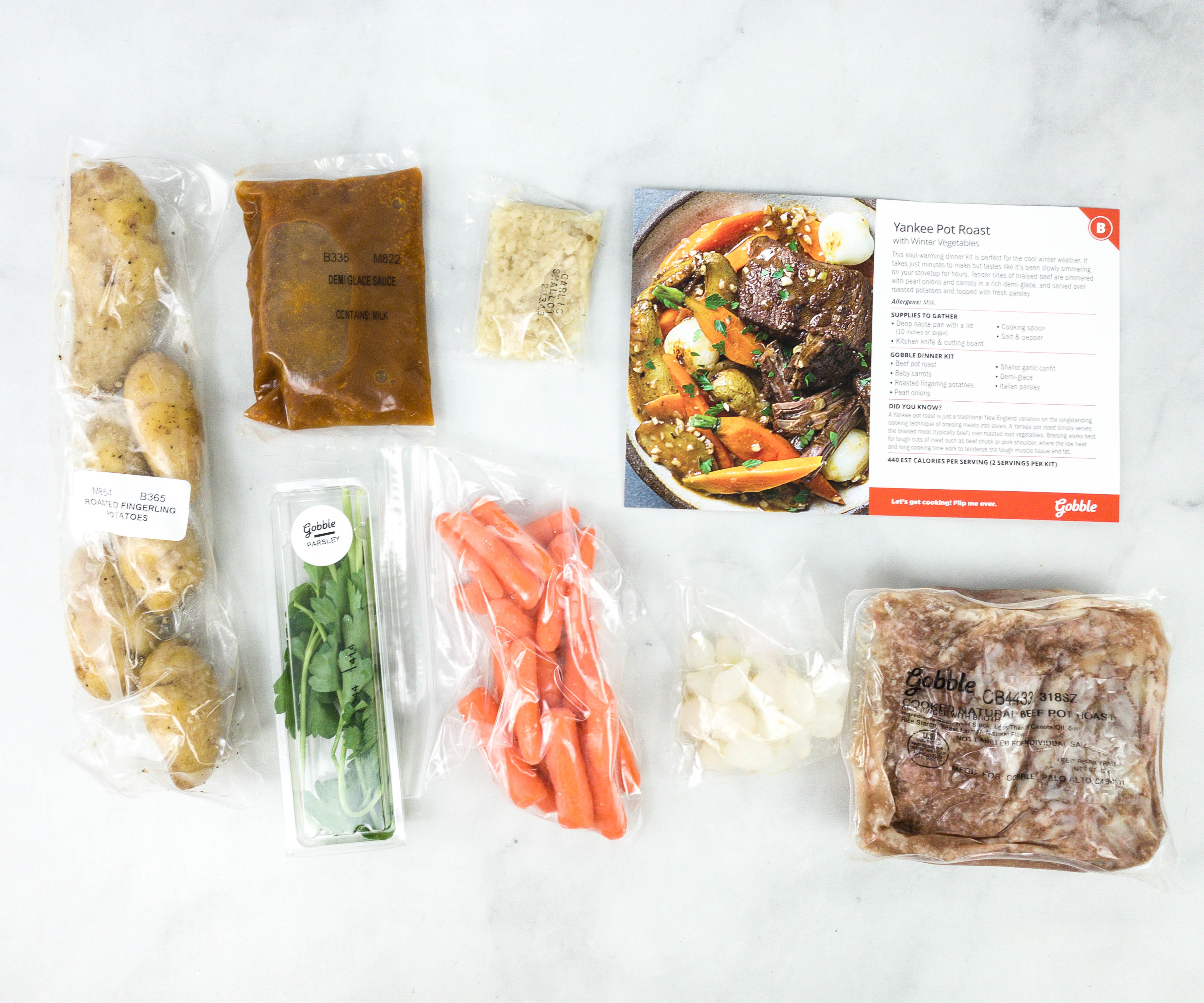 Yankee Pot Roast. At first glance, you might think this pot roast would take forever to prepare, but since everything is already provided, making this meal is fun and easy! It has an estimate of 440 calories per serving and the provided ingredients can feed at least two people.
The ingredients from the box include carrots, pearl onions, and garlic confit.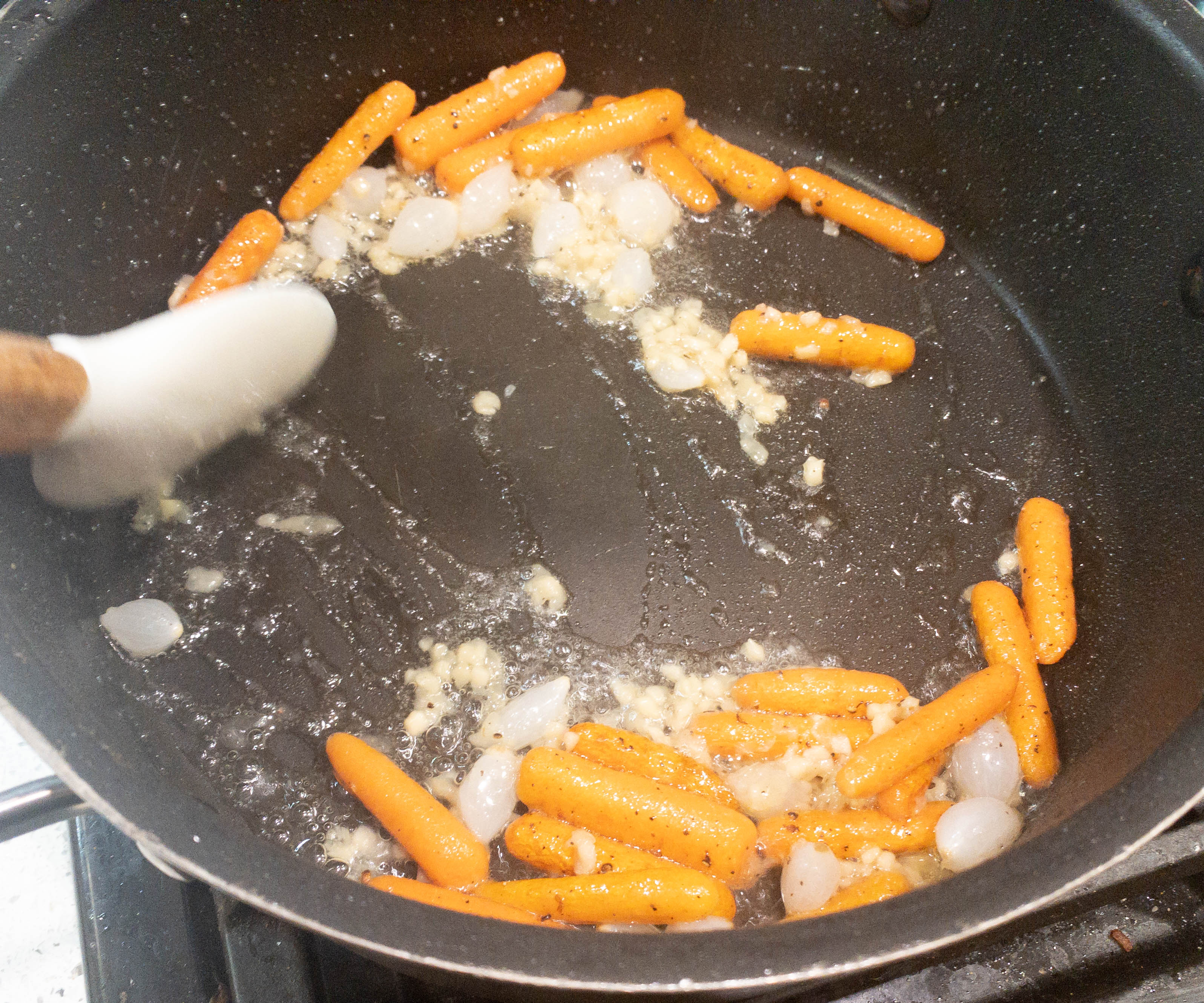 I sauteed them in the pot and it didn't take long until they smelled fragrant!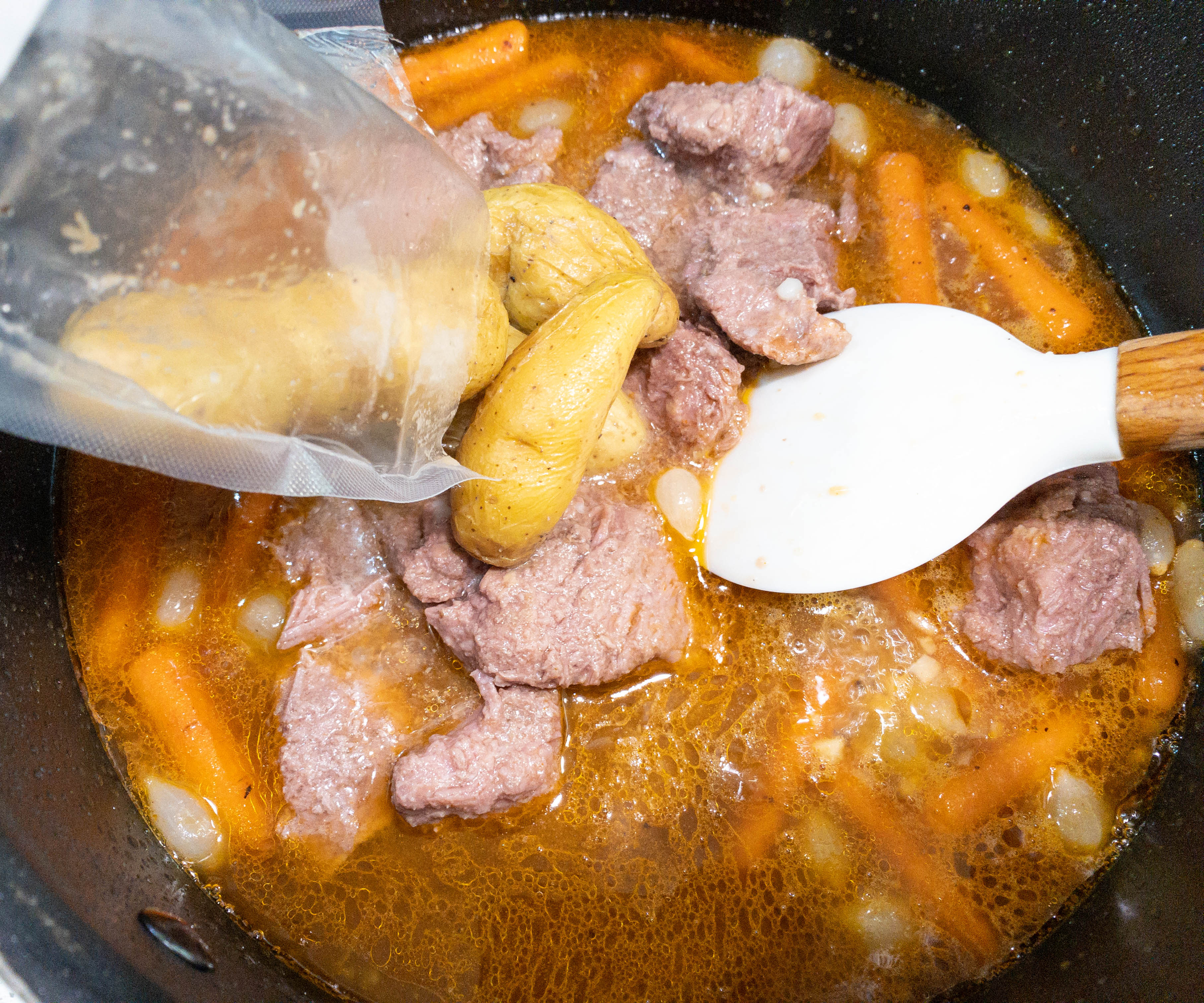 Of course, the box also included the beef and demi-glace for this recipe. The last thing I added to the pot is the fingerling potatoes.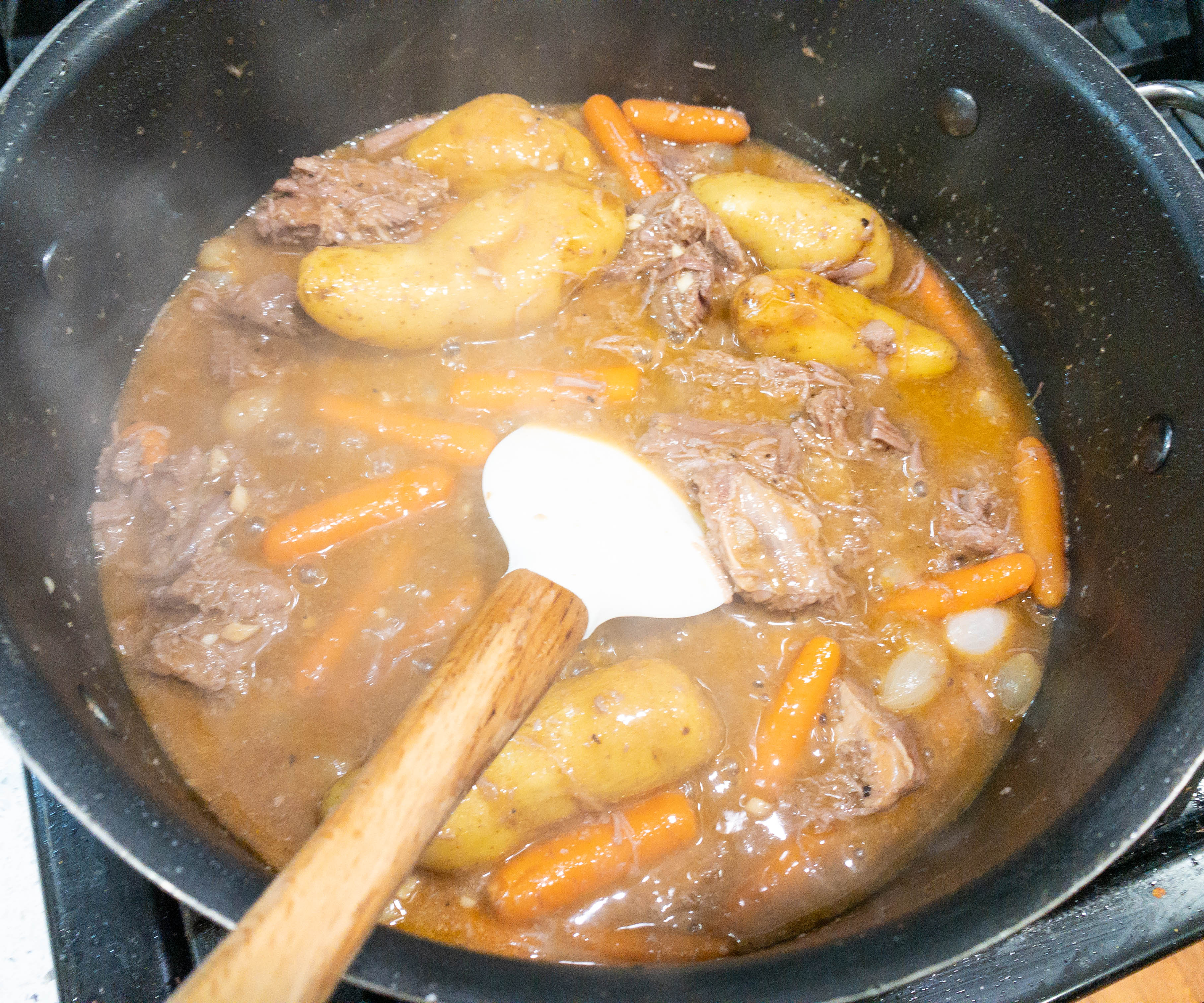 It took just about 15 minutes to cook this, but the taste didn't disappoint!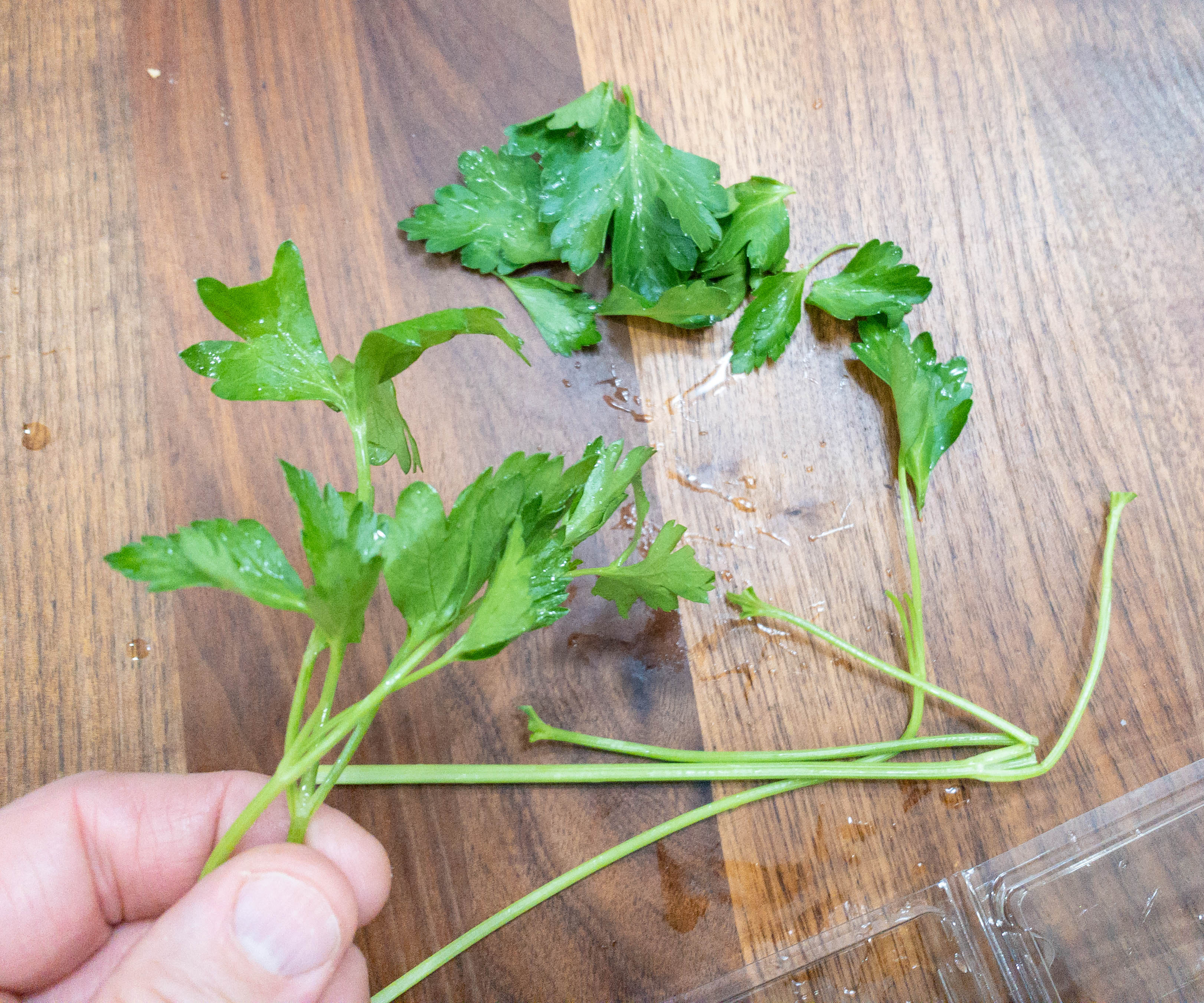 They also provided Italian parsley to add as a topping.
I like the rich flavor of the sauce. I'm also happy that the beef they sent was fresh and high-quality! It was so tender!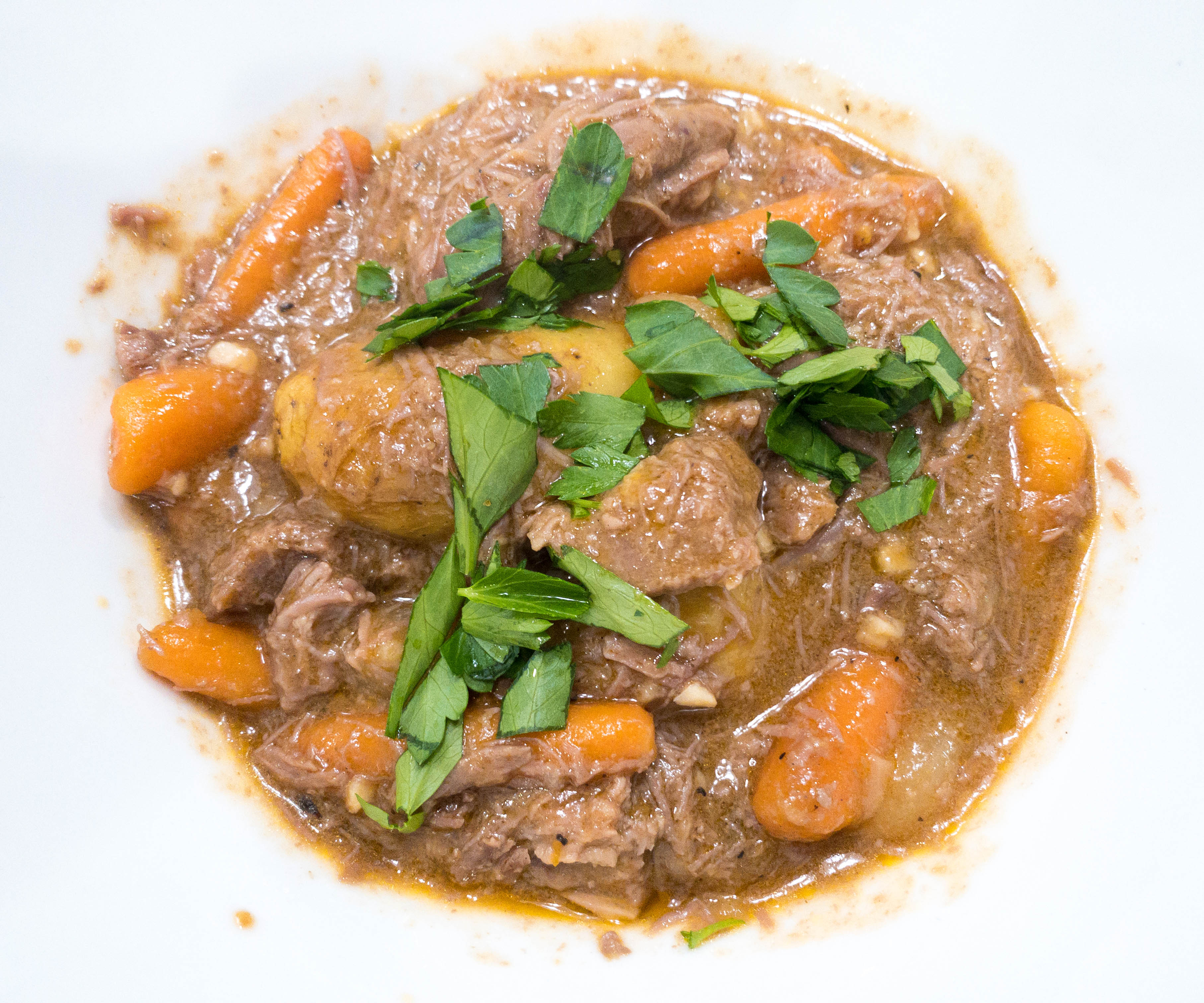 The vegetables add a bit more texture and because this was a quick prep with the meat already cooked, there was no weird carrot taste. This dish is best served warm on a cold day!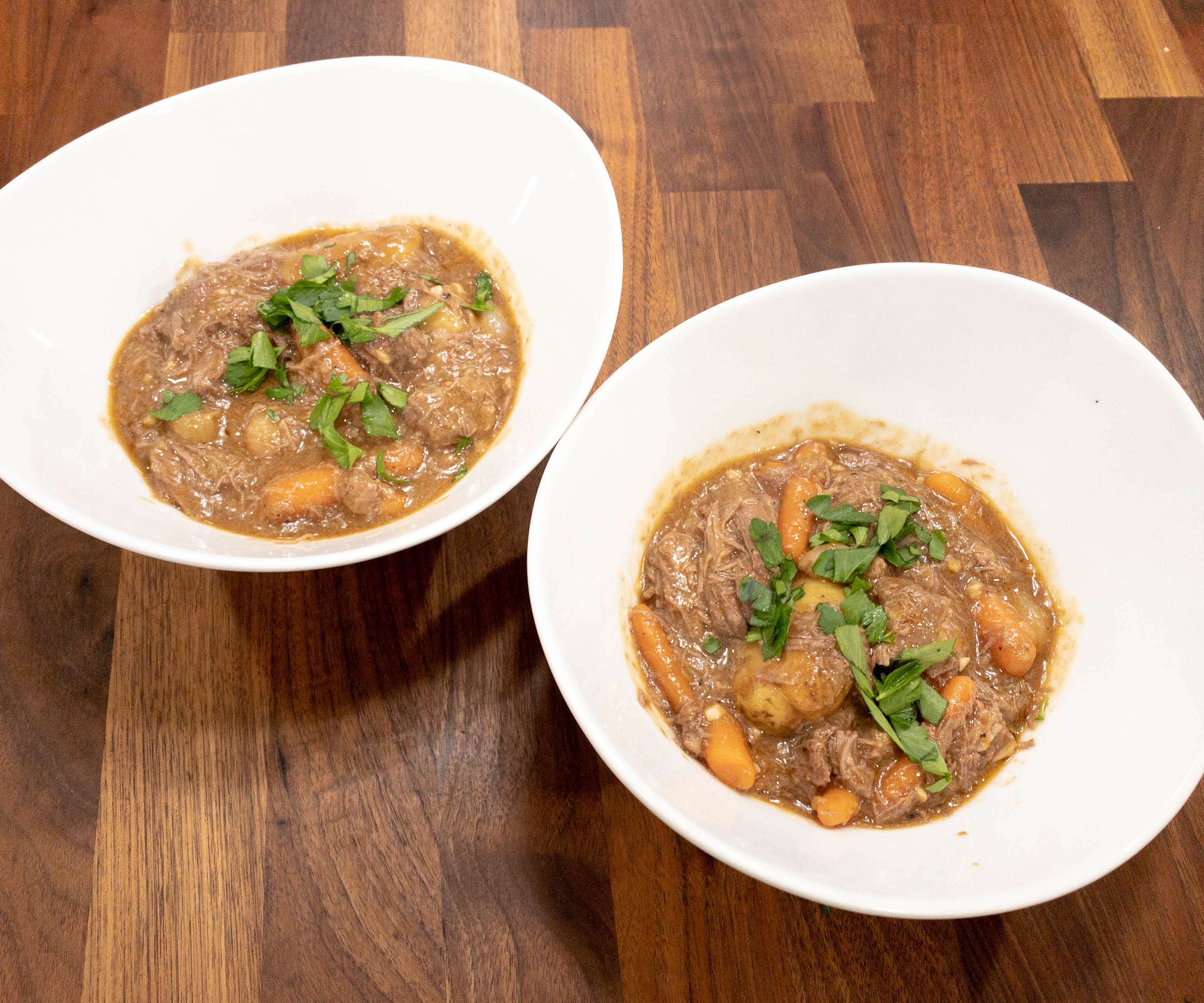 This is a very filling meal that I won't mind having again some time soon!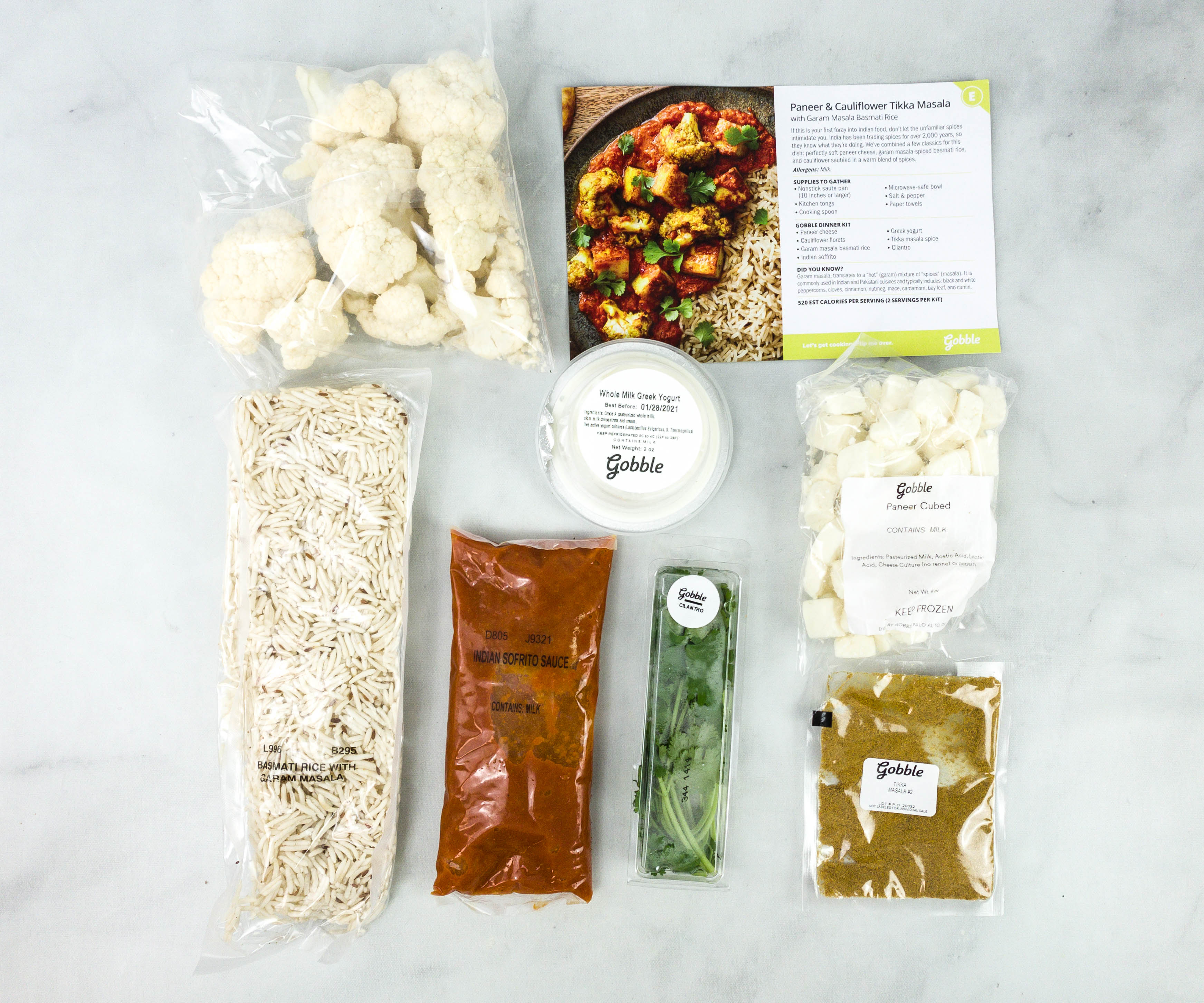 Paneer & Cauliflower Tikka Masala. The third one is an Indian dish! Each serving has an estimate of 520 calories and like the first two meals, this portion is good for two people.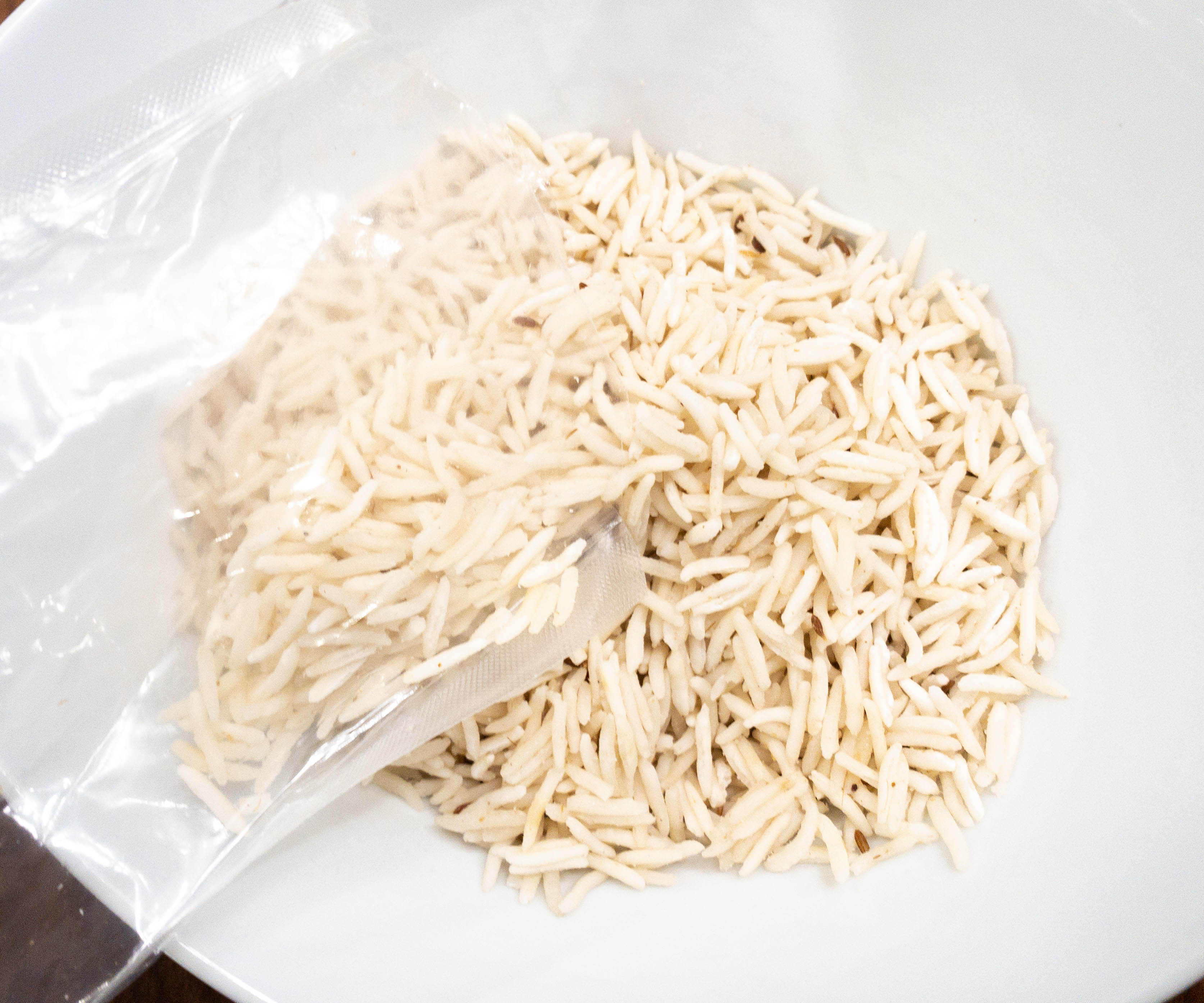 This is the basmati rice! It features long grains and it's also fragrant with a nutty taste.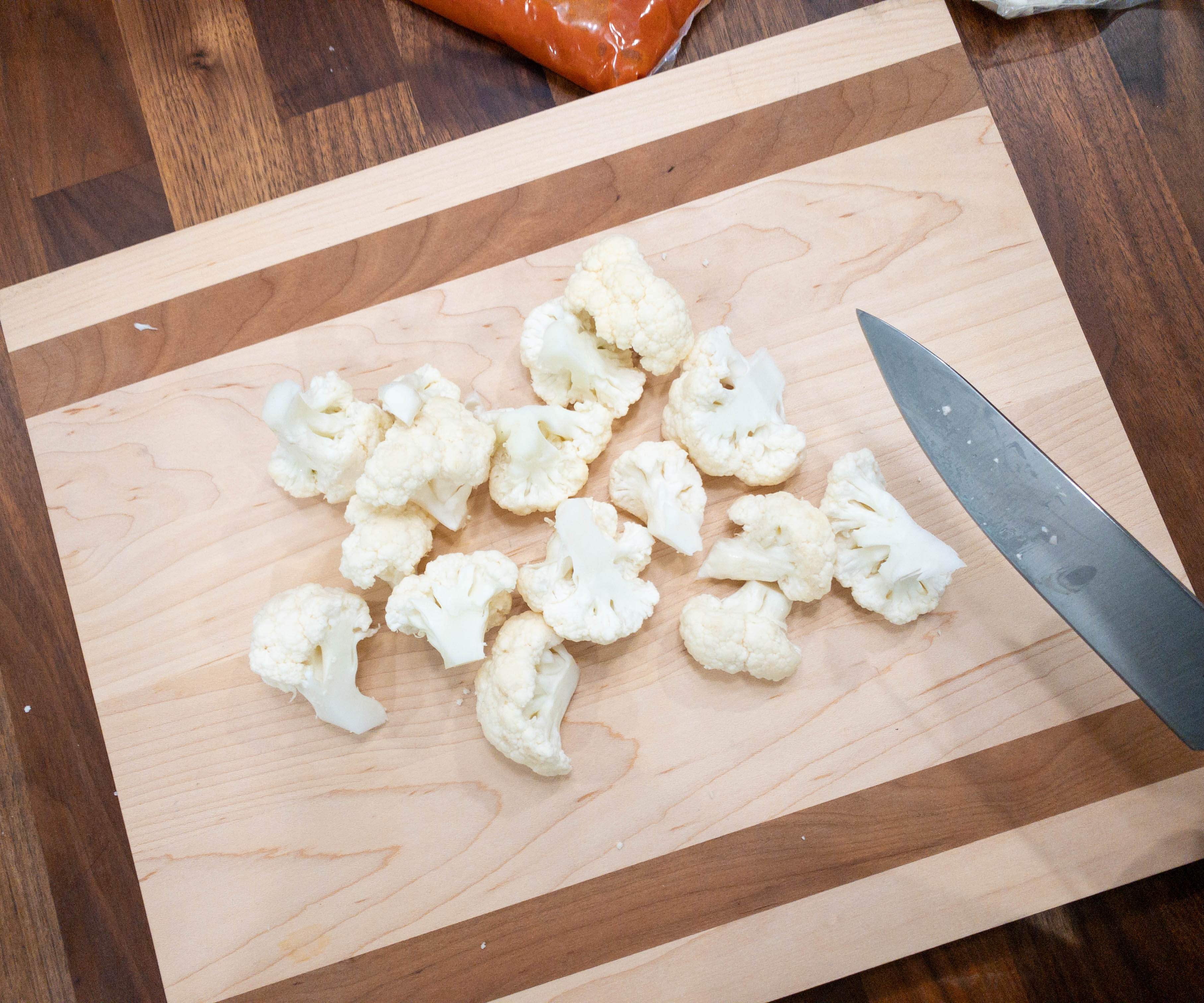 They also sent cauliflower florets and I cut them in halves.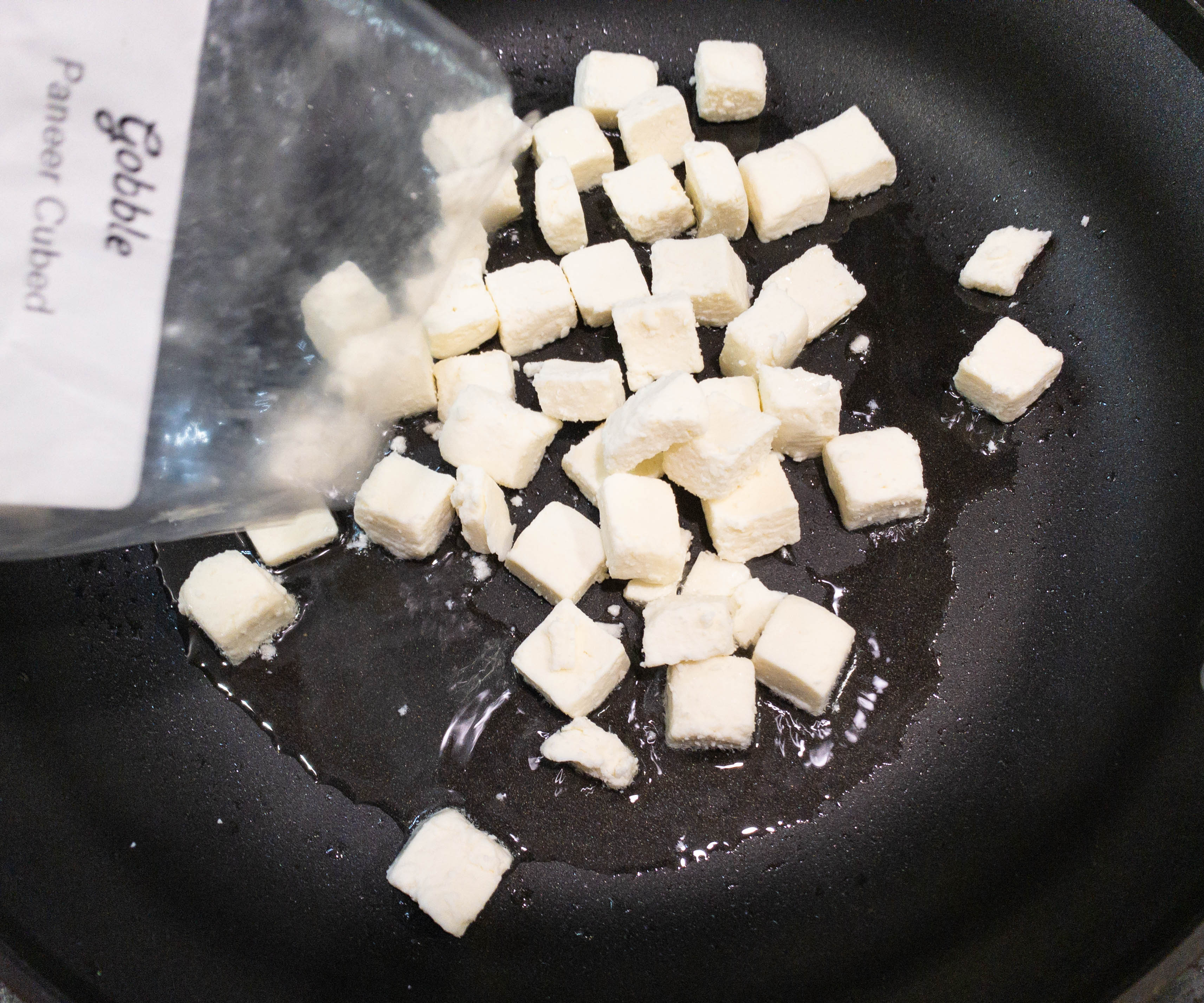 In a pan, I put cooking oil and then added cubed paneer. Paneer is actually Indian cottage cheese. It's made with pasteurized milk.
I also added the florets before the tikka masala!
Here's you'll see the paneer and the cauliflower florets already coated with the spices. Yum!
Of course, I also added the Greek yogurt which adds body and creaminess to the dish, plus the Indian soffrito, a flavor paste made with fresh herbs. This dish has a more distinct flavor and although this one is comprised mostly of vegetables, the flavor profile is bolder than the other meals.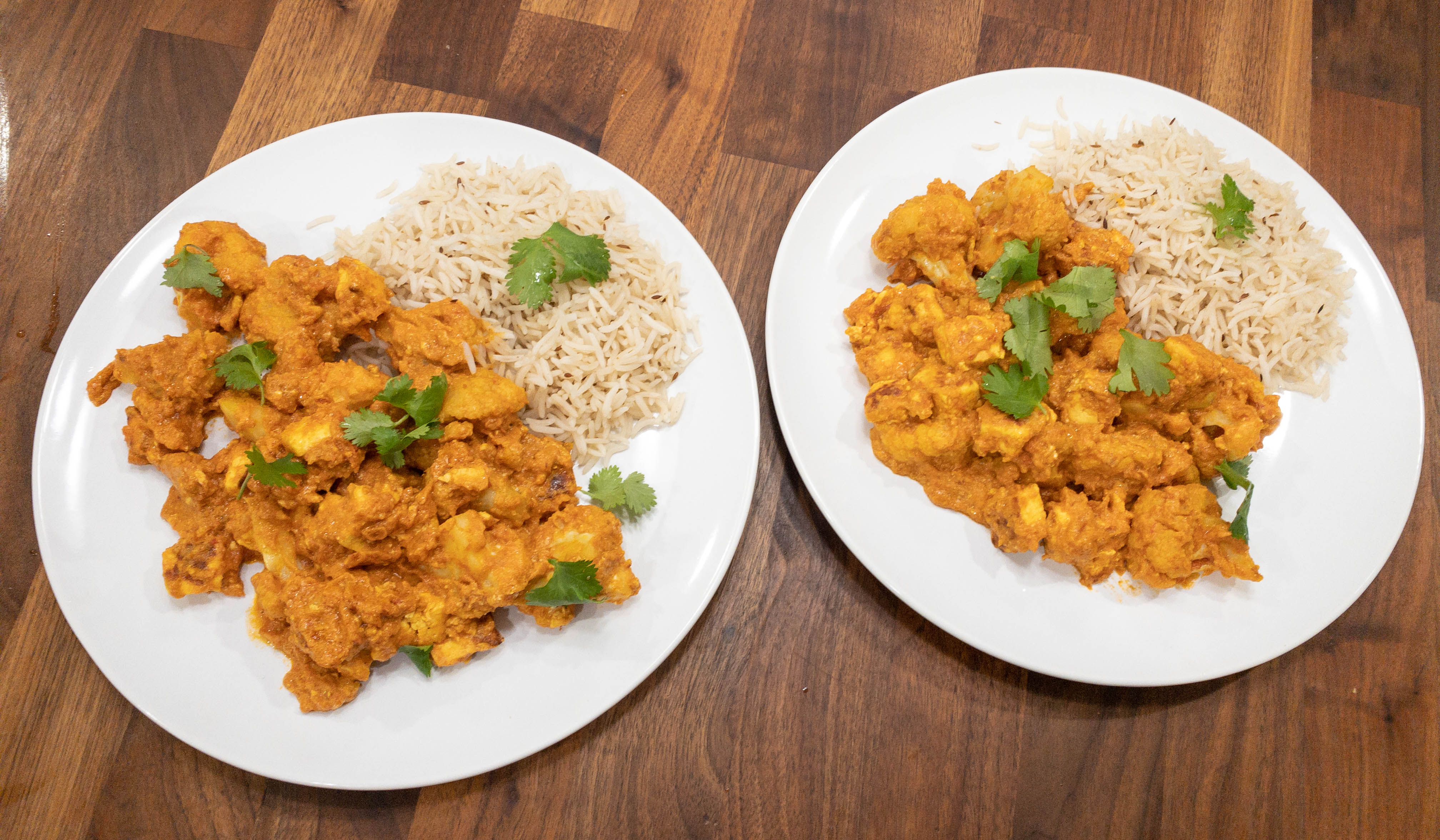 Lastly, I plated the dish with the cooked rice and then topped it with cilantro!
I like it and I think this is a great meal for days when you just want to skip the meat and eat a bit healthier.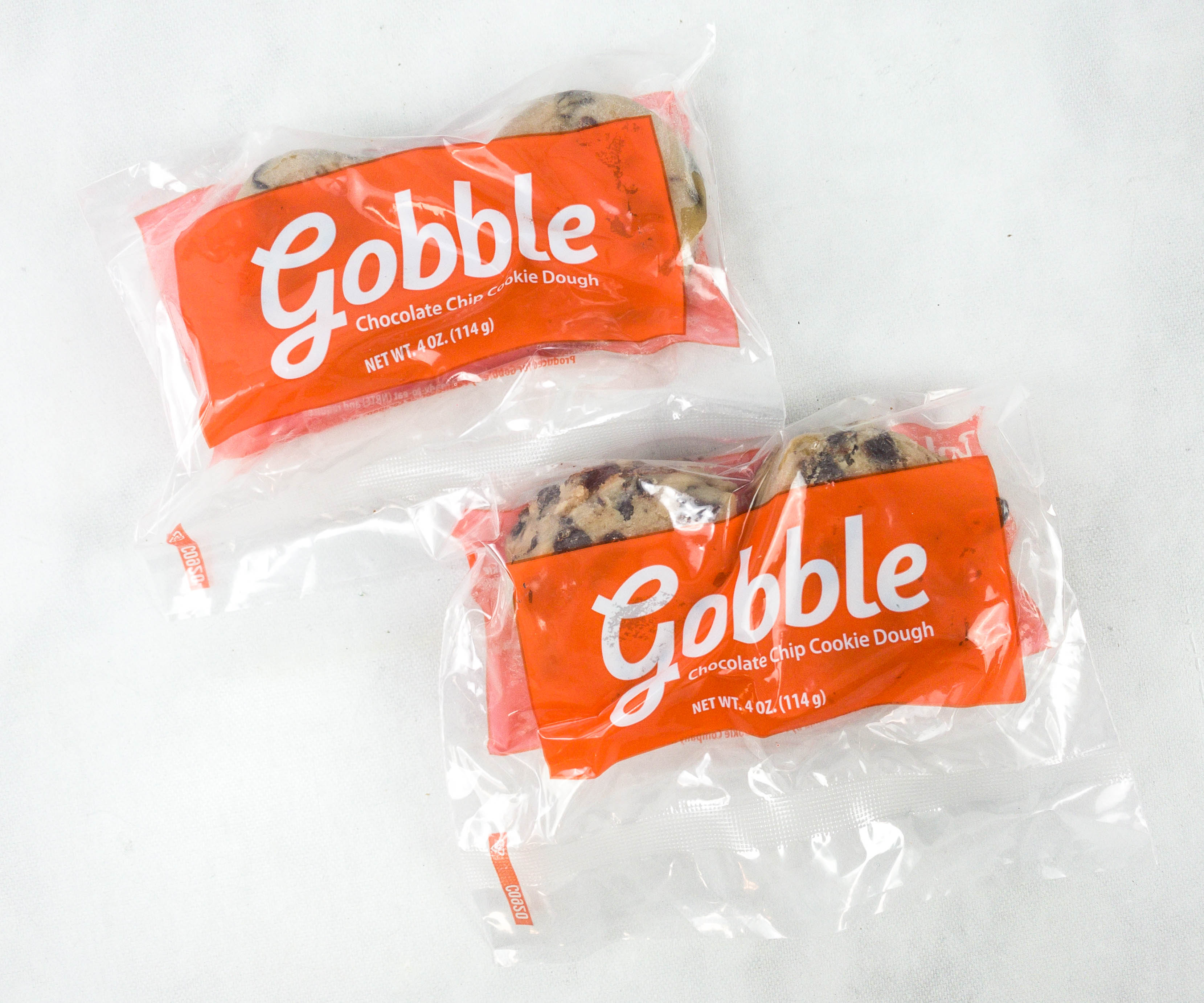 I received a bonus item this month! These chocolate chip cookie doughs are easy to prepare. Just throw them in the middle rack of a pre-heated oven at 375F for 12-15 minutes and you're all set!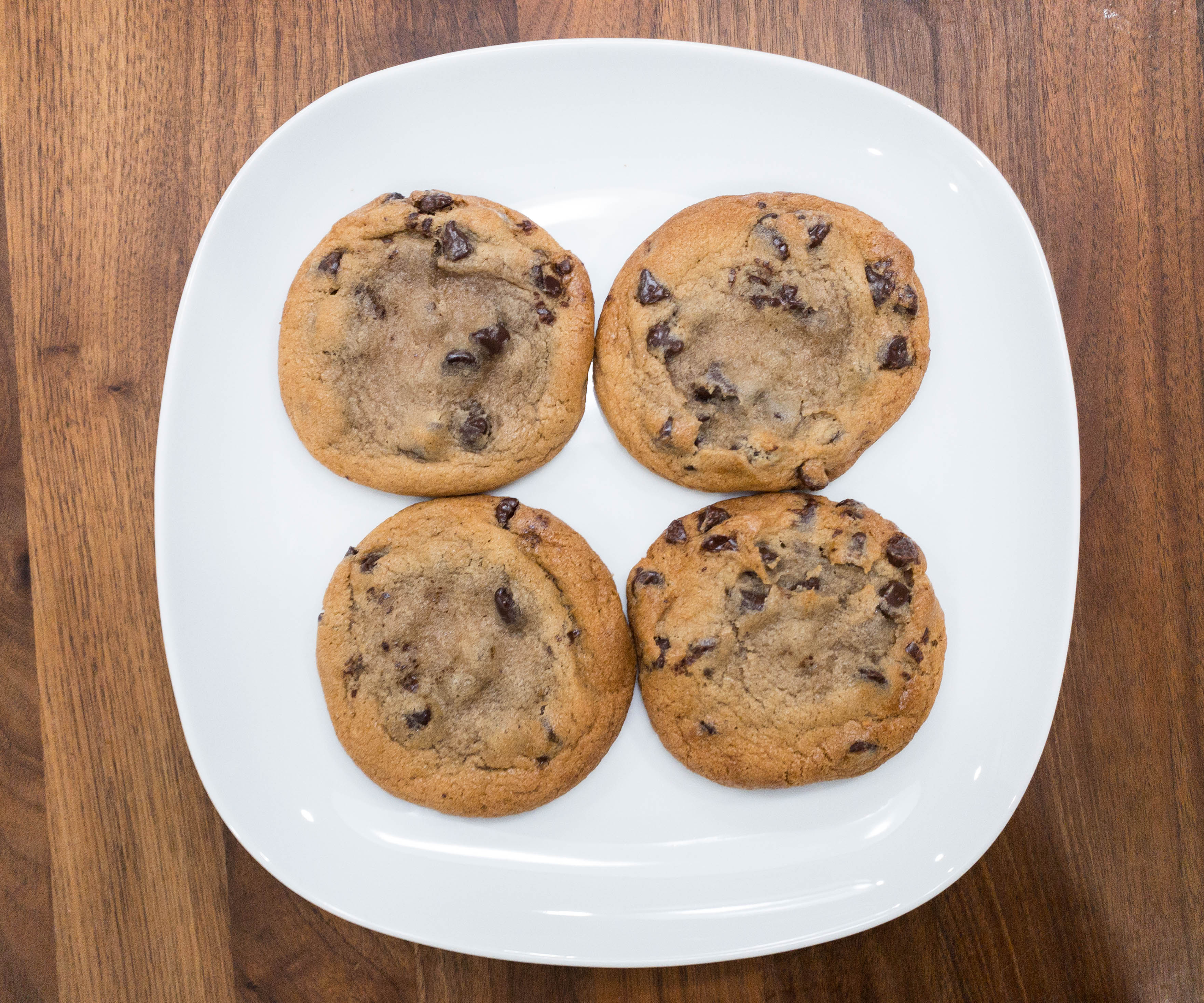 Here's how they look like once they're ready!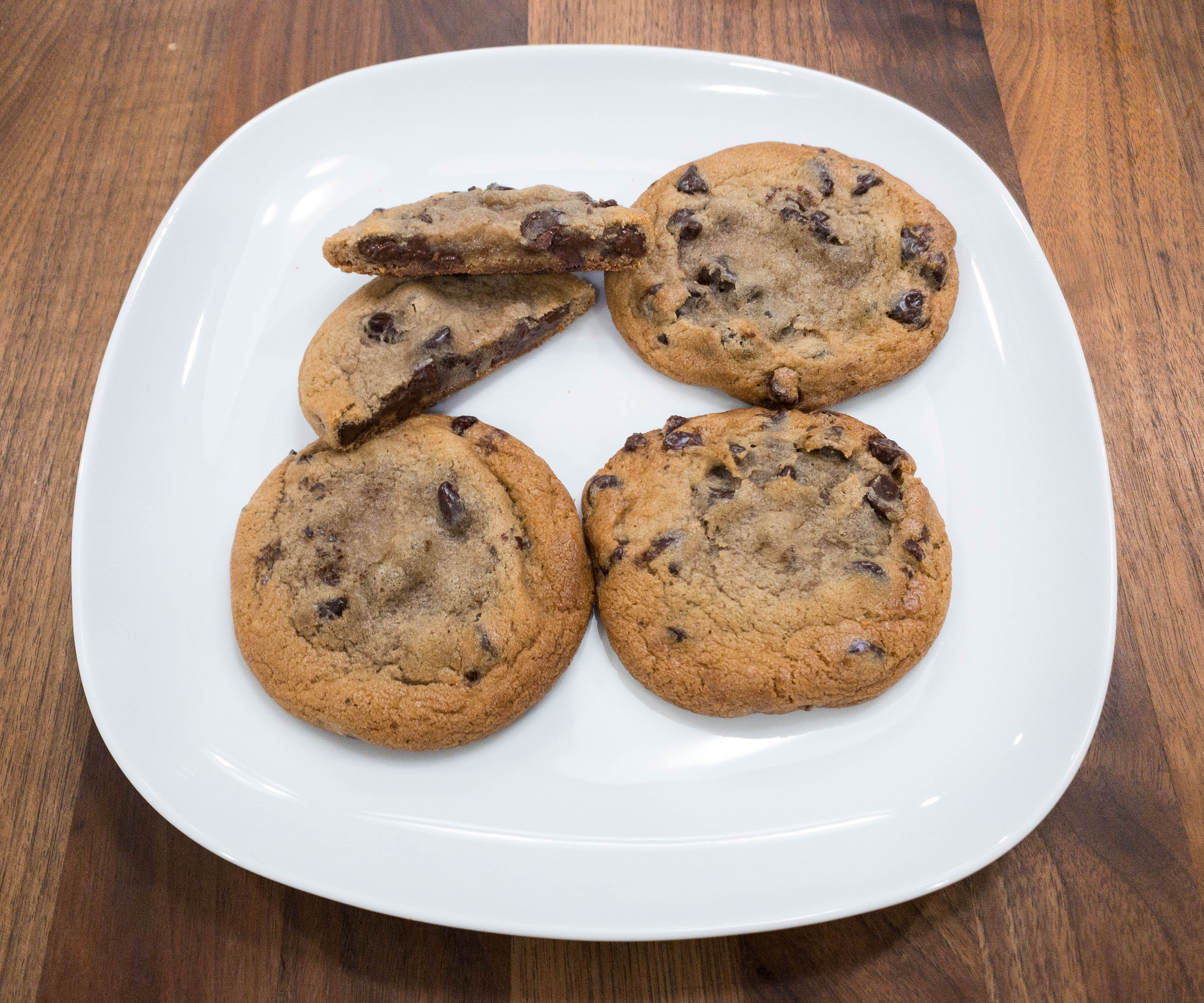 They're moist and chewy, and there's a generous amount of chips inside. These cookies make such a perfect pair with a tall glass of milk.
It's been a while since my last Gobble box and I'm really happy to try more of their dishes! My favorite from this box is the pot roast recipe because it's easy to prepare and the dish came out so hearty and flavorful. The other two dishes were also good! All in all, I like this dinner kit subscription because it helps me cook meals without having to worry about prepping. Everything has practically been taken care of, from the ingredients to the proper portions, and all I have to do is just a little bit of this and that. This box is great if you're into cooking but don't want the hassle of preparations or if you want to get just the right portions that you need!
What do you think of Gobble?