Deadpool Club Merc is a quarterly subscription of all things Deadpool. The box costs $34.99 each quarter, plus shipping and handling. Every quarter you'll get a box full of original and official Deadpool merchandise that contains 4 to 5 items in black and red, and that includes stickers, shirts, and collectibles that you won't find anywhere else.
DEAL: Save 15% on any subscription when you use this link and coupon code HELLOSUBSCRIPTION15.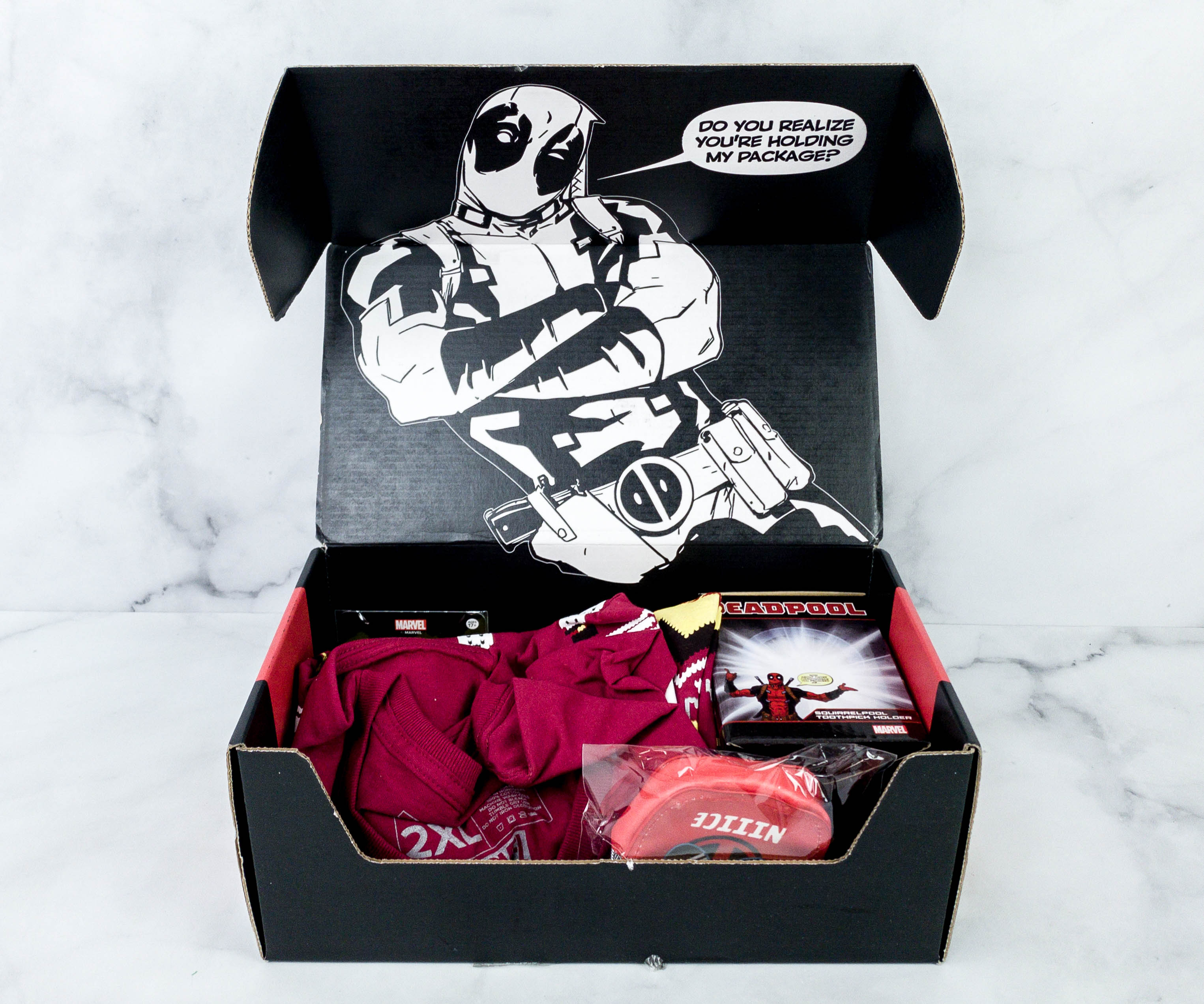 Even the interior of the box has a cool Deadpool design.
The theme this month is THE OTHER GUY IN RED!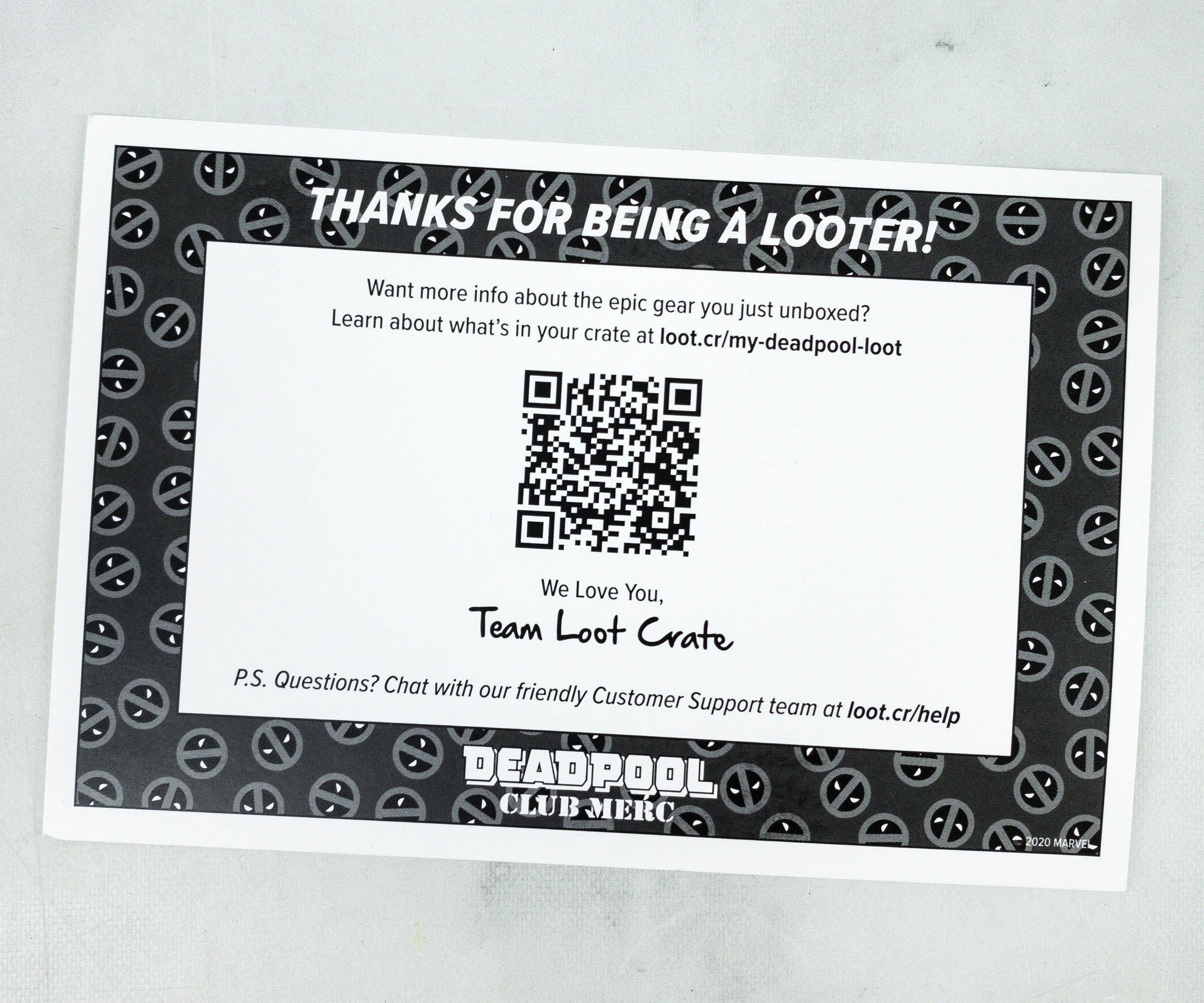 There's a card with a QR code that you can use to learn more about this crate.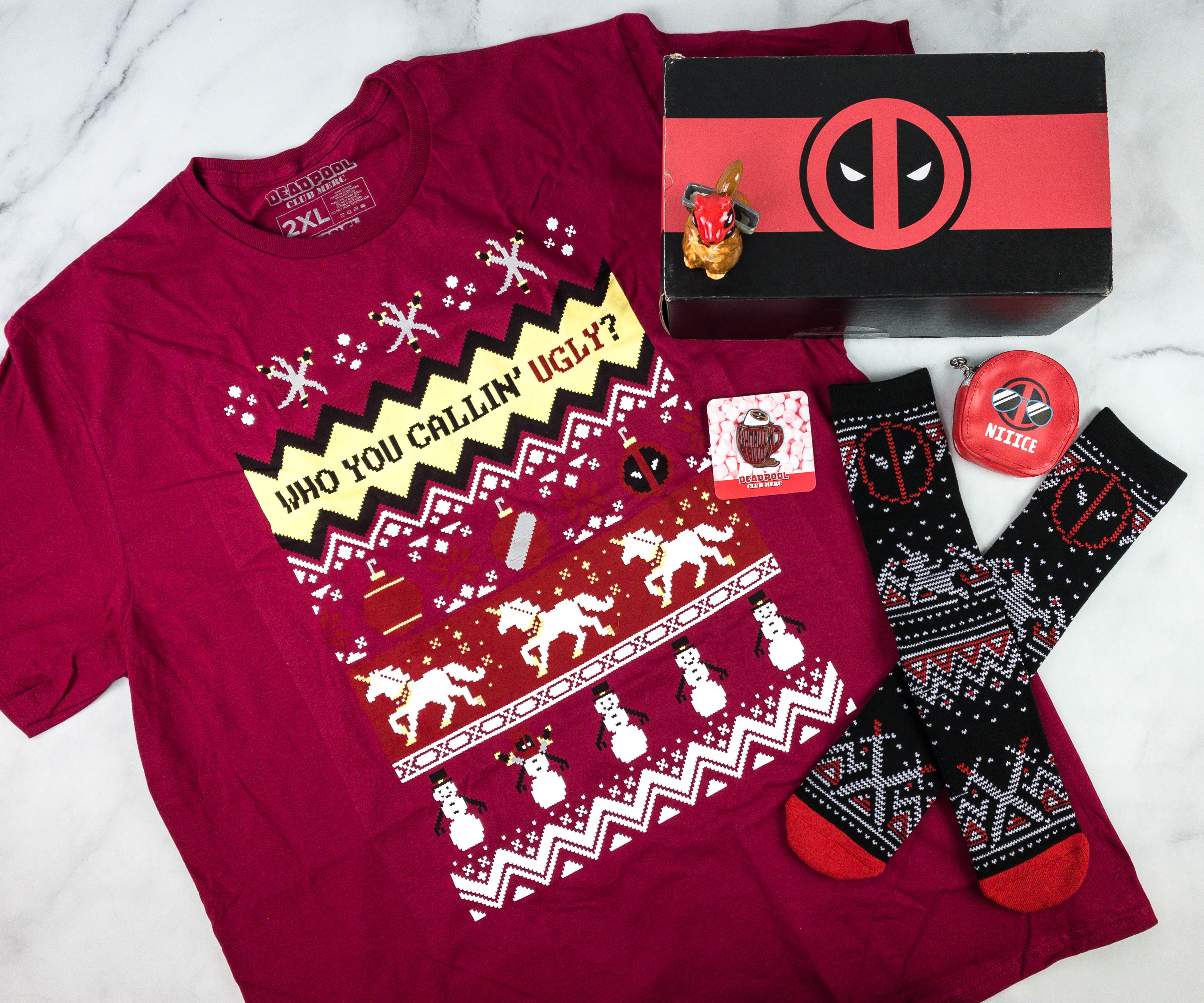 Everything in my box!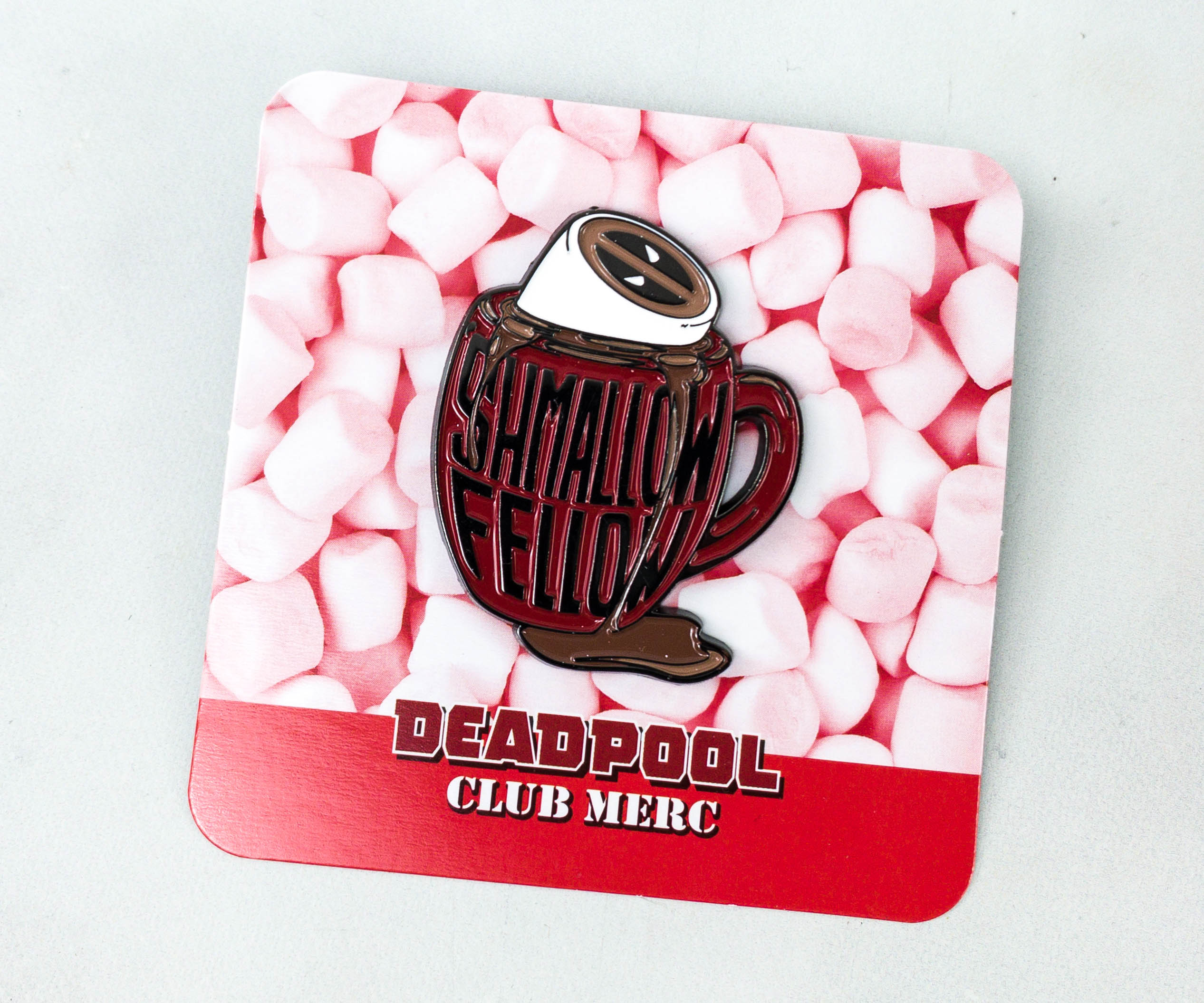 'Shmallow Fellow Pin. The featured pin this month is a cup of hot chocolate with a huge marshmallow floating on it. The marshmallow isn't an ordinary one because it has Deadpool's logo on top!
The details are nice and the colors are perfect. I wish there are really marshmallows like this in real life!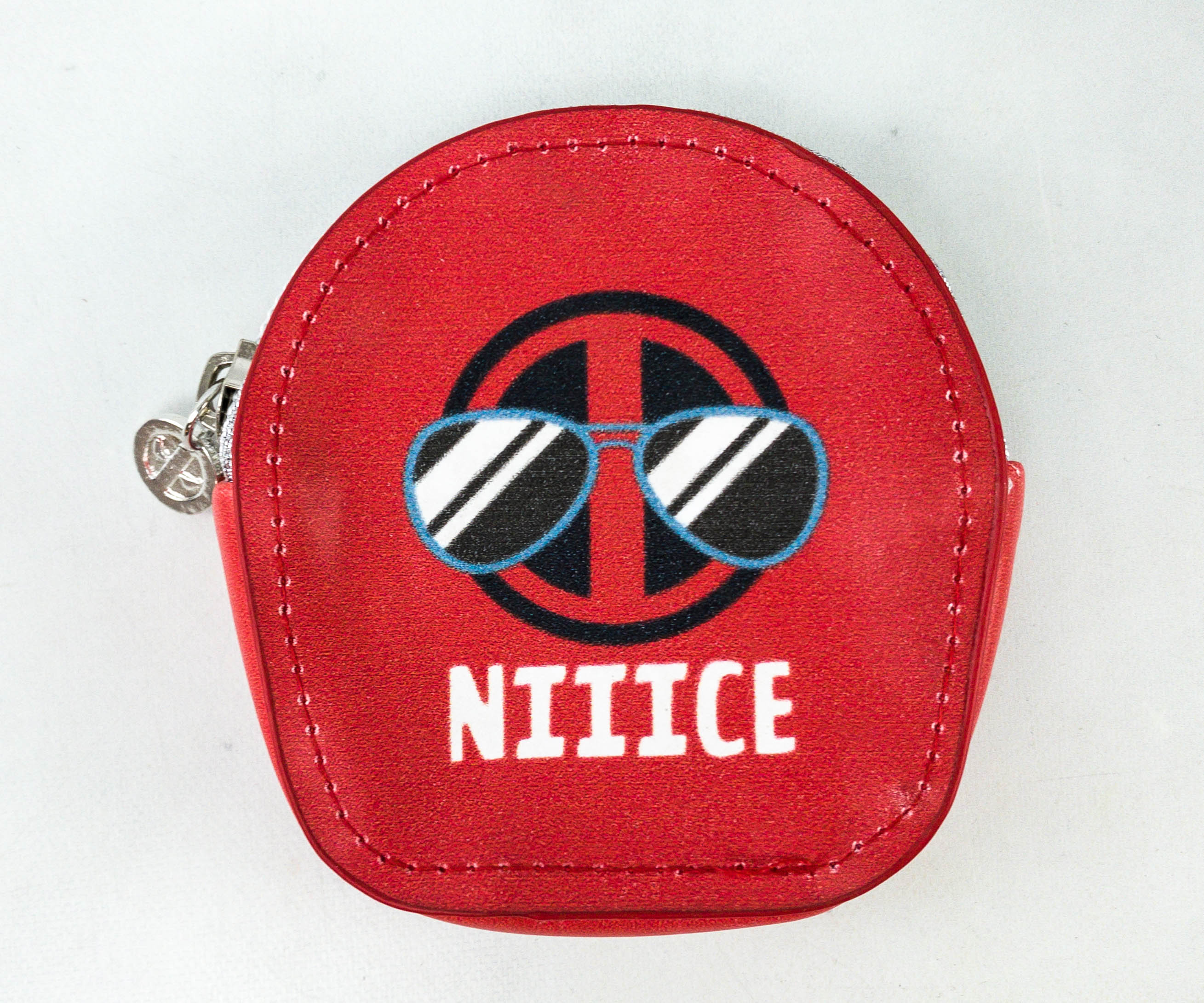 Naughty Or Nice Coin Pouch. For keeping spare change or trinkets, they sent this small red pouch in the box. Its two sides show Deadpool in his nice and naughty mode.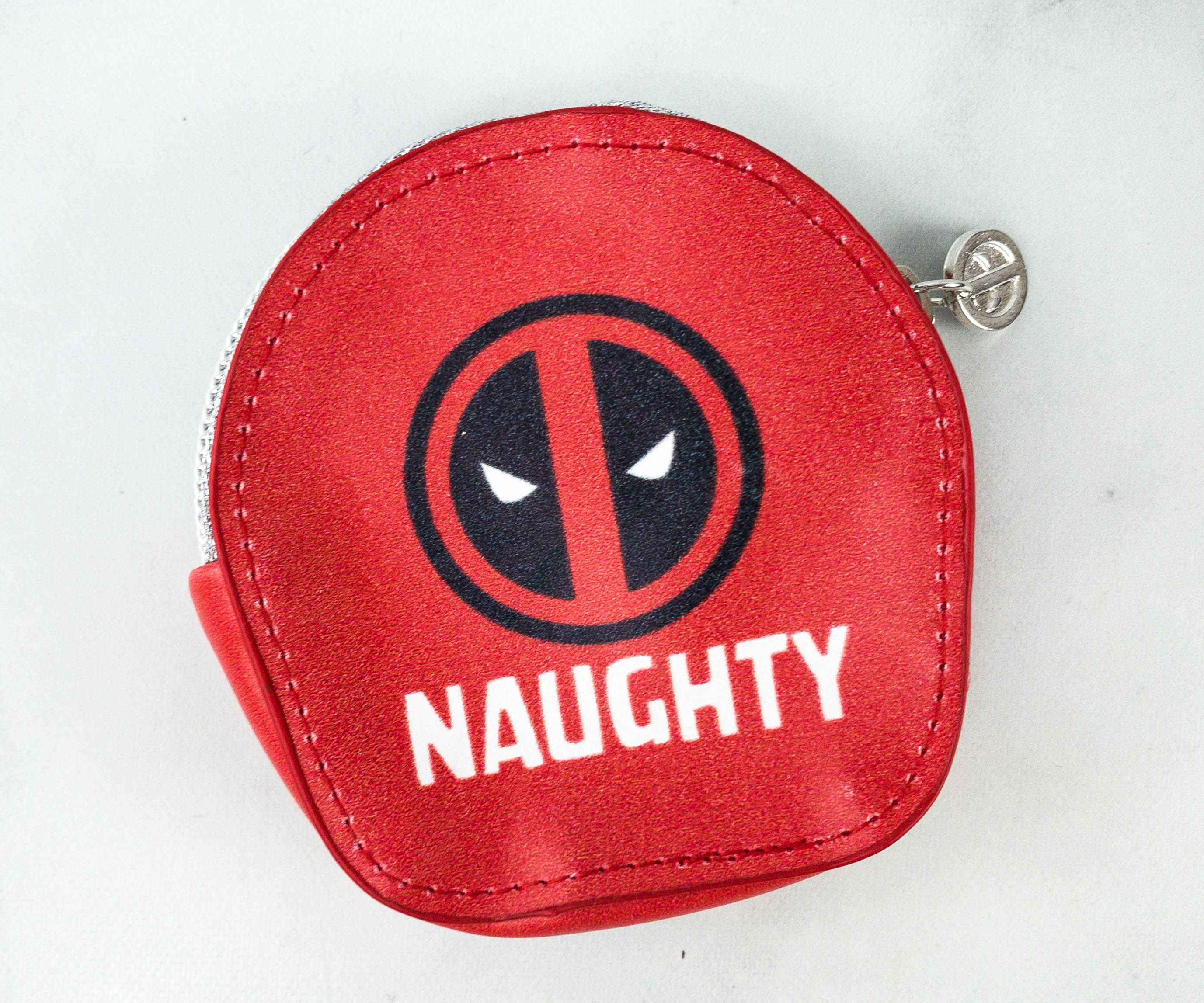 His nice side is wearing sunglasses, while the naughty side isn't!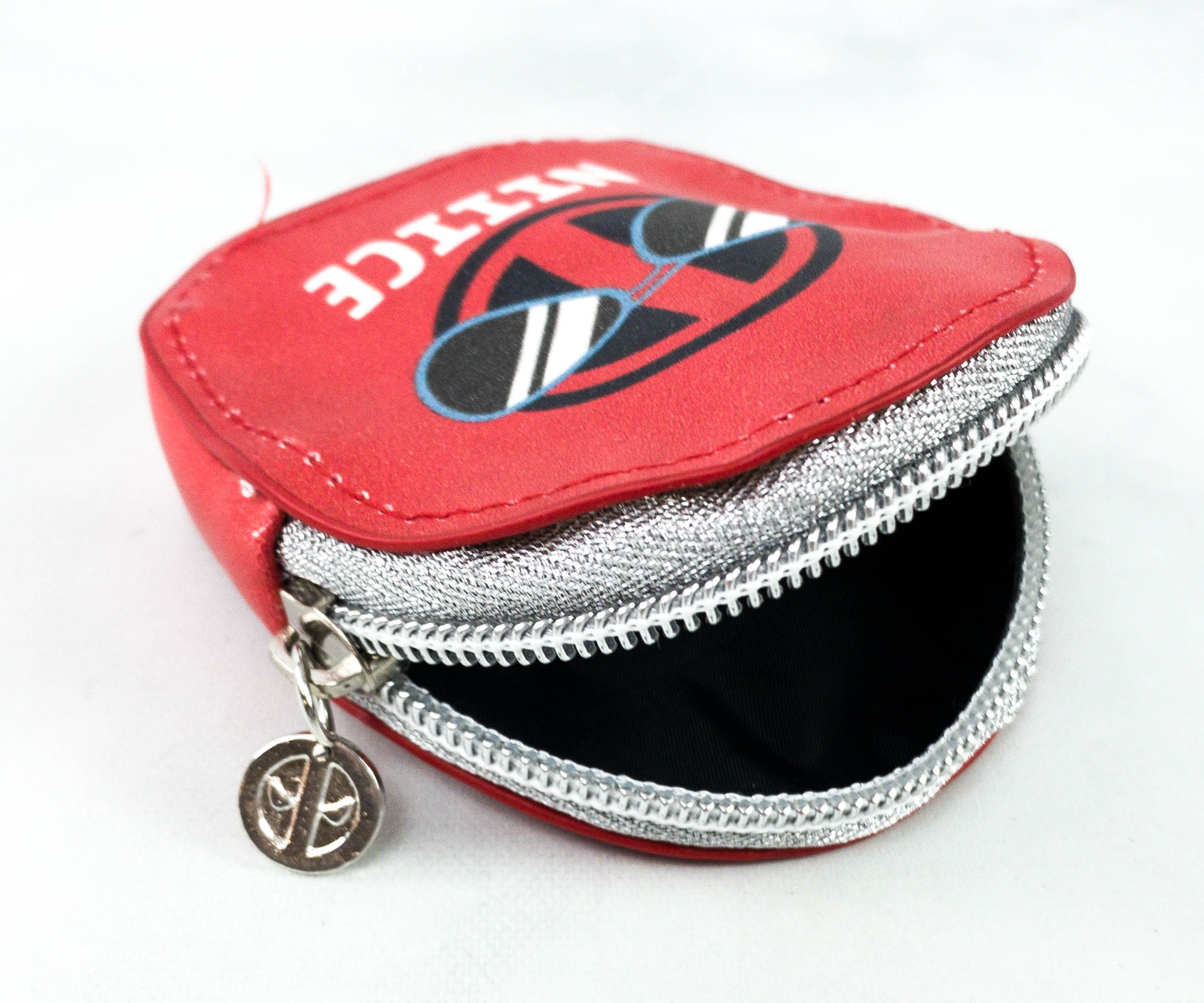 It also has a zipper to secure the pouch contents. The zipper pull is a silver-colored Deadpool logo!
Slipper Socks. Here's a pair of slipper socks that I can wear at home or show off to my friends and family!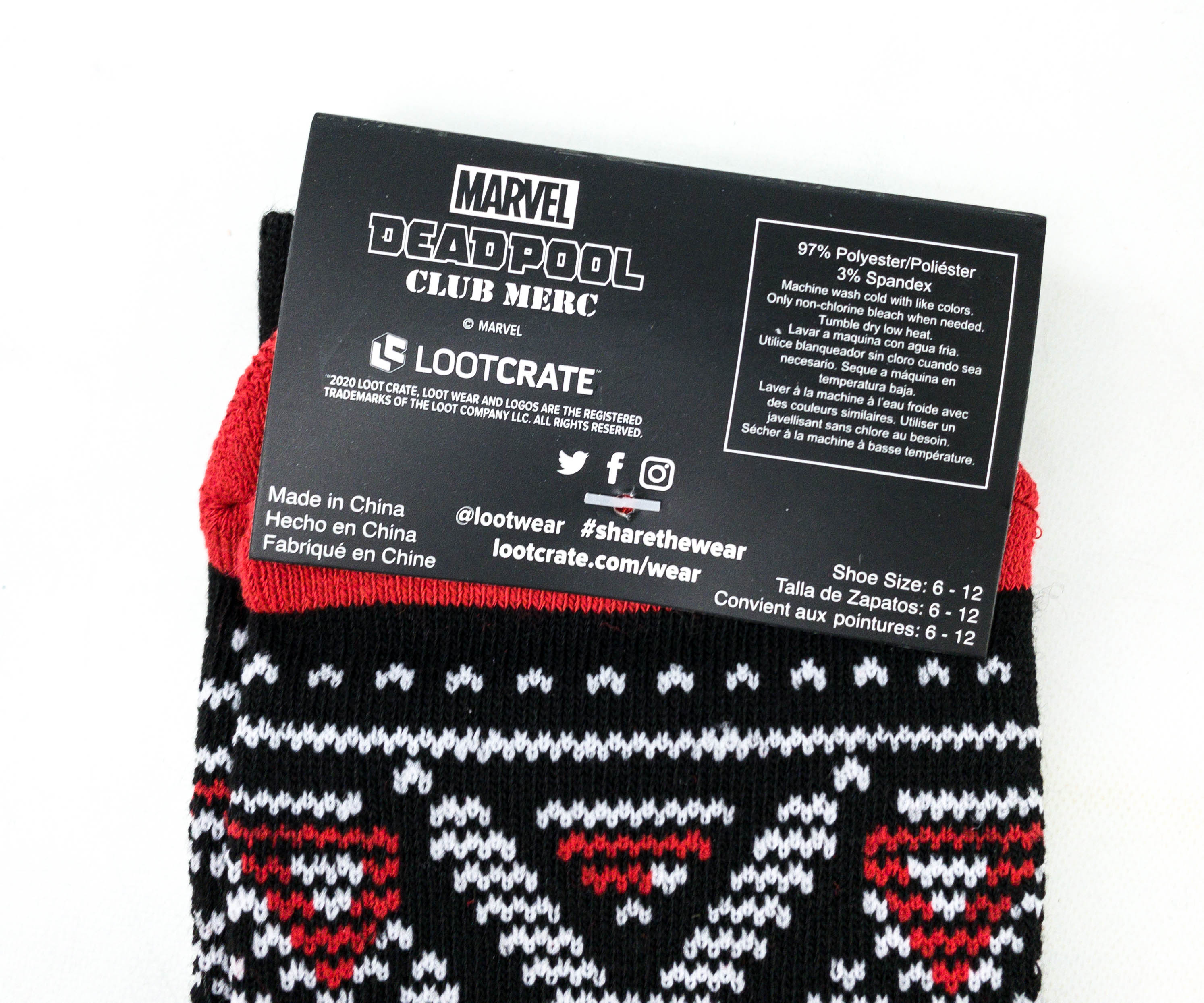 The pair is made from 97% polyester and 3% spandex. They fit shoe sizes 6 to 12.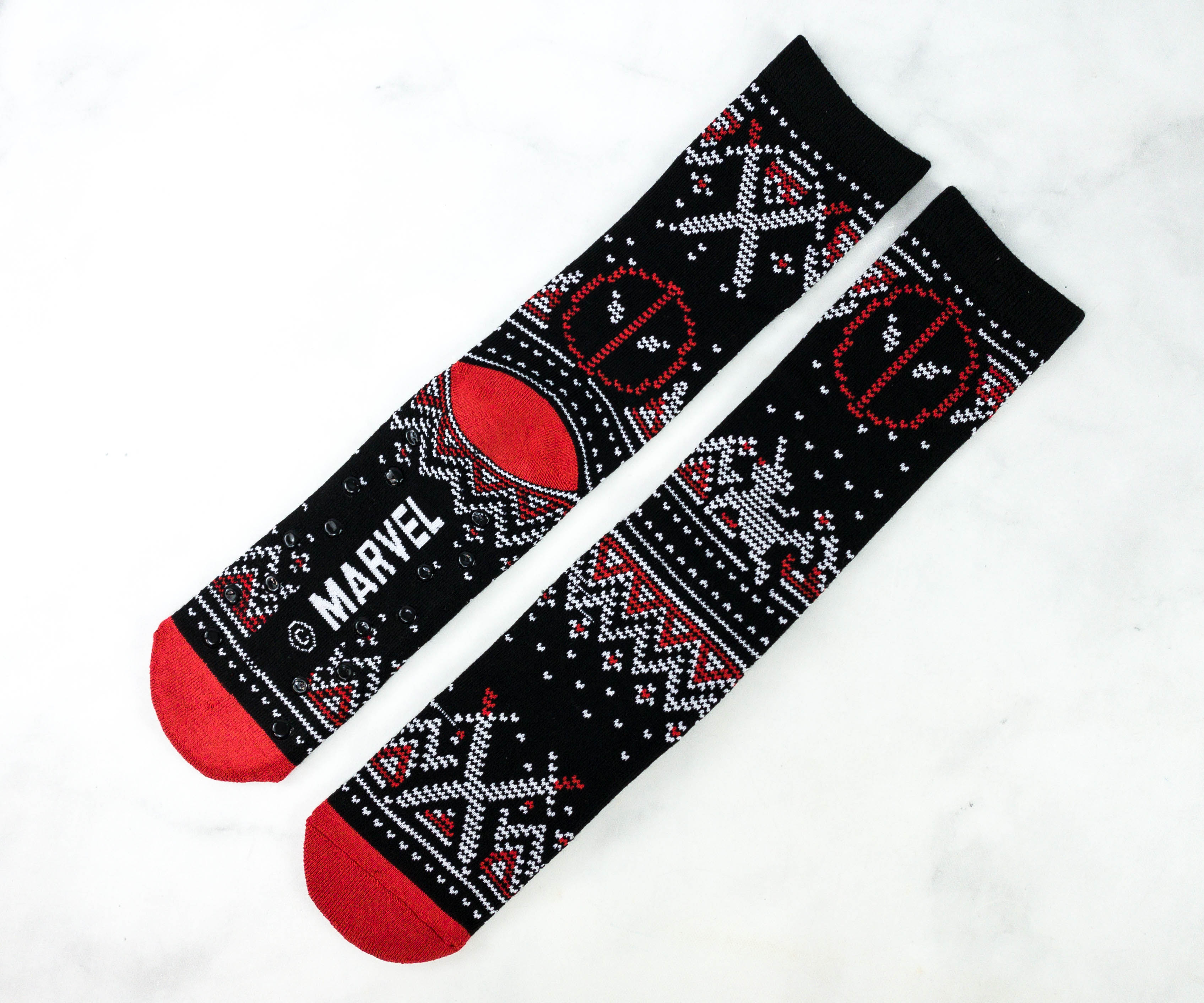 The design reminds me of Christmas sweaters, only with a better color combination. Black, white, and red look great together!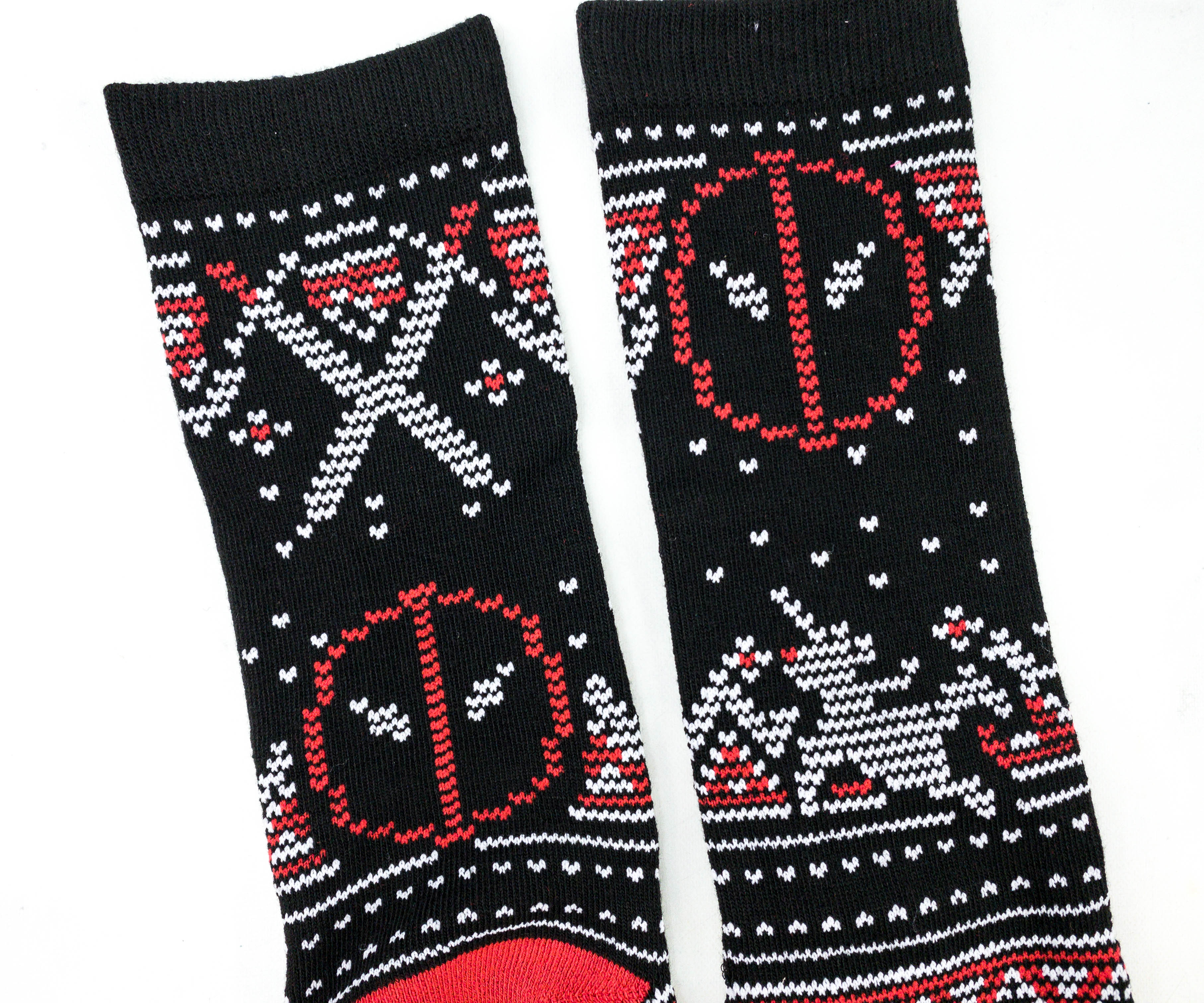 Aside from the Deadpool theme, this pair also has a Christmas-y feel!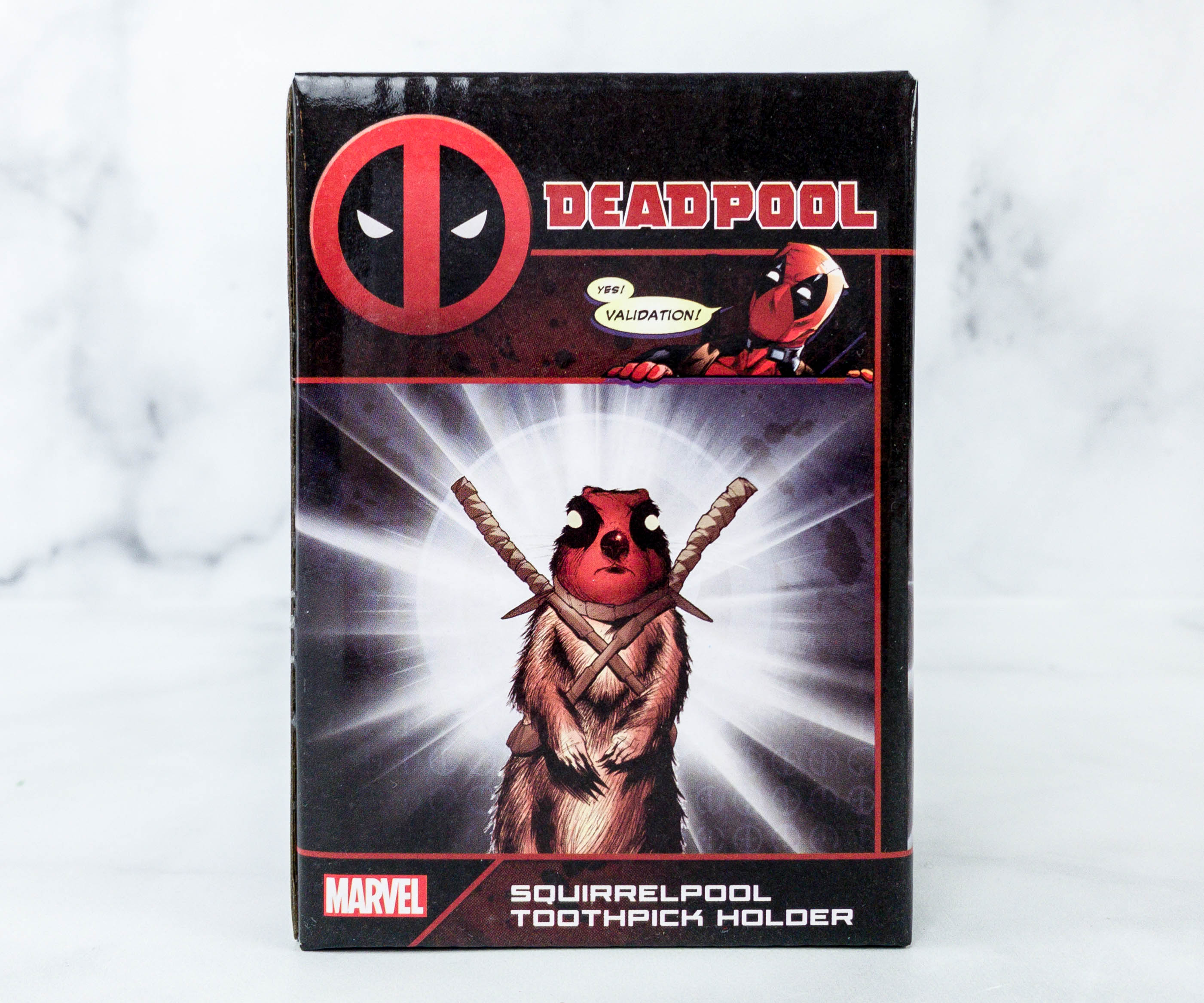 Squirrelpool Toothpick Holder. Squirrelpool is so cool and cute. It's featured in this box as a toothpick holder!
Of course, it's still wearing Deadpool's trademark mask!
The toothpicks can be placed on its back and this saves me the trouble of finding one when I need it.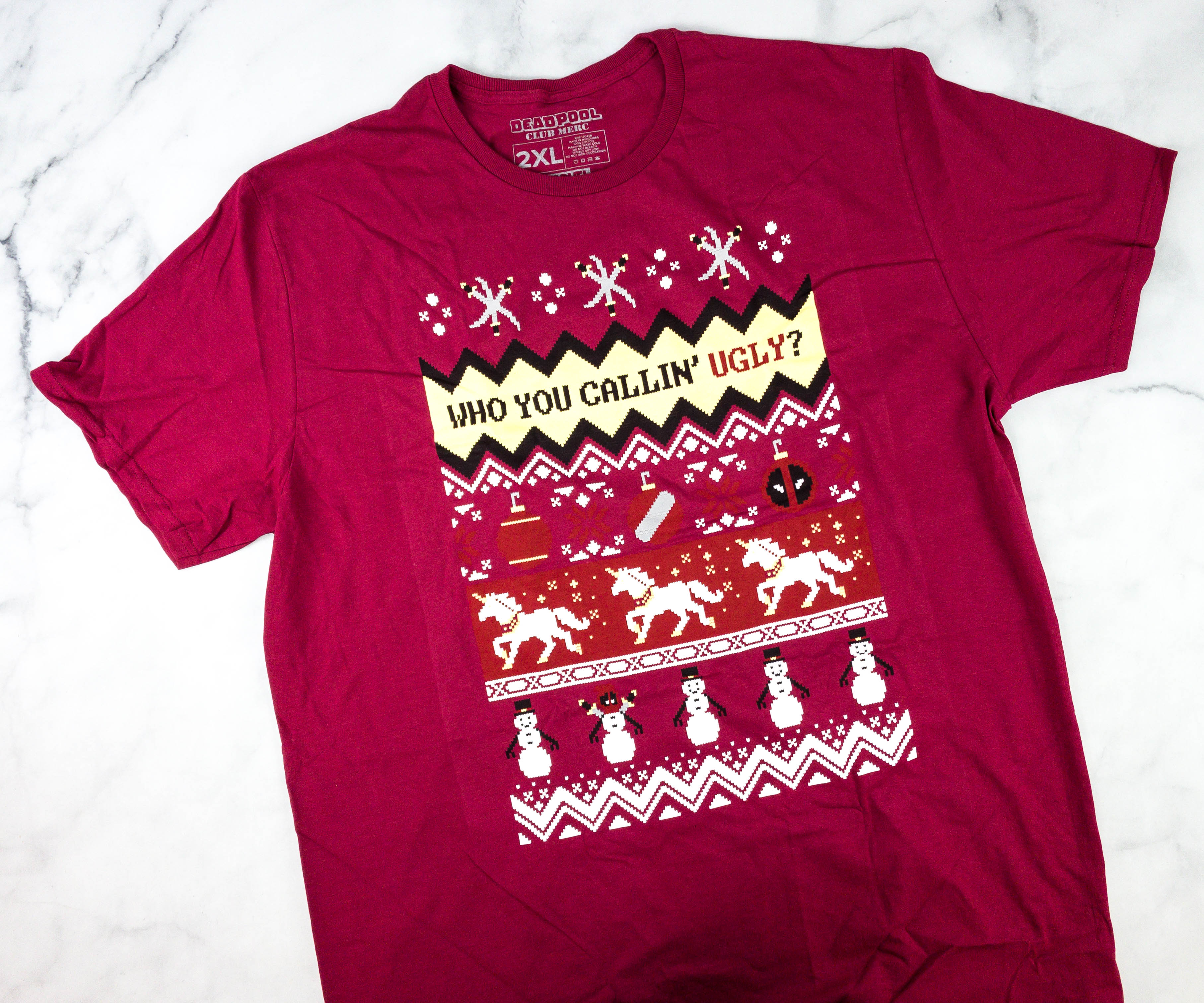 Ugly Sweater Tee. It's a red tee with a print inspired by ugly sweaters, and it's funny because the print says "Who you callin' ugly?"
Of course, there's Deadpool along with the unicorns and snowmen!
I look forward to Deadpool Club Merc every quarter because of their fun themes and unique Deadpool items, and they never disappoint. This quarter's box had a lot of Christmas-themed Deadpool merch, from wearables to collectibles and displays. I like the socks and t-shirt that match each other but the Squirrelpool toothpick holder is definitely my favorite. As a Deadpool fan, I'm satisfied with this subscription and I'm happy that they send only official and licensed stuff! Some of it's on the ridiculous side (Squirrelpool!) but… that's what you get with Deadpool! Still waiting on Beaverpool. The possibilities are endless.
What do you think of this quarter's Deadpool Club Merc?