Daily Harvest has launched a product line – Mylk! It's made a plant-based milk, made from almonds, for just $7.99 for 8 Mylk wedges! There are two flavors available – Plain Almond and Almond + Vanilla!
Daily Harvest MYLK is here! Think: plant-based milk done right. Made with only clean, whole ingredients: transitional organic almonds, a pinch of Himalayan sea salt and sometimes vanilla bean.
DEAL: Get $25 off your first Daily Harvest box! Use the coupon code HELLOSUB OR Use the coupon code HELLO30 to get $10 off your first THREE boxes!
About MYLK: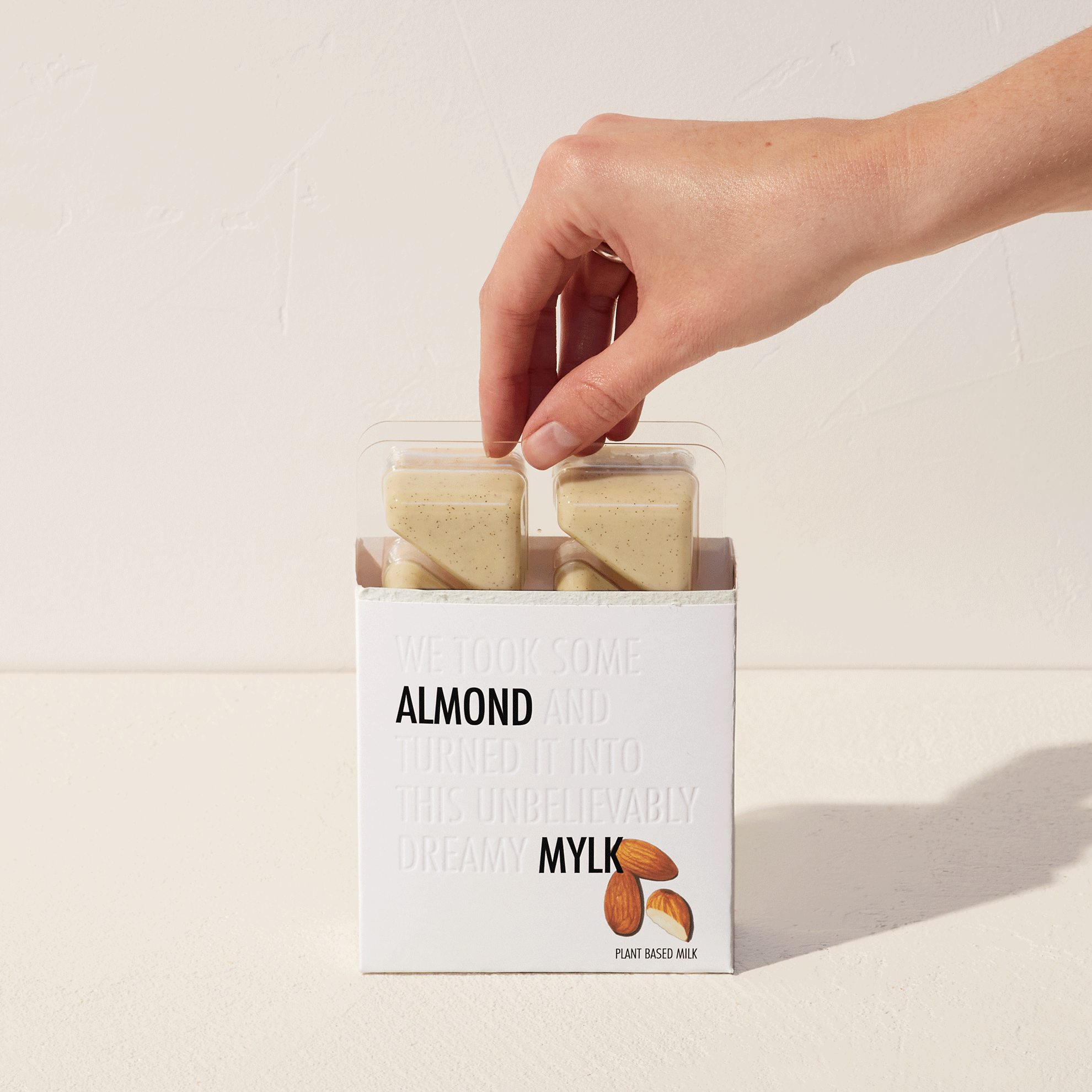 What's in our Mylk?

Just nuts, pink sea salt, and vanilla bean if that's your thing. We don't use additives, preservatives, or any other junk, because we don't need it and neither do you.

What's a Mylk wedge?

Our Mylk comes in the shape of a wedge and is easily popped out of its container (think ice-like mold). Just blend two wedges and a cup of water and you've got yourself a glass of Mylk.

How long does Mylk last?

Our frozen Mylk wedges last for 6 months in the freezer, so it's always on-hand when you need it. Once made, it can be stored in the refrigerator for 24 hours. If separation occurs, don't worry. That's what happens when you don't use gums, fillers, or stabilizers. Just give it a stir and you're good to go.
How to prepare Mylk: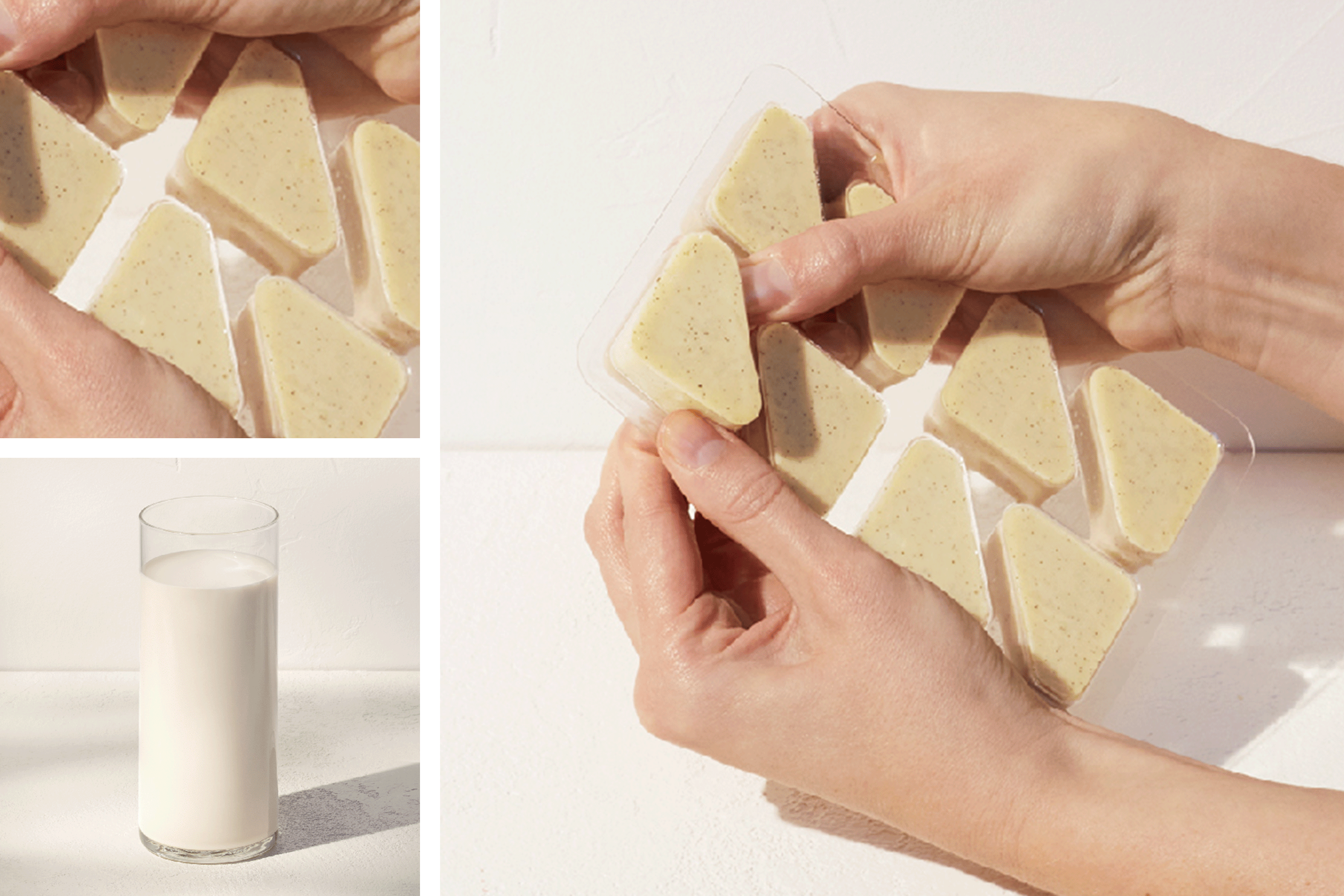 Prepping Mylk in your Smoothies, Oat Bowls, Chia Bowls, and Lattes is suuuper easy. You just need wedges and water.

How to prepare: Blend 2 wedges + 1 cup of water = 8-ounce glass of Mylk.

For one Smoothie: 2 wedges + 1 cup water.

For one Oat Bowl: 1 wedge + ½ cup water. For one Chia Bowl: 1 wedge + ½ cup water
And ICYMI, Daily Harvest is changing their containers into compostable and recyclable bowls!
Starting in April, you'll see that our packaging will begin to transition to 100% compostable* and recyclable packaging. What does it mean to be compostable? It means that instead of sitting in a landfill for thousands of years, our packaging will break down naturally and release valuable nutrients back into the soil.

You'll see this change first in our Harvest Bowls, Soups, Oats and Chia—instead of in cups, they will now come to you in bowls (that you can actually warm your food in!). Not only will they be made from compostable material, but they'll also be in updated portion sizes and shapes
Along with this change, comes new changes in meal sizes and prices:
Instead of all meals costing the same, here's the new prices:
Smoothies: $7.99
Harvest Bowls: $8.99
Flatbreads: $8.99
Soups: $7.99
Bites: $7.99
Oat Bowls: $5.99
Chia Bowls: $5.99
Lattes: $7.99
You'll receive a $10 discount when you order a medium 12-item box, and a $20 savings when you order a large 24 item box!
What do you think of Daily Harvest?