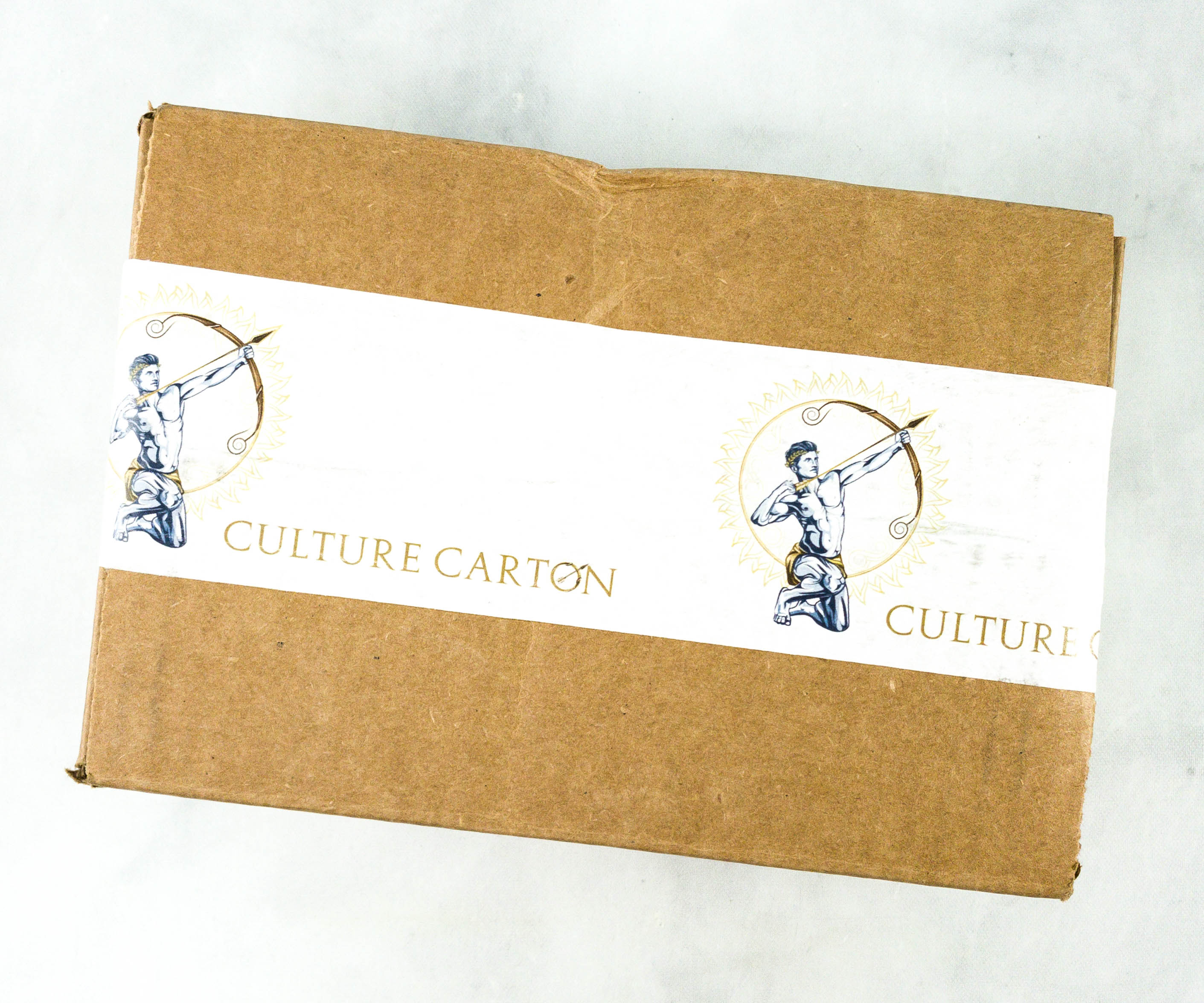 Culture Carton is the subscription box for men that embraces themes relating to self-improvement. Whether it be improving one's mind, health, style, or career, this box is for the man who wants to go above and beyond, not being content to be just ANY man. It is for him who wishes to strive toward a more cultured and sophisticated self. Among the items in the box is a book that a cultured man would want in his growing library, along with select accessories curated around a monthly theme related to improving some aspect of one's self.
There are 3 box options: Culture Carton Standard (men's lifestyle items + book, $45 per month), Culture Carton Essential (lifestyle items only, $35 per month), and Book Club (book only, $16 per month). This is the review of Culture Carton Standard.
DEAL: Get 10% off your first box. Use coupon code HELLOSUB.
A card sits on top of the items in the box.
Everything was well-packed in a brown box.
Apollo is the inspiration for the curation of this subscription box.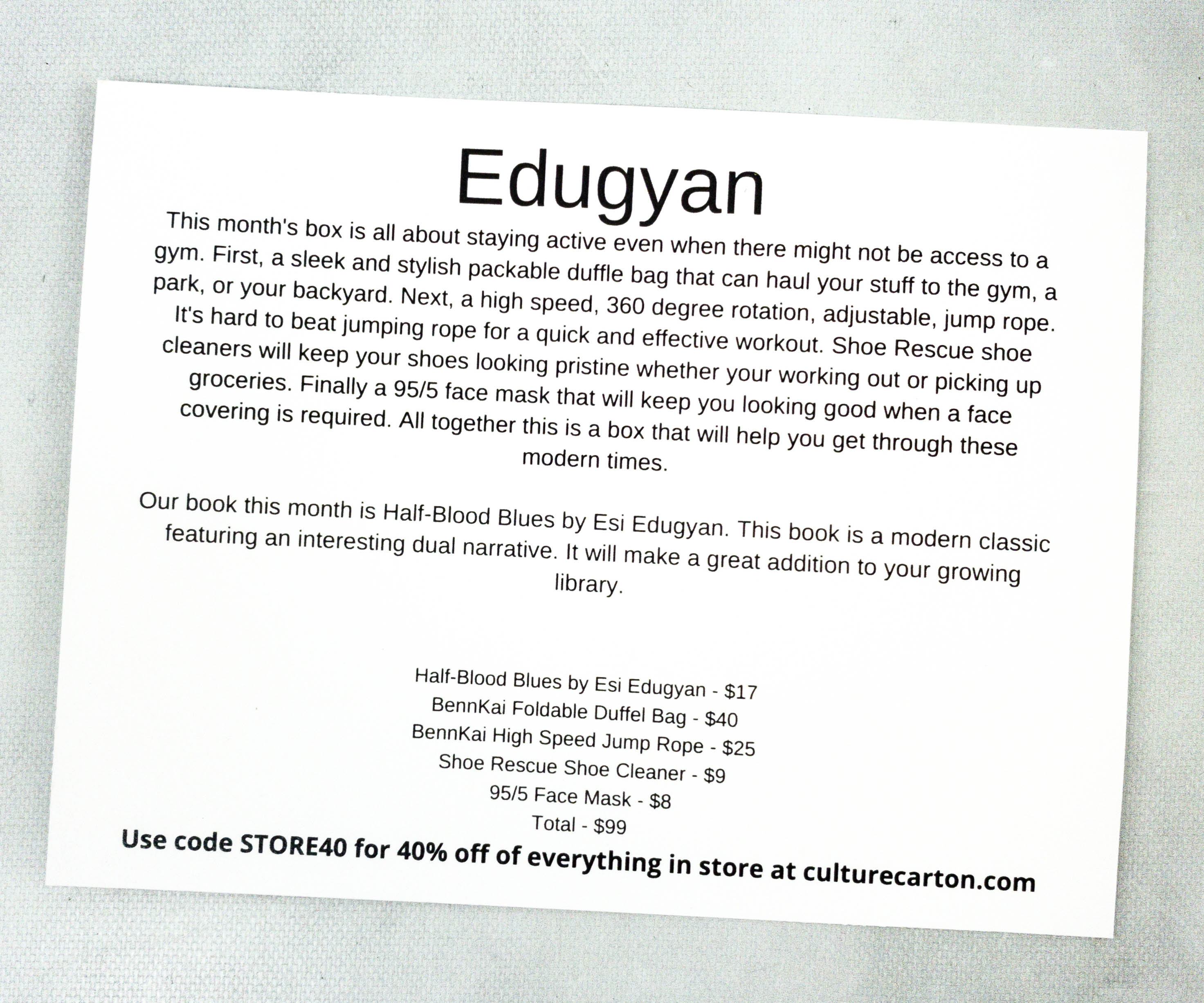 The theme title is a reference to the author of this month's literary selection. The November 2020 theme is Edugyan!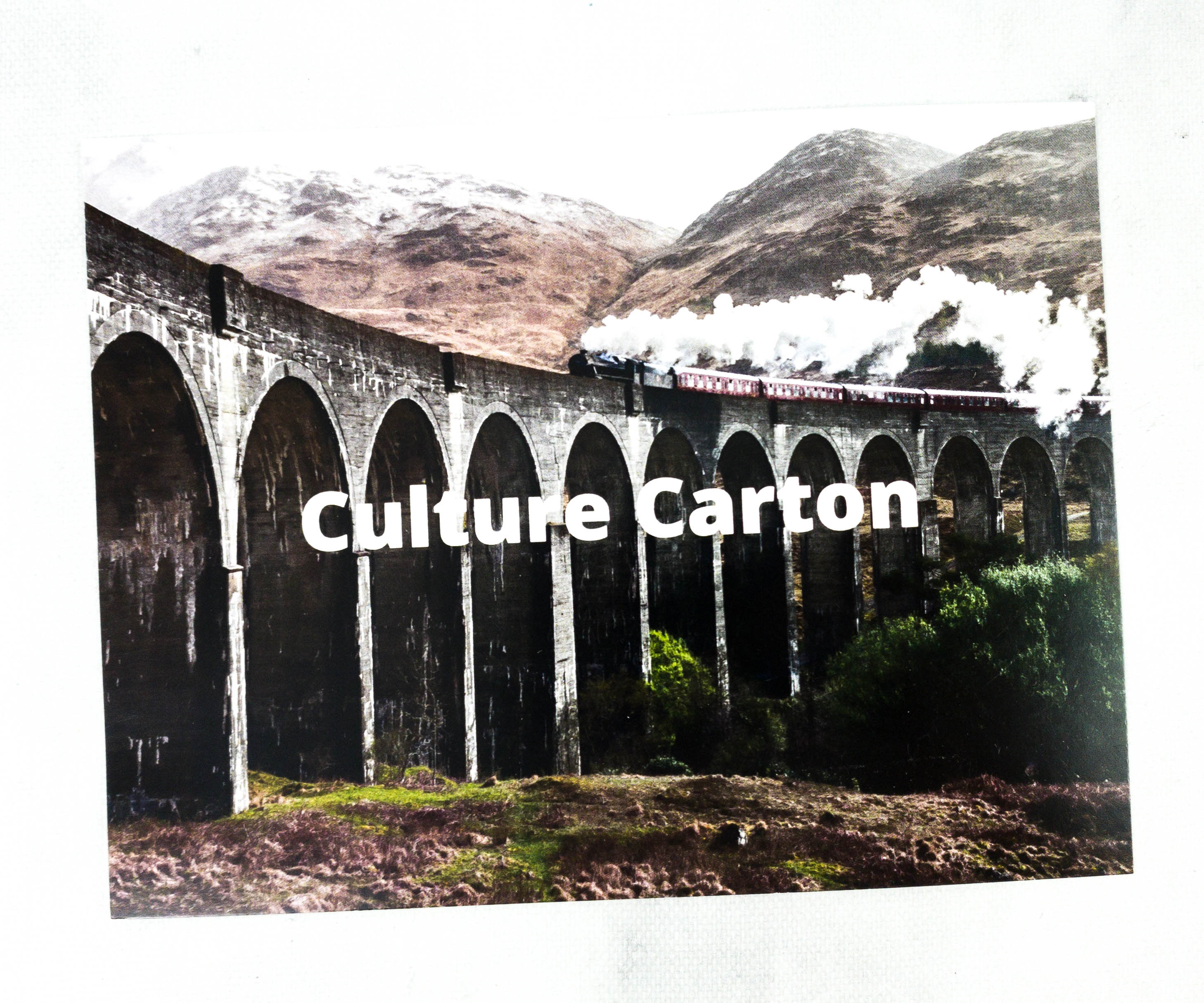 A beautiful scenery is featured at the back of the card!
Welcome to Culture Carton!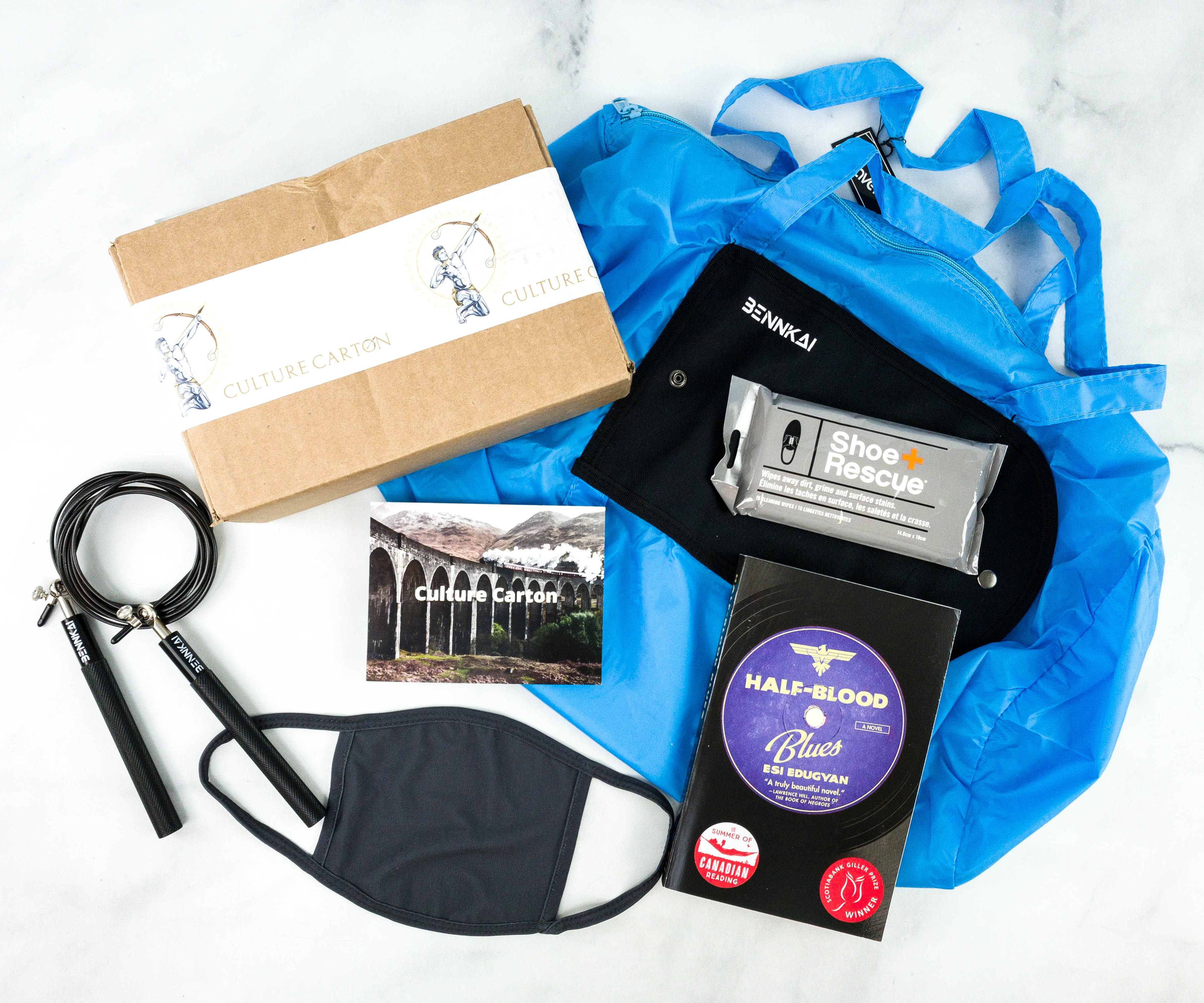 Everything in my November 2020 Culture Carton!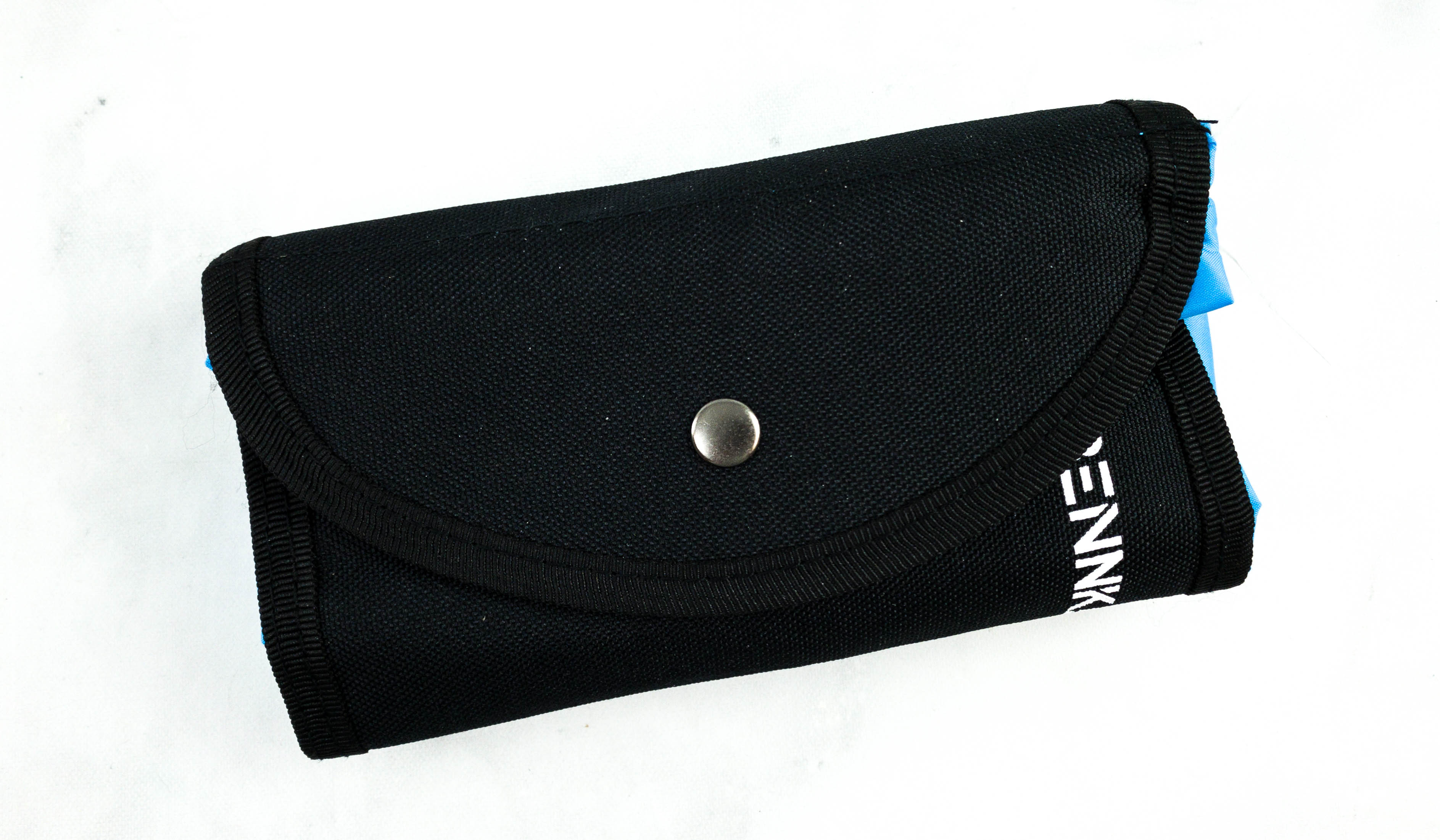 BennKai Foldable Duffle Bag ($40) This duffle bag can be used for a lot of purposes, whether you're going to the gym, shopping, or traveling. It folds into a small envelope sized pouch when not in use.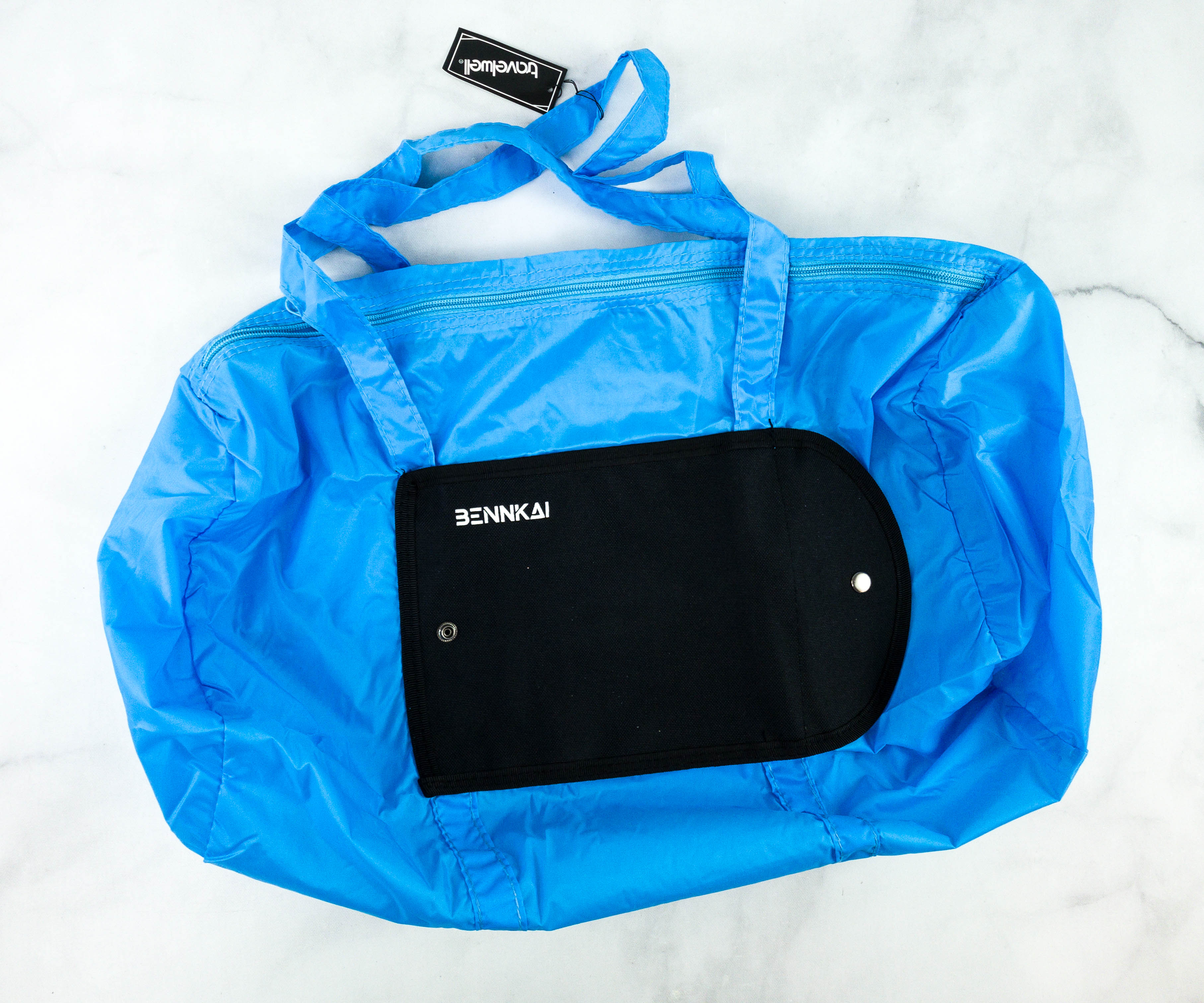 It's actually big when unfolded and I can fit a number of items inside it. The bright blue color of the bag looks so stylish as well. We were surprised to see a Travelwell tag on this. This bag is available at Walmart for $11.
95/5 Face Mask ($8) Here's something to protect my face from dust and dirt. I'm not sure about the virus capabilities of this mask, but I may use it when cleaning something dusty.
Shoe Rescue Shoe Cleaner ($8.49) This shoe cleaner is a nice item to bring especially when you're always on the go. It can remove dirt, grime, or even stains on shoes. It works on any shoe material, and doesn't leave any residue. They're also really tough and I can clean an entire pair with one wipe.
BennKai High Speed Jump Rope ($25) A healthy lifestyle should be everyone's priority! This high-speed jump rope will definitely help me burn those excess calories, even when I'm just at home.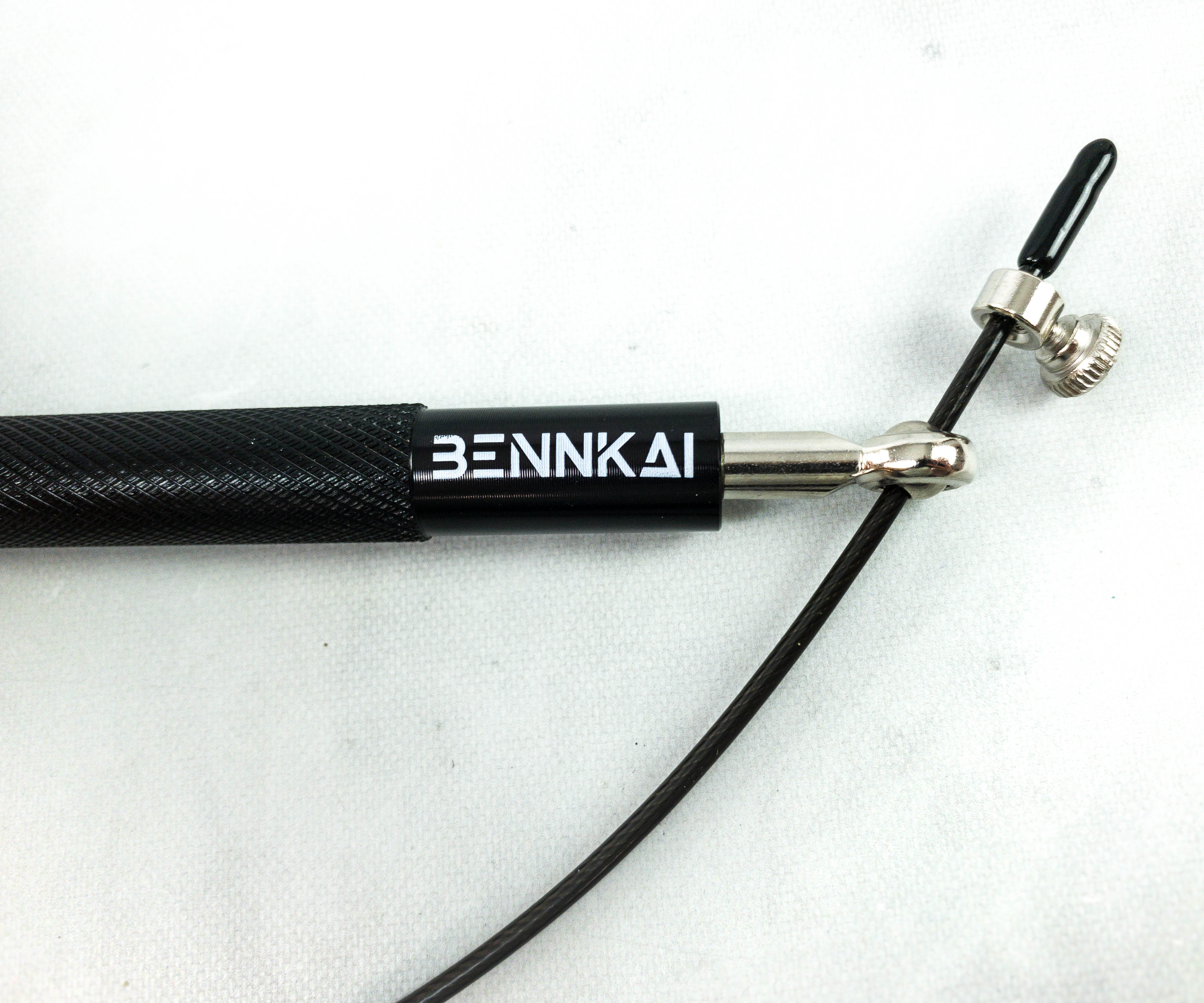 I can firmly grip the handles and there are metal attachments to firmly hold the rope.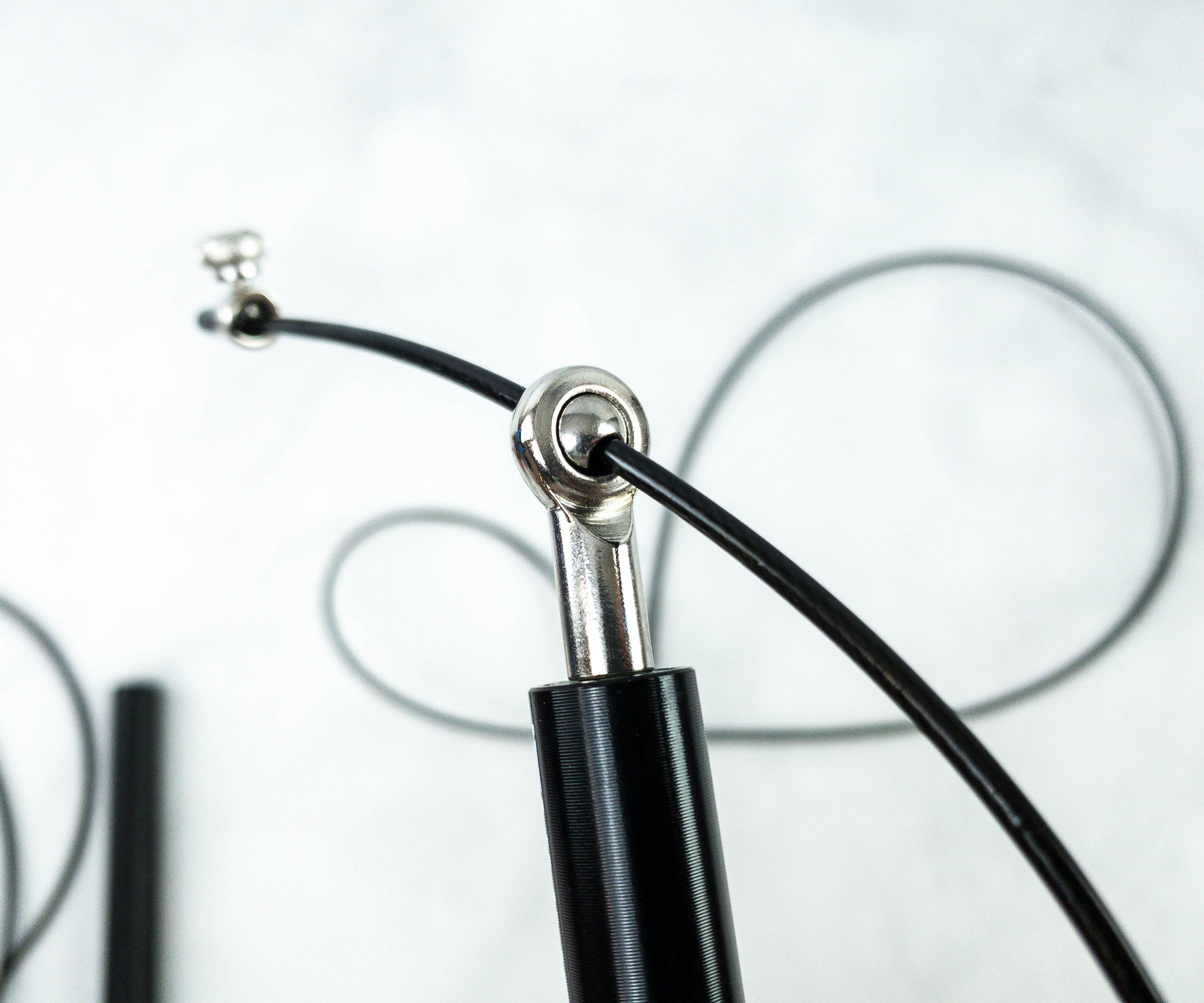 It has a movable joint at the end of the handle. This allows the cord to move freely and keep up with my exercise routine! I tested this out in my basement and it performed great, although I'm a little iffy on the value, now that I know Bennkai is just an afterlabel.
Half-Blood Blues by Esi Edugyan ($10.27)
Berlin, 1939. The Hot Time Swingers, a popular jazz band, has been forbidden to play by the Nazis. Their young trumpet-player Hieronymus Falk, declared a musical genius by none other than Louis Armstrong, is arrested in a Paris café. He is never heard from again. He was twenty years old, a German citizen. And he was black.

Berlin, 1952. Falk is a jazz legend. Hot Time Swingers band members Sid Griffiths and Chip Jones, both African Americans from Baltimore, have appeared in a documentary about Falk. When they are invited to attend the film's premier, Sid's role in Falk's fate will be questioned and the two old musicians set off on a surprising and strange journey.

From the smoky bars of pre-war Berlin to the salons of Paris, Sid leads the reader through a fascinating, little-known world as he describes the friendships, love affairs and treacheries that led to Falk's incarceration in Sachsenhausen. Esi Edugyan's Half-Blood Blues is a story about music and race, love and loyalty, and the sacrifices we ask of ourselves, and demand of others, in the name of art.
This month's featured book has a sticker indicating that it's a Scotiabank Giller Prize winner and a part of The Summer of Canadian Reading.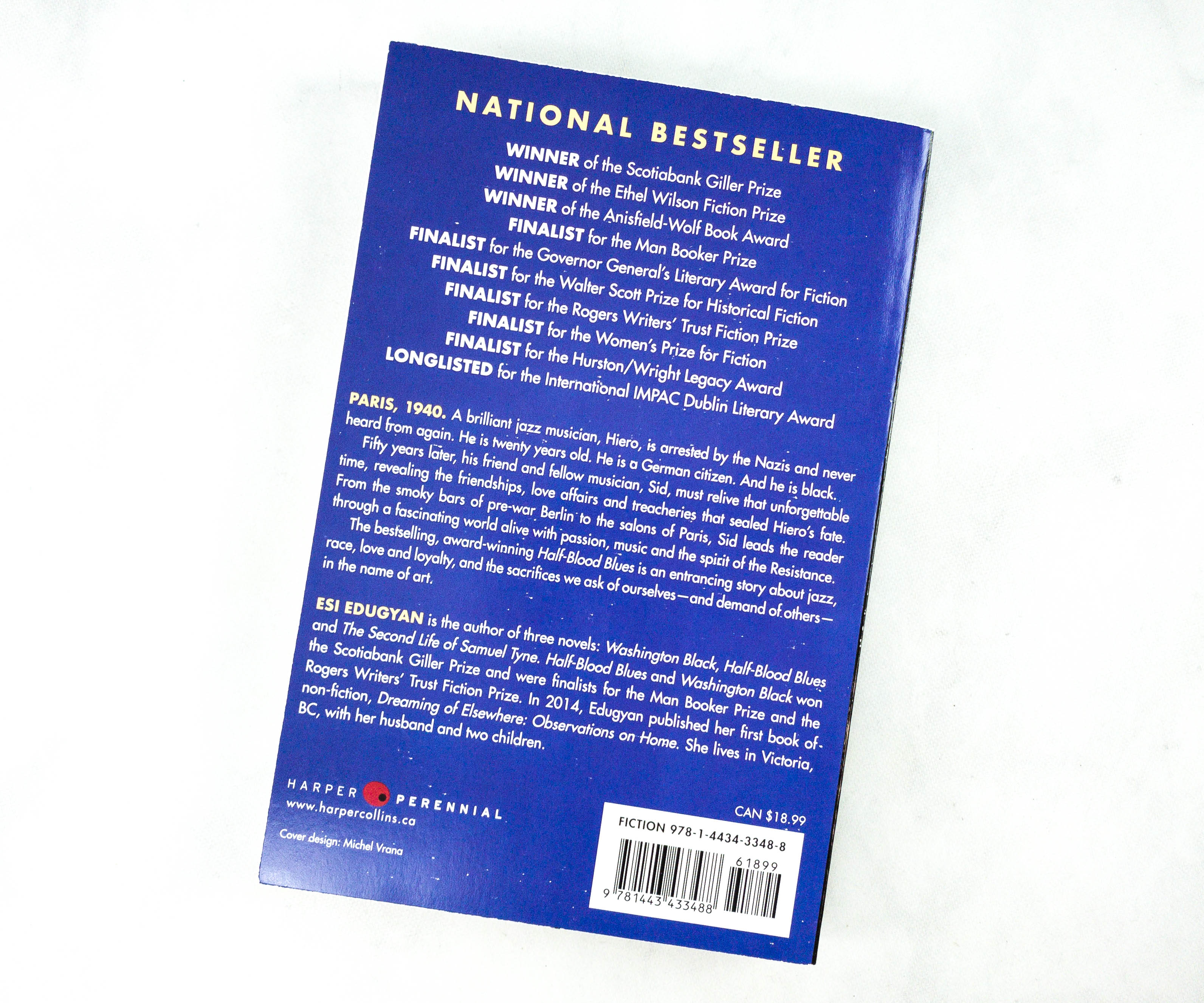 The back of the book lists all the recognitions that the book received. It also discusses other titles from Esi Edugyan.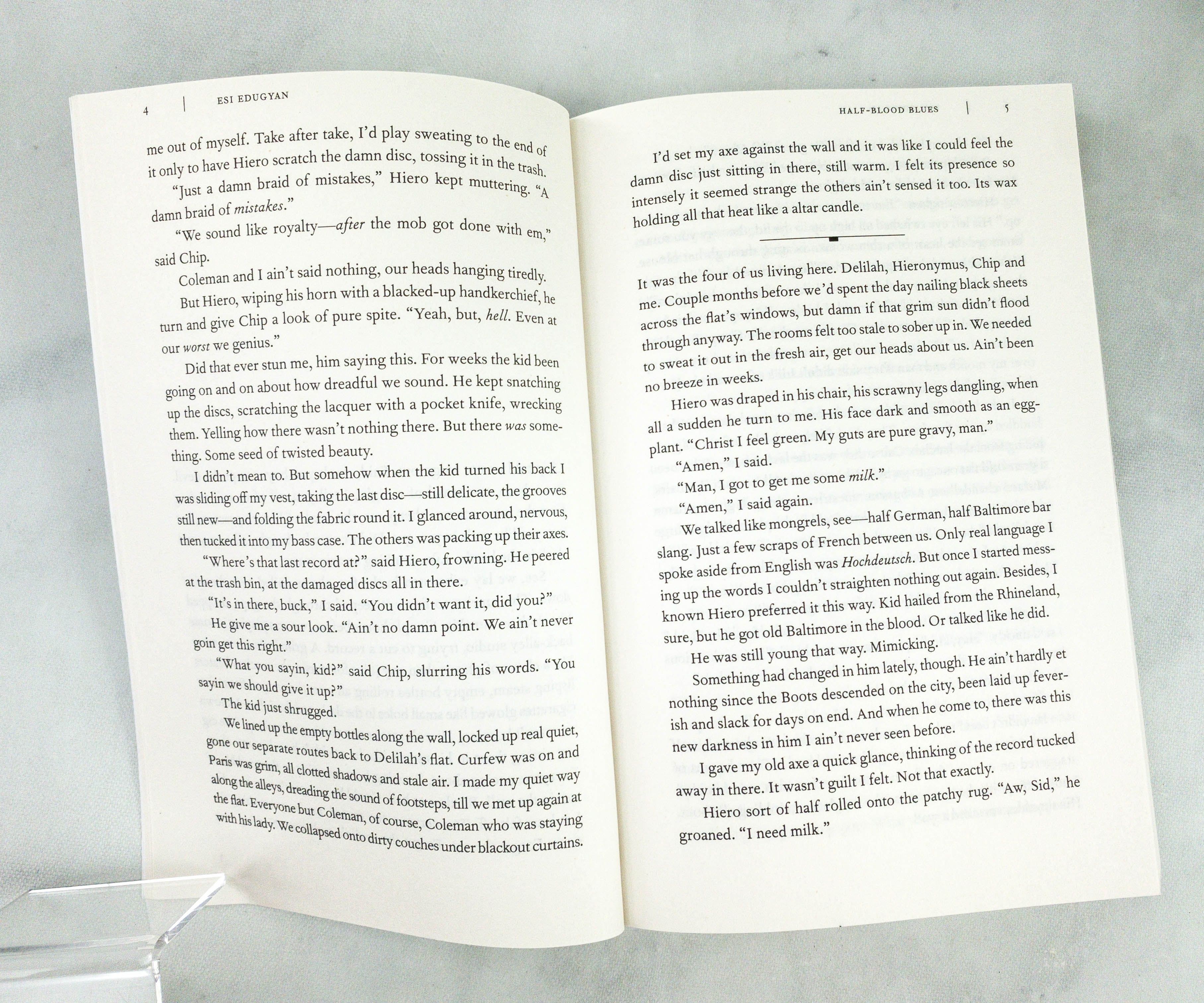 This is such a good read! Esi Edugyan's Half-Blood Blues is a dual narrative revolving around the character of Sidney "Sid" Griffiths. He and his bandmate Chip Jones were caught in the middle of an impending peril that emerged over Germany. Time eventually made a way to reunite them and led them to another journey. The author has a powerful storytelling style and she was able to wrap it up perfectly. Another thing that drew me in is the characters that are flawed but likable. If you're into historical fiction and war novels, this one would be right up your alley!
This box wasn't my favorite – I think there have been much better curations in past boxes with higher quality items. The items in this month's box promoted a healthy lifestyle when there may be no access to the gym. I liked the high-speed jump rope. It's durable and easy to use, plus it can really help me burn some calories even at home. The book was also a good one, I enjoyed reading it from cover to cover! If you love reading or you're trying to get to read more, getting the Standard box is a really good idea – I read every book. Overall, I think it's a great subscription that helps me improve myself in different areas, not just in terms of fashion or style but also regarding my health and general knowledge. I love how they mix it up between classics and contemporary novelists, and getting introduced to Edugyan was a win!
What's your favorite item this month?