Crate Expectations is a monthly kids' book subscription box that sends a quality book paired with one-of-a-kind Adventure Guide and toys or games. Plans start at $32.99 each month, plus shipping and tax, and they also offer 3-month and 6-month subscriptions. Each box contains their book club pick of the month, 2-4 specially curated toys or games, a book-related STEM activity and supplies, an exclusive author interview, a book-inspired recipe and menu ideas, book club discussion questions, and recommendations for further reading. The box is suited for 8-12 year old kids.
DEAL: Get 10% off your first purchase! Use coupon code HELLO10.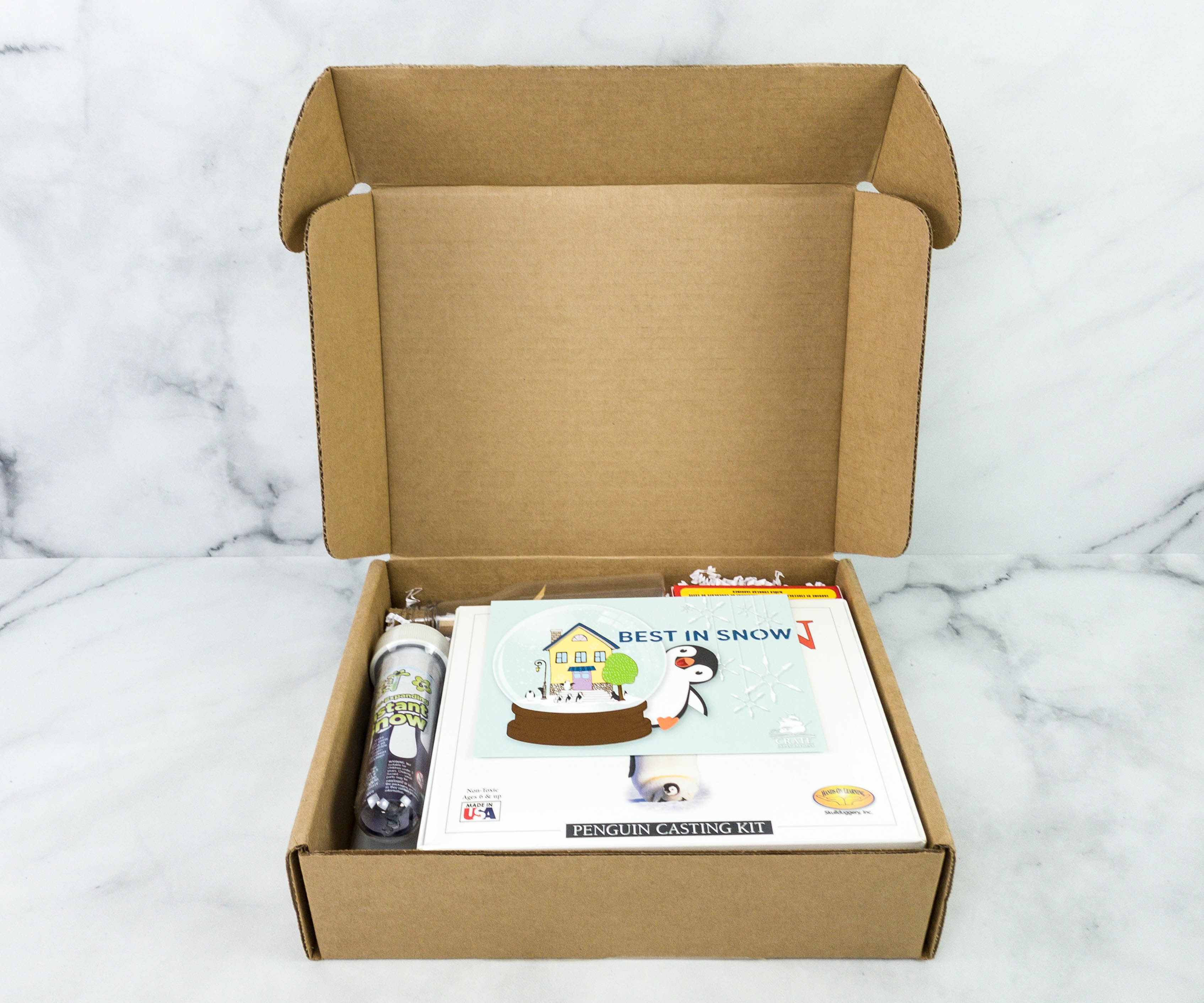 There's a card on top of everything in the box!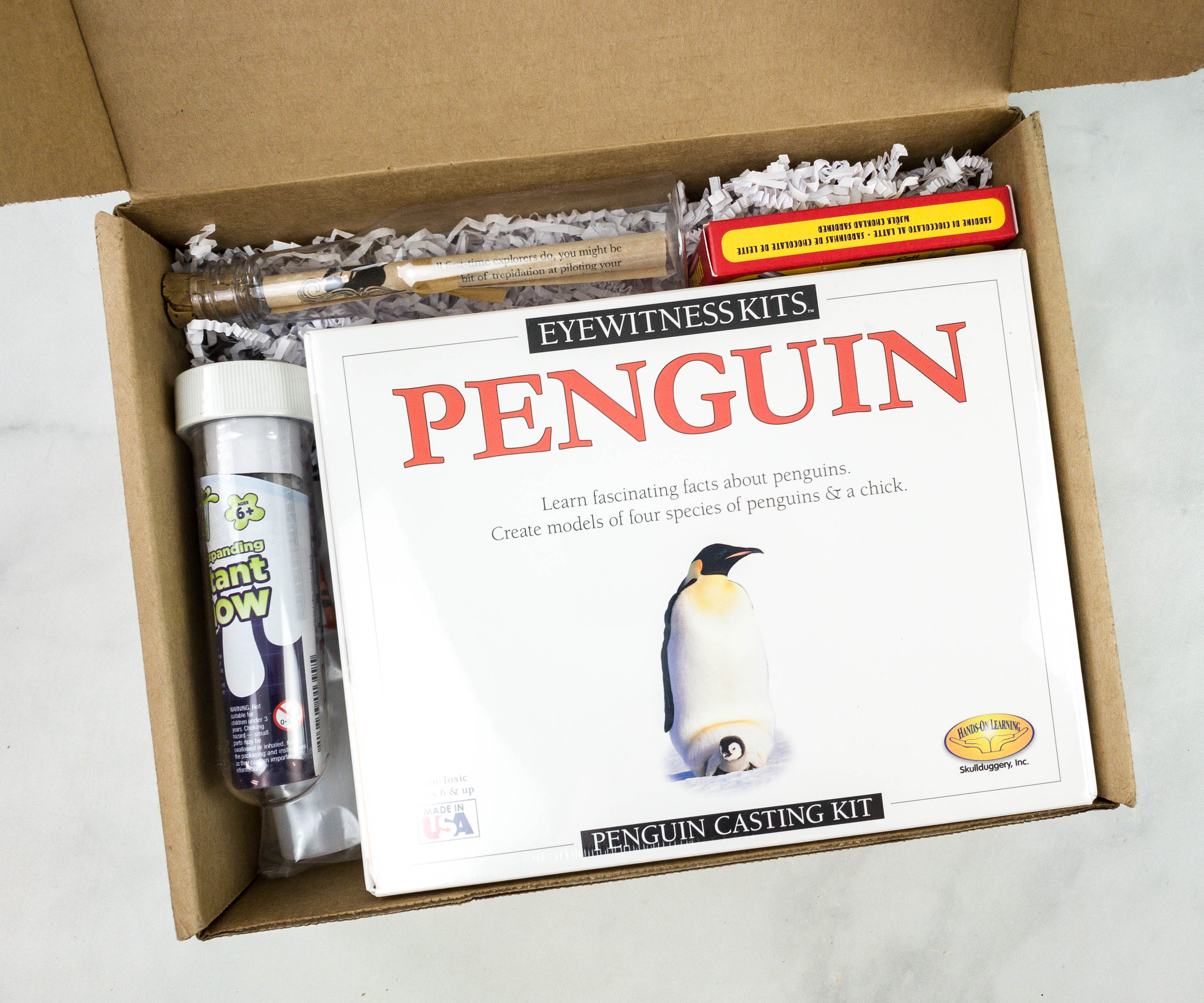 The contents were protected by white squiggles.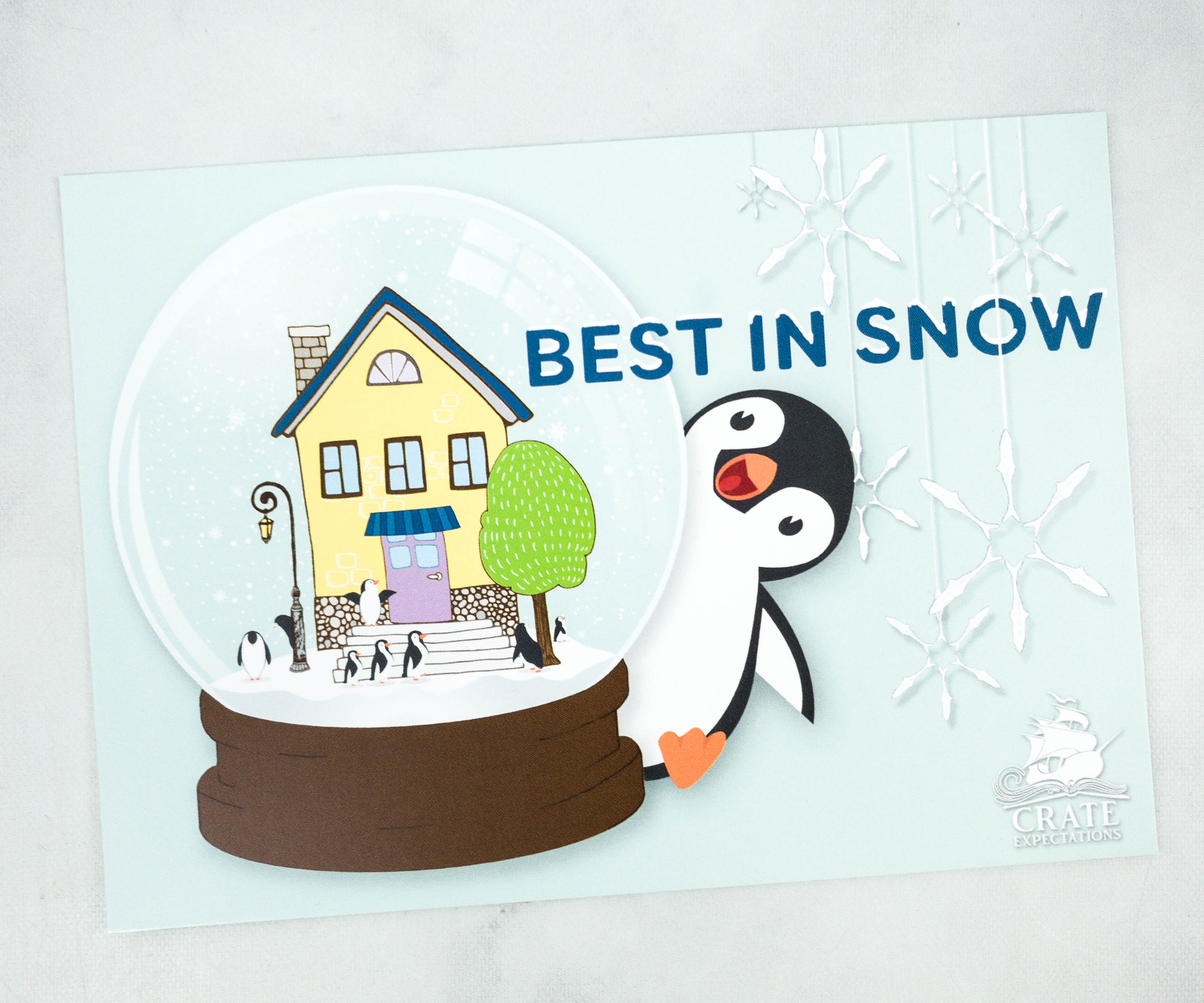 The theme for December 2020 is Best In Snow!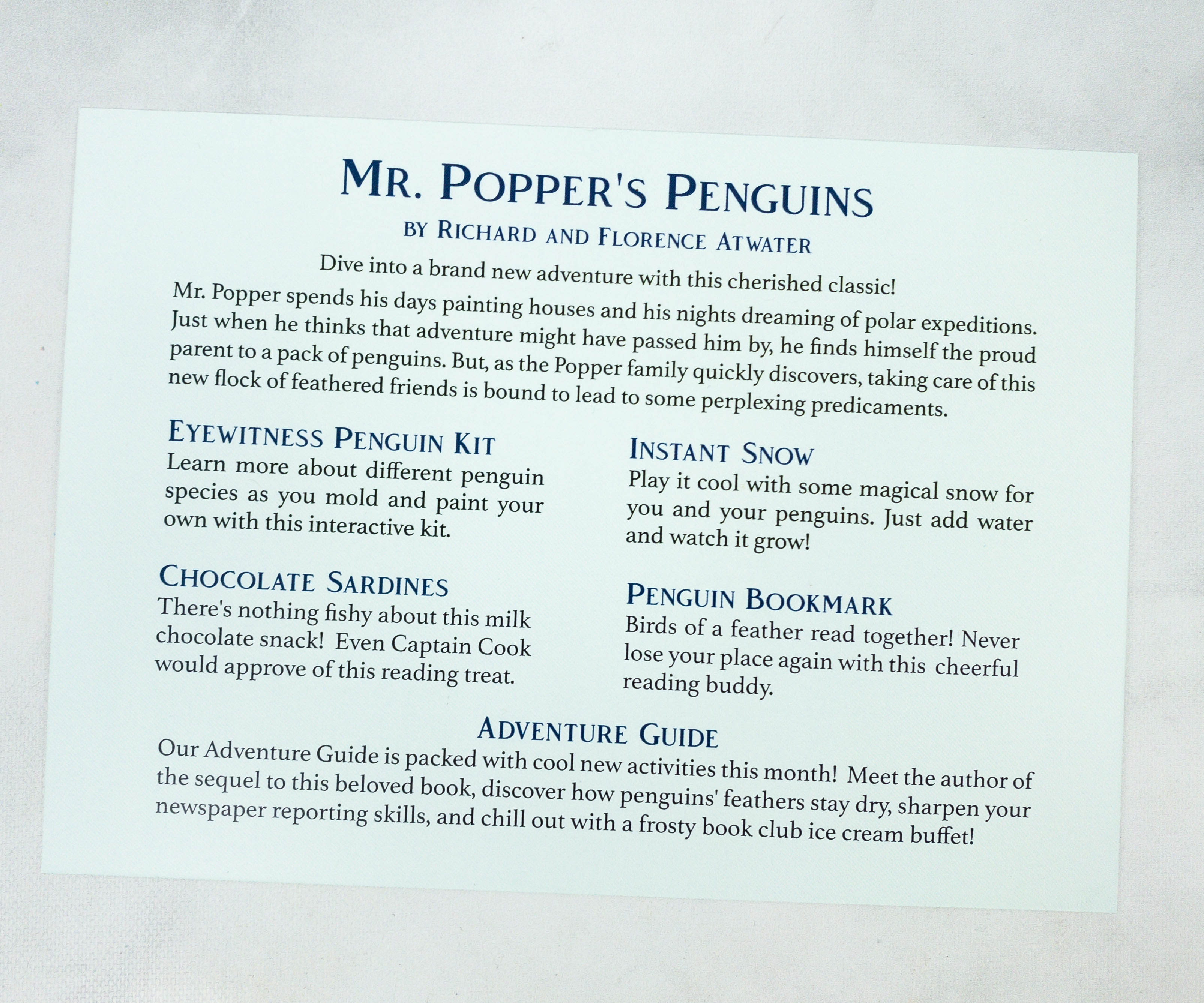 The flip side of the info card lists all the contents of the box.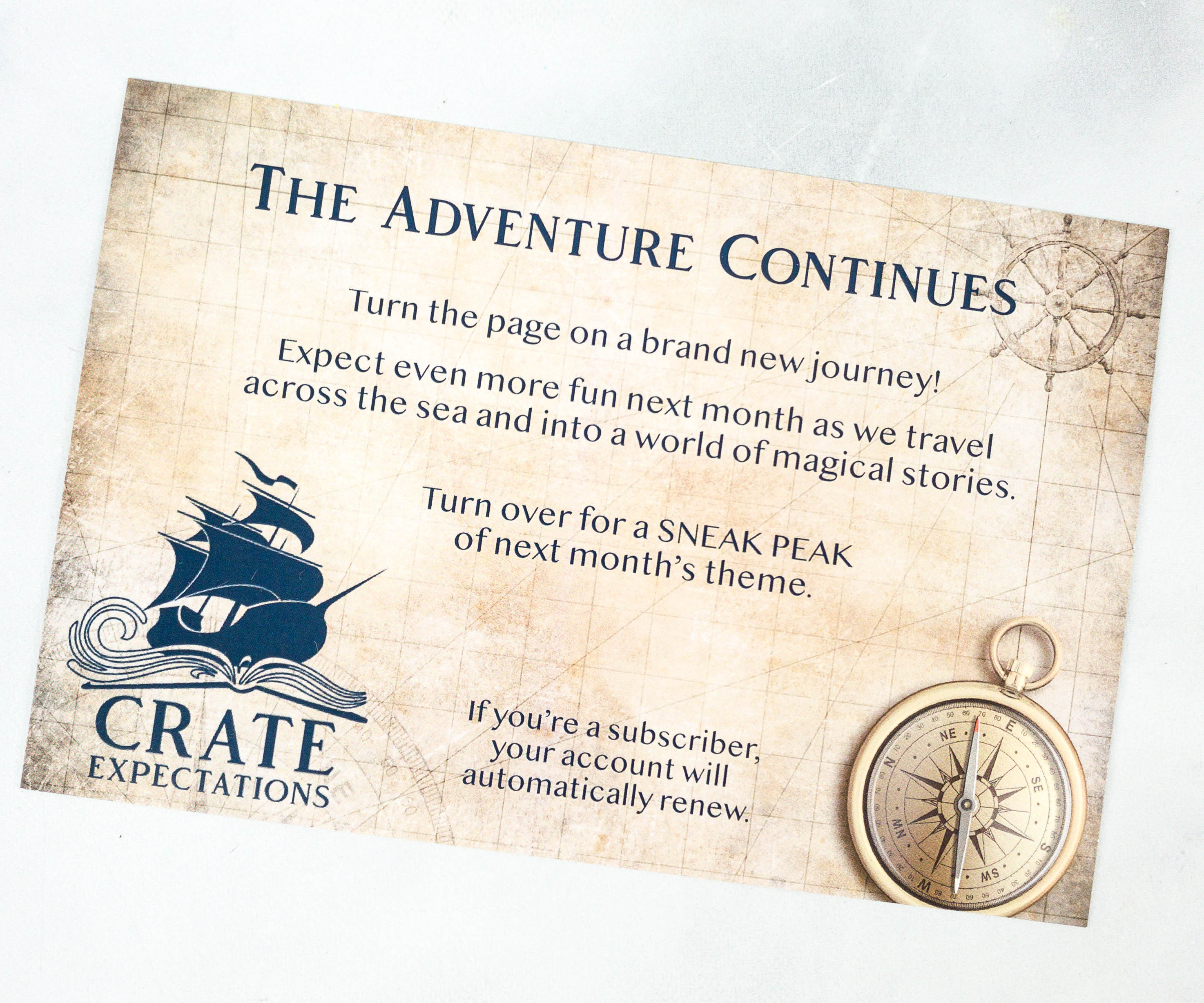 Another card features a sneak peek for next month's box!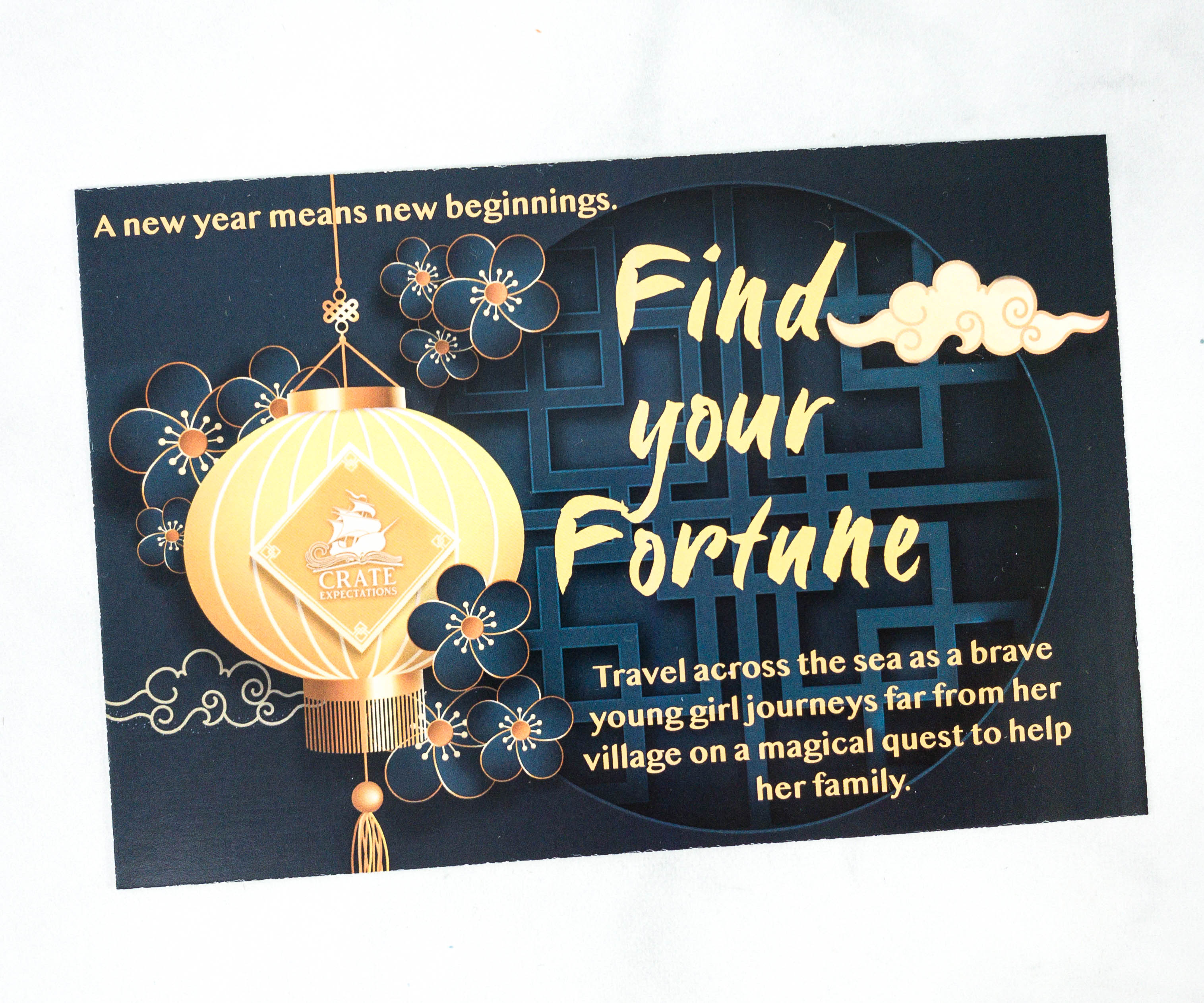 Next month's theme is Find Your Fortune!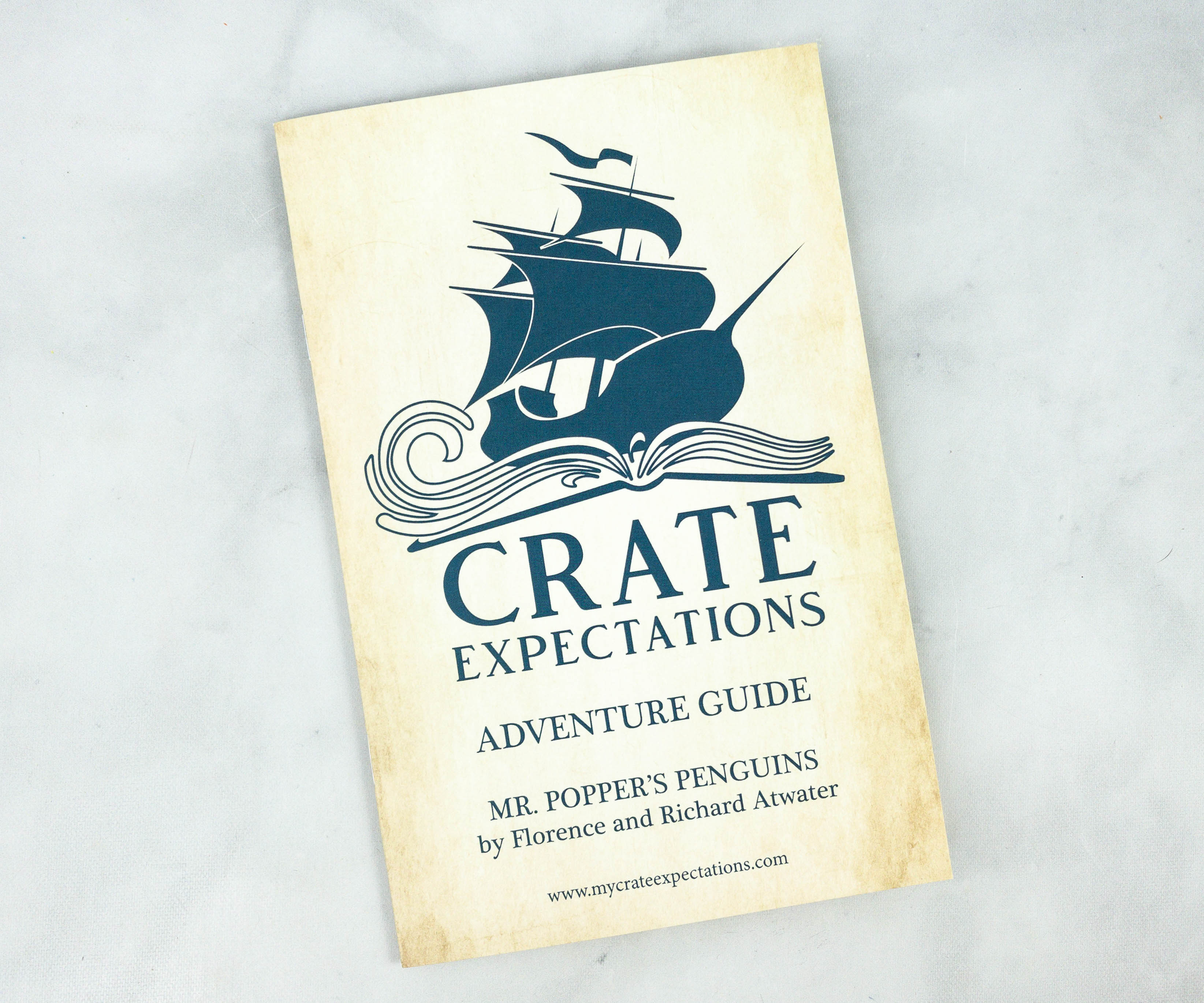 The box includes an adventure guide.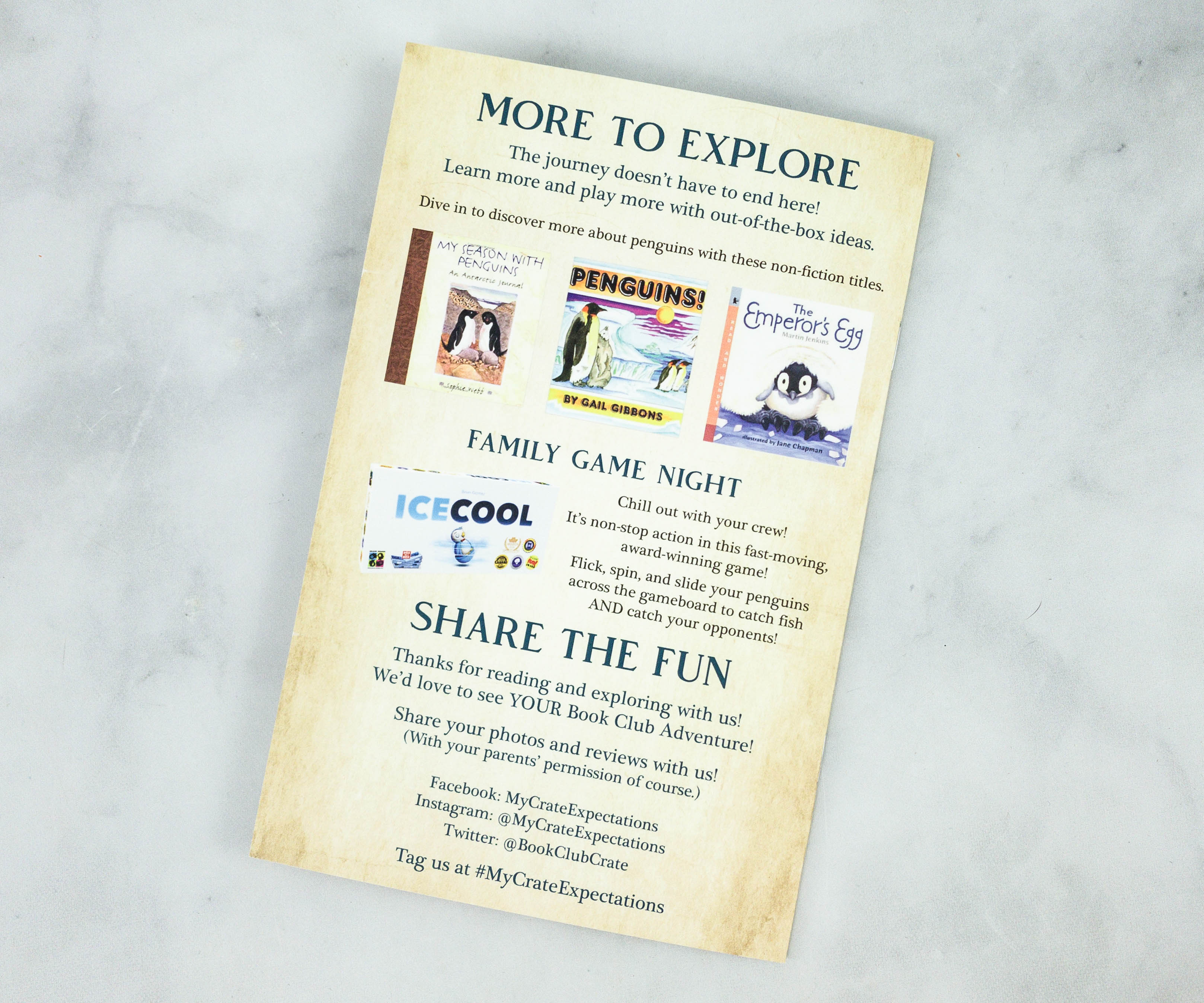 The back lists other available Penguin non-fiction titles as well as the social media handles where you can share photos and reviews.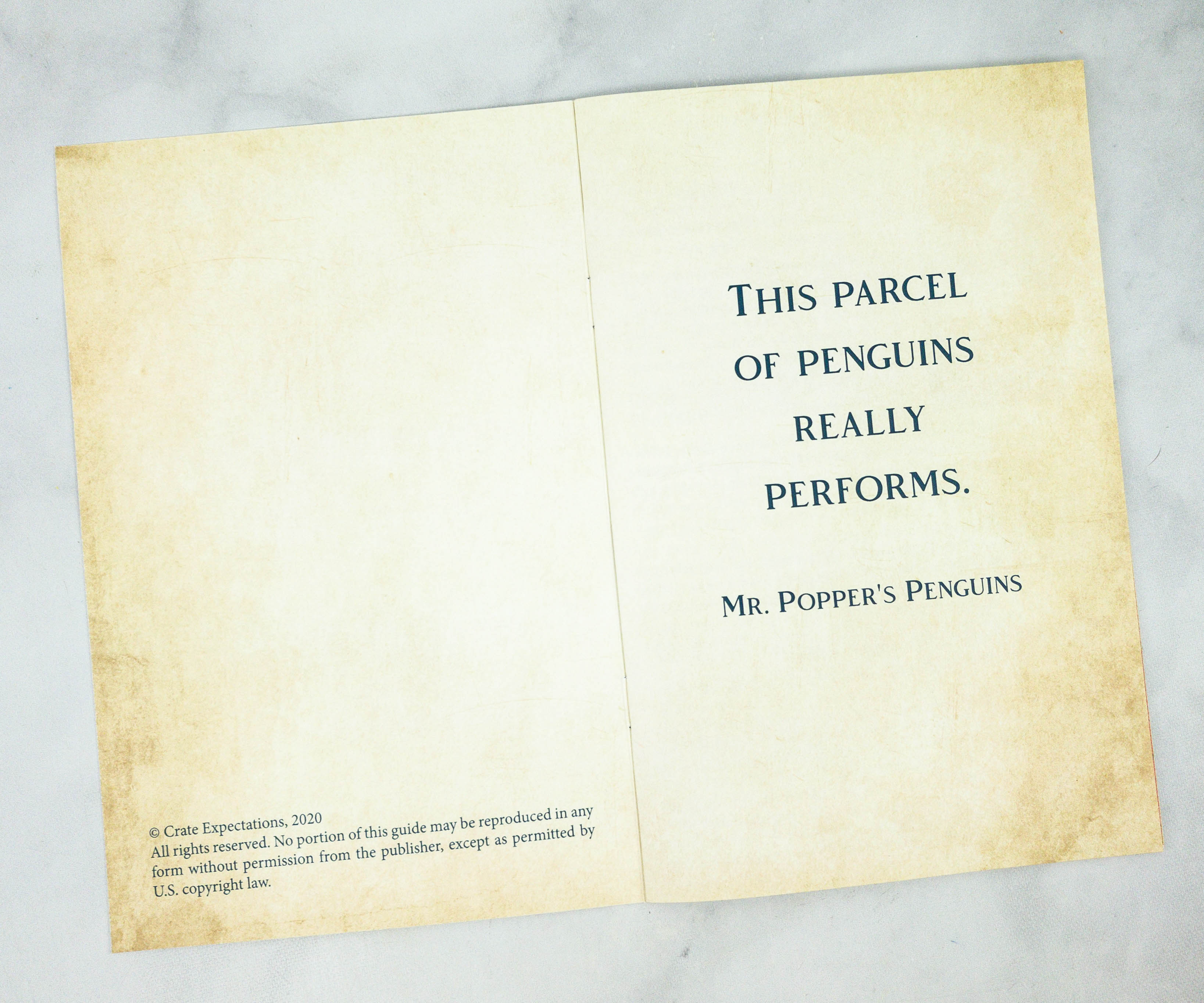 This parcel of penguins really performs.

Mr. Popper's Penguins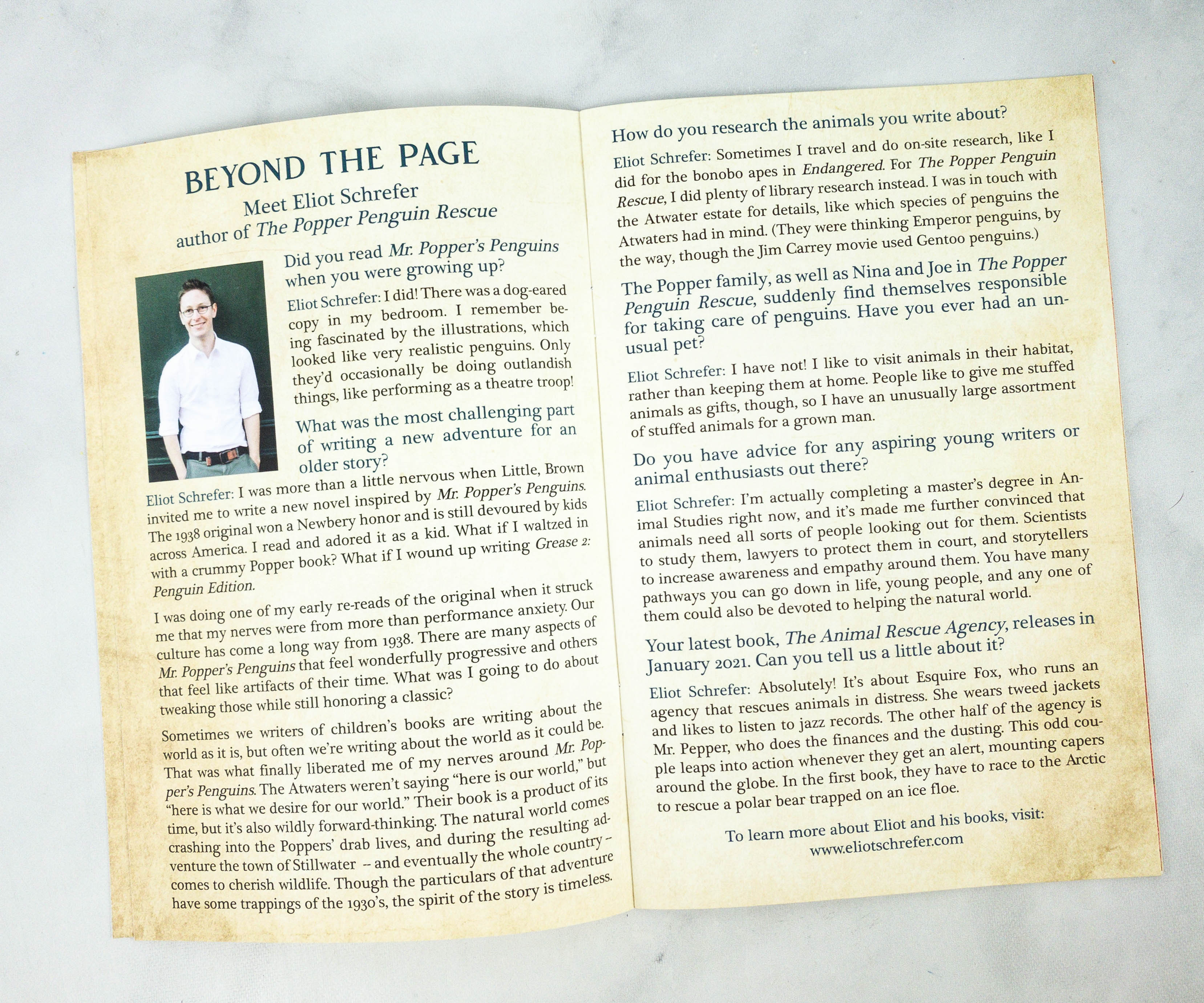 There's an interview included in the guide. This month, it features Eliot Schrefer, the author of The Popper Penguin Rescue.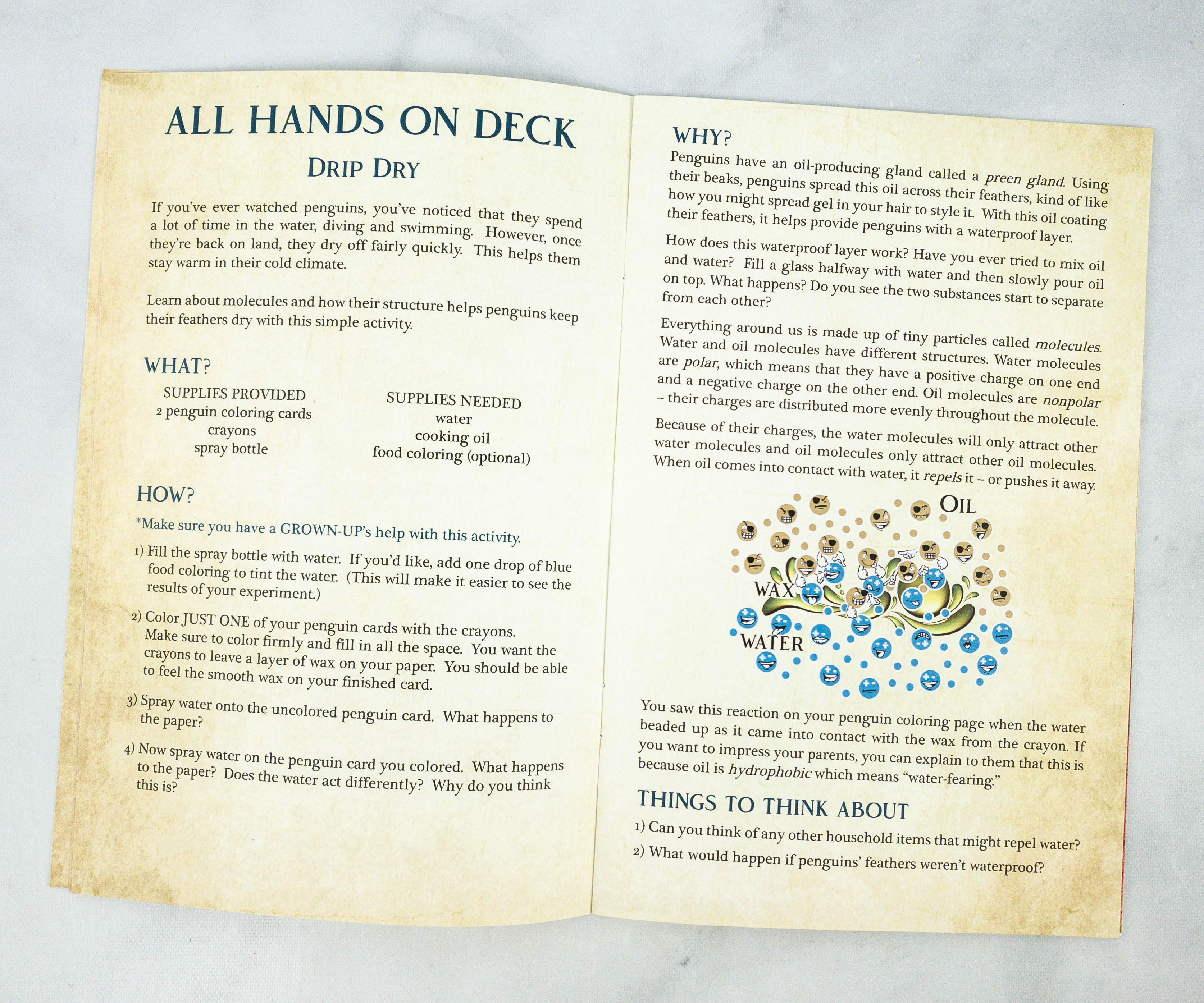 Next up is a suggested activity for kids, so that they can understand more how penguins stay warm in cold climates.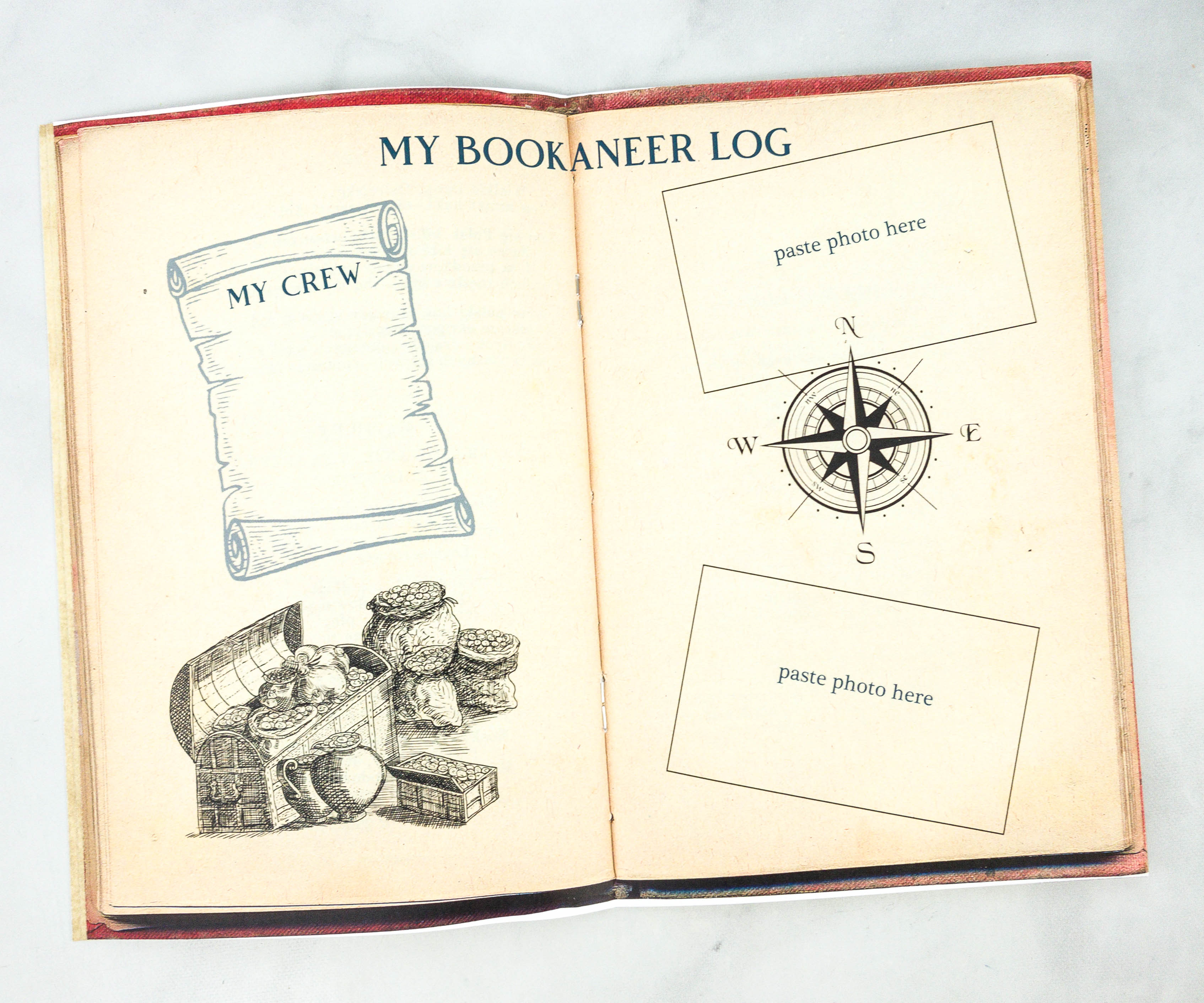 This part of the booklet is called the Bookaneer Log and it is where the kids can write their crew and put some pictures!
Next up is a recipe for Frozen Banana Penguins, which are cool and cute banana splits that make a great snack for a book club meeting.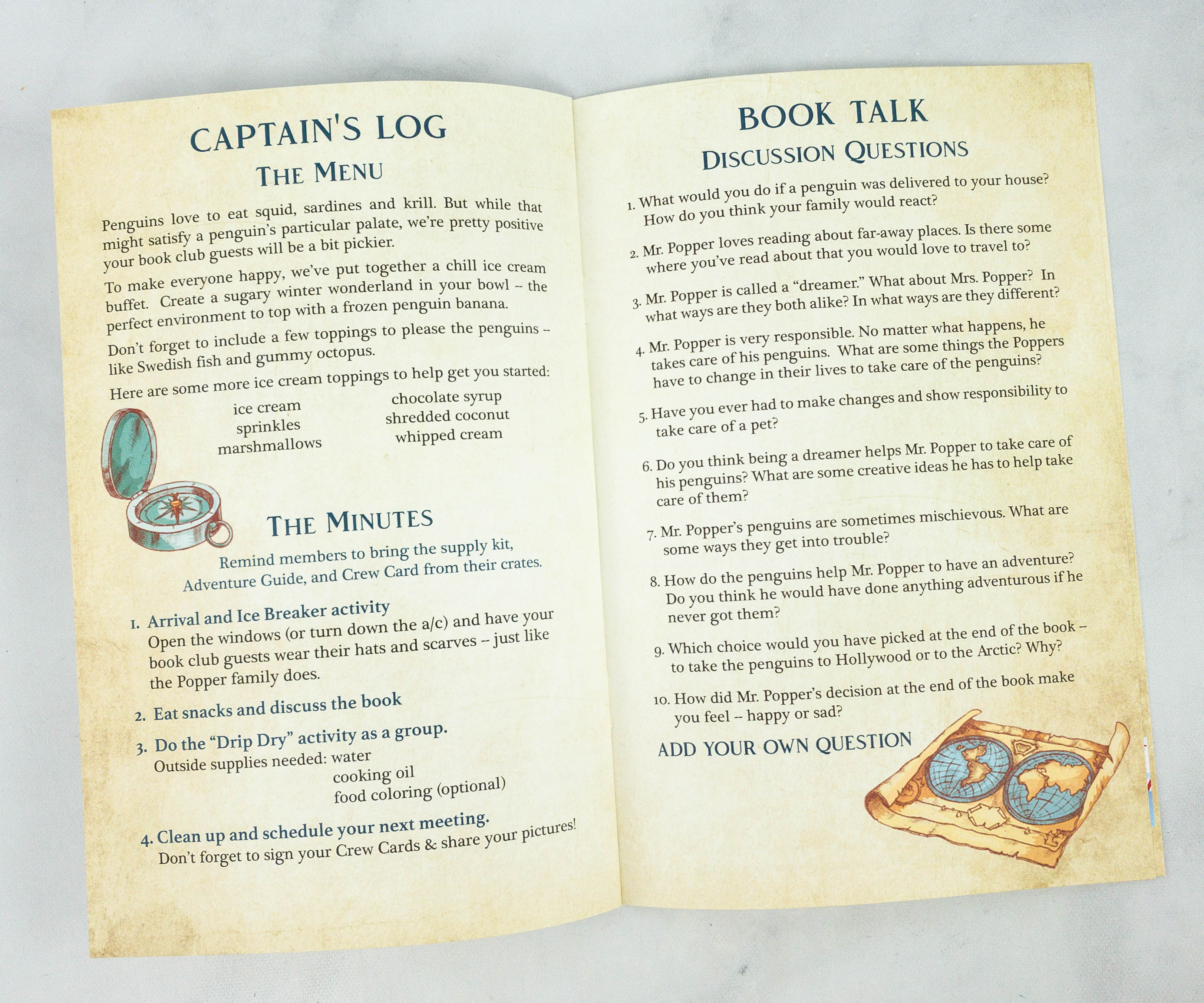 There's also the Captain's Log, where they suggested some food and activities for your book club meeting, as well as book talk discussion questions.
Of course, they also shared a list of other books that kids can enjoy if they like The Popper Penguin Rescue: Freya and Zoose by Emily Butler, The Enormous Egg by Oliver Butterworth, The Unlikely Story of a Pig in the City by Jodi Kendall, and The Tarantula in My Purse by Jean Craighead George.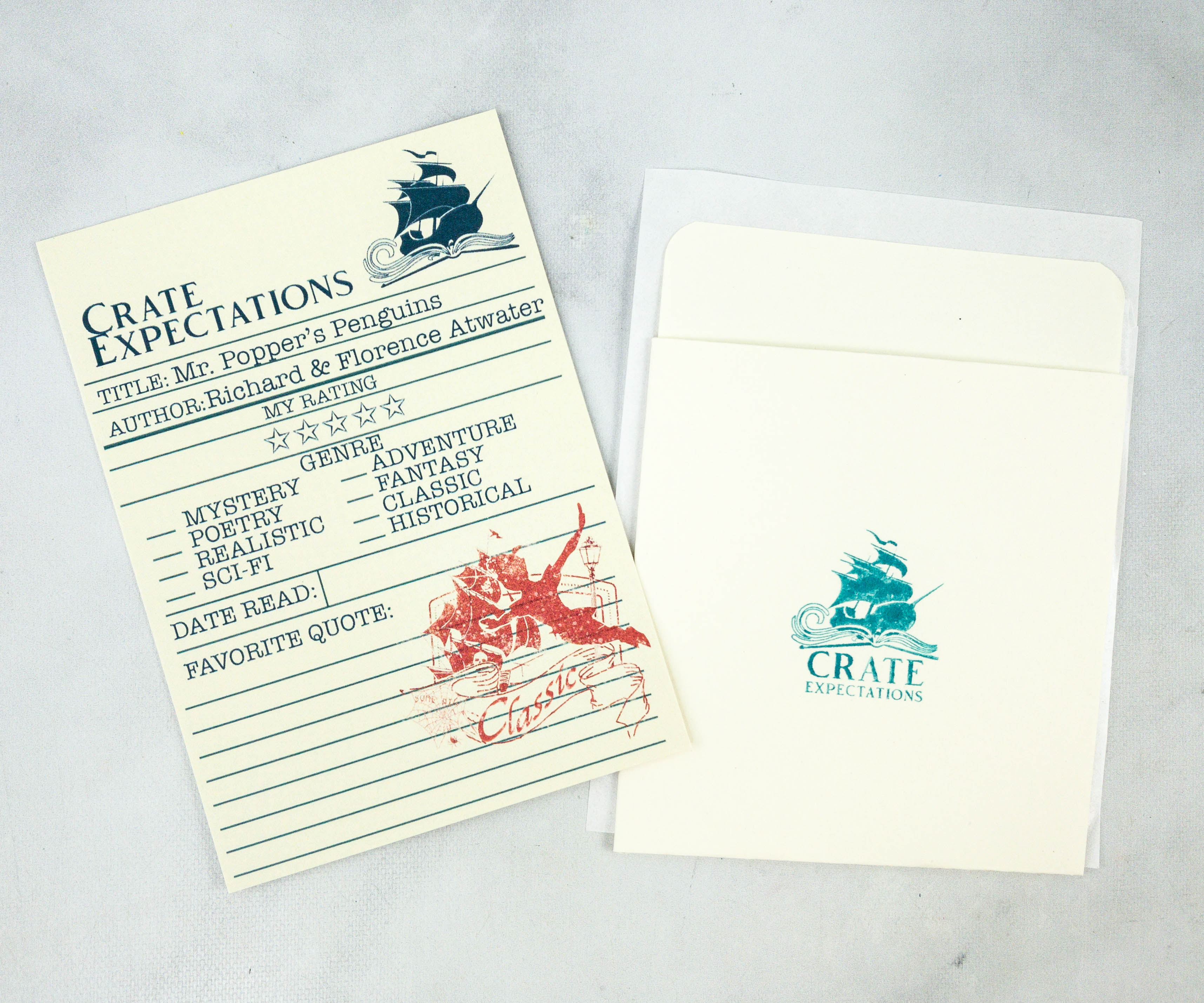 Also included in the box is a book card with its own envelope that you can stick to the book's endpaper.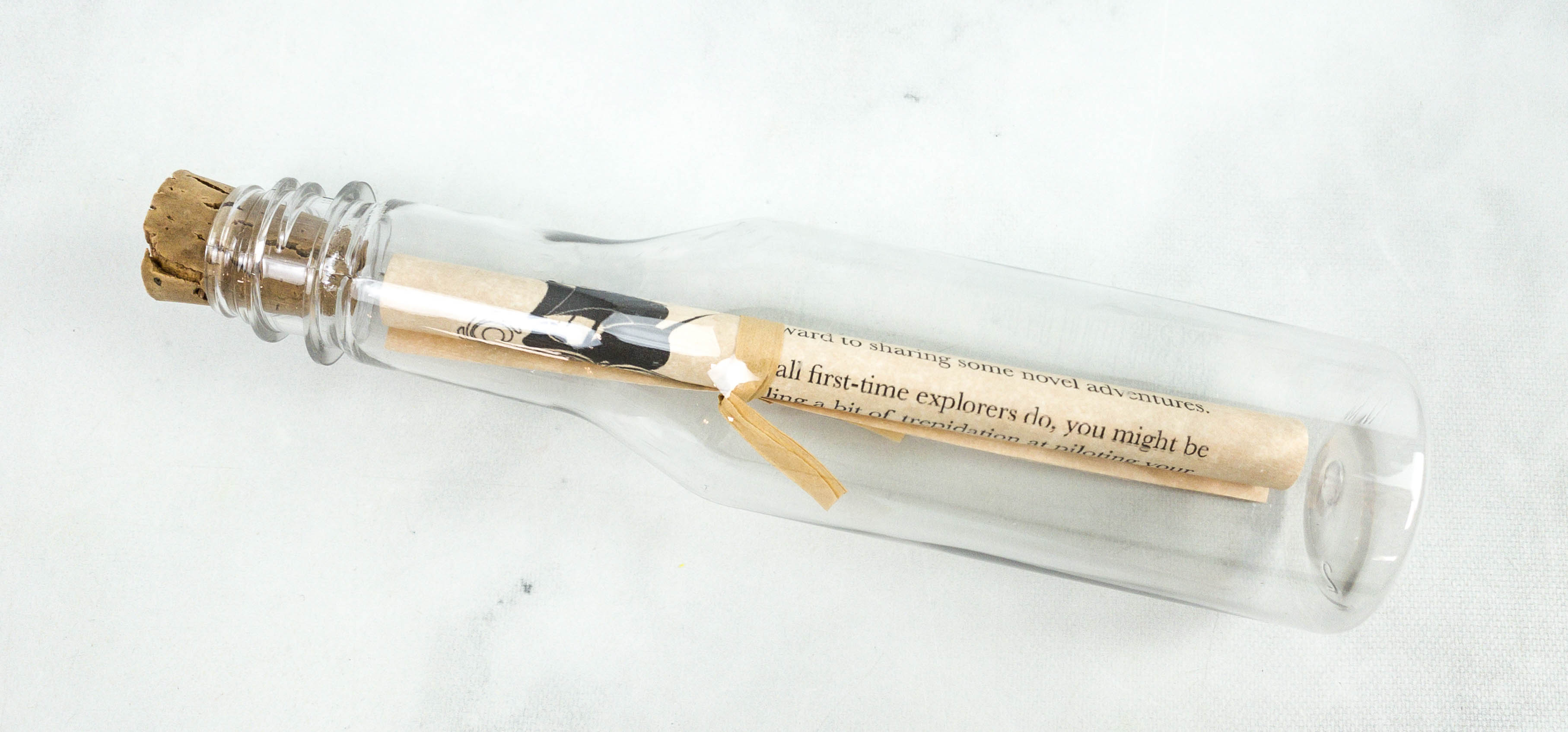 Like the crew of a ship, the box included a message inside a corked bottle.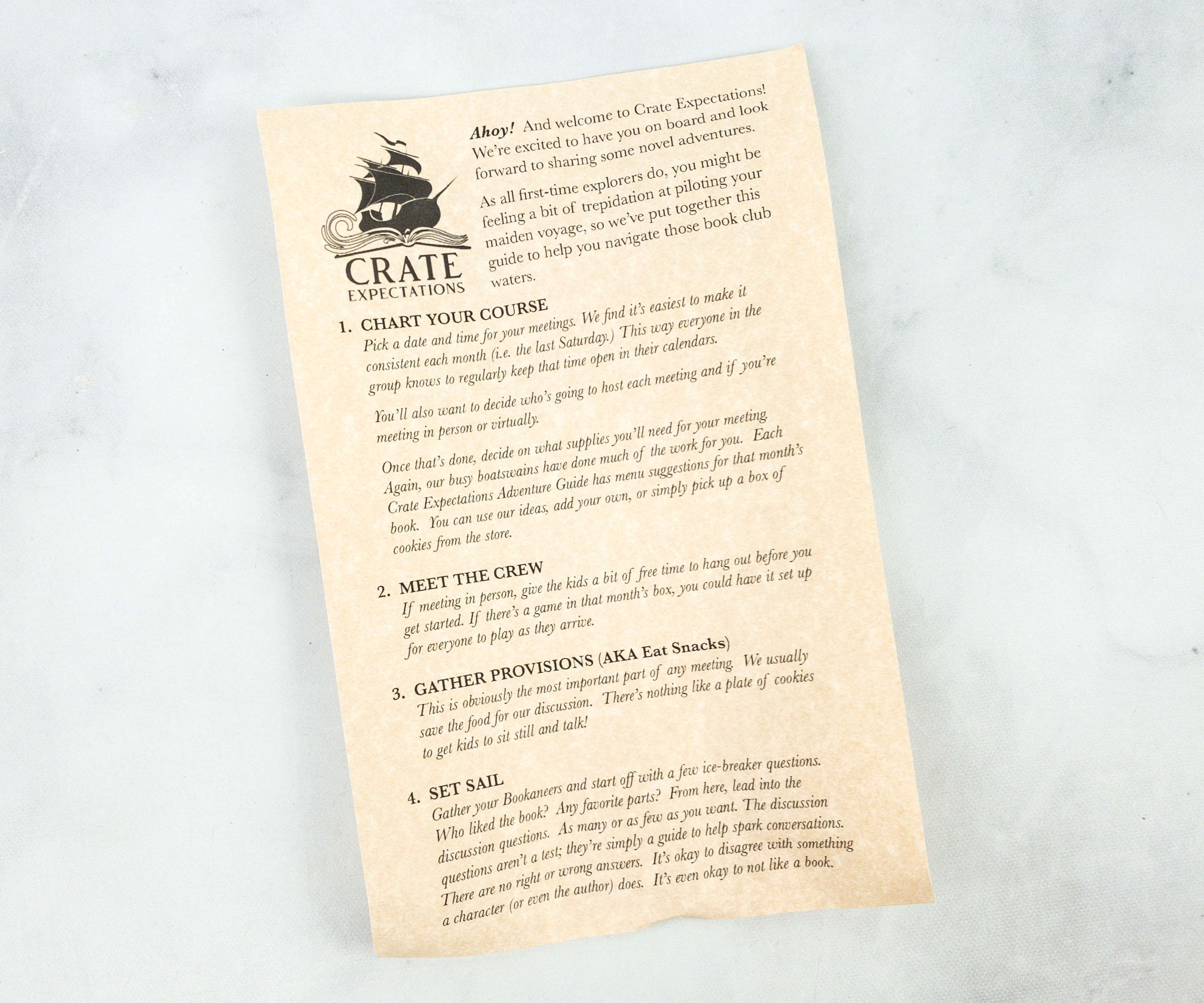 My kids popped the bottle open and took the rolled paper from inside. It has a message that welcomes them to the subscription, and also listed some activities for book club meetings!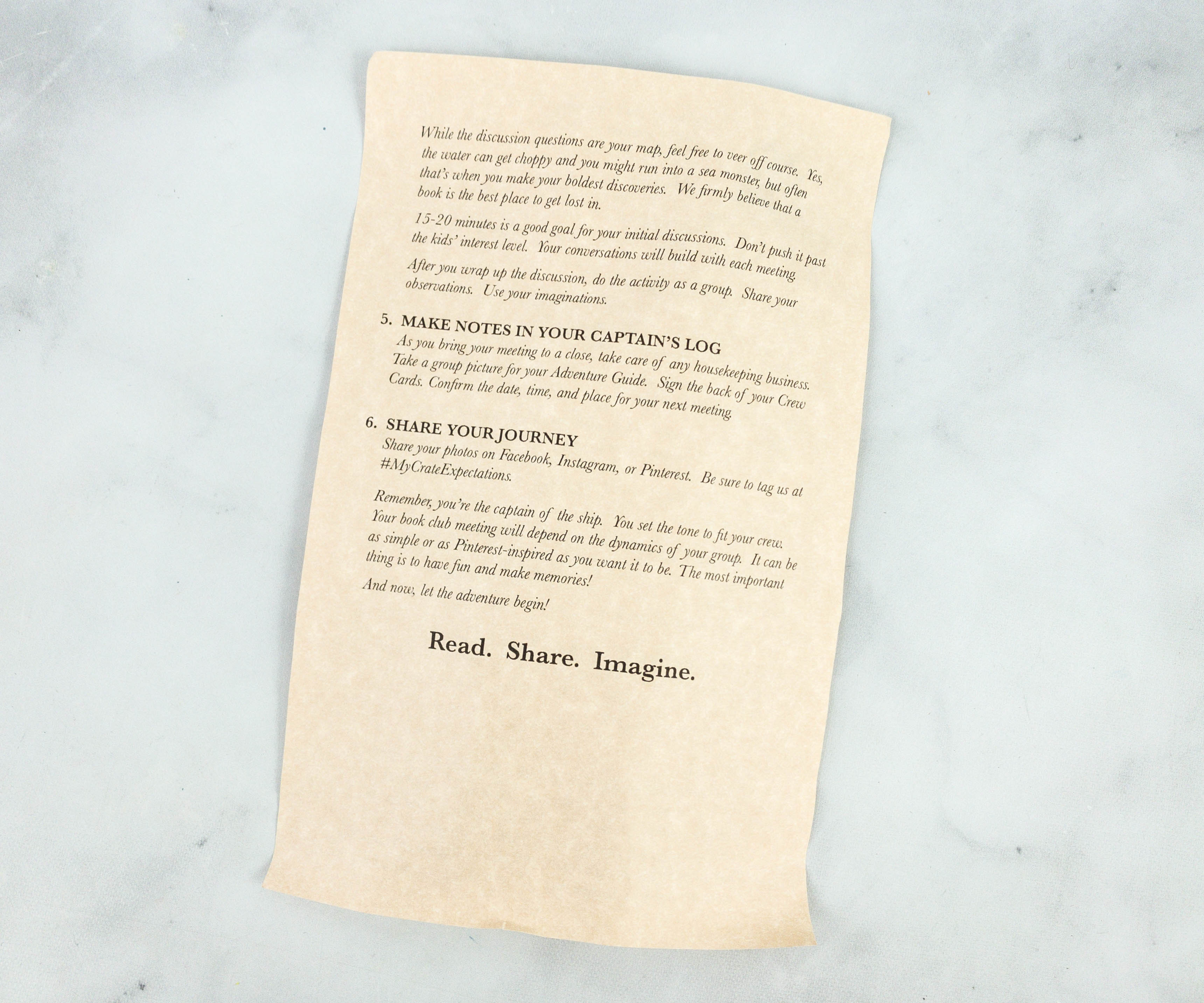 It also explains how to use the Captain's Log that can be found in the activity guide.
Everything in the box!
Penguin Coloring Cards. These two coloring cards are for the Drip Dry activity from the booklet. They feature an identical penguin drawing.
Aside from the cards, the crate also provided crayons and a spray bottle for the activity. First, the kids have to fill the bottle with water and add a drop of blue food coloring (optional). Then, they only need to color one card. After coloring, it's time to spray water on the colored and uncolored cards and see how each of them reacts! My kids noticed that on the colored cards that water turned into beads when it came into contact with the wax from the crayons. That's similar to how penguins stay dry all the time. They have an oil-producing gland and oil, as we already know, repels water!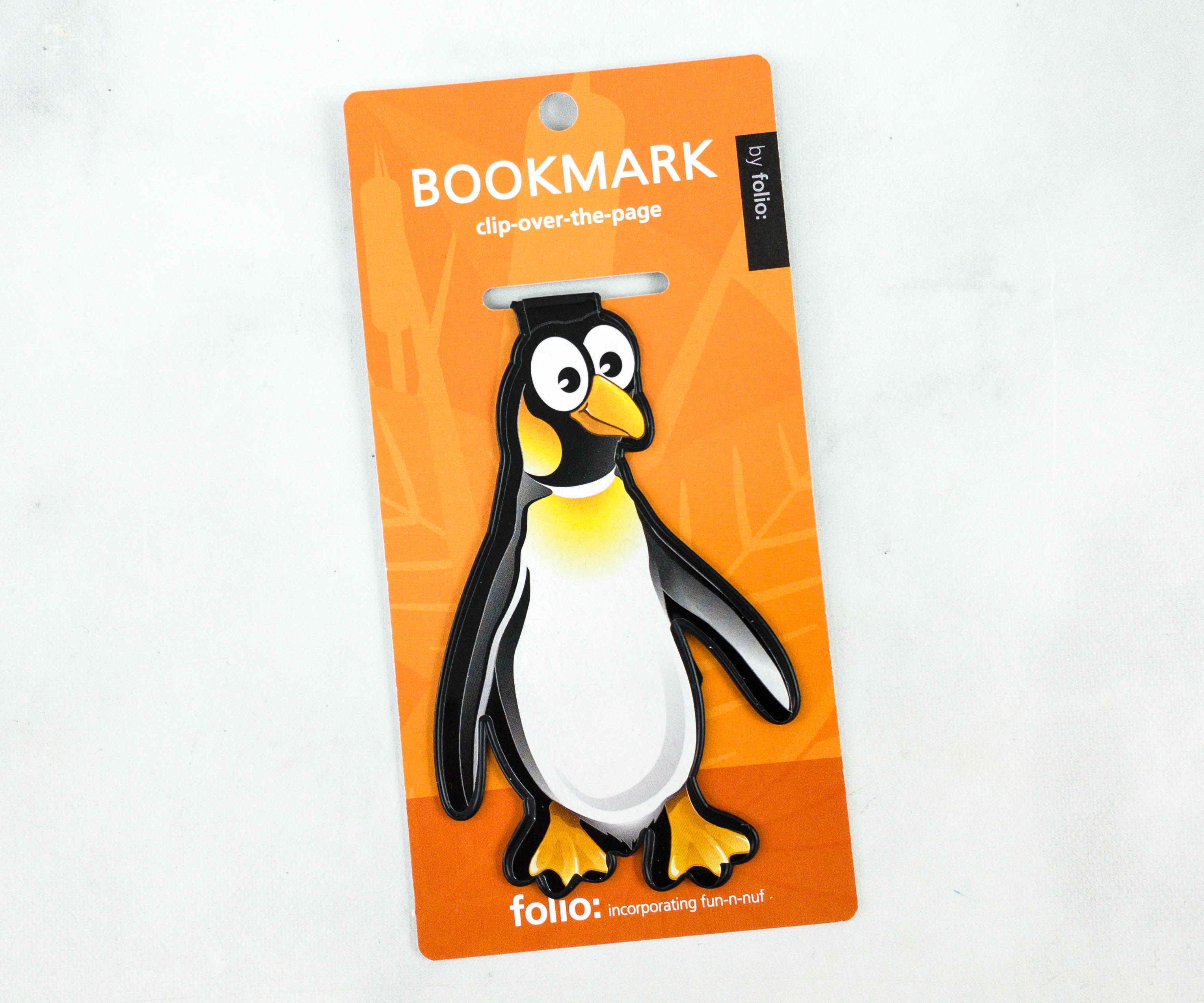 Penguin Bookmark. It's a cute penguin bookmark that my kids can use to mark the page where they stopped reading, so they can easily go back to it later!
This bookmark really looks cute! Look at those adorable eyes!
It can also be clipped over the page of a book.
Instant Snow. Here's another fun item in the box, an instant snow kit! Kids just need to combine the non-toxic snow powder with water to create a light and fluffy material resembling snow. This is also a great way to learn about super-absorbent polymers!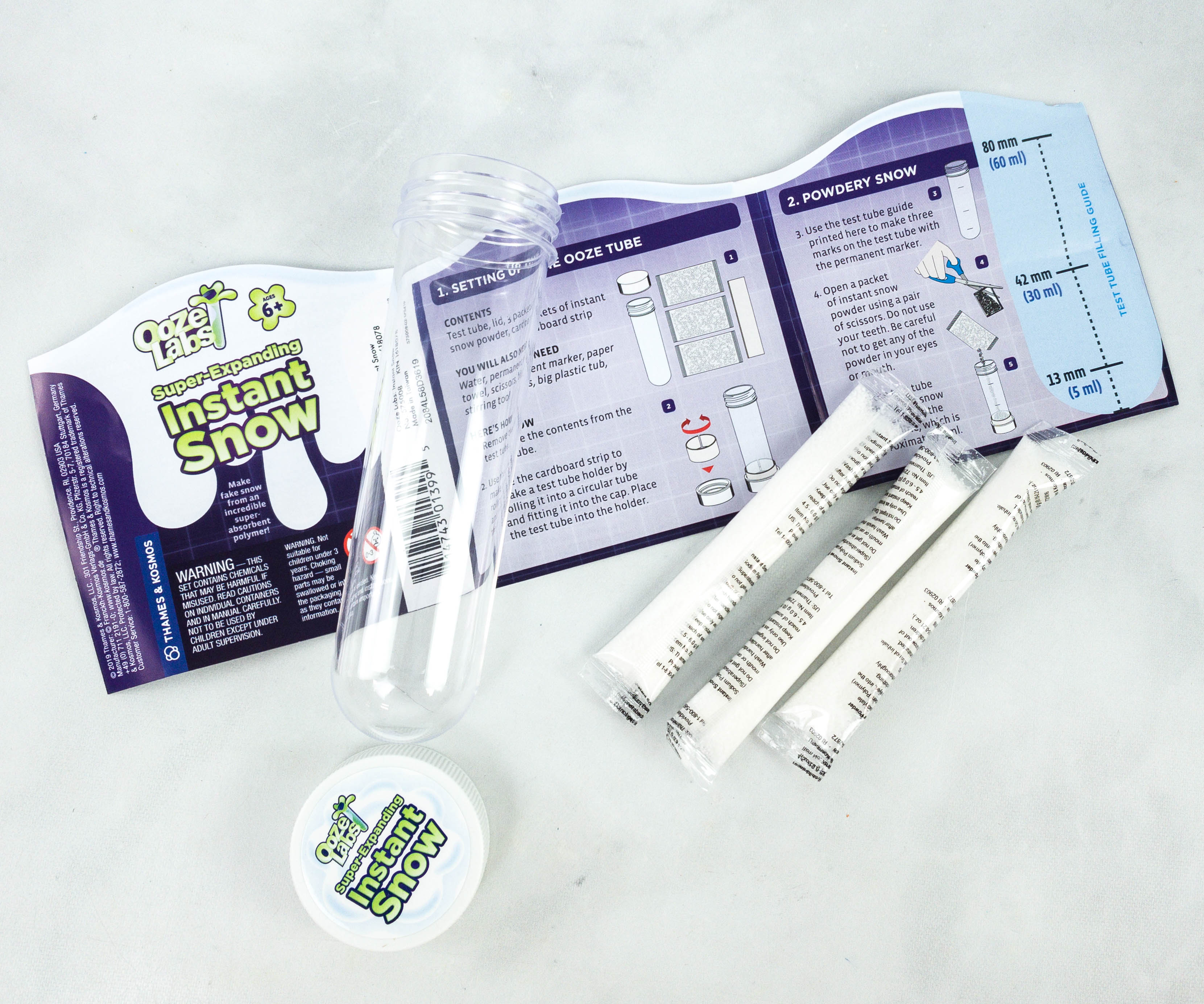 The kit includes a test tube, a lid, packets of instant snow powder, and a cardboard strip. They also provided easy to follow instructions!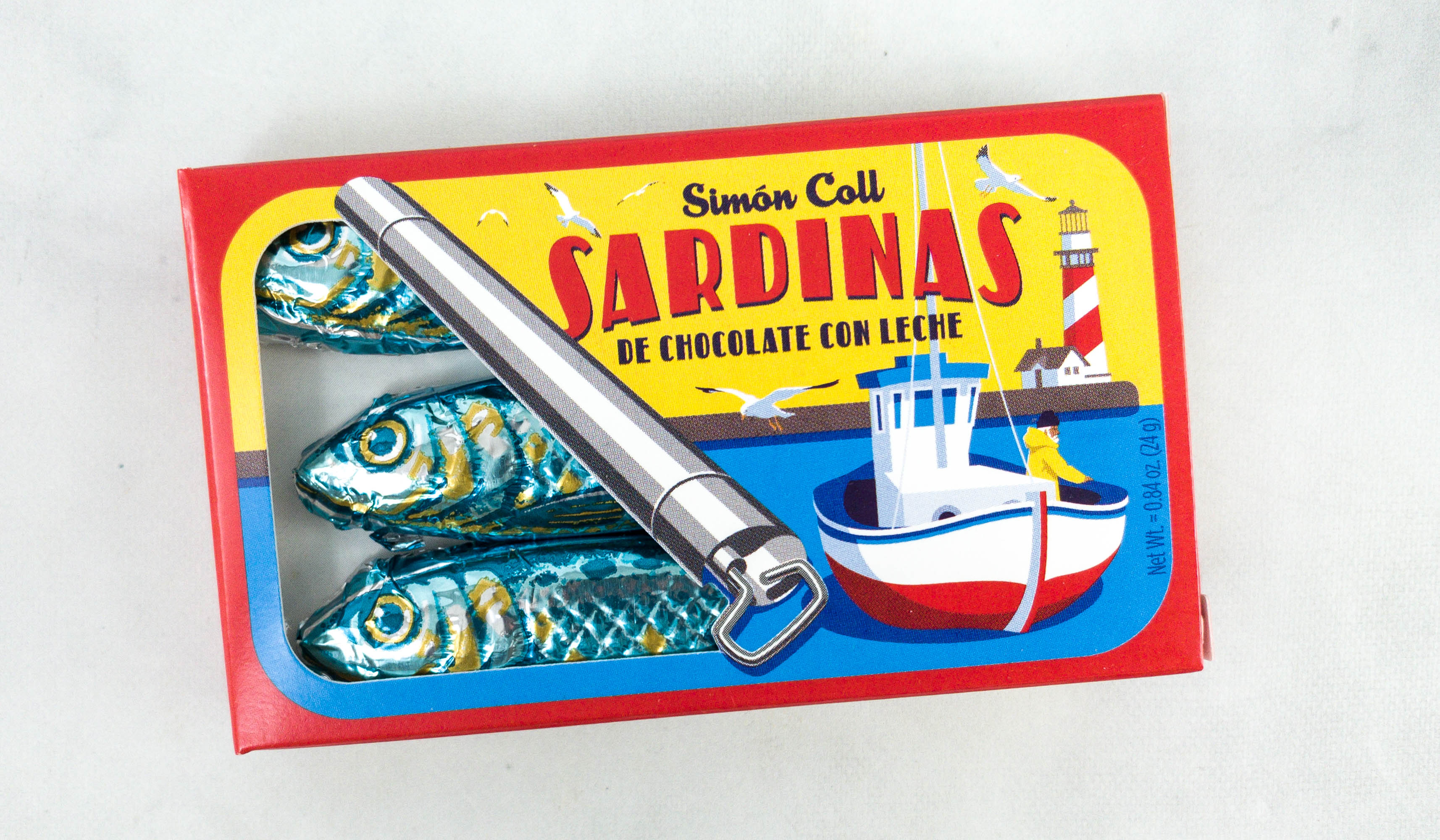 Chocolate Sardines. This month's box also includes a snack for the kids, and it's a small box of chocolate sardines!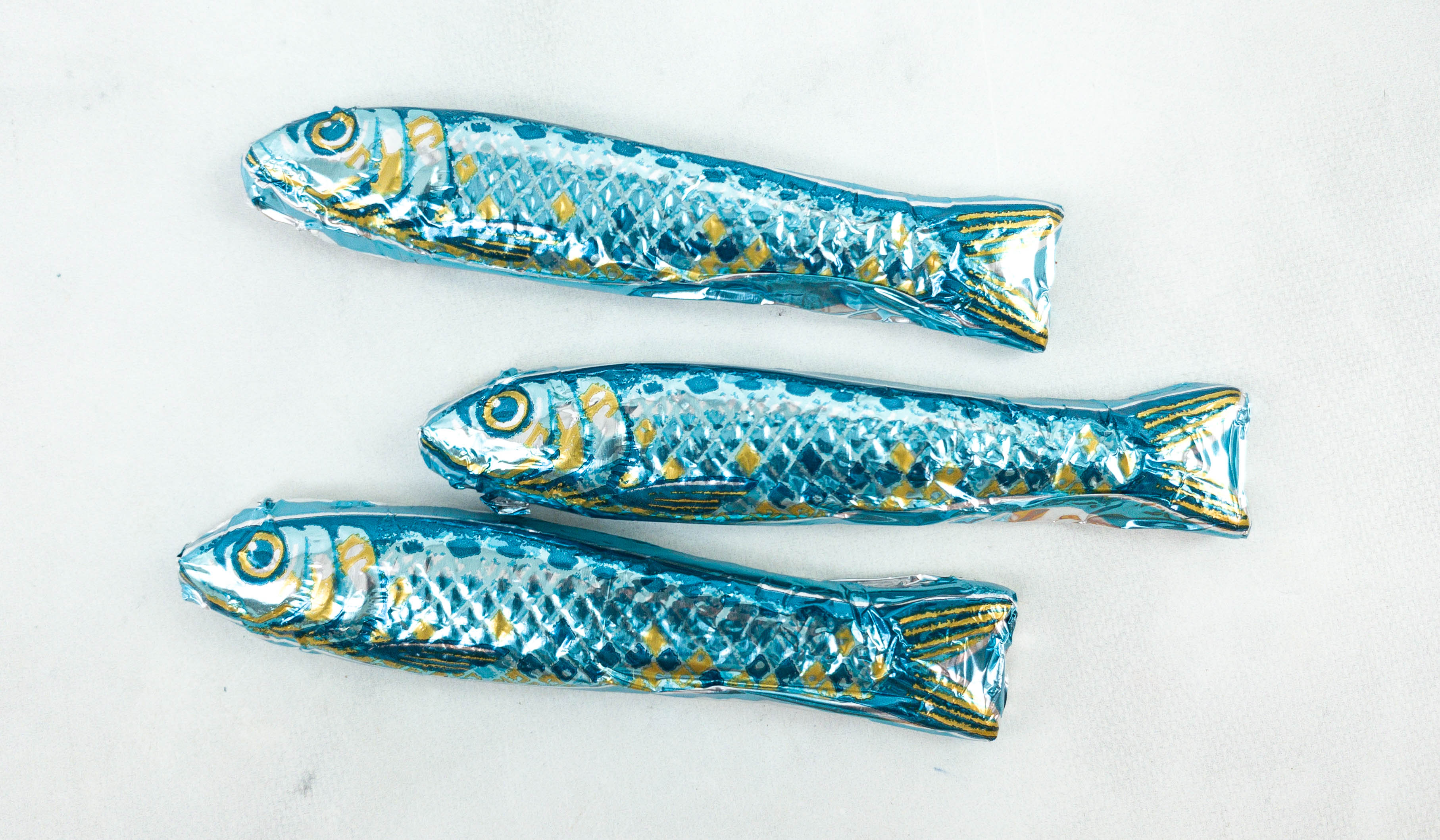 Each chocolate is wrapped with a foil that looks like an actual fish.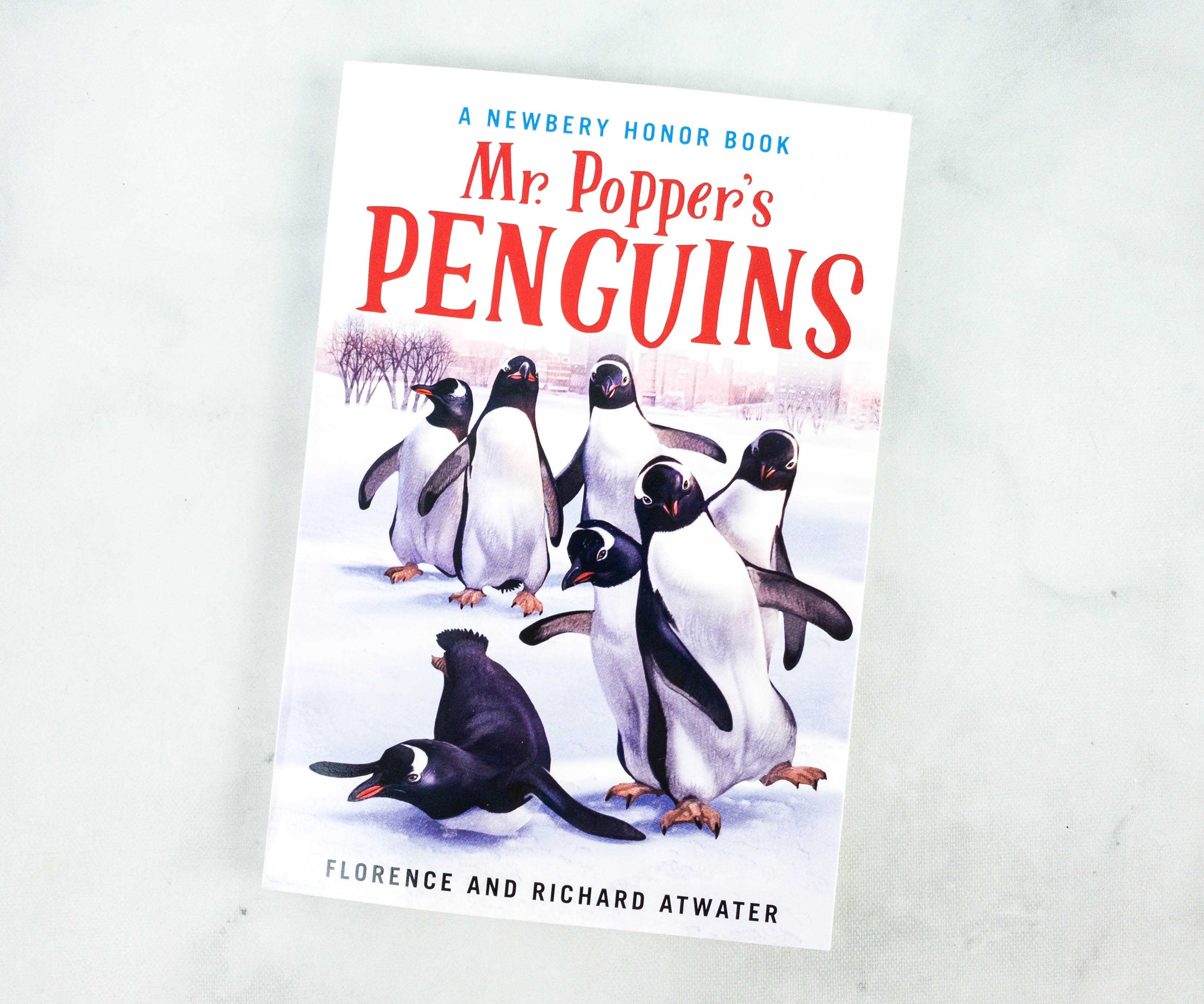 Mr. Popper's Penguins by Florence and Richard Atwater ($7.98)
A classic of American humor, the adventures of a house painter and his brood of high-stepping penguins have delighted children for generations. "Here is a book to read aloud in groups of all ages. There is not an extra or misplaced word in the whole story."–The Horn Book. Newbery Honor Book.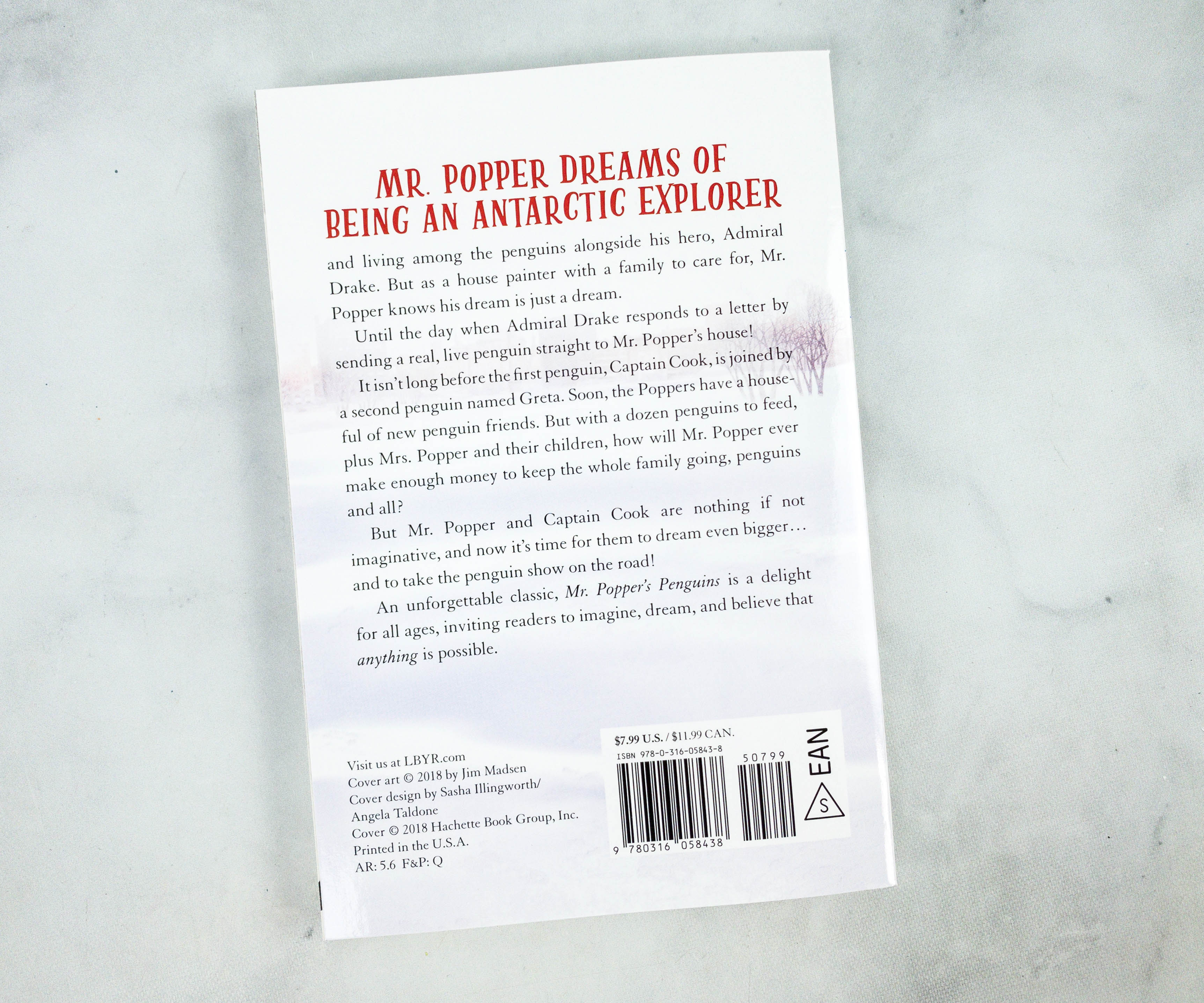 A brief summary of the book is written on the back cover. It's a timeless tale that kids of all ages can enjoy!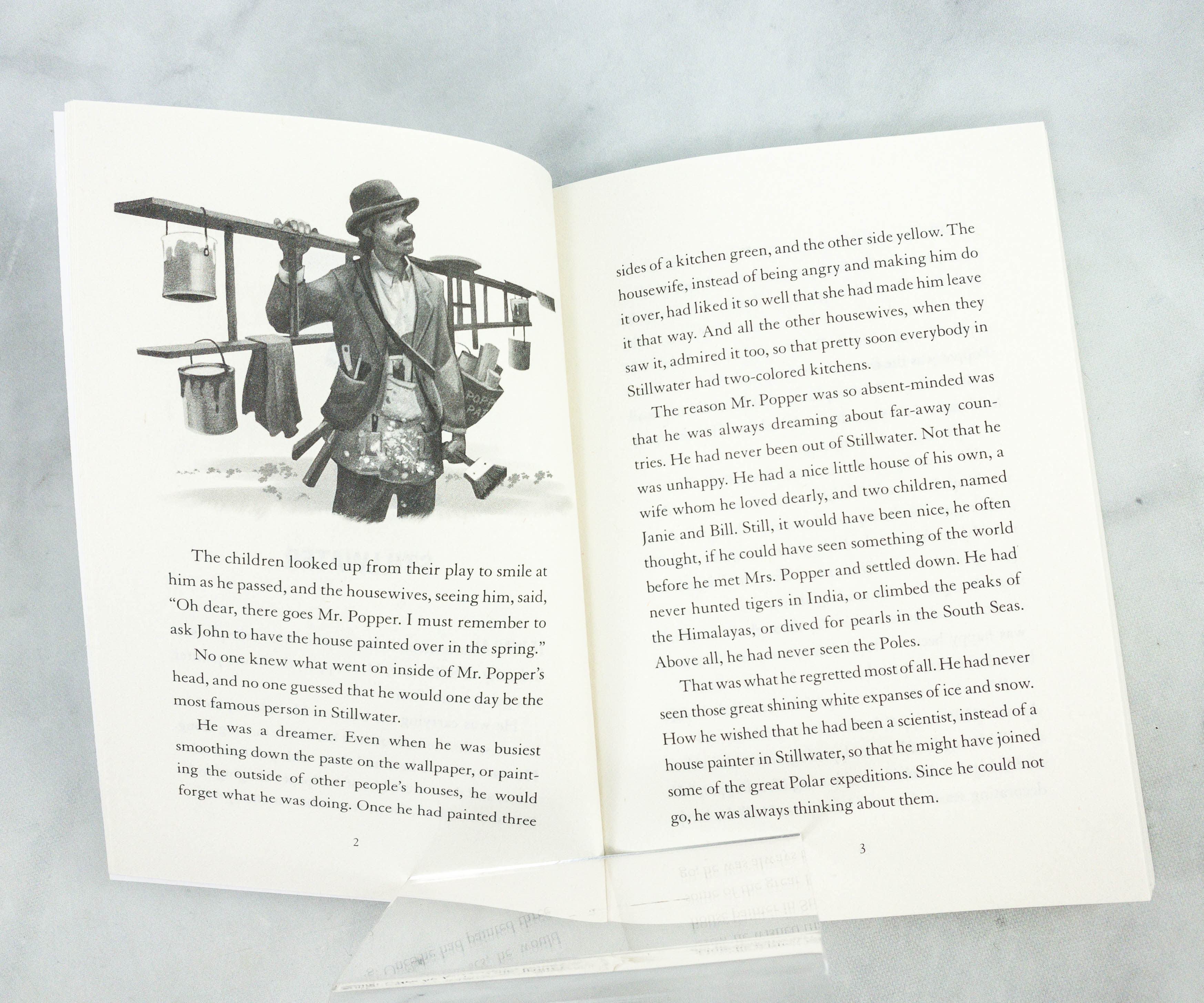 The story of Mr. Popper invites the readers to imagine, dream, and believe that anything is possible.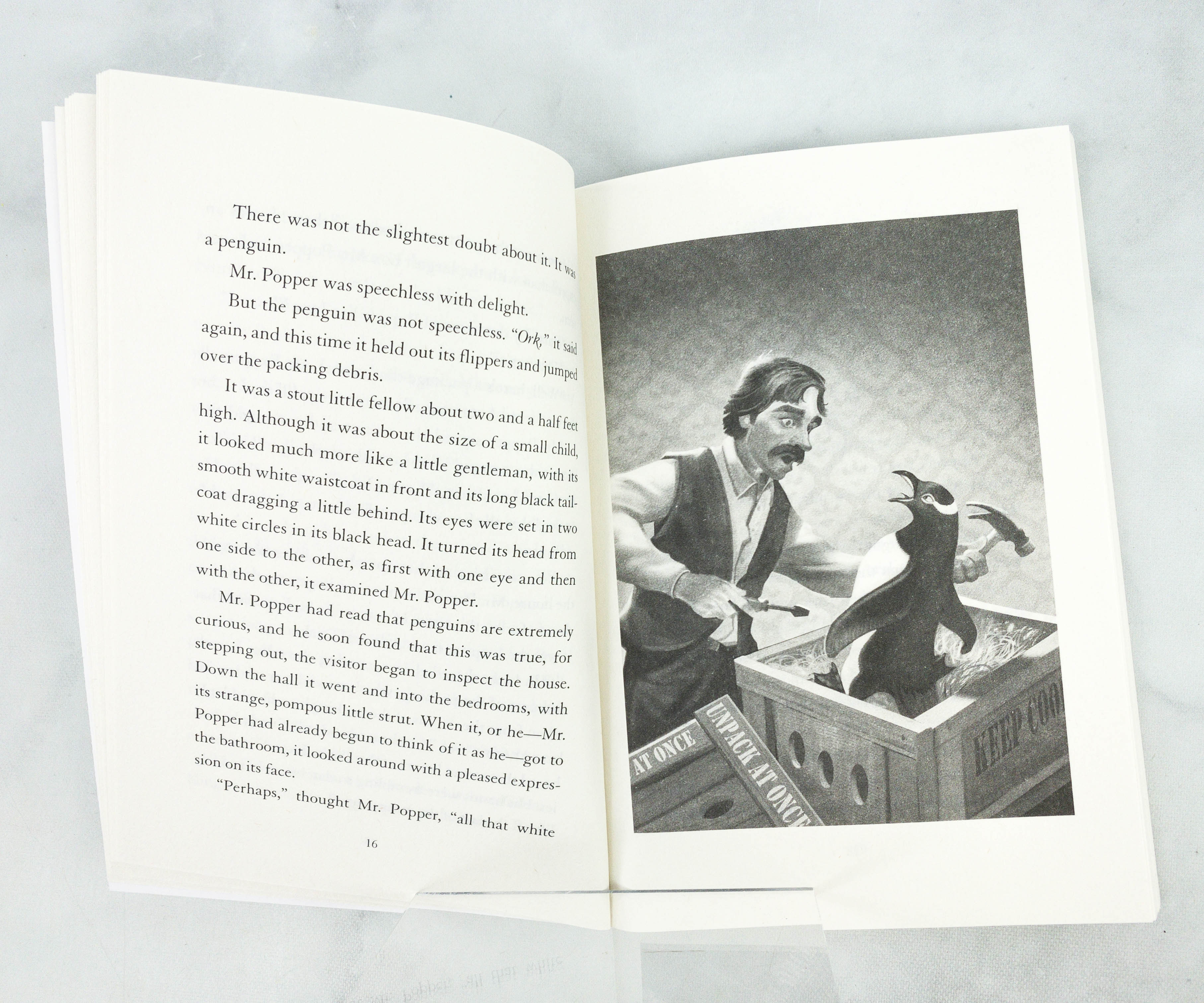 There are also nice illustrations to go along with the story.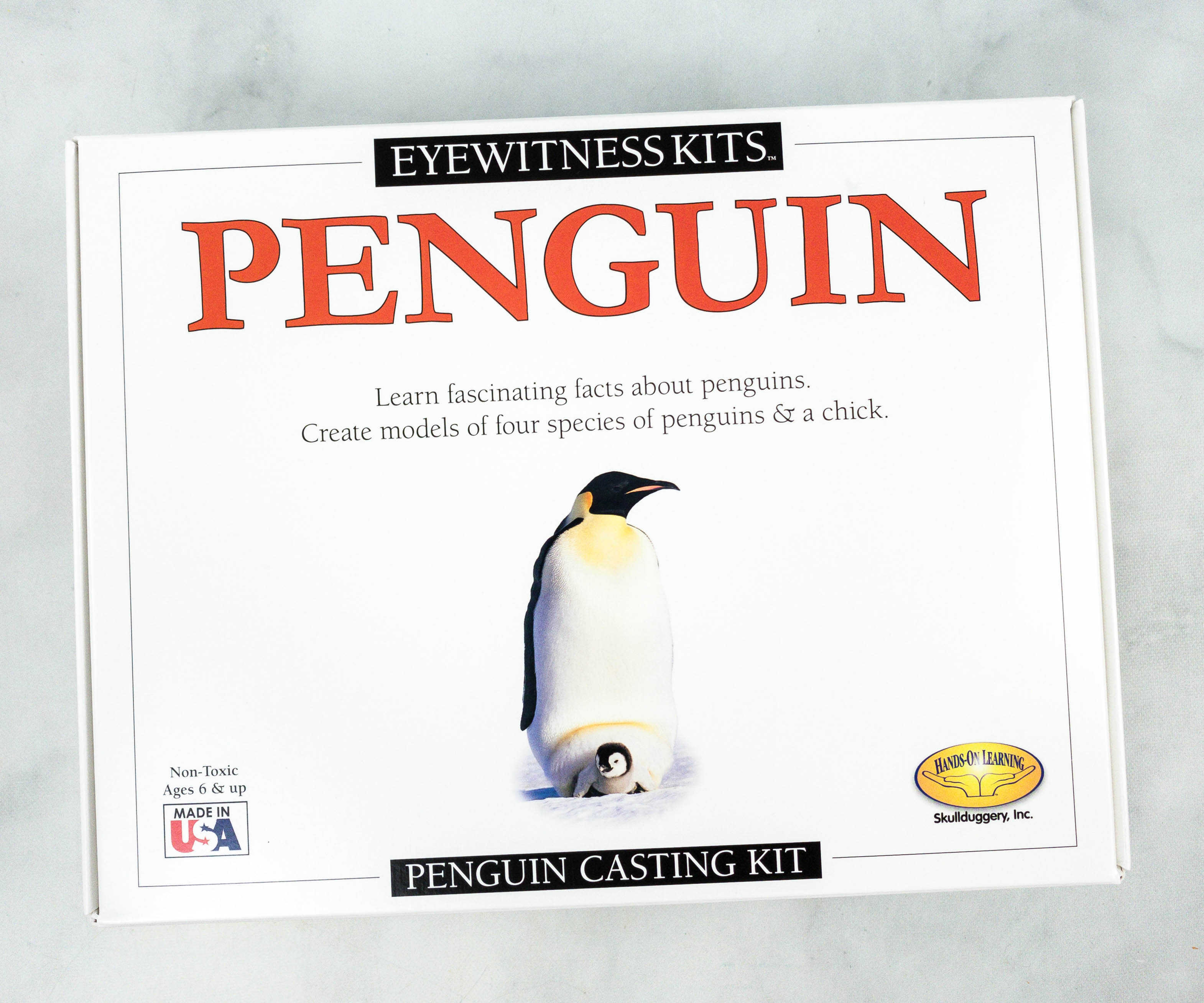 Eyewitness Penguin Kit. The last activity kit this month is about making penguin models!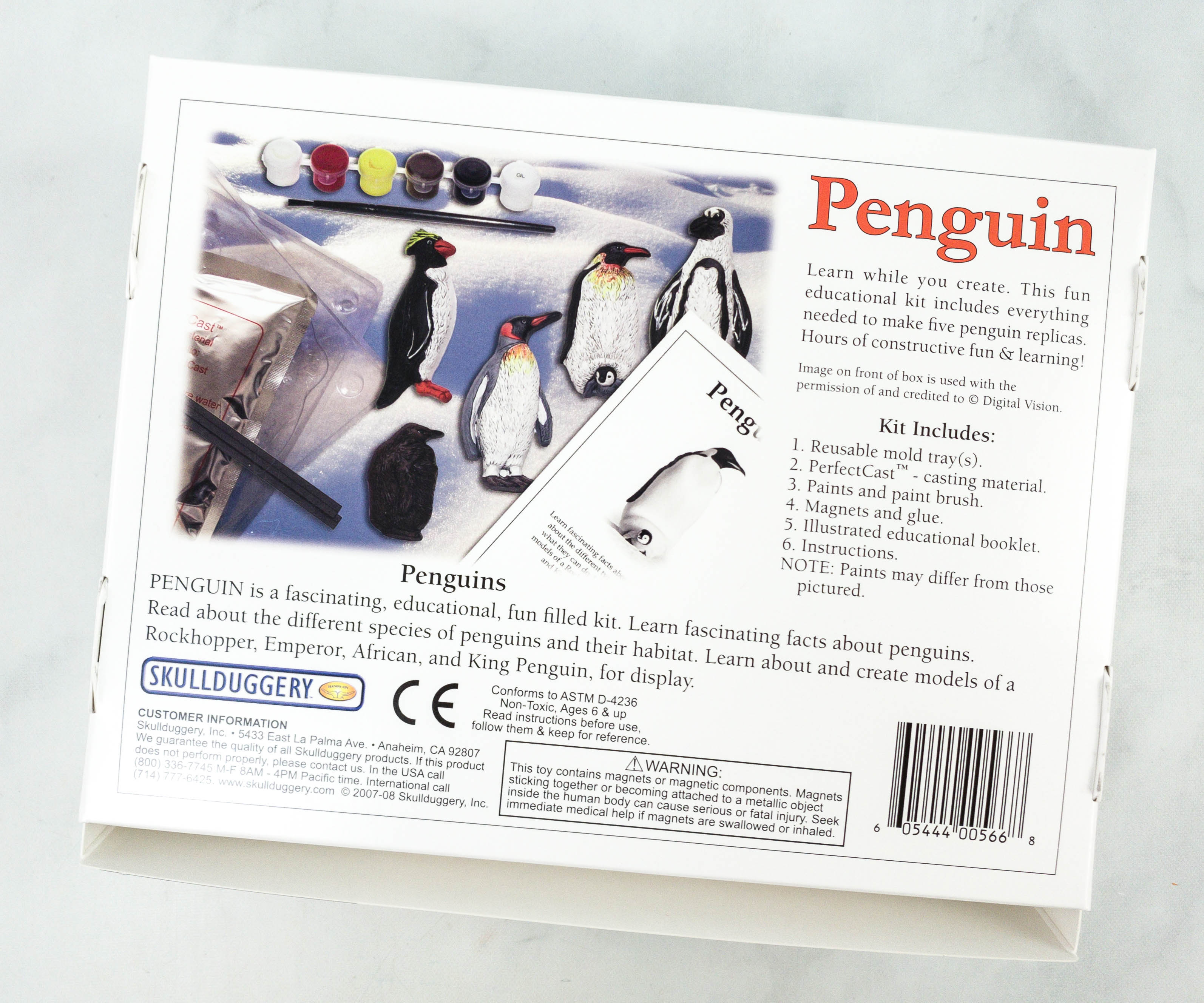 The box lists all the materials included in the kit: a reusable mold tray, a casting material, paints and paint brush, magnets and glue, booklet, and instructions.
To make the model, you need to prepare the casting mix and pour it into the molds. When it has settled, mold your creation and then paint the parts. The last step is to glue the included magnets so you can stick it on metal surfaces.
Crate Expectations always keeps kids entertained with boxes full of fun activities and learning! This month's box is all about penguins, from the featured book to the activity kits. My kids loved the story of Mr. Popper who wants to be an Antarctic explorer and we even discussed it using the discussion question provided in the guide. Among all the activities, our favorite is the penguin mode – it's a fun memory that reminds us of the bookl. This subscription is perfect for kids who love both reading and adventures! It's like having an exclusive book club in the comforts of home!
What do you think of the Crate Expectations box?