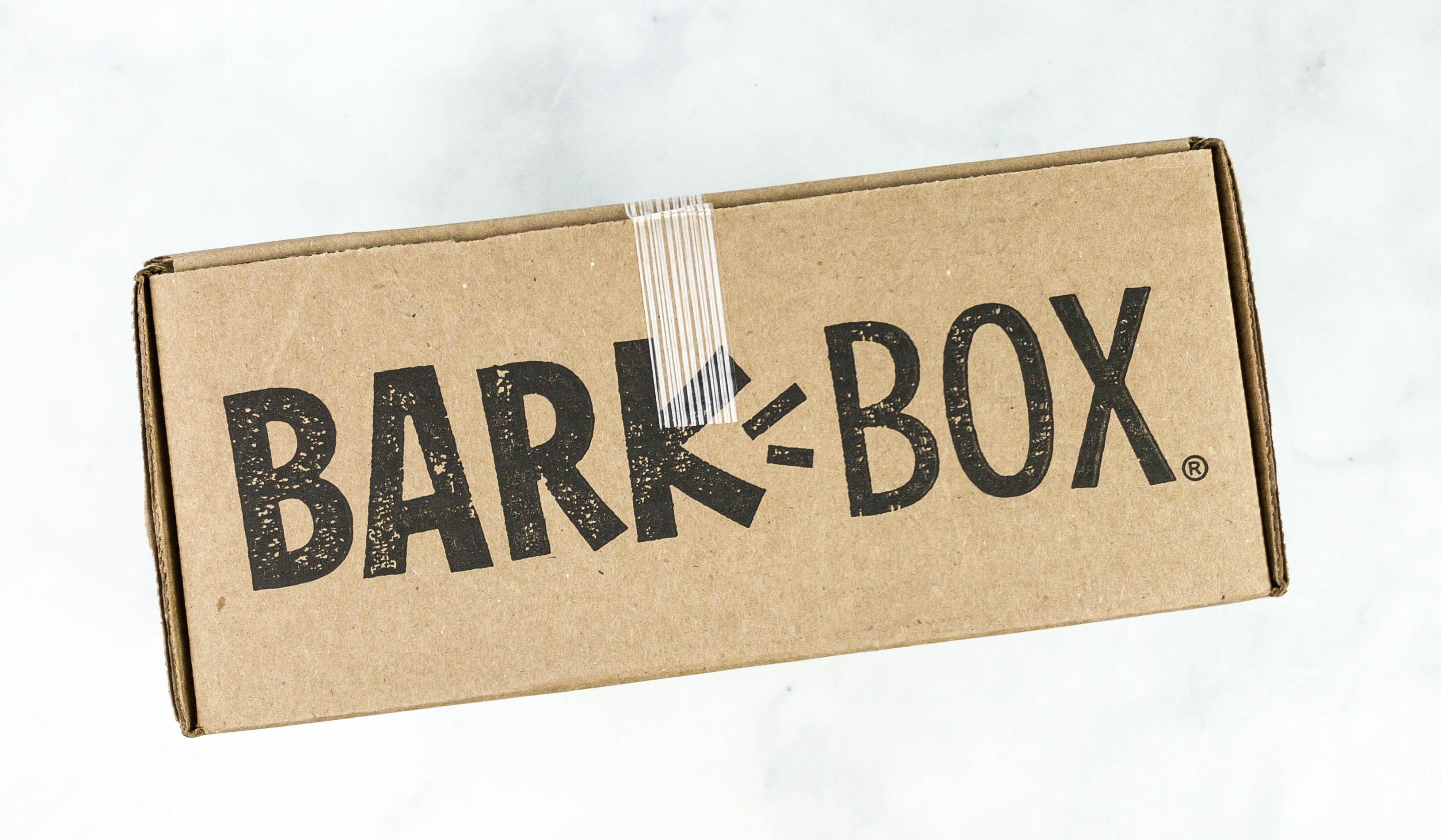 Barkbox is a monthly subscription box created just for dogs! Each box is themed, and includes toys, treats and photo-worthy props. The classic assortment is composed of 2 toys, 2 treats, and 1 chew, but you can also customize a box to fit your dog's needs. A monthly plan costs $35 and there are discounts if you get a longer plan. The best deal is the 12-month plan, which reduces the monthly cost of the box to $23. Shipping is free in the contiguous United States.
DEAL: Get a FREE month on a 6 or 12-month subscription when you sign up for BarkBox with this link! OR, check for the latest special offer here!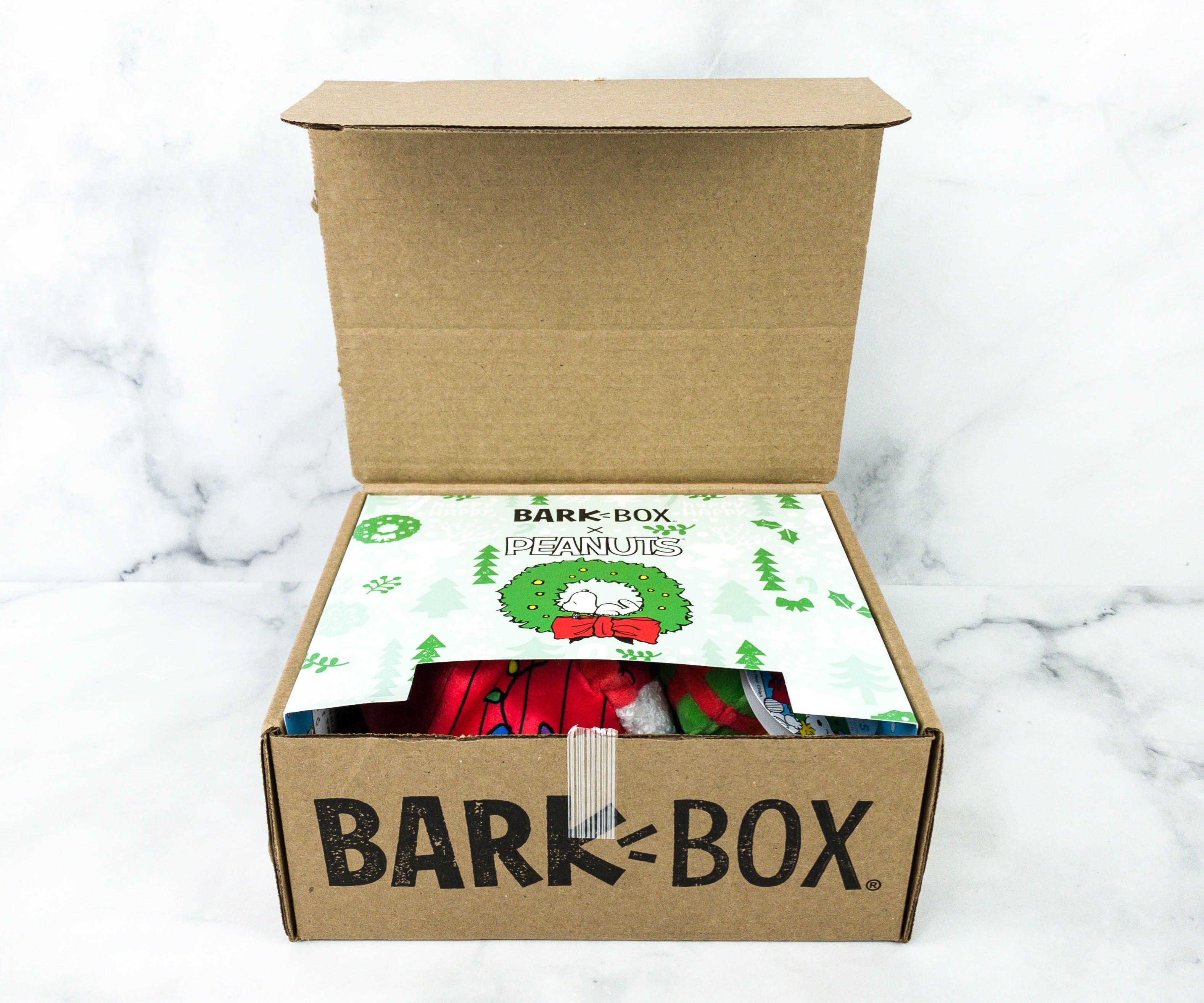 This Barkbox is for small dogs like our miniature schnauzers, Buffy and Dean, but you can get them for medium and large dogs too. Check out our Barkbox reviews for a peek at the big dog boxes! Plus, they now offer Barkbox SUPER CHEWER – the heavy chewer box!
This month's theme is PEANUTS!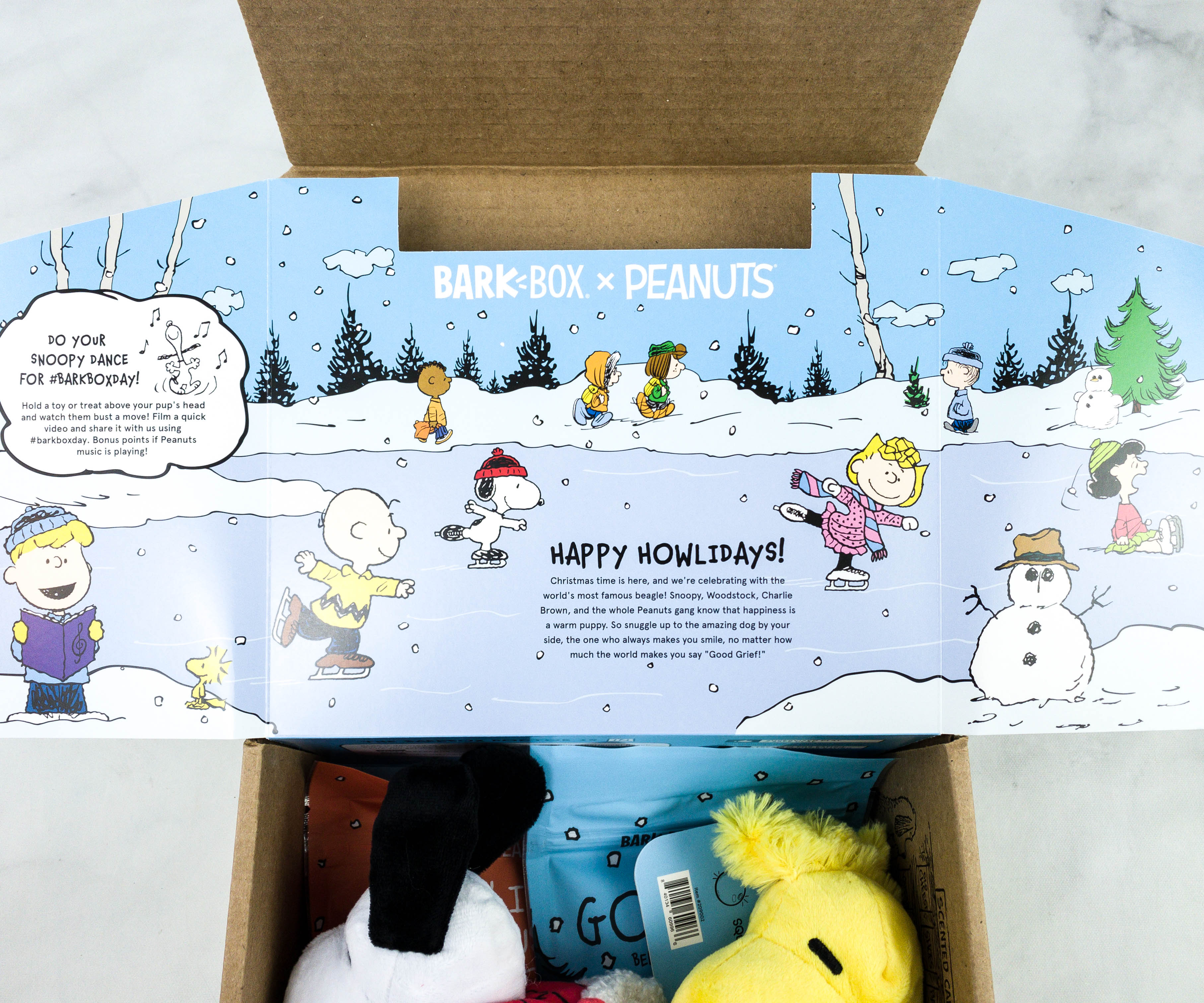 The box this month doesn't contain any custom-made wrapping paper. Instead, they used this month's theme to design the carton and to cover all the items inside the box.
As usual, there were no fillers or squiggles, just treats and toys for the pups to enjoy!
This part of the carton features the photos of the toys that you might get in this month's collection.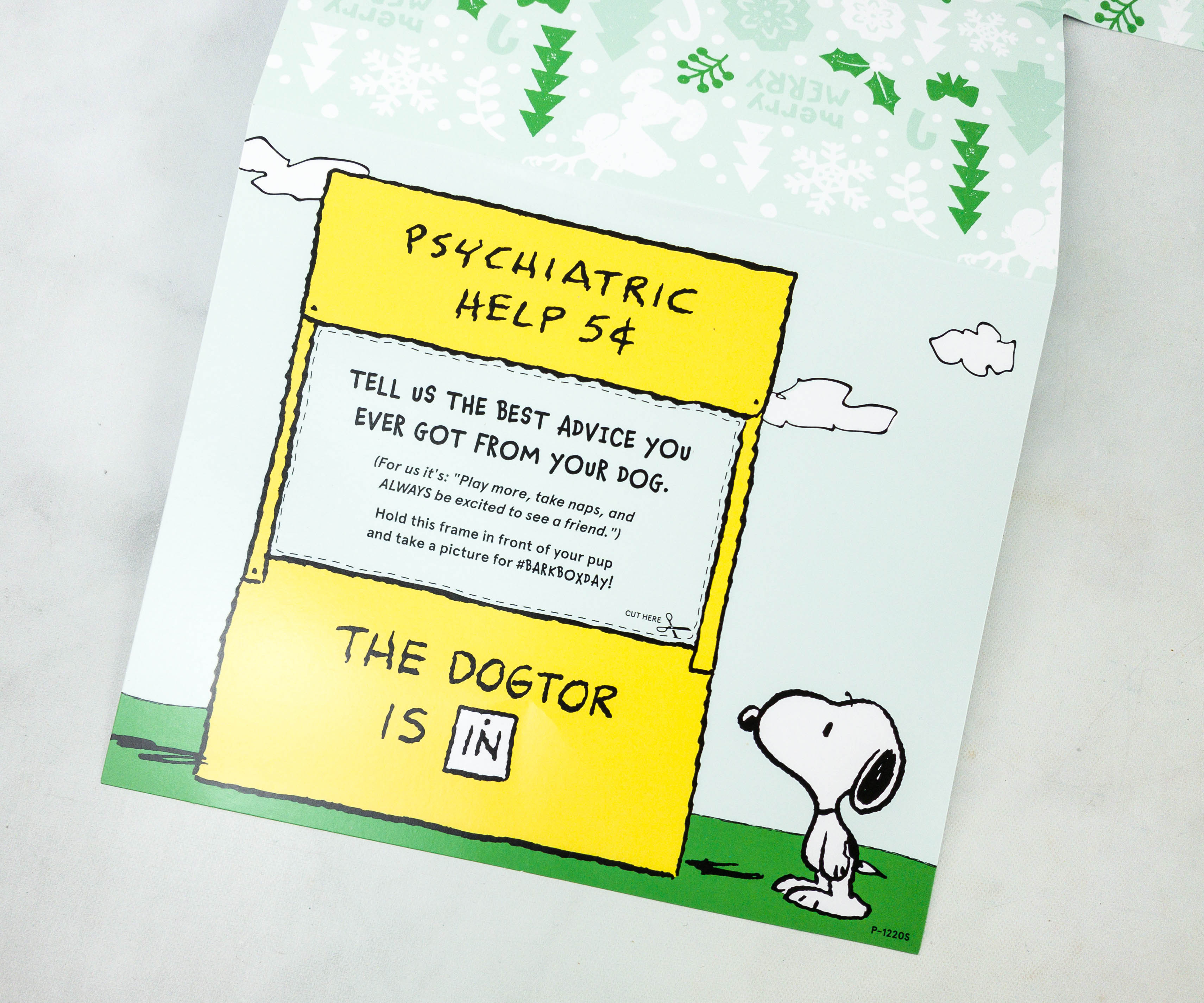 There's also a flap that says dogs are great psychiatrists. They provide some wonderful life advice to make life happier such as playing more, taking naps, and always being excited to see a friend!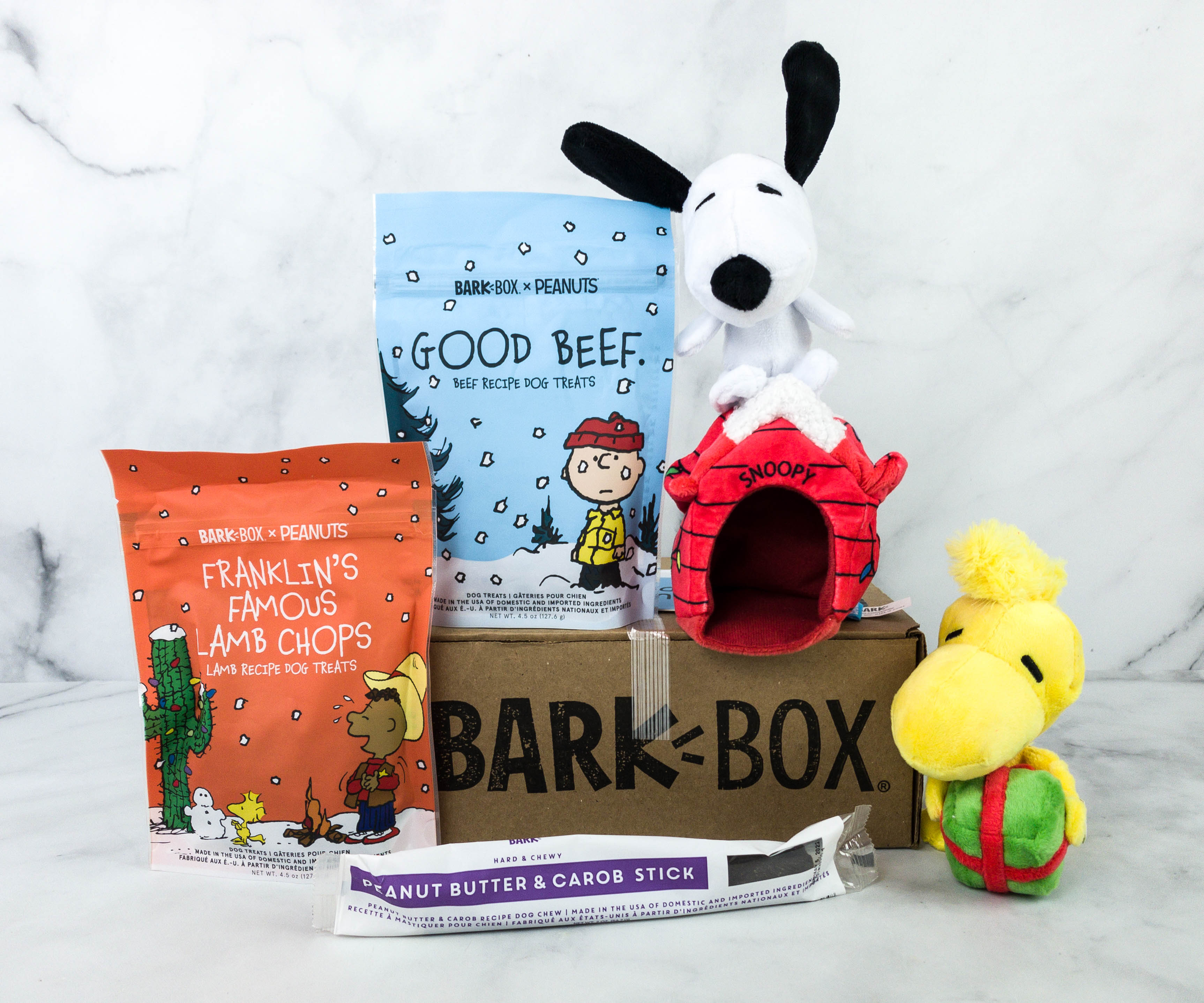 Everything in my December 2020 box!
Woodstock Dog Toy ($10) The first toy in the box features Woodstock, Snoopy's best friend and sidekick! This plushie is designed for small dogs that weigh 10kg and below.
According to the label, this toy is made from premium-quality materials including a bungee, squeaker, and crazy crinkle!
It features a soft and squishy body with reinforced seam stitching, making it durable!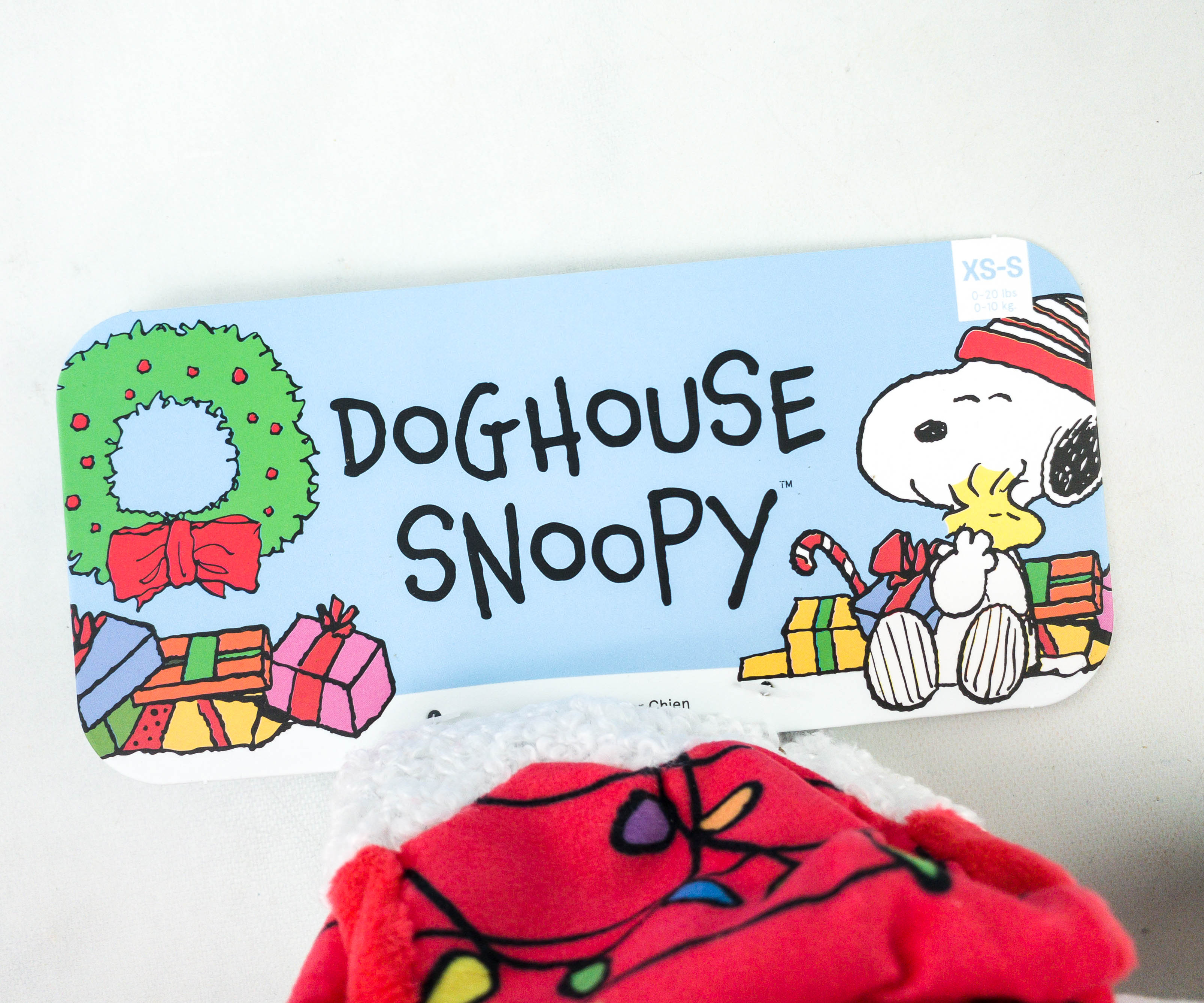 Doghouse Snoopy Dog Toy. This second plush toy is also designed for extra small to small dogs!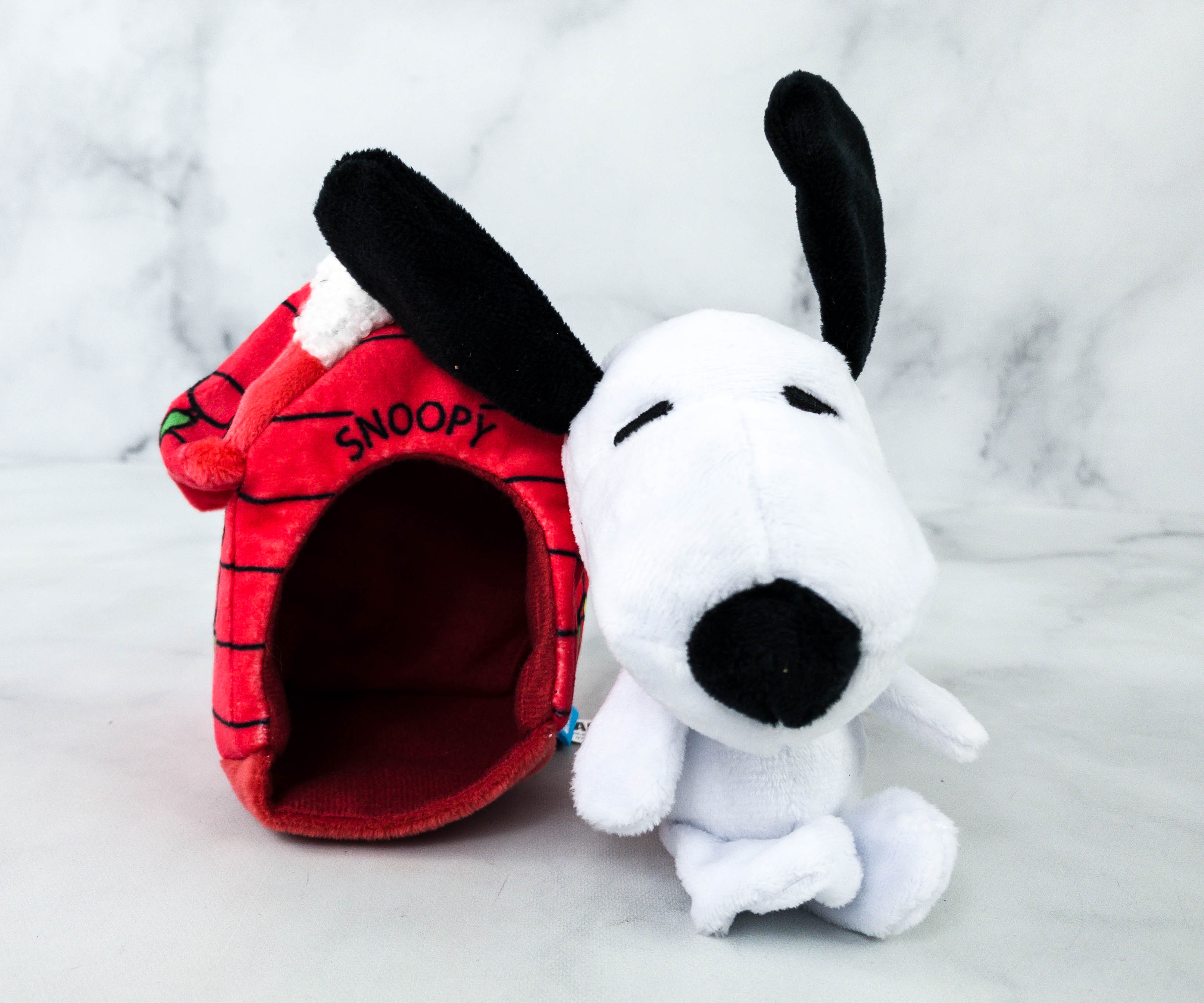 It's a multi-part toy made from high-quality materials.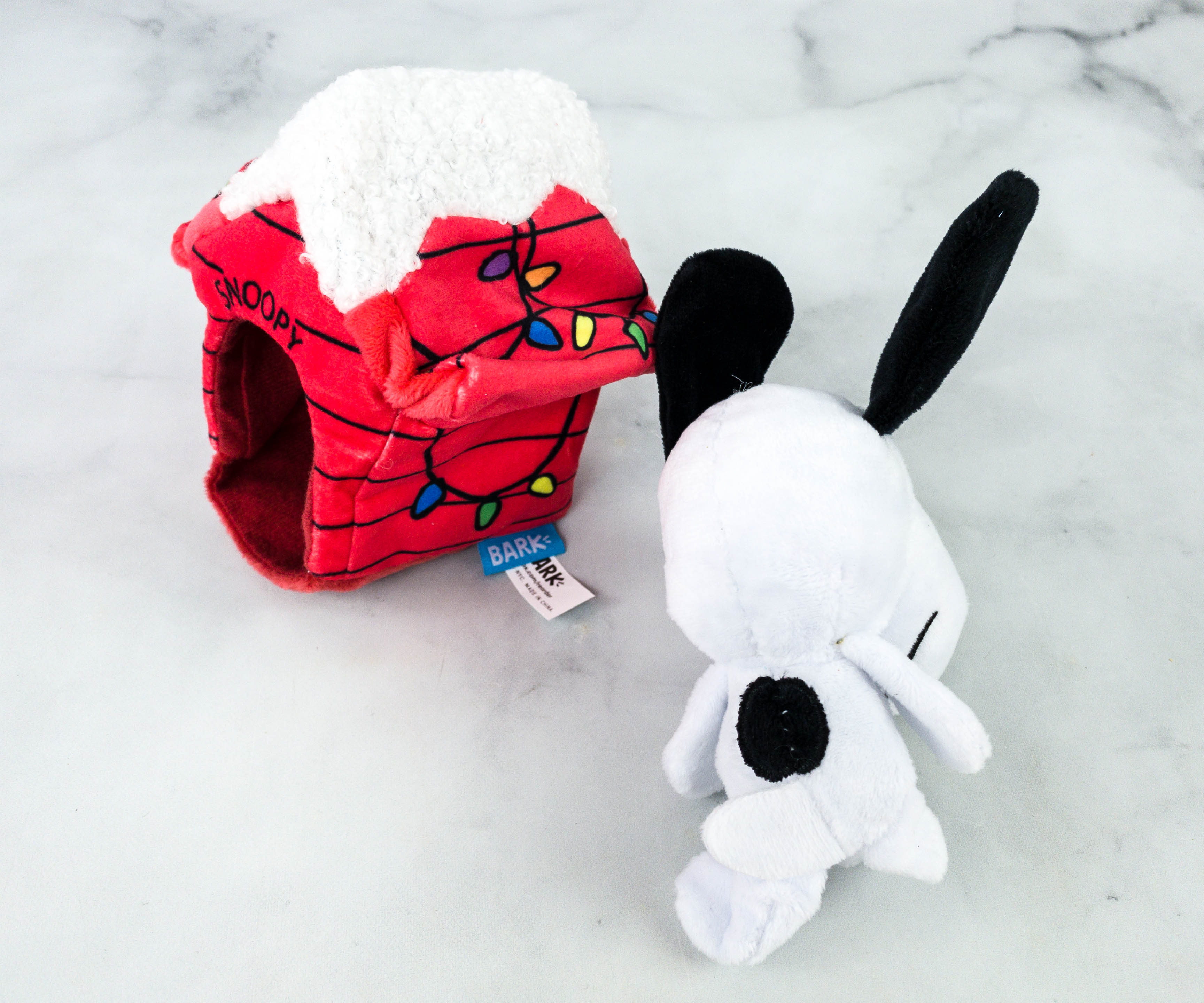 There's Snoopy with a crazy crinkle and built-in squeaker inside, plus a holiday-themed dog house in red!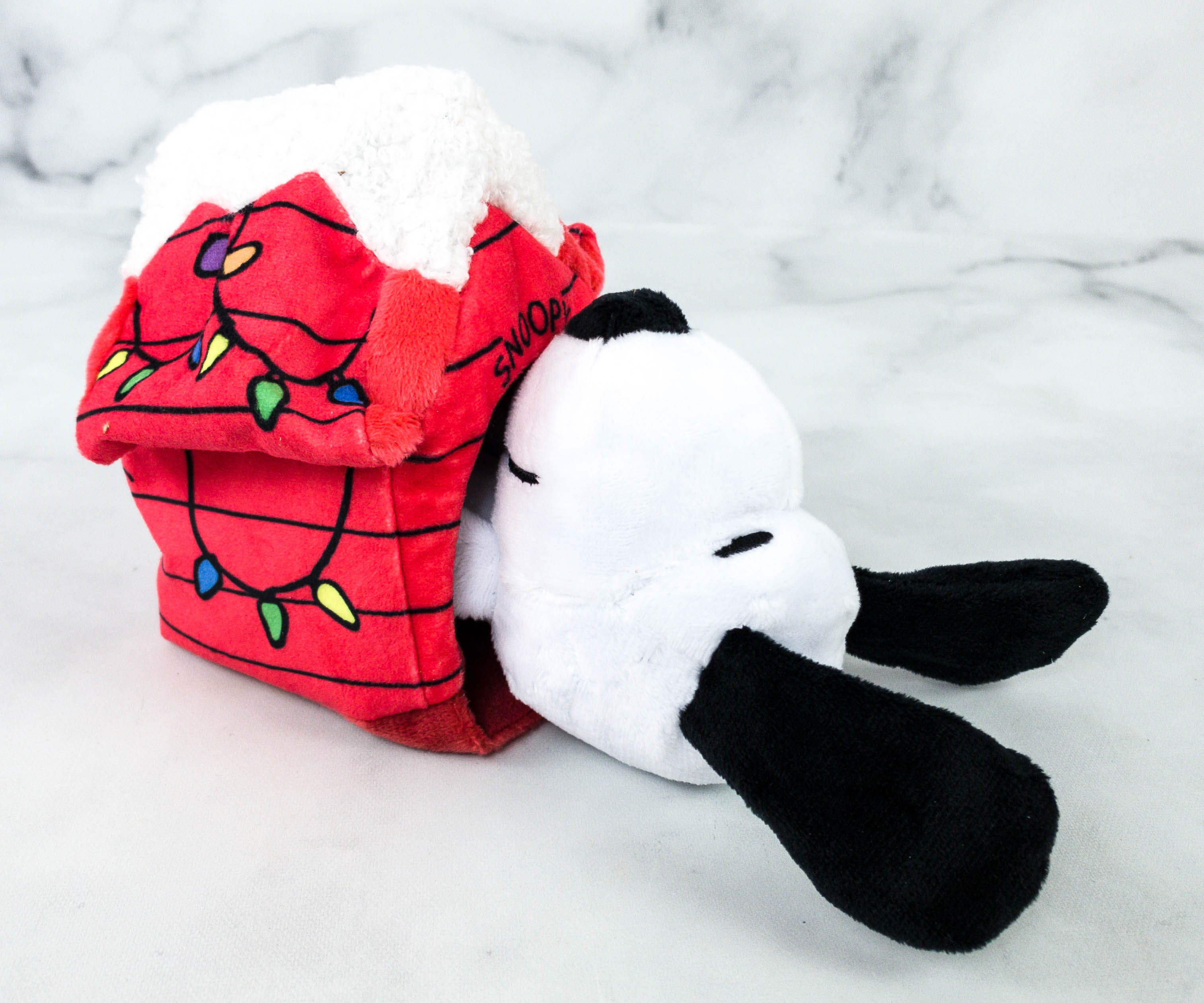 The Snoopy is perfect for playing fetch. You can also put it inside the red house and challenge your dogs to get it out!

Peanut Butter & Carob Stick ($3) This snack stick from Bark is made from healthy ingredients, including ground peanuts, natural peanut butter flavor, and carob powder.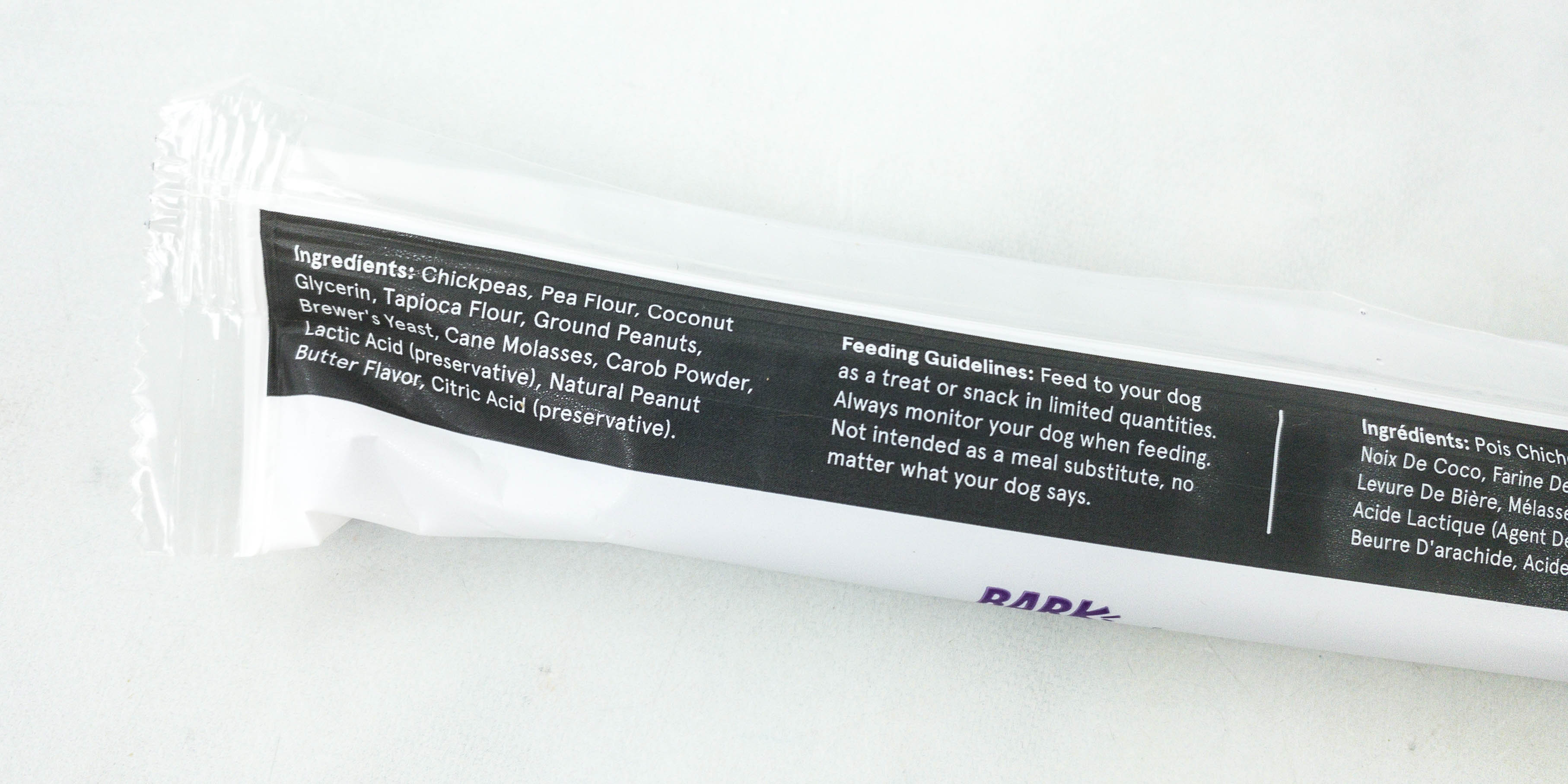 Other ingredients are chickpeas, pea flour, coconut glycerin, tapioca flour, and cane molasses.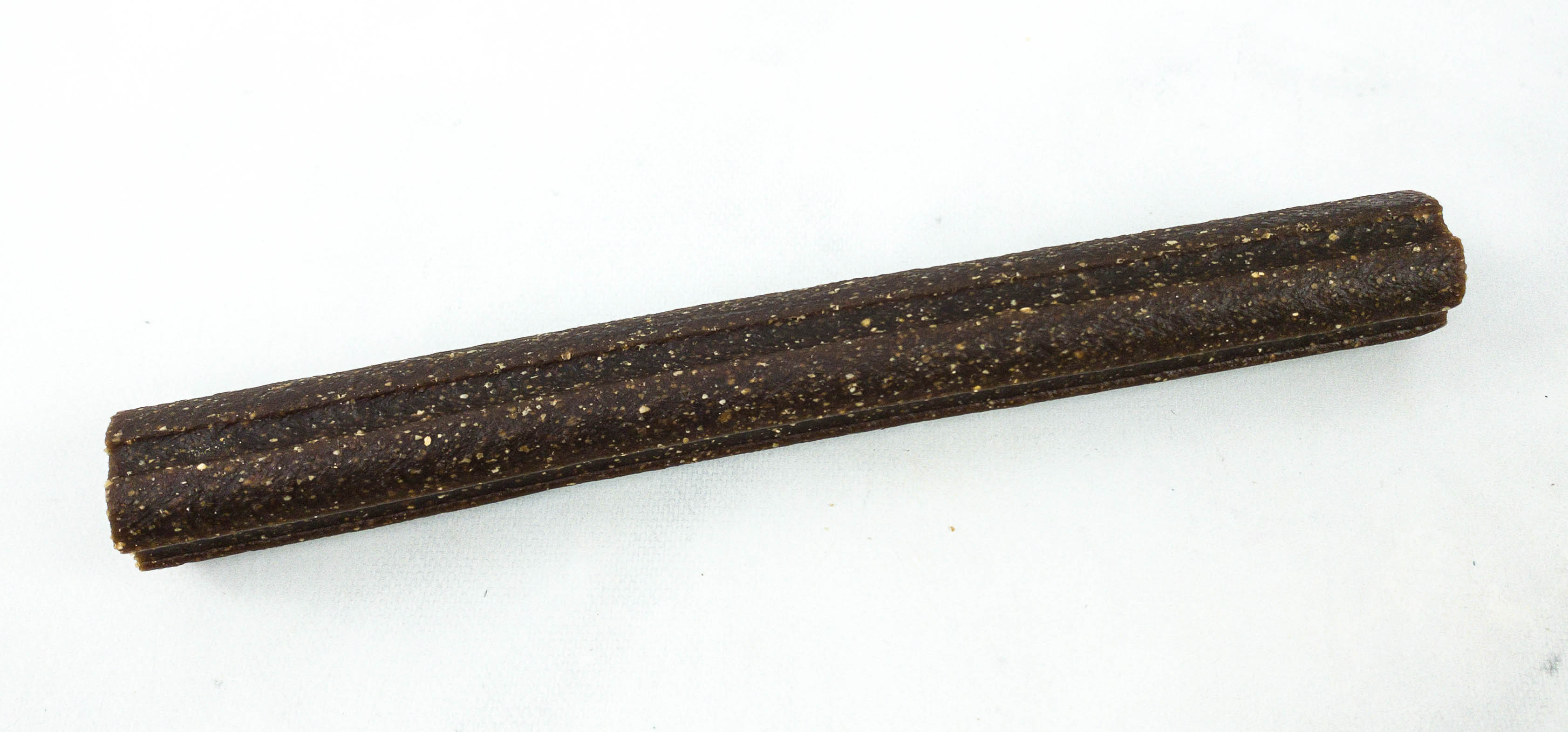 It's a tough, nutritious stick packed with protein and fiber that dogs need. This stick is ideal as a reward treat!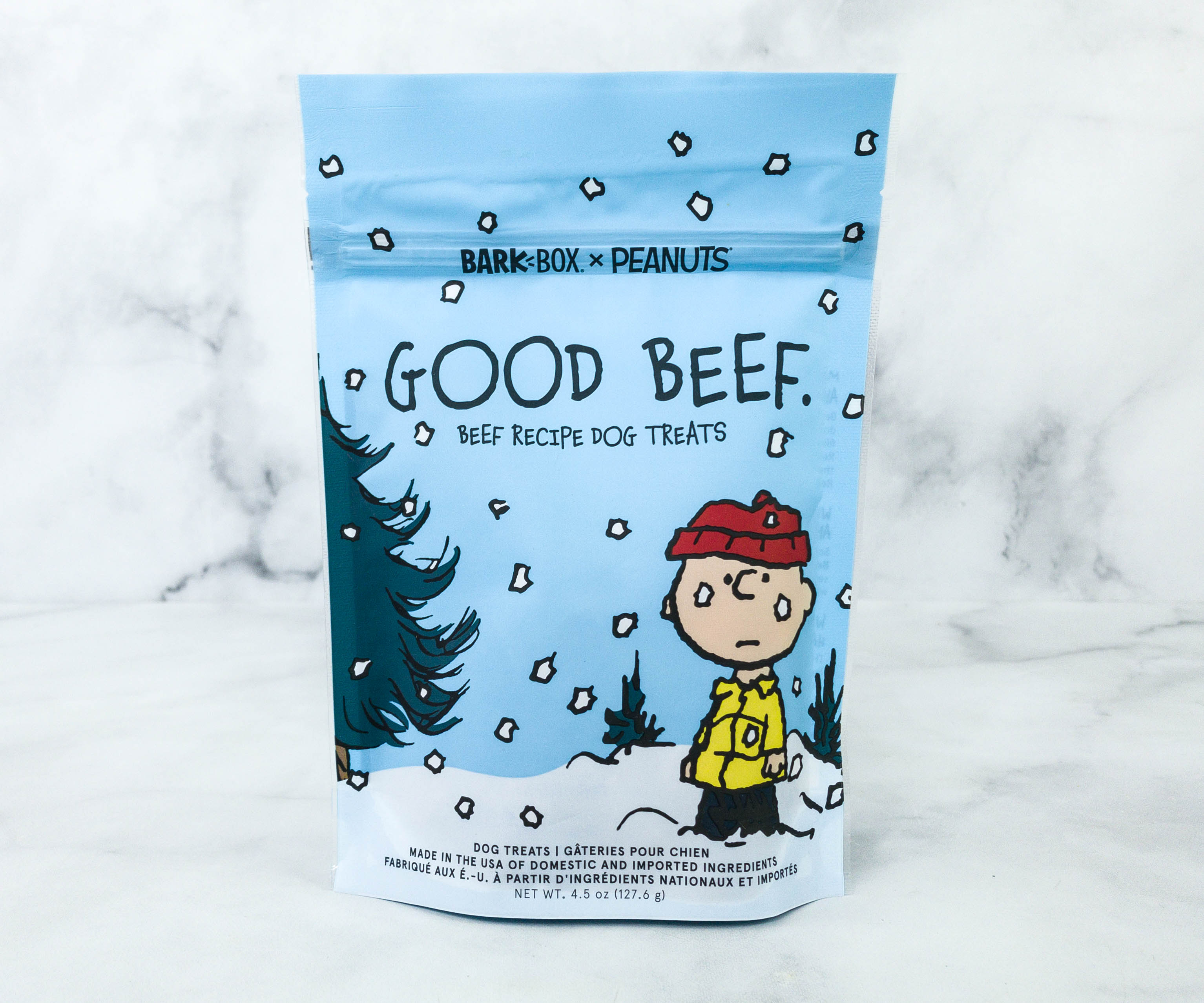 Good Beef Beef Recipe Dog Treats. This month, I received two bags of delicious treats for dogs! The first bag of treats is made with beef, pea flour, chickpeas, coconut glycerin, and potato.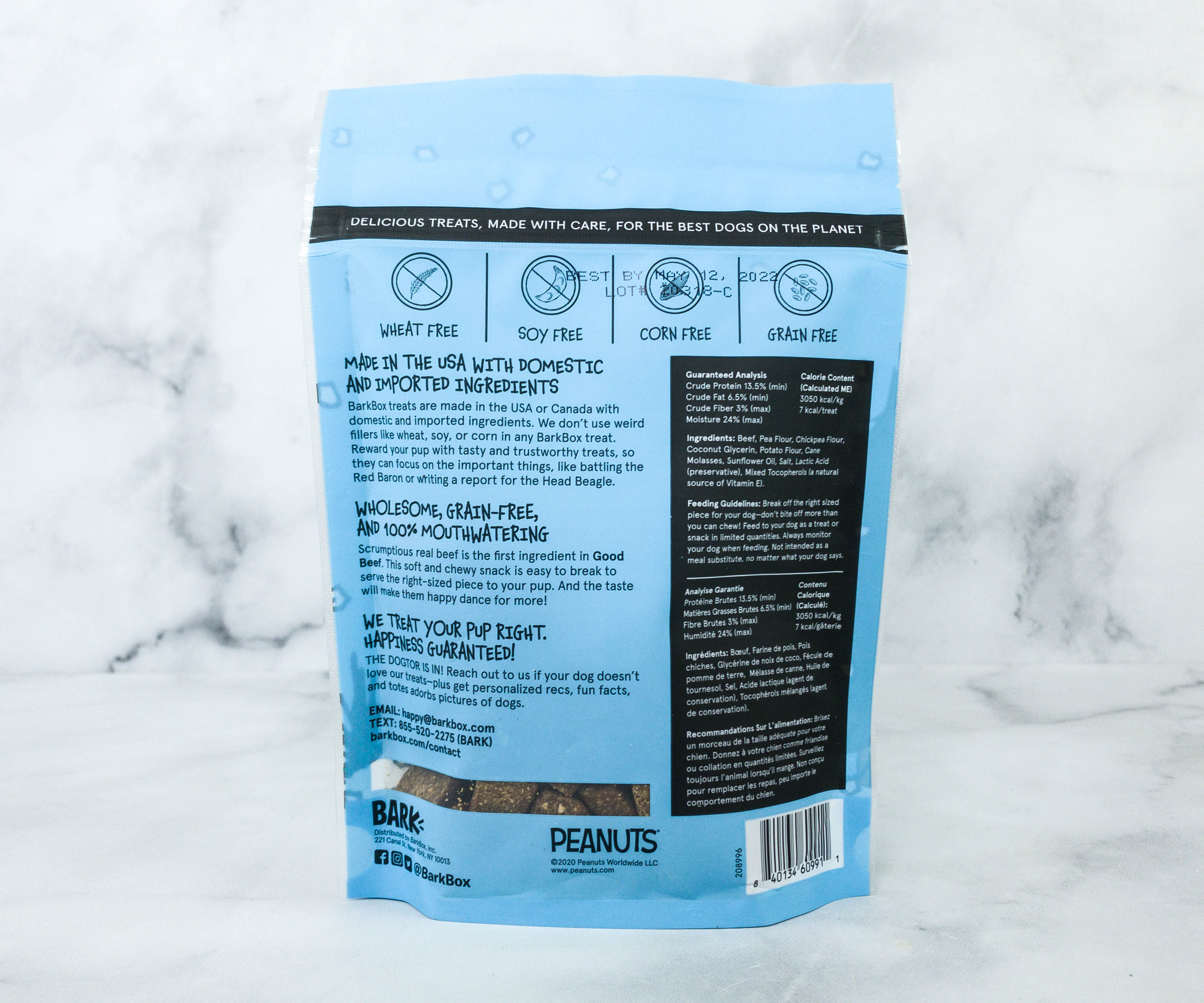 According to the pack, these treats are wheat-free, soy-free, corn-free, and grain-free.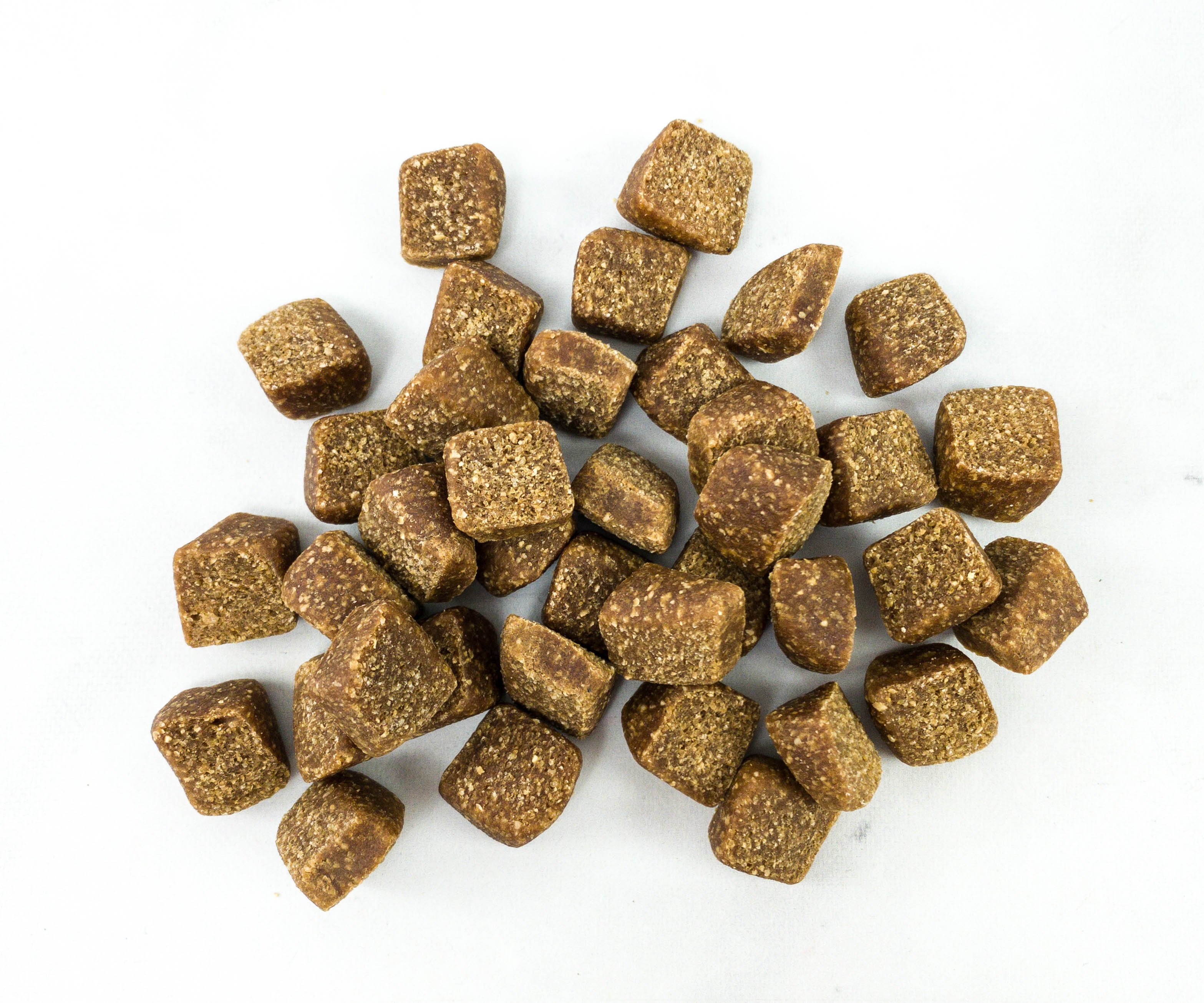 The treats are on the chewy side. They're also bite-sized, so they're easy to feed to dogs whether as a snack or as a reward.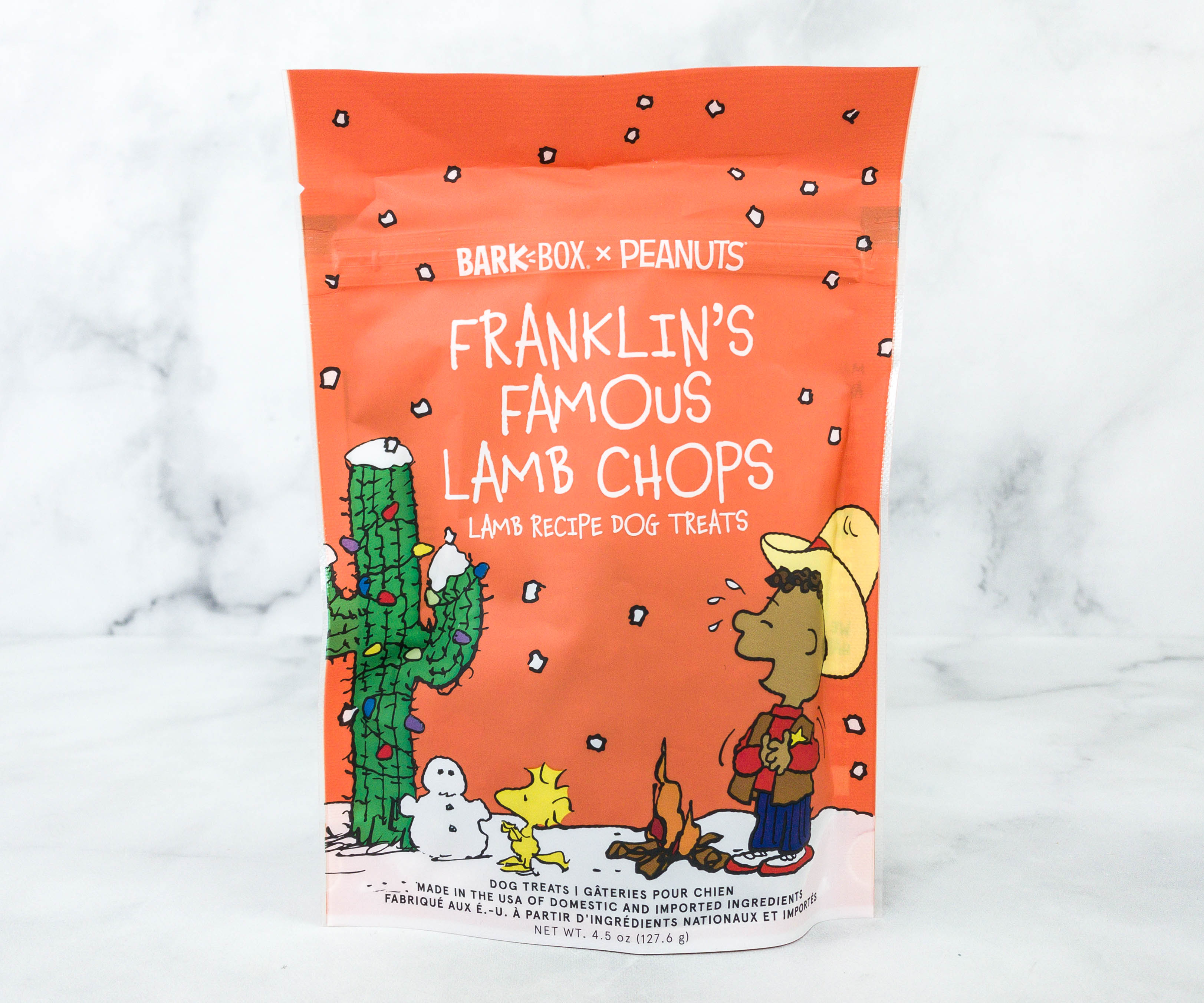 Franklin's Famous Lamb Chops Lamb Recipe Dog Treats. The second bag of treats features Franklin and Woodstock on the packaging. These treats are made with lamb, which is a good source of amino acids and dietary fats.
Like the first bag, these treats are also wheat-free, soy-free, corn-free, and grain-free!
Each piece is button-shaped and bite-sized. They are also a little rough, with a chewy texture!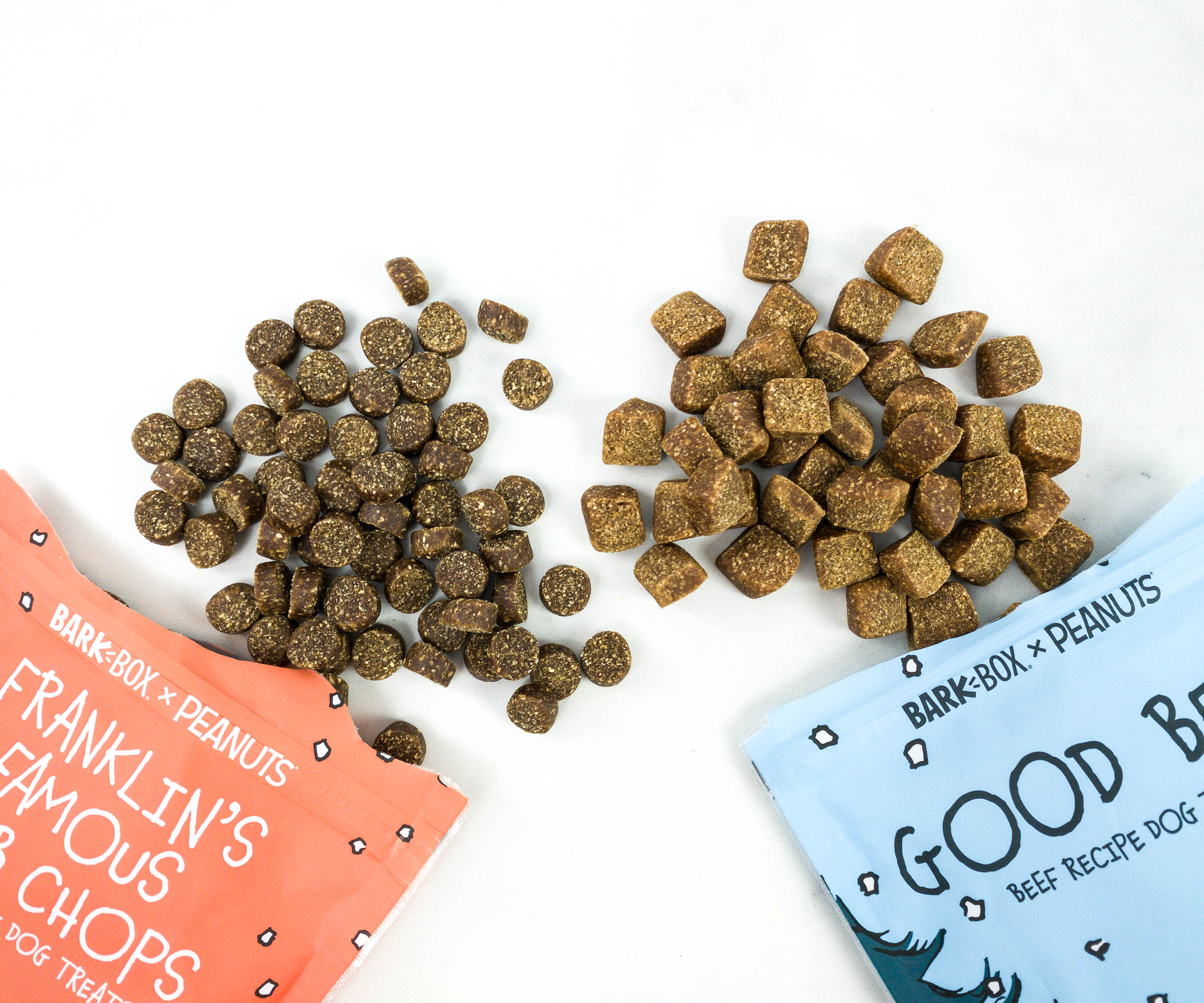 The peanut treats are slightly bigger than the lamb treats, but Buffy likes them both!
Speaking of Buffy, here she is playing with her new toys!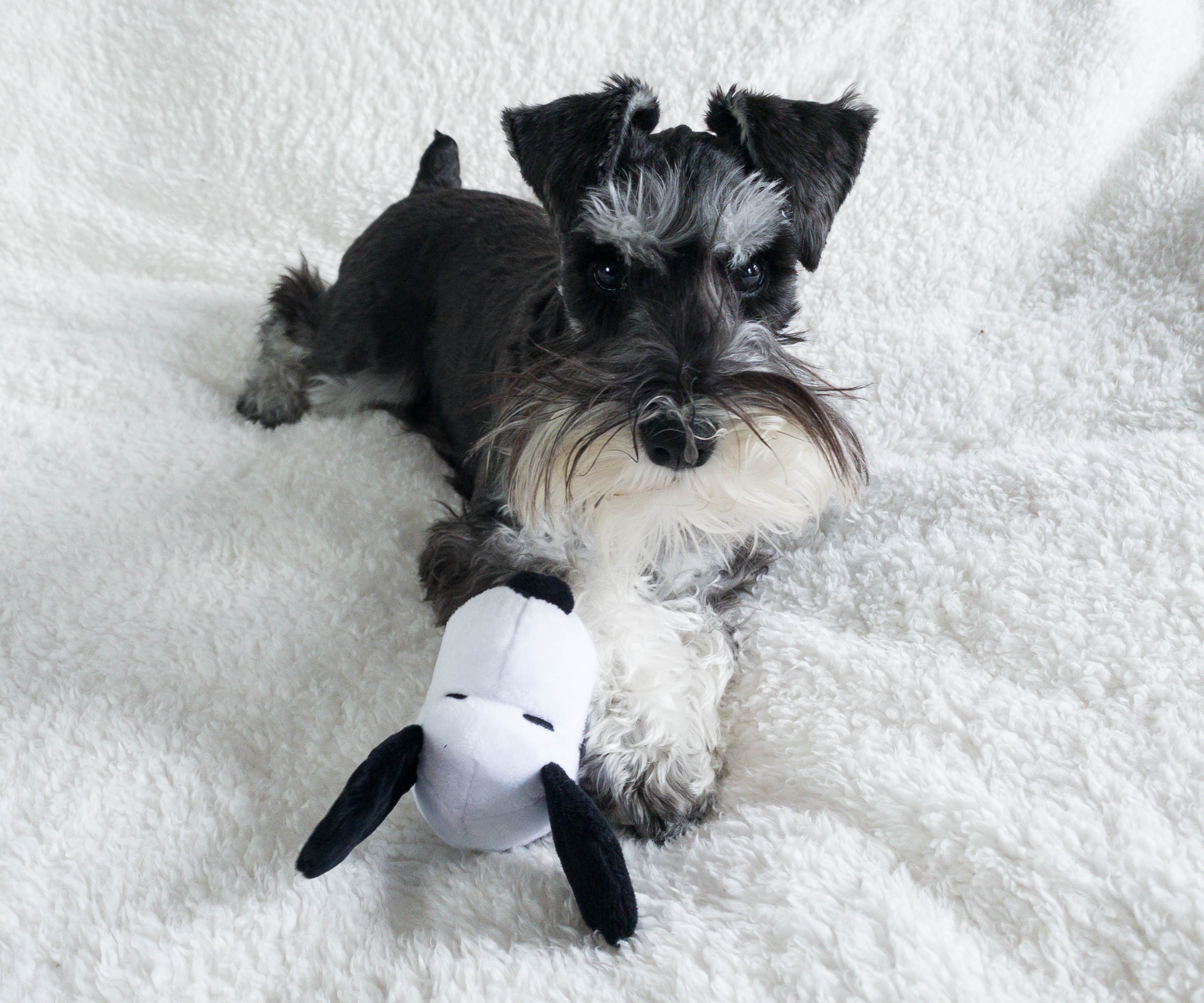 Her favorite is the Snoopy plushie!
Barkbox kept things fun this month by collaborating with Peanuts! This month's box includes great items that feature the Peanuts gang, including Snoopy, Woodstock, and Franklin. The Peanuts toys are not just cute but also durable, while the dog treats with Peanut themed packaging are made only with healthy ingredients. Buffy enjoyed both treats, as well as the snack stick that kept her busy for a while. If you're looking for a fun subscription for dogs, this is a good one to consider. They've been consistent with the quality of their boxes and their fun themes and I couldn't ask for more! The only downside is that box arrived really late – in January. I did receive an email that it was delayed, but as a long time subscriber, I would have expected this box to arrive for Christmas.
What do you think of Barkbox? If your dog is a serious chewer, check out Barkbox Super Chewer!