Yumi baby food has an fantastic deal for their holiday sale!
Get 50% off your first FOUR BOXES – that's an entire month and up to $190 savings! Use this link to activate the deal! PLUS, sign up now for FREE shipping for life!
Superfood for Superbabes The future of baby food is here. We're fed up with the baby food industry. As math and science nerds (and parents), something about big baby food just didn't add up. Older than your baby? Packed with sugar? Low in nutrition? Families deserve more.
See our Yumi review for more details on this baby & toddler food delivery service!
At this moment, your baby's brain is growing faster than it ever will. By the first year, the brain doubles in size. The foundations for motor skills, social cues, emotional development memory, attention, temperament, taste preference and more are built during this time. Your baby's tastebuds form in the first 2 years. The science is clear: the food choices you make now will help your child make better food choices later. That's why we introduce them to over 100+ real, nutrient dense foods. It's simple: real food is fresh food. No Synthetics. Never Fortified. No Additives. No Concentrates.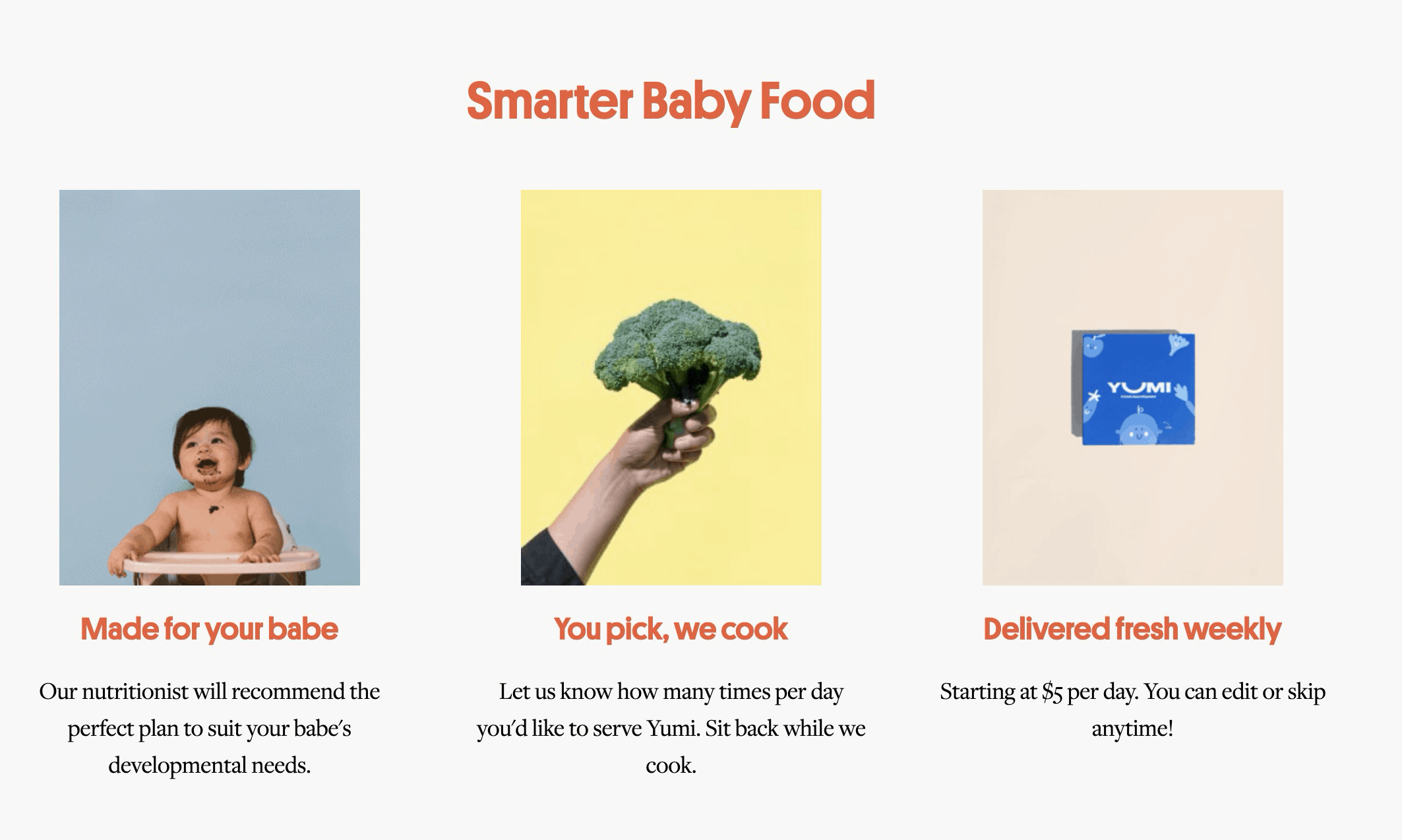 We not only use organic and fresh ingredients, we collaborate with a team of doctors, nutritionists, and chefs to continually develop the most nutrient dense purees available. We first balance our menu to make sure we include a wide range of fruits, legumes, greens, grains, root veggies, spices, and fats. Then, when developing each flavor we continue iterating on each recipe until we have at least 5 micronutrients. (20% of your child's recommended daily allocation) Lastly, we make sure your baby has sustained energy by balancing the amount of sugar and fiber in the blend. We also use Modified Atmospheric Packaging to make sure our fresh fruits and veggies maintain their nutritional value whereas most big brands use heat and dangerous preservatives that destroy the nutritional content of the ingredients. The result is simply smarter babyfood.
Over 100+ Ingredients
Studies show that early exposure to a wide variety of texture, tastes and vegetables can reduce fussiness and instill a love of healthy food later in life. That's why we introduce your babe to over 100+ ingredients, including superfoods and spices from around the world.
Range of Textures
We learned early on that it takes time to get used to solid foods. Babies go from super smooth liquids to chunky, grainy, silky to everything in between in a matter of weeks. That's why we stage our blends, to help you help your little one adjust.
Here's a look at an recent menu and a description of the stages available: Stage1 Smooth Singles Single Ingredient Purees (4+ months)
Stage 2 Smooth Soups & Pies Multi-Ingredient Smooth Purees (7+ months)
Stage 3 Chunky Puddings & Bowls Multi-Ingredient Chunky Purees (9+ months)
Stage 4 Bites and Puffs (10+ months)
Balanced Fructose to Fiber
Fiber helps slow down the absorption of sugar, which is why we balance our blends with fibrous veggies and proteins. In the short term, you'll notice fewer energy dips, which makes for a less fussy baby. In the long term, you're setting them up to reach for veggies over candy.
Nutrients Paired to Maximize Absorption
Your babe's tummy is like a tiny tank and it only has so much room to take in the nutrition it needs, so we aim to use the space efficiently. By pairing nutrients together we ensure maximum absorption.
$35 per week for 1 meal a day
$65 per week for 2 meals a day
$90 per week for 3 meals a day
And the packaging details!
What are Yumi jars made of?

We chose a BPA/BPS-free plastic over glass.

Choosing our packaging was an extremely complex decision. We had two main goals — your baby's health and your baby's safety.

Safety First Initially we explored glass but failed to find a substrate that didn't break or chip. We know some babies self-feed and wanted to ensure that nothing breaks when it gets knocked off a high chair.

BPA & BPS Free We found a BPS and BPA free plastic that is also curbside recyclable. We didn't want to add to the island of plastic growing between us and Hawaii.

Cold-Filled As a final precaution, we let our food cool completely before filling our jars. Plastic typically leeches at extreme temperatures. While our jars are free of BPA and BPS, we still wait for our food to cool completely to make sure our food is safe for your little one.

Can I recycle my box/packaging materials?

Yes! We care about the planet too. Our jars, boxes, and trays are all recyclable. Our insulation is curbside recyclable and our custom ice packs are reusable. We designed them to be perfect for a picnic or a long drive. If you want to recycle your ice pack simply cut open the top of it and dispose of its contents into the trash (be sure to follow any state or local law on this matter). Then just wash out the plastic and recycle it anywhere that accepts #4 plastic (fun fact: most plastic grocery bags are #4, so anywhere those are accepted our packs should be as well!)