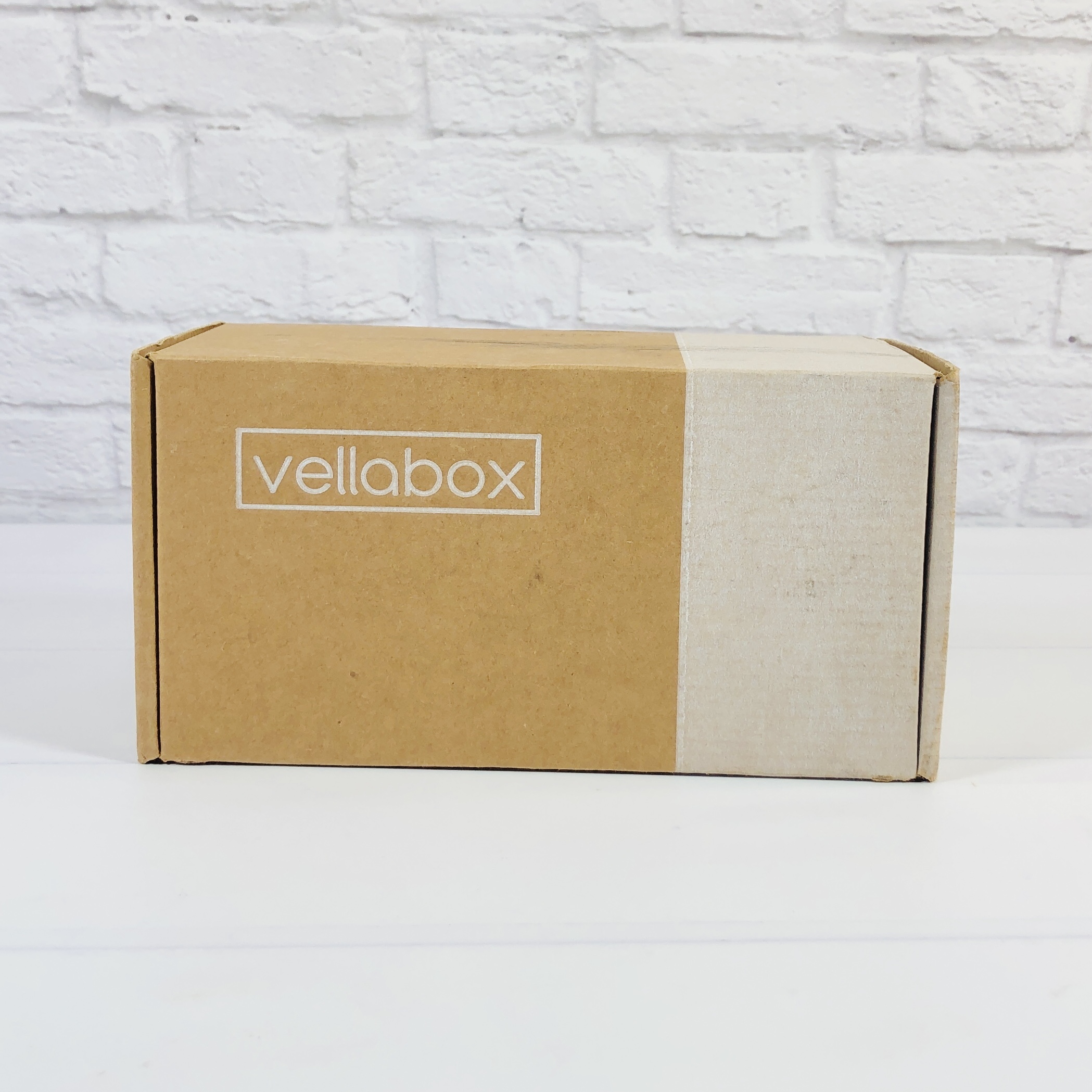 Vellabox is a monthly natural candle subscription box. The candles are always in seasonally inspired scents and are created by the finest American artisans. Each box features a different candle brand. The candles are from small businesses and are made of all-natural wax, cotton braided wicks, and premium fragrance oils. Vellabox also includes a surprise lifestyle gift in every box.
Our Vellabox Candle Curator handpicks the candles and guarantees that they are always all-natural, seasonally relevant and bound to bring warmth and joy to any space. The surprise gift in your box each month is chosen carefully to align with our team's health-centric values.
DEAL: Save 50% on your first box! Use coupon code HELLOSUB50.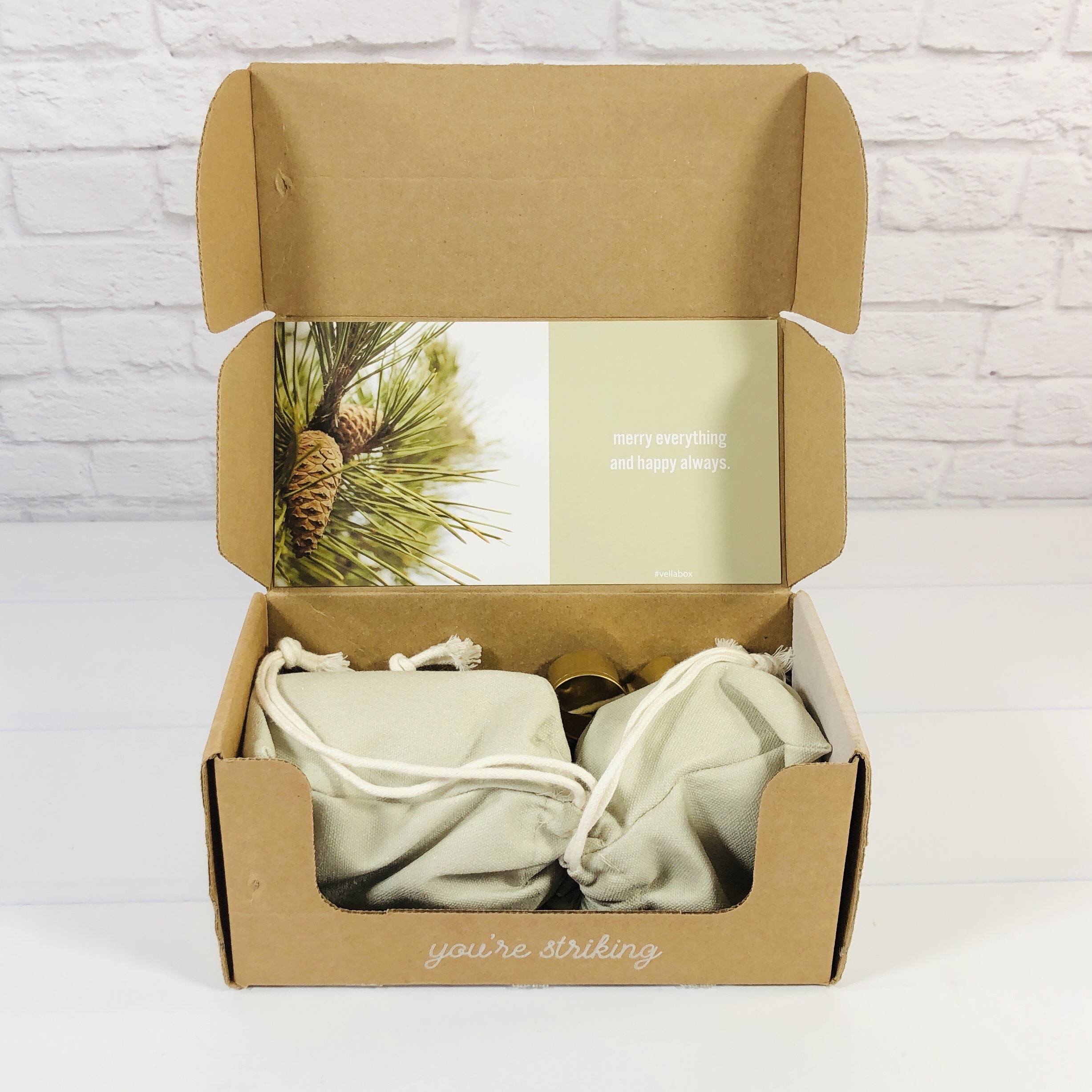 The first thing you need to do is decide which level you prefer. You can choose from The Lucerna Box ($10) which includes a 4 oz candle monthly, The Ignis Box ($20) with an 8 oz candle monthly, and The Vivere Box ($30) with an 8oz + a 4 oz candle monthly. Each level receives the bonus lifestyle gift. Shipping is $3 per month for Lucerna and Ignis to the US, and free for Vivere. Vellabox now ships to Canada for $8 per box.
I am reviewing The Vivere Box.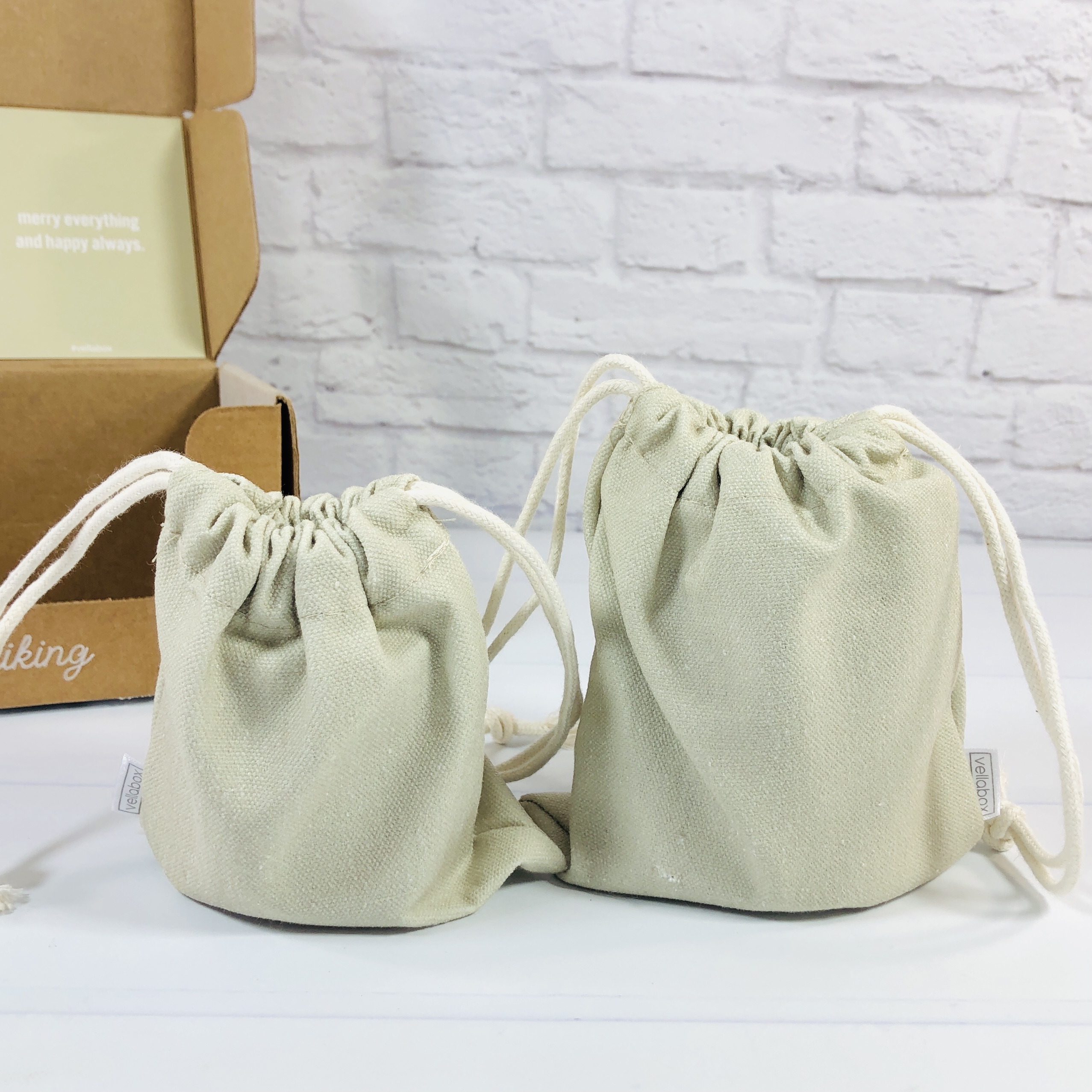 The candles were in reusable drawstring canvas bags. The bags can hold items like jewelry or other trinkets.
There was a card with info on the brand, Calyan Wax Co., and a coupon code for future purchases from the featured brands!
To craft incredible candles that are safe for your home and to help end human trafficking in America.

We believe humans should not be treated as commodities. Every person should be treated with dignity. We invite you to "kindle dignity" by simply enjoying a Calyan candle.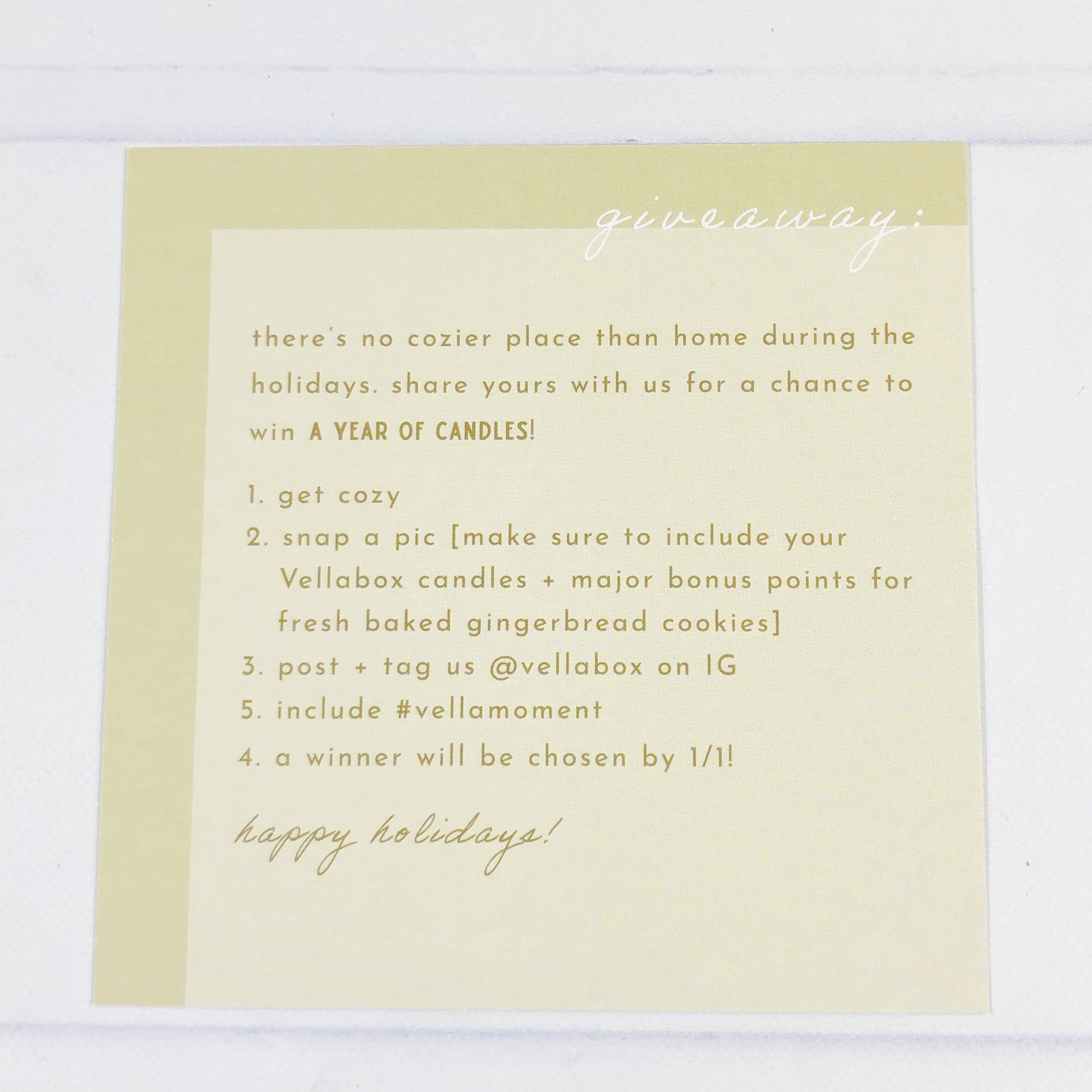 The back of the card told how you can win a year of candles! Get baking!
Here's everything in the box!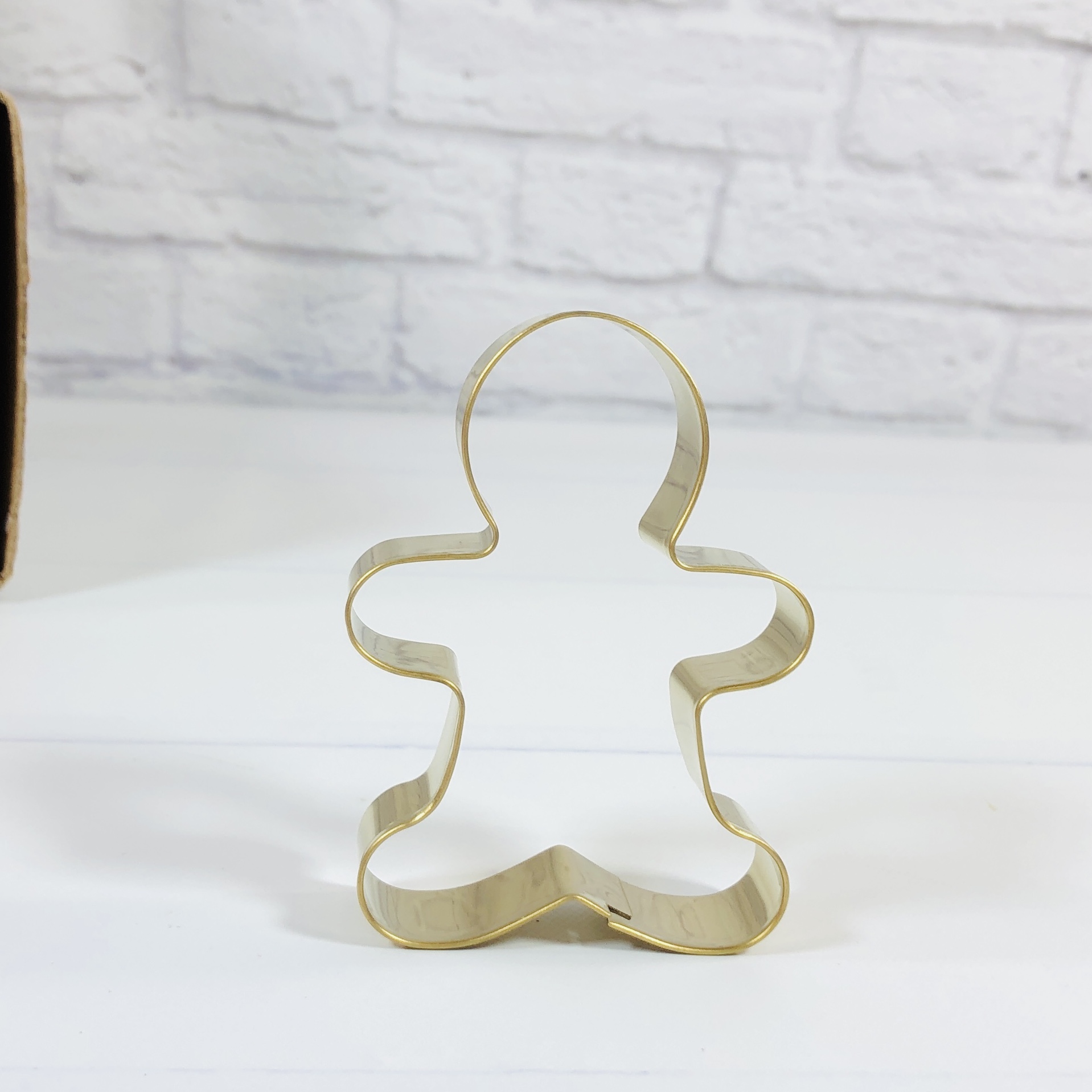 The lifestyle extra for the month is a Gingerbread Cookie Cutter! He's about 3.25″ high and you can find something similar here. I love the gold tone!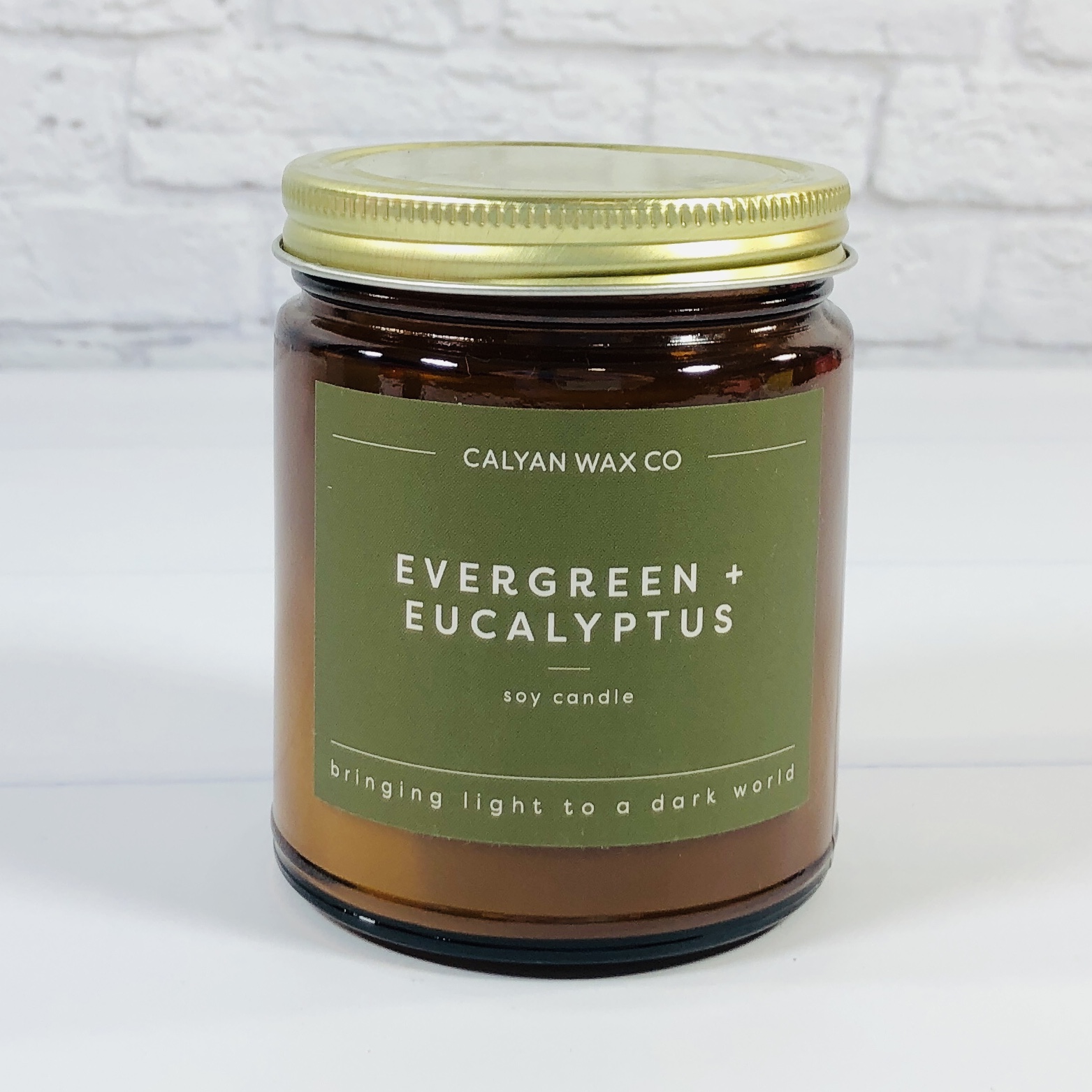 Calyan Wax Co Evergreen + Eucalyptus Soy Candle ($20) Our larger 8 ounce candle is in a lovely seasonal scent. I have a fake Christmas tree but this makes my living room smell like I plucked my tree from the forest. Scent notes include fir, cedarwood, and eucalyptus and it smells exactly the way I would want an evergreen candle to smell!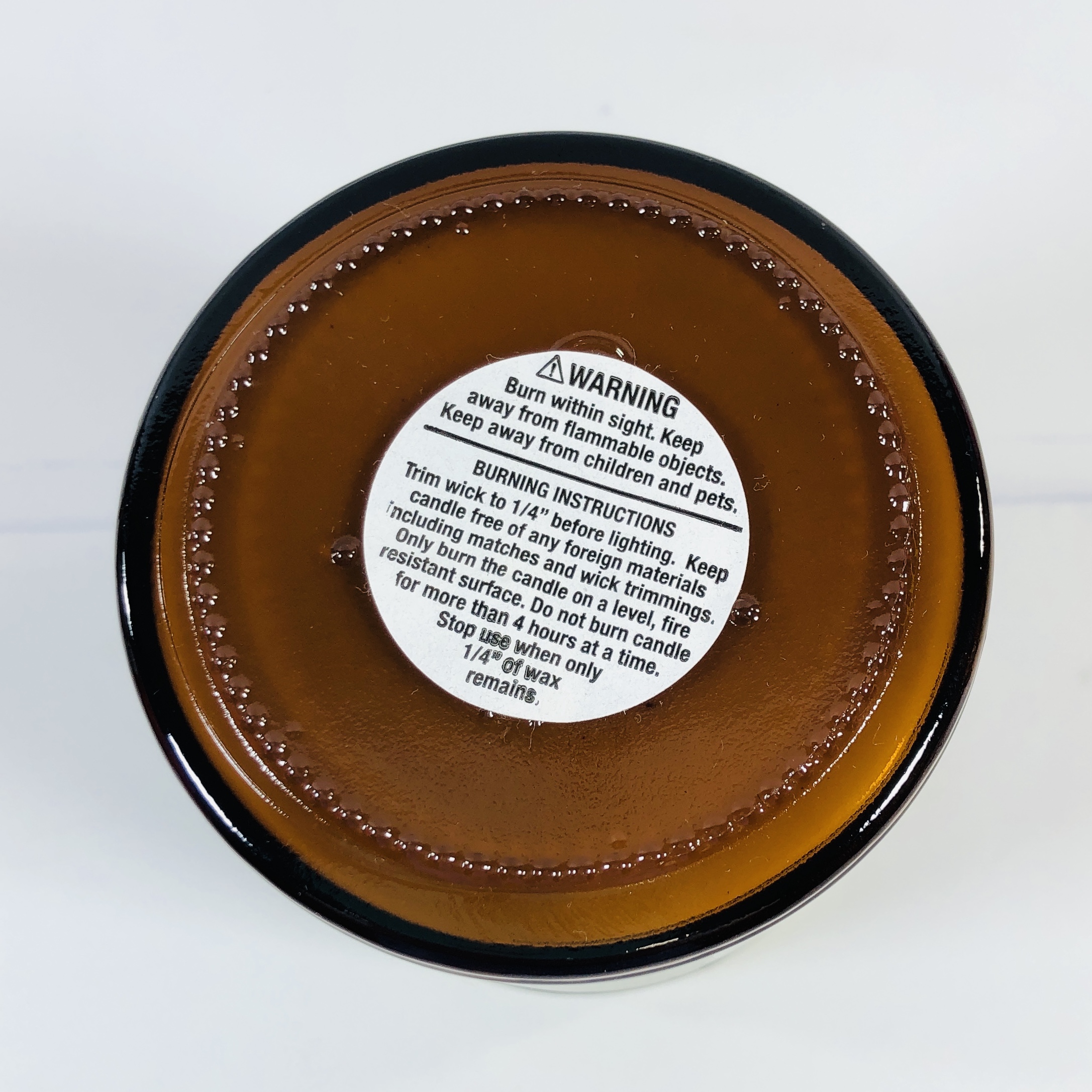 Burning instructions were on the bottom. Keep away from any trees, especially if you have an easily flammable real tree. Of course, watch out for pets and people too.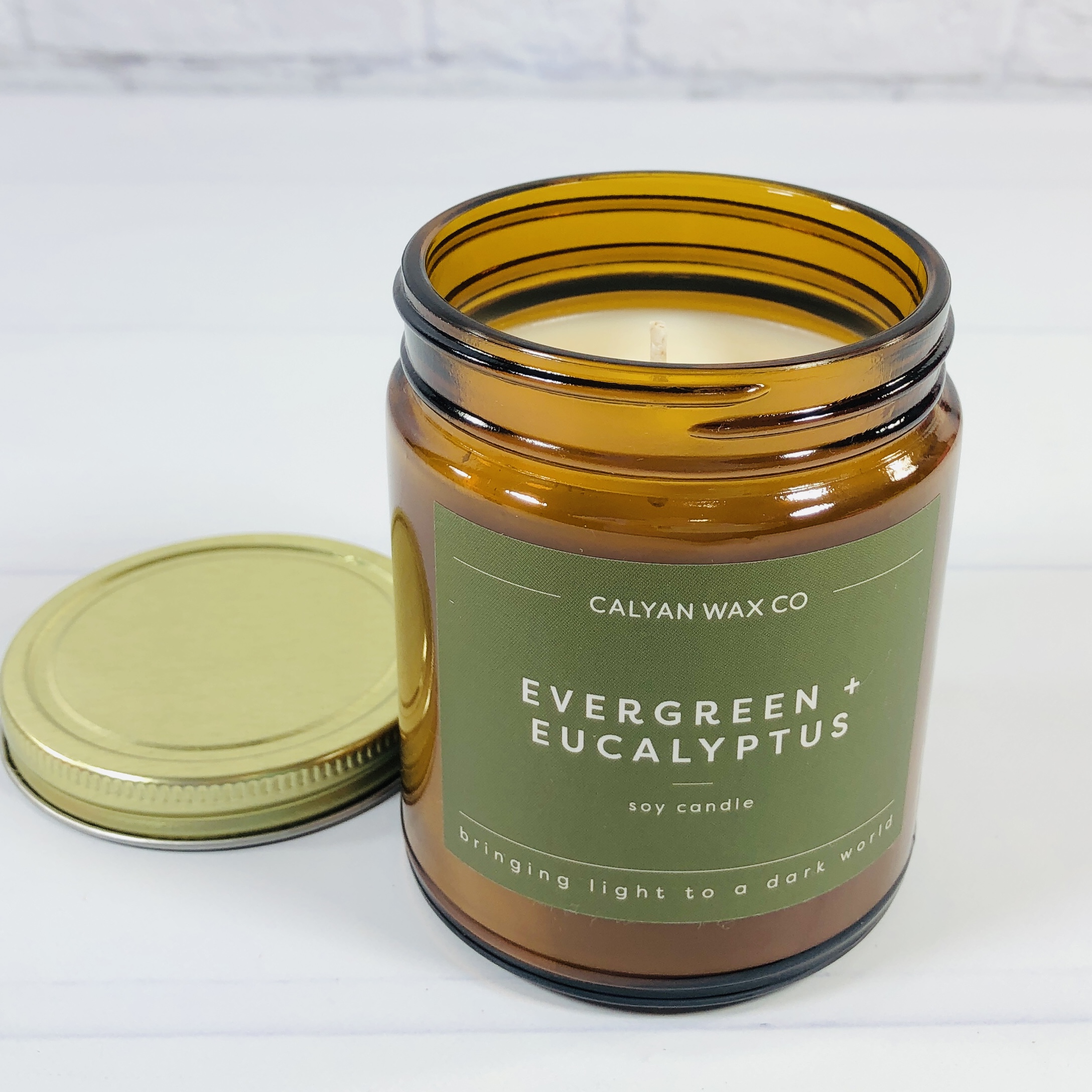 I thought the immediate area around my candle smelled good while burning, but the throw isn't going to scent a whole house. This size candle is recommended for a medium sized room.
Calyan Wax Co Home + Holiday Soy Candle ($20 for 8 ounces) Our second candle is smaller, 4 ounces, and I believe this size was specially made for Vellabox. Both jars are amber colored and have sage green labels and gold lids.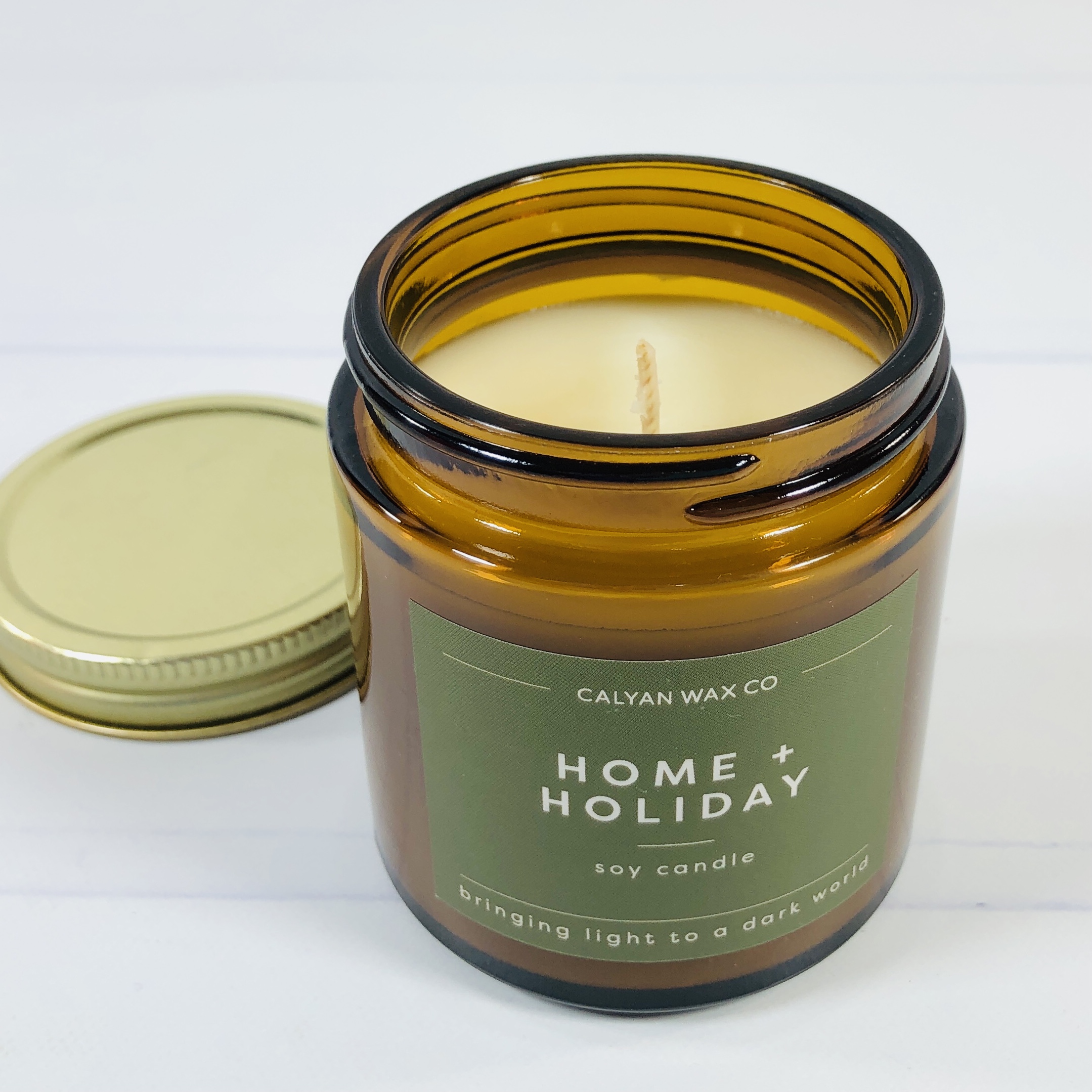 It has notes of cinnamon and vanilla and that is what it smells like, like sugary cookies and a cozy kitchen. I want a perfume that smells like this. In fact, I want a perfume that smells like both of these candles combined, I don't think you can get any cozier than that!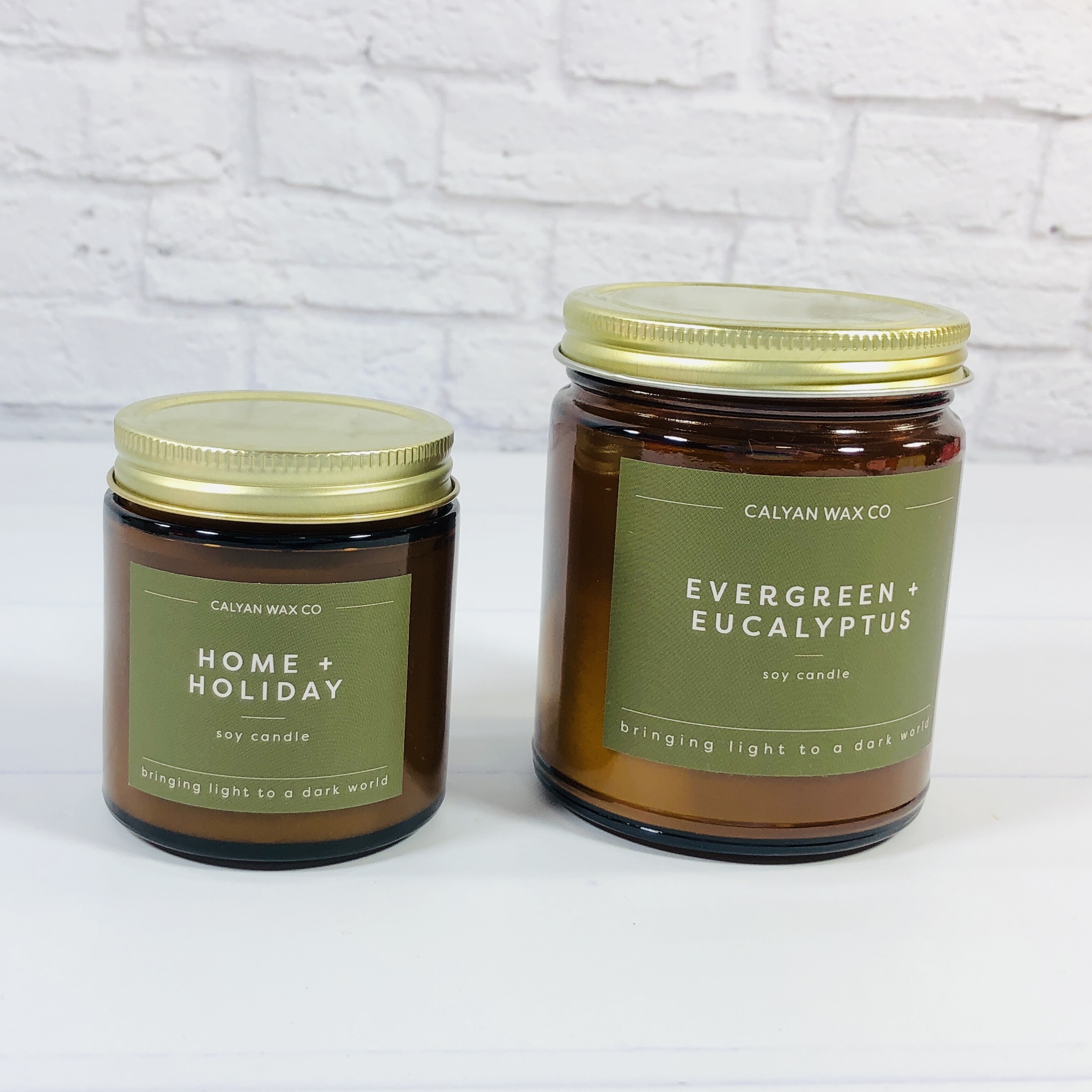 I was exceedingly pleased with these Calyan candles in the December Vellabox! Not only do these candles smell amazing, in a polite way, but the candle company also gives back to help stop human trafficking. The candles are made with USA grown soy wax and the scents are phthalate-free. They have a candle flight so you can test out all of their fragrances in case you want to stock up on any of the other candles in their collection. You may be able to find them at a Whole Foods near you too. My favorite part of Vellabox is that they have introduced me to candle makers I have never encountered before, and I am always impressed!
What do you think of this box?