Vegancuts Beauty Box is a monthly beauty subscription service that sends 4 or more items ranging from unique cosmetics to luxurious skincare. Best of all, they are 100% cruelty-free and vegan, plus most items are natural and non-toxic! Monthly recurring shipments are $24.95 with free shipping in the USA (there is an additional charge for other countries). This sub is also available in 6 or 12-month terms that do not renew but that do earn you a discount.
Each month you'll receive a delivery of 4 or more new deluxe or full-size products, from unique cosmetics to luxurious skin care, that treat your outside as good as you treat your inside.
DEAL: Use the coupon code hellosub to get $5 off your first box on any Vegancuts subscription! It can only be used once per customer, but it can be used on multiple subscriptions at once so long as they are in the same transaction.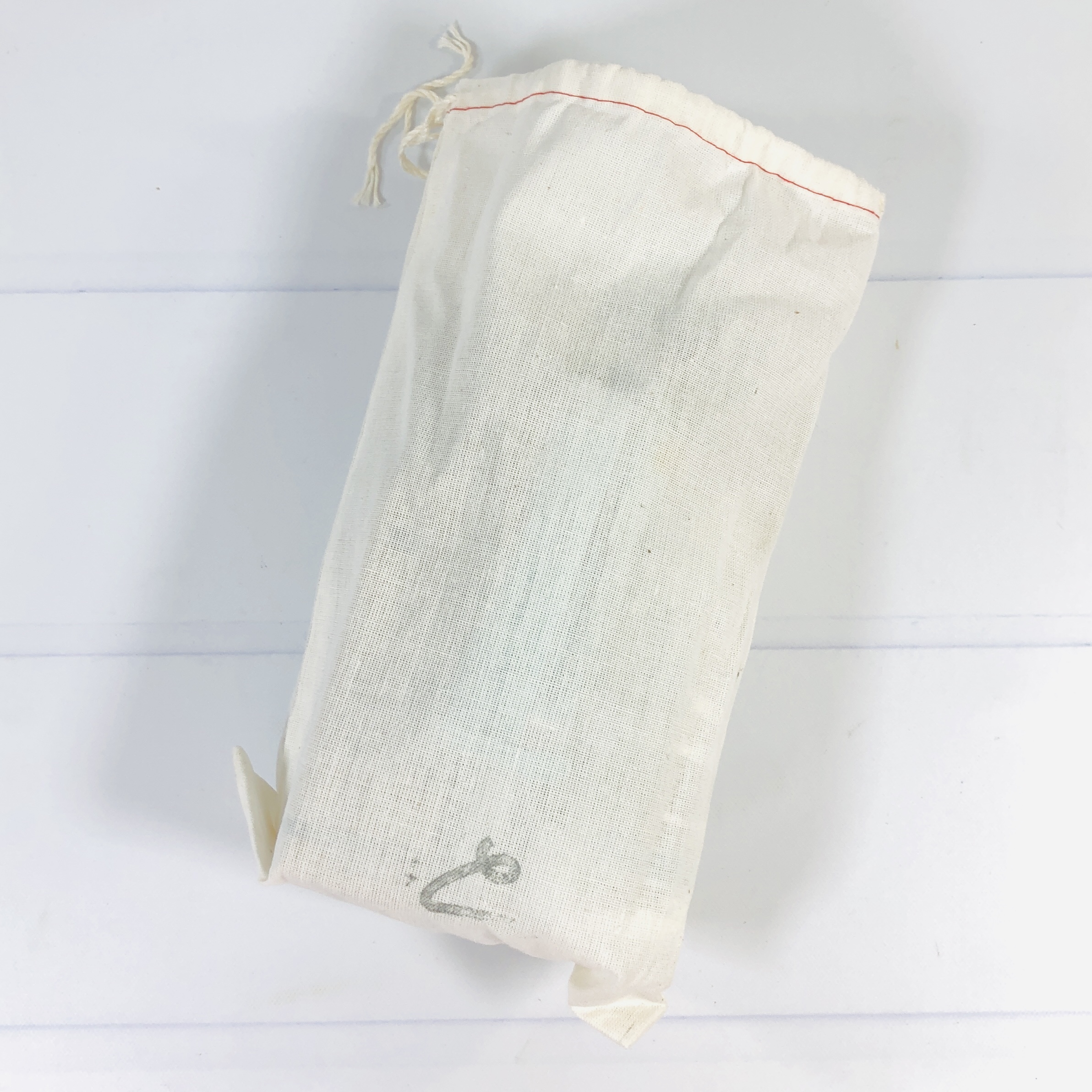 My beauty items come in the same box as my snack subscription, but they are always placed in a separate bag. There is usually a product info card but mine was missing this month.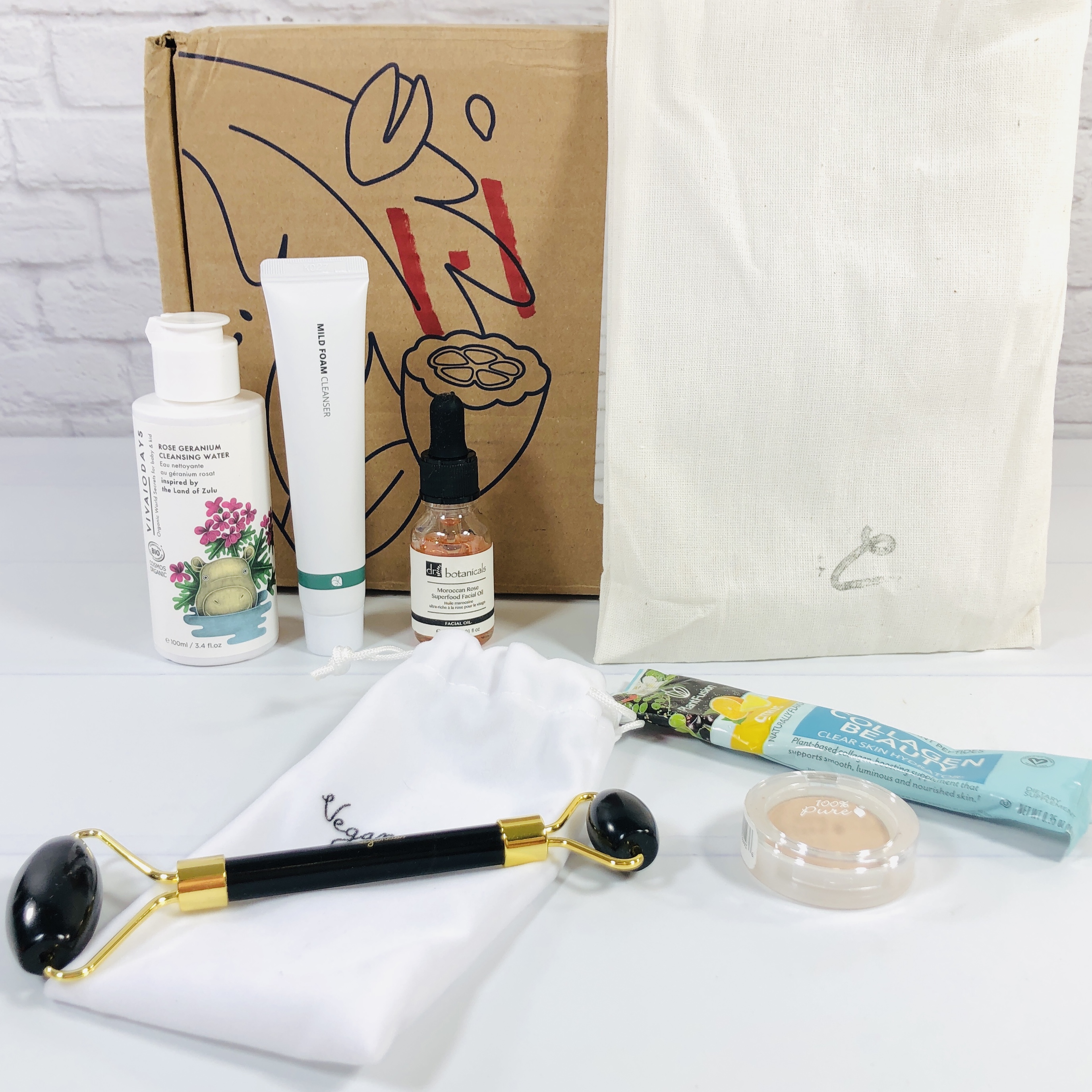 Everything in my box!
Dr. Botanicals Moroccan Rose Superfood Facial Oil ($39) Hmm, I'm usually excited about face oils but this one was different, more like a serum than an oily oil. My bottle wasn't full and the amount on the box and bottle seems off, as 15ml would be about 0.5 ounces, not 1.01 ounce.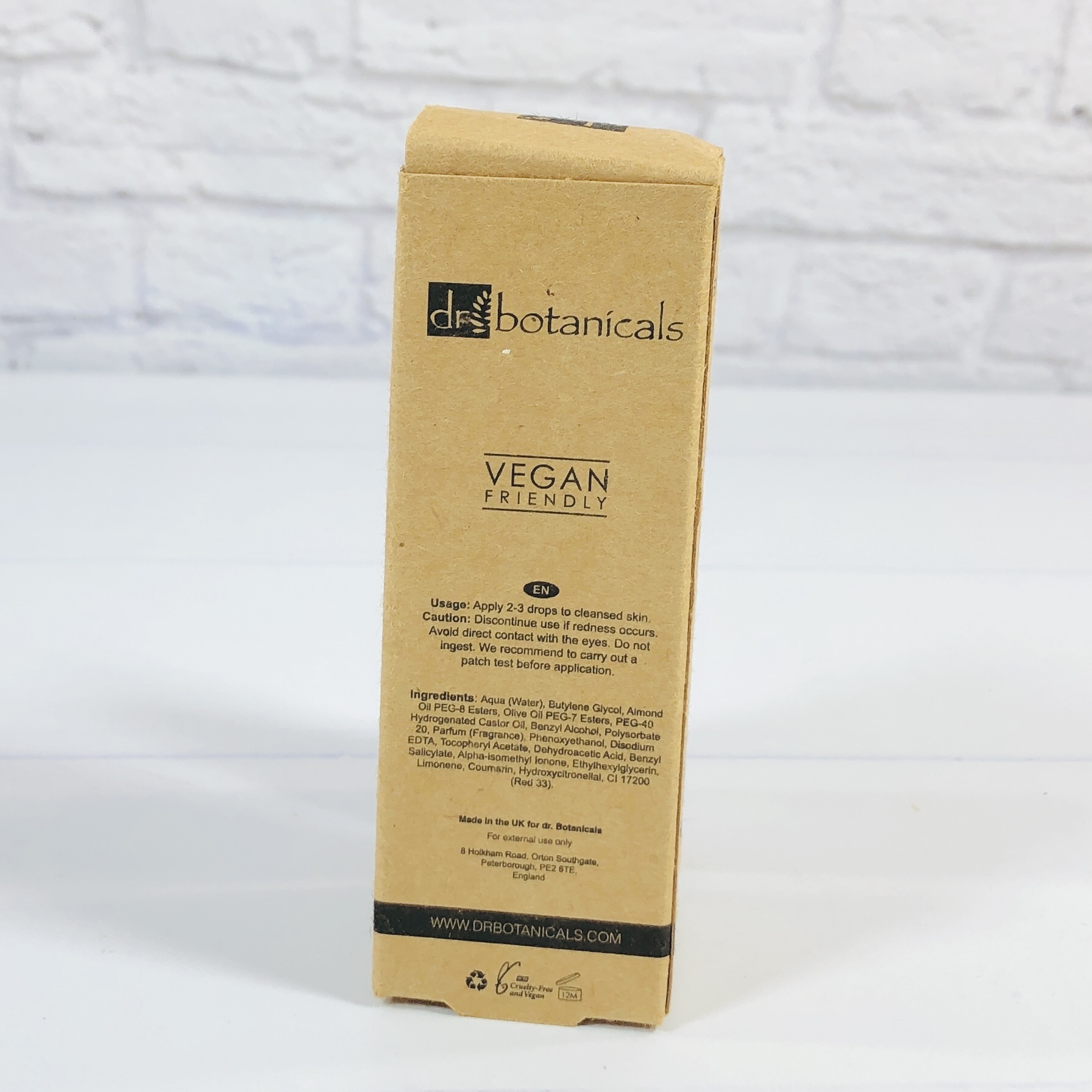 Water is the first ingredient and that matches the consistency. Some of the ingredients seem less than botanical in nature, like red dye 33. Even the rose scent comes from parfum and not roses. Alpha-isomethyl ionone has such a reputation as a skin sensitizer that it is required to be listed on a product so people with sensitive skin can avoid it.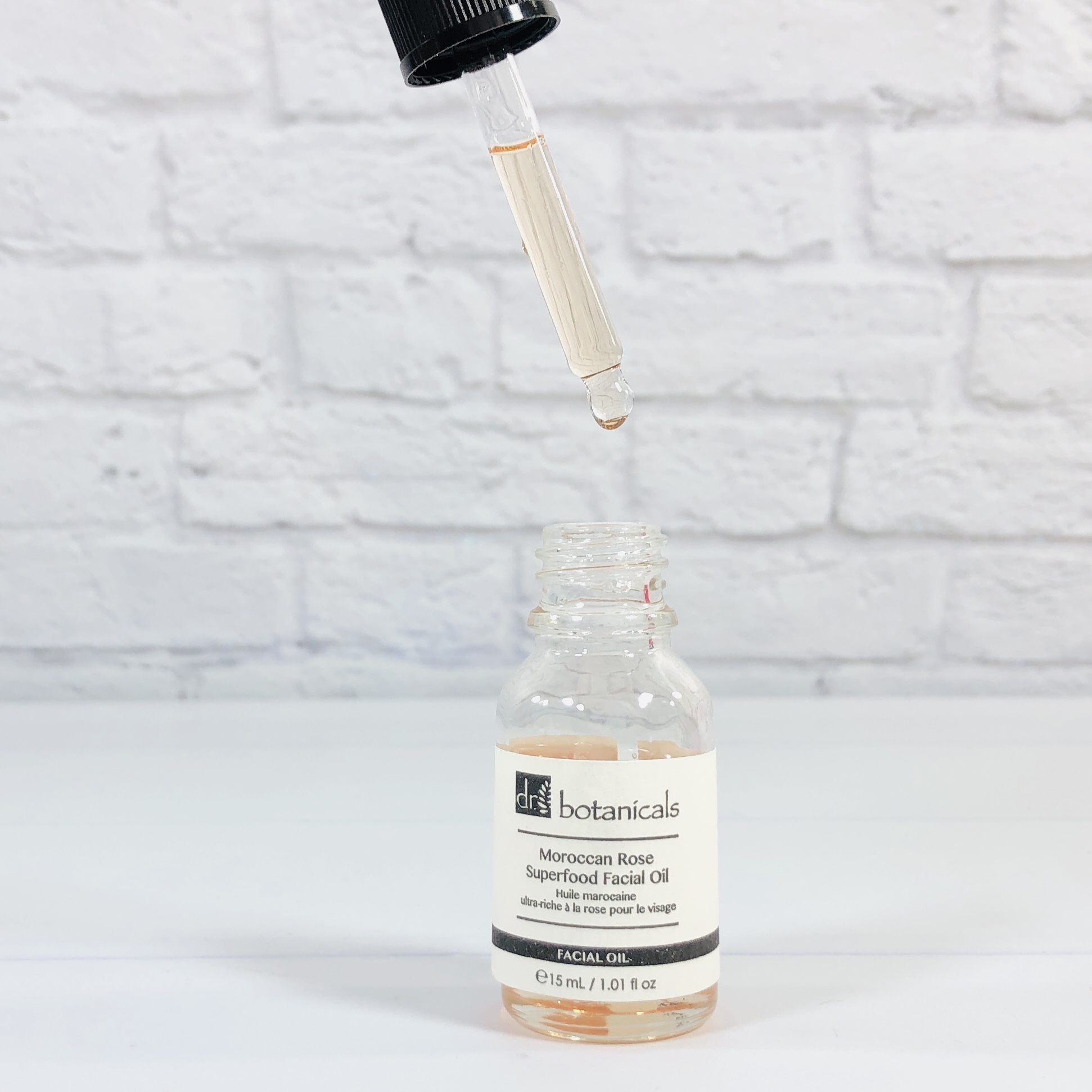 This left a tacky feeling on my skin until it dried fully.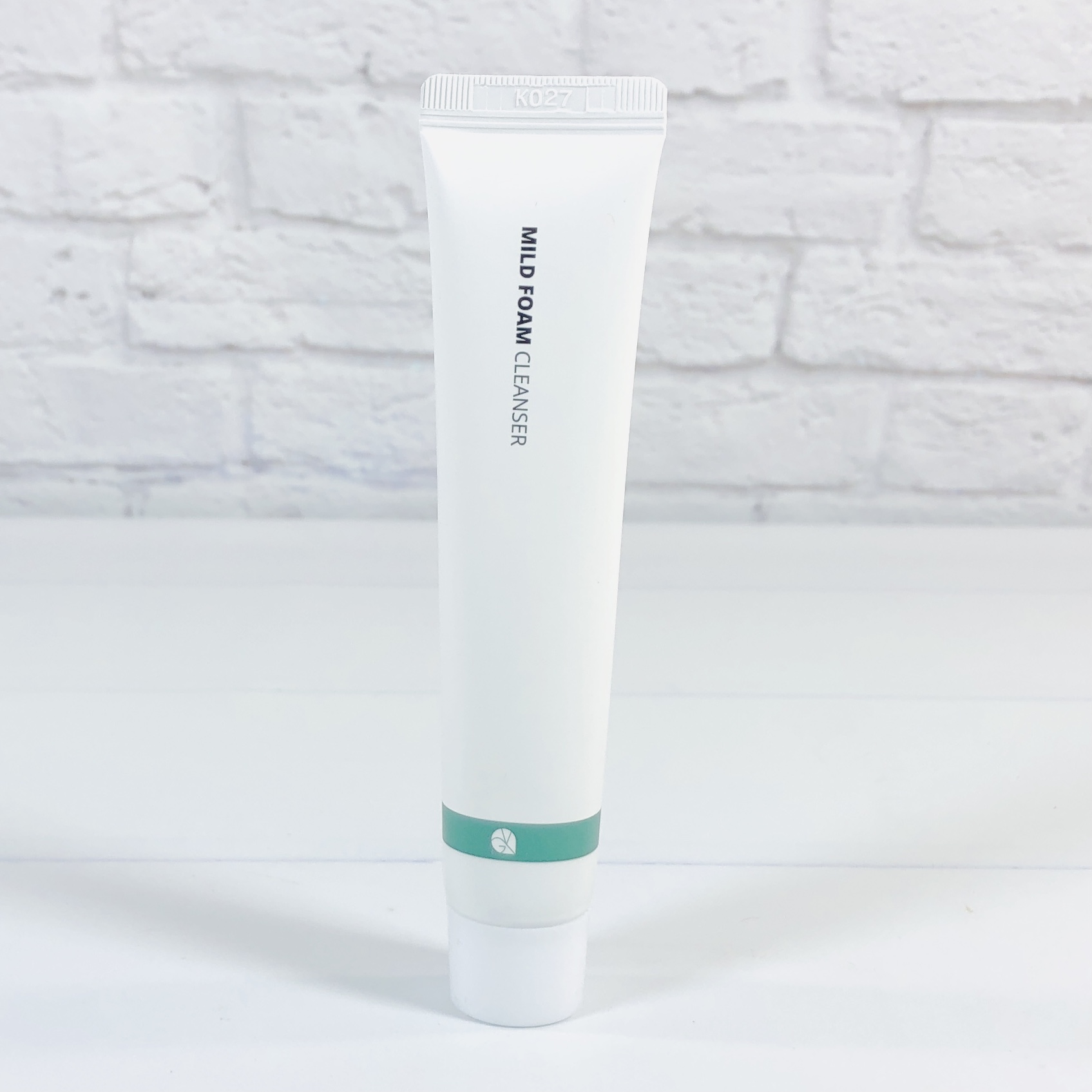 Vegan Glow Mild Foam Cleanser ($4.80) I thought that this cleanser worked really well. It doesn't take a whole lot to get a milky lather going and I felt like I didn't need to do a second cleanse plus it rinsed easily without leaving a film on my skin.
It uses a coconut based surfactant instead of petroleum based and according to the website it might feel grainy in colder weather. It didn't feel grainy to me but I wasn't a big fan of the scent. I know it's not fragranced, which I am happy about, but it does have a scent.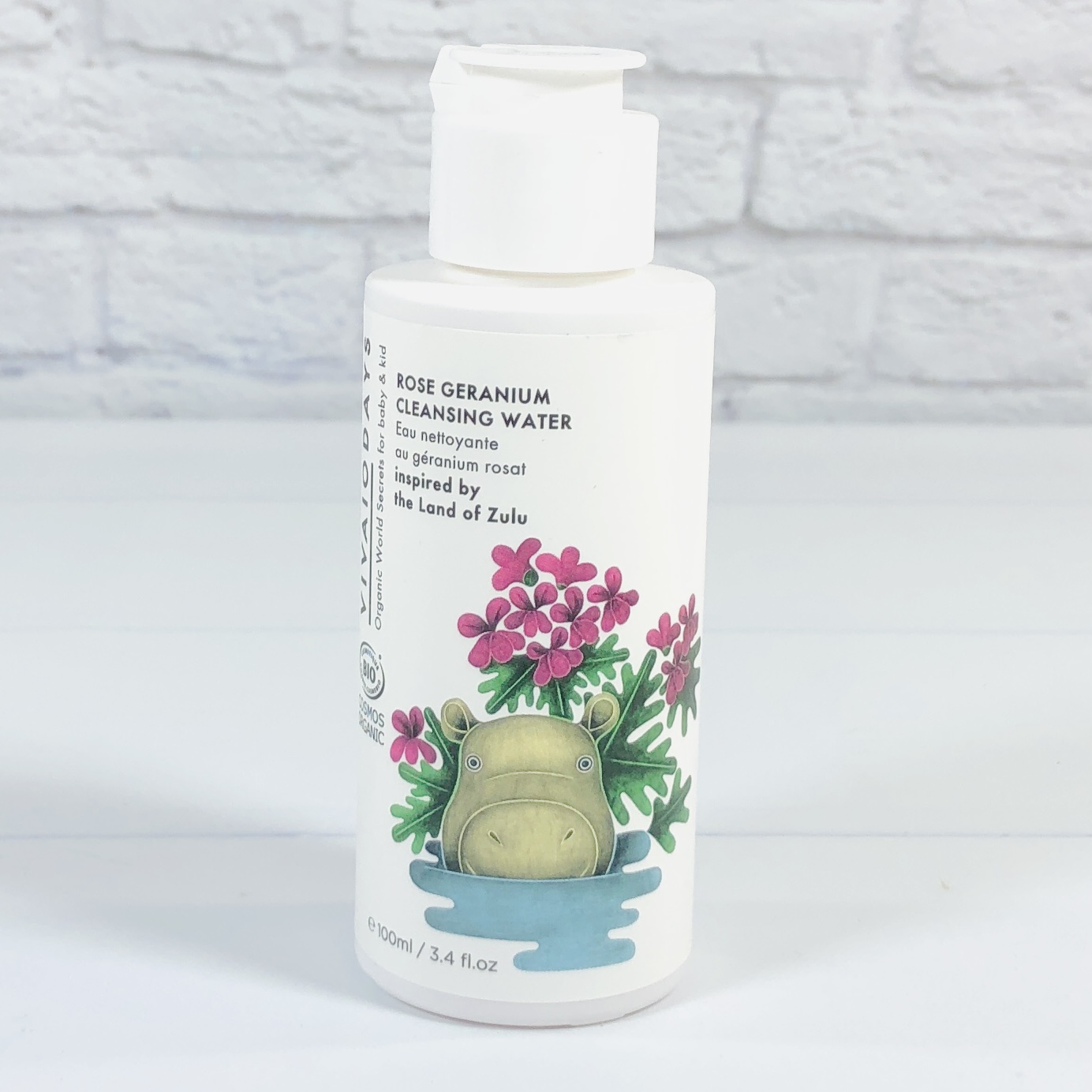 Vivaoidays Rose Geranium Cleansing Water ($16) is a product that is gentle enough to be used on babies but adults can use it too. I used this to remove eye makeup and found that this had the lightest of suds, while my usual micellar water has zero. It can be used to check that all traces of face makeup have been removed but I wouldn't count on it cleansing my whole face, more like a second cleanse following my usual makeup remover.
Aloe is the first ingredient and there's stuff like rose geranium extract and glycerin. The scent is very light and there's no need to rinse after using unless you prefer to.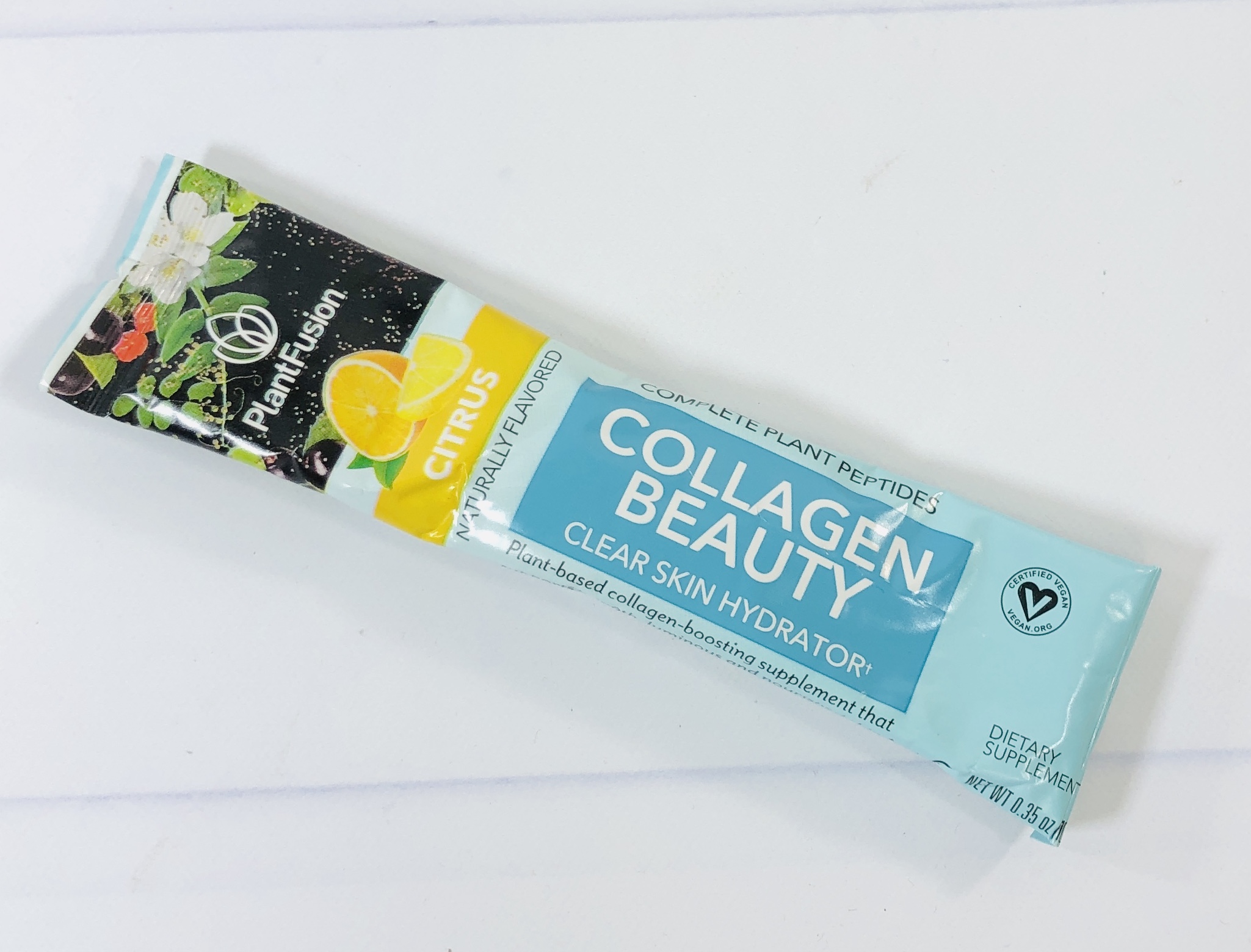 PlantFusion Collagen Beauty Clear Skin Hydrator ($2.39) Our next item isn't meant to be used on the face, but is a drink mix that may encourage healthy skin from the inside out. The collagen in this case is plant-based and it has hyaluronic acid, coconut water powder, vitamins C & E, and several plant extracts. It is sweetened with stevia. Add to 8 ounces of cold water and stir or blend before drinking.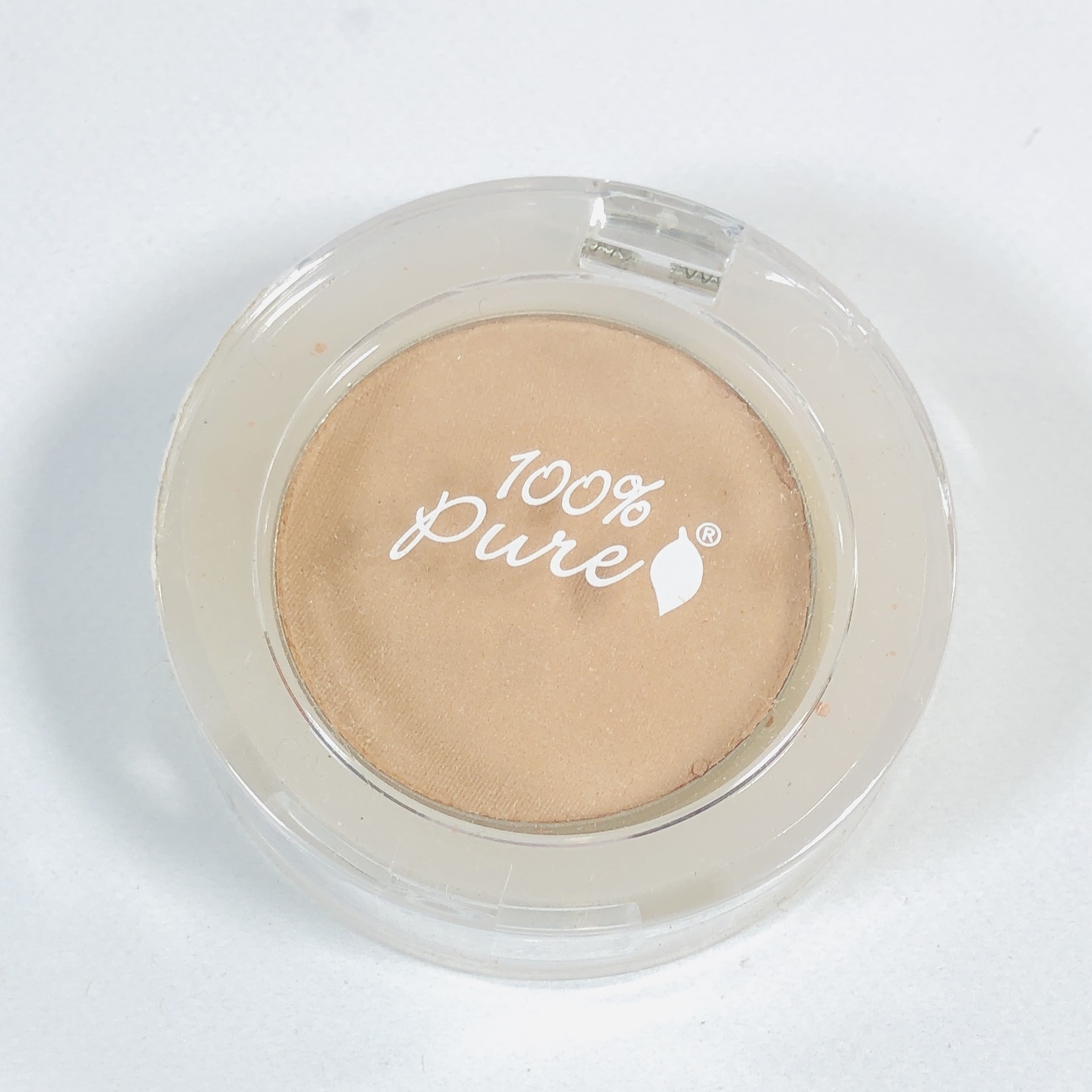 100% Pure Fruit Pigmented Eyeshadow in Flax Seed ($20) I love this type of color as a base for my eyeshadow look on any given day.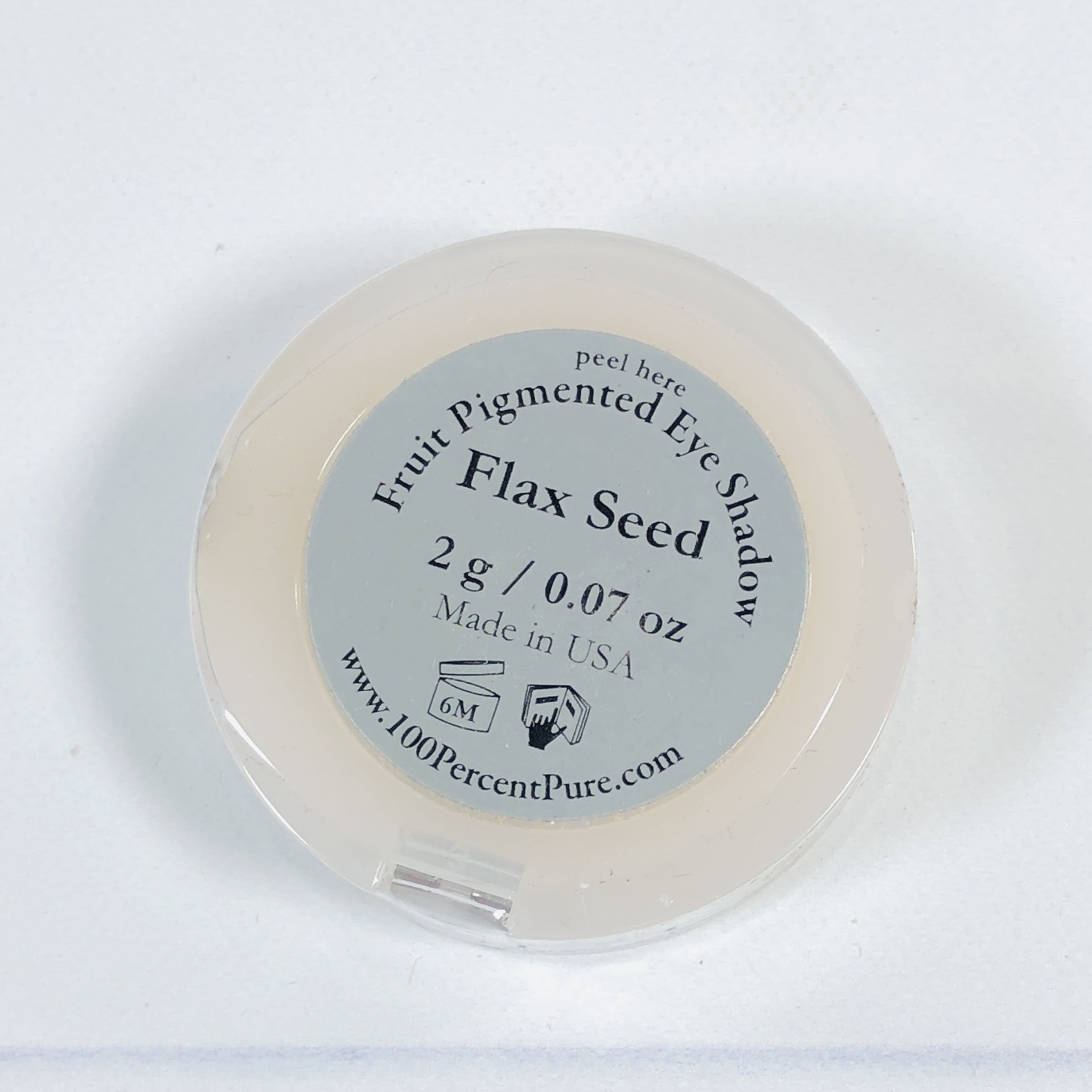 The shade Flax Seed is described as a soft neutral matte nude.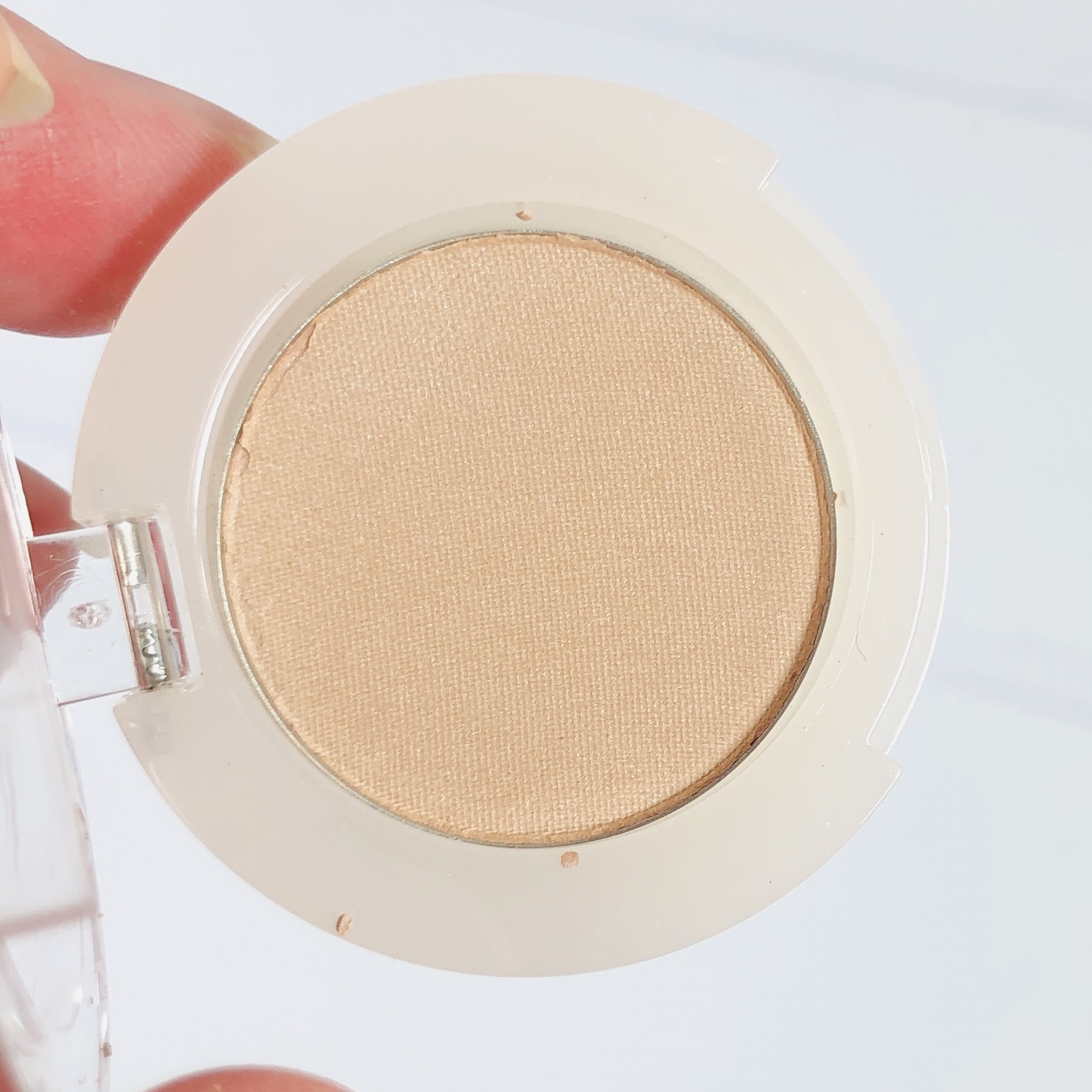 I used this as an all-over base, the beginning of my eye look. The powder went on smoothly and I think there is the barest hint of shimmer.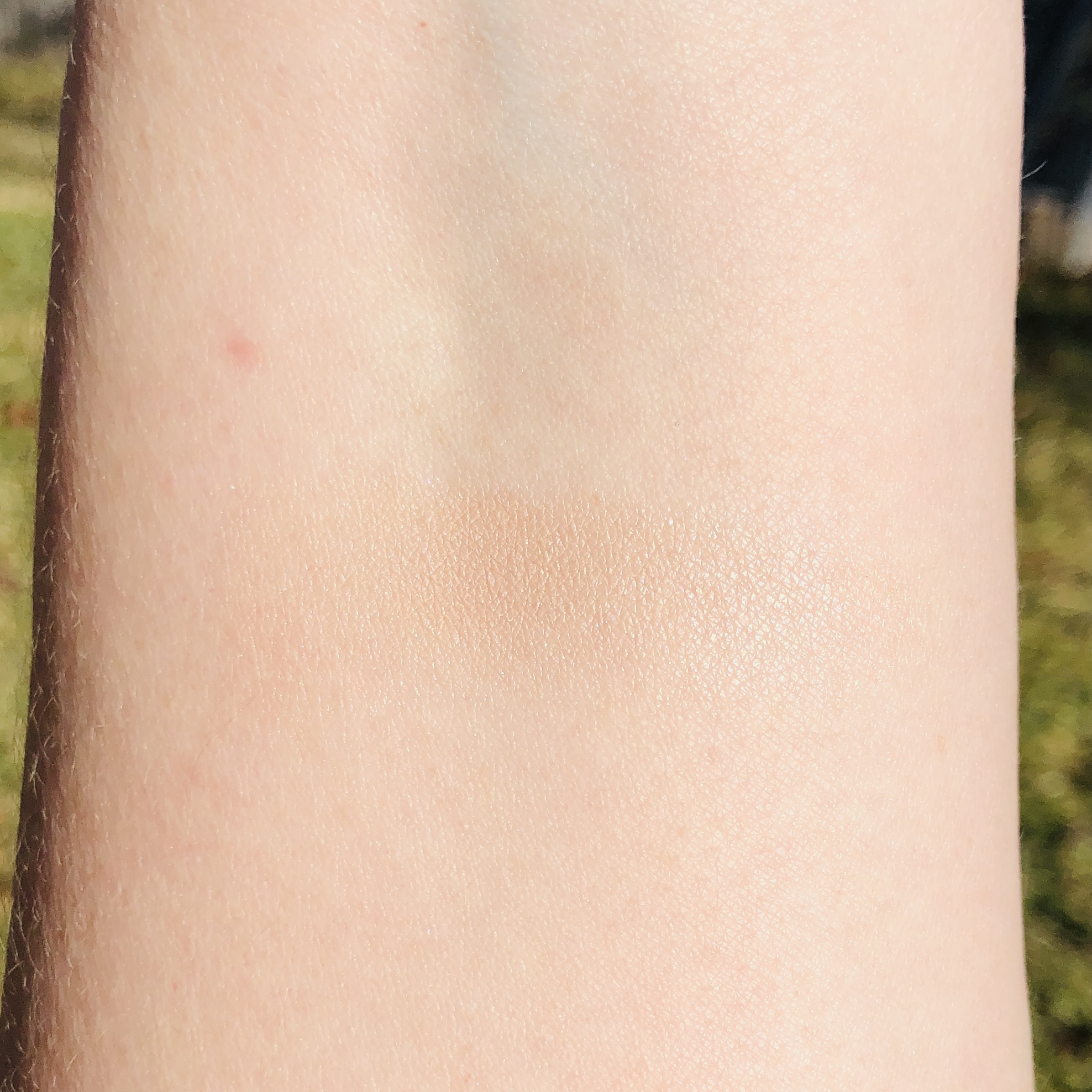 Here it is swatched!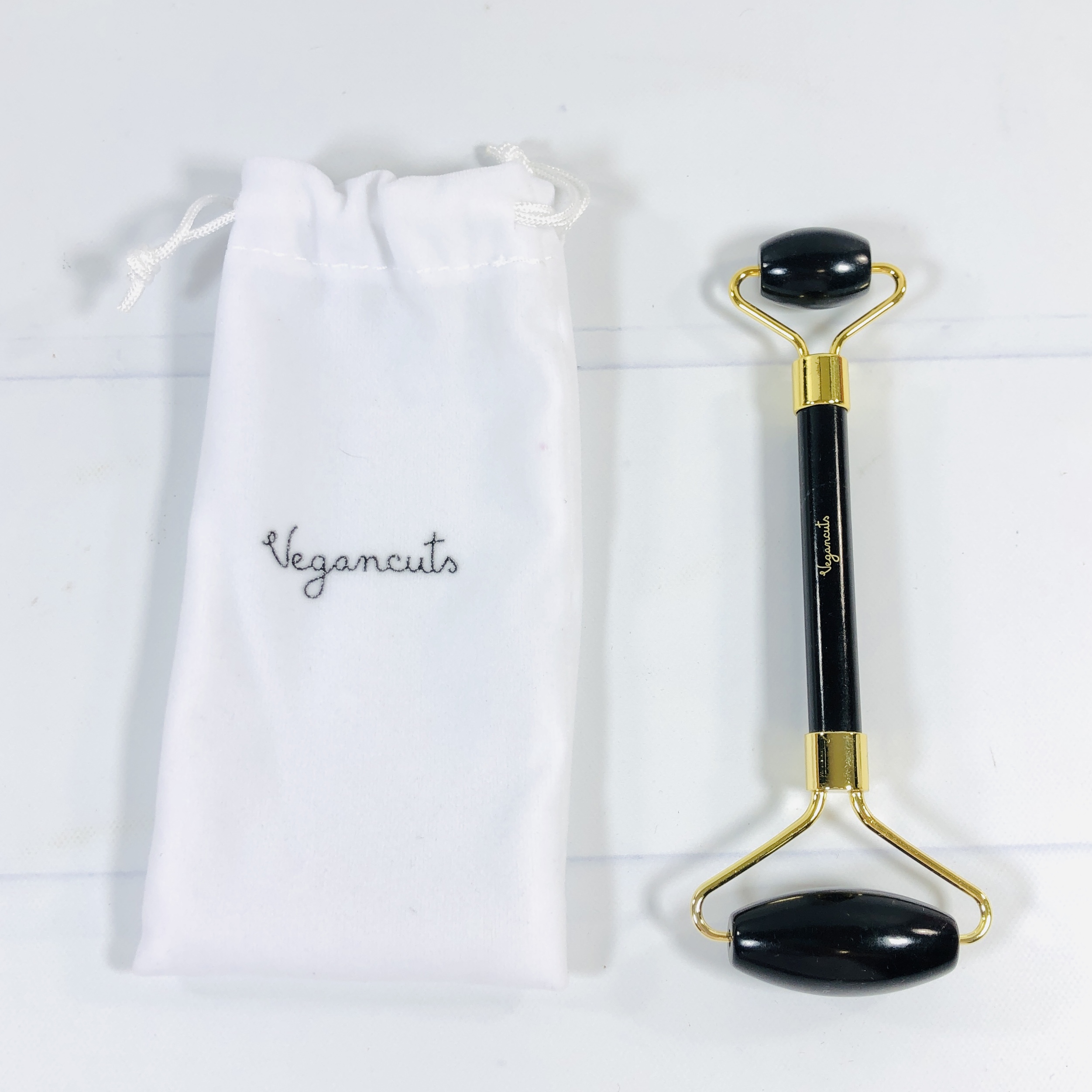 Vegan Cuts Obsidian Roller – SIMILAR ($19.99) I've tried a pink quartz roller. I've tried a jade roller. This is my first obsidian roller! It came in a soft Vegan Cuts branded bag for storage.
Facial rollers may help serums and oils penetrate the skin and they are said to encourage lymph drainage while reducing puffiness. At the very least it is a relaxing self care ritual.
The larger roller is for the forehead, cheeks, and neck.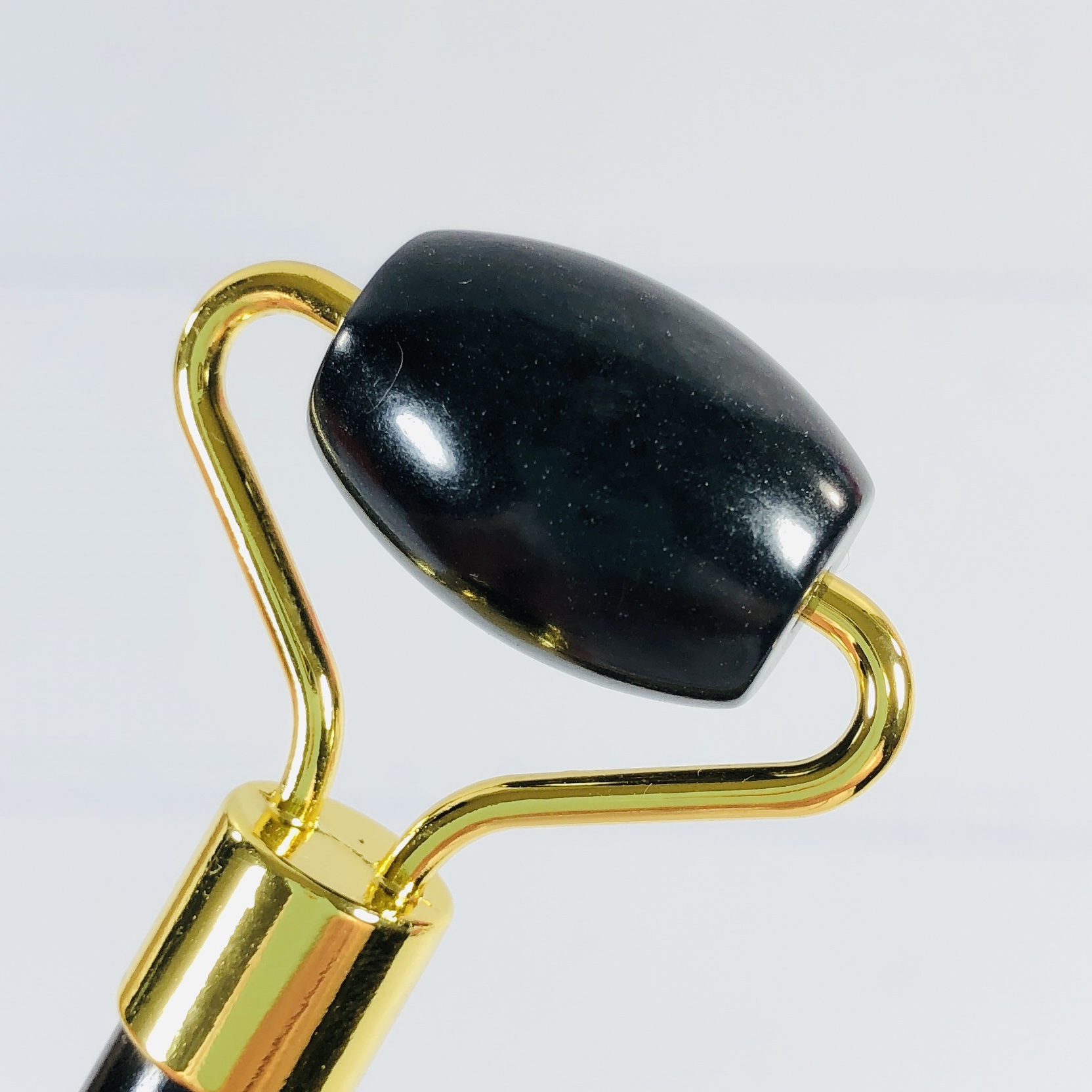 The smaller side can be used around the lips and under the eyes. I would suggest Googling "how to use a face roller" for some tips and suggestions and make sure to clean it after use to prevent breakouts.
I thought the December Vegancuts Beauty Box was full of items that I believe are meant to promote glowing skin. There were two cleansers and they worked well together. The oil wasn't my favorite but the obsidian roller sure felt good on my skin. I really like the eyeshadow color and formula and the drink mix helps me get some important vitamins in a tasty way.
What do you think of this month's Vegancuts Beauty Box? Let me know which product you're loving in the comments!