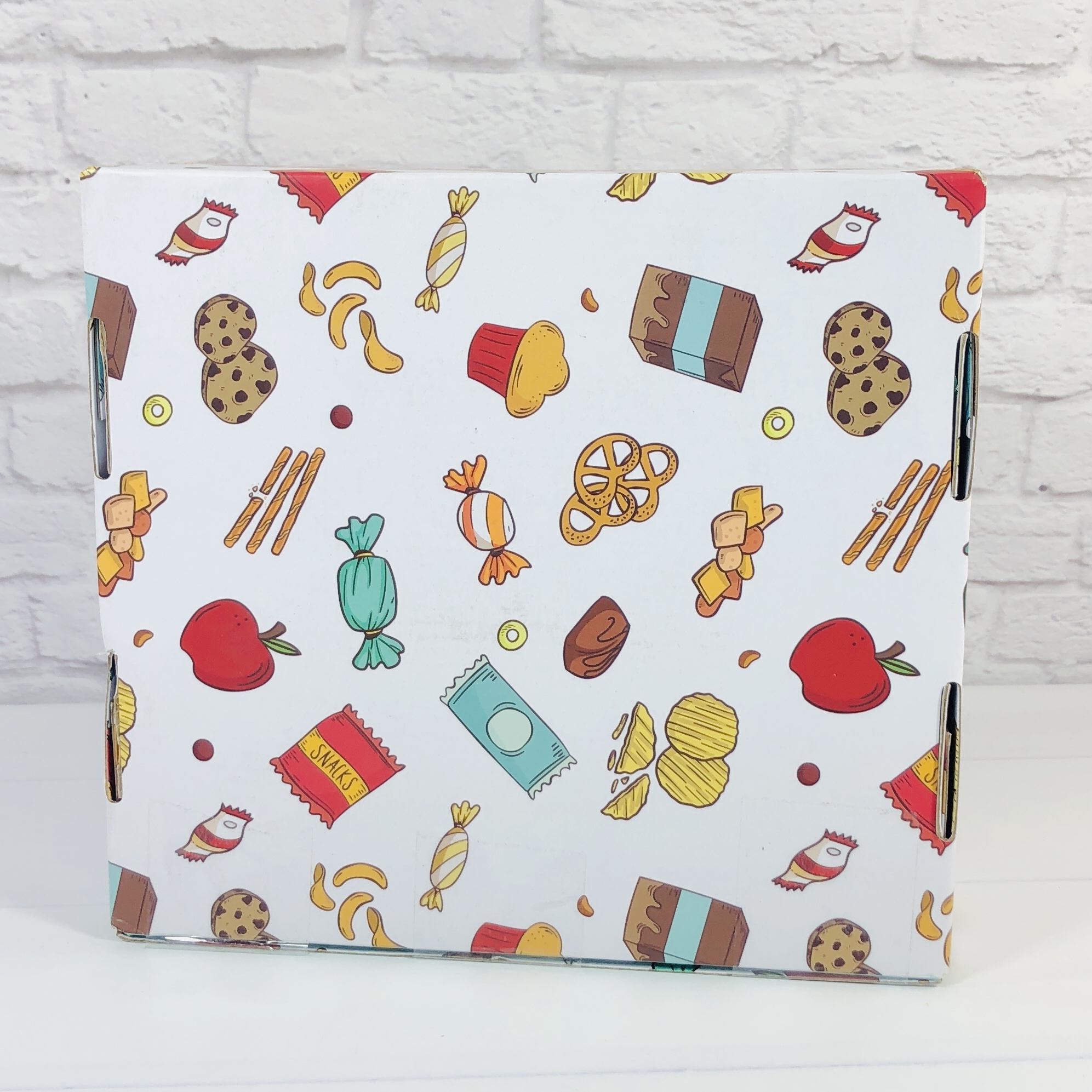 Try My Snacks is a unique subscription box that delivers snacks from a different country every month. Each box contains anywhere from 5 – 20+ snacks per box (depending on the plan), a 12+ Page booklet that includes fun facts about the country, snack information, puzzles, and more. They also include a coin/bill from the country in every box & offer FREE shipping to the USA. A portion of every order is donated to the ASPCA to help end animal abuse.
Tailored Just For You

Each box is tailored to your palettes needs. You tell us what you like and don't like and we'll take care of the rest. Besides, what's the point of trying something new if in the end it'll just go in the trash? Our interactive & fun quiz will make sure that doesn't happen.
Start by choosing which subscription level fits your needs. Then answer a few questions like whether or not you like coconut and if you want a drink ($4.95 upcharge). There are additional charges in the questionnaire, like if you want rush delivery ($5) or a chilled ice pack so your chocolate doesn't melt ($4.95). You can also tell them if you are allergic to peanuts and there is a place to write in other allergies.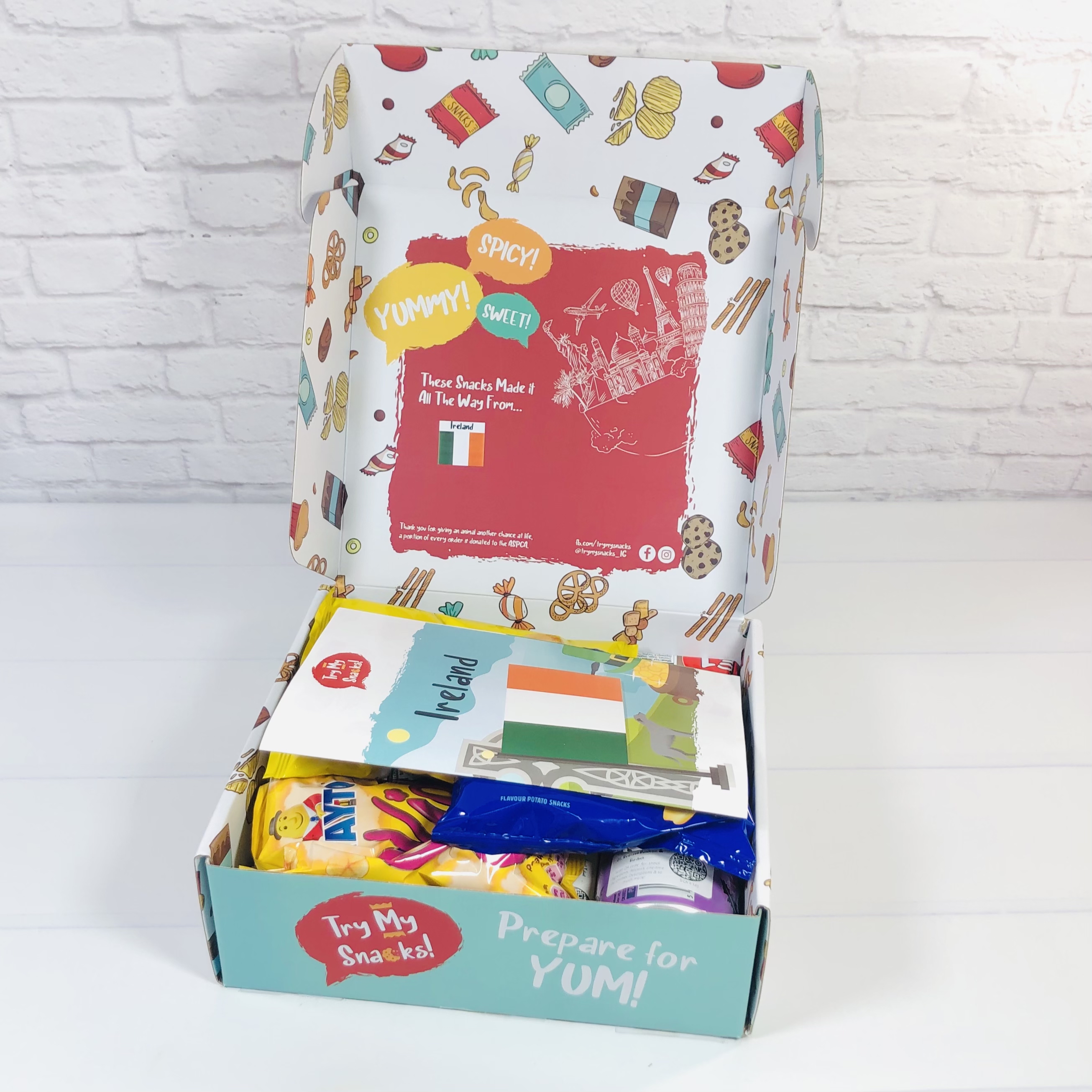 This box was completely packed to the top!
Guess where these snacks are from? Ireland!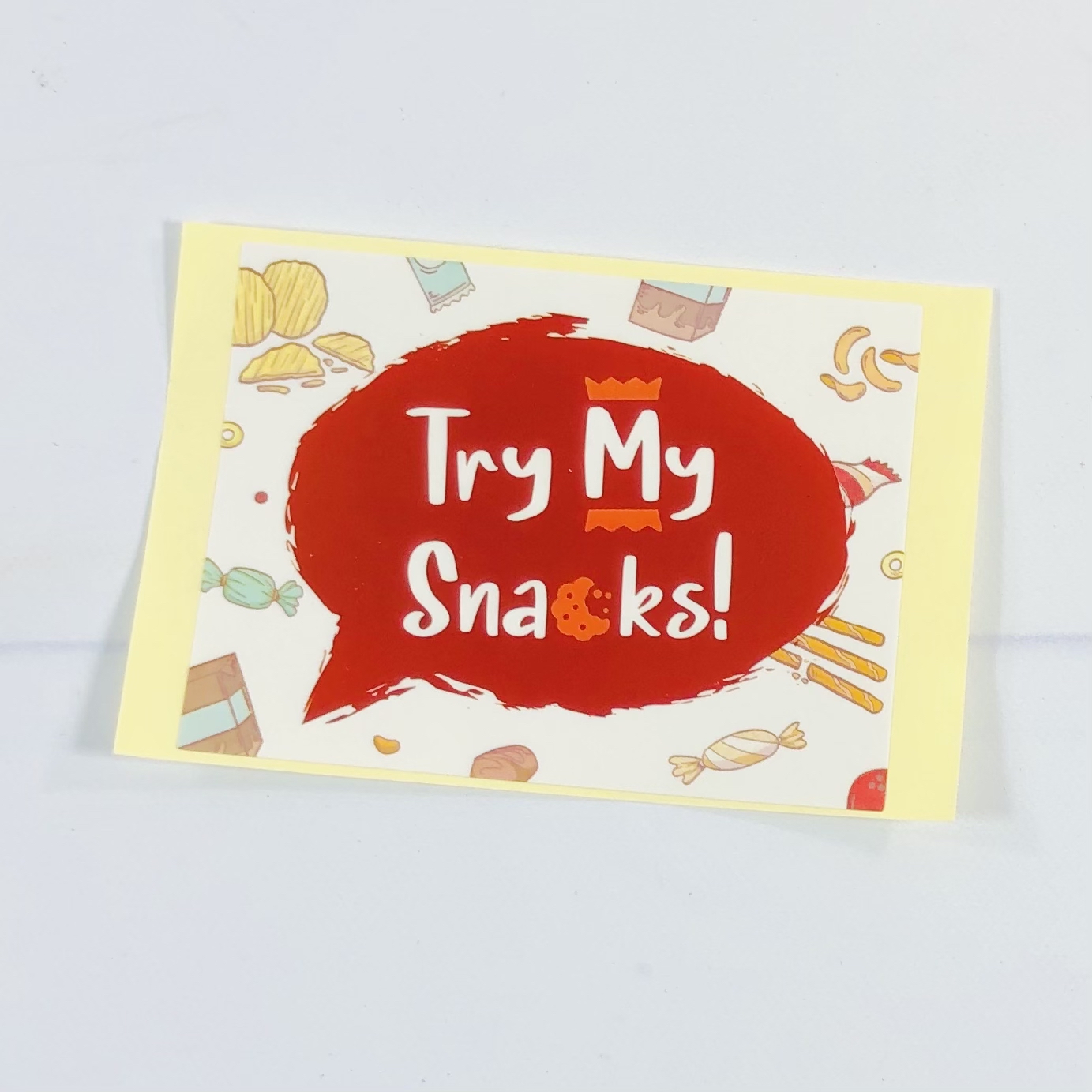 I found a vinyl sticker in the box.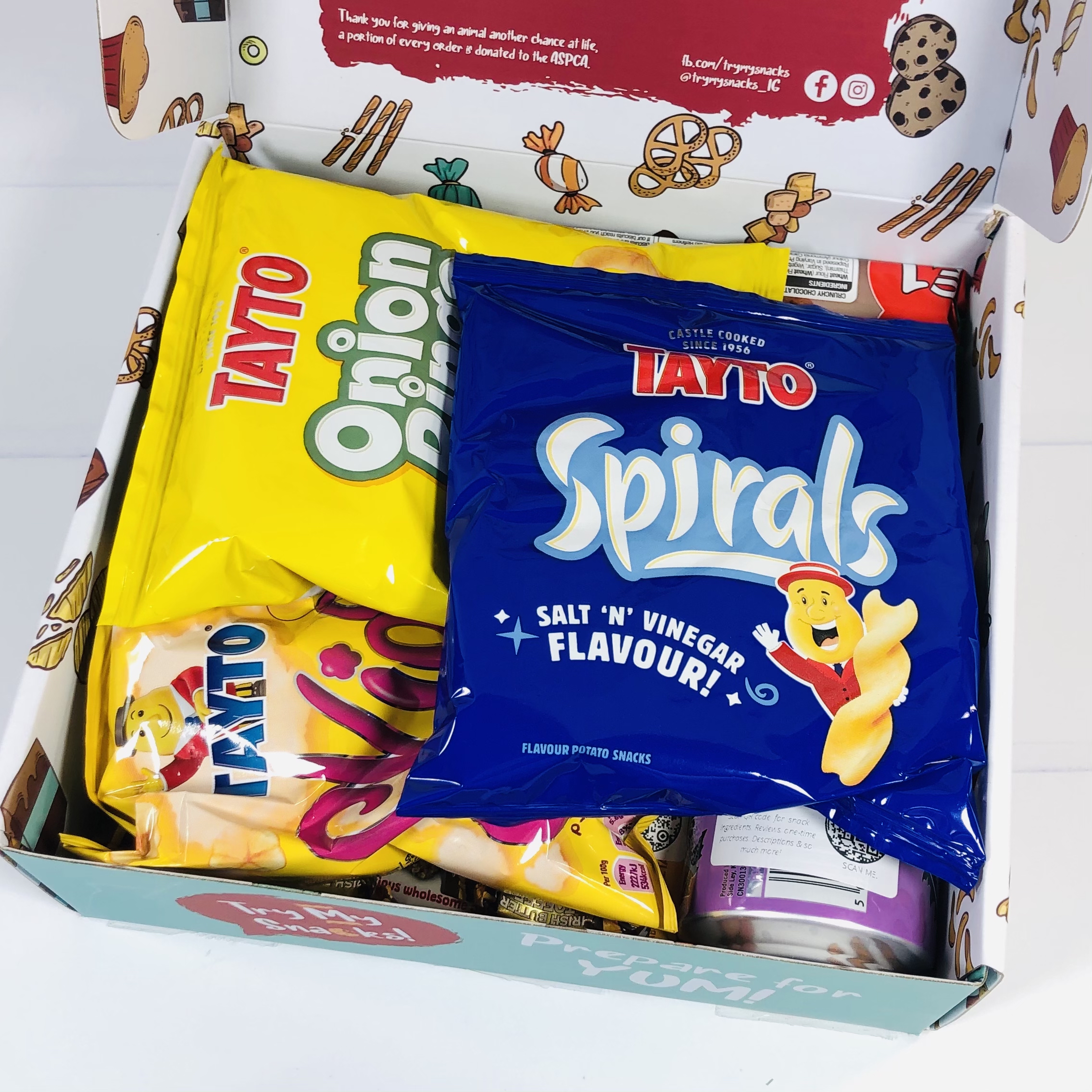 As I unpacked this box with my daughter we were super excited, we couldn't wait to see what was inside!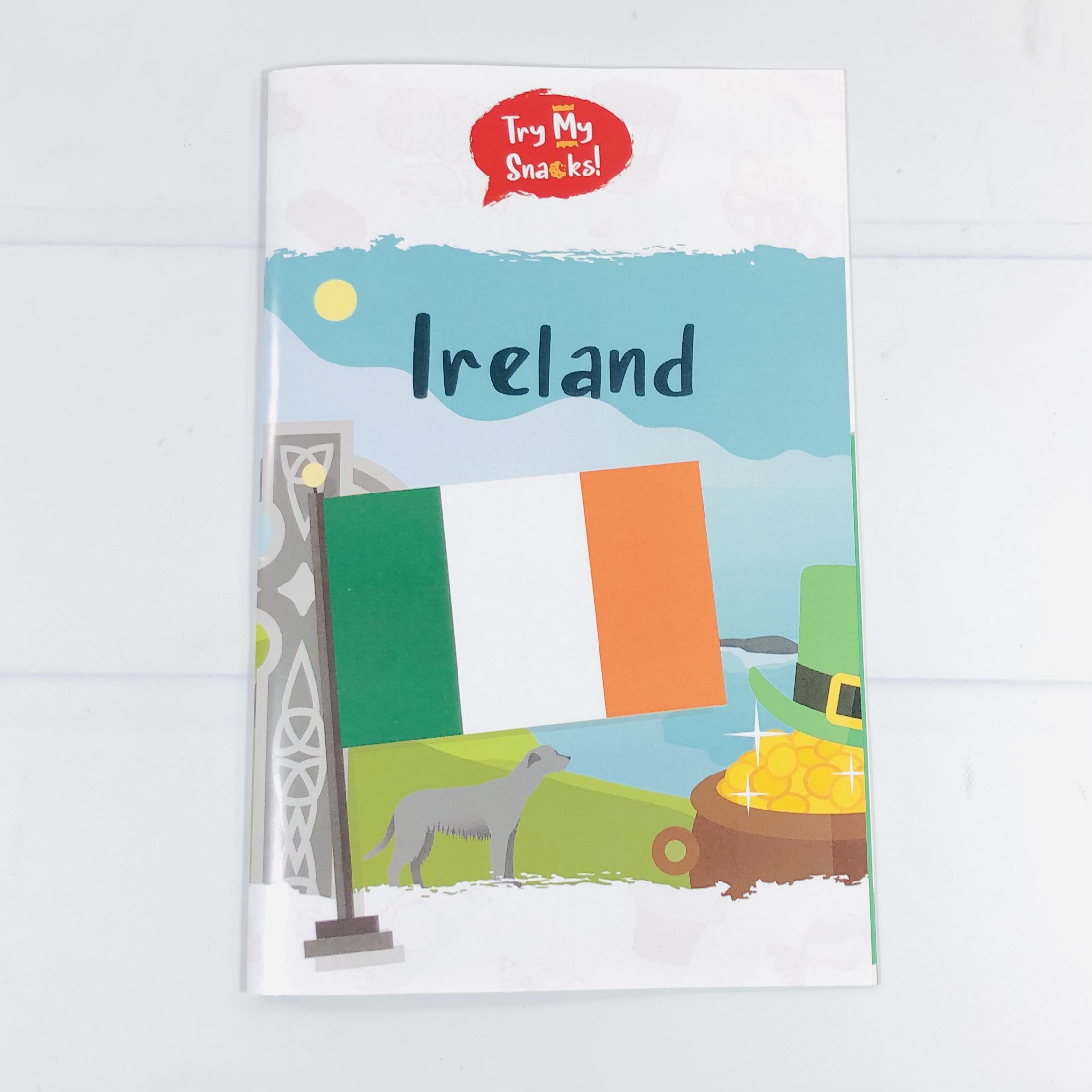 Each box comes with a mini booklet.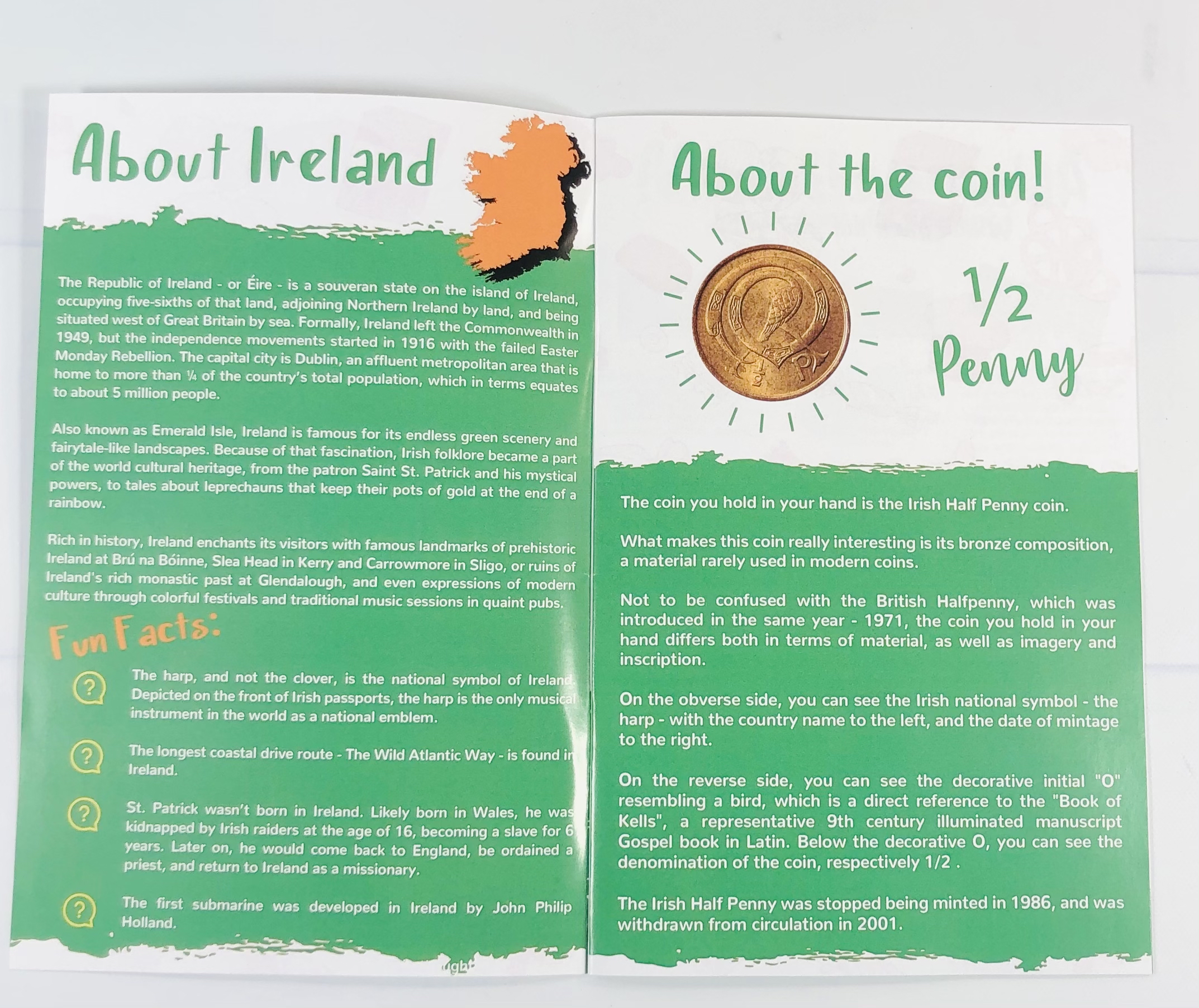 It mentioned a few facts about Ireland and described the included coin.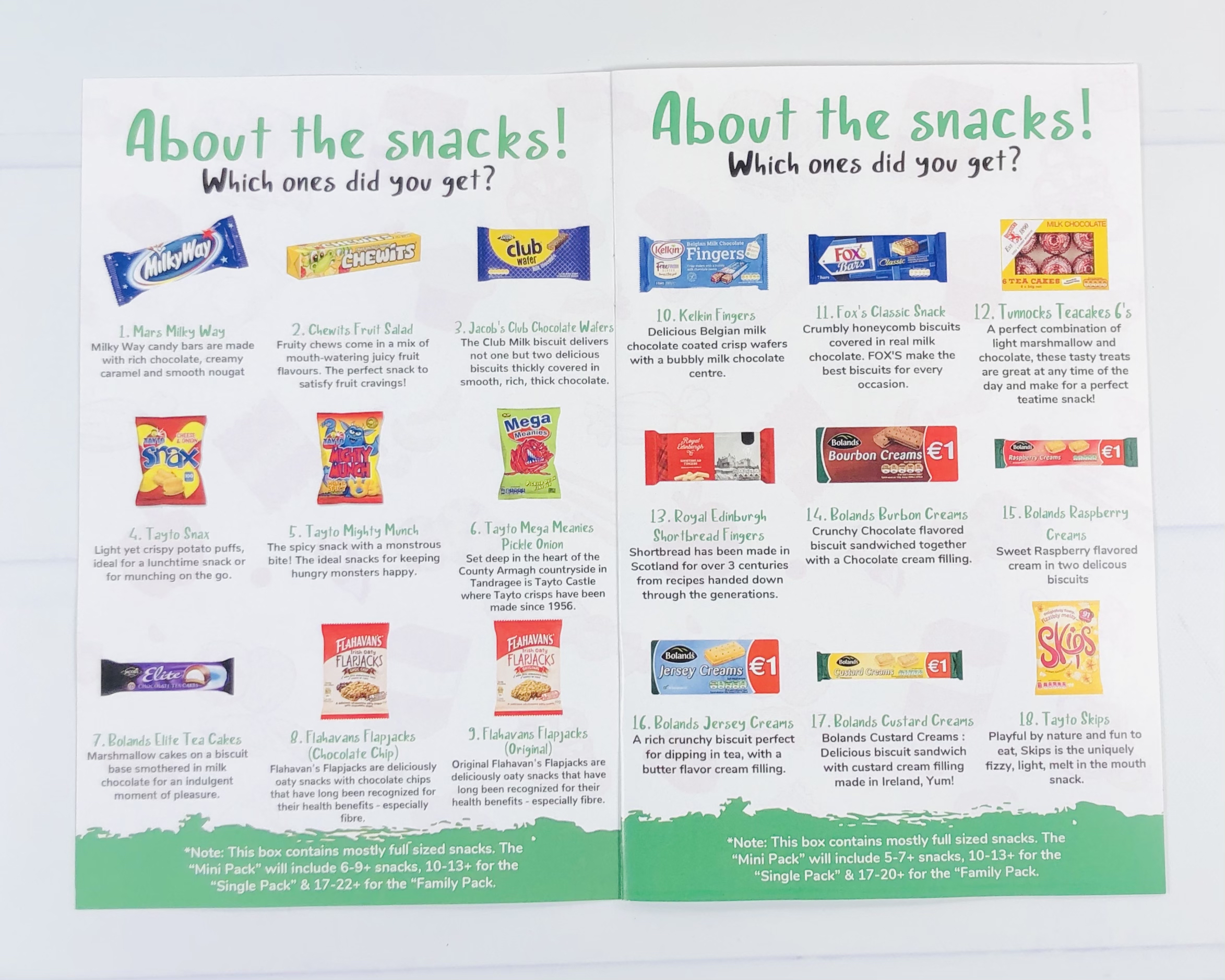 Next we learned about all of the possible snacks that may have been sent. You will receive an assortment based on the answers you gave to the quiz upon sign up.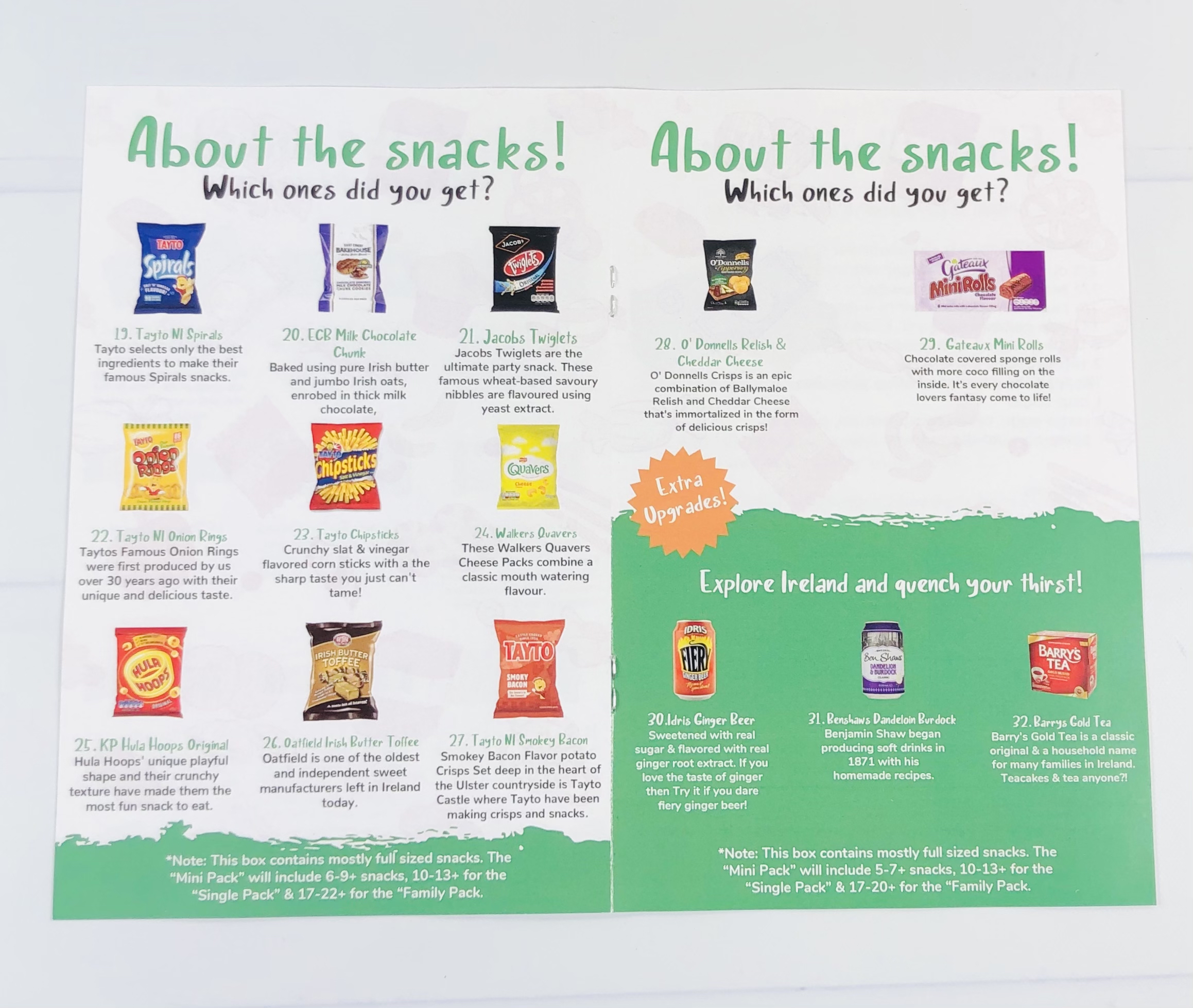 So many snacks!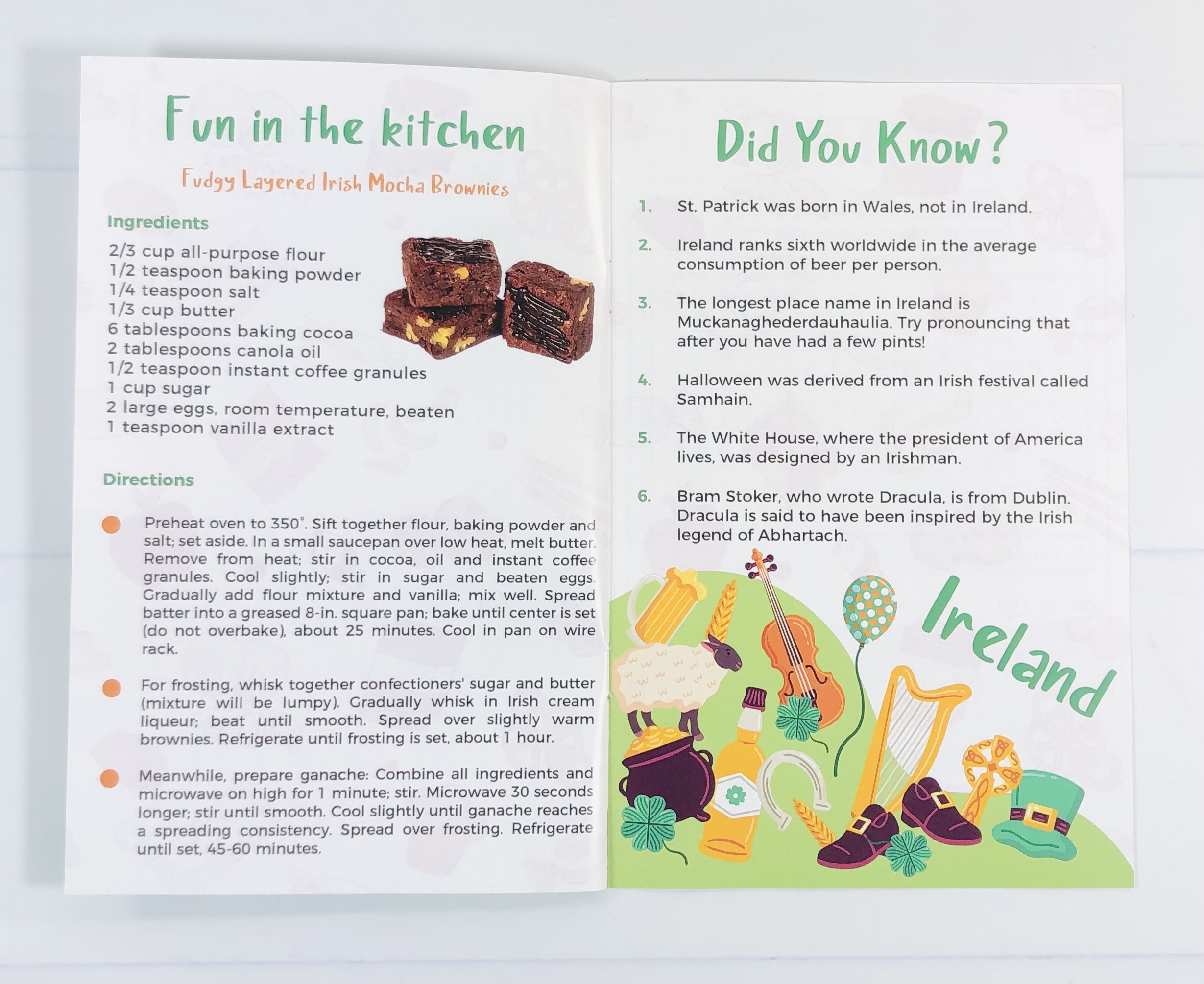 A recipe and more facts were listed.
There was a puzzle.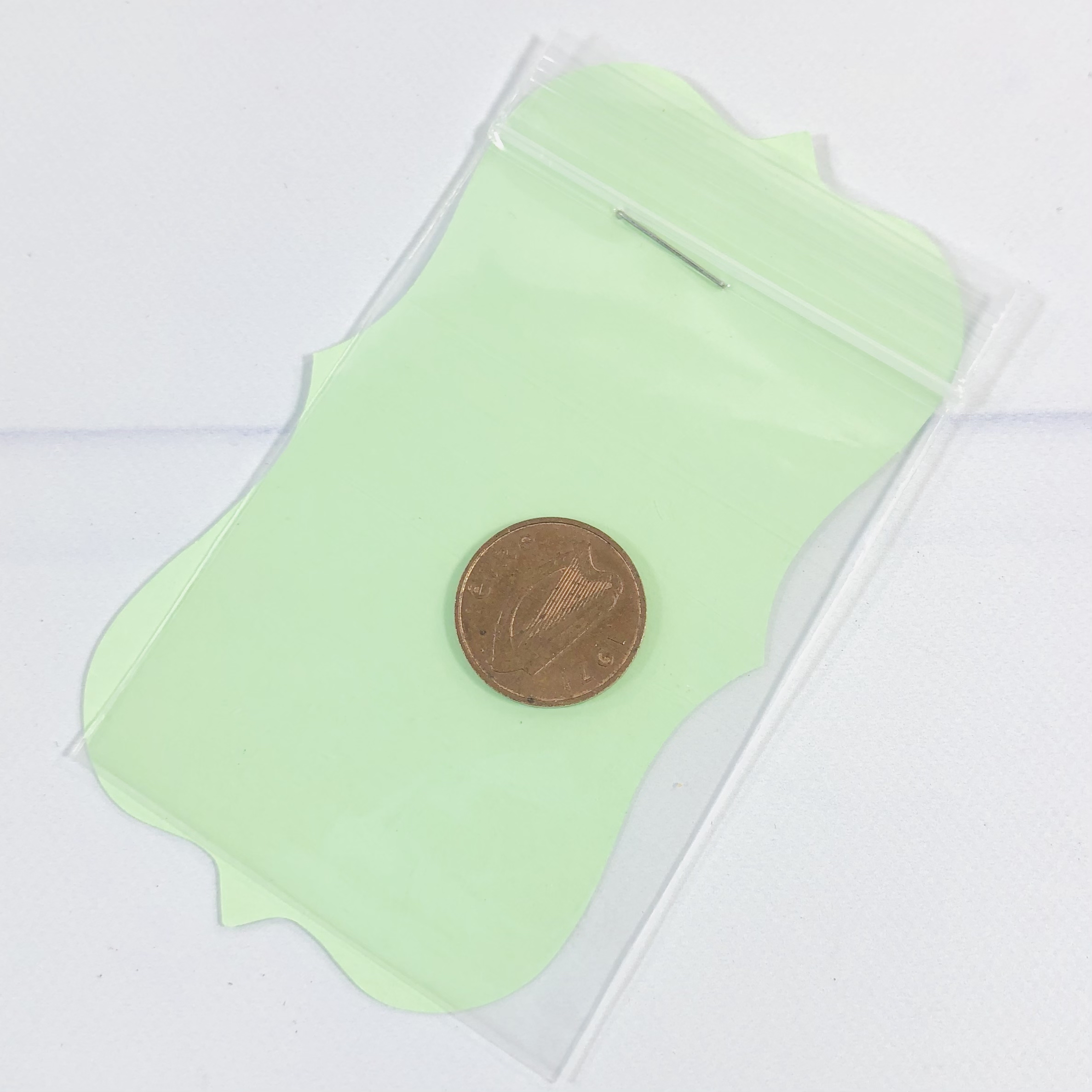 Each month we receive a coin from the featured country. This half penny is made of bronze!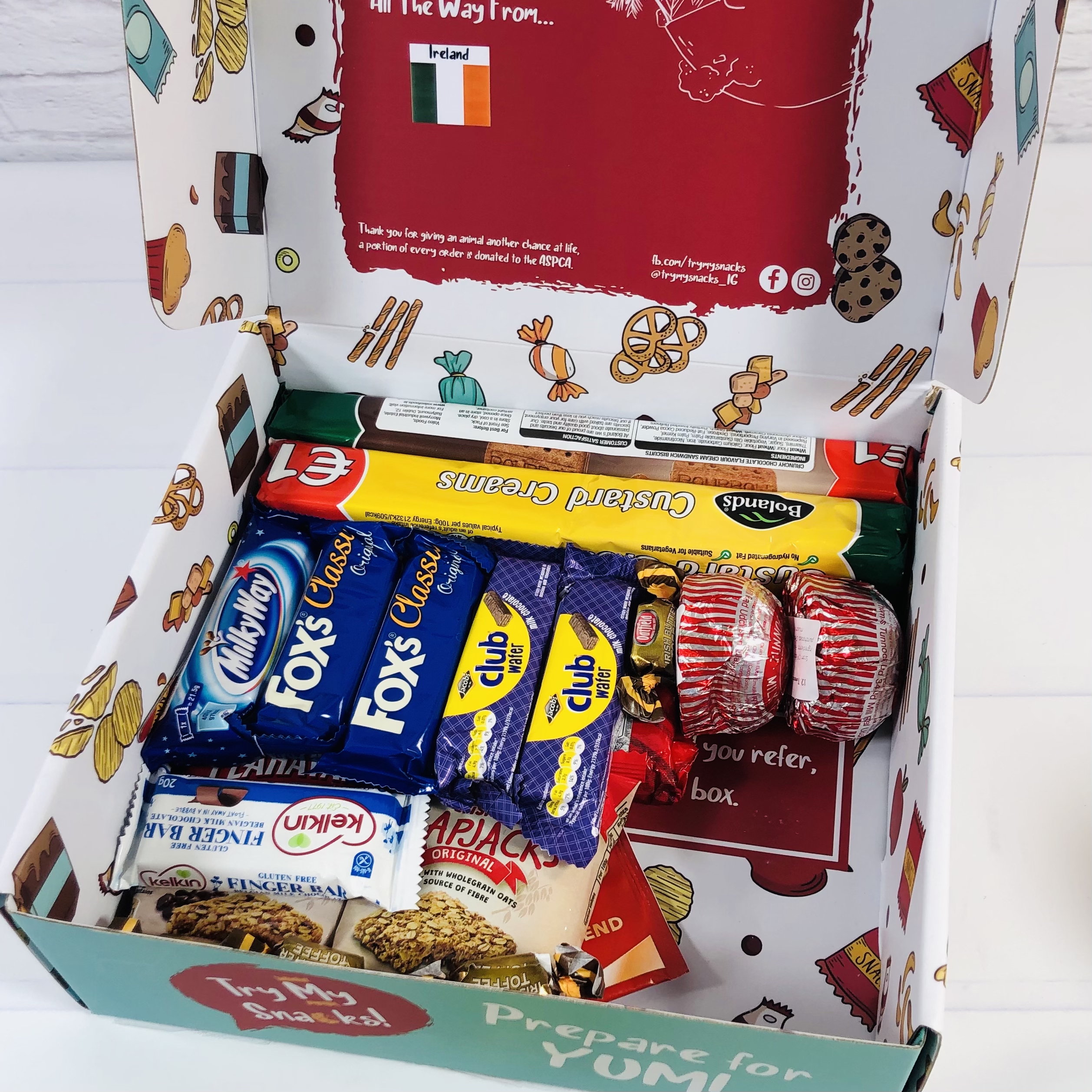 That is some next level packing right there, so cool!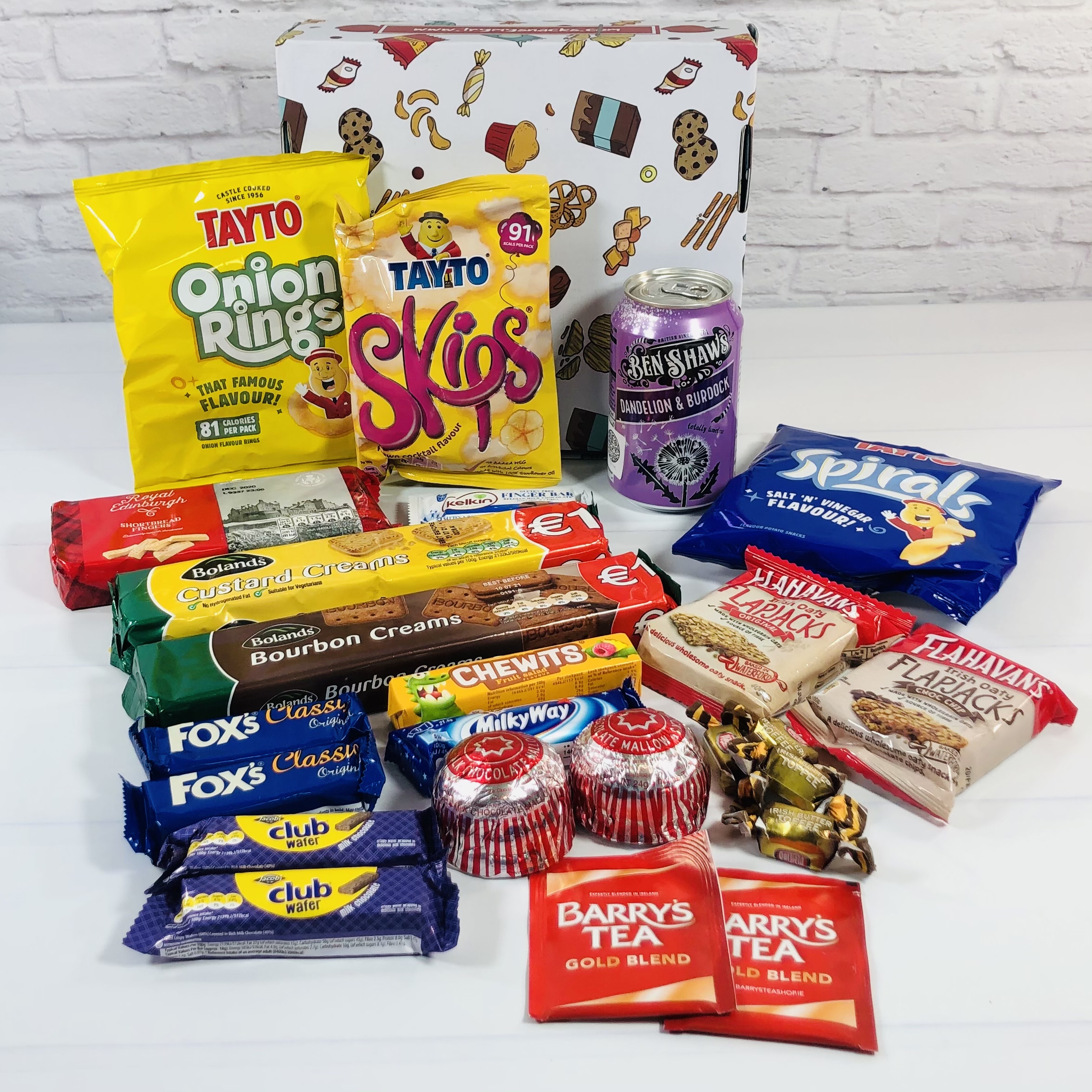 Everything in my box! It's going to take my family of four a while to try all of these but we are up to the challenge!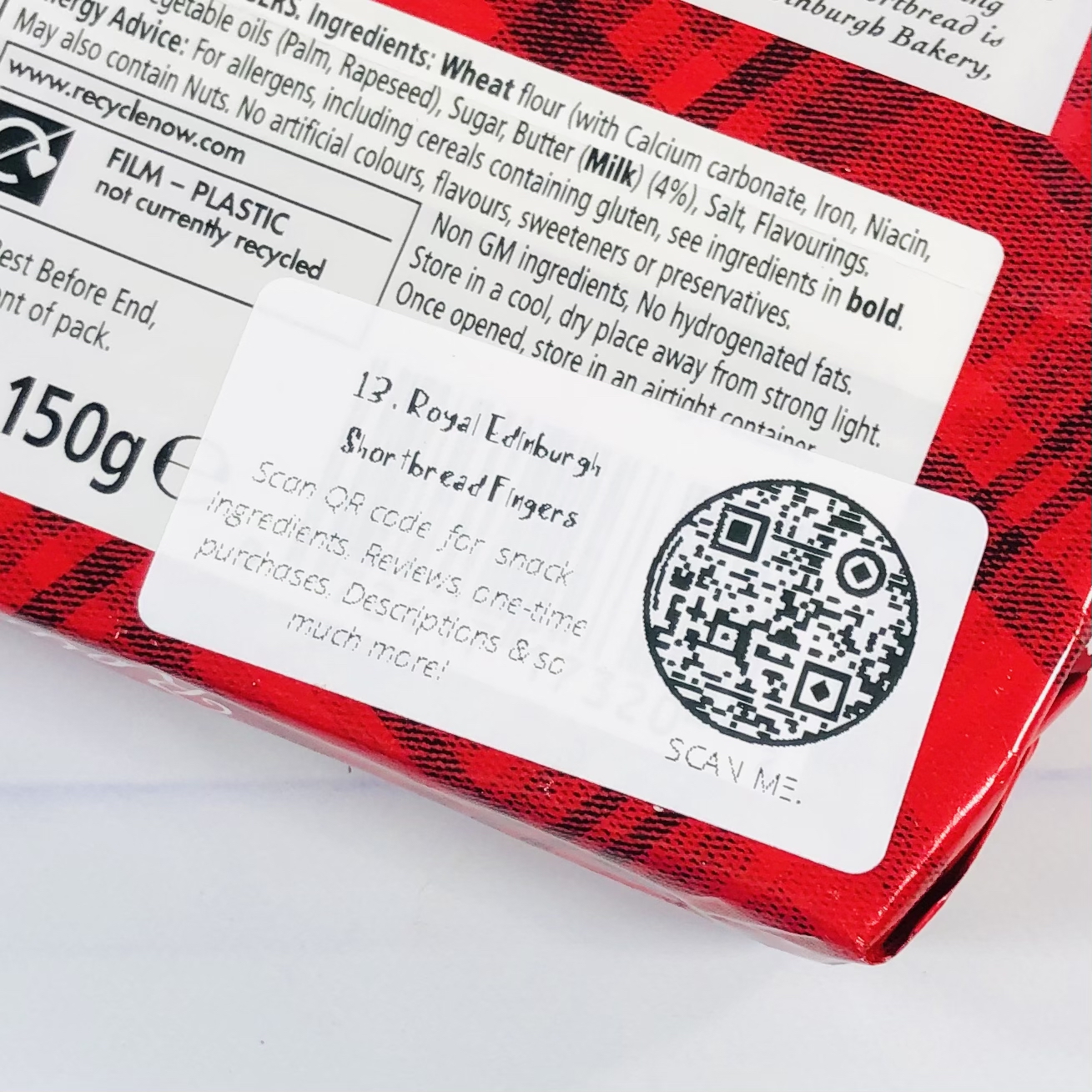 I want to point out that each item had a QR code for more info.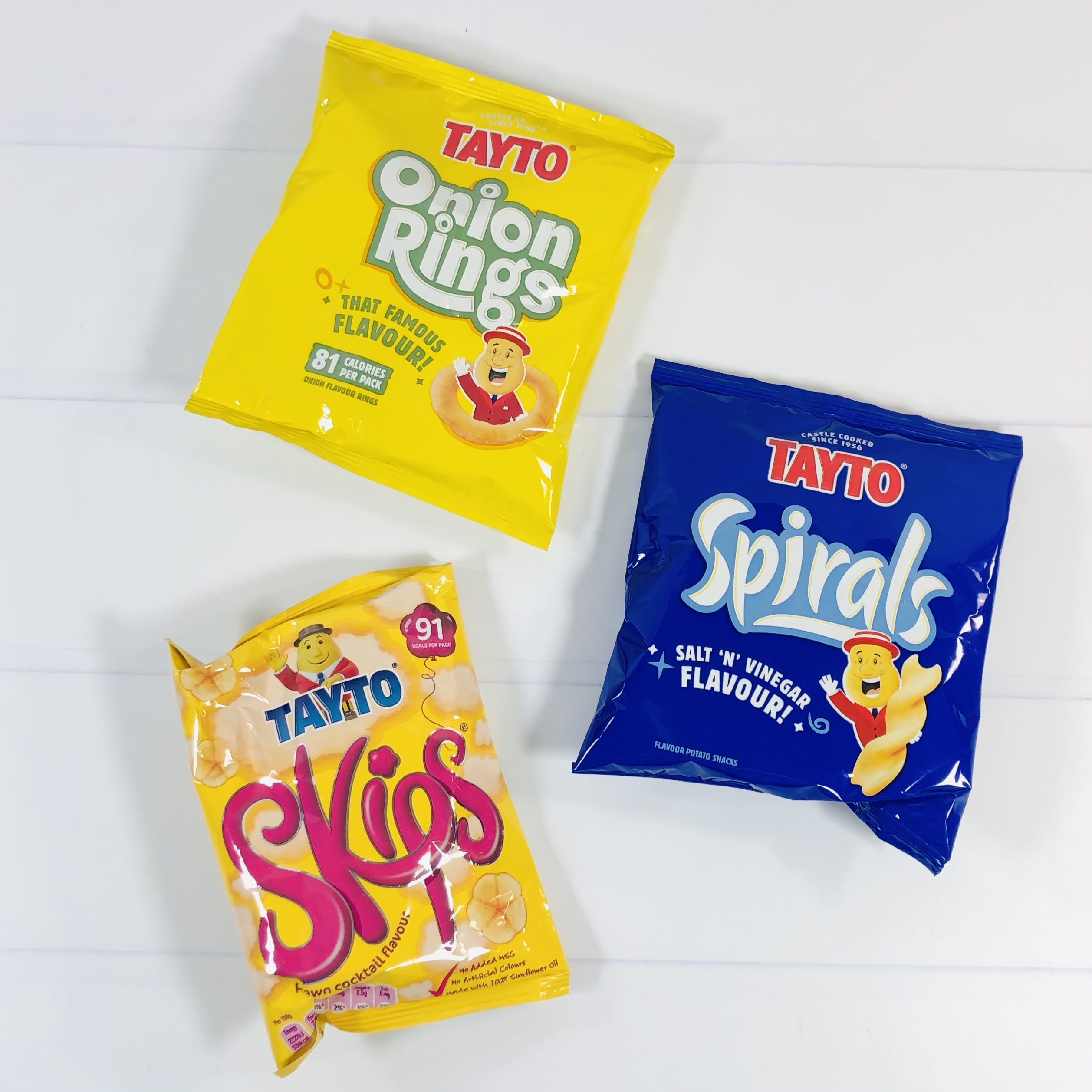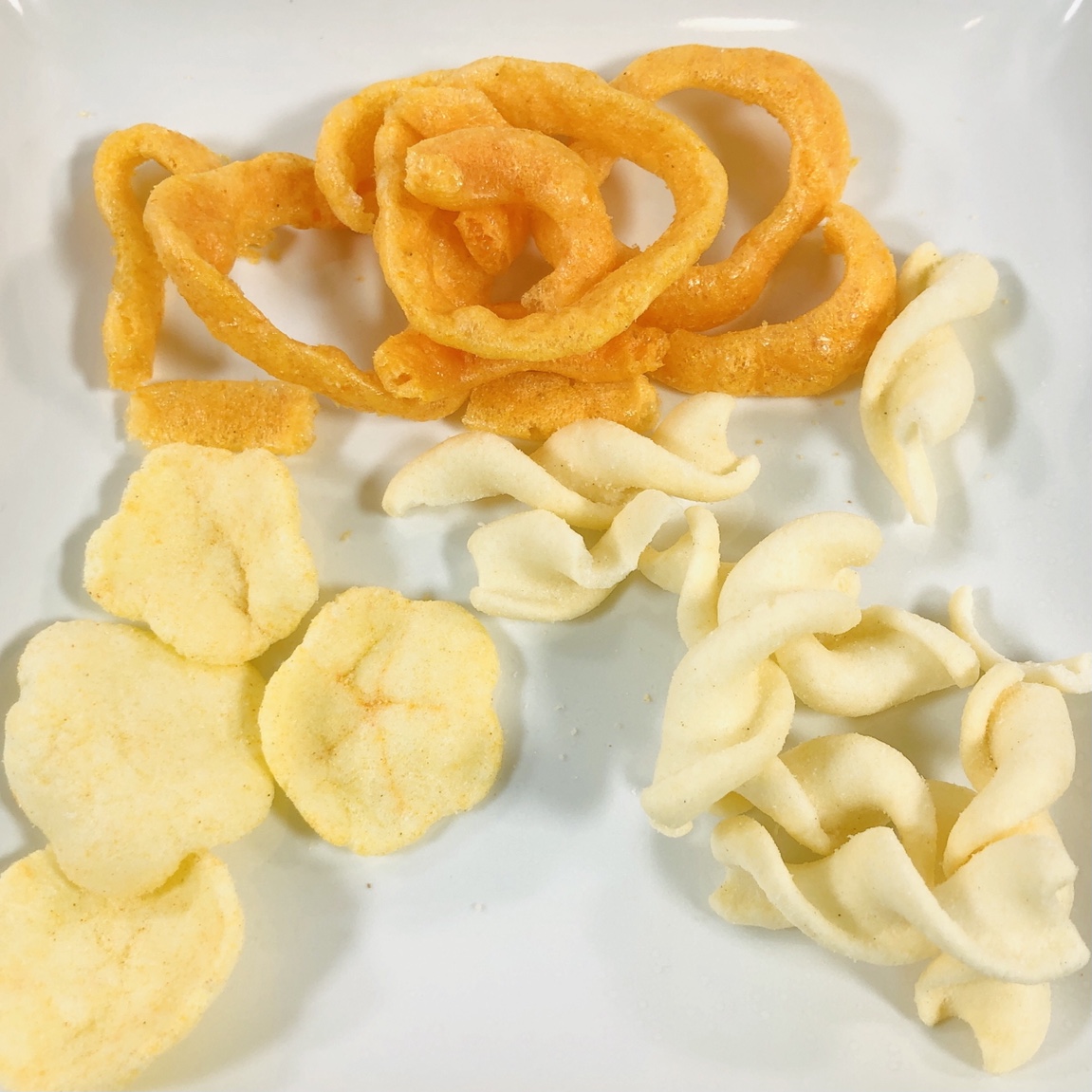 Tayto Onion Rings have "that famous flavor" and are similar to Funyuns maybe but not really? Yummy though.
Tayto Skips are in prawn cocktail flavor (aka shrimp cocktail for us Yanks). It is sweet, salty, creamy, and only lightly shrimpy.
Tayto Spirals are salt and vinegar flavor and have that same puffy texture as the other two crisps. None of these are what I would think of as a potato based snack but I guess that's what veggie straws are made of here in the US and they are similar in texture to those types of snacks.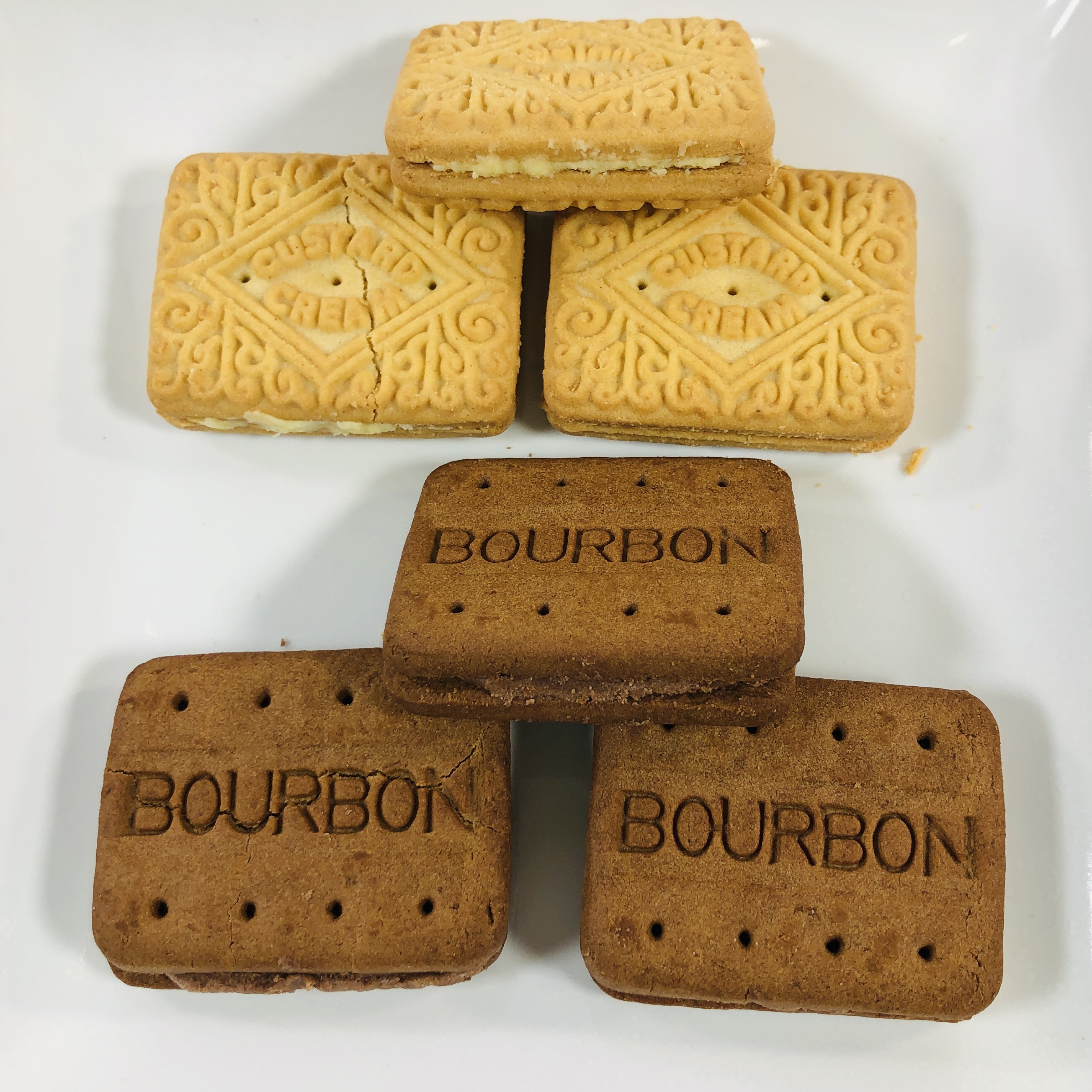 Bolands Custard Creams are vanilla cookies with a custard (vanilla pudding) filling. Like vanilla Oreo's.
Bolands Bourbon Creams are a chocolate-ish cookie with a chocolate filling. Not at all like Oreo's but these would be good with tea rather than milk.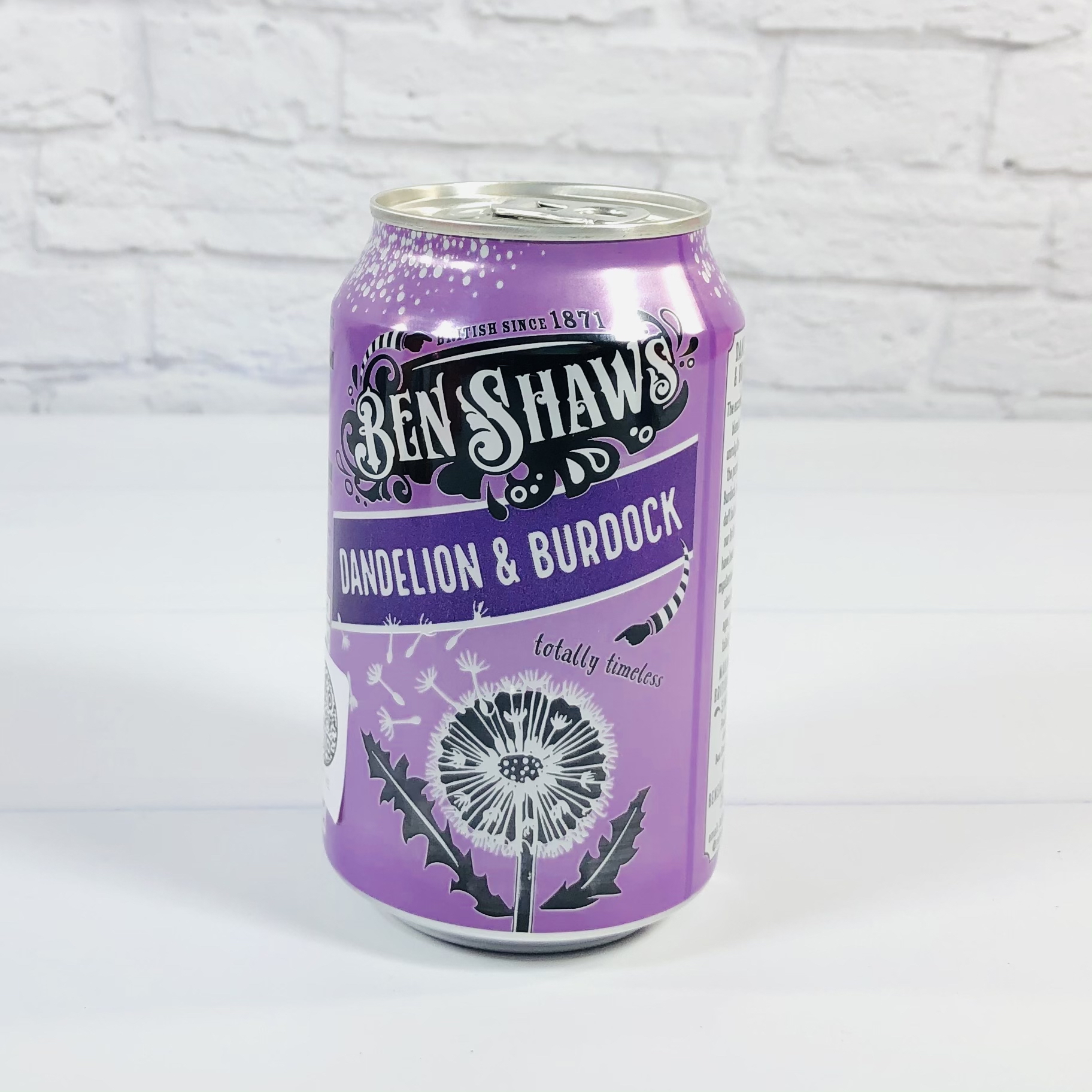 Ben Shaws Dandelion Burdock is a carbonated soft drink that is sweetened with sugar, Sucralose, and saccharine. It is flavored with dandelion and burdock and I would say the flavor reminds me not quite of Dr. Pepper or root beer, but like a combo of those and also Big Red.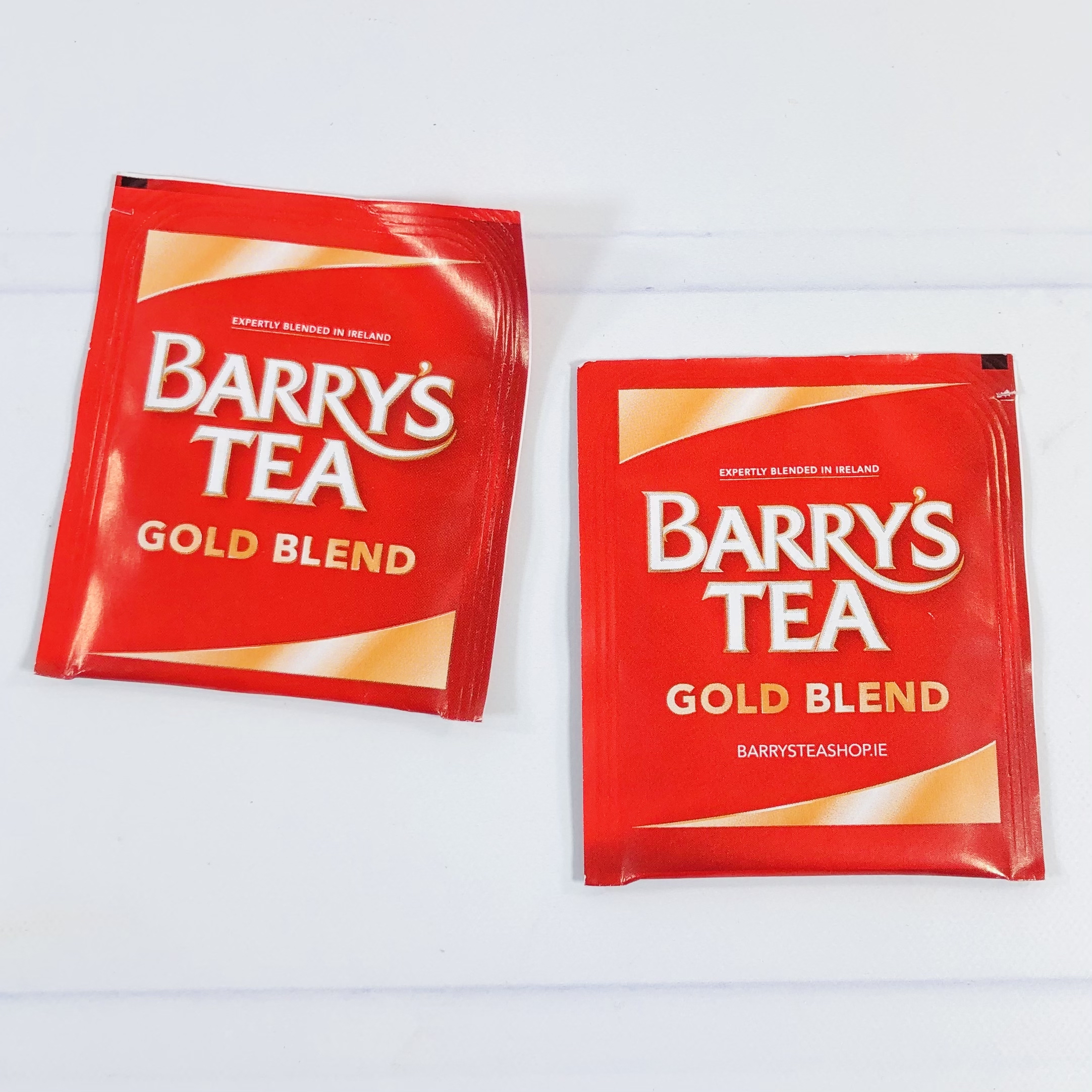 Barry's Gold Tea I love a good cup of classic black tea and this is it. It comes out strong and I added sugar and milk and it is a perfect cup of English Breakfast tea.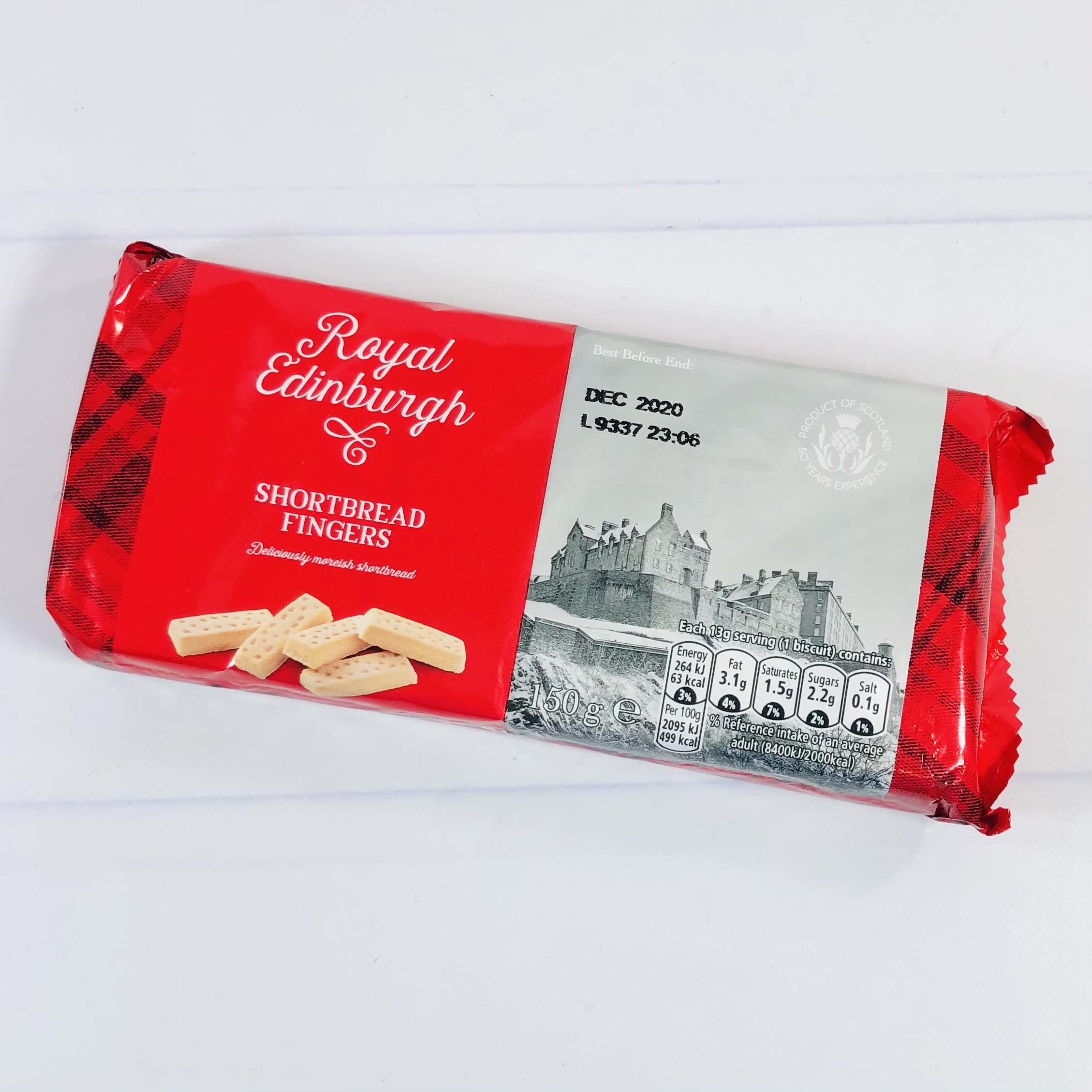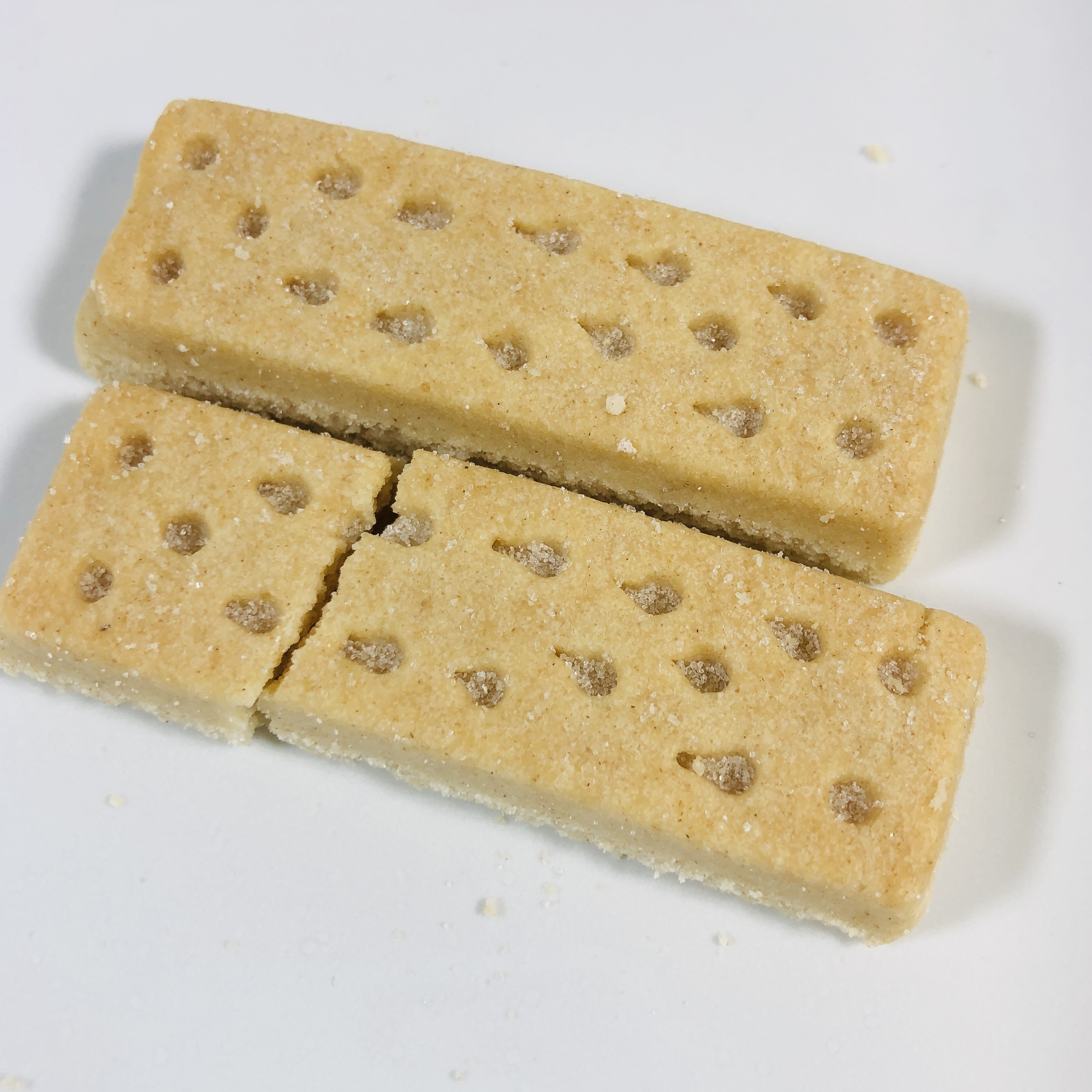 Royal Edinburgh Shortbread Fingers So many times when I am describing a foreign cookie I will liken it to shortbread, and here is the OG. These are buttery and are not too sweet so they would go great with a cup of coffee or tea and maybe a streaming service like BritBox so you can watch Vera.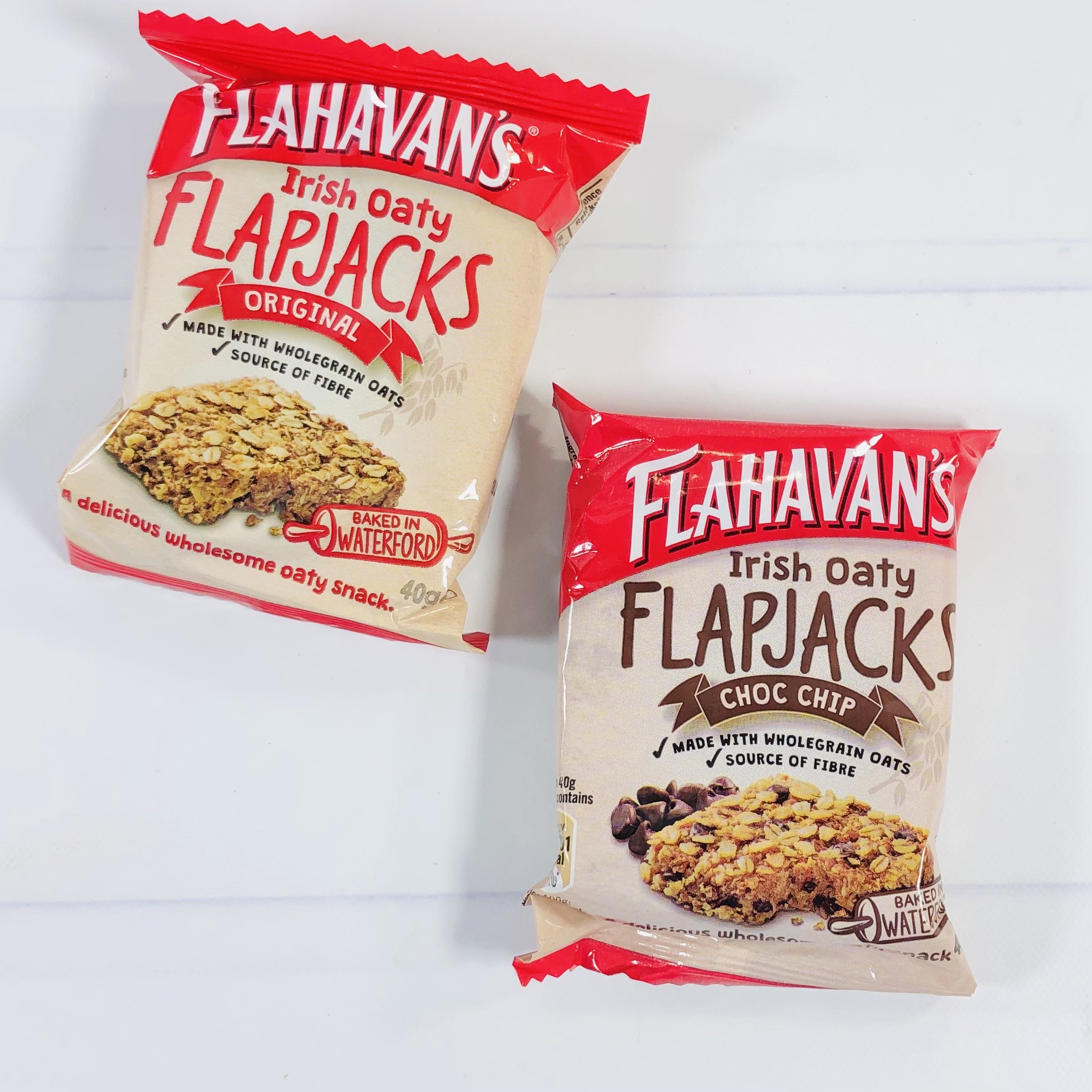 Flahavans Flapjacks Original and Flahavans Flapjacks Chocochip I loved this more than I thought I would! They are similar to a crispy granola bar, full of oats and coconut, but they are a bit softer than, say, Nature Valley. The one in the top left also has chocolate chips. So good!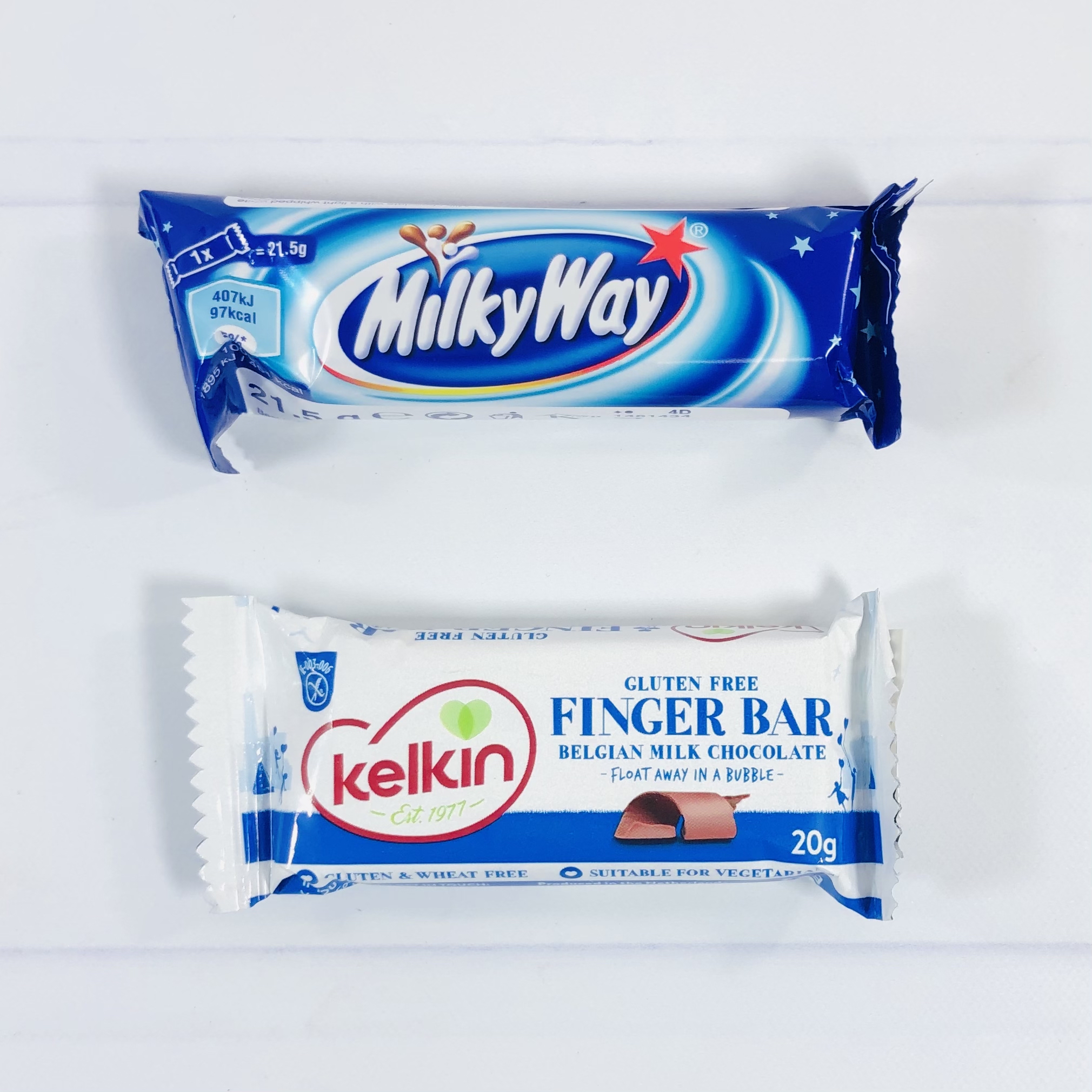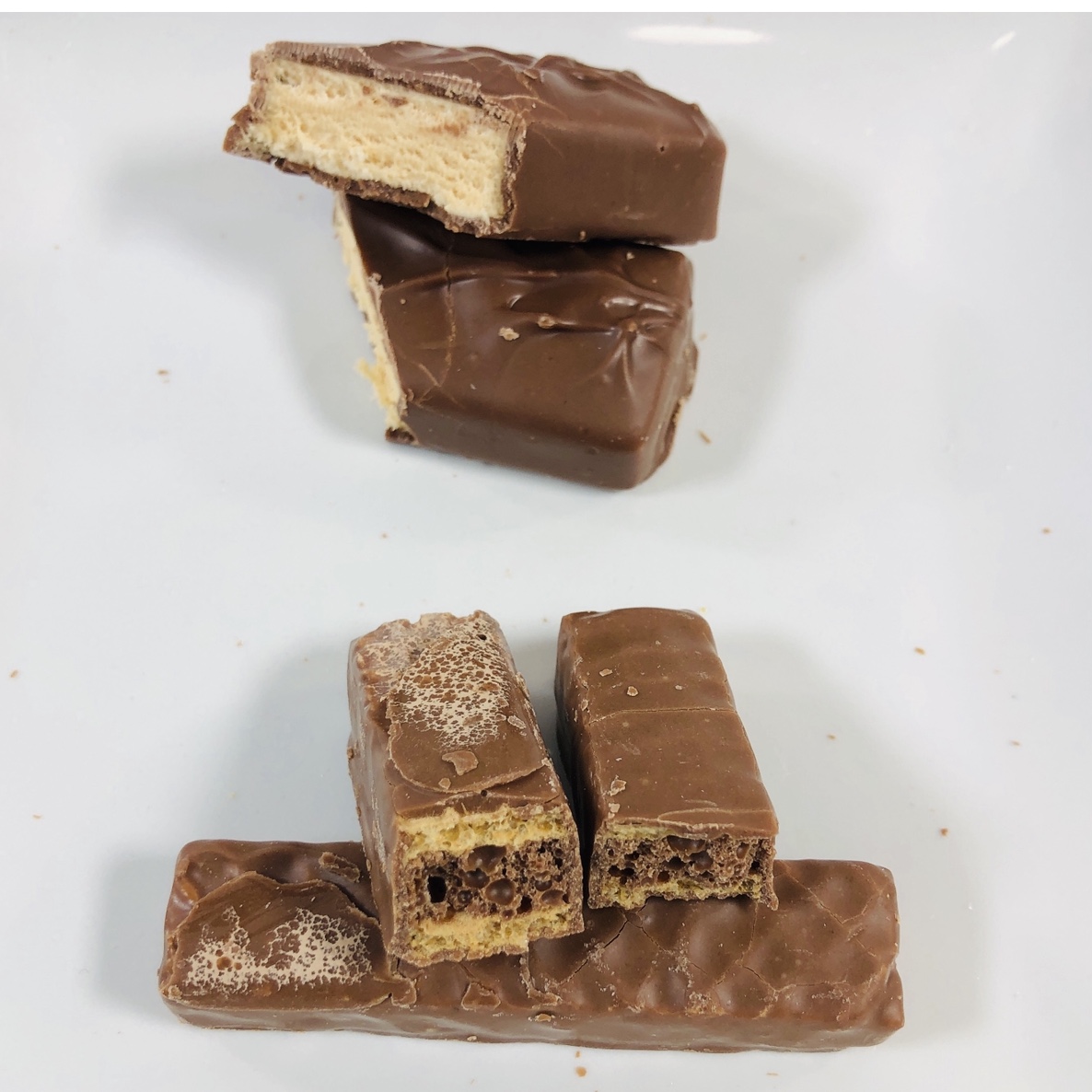 Mars Milky Way I know you may be expecting this Milky Way to have nougat and caramel covered in chocolate but this British version doesn't have caramel and the nougat is lighter in texture than a 3 Musketeers bar.
Kelkin Fingers are wafers covered in milk chocolate and with a "bubbly" textured chocolate in the middle. It reminded me of an extra chocolatey Kit Kat.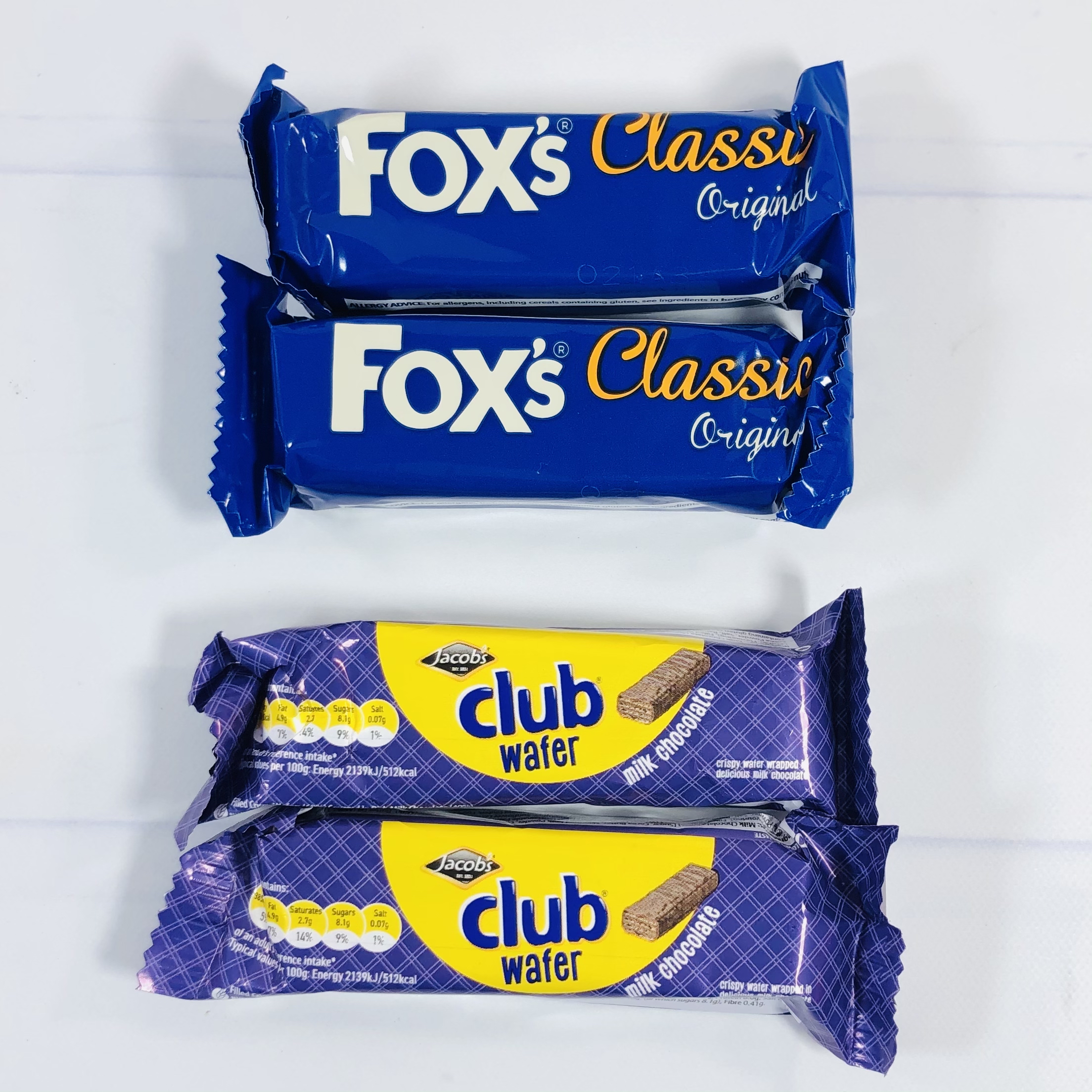 Fox's Classic Snacks are a "honeycomb biscuit" covered in milk chocolate. I am pretty sure these have both coconut and oats and it is a unique texture and flavor. Loved it!
Jacob's Club Chocolate Wafers I love chocolate covered wafer cookies and that is what we have here. So good and the chocolate is unique and a bit salty. I love the cream filling too.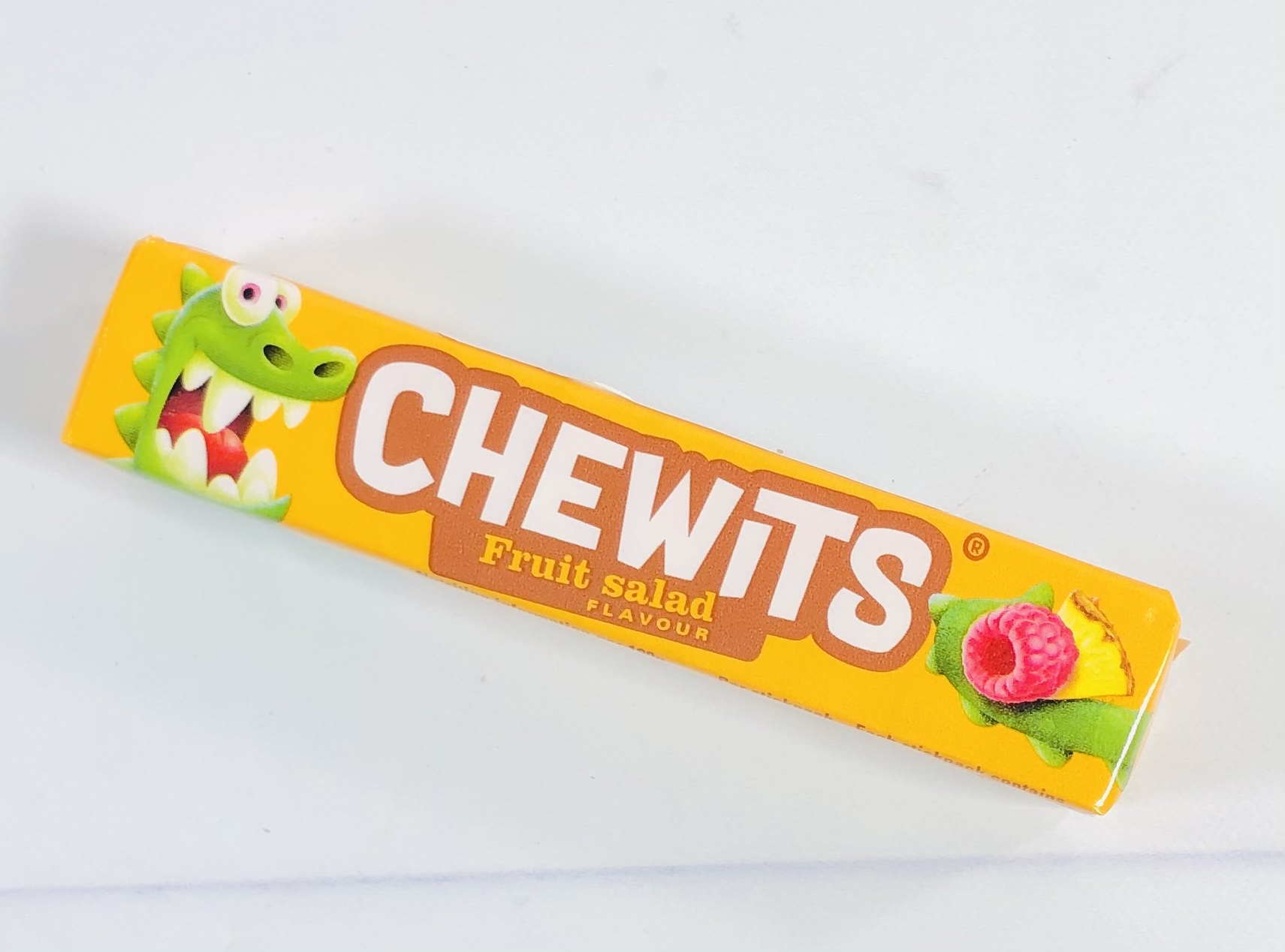 Chewits Fruit Salad look like Starburst but taste like a blend of pineapple and banana. Looking at the picture maybe it's pineapple and raspberry, but it's tasty.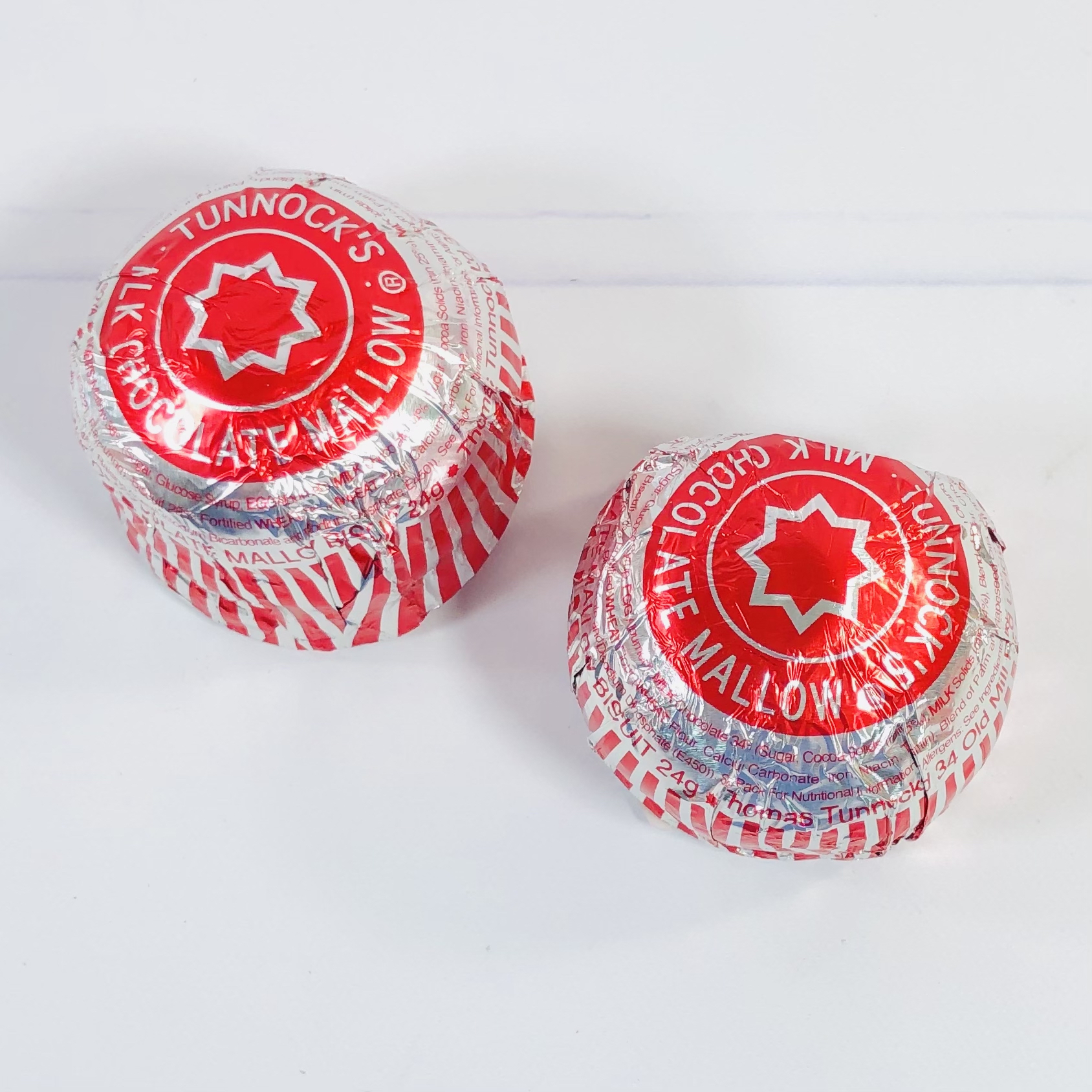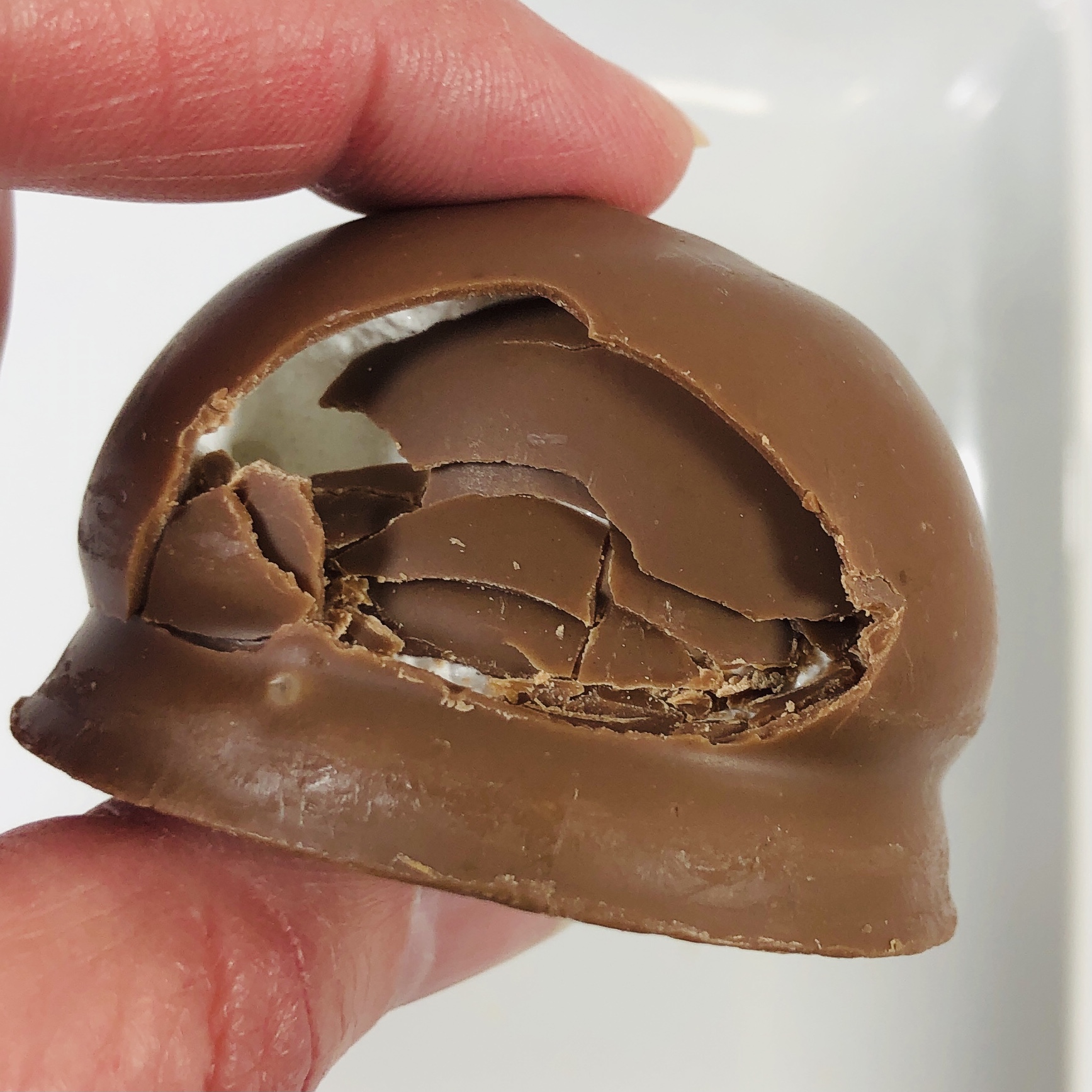 Tunnocks Teacakes look a little like a Mallomar but I don't like Mallomars, but I really like these! It has a soft cookie base but instead of dense marshmallow, it's like marshmallow creme and that makes the difference. The whole thing is covered with milk chocolate. So good.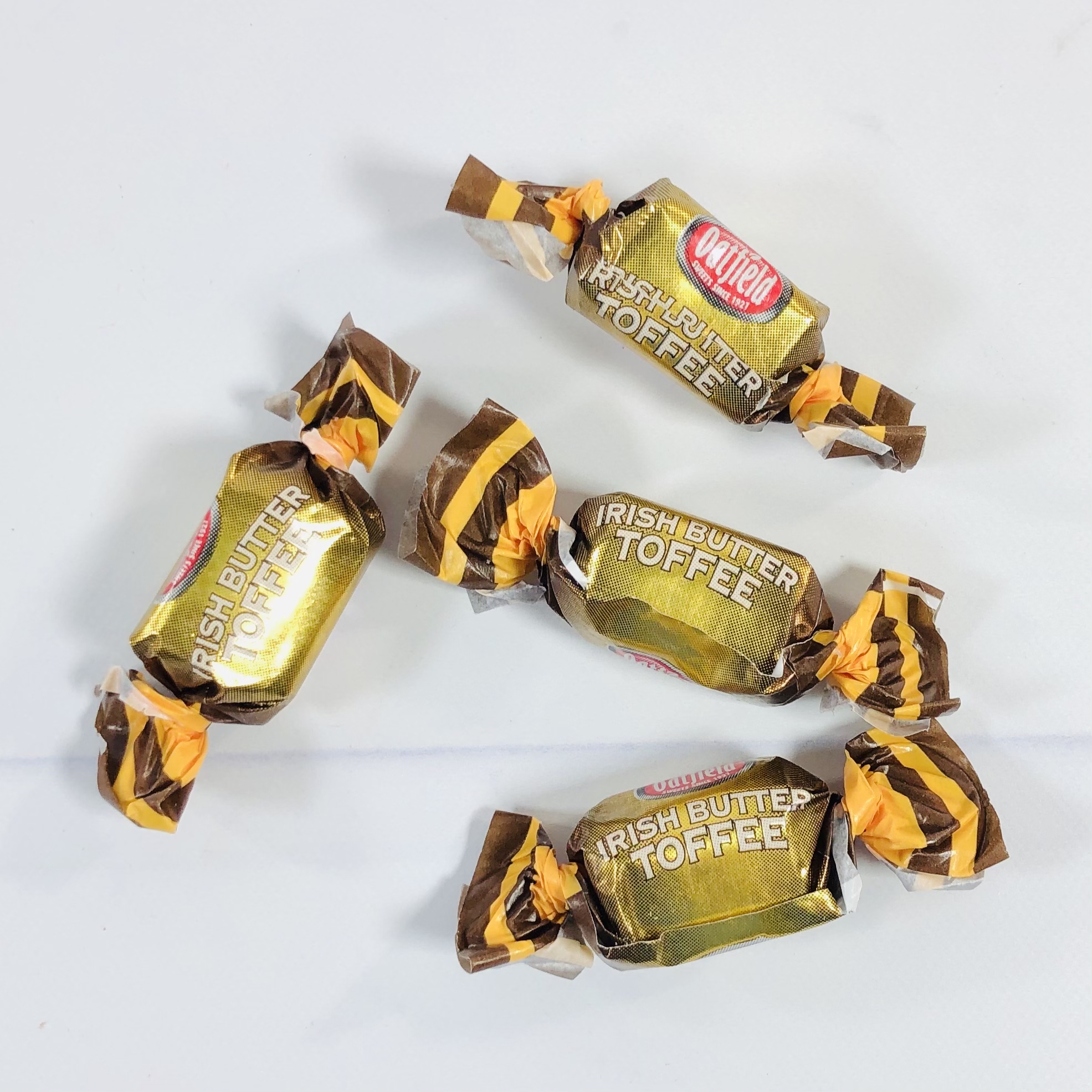 Oatfield Irish Butter Toffee are individually wrapped pieces of toffee and are mainly made of sugar, butter, and sweetened condensed milk. I let it melt in my mouth so it wouldn't take off my crowns.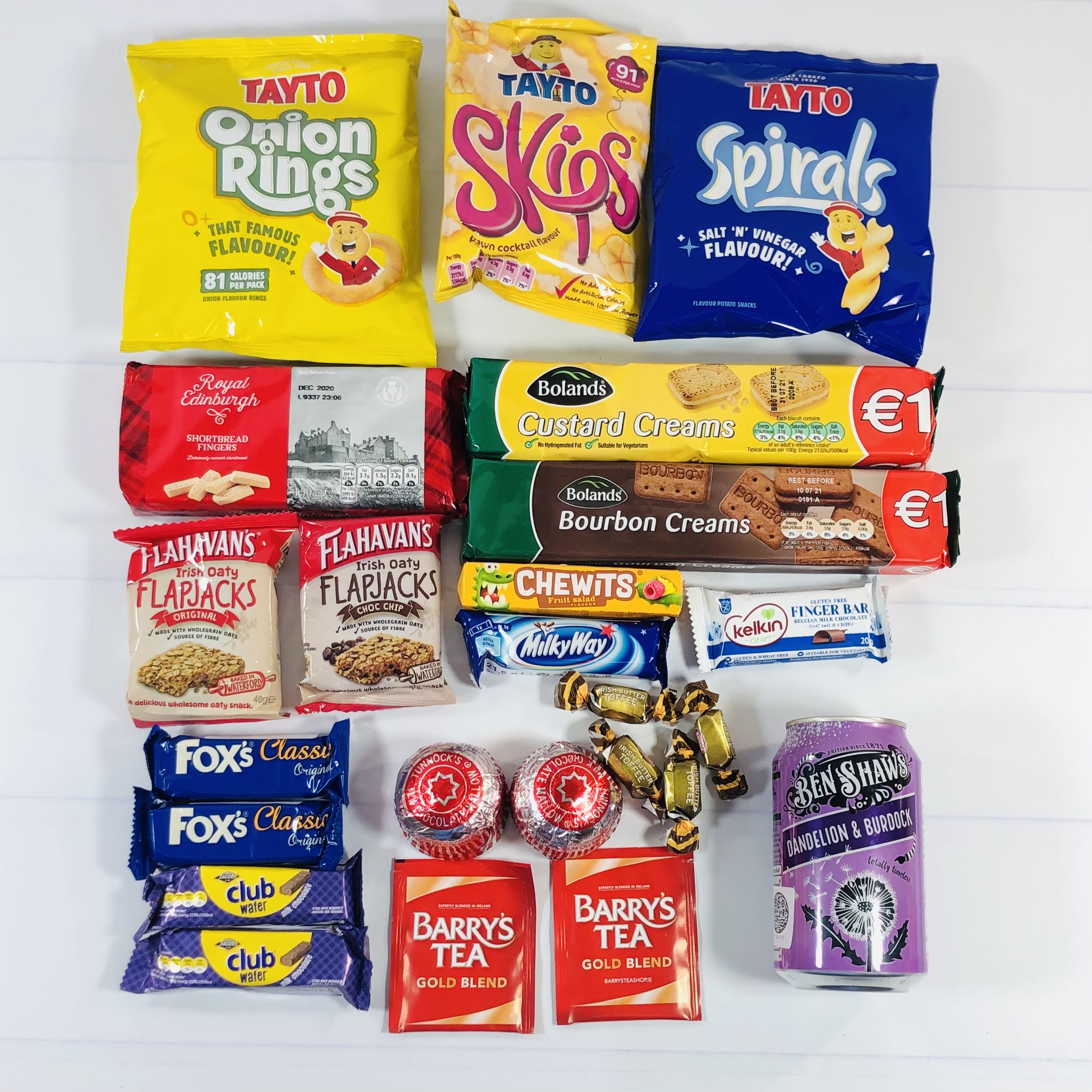 Oh my gosh, it took us so long to go through these magnificent snacks but it was worth it! My family would always give a cheer when I would say "let's try this" and I am never short of people who are willing to try these snacks. Some of the packs were quite big and gave us several servings (like the Bourbon Creams and Shortbread) while others are one and done. I am always happy to see sweet and salty snacks but there are also candies and even drinks. I thoroughly enjoyed my trip to Ireland through snacks and can't wait to see where Try My Snacks takes my family next month!
Any thoughts about this box?