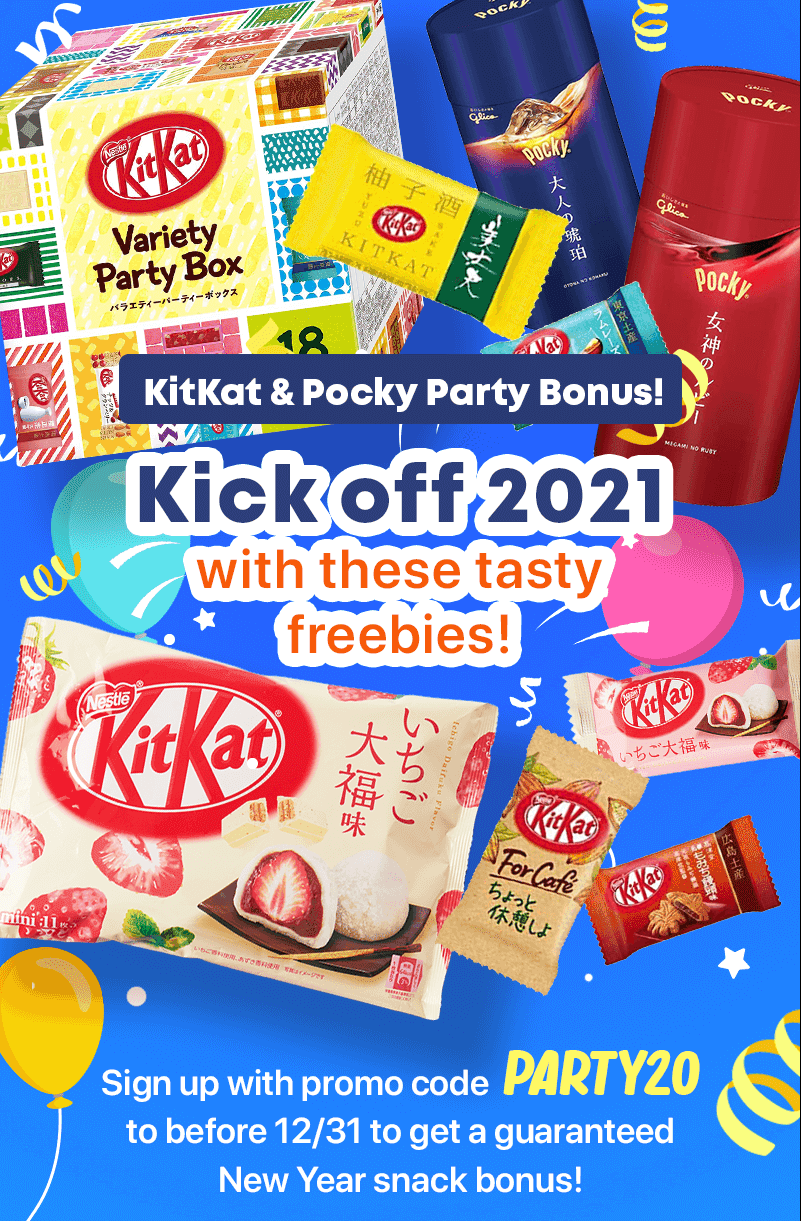 The Tokyo Treat New Year sale starts NOW!
Sign up for a 12-month subscription and get a FREE KitKat Variety Box (60 pcs, 18 varieties)!
Sign up for a 6-month subscription and get a FREE Pocky Goddess Ruby OR Pocky Mature Amber!
Sign up for a 3-month subscription and get a FREE KitKat Strawberry Mochi Party Pack!
Use this link and use the coupon code PARTY20 to get a bonus Japan-exclusive gift!  Ends 12/31 MIDNIGHT JST.
Get FREE Bonus gift at Tokyo Treat!
We have the theme and spoilers for the January 2021 Tokyo Treat! The theme is NEW YEAR, NEW SNACKS!
Japan at New Years is all about relaxing with friends and family. And of course – eating plenty of treats too! And the most important food to eat is mochi!
Items appearing in Premium boxes:
Fanta Premier Peach
Start the year right with this seasonal limited edition Japanese Premier Fanta Peach! Made with 13% peach juice and white peach puree!
KitKat Hot Spring Dumpling
These KitKats could only be found in hot springs – but we're bringing them to you! The red bean cream is wrapped in manju choco!
Koala's March x Pokemon Cheesecake Flavor
Koala's March collabed with Pokemon to create these cookies featuring 48 Pokemon designs and a cheesecake flavored center!
Pocky Winter Chocolate Ganache
Indulge in chocolaty goodness with winter Pocky! Coated in choco ganache & cocoa powder, the pretzel adds a tasty crunch!
Koikeya Pride Potato x Doraemon Seaweed Salt Chips
Doraemon is traveling through time to share chips! Using 3 types of seaweed salt, Pride Potato chips are a savory and crunchy snack!
New Year's Lucky Bubbly Taiyaki!