The Russia Box is a monthly subscription of Russian, Soviet, Slavic, and Eastern European candy and other treats. At $24.95 per month, you will get 1 to 2 large items, 5 to 10 small to medium items, as well as one unique cultural item. Too many snacks? You can opt to get the box delivered quarterly instead!
Explore Russia's festivals and culture through authentic Russian, Soviet, Slavic and Eastern European snacks and lifestyle items! Each snack box consists of carefully selected items sent directly to your door, monthly or quarterly. An amazingly unique, enjoyable and educational gift for you or your loved ones! Treat Yourself! Makes a Perfect Gift!

Large Items may include Cookies, Crackers, Tea, Jams, Jellies, Hot Chocolate, Rahat Lukum, Turkish Delights, Pastilla, etc.
Medium Items may include Chocolate Bars, Zefir, Marshmallows, Gummies, Filled Chocolate Candy, etc.
Small Items may include Chocolate Candy, Caramels, Nougats, Wafers, etc.
Lifestyle Items may include traditional Russian Arts & Crafts, Figurines, Games, Souvenirs, Dishware, Tea Accessories, Matreshkas, Ghzel, Khokhlama, etc.
Each Russia Box contains 1 or 2 large items, 5 to 10 small to medium snack items and 1 genuine cultural item. Each Russian Snack Pack contains 1 medium item and 4 to 6 small items.
DEAL: Get $5 off on your first box! Use coupon code HELLO5 . Cannot be combined with other offers.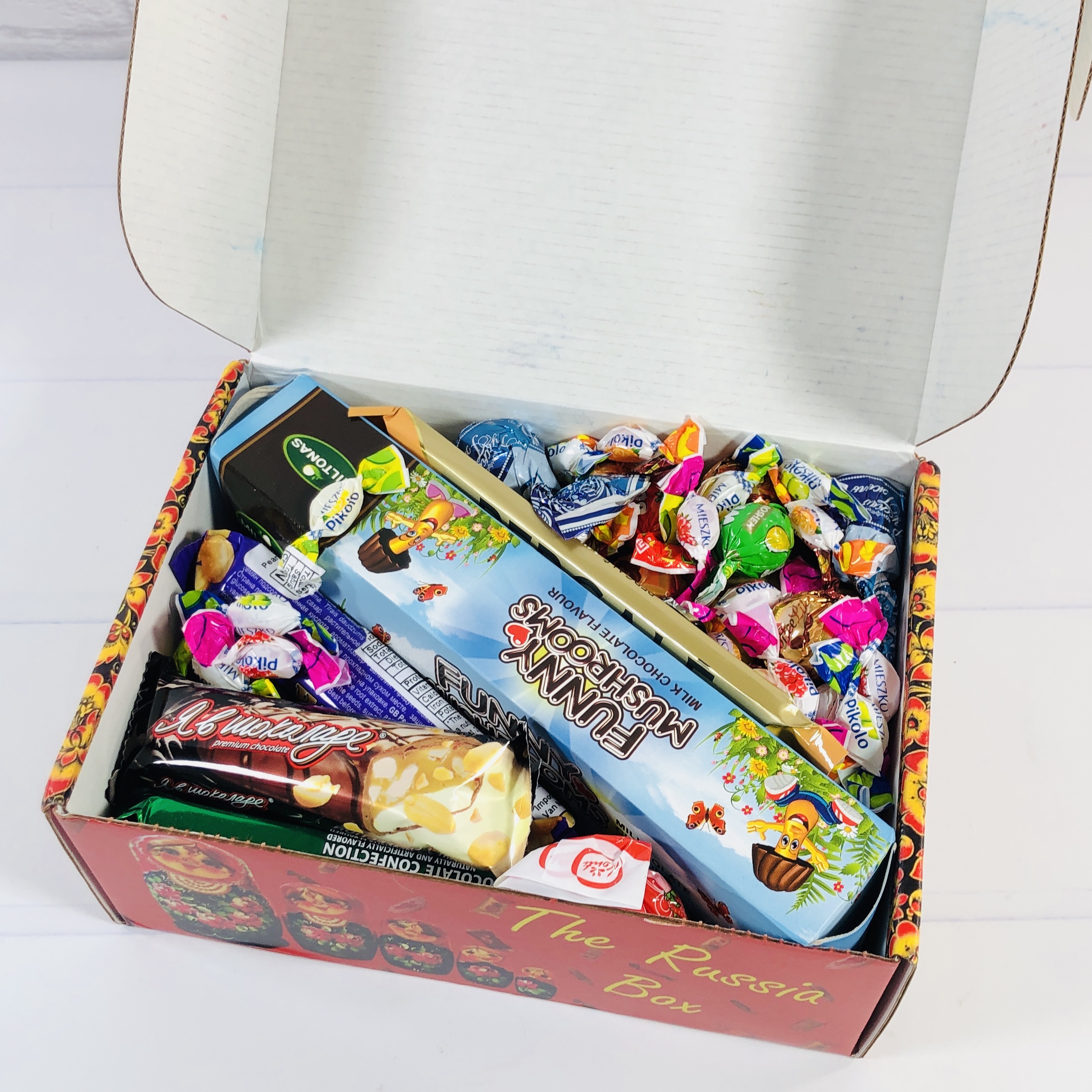 This is my very first box from The Russia Box, and the box itself was beautiful and full of Russian imagery. It was also jam packed with snacks!
I received a card welcoming me to The Russia Box. More info on the snacks is available online and this box may not be suitable for those with food allergies.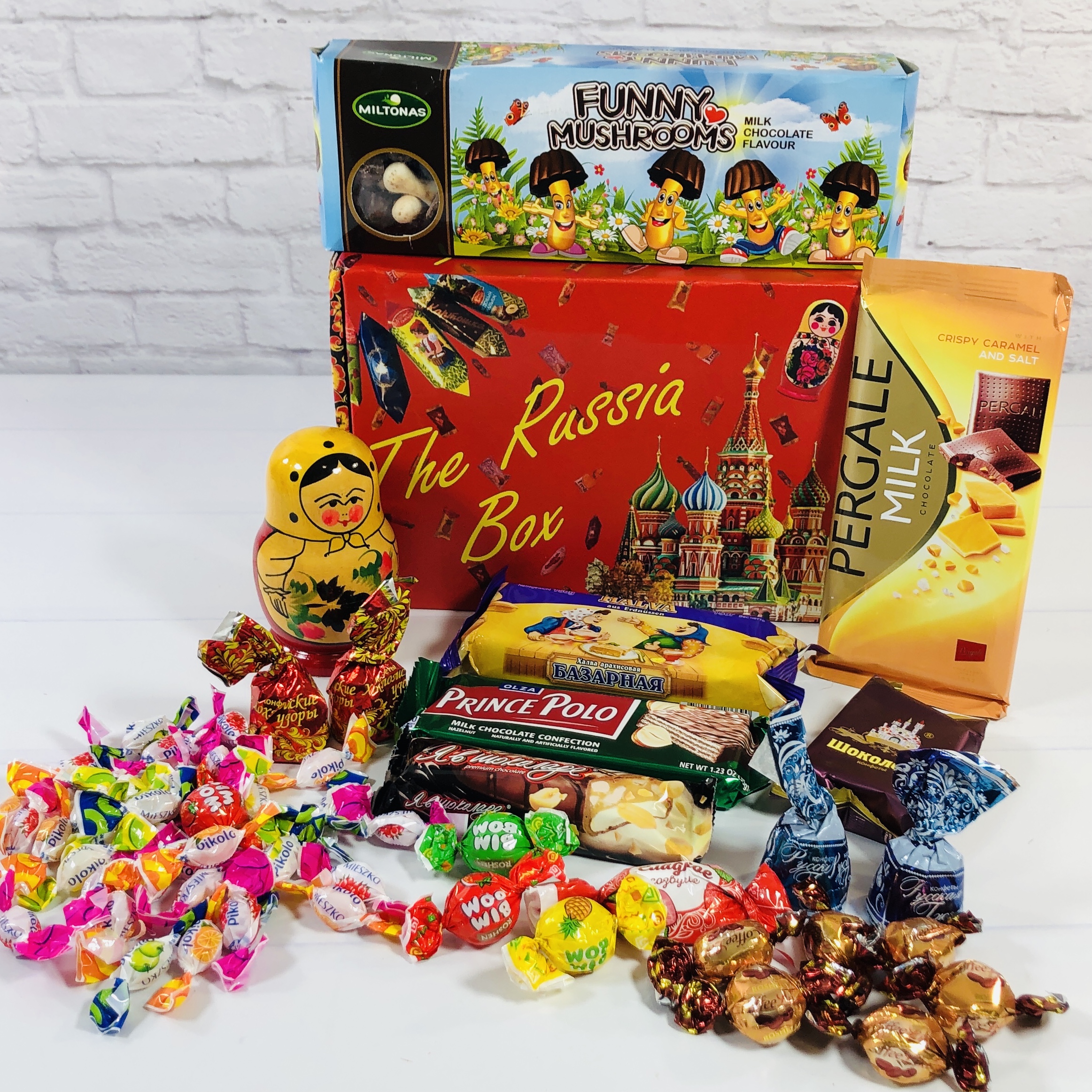 Everything in my box!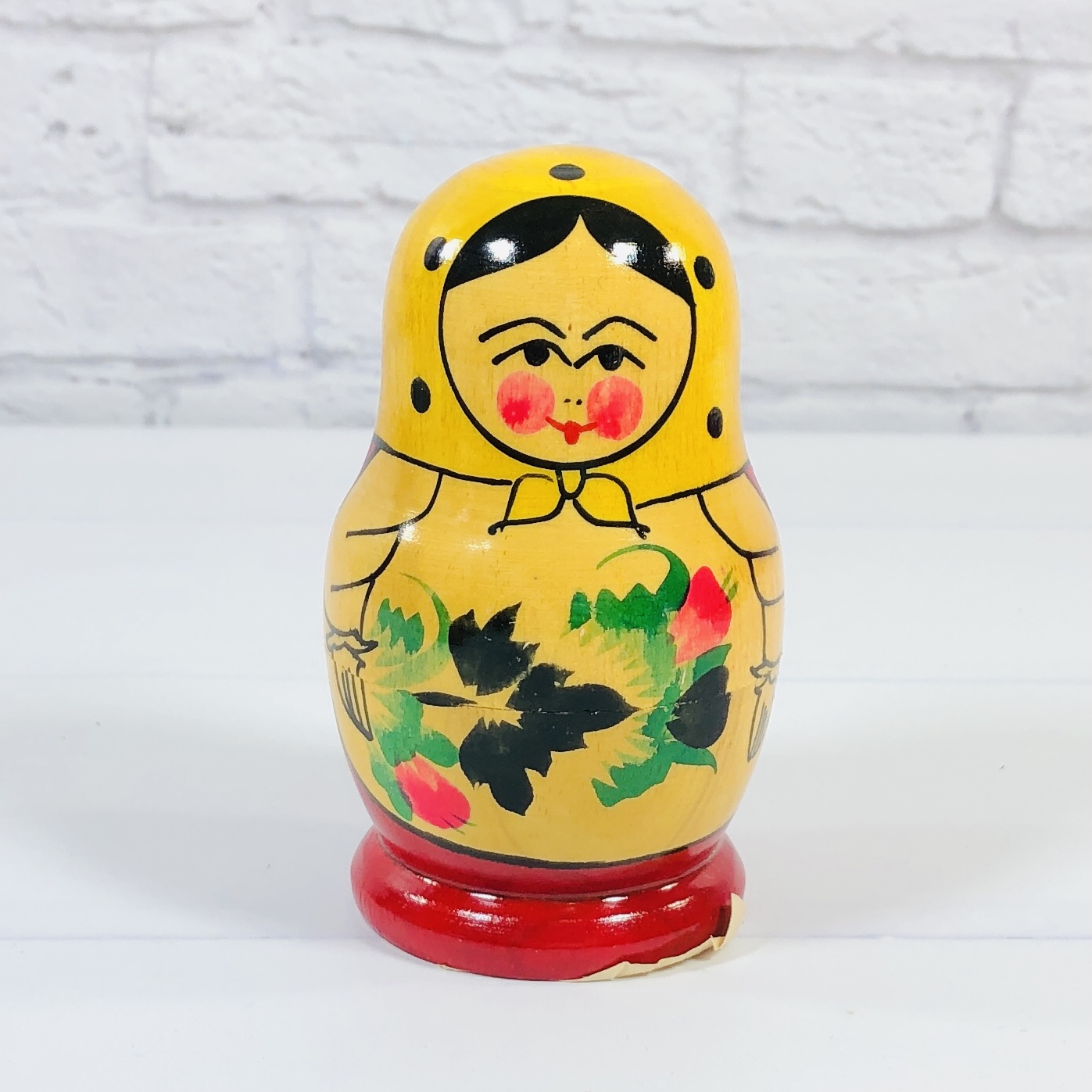 The lifestyle/culture item from this box was a single Nesting Doll, also known as a Matryoshka.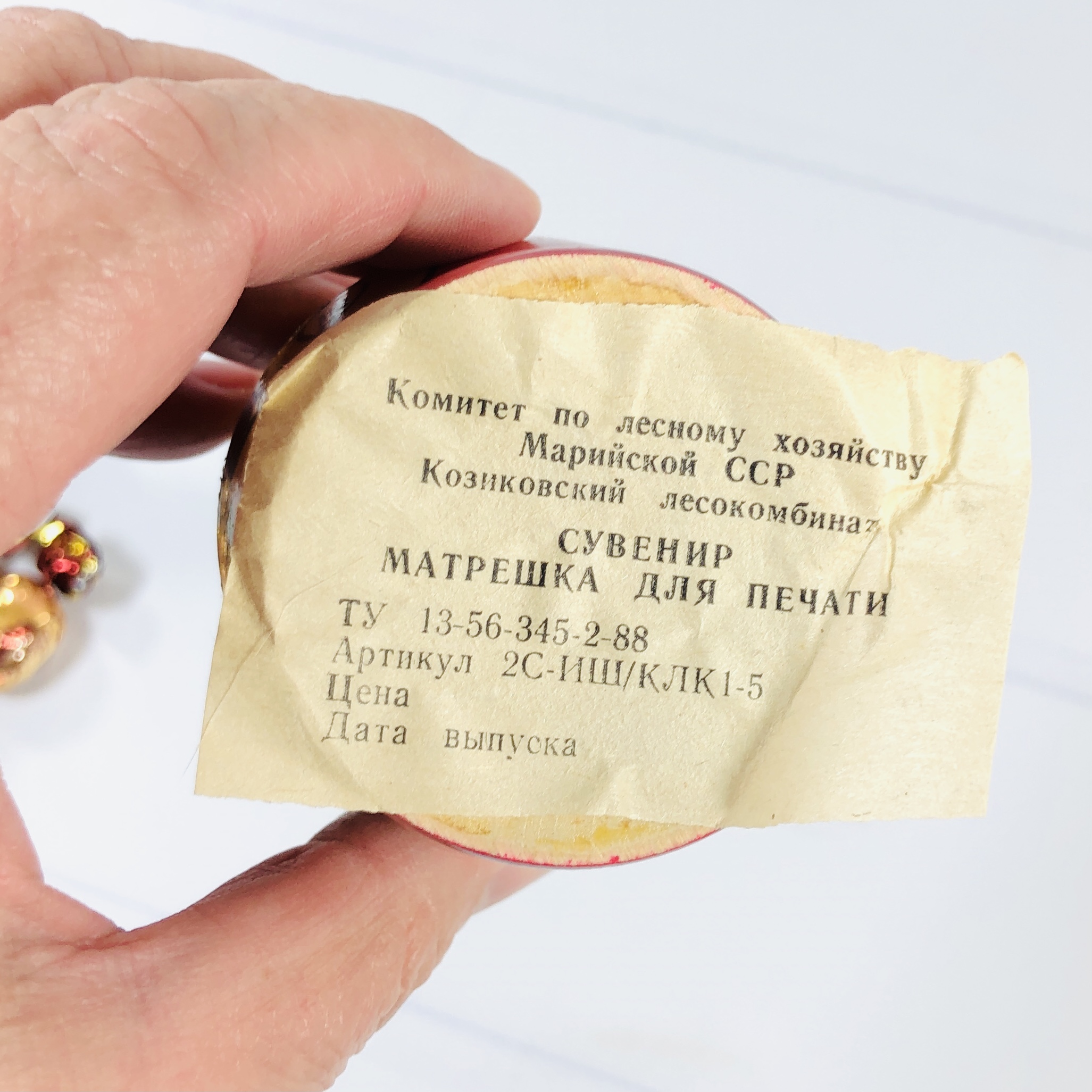 There was a tag underneath but I have no idea what it says!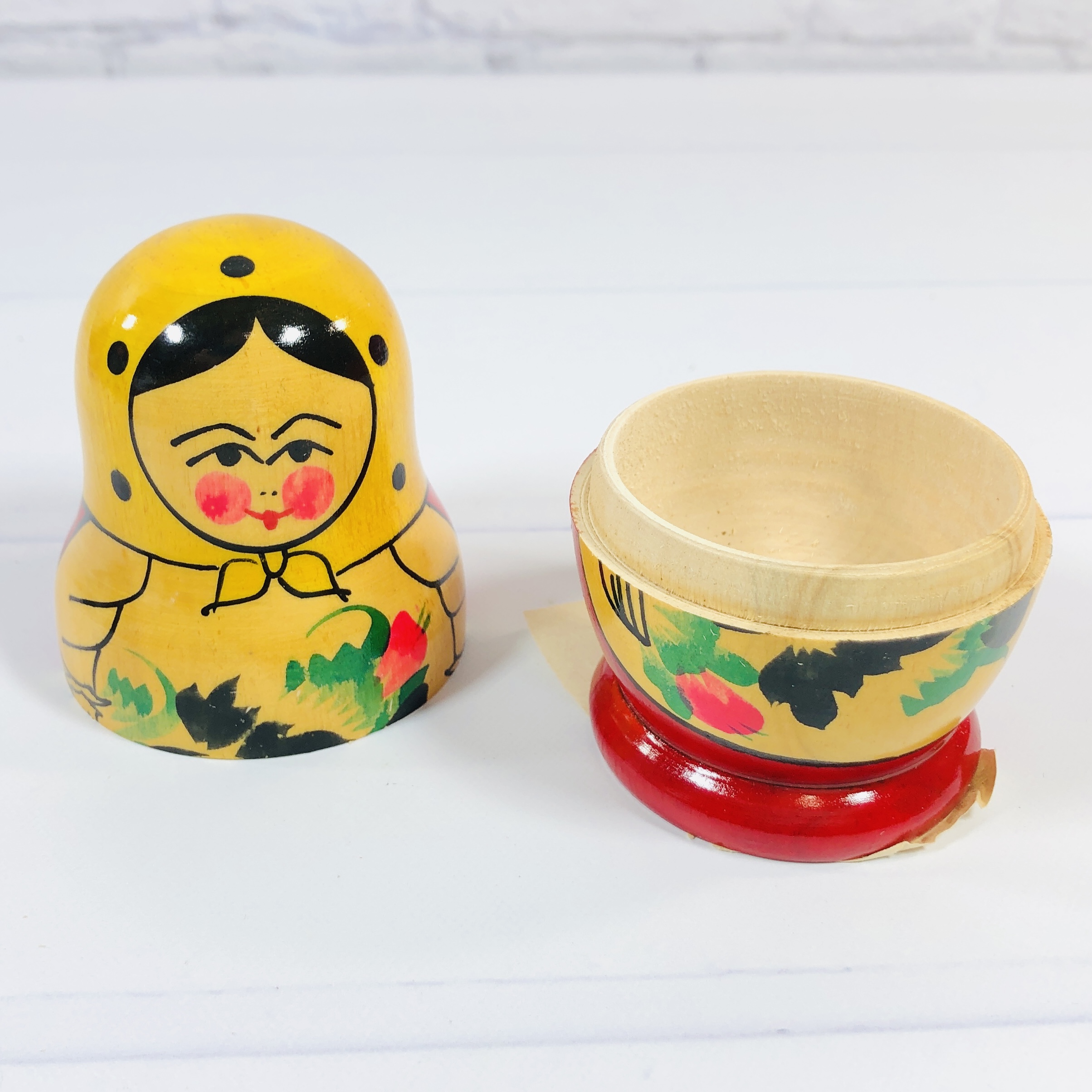 The 4″ wooden figure opened up to reveal an empty cavity, which I just might use to store some of those smaller candies!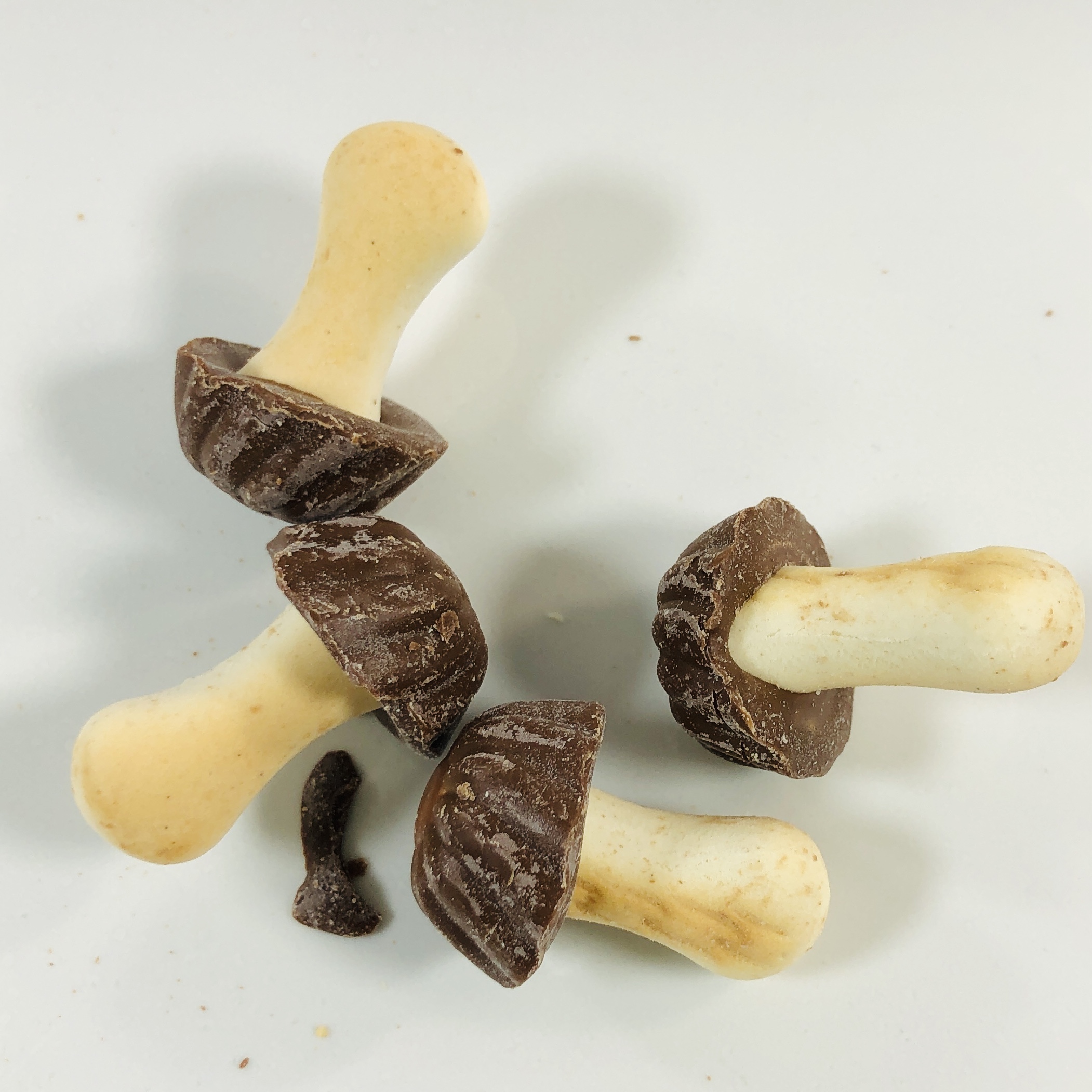 Miltonas Funny Mushrooms Cookie Mushrooms are from Lithuania and are just the cutest little cookies ever! They have a cookie base that reminds me of an animal cracker and are topped with a chocolate cap. Plus, we received a whole box of them, so cool! My daughters love mushrooms too and so we all got a kick out of this snack.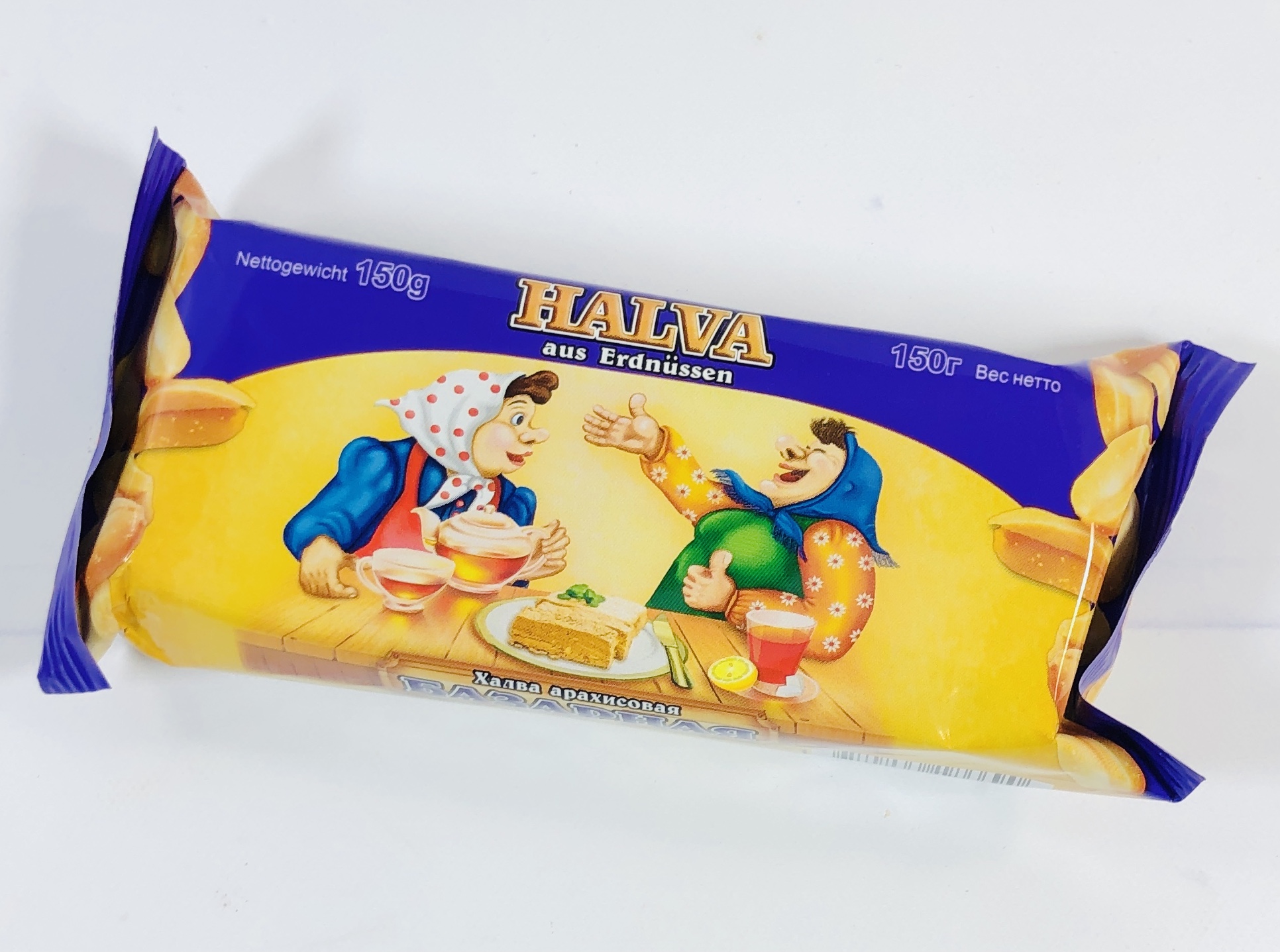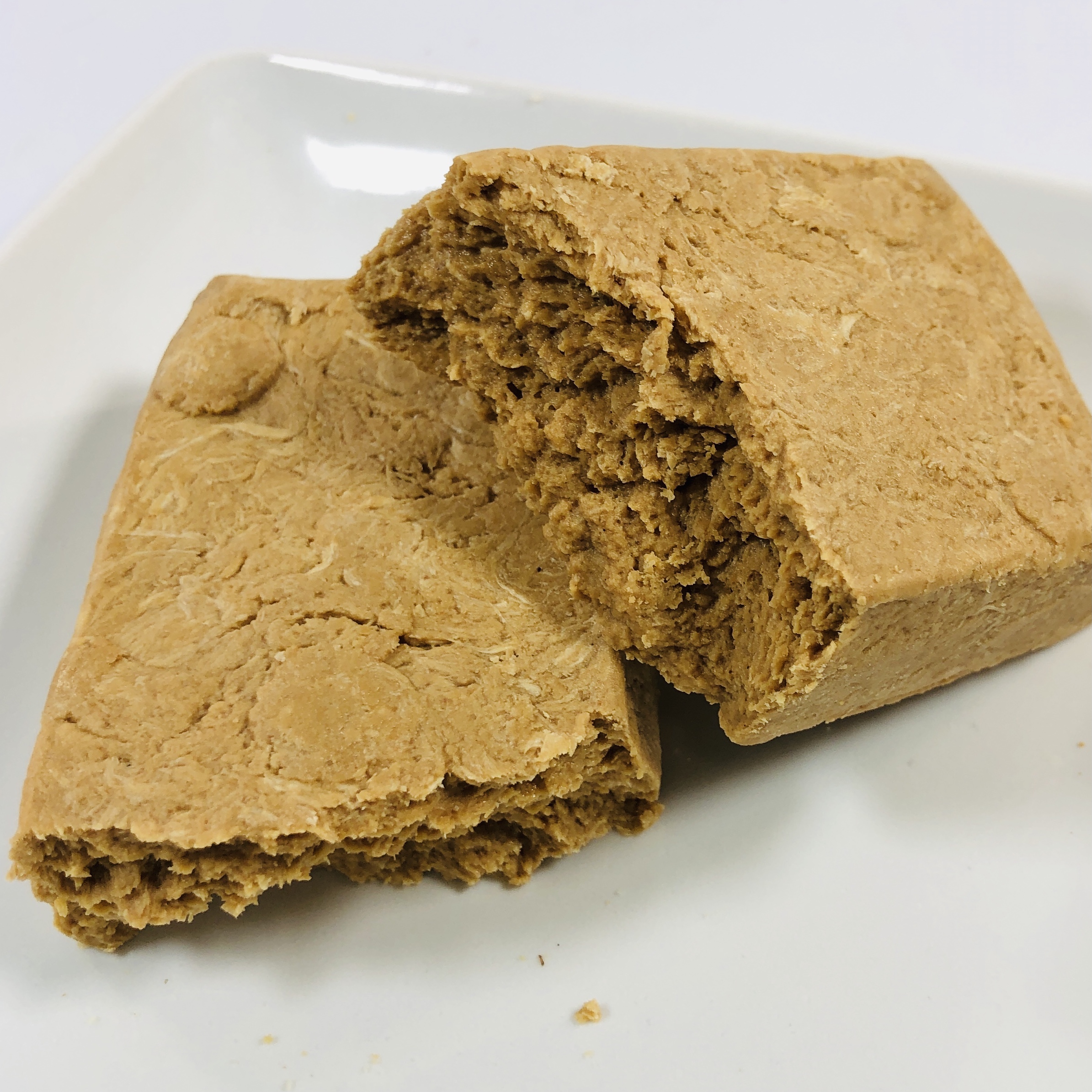 Bazarnaya Peanut Halva I have tried halva before, and it's usually made with sesame seed paste, but my daughter pointed out that this version is made with peanuts! It's not as dense as fudge and has a unique texture that is soft and crispy at the same time. It sort of reminds me of a Butterfinger filling but isn't as crunchy. Maybe flaky is the better word?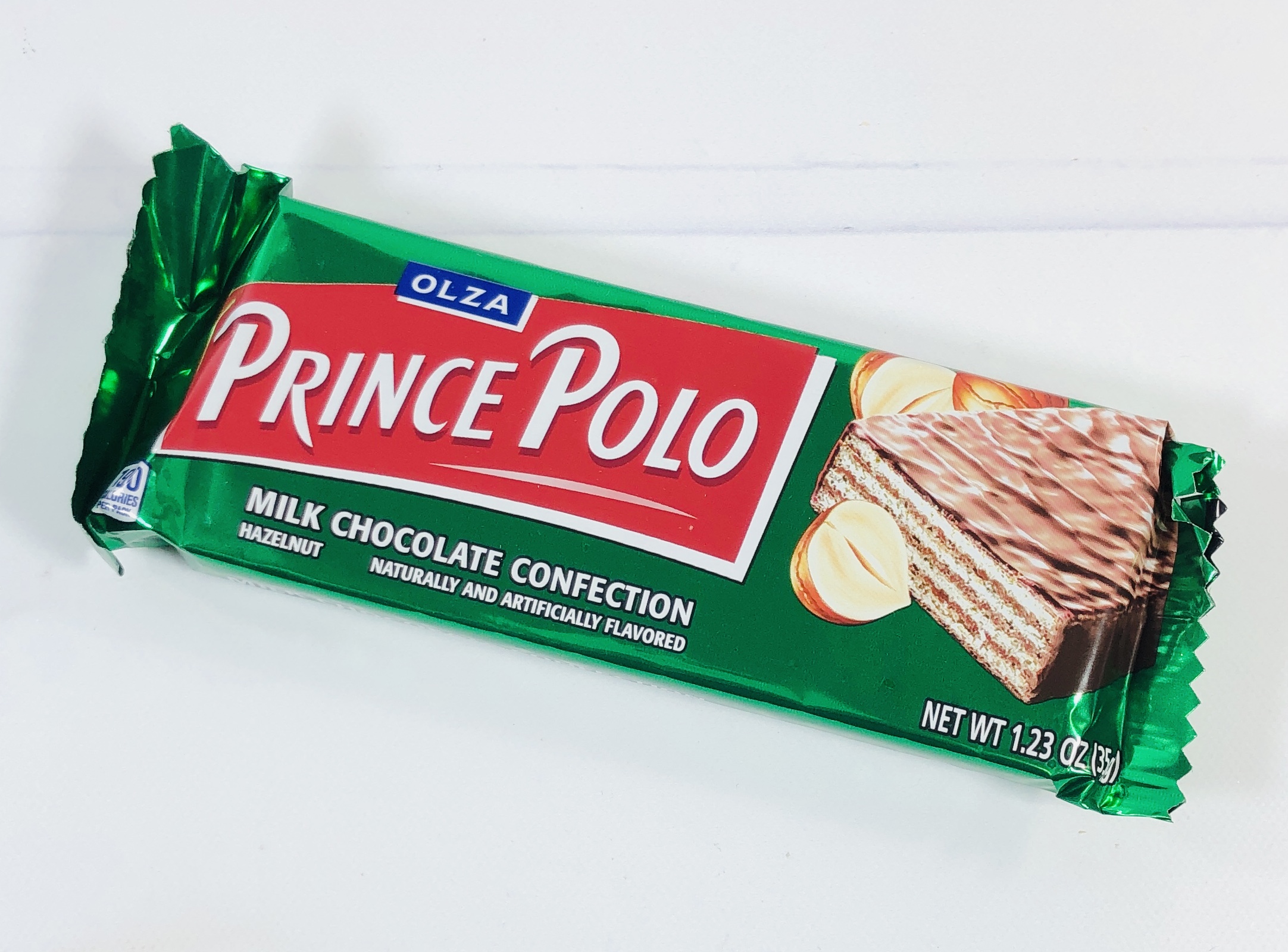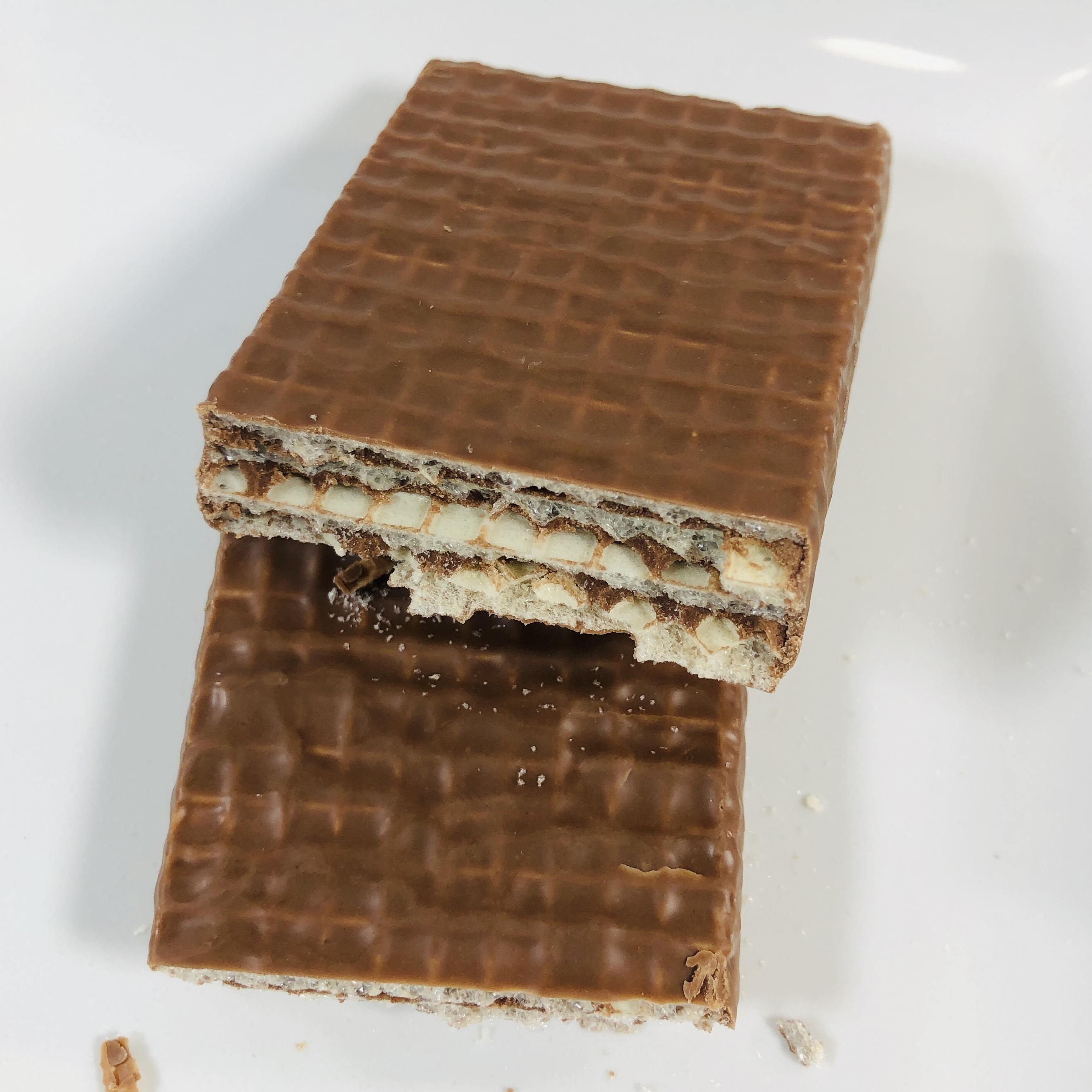 Prince Polo Milk Chocolate Hazelnut Confection is a classic wafer cookie/Kit Kat with a twist – the chocolate is flavored with hazelnut!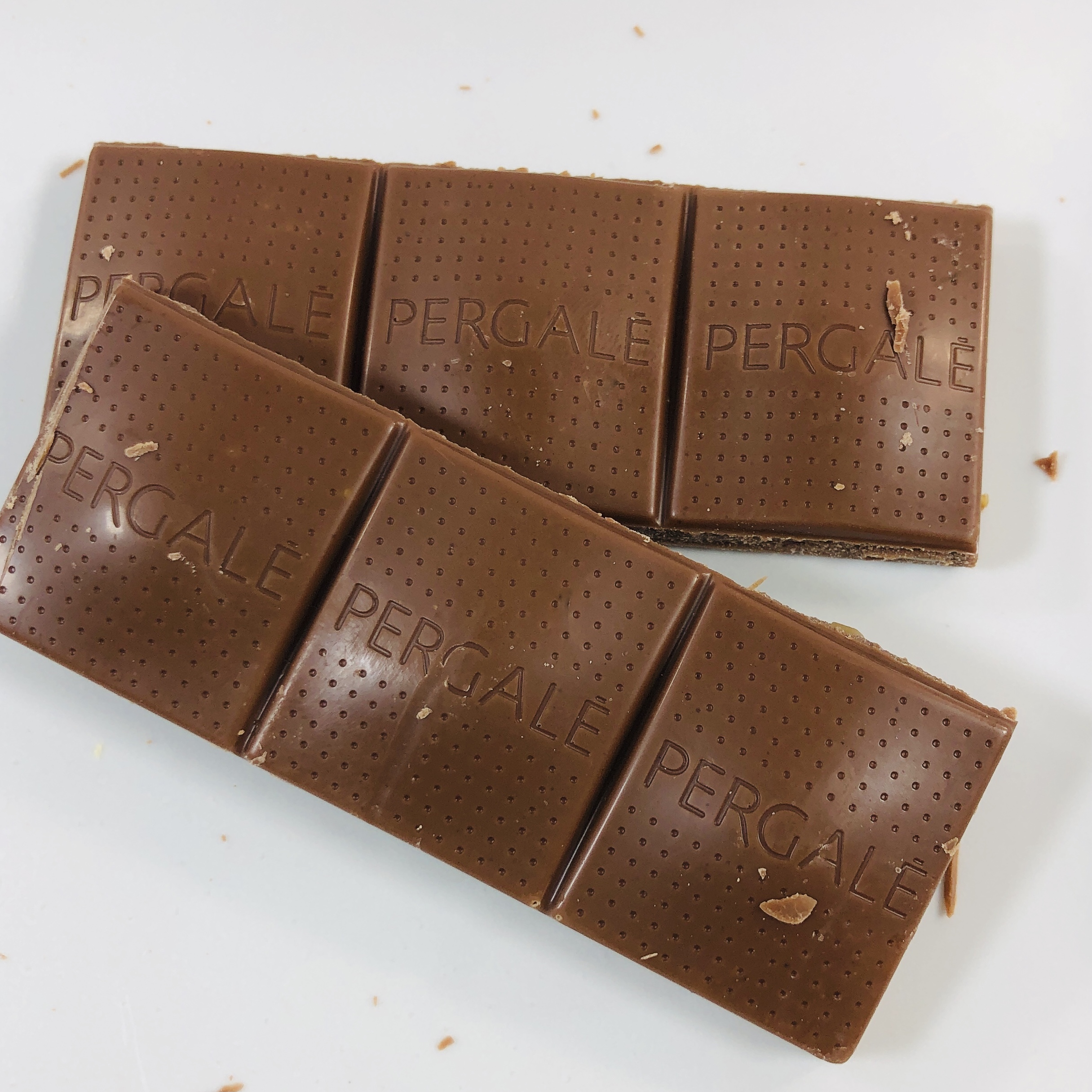 Pergale Milk Chocolate Bar Crispy Caramel & Salt I love milk chocolate anything and this one was super tasty. It was a huge bar too, with 12 "squares" that can be broken off of the main bar. The chocolate was great quality and inside I found pieces of salty toffee. From Lithuania.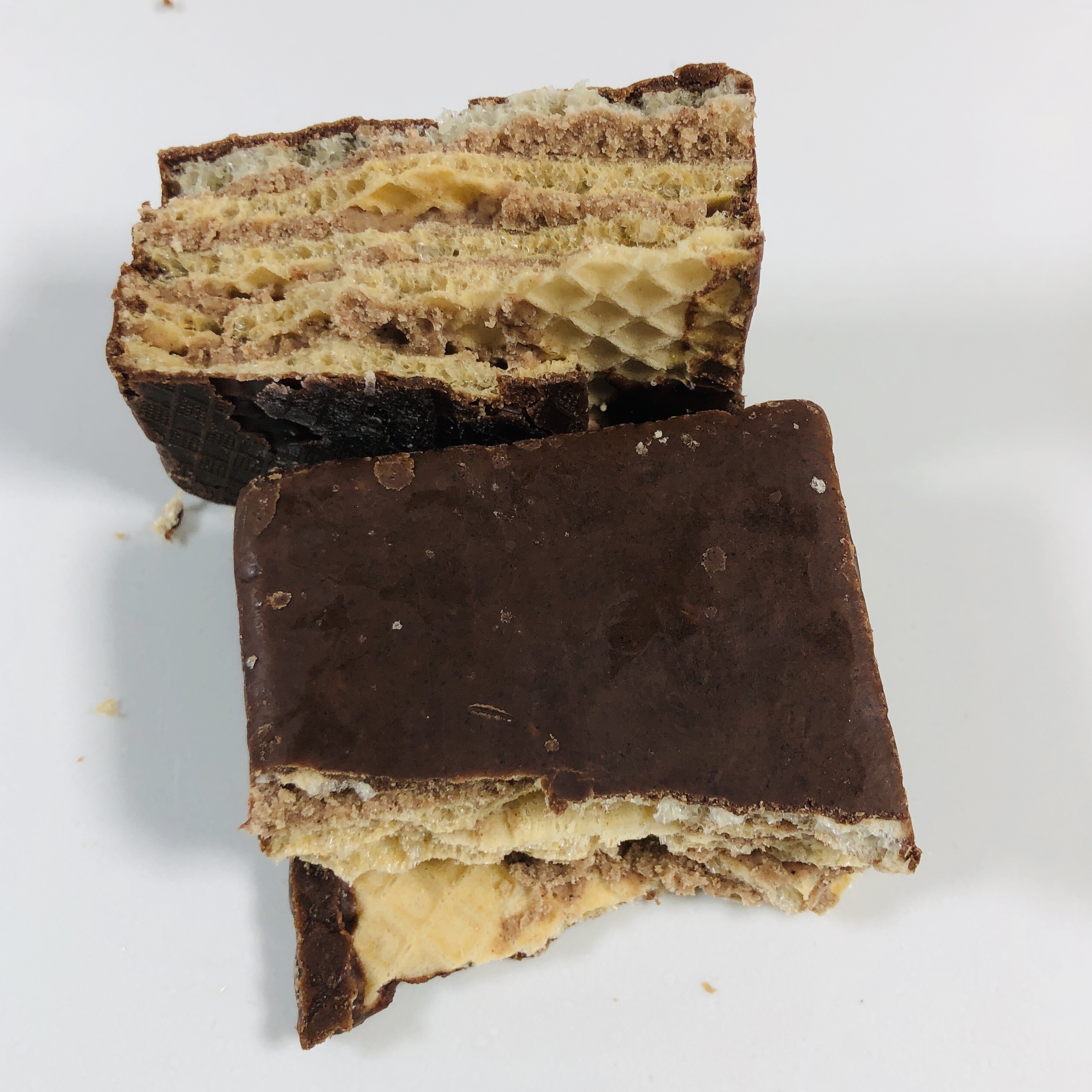 Shokolend Glazed Candy with Liquor Flavor has wafer cookies and a cream filling covered in chocolate. I could not say what the liquor flavor is supposed to be, maybe vodka?
Coffee Like Hard Filled Candies are coffee latte candies, like sweet coffee with a hint of something extra: like Bailey's Irish Cream but in candy form. I'm not a big coffee fan but this is exceptionally tasty and I may have to hide them in my desk. Just when you think it doesn't get any better, there is caramel in the middle. I am loving it.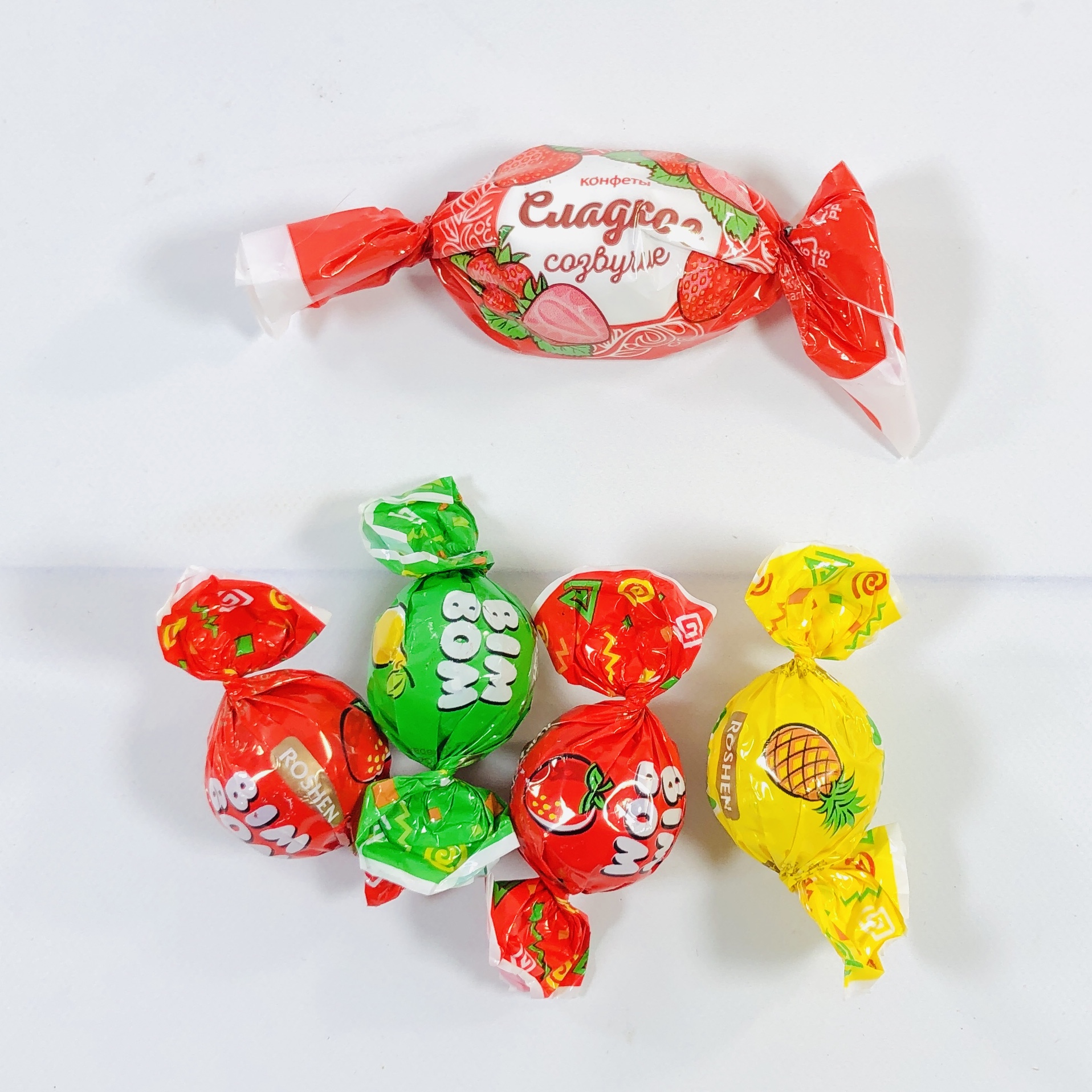 Sweet Harmony Candy with Strawberry & Cream Flavor is a truffle that has a chocolate shell on the outside and strawberry gel on the inside that lies on top of strawberry marshmallow. It was a little weepy and very sweet.
Bim Bom Hard Candies with Fruit Berry Filling are hard candies with a caramel-type fruit filling. I tried pineapple and immediately recognized the flavor. These are pretty big and lasted for a while before I got to the middle
Pikolo Fruit Candy are classic hard sour fruit candies in raspberry, lemon, orange, and apple flavors.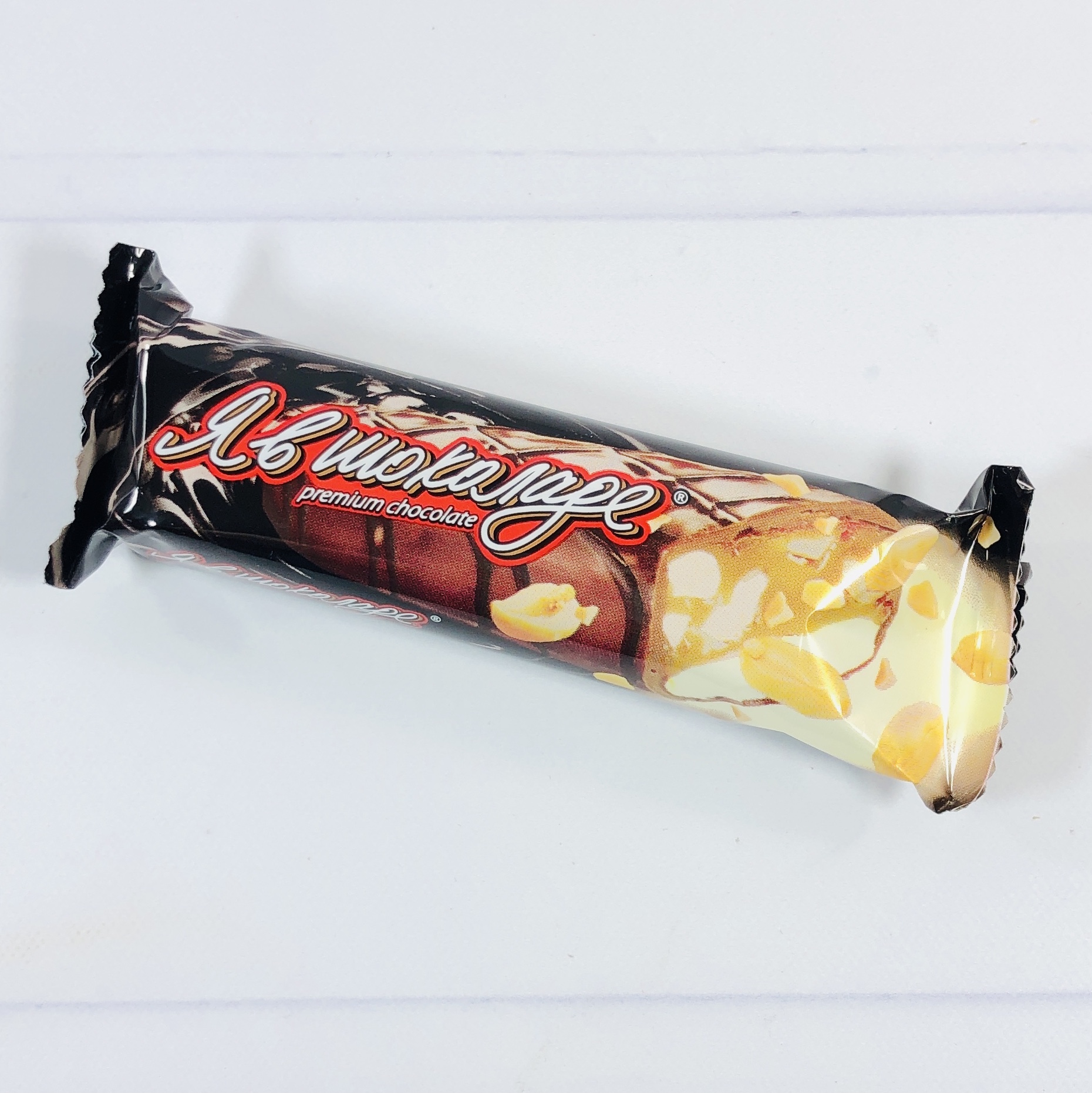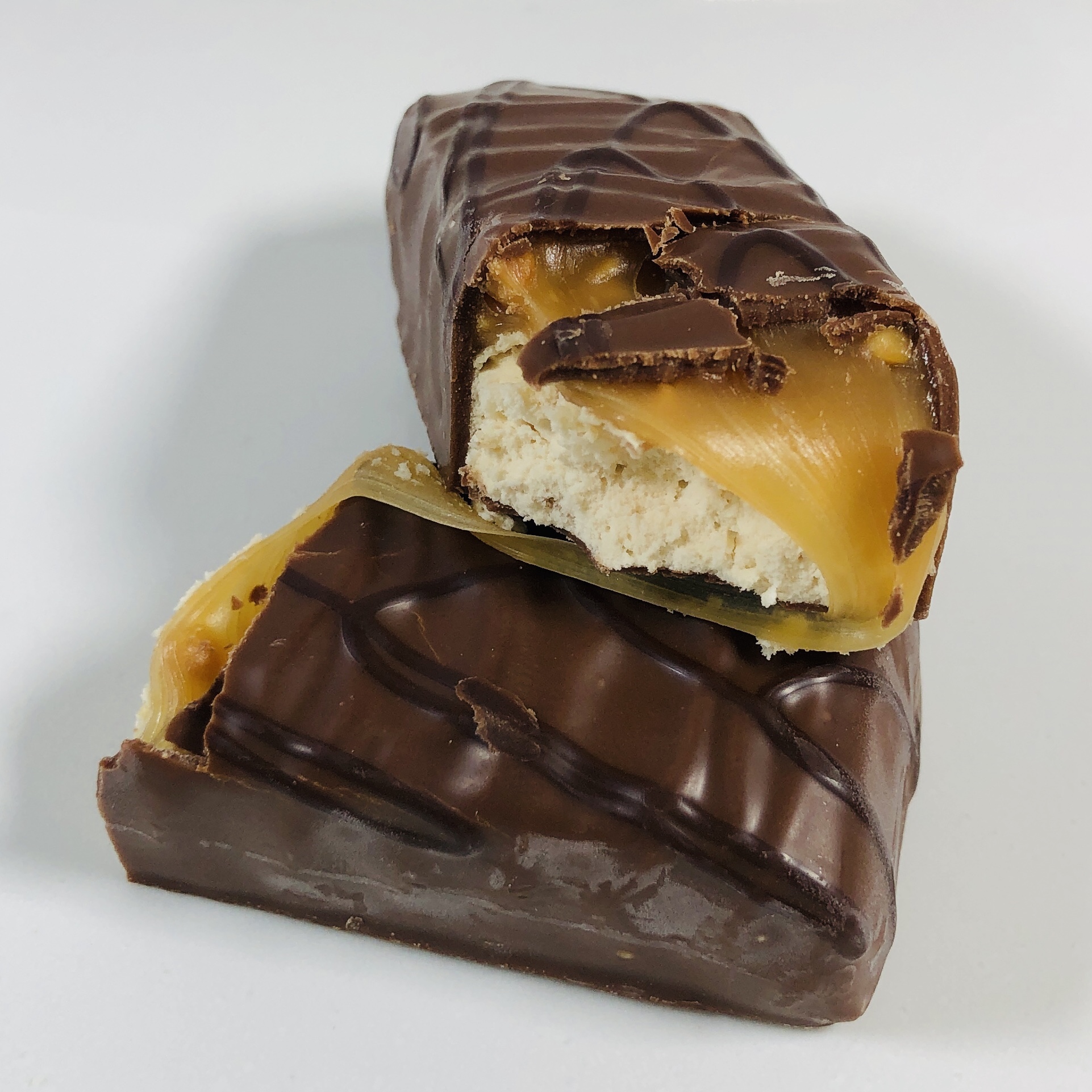 I'm In Chocolate Chocolate Bar With Peanuts and Raisins I think this is supposed to be similar to a Snickers Bar but it doesn't taste exactly the same. It has a nougat layer covered with nutty caramel and then the whole thing is coated in chocolate. I don't think there are any raisins in here at all.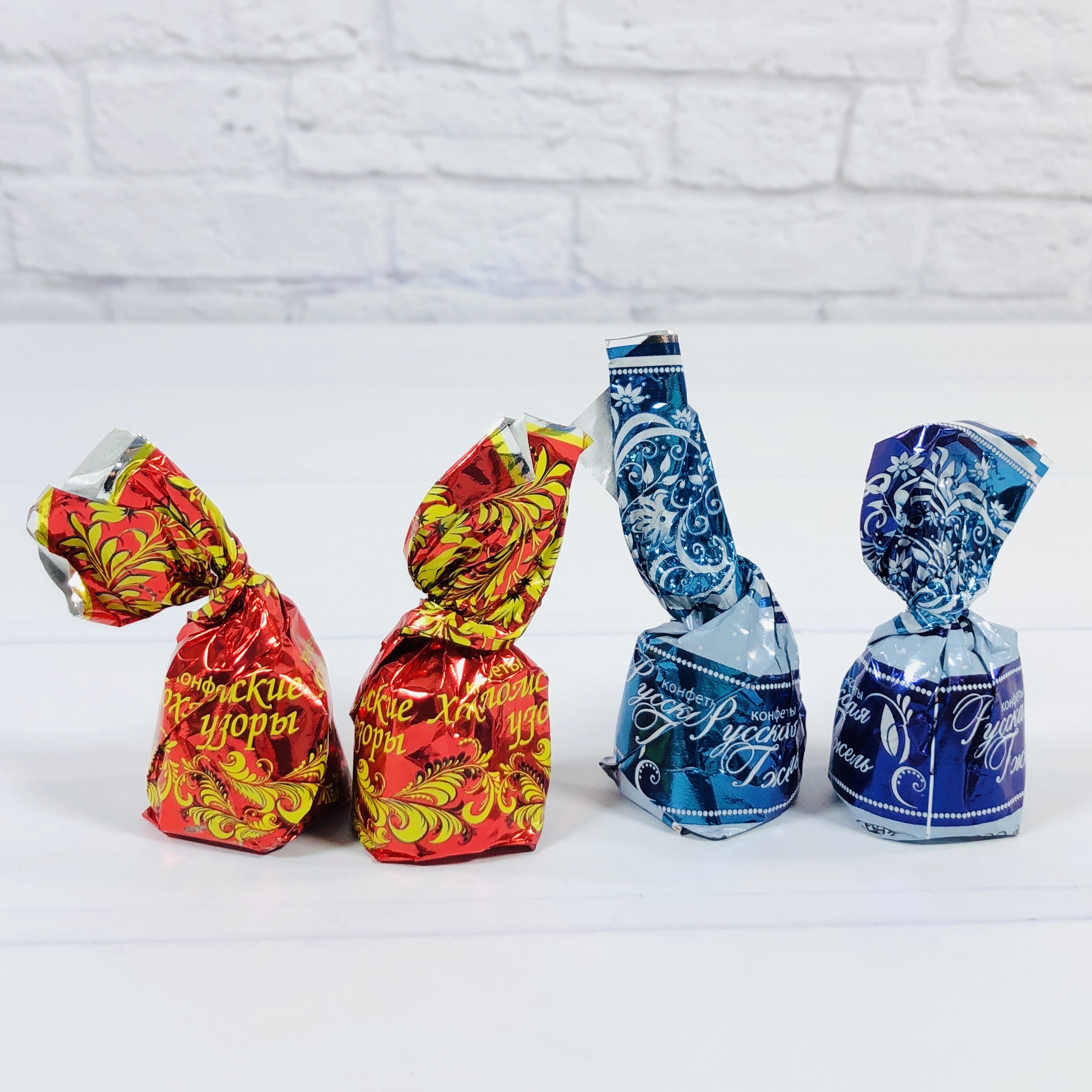 Khokhloma Designs Candy With Filling By Shokolend and Russian Gzhel Candy With Filling By Shokolend are truffles and the candy names are more about their wrappers than what is on the inside. Khokhloma (red and gold wrapper) has a chocolate filling that is smooth and has a hint of either raspberry or alcohol, it's hard to tell but tasty. Gzhel (blue and white) has a lighter colored filling but I can't actually say what it is supposed to taste like, but it is creamy and sweet.
I had a blast discovering treats both familiar and exotic in The Russia Box! While contents may vary I received all candy for my first box. The lifestyle extra was a pretty wooden doll that now sits on my desk. The box of "mushroom" cookies was the biggest item sent and my family liked that one the best. Everything was tasty and fresh and we had so much fun trying something different throughout the month.
What do you think of this month's The Russia Box?