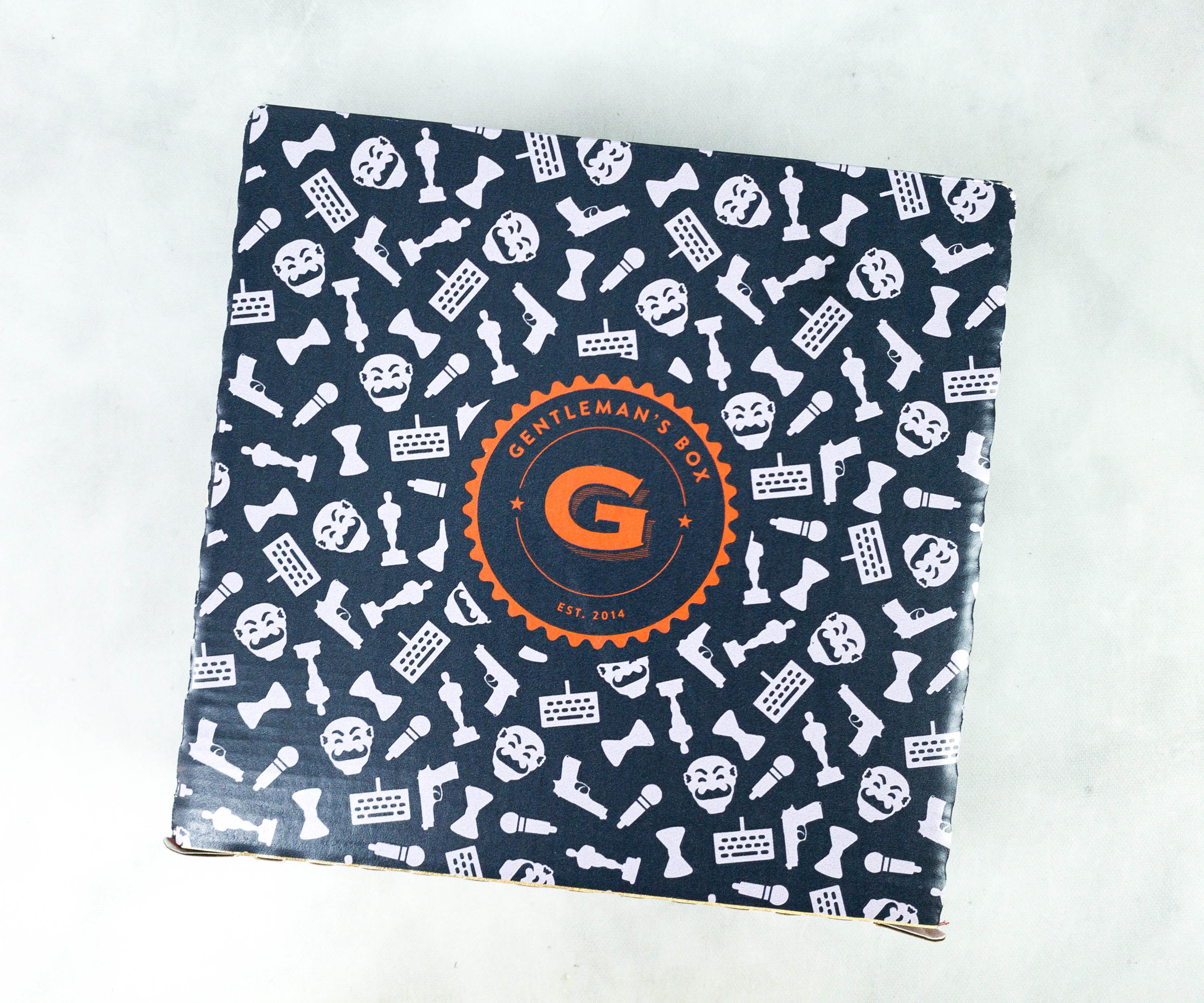 Gentleman's Box is a monthly subscription of men's accessories and grooming products. Each box is uniquely themed, honoring a noteworthy gentleman from the past or present. Currently, you can choose from two subscription types: The Classic Subscription with 4-5 products for $29 a month and The Premium Box with 4-6 premium accessories for $100 per quarter.
This is a review of The Classic Subscription.
DEAL: Save $5 on your first regular box. Use coupon code HELLO.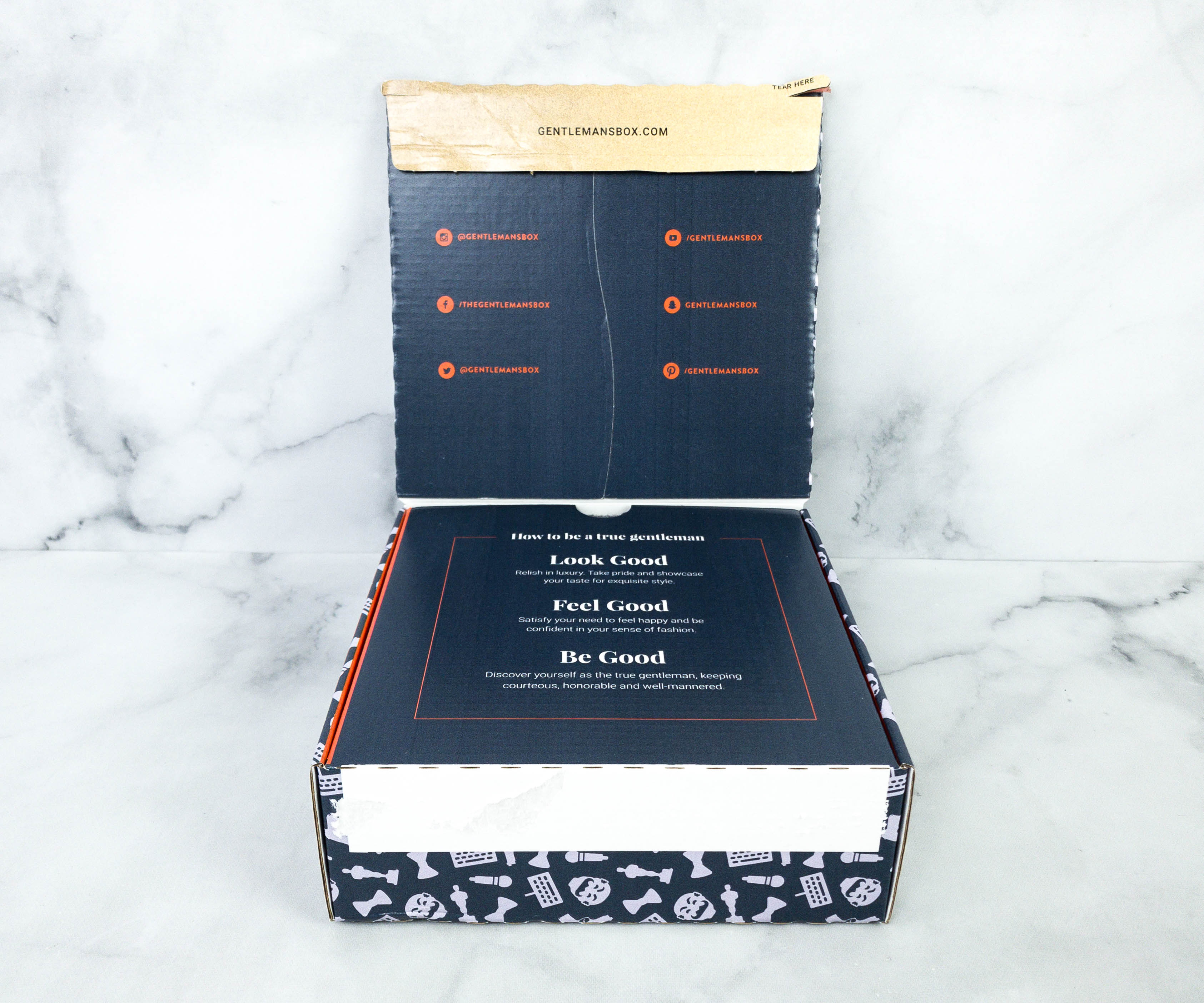 The inner part of the box lid features Gentleman's Box social media handles.
This carton cover also features the traits of being a true gentleman!
The items are neatly stacked inside. Some of the items even came with their own packaging.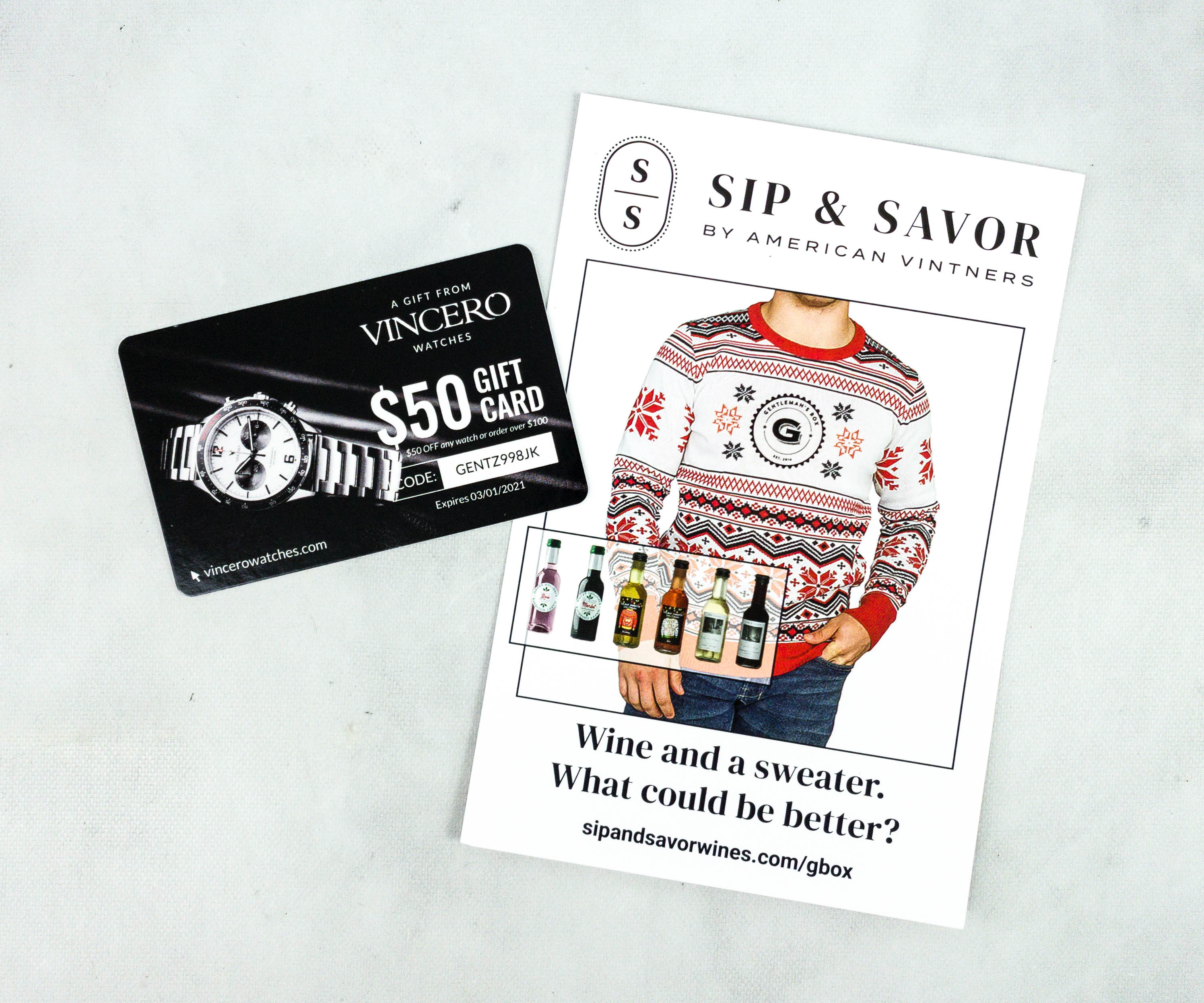 This month's box includes promotional cards.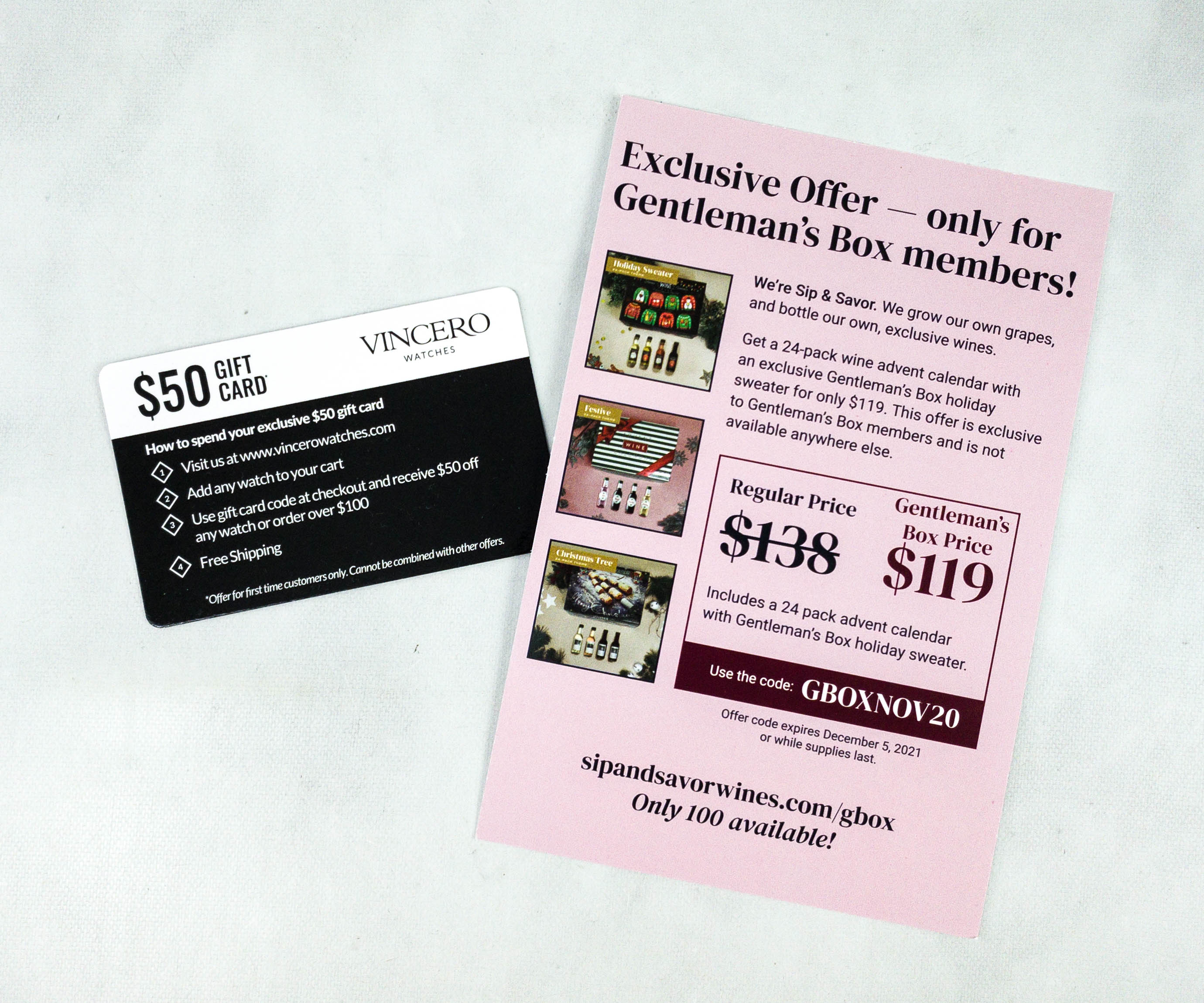 There's a $50 off gift card from Vincero Watches and a $19 off coupon from Sip & Savor.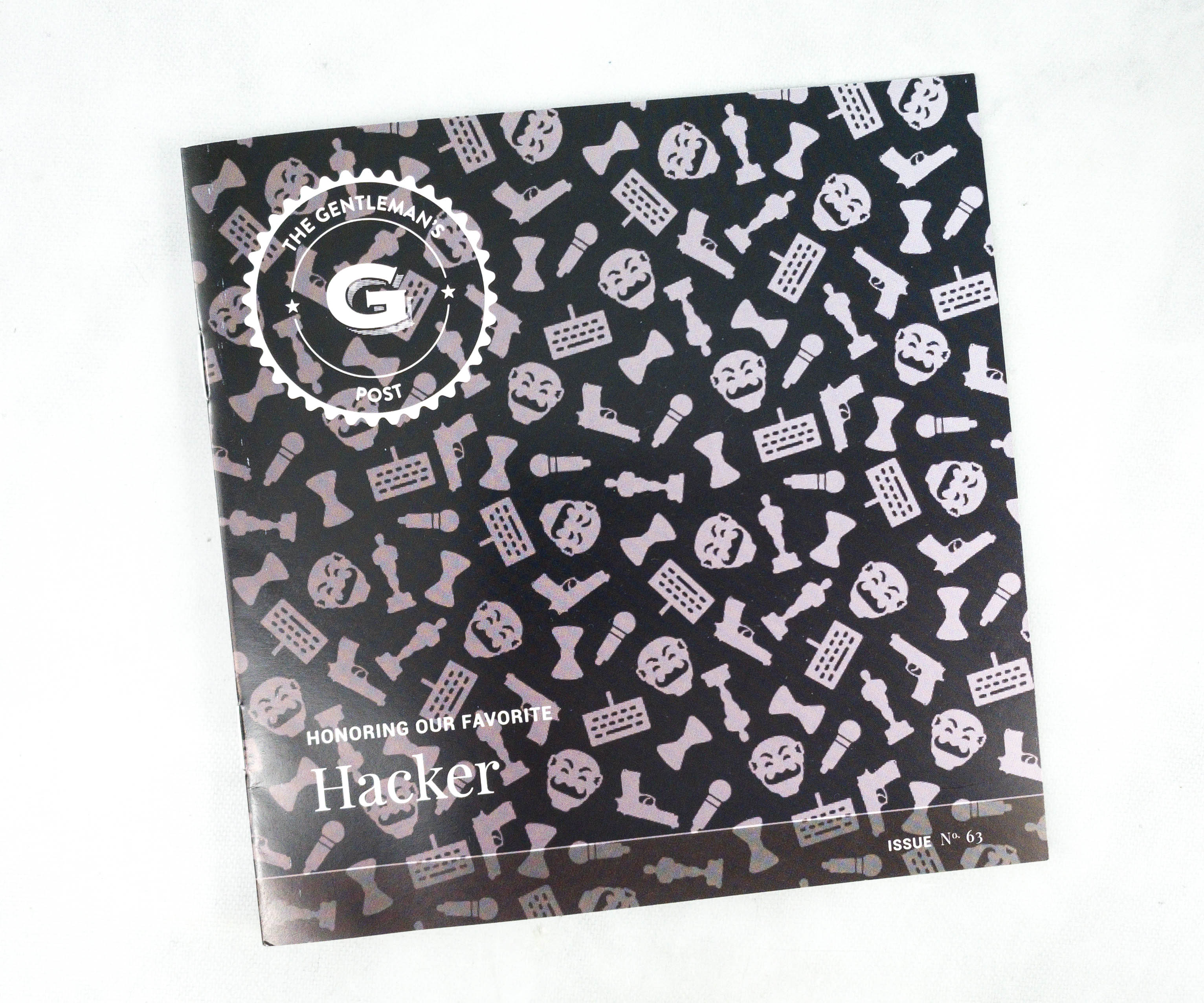 Each box includes a copy of The Gentleman's Post, a well-designed booklet describing the products in the box and offering styling suggestions for each one.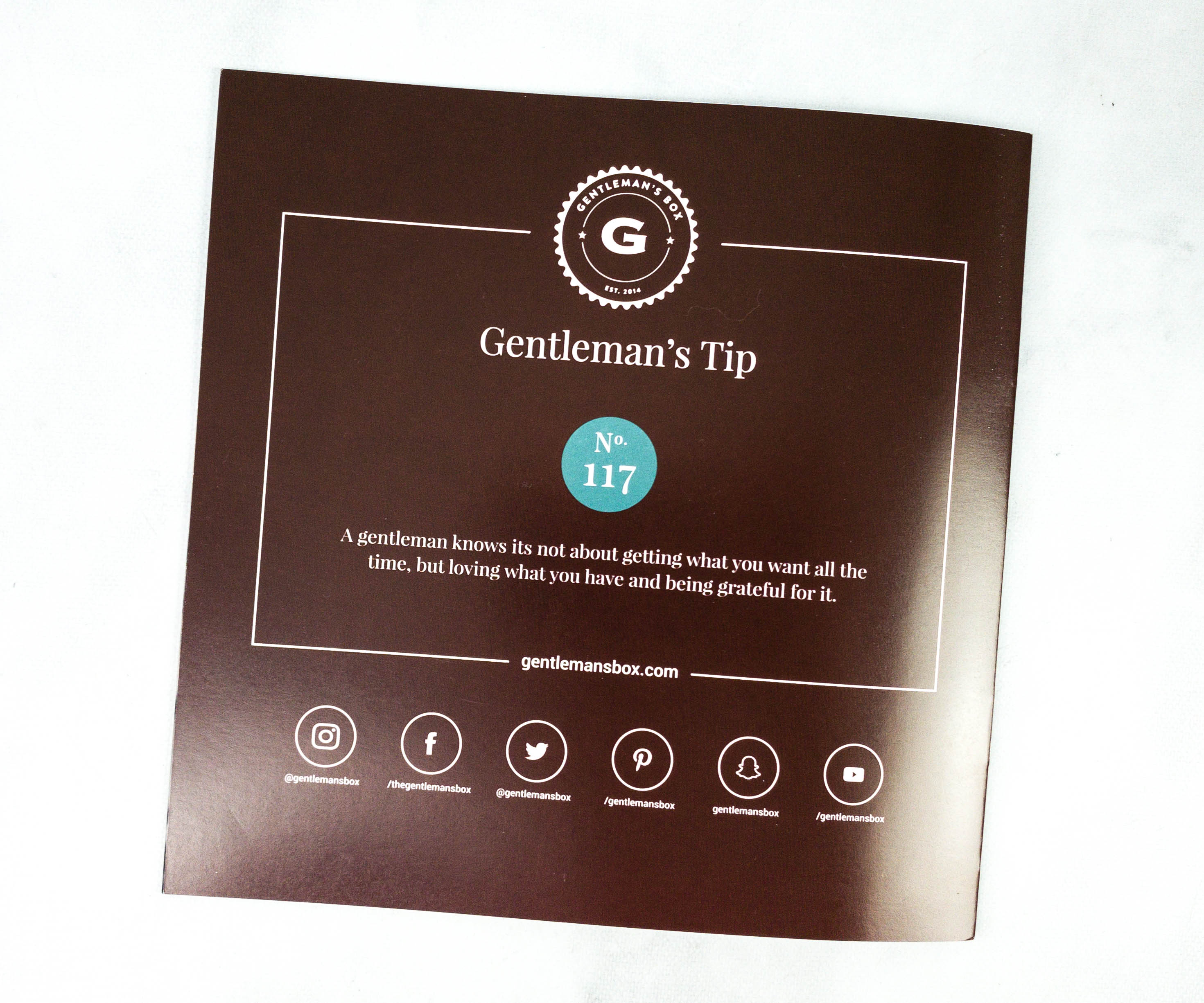 Featured at the back of the booklet is Gentleman's Tip No. 117:
A gentleman knows its not about getting what you want all the time, but loving what you have and being grateful for it.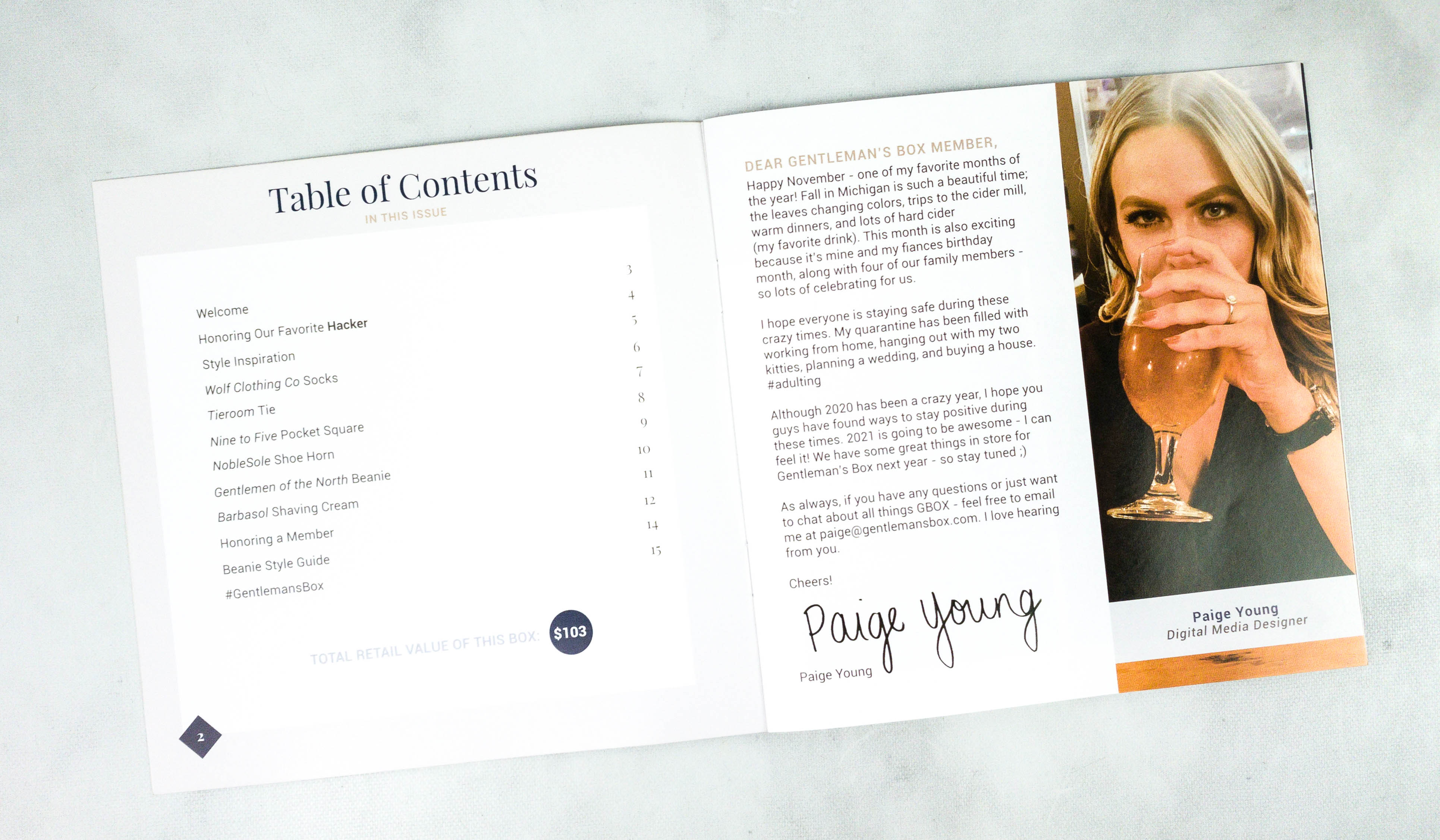 The Gentlemen's Post walks through everything in the box, and more. There is even a handy table of contents that gives a quick list of the contents and the total retail value of the box. They regularly have a feature that introduces us to members of the Gentleman's Box team.
This month's box is dedicated to honoring our favorite Hacker!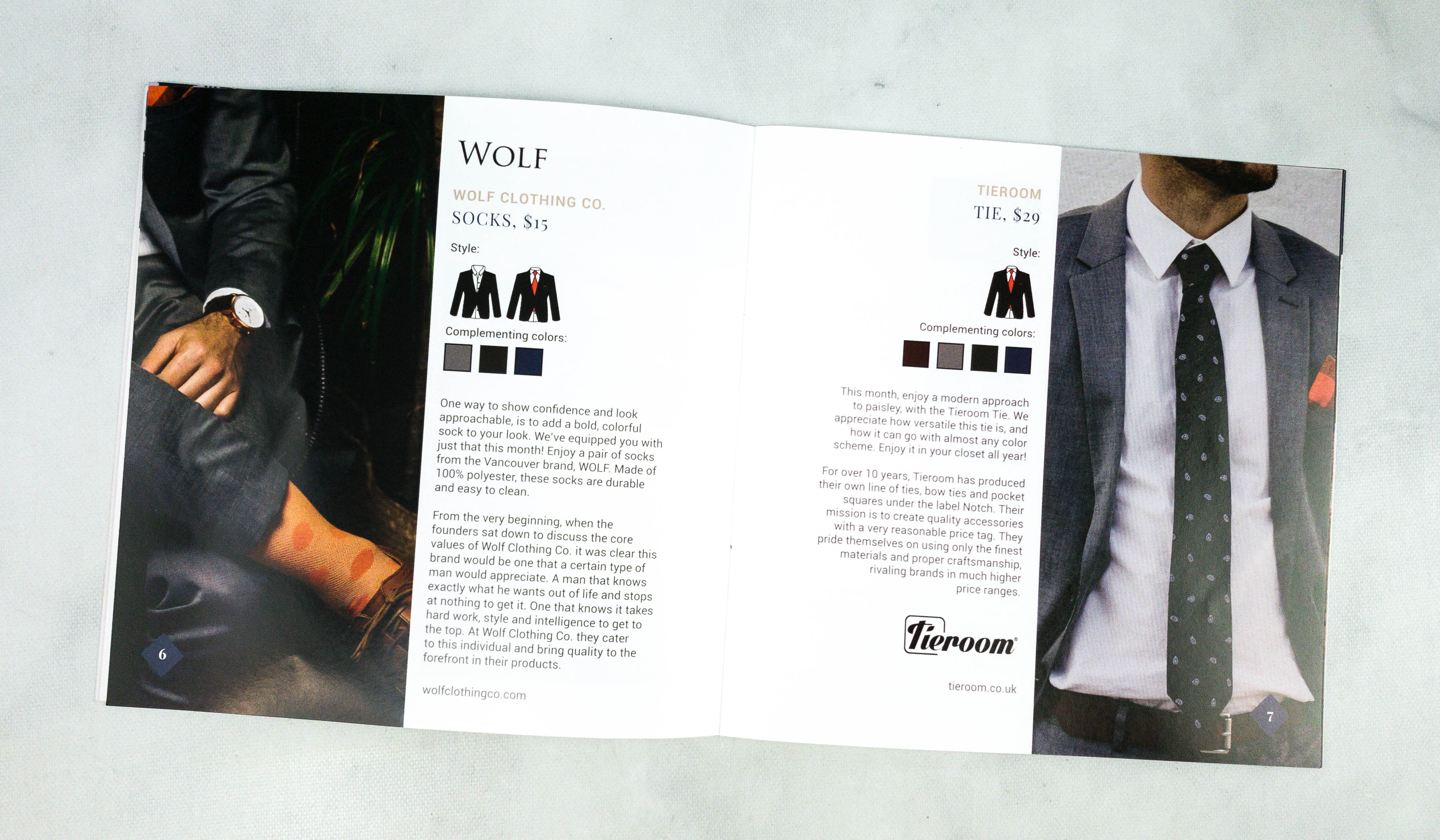 The booklet starts off with a style guide to give you some visual cues on wear and pairing options.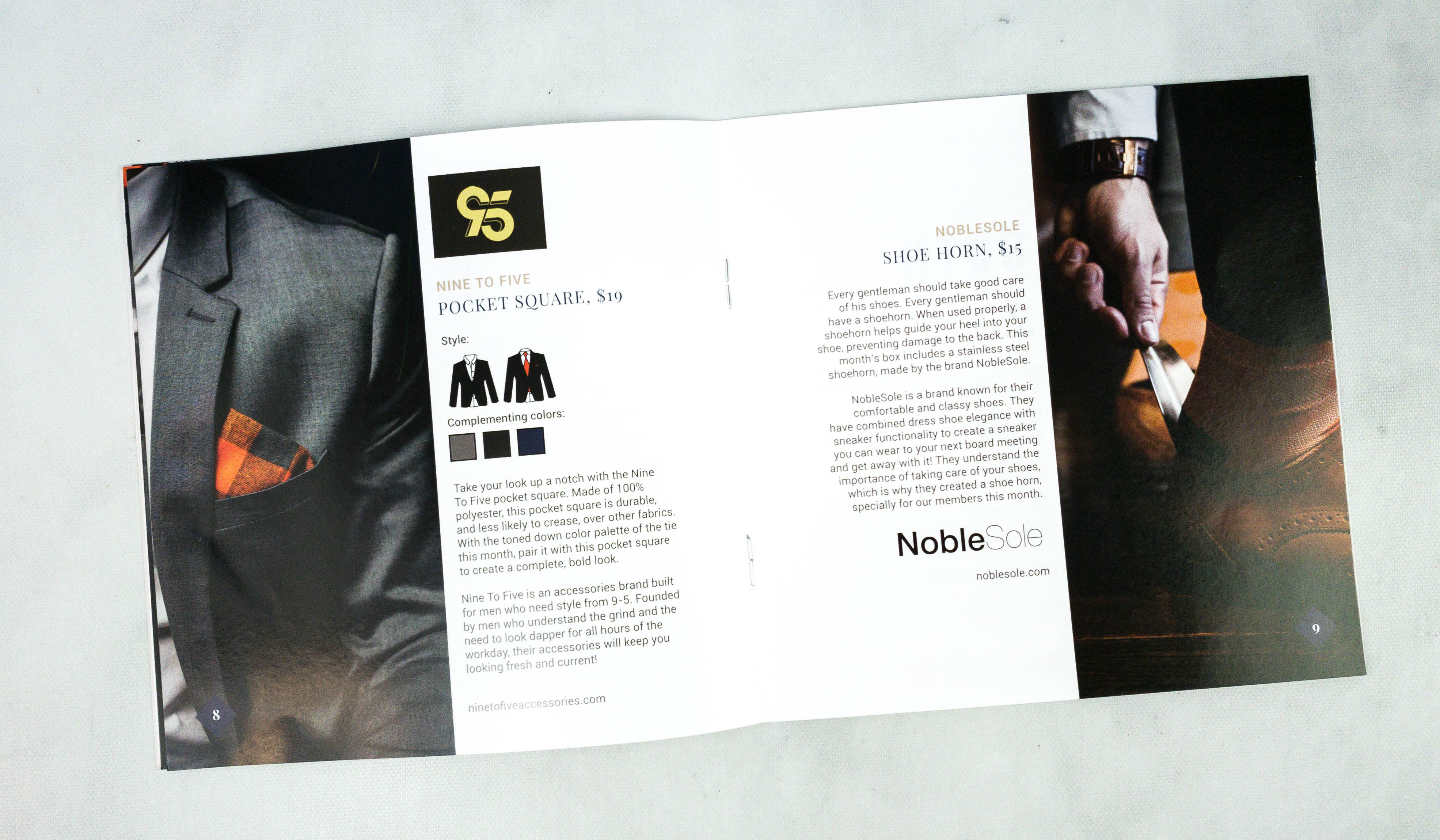 Every page is dedicated to each item — they include the usual picture and blurb, but they also include a handy section denoting the level of attire (e.g. formal, business, casual) for which the item is appropriate, as well as colors that best complement it.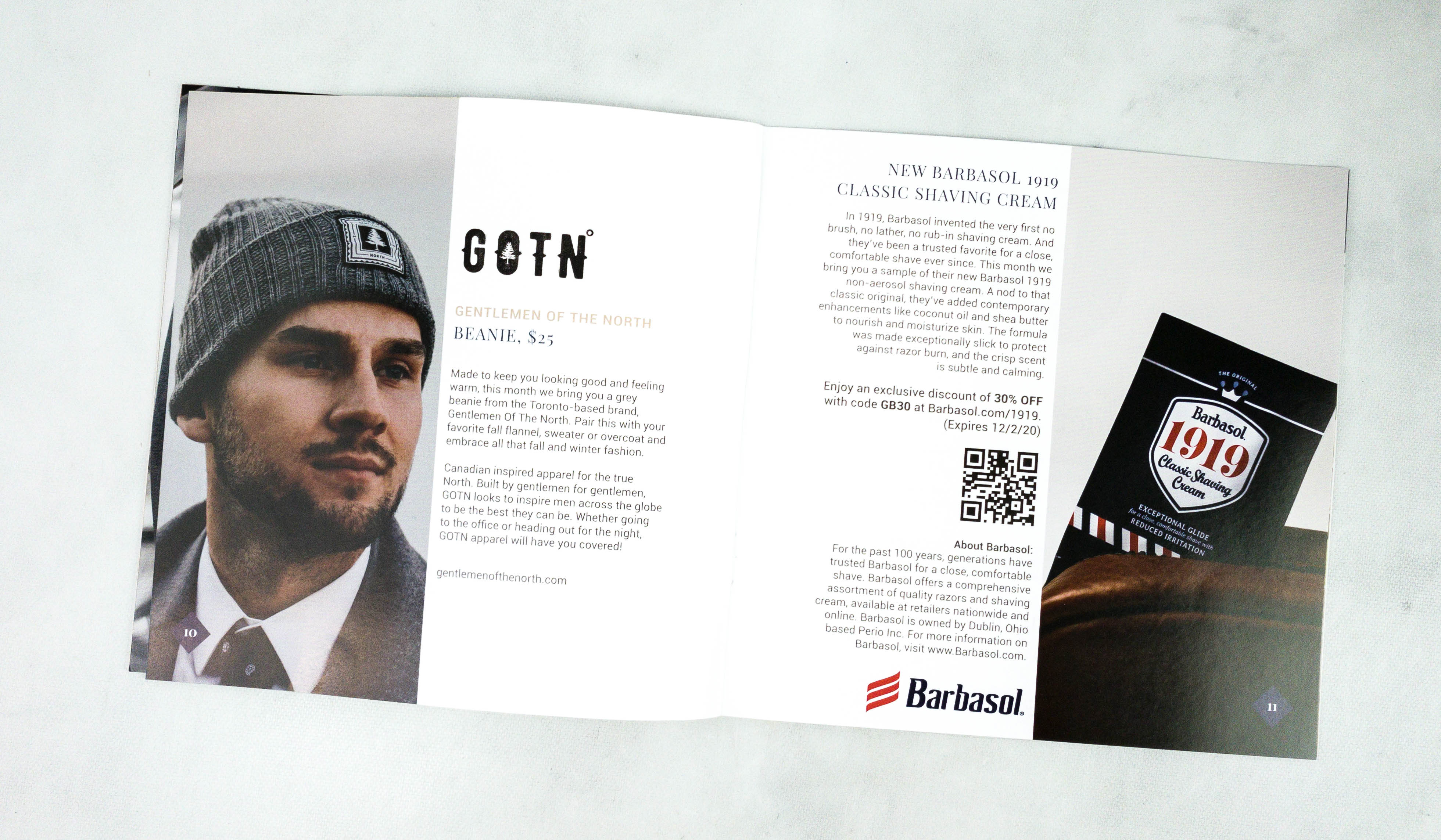 They also sometimes have discount promotions littered throughout.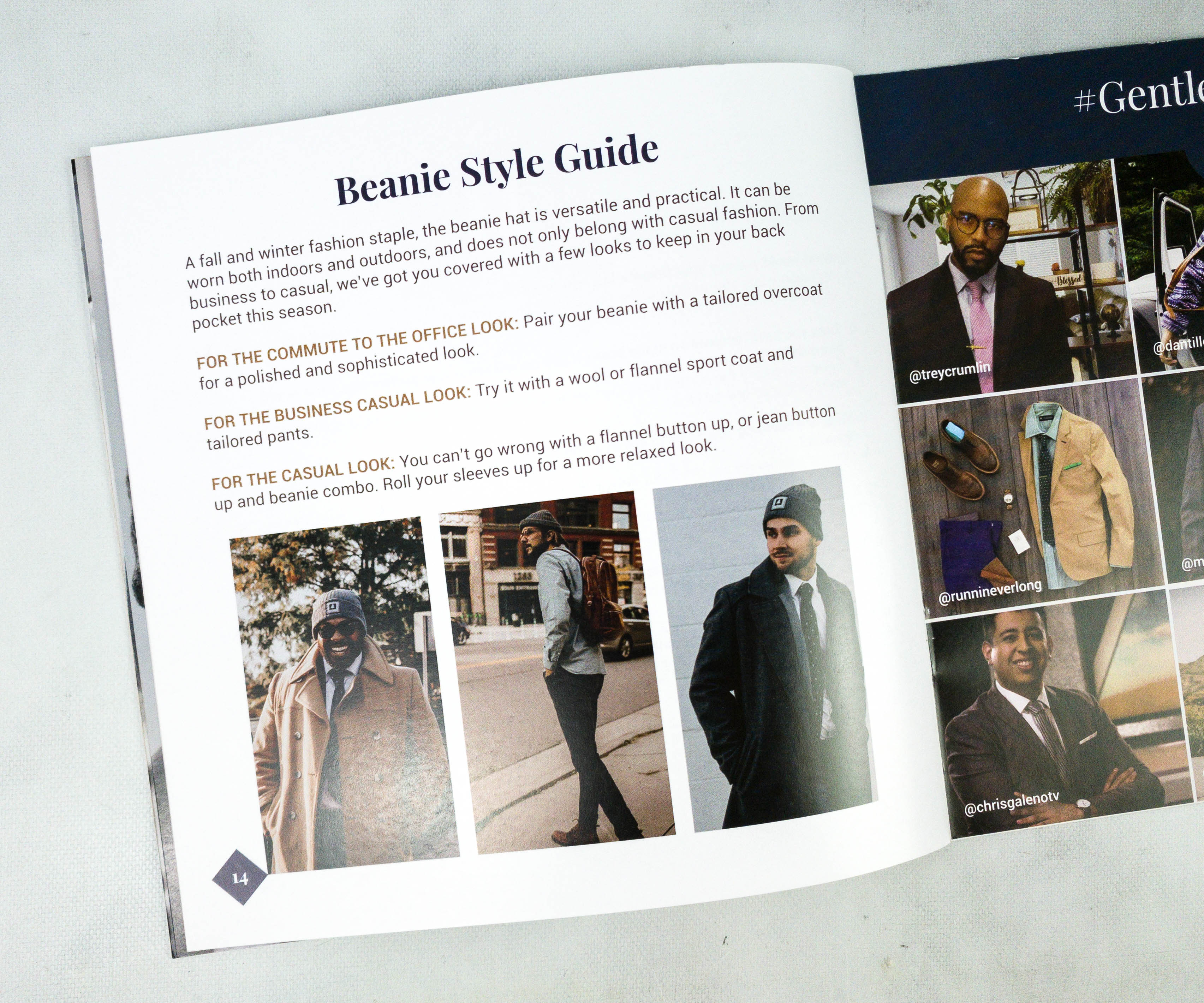 This month's booklet also features a Beanie Style Guide.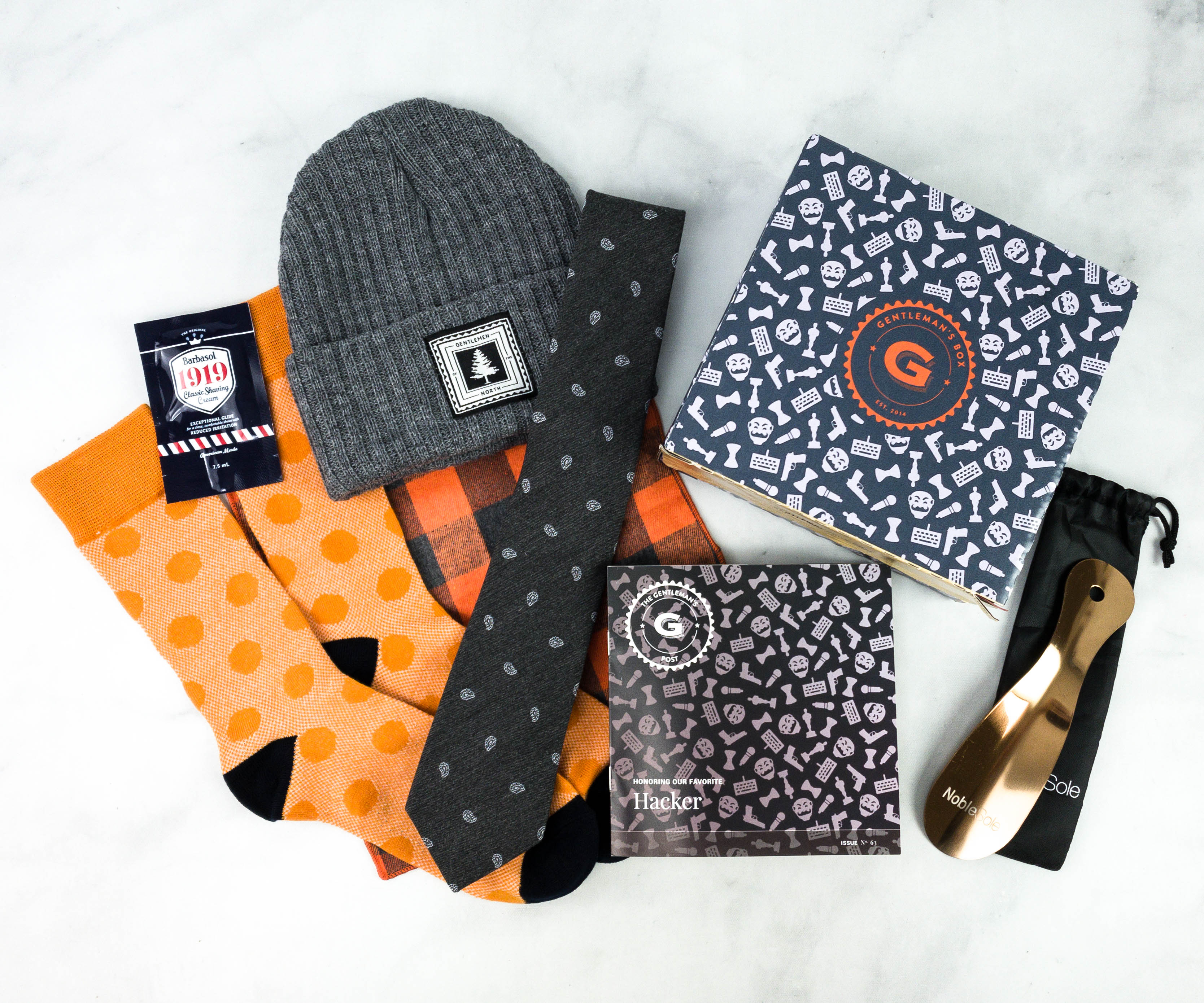 Everything in my box!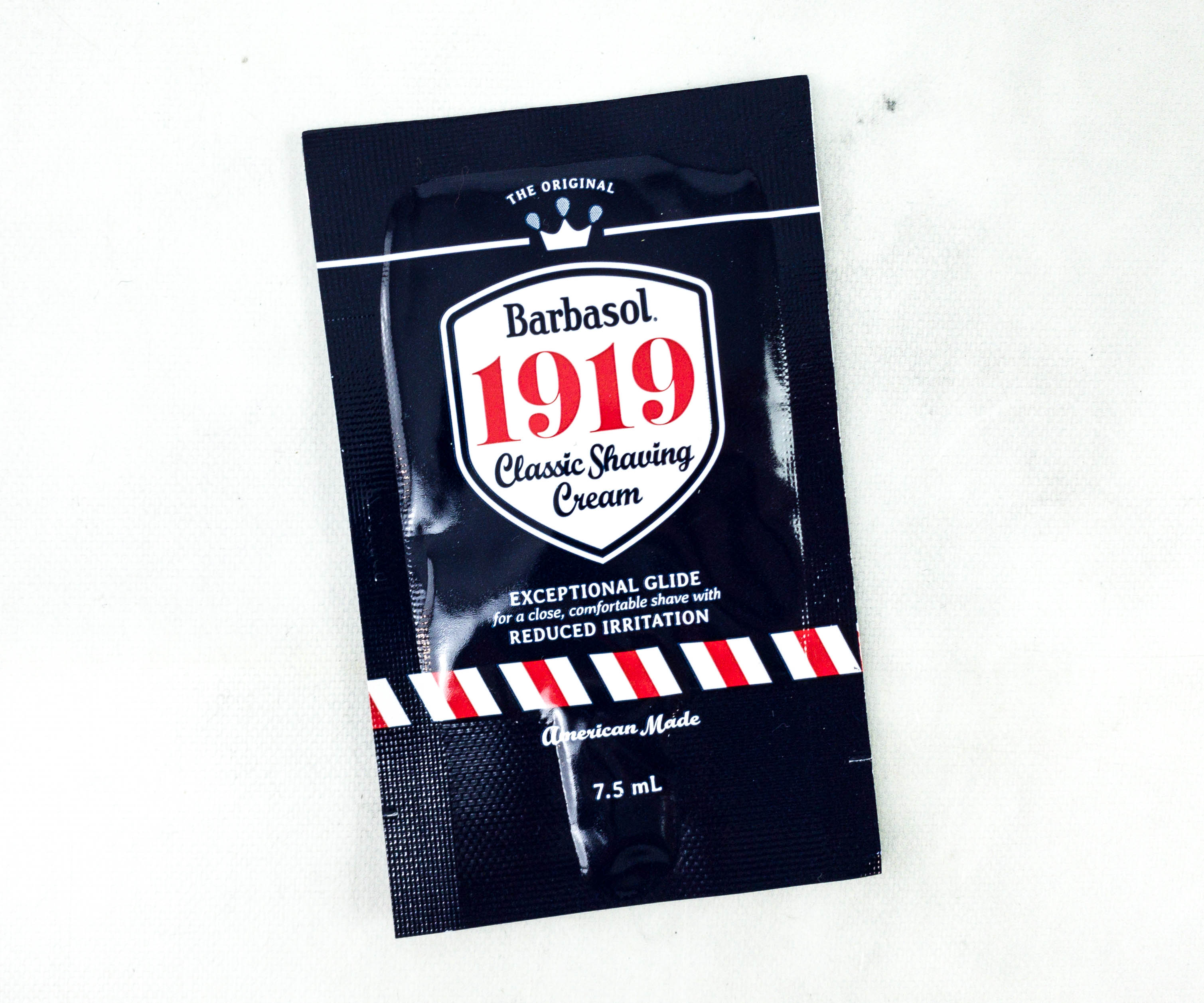 Barbasol 1919 Classic Shaving Cream ($0.30) This cream is infused with aloe, coconut oil, and shea butter that nourishes the skin and prevents razor burn. It also comes with notes of citrus and herbs for a more refreshing shave, keeping you feel clean, cool, and confident all day long!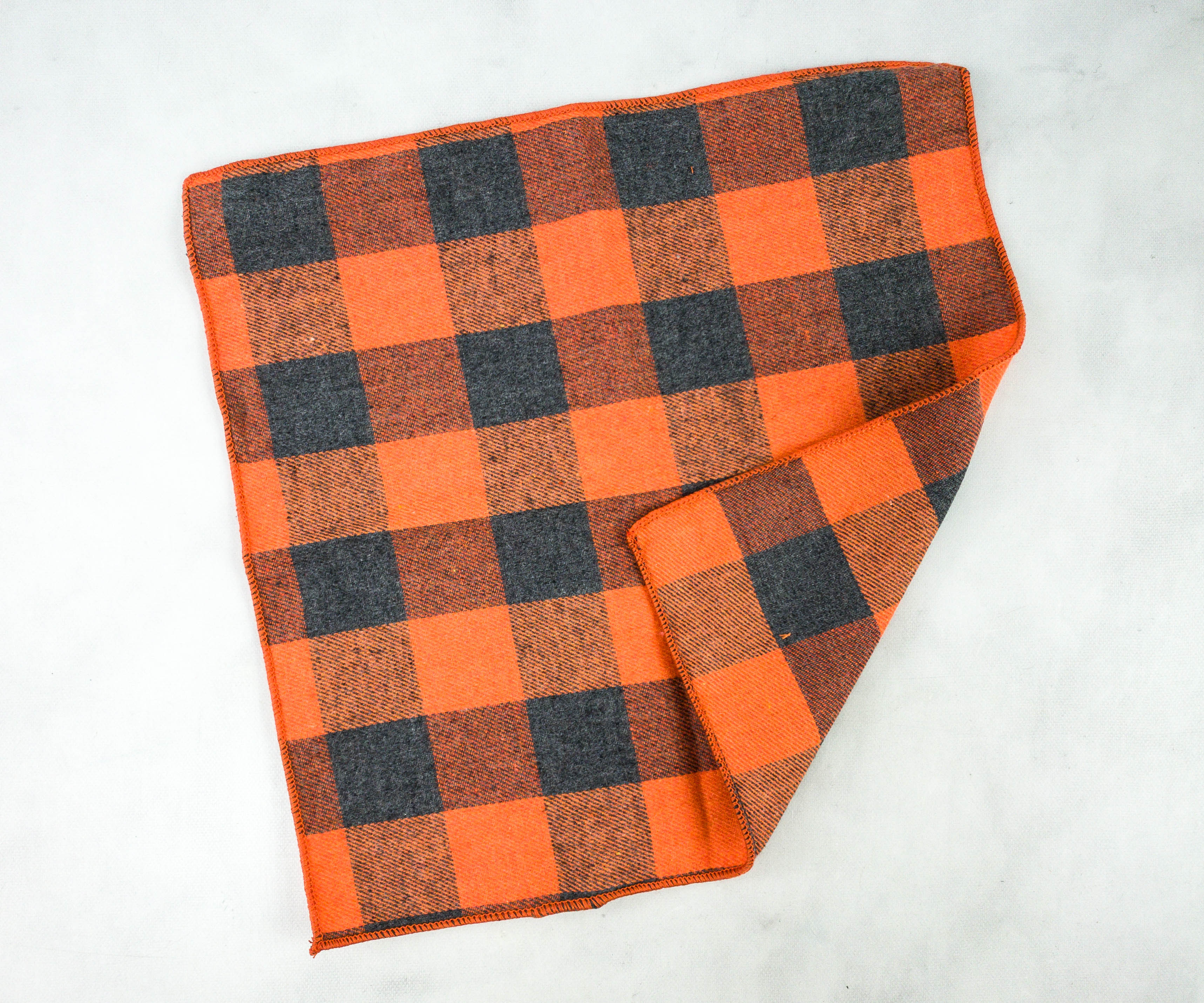 Nine to Five Pocket Square ($19) This pocket square is made using 100% polyester fabric. It features a classic orange and gray plaid design that is perfect for the season. Its edges even have reinforced stitching to prevent fraying. You can easily pair this with a dark-colored suit if you want a pop of color!
Gentleman of the North Beanie ($25) This premium beanie easily completes my fall and winter outfits! It comes in gray and I like the fabric used because it's soft and stretchy. I usually wear a beanie in the house in winter, and always looking for a fresh one!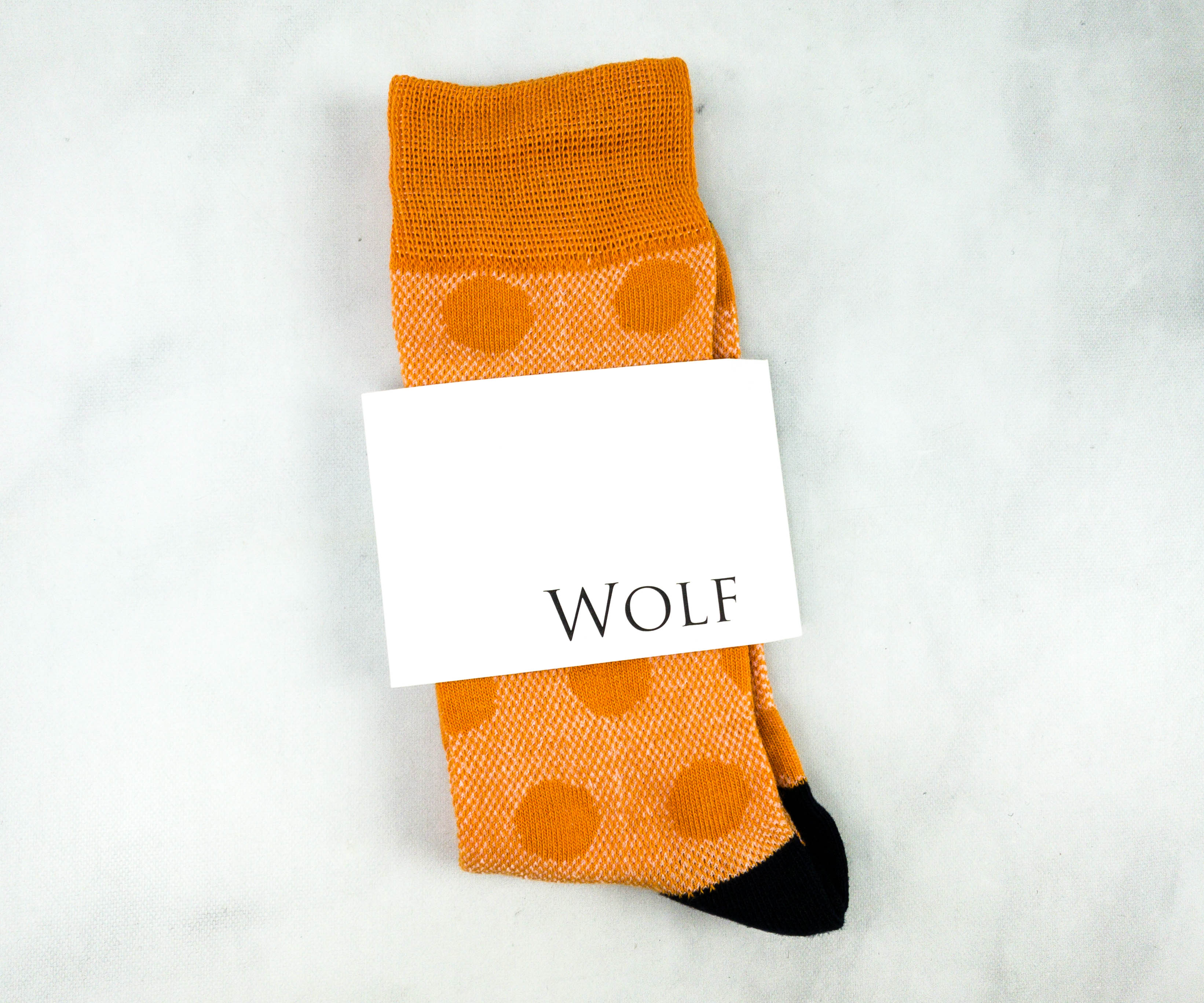 Wolf Clothing Co. Socks ($15) This month's pair of socks is crew-cut style. They are made from 90% polyester, 5% spandex, and 5% elastane.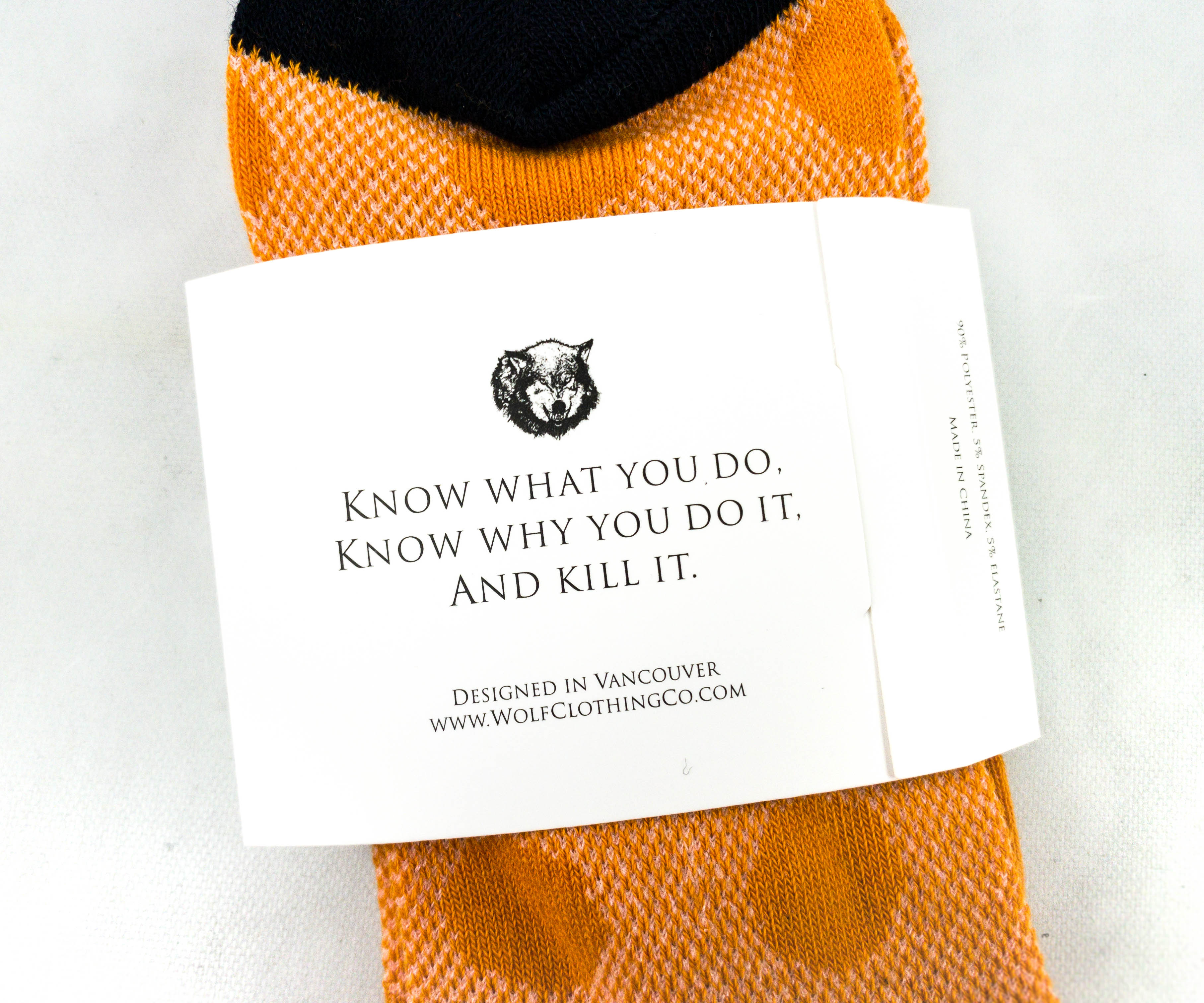 These socks are made in China and are designed in Vancouver, Canada.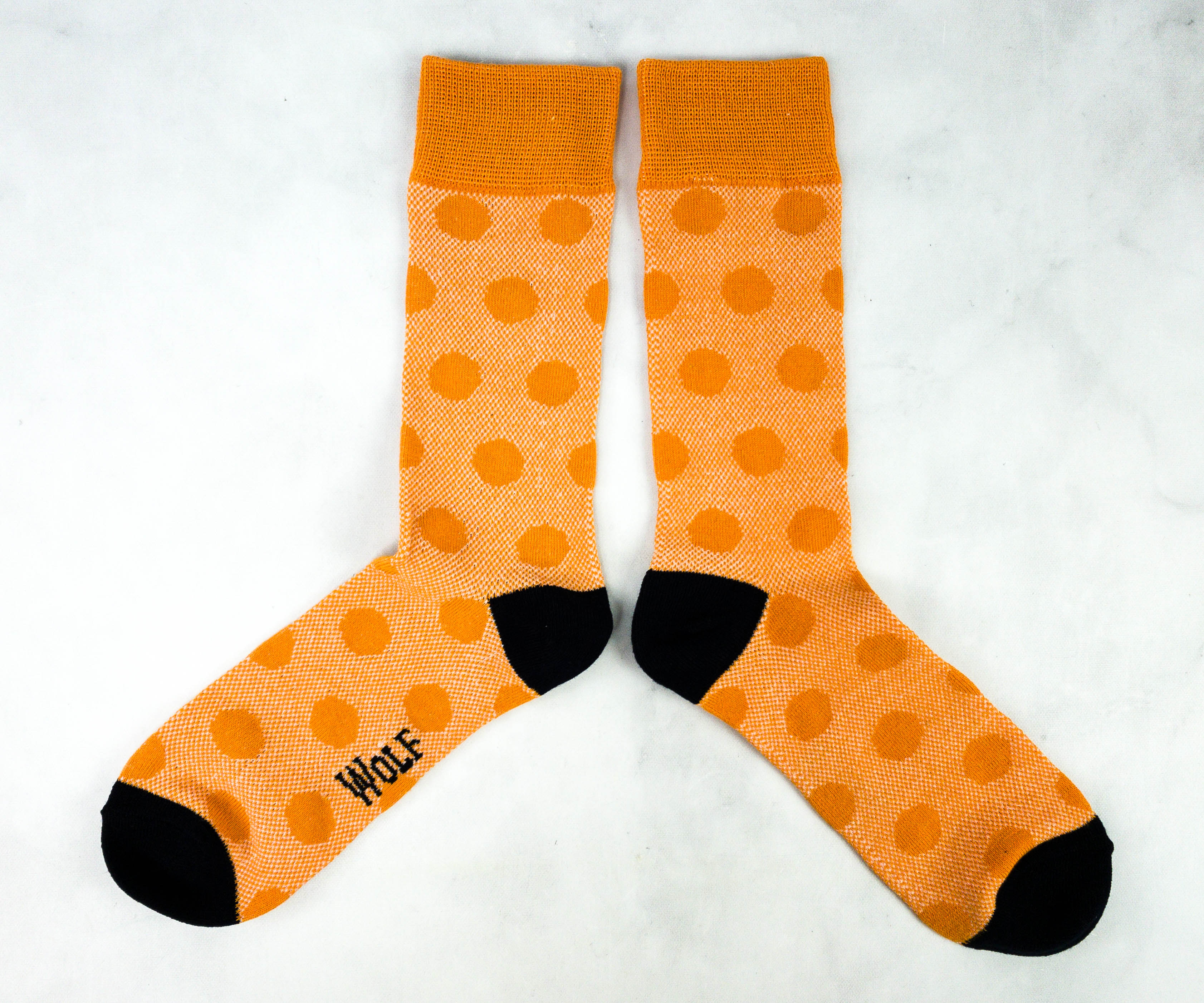 These socks have a mustard yellow base color with polka dots all over. They also come with reinforced cuffs, heels, and toes, making them comfortable to wear even all day long.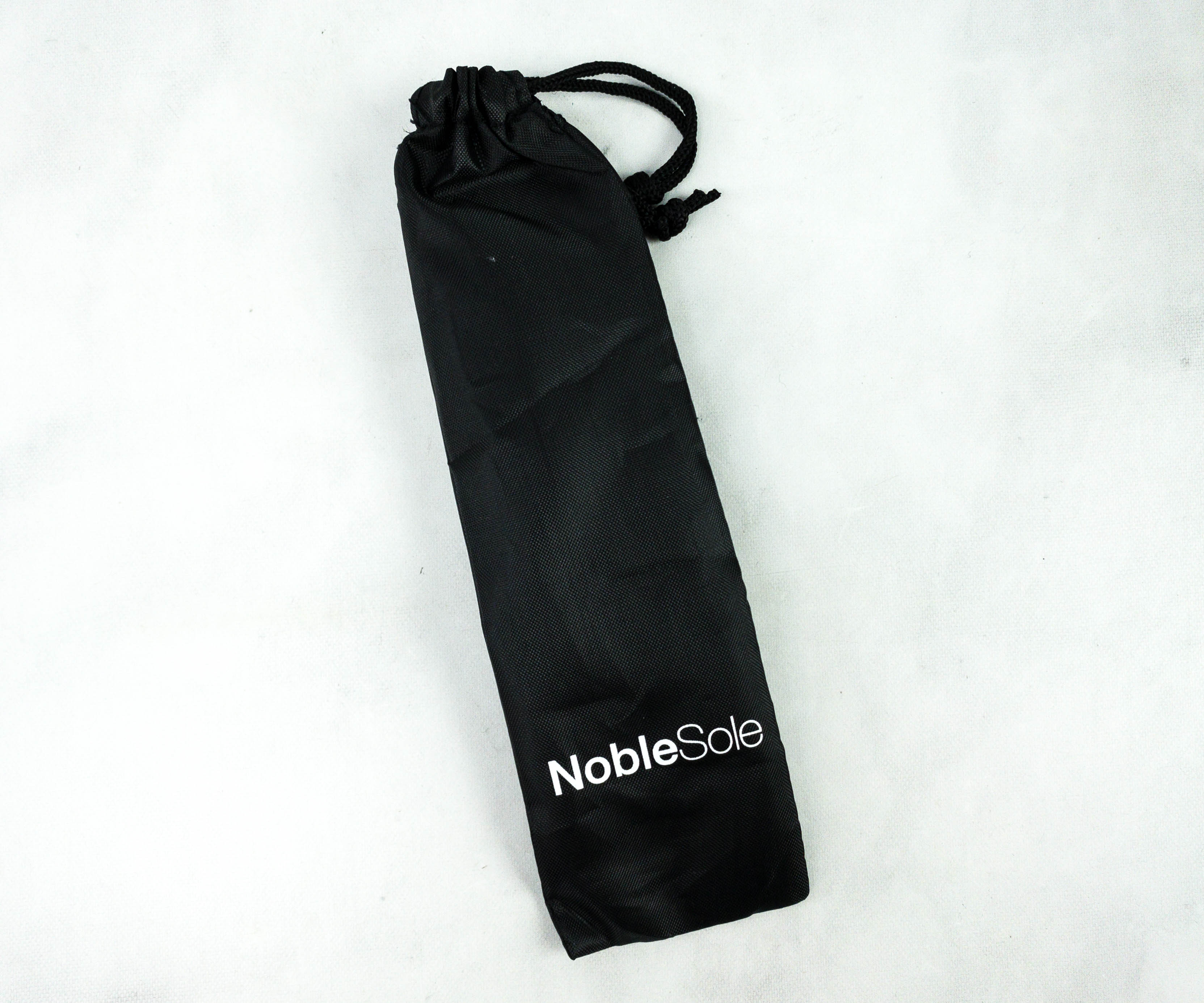 NobleSole Shoe Horn ($15) The shoehorn came in a simple, black, drawstring bag.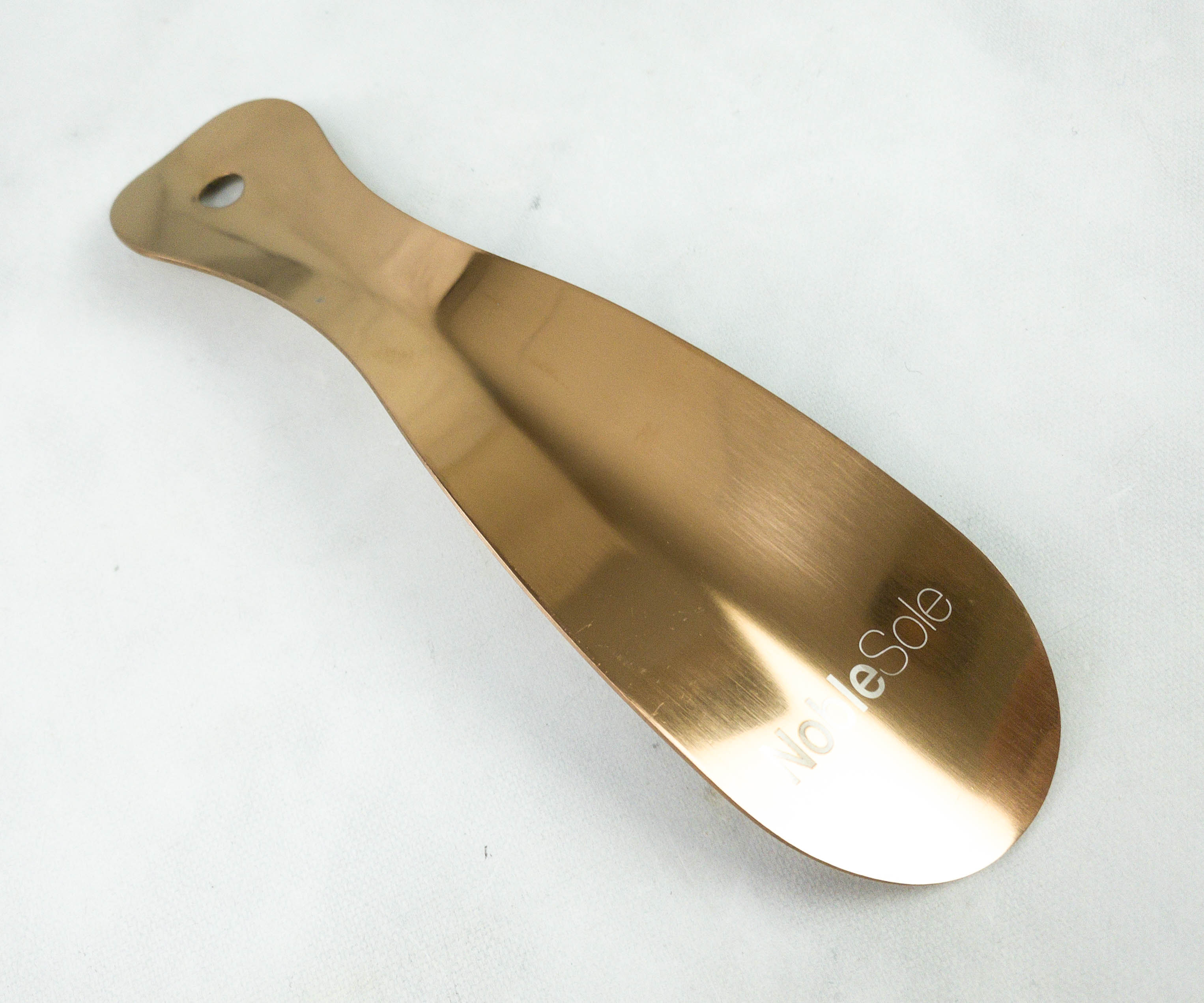 Inside the bag is a bronze-colored shoehorn made from stainless steel. This accessory will help guide your heel into the shoes without damaging the shoe's collar and heel counter. It's a bit old school but this one is really nice and really does help keep your dress shoes from being damaged.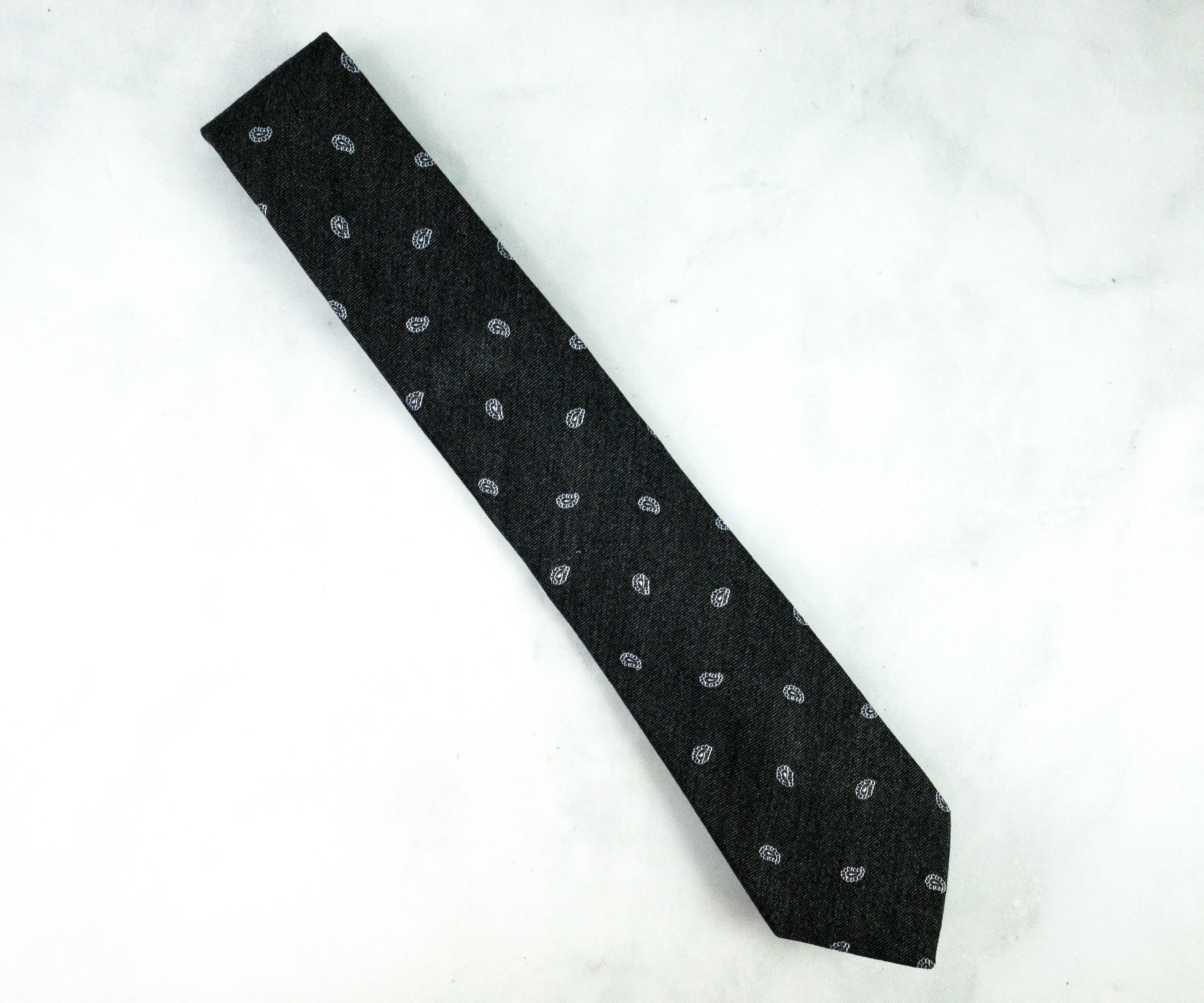 Tieroom Tie ($29) To finish off this month's featured look, here's a skinny necktie made from cotton fabric. It's in black and it has an embroidered paisley design all over.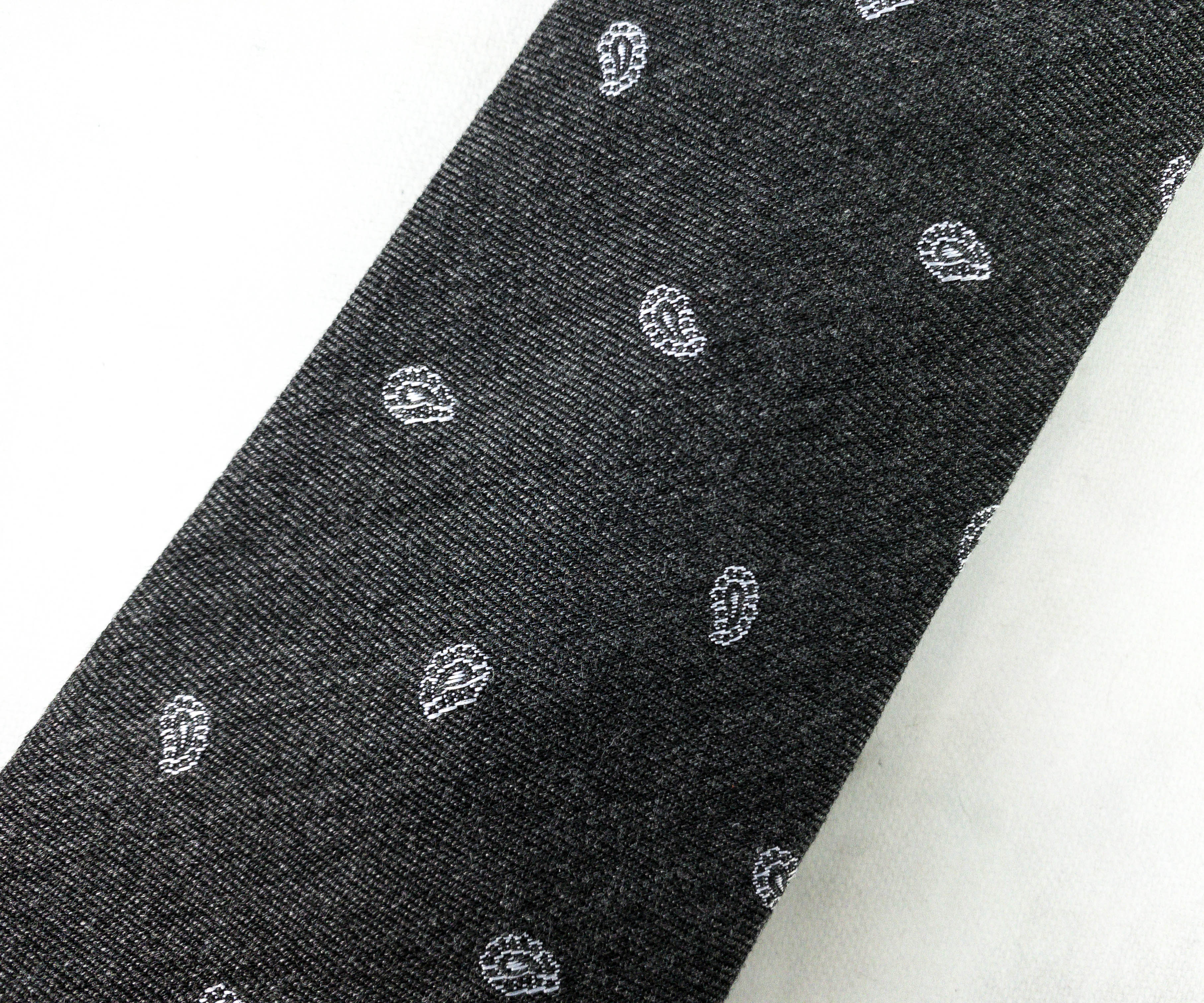 It's a simple choice of necktie that doesn't overpower other accessories.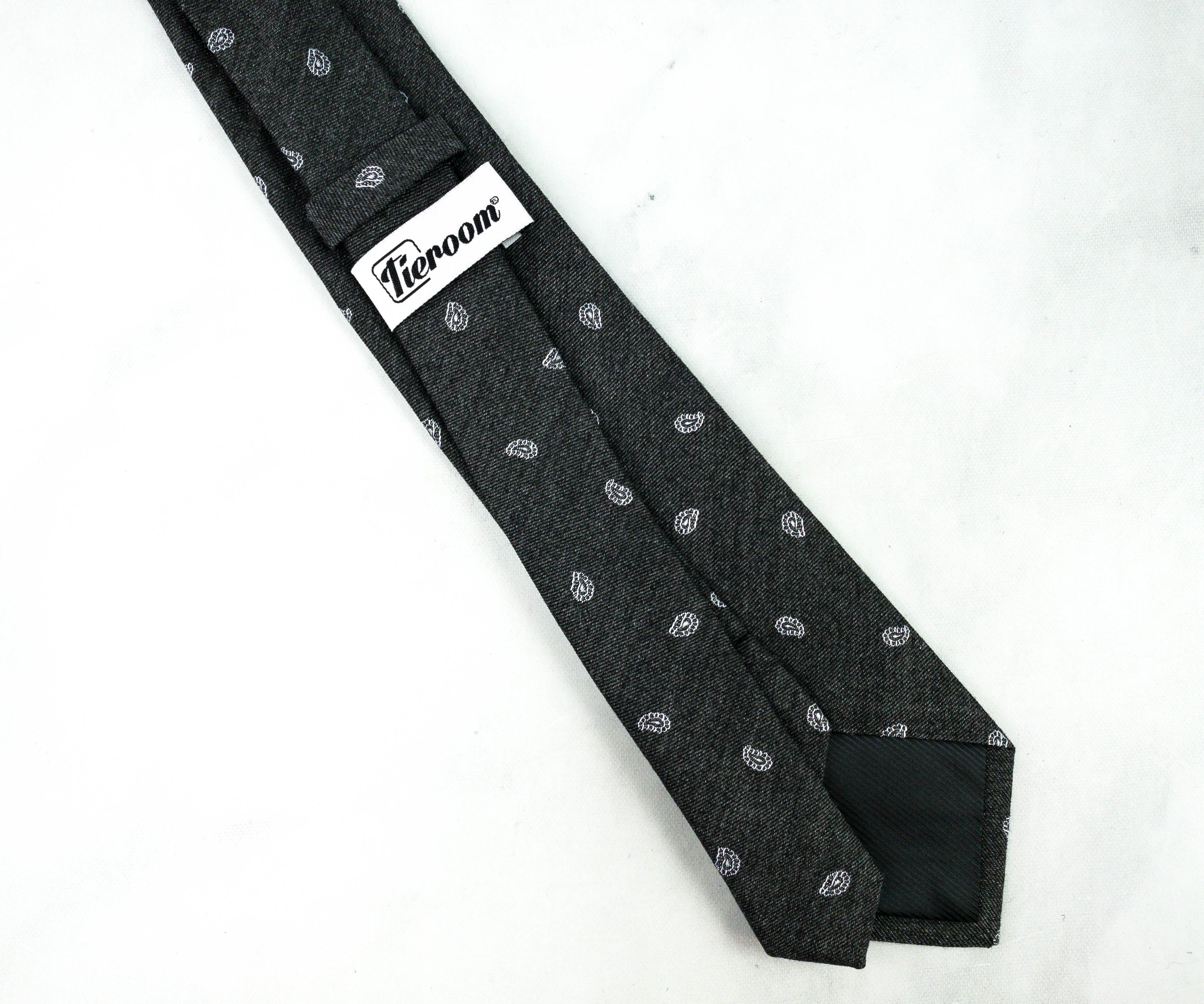 The back of the necktie comes with a single strap looper and the brand logo.
Here are all the accessories this month!
The Gentleman's Box sends stylish and unique men's accessories along with styling tips that are useful for anyone who wants to look good, whether for work or for special occasions. This month's socks and pocket square come in bold colors, while the tie balances them out because of its neutral color and sophisticated design. They even sent a beanie to keep me warm despite the cold days ahead. Also, I never thought I needed a shoehorn until they sent me one in this box. I think I'll be using it a lot from now on! Overall, I'm satisfied with this curation. It think it's perfect for any man who wants to look well-put-together even with little effort!
What do you think of this month's box?