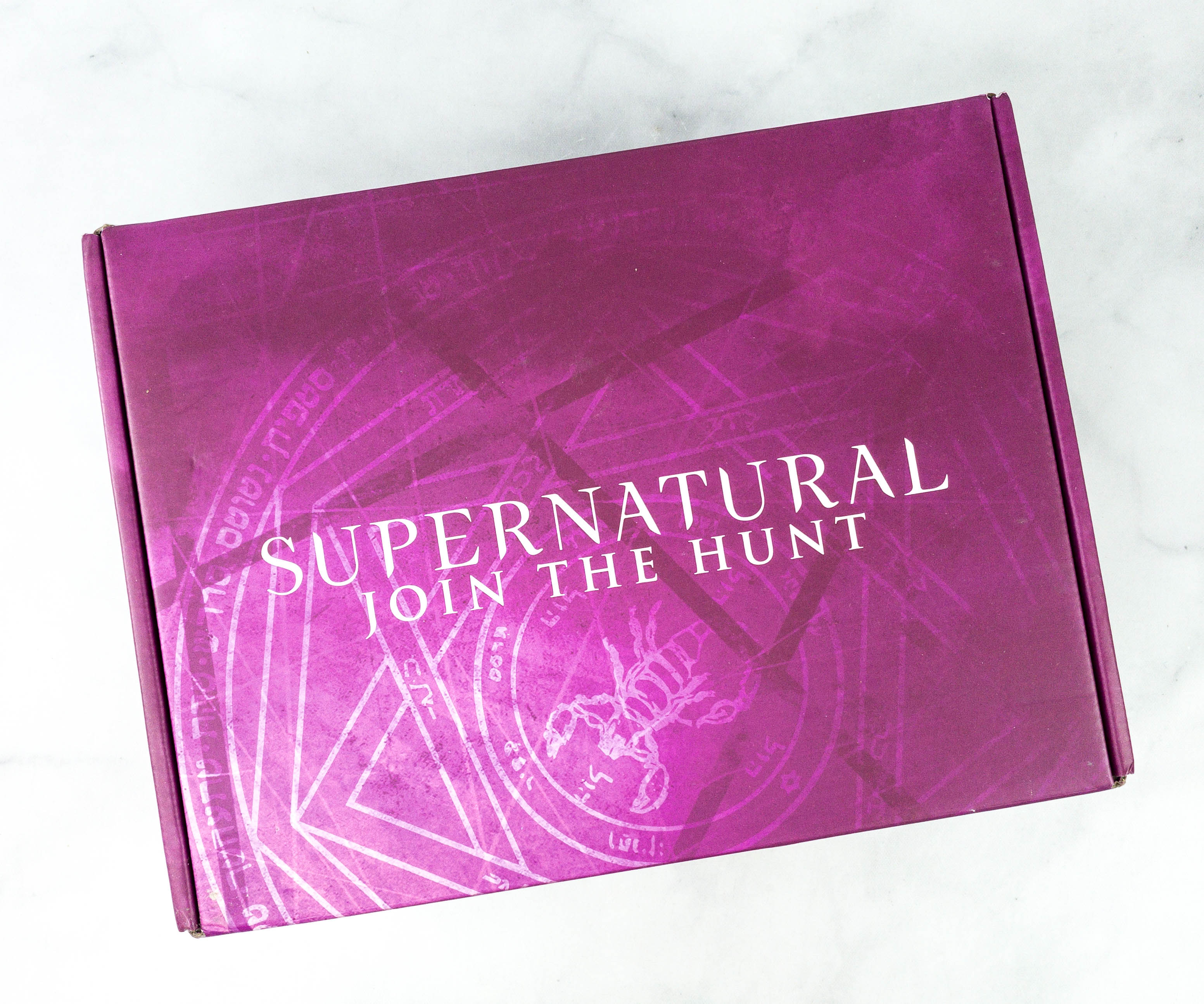 The Supernatural Box is a quarterly subscription box filled to the brim(stone) with exclusive gear featuring characters and moments from the Supernatural TV series. Each premium box delivers over $100 worth of collectibles, apparel, accessories, and more. The box costs $49.99 per quarter, or $44.99 a quarter when an annual subscription is purchased in advance. This box is produced by Culturefly and contains items licensed and produced exclusively for this box – you can check out all of Culturefly's other fandom boxes here!
One side of the box features the Anti-Possession symbol. Also, this quarter's box is in purple!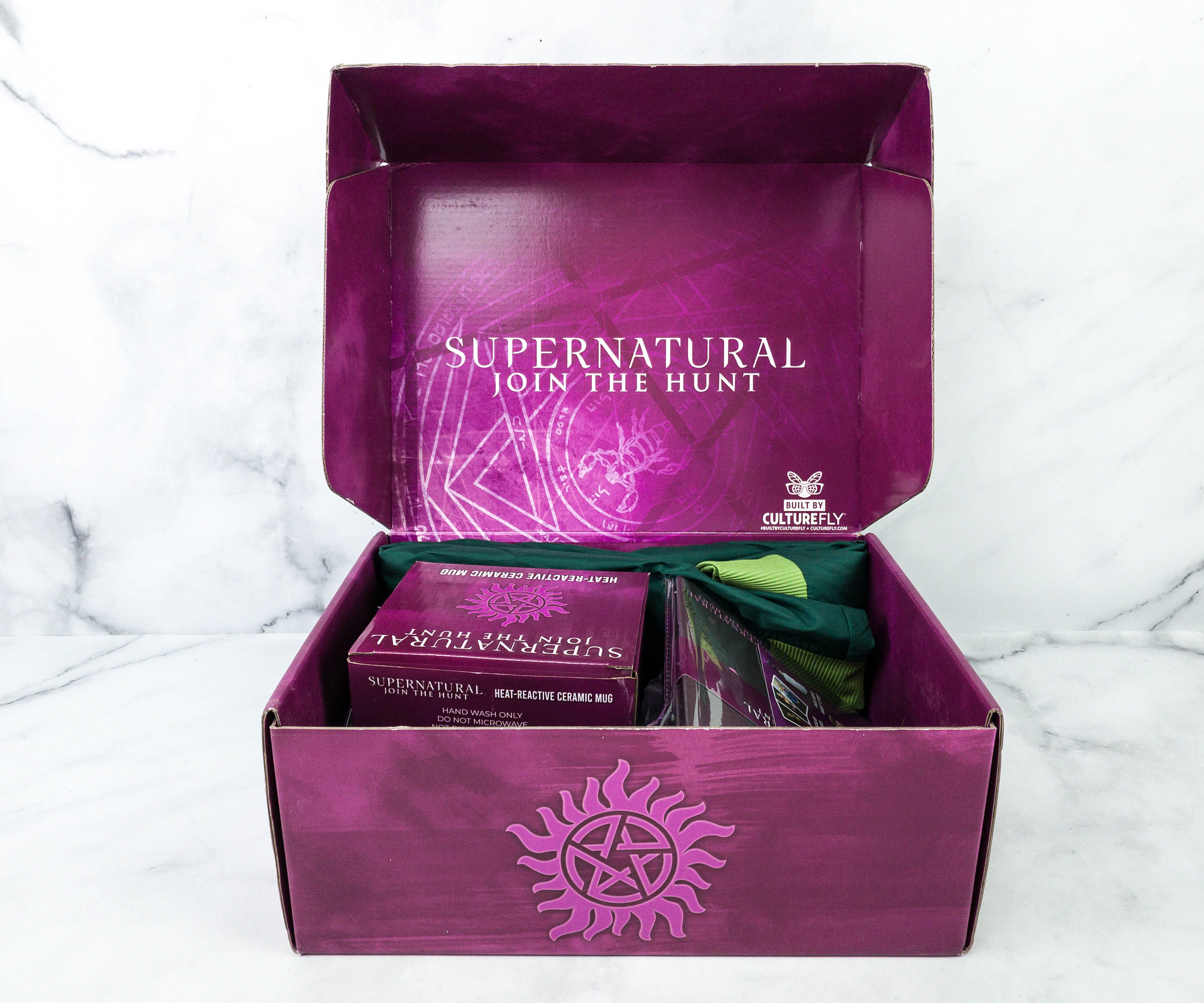 It's the ultimate score for a Supernatural fanatic!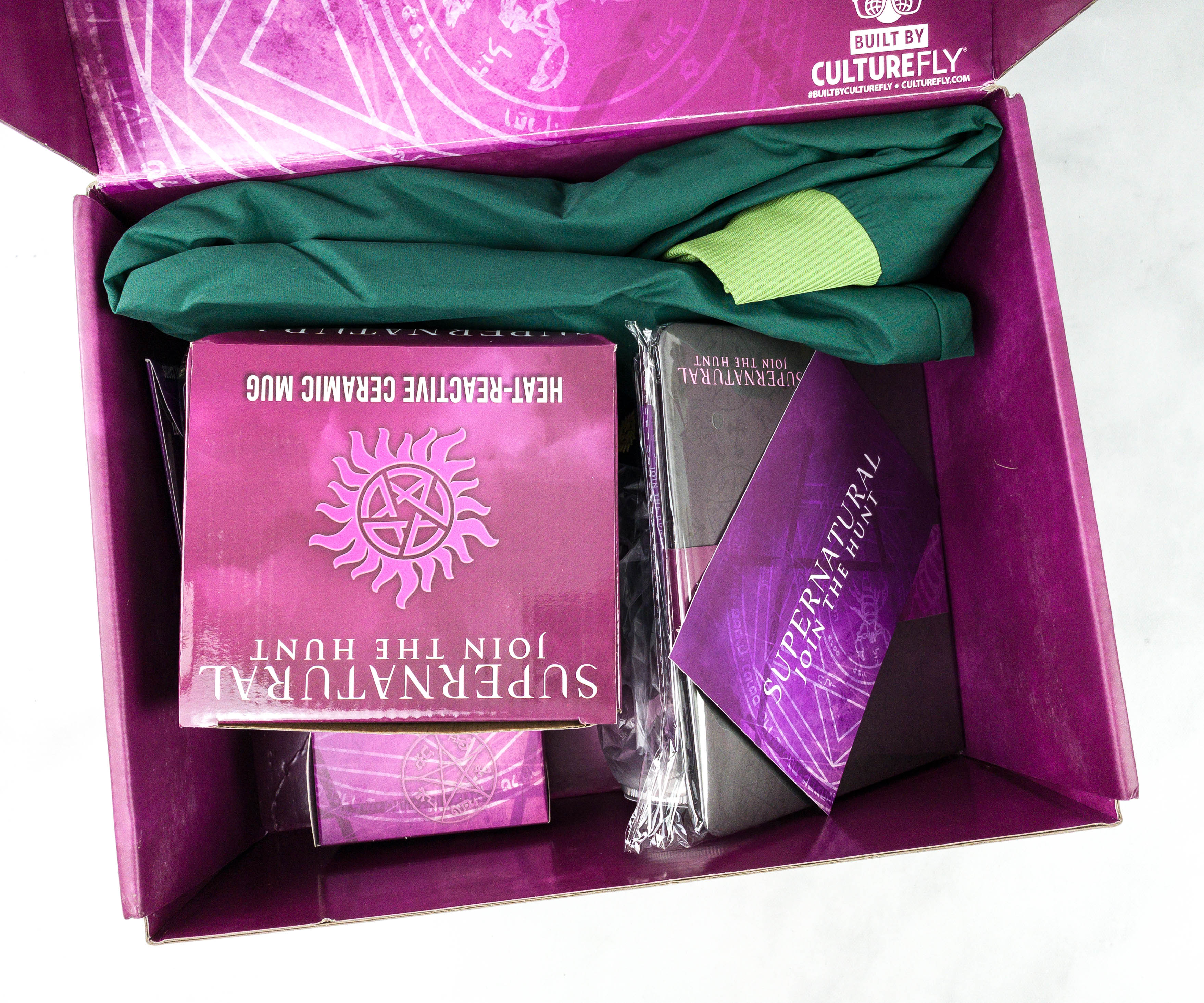 The items are neatly packed inside.
Each box comes with a stylized info card.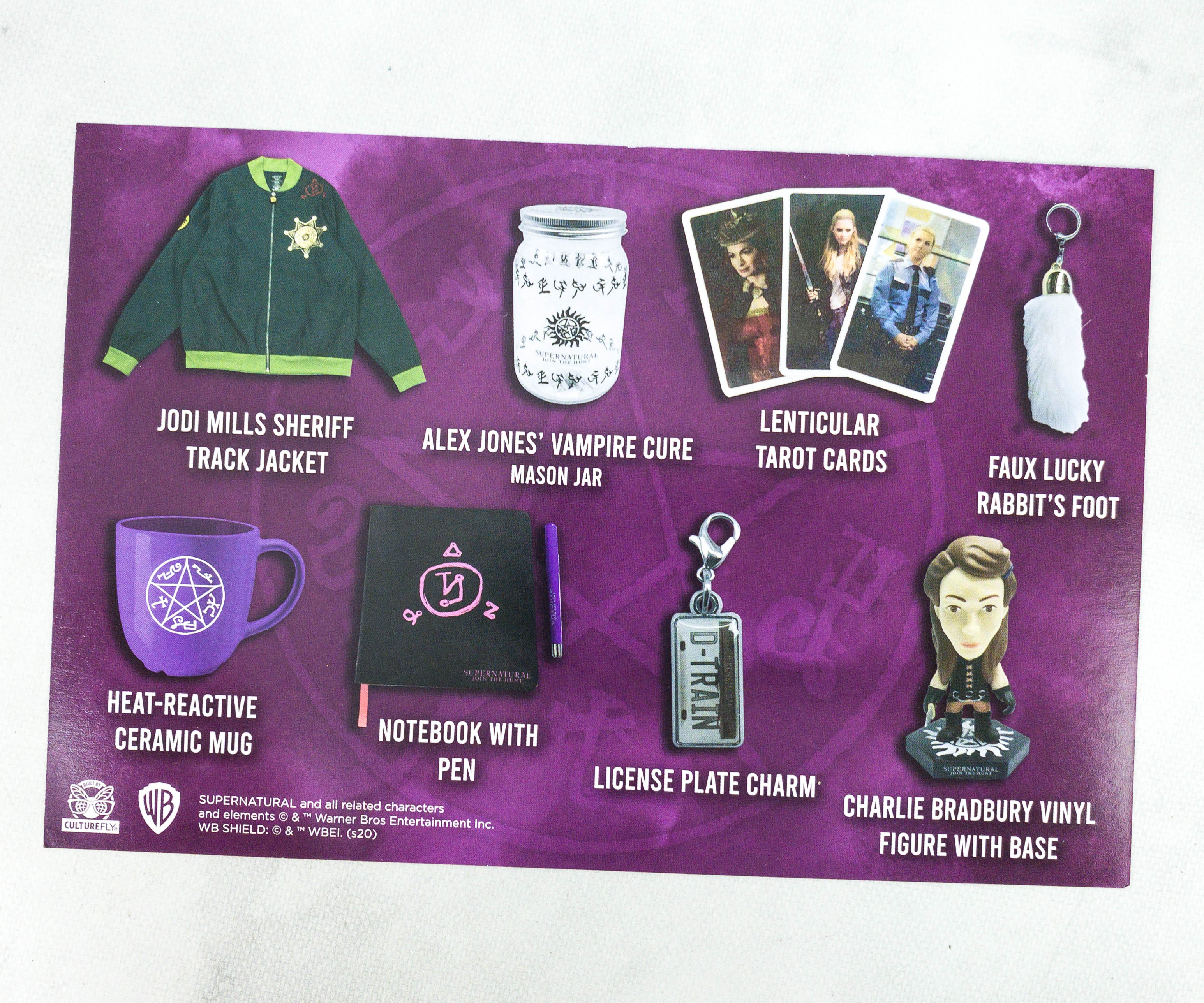 The flip side of the card presents a photo inventory of everything in the box.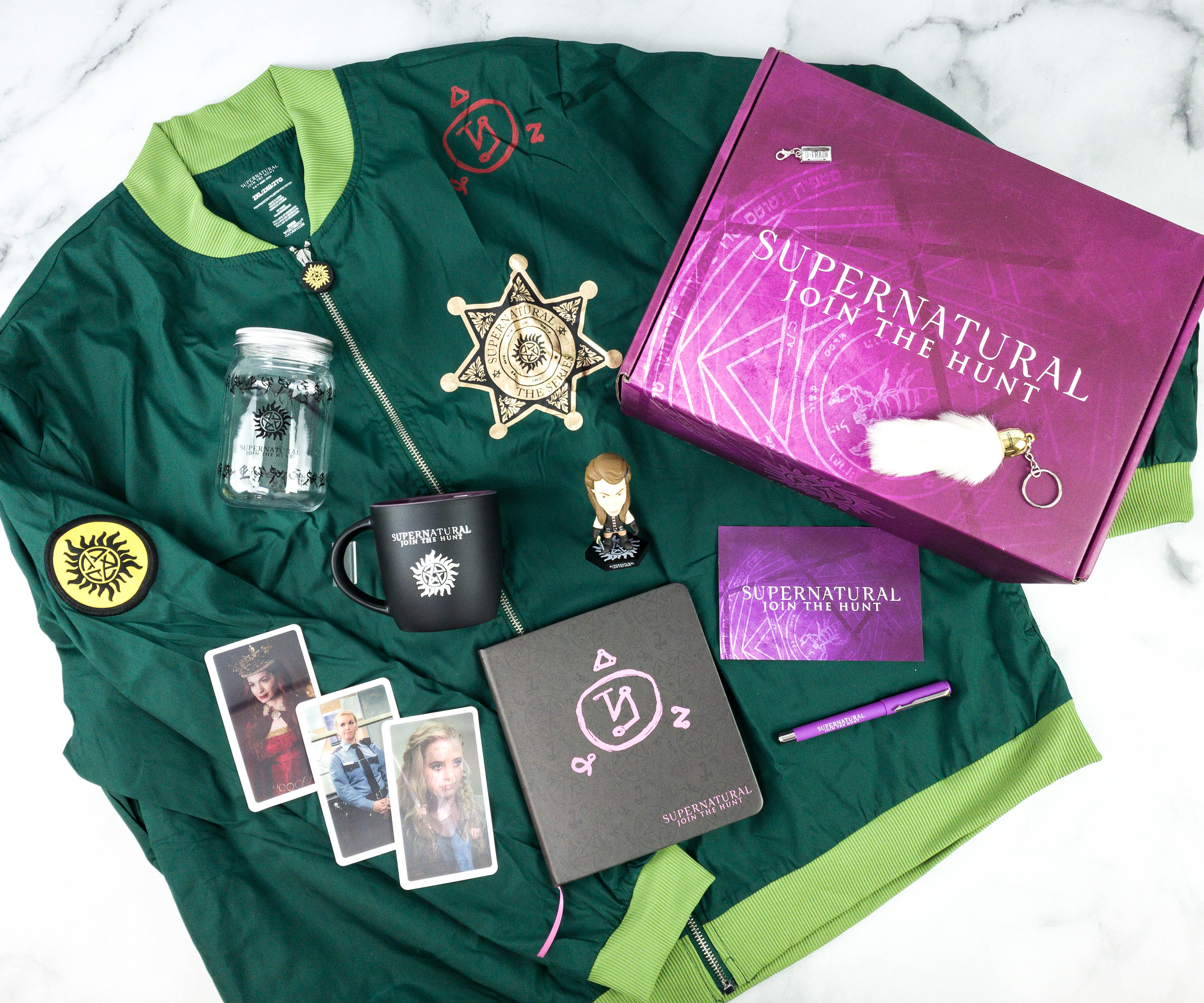 Everything inside the Fall 2020 box!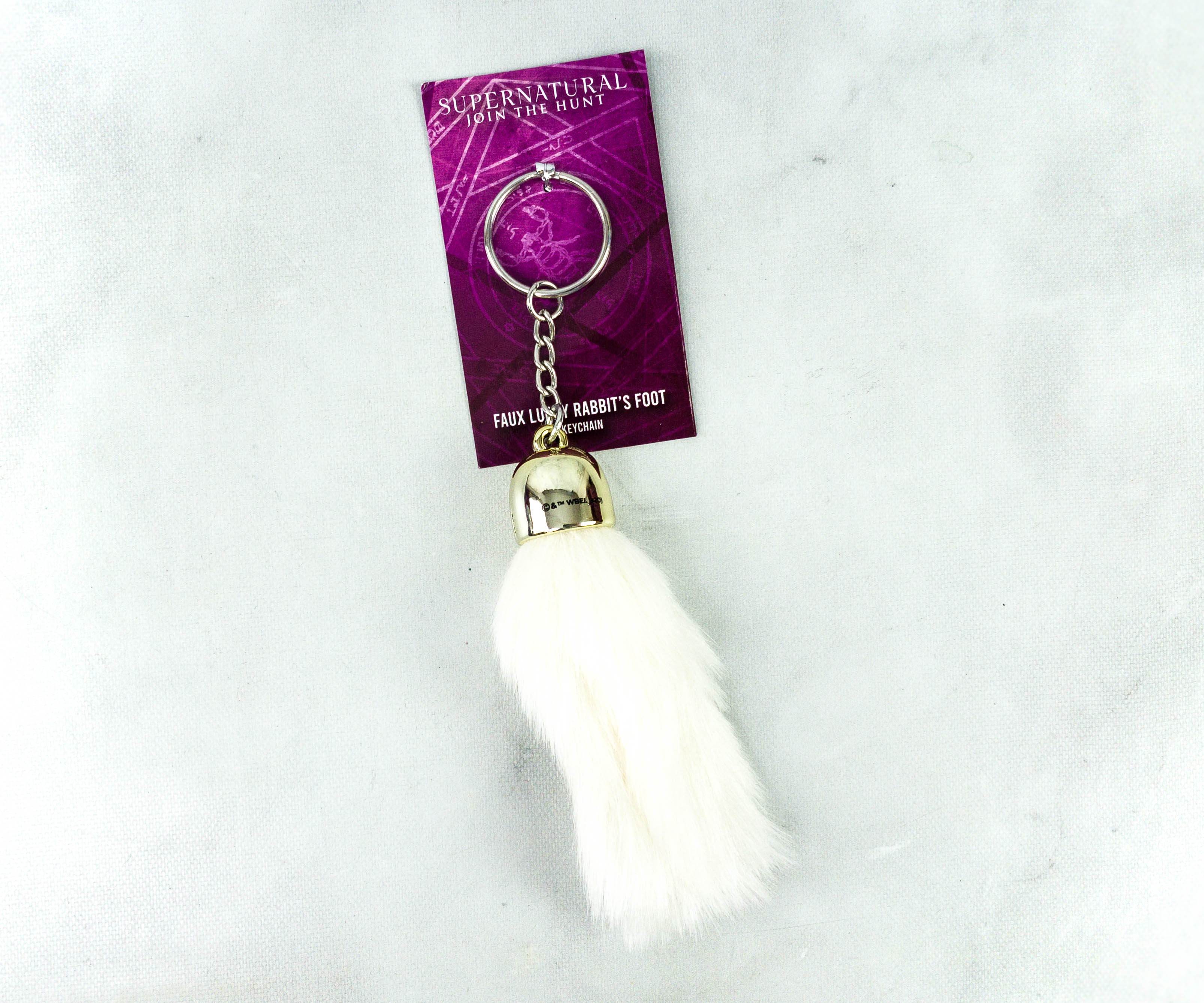 Bela's Rabbit's Foot Keychain. This keychain features a replica of the cursed rabbit's foot from the series. It is known that this provides good luck to anyone who touches and owns it!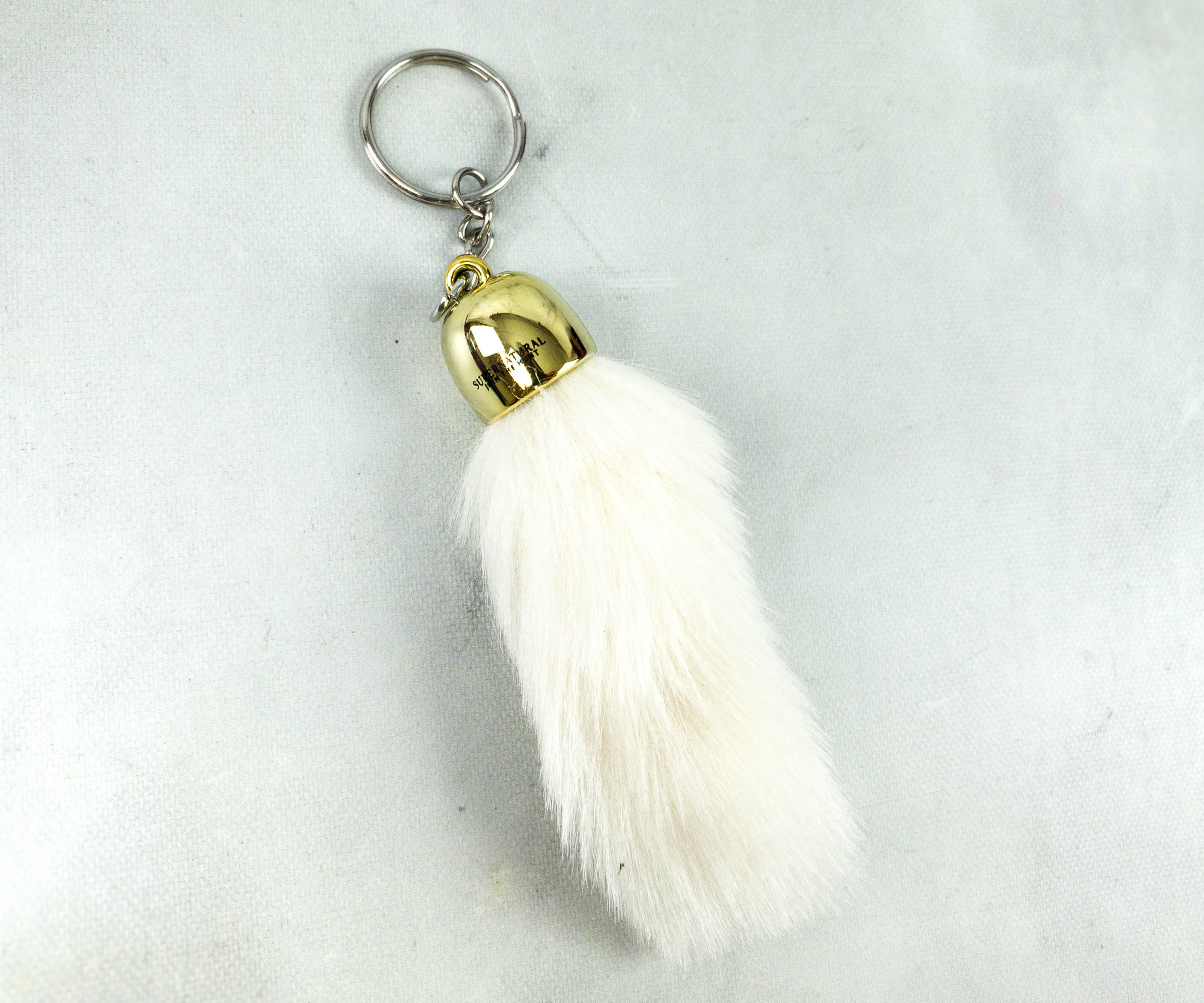 This is really cute, soft, and fluffy, but you don't have to worry because no animals were harmed in making this keychain!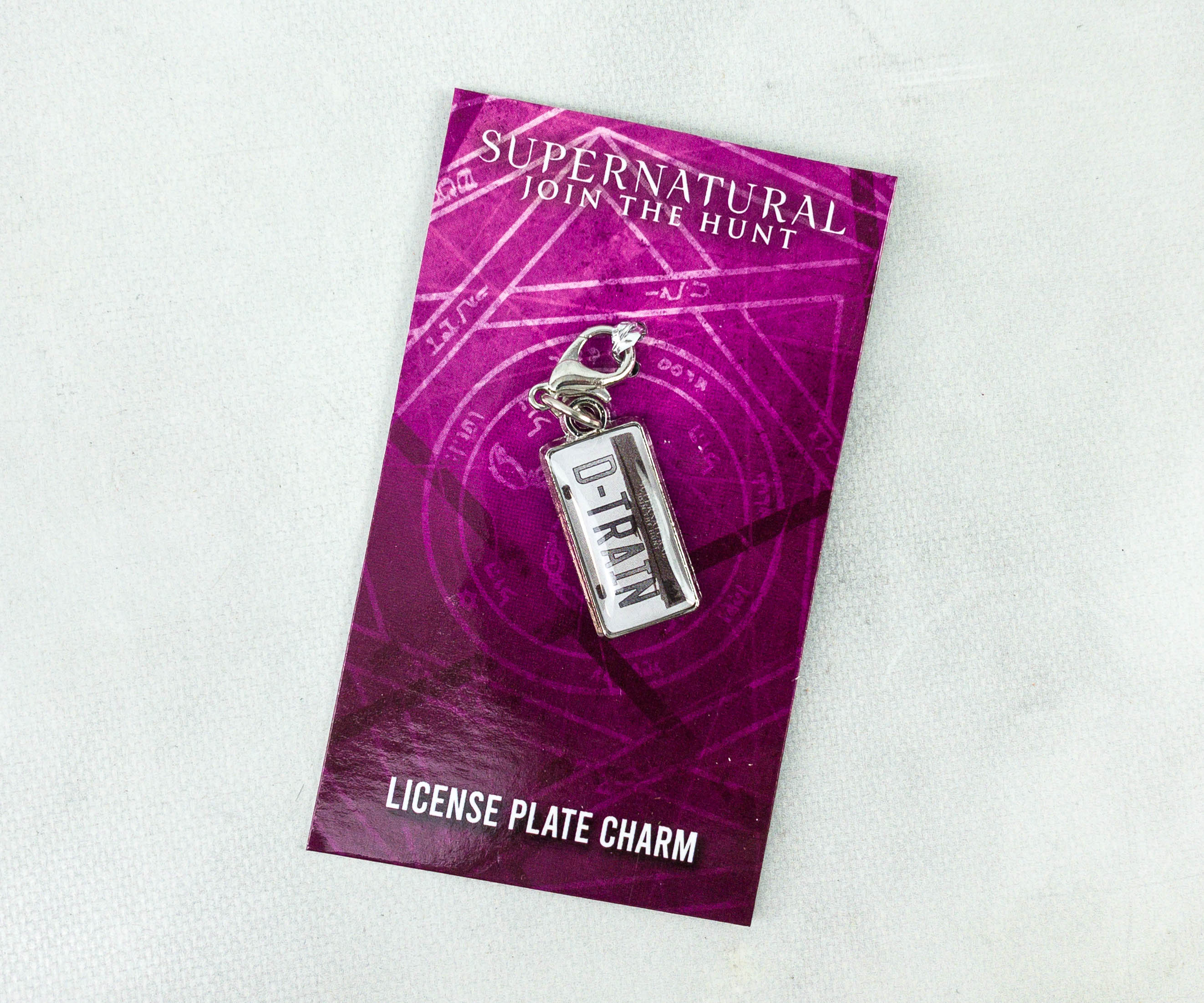 Donna's D-Train License Plate Charm. Here's the license plate that Sheriff Donna Hanscum has on her Ford Raptor truck!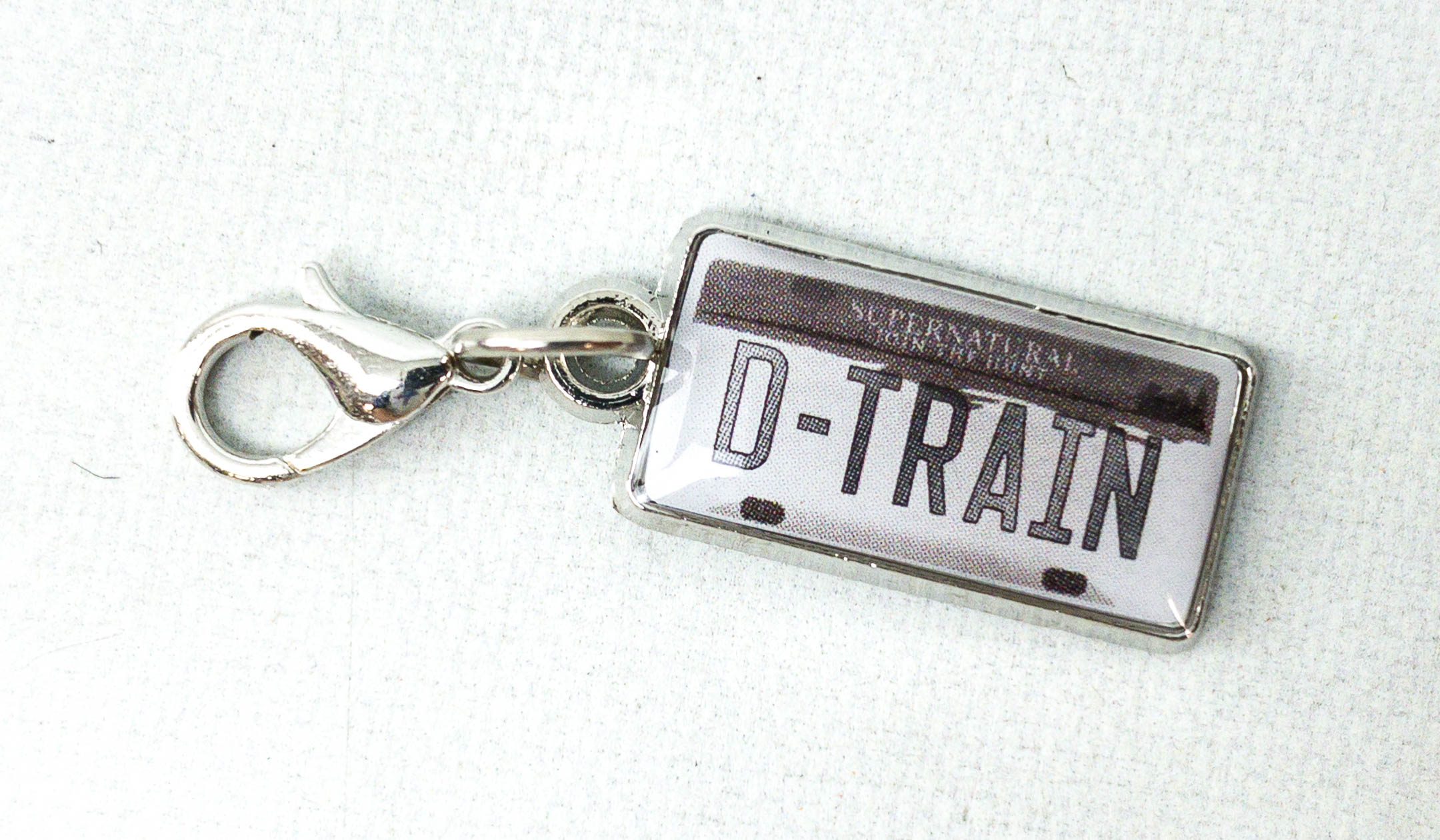 It's in the form of a charm, so you can easily attach it to your bracelet or other accessories.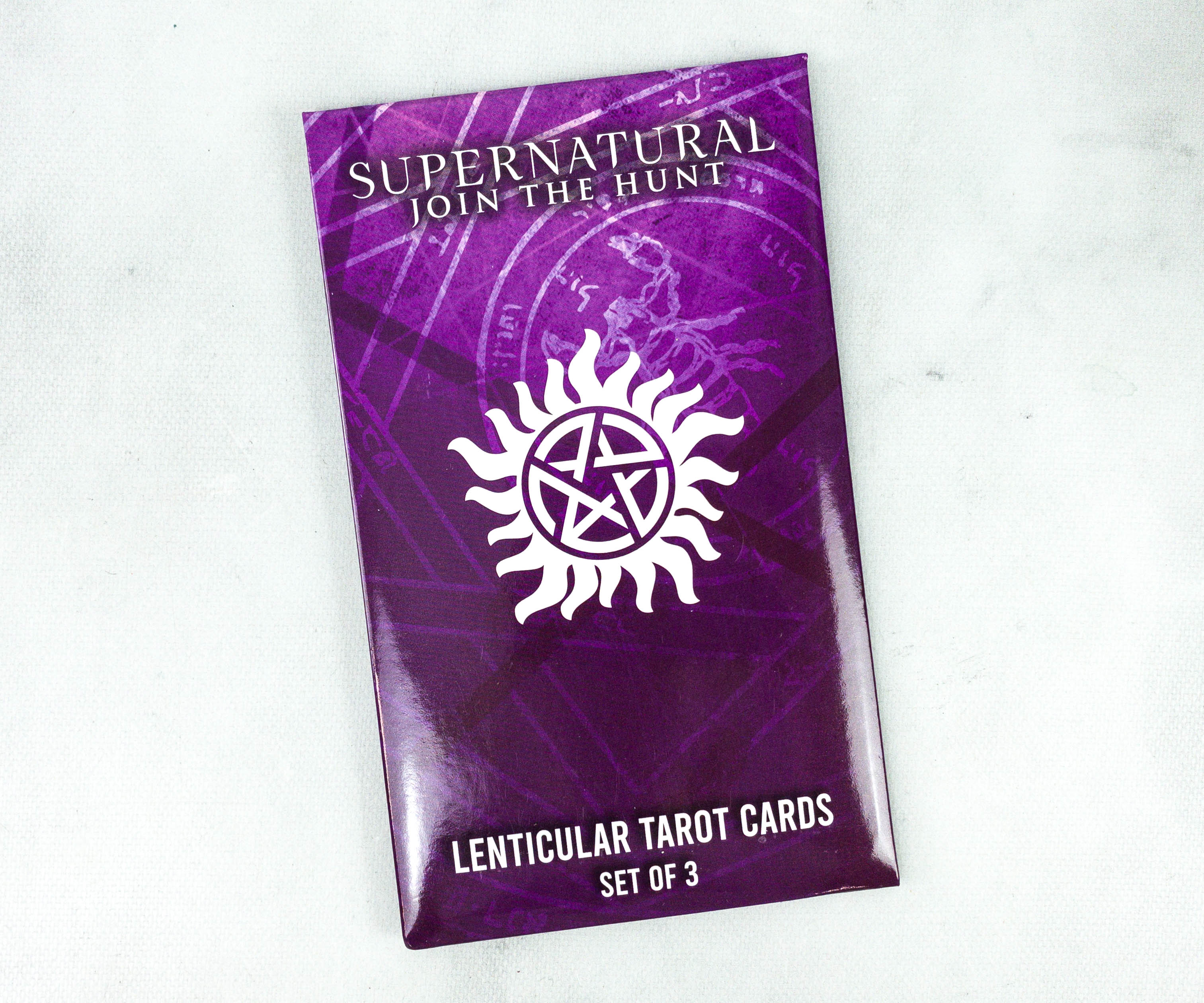 Collectible cards. These lenticular tarot cards also came in the box. It's a set of 3 cards and I'm excited to see them!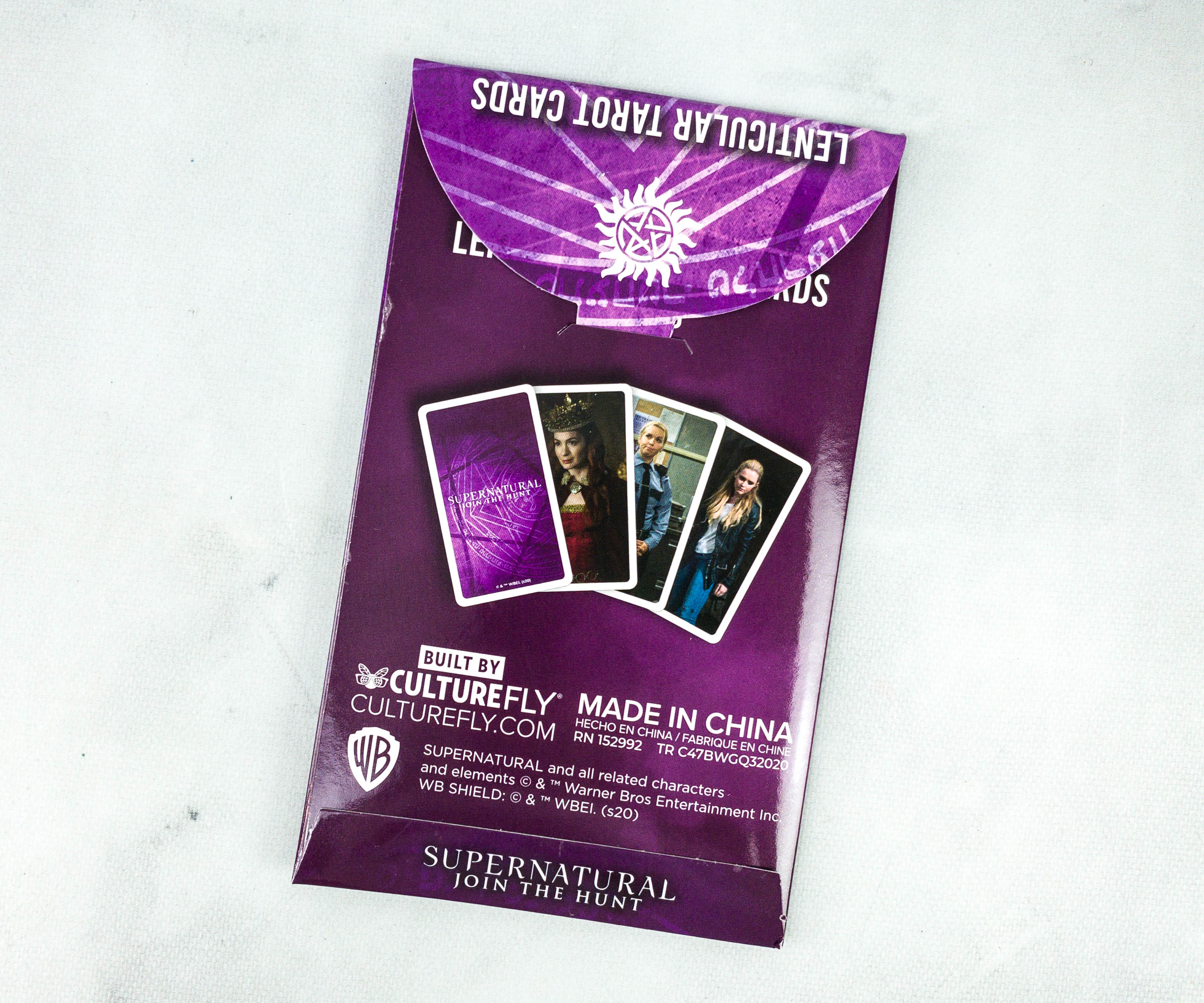 The packaging has a preview of the characters on my cards!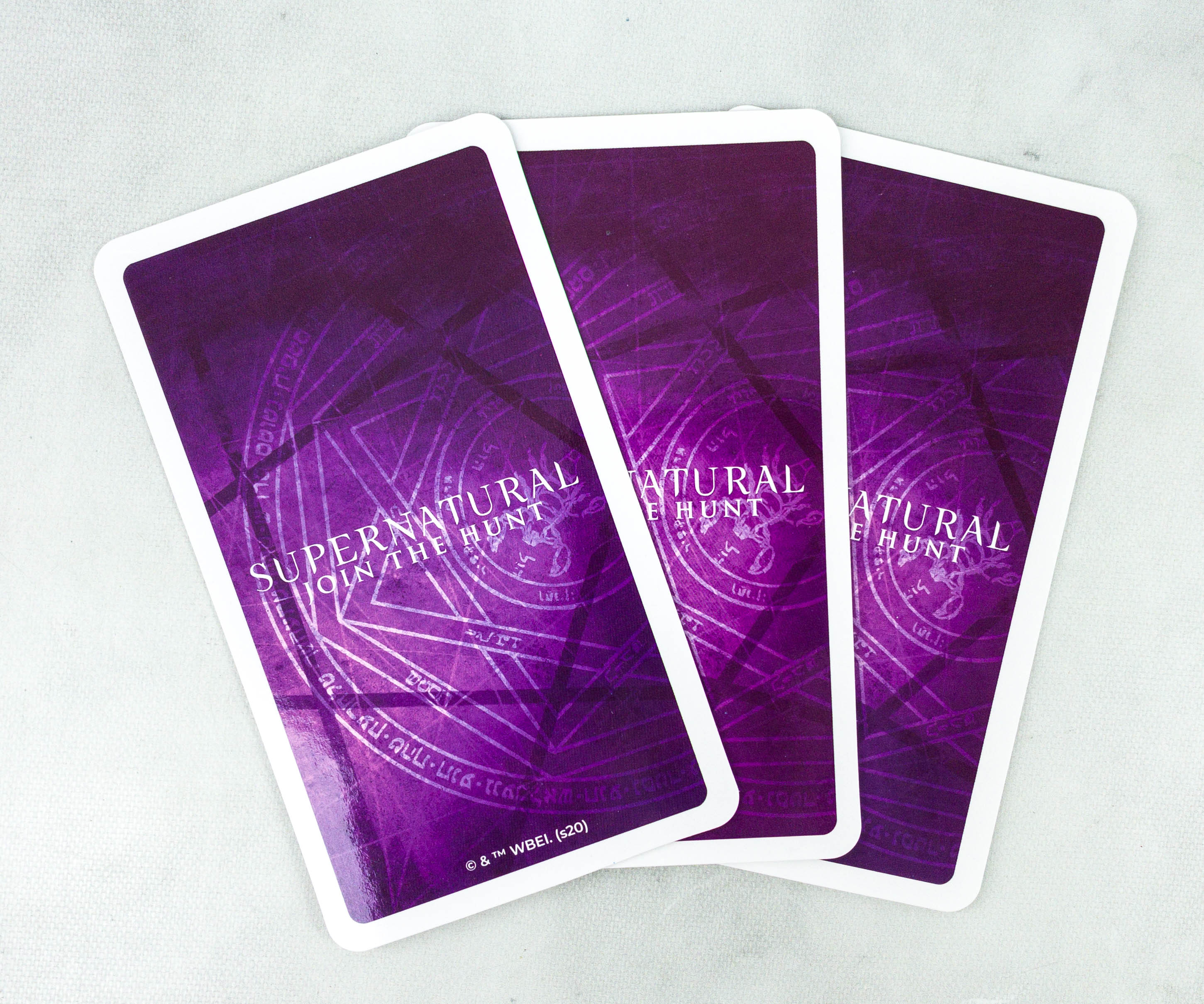 They all had the same designs at the back.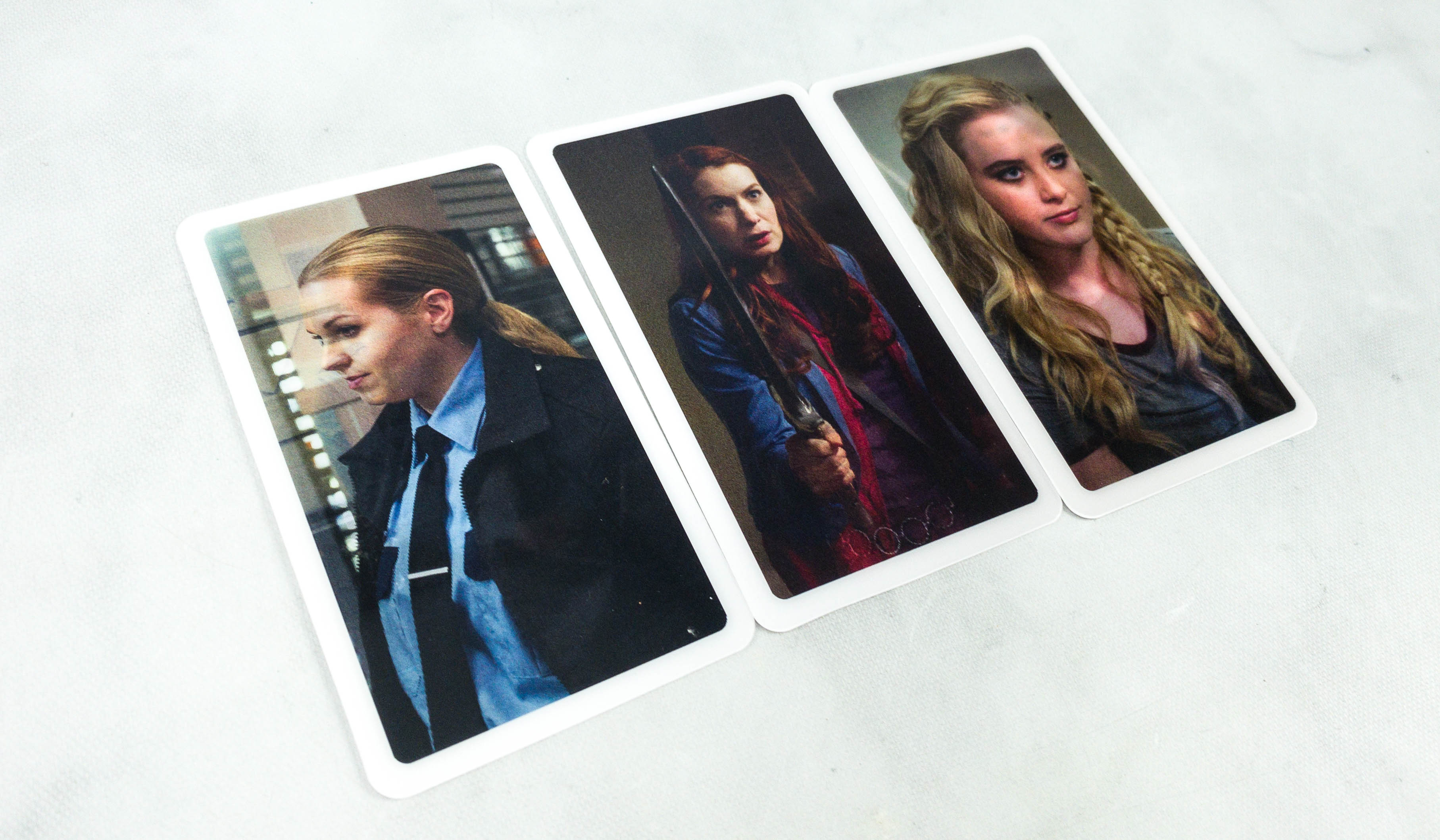 The characters on my cards are Sheriff Donna Hanscum, Claire Novak, and Charlene "Charlie" Bradbury!
The images changed depending on the angle that each card is viewed. Lenticular printing technology is indeed amazing!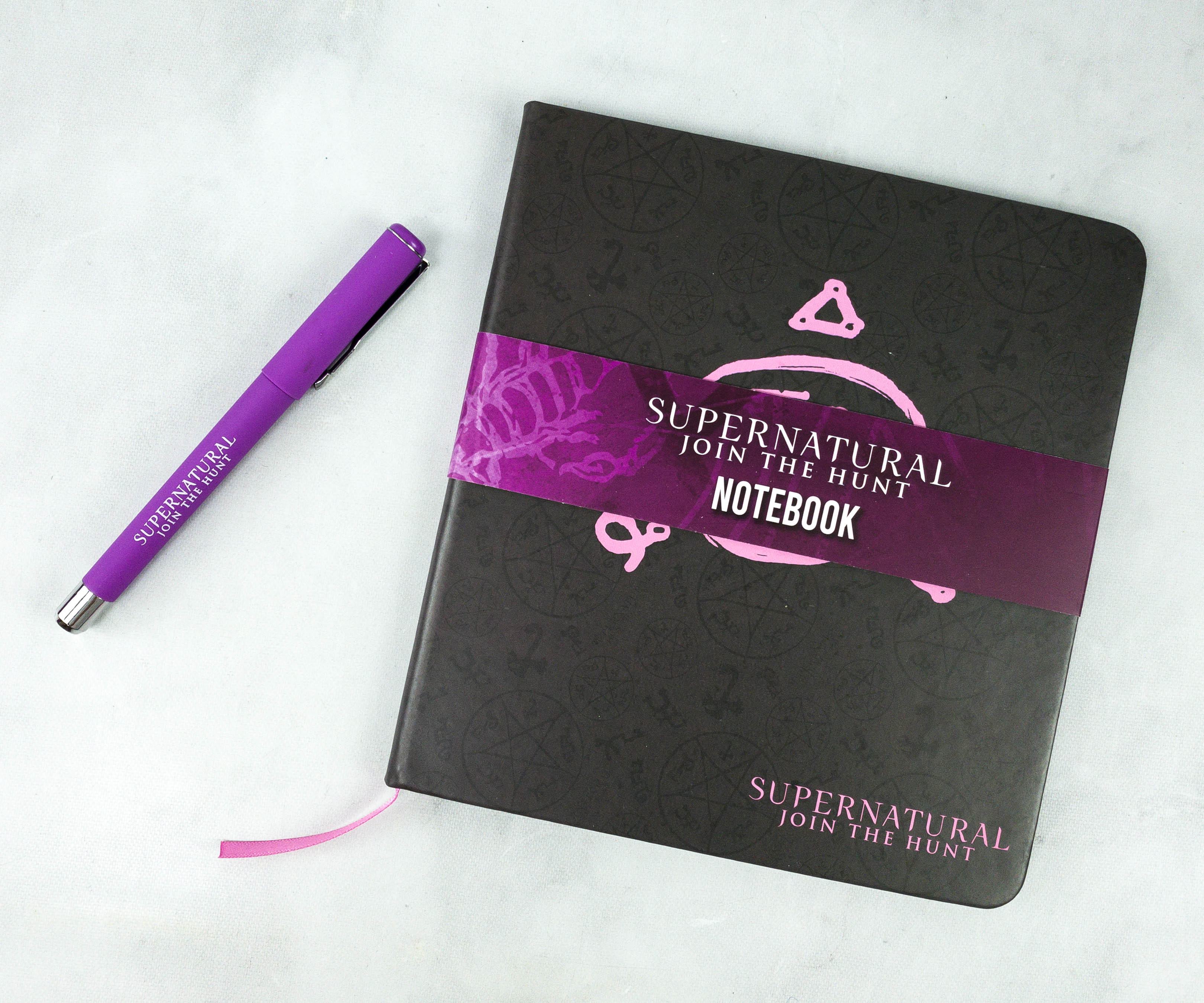 Angel Banishing Notebook with Pen. It's a Supernatural themed notebook, with a matching pen!
There's an angel trap symbol on the front cover of this notebook. It also has a pink lace bookmark.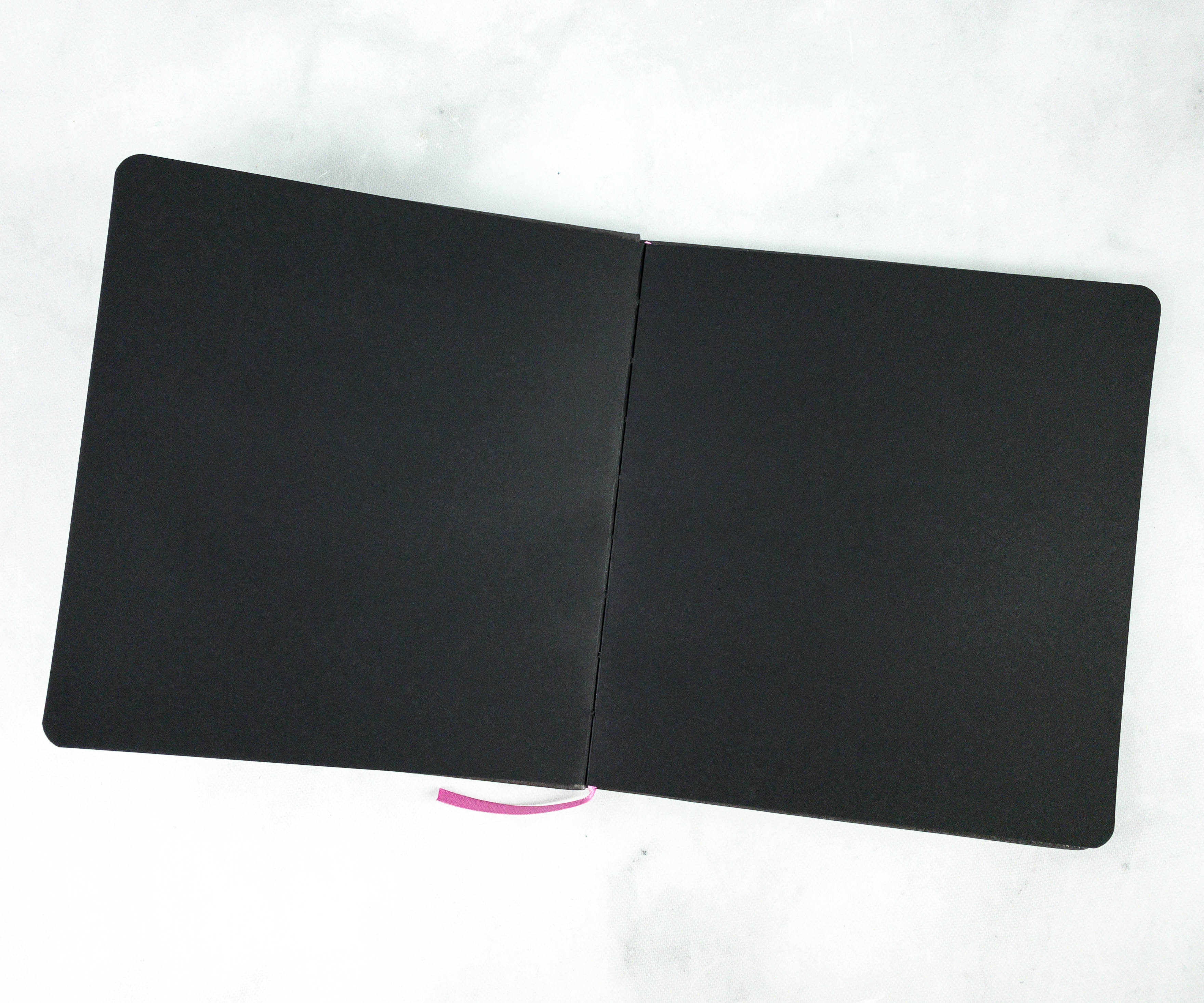 The notebook has black pages, which is unique!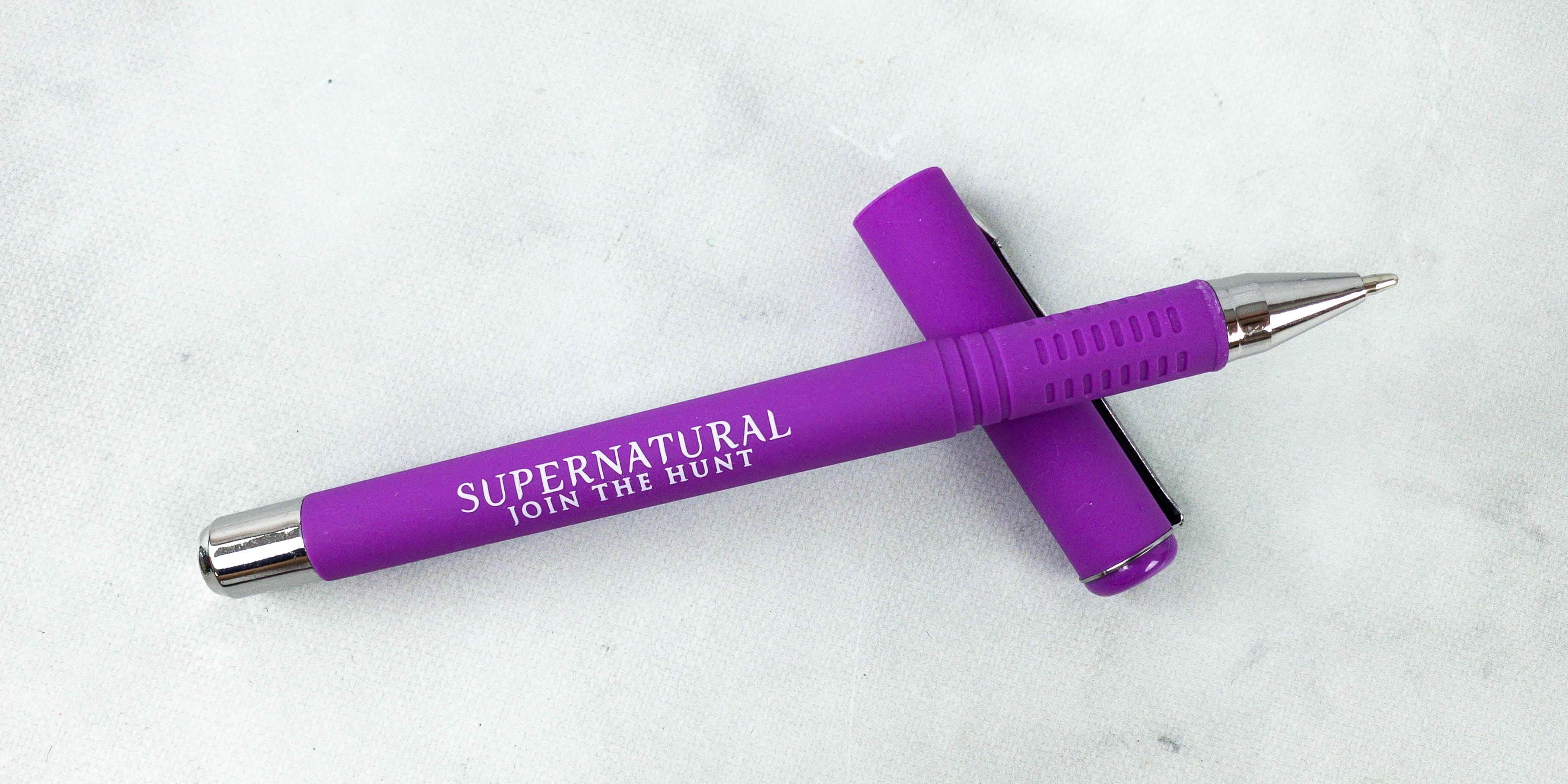 This pen has a nice purple colored casing. The grip is nice and I like its texture.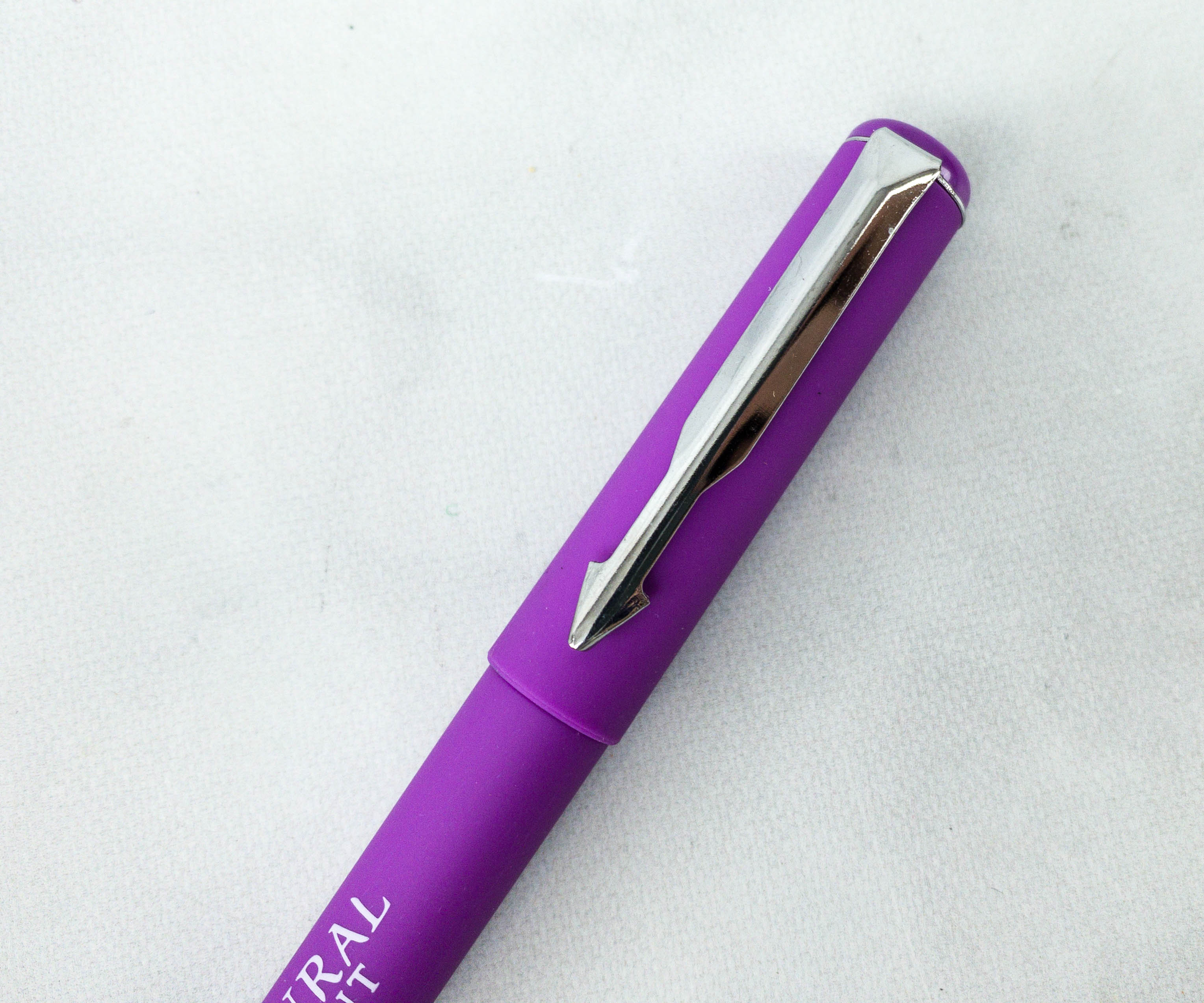 It has a chrome clip on its cap that added an elegant look to it.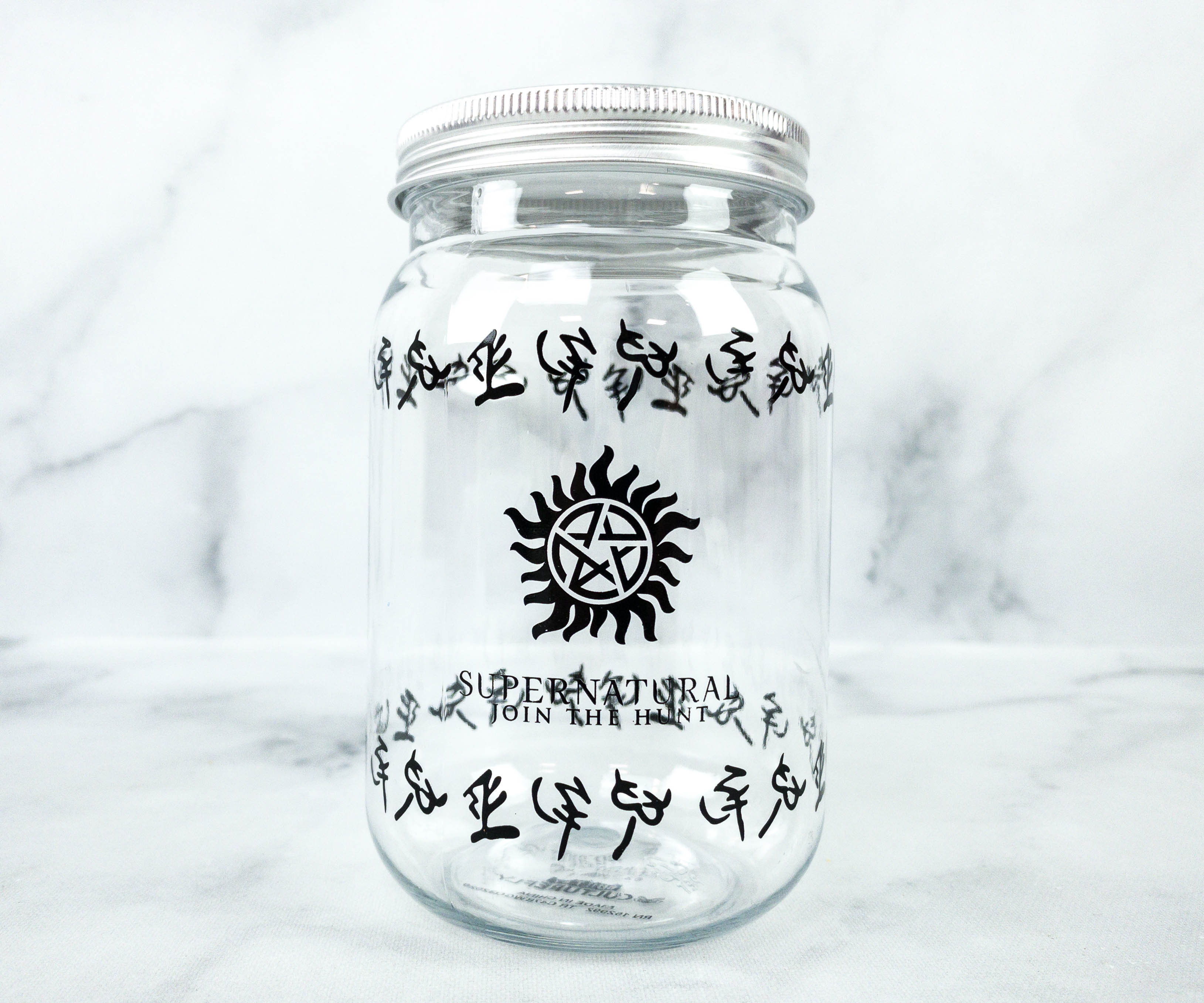 Anti-Possession Canister. Here's an item I can use at home, a clear canister with symbols on it! In the show, these are used to ward off demonic possession.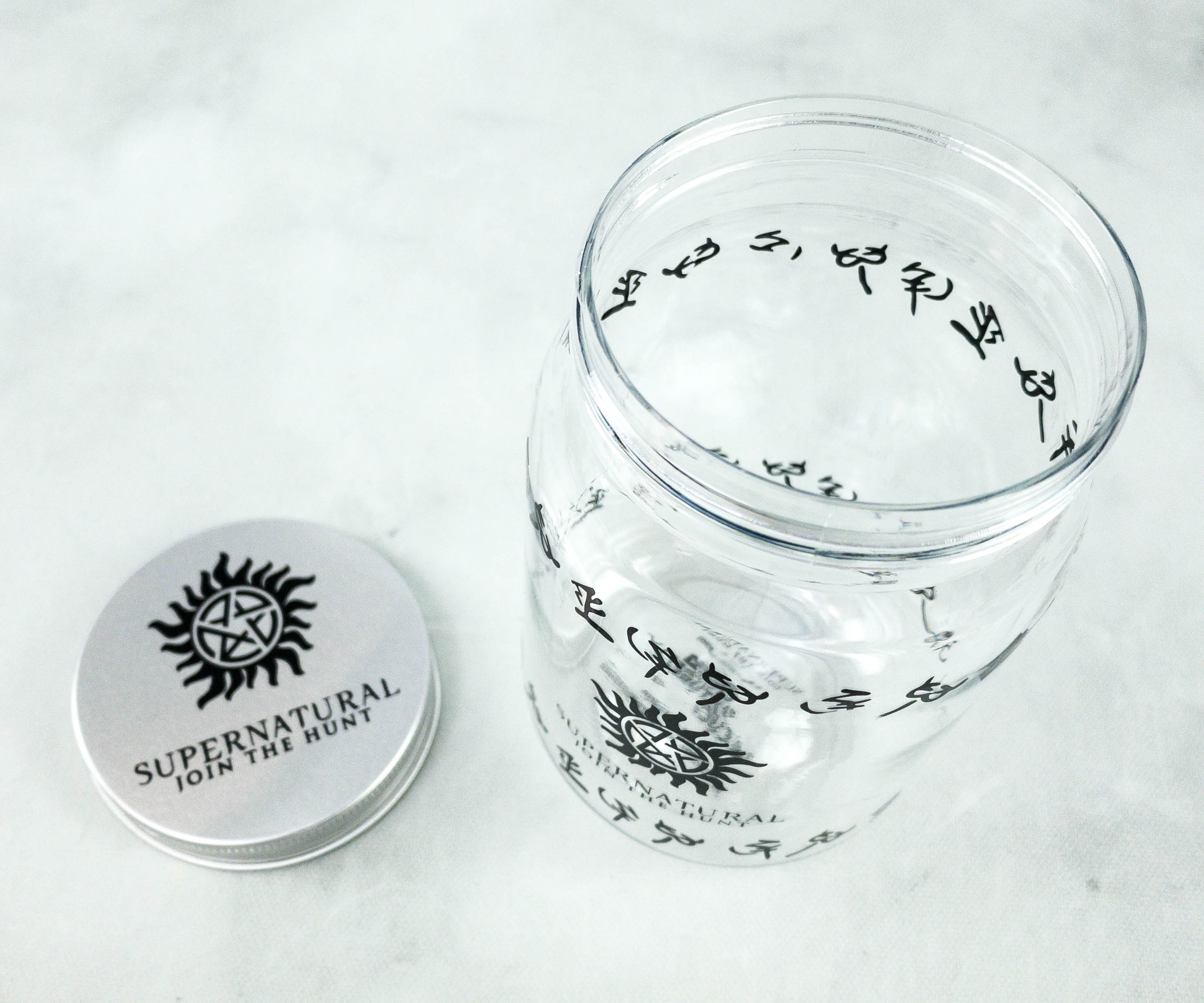 It's big enough to accommodate a few stuff inside it. I can even use this as a cookie jar!
The label suggests that the jar is not dishwasher safe.
Charlie Bradbury Vinyl Figure with Base. This quarter's figure features Charlie Bradbury, one of the best female characters in the series!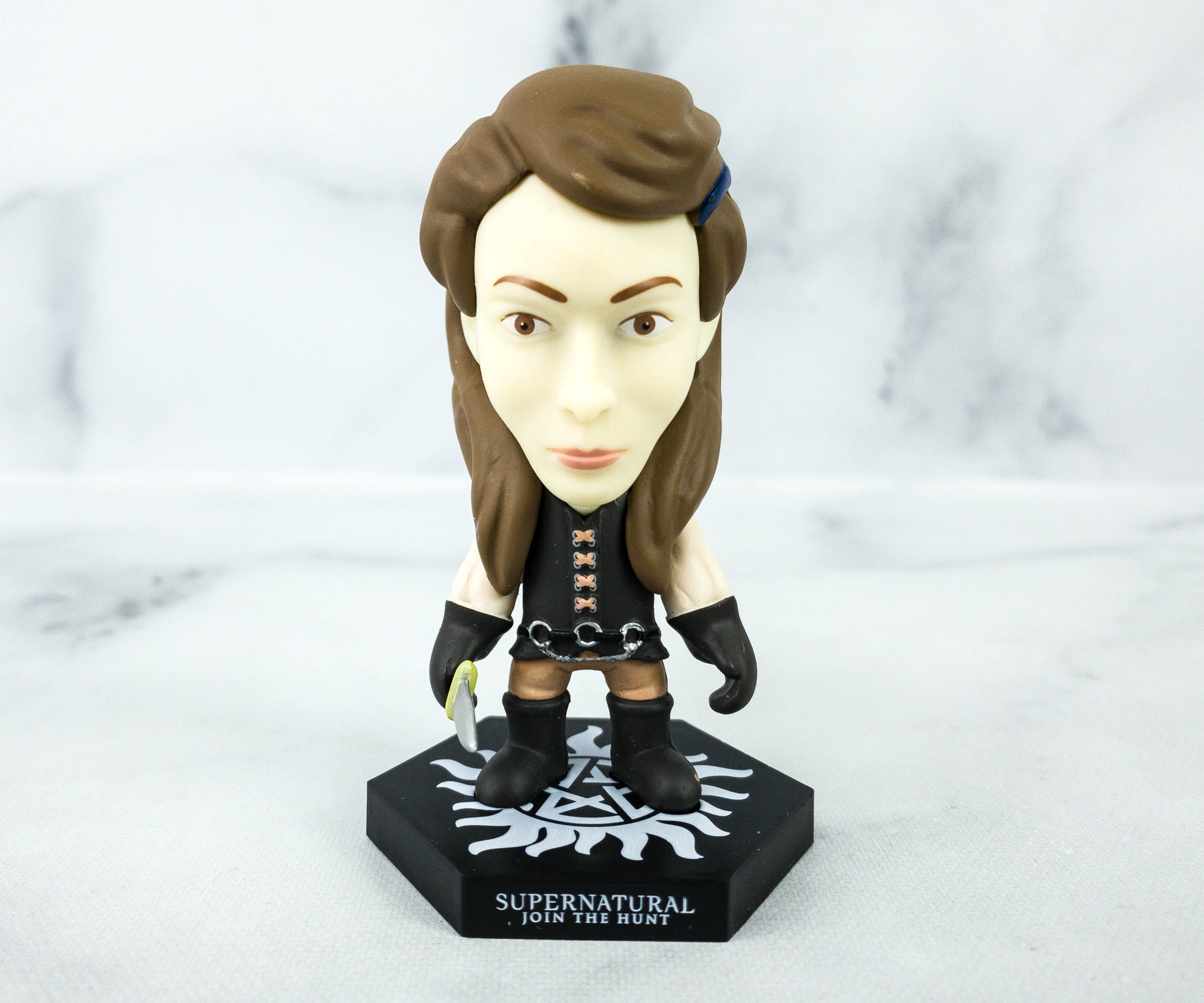 It has a base so that the figure can firmly stand on its own.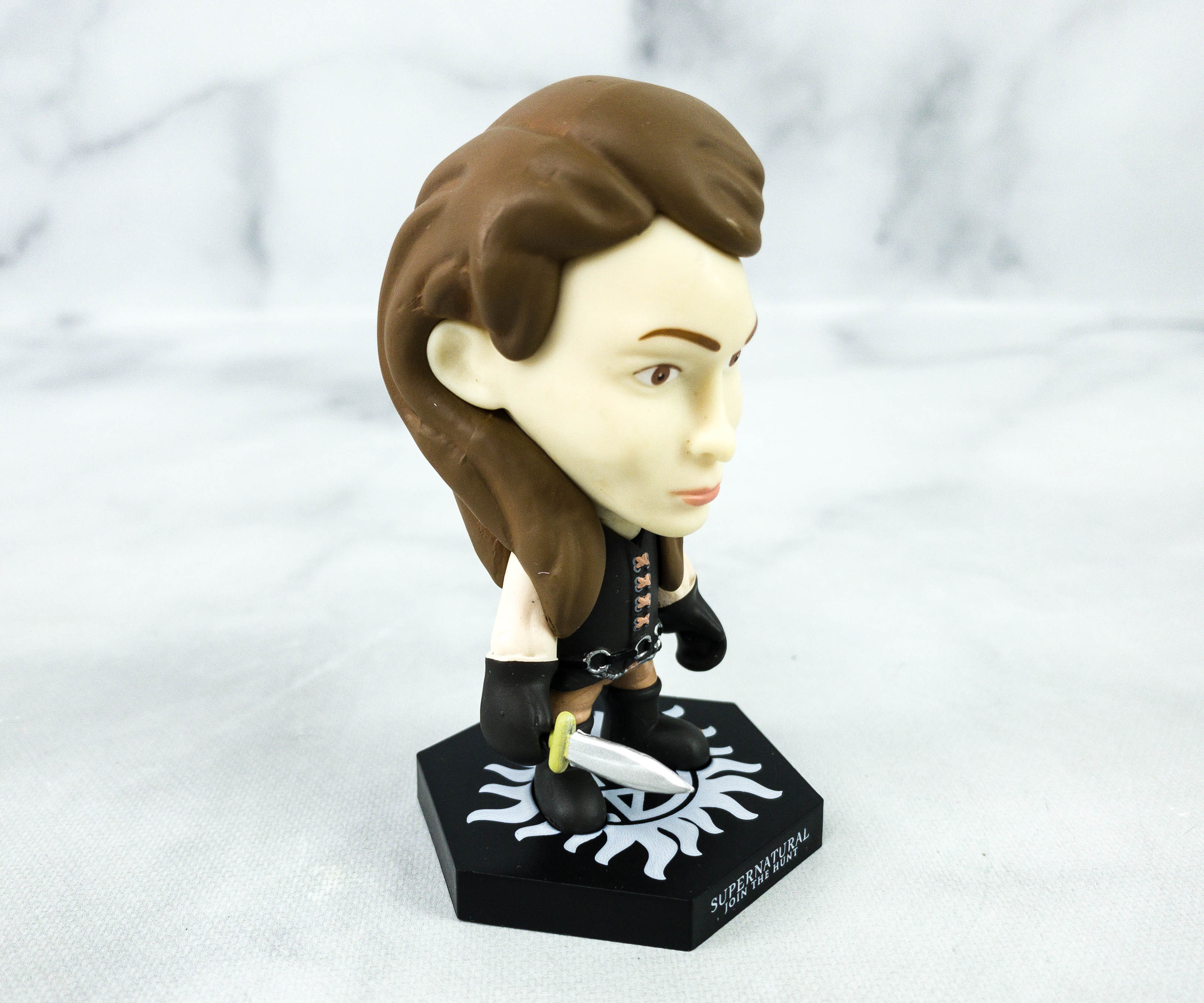 Everything is well detailed. The base even has a Supernatural branding and an anti-possession symbol.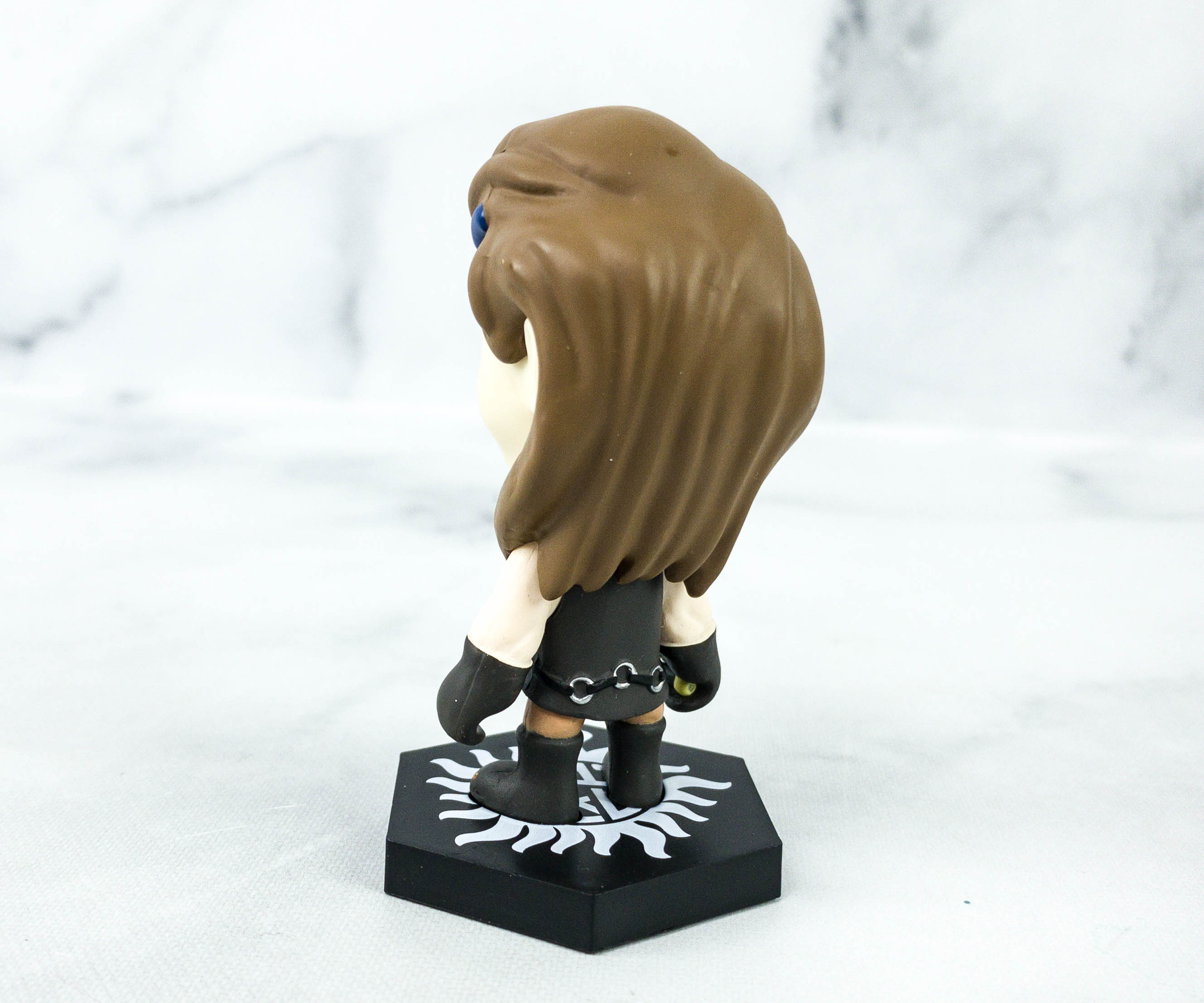 The paintjob is also perfect! This figure is indeed a nice addition to my vinyl figure collection.
Heat Changing Mug. The heat-reactive ceramic mug arrived in its own box to keep it safe and secure!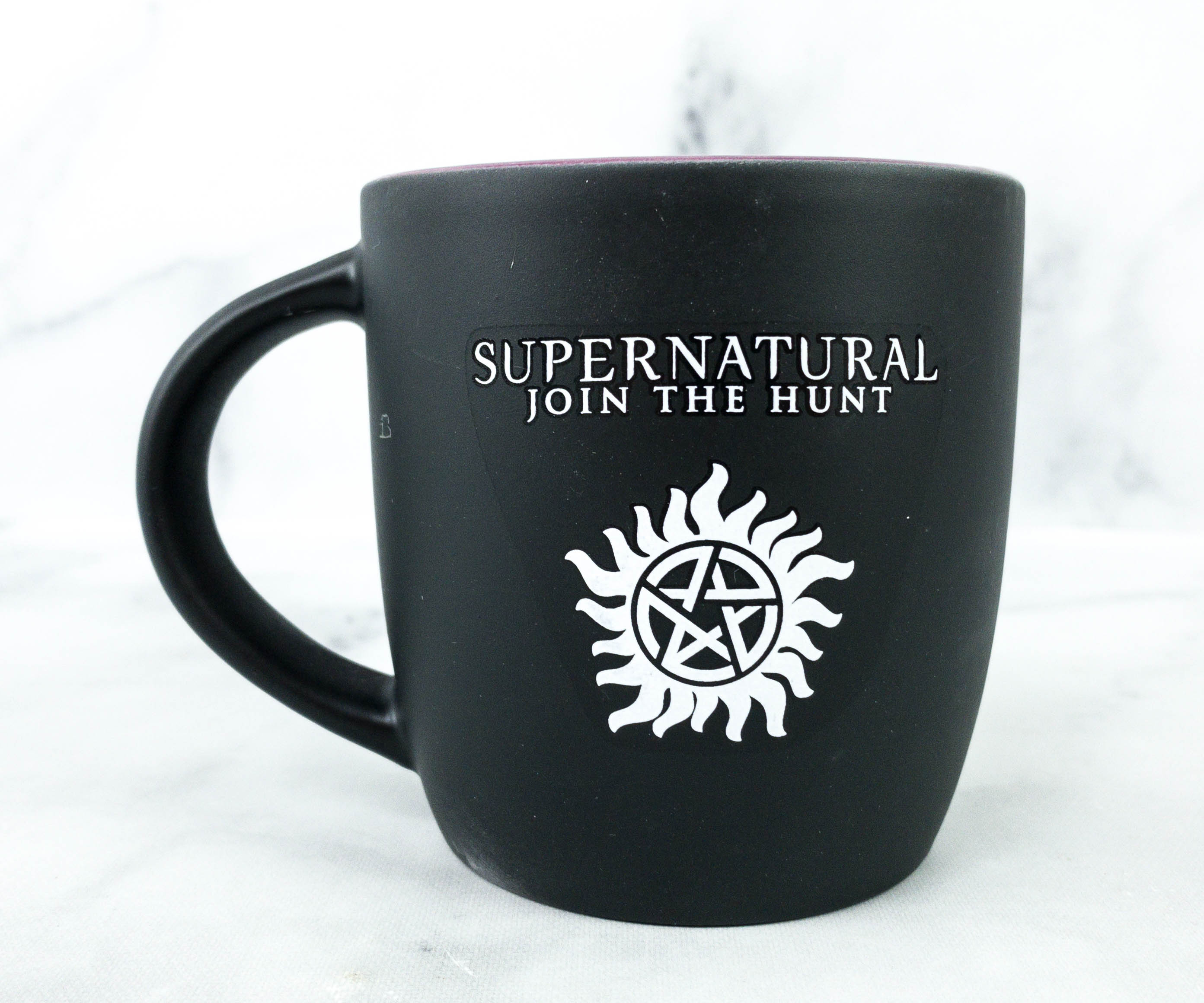 It has the Supernatural show logo and anti-possession symbol as its primary design.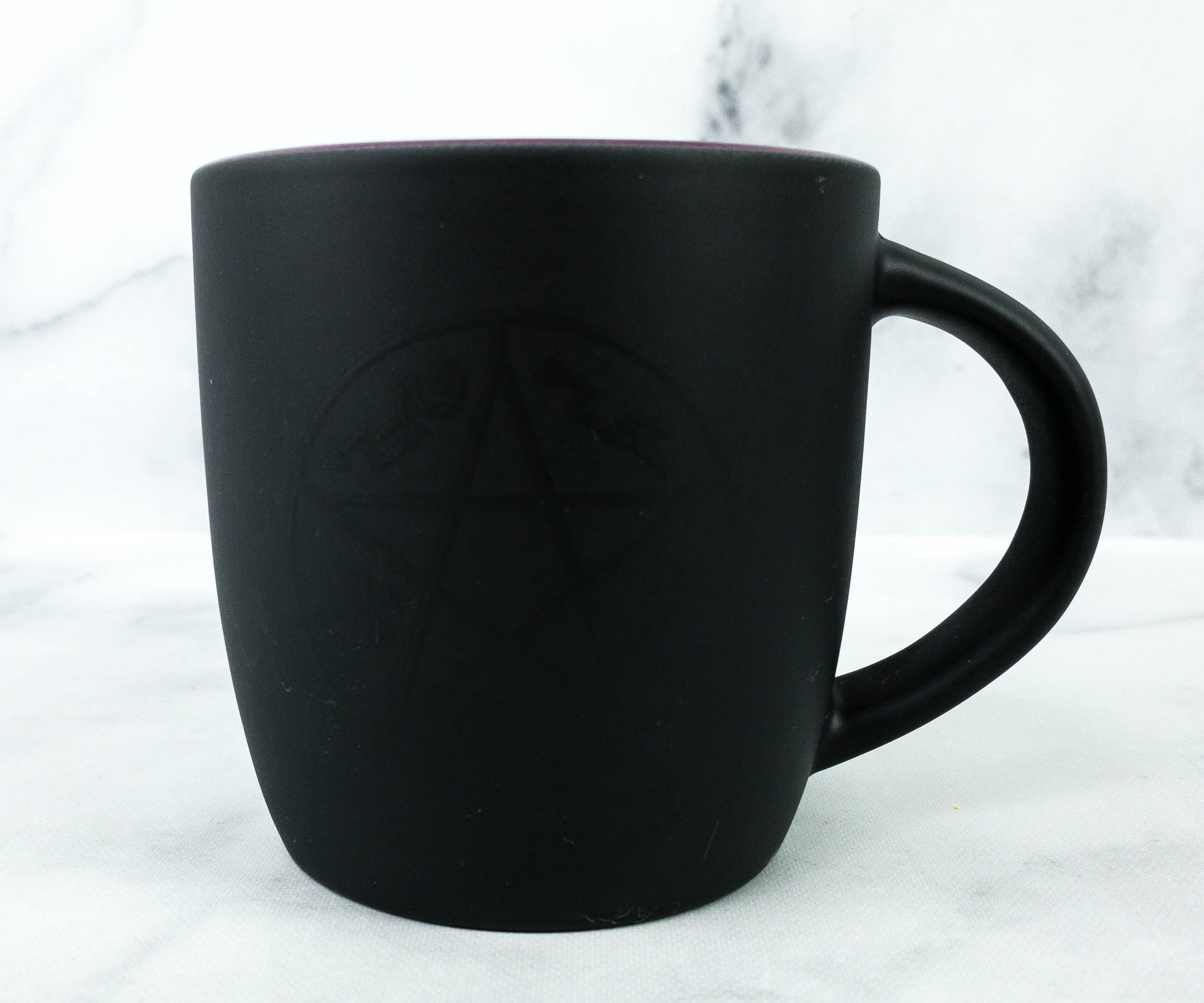 There's another symbol that is slightly visible on the other side.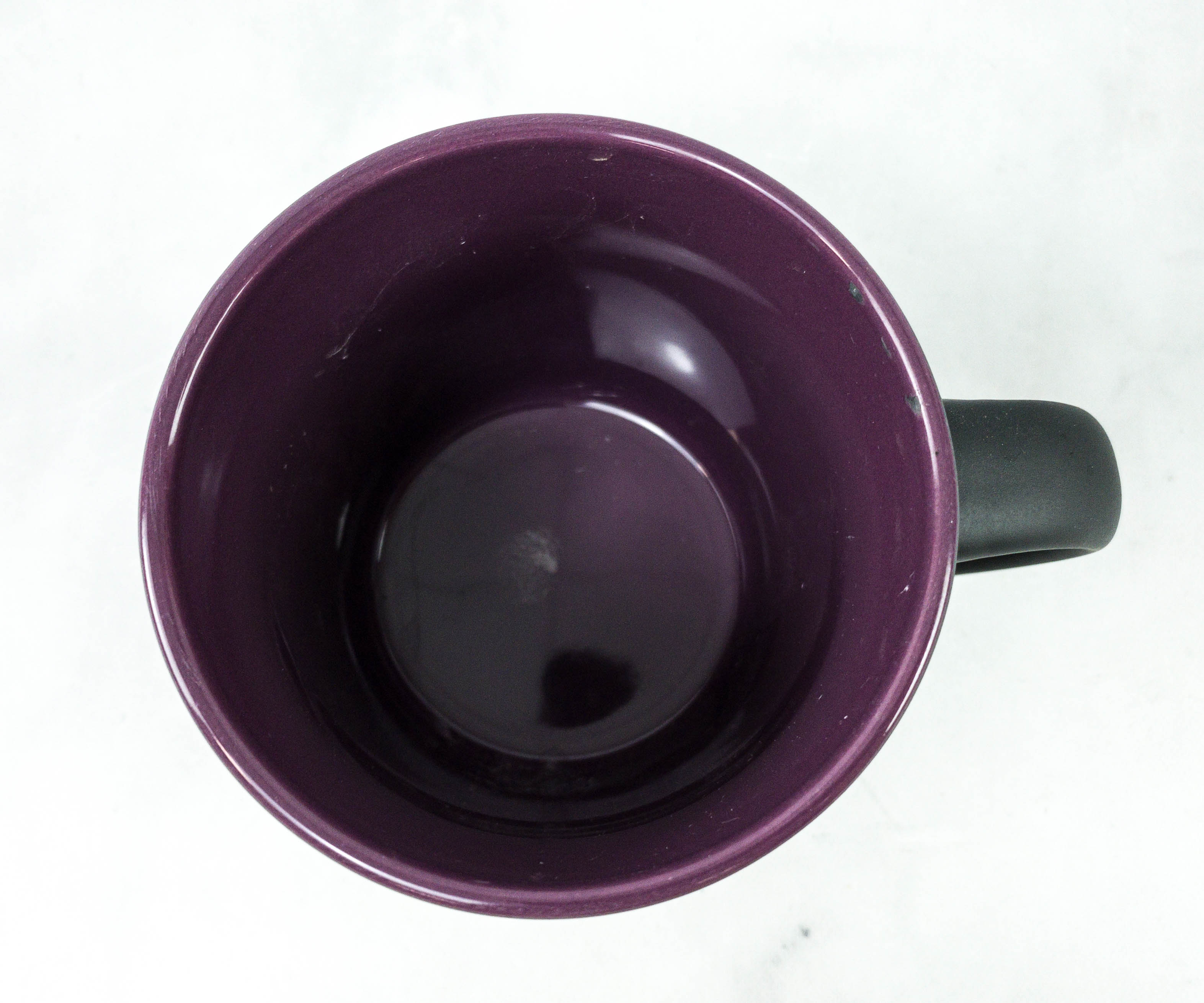 The mug has a wide lip and purple interior.
This hidden design appeared when I tried pouring hot water into the mug.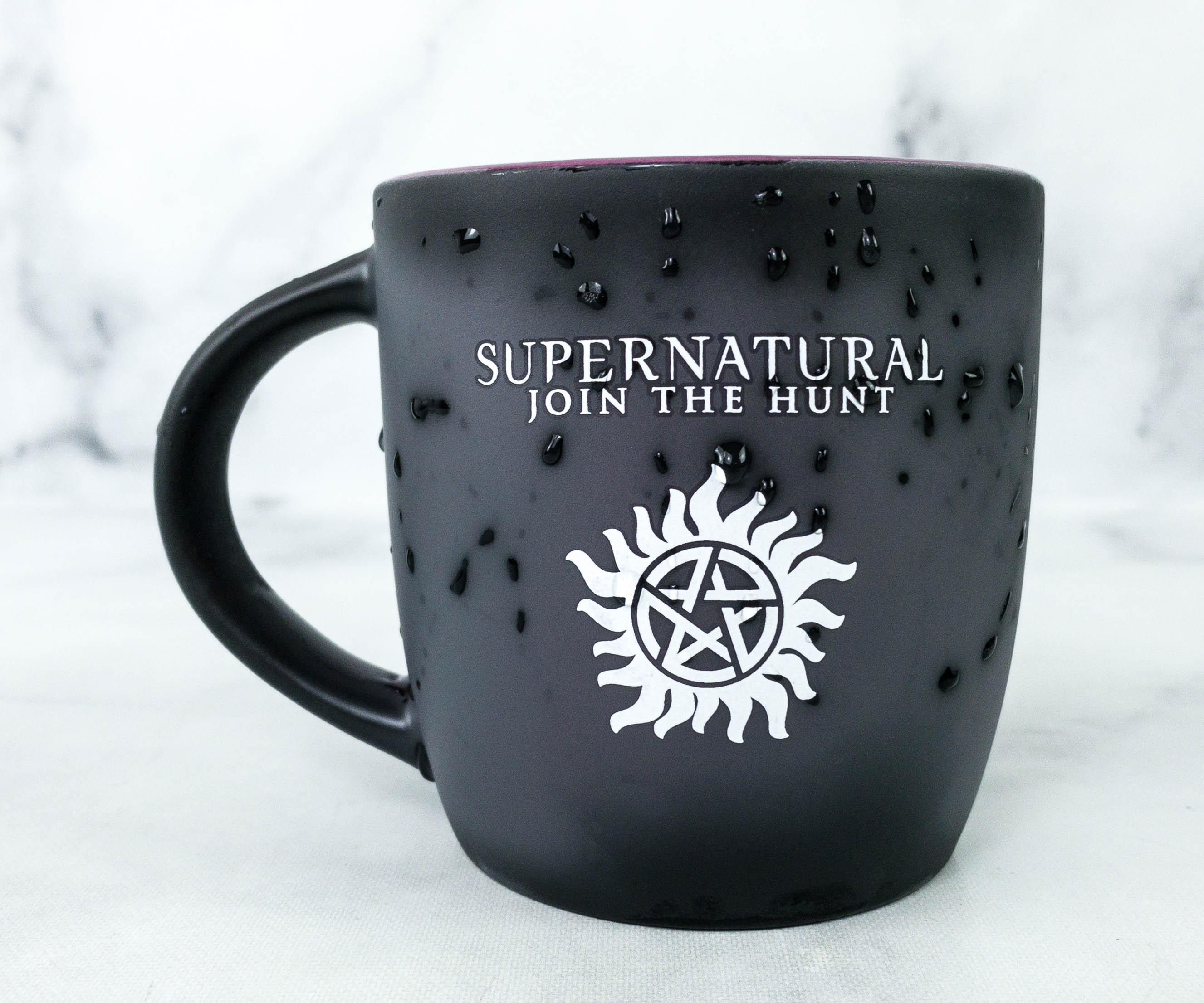 This is a nice mug that I can use for my morning coffee!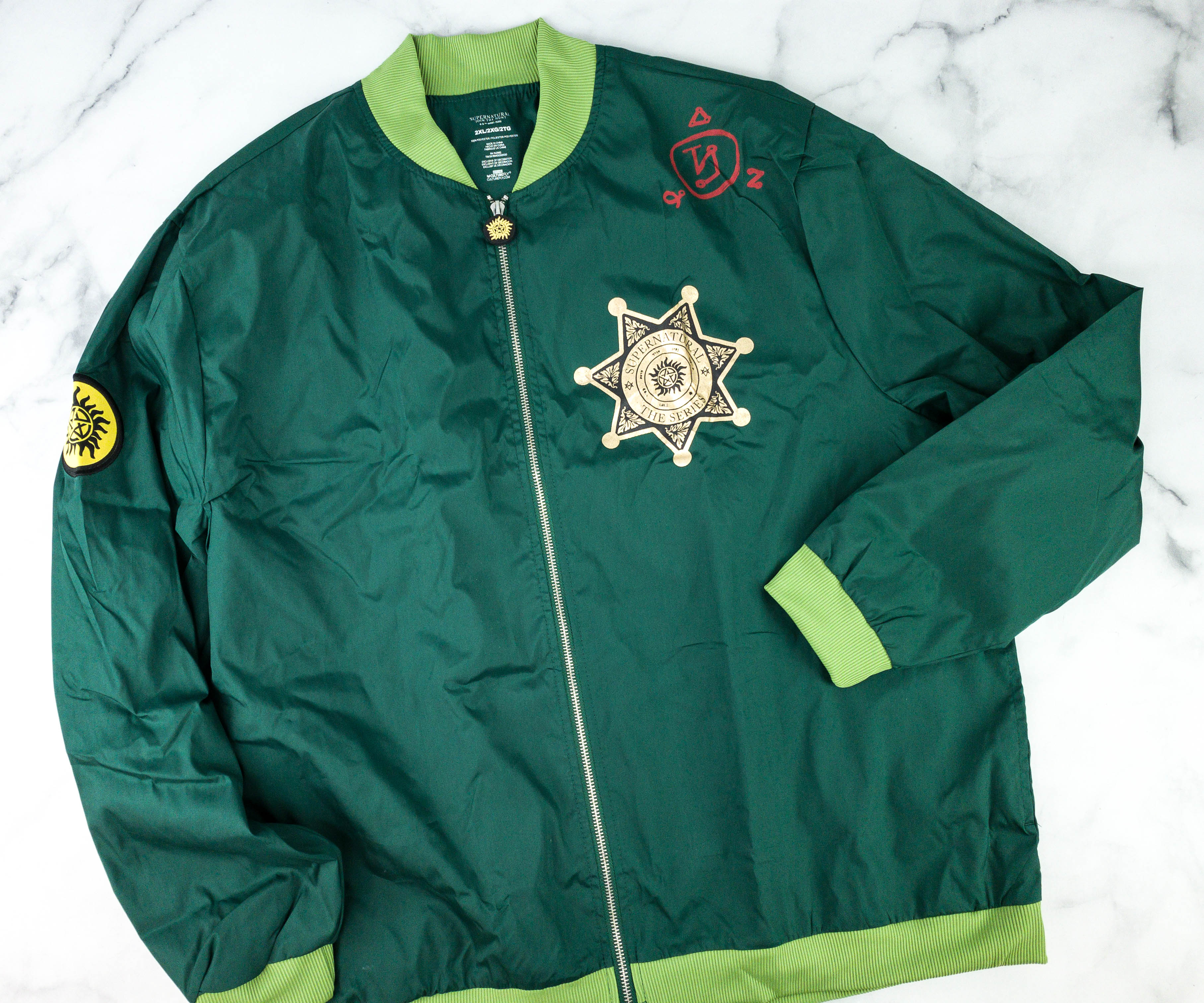 Jodi Mills inspired Windbreaker Jacket. A wearable item included in this quarter's box is a Jodi Mills inspired jacket. I like its green color and comfortable fit!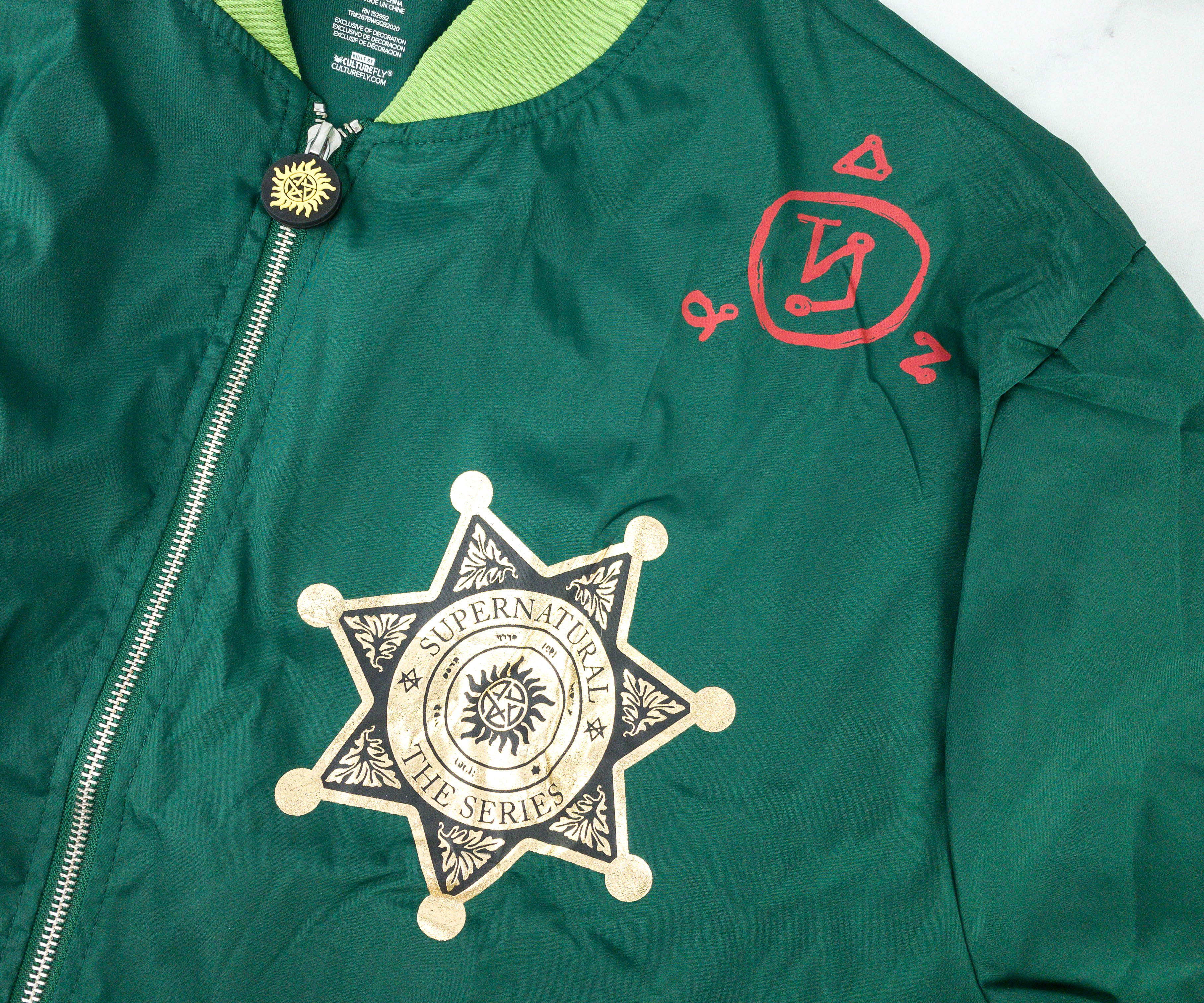 It has the printed logo of the show and the angel trap symbol.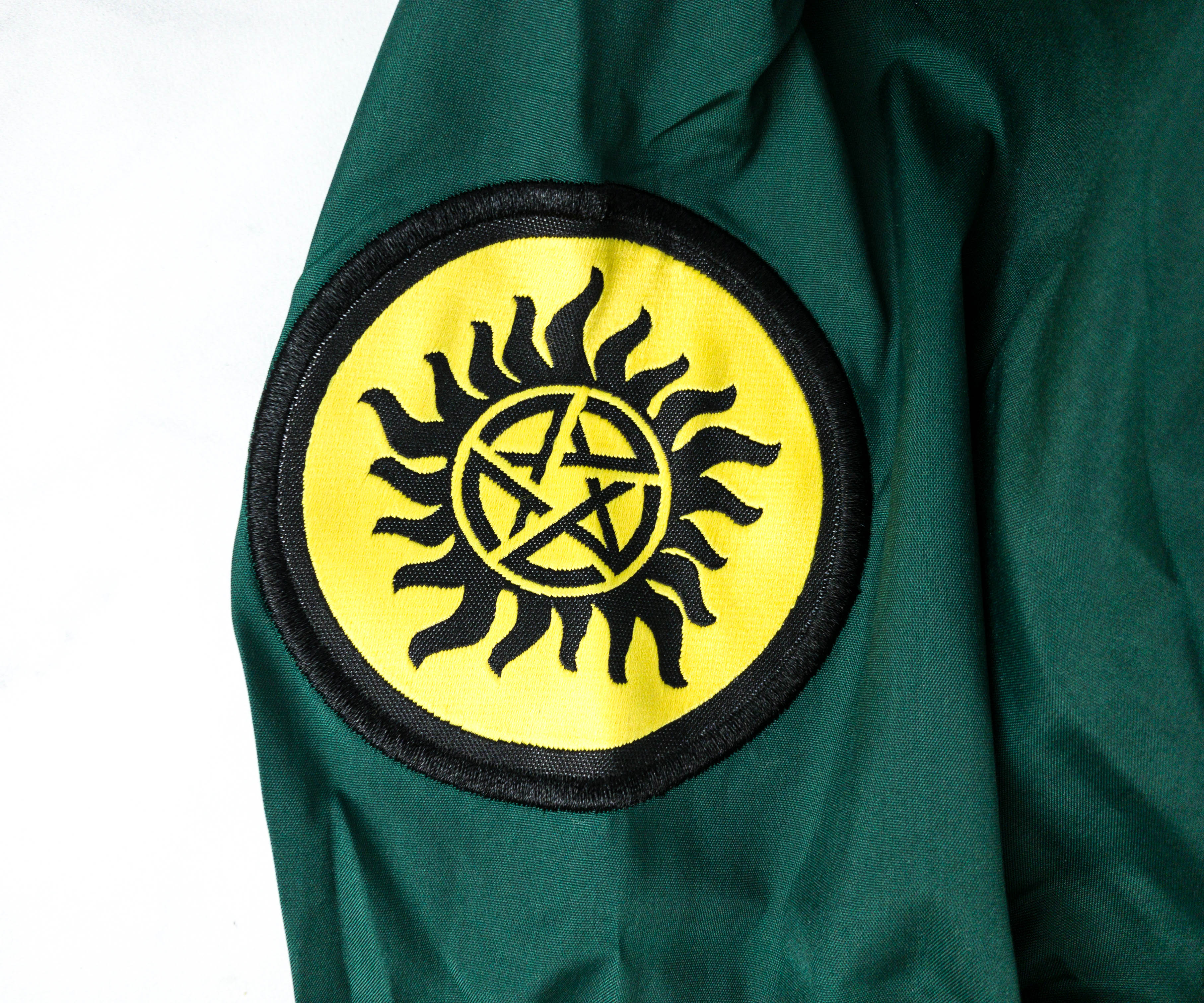 This anti-possession symbol patch is also stitched on the jacket's right sleeve.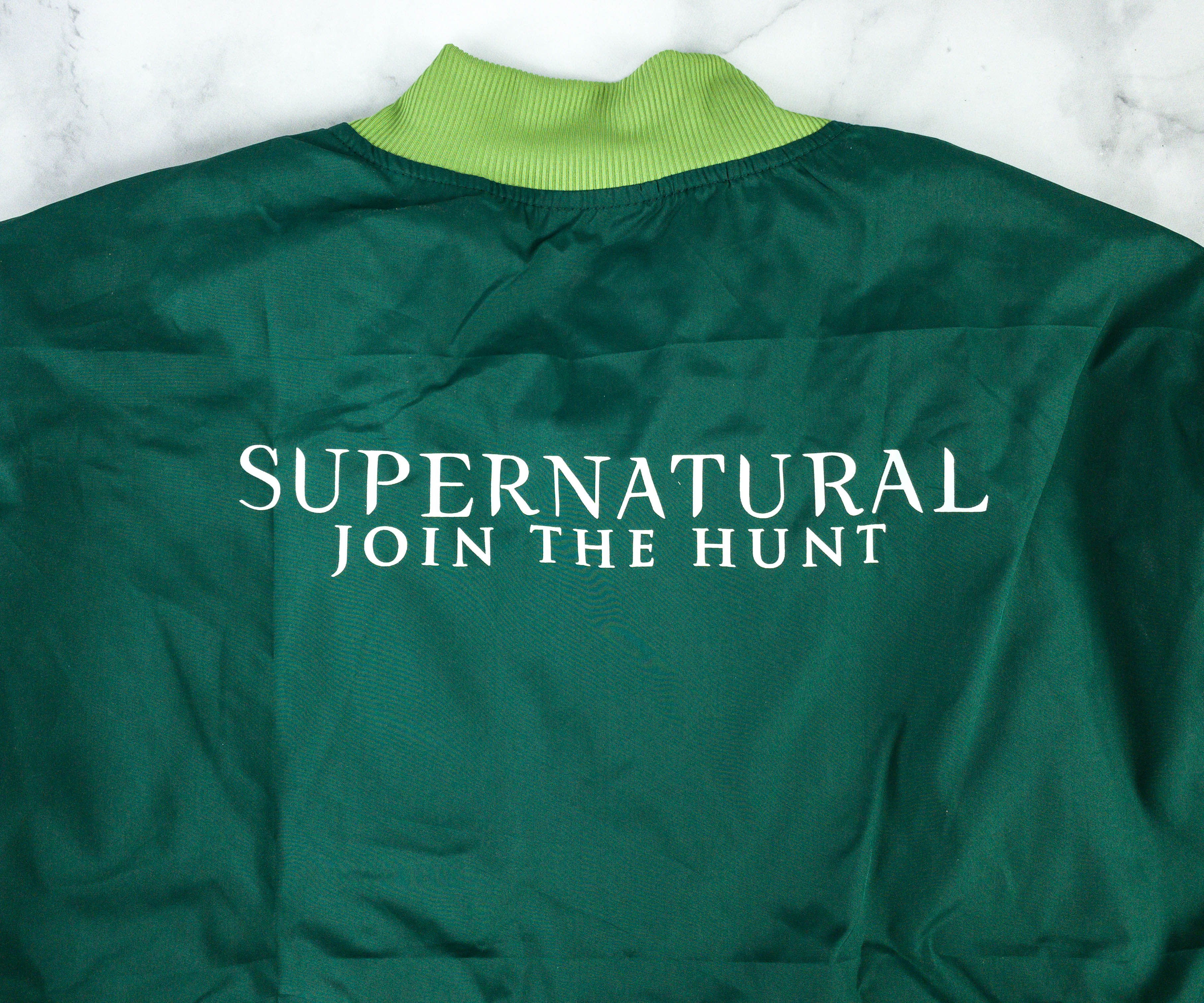 There's a Supernatural logo at the back. I really love this jacket's concept!
It's a box full of memories from the show! This quarter, they focused mostly on female characters and I'm pumped. I loved all the Supernatural merch, which included wearables, collectibles, and even items I can use at home. My favorite is the vinyl figure, it's the perfect display item for my desk to remind me of one of the best female characters in the series. The heat changing mug is also an awesome inclusion! I love having my morning coffee in it! If you're a Supernatural fan and you can't get enough of the series, this is a good box to treat yourself to. All the items are licensed, giving you your money's worth!  There were definitely some tears shed for the finale, but the box will go on for now. Who's ready to rewatch?
What do you think of the Supernatural Box?