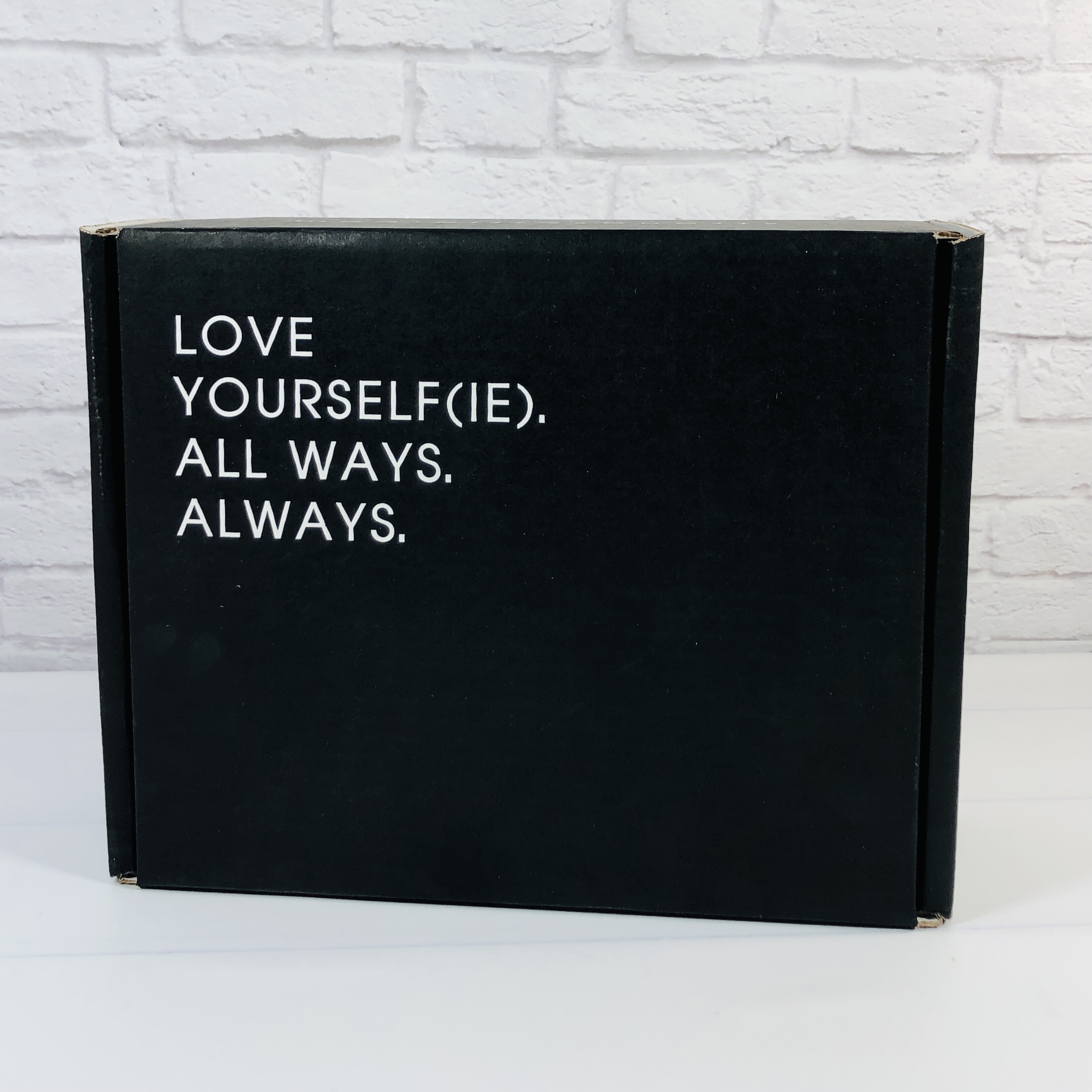 STRONG self(ie) is a quarterly subscription box that helps empower young girls to be their best self! There are two boxes to choose from: the BLOOM Box is for girls ages 8-12 and the BURST Box is for girls ages 13-17. I have a 17-year-old daughter, Karina, who helped me review the BURST Box! Subscriptions are $56 a season, or sign up for an annual sub and the price drops to $54 a box. You can also purchase this box as a one-time gift for $64, or choose from several other gift boxes that start at $20.
DEAL: Get 20% off your first box! Use coupon code Hello20.
This is a review of the Teen box. Looking for Tweens? See full spoilers here!
First look! Boxes can be purchased as a subscription or one-time only. There was a sticker inside the lid that says this is the Winter Edition and the theme is Dream Boldly!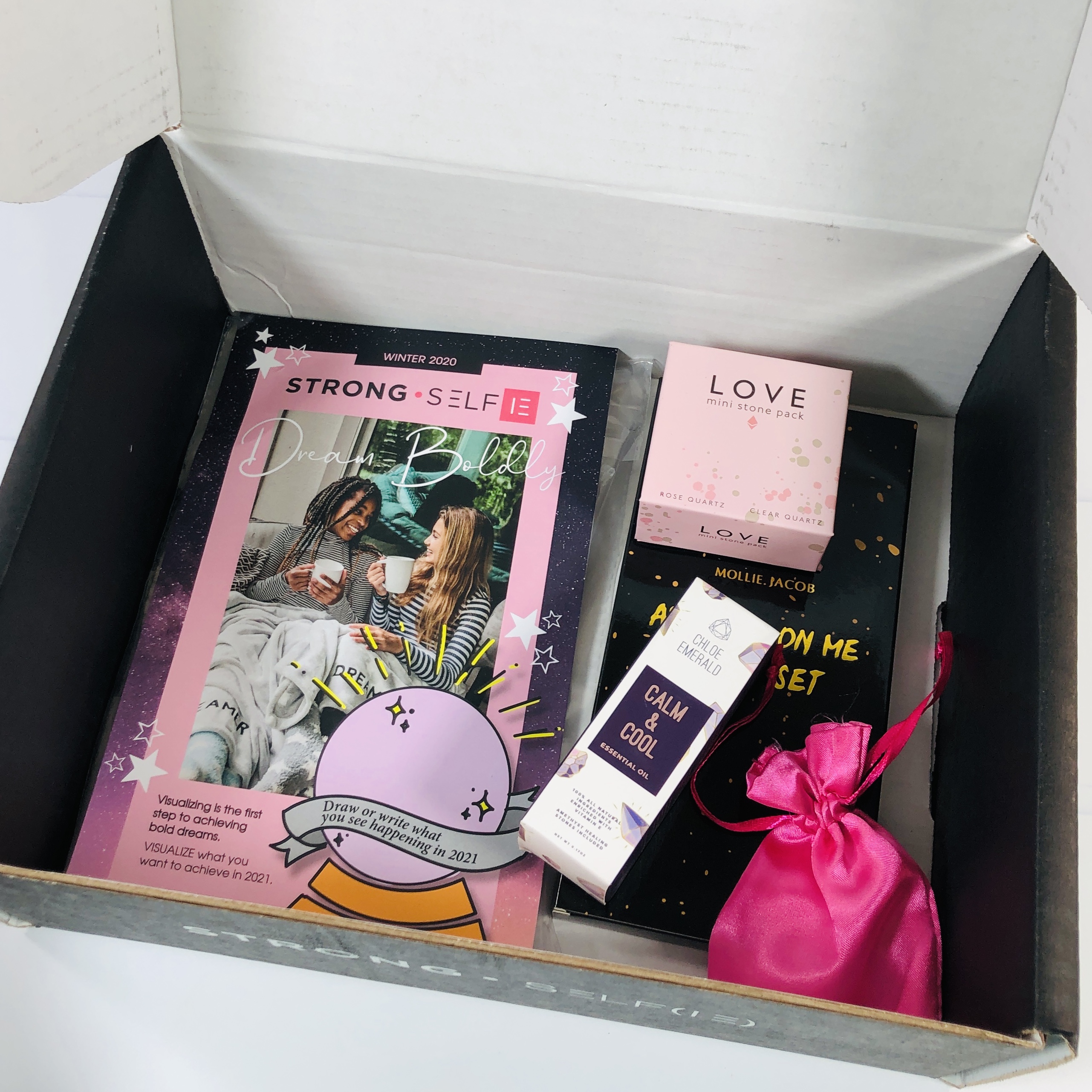 There was a huge comfy blanket on top and all of this was underneath!
There was a card that discussed visualizing bold dreams and there was even a crystal ball to write those dreams inside. This could go into a journal.
The back of the card listed all of the items in the BURST Box.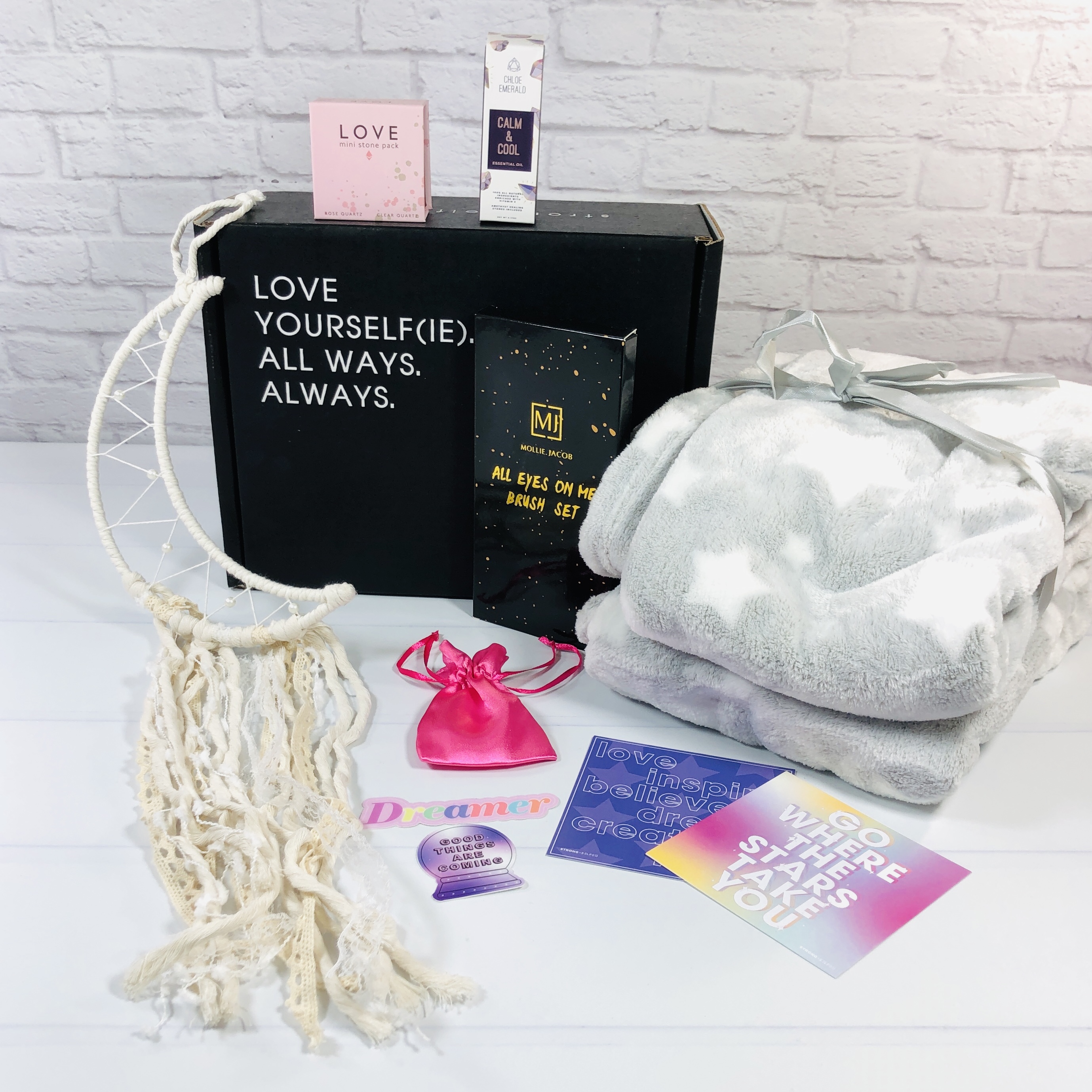 Everything in the box! My daughter is 17 and is always excited when this box shows up in the mail!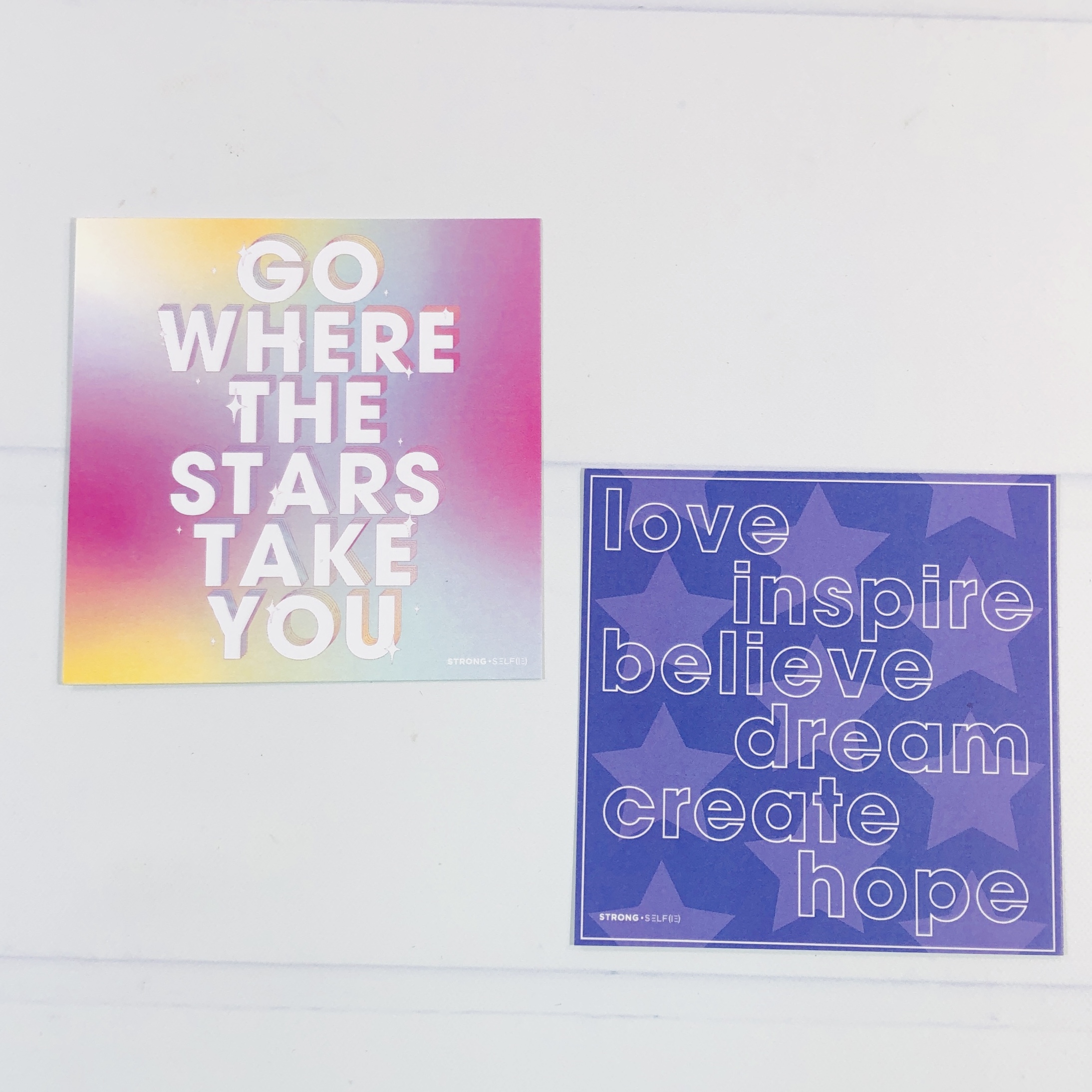 There were two 4″ x 4″ Confidence Cards.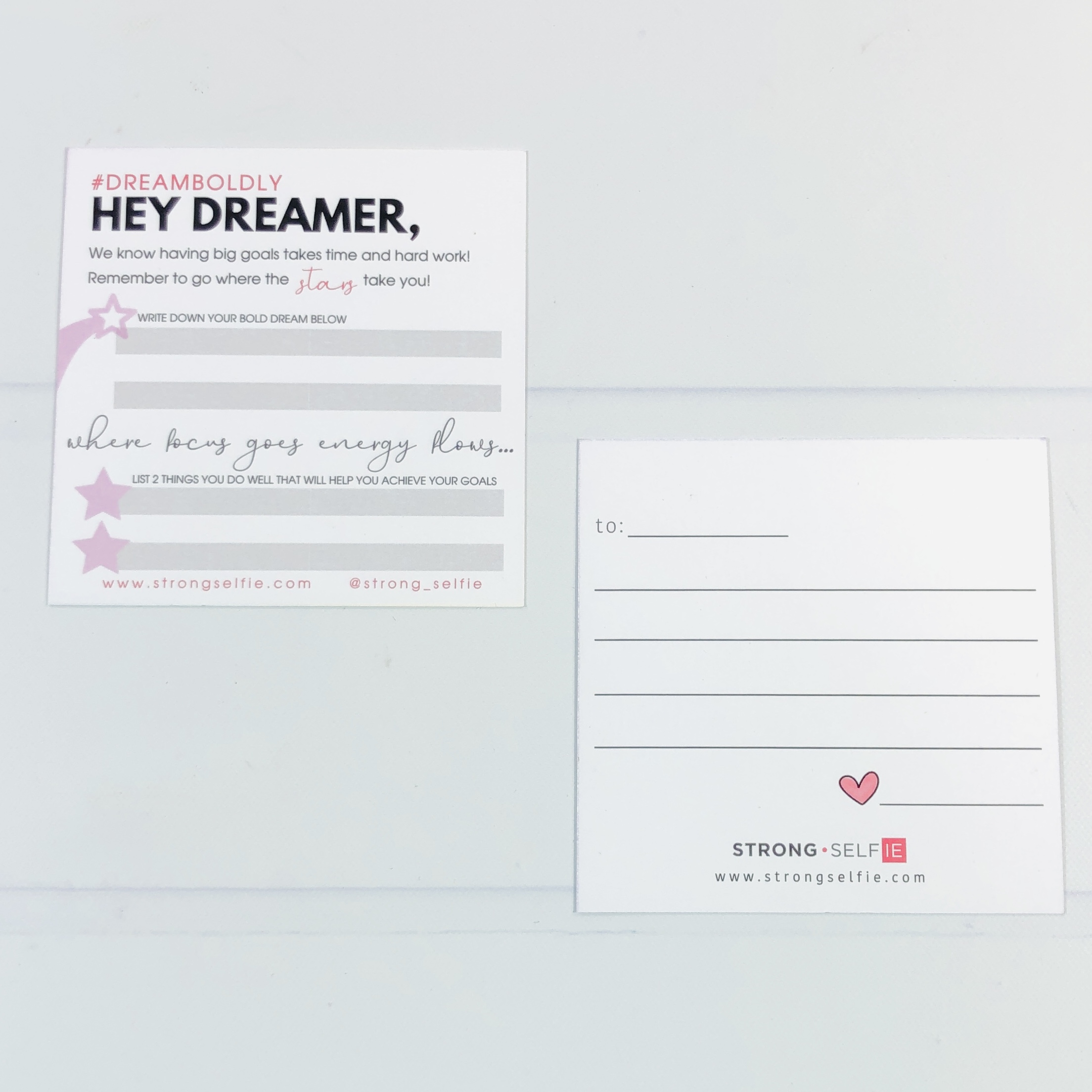 One had a challenge on the back while the other has space for jotting a quick note to a friend.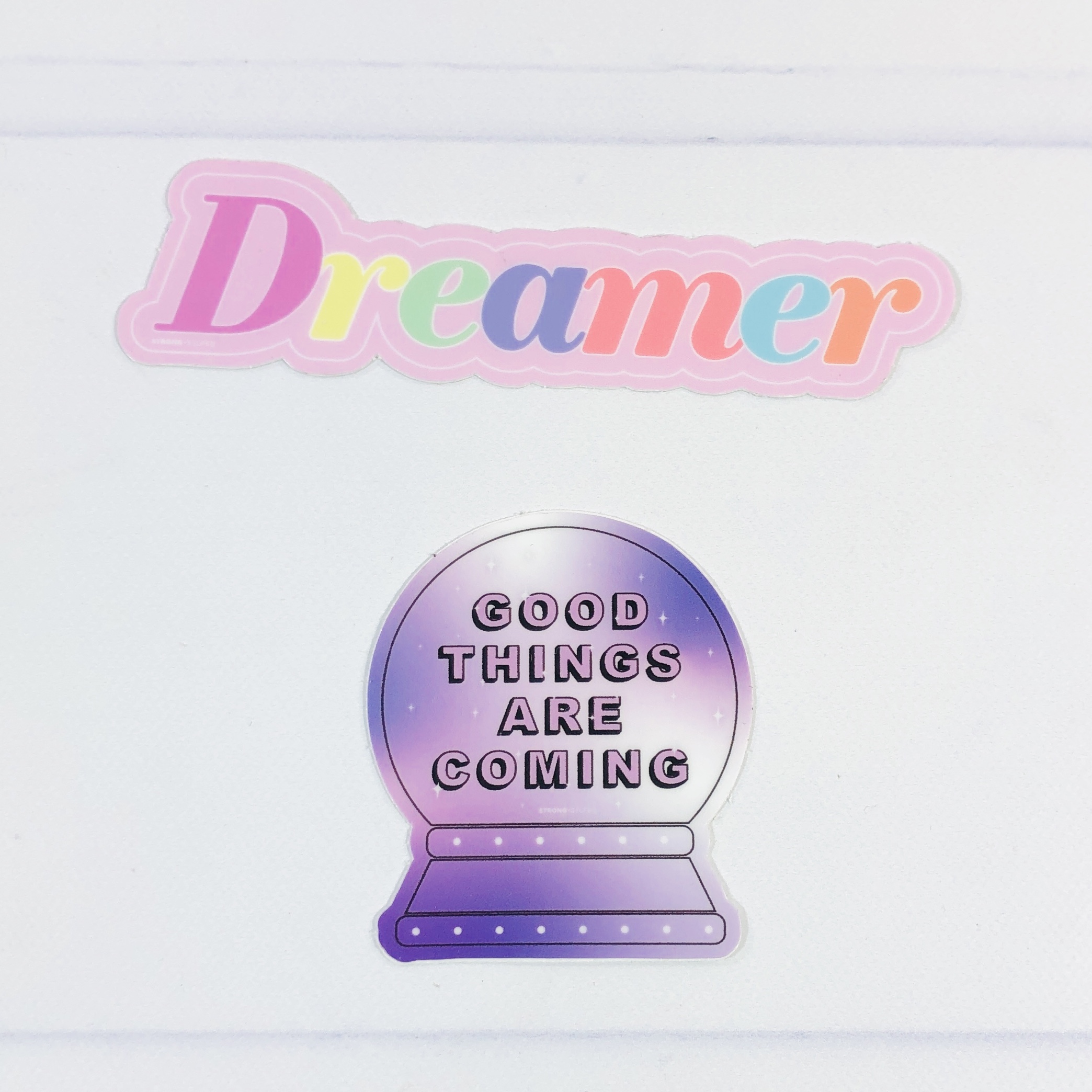 Two Waterproof Vinyl Stickers were also in the box. These can be placed in a journal, planner, water bottle, laptop, cell phone, etc. The stickers and cards are so pretty, I love the colors used and the sayings on them.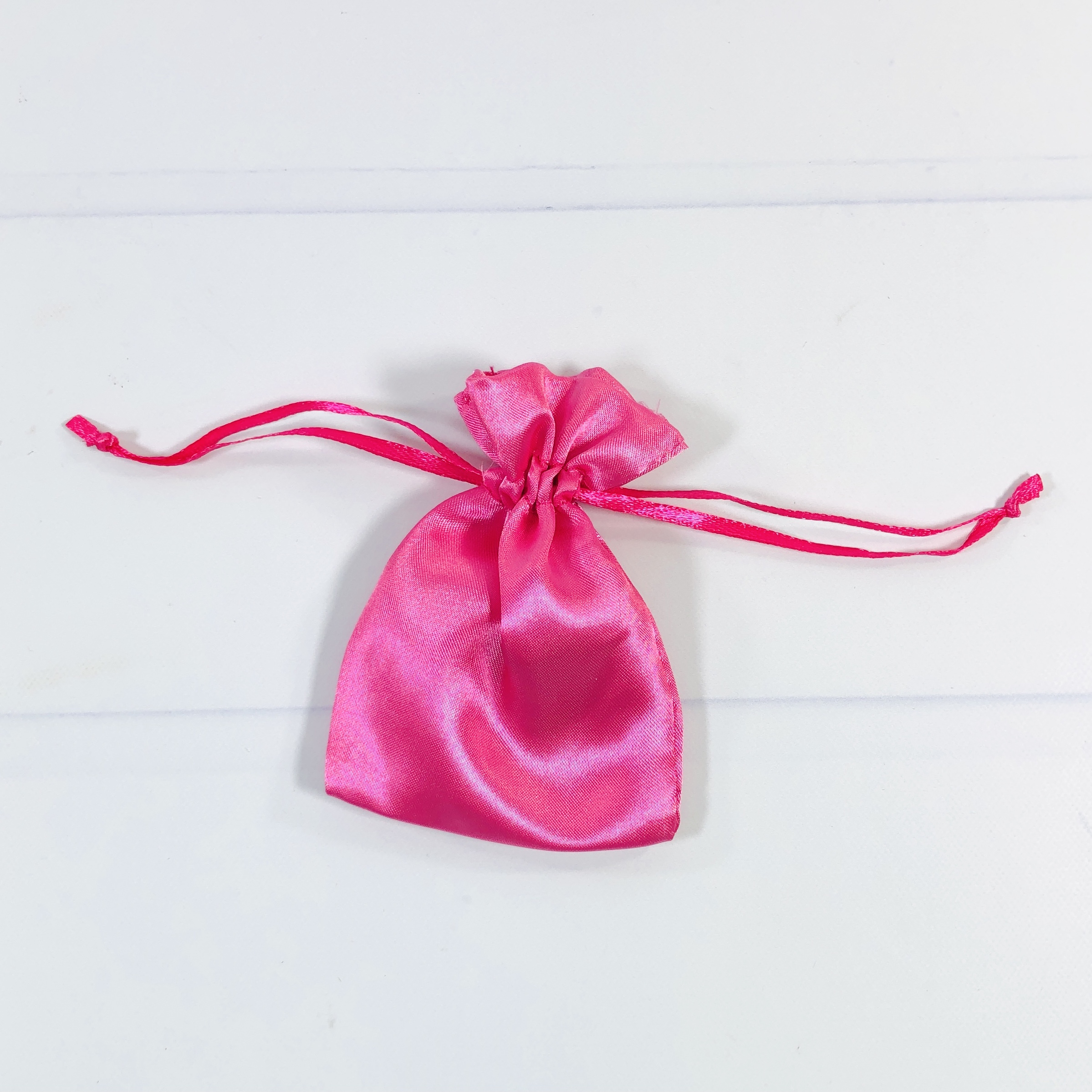 The next item came in a bright pink drawstring bag.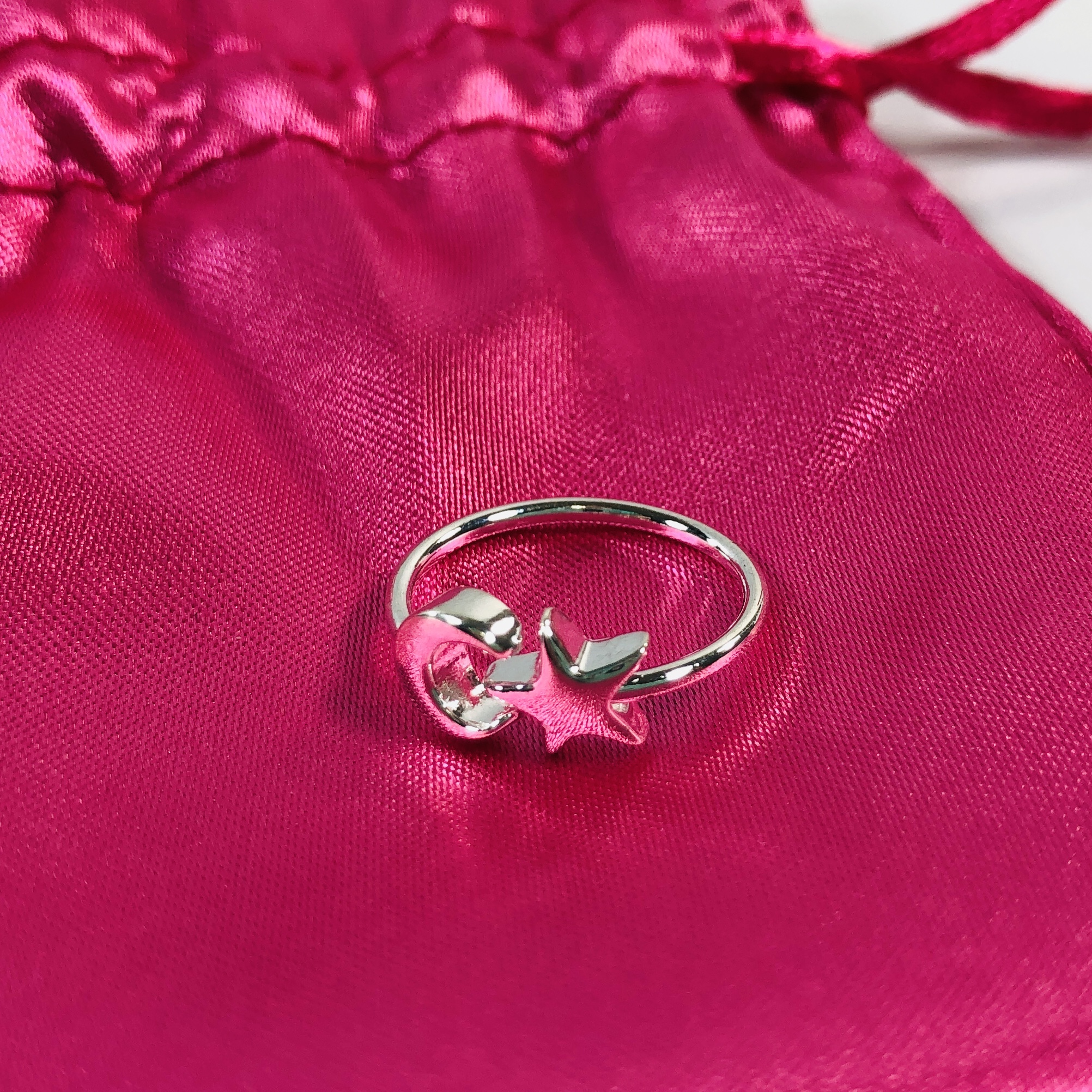 Star and Moon Ring Inside was an adjustable silver-toned ring! It's very delicate looking and super cute.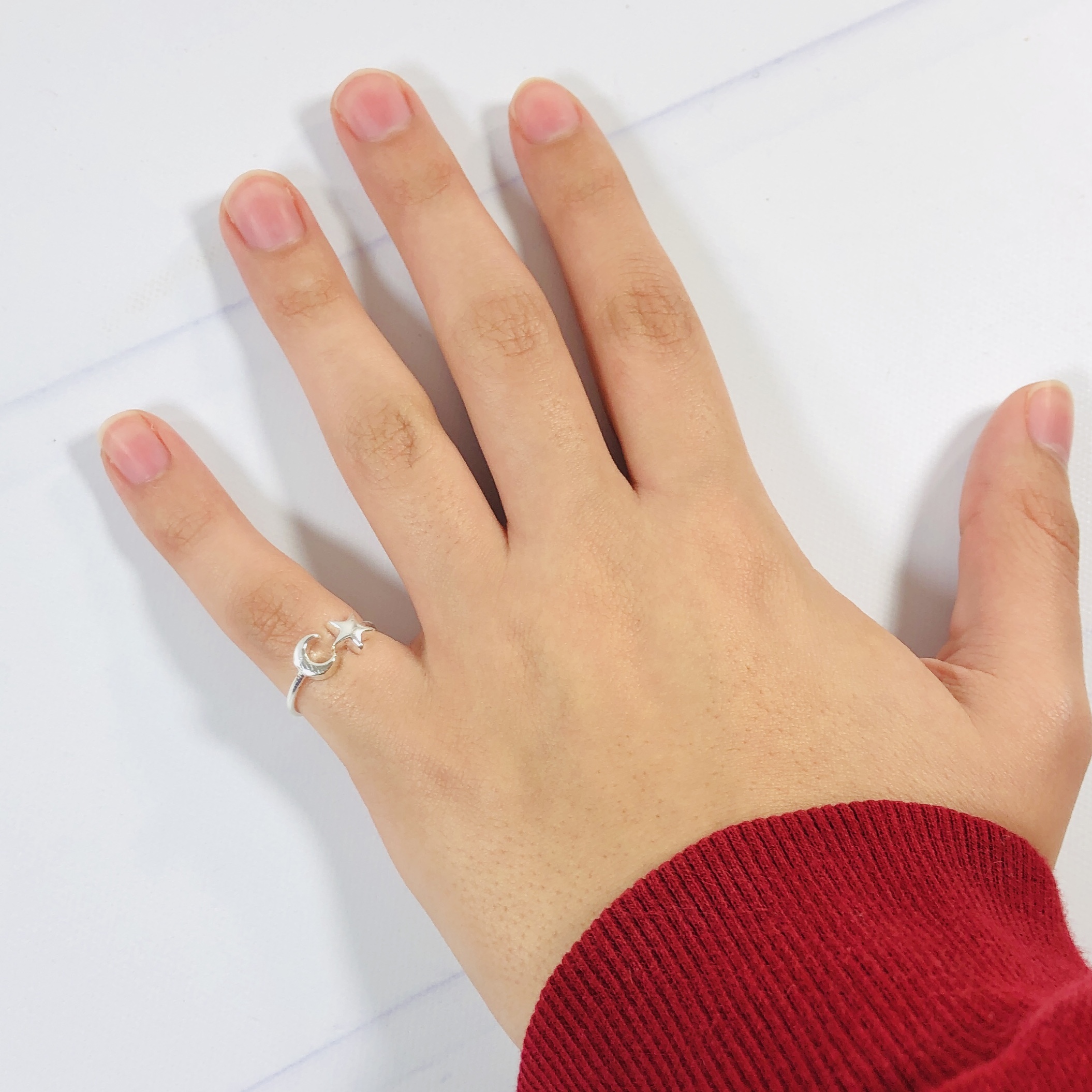 My daughter thought it fit best on her pinky but you could also wear this on the first knuckle of the finger.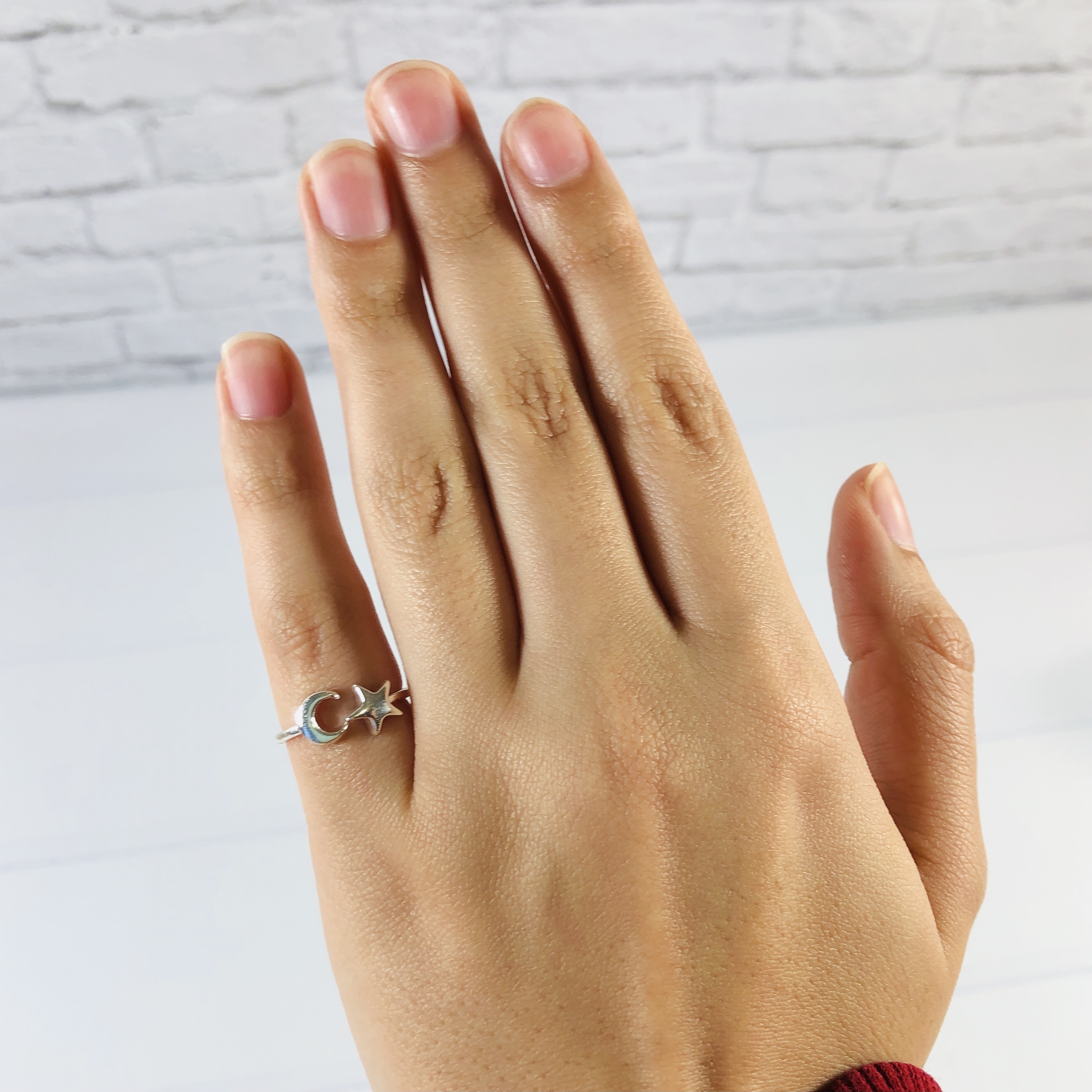 Super cute!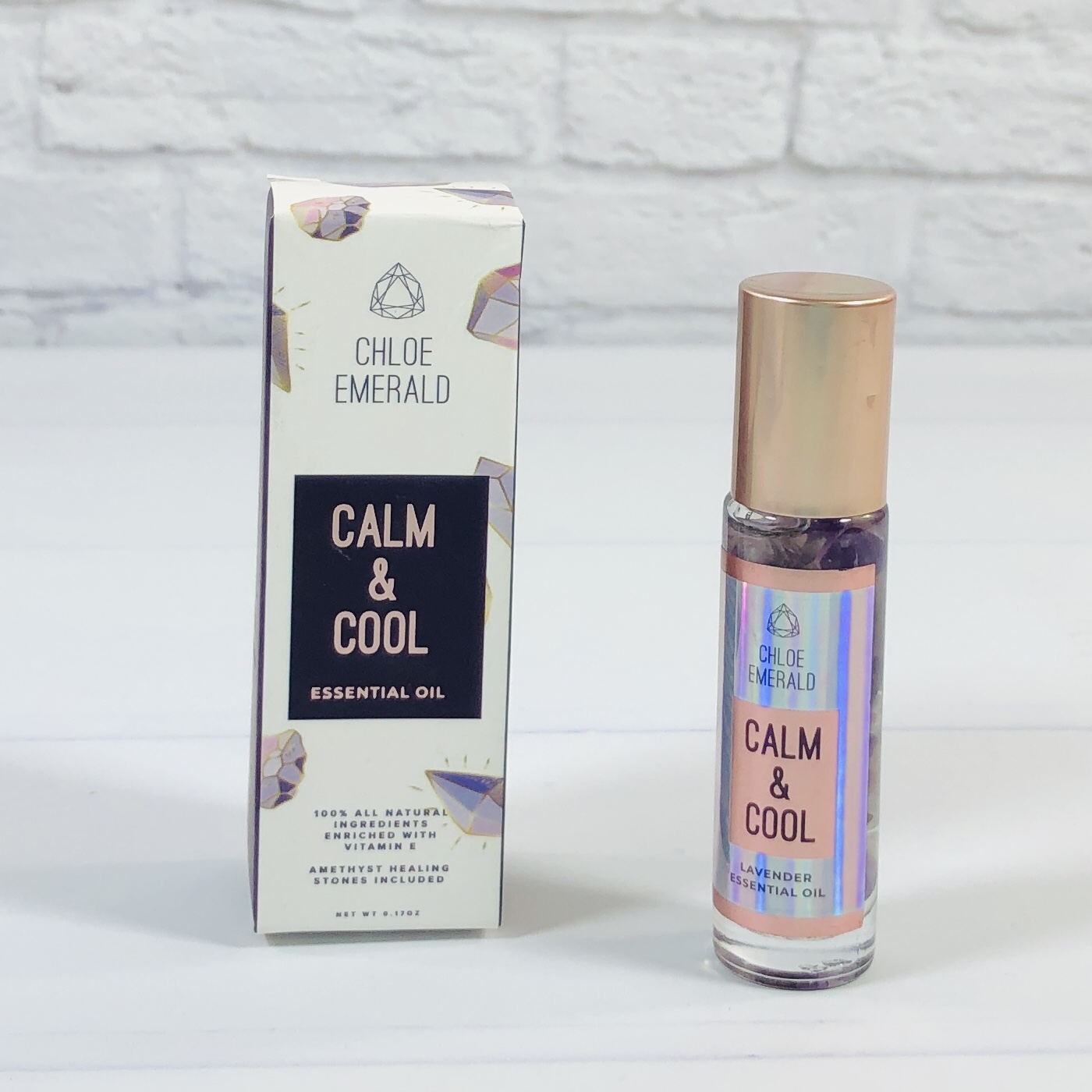 Chloe Emerald Calm and Cool Essential Oil Roll On ($24) One way to promote restful slumber is to inhale lavender!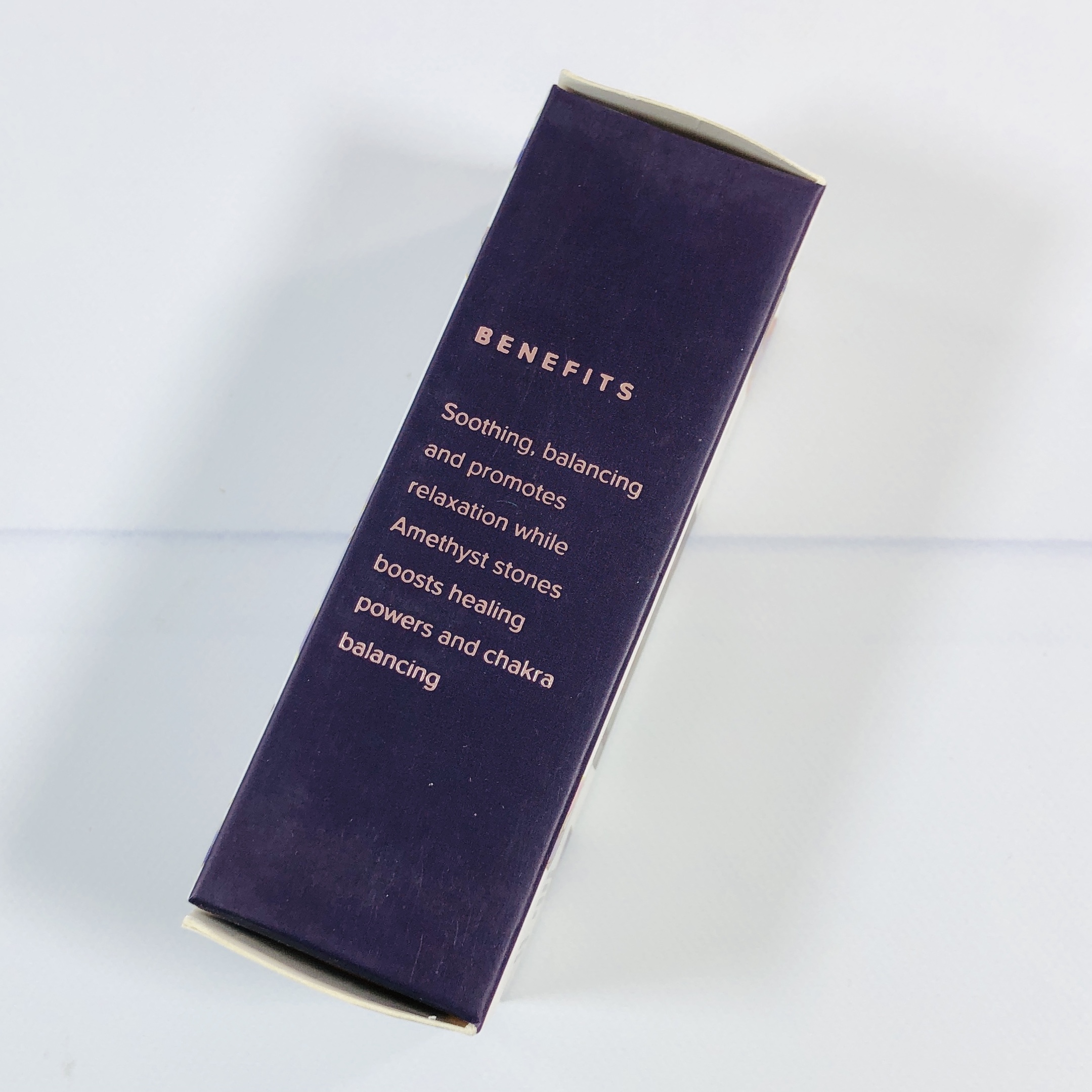 According to the brand, this roll on promotes relaxation and they say that the amethyst stones boost healing. I don't know about that, but they sure are pretty.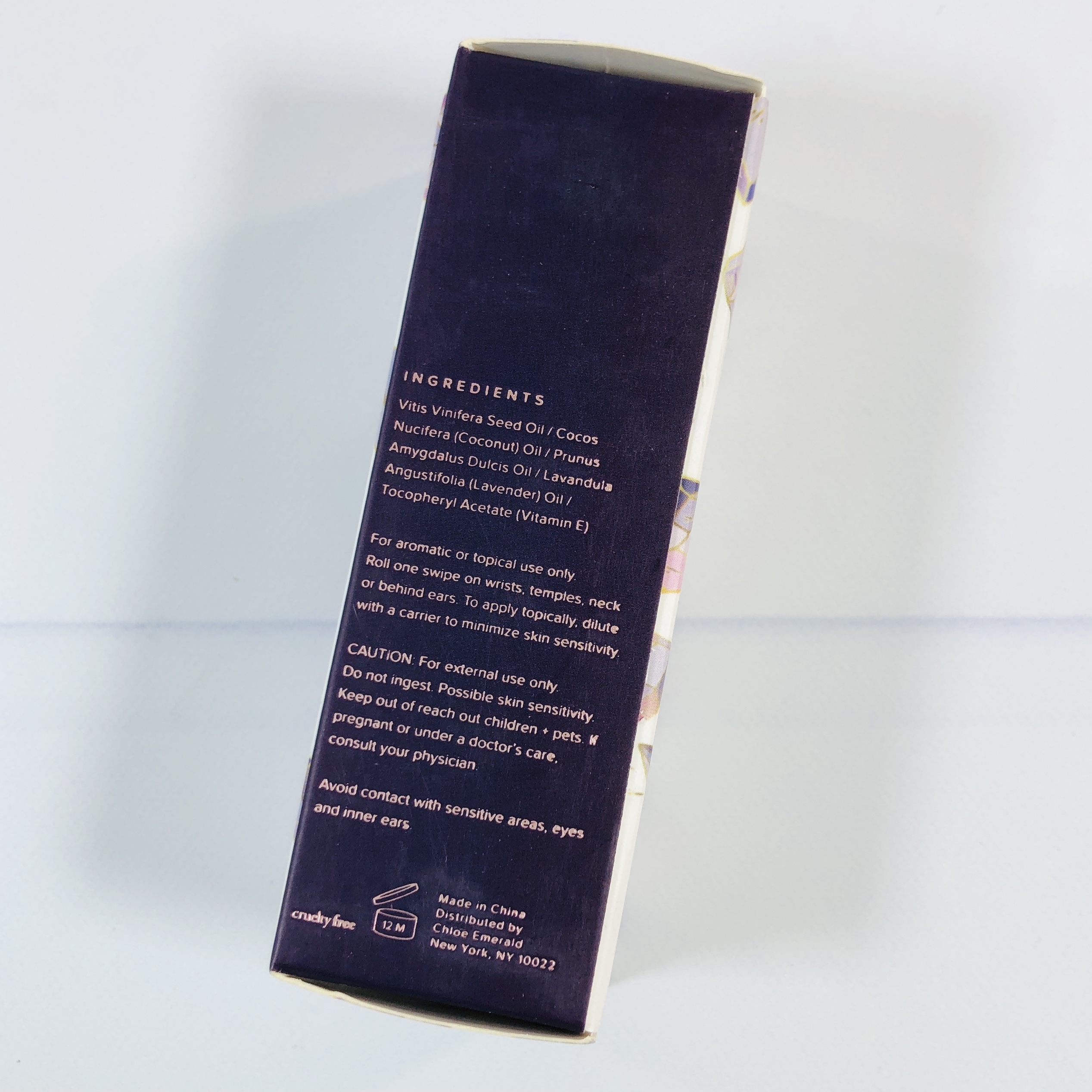 Grapeseed, coconut, and sweet almond oils form the base and the scent is provided by lavender essential oil. Vitamin E oil keeps it from going rancid quickly.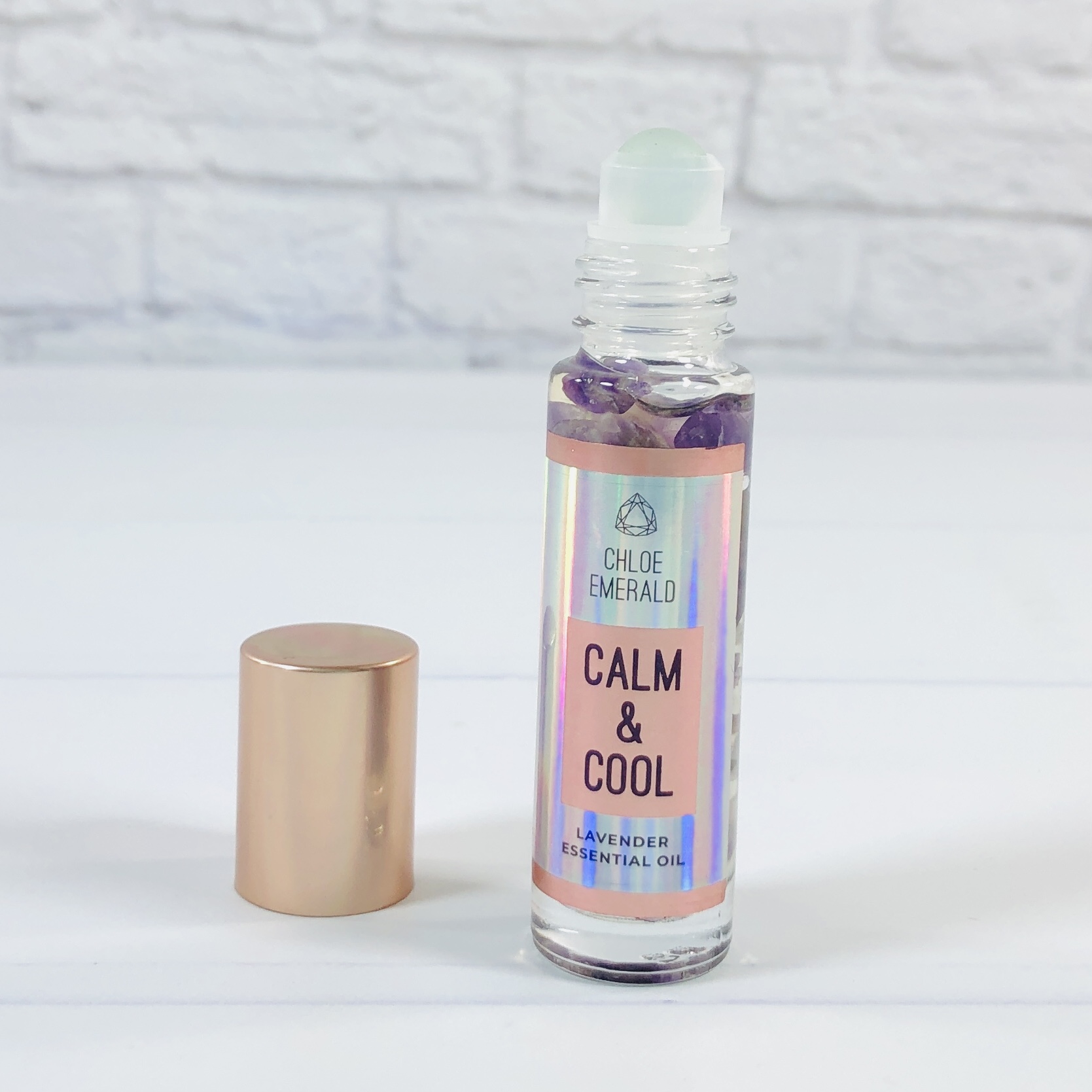 The bottle is filled to the top with crystals and the oils make up the rest. It makes a little jingling sound when you shake it up! It can be rolled on the wrists, temples, or neck. It smells like lavender of course.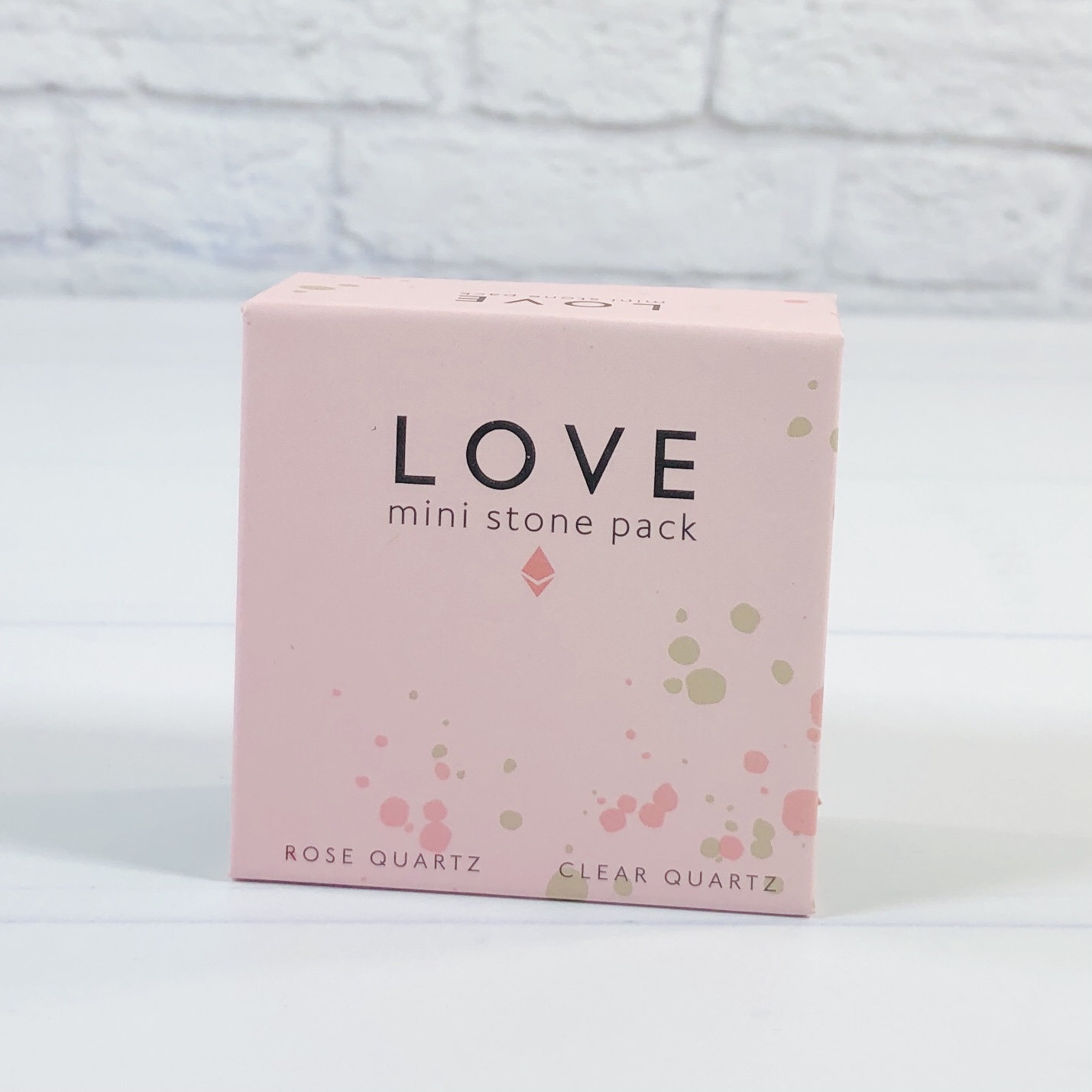 Love Mini Stone Box ($9.99) The next item came in a cute box that has a magnetic closure.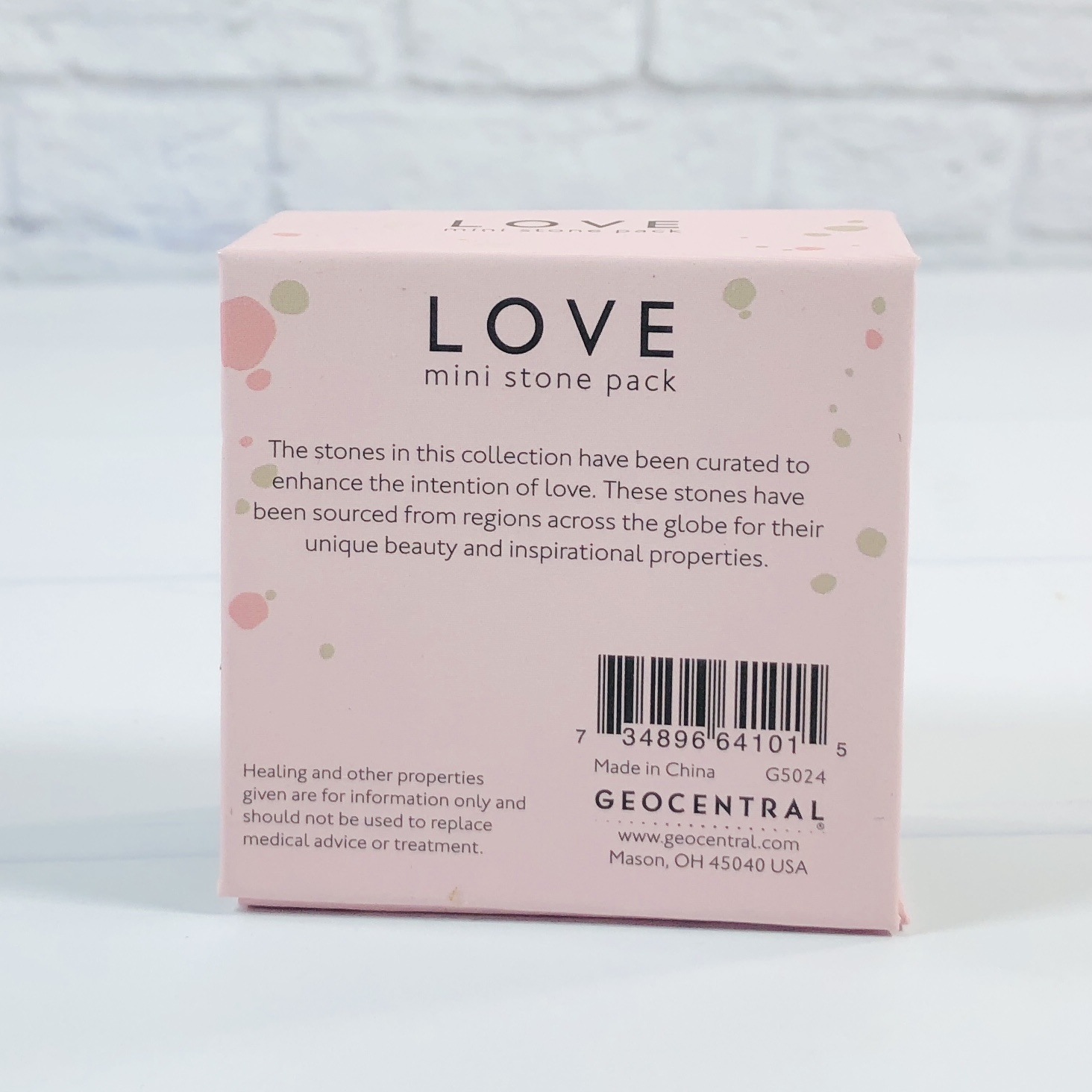 Please keep in mind that crystals can help promote a positive mindset but they aren't magical. It's the power of positive thinking!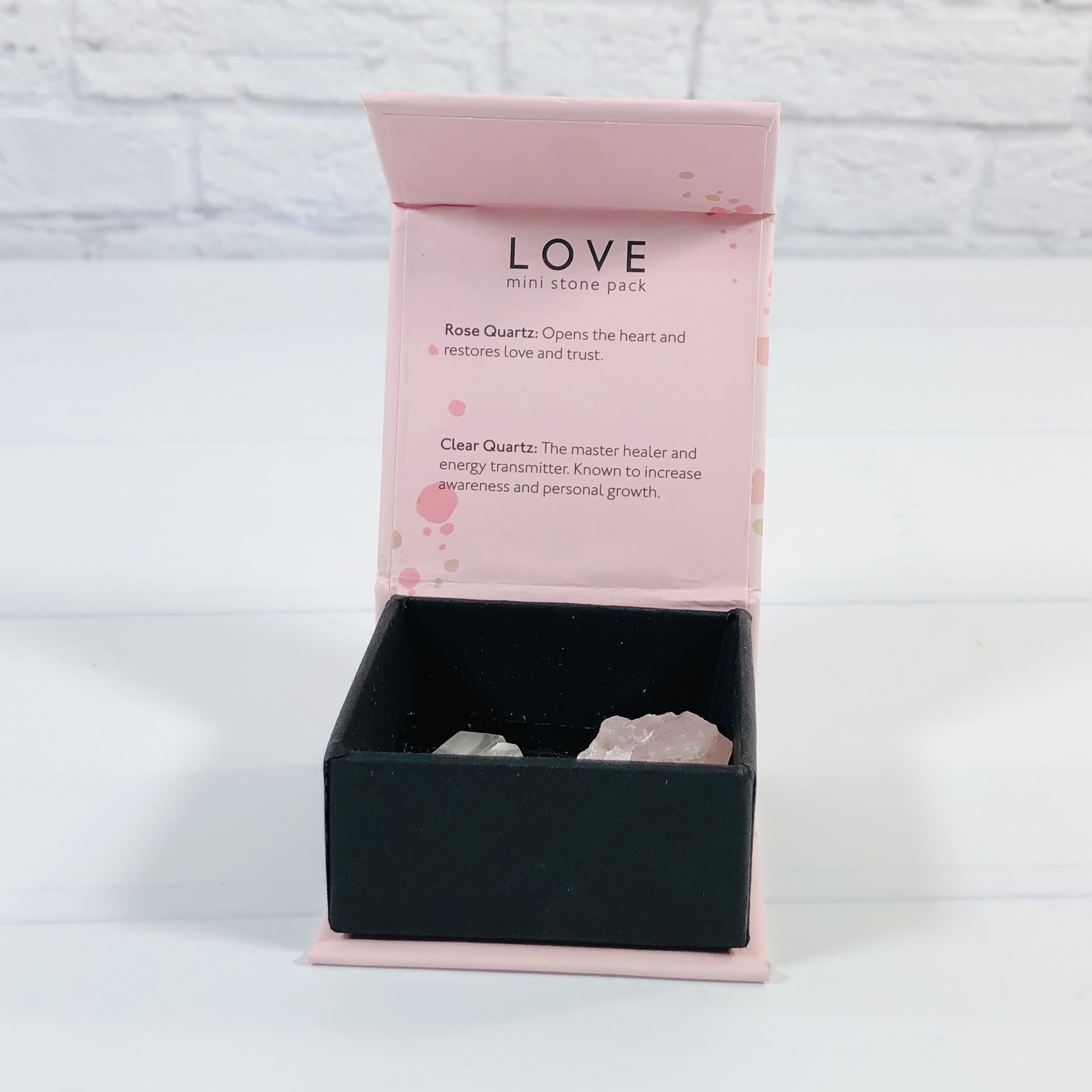 Inside the box were two crystals: rose quartz and clear quartz.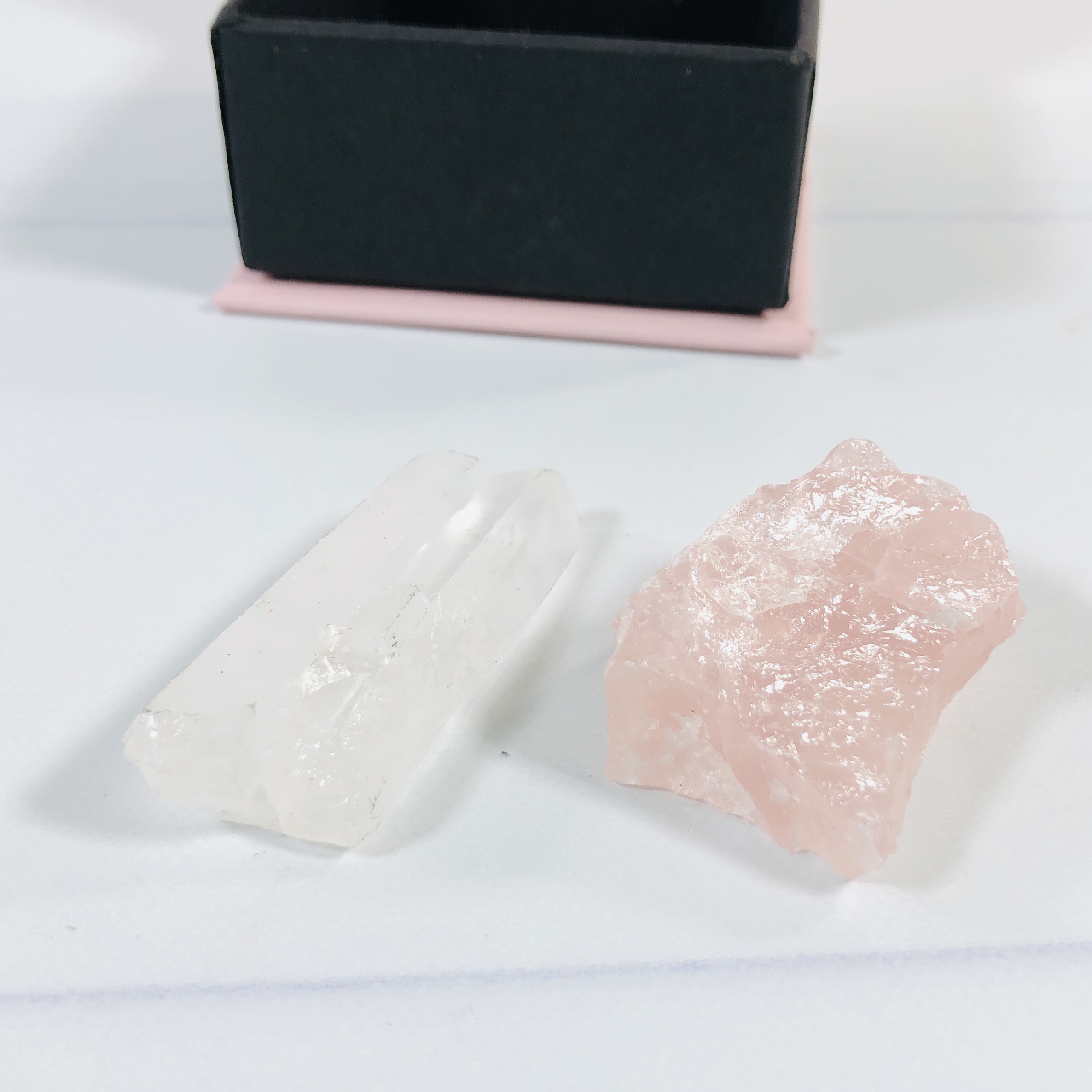 These are beautiful specimens and each one has a smooth side which makes for a nice worry stone. So pretty!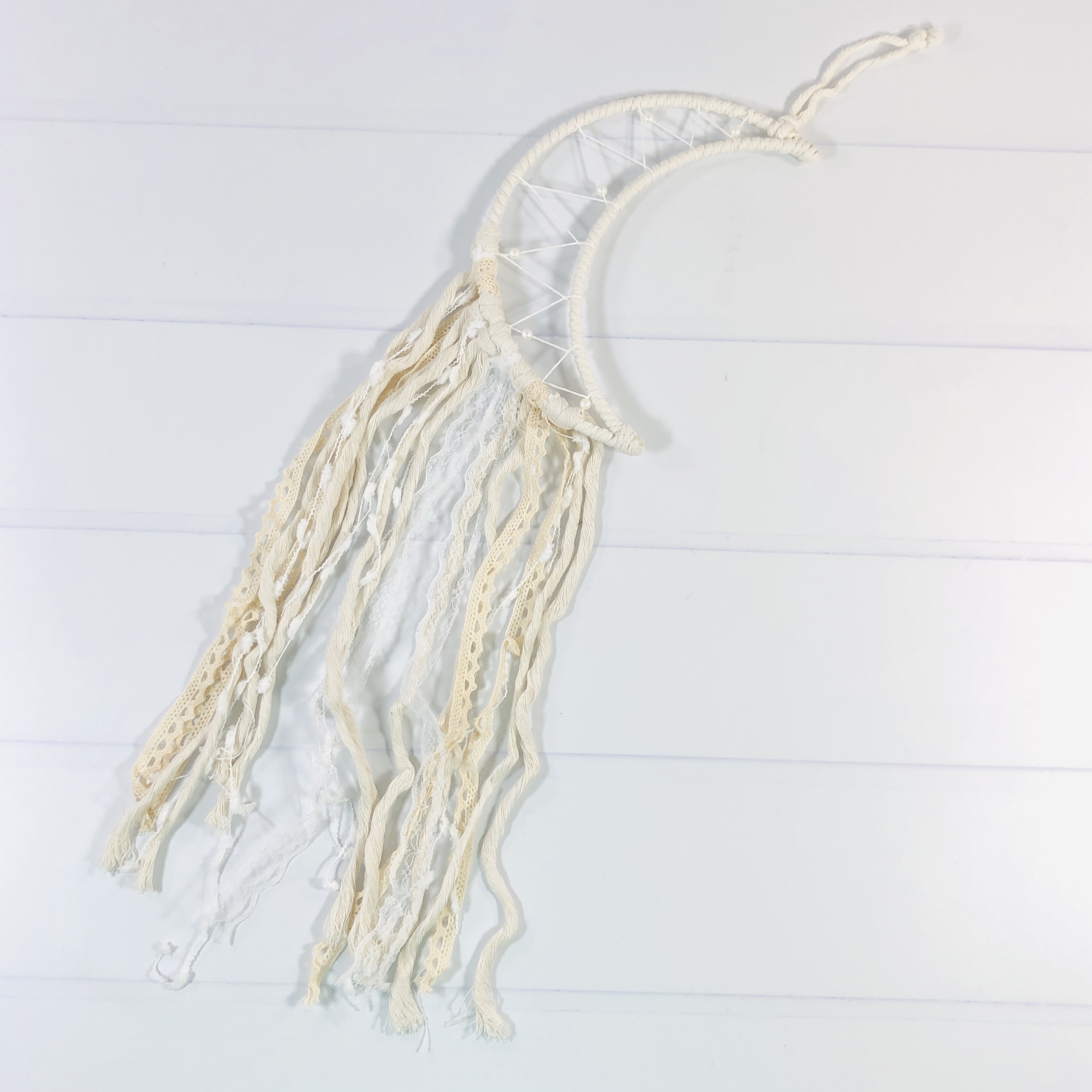 Moon-Shaped Dream Catcher I like the color of this dreamcatcher, it goes with pretty much any decor! It is off-white and has lace ribbon and other assorted materials hanging from the bottom.
The crescent moon has string woven and strung with plastic pearls. It's about 25″ long from the hanging loop to the bottom.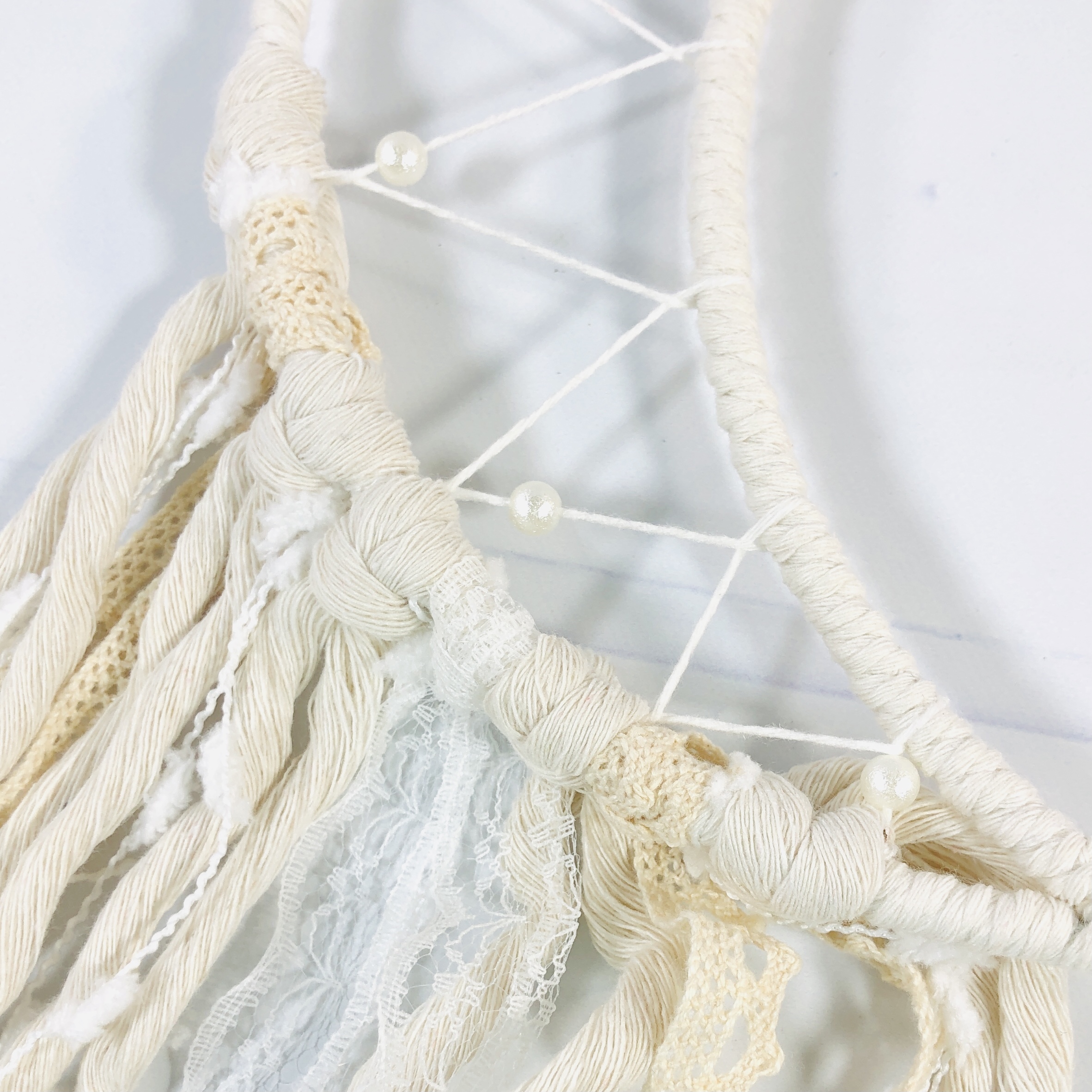 Here's a close up!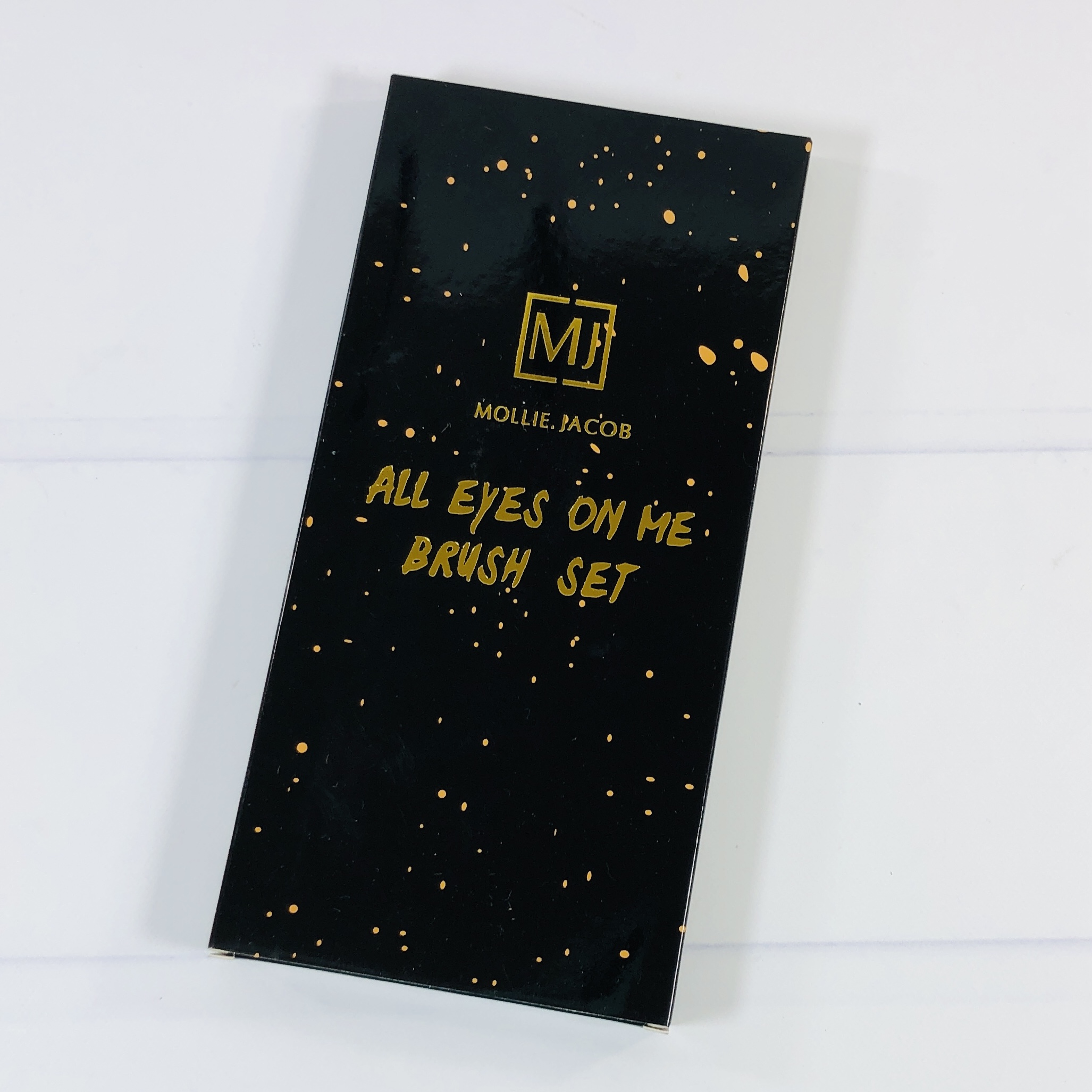 Mollie Jacob All Eyes On Me Makeup Brush Set ($24) Next we have a makeup brush set for all of those eye looks.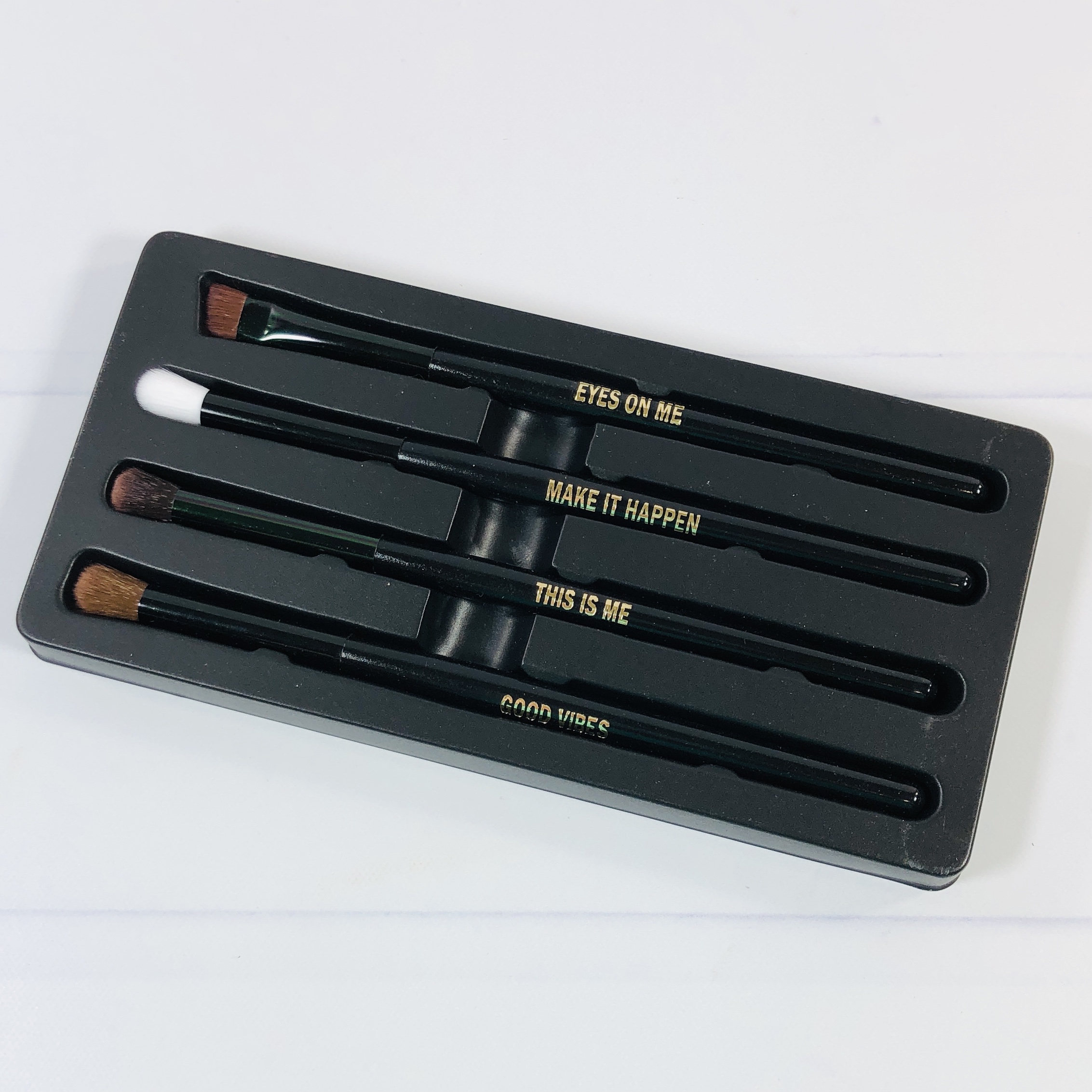 There are four different brushes in the set. Check out the sayings on the handles!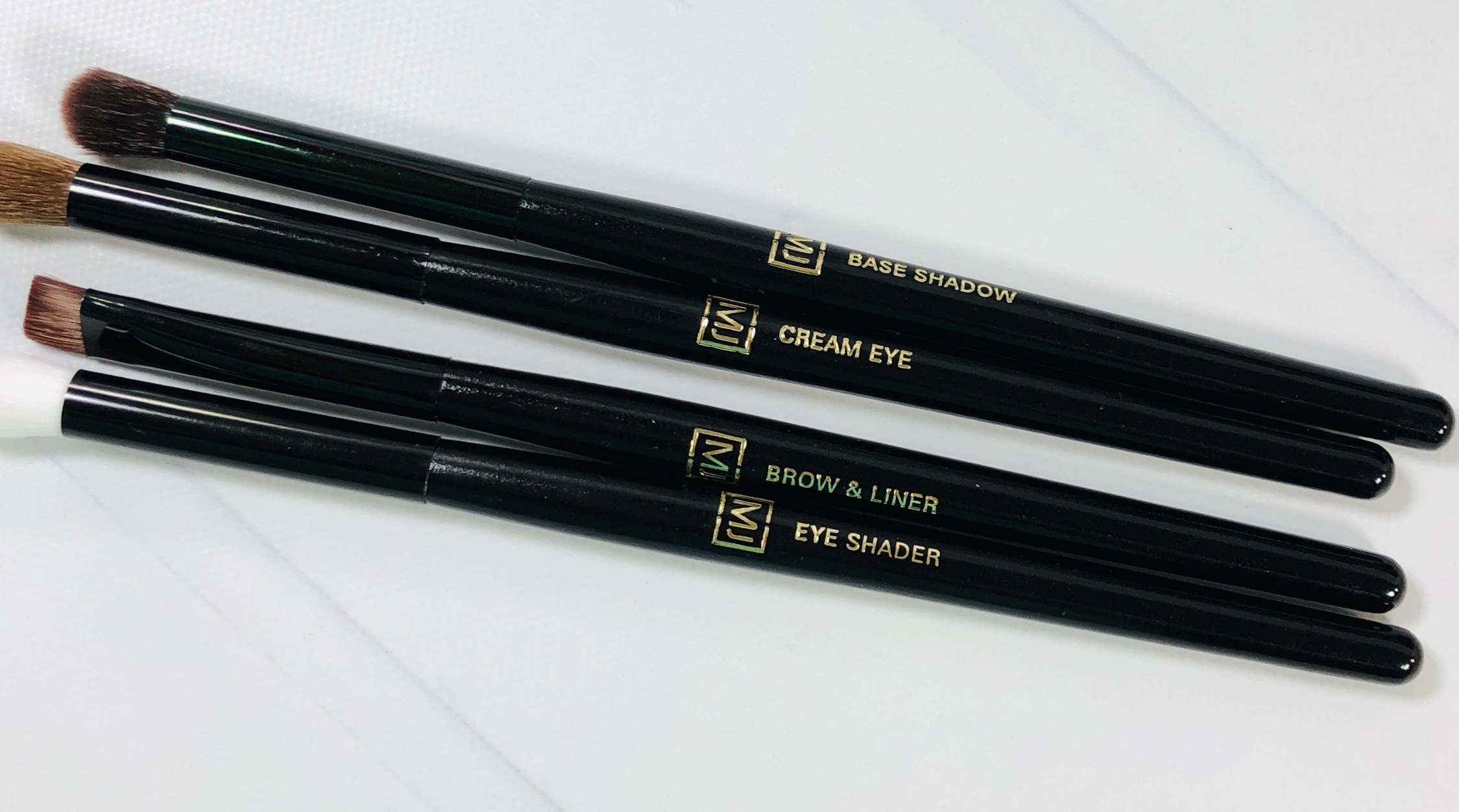 The back of the handles has the brush name so you know where to use it.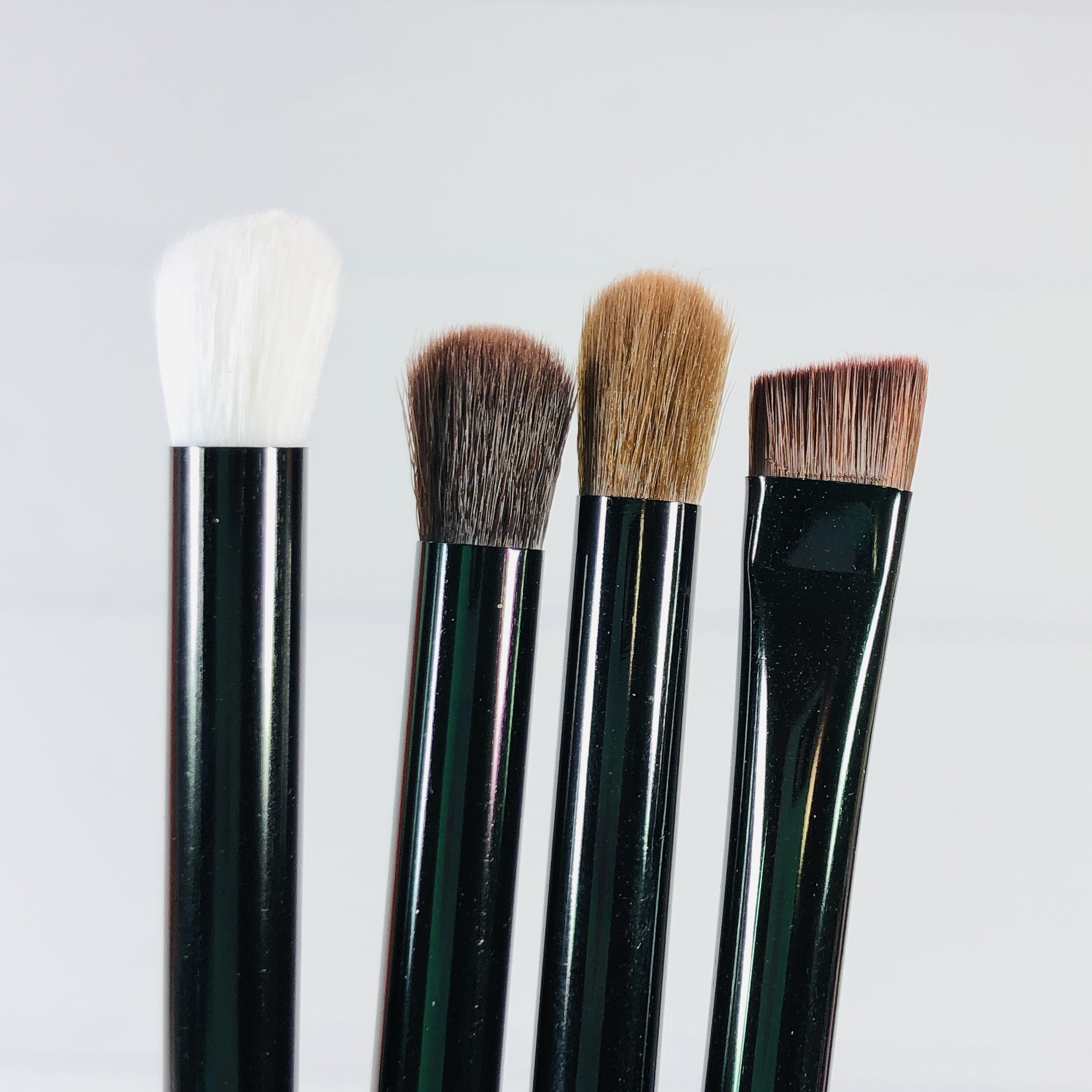 They seem well made and work well for doing all kinds of looks. These are way better than the sponge applicators that came with shadows way back in the day.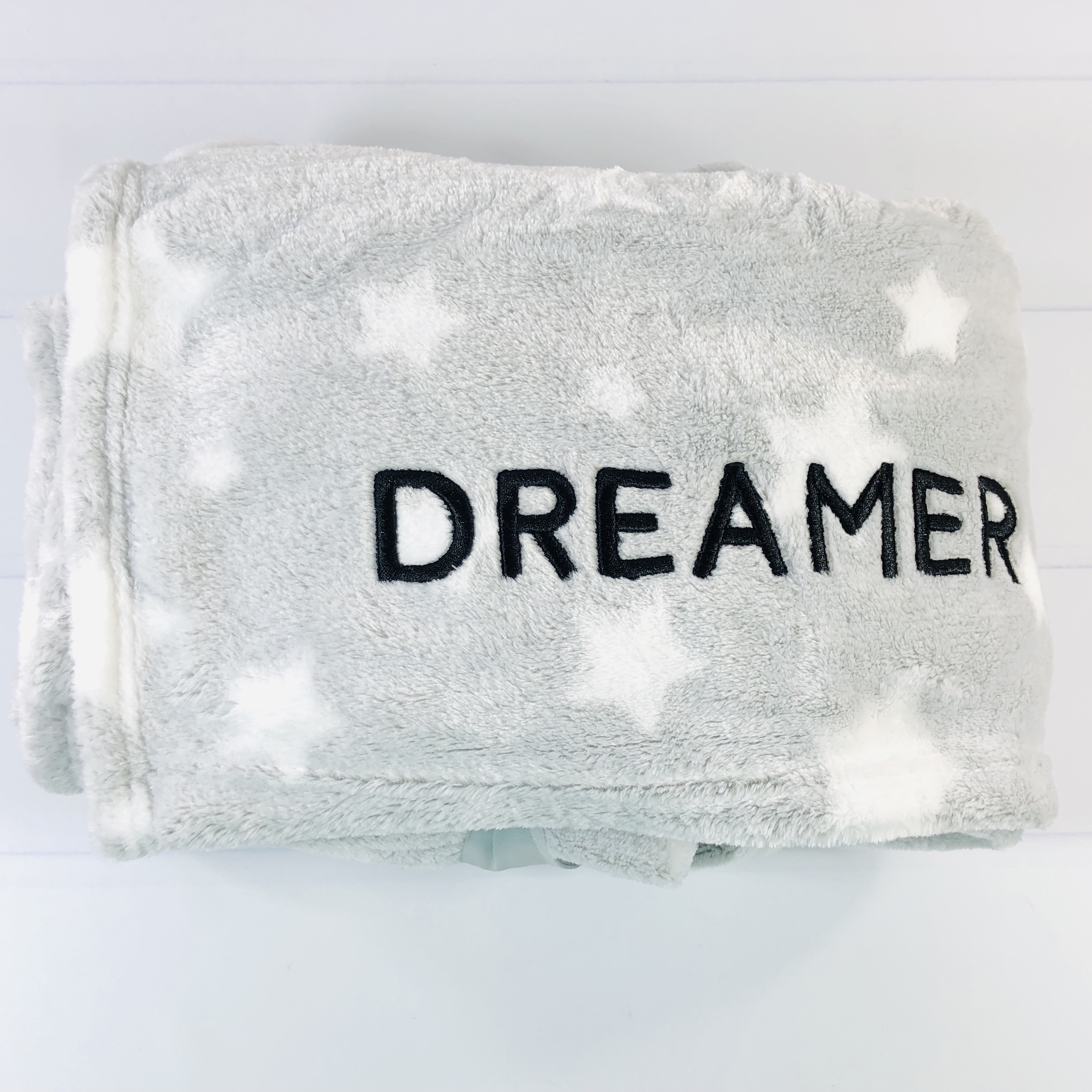 Star Blanket One way to catch sweet dreams is to snuggle under this cozy blanket. It's super soft and says "DREAMER" in one corner and the grey blanket has white stars all over. It is about 47″ x 65″.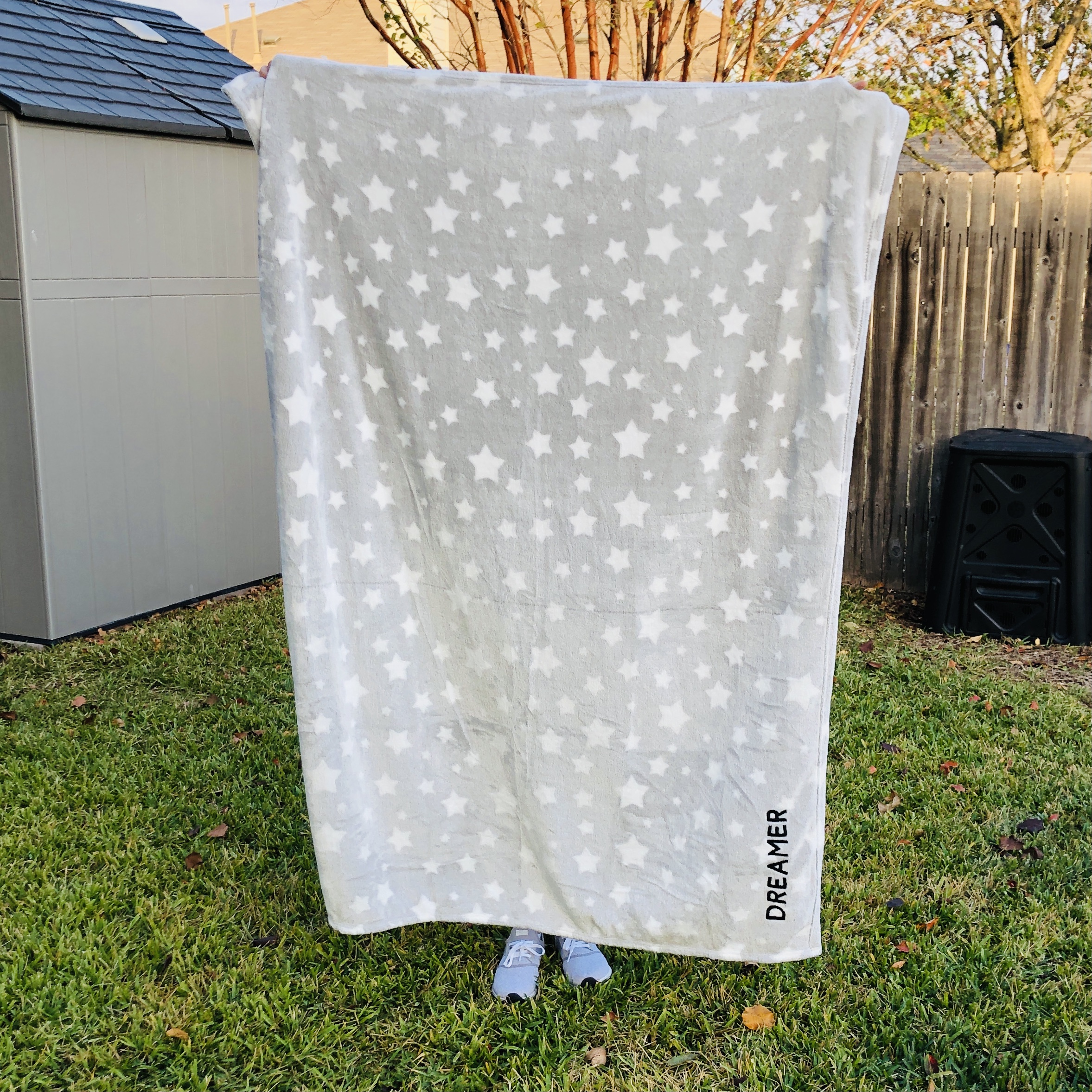 Here, my daughter has it raised above her head and it is taller than she is!
The Winter BURST Box by STRONG self(ie) was super sweet and helps with not only the outer self but the young person on the inside too. My daughter loves snuggling up with her plush blanket, and the color is perfect too. The dream catcher was also in a cool neutral color to work with so many bedroom color schemes. The crystals are so pretty to look at and the essential oil roll-on smells lovely and soft. The makeup brushes and stickers rounded out the box nicely. Teen and tween girls can be hard to shop for but this makes for a perfect gift (hint hint).
What do you think of STRONG self(ie)? Let me know in the comments!