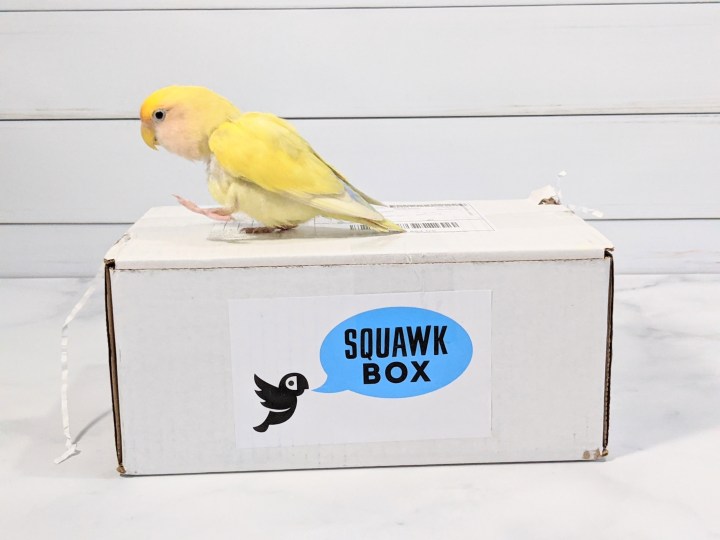 Squawk Box is a monthly birdie care package of 4-6 bird treats, toys, and more delivered straight to your door. Because parrots, big and small, need a great amount of stimulation to thrive, Squawk Box will deliver a new selection of toys every month. Every crate is carefully curated to keep our feather friends happy and healthy!
The box is available in four sizes: Little Birdie (great for Lovebirds, Parrotlets, Cockatiels, Parakeets, Green Cheek Conure sized), Middle Birdie (great for Quakers, Conures, Senegals, Pionus, Timneh Greys, Caiques, some Mini Macaws & some small cockatoos), Big Birdie (Amazons, Cockatoos, Eclectus, and Congo African Grey sizes), and Jumbo Birdie (large Amazons, Macaws, Moluccan Cockatoos). The monthly subscription starts at $29.99 for the Little Birdie to $59.99 for the Jumbo Birdie, with significant discounts for longer subscriptions. Knowing that parrots have a long life ahead of them, and that they will destroy everything around them (including couches, books, important papers, walls), the longer subscription is definitely a must! They now ship to Australia!
Also, for each Squawk Box ordered, a percentage goes to parrot rescues. Not only do you provide fun new treats to your own bird, but you help other parrots as well!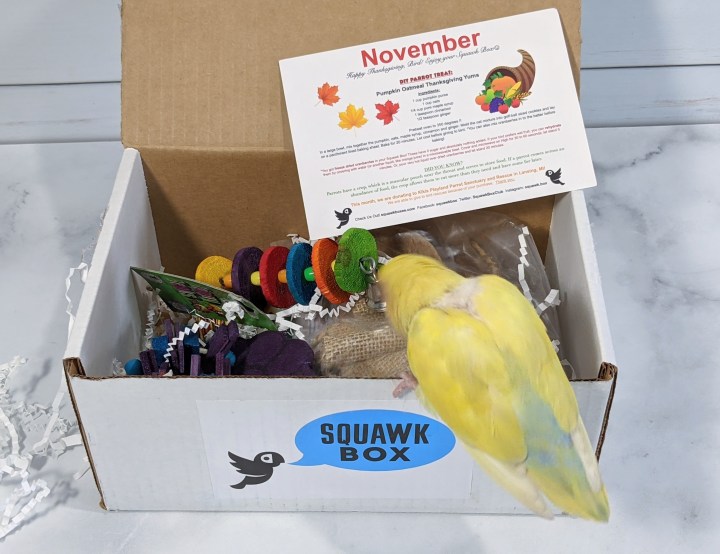 This review is for the Little Birdie. My assistant reviewer, Kiwi the Lovebird, is always happy to stick around to see what's new and fun in her box. Fun thing: non-bird pet can also enjoy these box, such as squirrels or hamsters! Of course, the bird is not included with the box, you have to provide your own diva!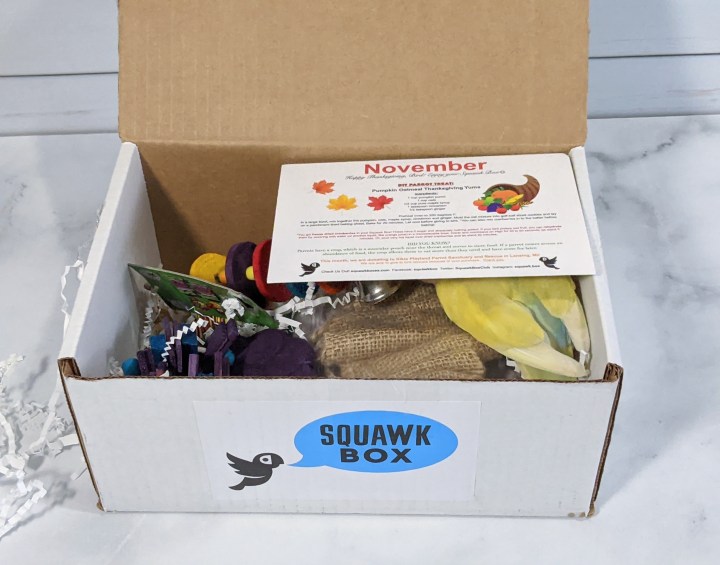 Everything is packed with paper and both the box and packaging are bird safe. So bigger birdie will have a blast with the box!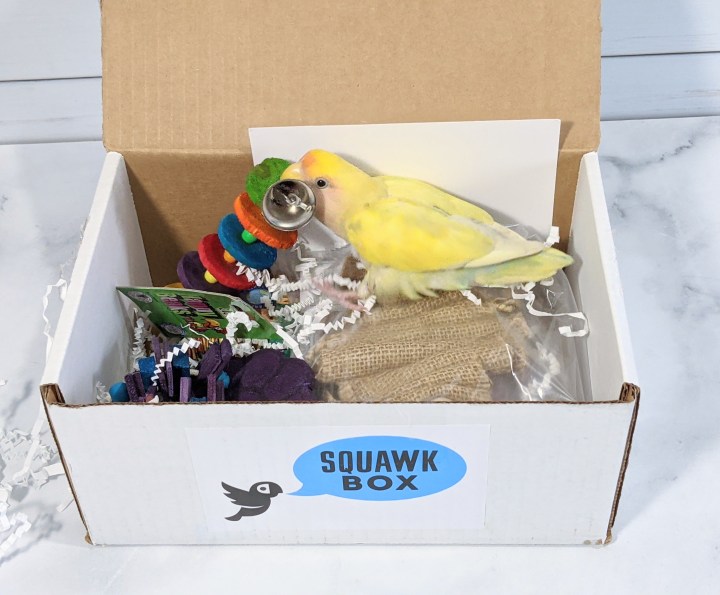 Yes, Kiwi found the bell. Of course she did.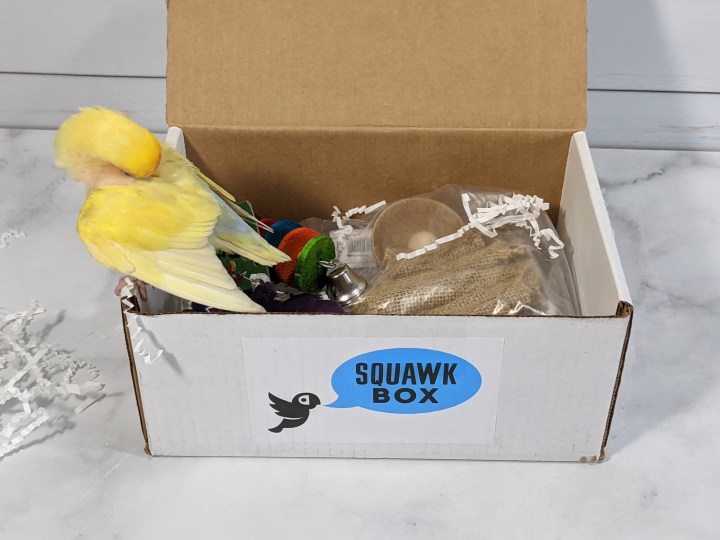 And she knows this box is hers!
There is no information on the content of the box, but you get a nice DIY Parrot Treat ("Pumpkin Oatmeal Thanksgiving Yums"), and a Did You Know about parrots. Every month, Squawk Box donates part of their profits to a new bird charity. November's donation is to Kikis Playland Parrot Sanctuary and Rescue in Lansing, MI.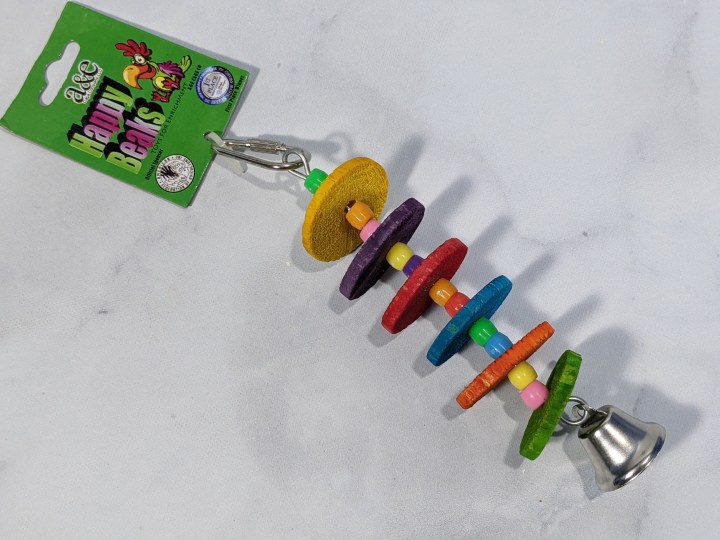 a&e Happy Beaks Wooden Bird Toy Colored Circle with Bell. Kiwi found this toy as soon as we opened the box, thanks to the magical bell. Eventually, the bell will die (we are giving it about two days inside the cage), Kiwi will love to chew on the soft balsa wood.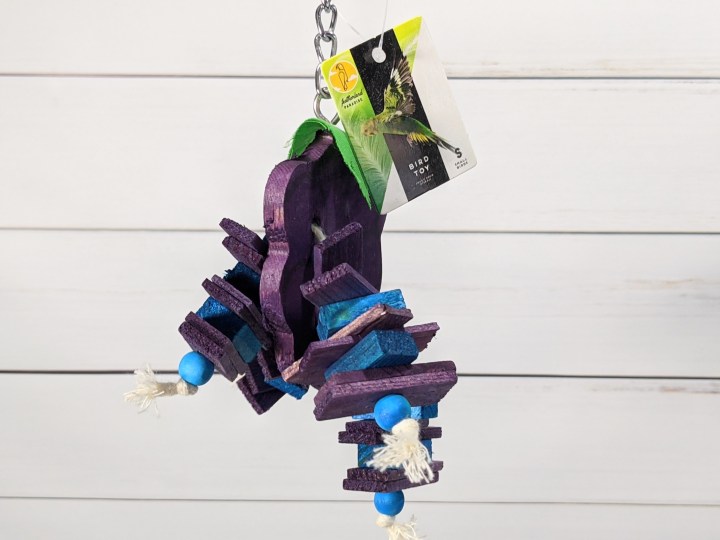 Featherland Paradise Grape toy. Soft balsa wood pieces, they are the perfect size for Kiwi to destroy. They are purple, which is a color I don't see often on bird toys, especially as the main color, so Kiwi is unsure of it.
She tried it, liked it, but went back to the bell.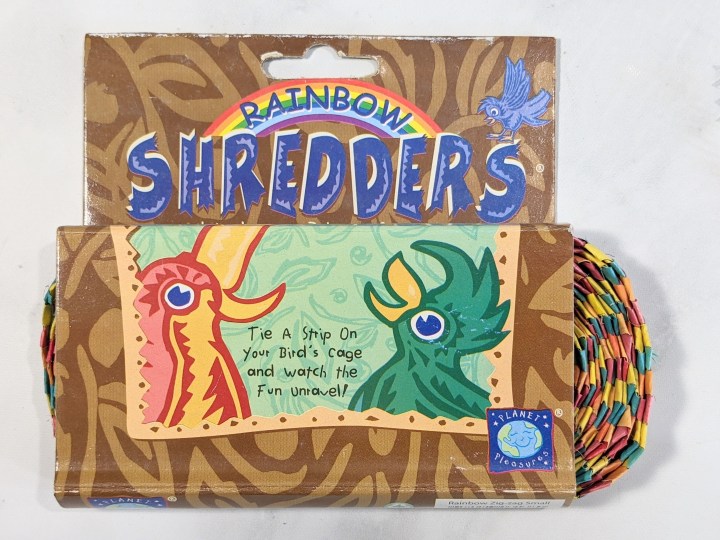 Planet Pleasures Rainbow Shredders. A long rope made of colorful palm leaves, you can cut smaller lengths to make your own toy or just to attach to the cage.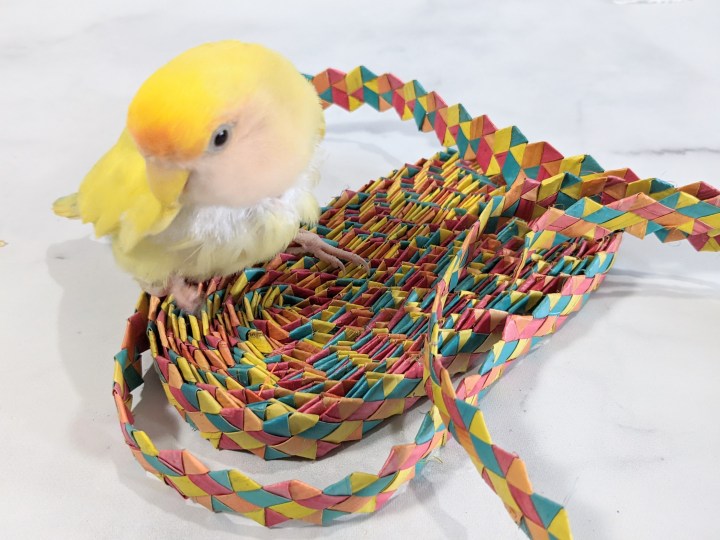 That's a lot of rope!
Prevue Hendryx Naturals, Rustic Rolls. Burlap jute rolls with a coconut piece on a wire.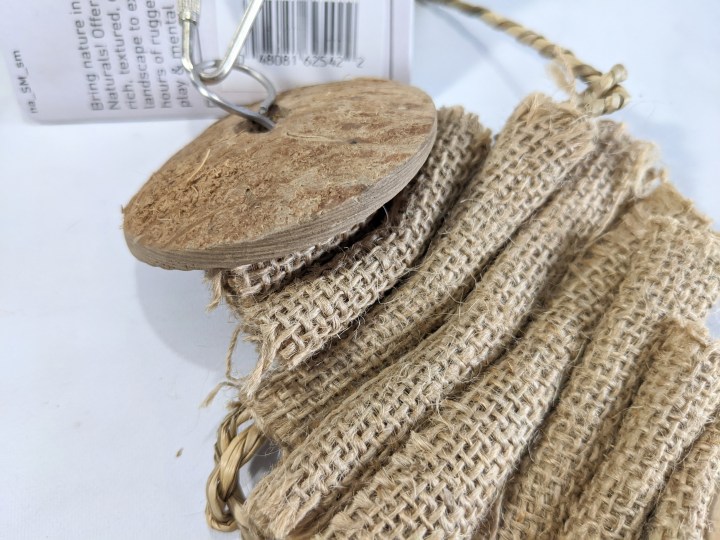 We love the texture, especially since Kiwi is a fan of destroying fabrics!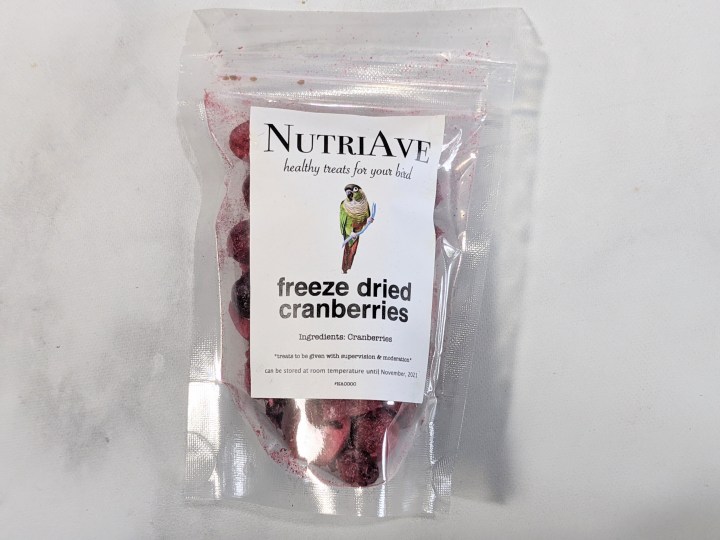 Freeze Dried Cranberries. Every month, your bird will receive a treat, always "hooman" friendly so your bird can share with you!
The cranberries are tart, crunchy, and they crumble easily. You could smash a couple to give smaller pieces to your bird if they are too big.
I wanted to see how Kiwi would react to the RED thingy.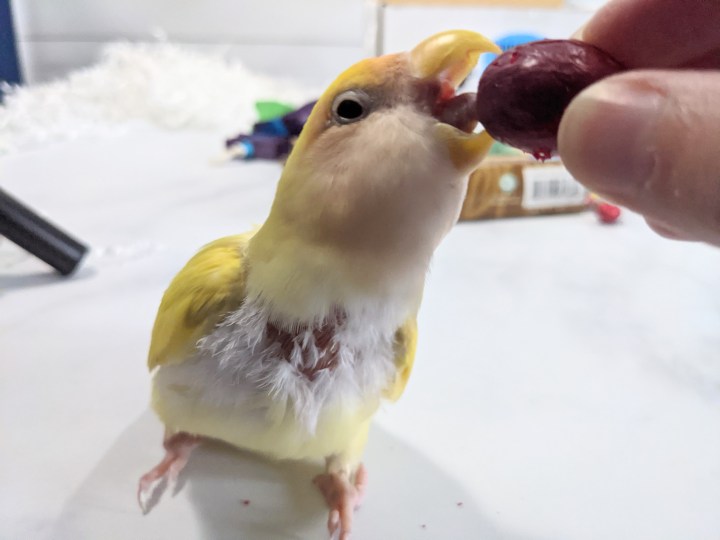 She tasted it! And then, went for my fingers. BUT, she tasted it, which is pretty rare for her.
Kiwi loved this month's box. And I got her to try a new treat, even though she didn't eat any, she tasted it! We also really liked the different texture and variety we got this month. I love the burlap jute to add new texture, and the palm leave rope is a fun addition to try different ways to entertain your bird.
Kiwi and I love Squawk Box as it is great to discover new toys, and maybe new favorites. We really enjoyed the variety of texture, colors, and types of toys that we receive in every box, there's always something she'll like! It's also a great way to get your bird less afraid of new things, and more curious about things around it.
I'm impressed by the variety of toys available out there as Kiwi has been subscribed to Squawk Box for a long time now and she received the same toy only a couple of times. And it's usually a toy she loves and has destroyed, so it's a win. It's fun to get a box of new toys and treats to discover, instead of spending countless hours at the pet store in front of a very limited selection to end up buying the same toy over and over again! And sometimes, your bird will surprise you by loving a toy or treat you were sure it would hate!
Chirp!
What do you think of this month's Squawk Box?