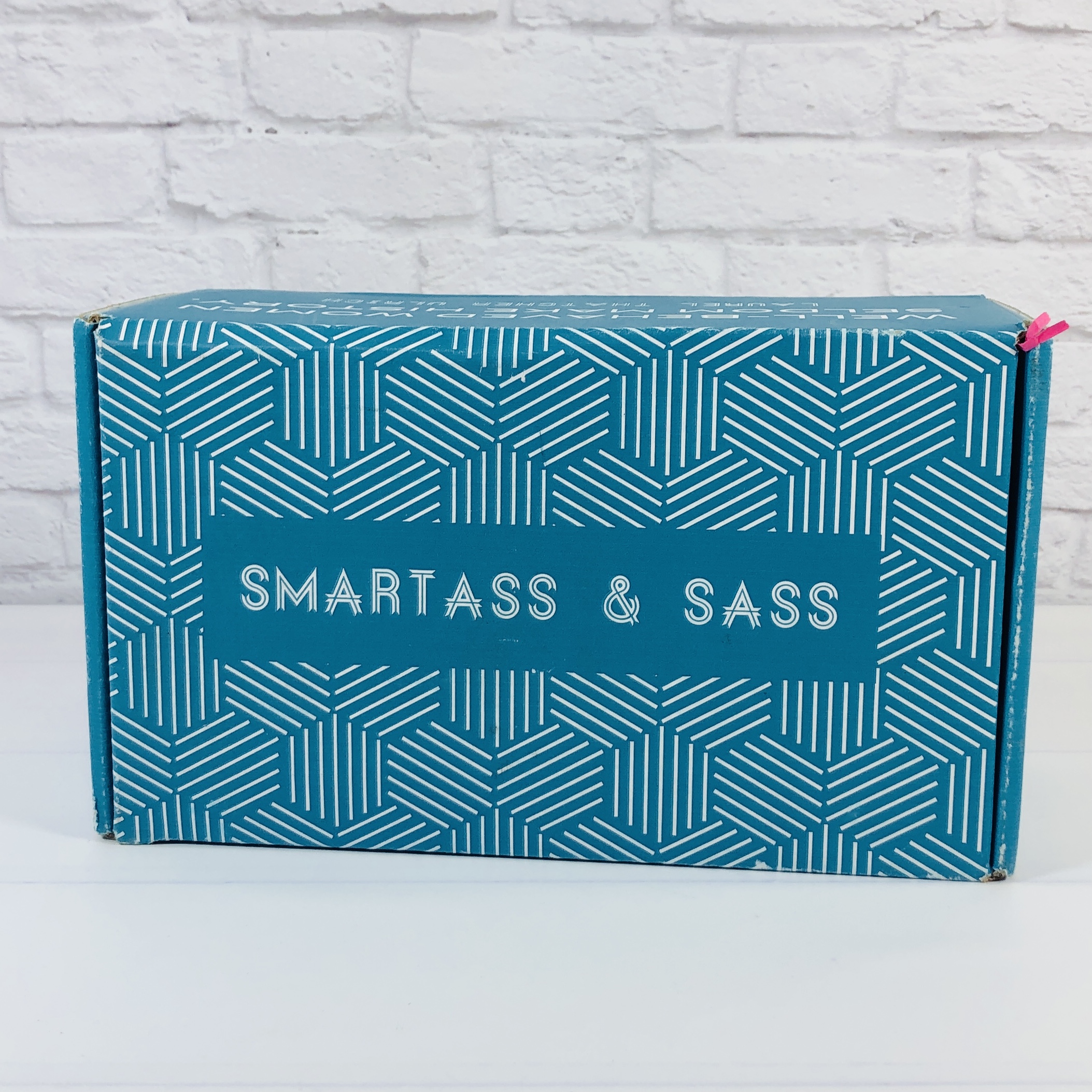 Smartass & Sass is a monthly subscription box for women who are cheeky, snarky, smart-alecky, you get my drift. Each box contains 5-7 hilarious, handpicked and usable items from artists and small businesses. Items sent may include mugs, bags, notebooks, or whatever else seems relevant to the theme. You can choose from a Shirt only, Box only, or Big Box (shirt and box together). I am reviewing The Box, which is $34.95 a month.
DEAL: Get 10% off your first box! Use the coupon code Hello10 to get the deal.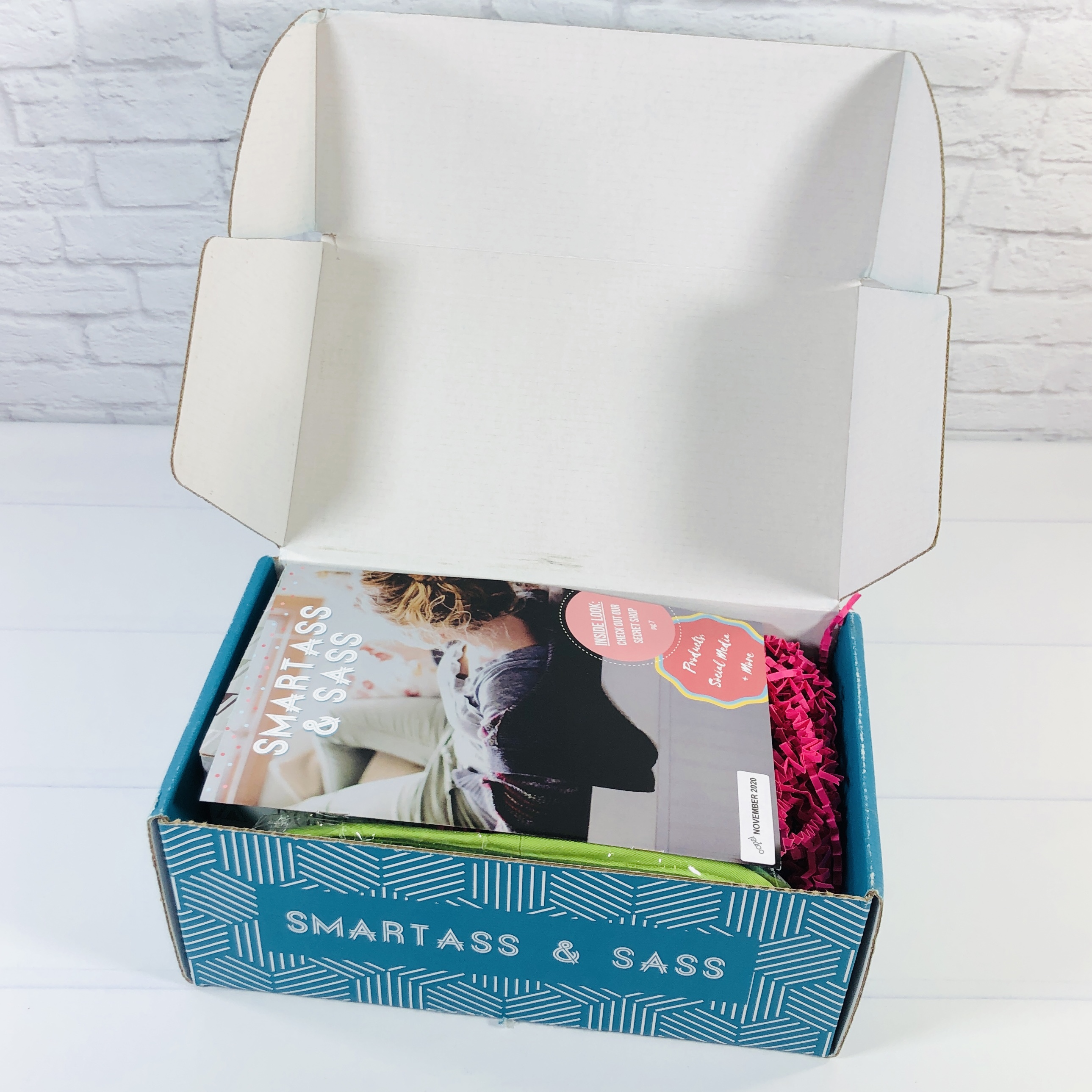 TAKE NOTE: Some of the items have cuss words so maybe read this somewhere other than work or wherever sensitive eyes may be watching.
My items were tucked into shredded pink paper squiggles.
I received a brochure with the November items.
The theme is Hibernation Mode! The inside showed each item, gave a brief description, and had the MSRP.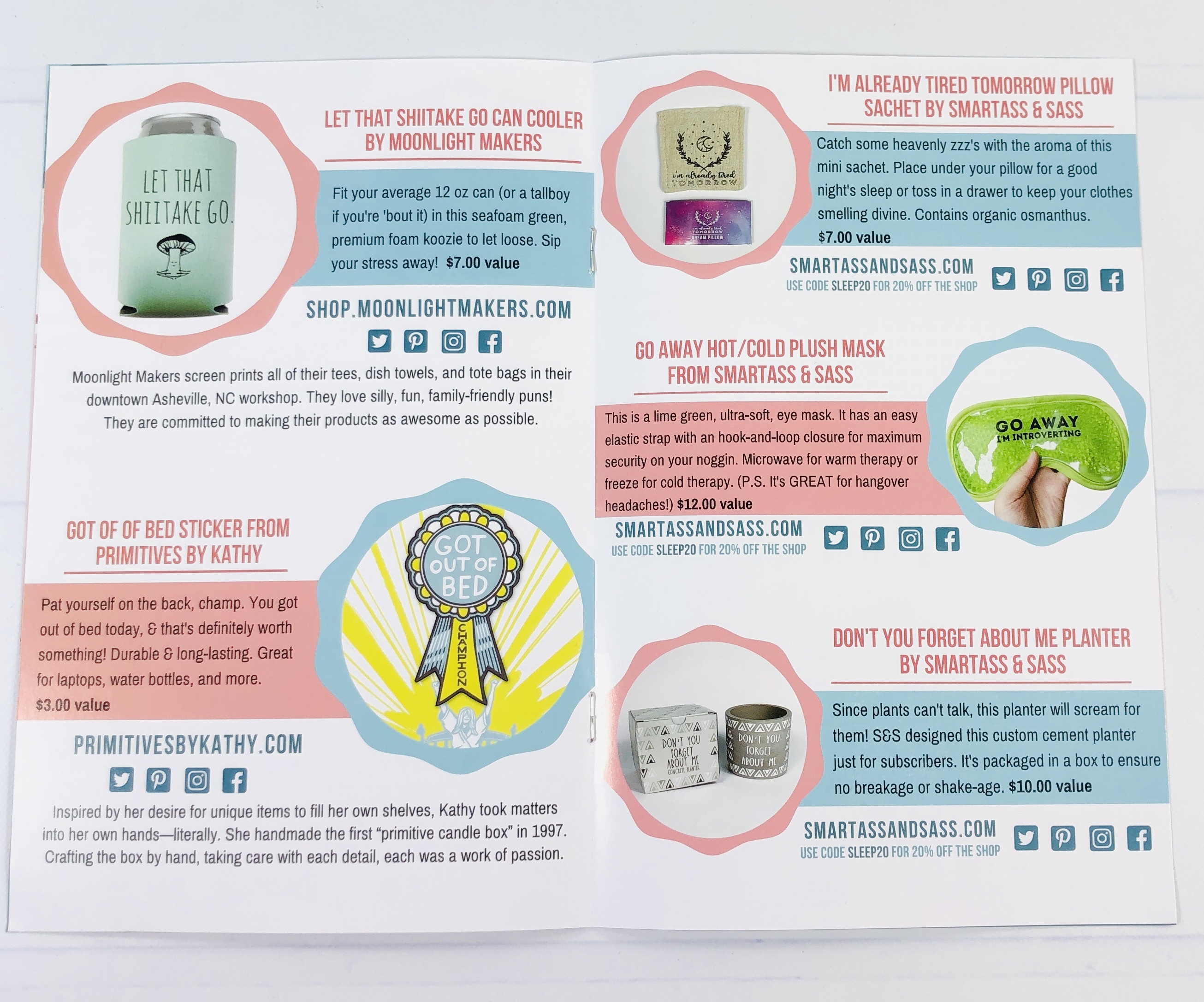 There were codes included too for discounts at some of the websites.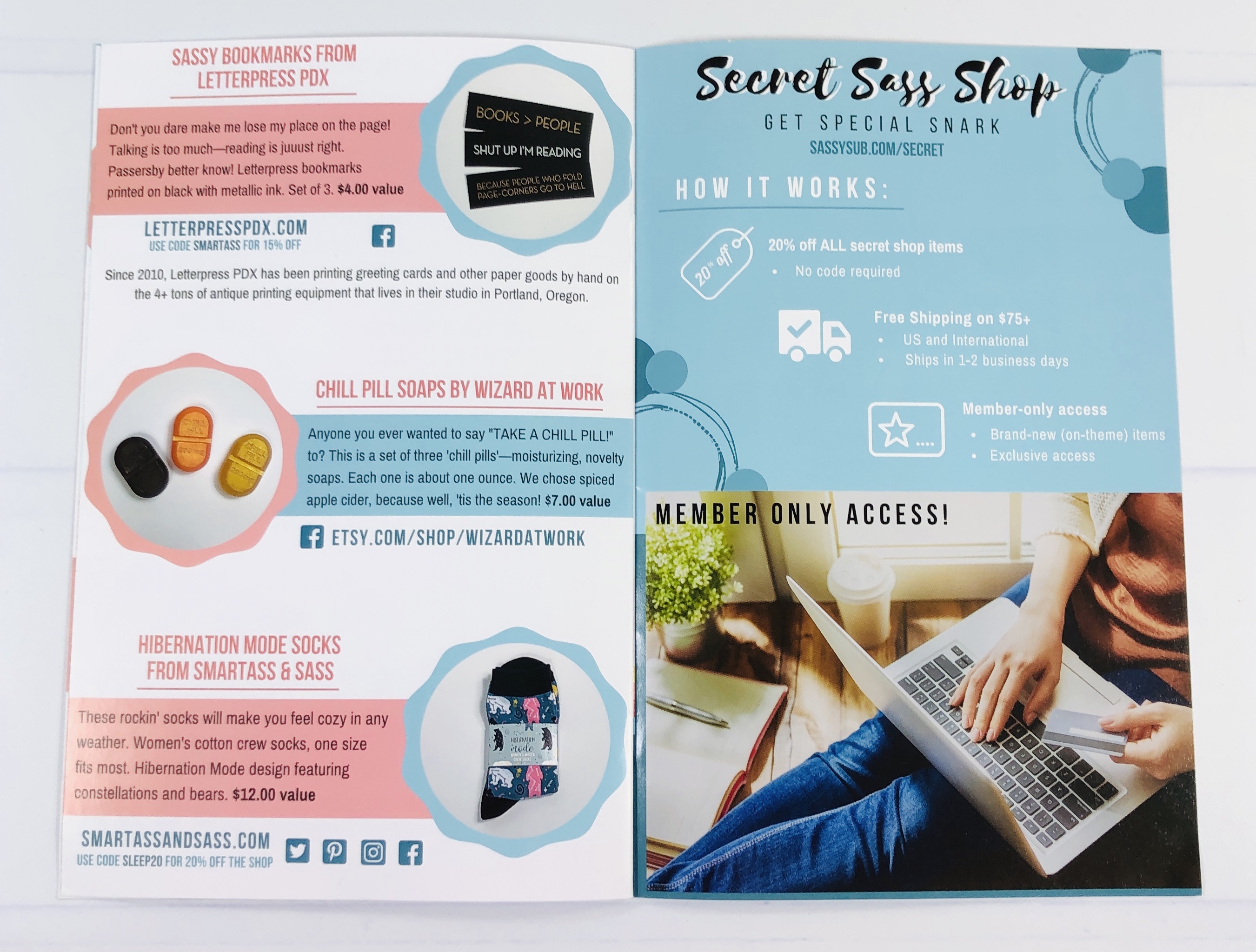 There's a Secret Sass Shop if you're interested.
Thank you for supporting a small business!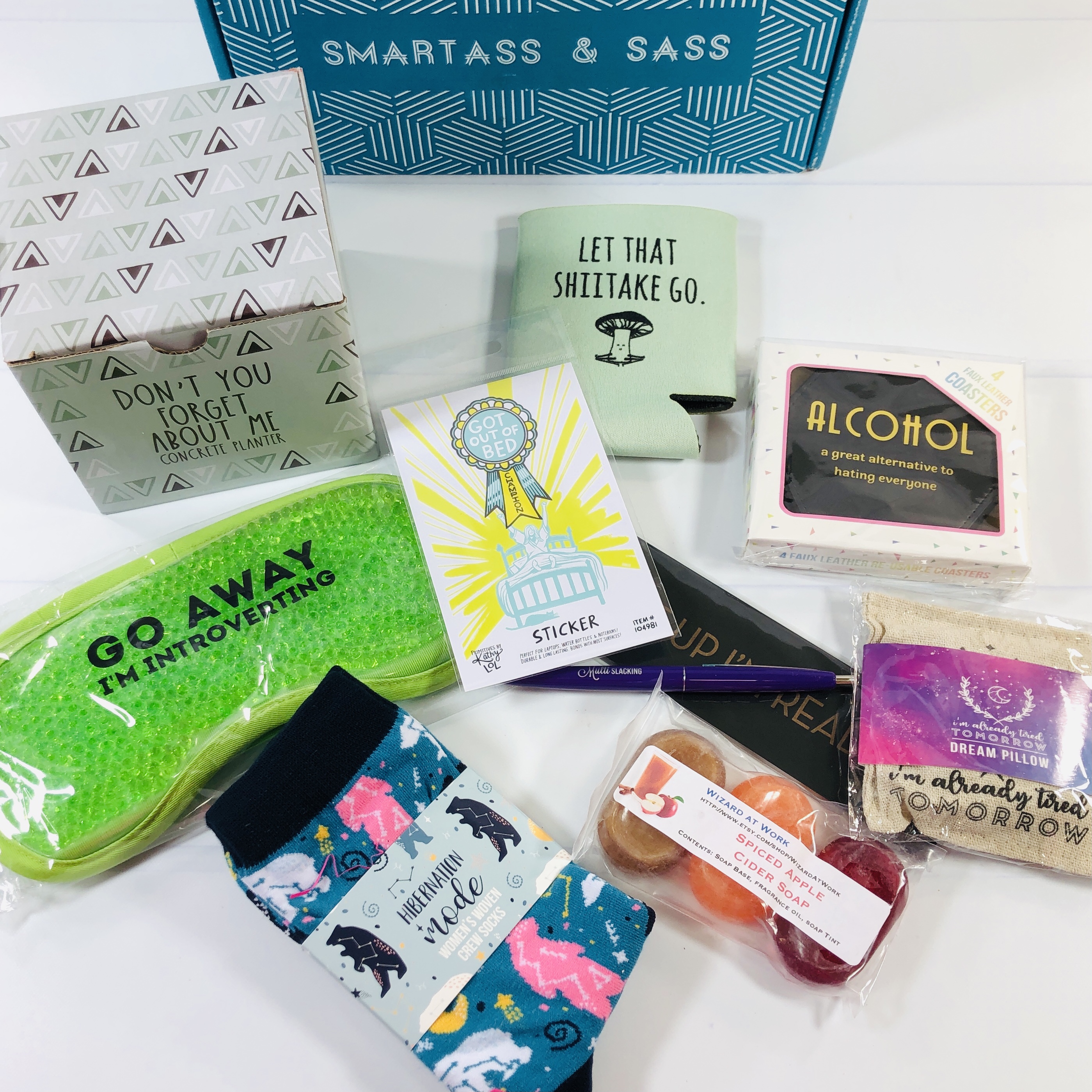 Everything in my box!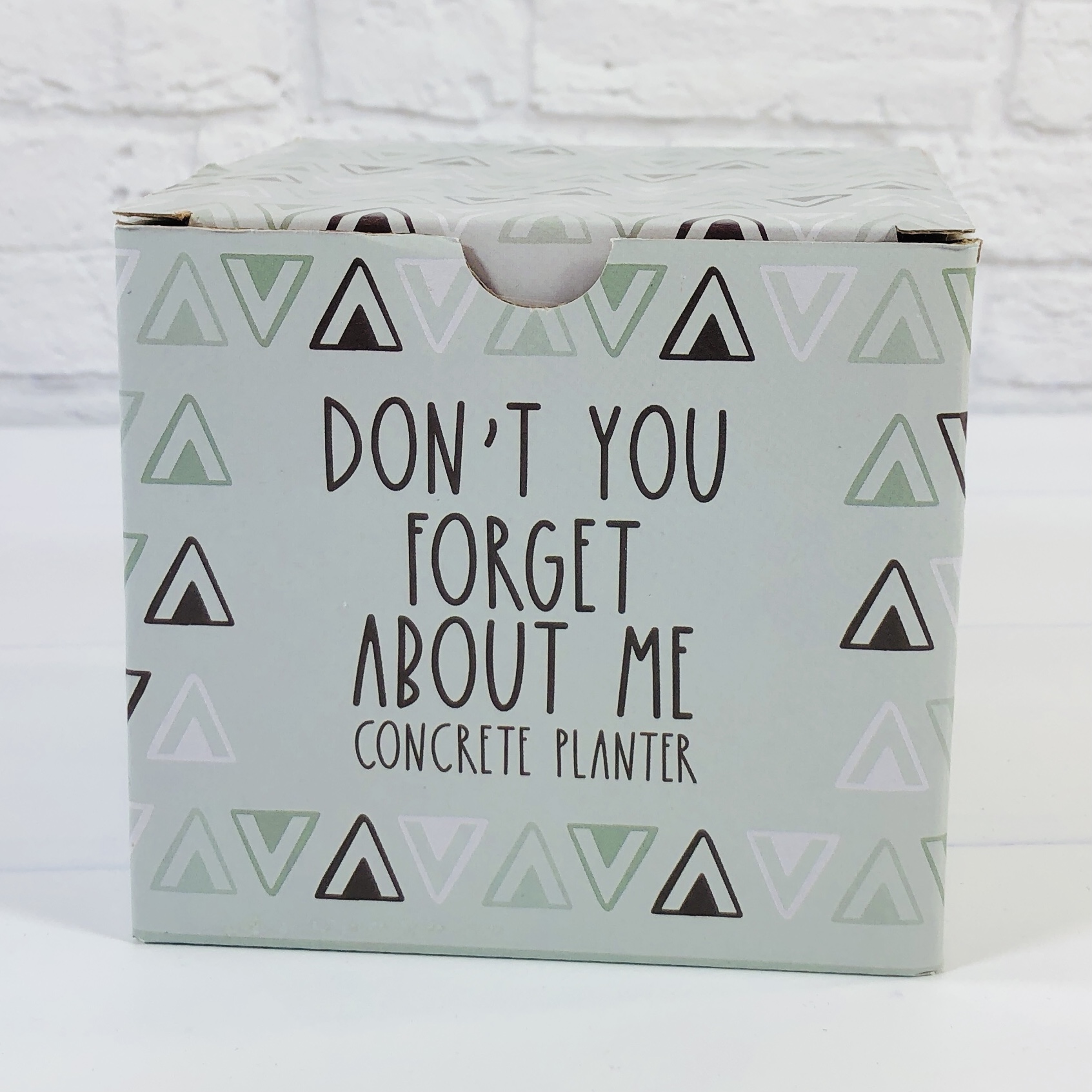 Don't You Forget About Me Planter ($10) A concrete planter is the first item. Do you have a black thumb? Then it will hold pens and pencils too.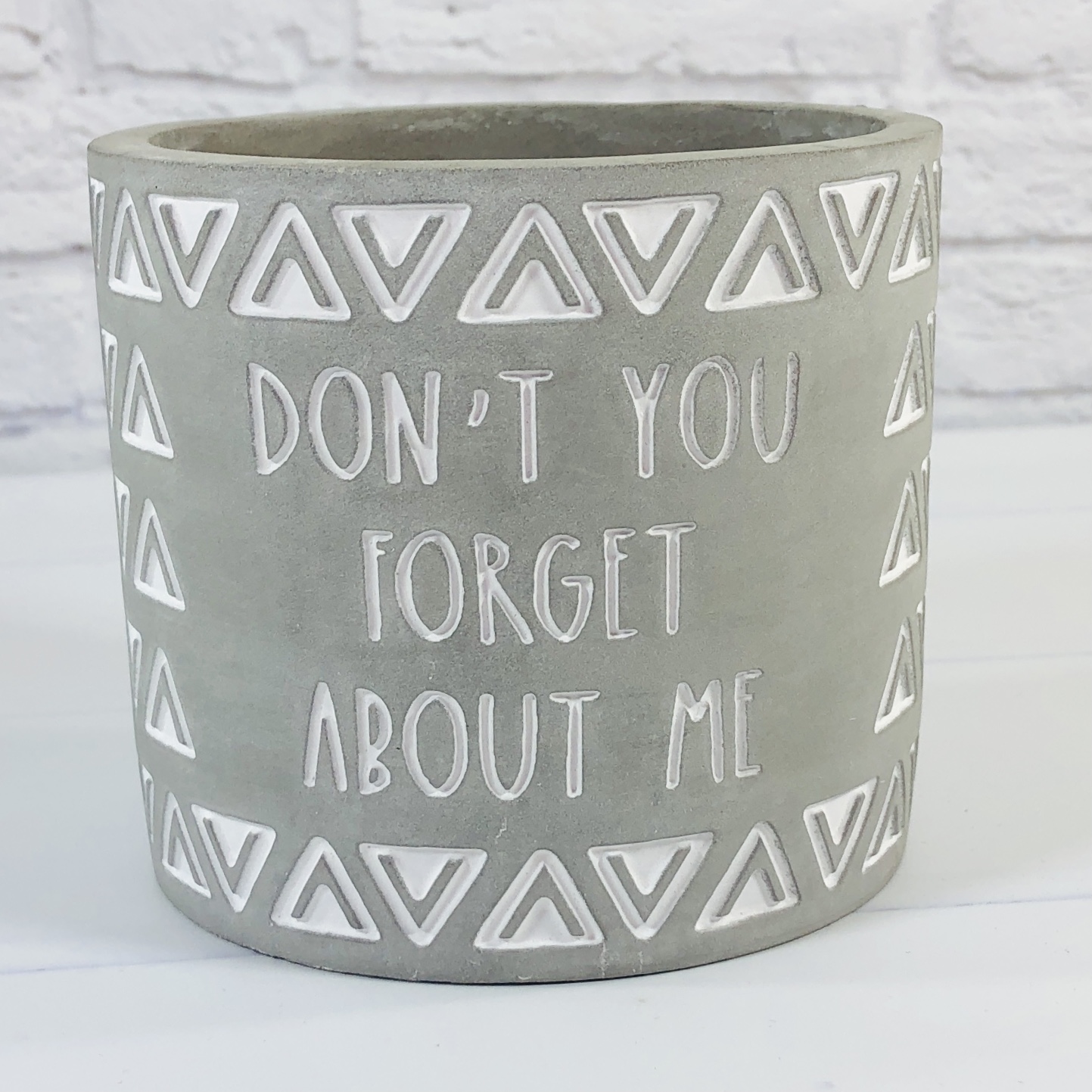 It has a classic song title from Simple Minds here. Every time I look at this Jim Kerr starts singing in my head.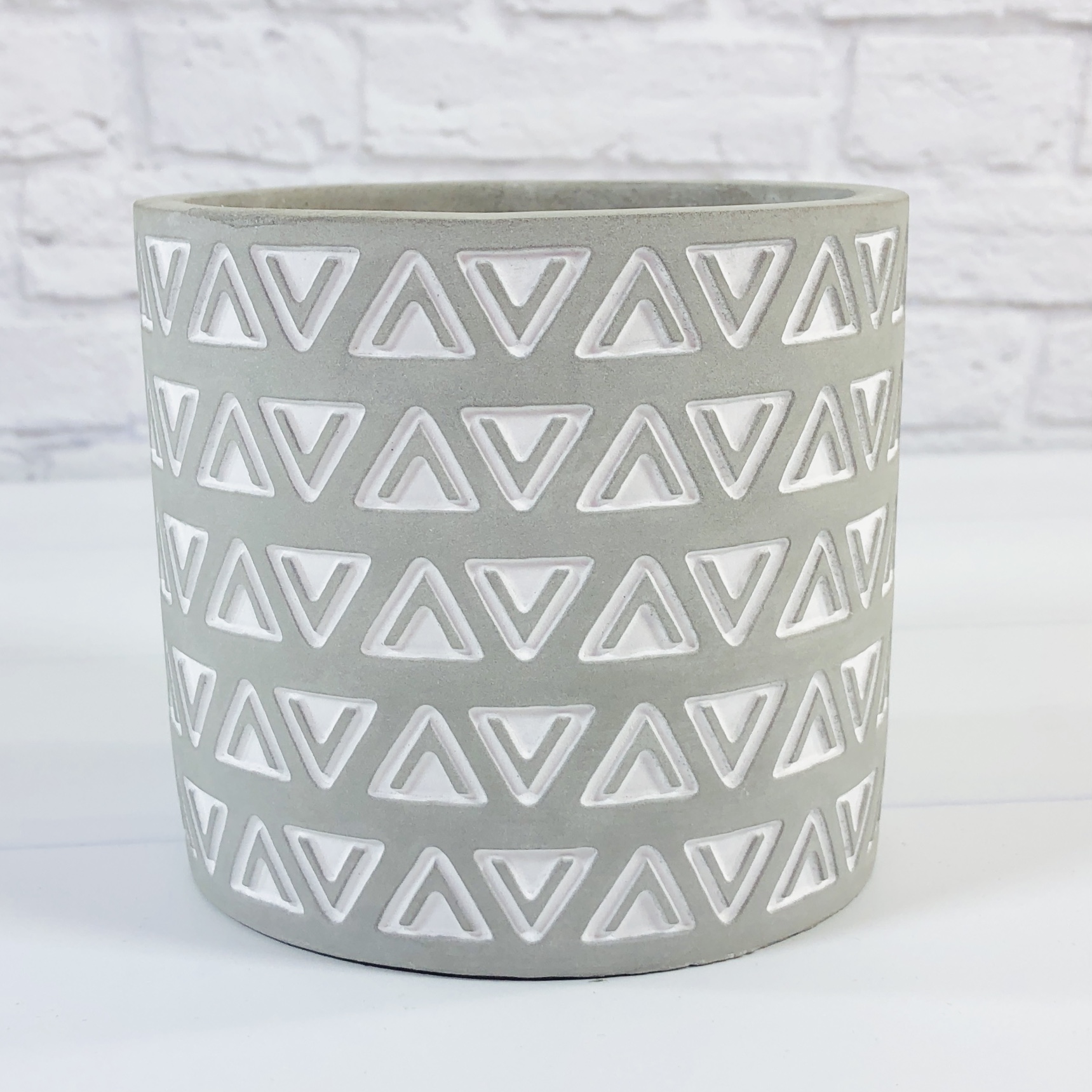 The back has the pattern all over. The planter is grey and white and there are no holes in the bottom. It measures 4″ across the bottom. Now try to get that song out of your head.
Moonlight Makers Let That Shitake Go Can Cooler ($7) Aww, check out that zen mushroom. He knows he can't control everything so he's happier now that he's started meditating.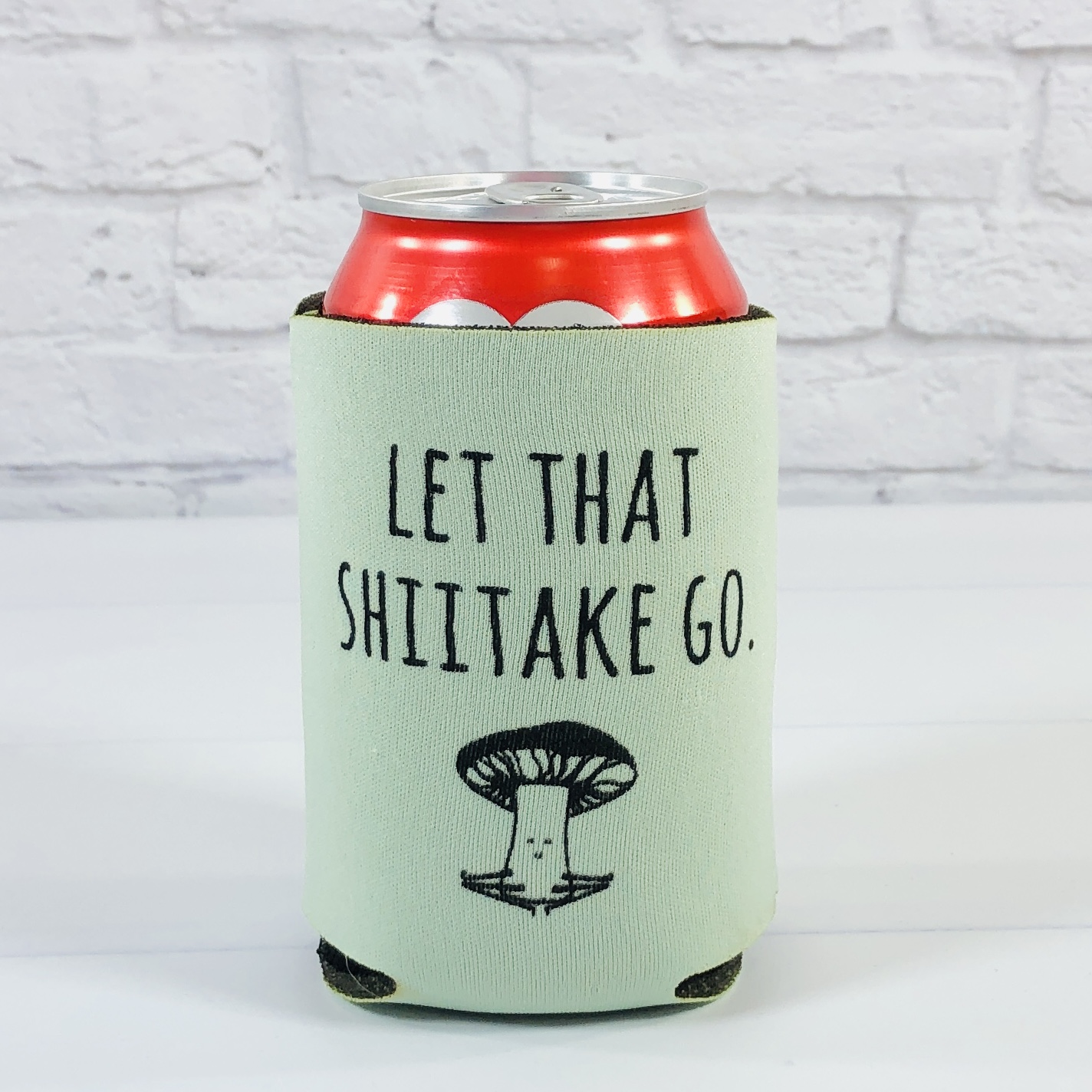 The cooler fits a standard soda, beer, or wine can.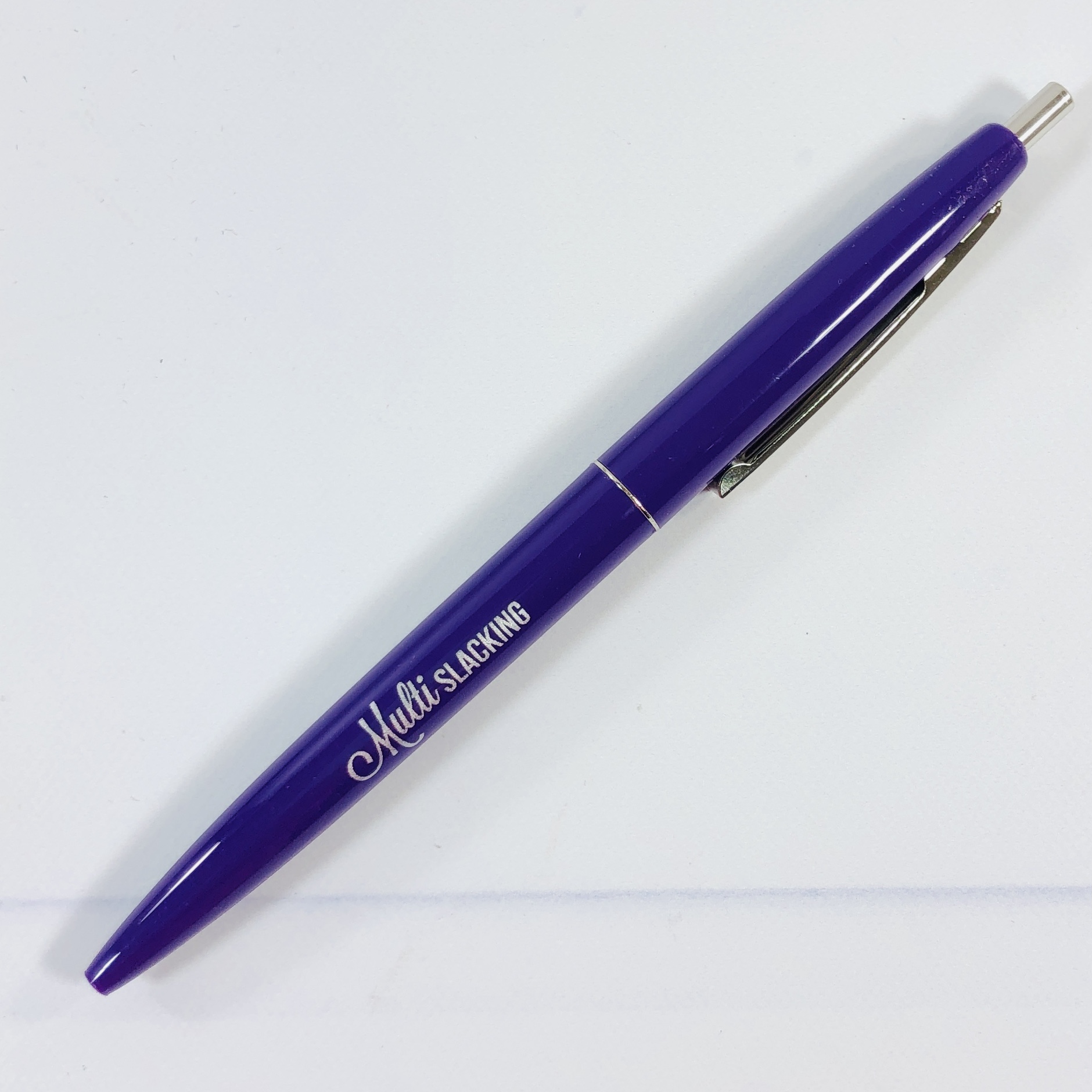 Multi Slacking Pen ($3) A classic Bic® pin with a slightly snarky saying makes it easier to write my grocery or to-do list. For some reason it looks blue in my pic but this pen is purple IRL.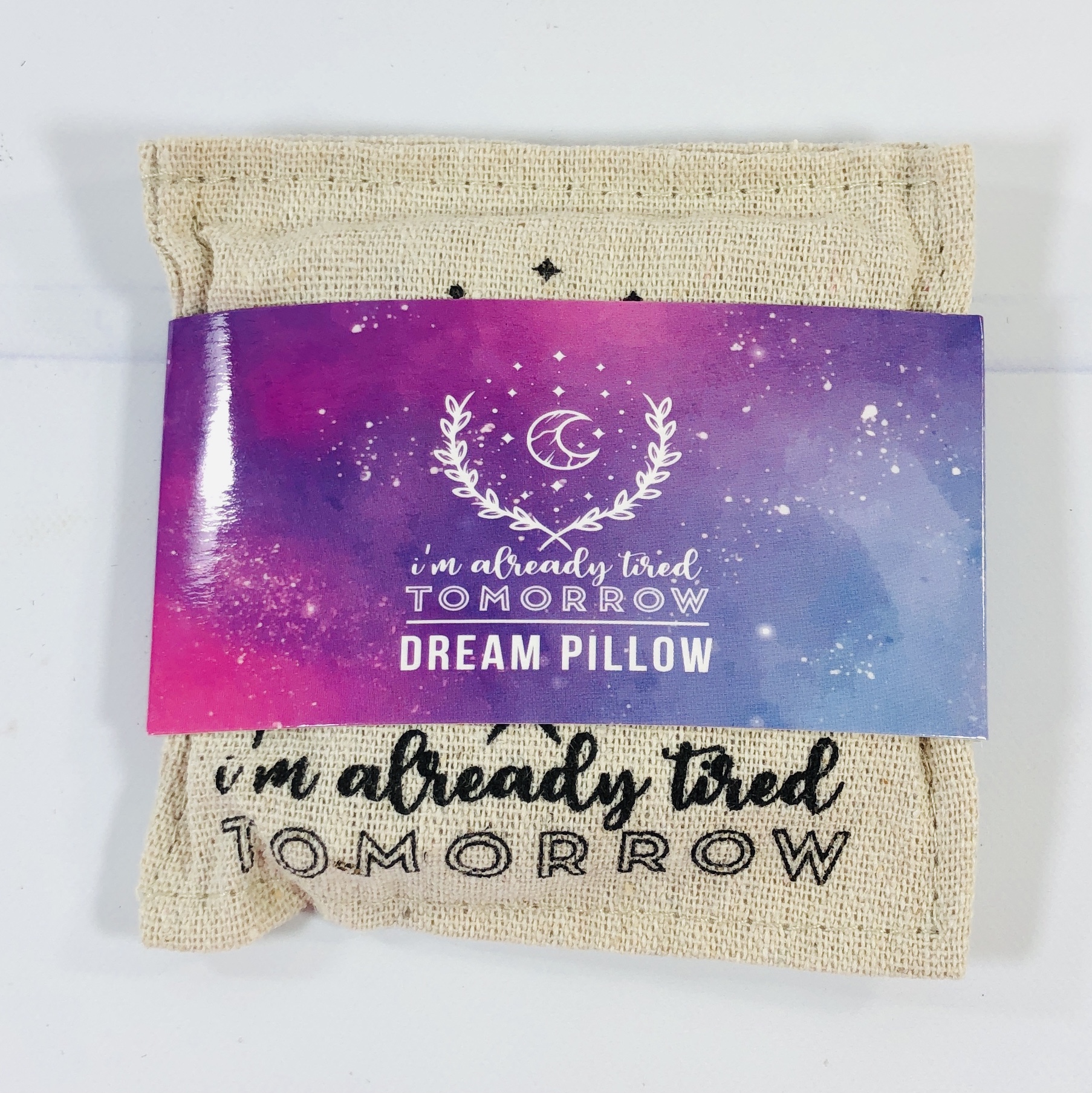 I'm Already Tired Tomorrow Pillow Sachet ($8) Here is a box exclusive item (like several of the products in this box). It's a sachet that has my motto on it.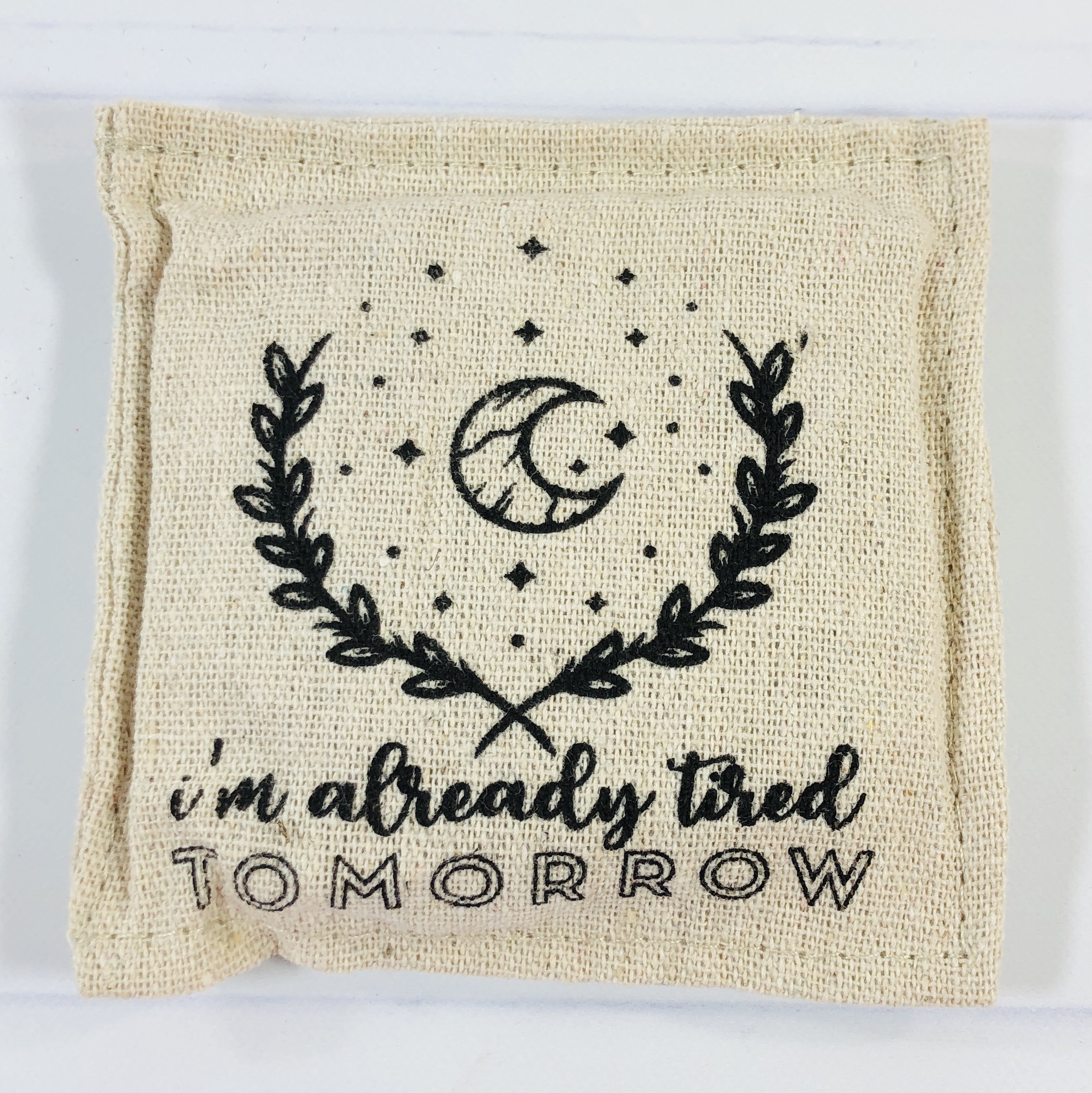 It contains organic osmanthus and mugwort. I crushed it and sniffed it and it smells herby and spicy, like cinnamon. The pillow is about 3.5″ square and can be placed under a pillow before bed or inside a sock drawer. The scent is subtle so your undies won't smell like the sachet.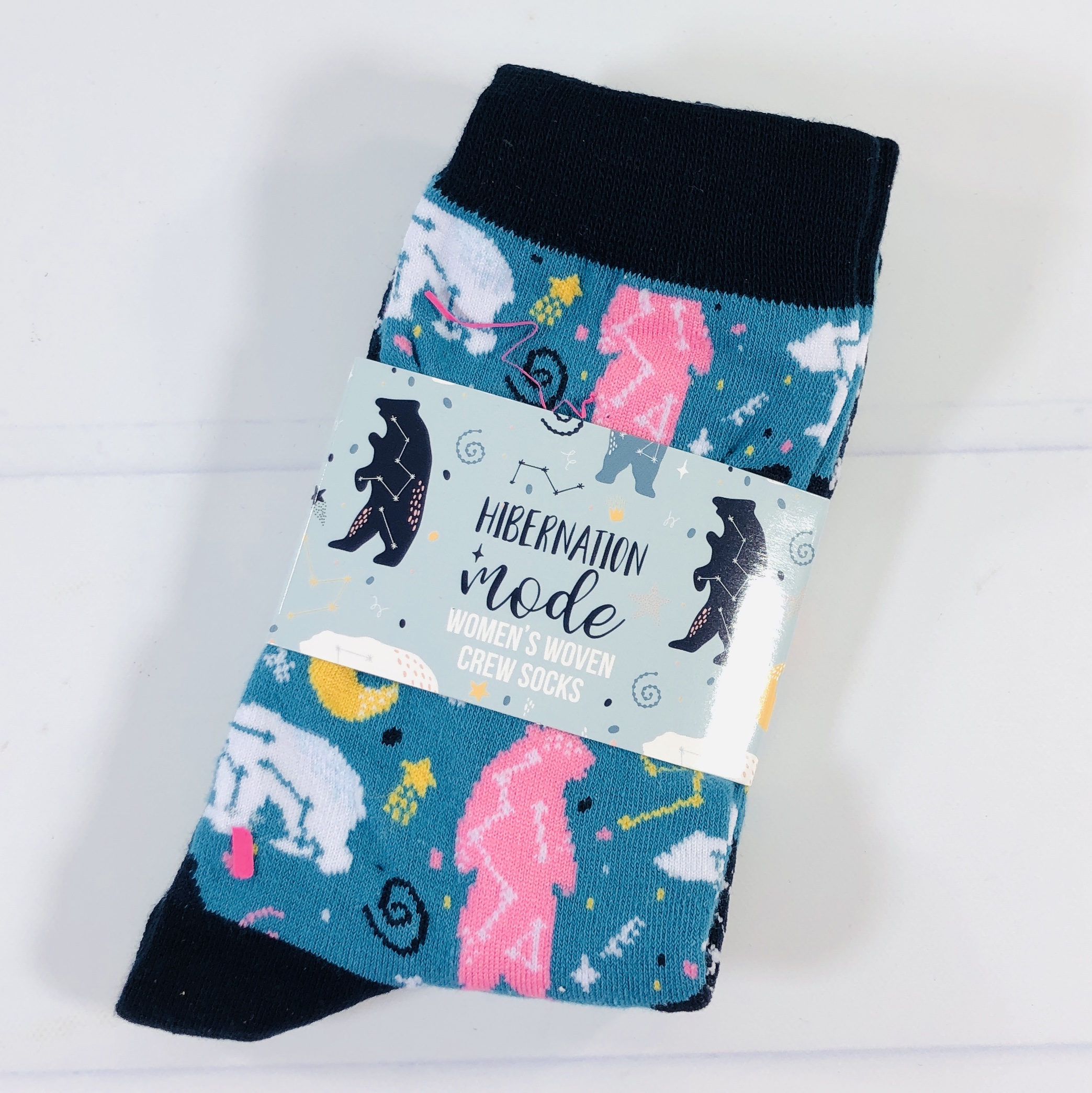 Hibernation Mode Socks ($12) Aren't these just the cutest socks?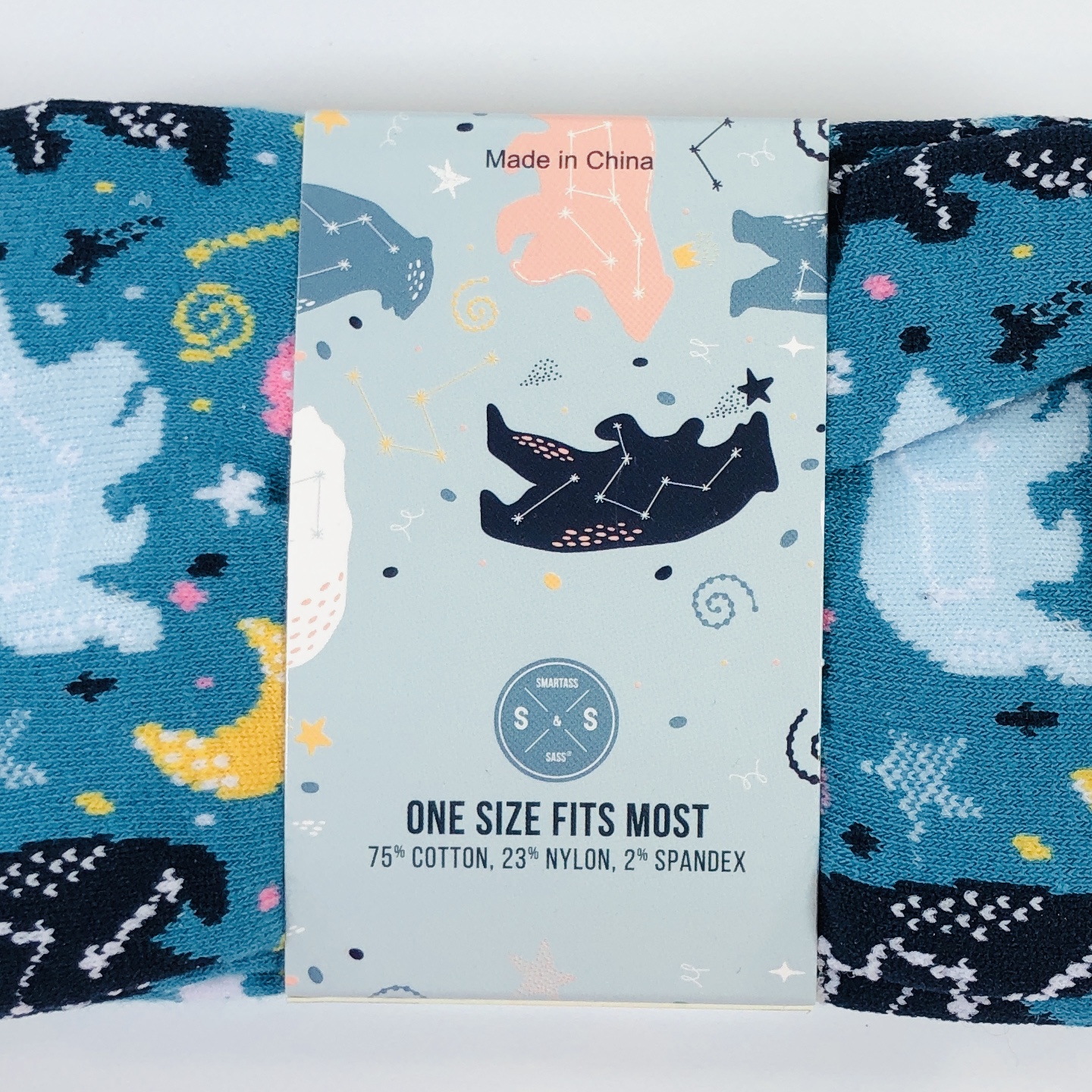 One size fits most and they are made of a cotton/nylon/spandex blend.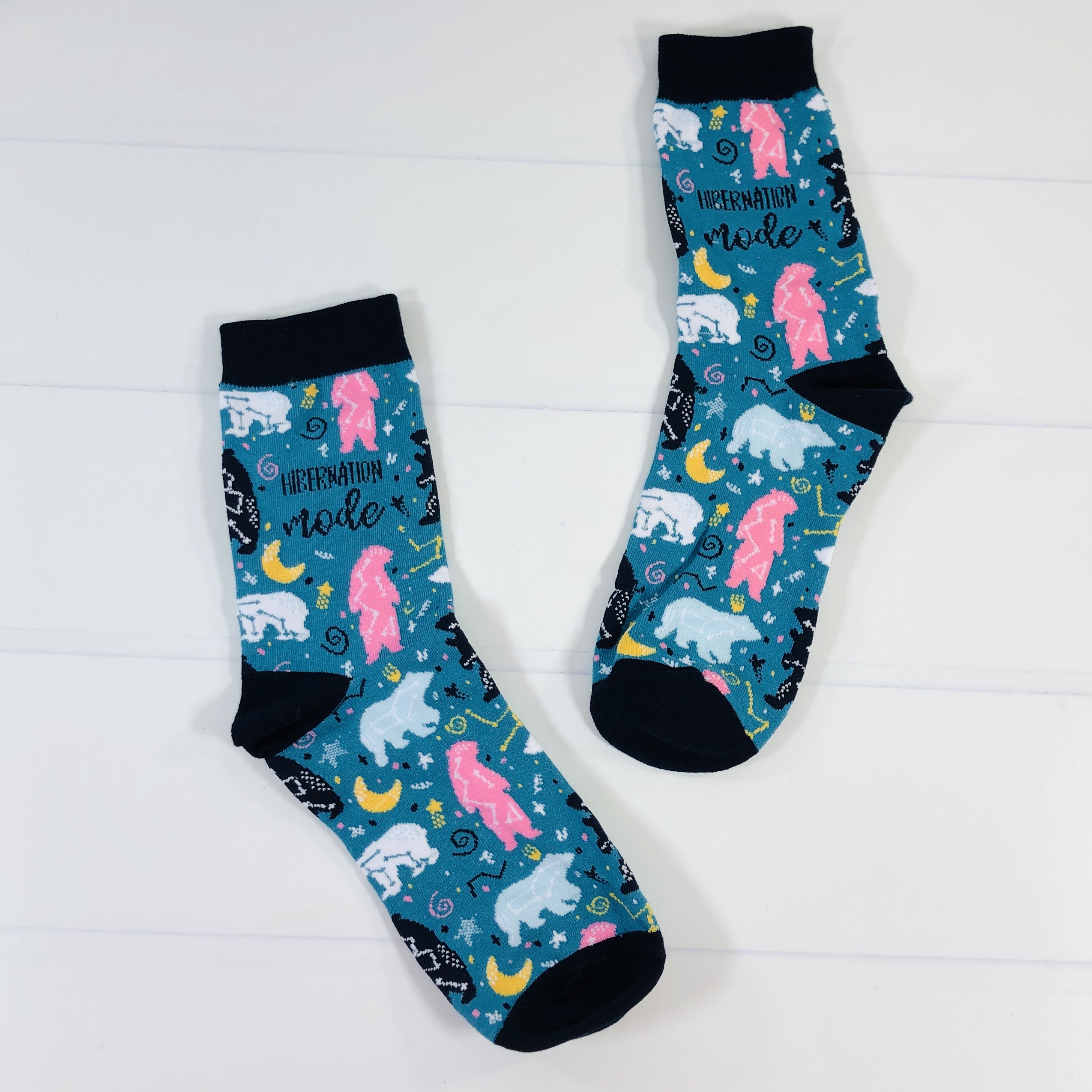 They have a blue body with pink, white, and light blue bears all over. The cuffs, heels, and toes are black.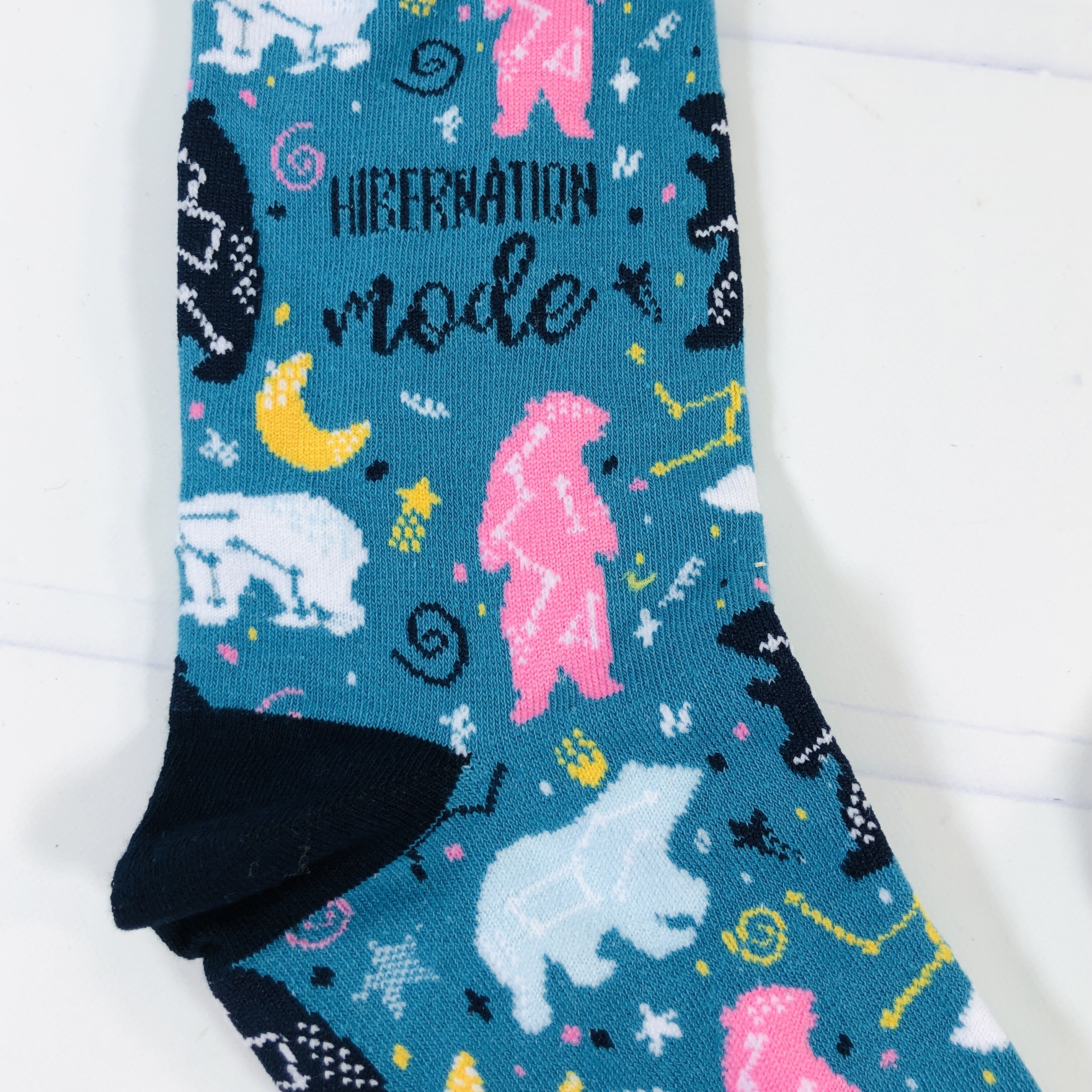 The bears look like constellations and there are also stars, moons, and squiggly designs all over. Absolutely adorable!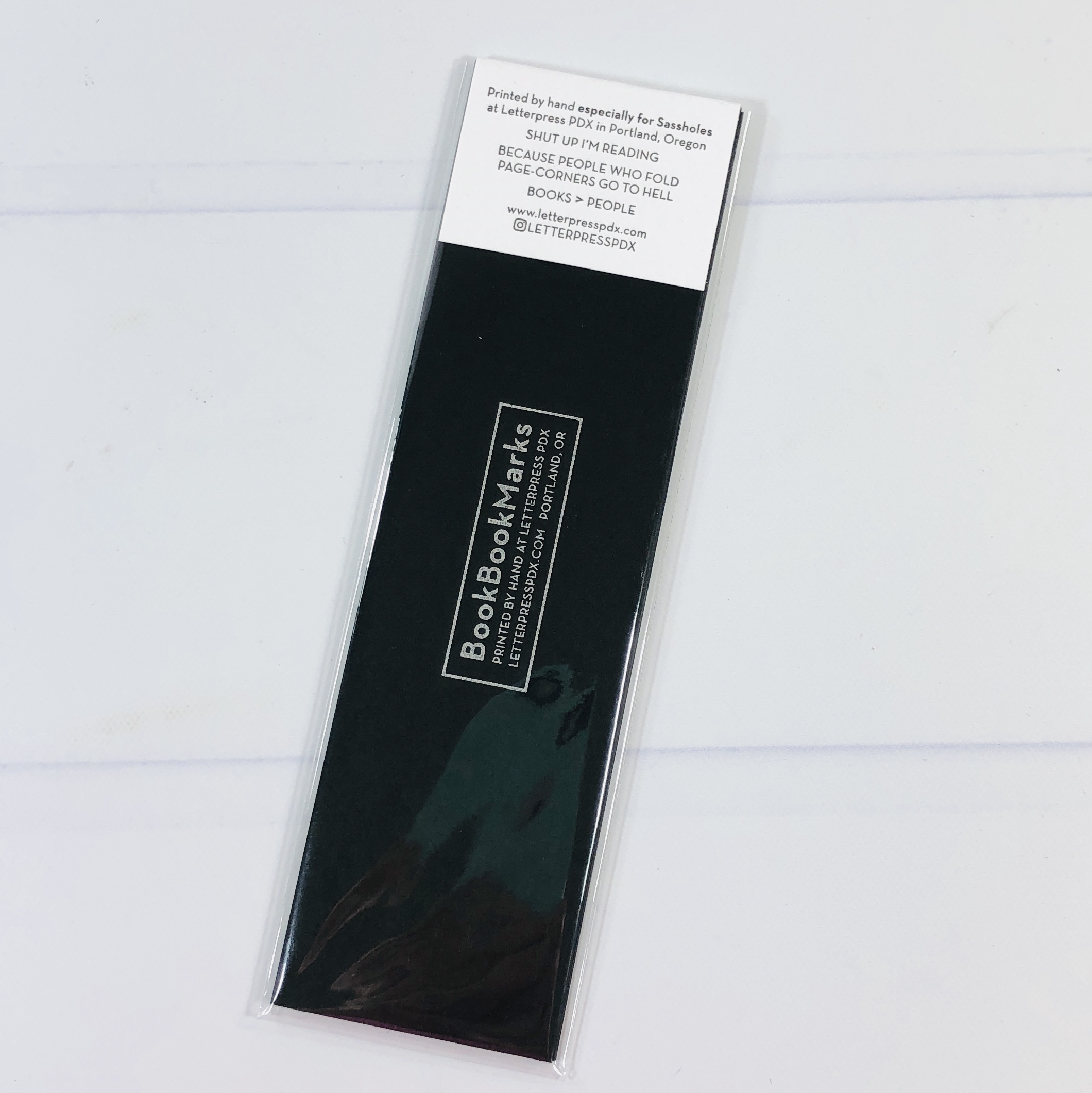 Letterpress PDX Sassy Bookmarks ($4) A set of 3 bookmarks means I can read more than one book at a time now. You can get a similar set at the PDX website but this set is even cuter.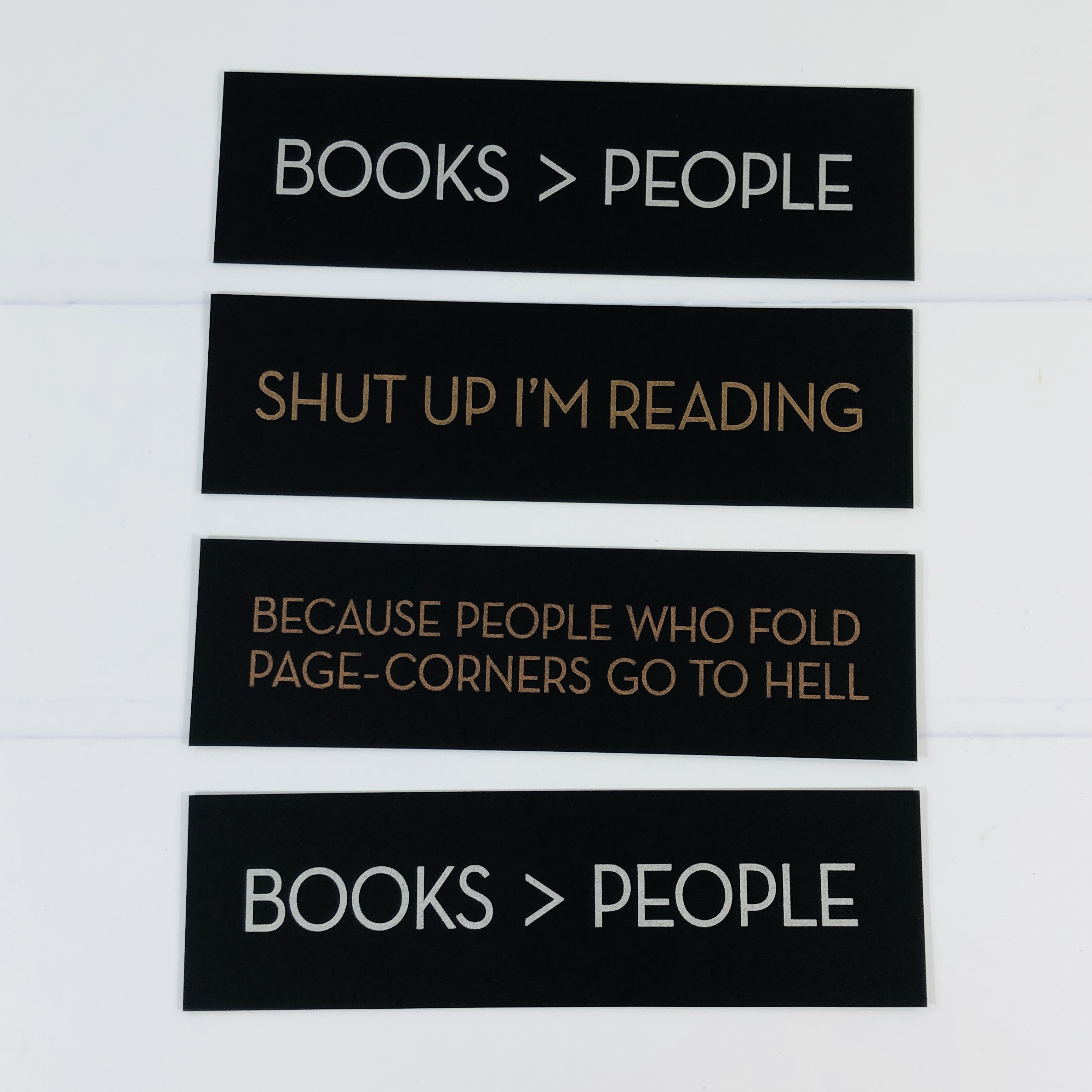 Ha, it looks like I got an extra in my pack! The 2″ x 7″ bookmarks are made of sturdy cardstock and the sayings are in silver, bronze, and gold metallic lettering.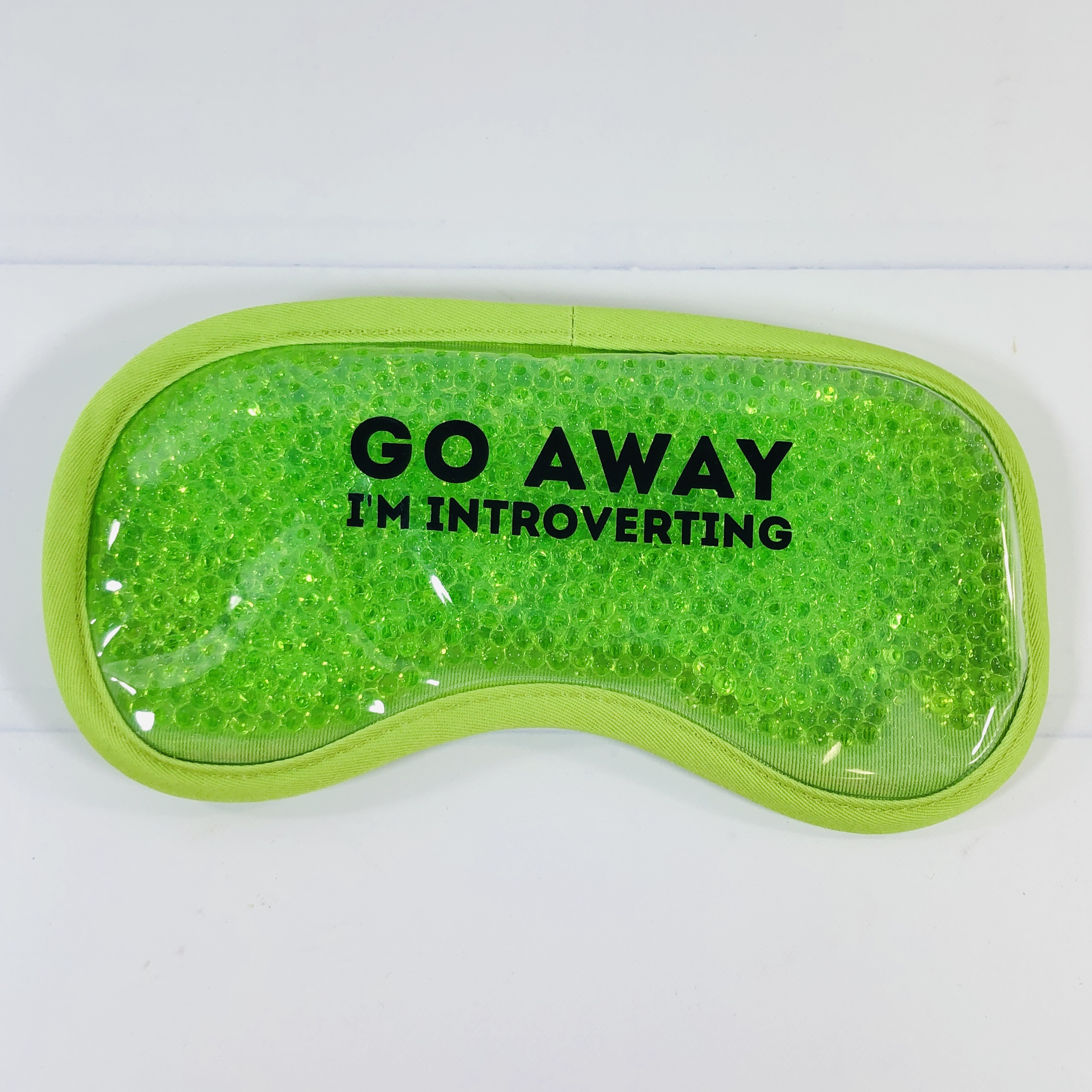 Go Away Hot/Cold Plush Mask ($12) Sometimes you need to put your feet up and relax with a mask over your eyes. This mask only repels people old enough to read it. One side is filled with gel beads and you can either heat it in the microwave or place it in the freezer and then make sure this side is facing out or it's not that funny.
The inside is lined with plush fabric and there's an adjustable velcro strap. I was impressed to see heating/freezing instructions on the tag!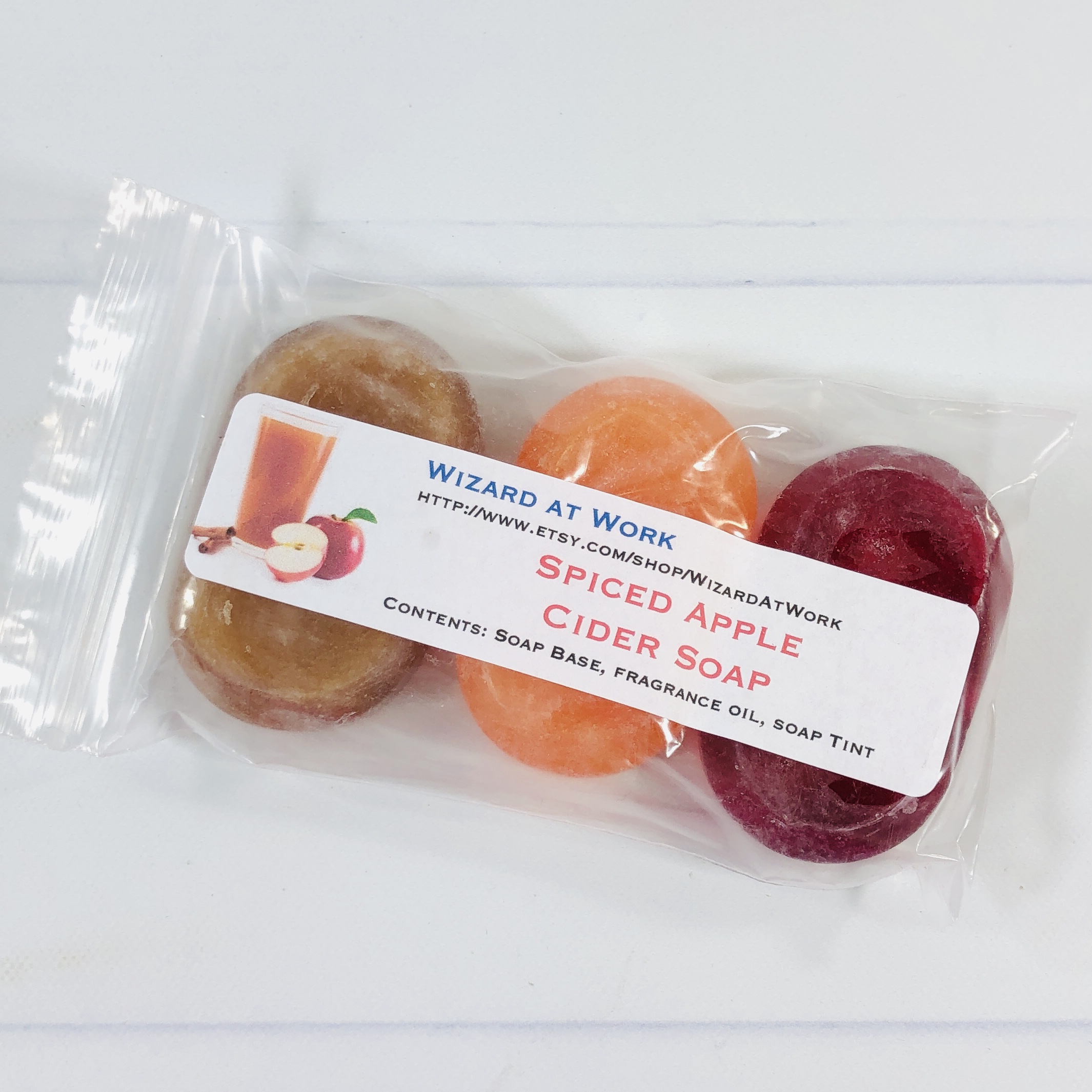 Wizard At Work Chill Pill Soaps ($15 for 12, or get 3 for $4 here) You can order these soaps in sets of a dozen and in all kinds of colors and scents.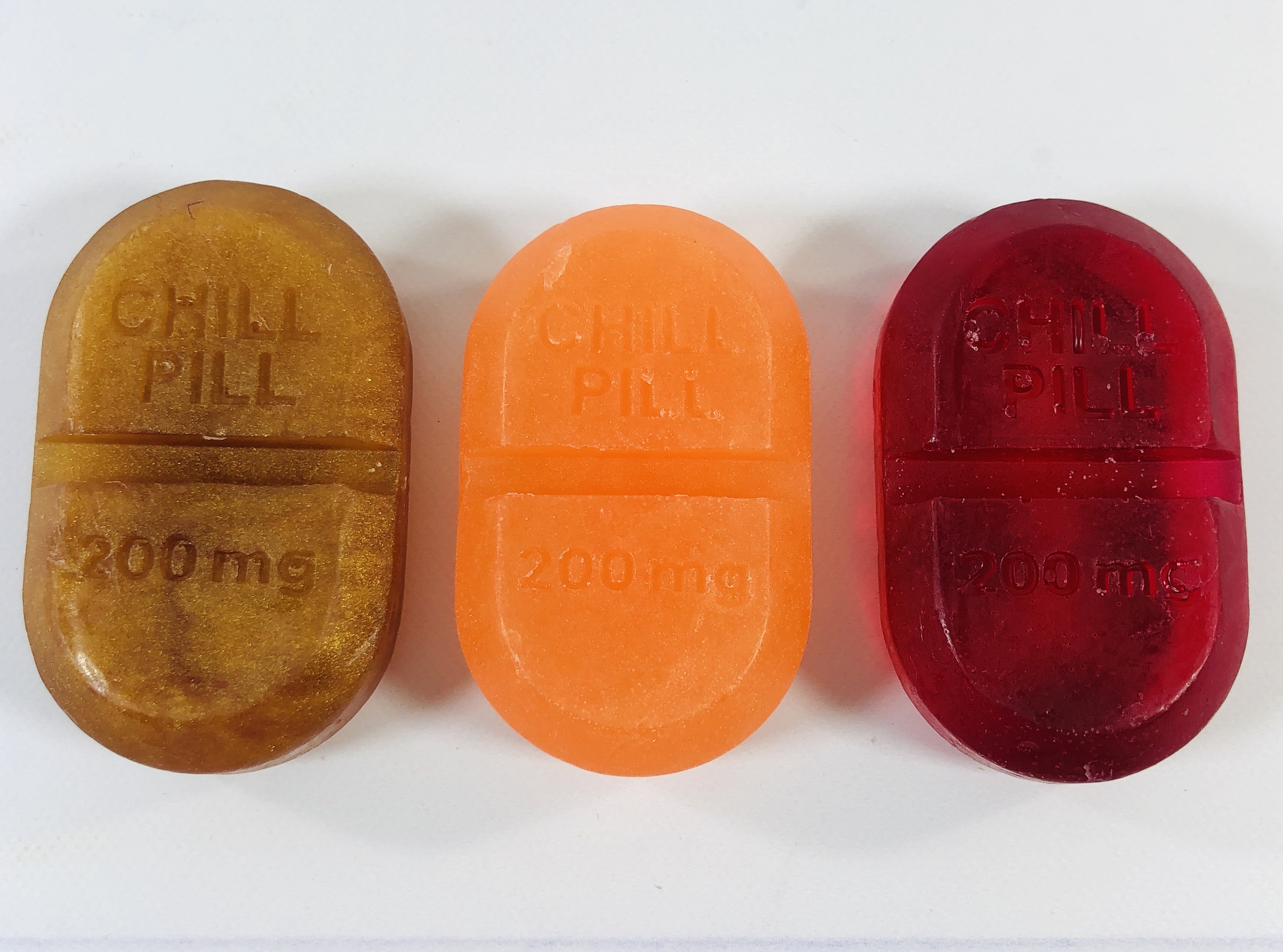 This set is all in the Spiced Apple Cider scent and of course that works so well for November. They smell good and will go great next to the sinks in my home.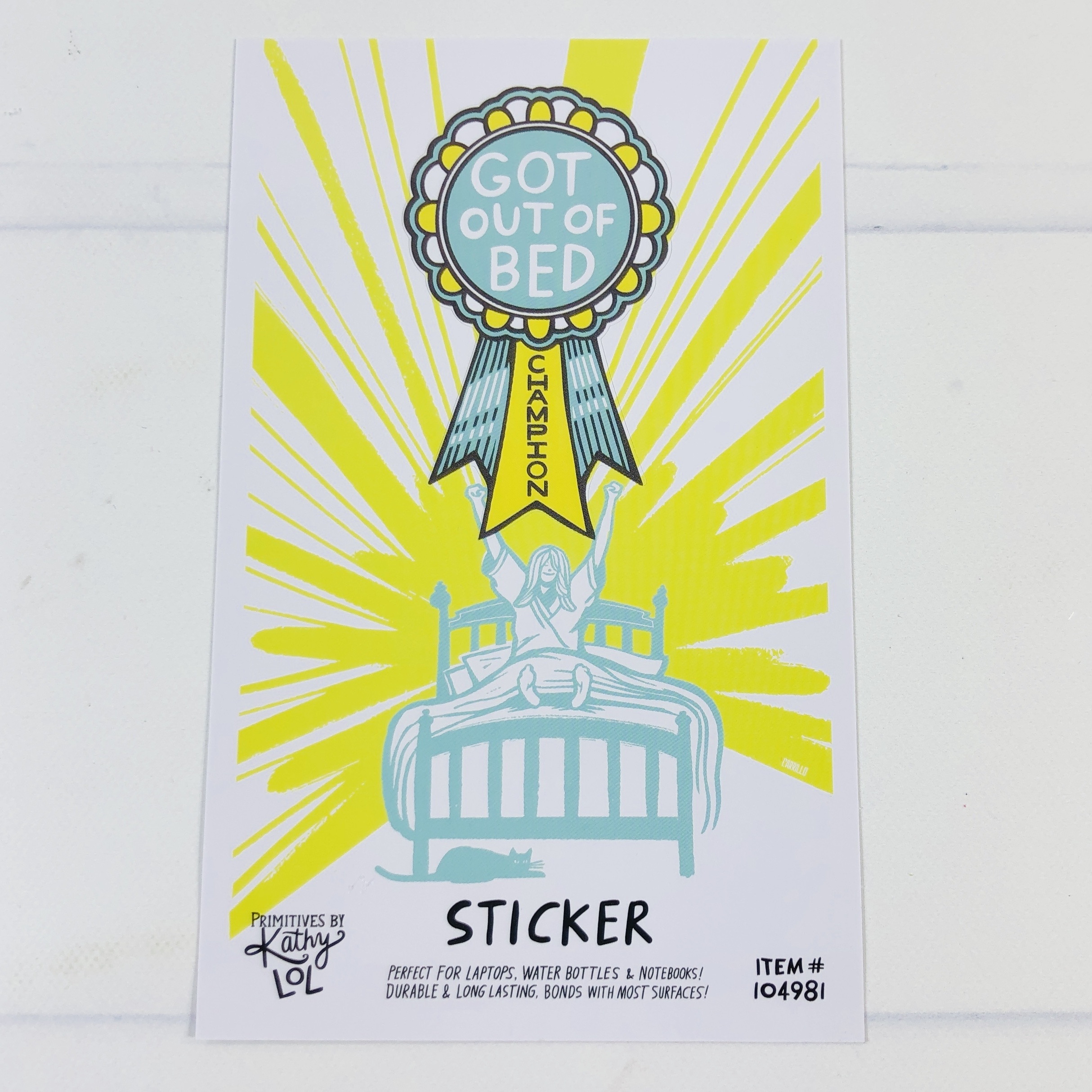 Primitives By Kathy Got Out Of Bed Sticker ($3) Sometimes it's the little things that are a big deal. This sticker is about 2.5″ long and can go on a water bottle, laptop, etc.
Fun Club Alcohol Is A Great Alternative Coasters ($19.99) Our final item is a set of sassy coasters.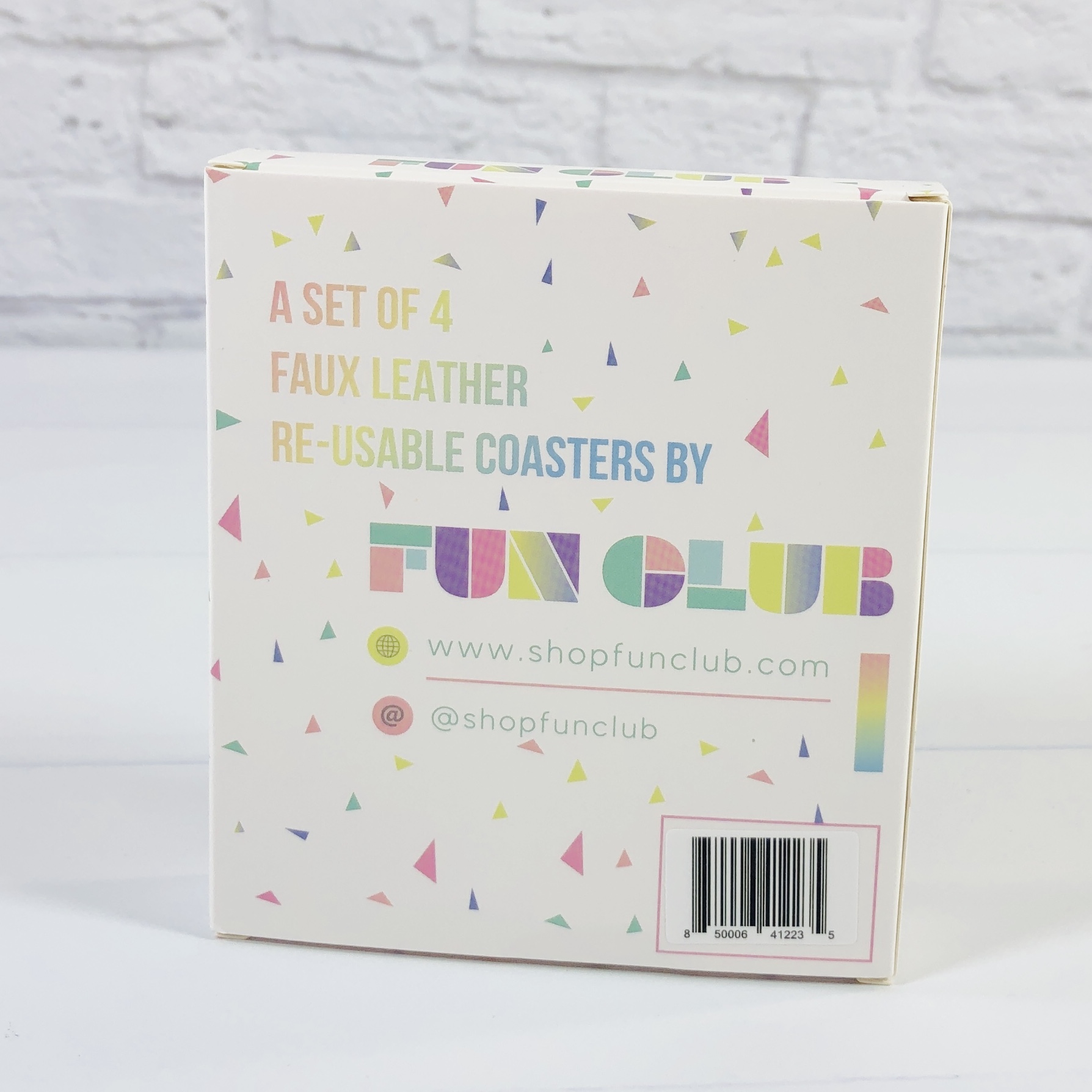 The coasters are made of faux leather and are reusable.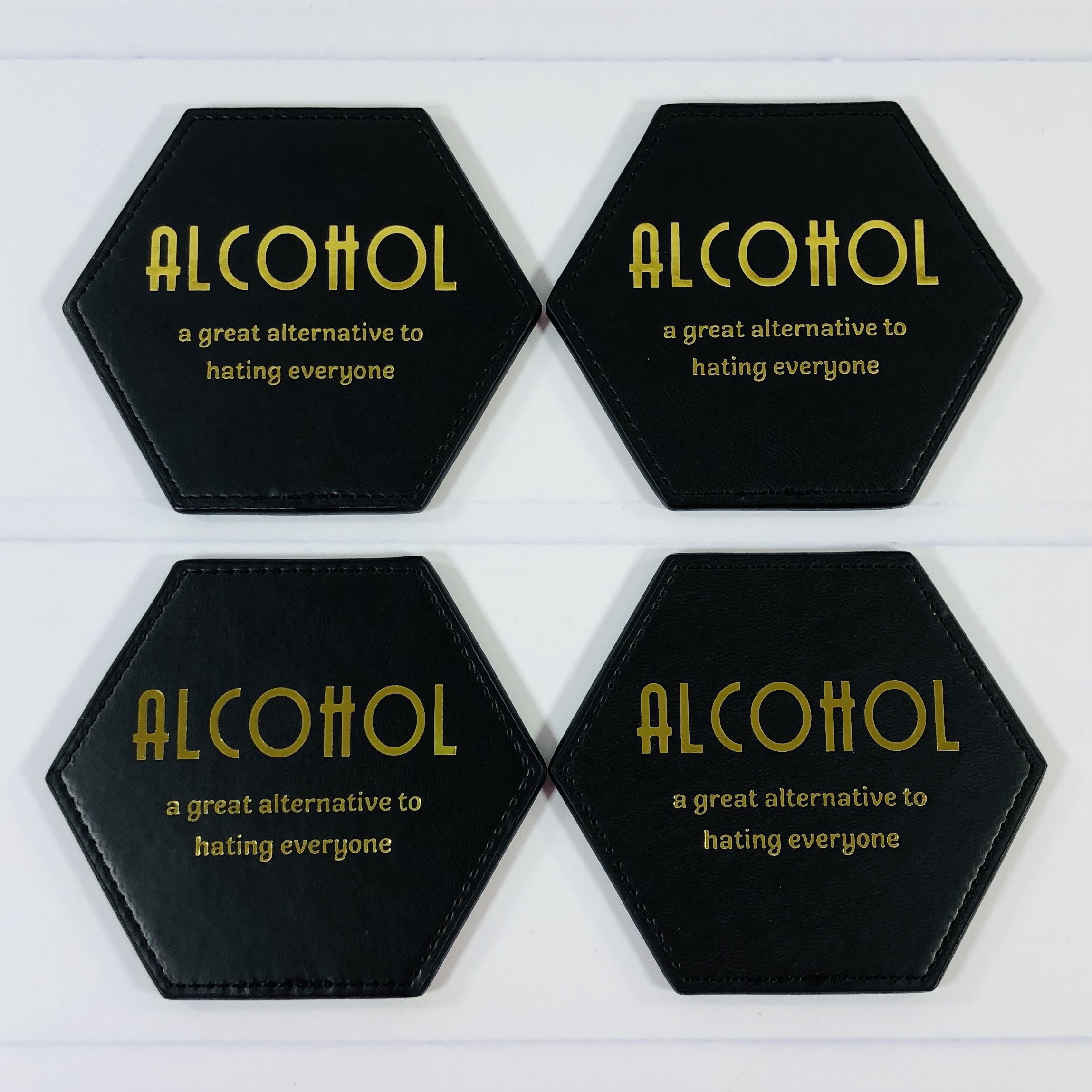 They are about 3.5″ wide and can fit a mug on there just fine. The coasters are black with metallic gold lettering. The backs are plain and would work great as a coaster too.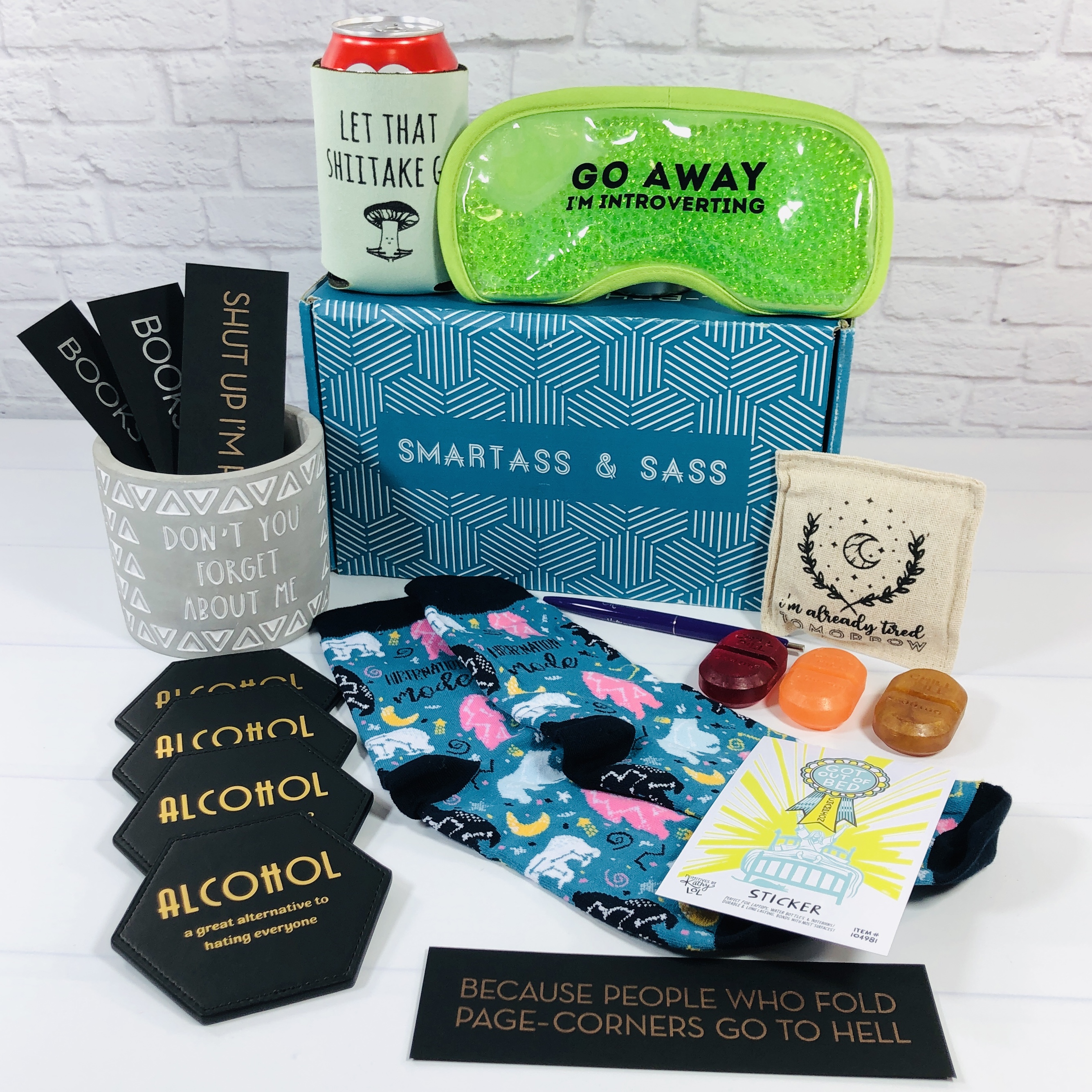 The November Smartass & Sass Hibernation Mode box has all kinds of items to help me get through the next few months of hunkering down in my house, whether that's due to the cold weather or COVID, it doesn't really matter. I've got some cozy socks to keep my non-pedicured toes warm, some bookmarks for my TBR pile, soaps to wash off those germs, and other stuff to help me cope while I stay away from people in general. In case you were wondering, December's box theme is You Got This!
What do you think of the Smartass & Sass Box?