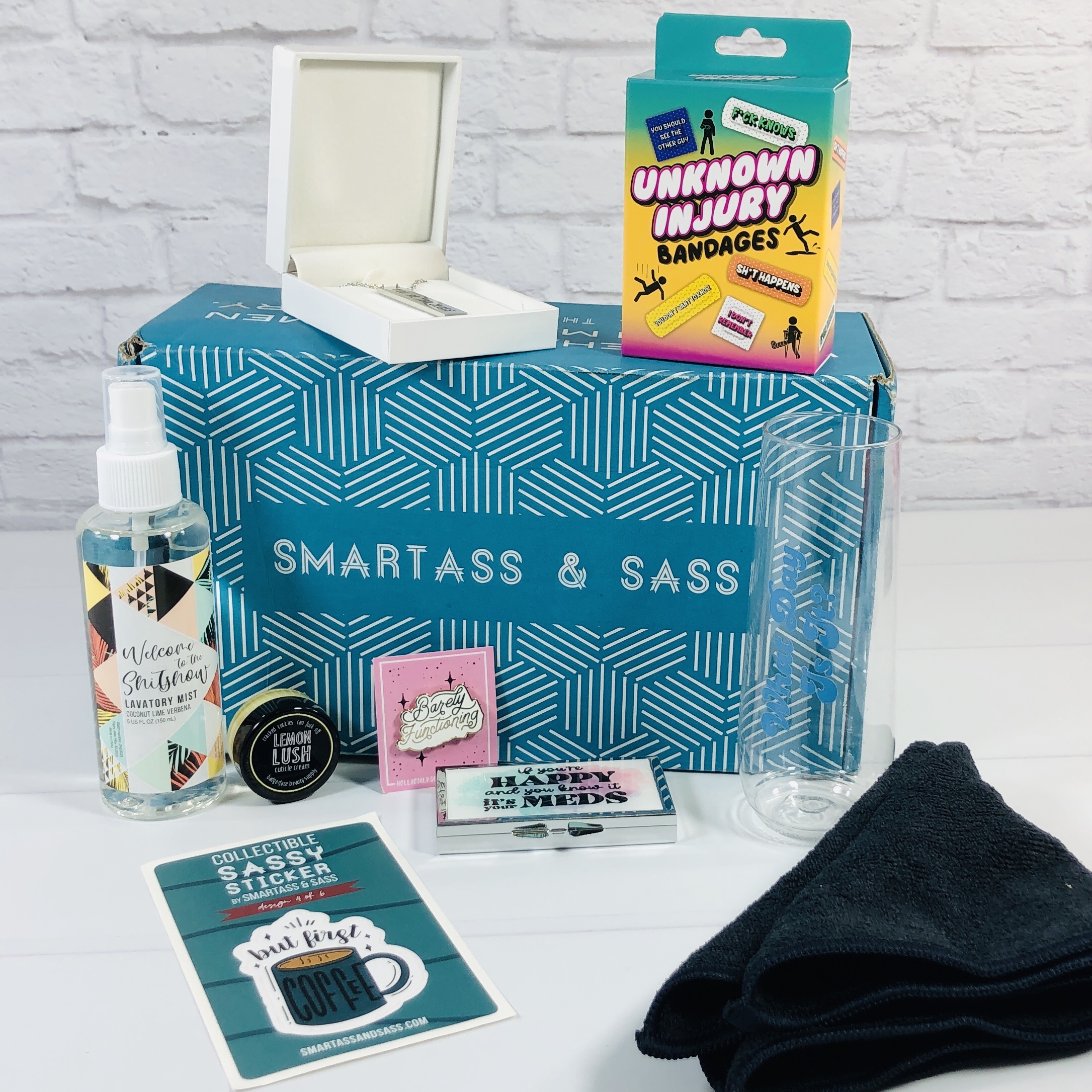 TODAY is the last day for the Smartass & Sass Box Cyber Monday sale!
Save 30% on new subscriptions or shop orders! Use this link to subscribe and use the coupon code BFCMS20 at checkout.
Get 30% off at Smartass & Sass Box!
Here's the theme and a spoiler for the next box:
This month's subscription will honor the kickass lady that you are as you say "BYE, FELICIA!" to 2020. This is the time to start planning how you'll slay next year. December is all about supporting you with sassy motivation.
Here's what box subscribers will get:
🌟 2021 daily desk calendar (spoiler)*
🌟15 oz ceramic mug
🌟Stainless steel bangle*
🌟Lotion (honey scent)
🌟Highlighter set
🌟Notepad*
🌟Surprise item*
🌟Sticky notes
🌟 AND a sassy themed shirt for BIG box subscribers!
*These items contain some profanity
Check out all our Smartass & Sass Box reviews to find out more about this subscription box!
Smartass & Sass Box is a monthly lifestyle subscription box for for snarky ladies. For $34.95 per month, you'll get 4-8 hilarious, handpicked and usable items from artists and small businesses. Smartass & Sass has three subscription options!
Shirt Only Subscription ($15.95 per month) Get a soft-blend, locally printed unisex tee.
Box Subscription ($34.95 per month) Get a monthly dose of sass! 5-8 hilarious and usable items to make you laugh your a** off.
BIG Box Subscription ($49.95 per month) Includes the same 5-8 snarky goods as the regular-sized box plus a soft, locally-printed unisex shirt each month (sizes XS-3XL).