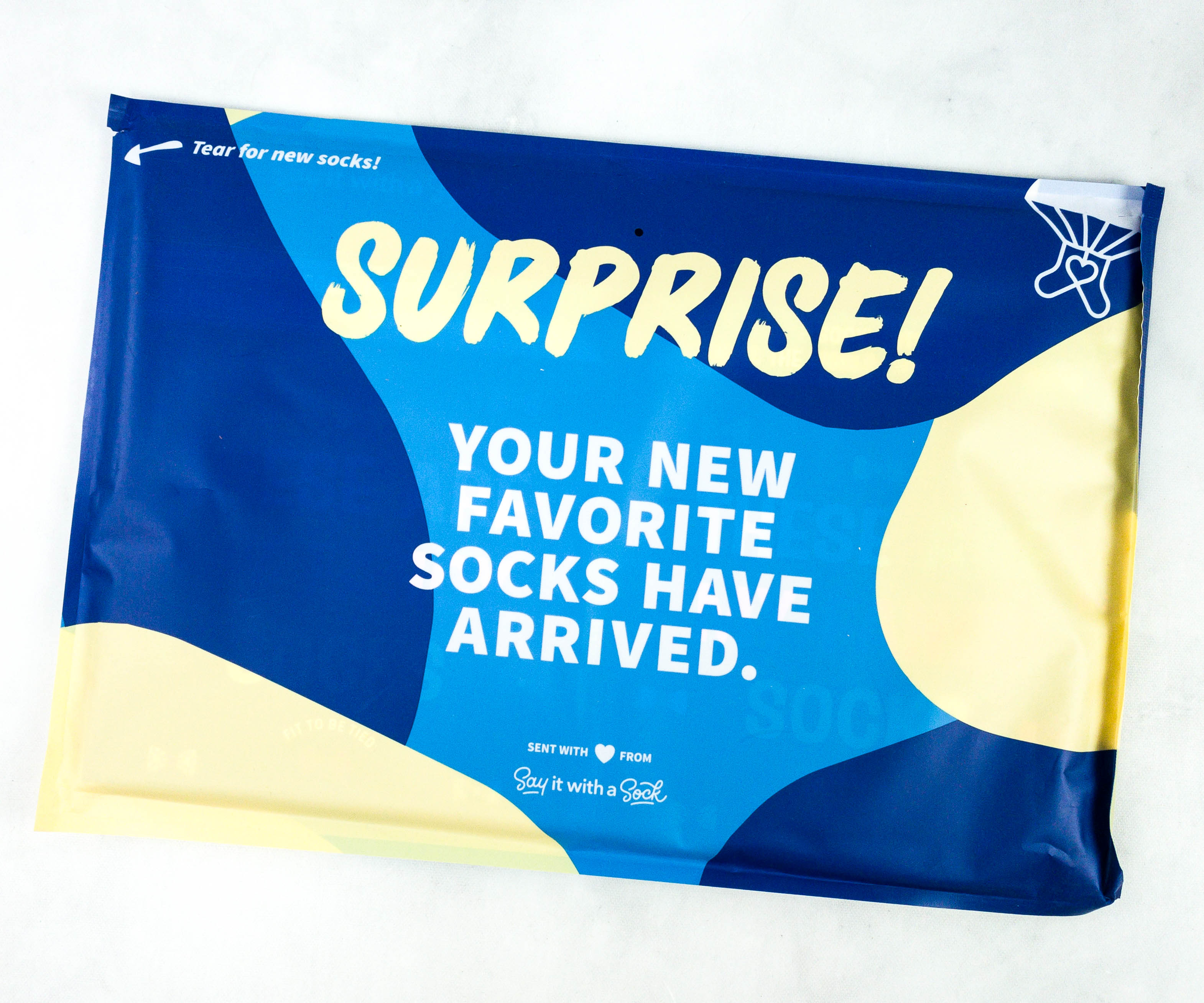 Say it with a Sock is a monthly sock subscription that sends high-quality cute and/or funky socks to your door. You can also gift this sock club to someone special who likes really cool socks and they will receive a note to go along with their new warm fuzzies. This sockscription sends only brand name socks.
This subscription is available for men, women, or children in 1, 6, and 12-month terms. Adult subscriptions include one or two pairs a month. Kids' subscriptions include two pairs a month. With all subscriptions, you'll get a style quiz to help personalize your subscription!
This is a review of the Kids' 2-Pair Sockscription ($13.99 + free shipping).
DEAL: Save 15% on your order with coupon code SOCKS15 or get your first pair for $11.99 with coupon WELCOMETOTHECLUB.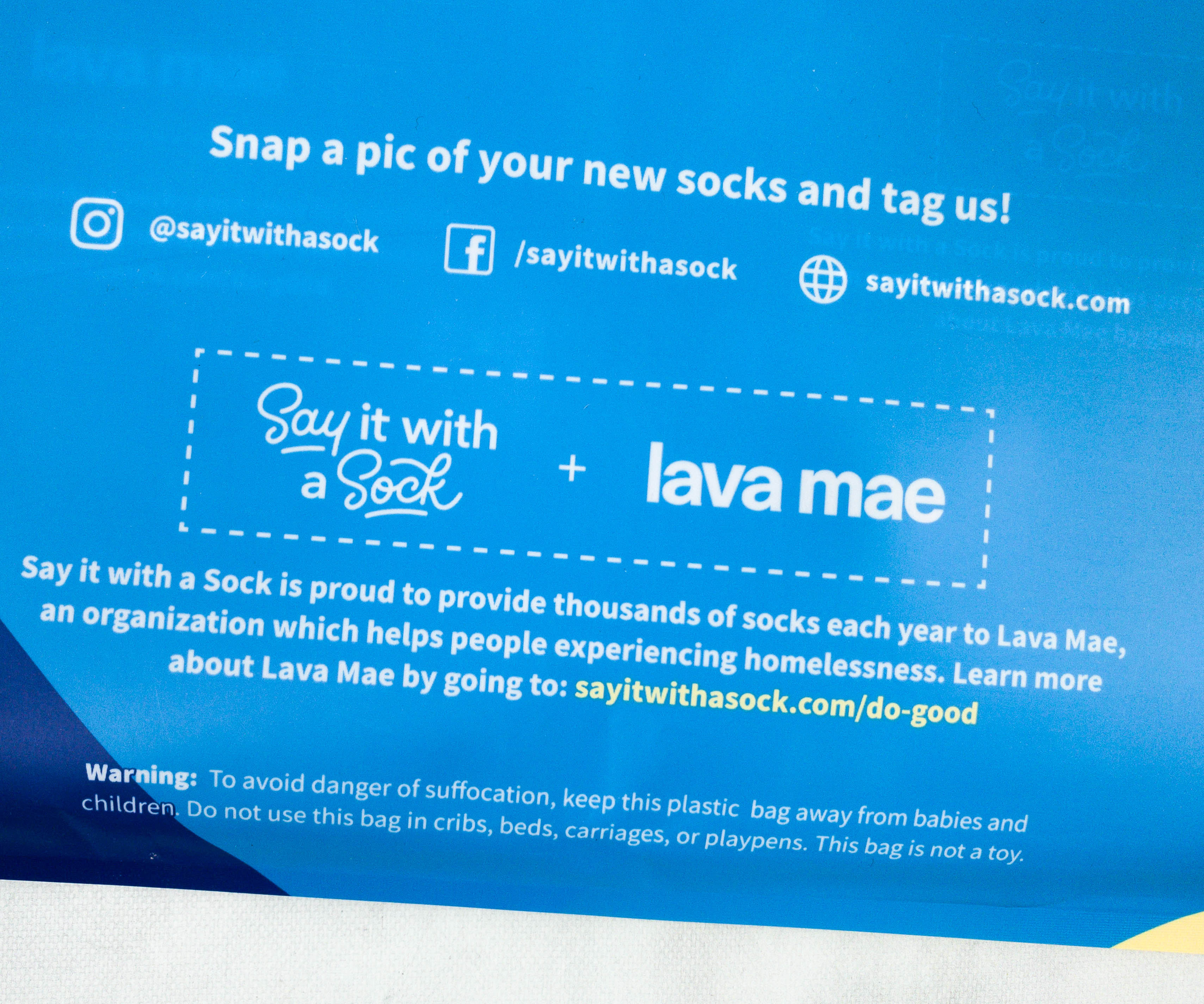 Say It With A Sock has partnered with Lava Mae, an organization that helps homeless people. Learn more here!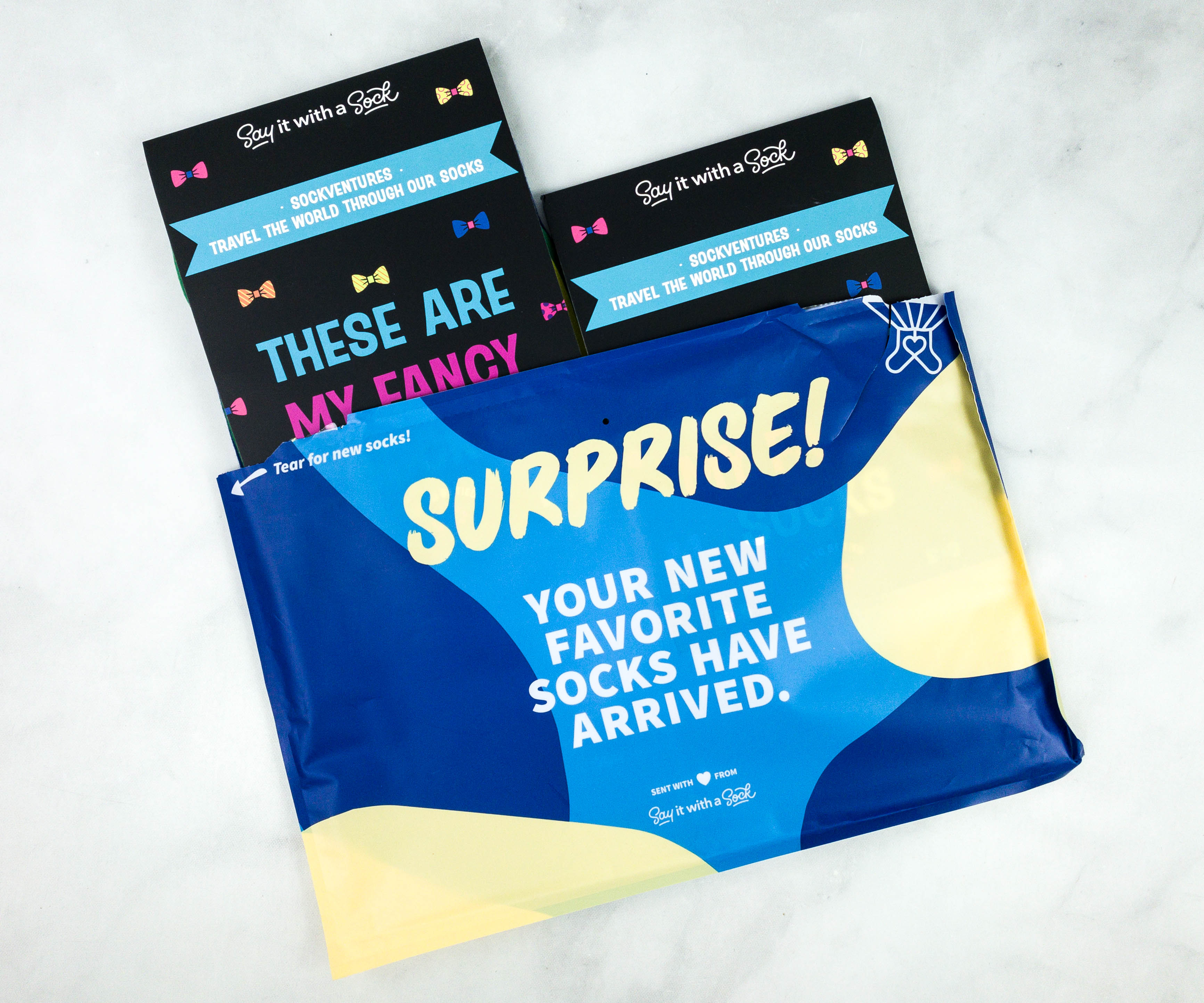 The socks arrived in a poly mailer packaging!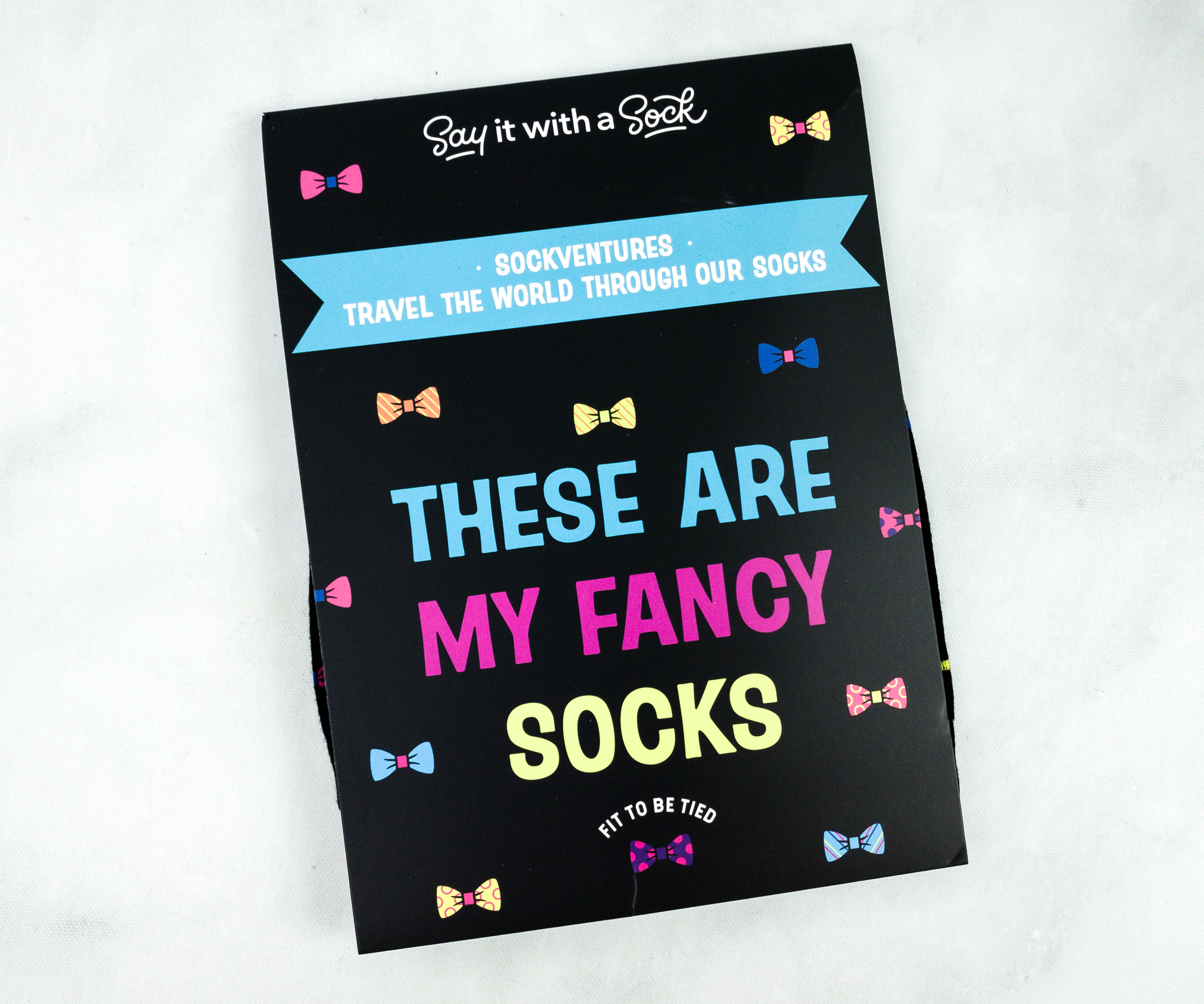 This year, Say It With A Sock Kids introduced the Sockventures theme, which aims to bring subscribers to different parts of the world through their socks. This month's featured place is Croatia and they have chosen colorful bow ties to represent it.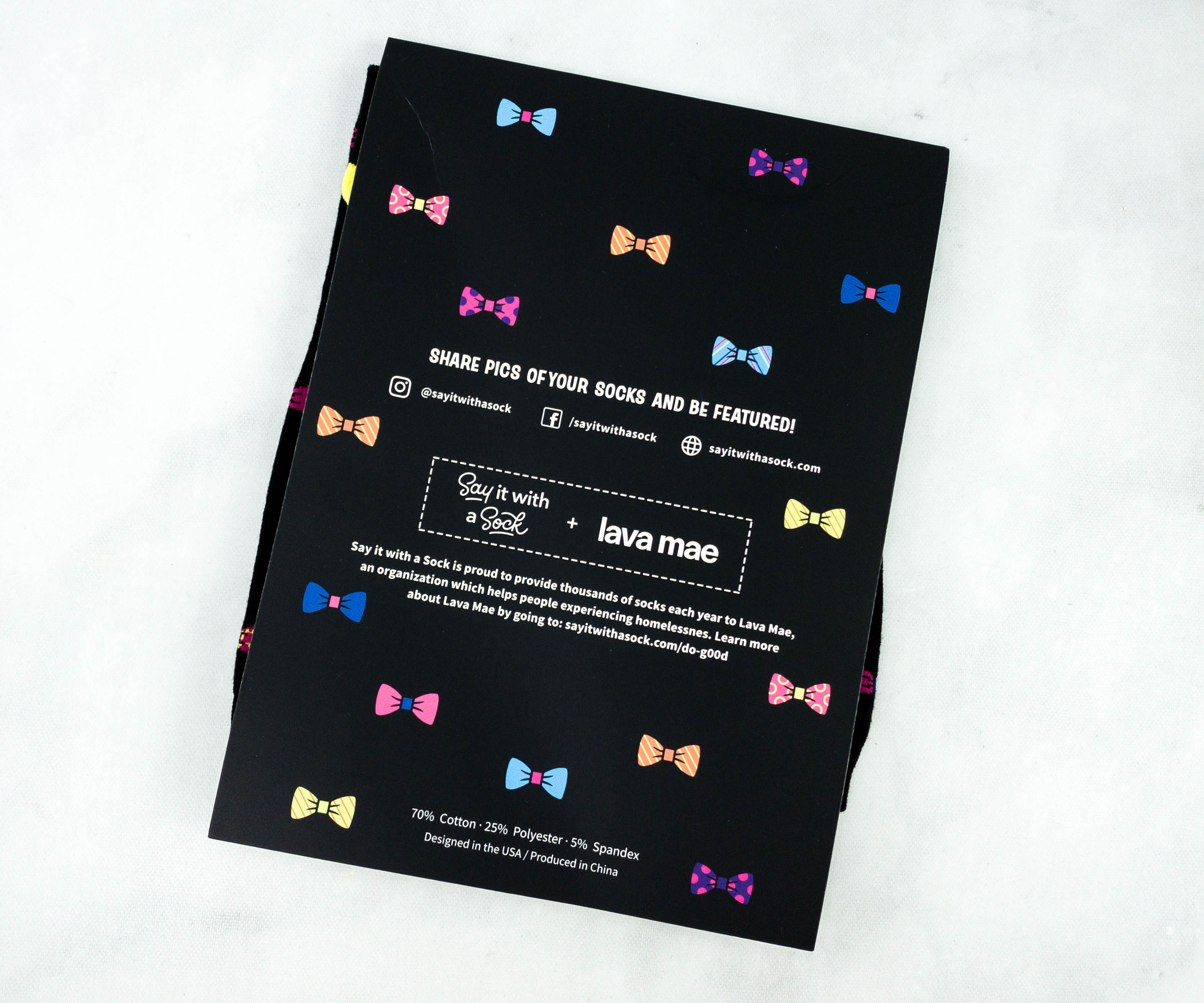 This month's socks are designed in the USA and produced in China. Both pairs of socks are made with 70% cotton, 25% polyester, and 5% spandex.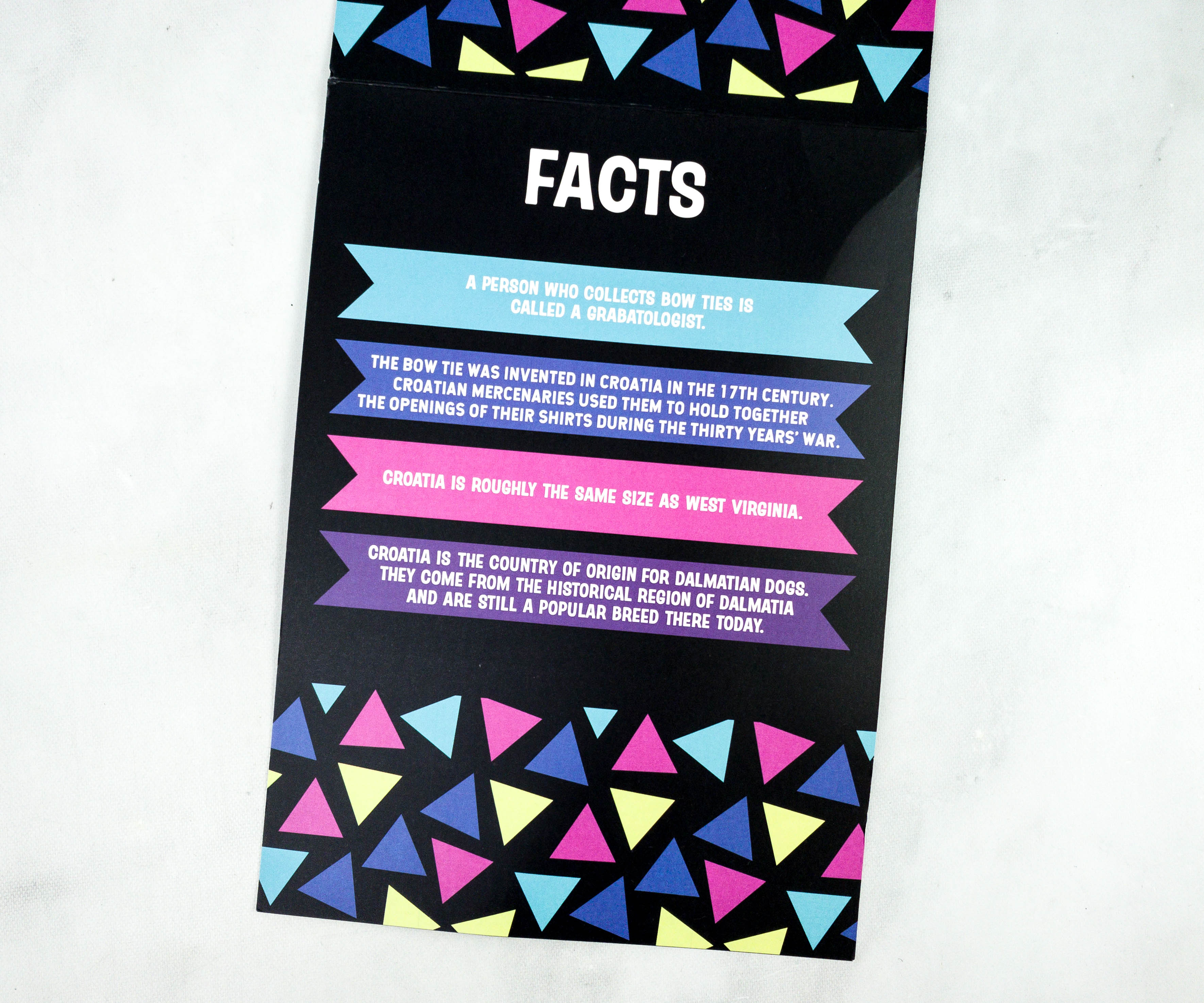 The other side of the info card provides us with some helpful facts about the featured country. Here are some fun facts to know: Bow tie was invented in Croatia in the 17th century. They are used by Croatian Mercenaries to hold together the openings of their shirts during the thirty year's war! Did you know that there's a term for a person who collects bow ties? There is! And it is called Grabatologist. With roughly the same size as West Virginia, Croatia is the country of origin for Dalmatian dogs! This breed comes from the historical region of Dalmatia (thus, the term Dalmatian) and is still a popular breed there today.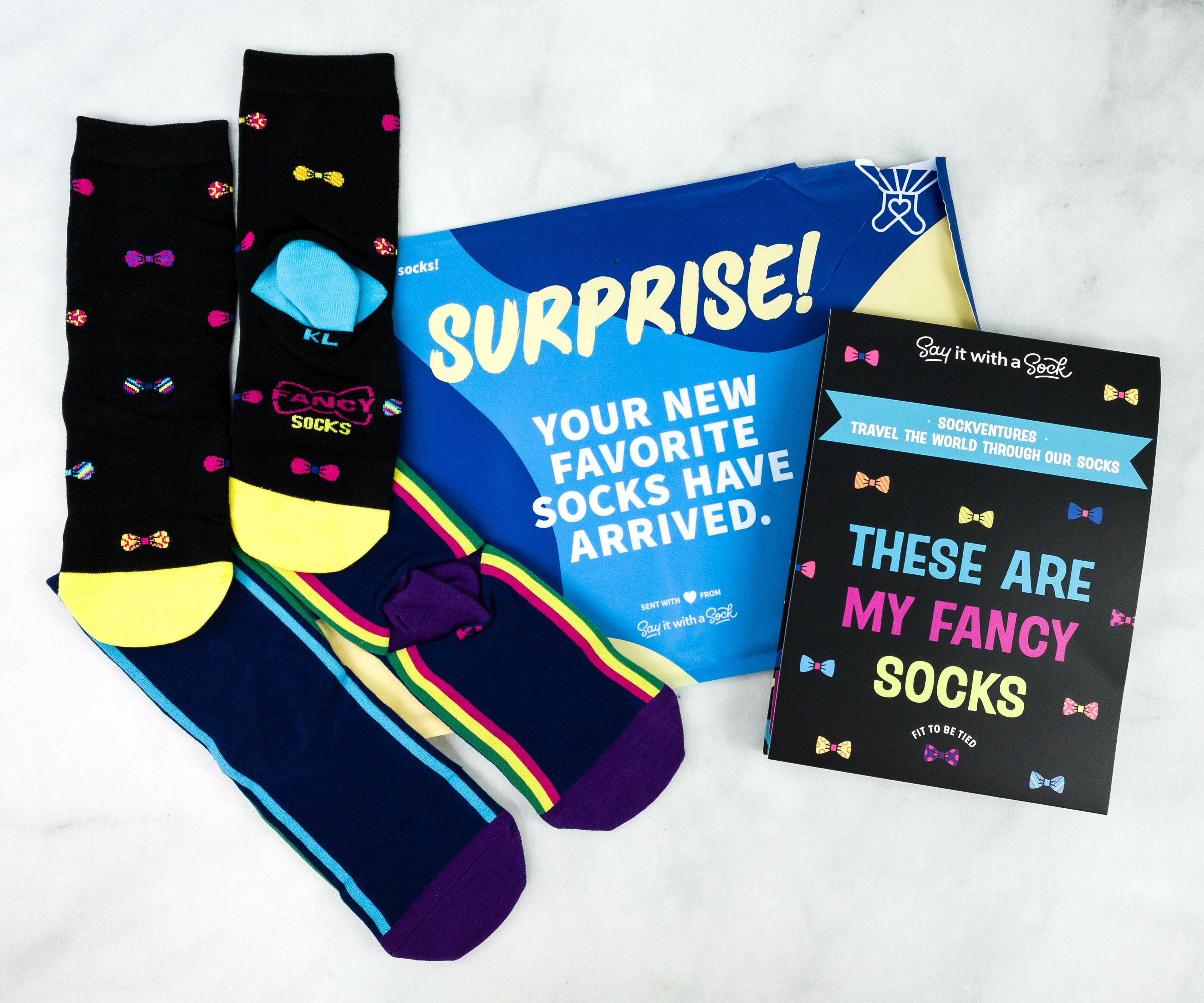 Everything in my pack!
The top of the carton features this month's tagline, "I'm a little tied up right now".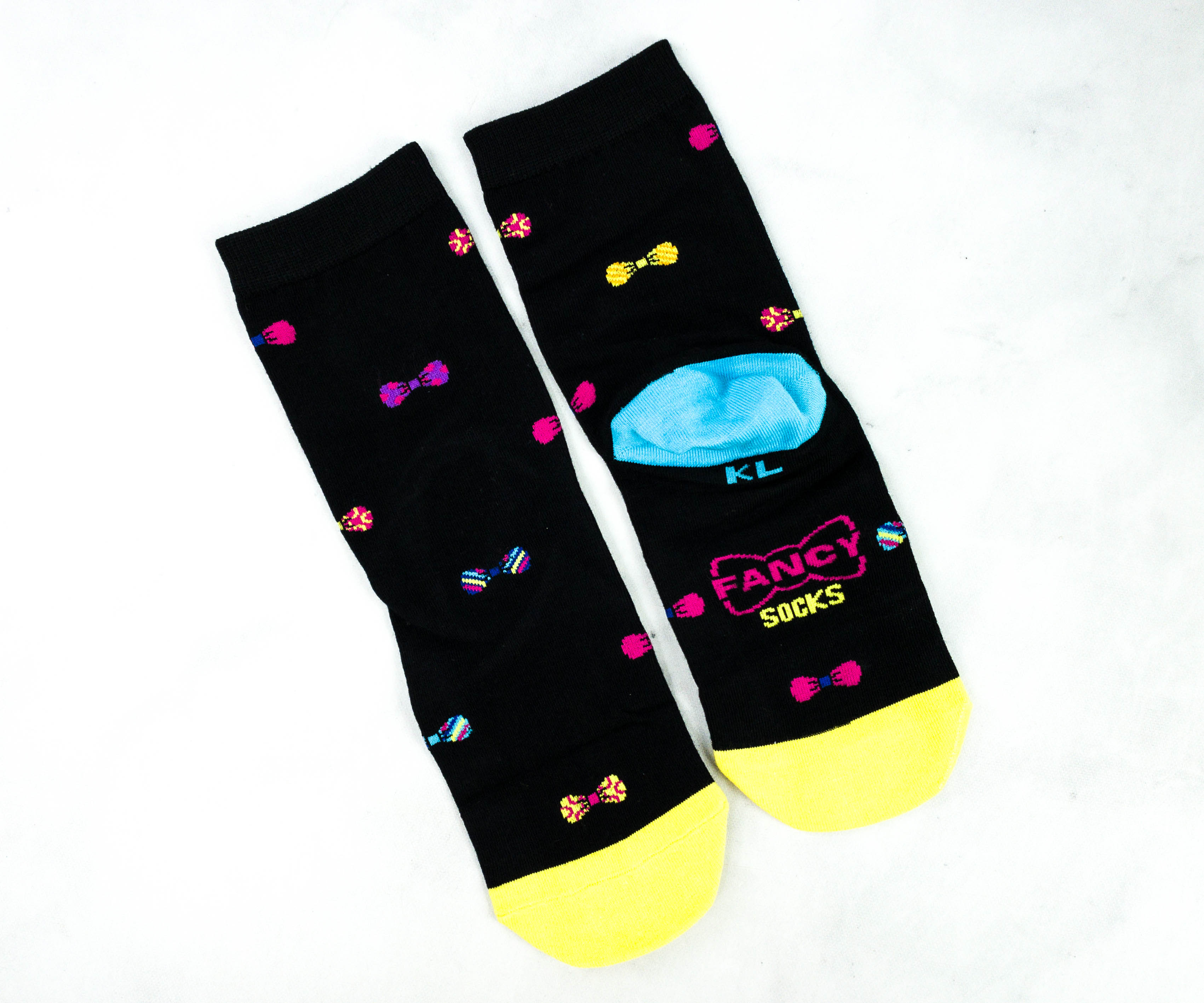 Here's the first pair! They are ankle-high socks with black base color plus yellow toes and light blue heels.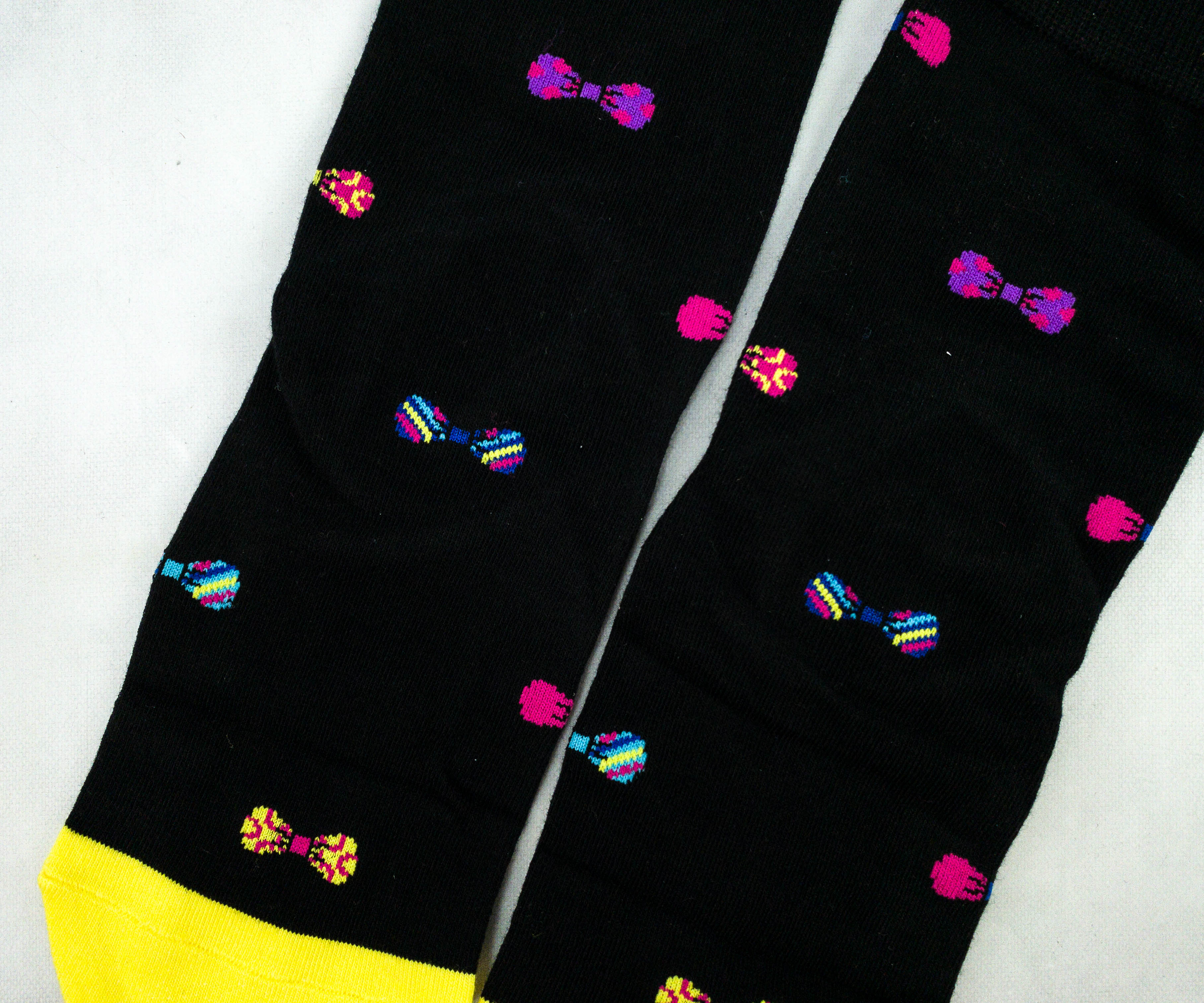 There are different designs and colors of ribbon all over the socks!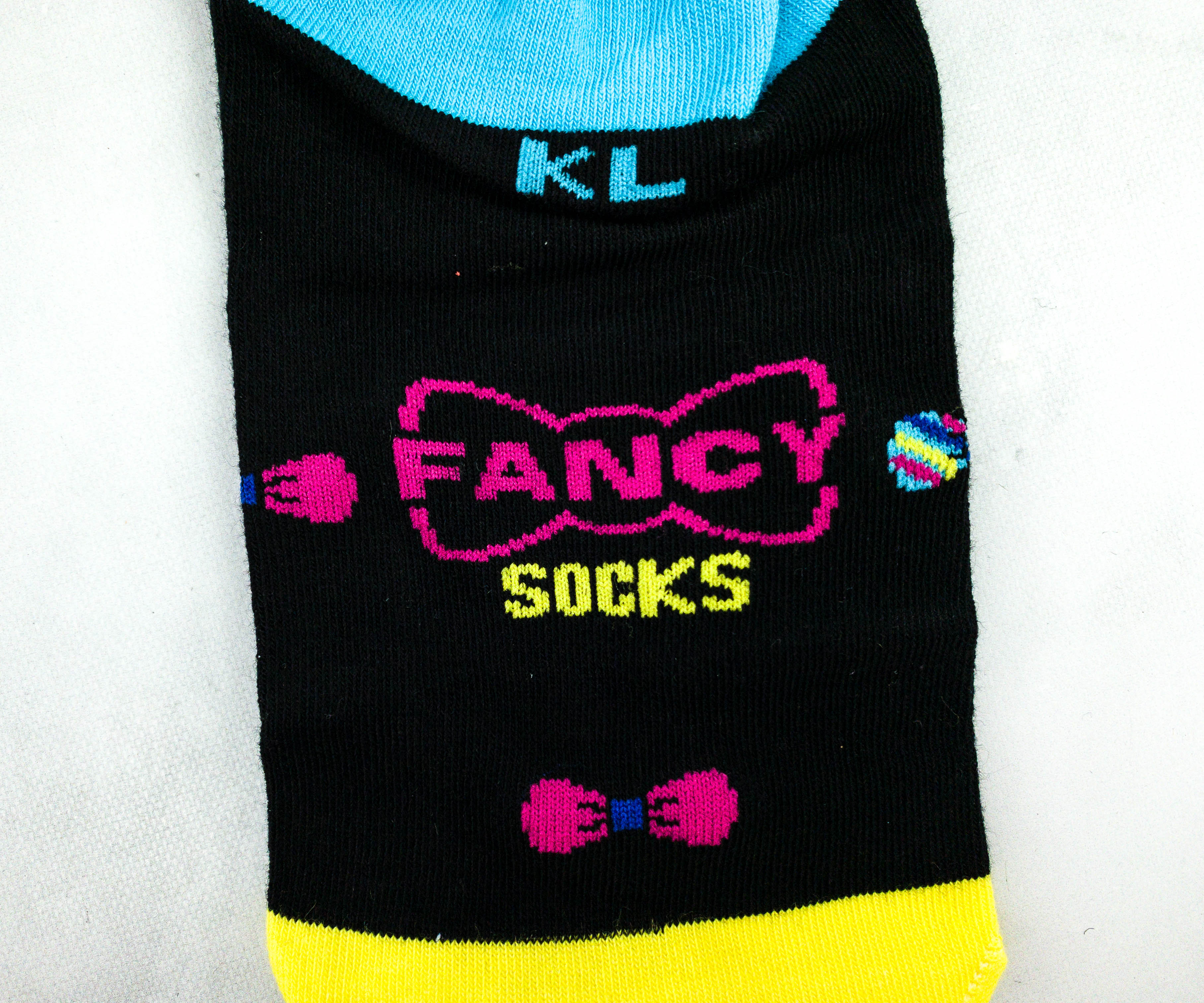 Printed on the socks' sole is a larger image of a ribbon with a text saying "Fancy socks". They sure are fancy!
The next pair of socks features a dark blue base color and cuffs, plus violet heels and toes.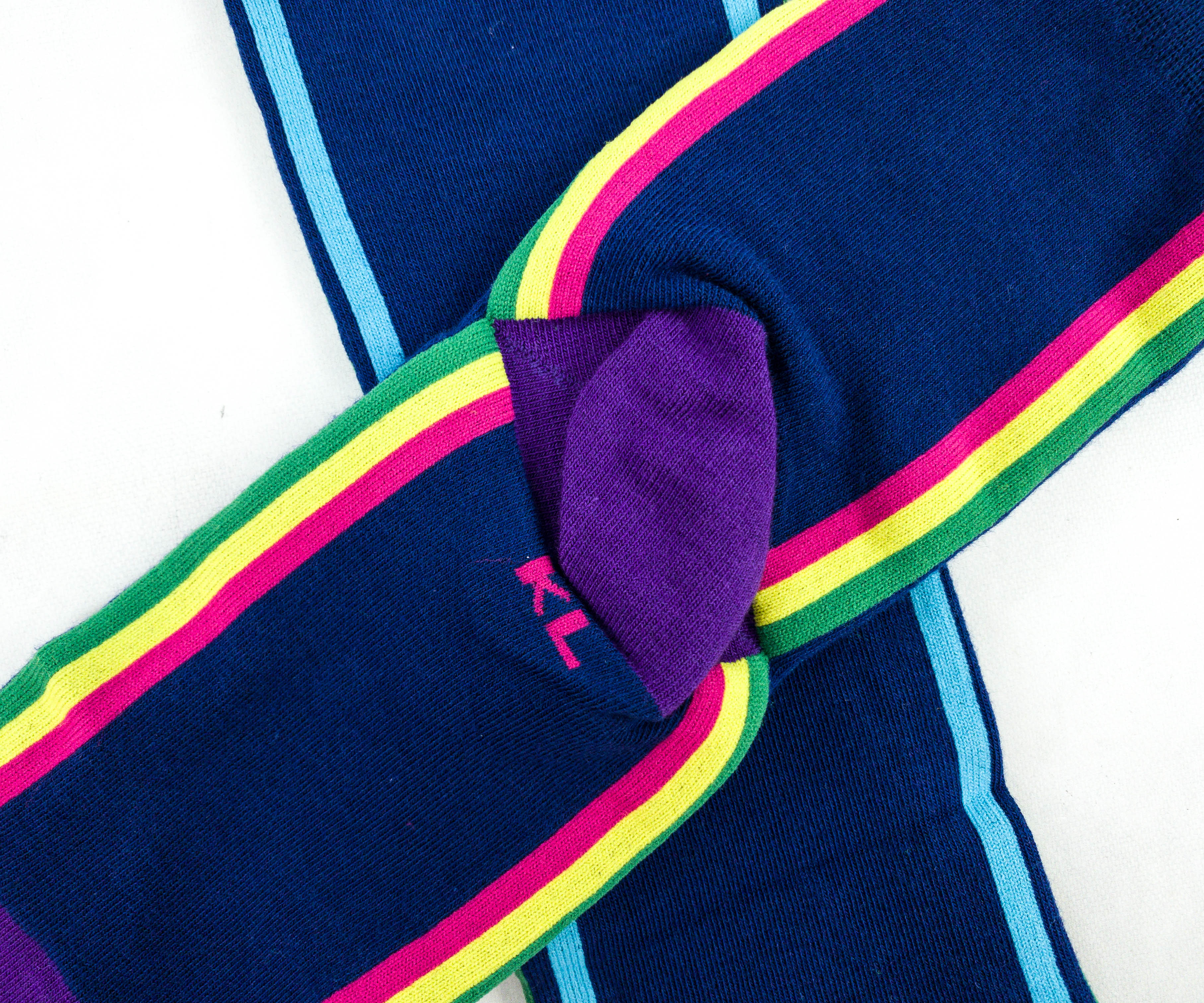 The second pair is pretty simple. It has ribands in colors green, yellow, fuchsia, and light blue that run along the sides.
Say It With A Sock always sends high-quality socks for kids. My kids love this month's selection of socks, plus the fun theme! As expected, both socks are comfortable to wear. They are warm on the feet and they don't slip down easily. With their Sockventures theme, kids will get two fresh pairs of socks every month and learn facts about different countries! This subscription is a great way to replenish their sock drawers and feed their minds with knowledge. In case you want to get fresh socks every month for the whole family, you can also try their sock subscription for adults.
What do you think of this month's Say It With A Sock?