Raddish is a monthly kids' activity box centering around food and cooking! Designed for kids 4 to 14+, each themed box will include 3 illustrated recipe guides, 3 culinary skill cards, a creative kitchen project, kid-friendly tools and collectibles such as Table Talk cards, a culinary tool, and an iron-on Raddish patch. Themes range from Seasonal Spotlights to Global Cuisine and Creative Cookery to Holiday Celebrations. Although the ingredients are not included, they email you a shopping list for each month's recipes before your kit is shipped.
DEALS:
Get $15 off when you sign up for a 6 month subscription! Just use this link and use the coupon code ATHOME at checkout.
Get $20 off when you sign up for a 12 month subscription! Just use this link and use the coupon code CHEF20 at checkout.
PLUS Get a FREE apron with your first box when you sign up for a 6+ month subscription!
They offer a monthly membership for $24/month, a 6-month membership for an upfront payment of $132 ($22/month), and a 12-month membership for an upfront payment of $240 ($20/month). For those who are getting the 6 and 12-month memberships, expect a free apron in your box.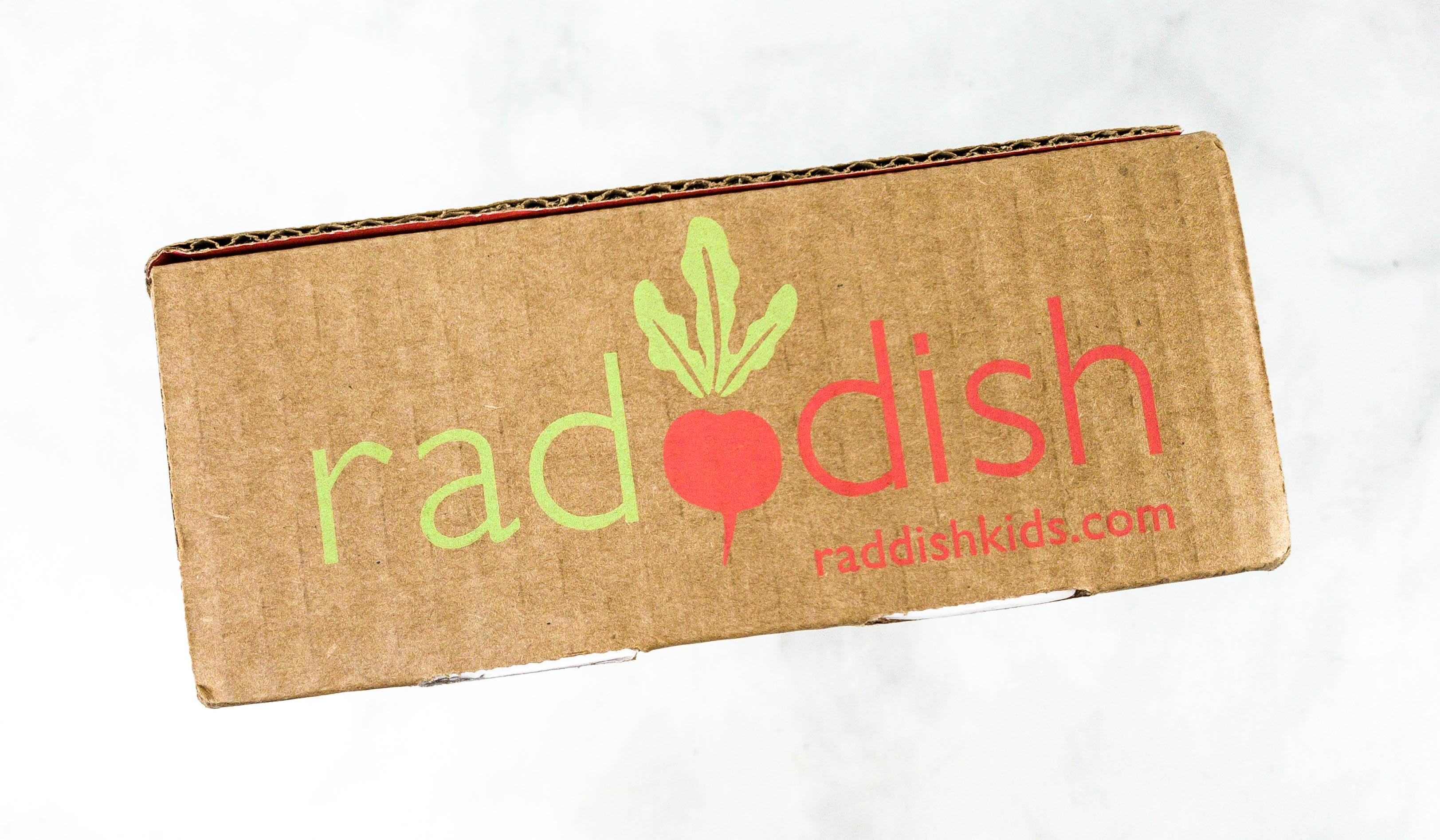 The box came in perfect condition!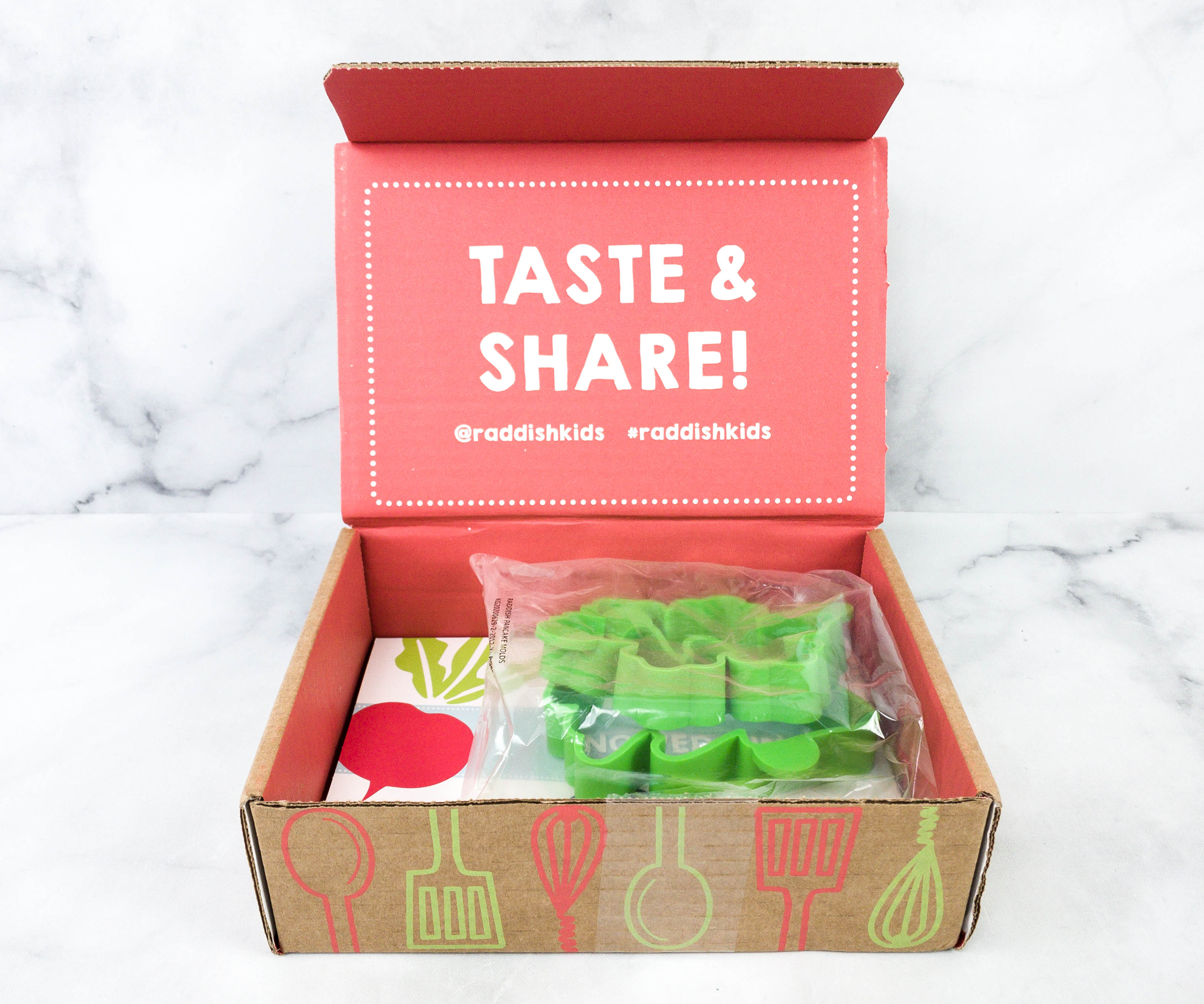 Featured on the inner part of the box's flap are Raddish Kids' social media handles where you can share your cooking experience.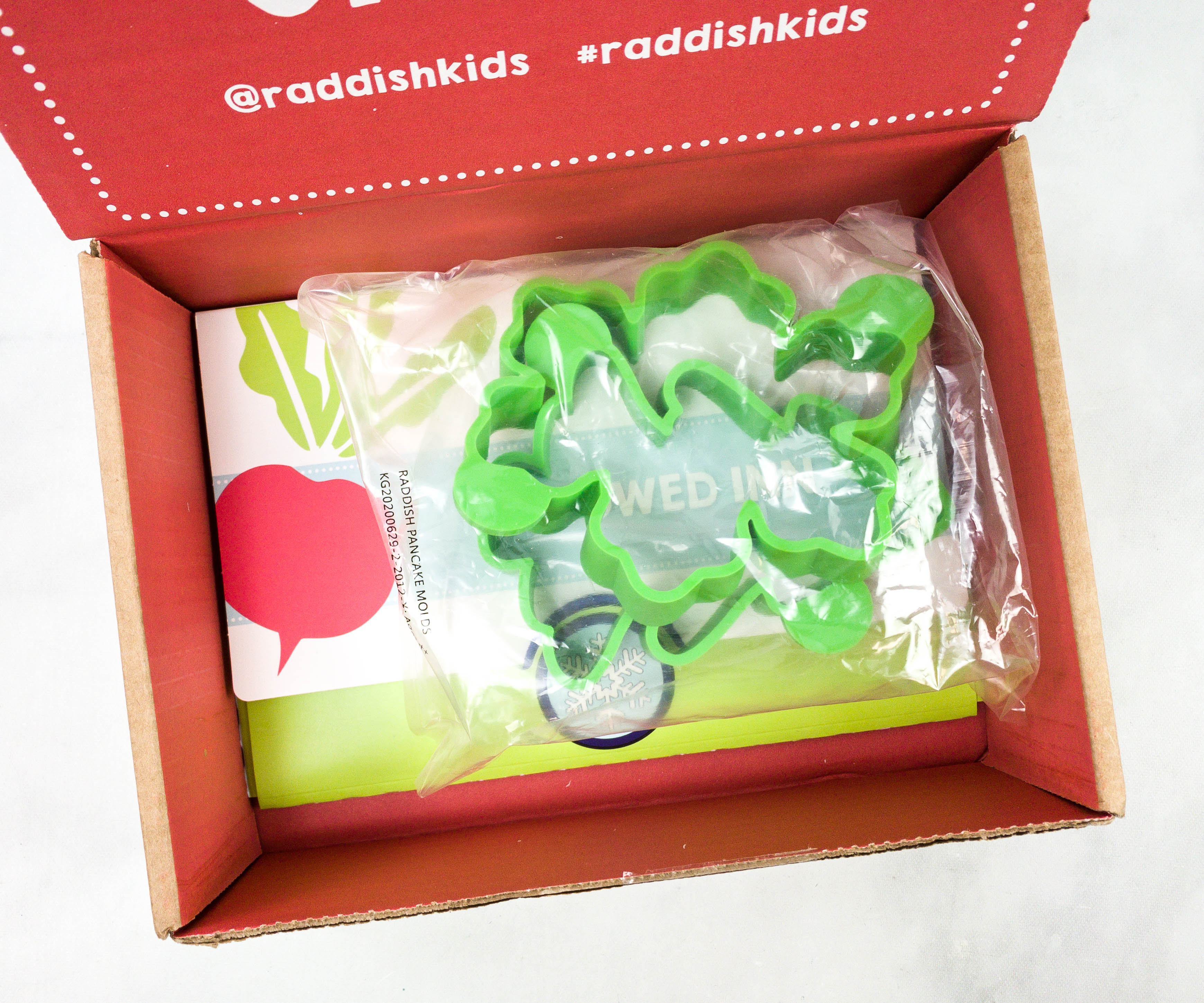 All the items were neatly packed inside the box.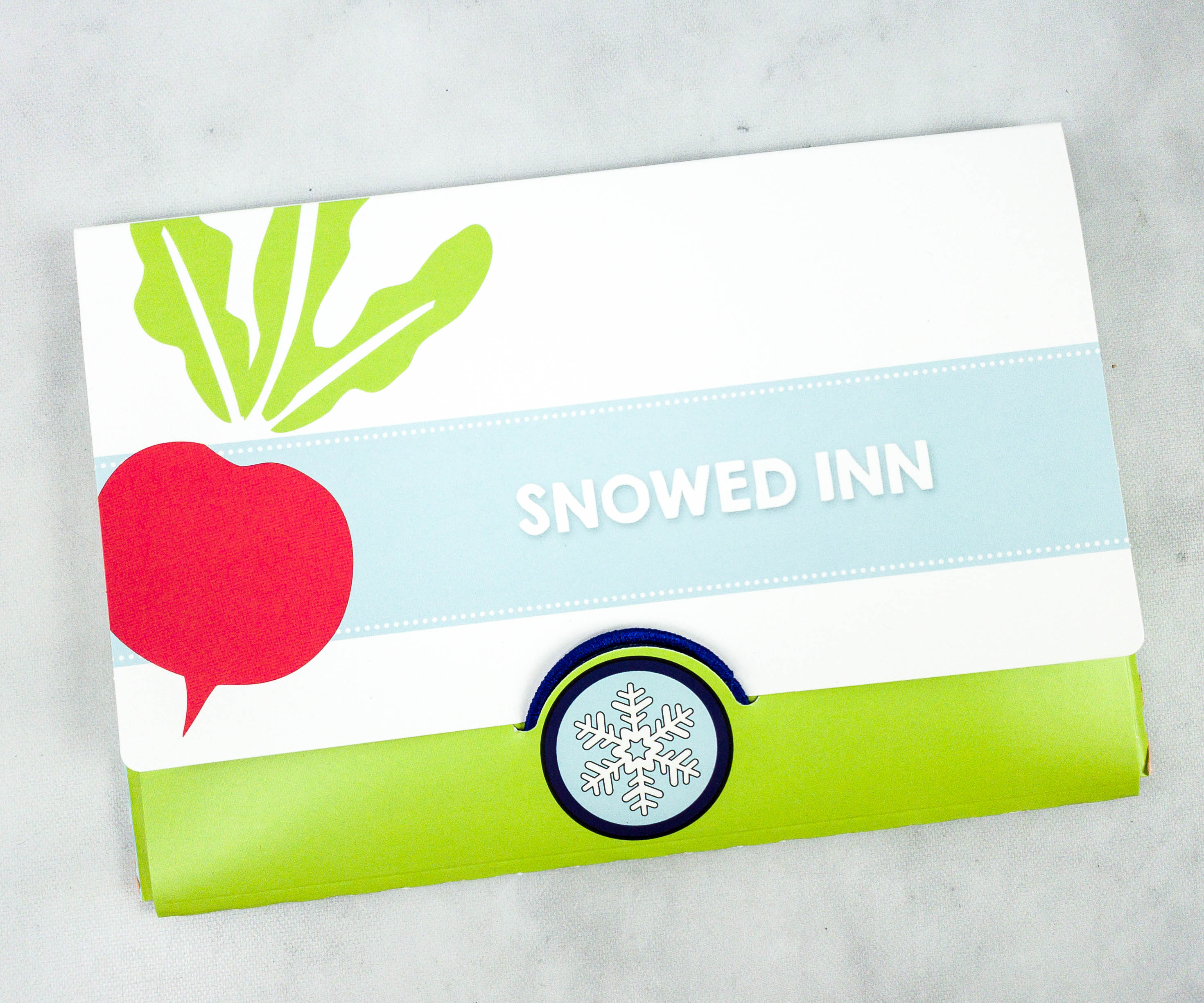 This month's theme is Snowed Inn! Inside the envelope are small cards containing some culinary skill lessons, guides with fun and exciting activities.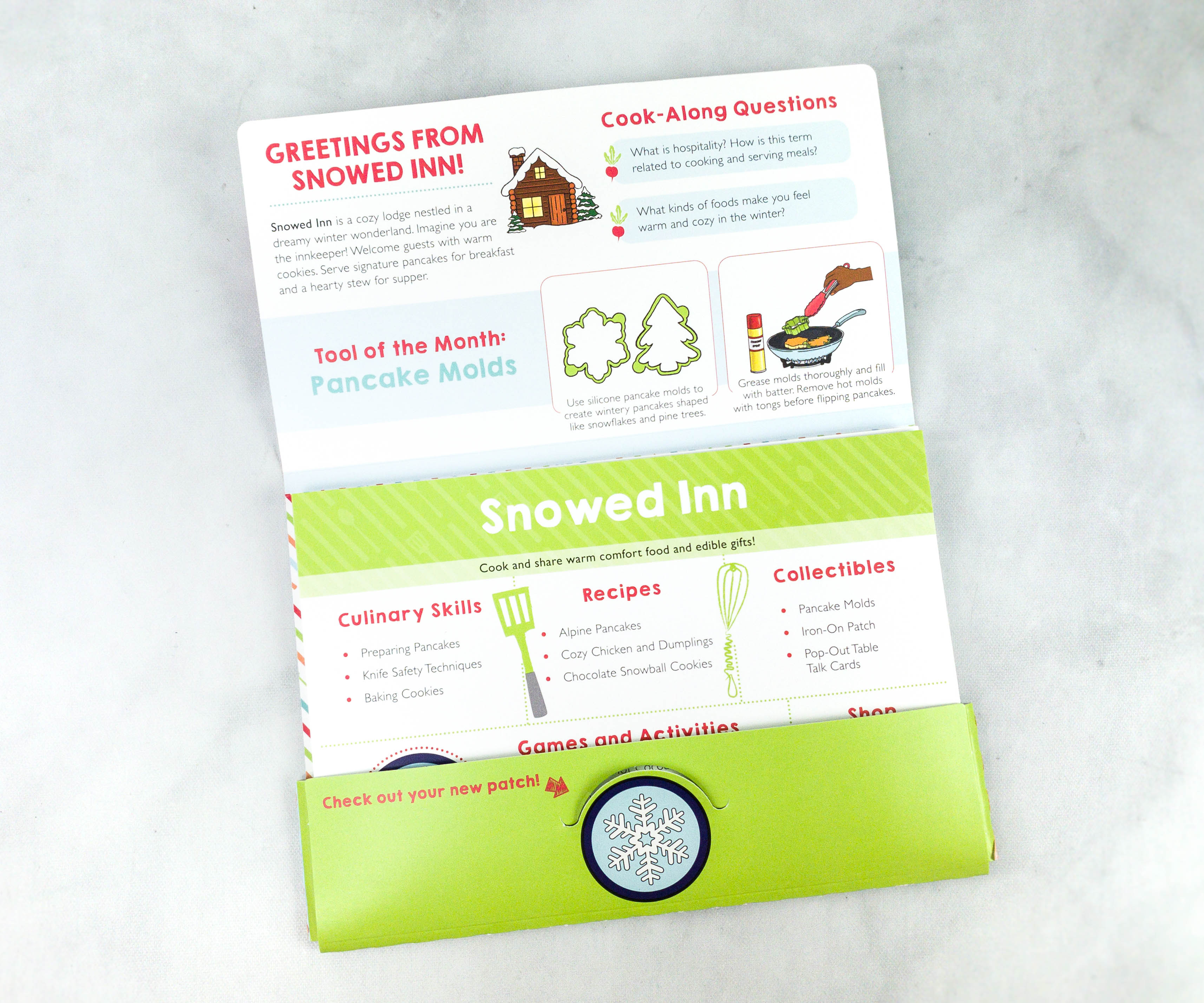 They also have bonus content on their website, called Bonus Bites, which includes a Spotify playlist that the kids can listen to while cooking, dietary modifications for the recipes in the box, and even lesson plans to accompany the kit.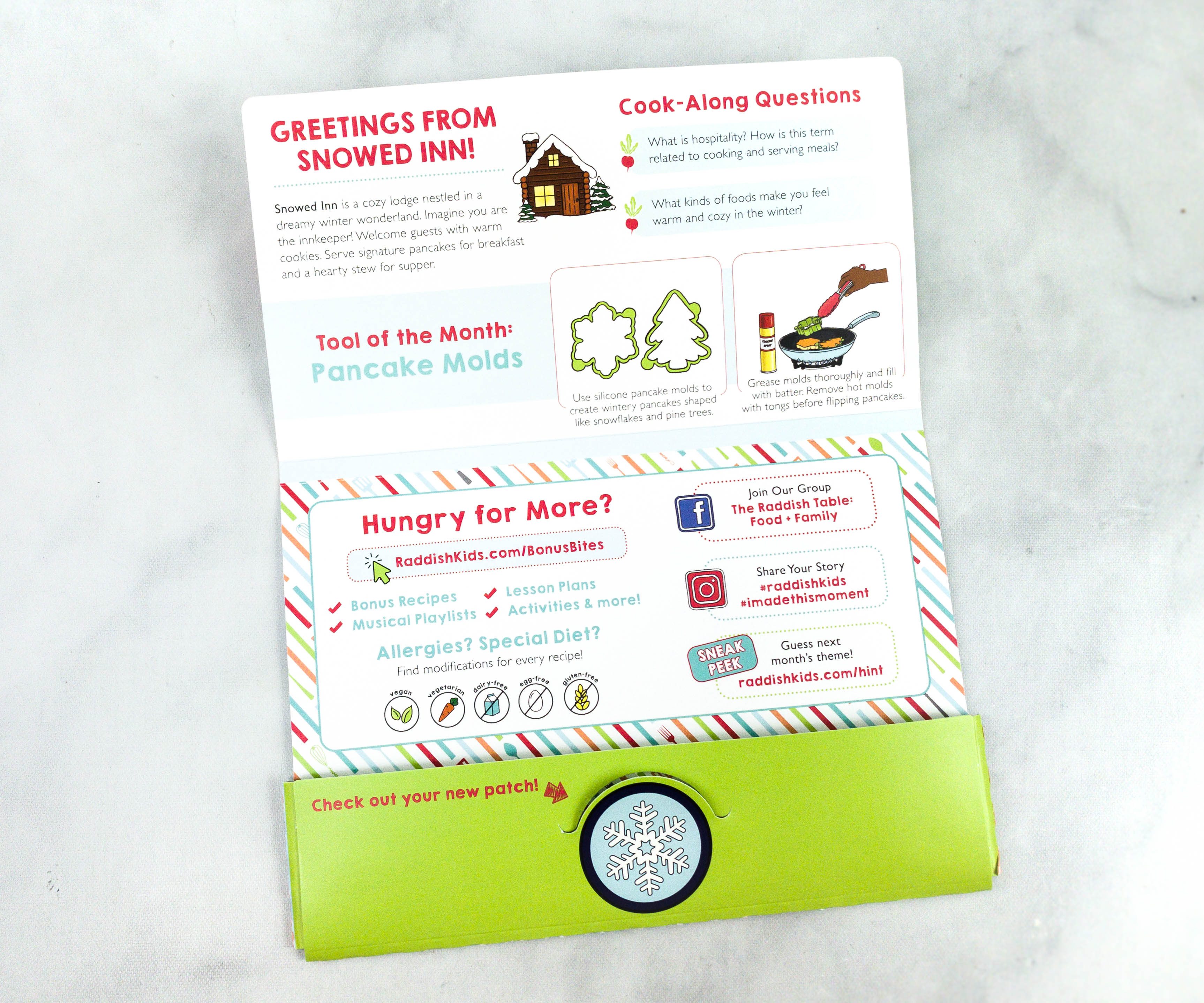 The envelope lists ways on how you can connect with Raddish Kids on social media, as well as a sneak peek for next month's theme.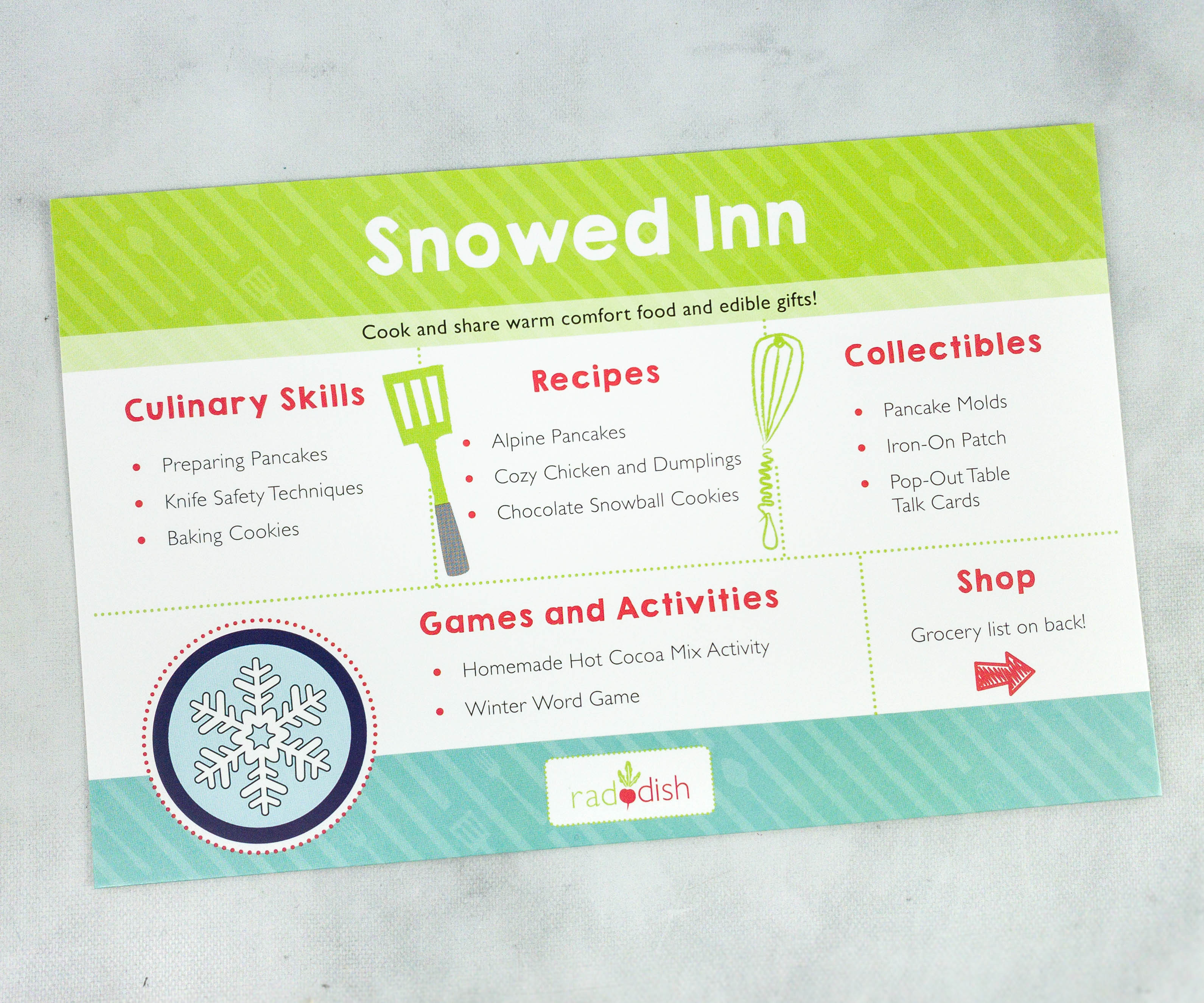 This card contains all the information you need to know about this month's box. It lists all the culinary skills your kids will be acquiring, the recipe names, collectibles, and other games and activities.
The back of the card provides a complete grocery list for all the featured recipes this month. The recipes are Alpine Pancakes, Cozy Chicken Dumplings, and Chocolate Snowball Cookies.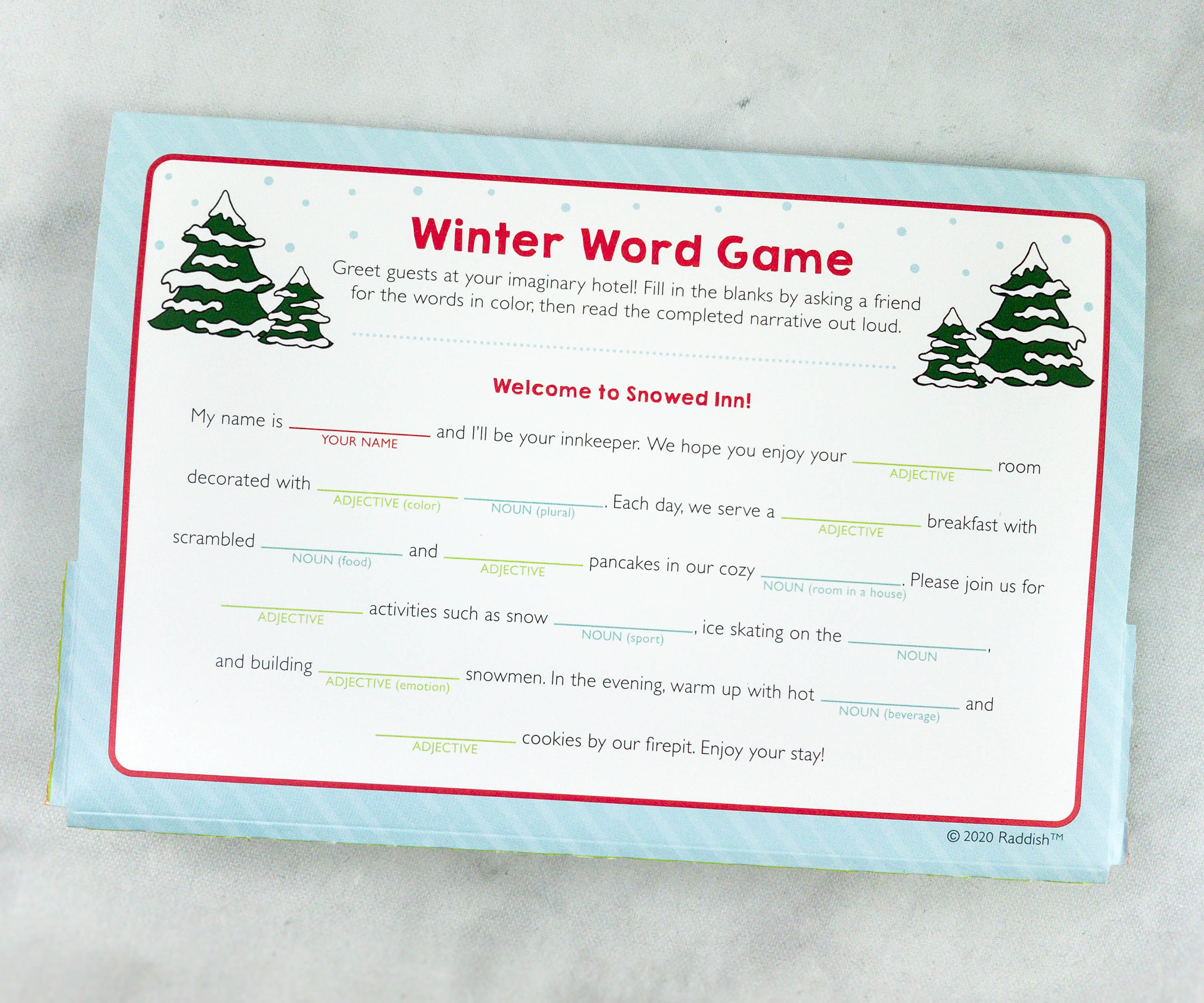 The back also includes a fun word game!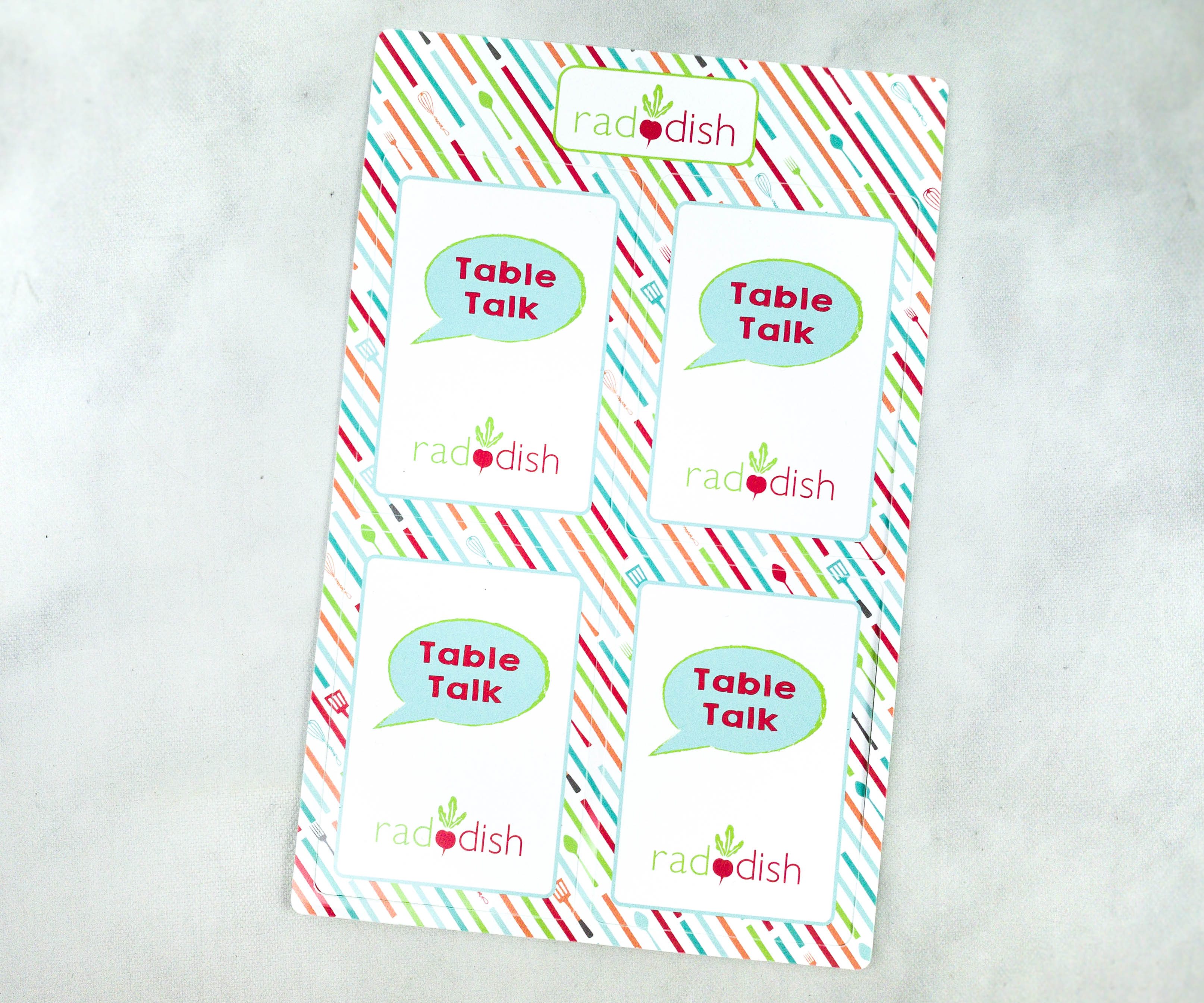 The box also includes exclusive Table Talk conversation starter cards.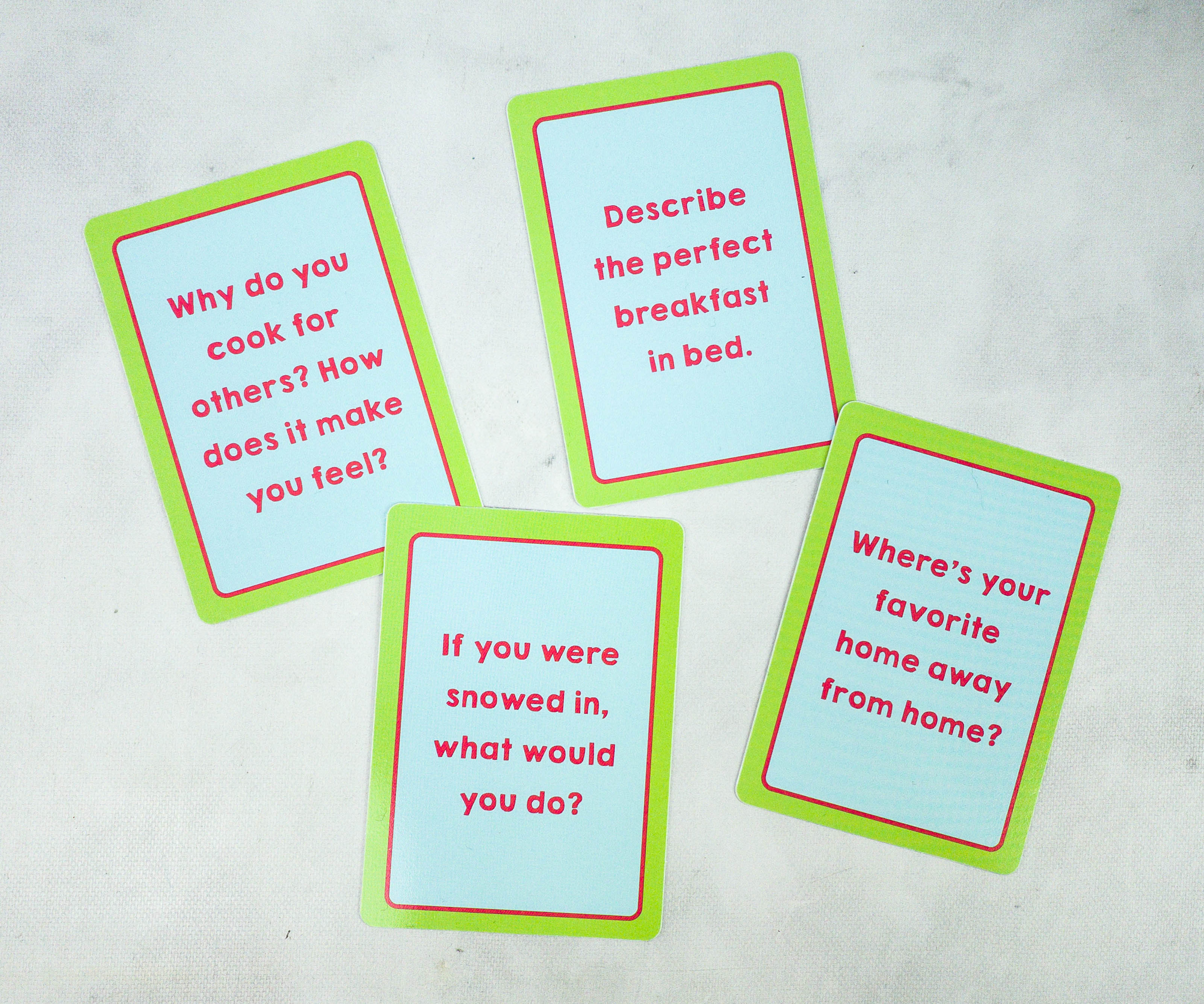 Each card contains some questions for a great table talk conversation. They come in a sheet and you can easily tear them down.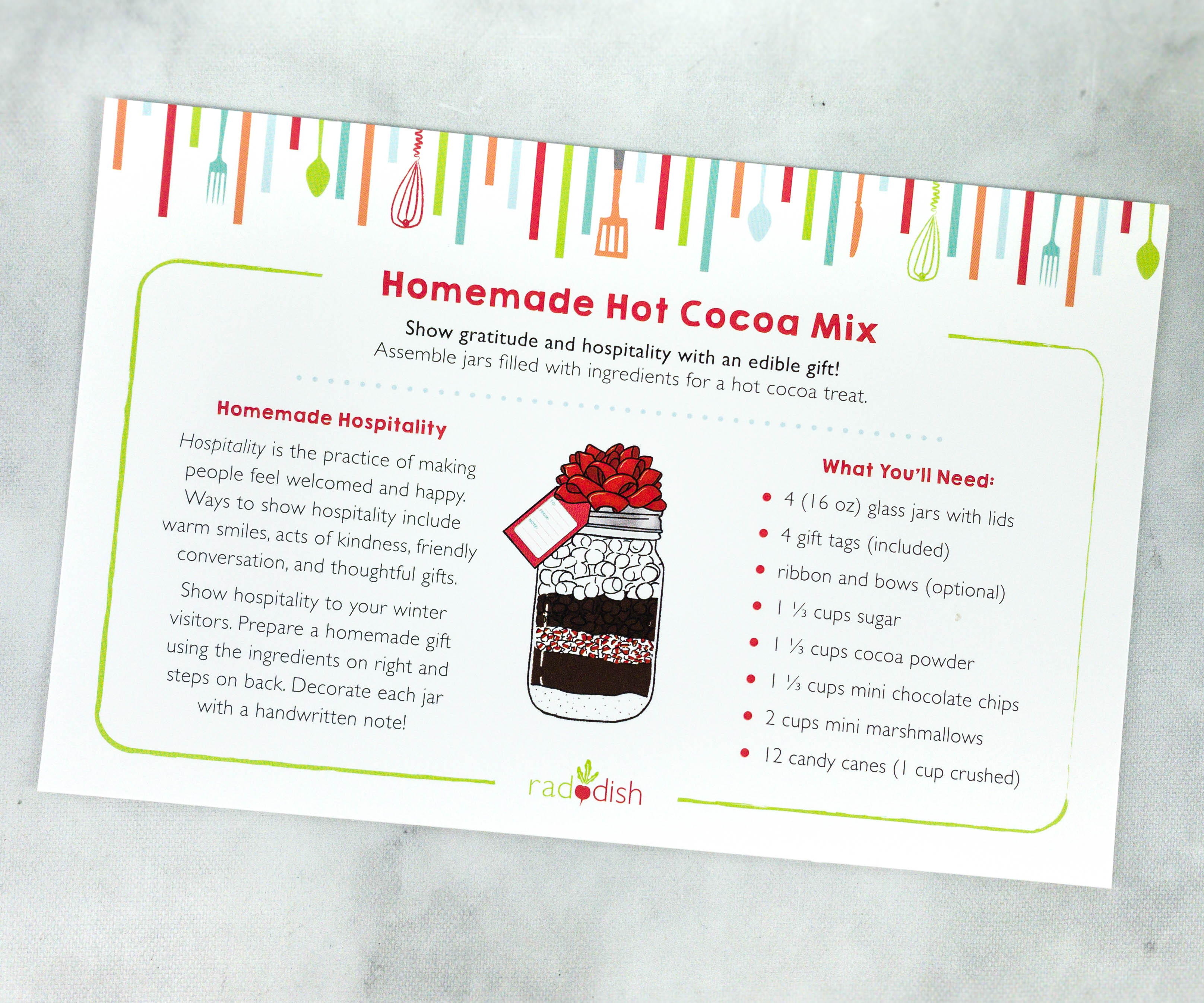 Here's a recipe for the homemade hot cocoa mix!
There are only 4 steps to make this decadent gift and there were also tips for assembly!
They even added gift tags that the kids can use!
At the back of each tag are the instructions for the recipients on how to prepare the peppermint hot cocoa at home.
Everything in my December 2020 box!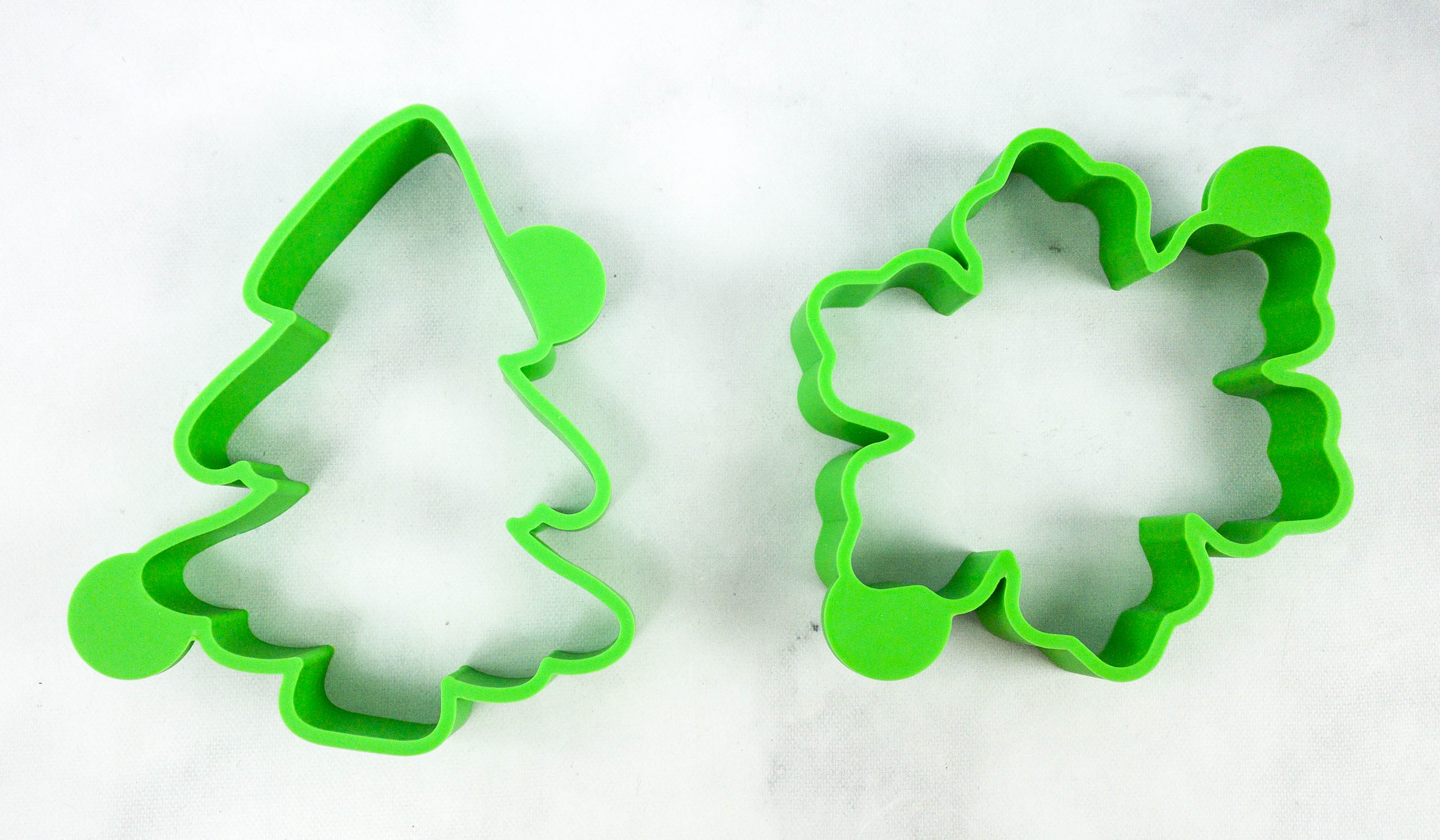 These pancake molds are this month's featured tool.
Another bonus item is a patch and it represents this month's theme.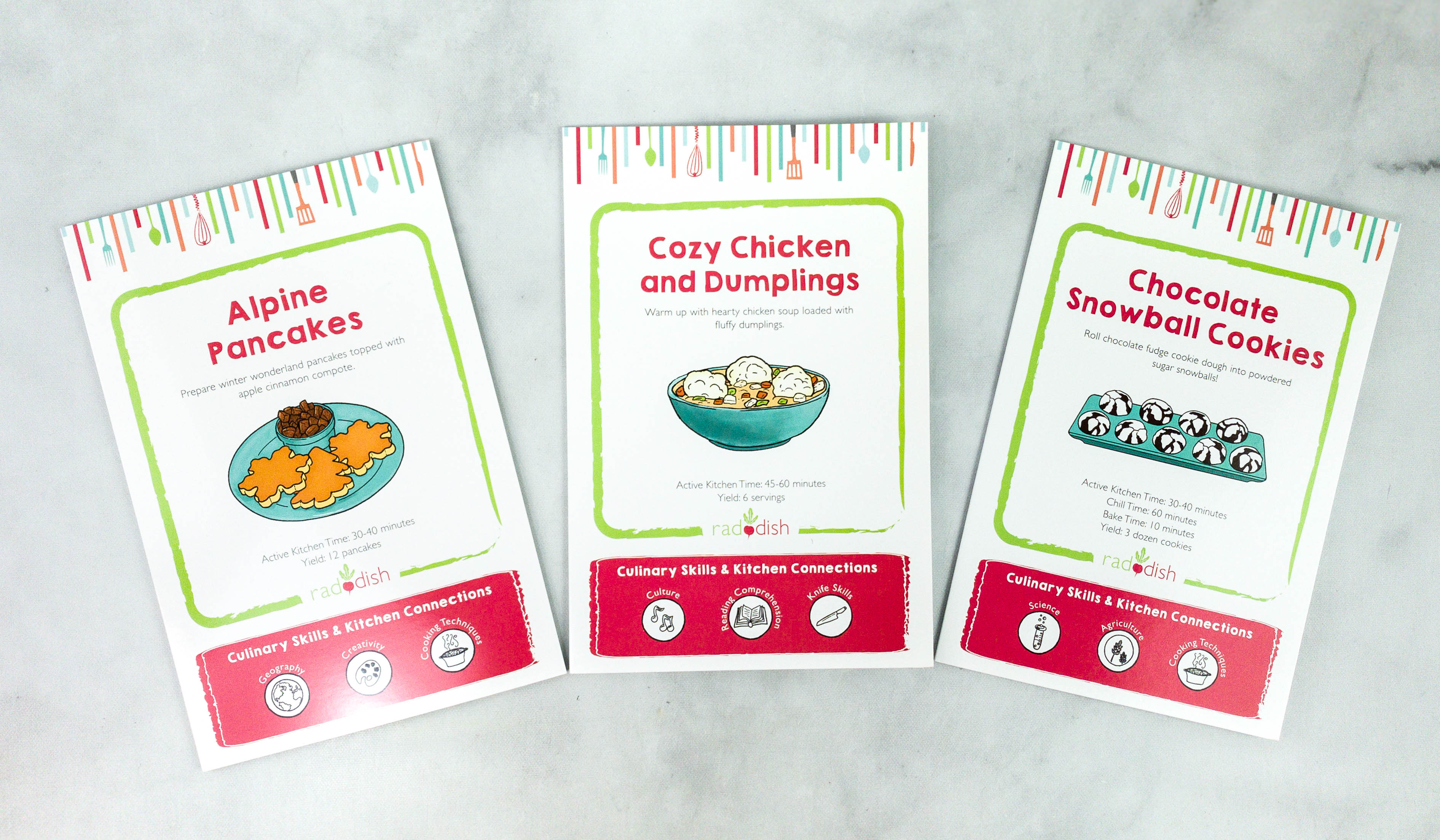 Here are this month's recipe guides!
Each recipe has corresponding culinary skills and kitchen connections.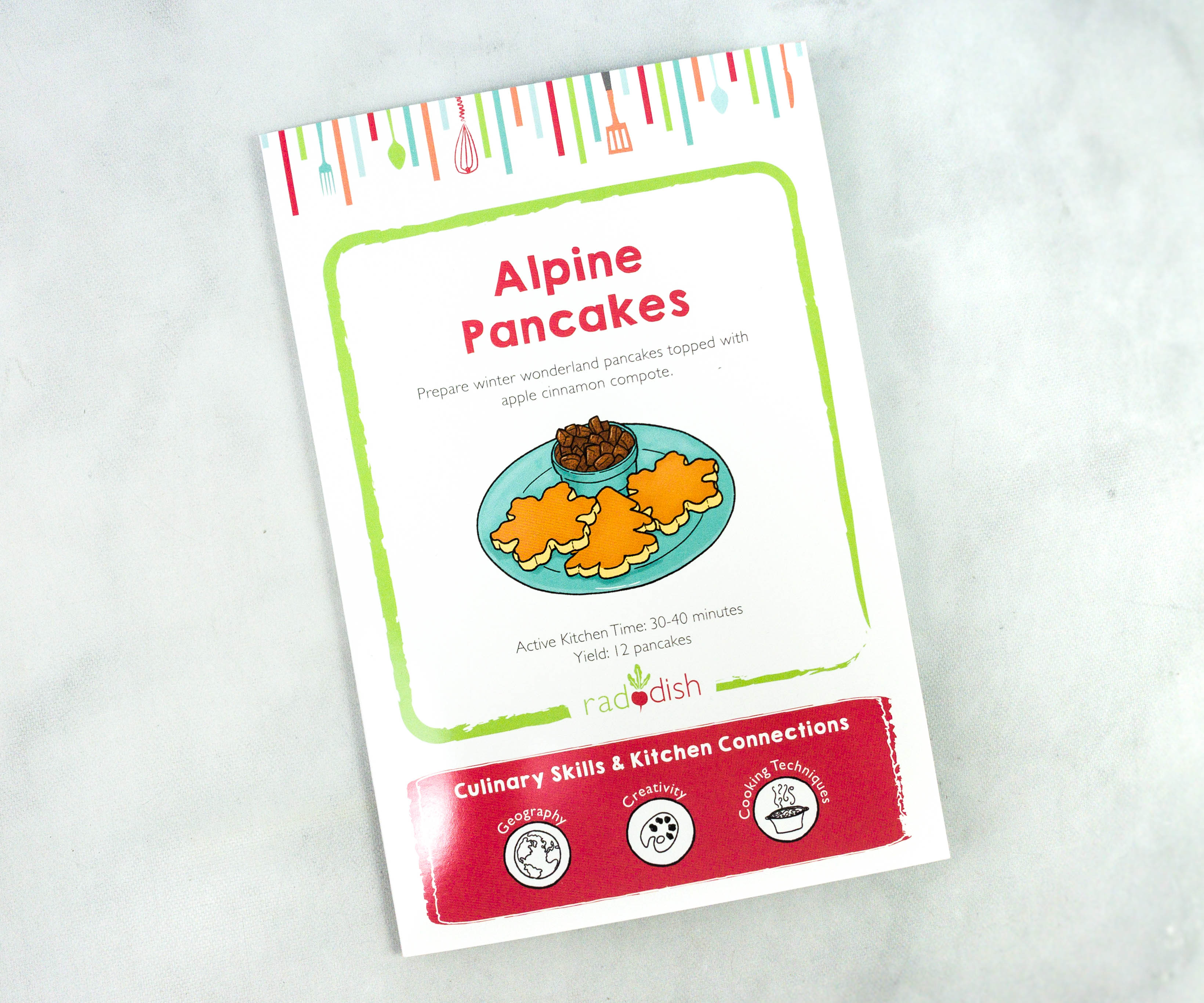 Alpine Pancakes. The first recipe is Alpine Pancakes! These pancakes are topped with delicious apple cinnamon compote.
Active Kitchen Time: 30-40 minutes

Yield: 12 pancakes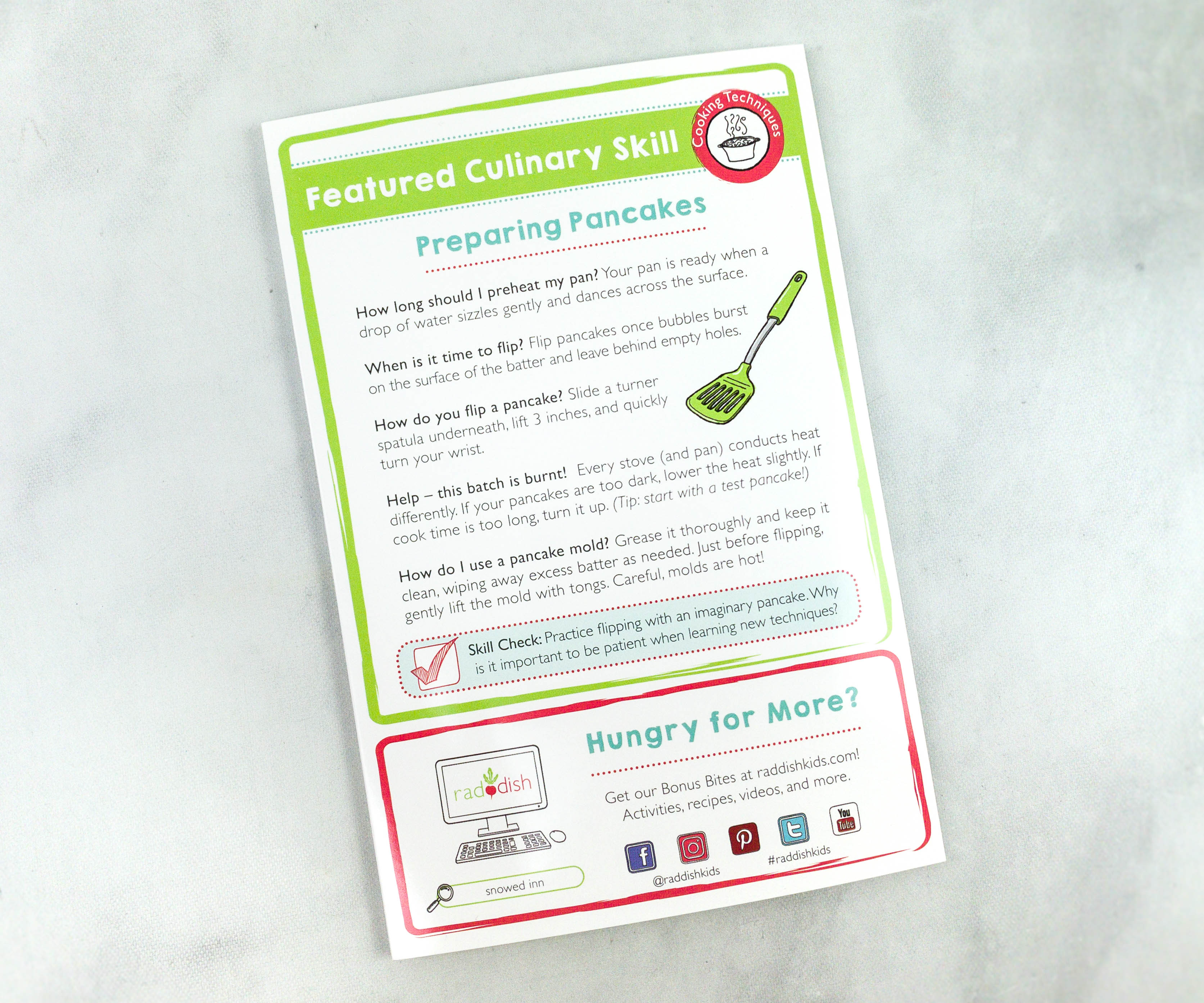 This recipe teaches kids how to prepare pancakes, including how to flip it! The card encourages kids to practice flipping with an imaginary pancake first.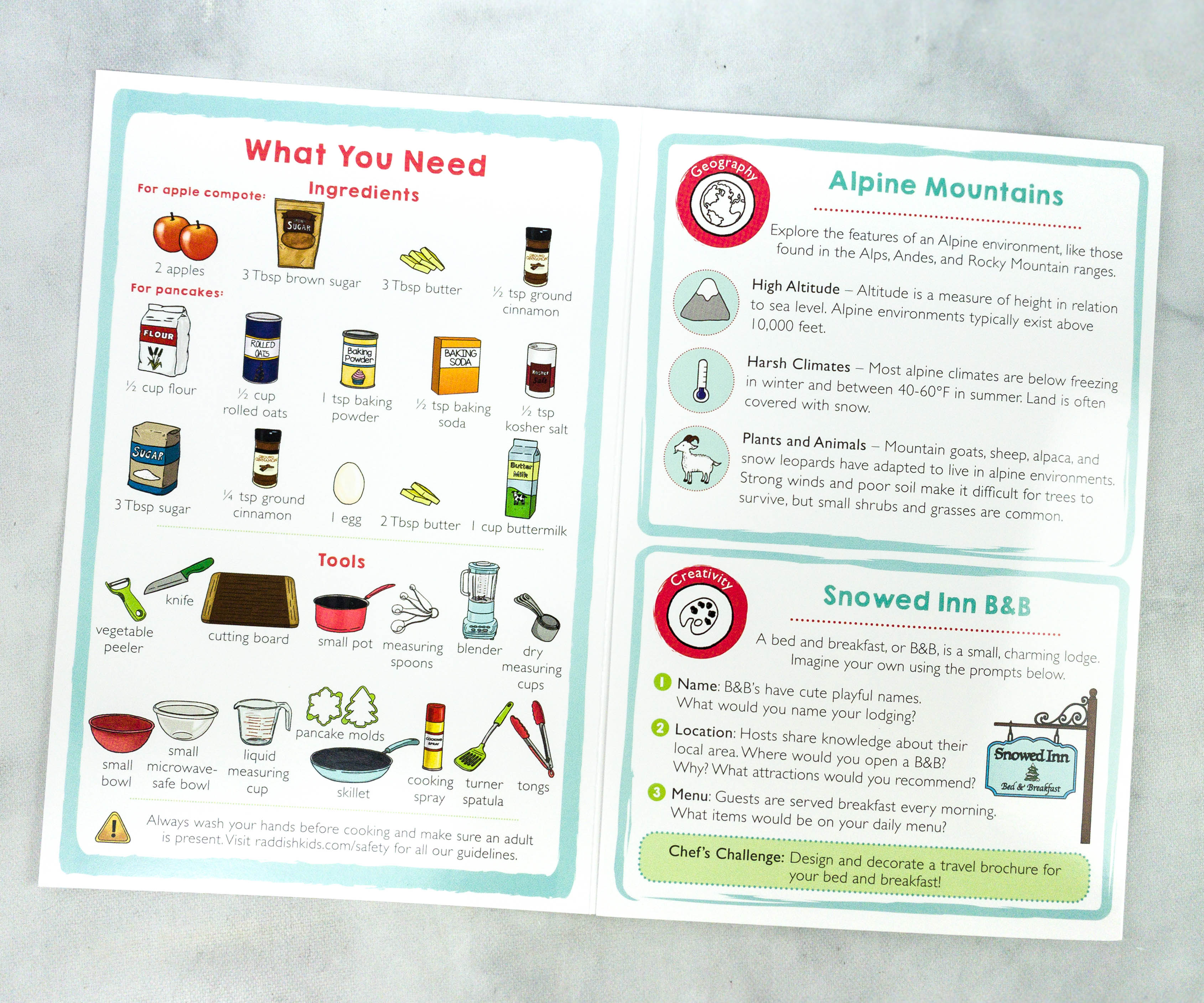 Inside the booklet are the ingredients and the needed tools. There's also a portion in the card that features the Alpine Mountains, plus prompts for designing and decorating a travel brochure.
Ingredients for this recipe include 2 apples, 3tbsp sugar, 3tbsp butter, 1/2 tsp ground cinnamon, 1/2 cup flour, 1/2 cup rolled oats, 1 tsp baking powder, 1/2 tsp baking soda, 1/2 tsp kosher salt, 3tbsp sugar, 1/4 tsp ground cinnamon, 1 egg, 2tbsp butter, and 1 cup buttermilk.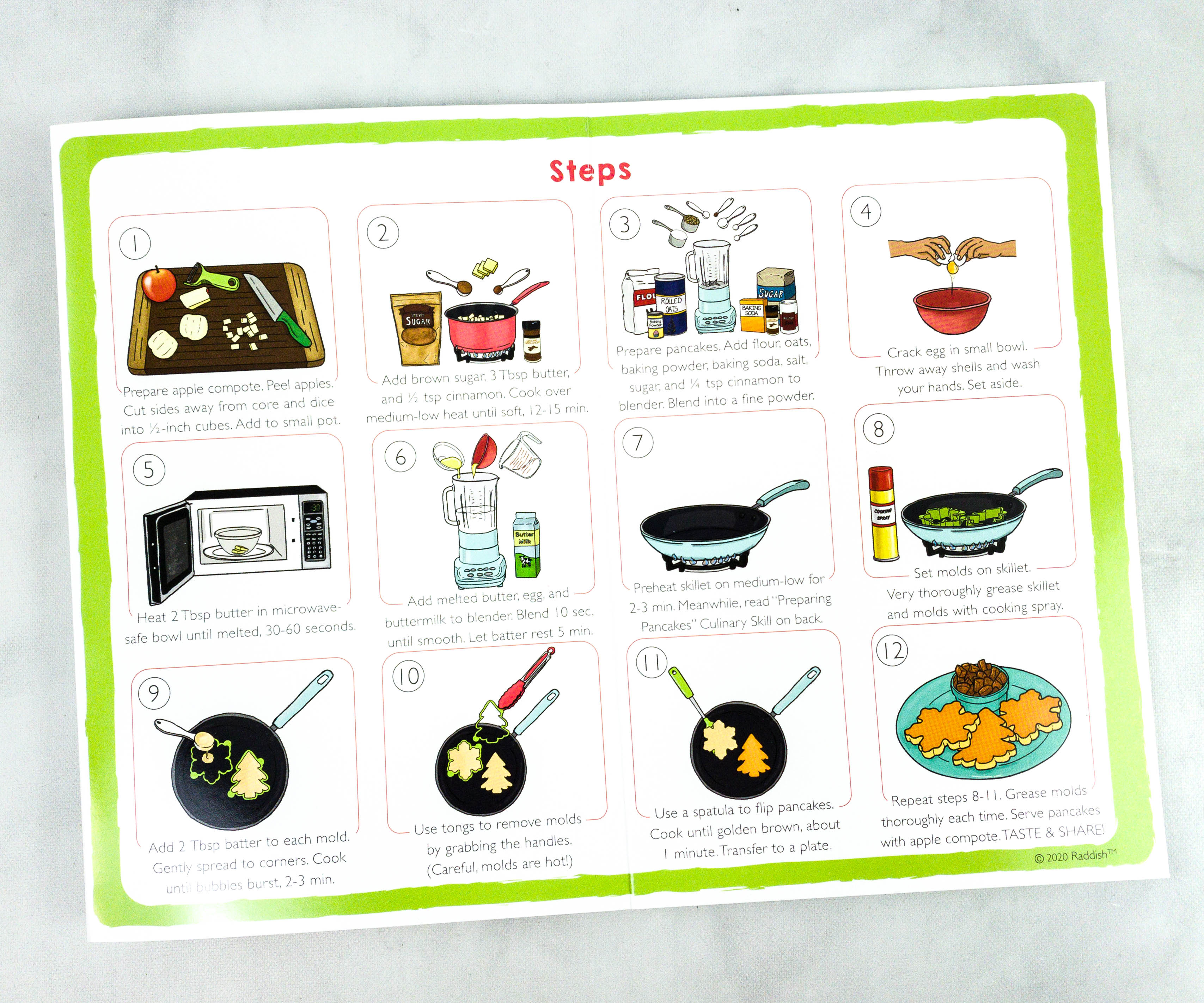 Each step in the recipe guide is accompanied by an illustration!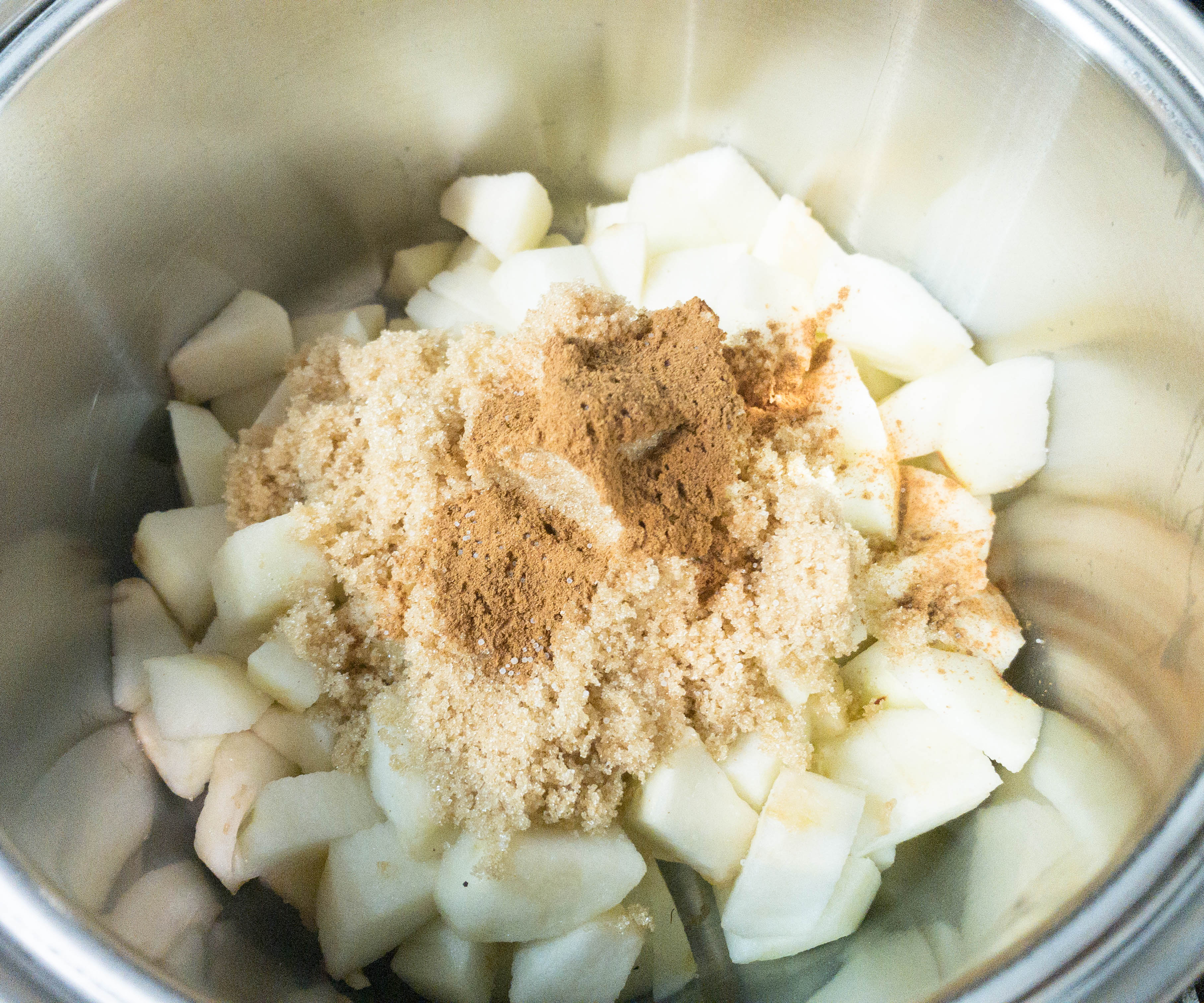 First, my kids prepared the apples for the compote, then mixed them with brown sugar, butter, and cinnamon.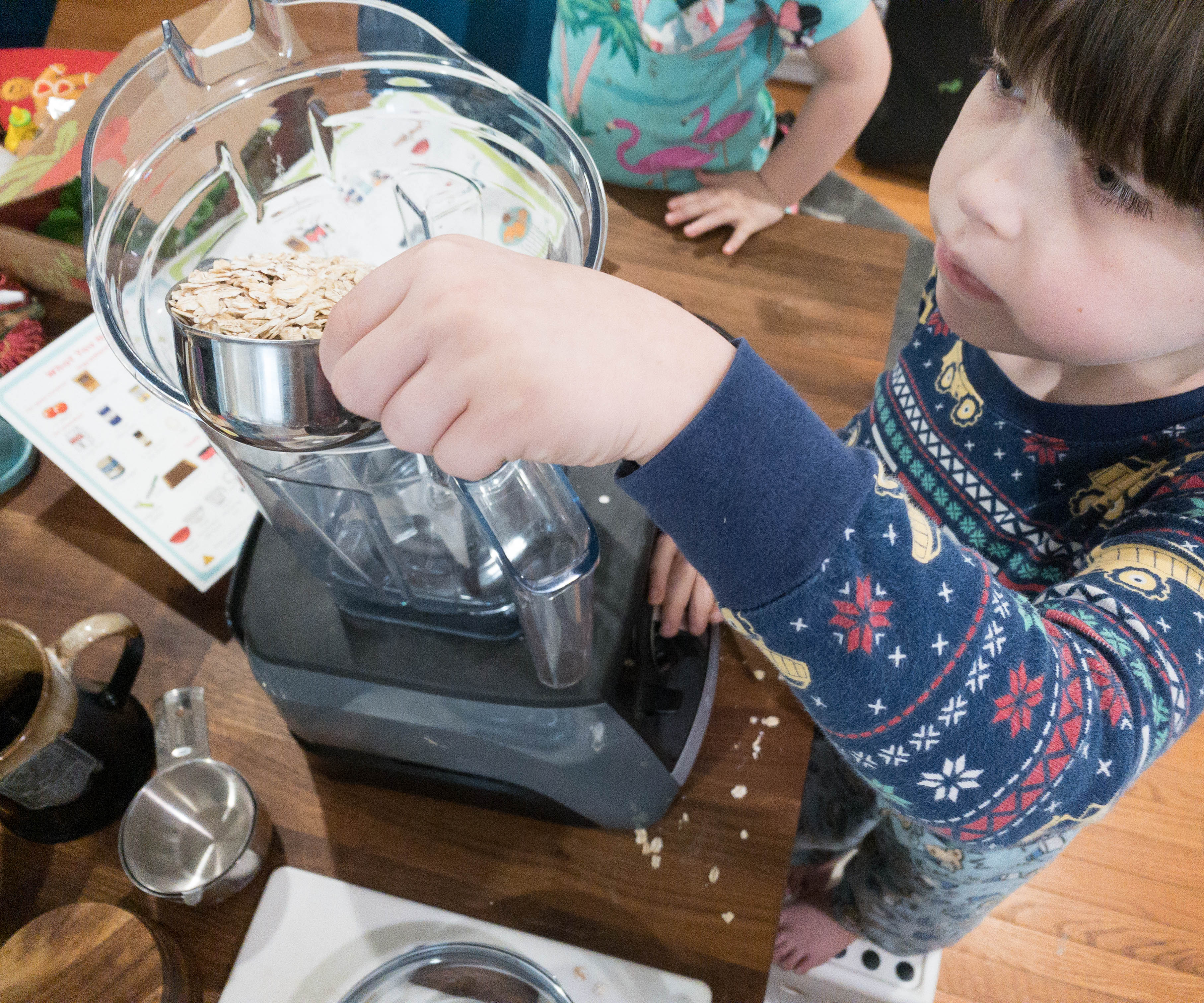 Now, it's time to prepare the pancakes! My son put the oats, flour, baking powder, baking soda, salt, sugar, and cinnamon in the blender, and blended them until they turned into a fine powder.
The dry ingredients are done so it's time to add the wet ingredients like the egg, melted butter, and buttermilk into the blender. My son blended it until the mixture is smooth.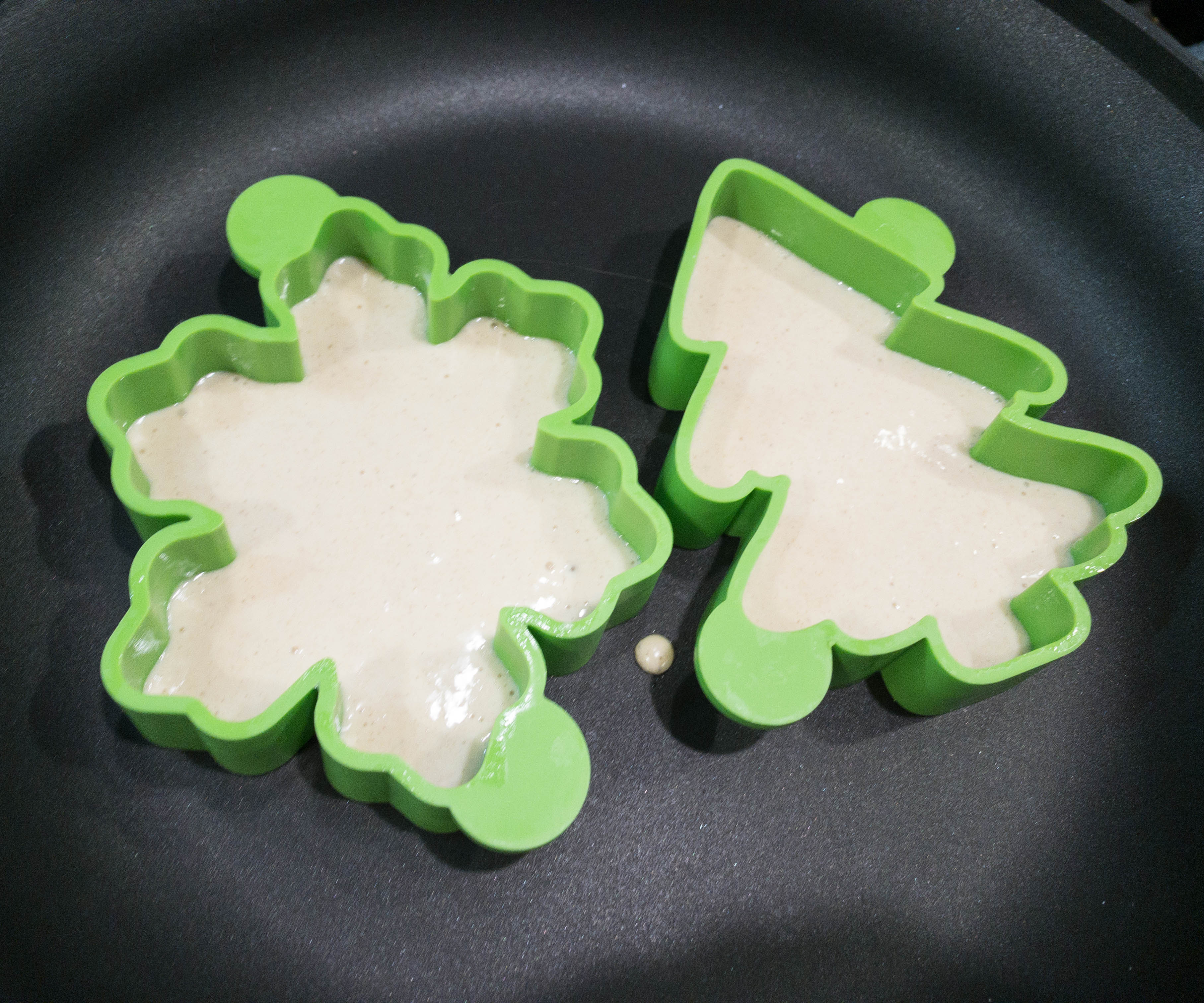 To shape the pancakes, my kids used the mold provided in this box. First, they set the mold on the skillet and then poured the batter into each of them. After approximately 3 minutes, they removed the mold and flipped the pancakes then let it cook for another 1 minute.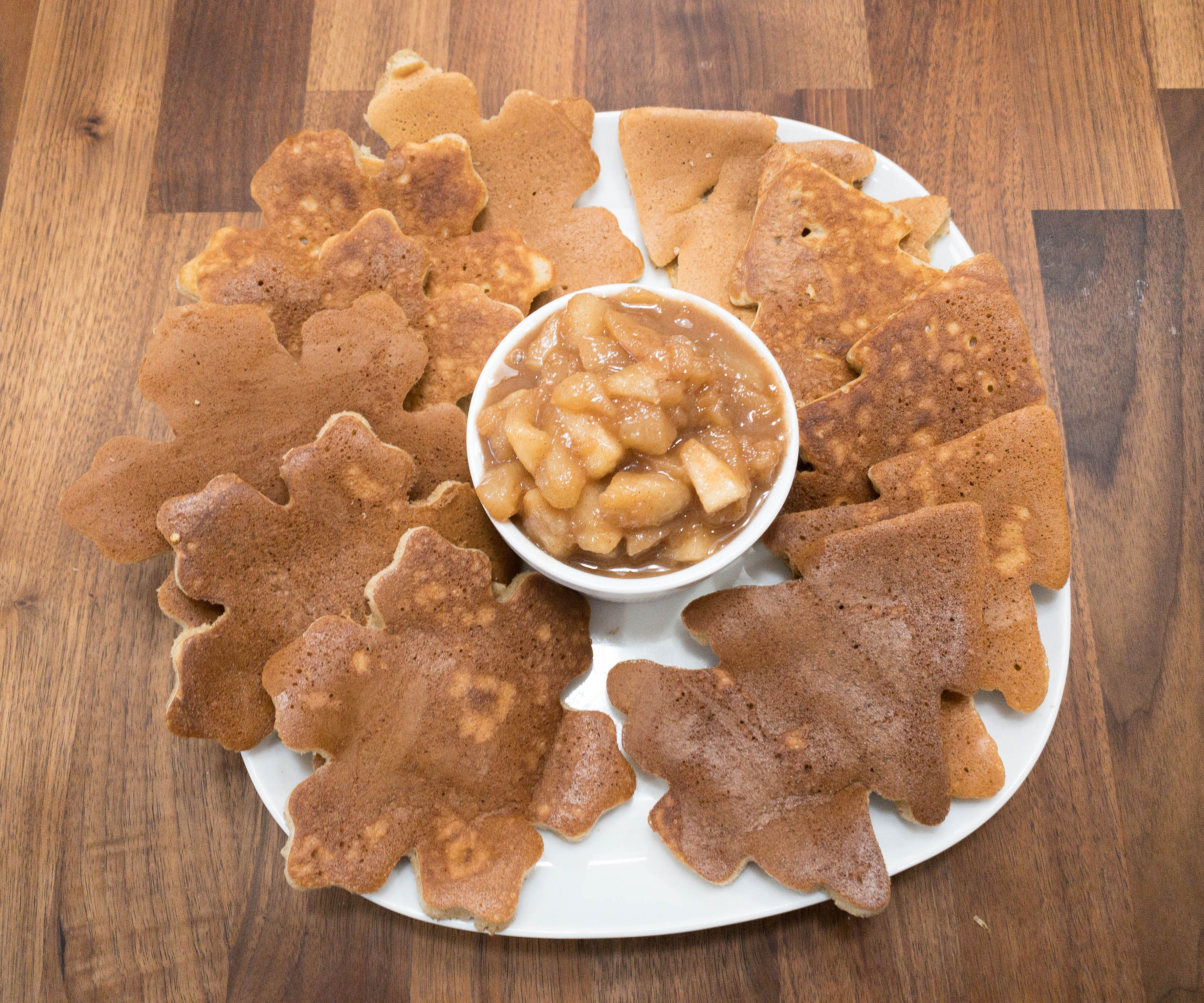 The finished product looks and tastes great, especially the compote. This is definitely a perfect Christmas snack!
Cozy Chicken and Dumplings. Chicken soup and dumplings on a cold day will always be a great idea!
Active Kitchen Time: 45-60 minutes

Yield: 6 servings
This time, kids will learn about knife safety techniques.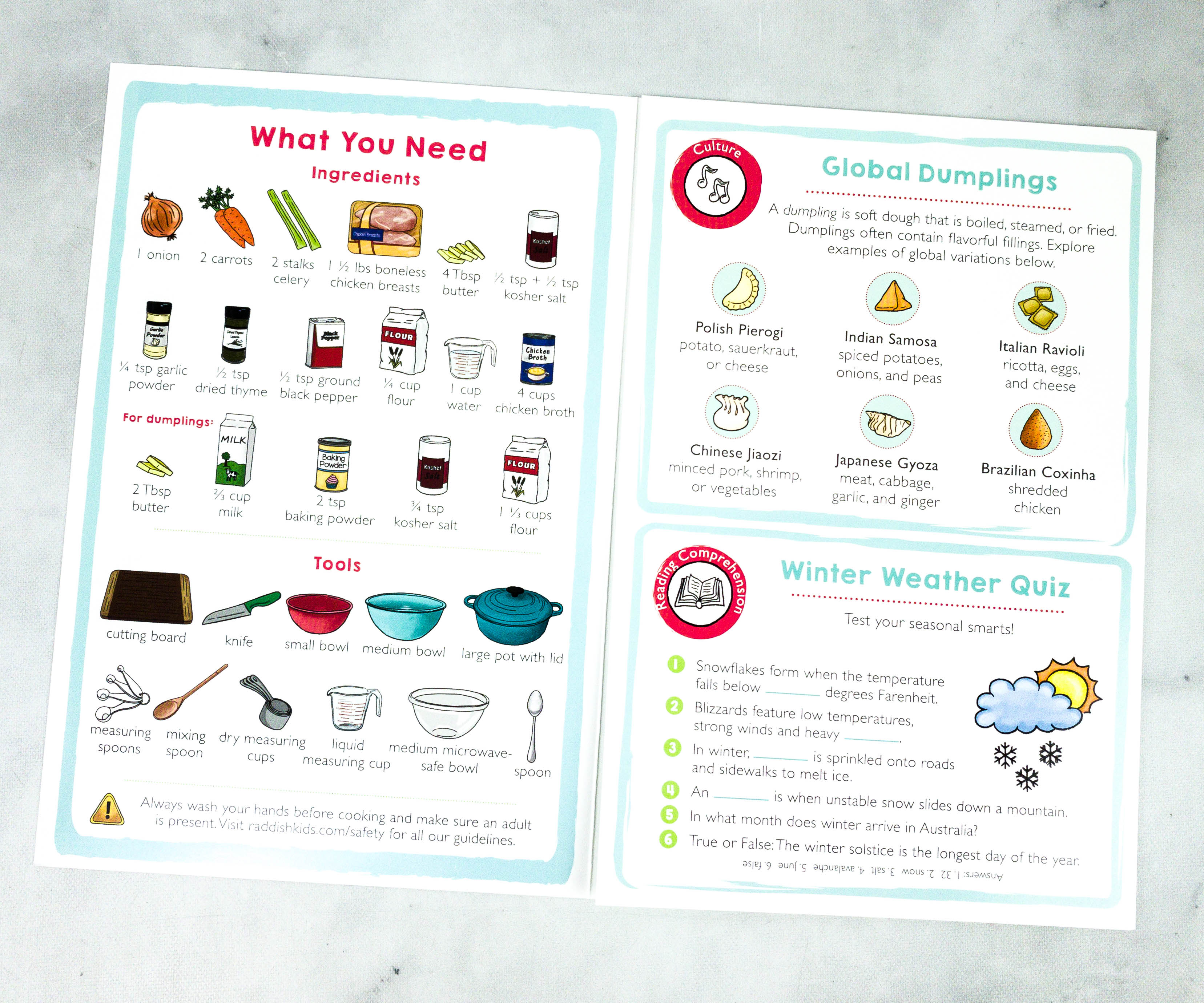 As usual, they provided the recipe's ingredients and the needed tools. There's also a short lesson about dumplings from different parts of the world, plus a winter weather quiz.
Ingredients for this recipe include onion, carrots, celery, boneless chicken breasts, butter, kosher salt, garlic powder, dried thyme, ground black pepper, flour, water, chicken broth, milk, and baking powder.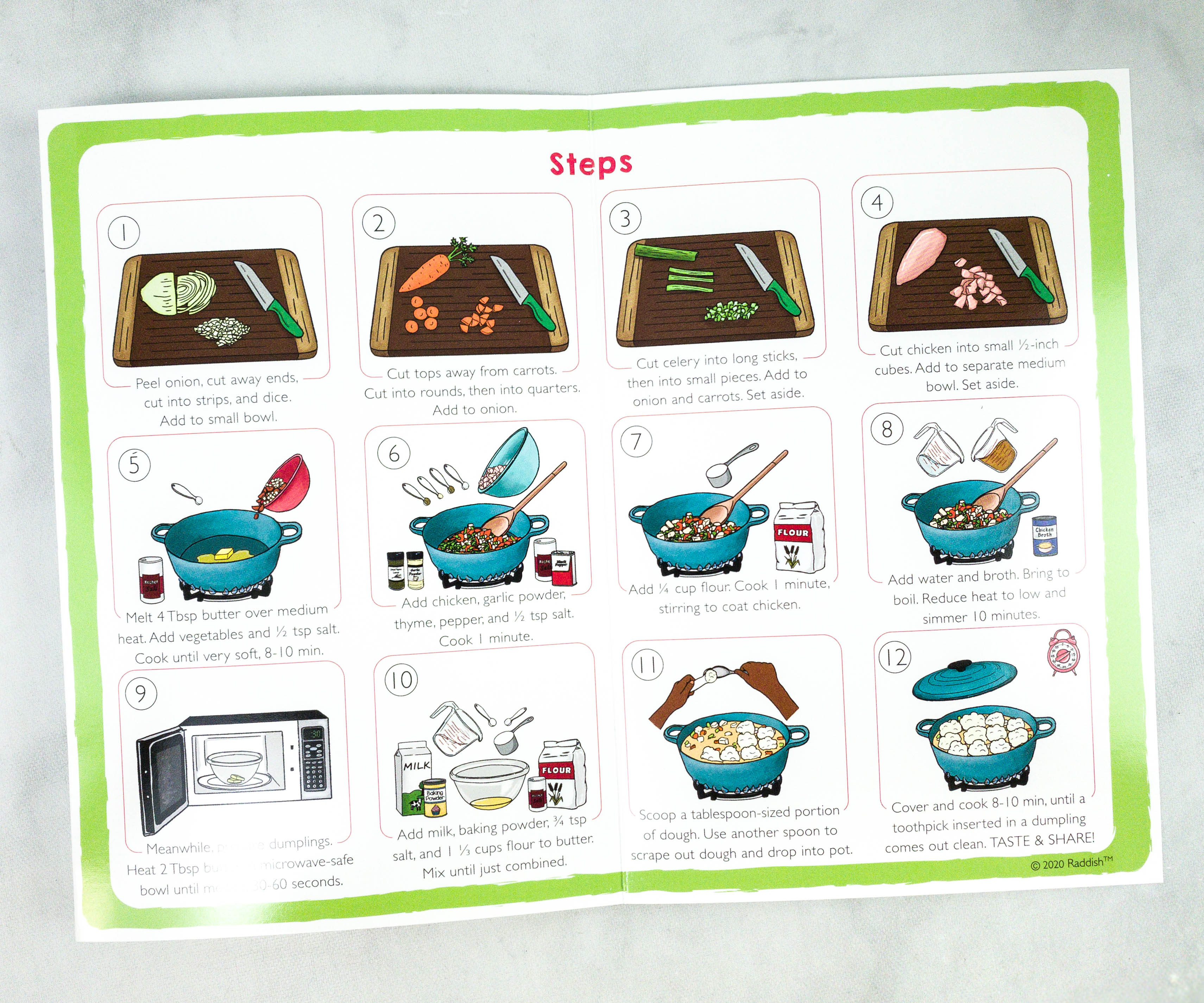 This recipe involves a lot of cutting, so kids will be able to apply what they learned about safely using the knife.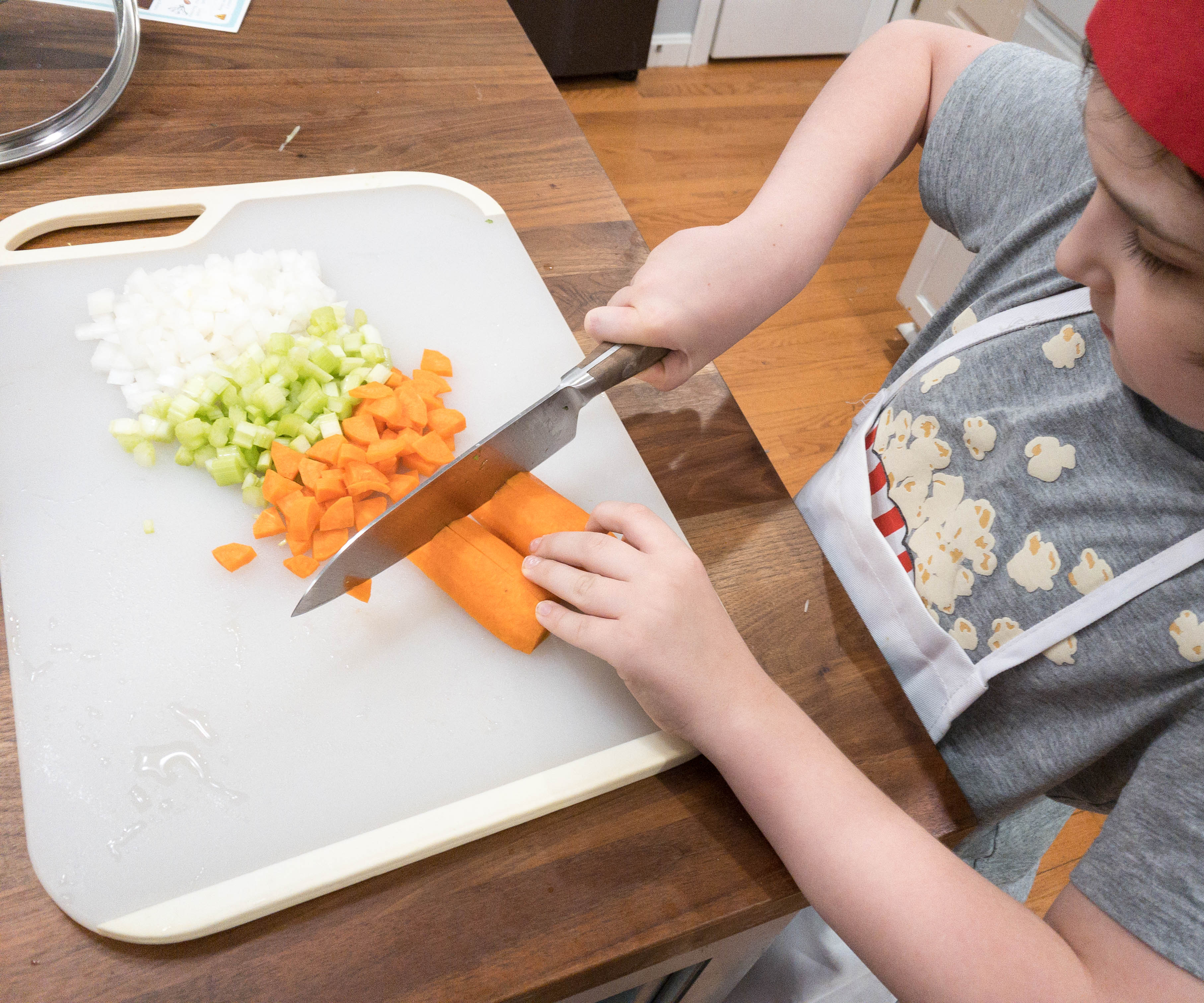 My older son gave it a try. He cut the onions, celery, and carrots on a proper cutting board, and used "spider fingers" as instructed by the card. It is important to be able to know how to properly handle and use a knife. It will make cutting easier, safer, and more fun!
For the dumplings, my son mixed baking powder, salt, flour, milk, and butter in a bowl.
Here, he was stirring the vegetables in the skillet until they become very soft. After this, my son also added chicken, garlic powder, thyme, pepper, and salt, followed by the flour, water, and broth.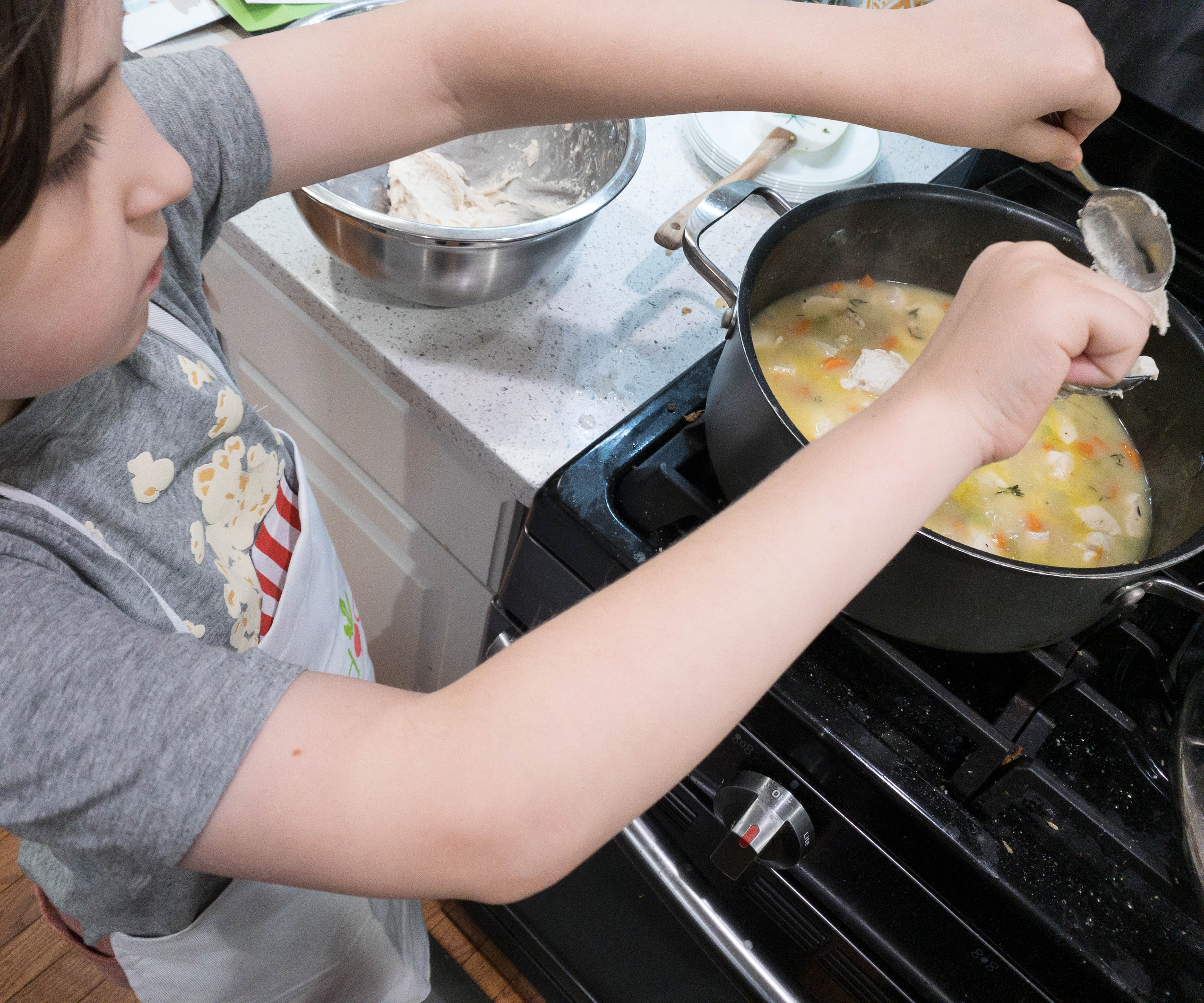 The last step is to scoop the dough from the bowl using a tablespoon and then dropping it into the pot!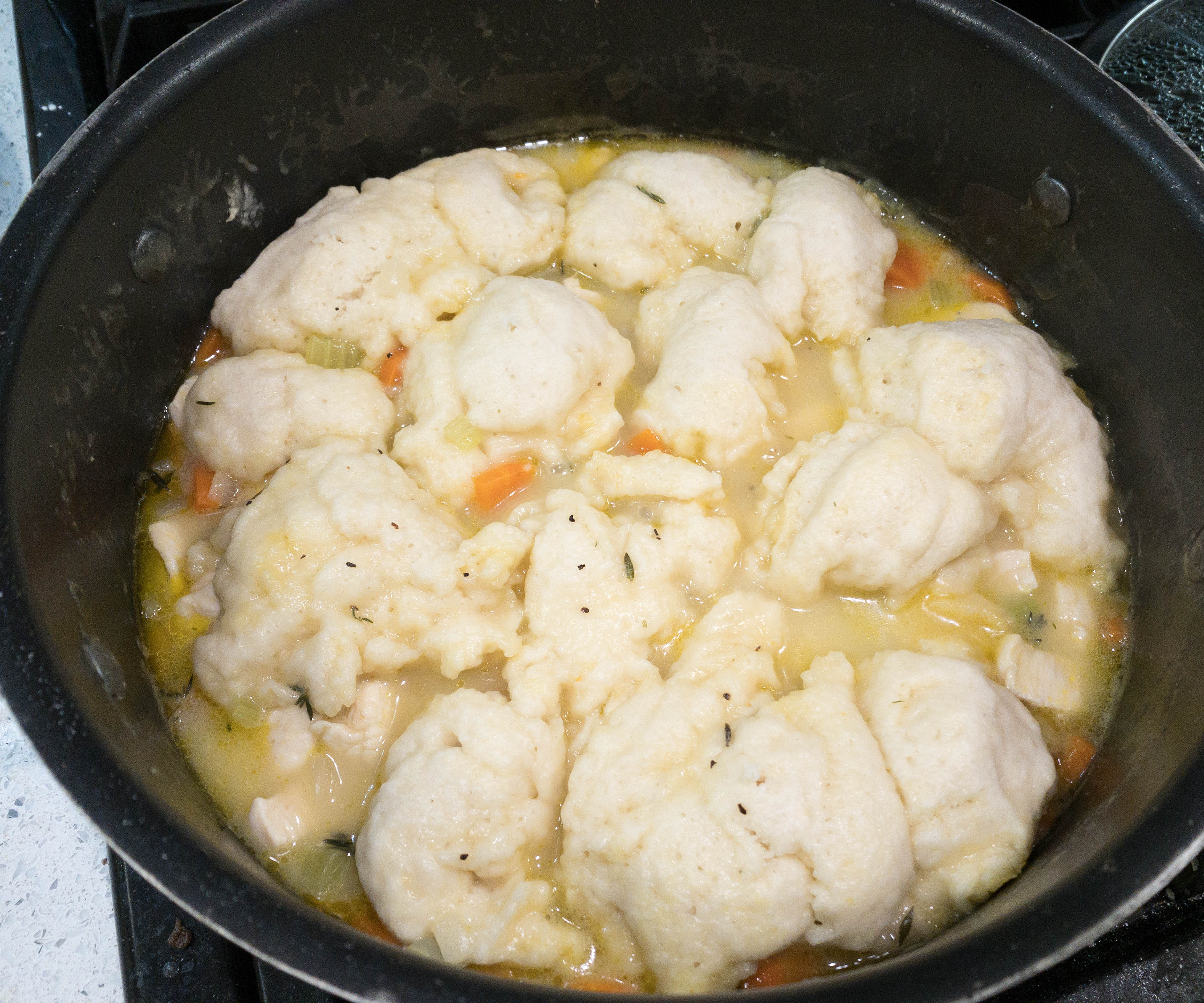 This meal is starting to smell really good!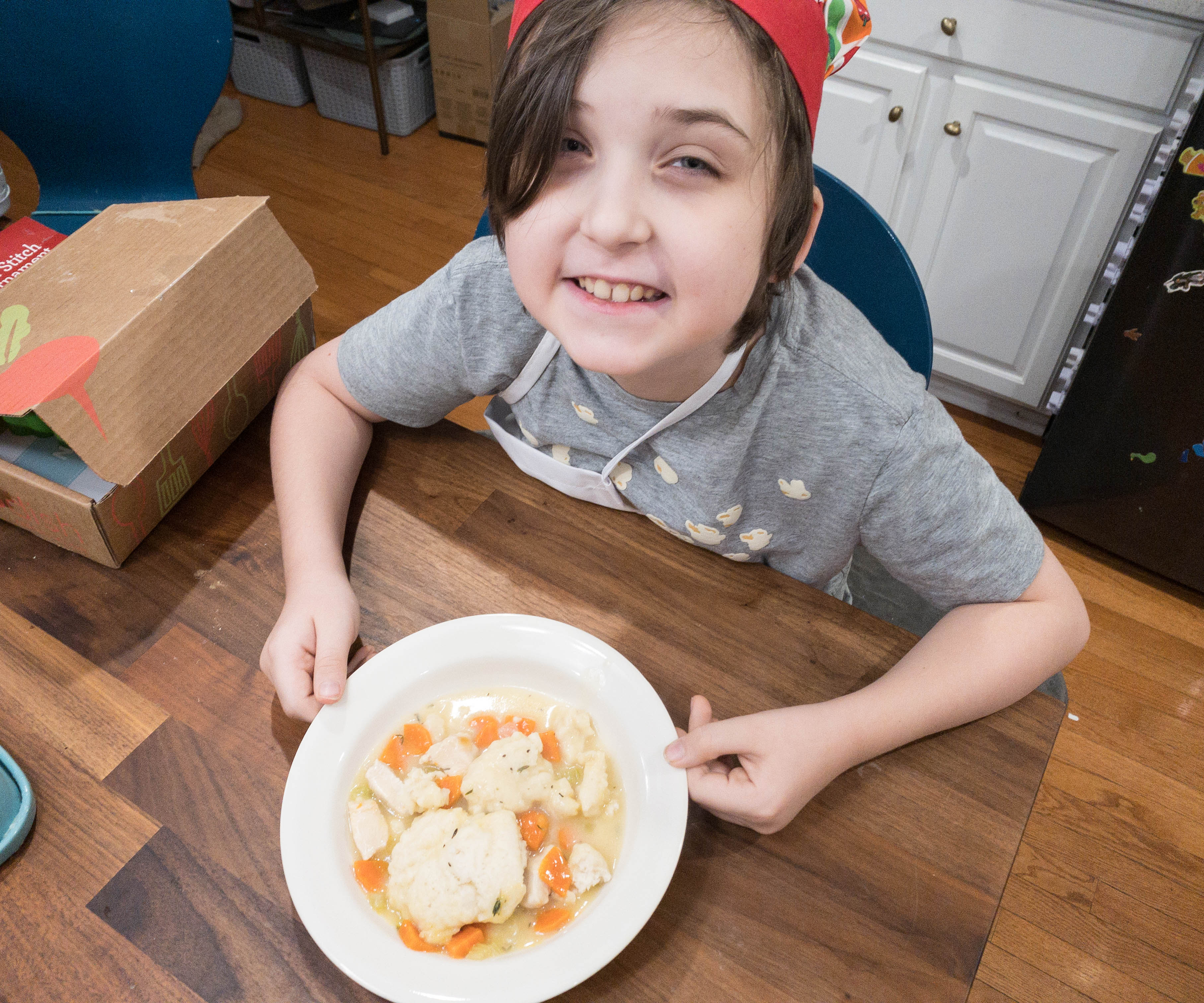 It turned out better than expected and my son is happy. The meal is flavorful and all the ingredients blended so well!
Chocolate Snowball Cookies. For dessert, we have a recipe for yummy cookies!
Active kitchen Time: 30-40 minutes

Chill Time: 60 minutes

Bake Time: 10 minutes

Yield: 3 dozen cookies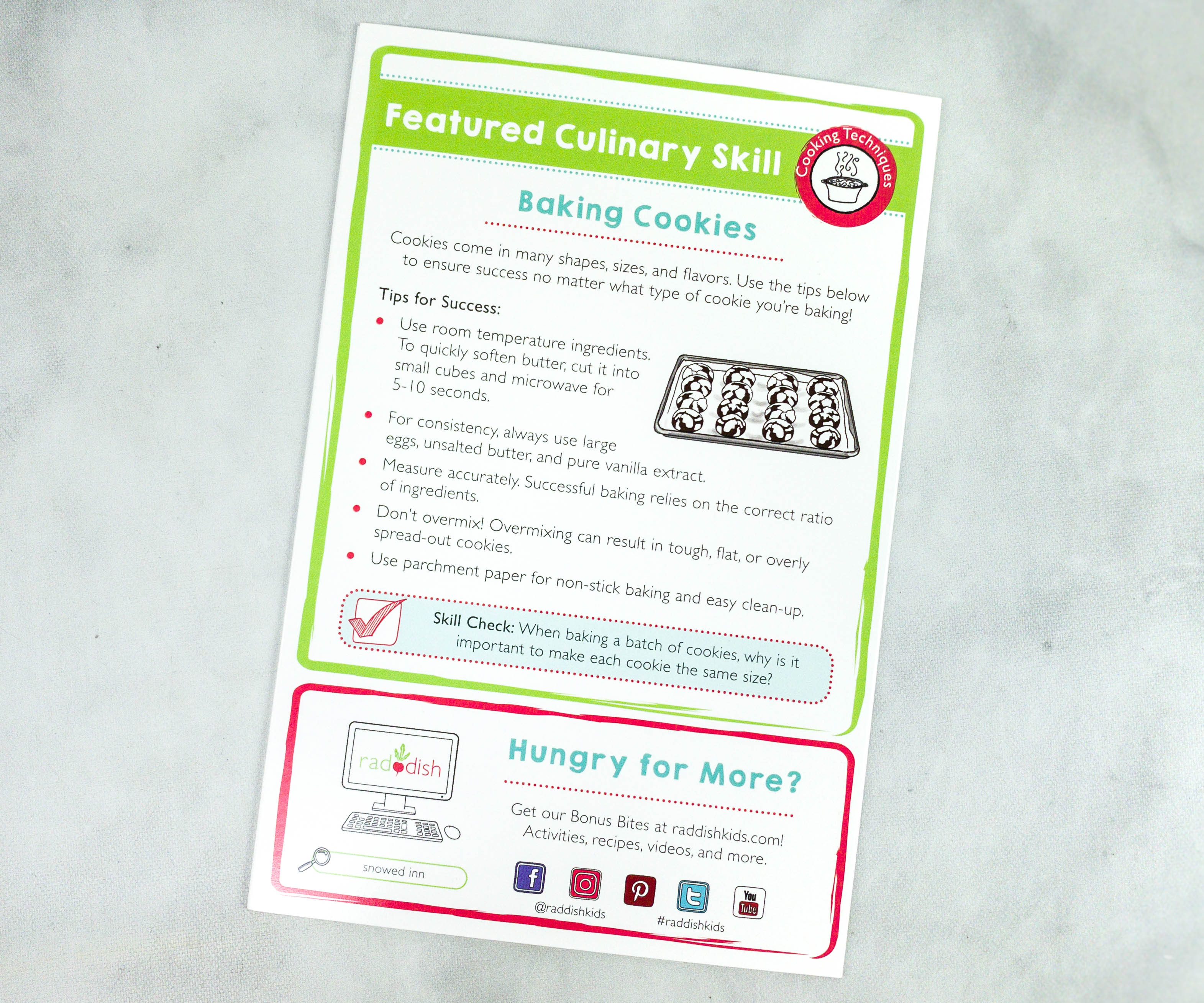 This recipe teaches kids about cooking techniques, especially baking different sizes, shapes, and flavors!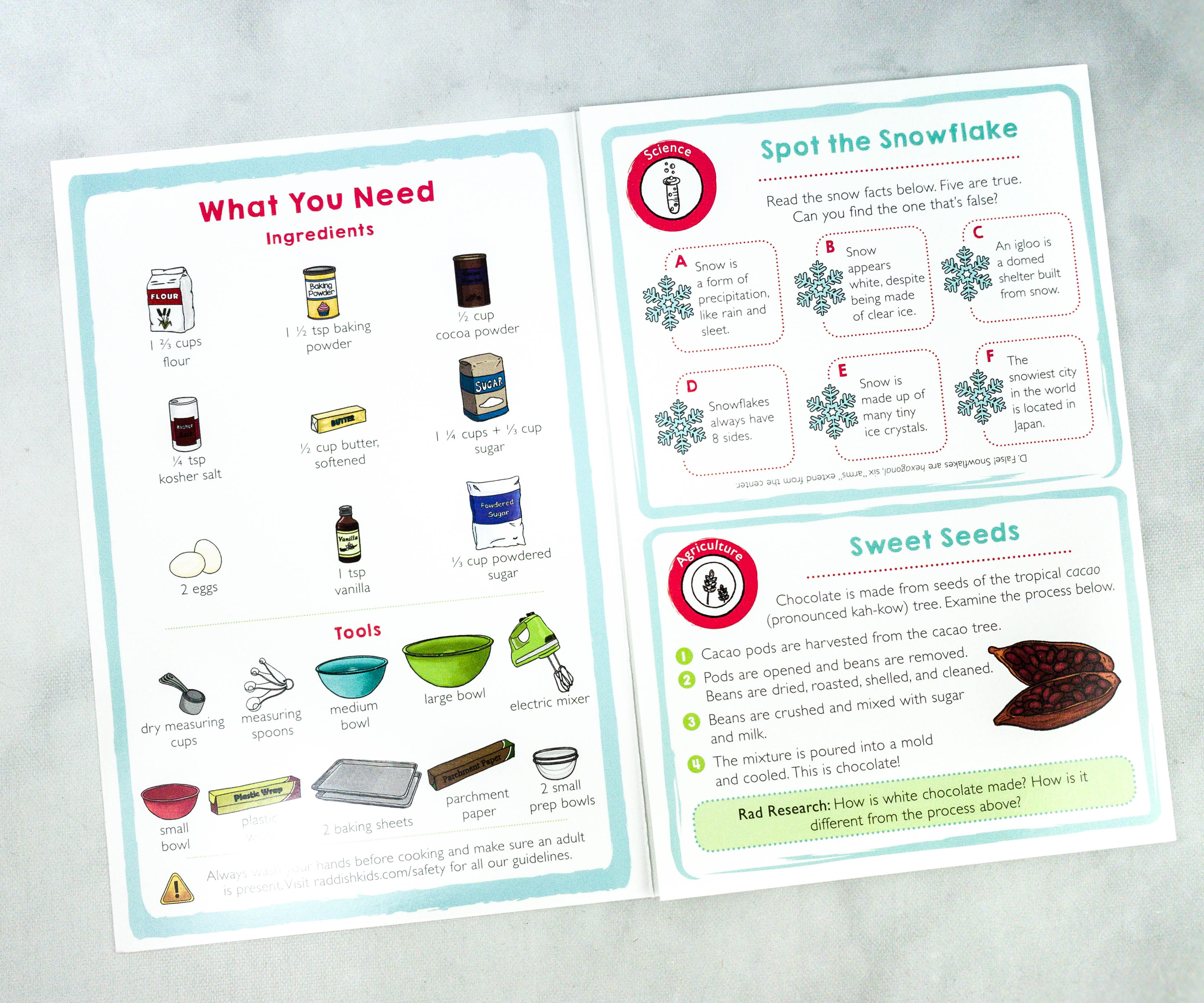 Aside from the list of ingredients and tools, there's also a mini quiz about snow and a lesson about sweet seeds.
The ingredients for this dessert recipe include flour, baking powder, cocoa powder, kosher salt, softened butter, sugar, eggs, vanilla, and powdered sugar.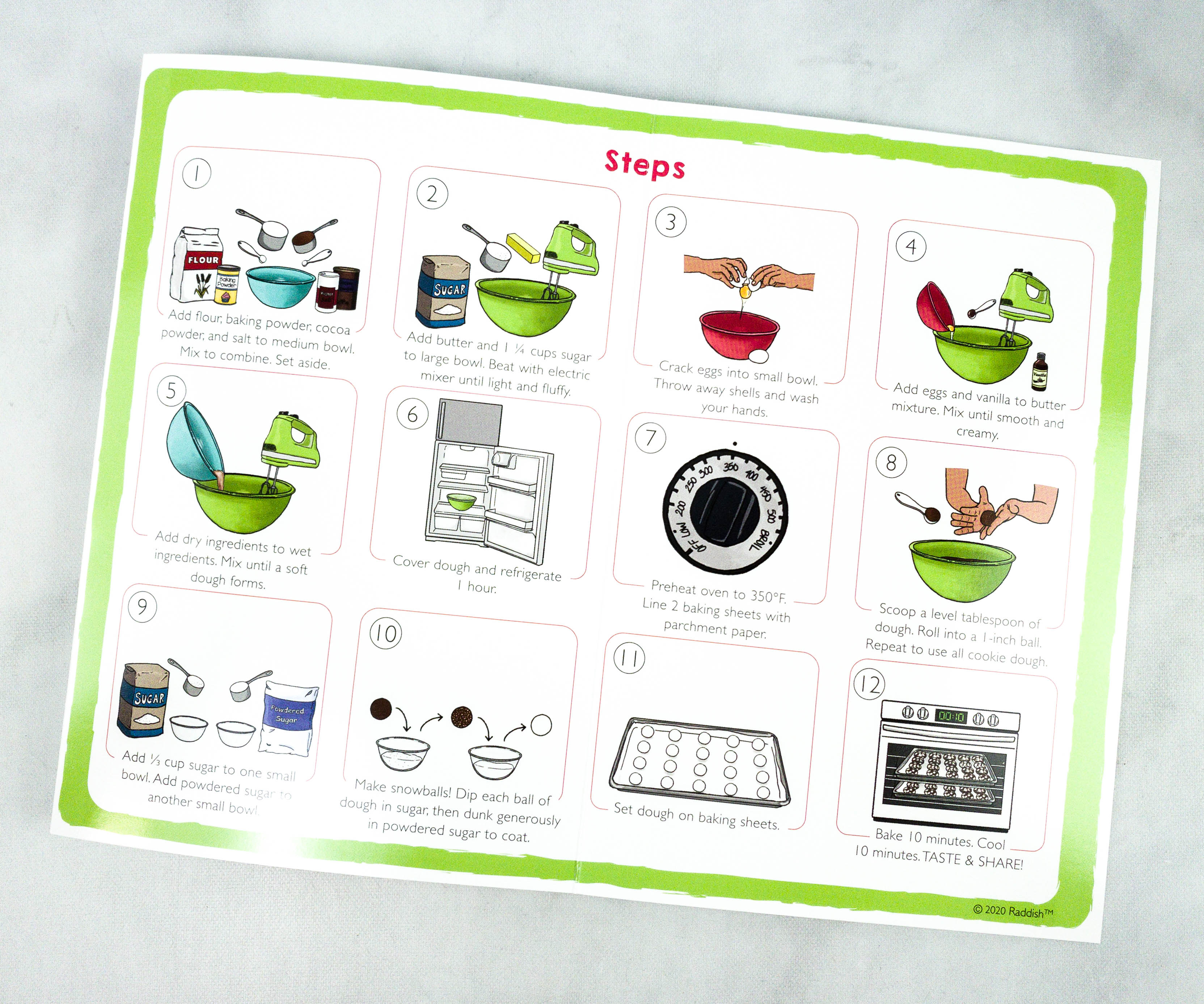 My kids used an electric mixer for this recipe. They have learned the skill from the previous box.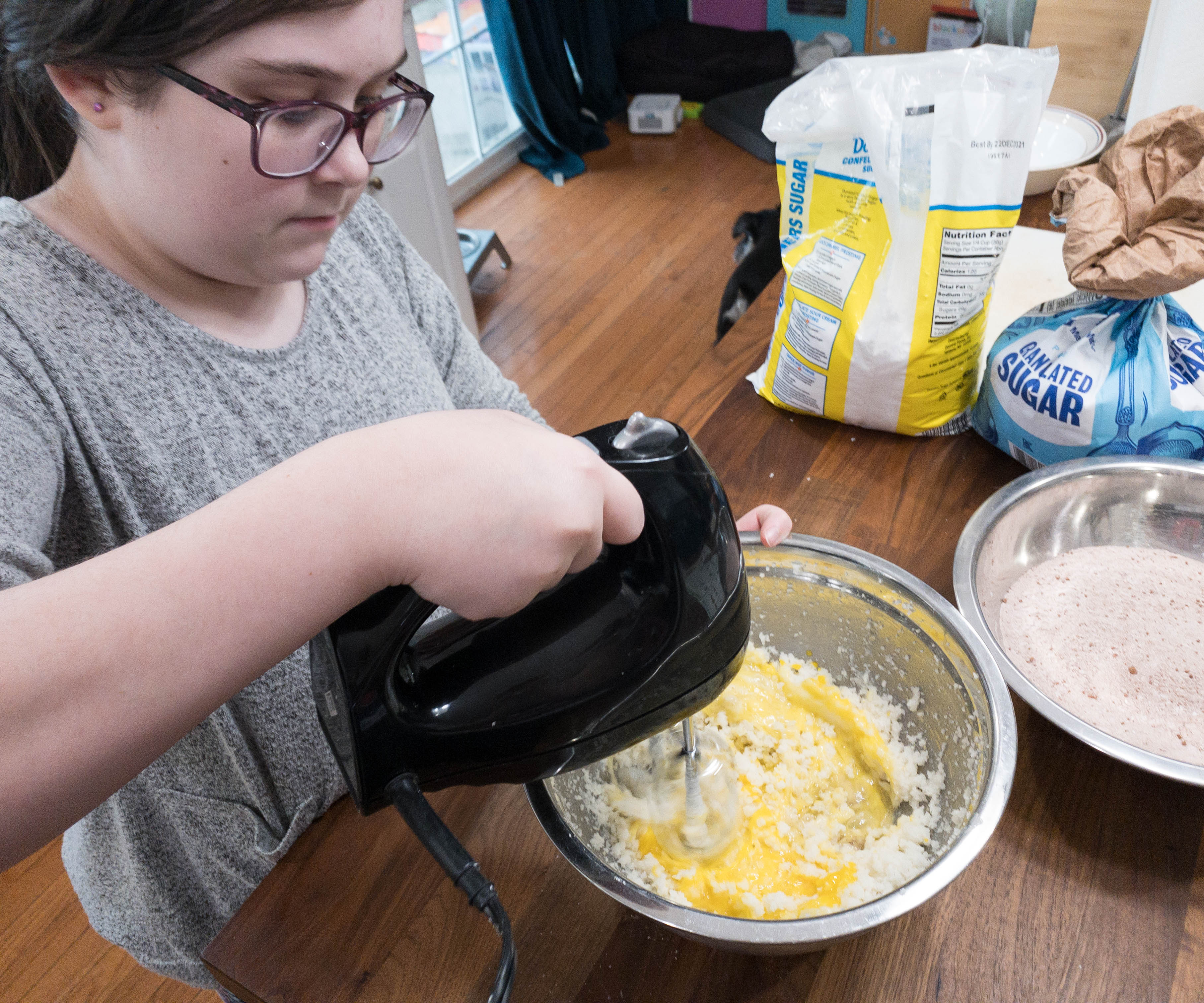 My daughter mixed the flour, baking powder, cocoa, and salt in a bowl. Then she added butter, sugar, eggs, and vanilla.
The goal is to make the mixture turn into a soft dough. My daughter had no problems achieving it! When it was done, she refrigerated the dough for an hour before forming them into snowballs.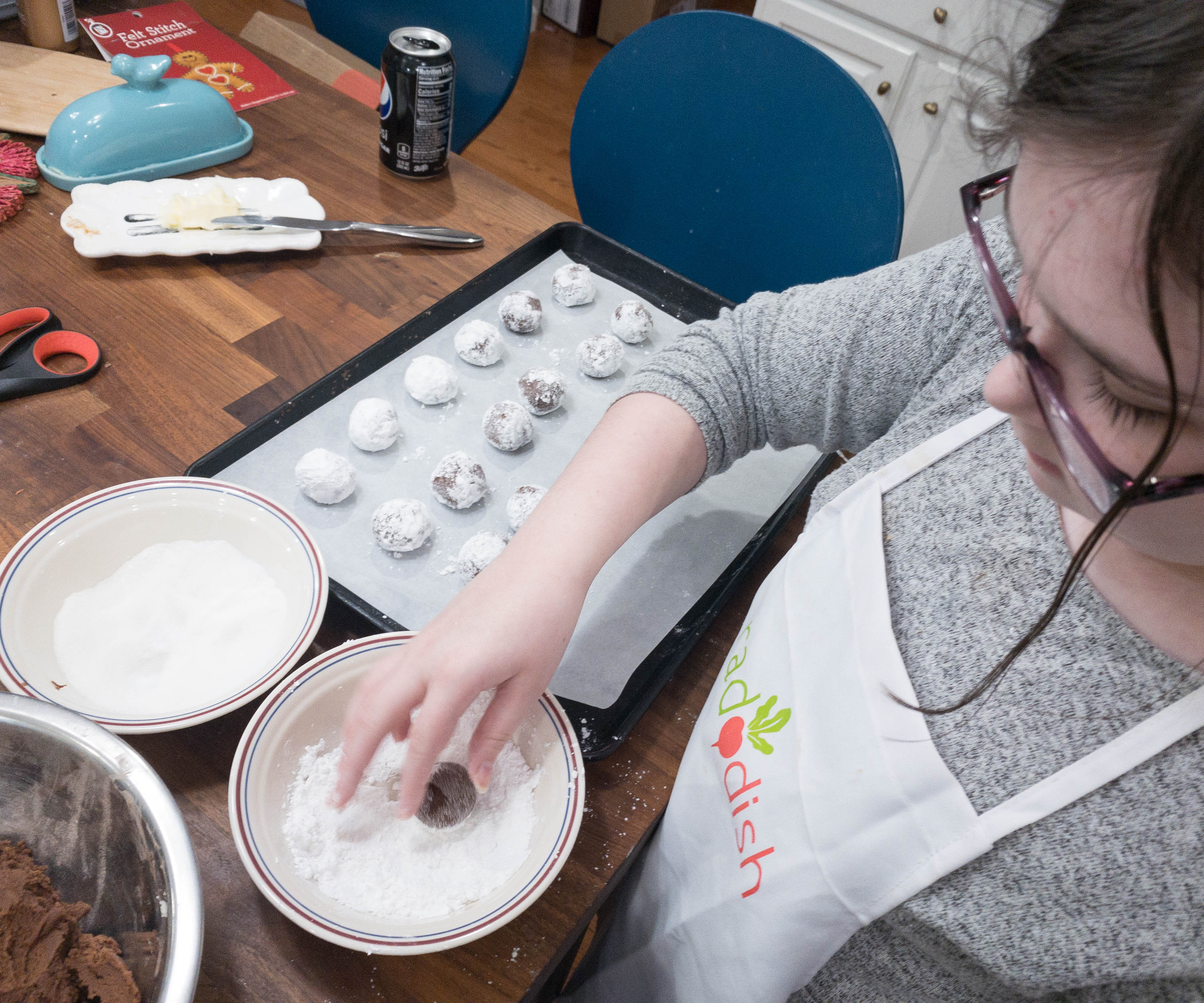 She did her best to make each piece the same size! After making the snowballs, she dipped them into the sugar and the powdered sugar.
They are now ready to be baked!
These are how the cookies look like once done!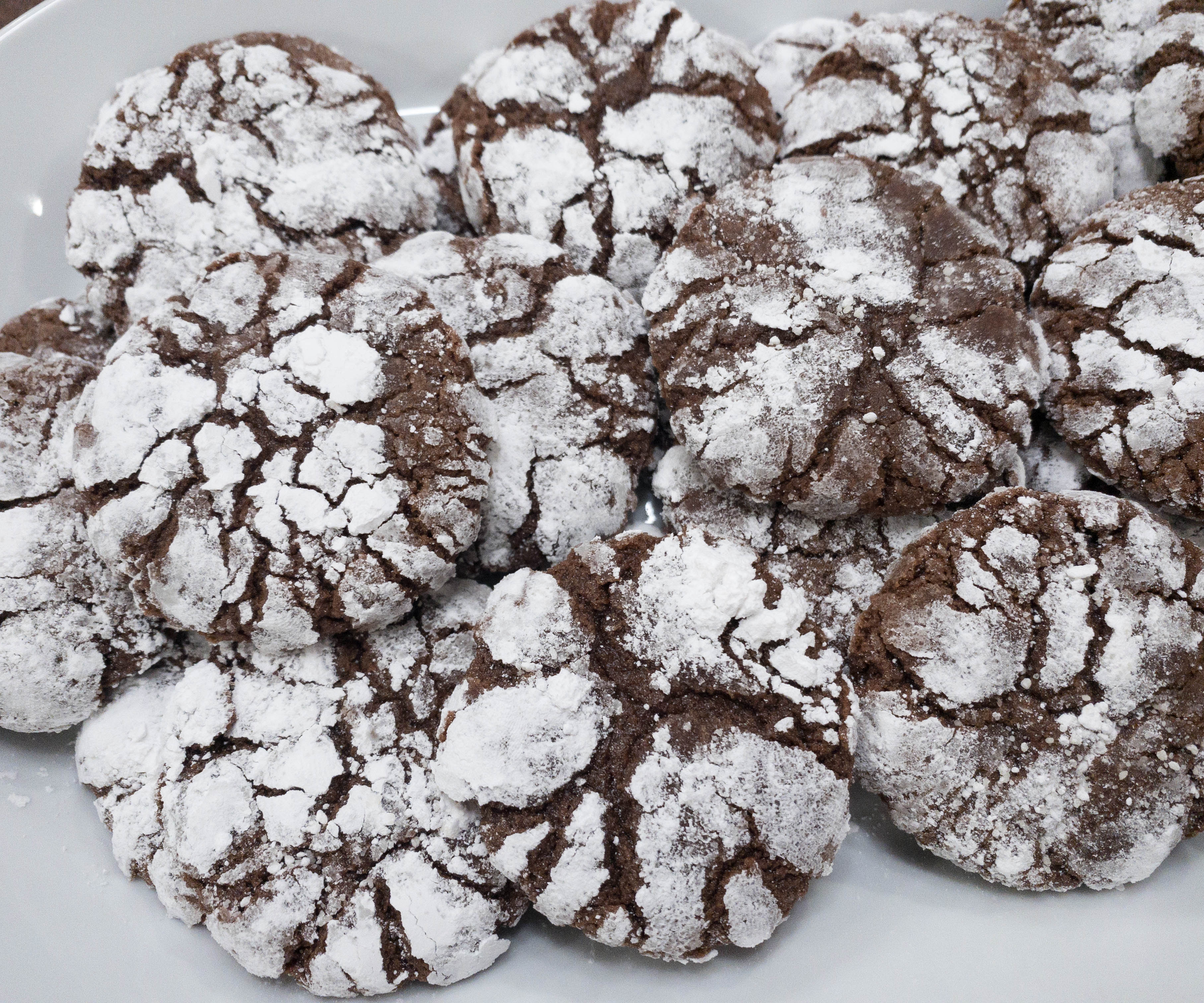 They look very appetizing and mouthwatering. It's time to check how these cookies taste!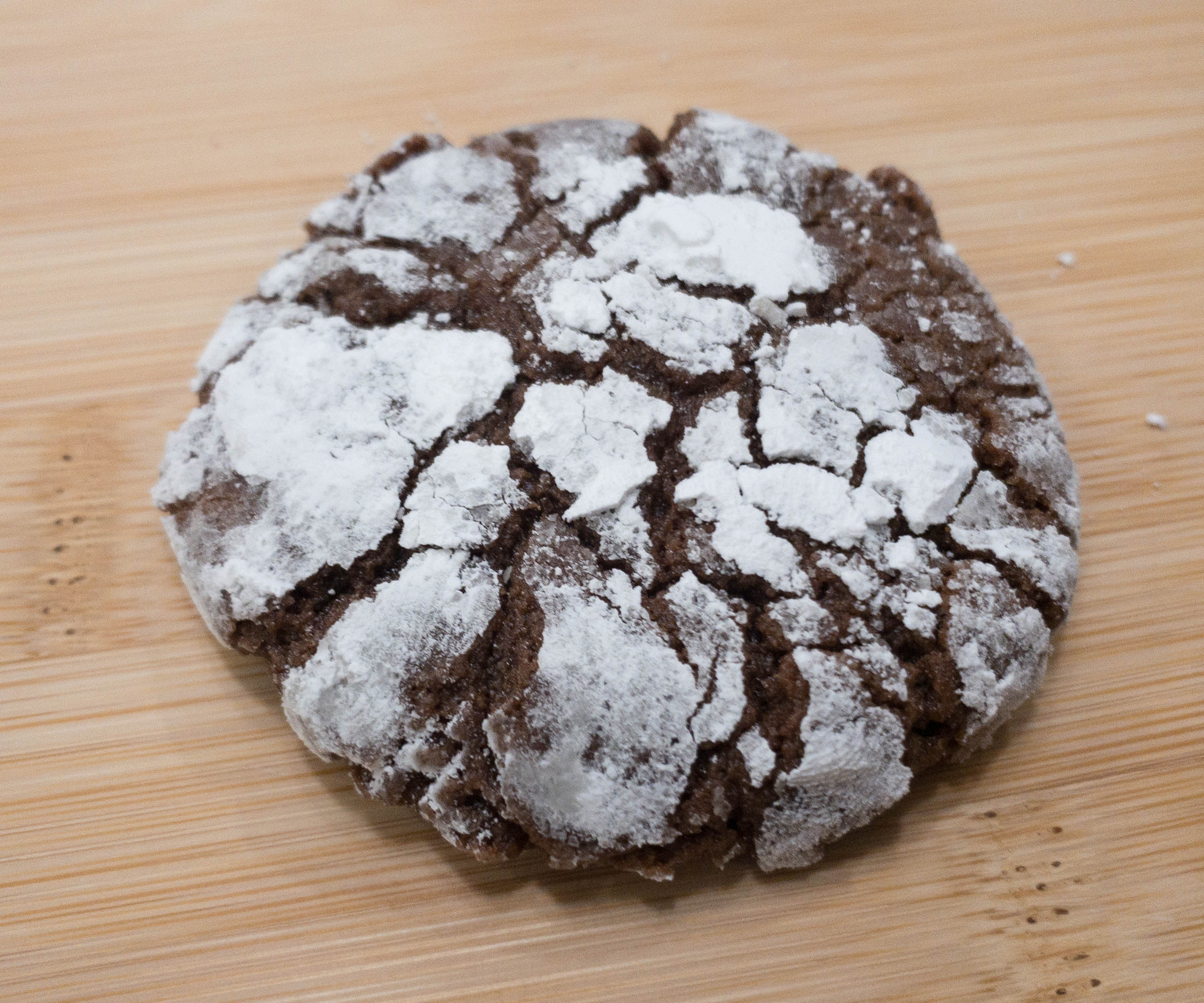 The cookies turned out fudgy and tasty. The taste and the texture is perfect and we really love them!
Raddish Kids has the best kid-friendly recipes and every box means new kitchen skills to learn! This month, my kids learned how to flip pancakes, to handle a knife safely, and to bake cookies. They were also able to apply the things that they learned from the previous boxes like using the electric mixer. Recipes have easy-to-follow instructions and illustrations, so kids can easily do them independently and with minimal supervision. Ingredients are not provided but it's easy enough to shop for them because of the shopping list provided in the box, which is also emailed to you. The pancakes, chicken dumplings, and cookies my kids cooked this month all turned out great. It's hard to pick a favorite because they were all delicious and they make perfect snacks for the season!
What do you think of this month's box?