Purple Vertigo Candle Club is a new Vegan Soy Candles Subscription!
Purple Vertigo Candle subscription will arrive monthly right to your doorstep! Our candles are phthalate free, made with pure soy wax, and we use cotton wicks for a clean, soot free burn. Fragrances are cruelty free, and infused with essential oils. Safer, cleaner burning, long lasting.
Purple Vertigo offers 3 different candle clubs for every budget:
$49/month + $8.99 shipping –  two large 16 oz candles: Each candle will burn approximately 100 hours each.
$29/month +$5 shipping – 9-oz and 4-oz candle
$10/month +$4 shipping- one 4 oz candle.
How does this compare to Vellabox, which also ships high quality natural candles each month? (see reviews)
The Lucerna Box ($10 +$3 shipping) includes a 4 oz candle monthly + bonus lifestyle gift
The Ignis Box ($20 + $3 shipping) with an 8 oz candle monthly + bonus lifestyle gift
The Vivere Box ($30 + FREE shipping ) with an 8oz + a 4 oz candle monthly + bonus lifestyle gift
The subscriptions are pretty similar, with some slightly varying price points, and you'll be happy with either, but may prefer Purple Vertigo if you like the farmhouse look of their black and white labels!
The December Box Purple Vertigo Candle Club scents feature Fraser Fir and Pepperberry Wreath!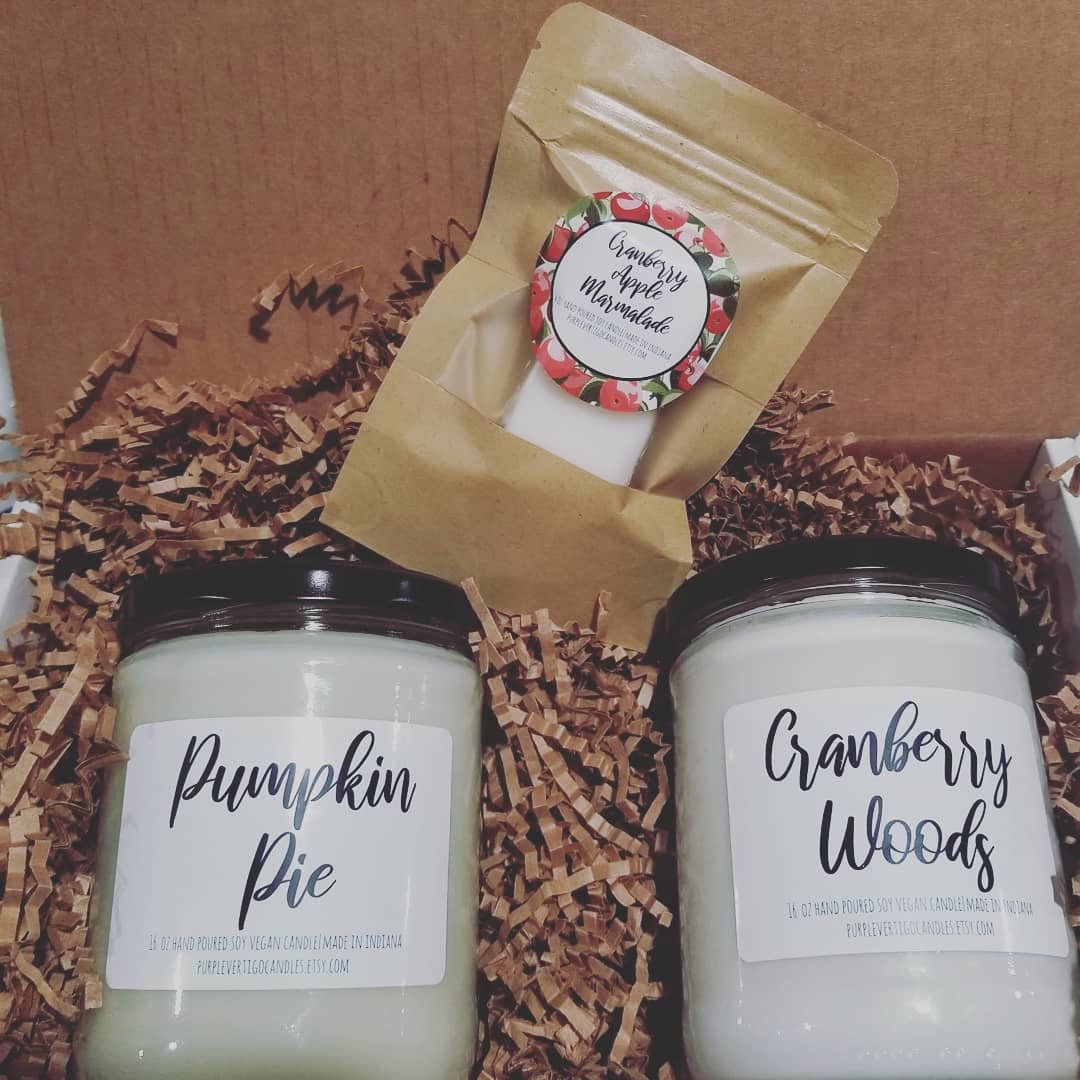 November's Box included Cranberry Woods and Pumpkin Pie,  and a free sample of Cranberry Apple Marmalade Wax melts! Looks like there's a bonus gift in at least some of the levels of this new candle subscription box too!
What do you think about Purple Vertigo Candle Club? Should we review this monthly vegan soy candle subscription?