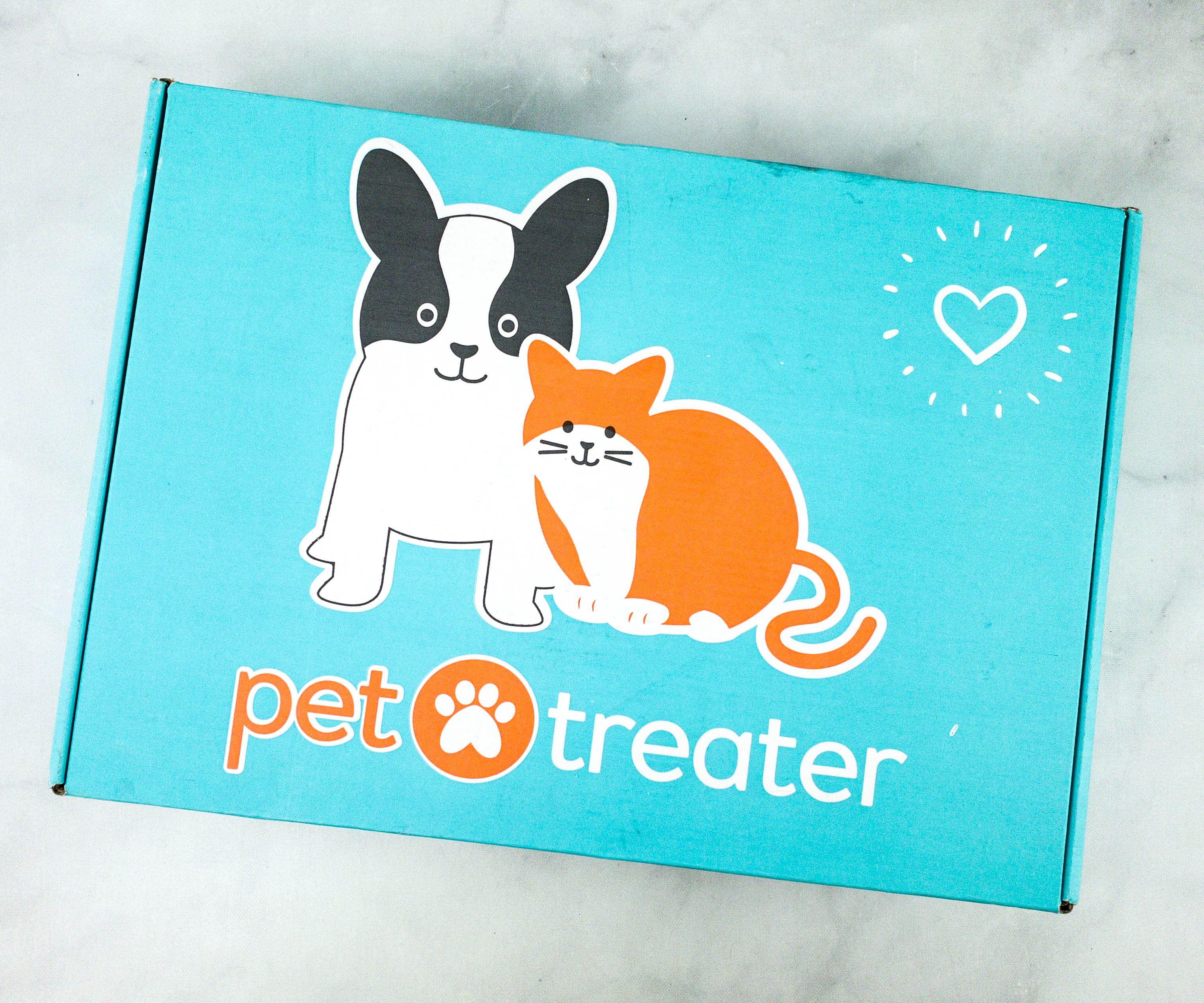 Pet Treater Deluxe Dog Pack is a monthly dog subscription. For $25 a month, each pack is filled with 5-8 hand-selected items which may include fun toys, mostly USA & Canada made treats, and extra goodies! Small, medium, and large dog options are available. They also offer a smaller version for $15 called Pet Treater Dog Pack.
DEAL: Get 10% off your first month with coupon code DOGPACK10.
HOLIDAY DEAL: Get 55% off your first box on any subscription, including gifts! Use this link to subscribe and use coupon code HOLIDAYHELLOSUB55 at checkout. Does not work on Try It Out NOW options. Ends 1/5!
The items came in a sturdy, blue box.
The box's flap comes with a sticker featuring the box's theme. This month's theme is Thankful For You!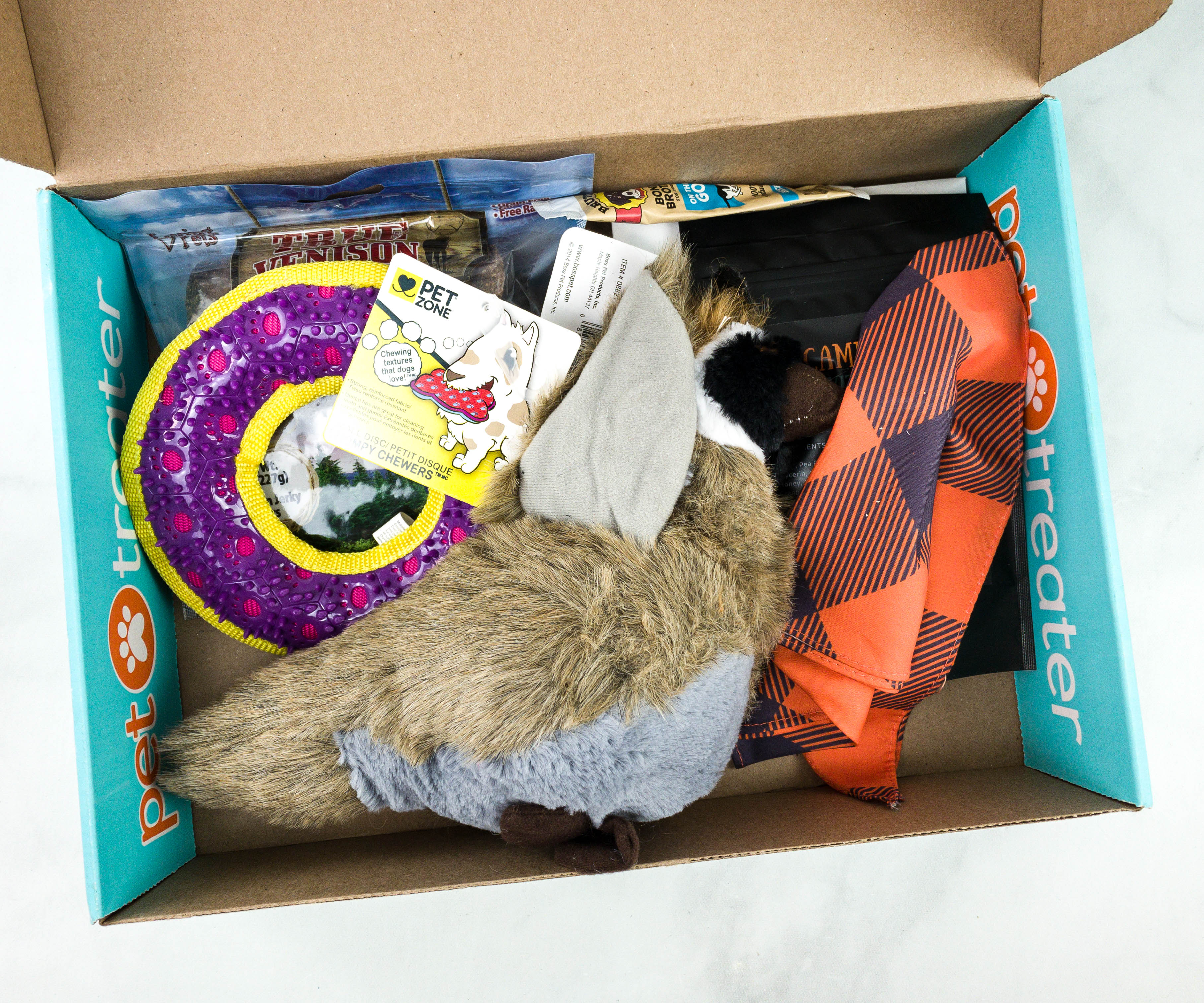 The box doesn't contain any fillers or extra packaging yet they all arrived in perfect condition.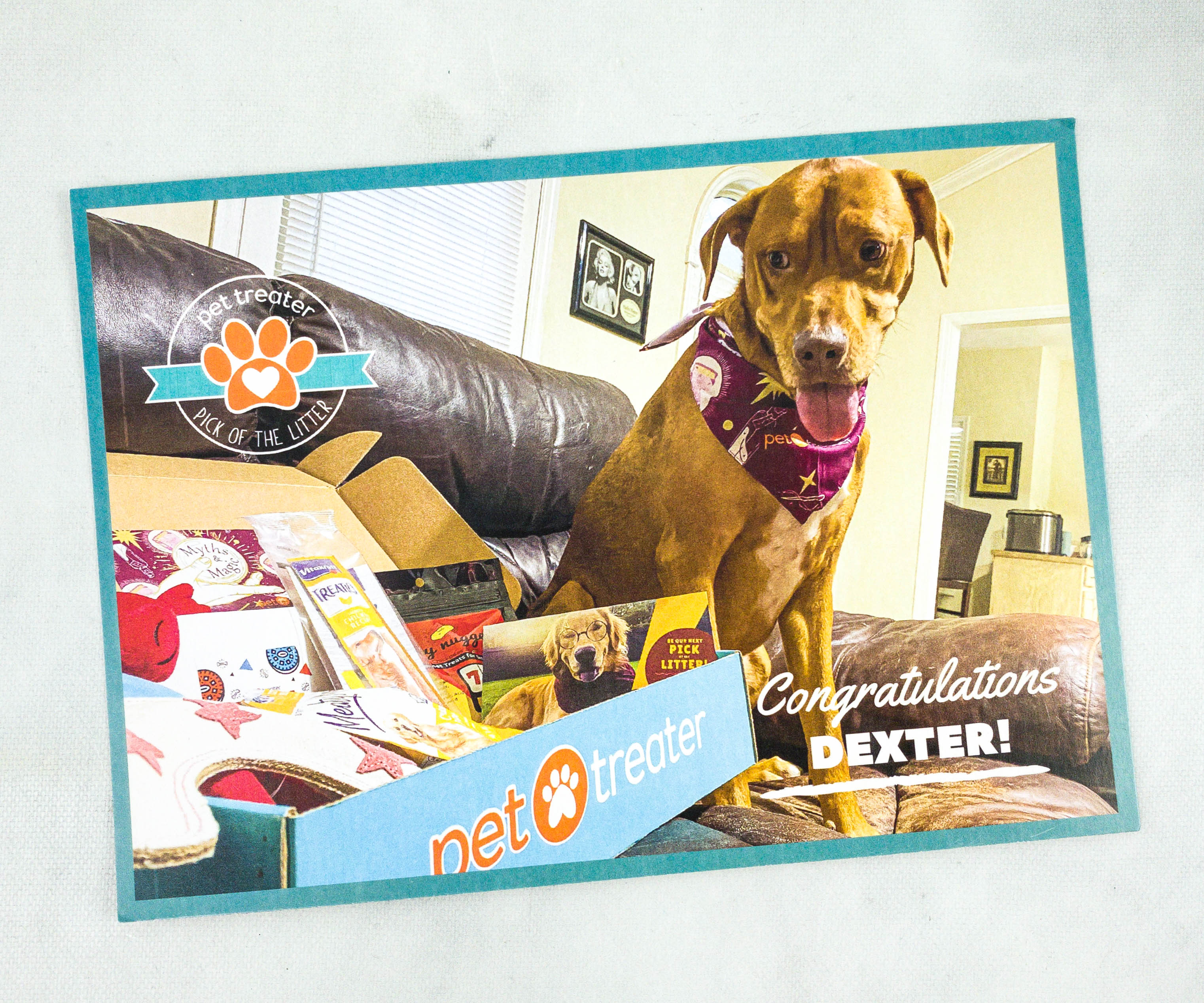 This card features this month's Pick of the Litter, Dexter!
Featured at the back of the card are instructions on how your pet can get a chance to become the next Pick of the Litter!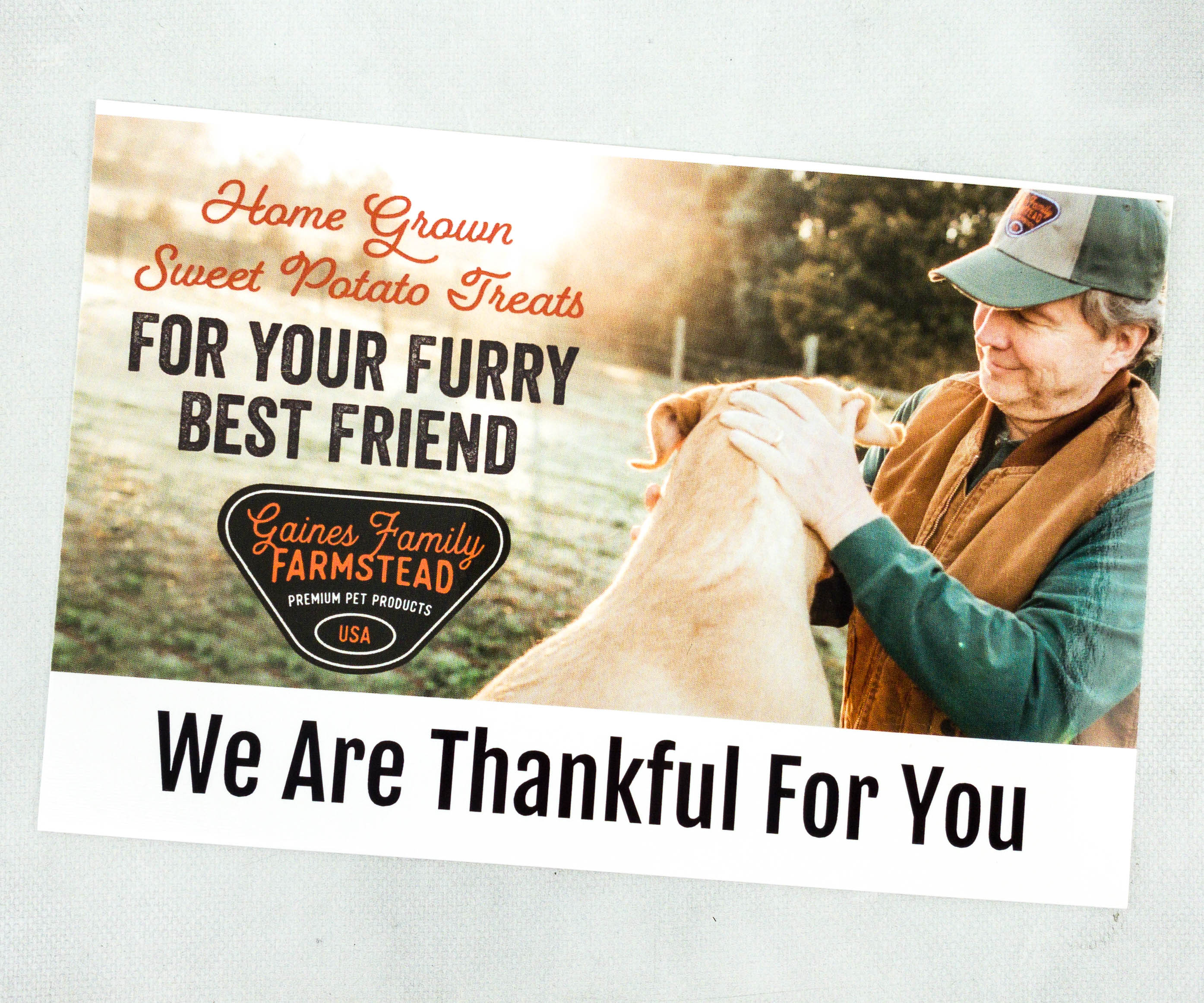 Here's another card, and this time it's from Gaines Family Farmstead.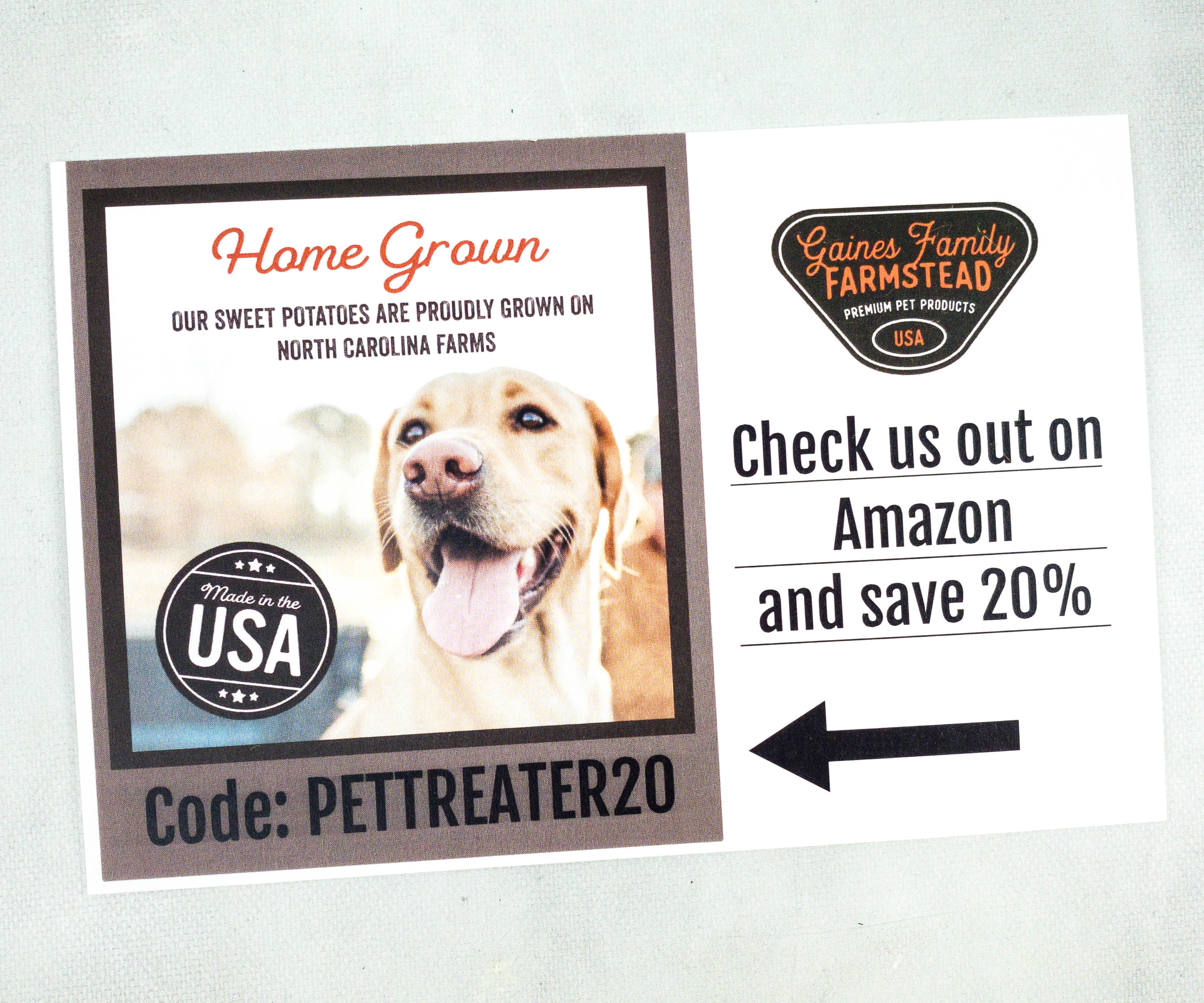 At the back, it features a 20% off coupon code that you can use on your next Gaines Family Farmstead purchase.
The next card features the three different types of Brutus products: the Brutus broth, biscuits, and powder!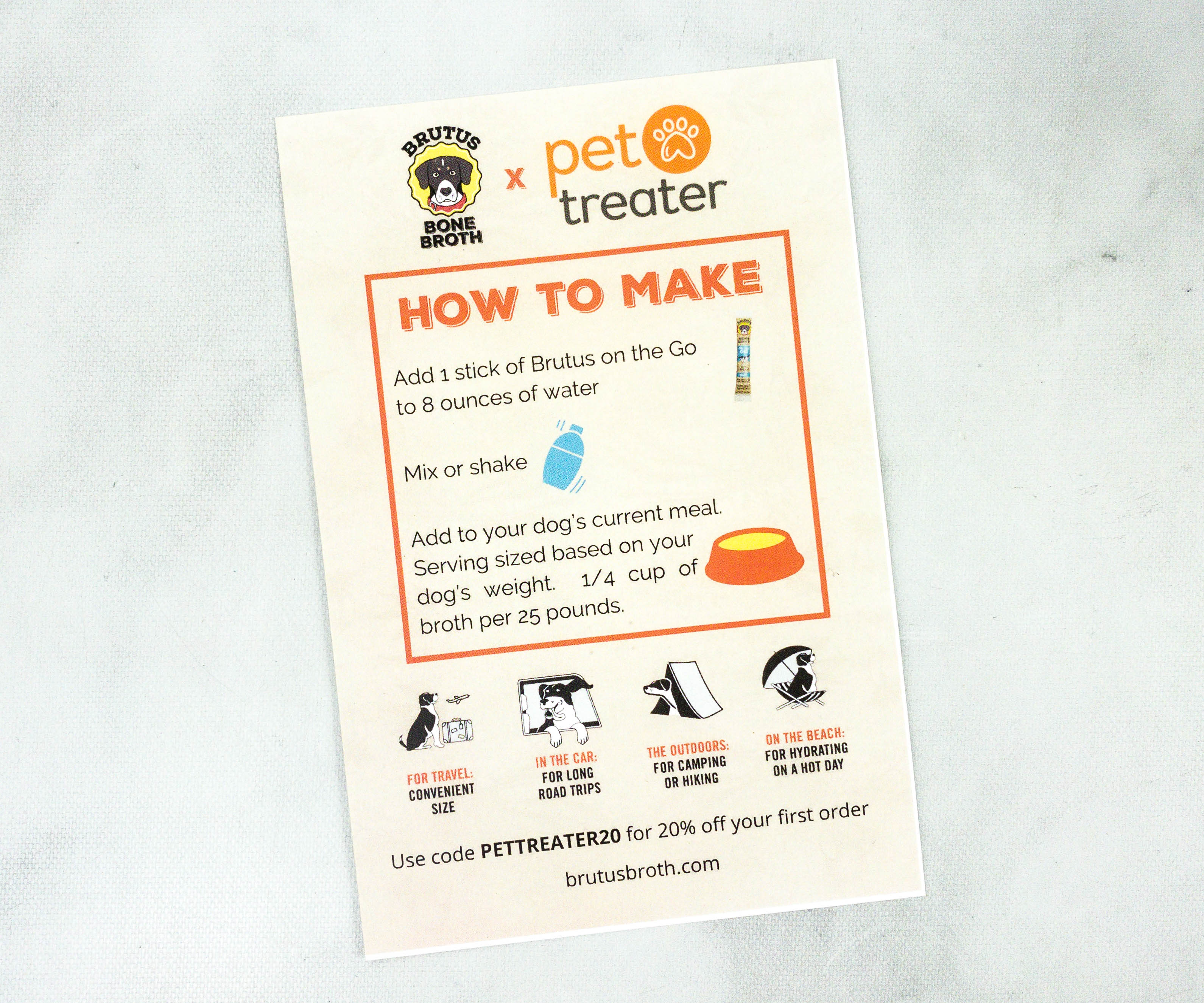 The back of the card features detailed instructions on how to prepare Brutus Bone Broth. It also comes with a 20% off coupon code that you can use when purchasing at Brutus Broth's website.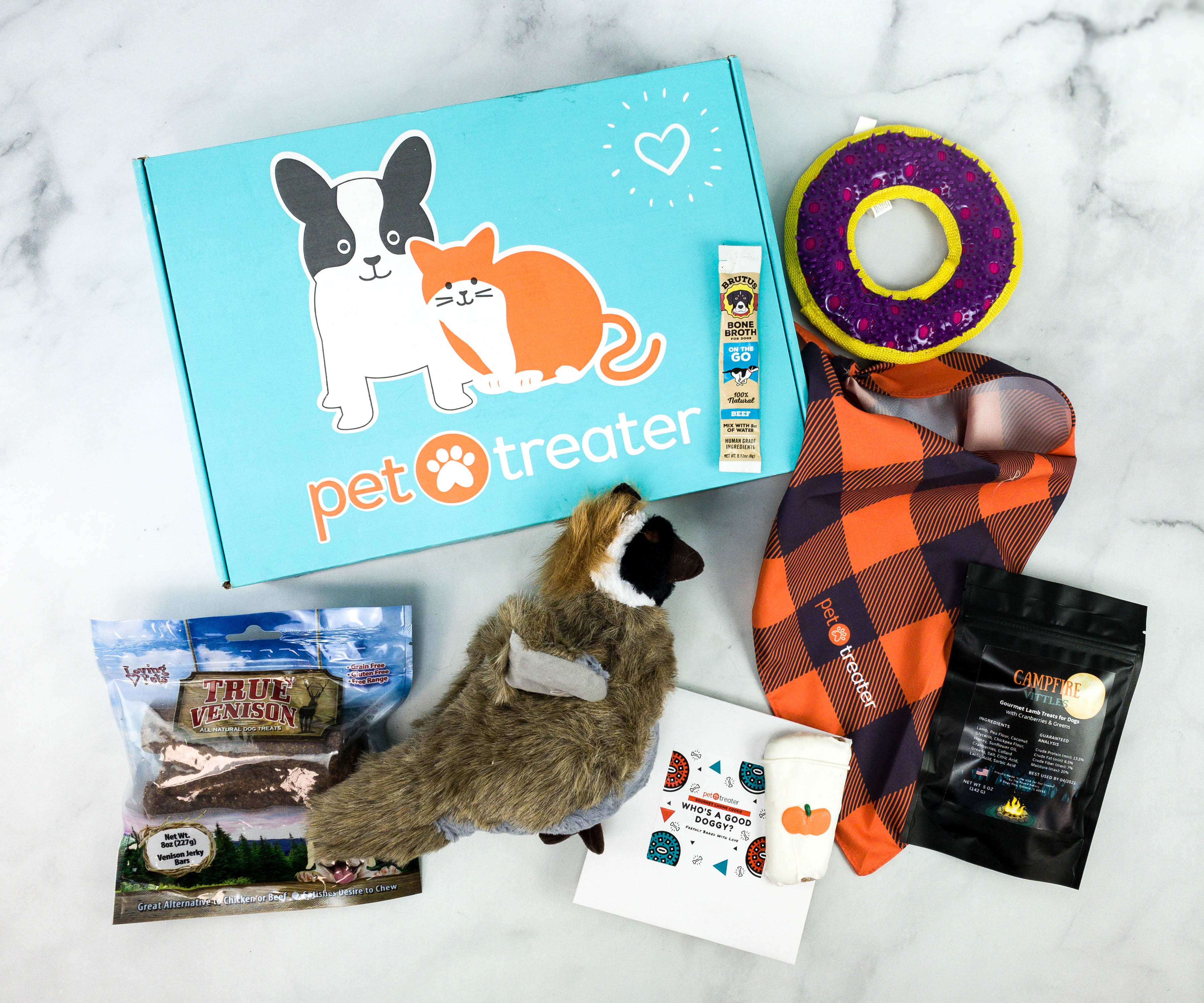 Everything in our November 2020 Deluxe Box!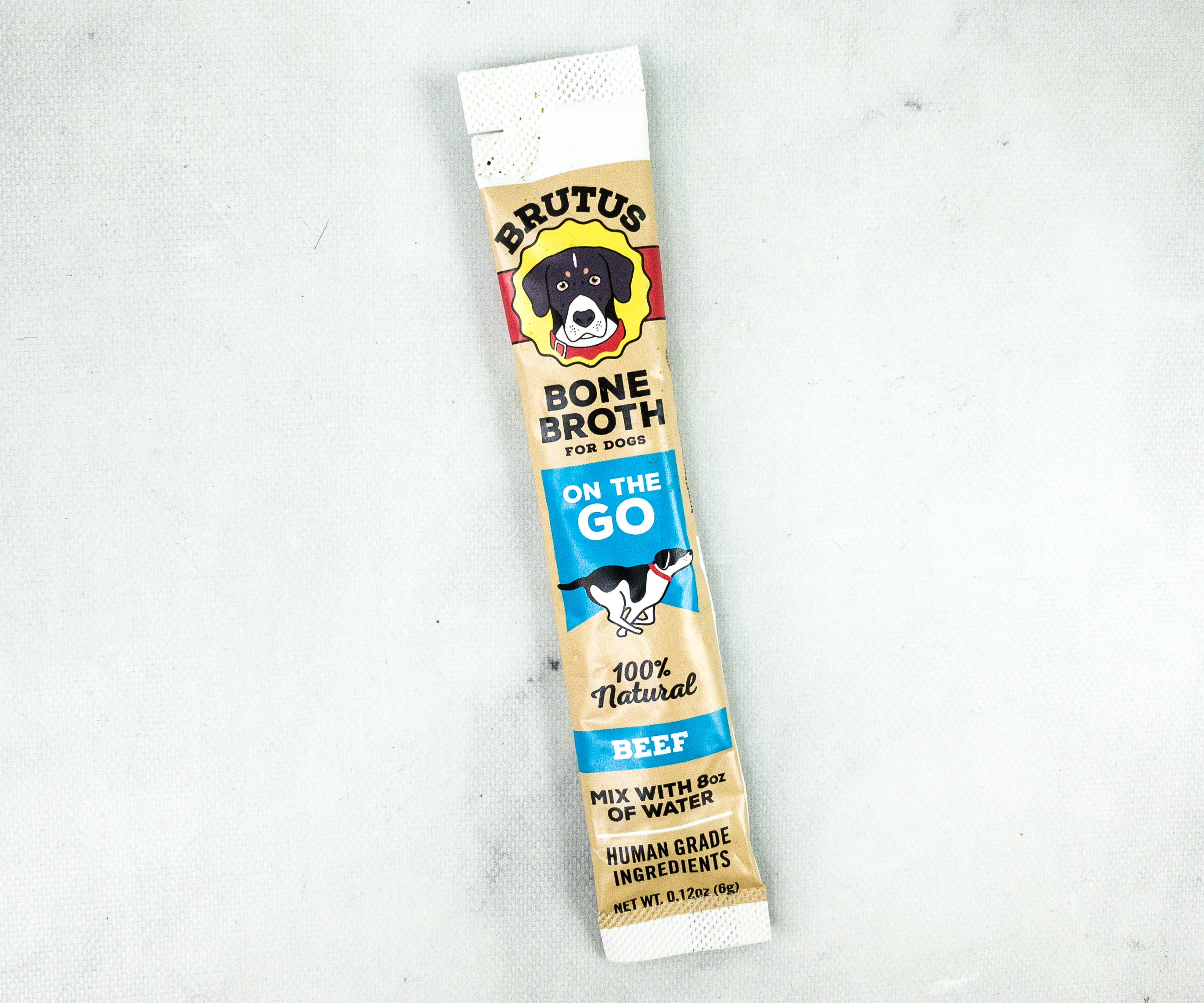 Brutus Bone Broth On The Go ($1.99) This travel-sized pack contains a powdered broth mix that you can add to your dog's food to make it more nutritious. It's made with natural ingredients such as glucosamine hydrochloride, beef bone broth, modified potato starch, carrot, and sweet potato powder.
To use, just mix the contents of the pack with 8 oz. of water, shake well, and blend it to your dog's meal. It's so easy and convenient!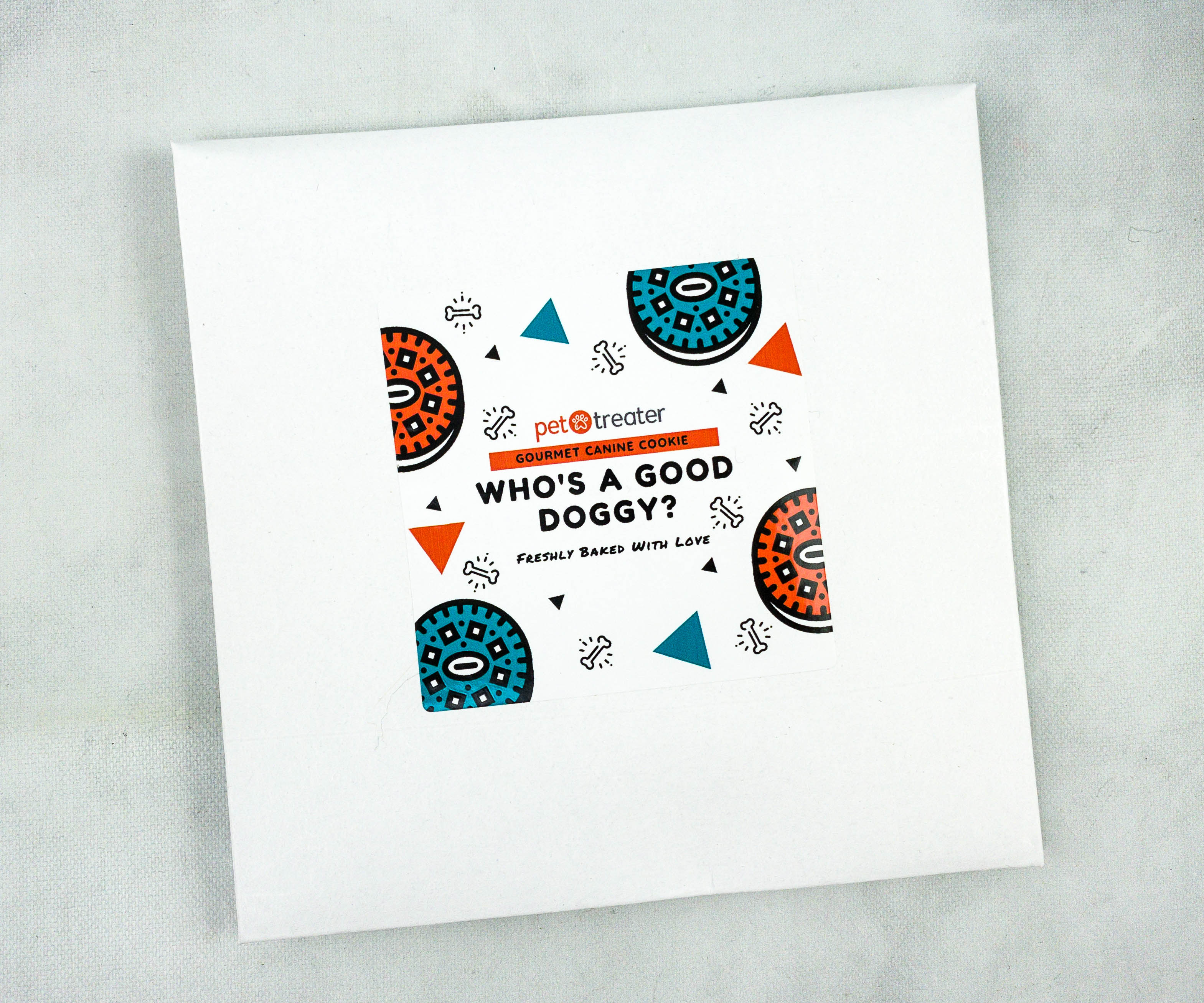 Gourmet Canine Cookie. It's a freshly baked gourmet canine cookie made from whole wheat flour, oats, canola oil, and honey.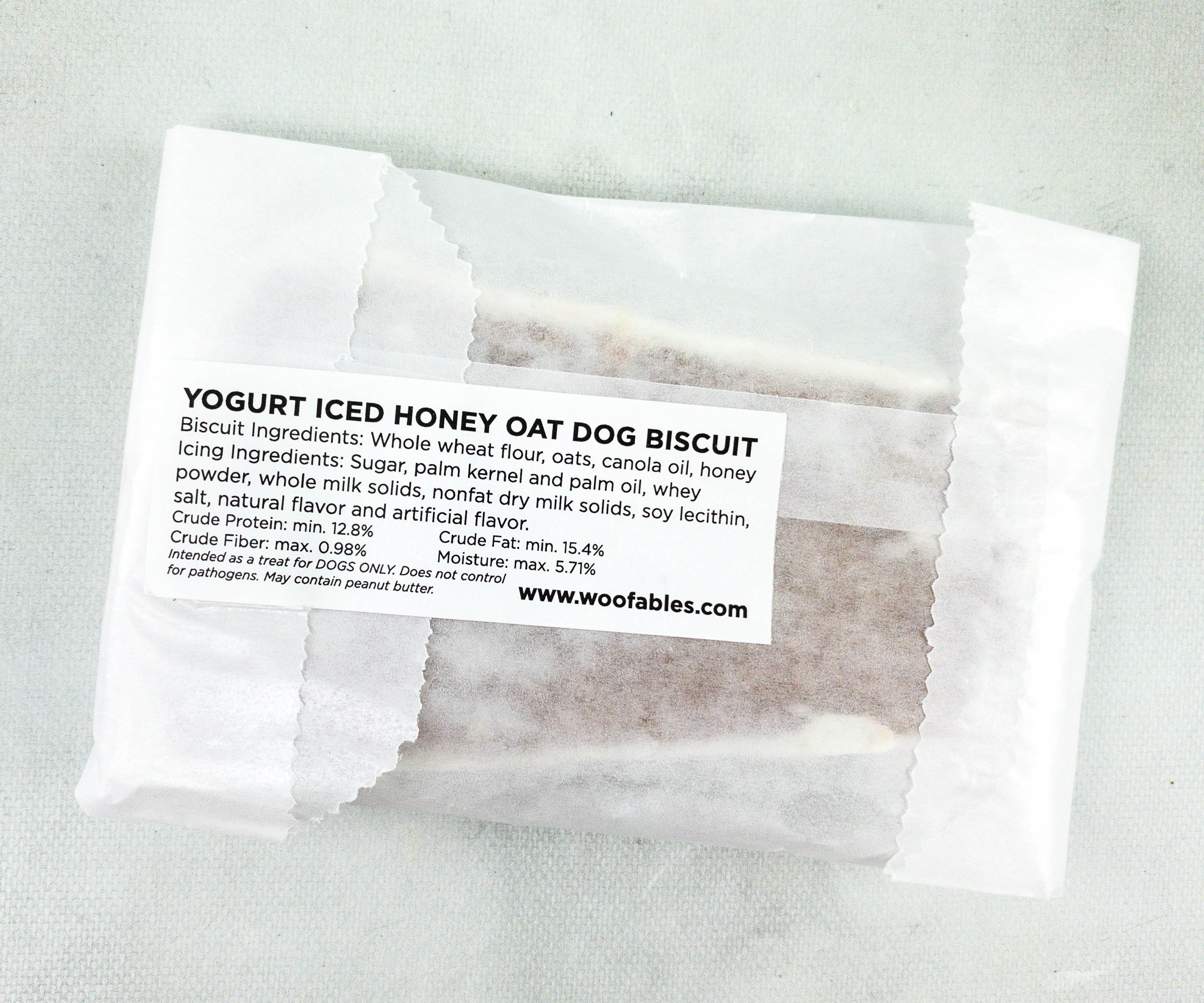 This treat also comes with a tasty icing made from sugar, palm kernel, palm oil, whole and nonfat-dry milk solids, and natural and artificial flavors.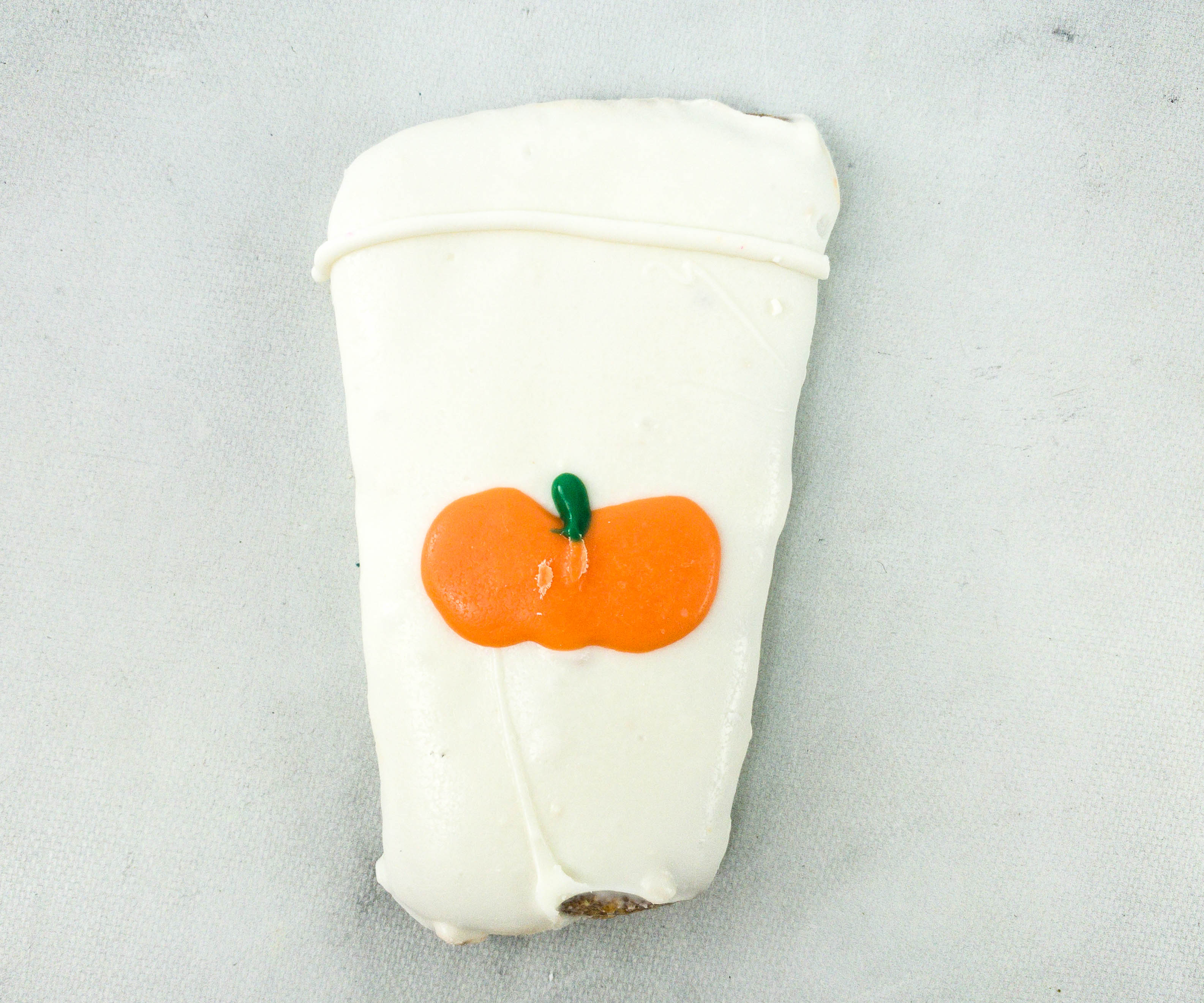 Inside the pack is a milkshake-themed cookie. It's a tasty treat with a crunchy texture!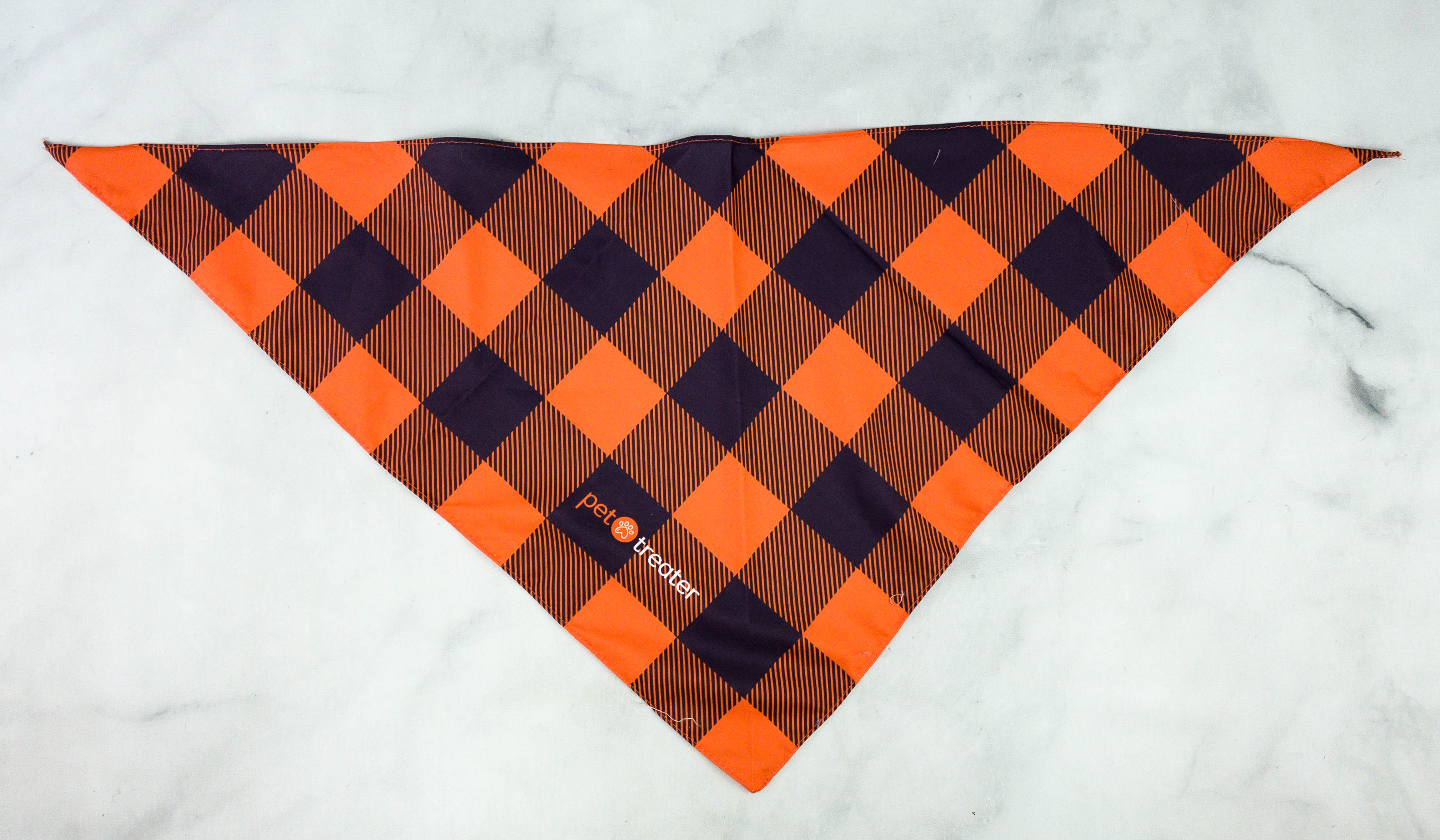 Bandana. This month's box includes a stylish bandana made from high-quality fabric. It features a classic orange and black plaid print.
Printed on the lower-end of the bandana is the Pet Treater logo.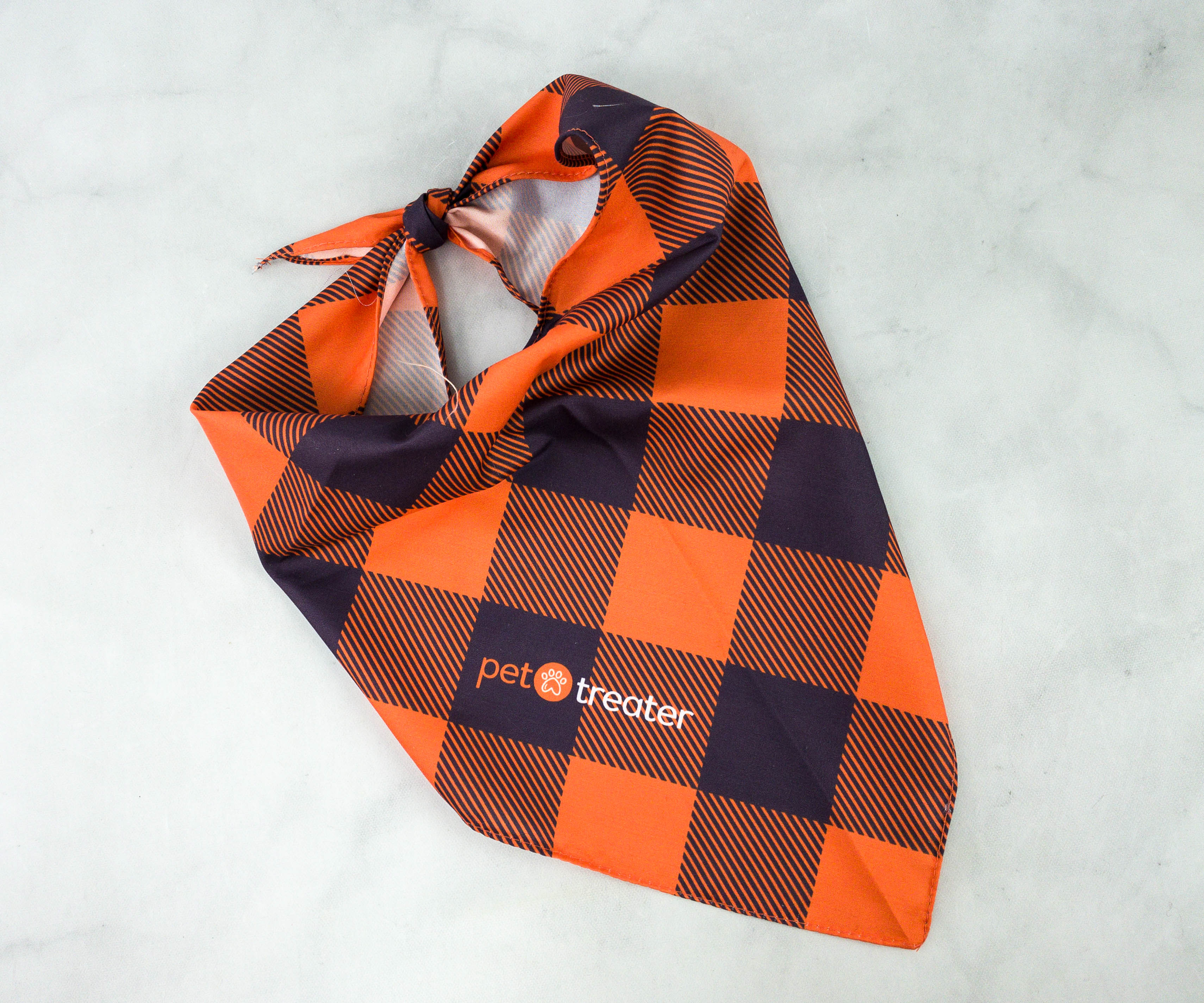 This bandana keeps Dean stylish! It's also lightweight, so he has never had problems wearing it.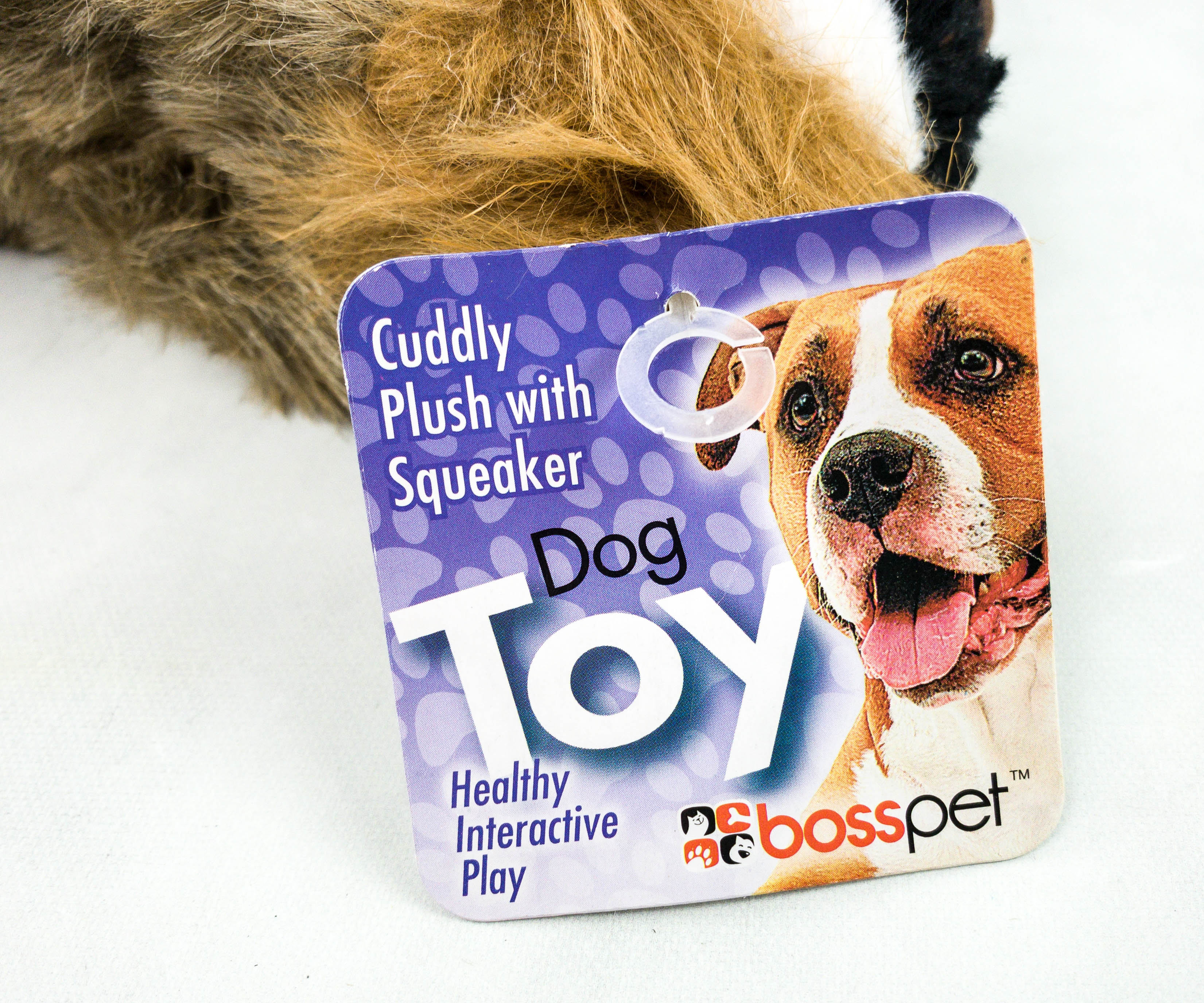 Boss Pet Cuddly Plush with Squeaker Dog Toy. This month's box includes 2 plush toys! The first one is a squeaky bird plushie.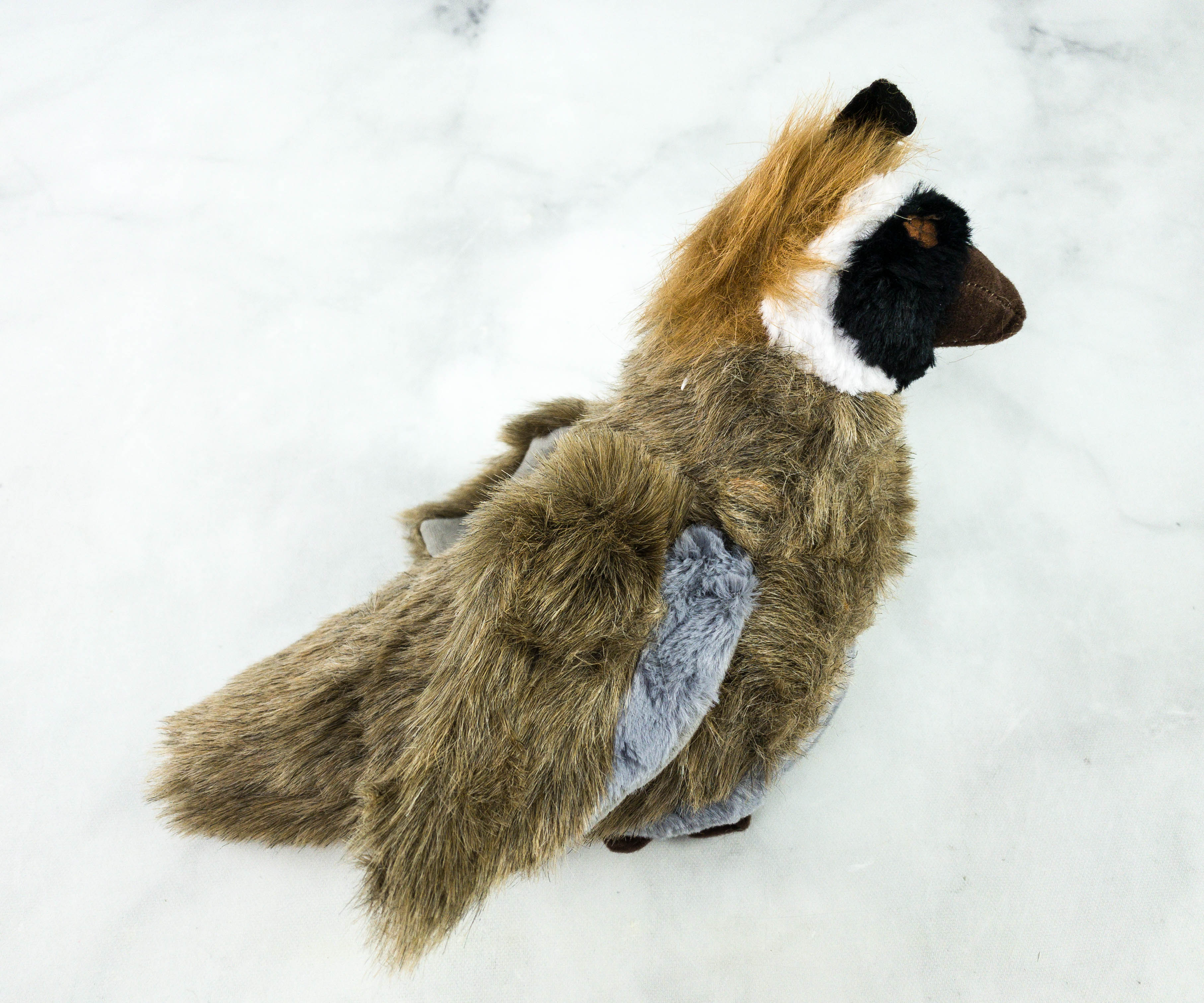 It's a unique plush toy for dogs, made from soft, puncture-proof, and washable fabric.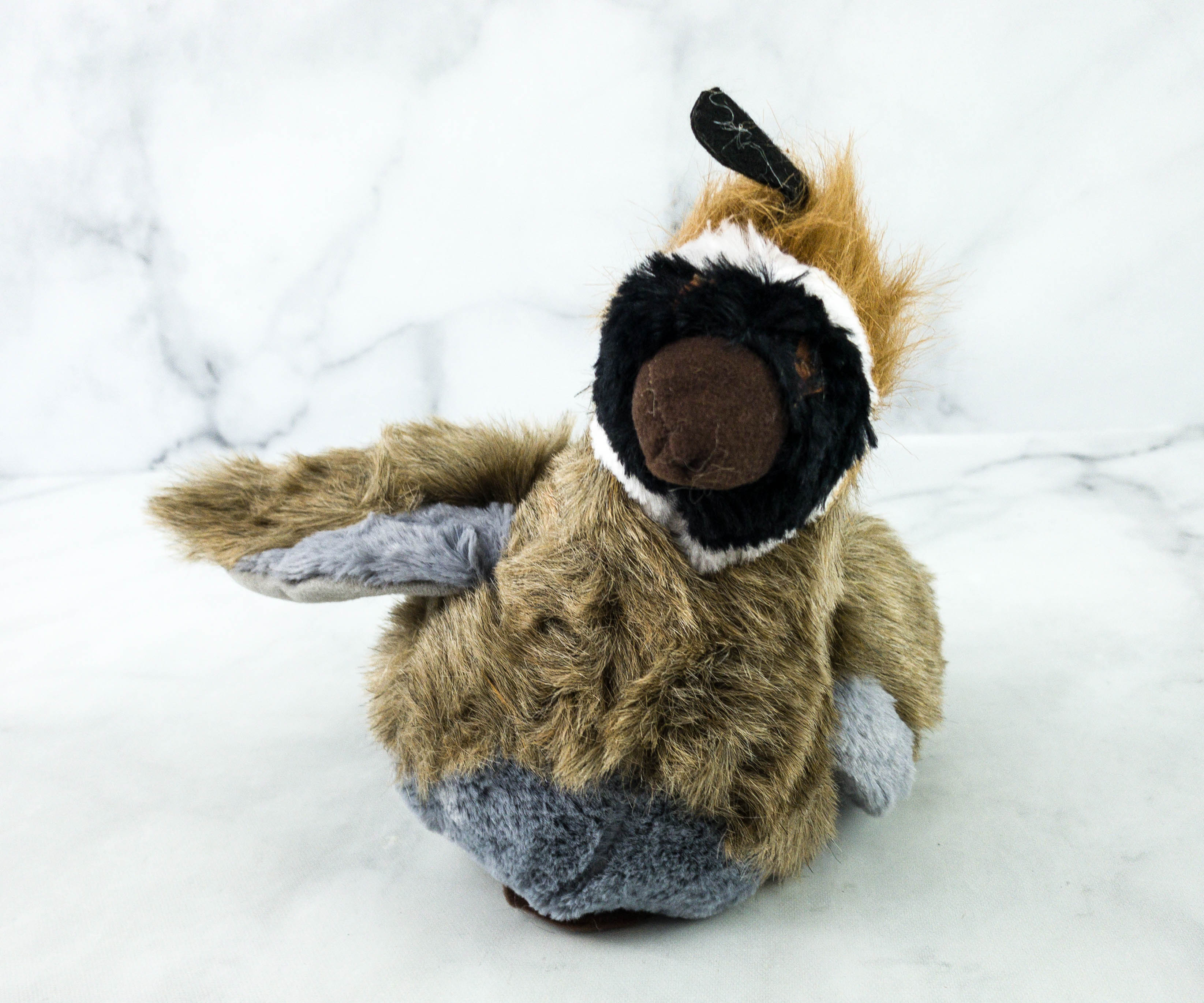 This plush toy also comes with a built-in squeaker that produces a loud squeaky sound when bitten.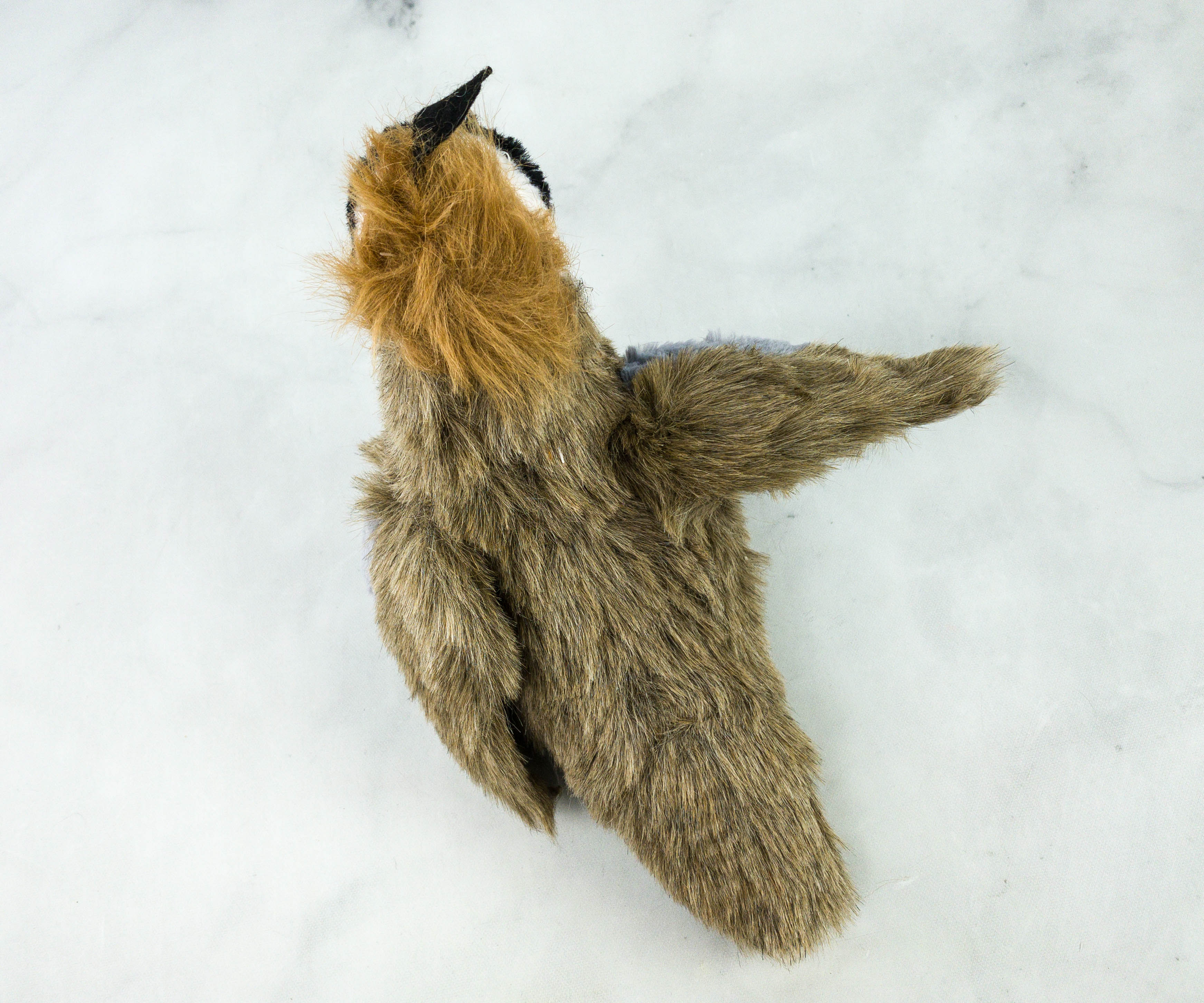 The back of the bird features a golden color on the head and brown color on the rest of the body. It's so furry, Dean loves it so much!
Pet Zone Small Disc Chompy Chewers. The second toy is a disc designed for pups who love chewing!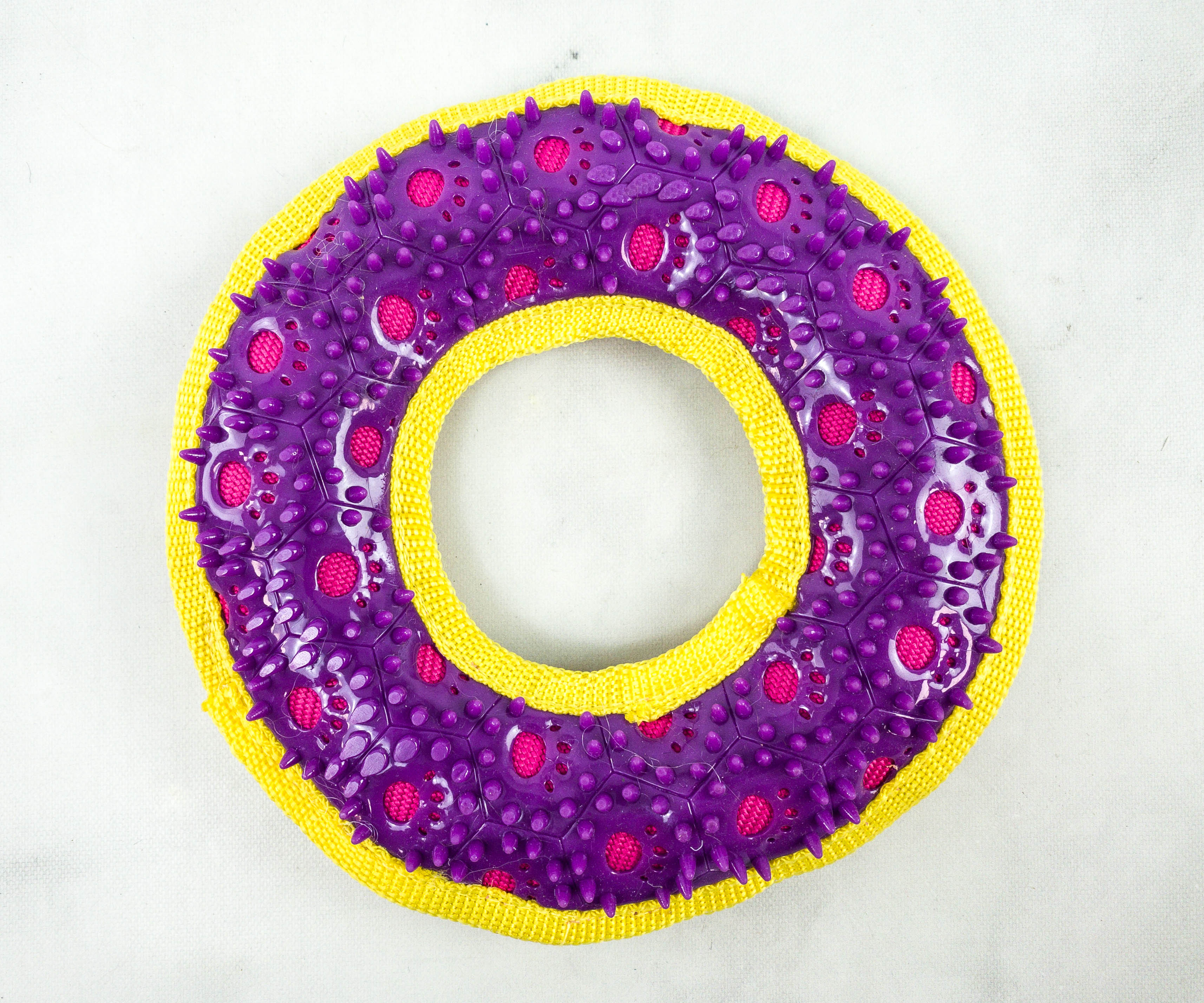 This plush toy features premium-quality, chewy rubber with small dental tips that are great for cleaning teeth and gums!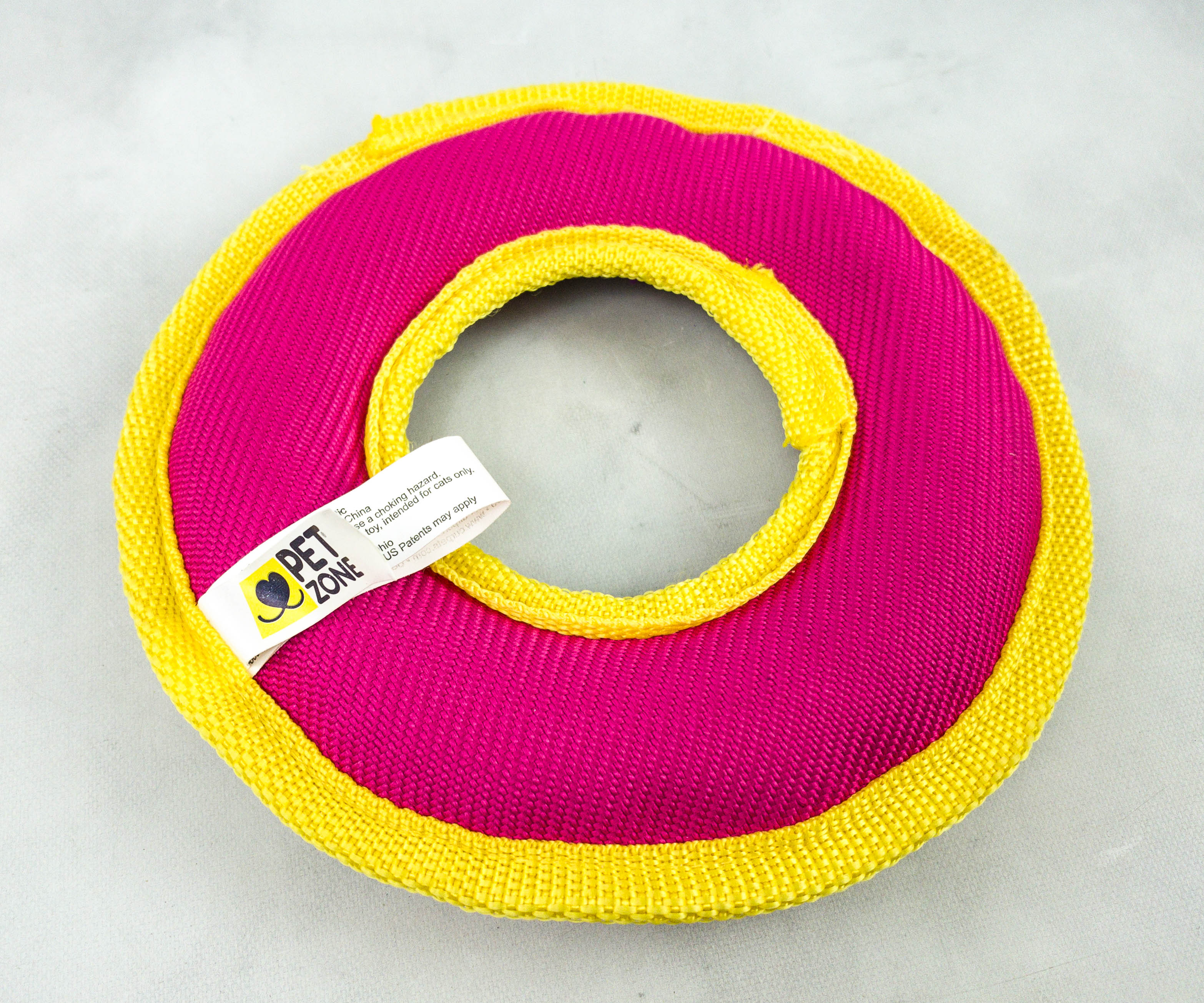 The other side of the disc is made with durable nylon and also features reinforced stitching on the edges. It makes an ideal toy for gnawing or for playing fetch.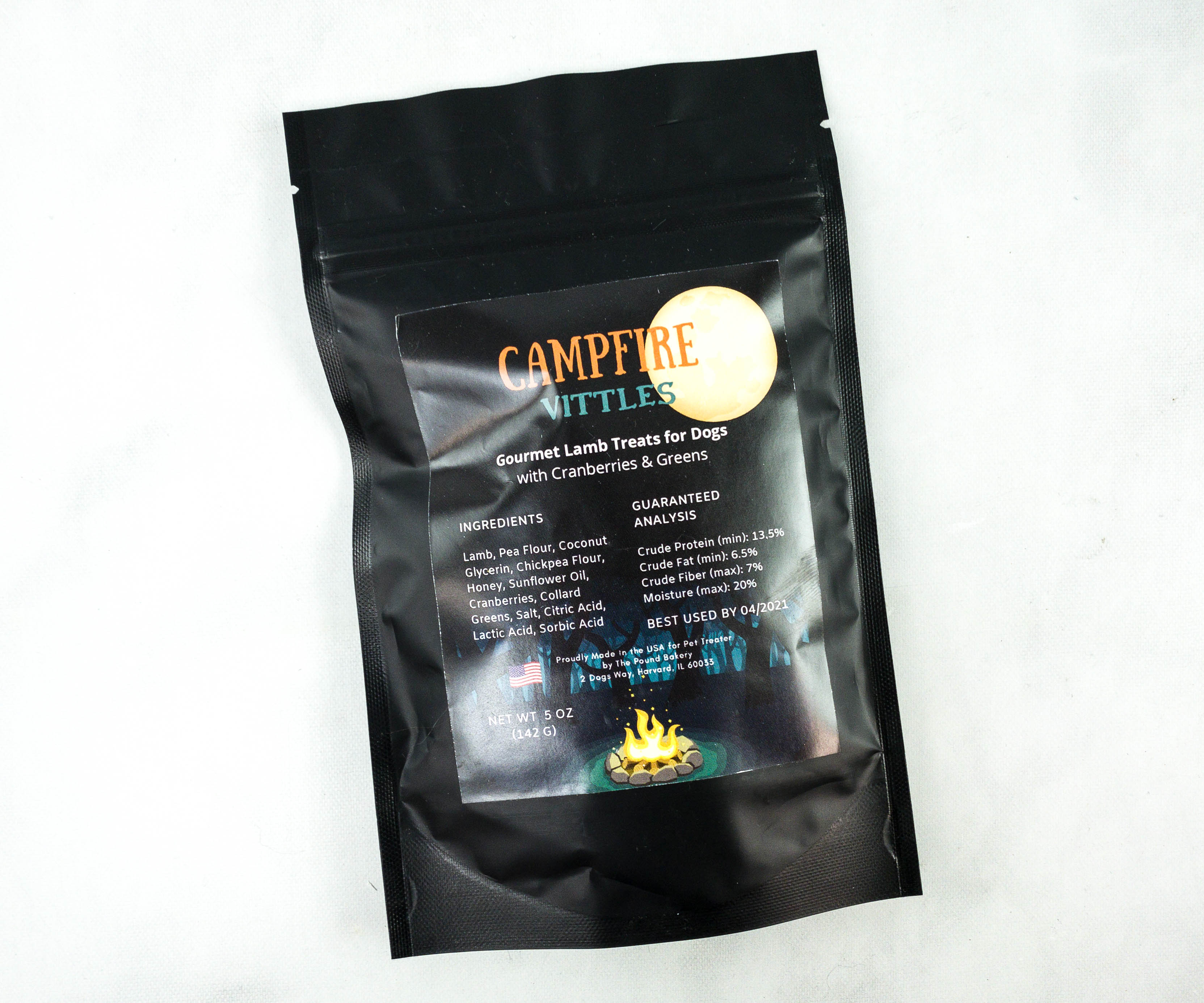 Campfire Vittles Gourmet Lamb Treats for Dogs. It's a delicious bag of treats made from lamb, honey, sunflower oil, cranberries, and collard greens.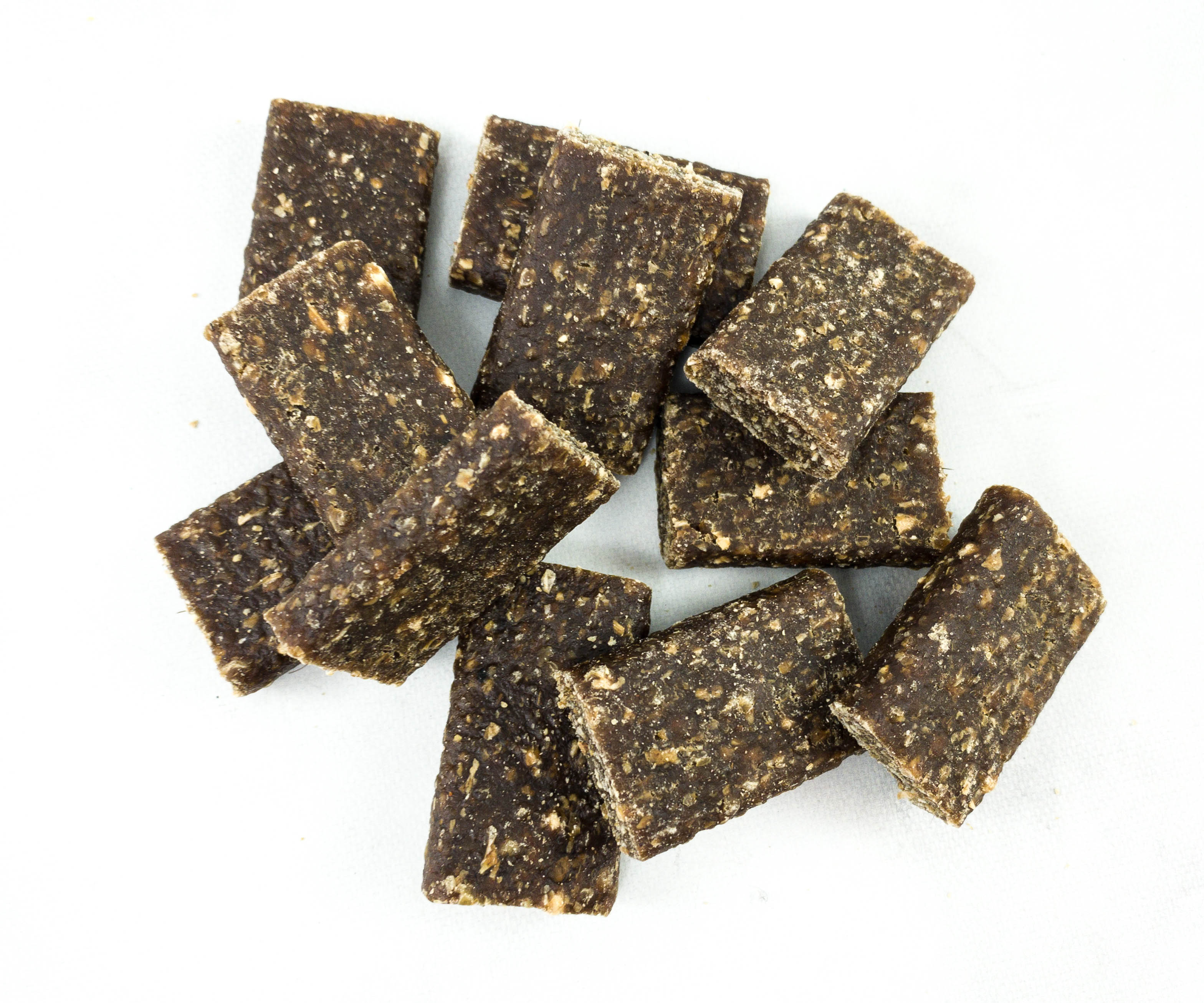 The treats are rectangular and chewy. They contain protein and other essential nutrients that dogs need for a stronger body!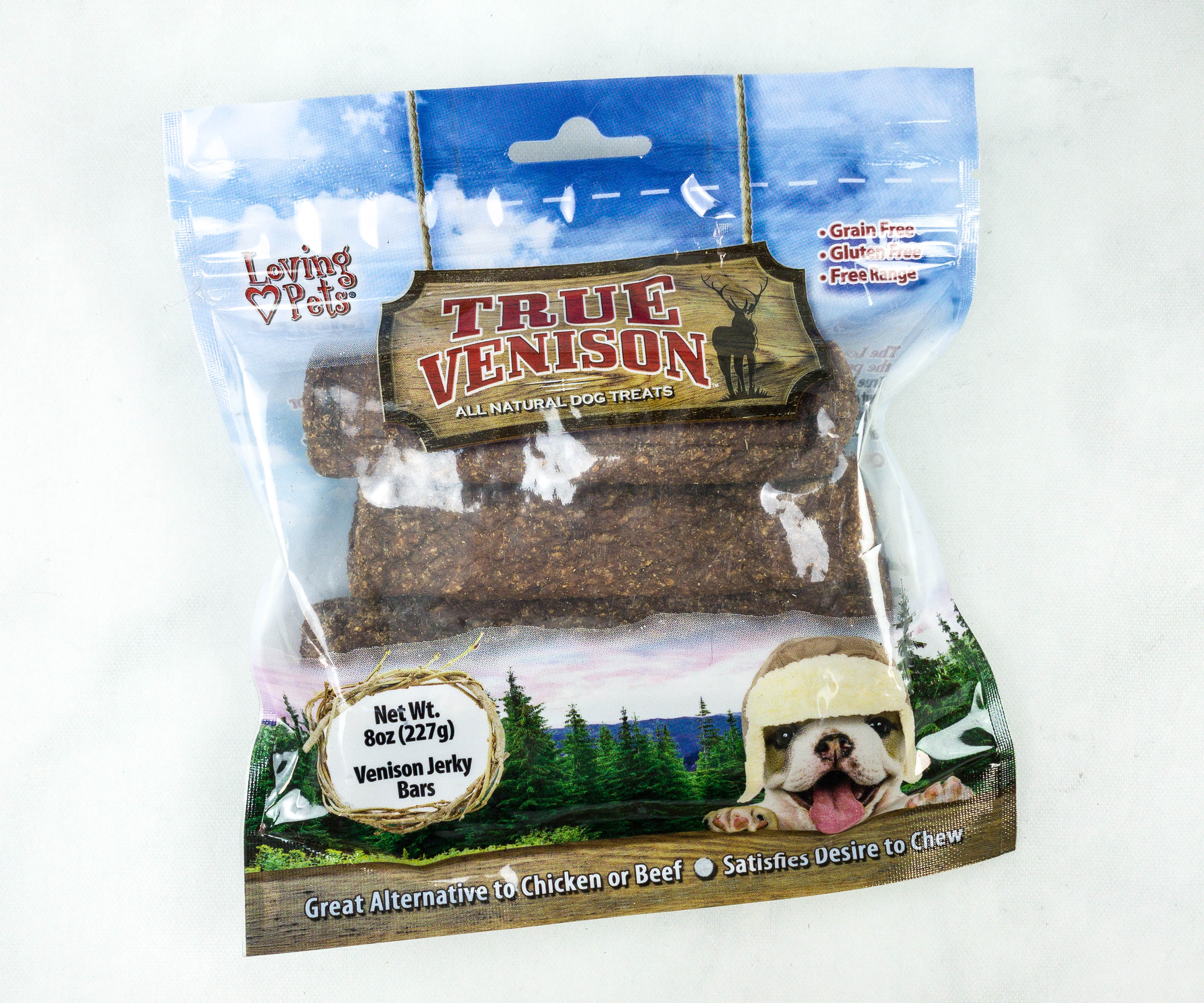 Loving Pets True Venison Dog Treats. Venison makes a good source of protein and it's the main ingredient of this bag of dog snacks.
This treat is also grain-free and gluten-free!
These log-shaped treats have a nice texture. They also make a great alternative for dogs who are sensitive to chicken or beef.
Here's Dean with his new toy and bandana. He looks really awesome wearing it!
It's another blockbuster curation from Pet Treater! This month, the box includes plenty of delicious and nutritious treats for my dogs to enjoy. There are 2 bags of treats, a delectable gourmet cookie, and an on-the-go broth mix. Of course, there's also a pair of sturdy toys plus a stylish bandana for dogs. Dean's favorite is the disc toy. It's chewy and very durable, and he loves gnawing it! From the theme to the variety and quality of contents, this box deserves a double thumbs up!
What do you think of this dog subscription?