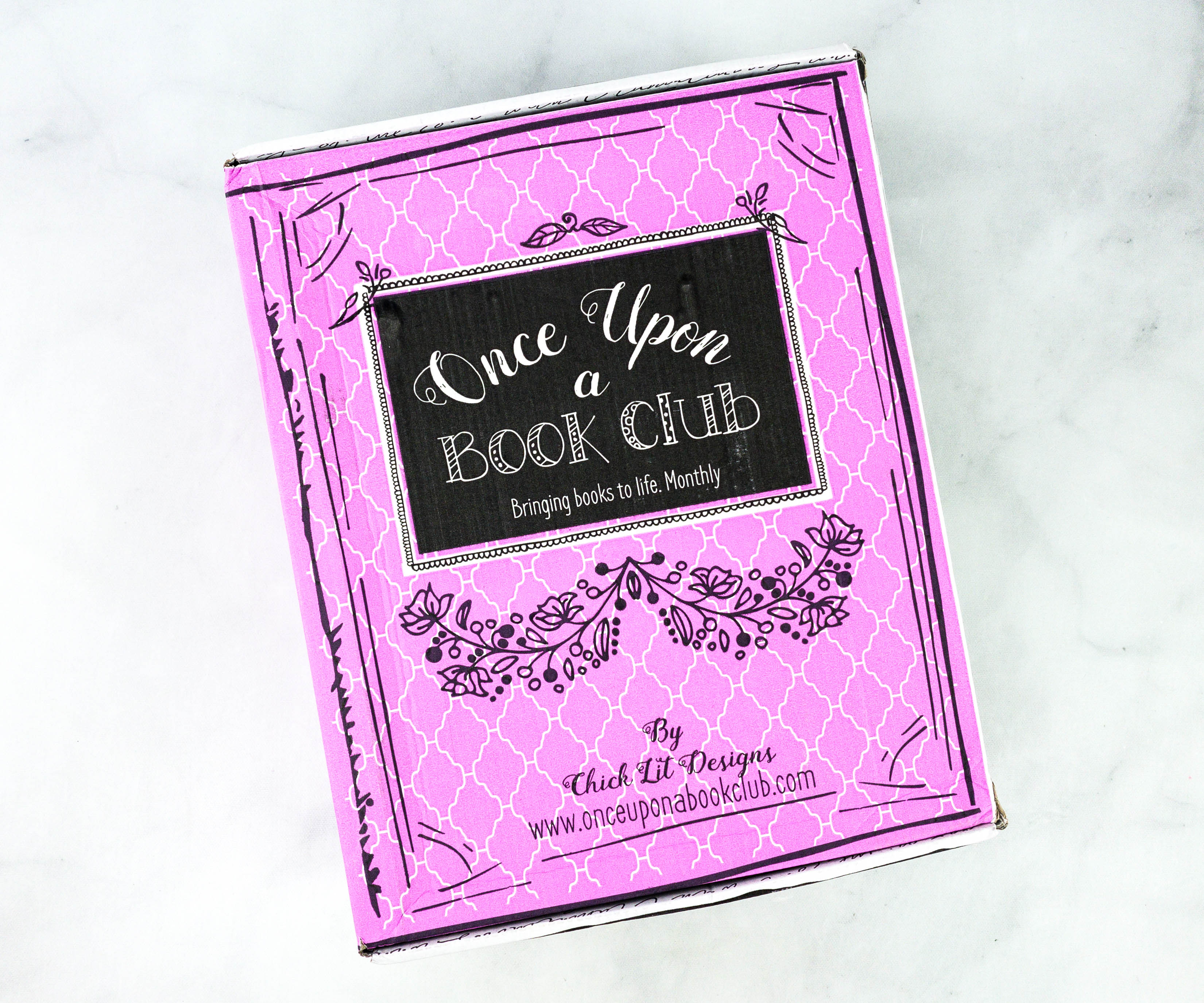 Once Upon a Book Club is a subscription that offers a unique reading experience. Each month, you'll receive a book to read, a 5″ x 7″ quote print, along with 2-4 corresponding gifts to match a quote/item mentioned in the book. Readers are advised to open the gifts as they finish the corresponding page to make them feel as if the book is coming to life!
You can choose between Once Upon a Book Club's Young Adult edition and Adult edition. This is the review of the Adult box.
DEAL: Enjoy 10% off your first box. Use coupon code BOOKNERD.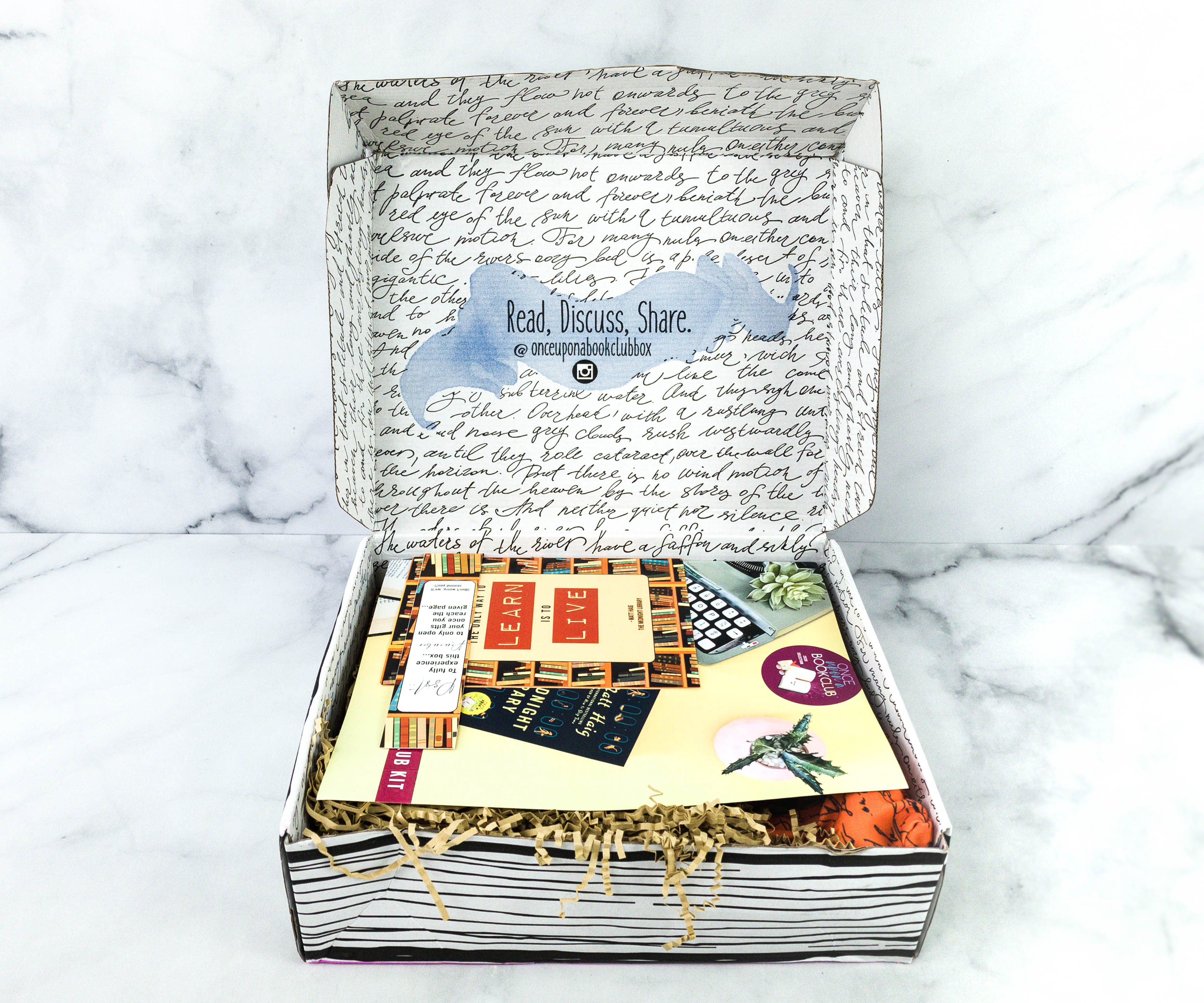 The box interior looks lovely with those words in script.
The items were packed with squiggles.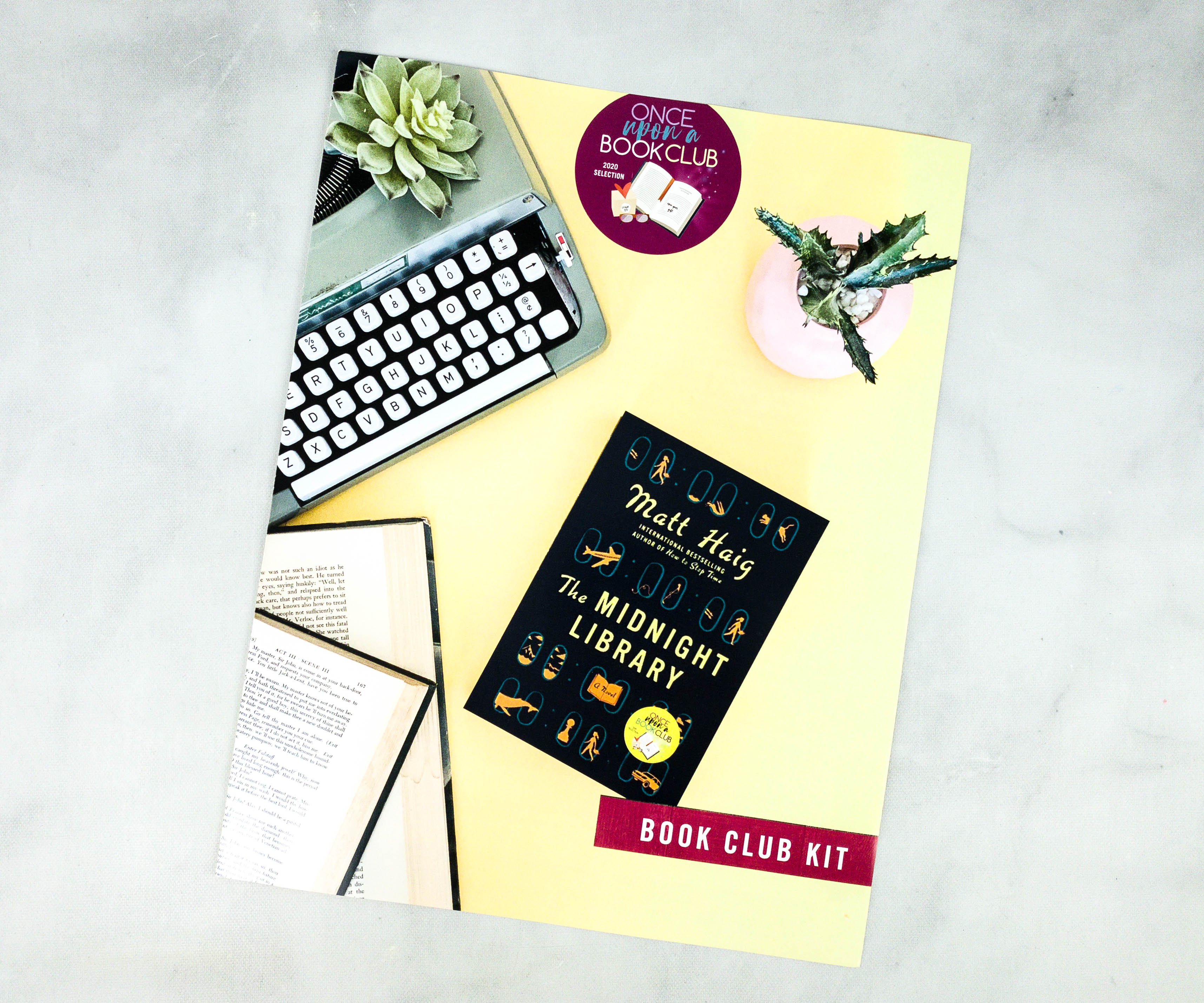 The box includes a Book Club Kit guide.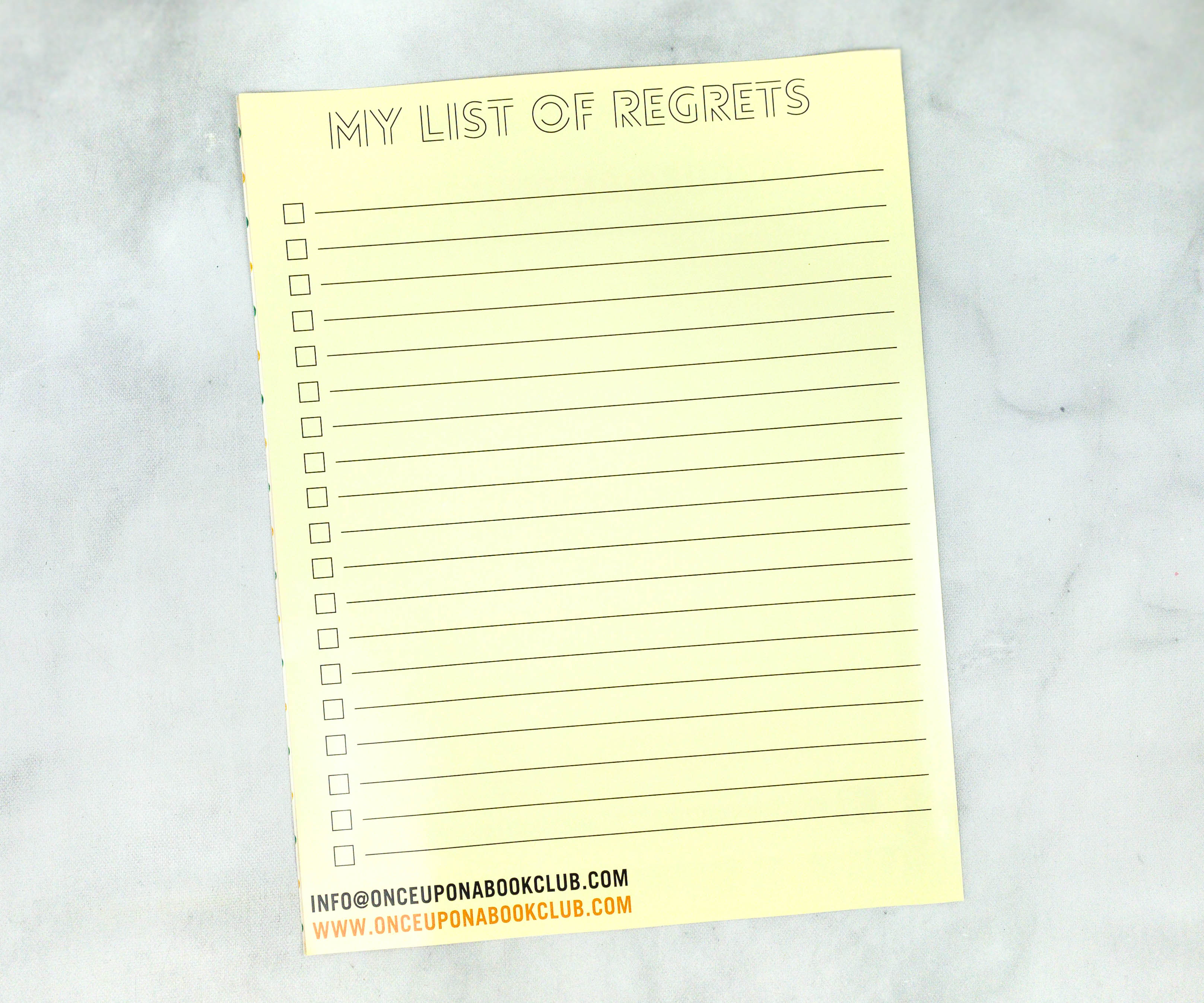 At the back is a space where you can list down your regrets.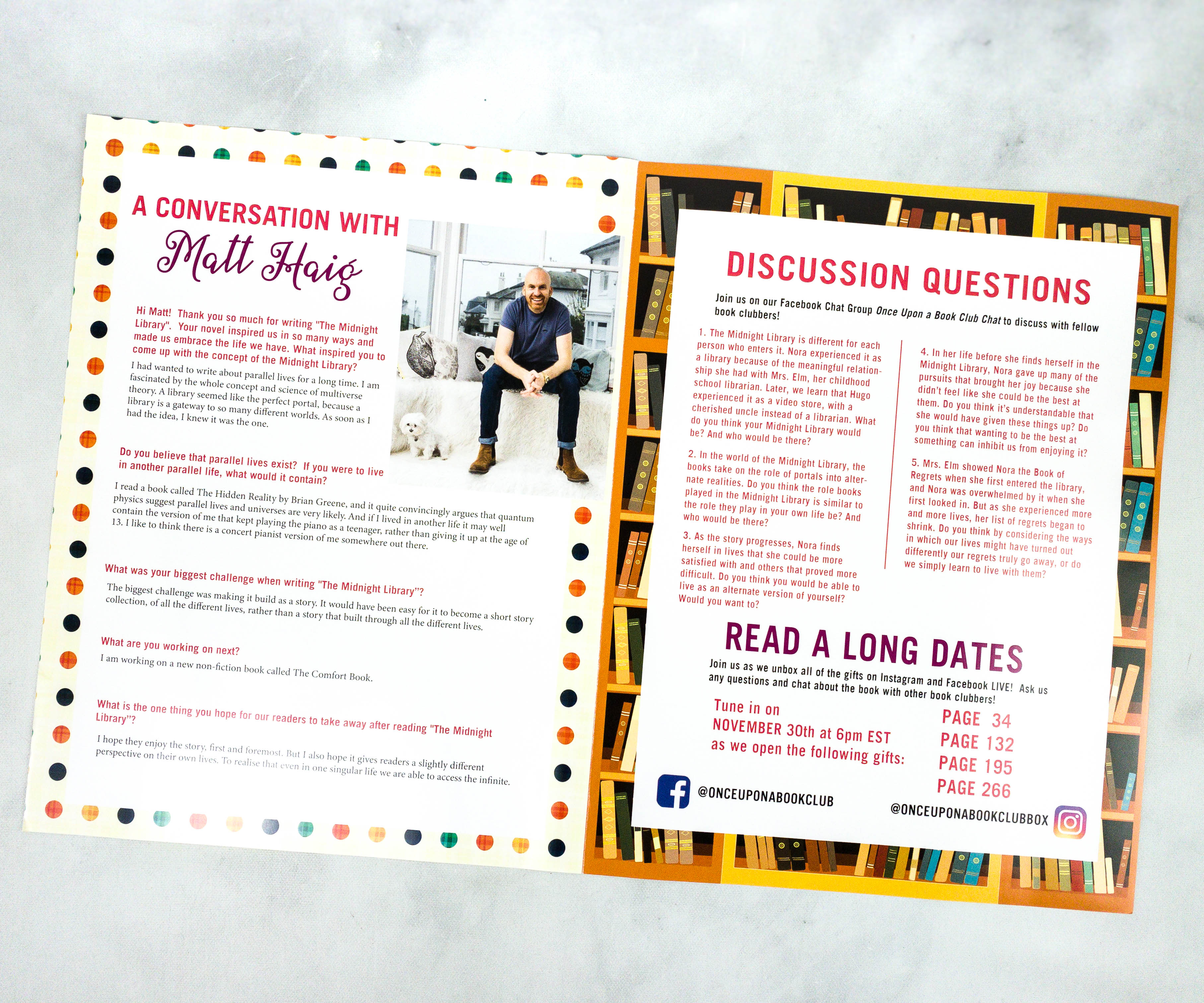 It also features an Author's Note featuring JMatt Haig, plus read along dates and some discussion questions.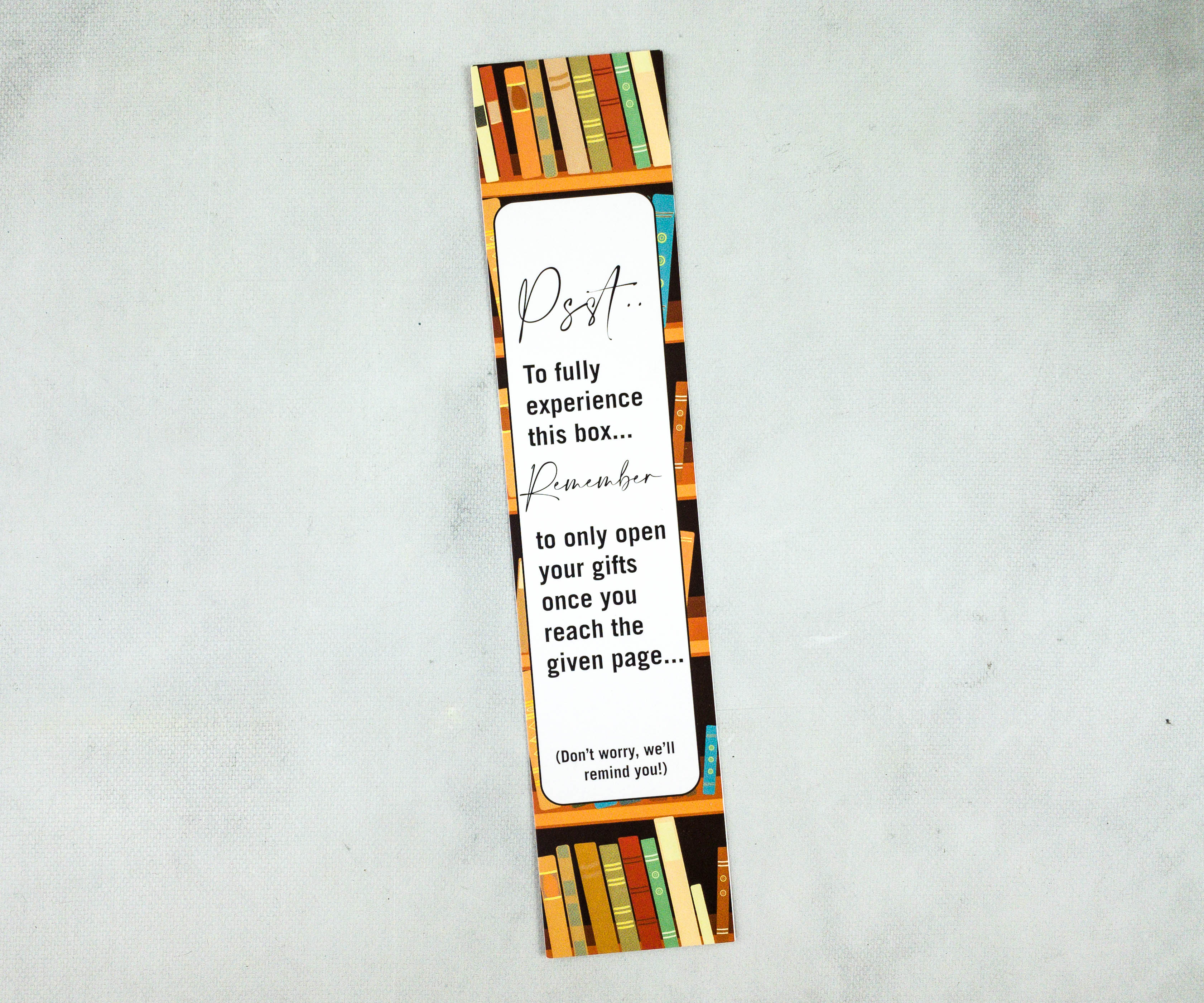 I also received a bookmark that reminds me to only open the gifts once I'm on the given page.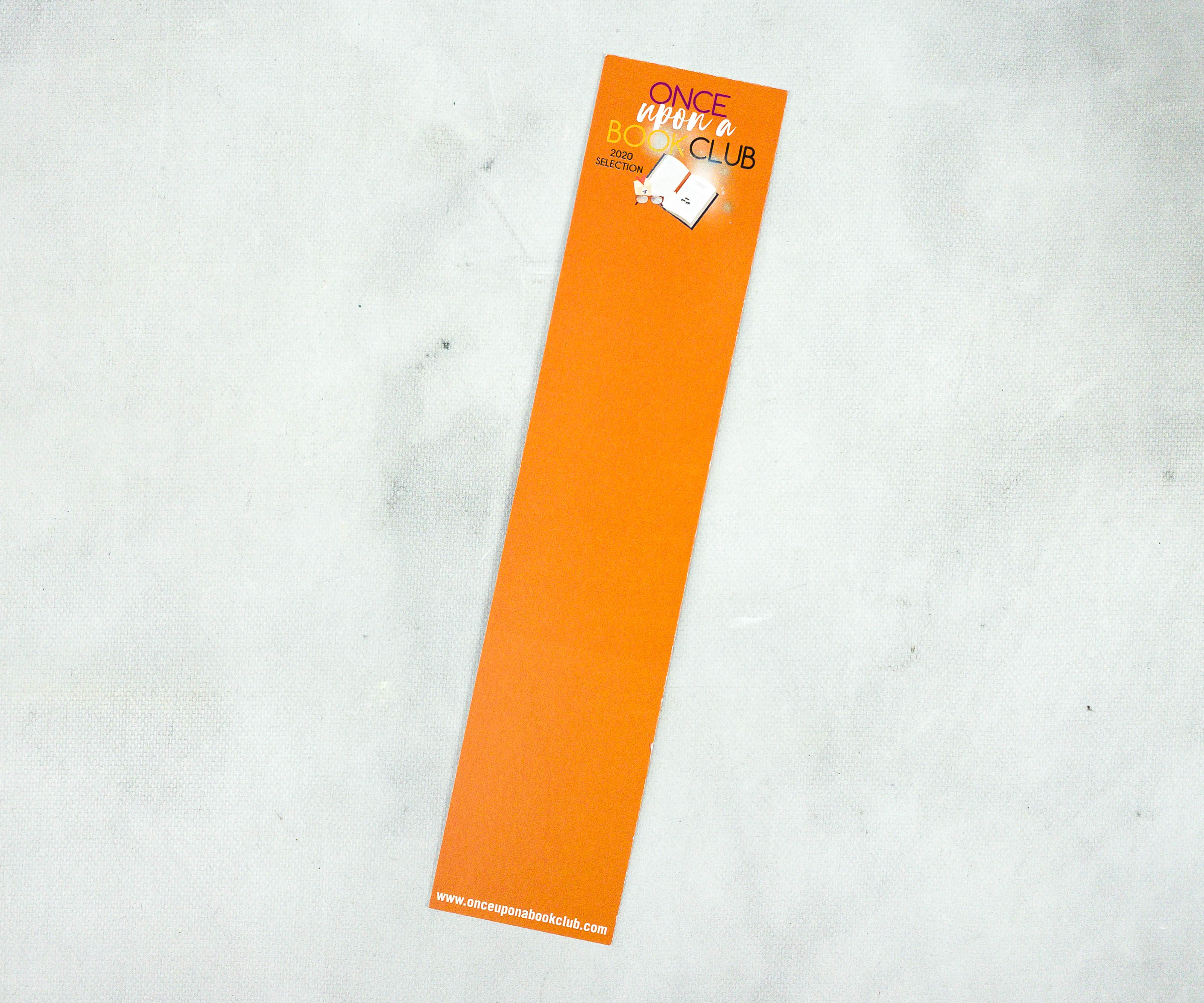 It makes everything all the more exciting!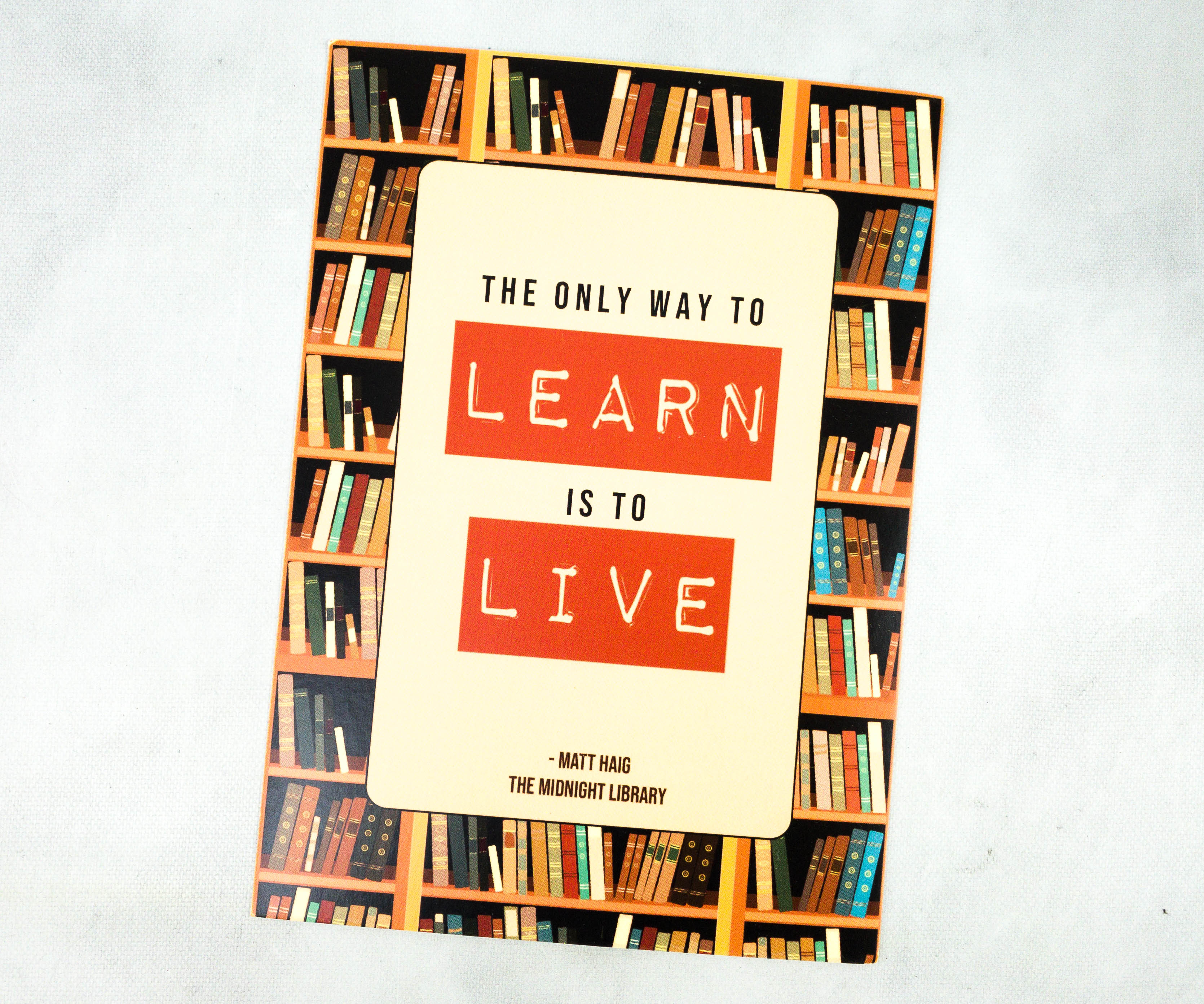 The only way to learn is to live.

– Matt Haig, The Midnight Library
I'm excited to open the gifts!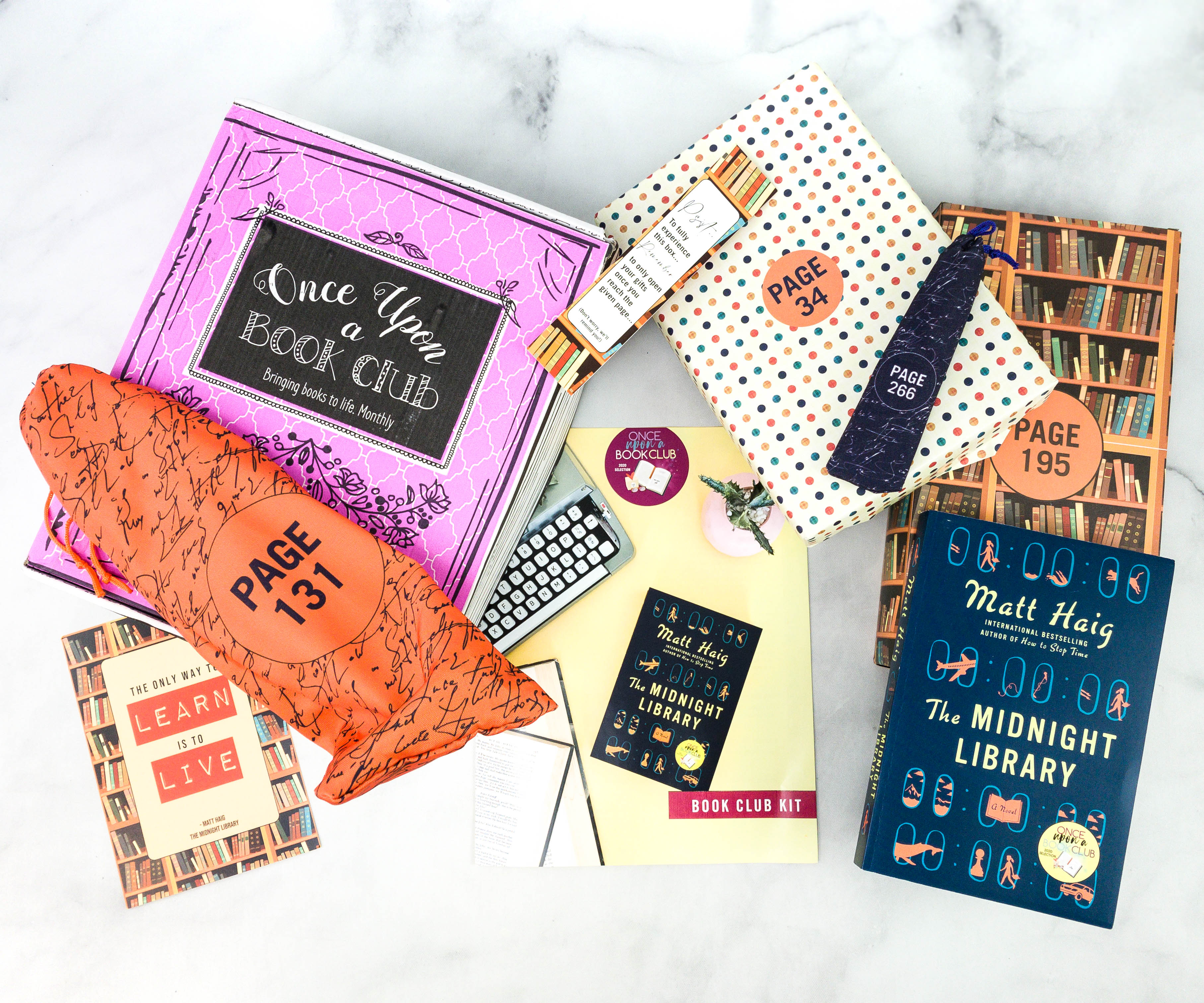 Everything in my box!
The Midnight Library by Matt Haig ($19.48)
An instant New York Times bestseller

A GOOD MORNING AMERICA Book Club Pick!

"Between life and death there is a library, and within that library, the shelves go on forever. Every book provides a chance to try another life you could have lived. To see how things would be if you had made other choices . . . Would you have done anything different, if you had the chance to undo your regrets?"

A dazzling novel about all the choices that go into a life well lived, from the internationally bestselling author of Reasons to Stay Alive and How To Stop Time.

Somewhere out beyond the edge of the universe there is a library that contains an infinite number of books, each one the story of another reality. One tells the story of your life as it is, along with another book for the other life you could have lived if you had made a different choice at any point in your life. While we all wonder how our lives might have been, what if you had the chance to go to the library and see for yourself? Would any of these other lives truly be better?

In The Midnight Library, Matt Haig's enchanting new novel, Nora Seed finds herself faced with this decision. Faced with the possibility of changing her life for a new one, following a different career, undoing old breakups, realizing her dreams of becoming a glaciologist; she must search within herself as she travels through the Midnight Library to decide what is truly fulfilling in life, and what makes it worth living in the first place.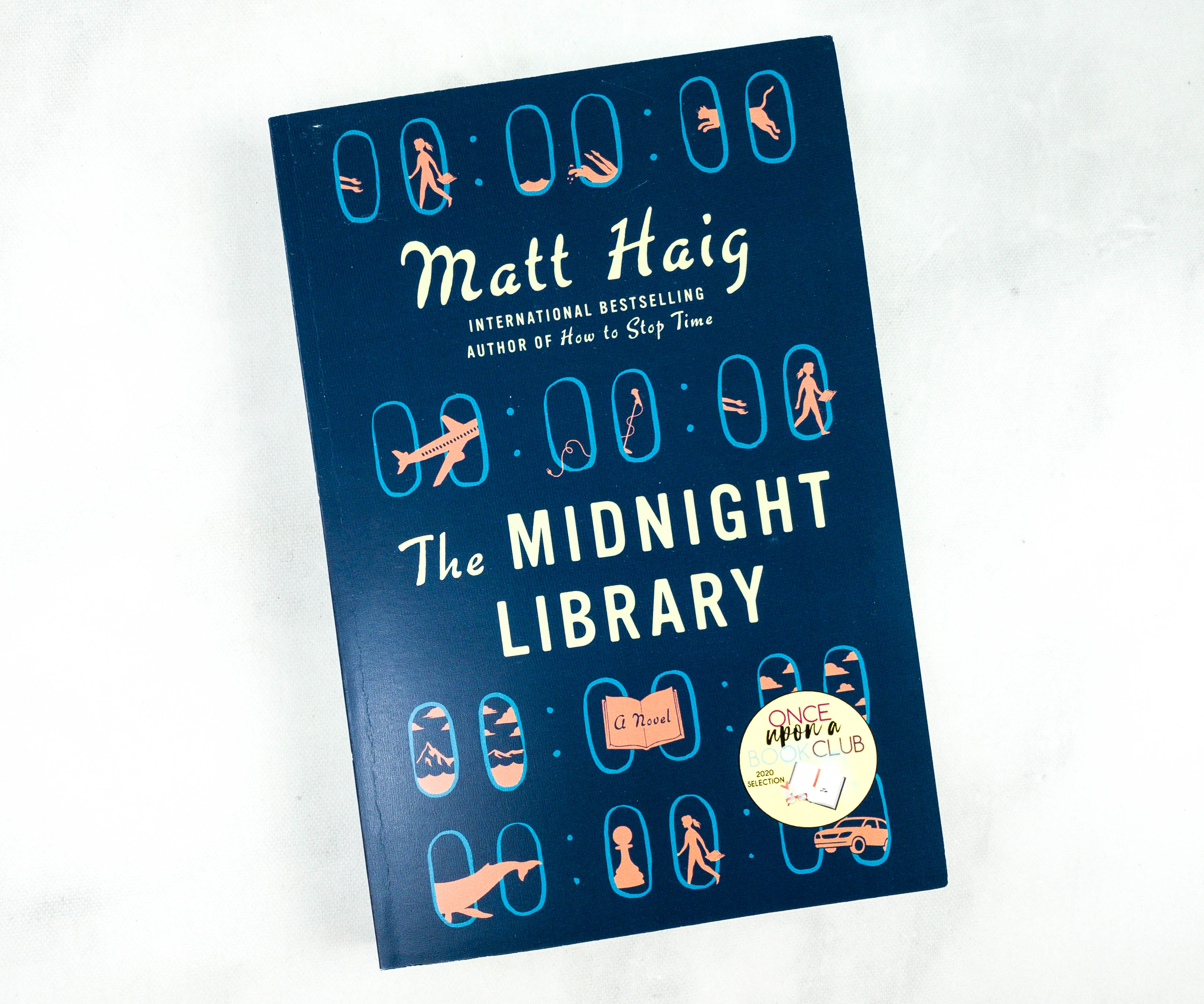 The book has the Once Upon A BookClub 2020 Selection sticker!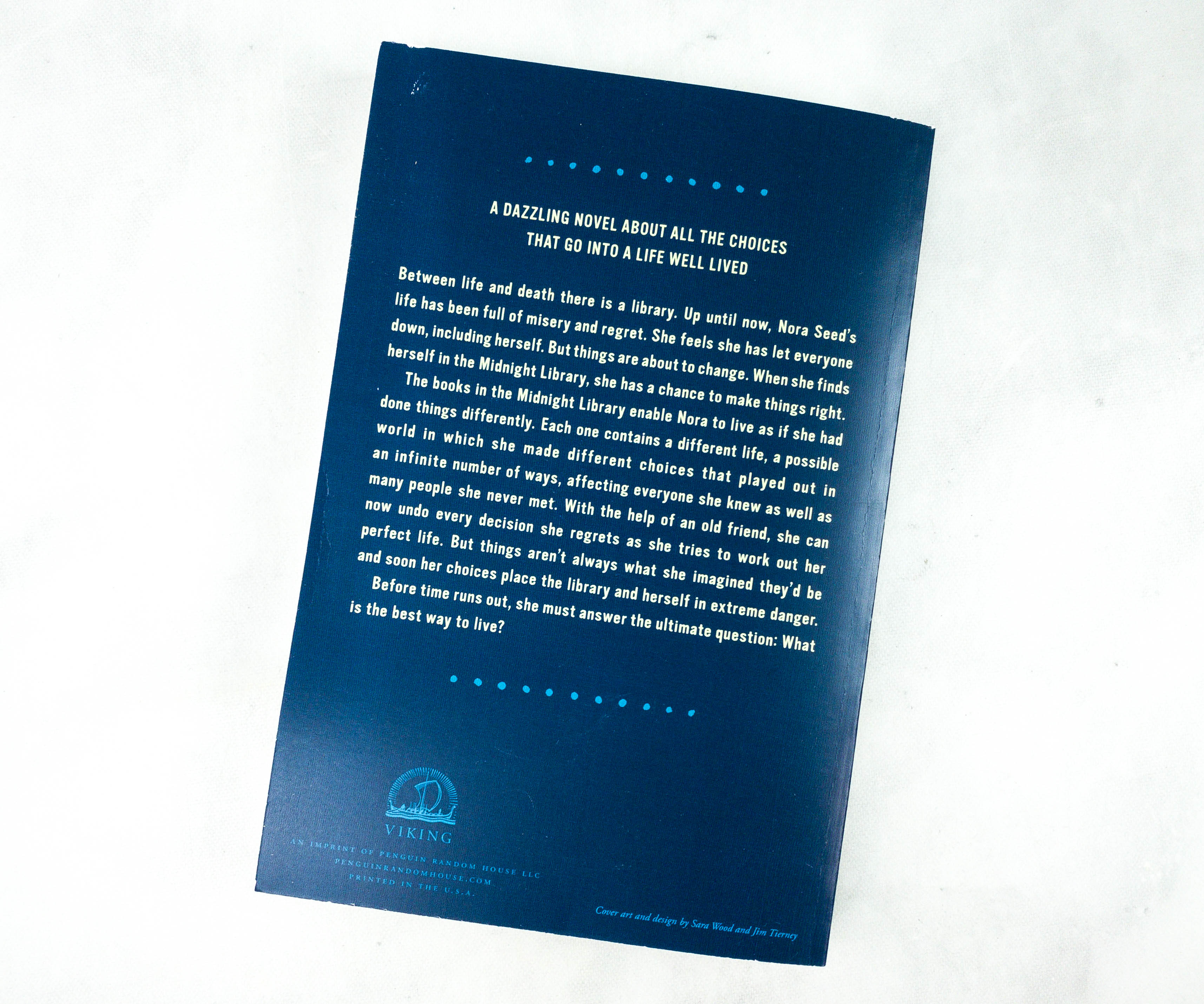 The cover features what seems to be windows into other worlds which is the theme of this book. I like how well-illustrated the book is without giving too much away. At the back is a brief description of the story and reading it just makes me want to dive in and read more!
The story centers on Nora as she lives her life in regret and misery because of the poor decisions she has done and made.
This books takes us into a whole new world of possibilities and surprisingly teaches us a lesson that's already right in front of us.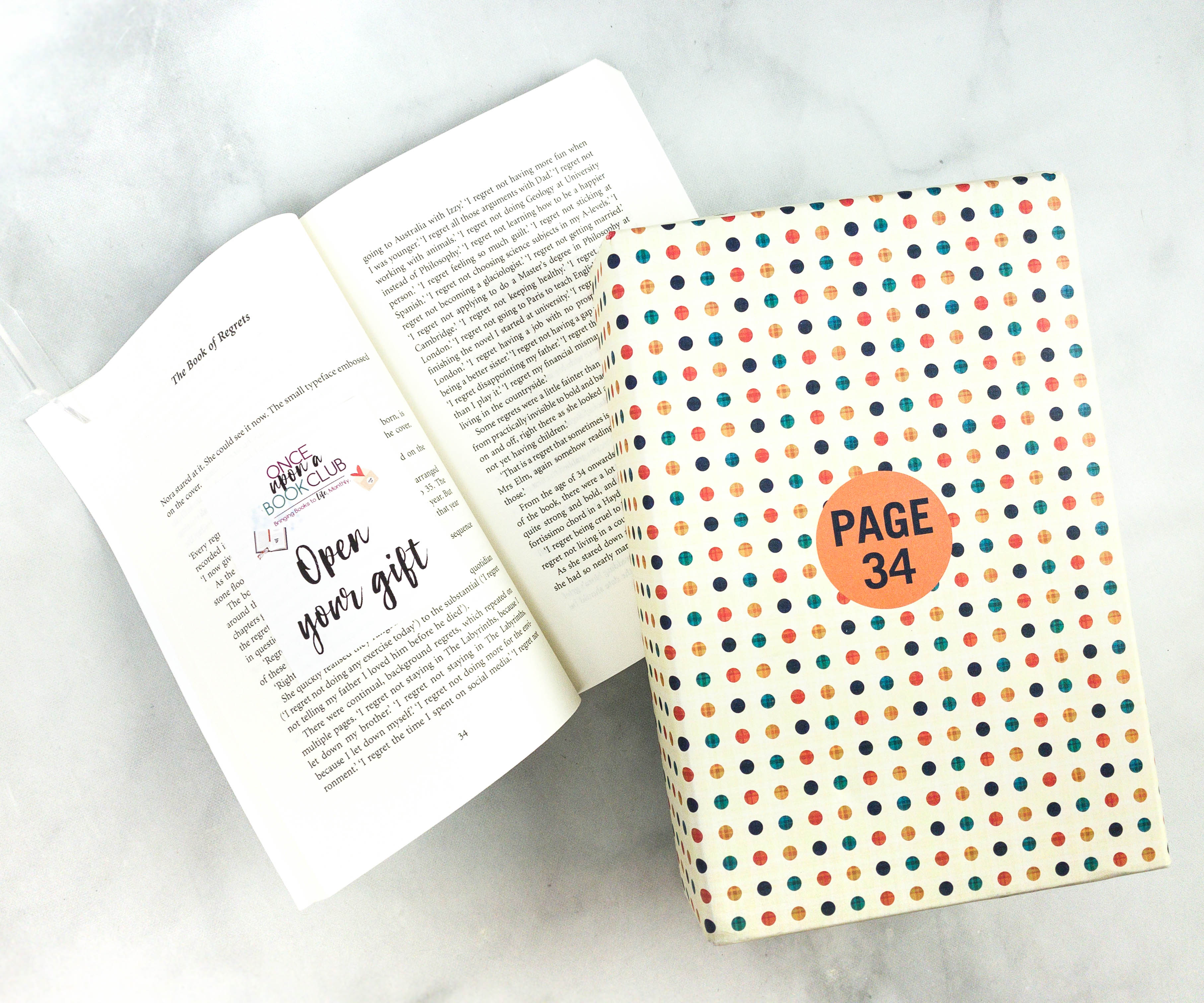 I opened my first gift upon reaching page 34!
The item is wrapped with polka dot paper.
The Book of Regrets. Inside, there's a box with a worn-out effect. The label says it's The Book of Regrets.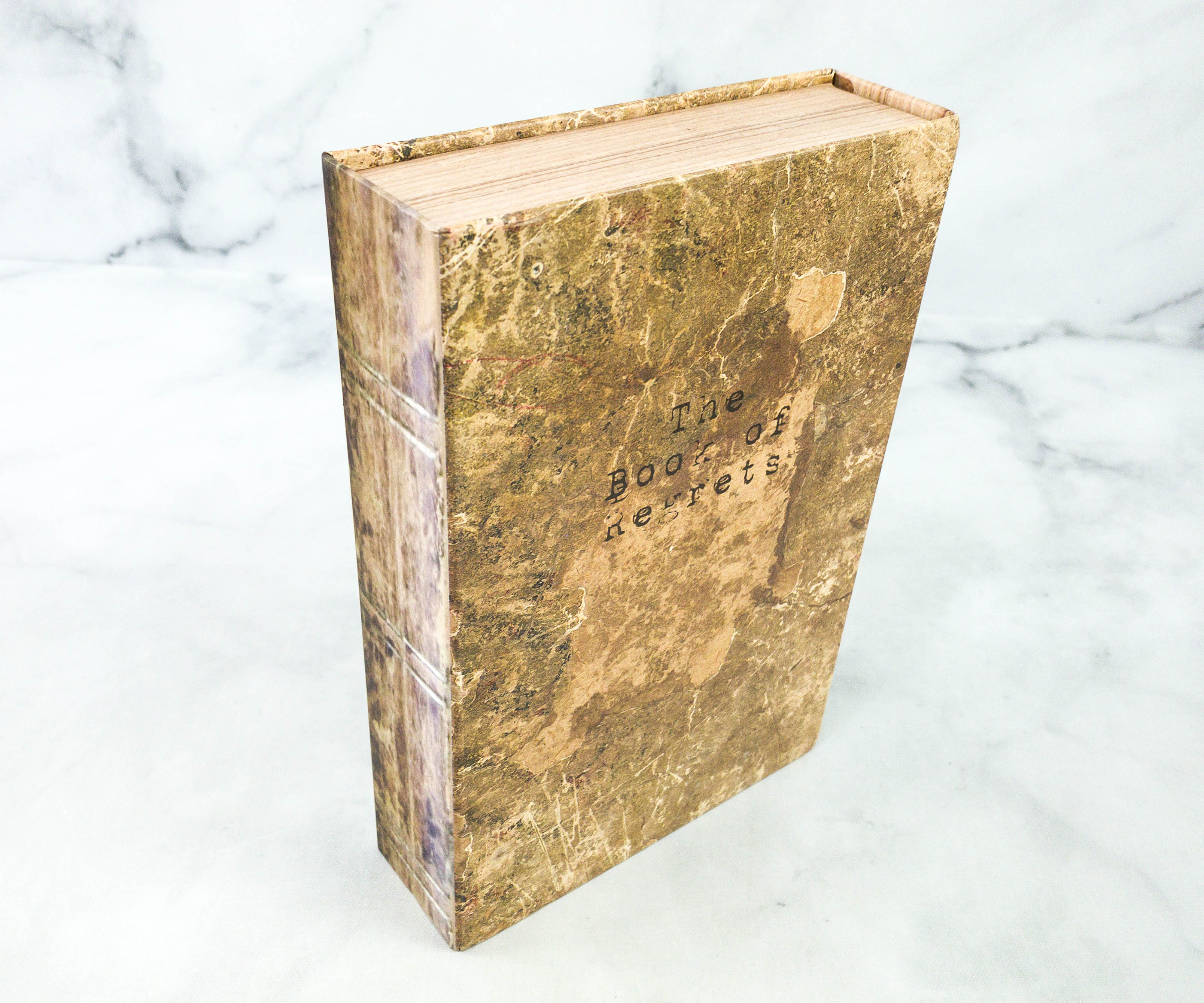 It's quite big and there's something else inside.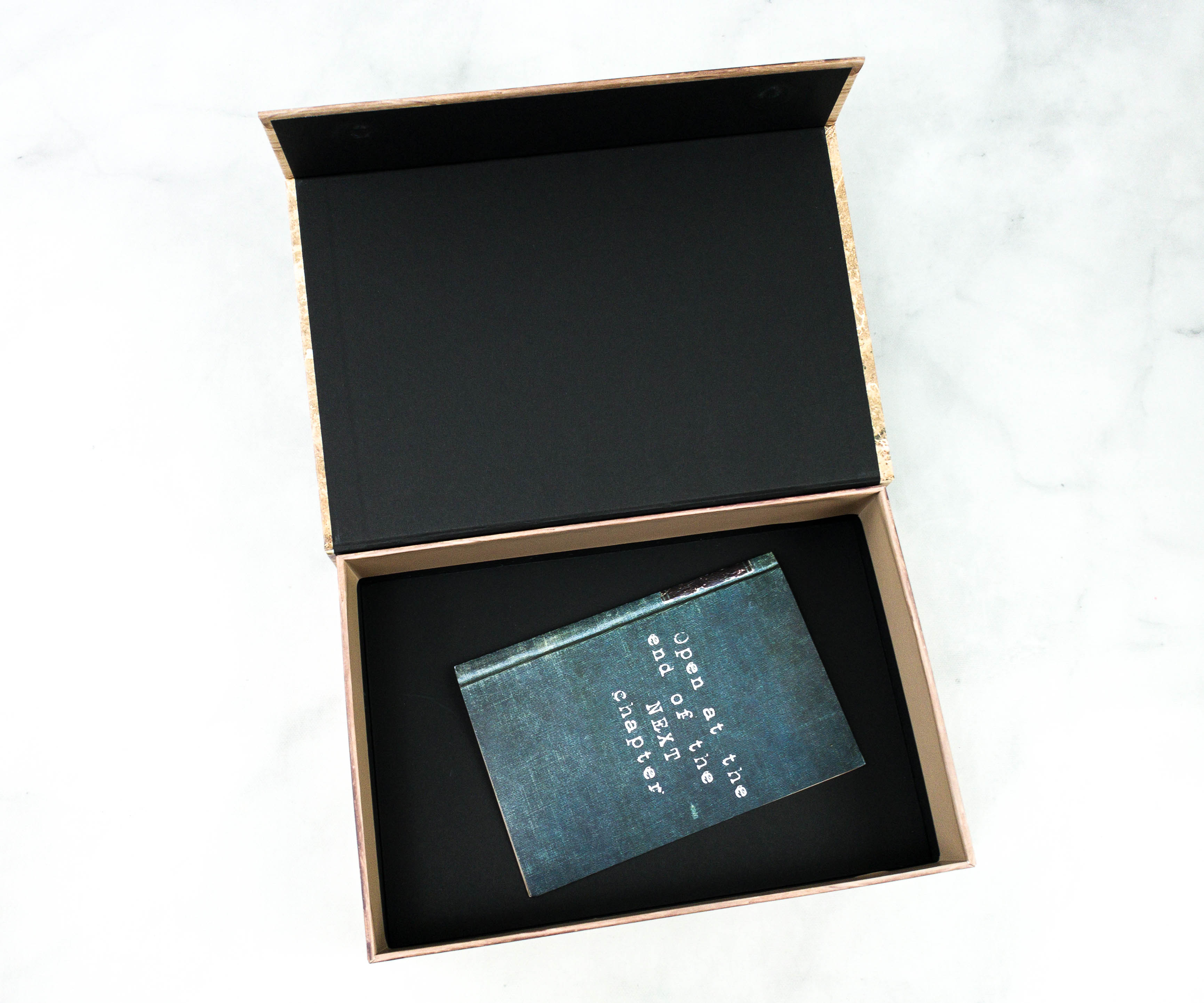 Upon opening, there is a message that says "open at the end of the NEXT chapter".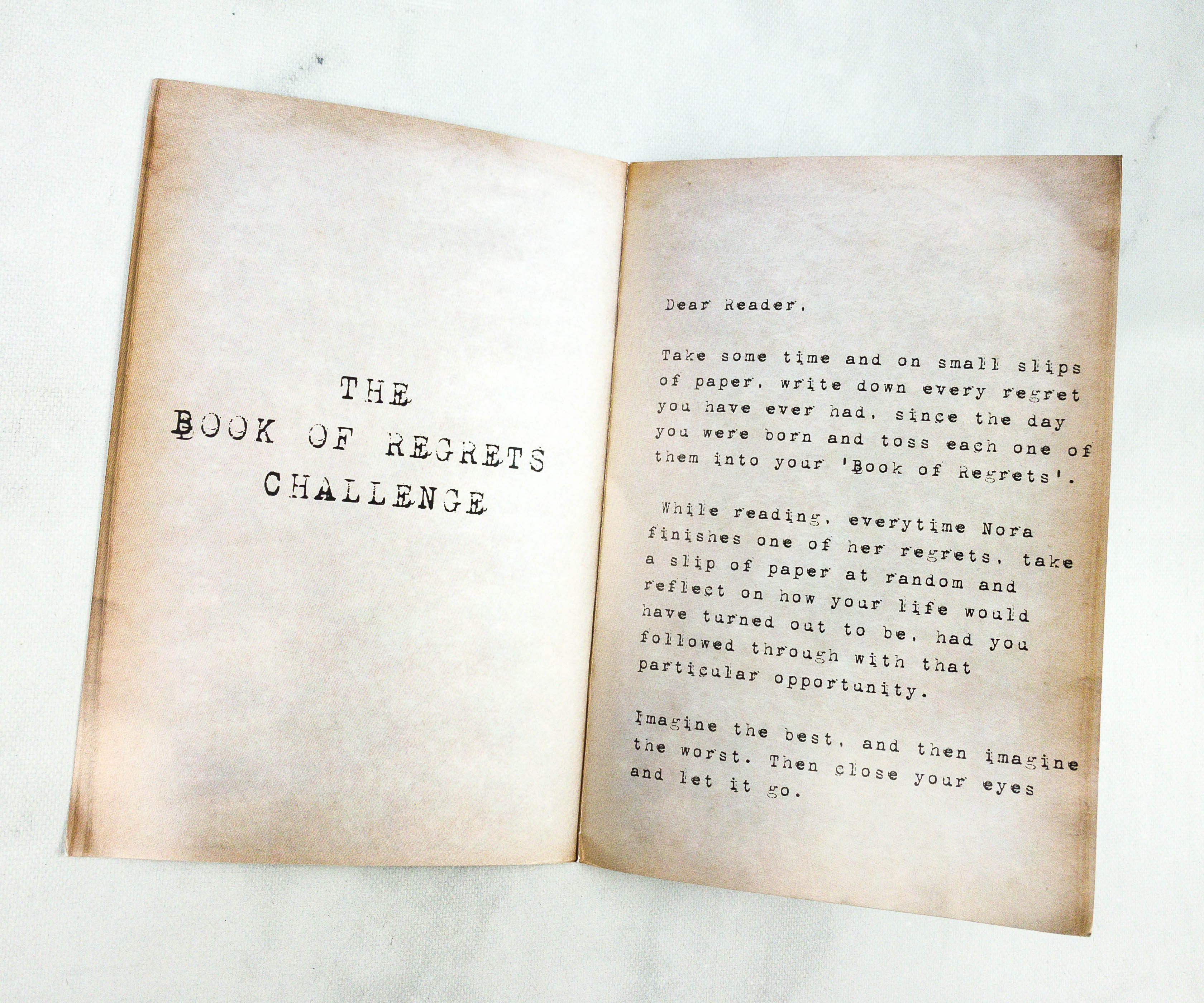 Once I finished the next chapter, I opened the message and saw this "The Book of Regrets Challenge". This is a nice activity to help you reflect your past decisions and see if you have any regrets with your choices. This is also a good way to get back in touch with the reality of the choice you made and let go of any regrets to give yourself the peace you deserve.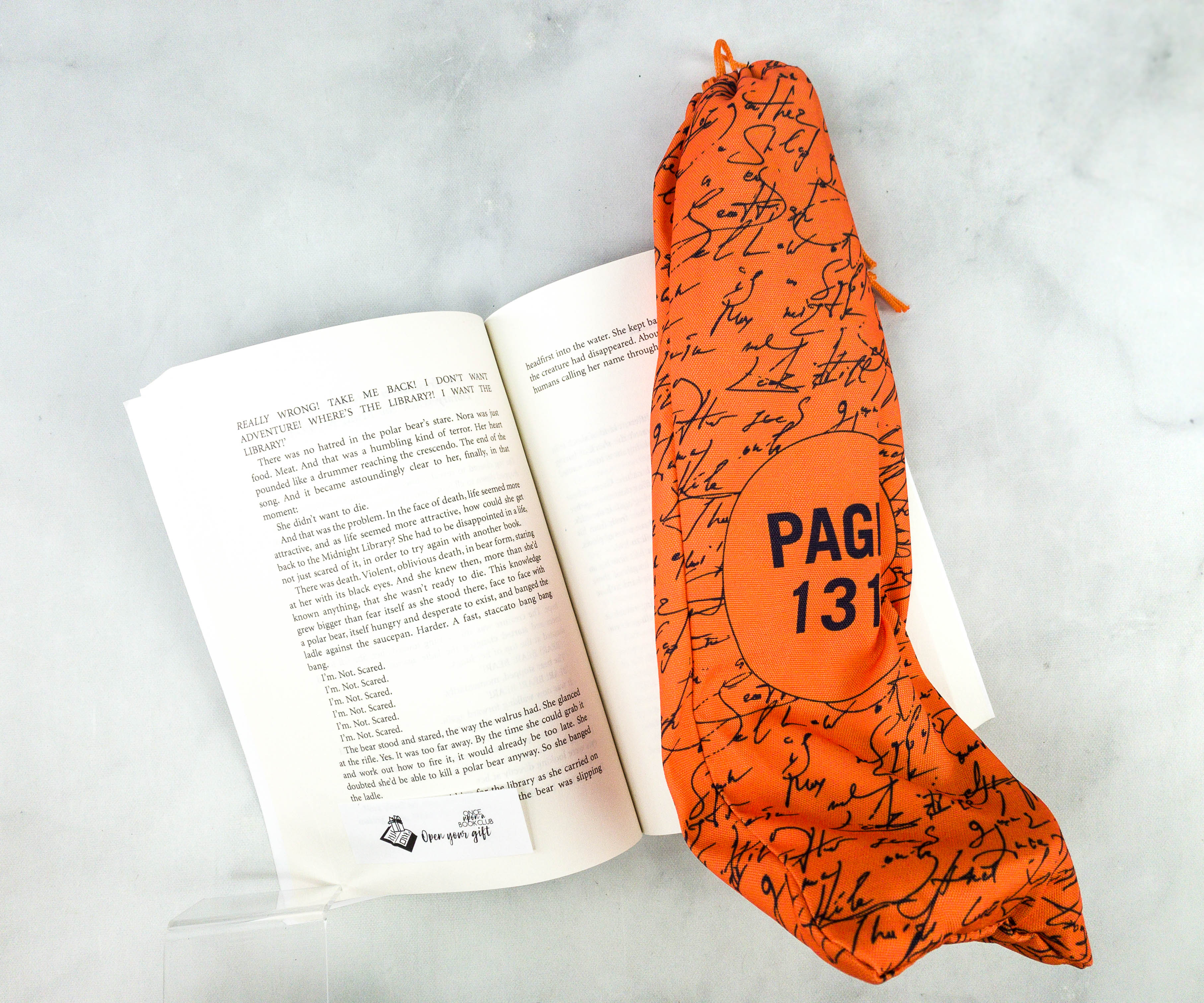 Another gift is to be opened upon reaching page 131!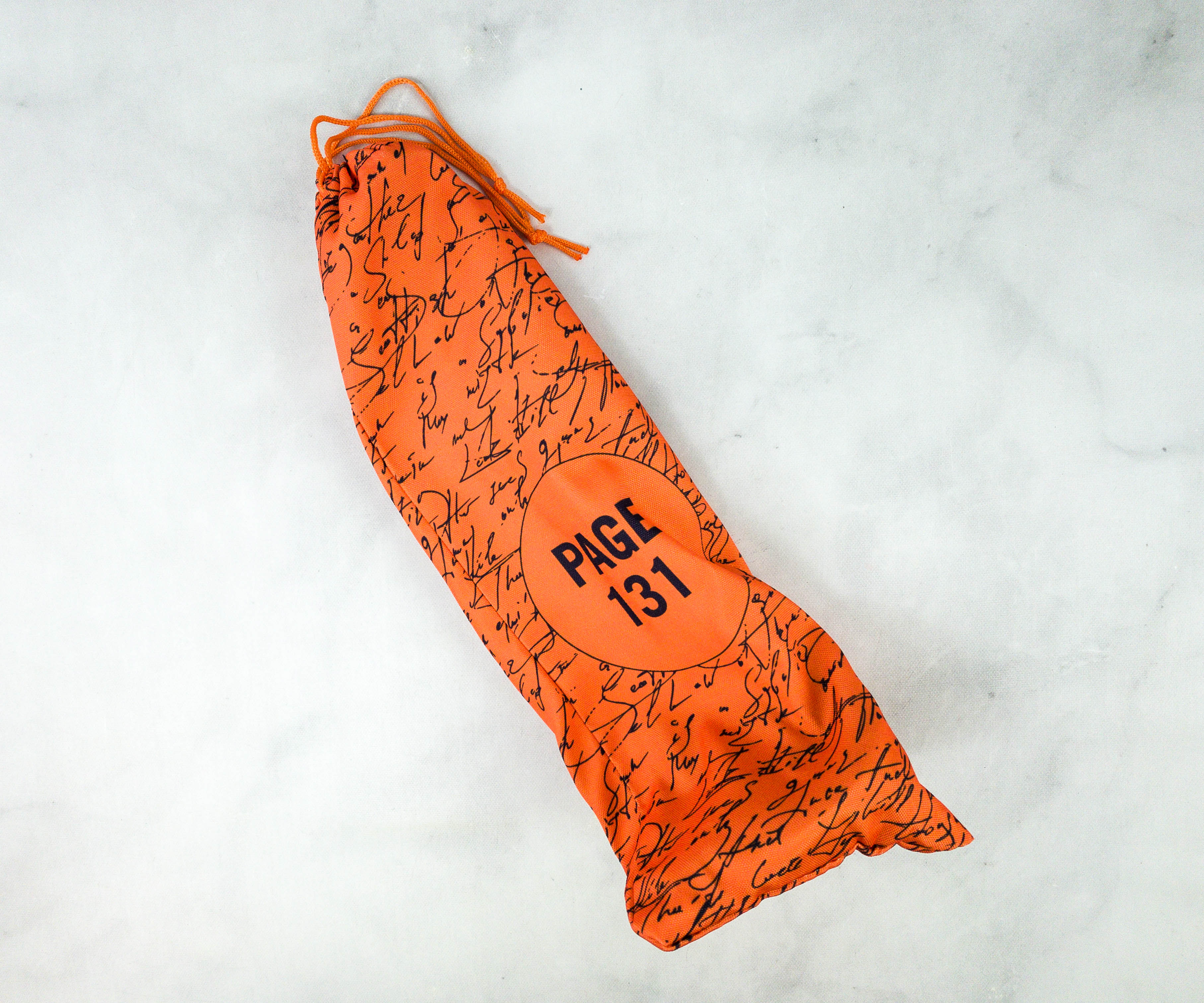 The gift came inside this orange drawstring pouch featuring words in script.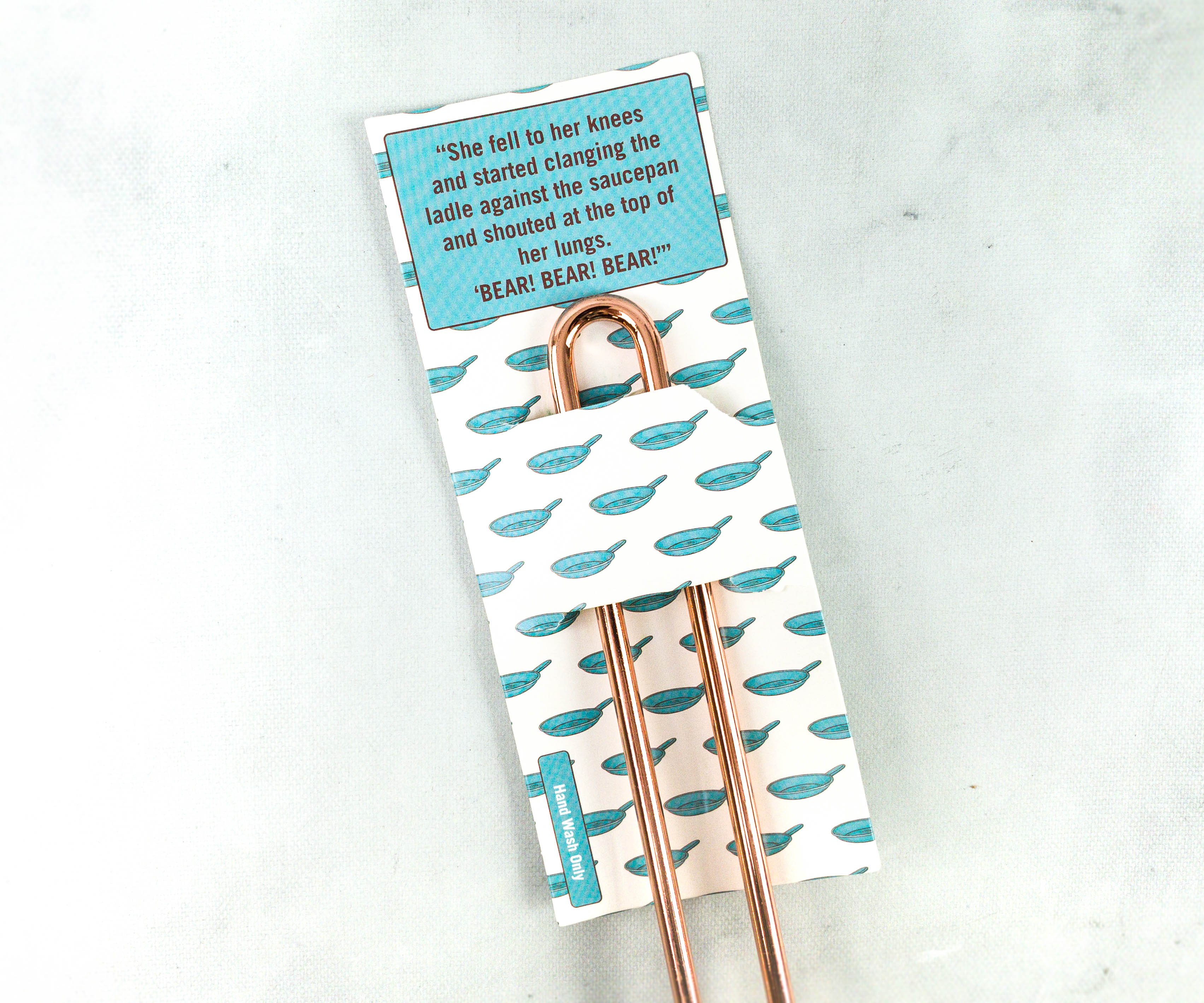 Ladle. Inside the pouch is a ladle! It came with a card stock packaging tucked in the handle.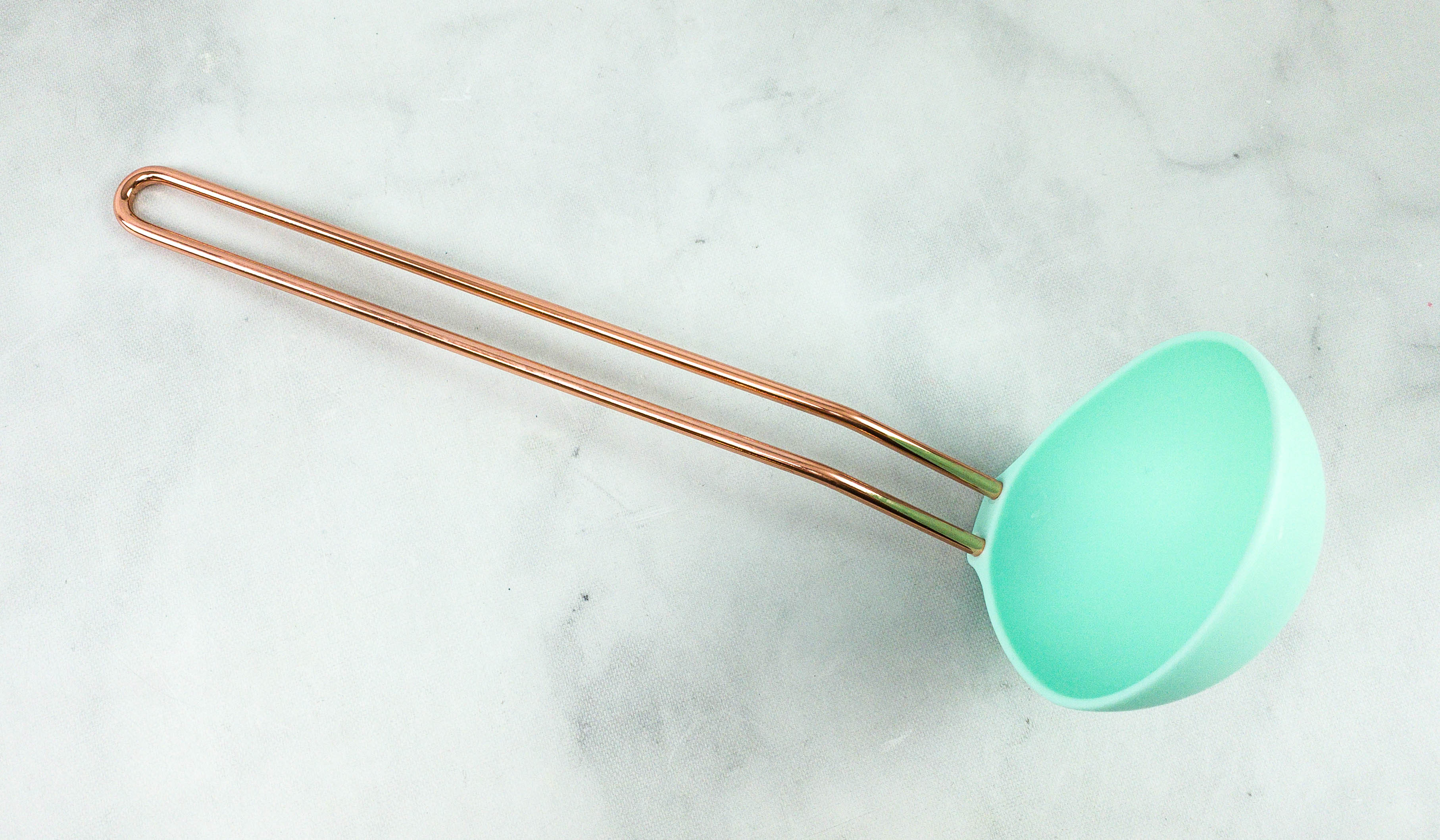 I love this because it has a metal holder for a steady hold while the ladle itself is made of silicone so it won't damage my cooking equipments, specially those with non-stick coating!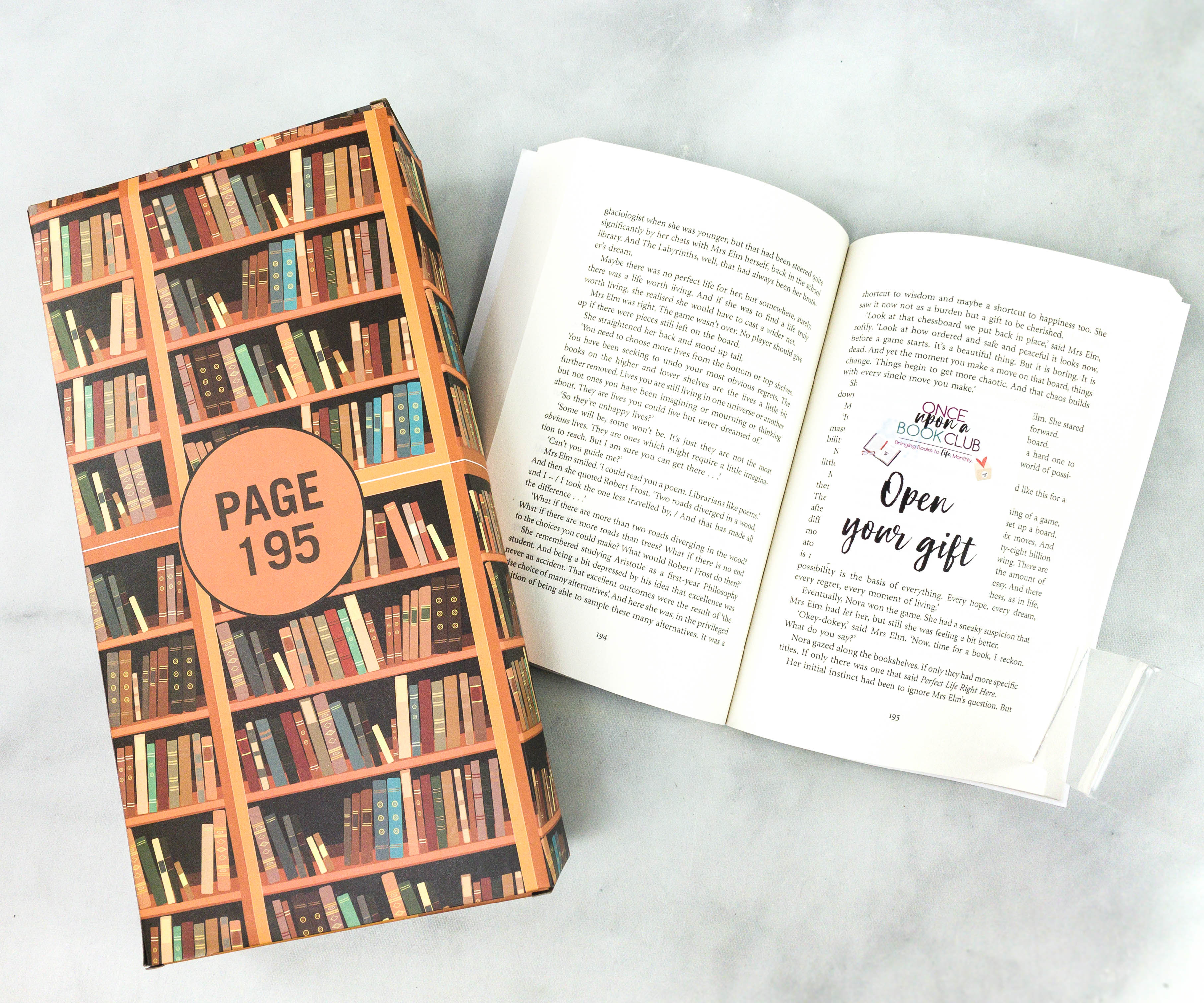 The next gift should be opened upon reaching page 195.
The wrapper features cabinets upon cabinets of books!
Chessboard. Inside, there is a lovely wooden chess set.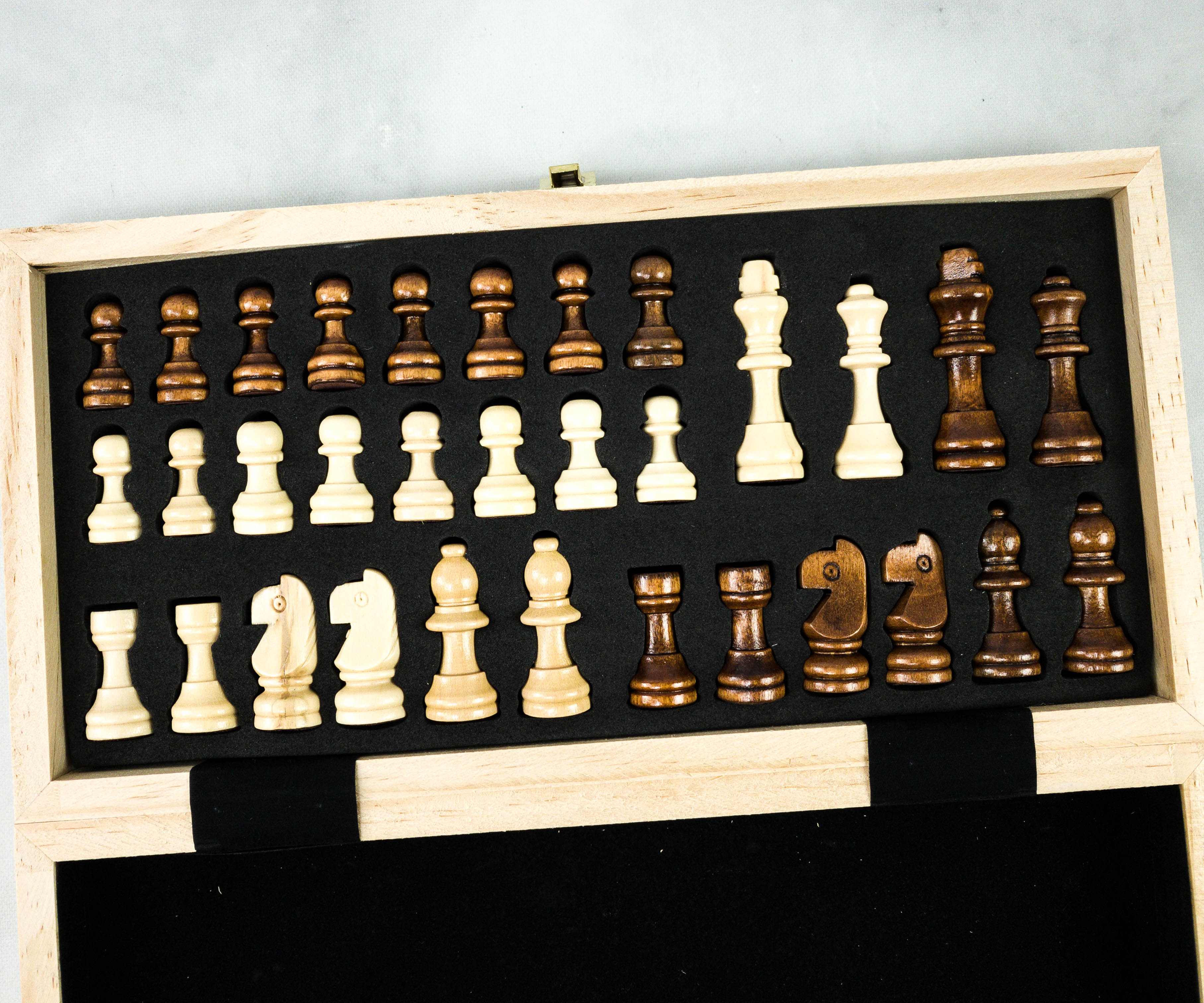 It comes with complete pieces neatly tucked inside.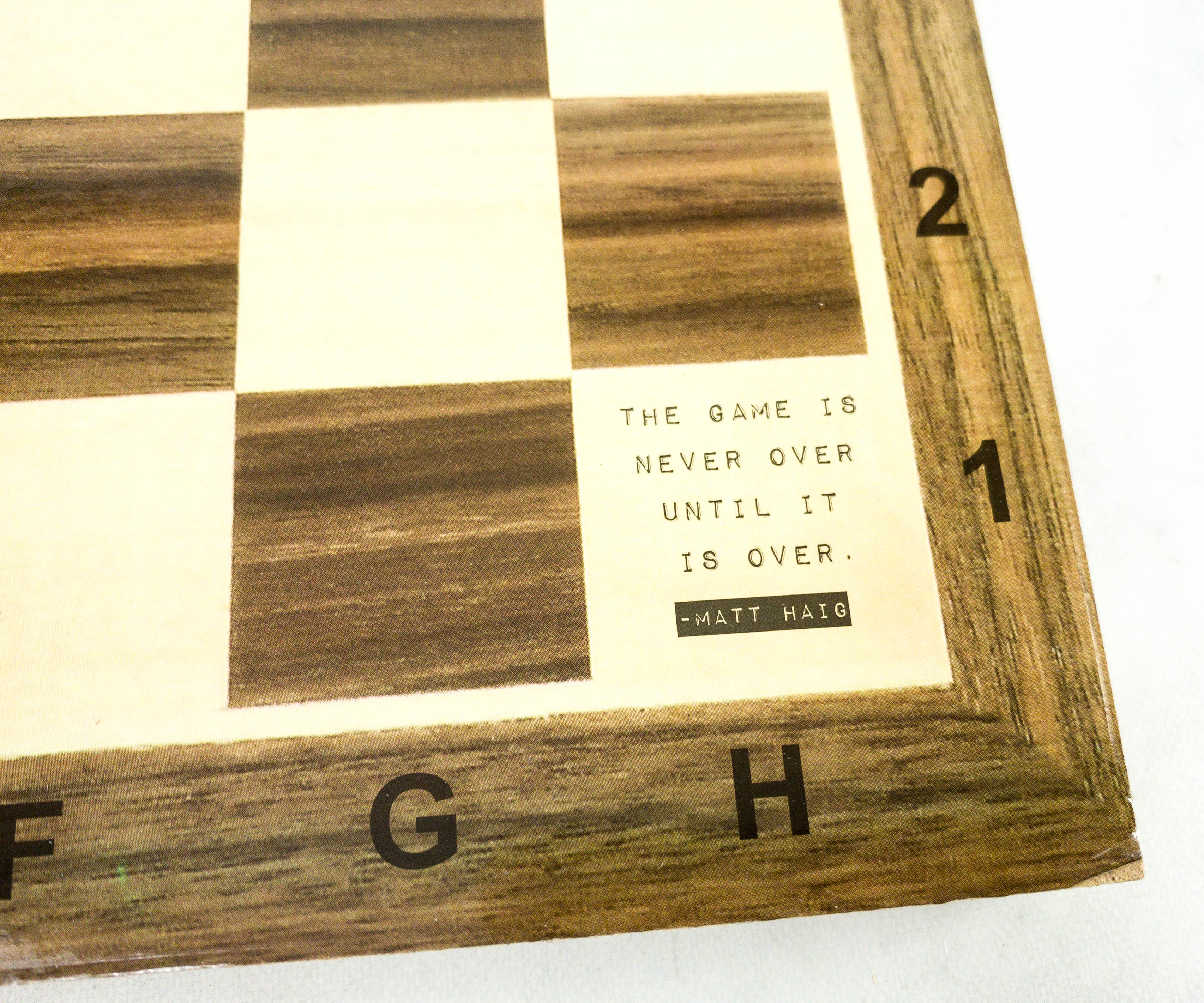 There is an engraved quote from the author Matt Haig in the H1 tile saying…
The game is never over until it is over.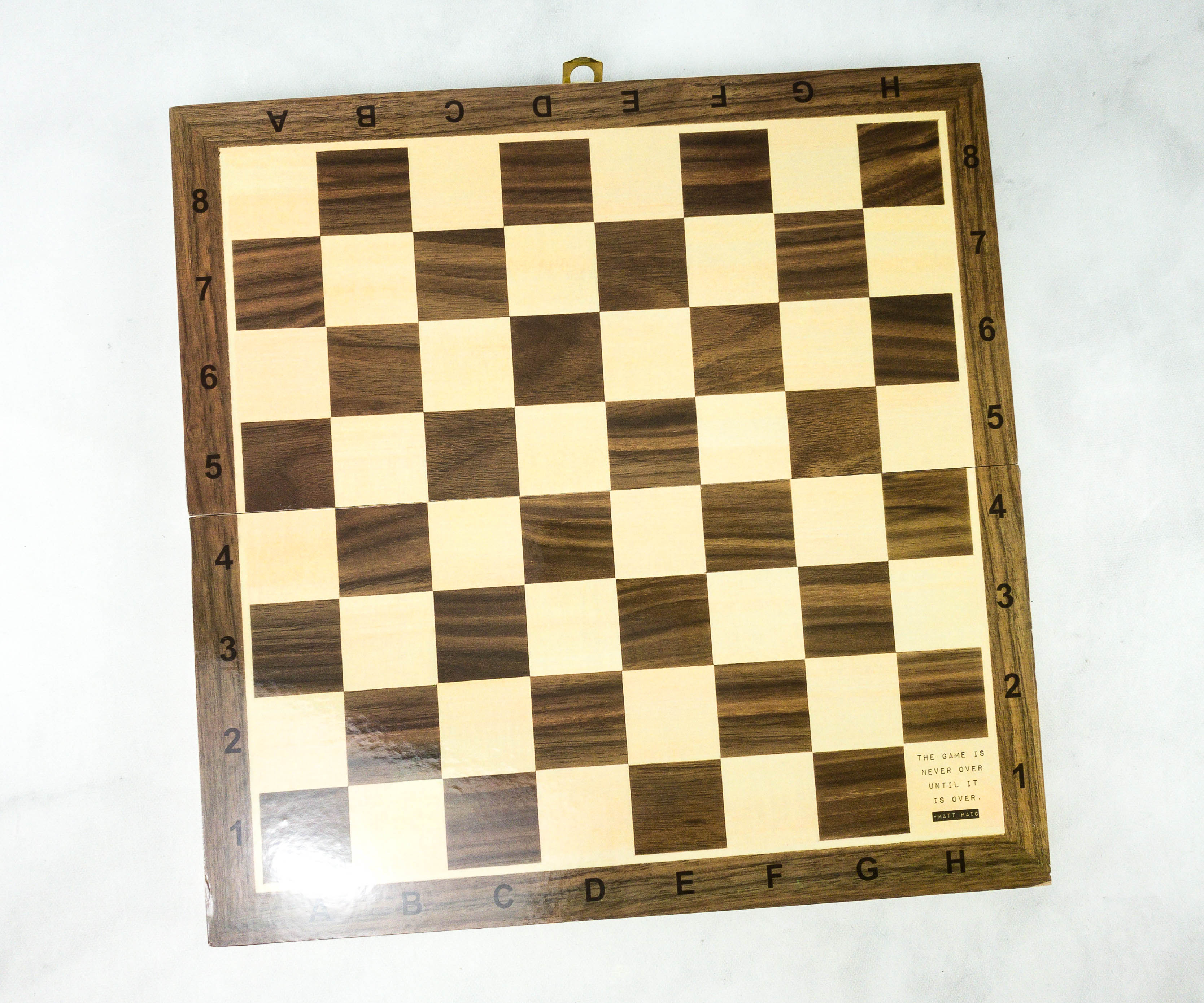 This chess board is a gift related to the book as the main character, Nora, played Chess with Mrs. Elm.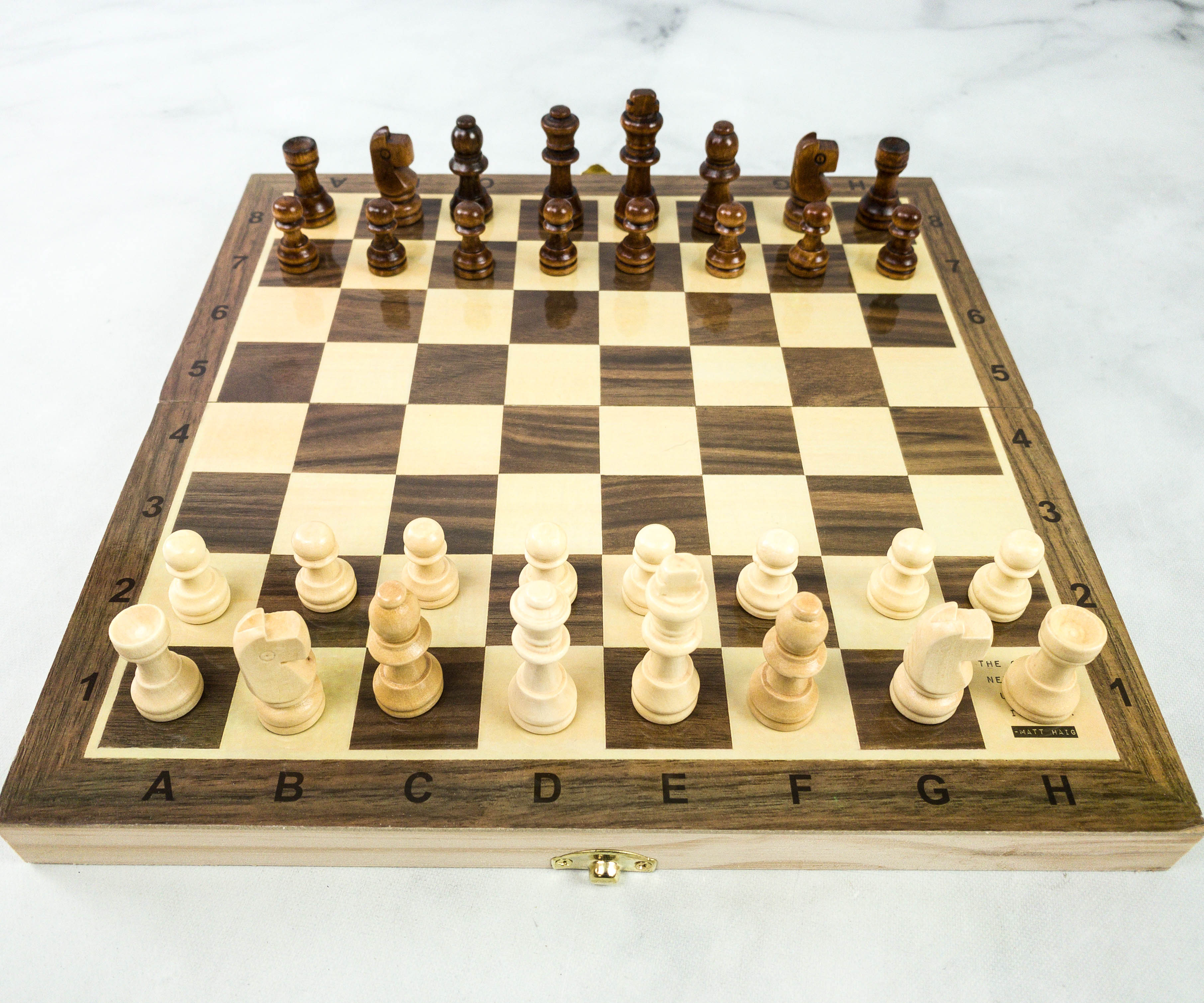 I set it up and this is how it looked!
Each piece is carved nicely and the overall quality is surprisingly good! It's also perfect if you're now obsessed due to Queen's Gambit!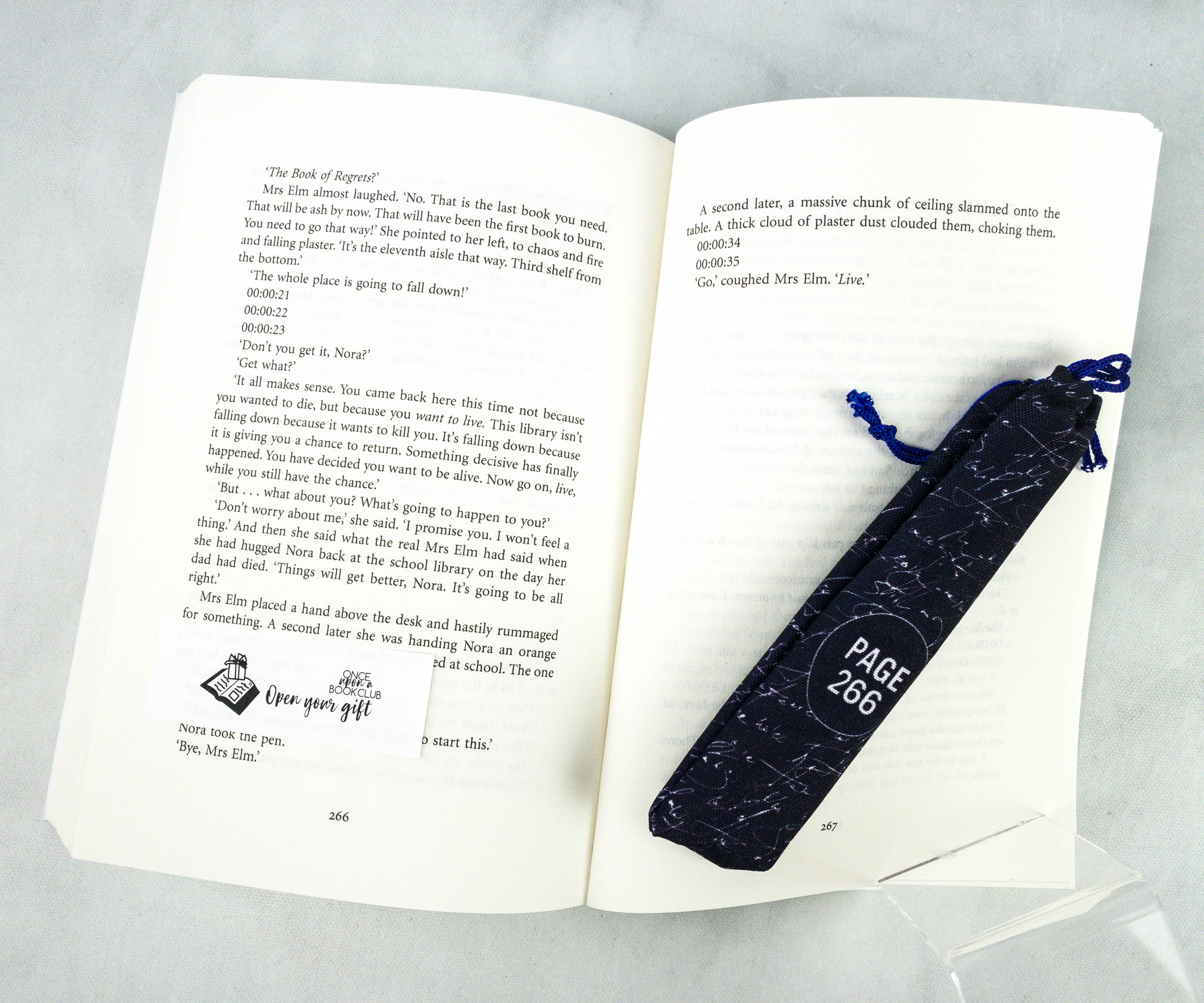 The last gift should be opened upon reaching page 266.
The gift came in another drawstring pouch with the same script design but this one came in a dark blue color.
Pen. There is a quote on the pen and it read, "You don't have to understand life. You just have to live it." This is such a great message because we usually have too many questions in our heads about what life is throwing at us and what would happen when. In reality, life flows no matter what so we just have to live it the best way we possibly can!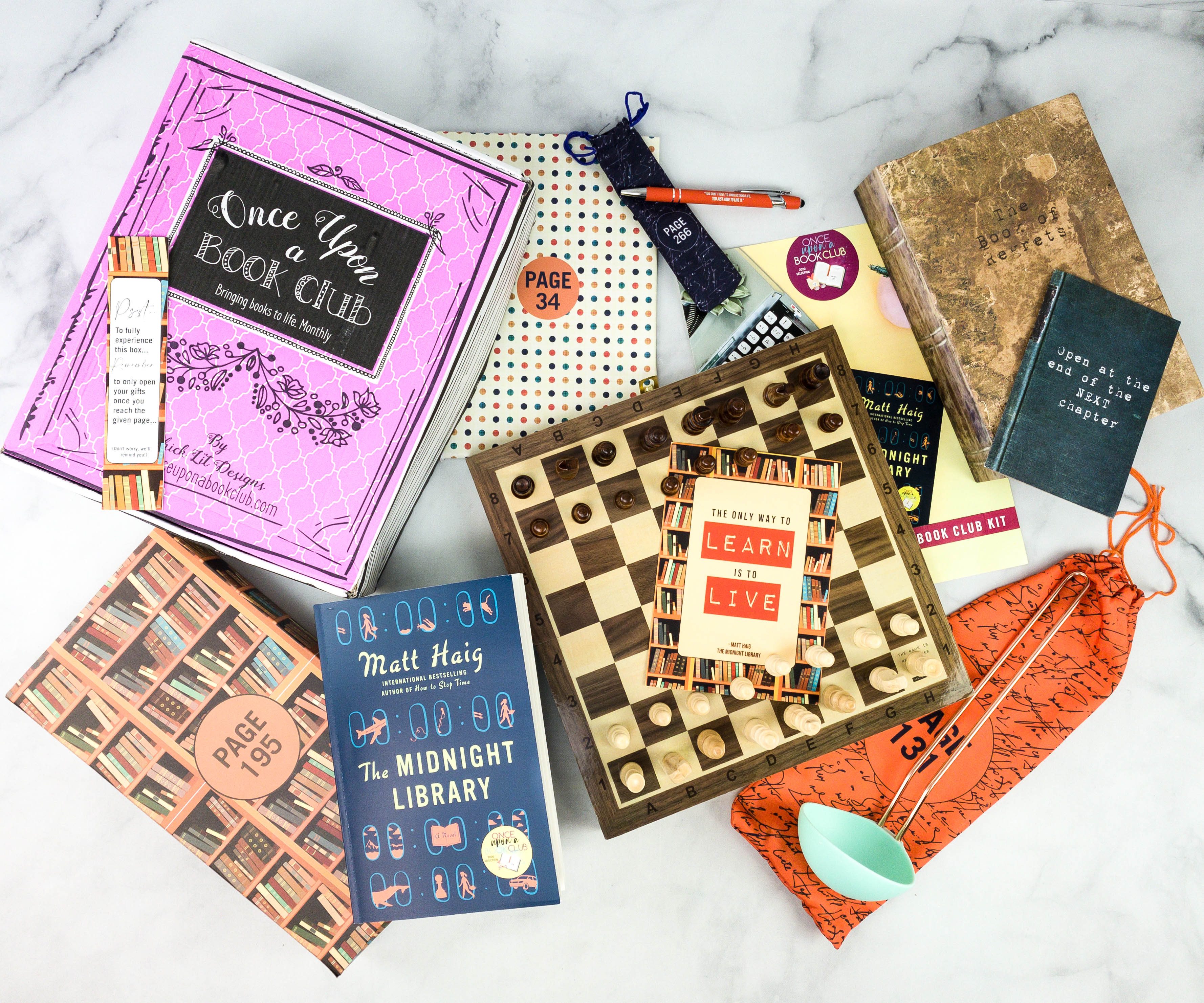 There's a total of four gift items in this month's box!
Once Upon A Book Club did an amazing job in curating the accompanying gifts for this book. My favorite item is the ladle because it is something that I would be able to use, possibly even on a daily basis. I also really loved The Book of Regrets Challenge because of how insightful the activity is. And, the chess set couldn't have been more timely – we've been playing! This subscription never really fails to make the reading experience much better! If you're a book lover or even someone who wants to rekindle your love for reading, this subscription would make a great gift for yourself. They also offer a Young Adult Genre in case you're more into that genre!
What do you think of this month's Once Upon a Book Club?