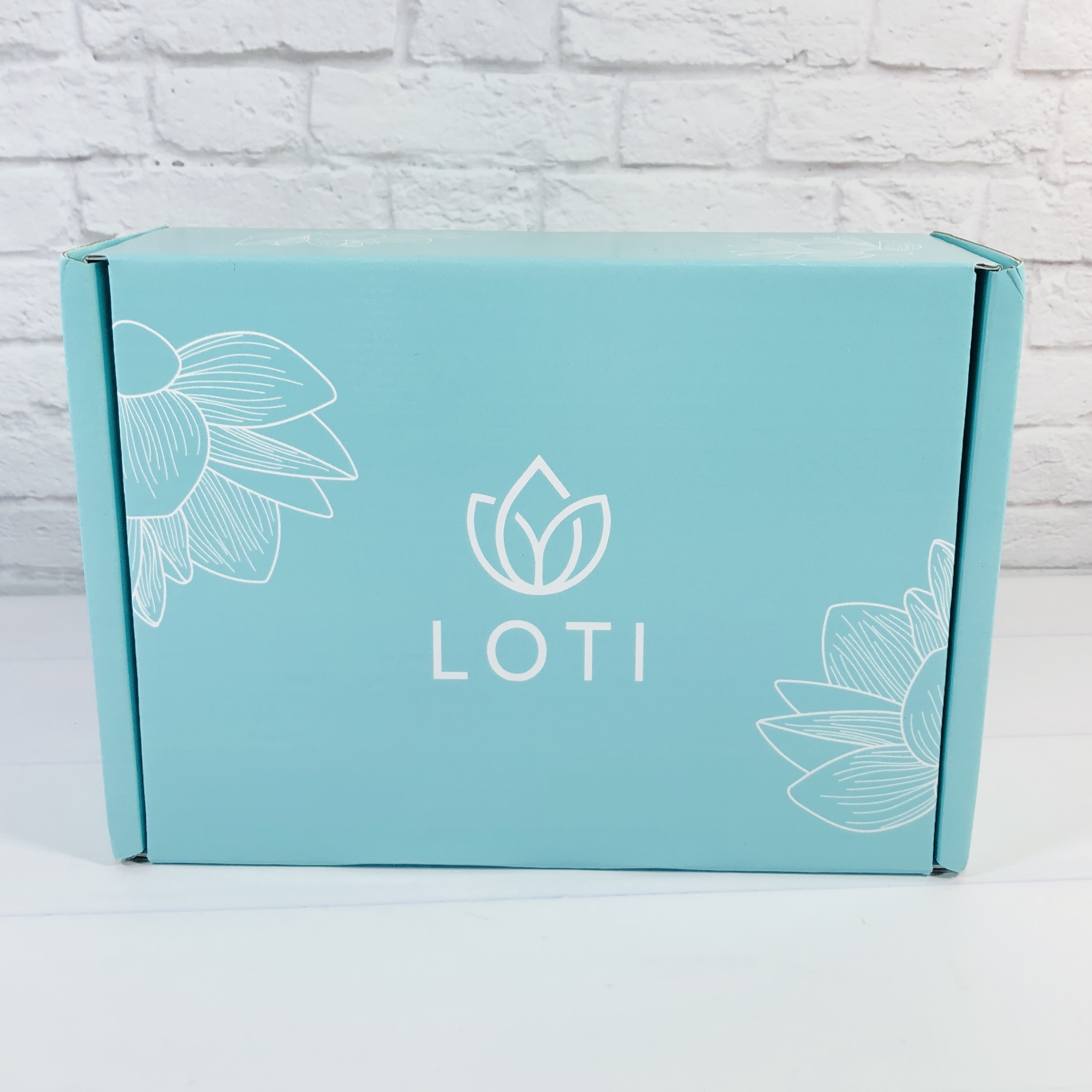 Loti Wellness is a subscription box with a focus on self-care. The box has a monthly theme curated by therapists to focus on items and rituals to promote positivity and improving one's self. Loti Wellness works with local brands and small businesses whenever they can, and choose cruelty-free and natural products. The box will have 5-8 products for self-care and wellness. The box is $49.95 CAD with lower prices on annual subscriptions – $37.95 USD. Shipping is $5.99 CAD to Canada and $7.99 CAD to the US (about $6 USD). A portion of proceeds go to CanadaHelps COVID-19 Fund.
A lotus is a flower that blooms from the mud. It symbolizes overcoming adversity and achieving your greatest potential. The Loti Wellness Box offers practical skills and products to reduce stress and anxiety, and improve your overall wellbeing.

Each Loti Wellness Box delivers the tools and strategies you need to cope with life's challenges, using research based in psychology and psychotherapy. The monthly themes focus on topics like reducing anxiety, setting goals, and even boosting positive mindsets to help you discover self-care and self-love.
DEAL: Save 10% on your first box! Just use this link and coupon code SUBSCRIBE10.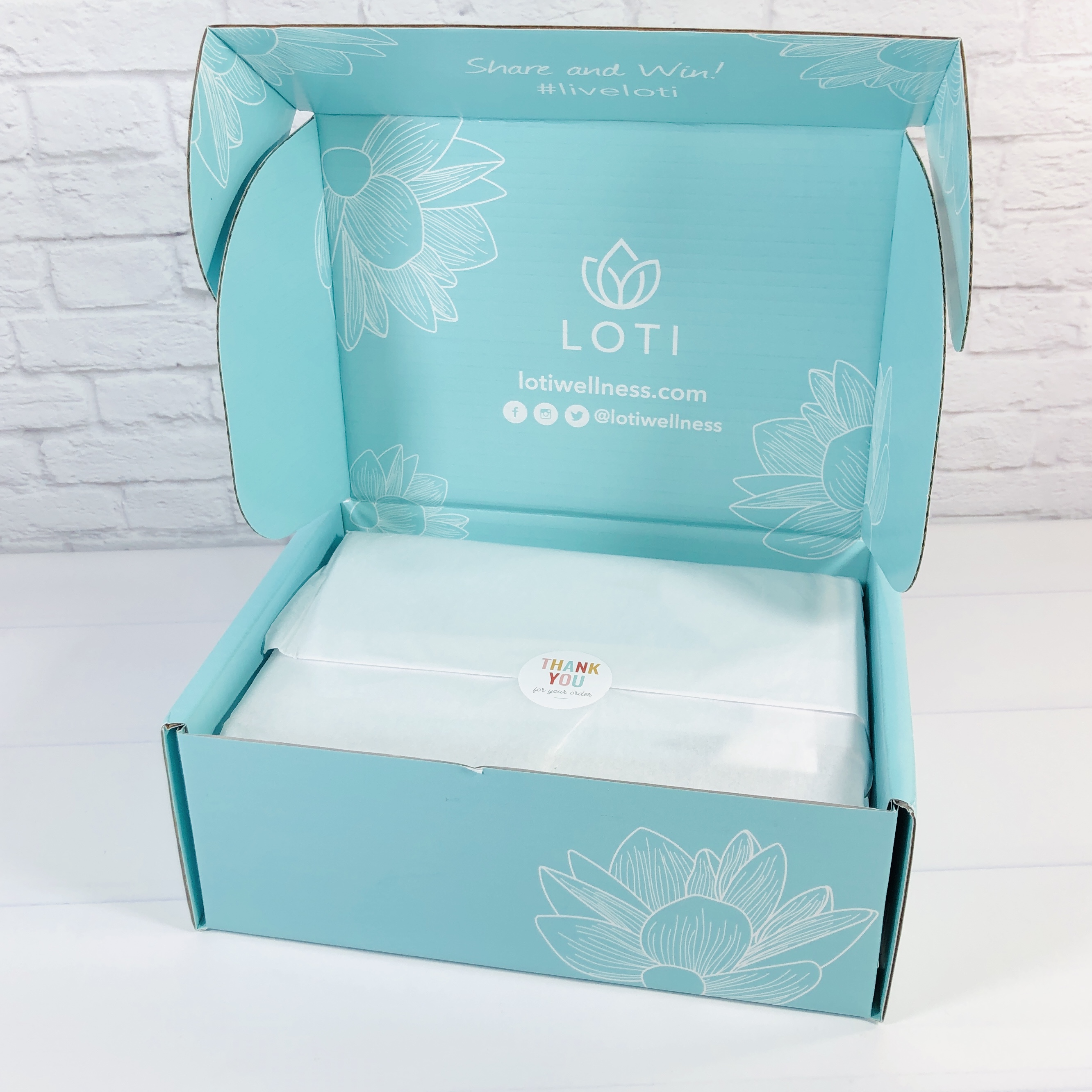 My items arrived in a lovely blue box and were wrapped in white tissue paper that was sealed with a sticker.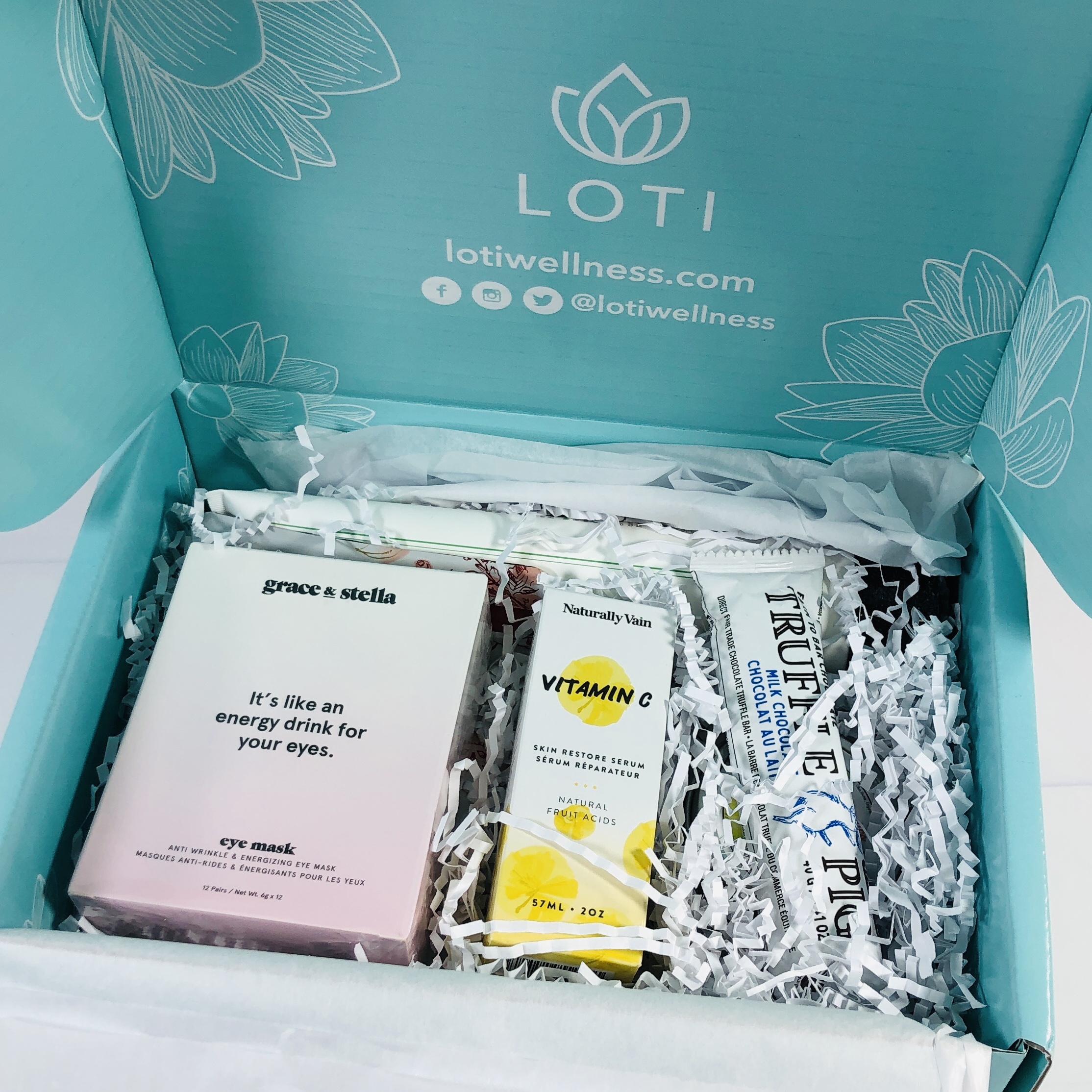 The items were snuggled into white paper squiggles. The items came in their original boxes.
This looks like a wonderful assortment!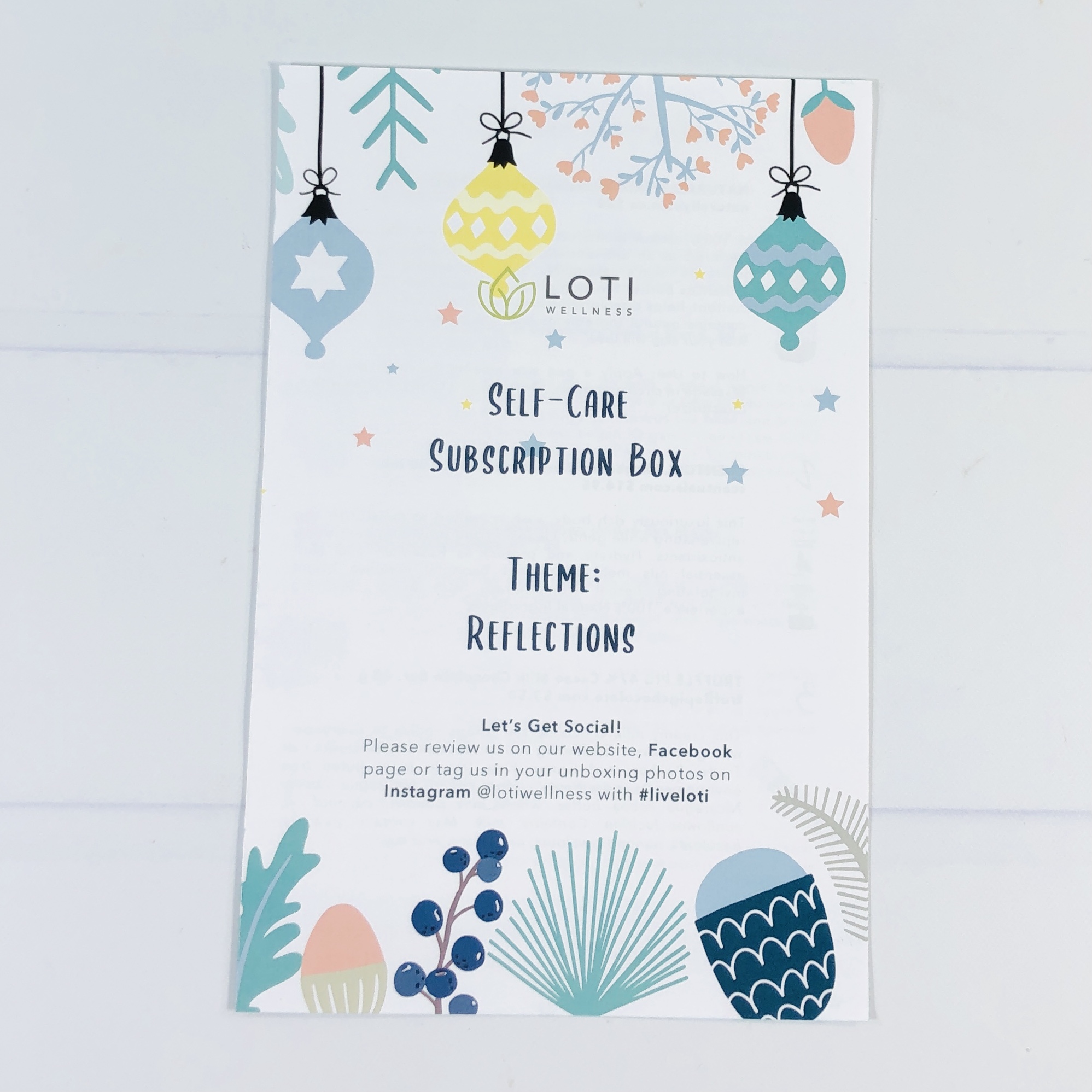 I received a brochure with the theme for December: Reflections!
The inside of the brochure listed each item, MSRP, and website so you can stock up on more wonderful items from these brands.
The back of the brochure discussed some of the intentions of Loti.
Next up was a workbook.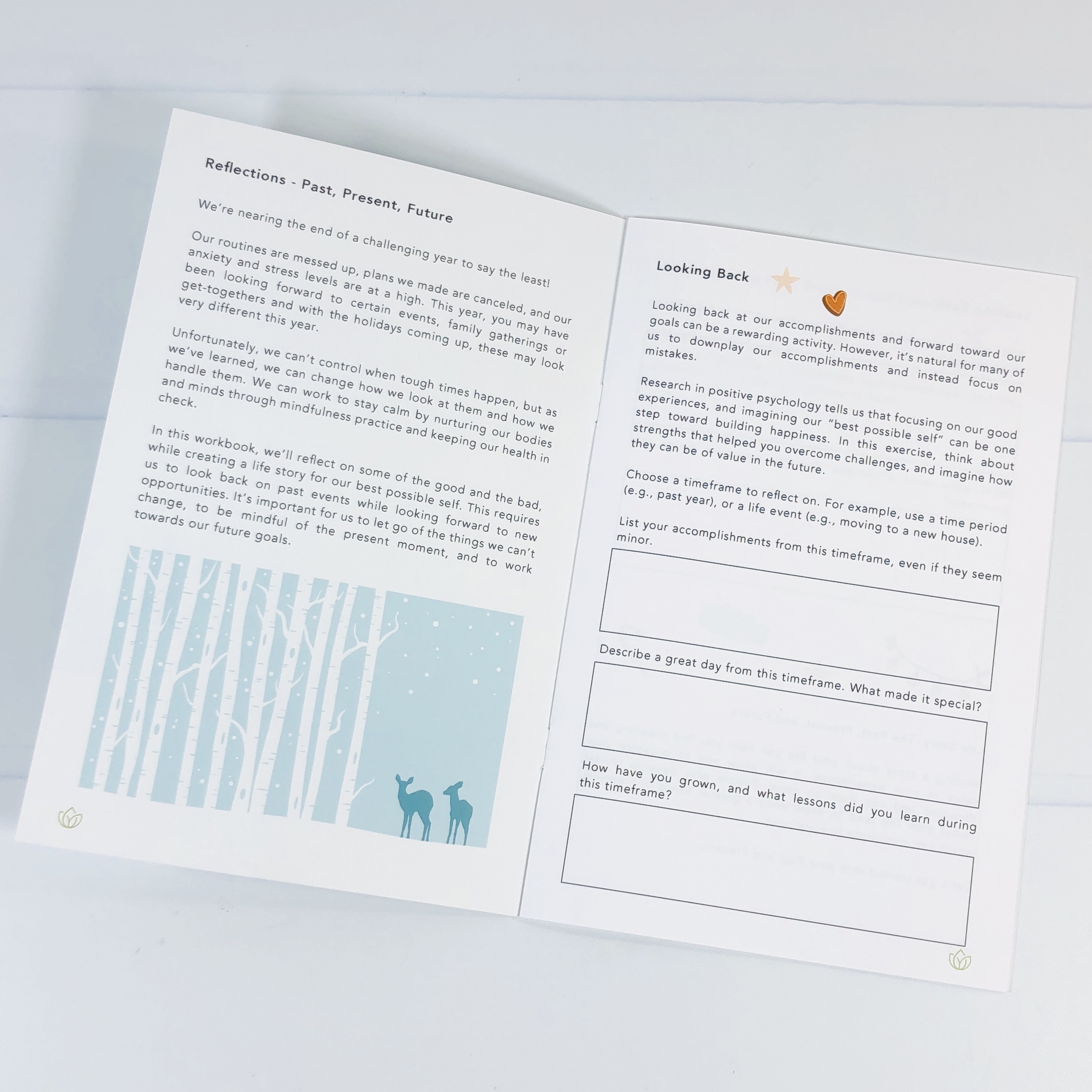 This month's focus was Reflections. The end of the year is a good time to look back on the past year and also to make plans for the one ahead.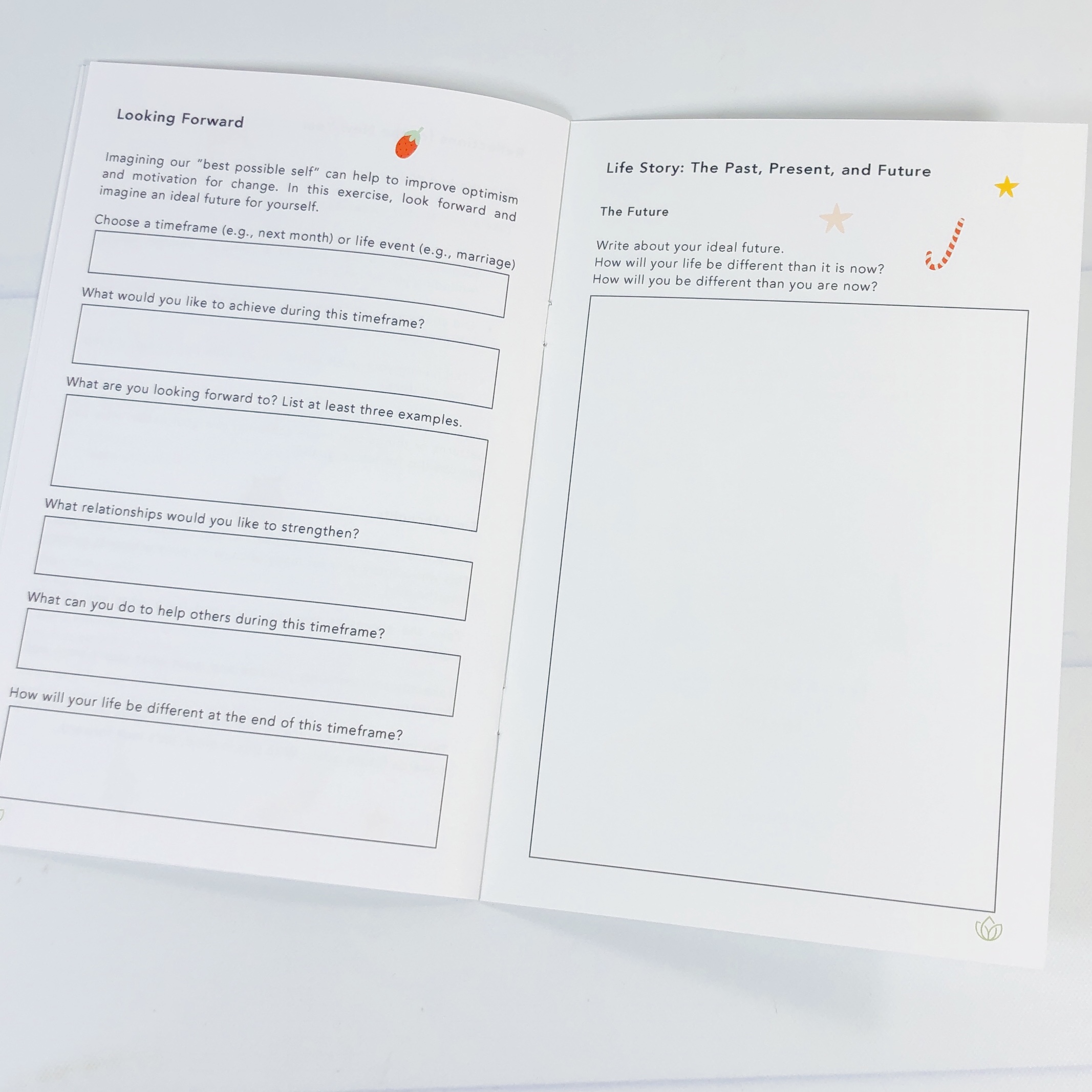 There was a section on looking back, on looking forward, and on how to become our best self. There were 10 pages in all.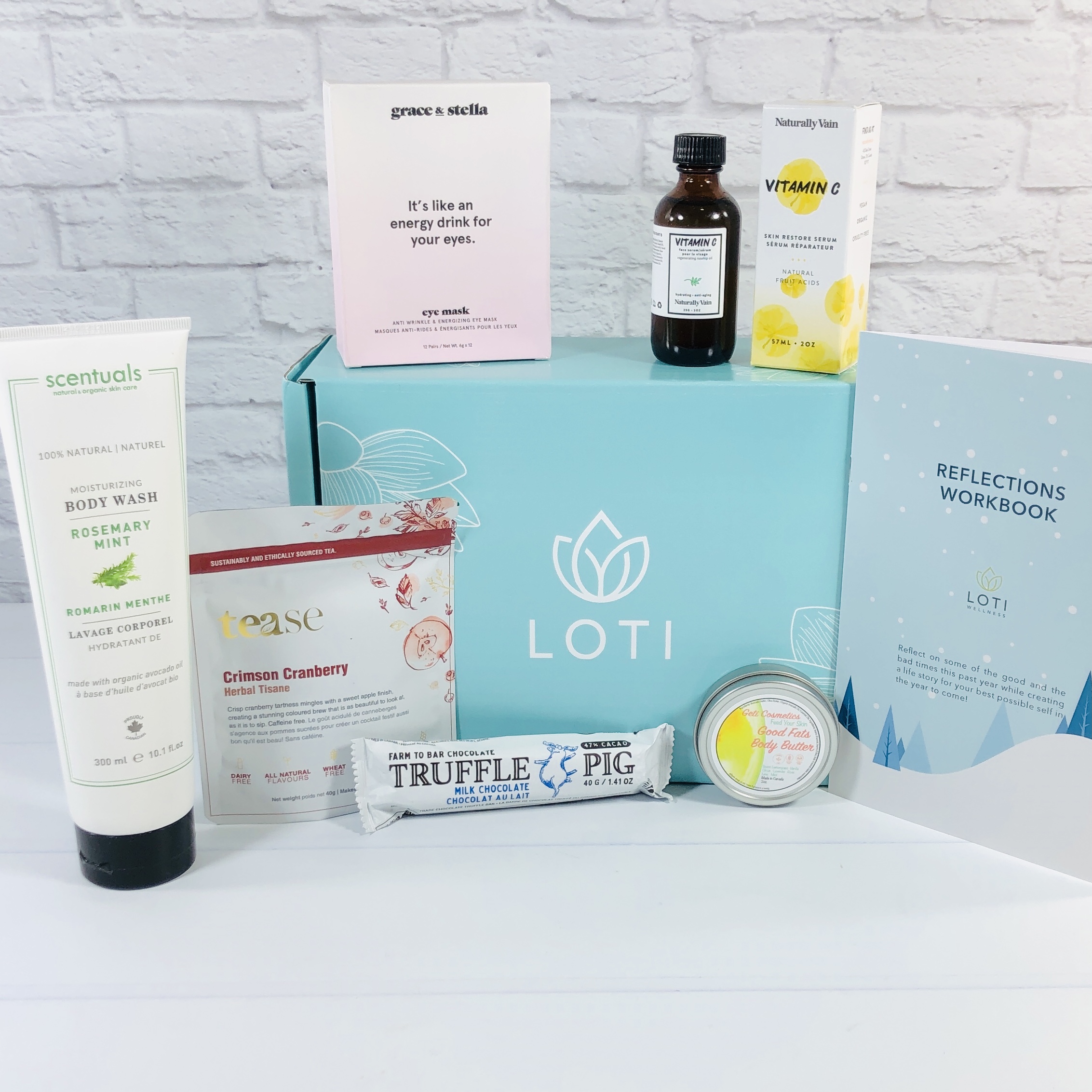 Everything in my box!
Truffle Pig 47% Cacao Milk Chocolate Truffle Bar ($3.50) According to Truffle Pig, they can trace every cocoa bean back to the farmer! The beans in this bar come from Nicaragua.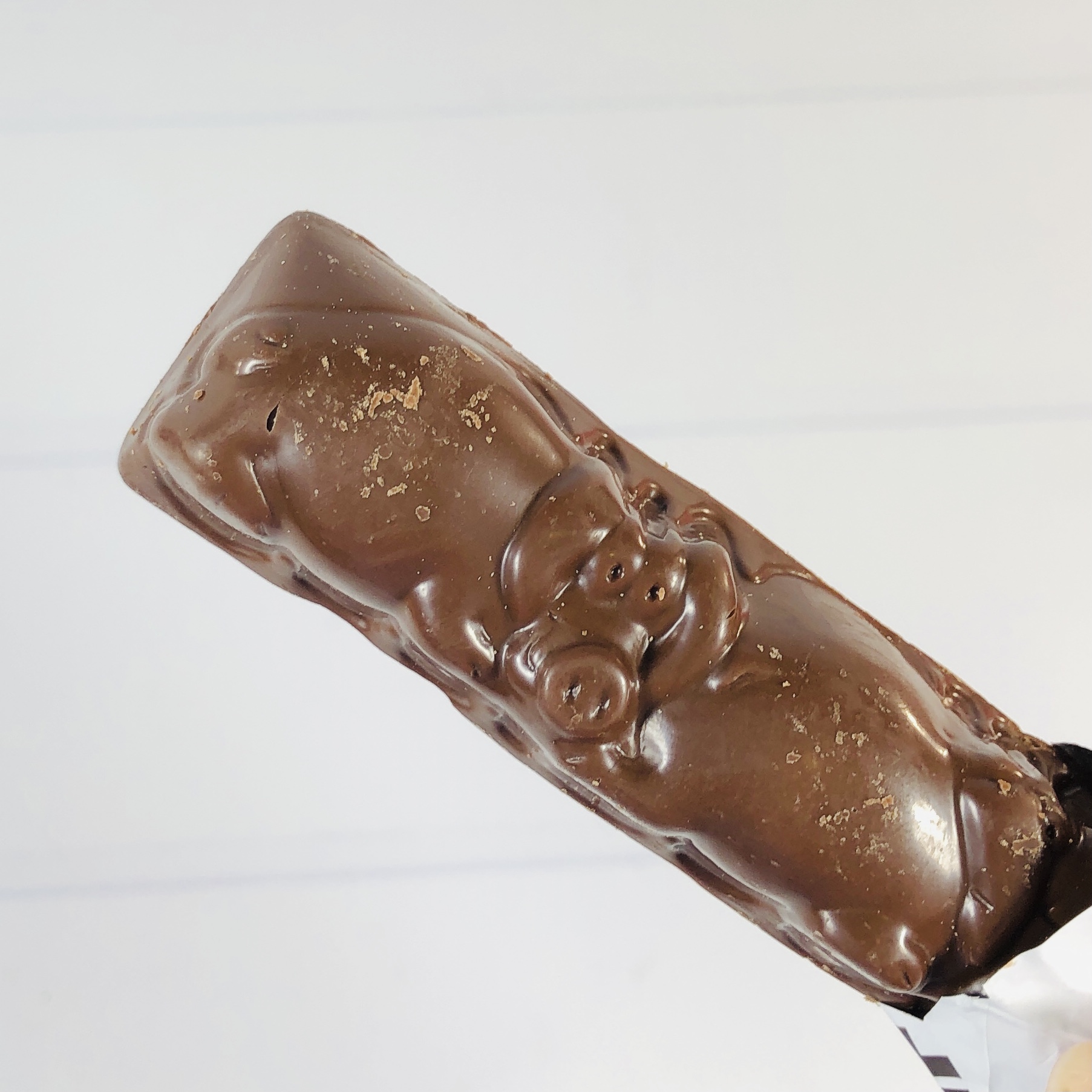 Ha, it's got a pig on it! This is some of the most silky milk chocolate I have ever eaten! It's different from Hershey's or any of the commercial brands that are available in my area. I would take a bite and just let it melt on my tongue, it's so chocolatey! I somehow managed not to eat it all at once and would break off a piece at a time and it lasted several days that way.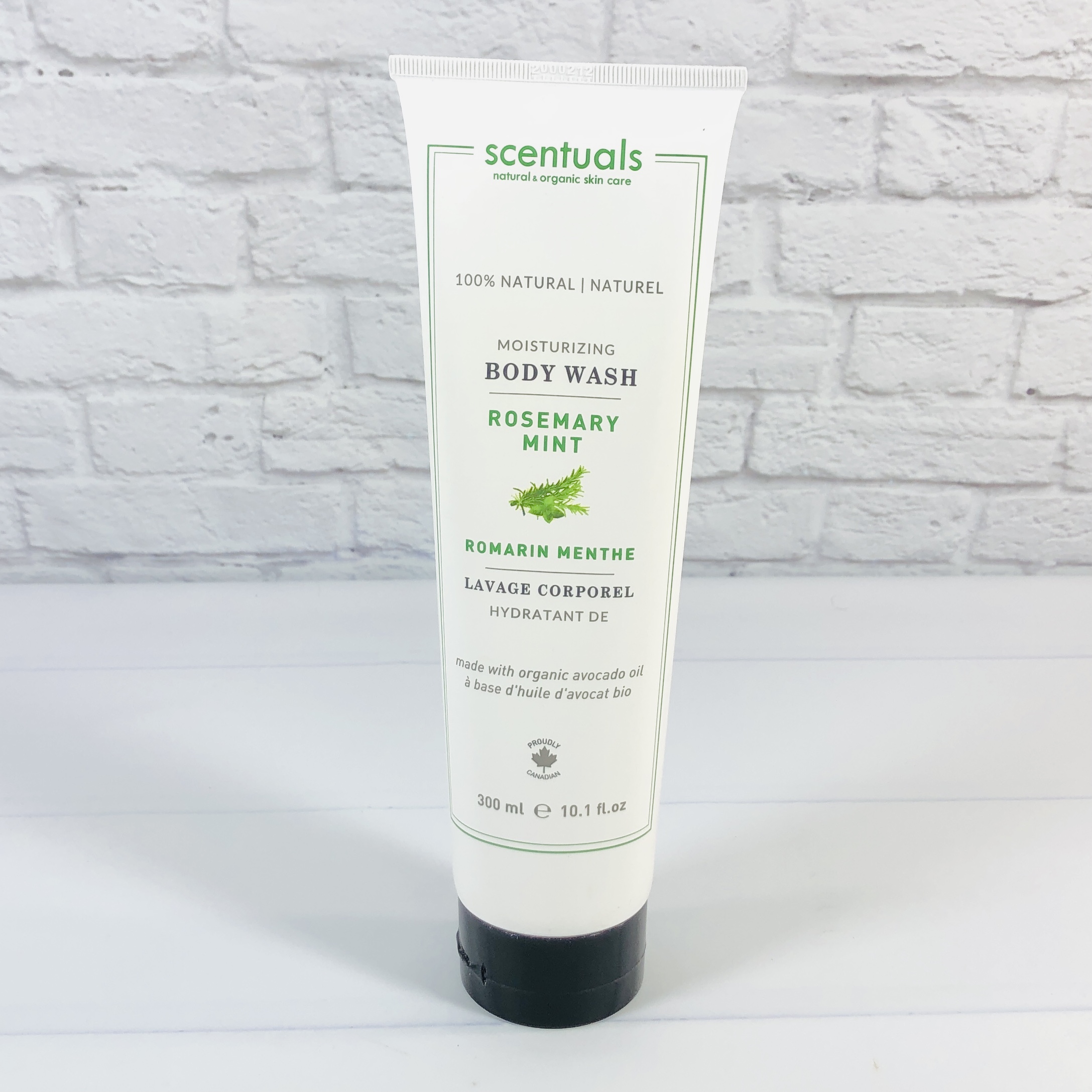 Scentuals Rosemary-Mint Body Wash ($14.95 CAD, about $11.73 USD) I'm always happy to open up a box and find a Scentuals product inside! I am also a BIG fan of peppermint so I was over the moon!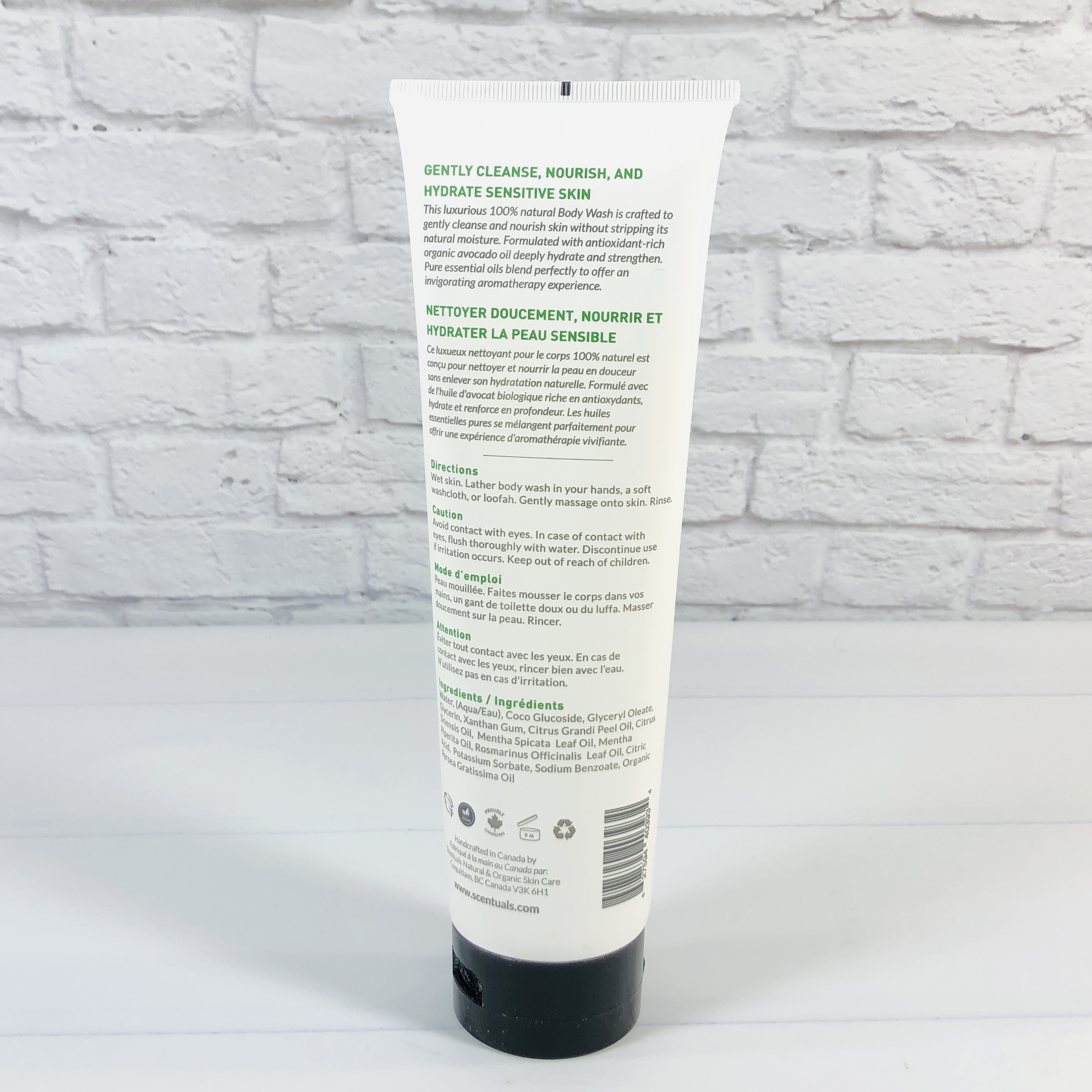 Aloe is the base here along with glycerin and some essential oils. It even has argan oil! I squeezed it onto a shower pouf and applied all over my arms and legs in the shower. It foamed up really well and of course the scent was perfect for pepping up my morning. It rinsed away cleanly too.
Naturally Vain Vitamin C Serum ($23.62 USD) I have dry skin so I use face oils year round and am always excited to discover a new-to-me brand.
A variety of oils such as sweet almond and rosehip oil are pretty common facial oils but sacha inchi and juniper berry are a couple that are not as well known to me. According to Naturally Vain they act as AHA's to help simulate collagen growth while sea buckthorn oil plumps and brightens the skin.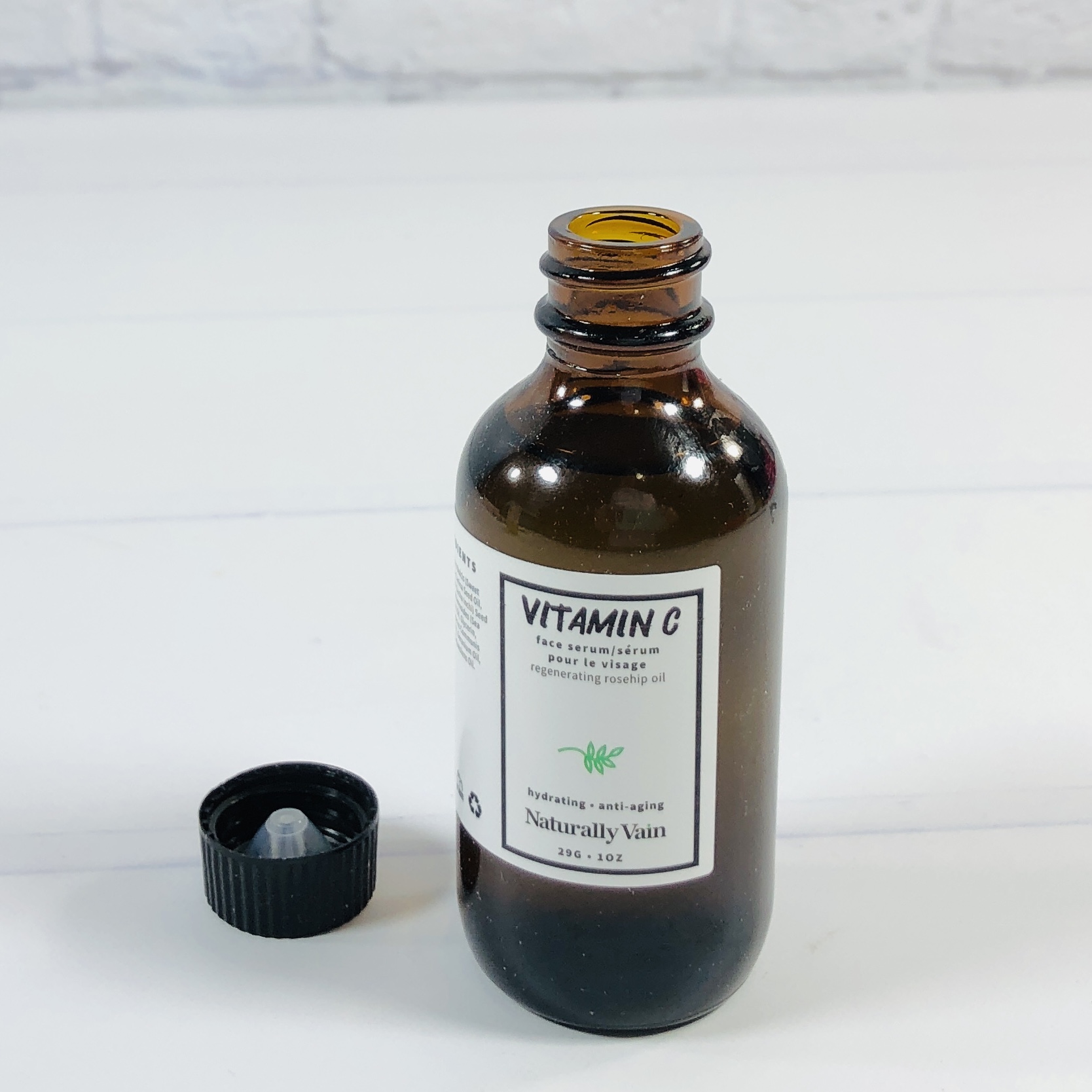 The bottle was different, there wasn't a dropper so be careful when pouring into the hand, a few drops is all that is needed. It smells most like geranium and has a green tint. I liked the feel of it on my face and have been using it as a night oil with good results.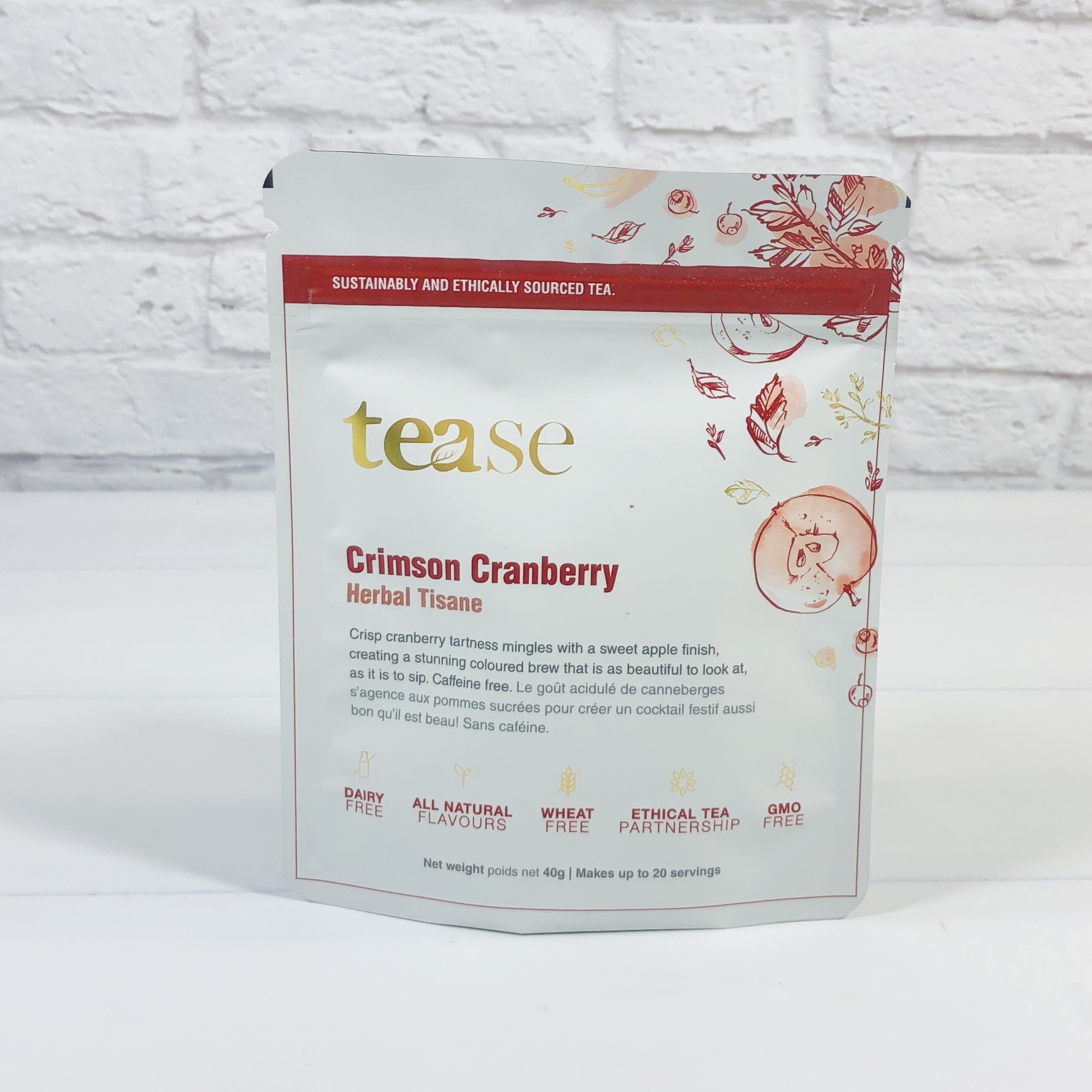 Tease Tea Crimson Cranberry Herbal Blend ($14, on sale for $9) I'll take all the teas please. Making and drinking a cup of tea is one of the best parts of my day and I repeat that 1-3 times a day, depending on my schedule.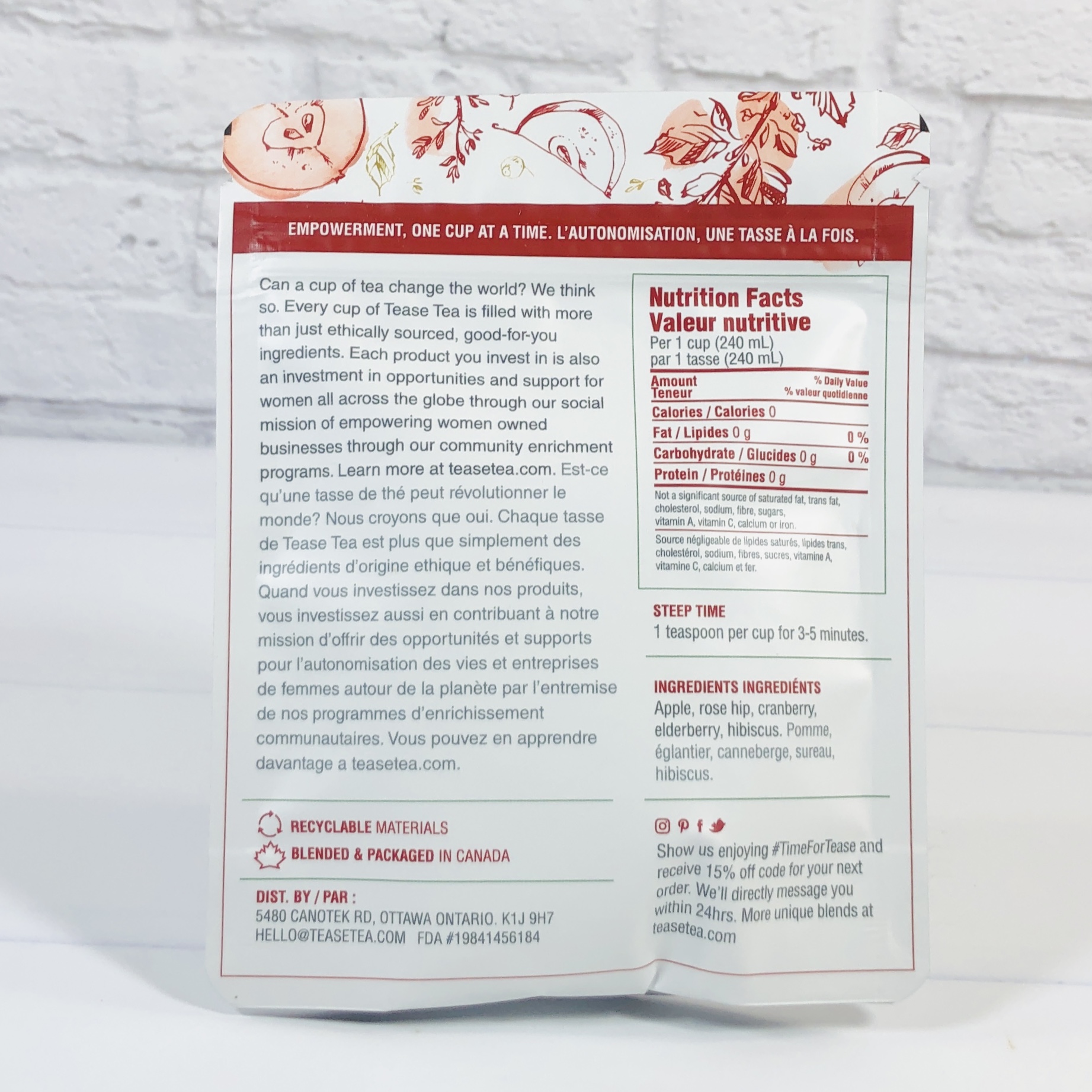 I prefer an herbal version in the evening and this blend is made of apple, rose hip, cranberry, elderberry, and hibiscus. No caffeine so I can enjoy it without fear of being unable to fall asleep. Herbal teas are also known as tisanes, meaning they have no actual tea leaves, and are usually made with herbs and fruits. Most people in the US just say herbal tea but tisane sounds ever so proper.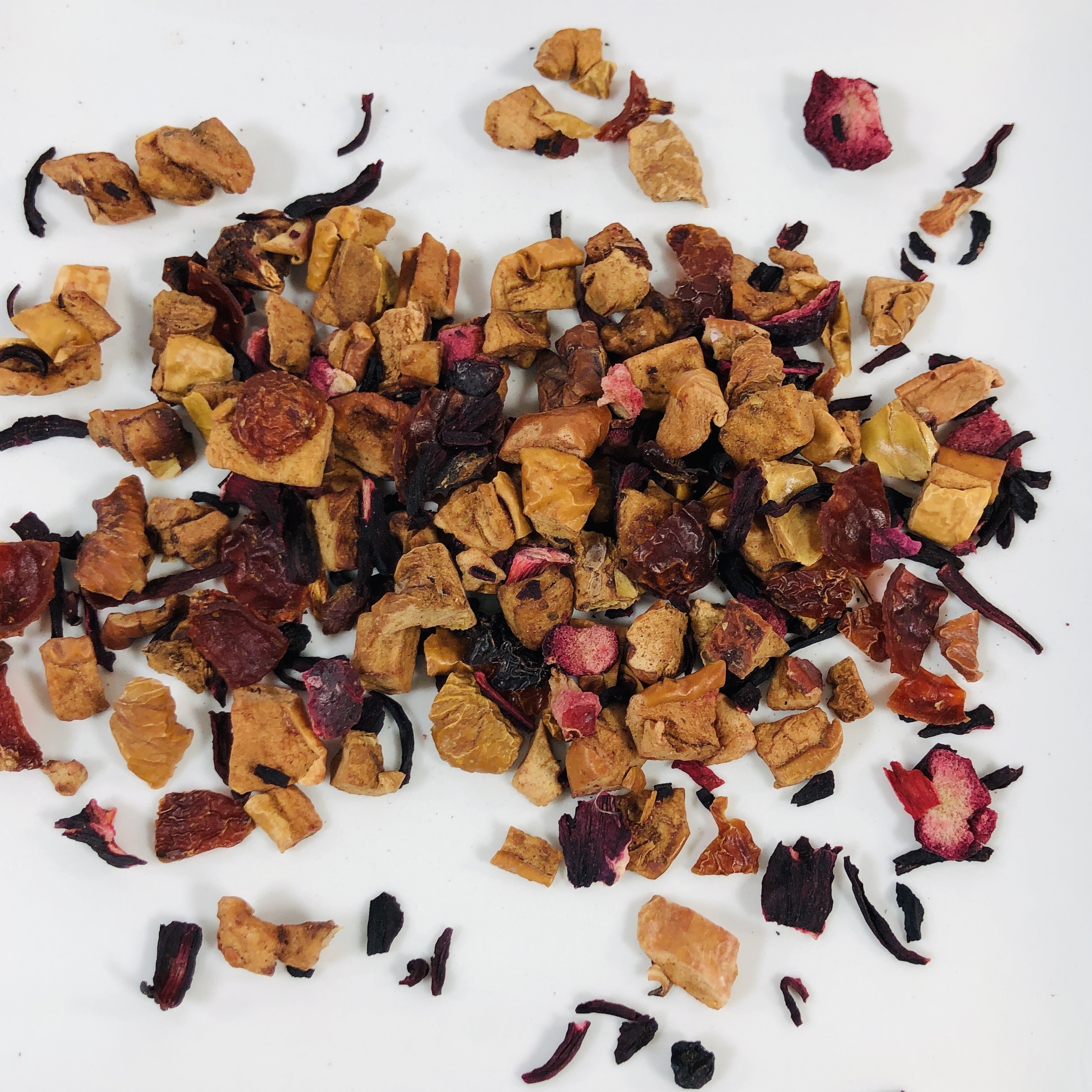 Isn't it pretty? Rose hips and elderberry are both high in vitamin C and may help boost the immune system. Actually, this is more of a fruit tea than an herbal. It even smelled like fruit!
I used 1 teaspoon of mix to 1 cup of boiling water and steeped for 5 minutes. My flavor was perfect, it was a little tart thanks to the ingredients but not overly so, I added a little sugar anyways. I really enjoyed this flavor and if you prefer a darker steep or more acidity then you could use 1.5 teaspoons but this was perfect for me with just 1 teaspoon.
Geti Cosmetics Good Fats Body Butter ($12.50) Body butter can be applied all over the body but the tin isn't that big so this may be best saved for those super dry areas like heels, hands, or elbows.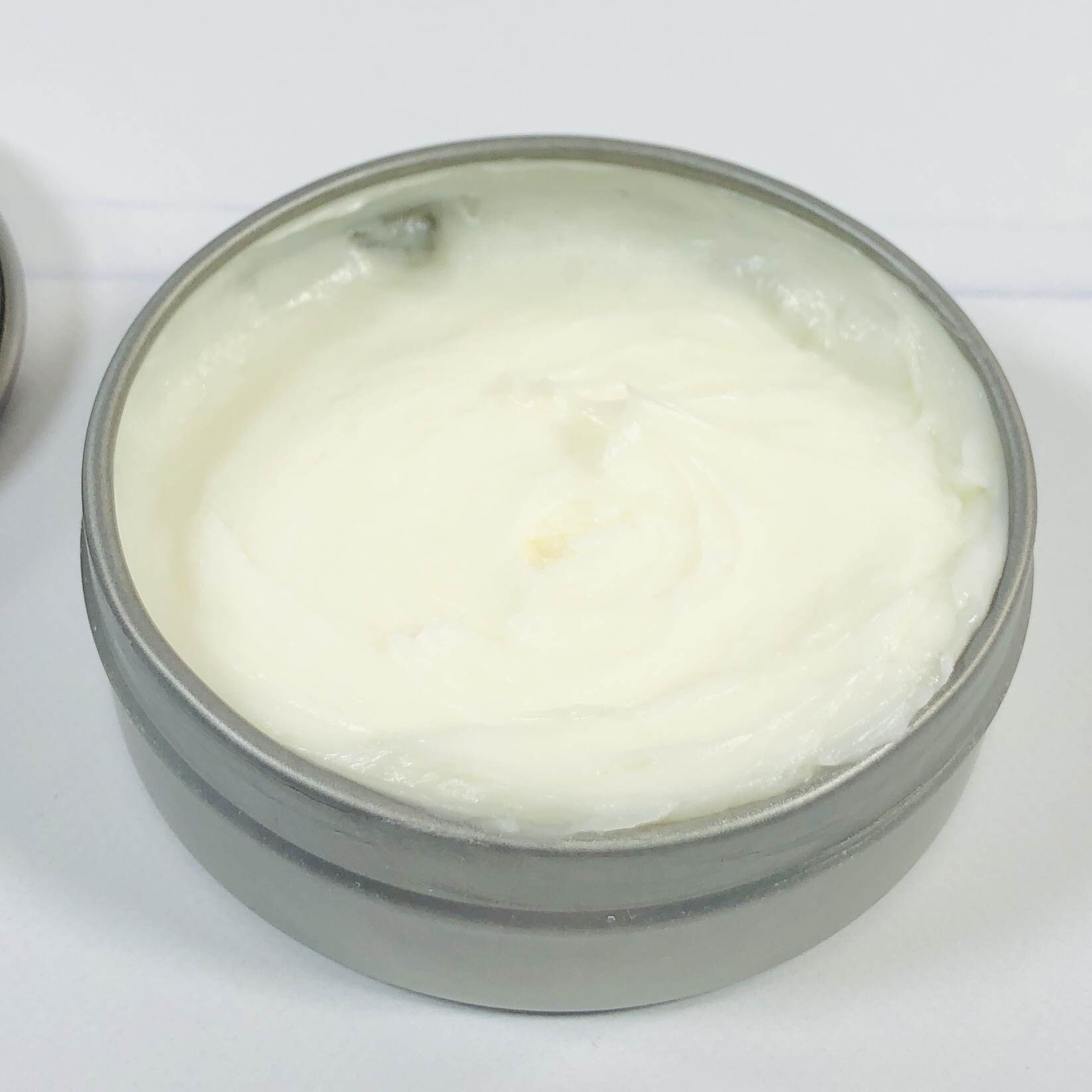 The ingredients are organic and simple: avocado butter, olive butter, and avocado oil and possibly essential oils. The consistency is, well, like butter and there isn't much scent at all, so this version may be unscented. There is a list of essential oils on the lid but they offer all of those as single choices on their website, not as a blend, and since unscented is also a choice I'm going with that. This is a luxurious-feeling product, so soothing to my dry skin.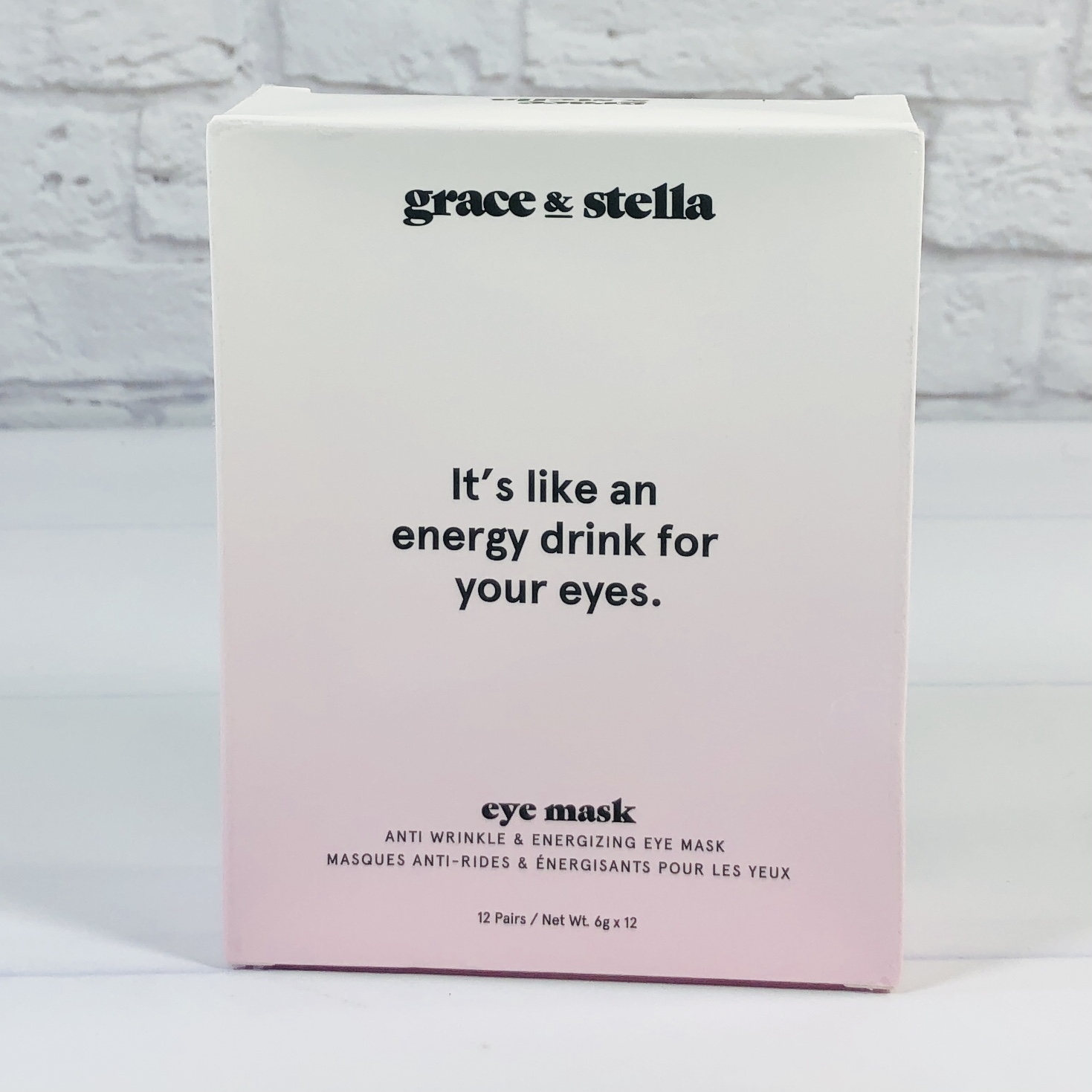 Grace & Stella Energizing Under-Eye Masks ($21) I love trying under eye masks, they are less irritating to my skin than full-face masks and this is an area that needs extra help at my age.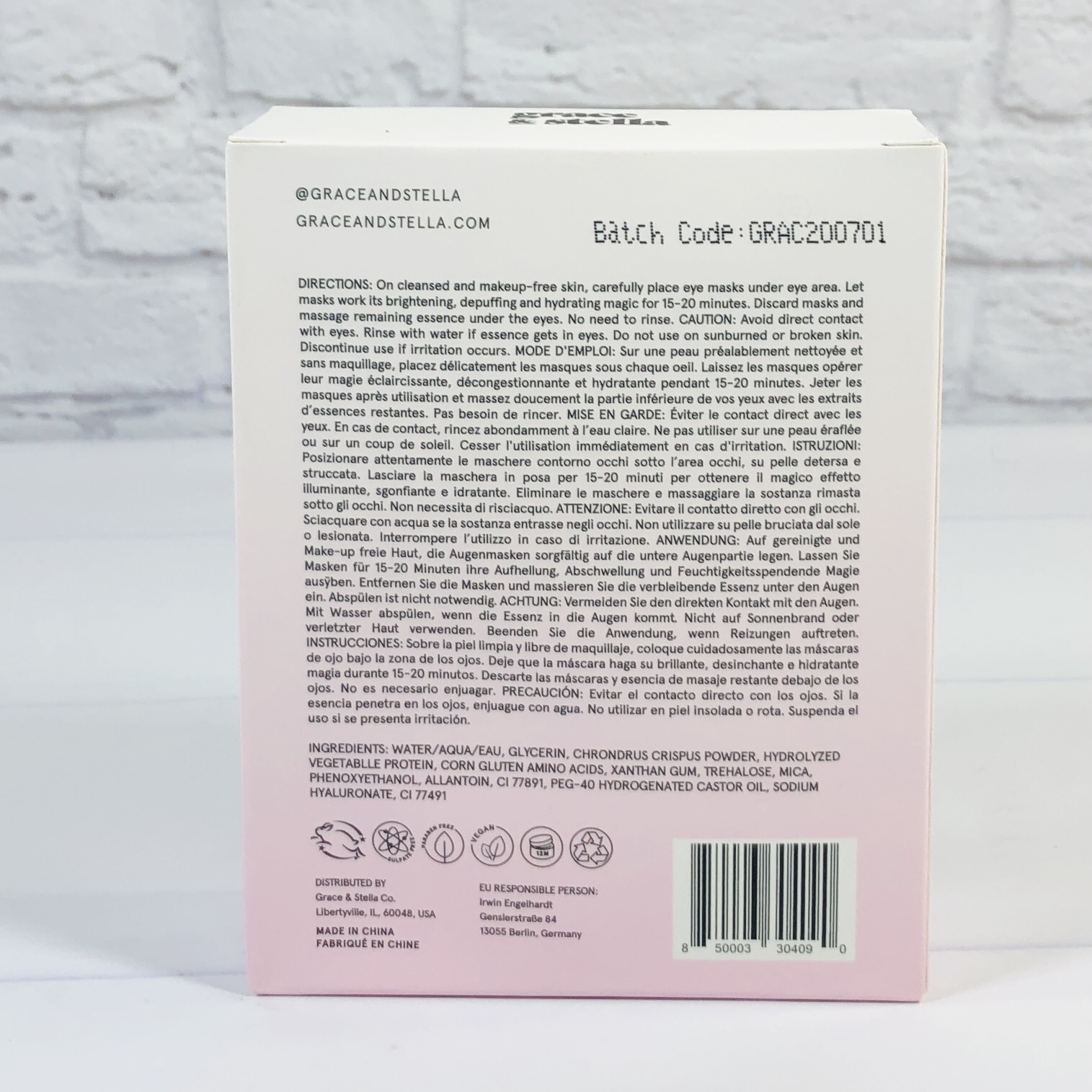 Glycerin, vegetable protein, and hyaluronic acid all work to help draw moisture to the area and keep it there. The product is fragrance-free, always a plus in my book!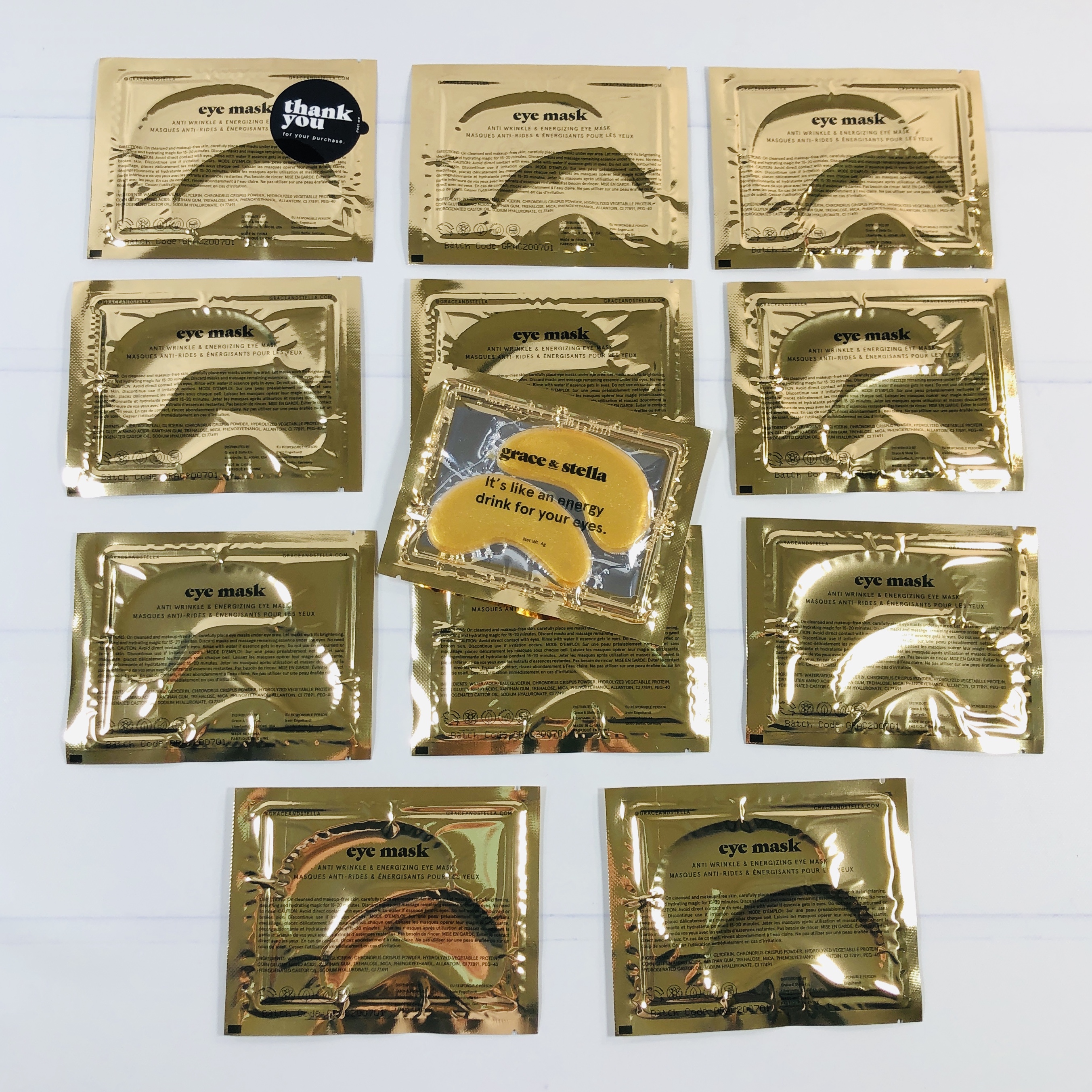 There were 12 packs in this box!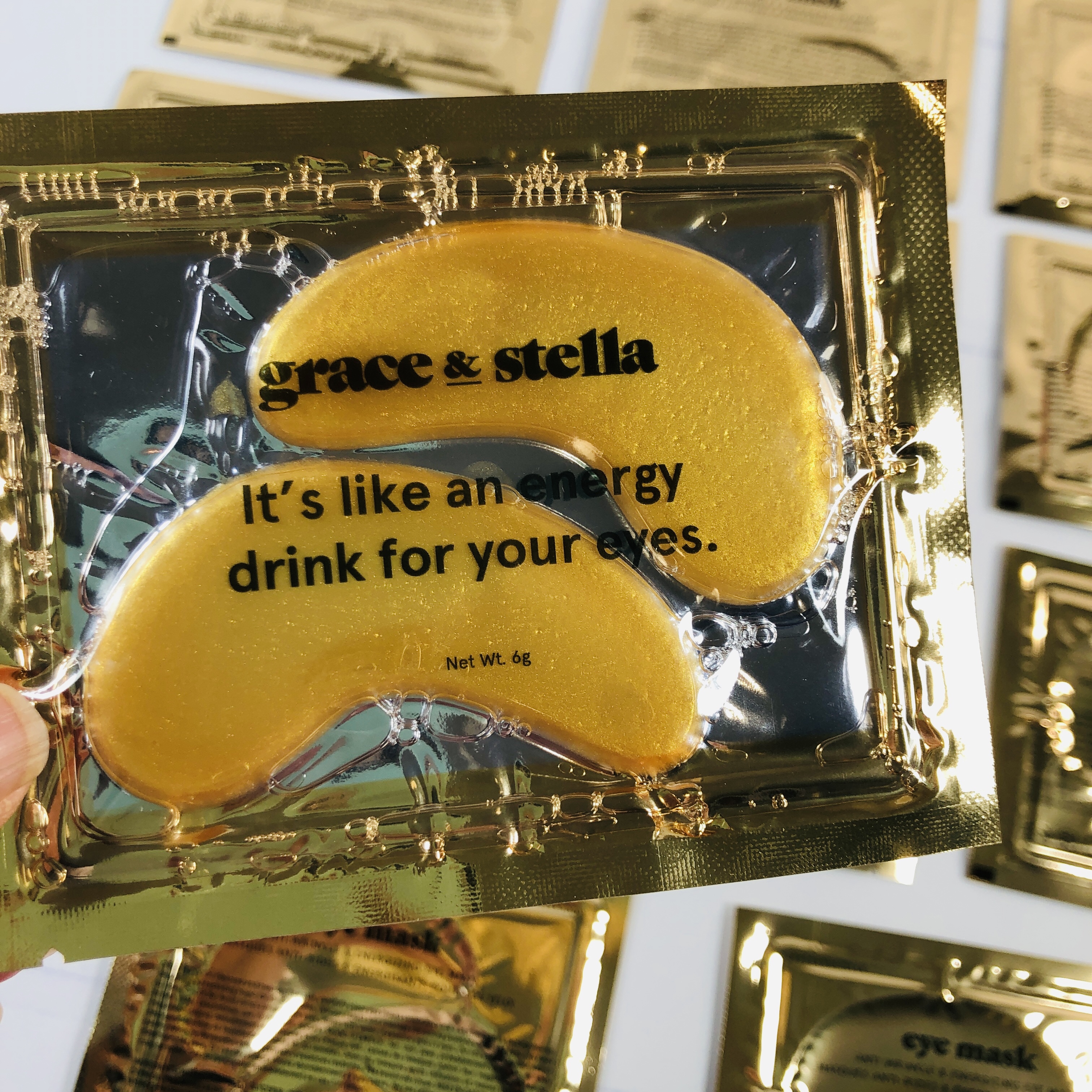 These are on the thick side so it's best to lie down while wearing them or you may get slippage. It cooled down the area and when 20 or so minutes had passed I removed them and there was bit of serum left over and it evaporated eventually. This is a great way to relax, too. I love eye masks!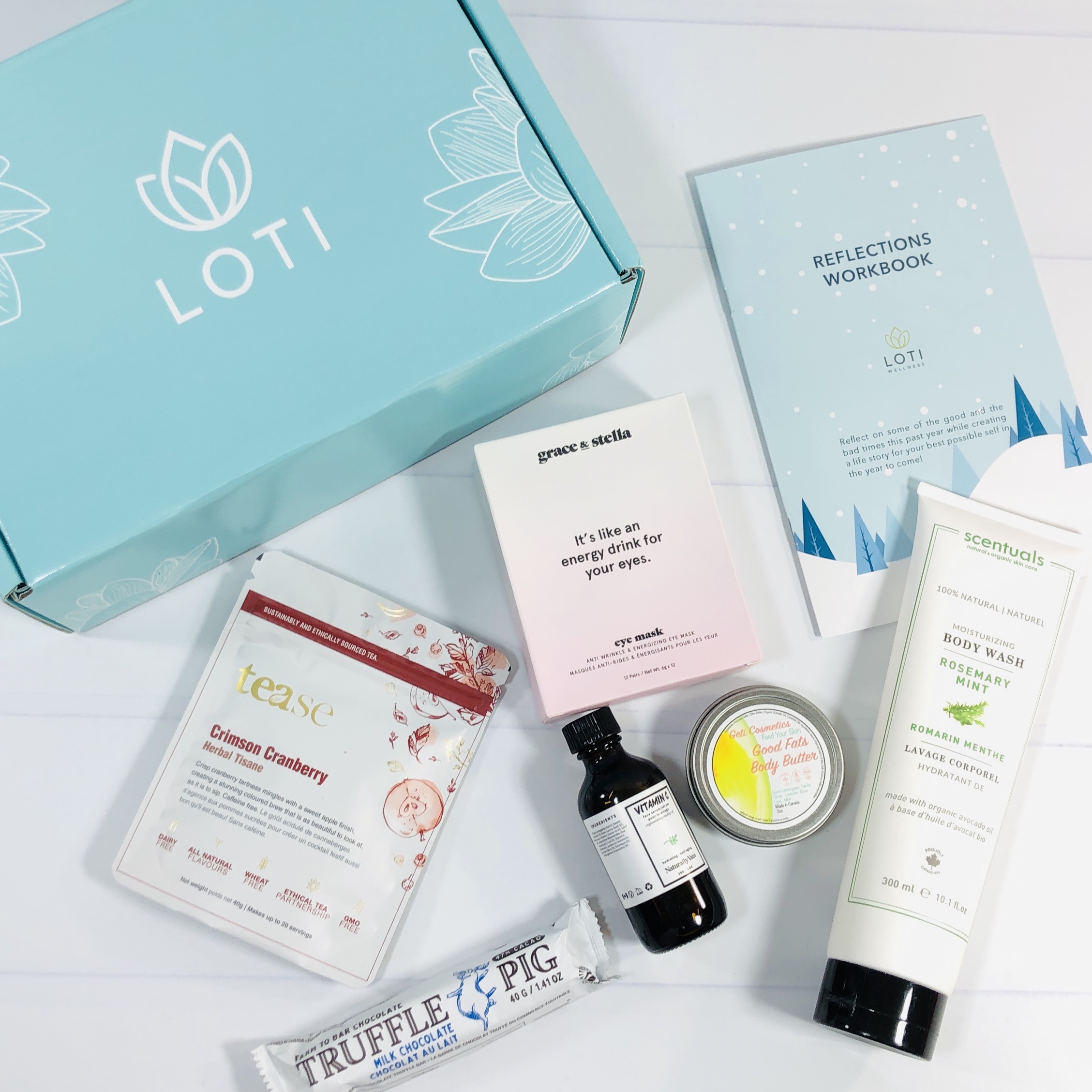 Wow, I feel like the December Loti Wellness Box was curated especially for me! I have some important life changes coming up so the Reflections theme was perfect for me and should work well for pretty much anyone as we end another trip around the sun. I love chocolate in all forms and this truffle bar was super delicious. A body wash in my favorite scent and masks for my eyes? Thank you! Body butter and a face oil for my dry skin? I am loving it. Finally, a fruity herbal tea, my very favorite drink. I will get use out of every item in my box, and everything was so clean and worked well too.
What do you think of this self-care subscription?