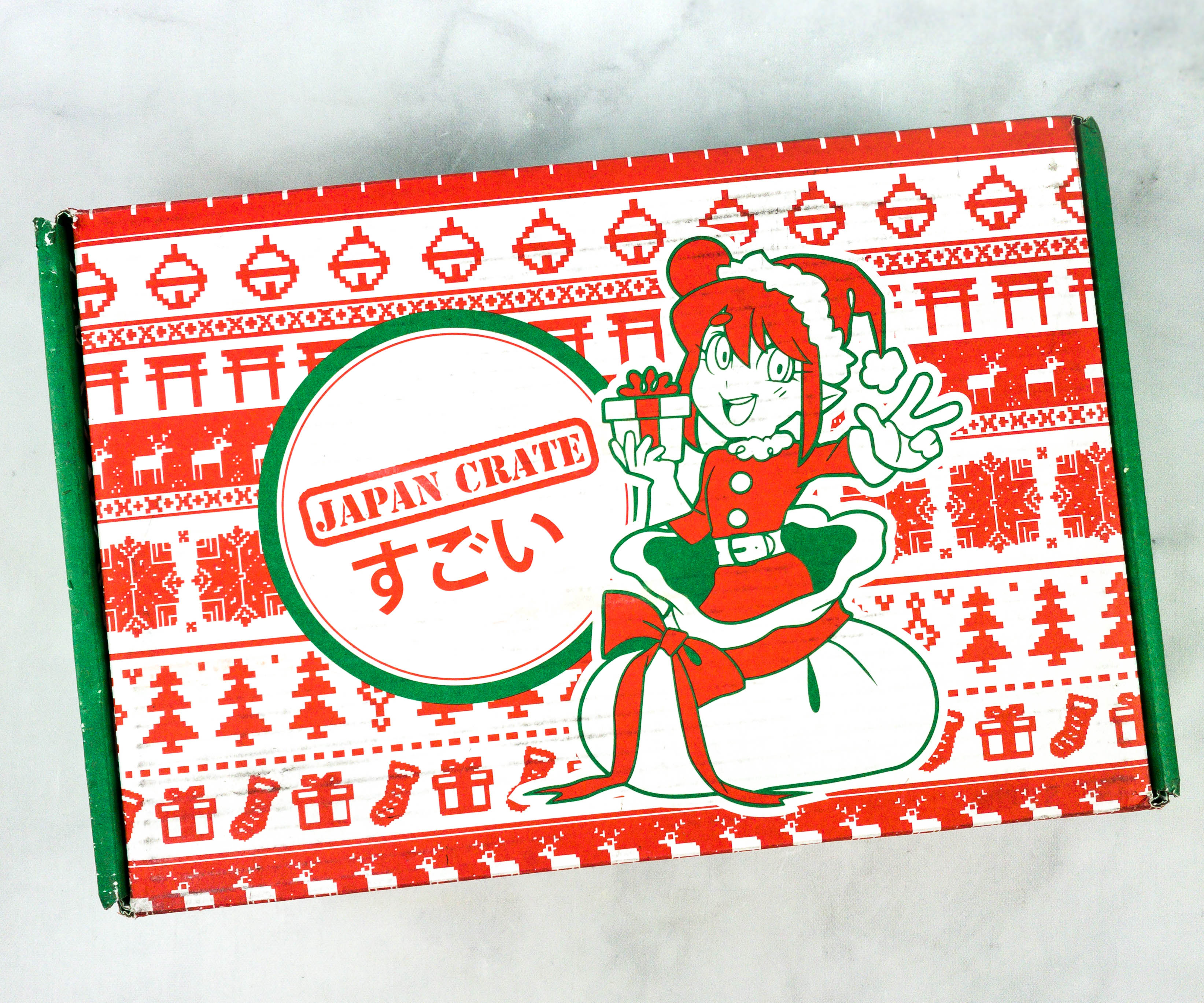 Japan Crate is a monthly subscription box that helps you "experience the excitement of Japan every month through fun candy & snacks." They have three subscription levels that start at $12 a month and offer 1, 3, 6, or 12-month plans that auto-renew at the end of the term. Japan Crate aims to send candy that is fun and exclusively available in Japan.
DEAL: Save $3 on your first regular or premium crate with coupon code HELLO.
This is a review of the Premium box!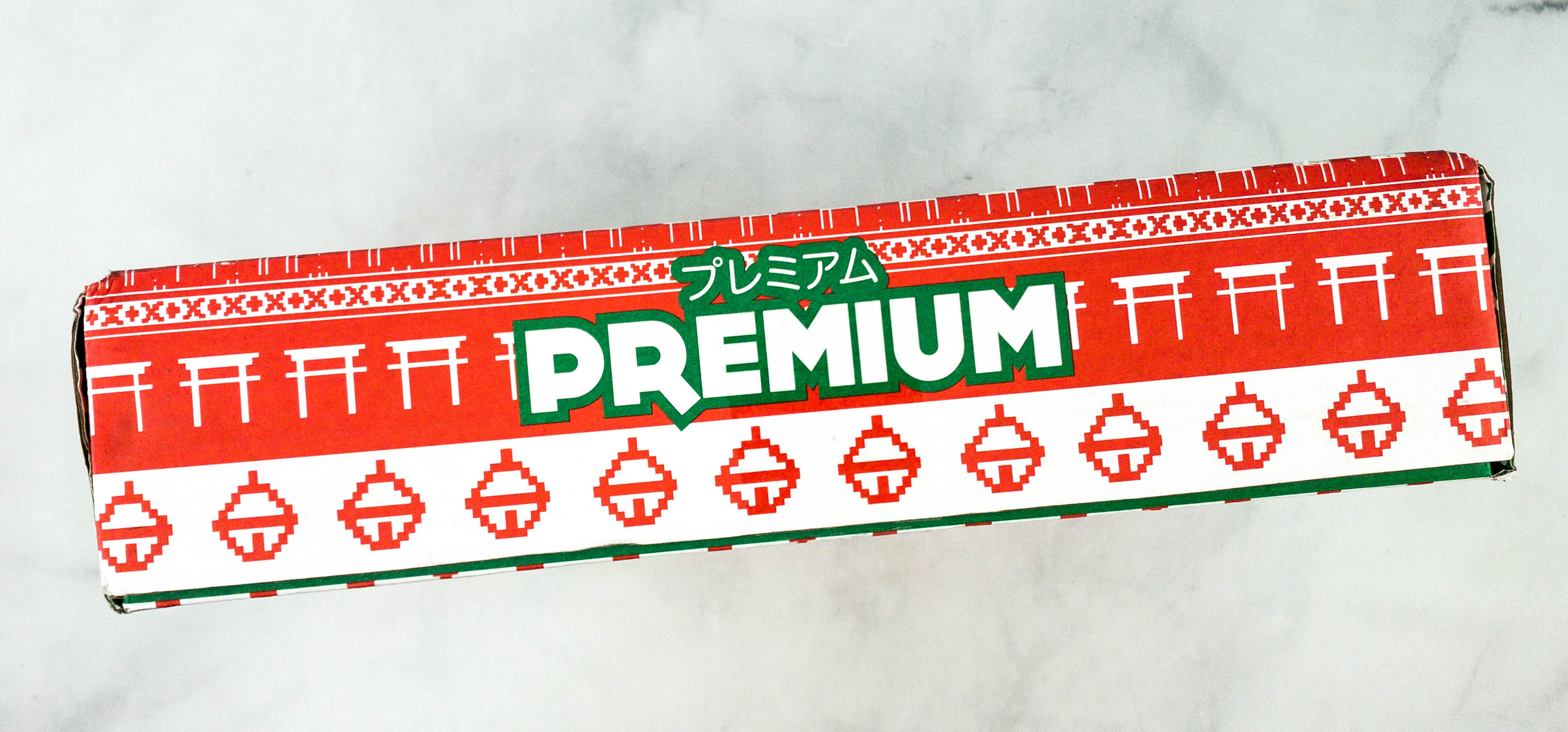 This month's box has a Christmas themed design on it.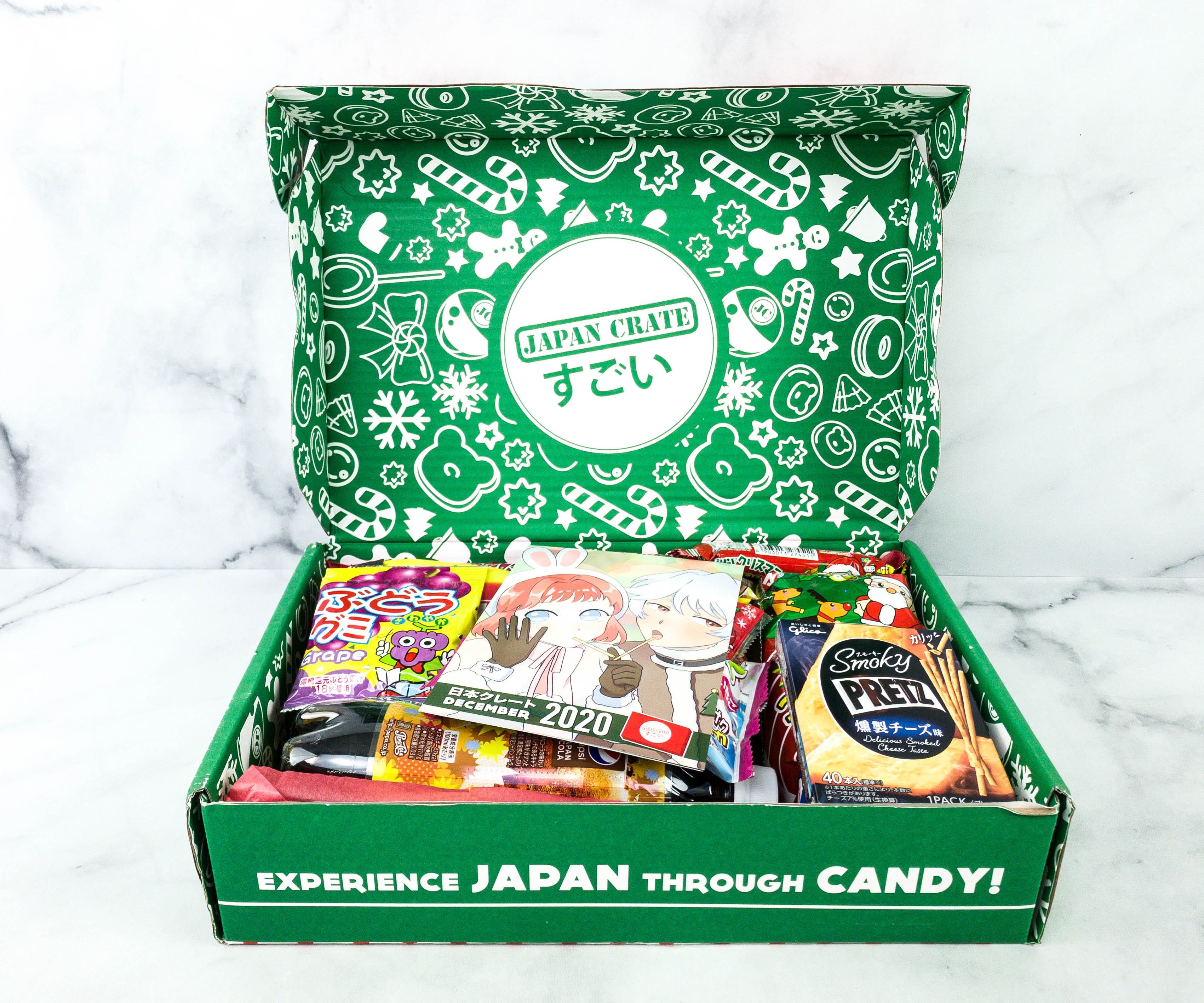 Even the interior of the box has cute doodles!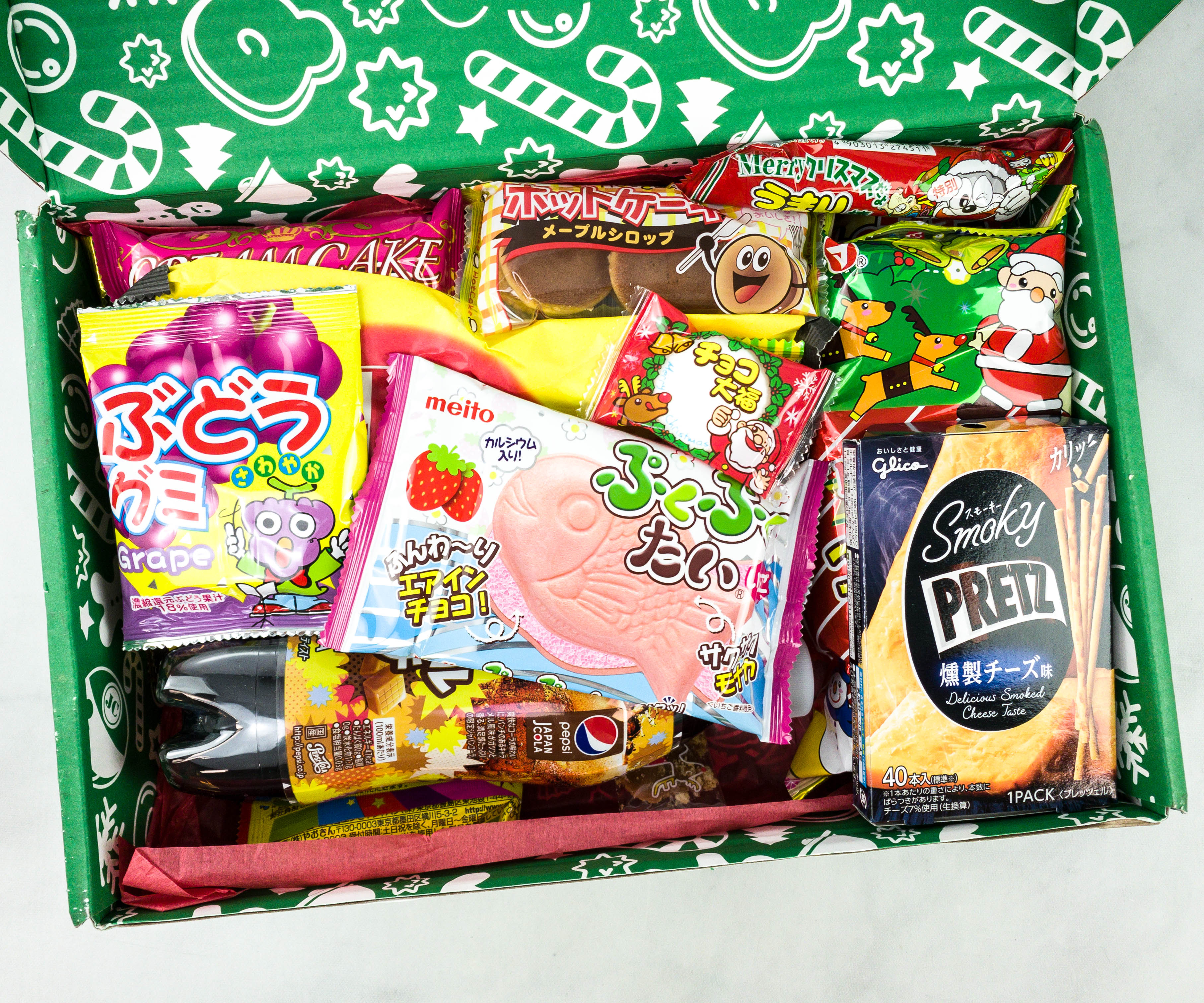 As always, there are LOTS of snacks in this box!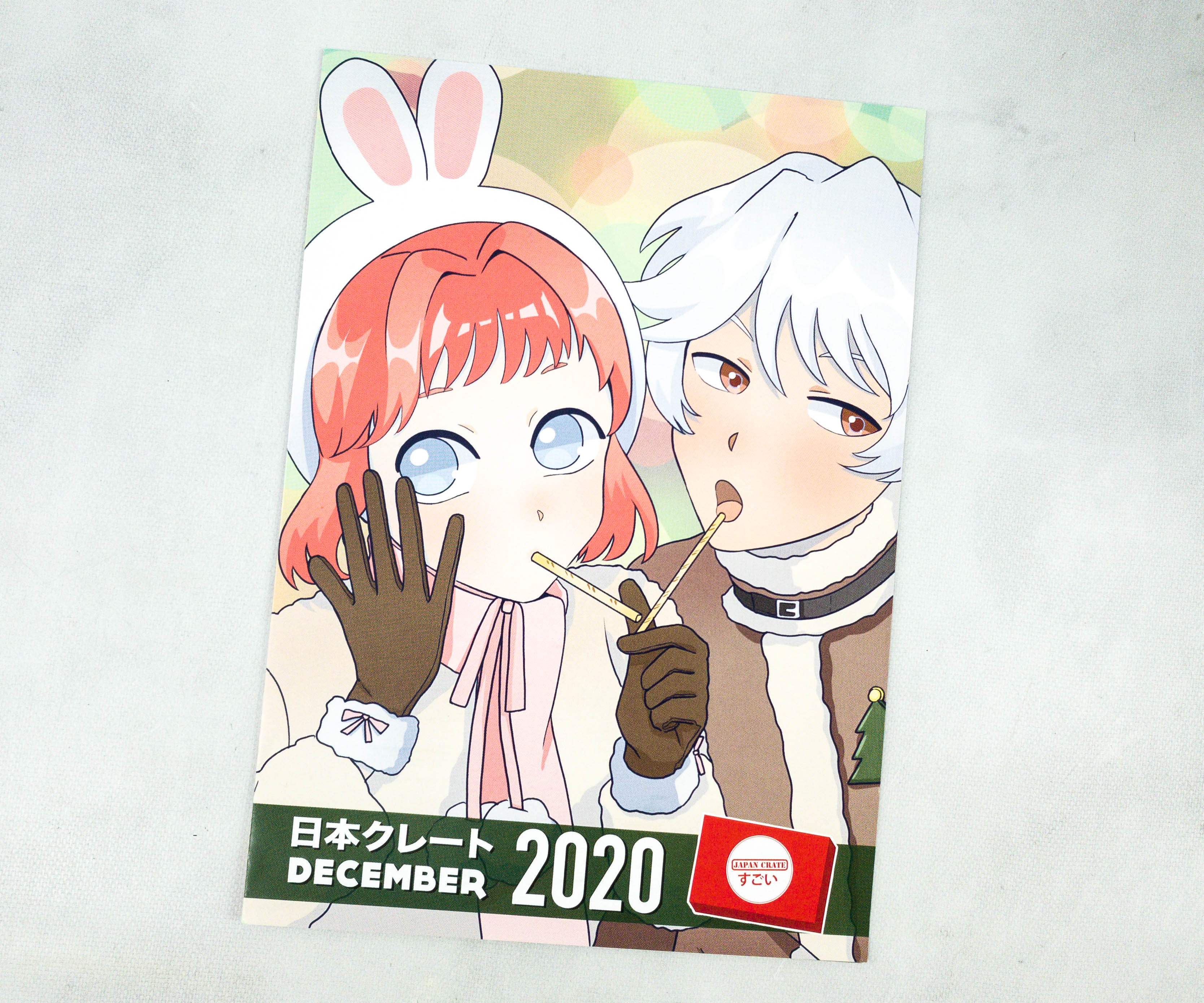 The box also includes an information booklet!
Featured in this part of the booklet is Sugoi Mart. They gave us a $3 off coupon code which we can use on orders $15 and up!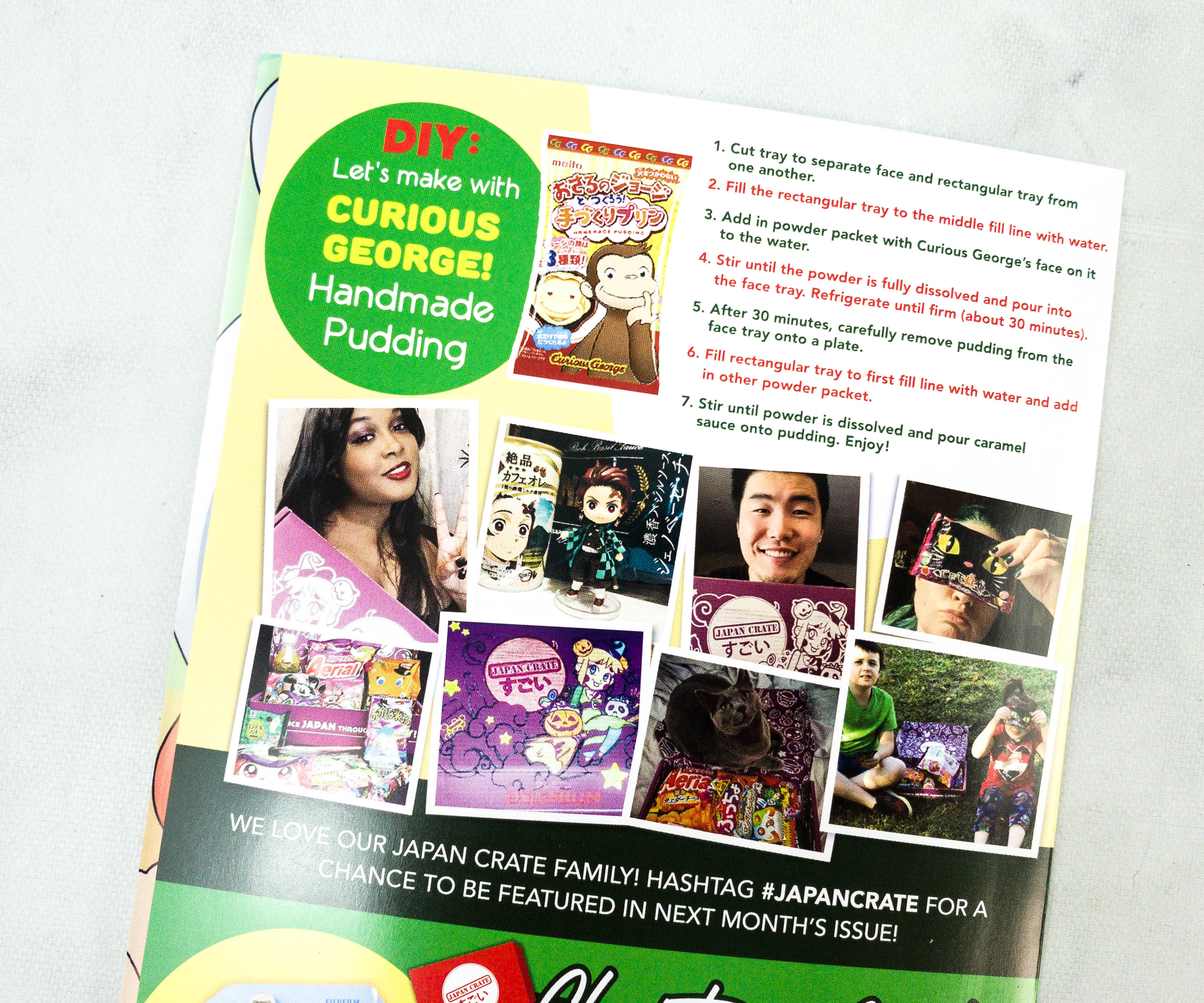 The booklet also features selfies of subscribers with their Japan Crate Box.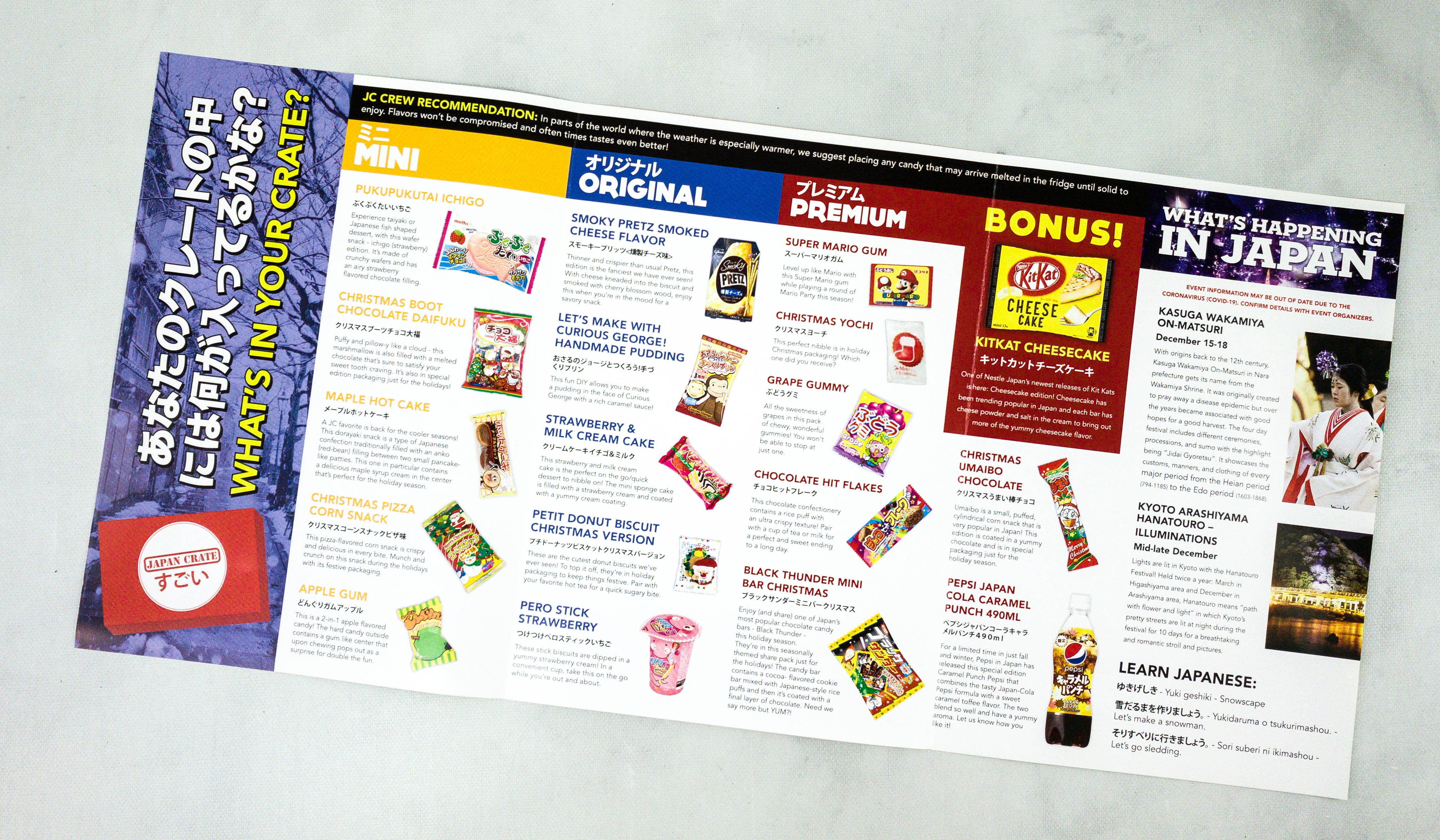 Inside the booklet is a chart of contents that lists all the snacks from three different box sizes. There are 3 different subscription levels available: The Mini includes 5 items, the Original includes those items PLUS another 5 items, and the Premium includes those 10 items PLUS another 5 items.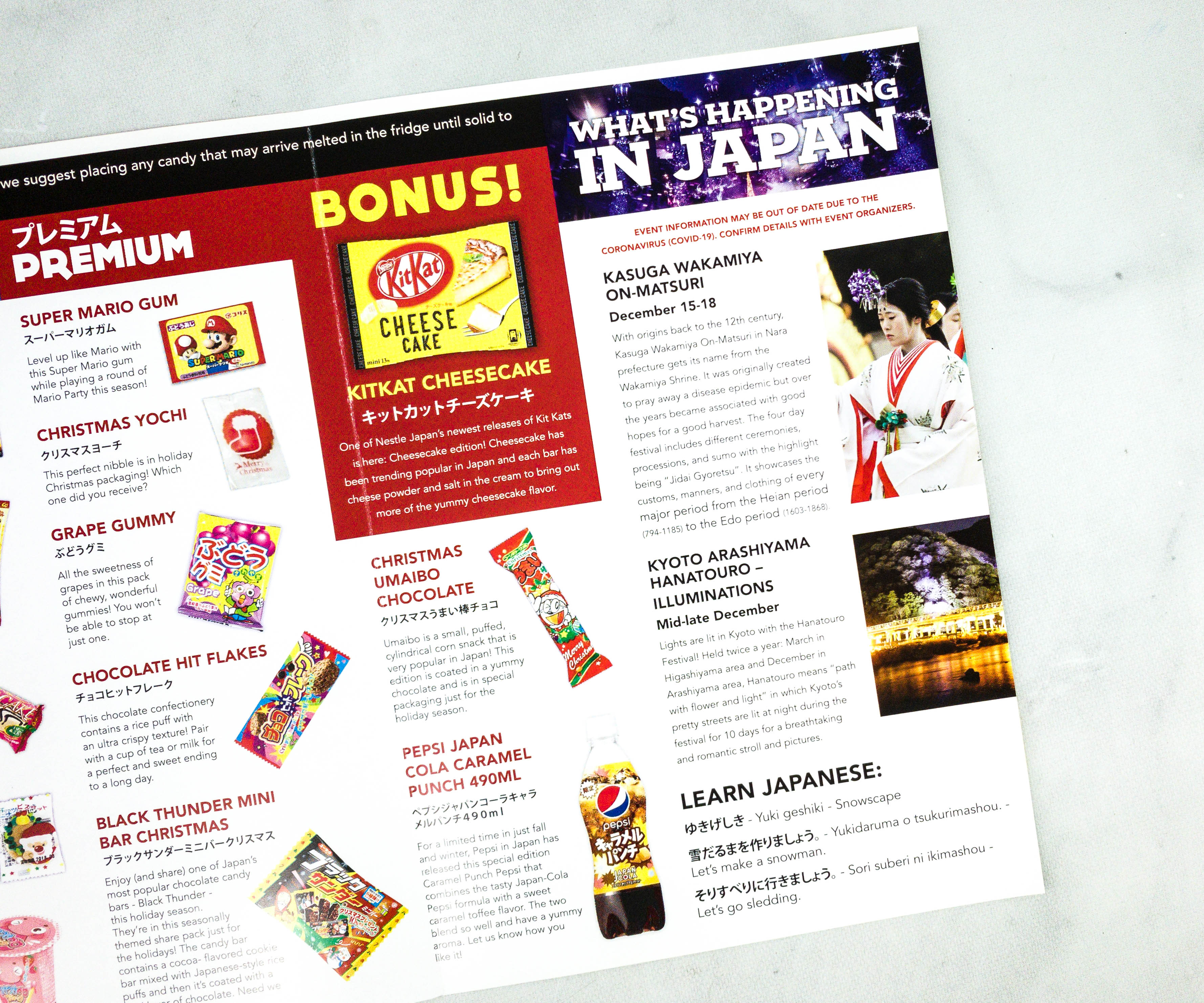 This month, subscribers will get a bonus item: KitKat Cheese Cake. There are also info about festivals held in Japan during December and some Japanese vocabulary words.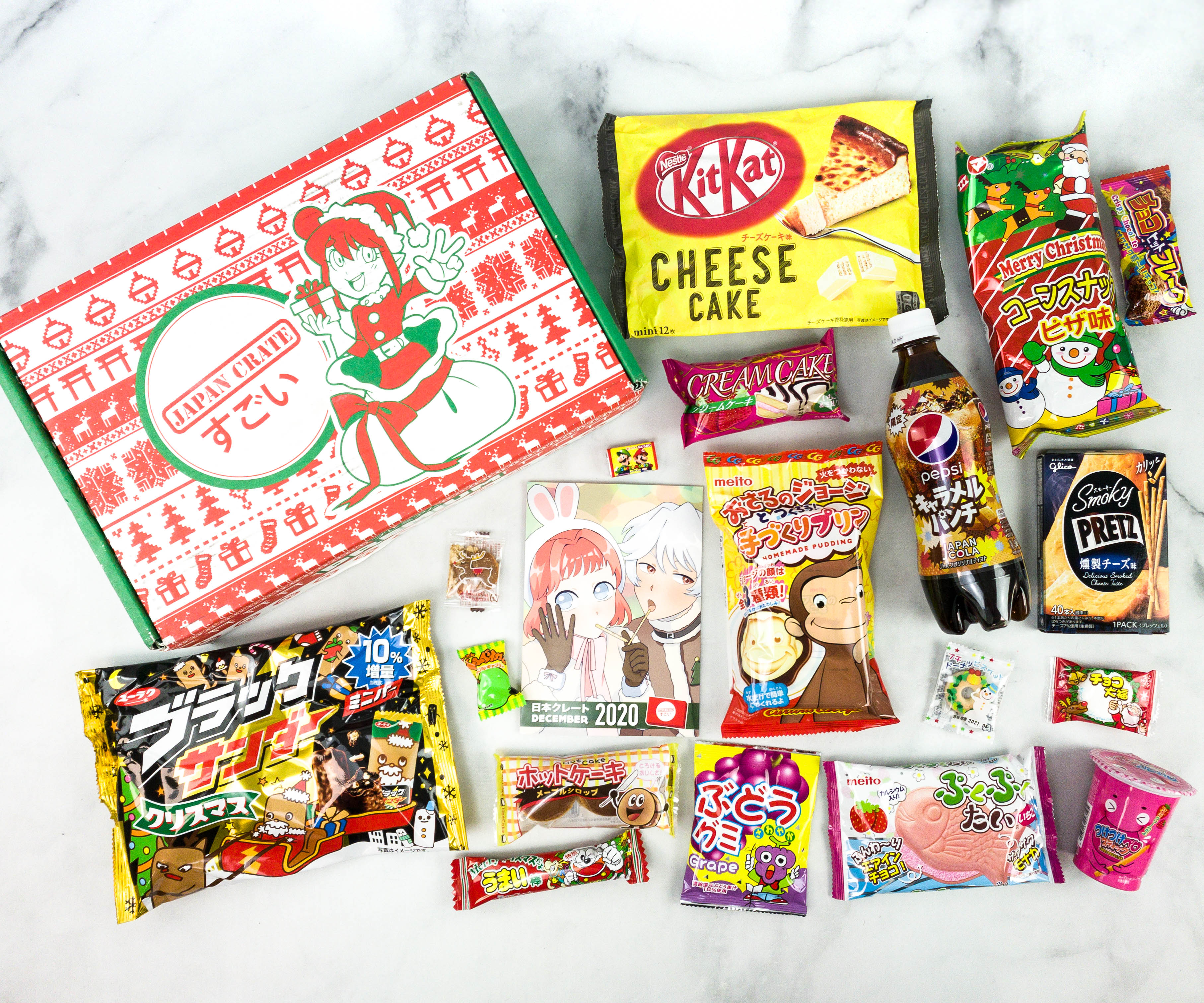 Everything in my December 2020 box!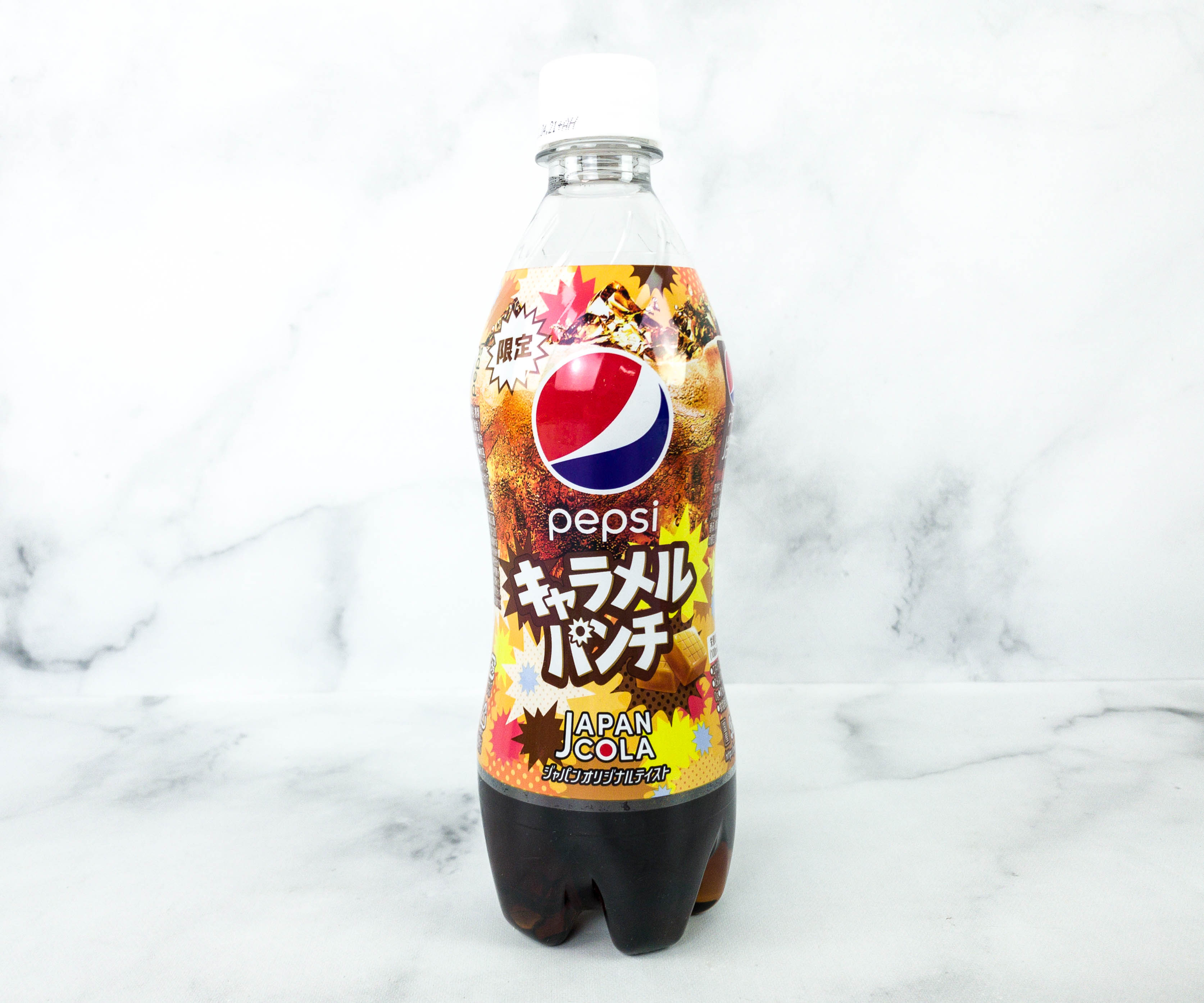 Pepsi Japan Cola Caramel Punch 490ml. This month's featured refreshment is Pepsi with a blend of caramel. It's just like the usual carbonated drink that we love but with an added sweetness to it!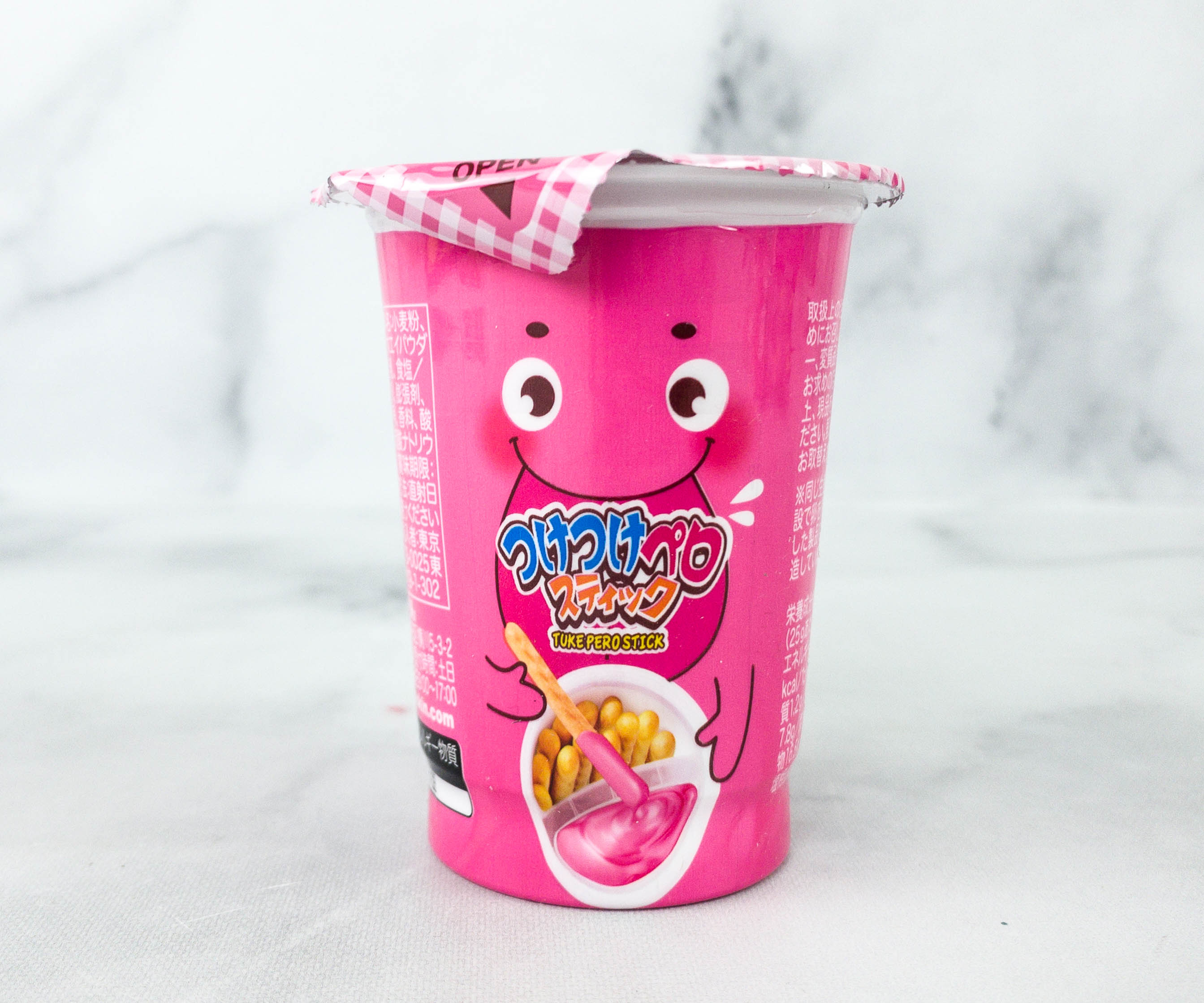 Pero Stick Strawberry. Here's something for the strawberry lovers, a cup filled with crunchy biscuit sticks and a yummy strawberry dip. It's fun to eat and it's also pretty sweet!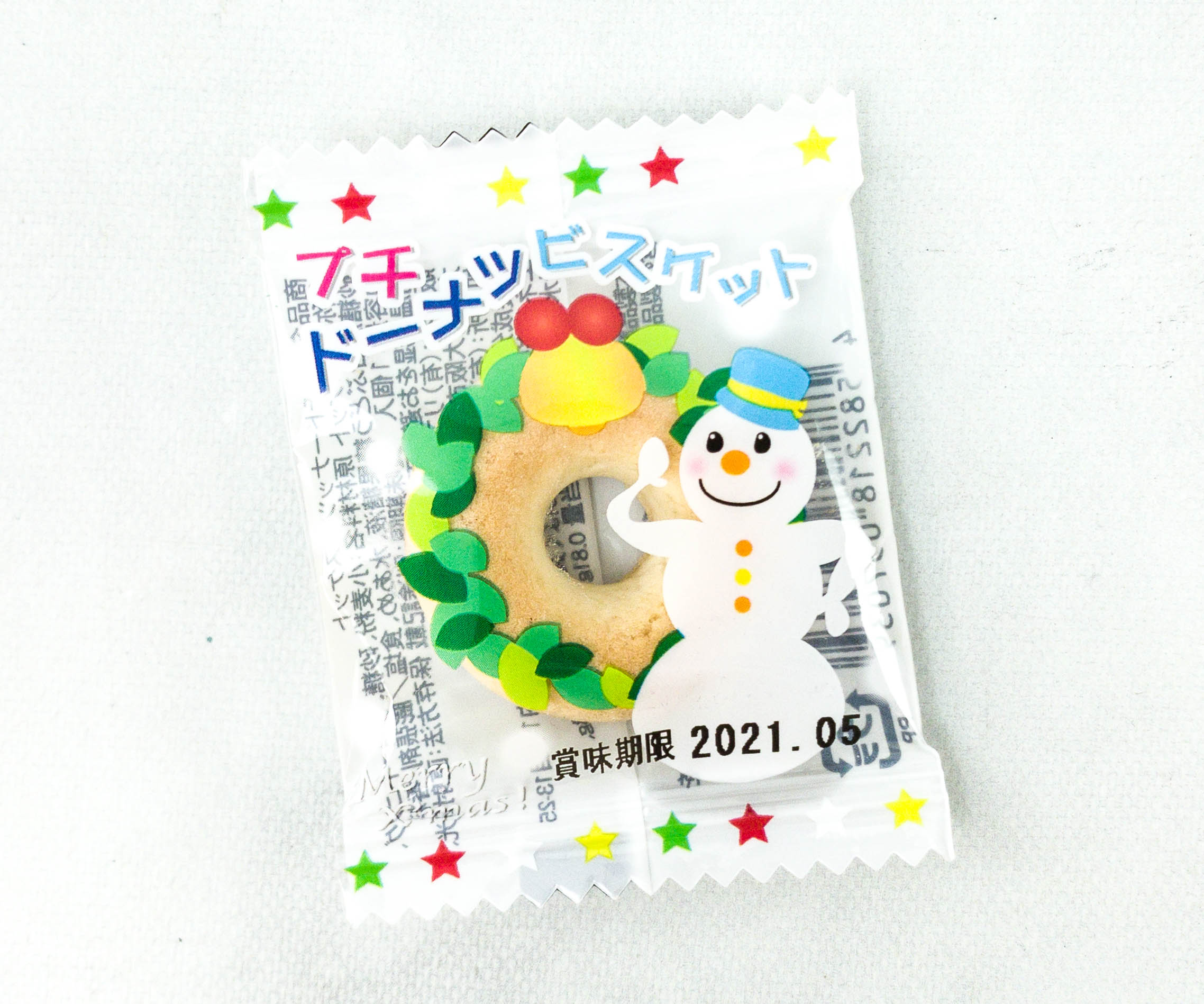 Petit Donut Biscuit Christmas Version. They also sent a donut-shaped biscuit and I love its Christmas themed packaging. It tastes great and it would make a great pair for hot chocolate!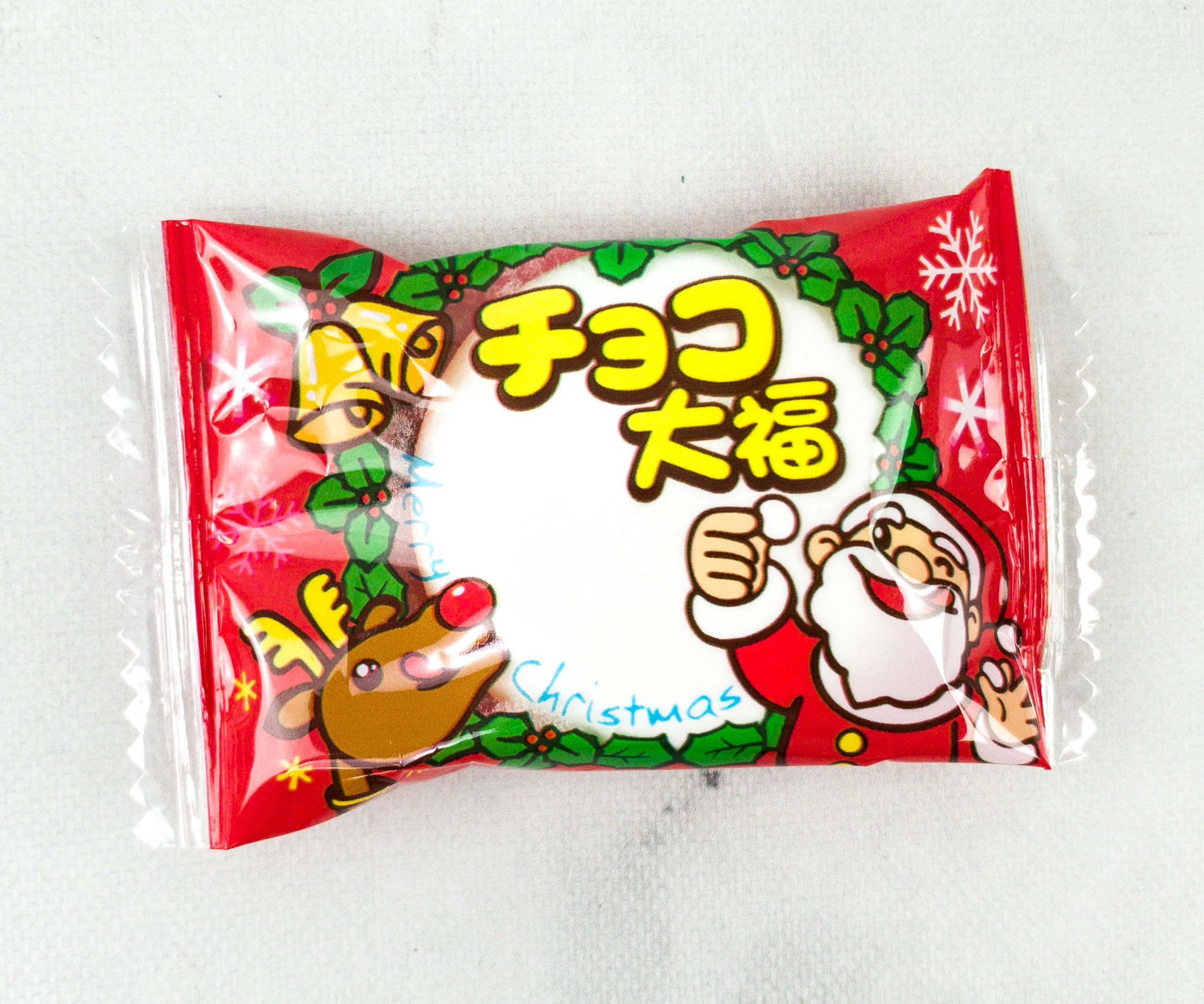 Christmas Boot Chocolate Daifuku. Santa approves of this delicious daifuku! It's very soft and the rich chocolate filling made it even more mouthwatering.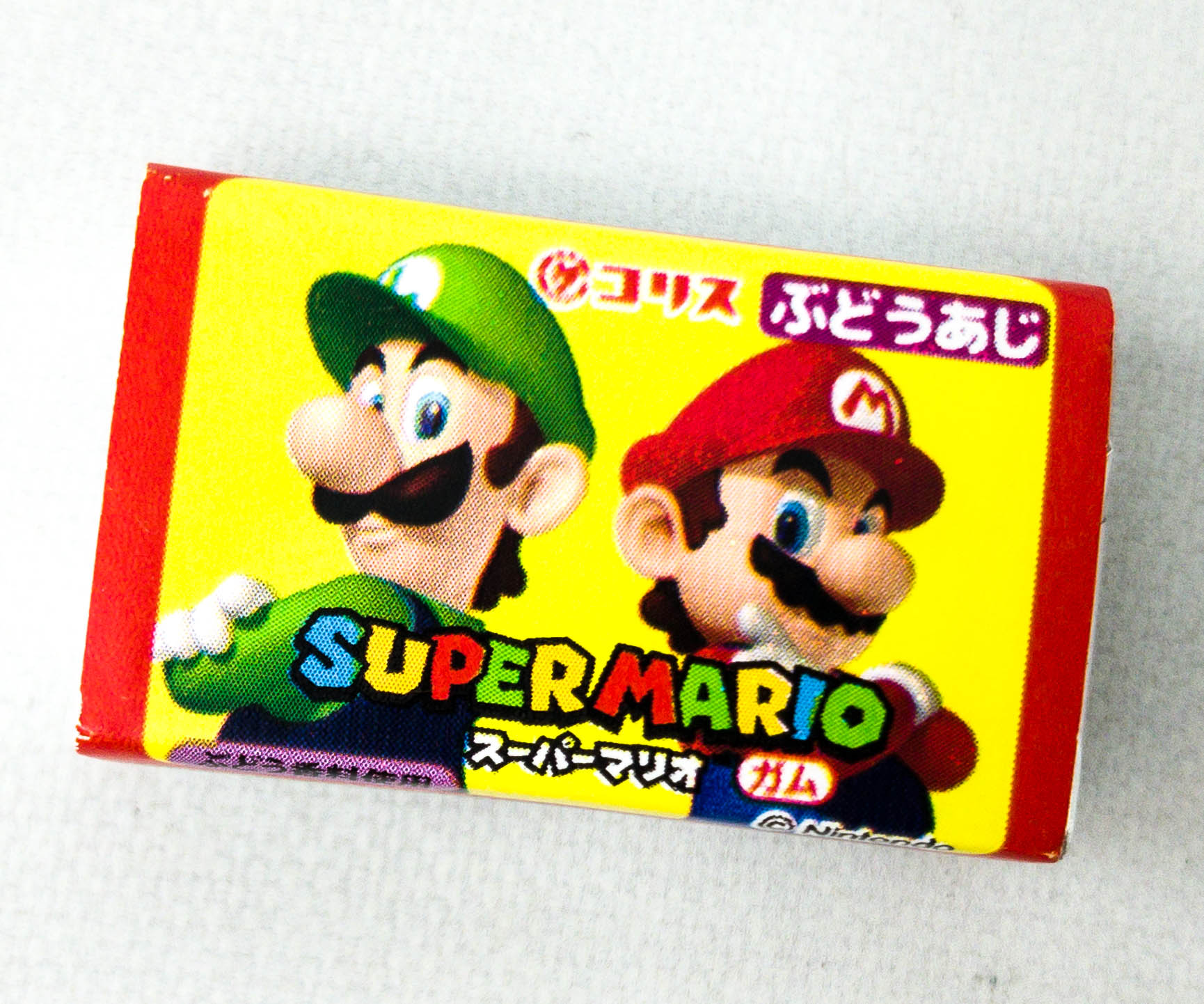 Super Mario Gum. It's just like an ordinary sweet and chewy gum but what makes this special is the Mario and Luigi design on its wrapper!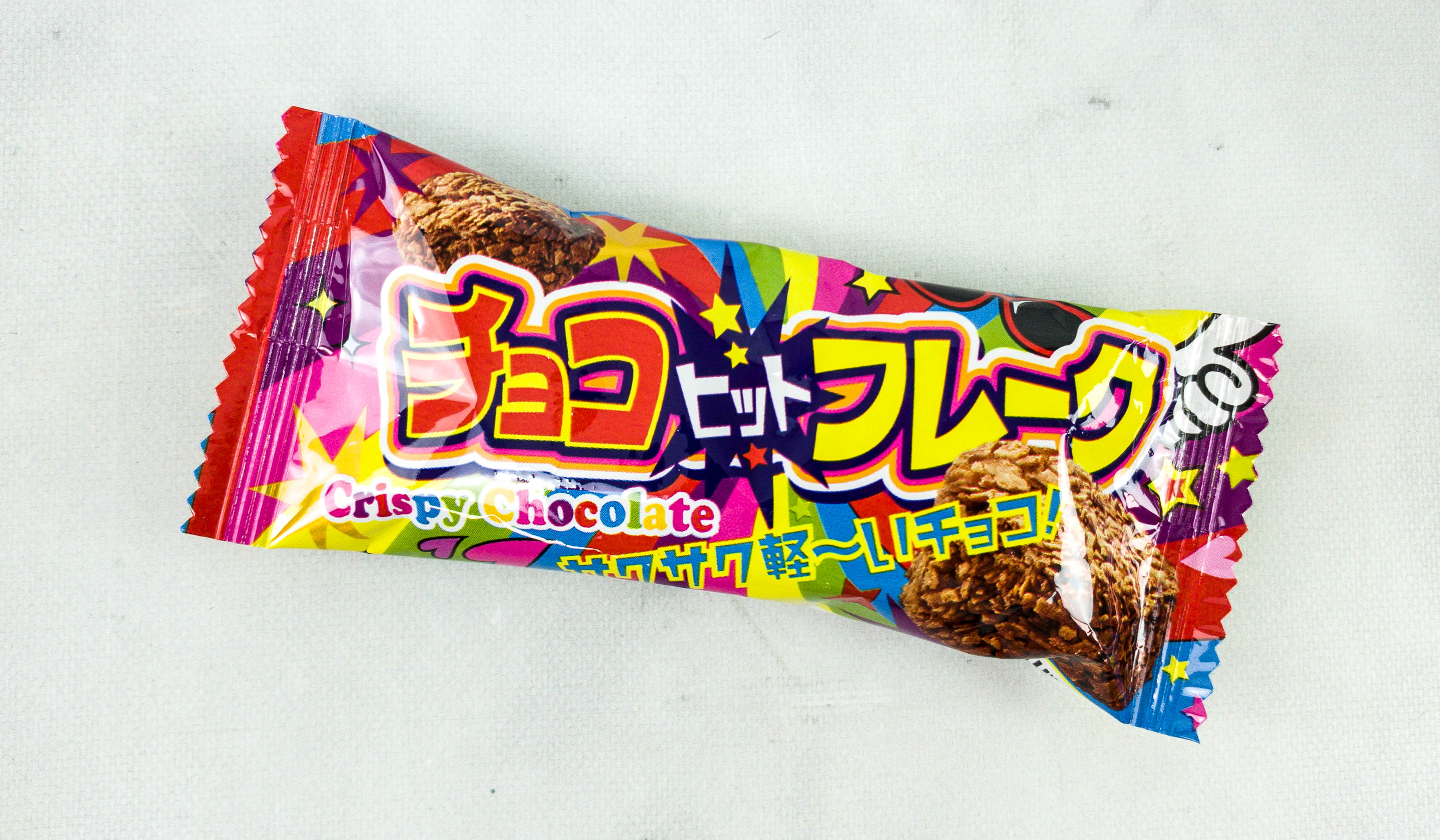 Chocolate Hit Flakes. These rice puffs easily satisfied my sweet tooth cravings. They have a rich chocolate taste and a crispy texture that makes them such a delight to eat! I enjoyed the snack as is, but Japan Crate suggests to pair it with milk or even tea!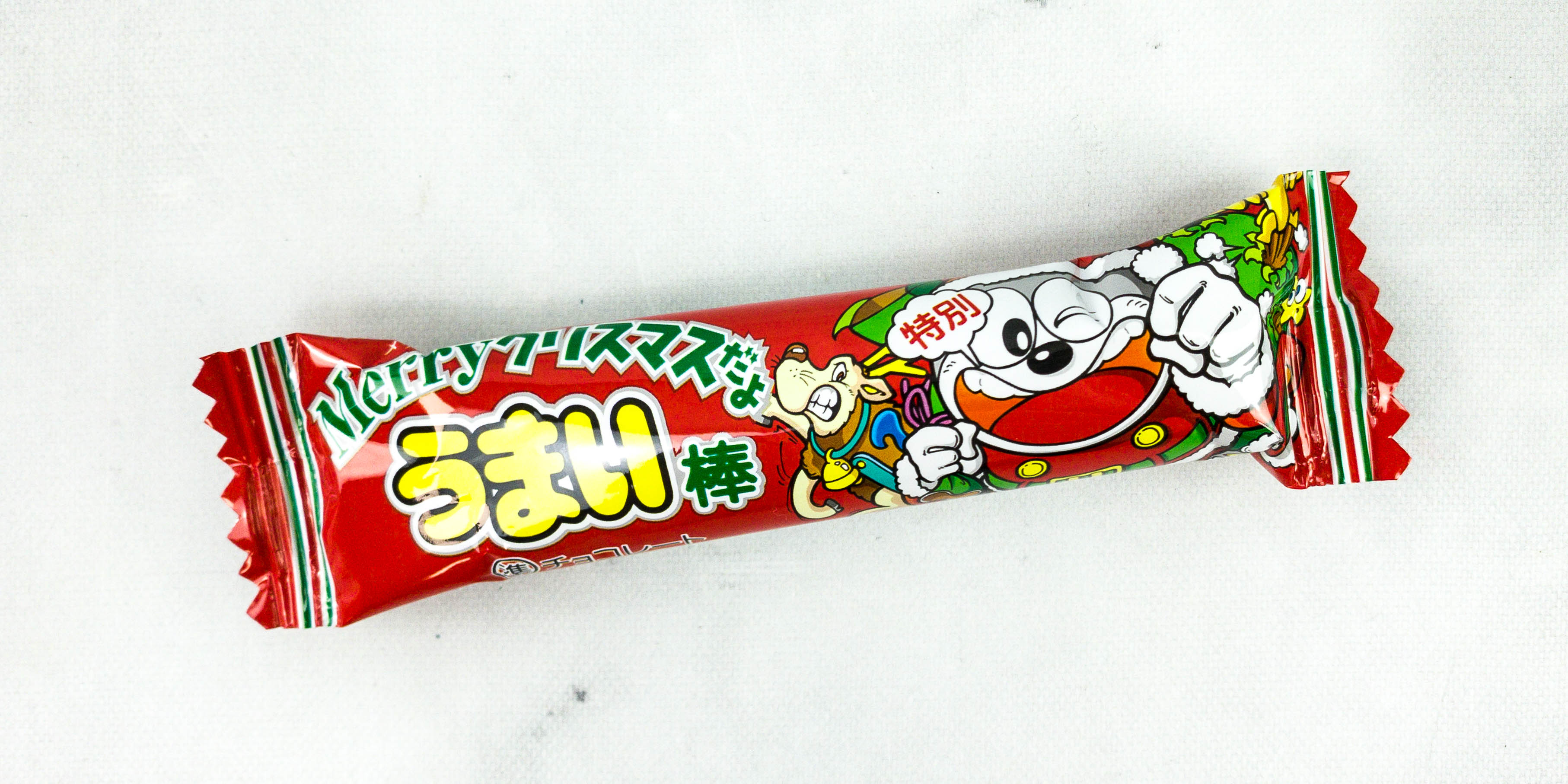 Christmas Umaibo Chocolate. I'm amazed by how many umaibo flavors are there in Japan! For the Christmas-themed box, they sent a chocolate umaibo. It was airy and puffy, and its sweetness definitely hits the spot.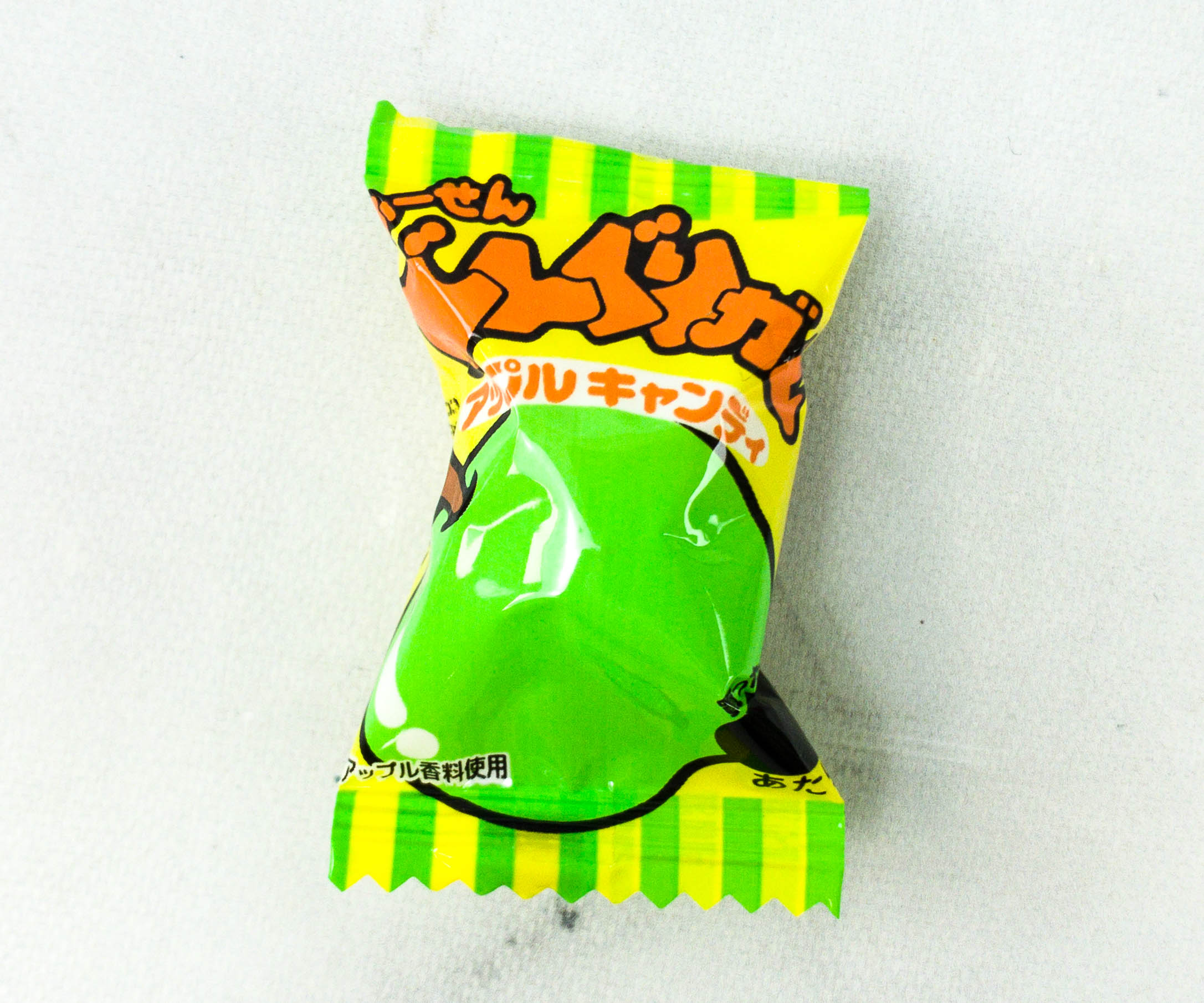 Apple Gum. It's a refreshing apple flavored gum! I can really taste the fruitiness in every chew and the sweetness is just right.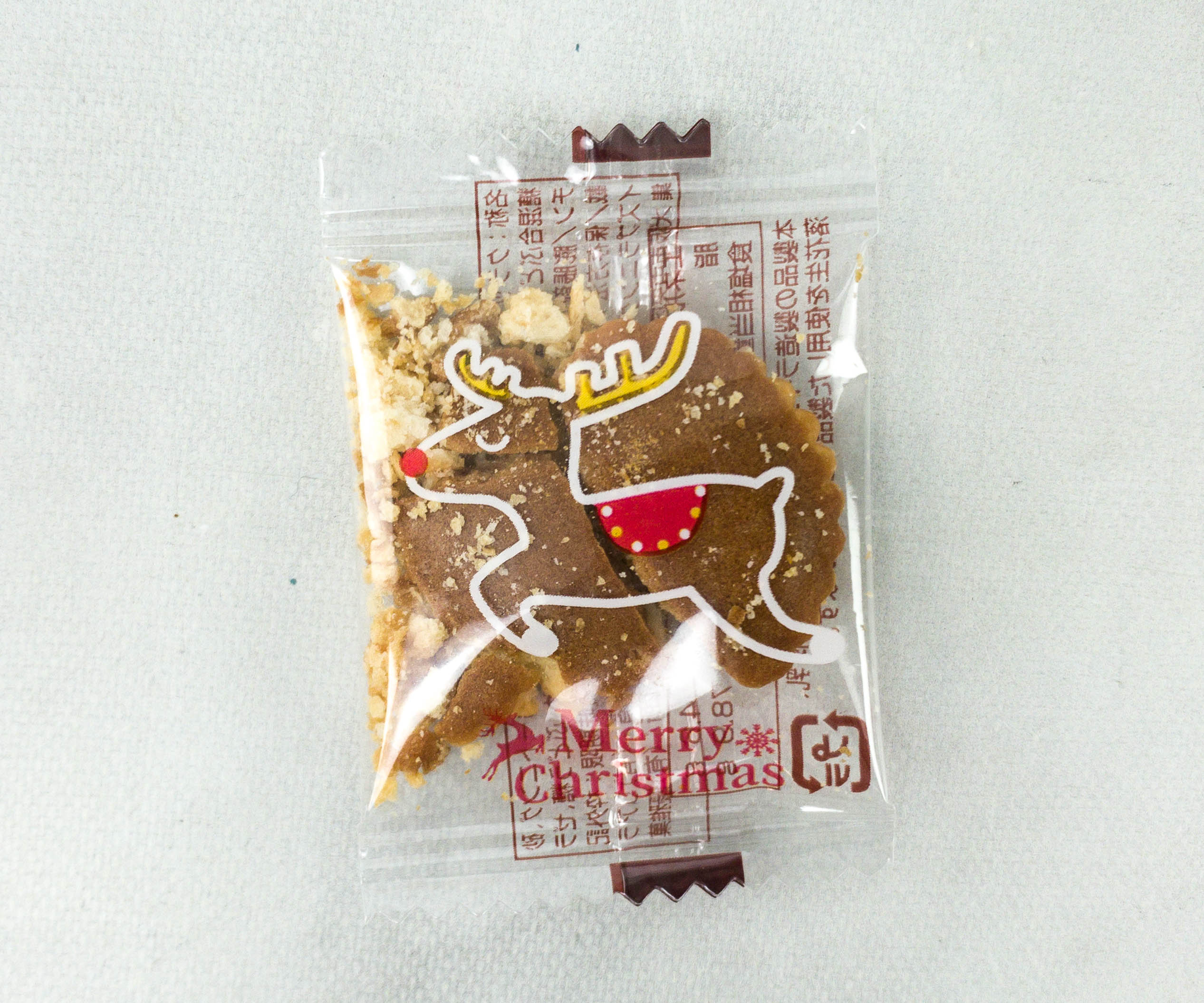 Christmas Yochi. This pastry is a great treat for Christmas. It arrived crumbled but it still tasted really good!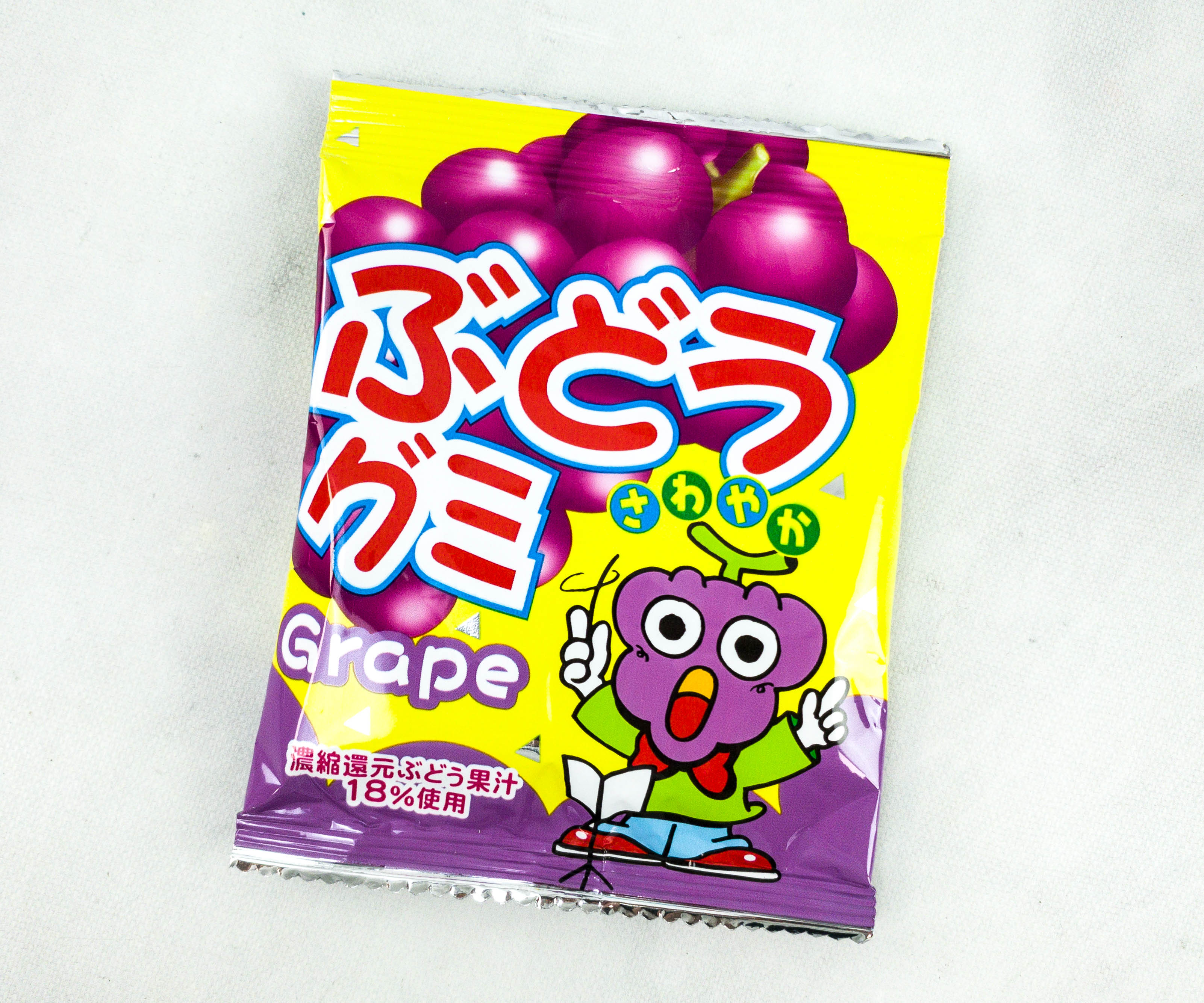 Grape Gummy. These grape-flavored gummies are bursting with a juicy flavor. Also, they come in a small pack that's easy to bring anywhere for a quick treat!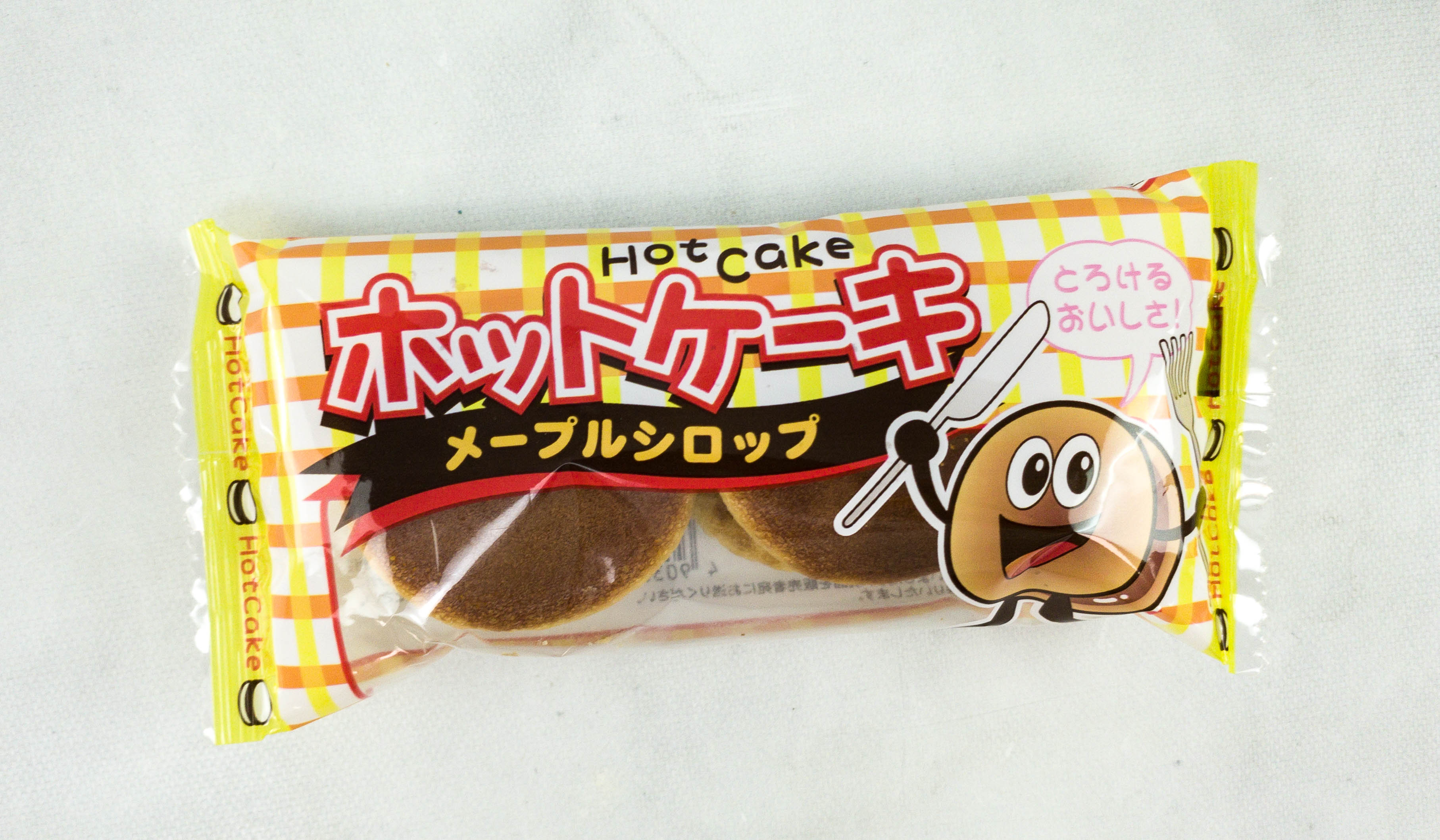 Maple Hot Cake. Pancakes have always been everybody's favorite breakfast. I can now enjoy them anytime and anywhere with this pack. No need to add syrup because the maple flavor is already infused in the filling!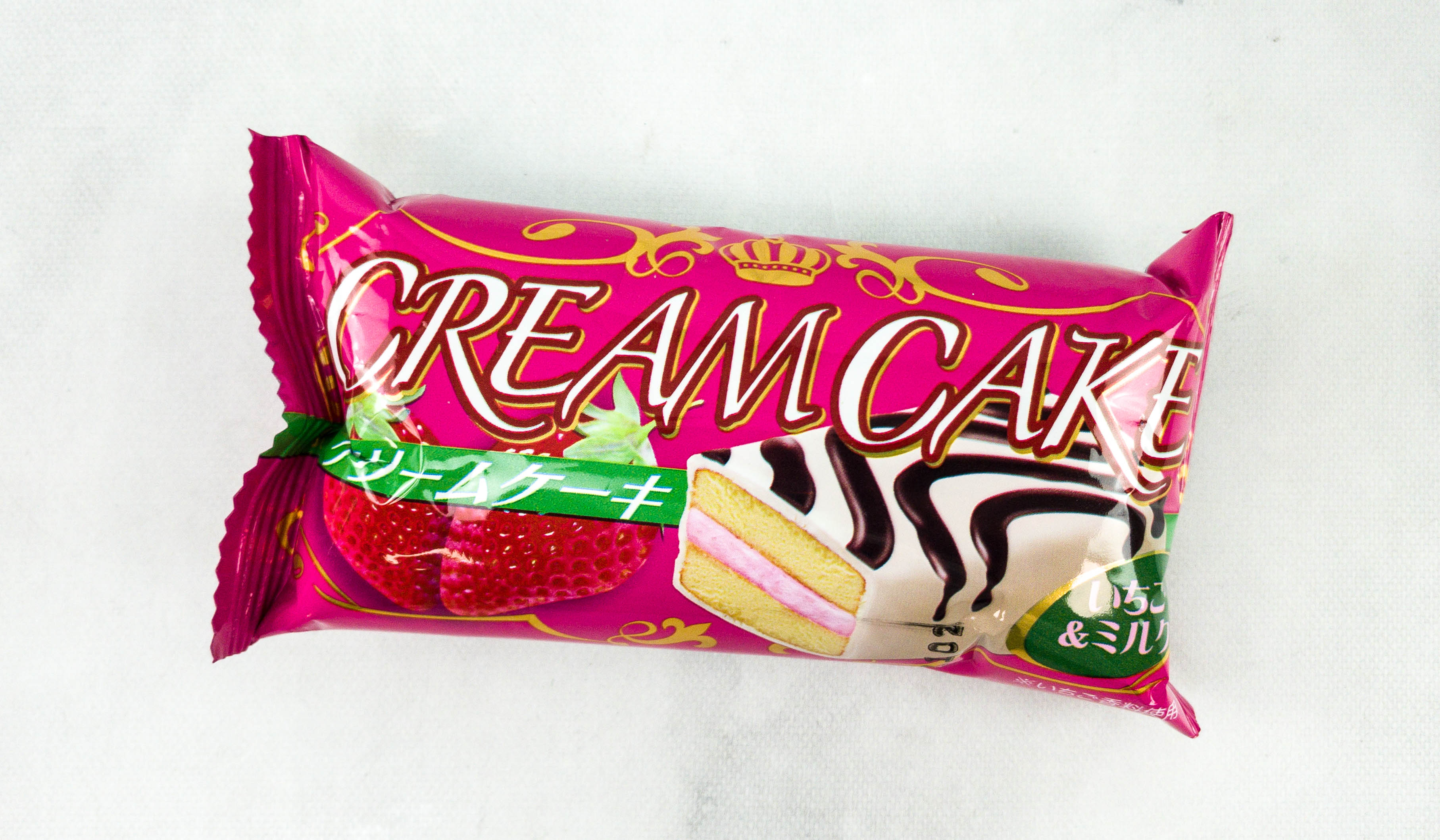 Strawberry & Milk Cream Cake. I like this soft and moist cake! It's so good, it melts in my mouth! It has a milk cream coating and a delicious strawberry filling to complete its scrumptious blend of flavors.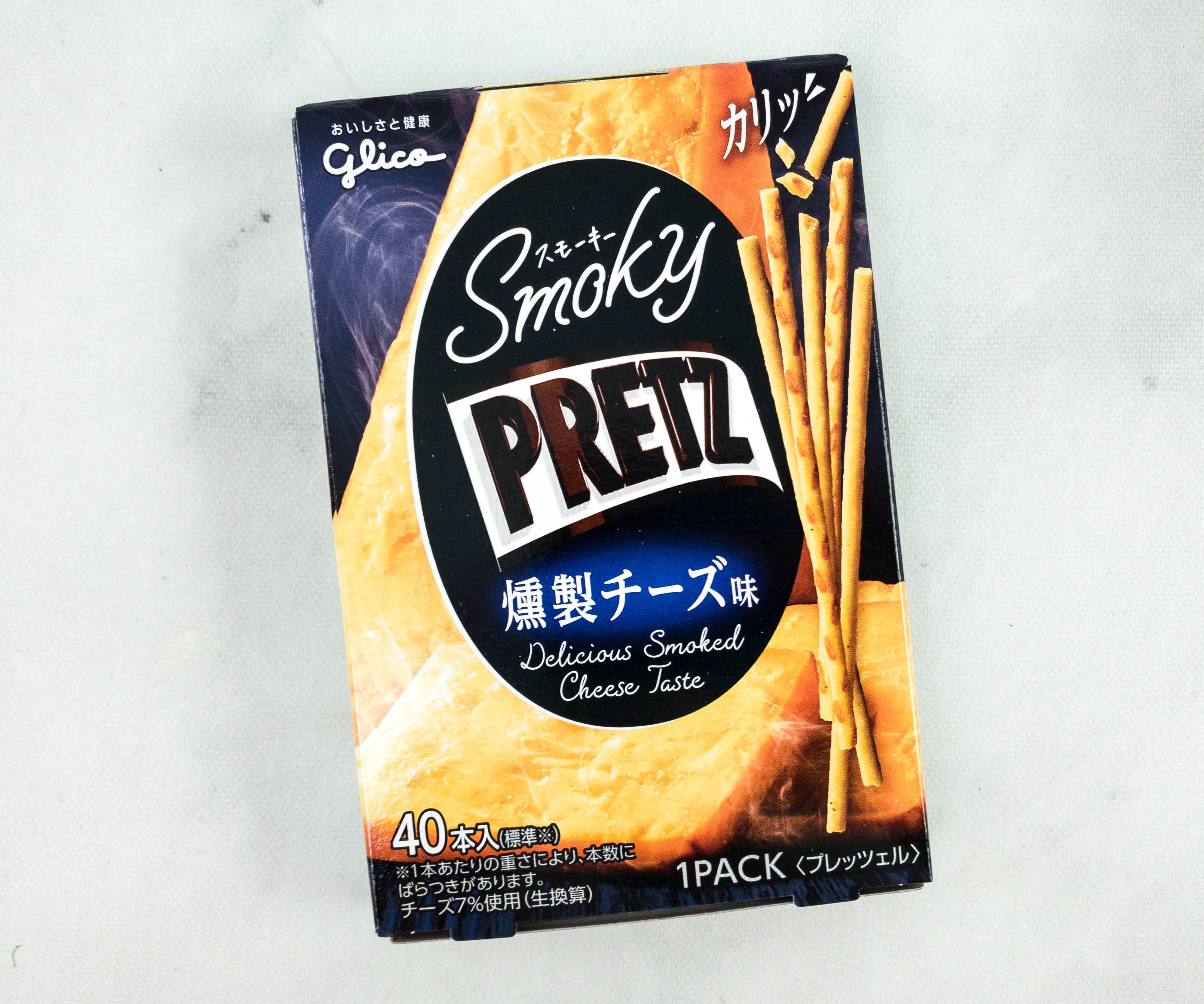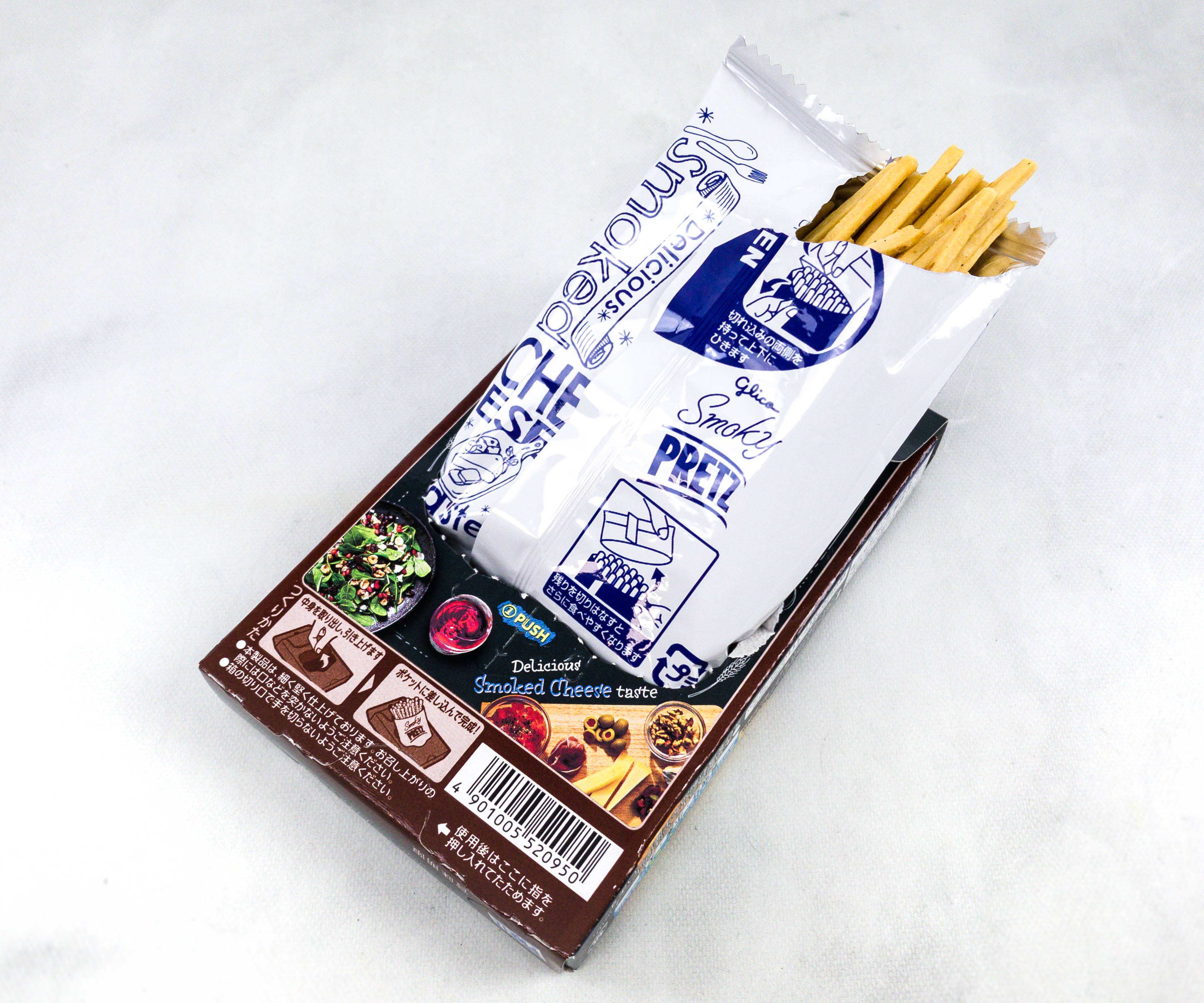 Smoky Pretz Smoked Cheese Flavor. Pretz are cookie sticks that are similar to Pocky except that they don't have a coating. The sticks came in a well-sealed box to maintain their freshness. They were smoked cheese flavored and I think it was love at first bite because it was savory and a bit toasty as well!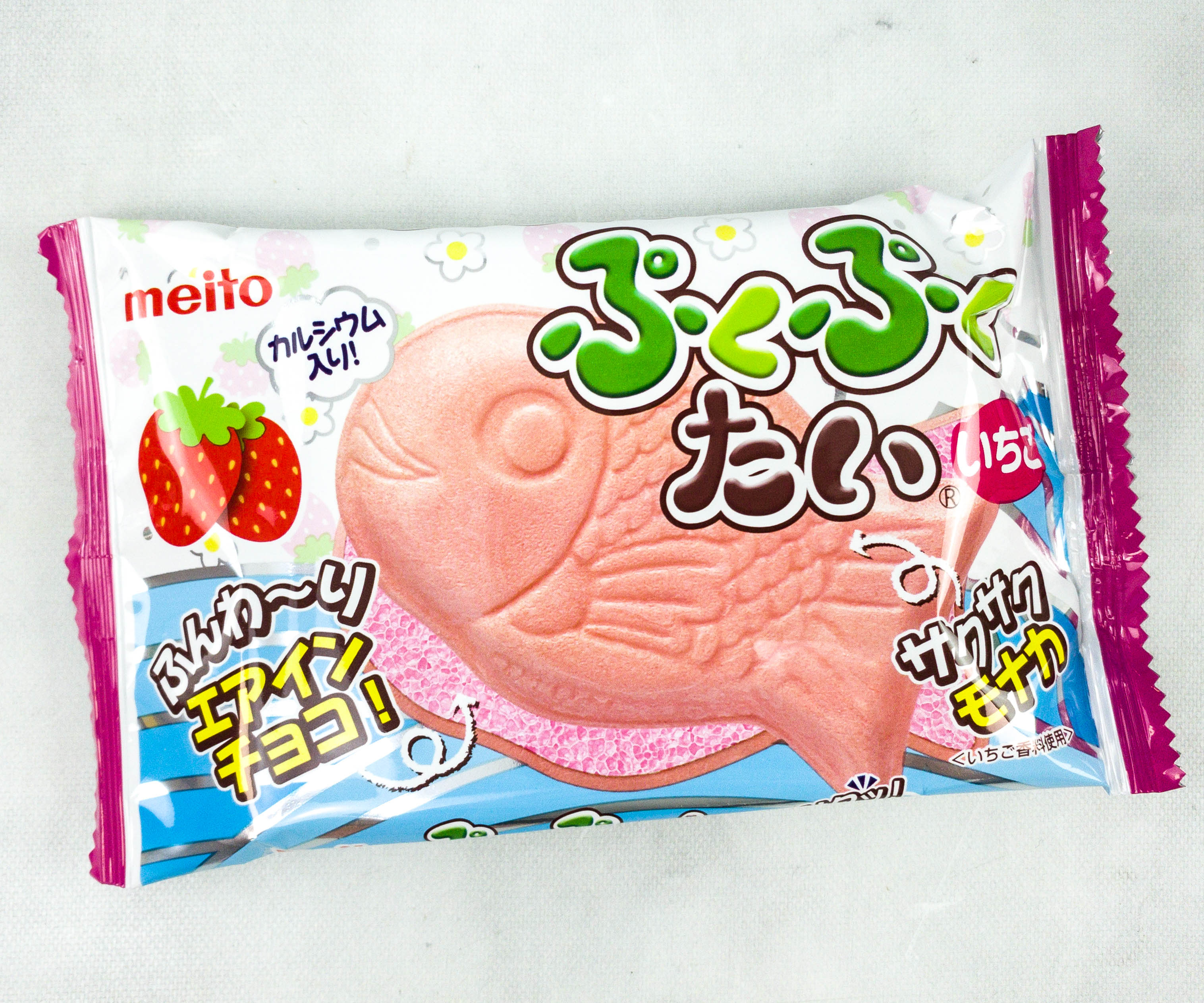 Pukupukutai Ichigo. This fish-shaped wafer snack is starting to become one of my family's favorites. It's also filled with airy strawberry chocolate and the shape just makes it more fun to eat!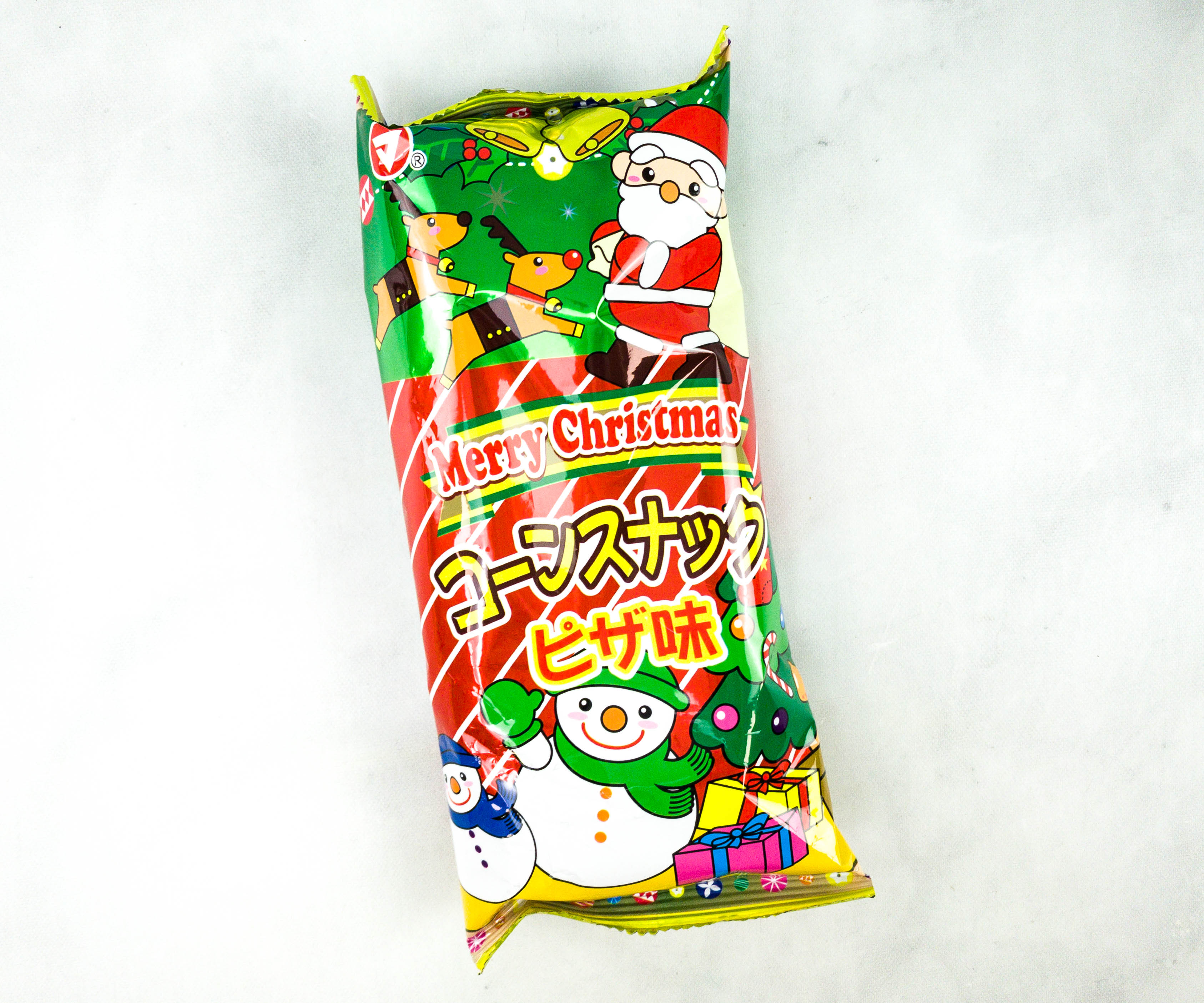 Christmas Pizza Corn Snack. These crunchy bites have a nice pizza flavor on them. It's savory and flavorful too! This is a perfect quick snack while reading or watching a movie.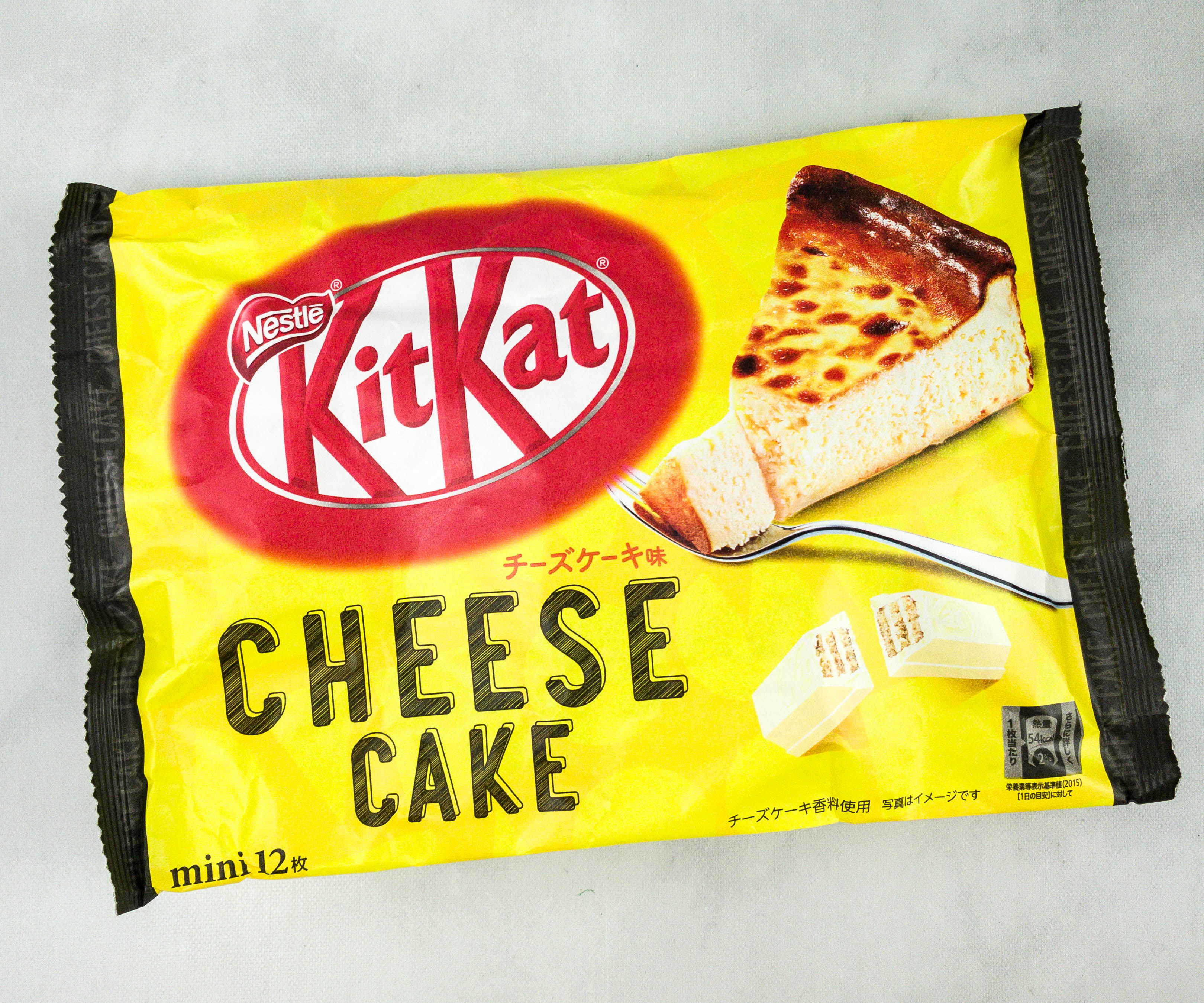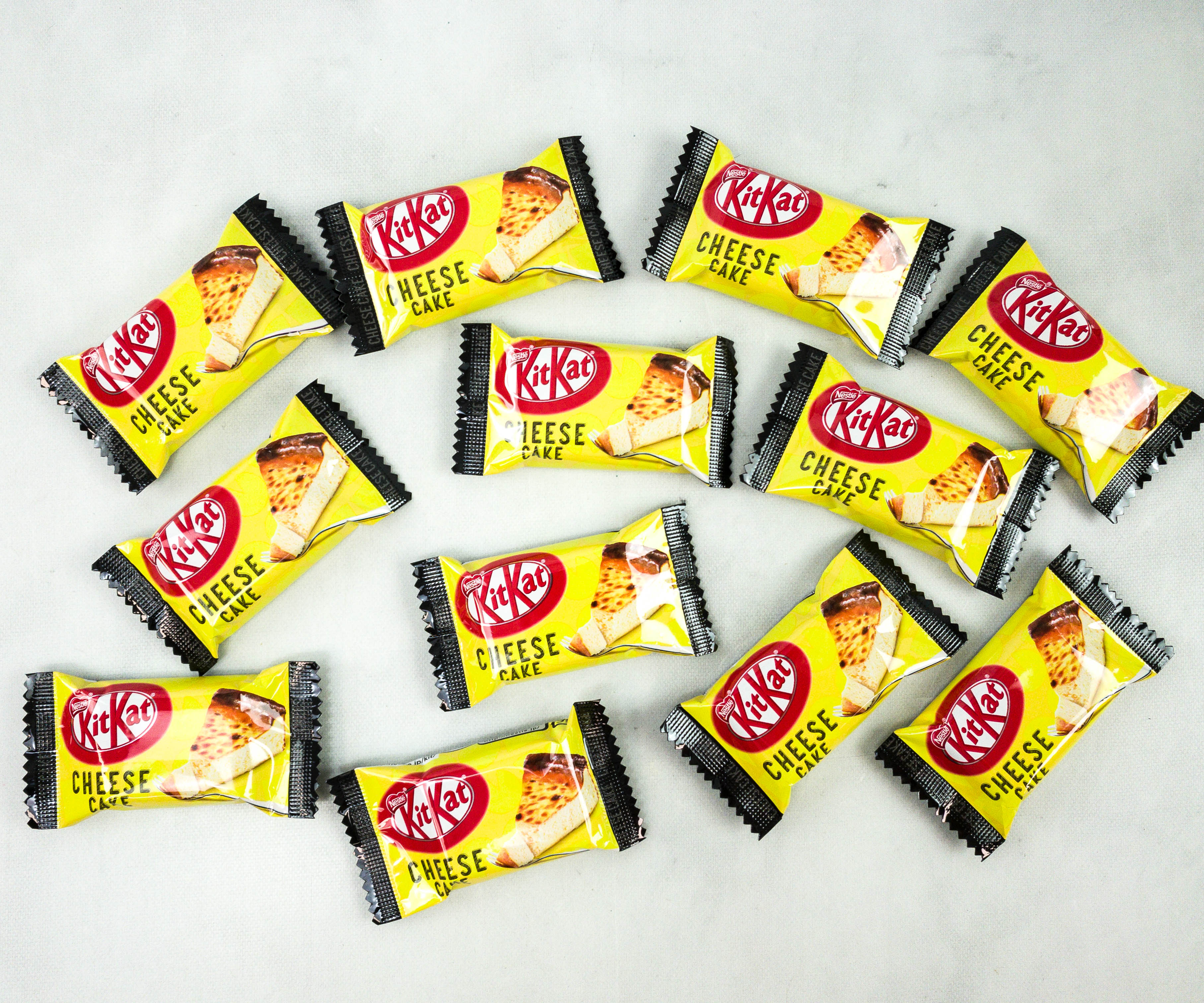 KitKat Cheesecake. My premium box has a pack of KitKat Cheese Cake variant! I have tried this before and it's nice that I received it as a bonus this month. I really like this flavor, the cheesy and creamy coating and their signature wafer is a match made in KitKat heaven!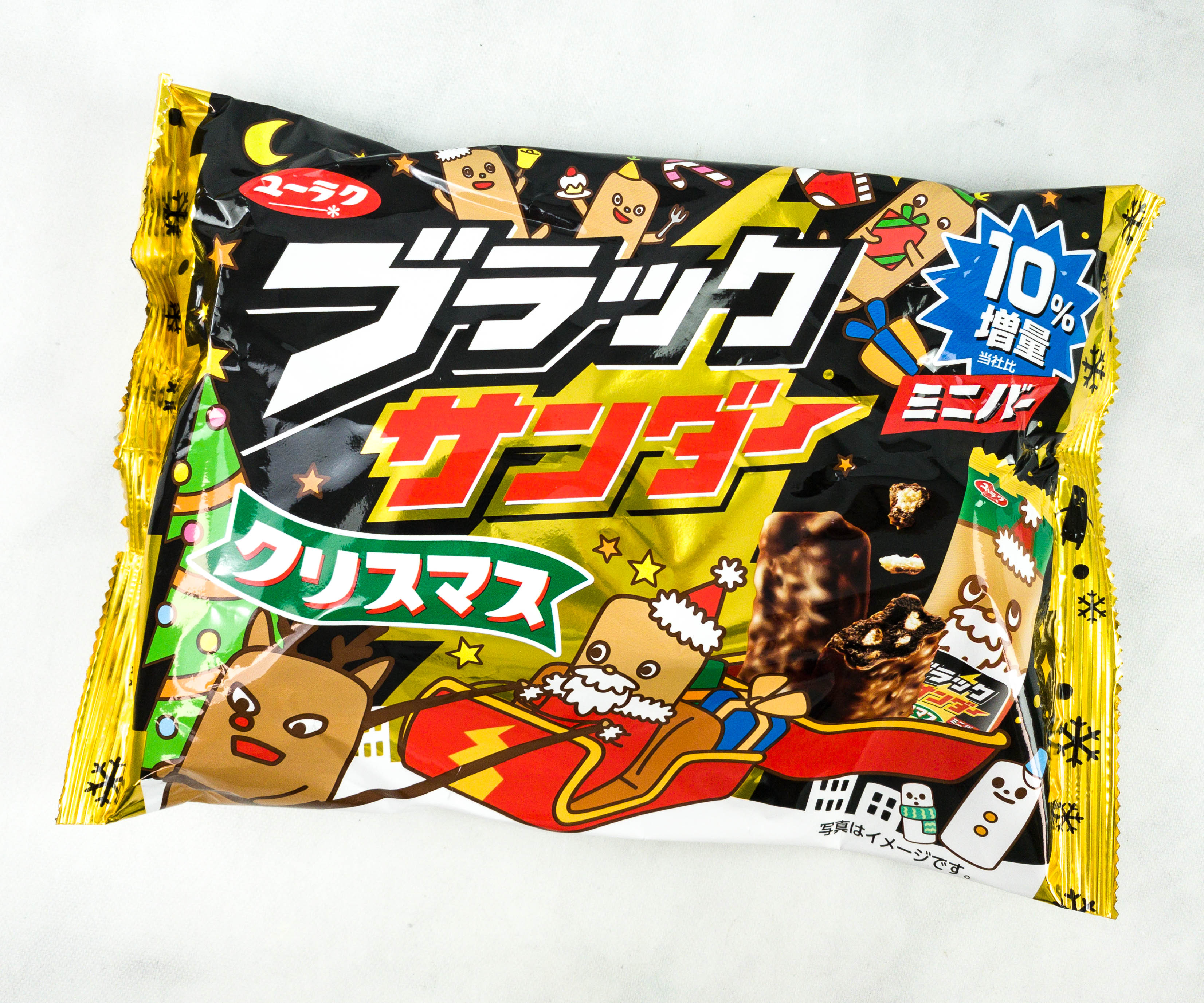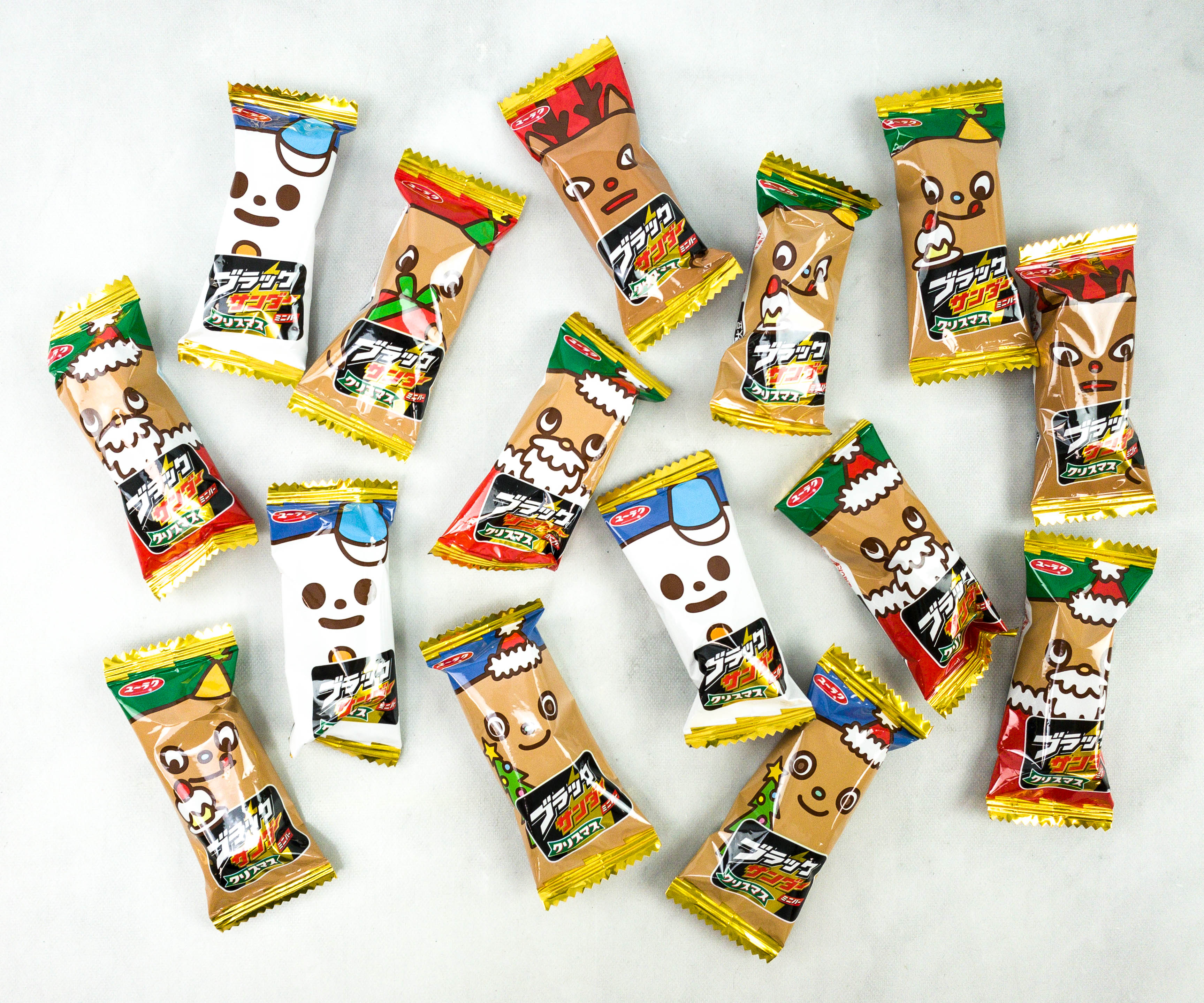 Black Thunder Mini Bar Christmas. These chocolate bars are indeed a must-try! The crunchy puffs and the crispy cookie center are generously coated with milk chocolate. Each bar is individually packed and has a limited Christmas theme design on it.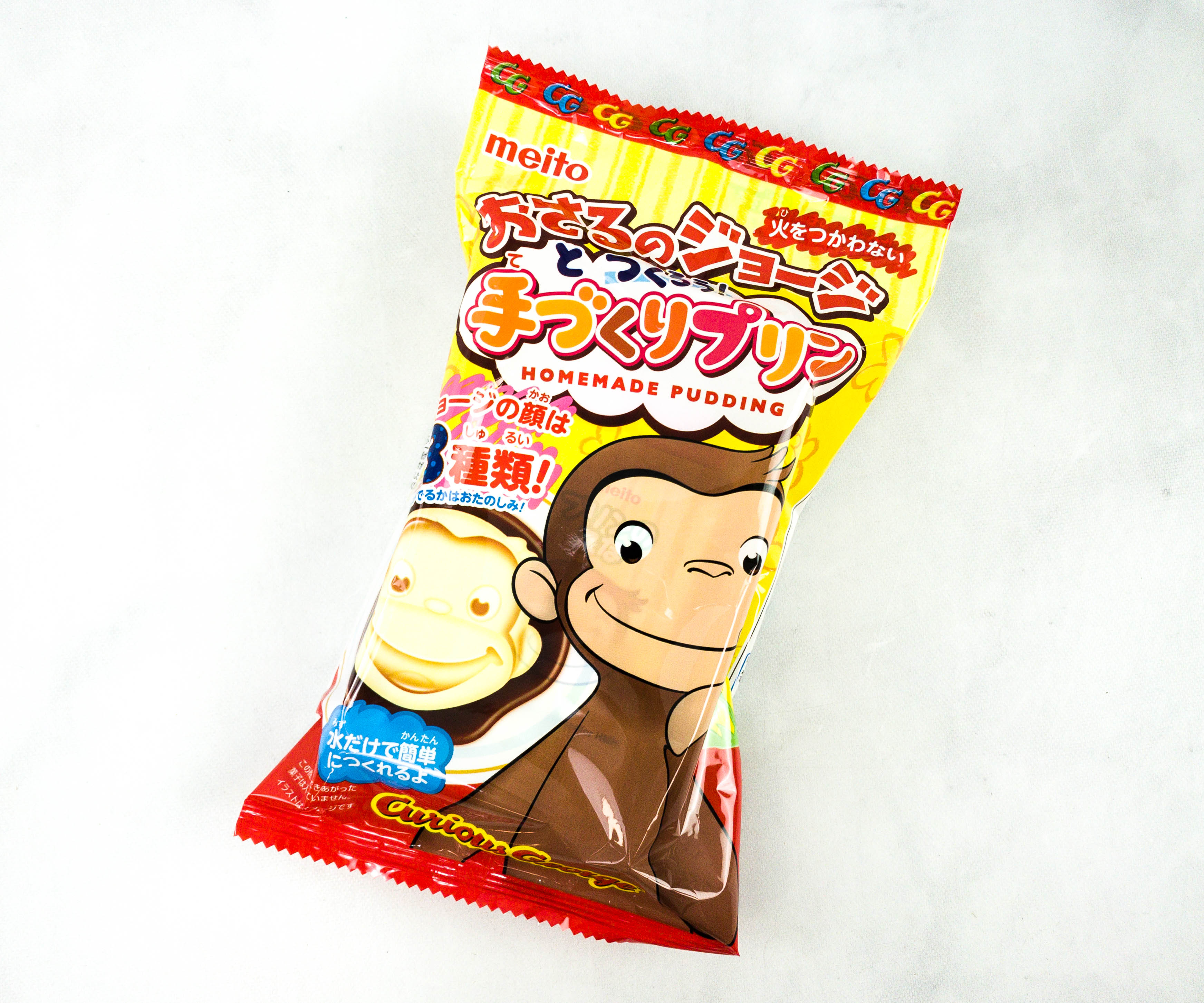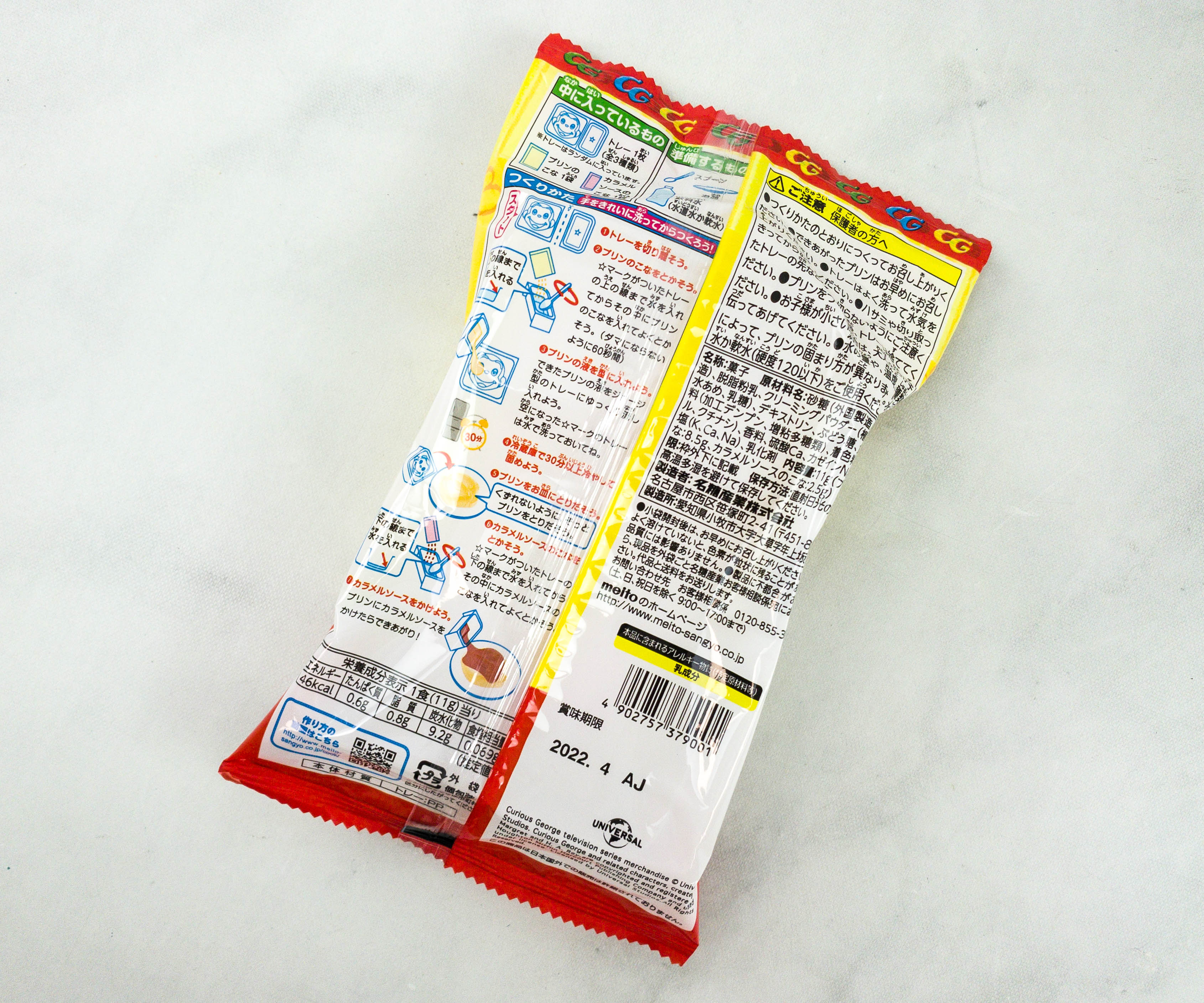 Let's Make With Curious George! Handmade Pudding. This DIY pudding kit is easy to make. You just need to add water to the packet contents and then pour it on the provided monkey-shaped mold and then wait for a while for it to settle down. The pudding also tasted sweet!
This month's Japan Crate is loaded with amazing treats! I enjoyed everything and I was also able to share some with my family. Most of the snacks are chocolatey, but there are also strawberry flavored and cheese flavored goodies which I loved. I'm also happy that my bonus item this month is a whole pack of KitKat and to be honest, it's my favorite snack in the box along with the cheese flavored Pretz. All in all, this is a great subscription for people who love Japanese snacks. They send all the best and most delicious snacks that the country has to offer, including the snacks that are hard to find in US stores!
What item do you want to try from this month's Japan Crate? Let me know in the comments!