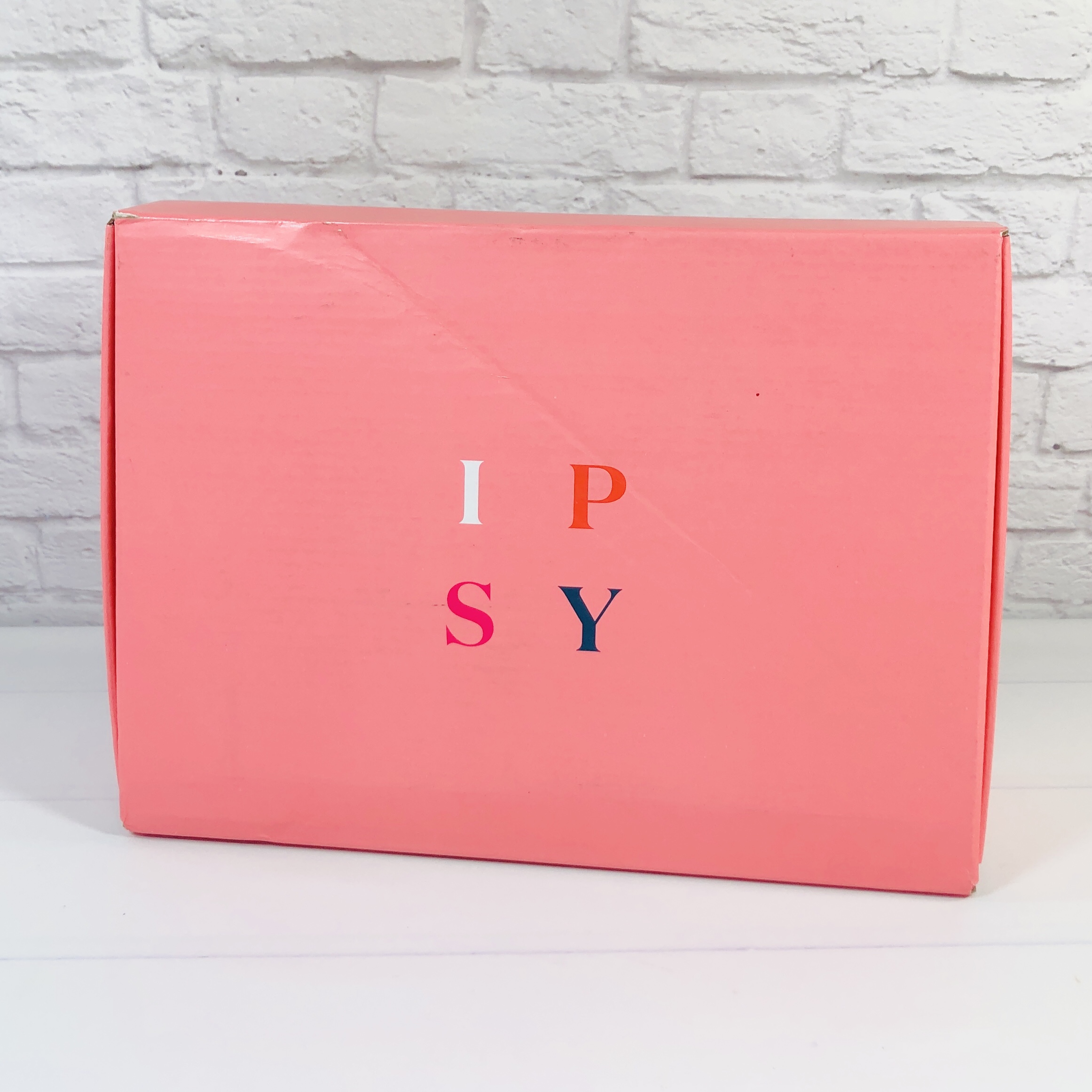 Ipsy Glam Bag Ultimate is a super-upgraded version of Ipsy's monthly glam bag! The Glam Bag Ultimate is $50 per month, and will have 12 products: 8 full-size and 4 deluxe samples, plus a makeup bag every month. Ipsy promises a value of $250+ each month.
NOTE: Ipsy is replacing Ultimate with a quarterly upgrade, Ipsy Glam Bag X. Read all about it here. December will be the last month for Glam Bag Ultimate.
See our Ipsy Glam Bag Ultimate explainer for all the details on how this subscription works!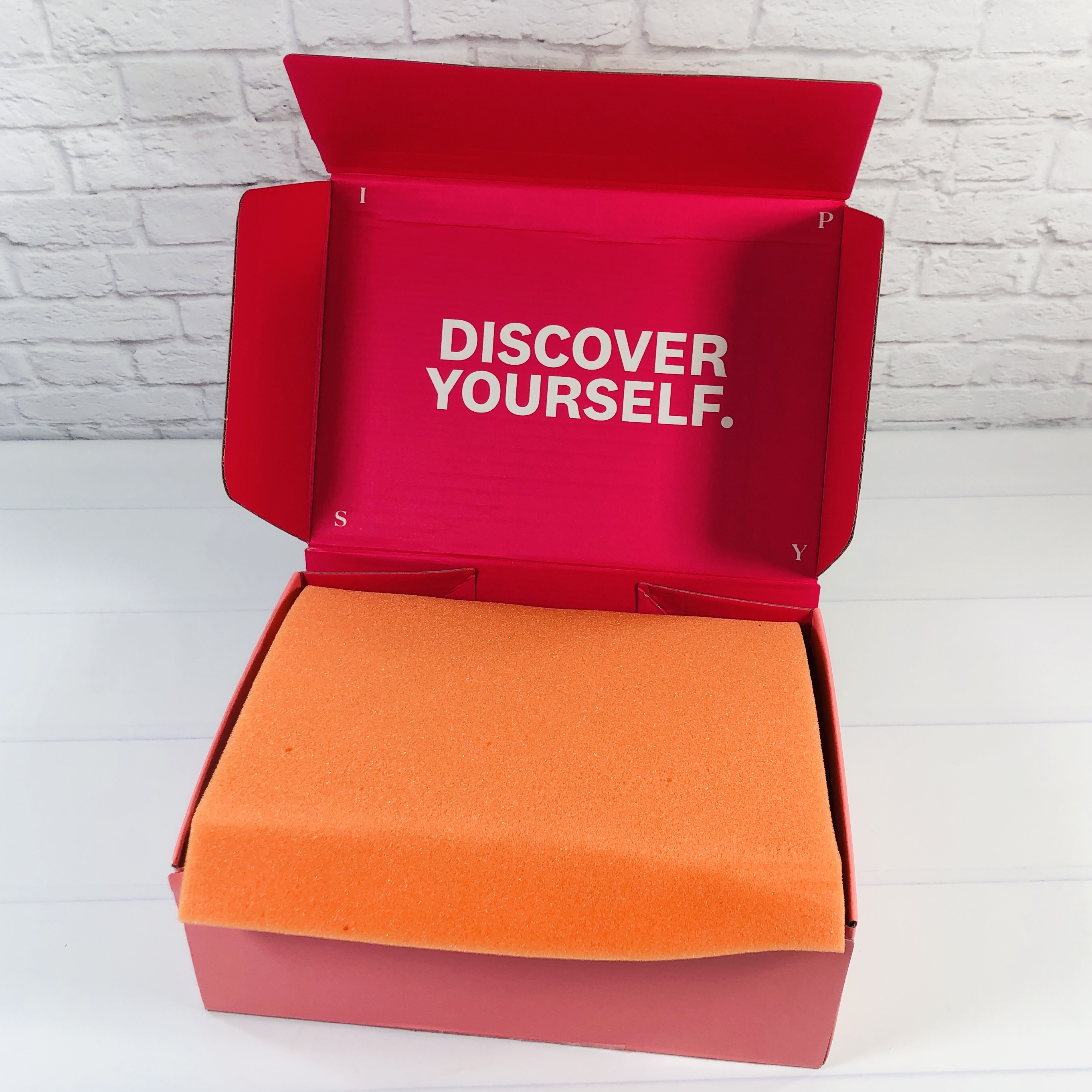 My items were cushioned with egg crate foam. Everything arrived in perfect condition!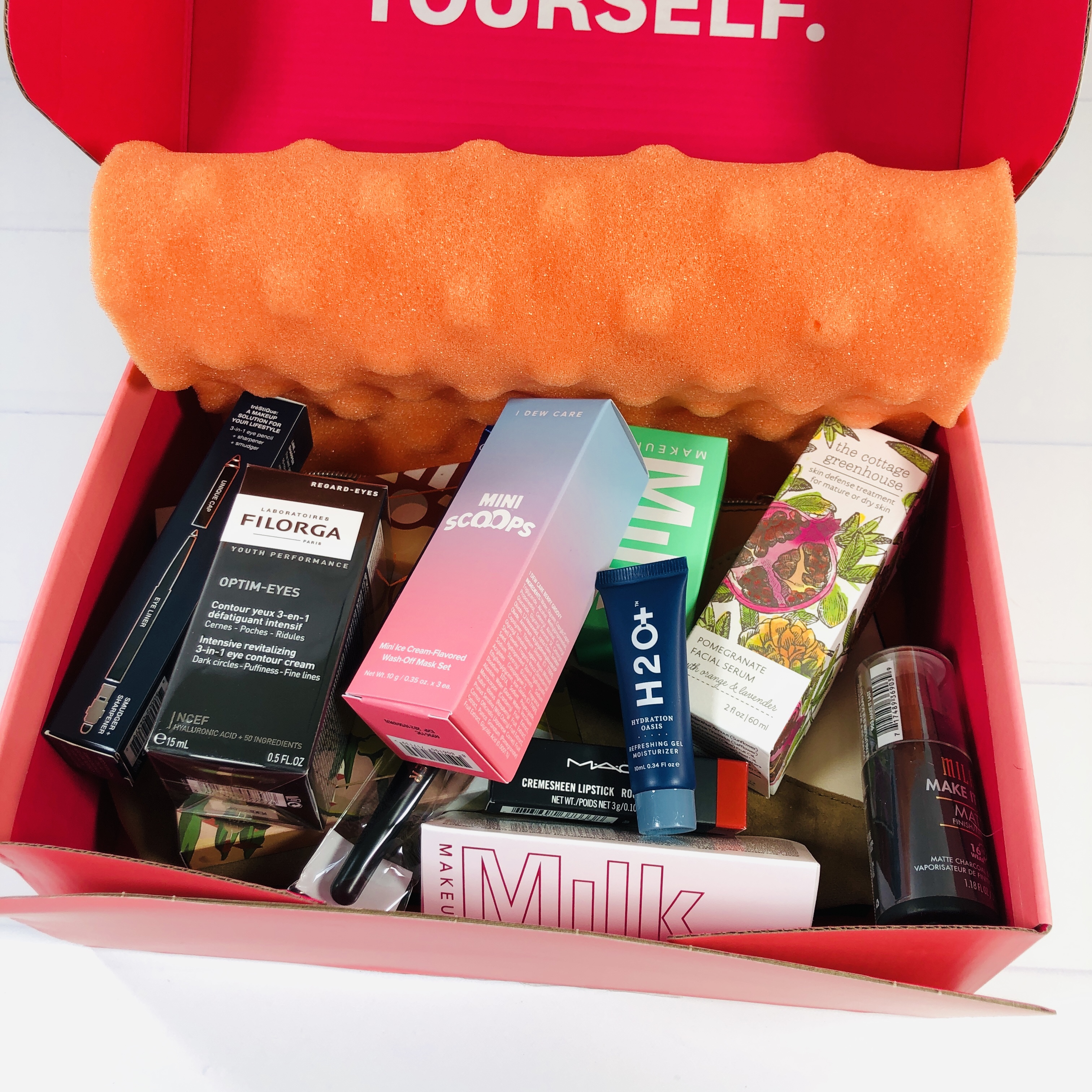 Some of the items came in their original boxes. So much stuff to play with!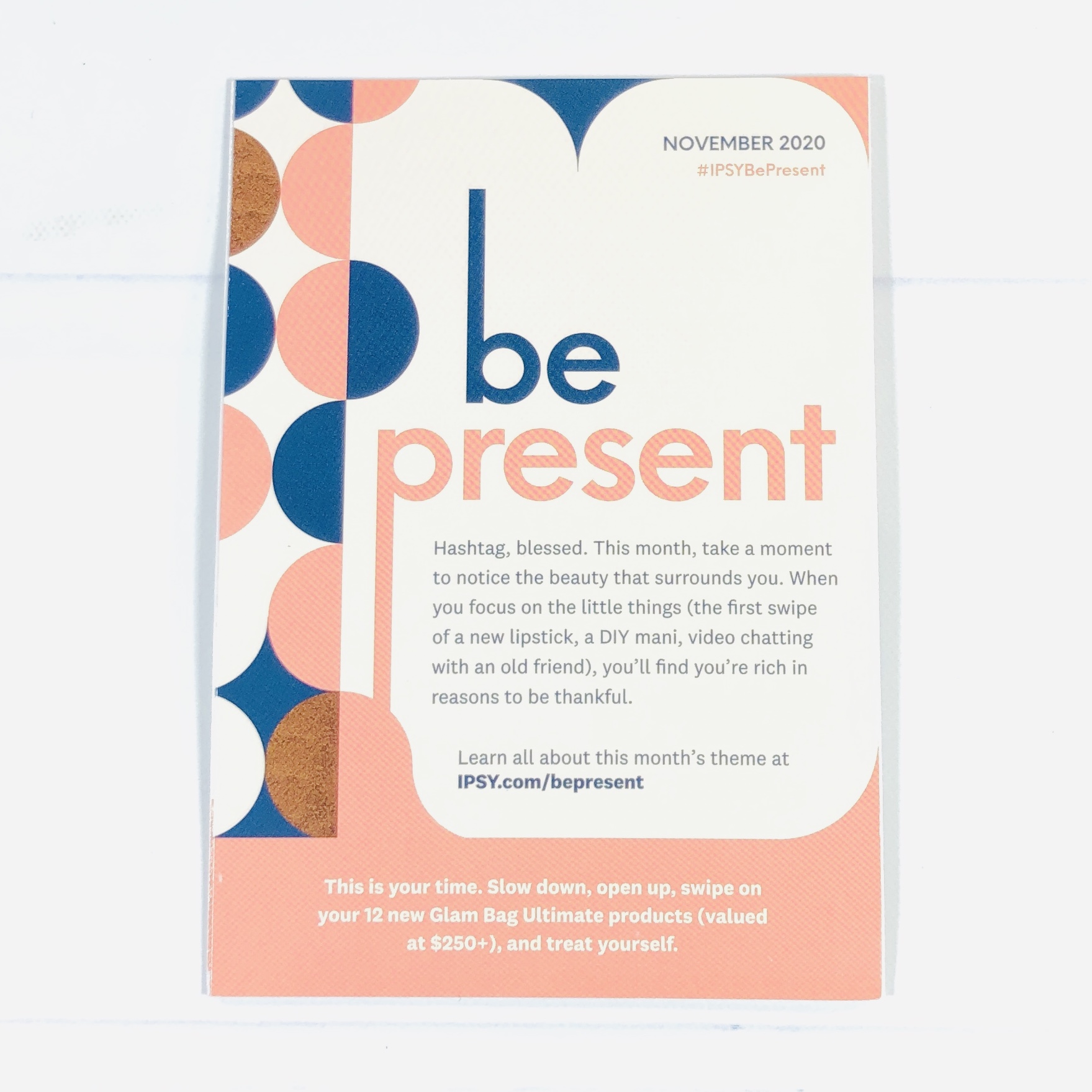 I received a brochure from Ipsy. The theme for November is Be Present!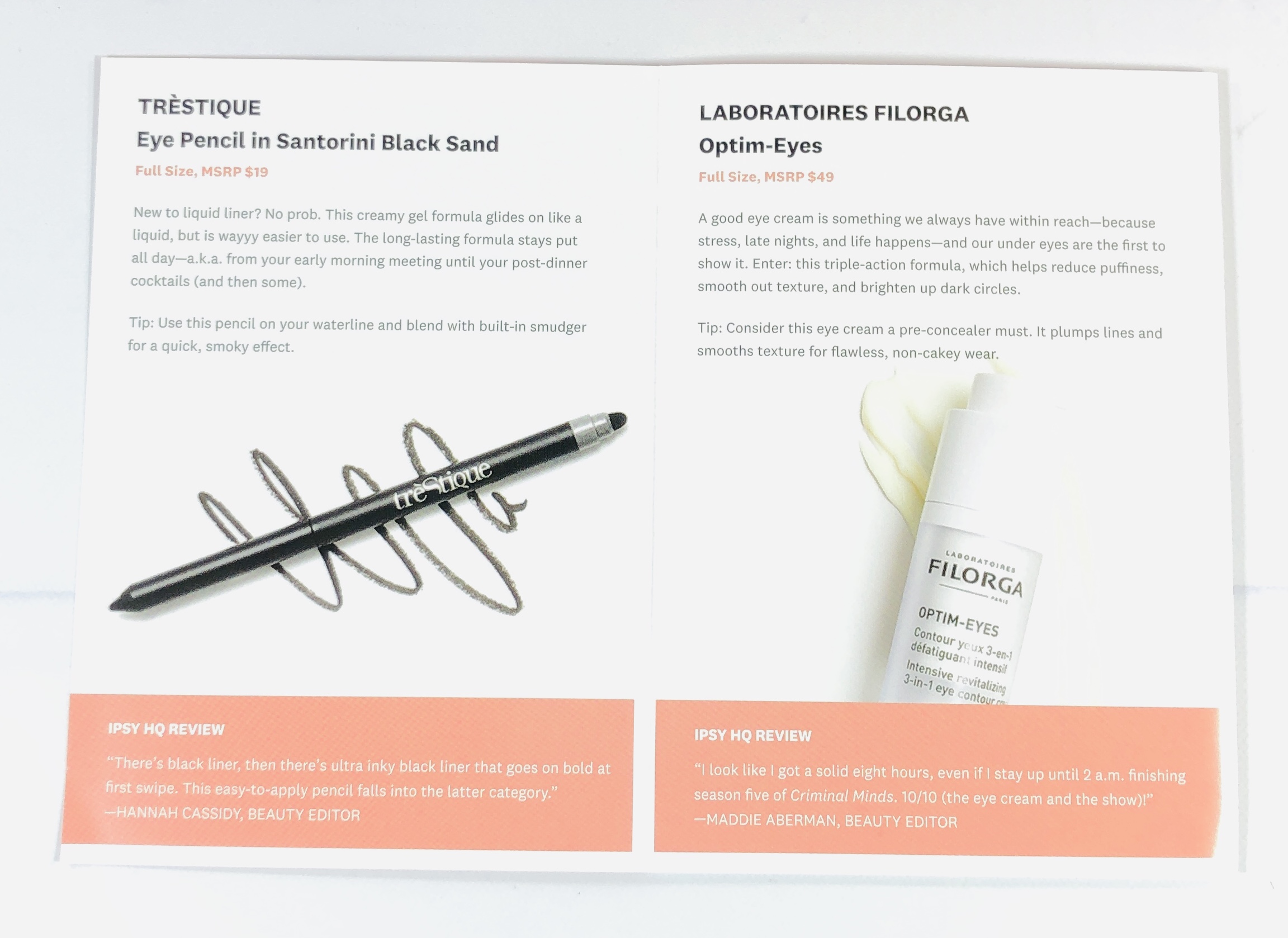 Each item was listed and if it was a full-sized product, then the MSRP was also there.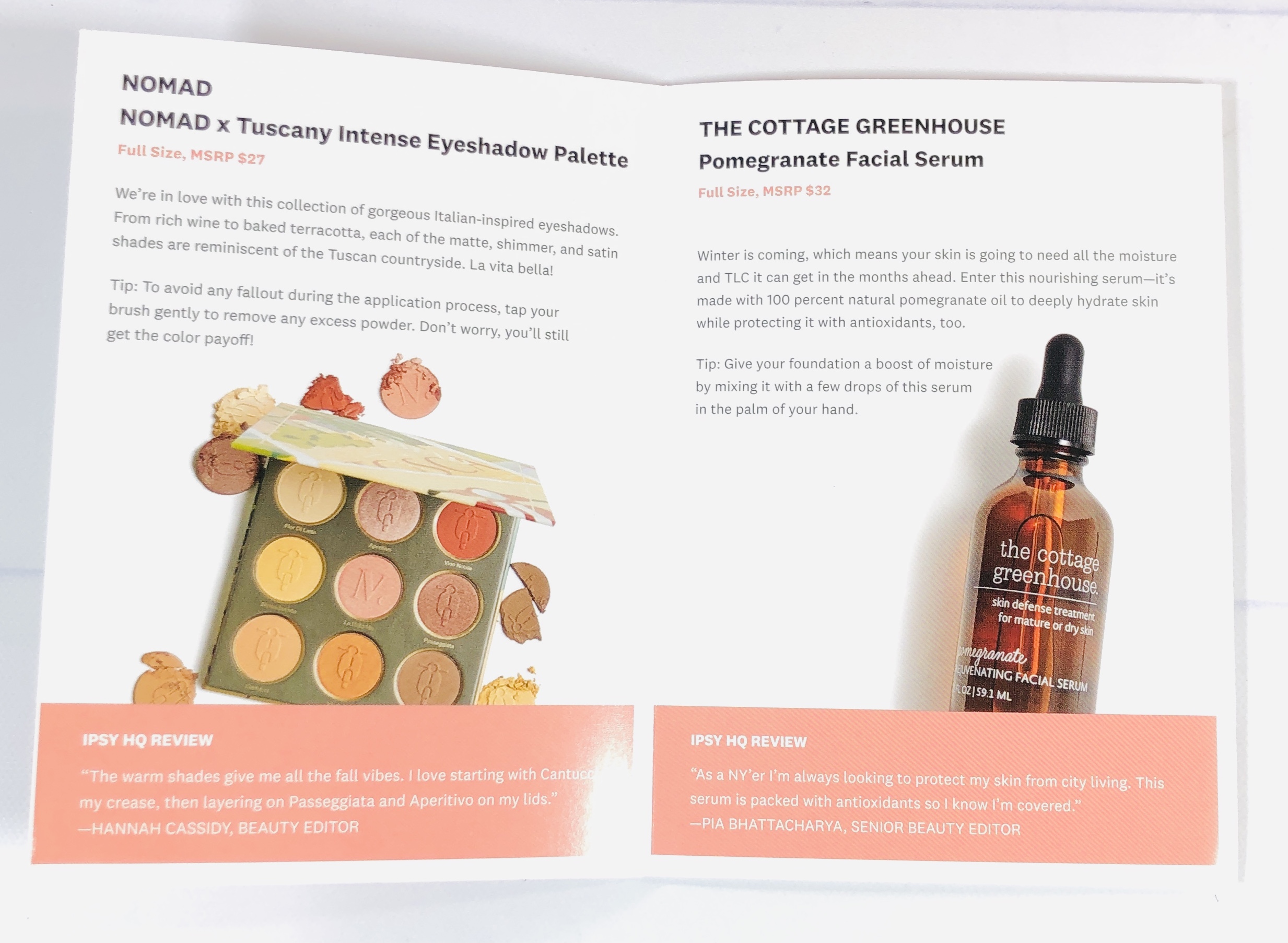 IPSY HQ gave their thoughts on the product too.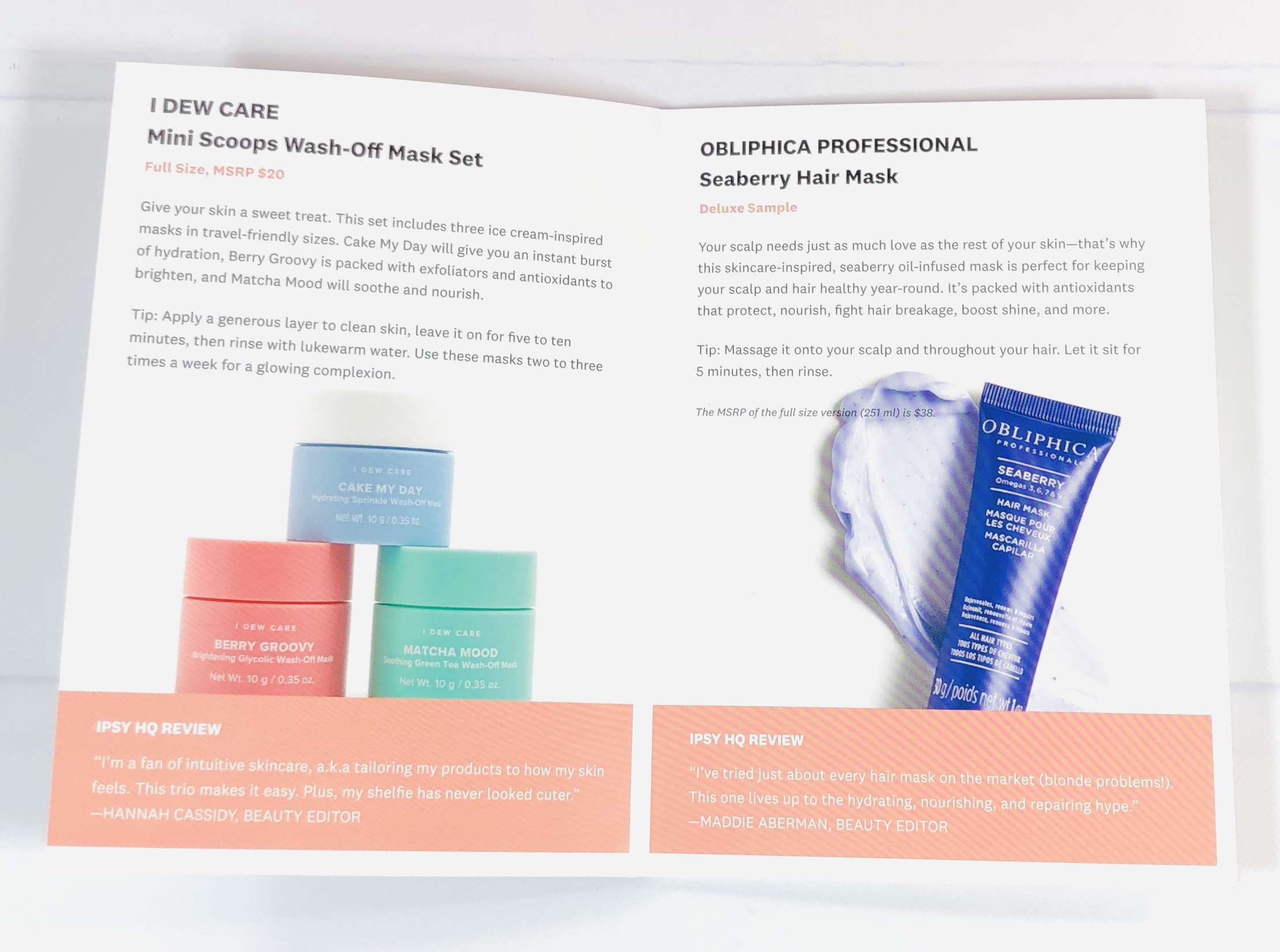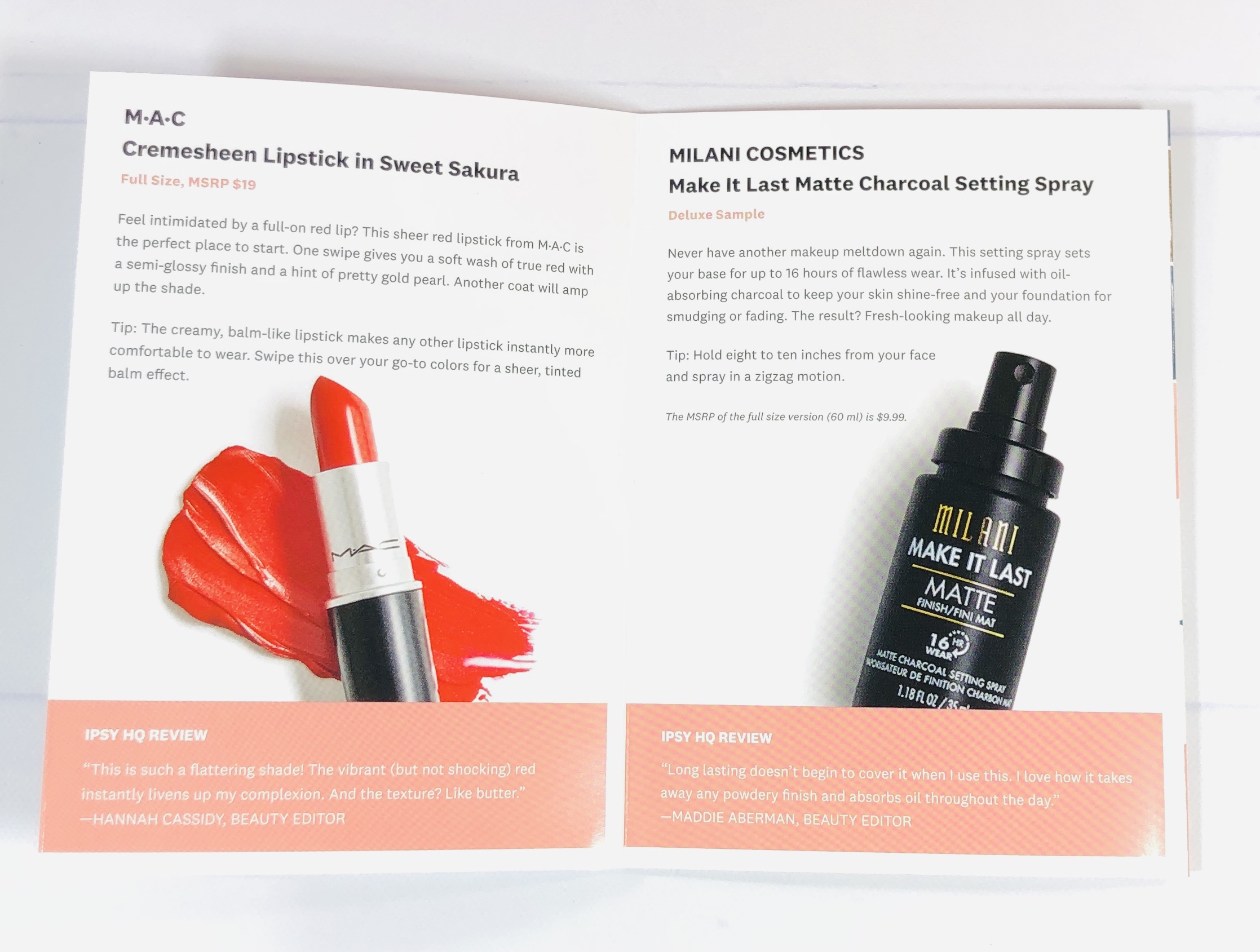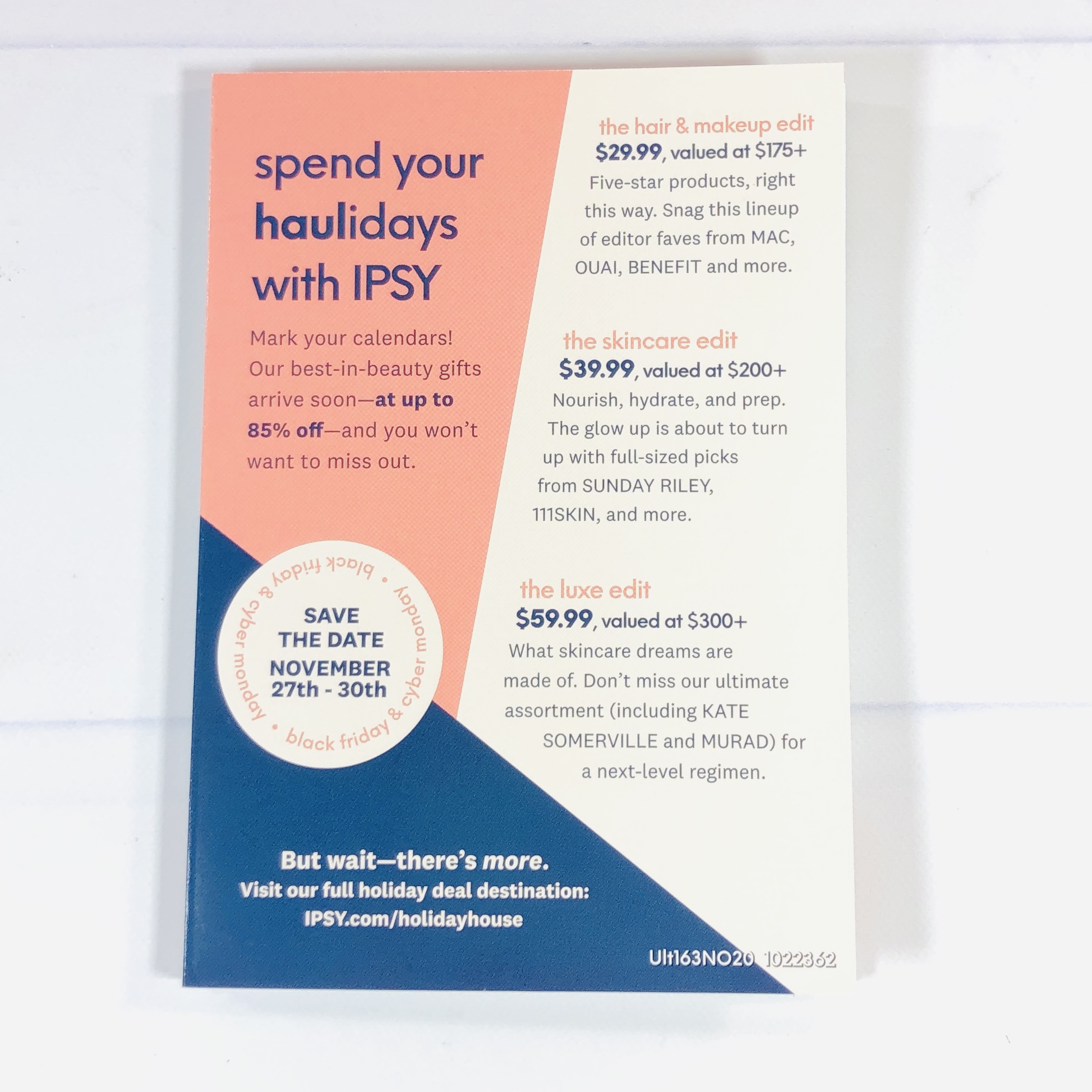 The back of the card had a few tips and reminders for subscribers.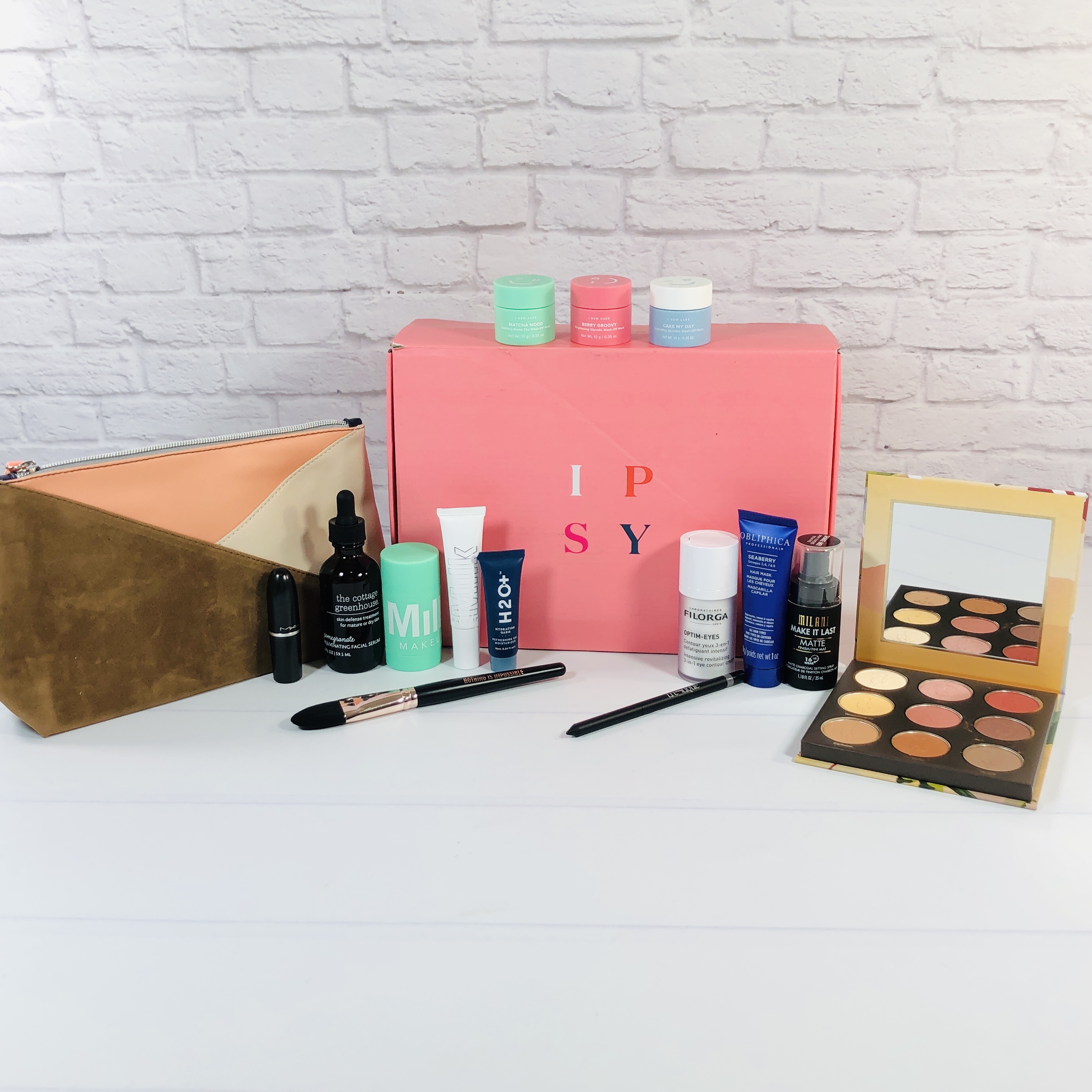 Here's everything in our box this month!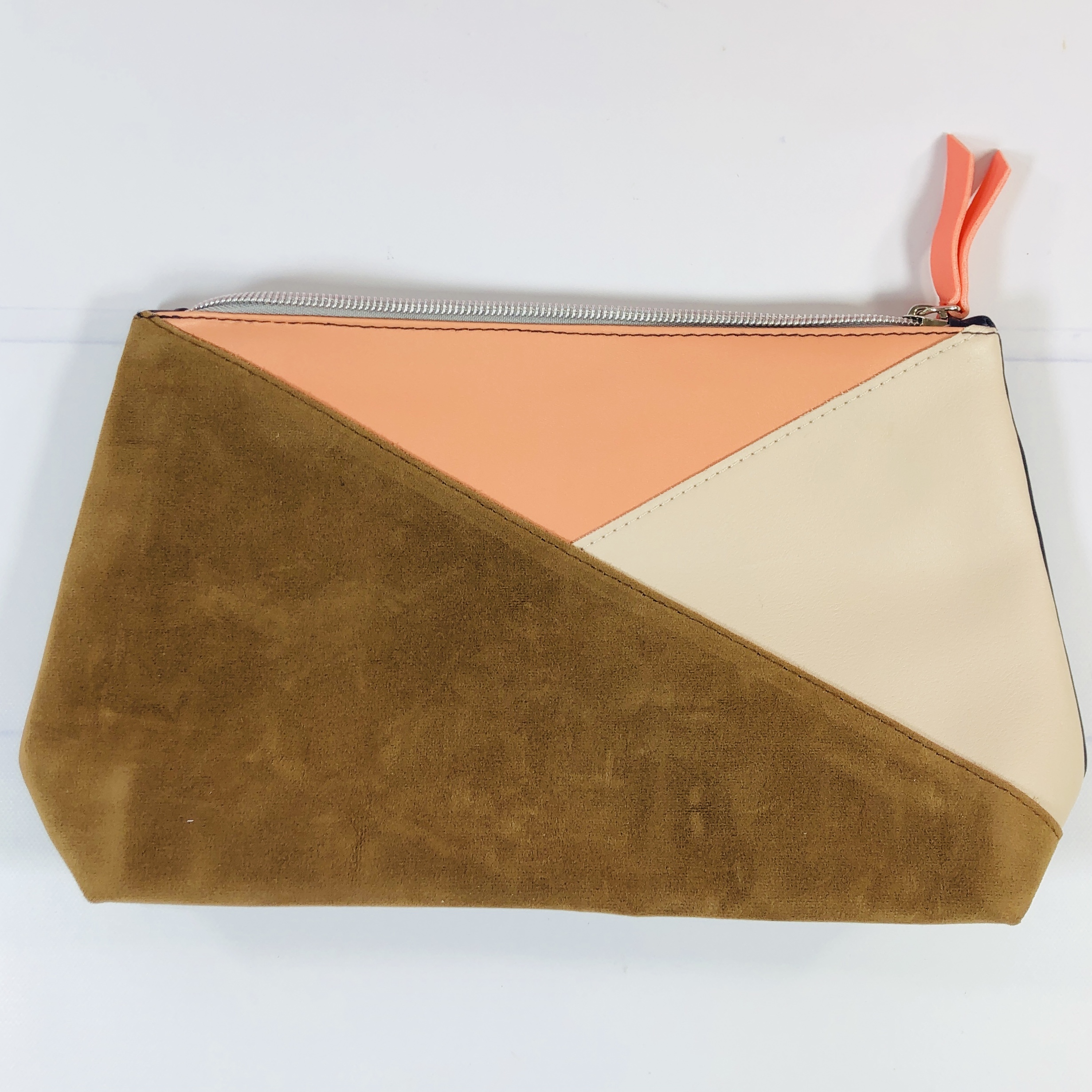 Ipsy Glam Bag I thought the Glam Bag itself this month was stylish and classic. The front bottom half had a brown suede-like material, with peach and cream pleather above and to the side.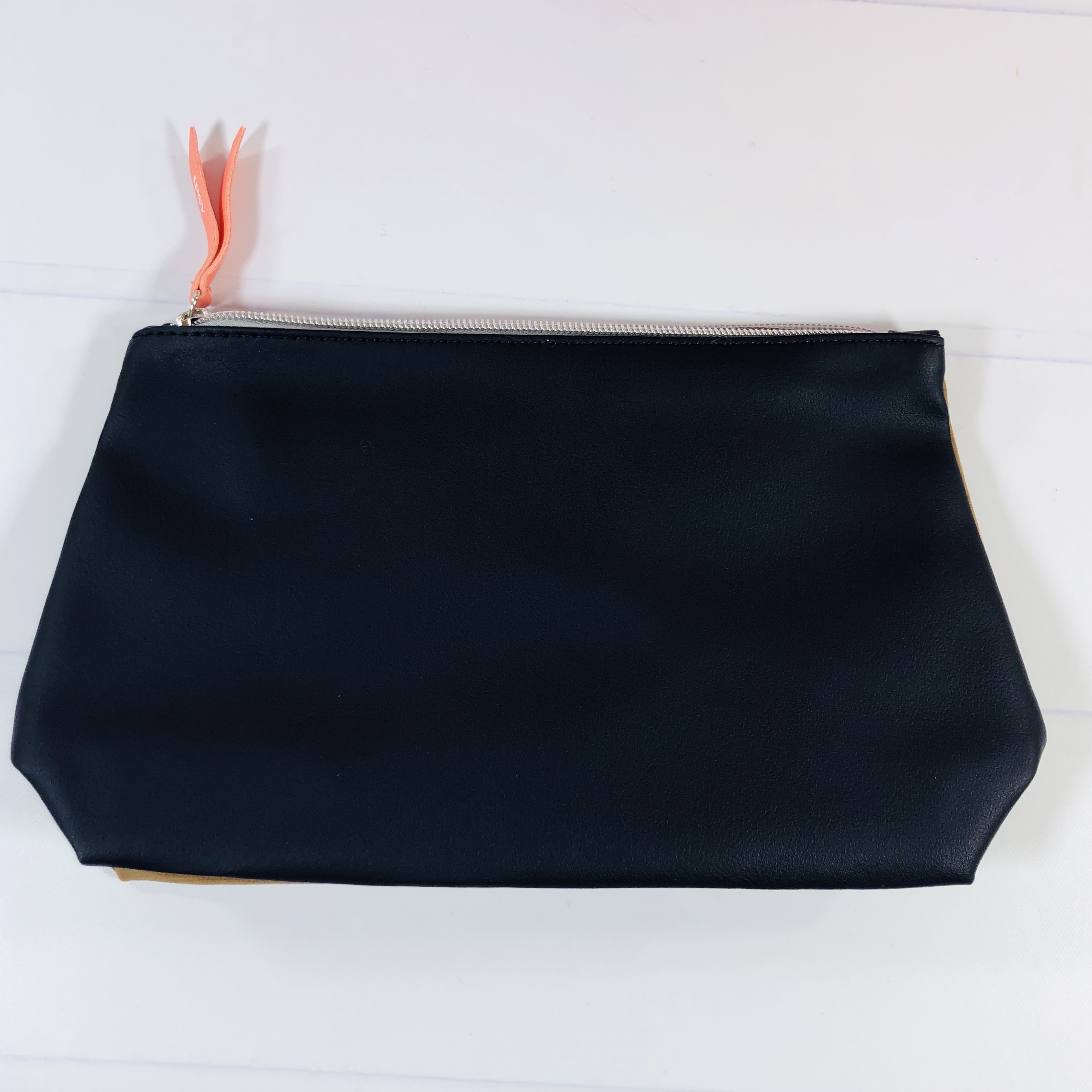 The back is navy pleather.
The zipper pull is peach and says IPSY.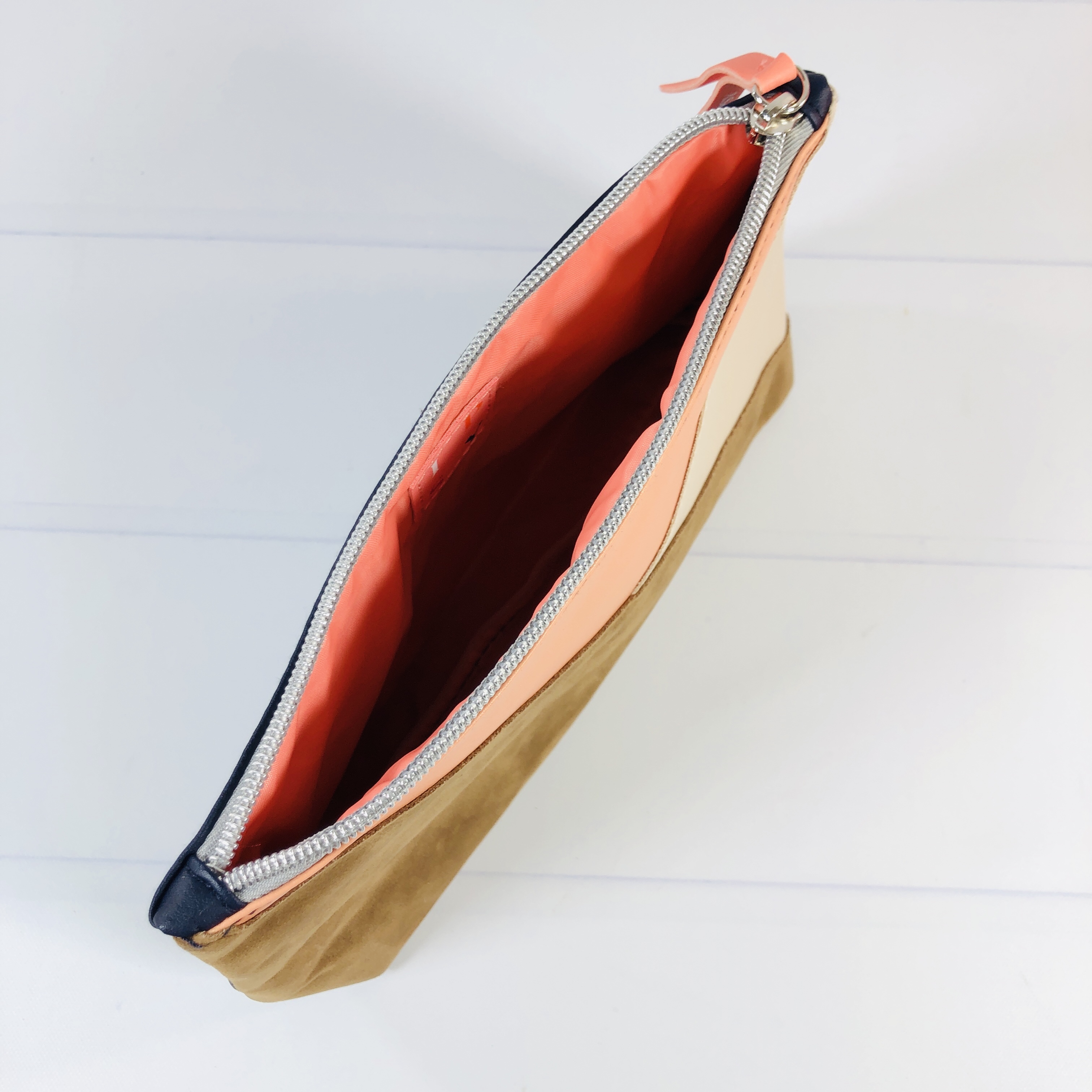 The inside is lined with peach polyester fabric and has the Ipsy tag. The bag will sit up when the bottom is pushed down and the bag is filled with products.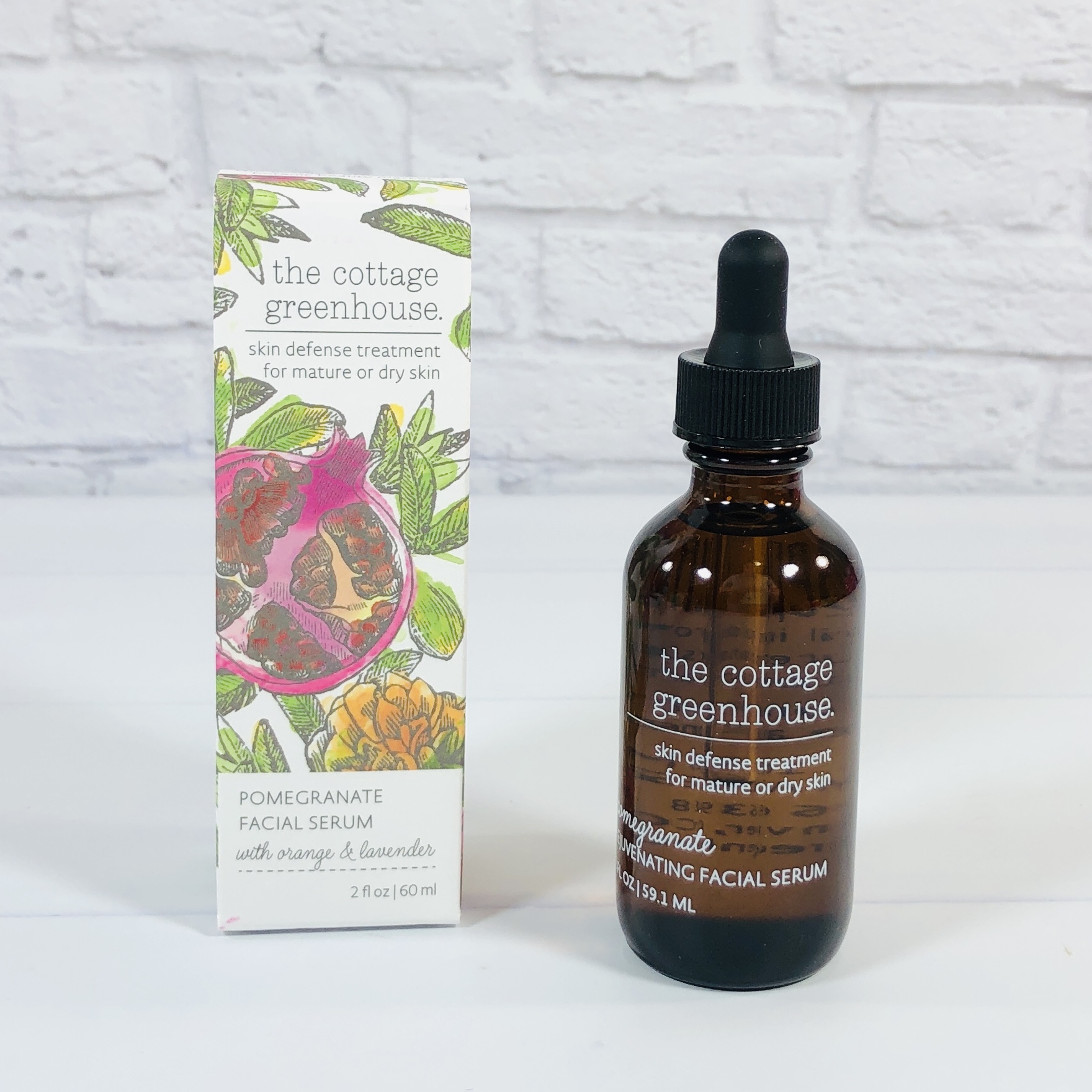 The Cottage Greenhouse Pomegranate Facial Serum (Full size, $32) A face oil meant for dry or mature skin (hey, that's me!) was something I was hoping to get when I saw the choice items.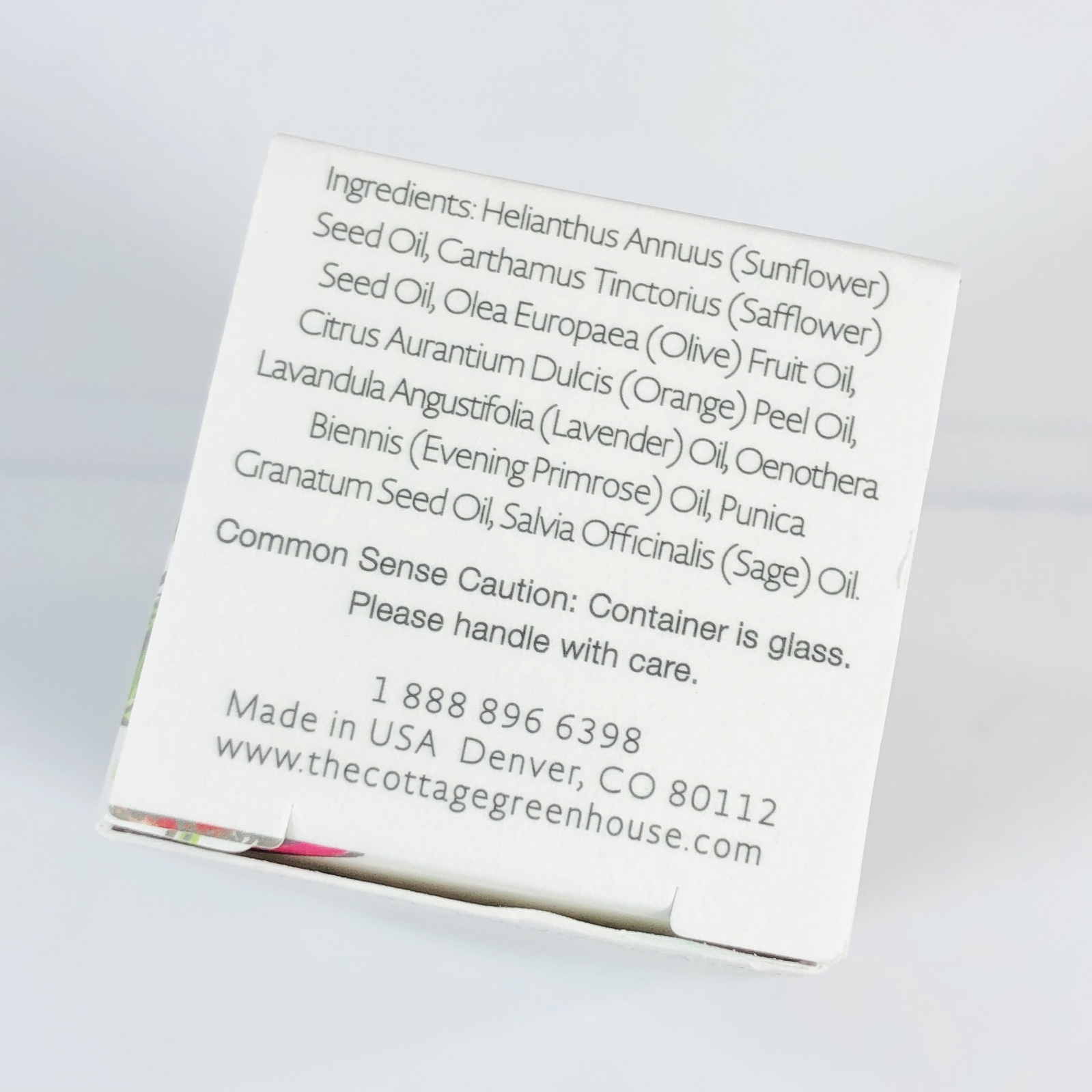 Just a few ingredients are in here and include sunflower and safflower seed oils and a few essential oils.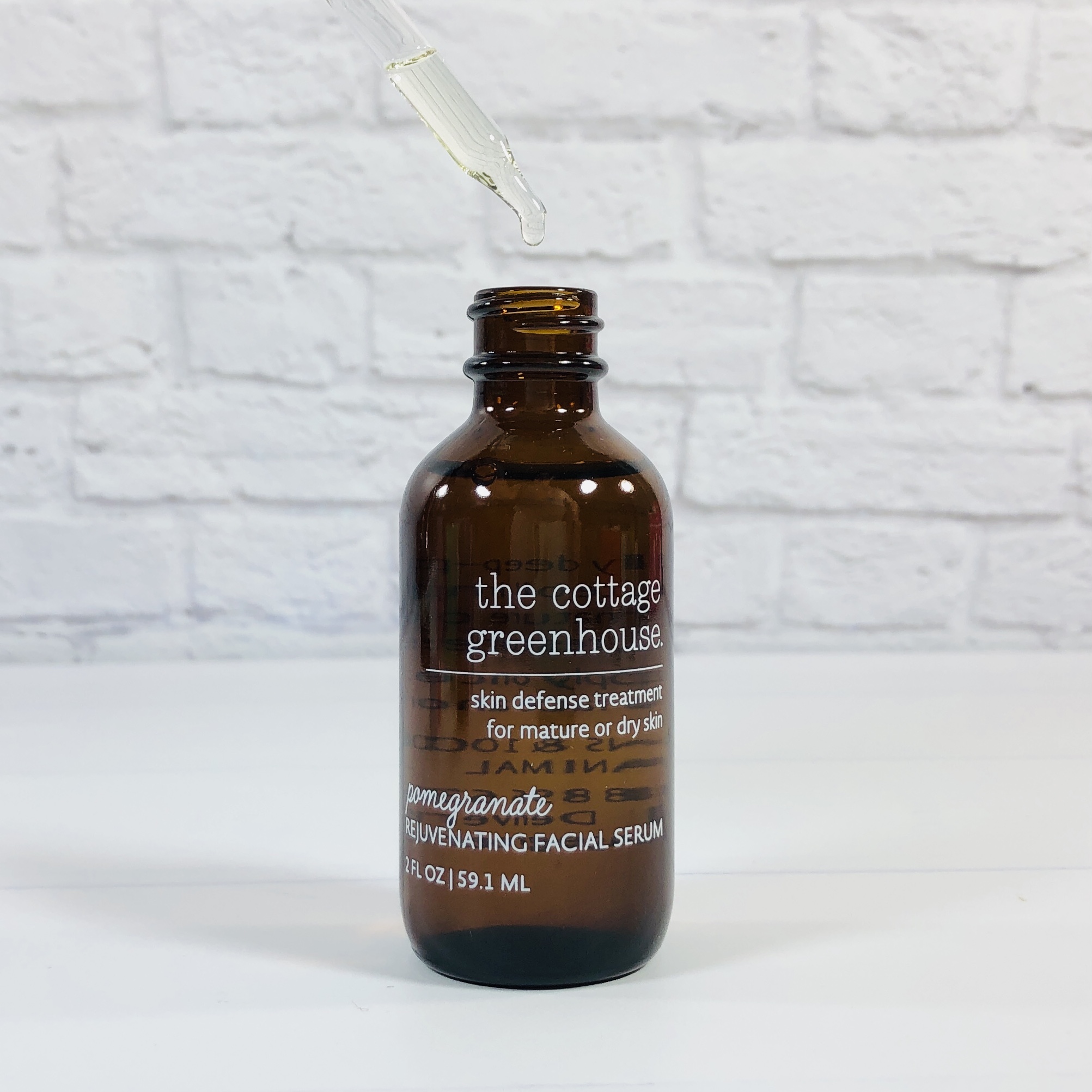 The oil is light in color and has a gentle orange citrus scent. A little goes a long way and I liked the way this felt on my skin, which drank it up. The box suggests using it on hands, body, and feet too.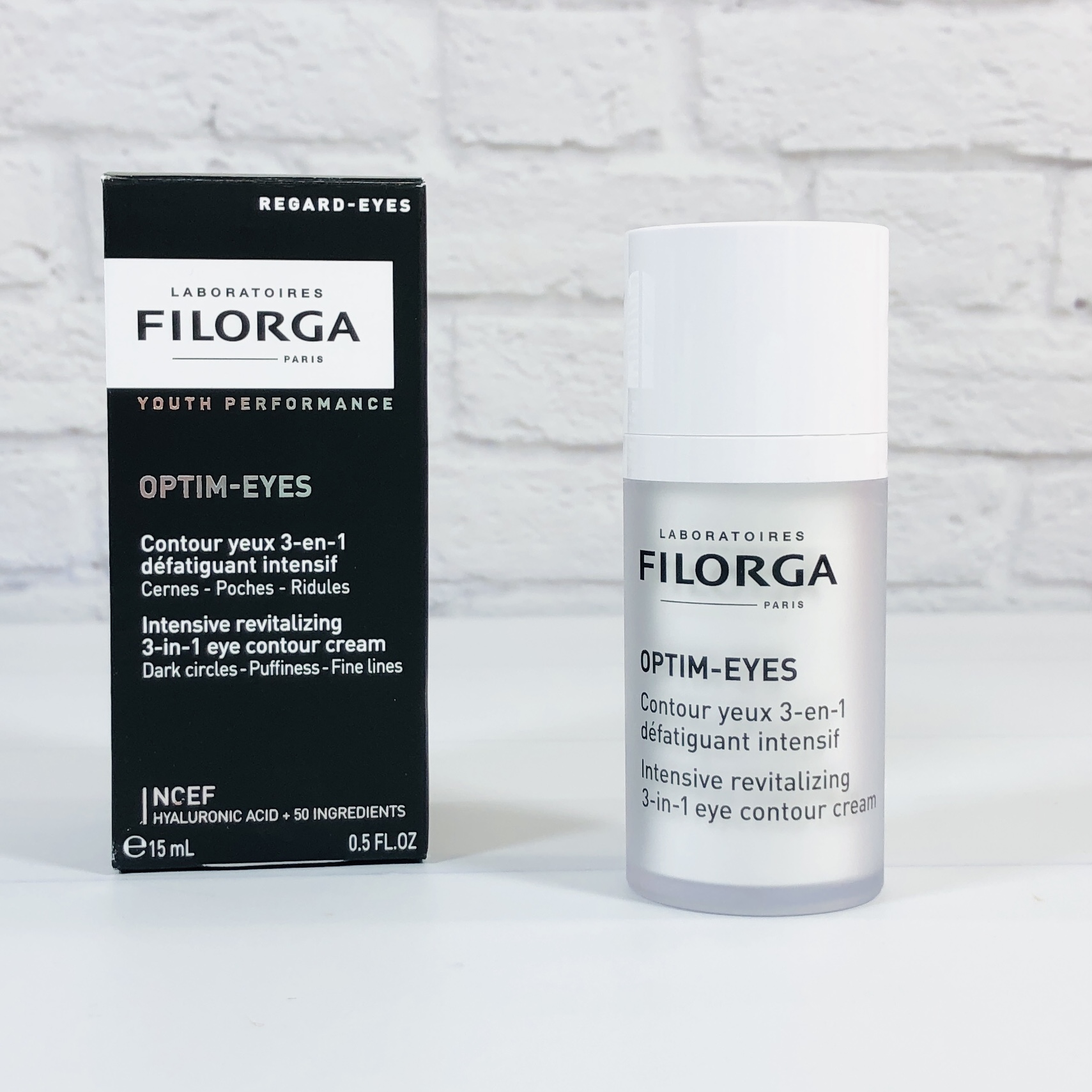 Laboratories Filorga Optim-Eyes (Full size, $49) A full-sized eye product is something I can always use. It's supposed to decrease circles, reduce puffiness, and smooth wrinkles.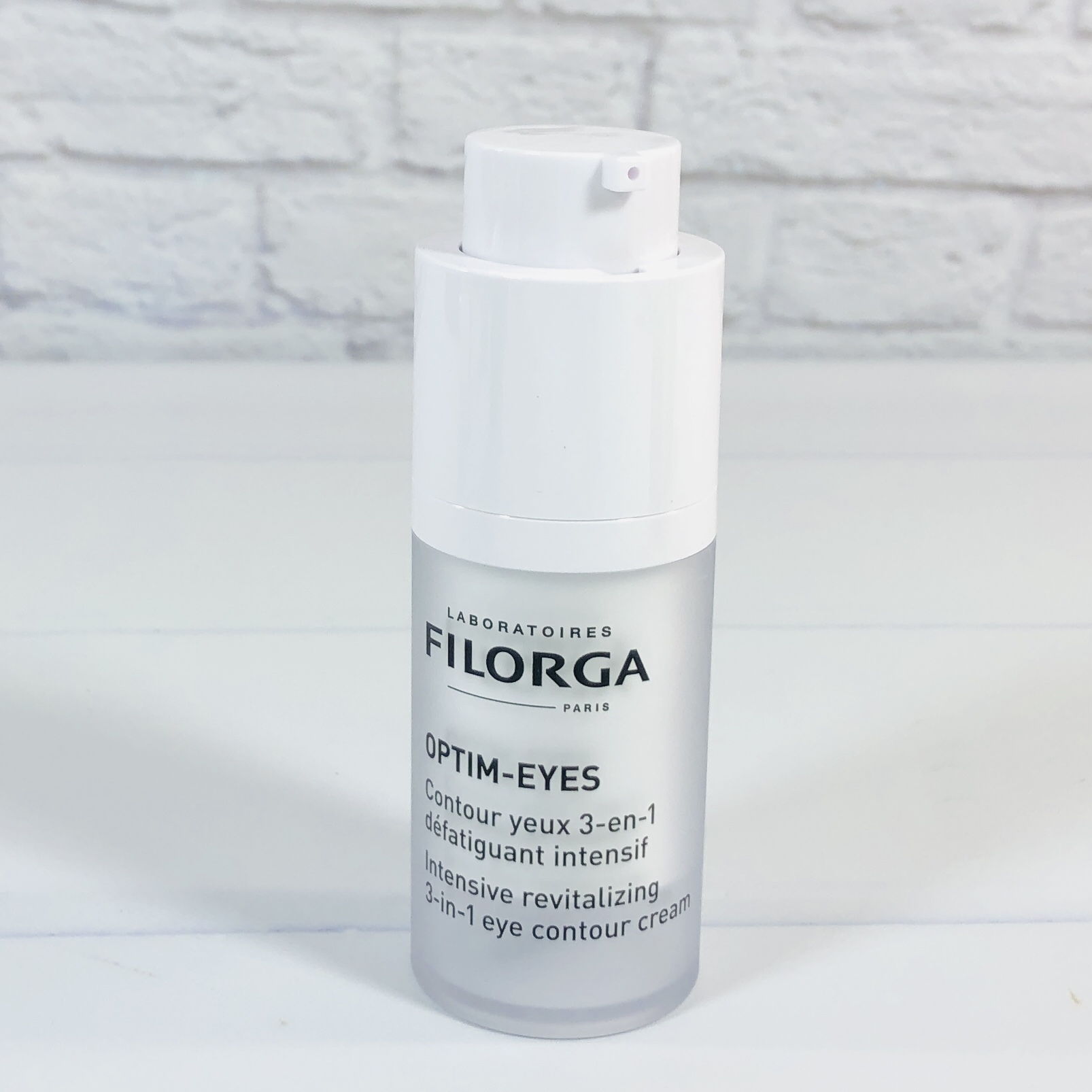 Glycerin, sweet almond oil, and hyaluronic acid are a few of the ingredients here, but I was disappointed to see fragrance so high on the list. The cream has dimethicone so it doesn't leave the area greasy. It had a floral scent and can be used twice a day.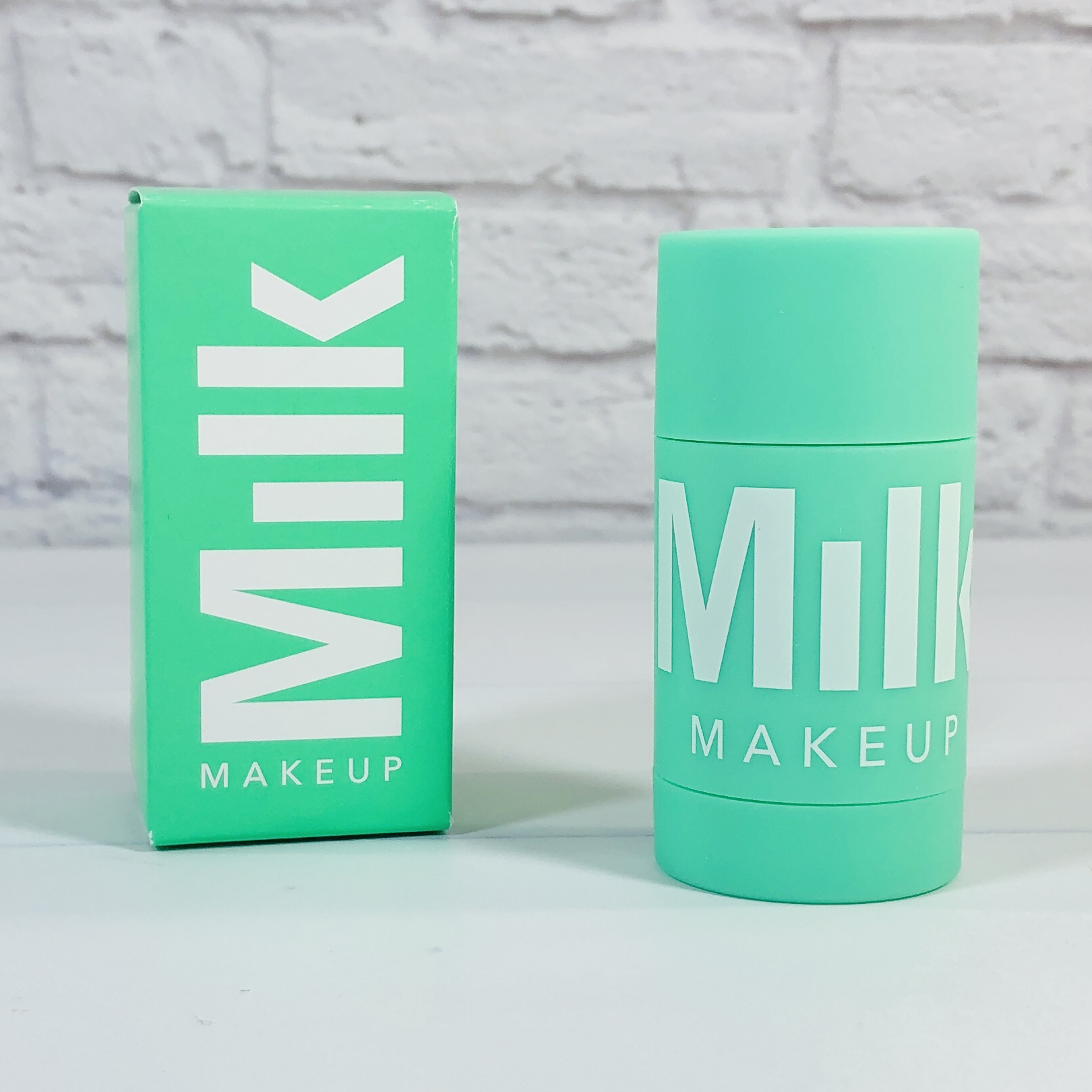 Milk Makeup Matcha Detoxifying Face Mask (Full size, $26) Subscribers get to choose a product for their bag and I chose this one, not for me, but for my daughter! It has kaolin and of course matcha plus kombucha and witch hazel.
Application is easy peasy, just roll it over a clean face. You can do the whole face or just spot treat as needed and it isn't messy at all. Let dry for 5-10 minutes and then rinse thoroughly. I didn't detect much of a scent and it was easy to rinse off after using.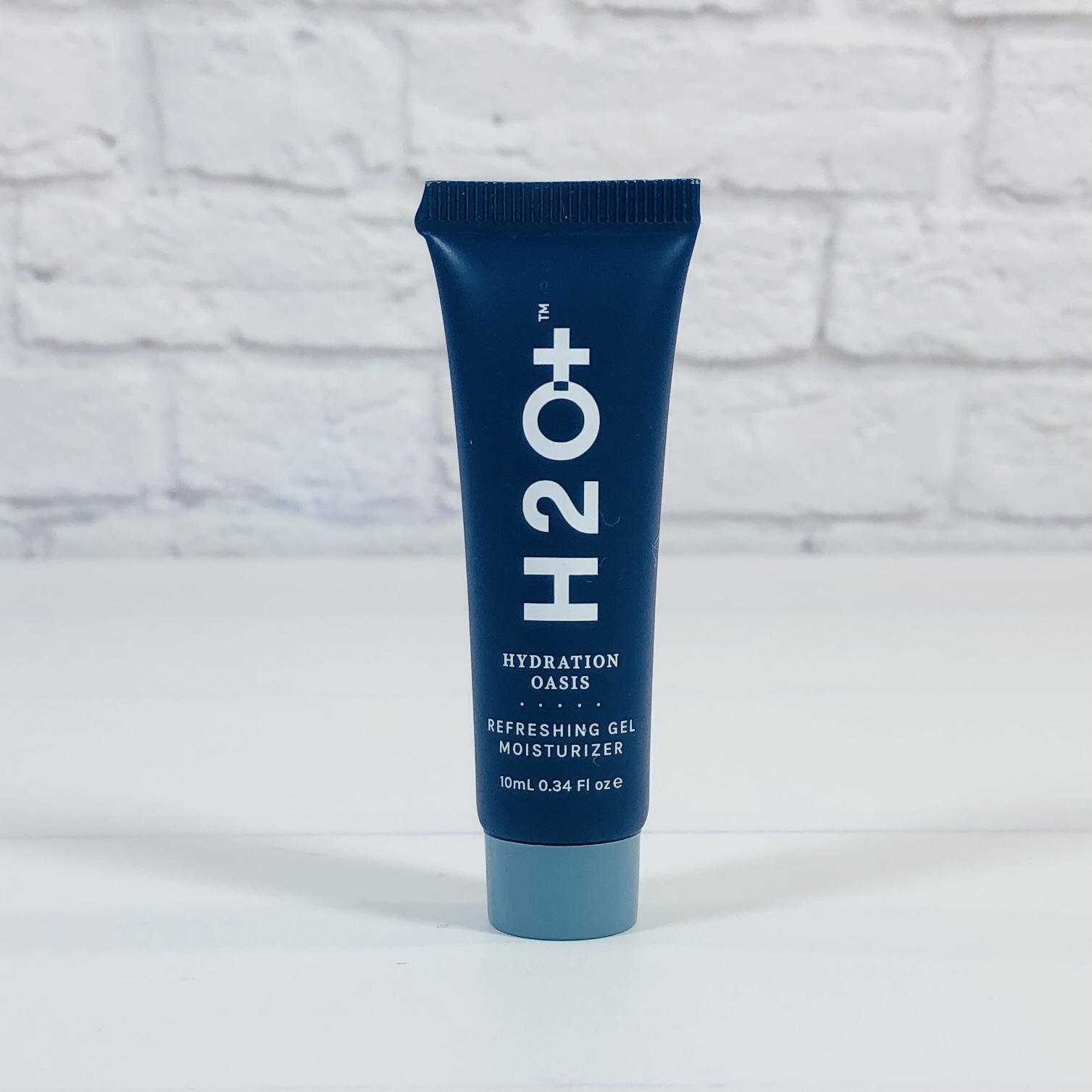 H2o+ Hydration Oasis Refreshing Gel Moisturizer (Deluxe Sample, $8.40) This gel moisturizer is meant for most skin types and is supposed to immediately boost hydration levels. Hyaluronic acid draws water to the skin and is one of the main ingredients. The blue gel isn't greasy and in fact I couldn't tell it was there after applying, although it has a light floral scent.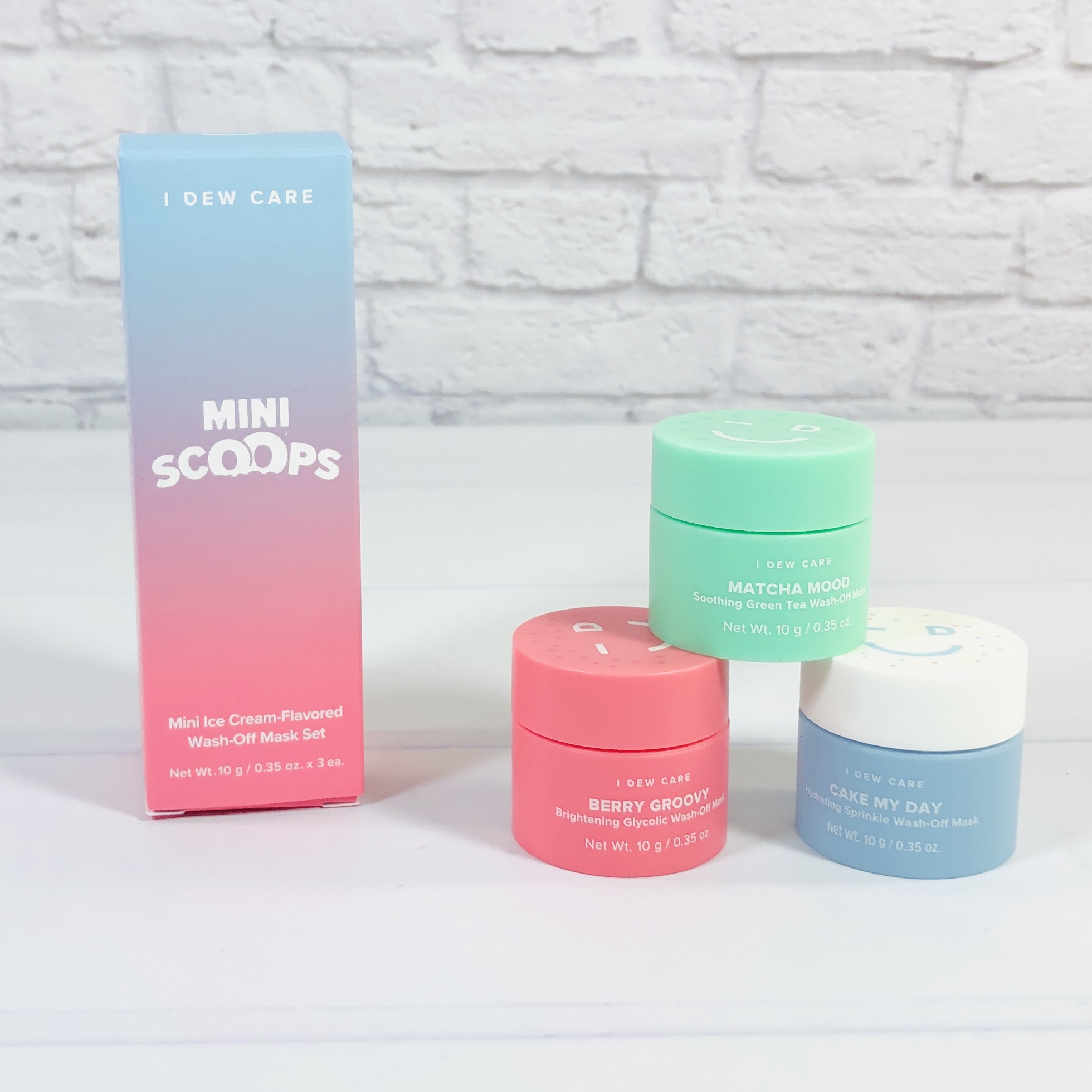 I Dew Care Mini Scoop Set (Full size, $18) Ok, this is simply the cutest mask set I've ever received before!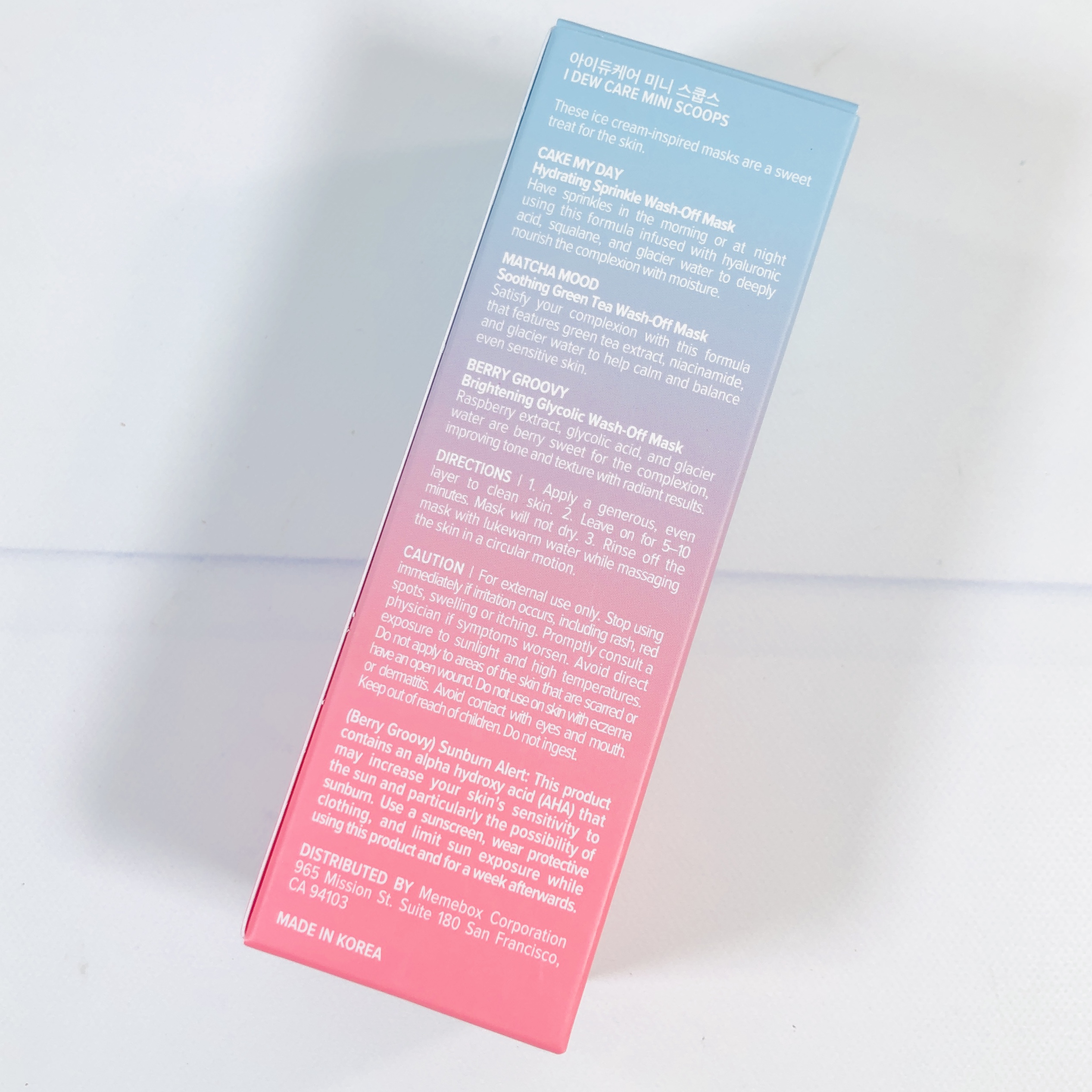 It's a trio of face masks including hydrating, soothing, and brightening. You can use one at a time or mix and match, or come up with a colorful combo of stripes and dots.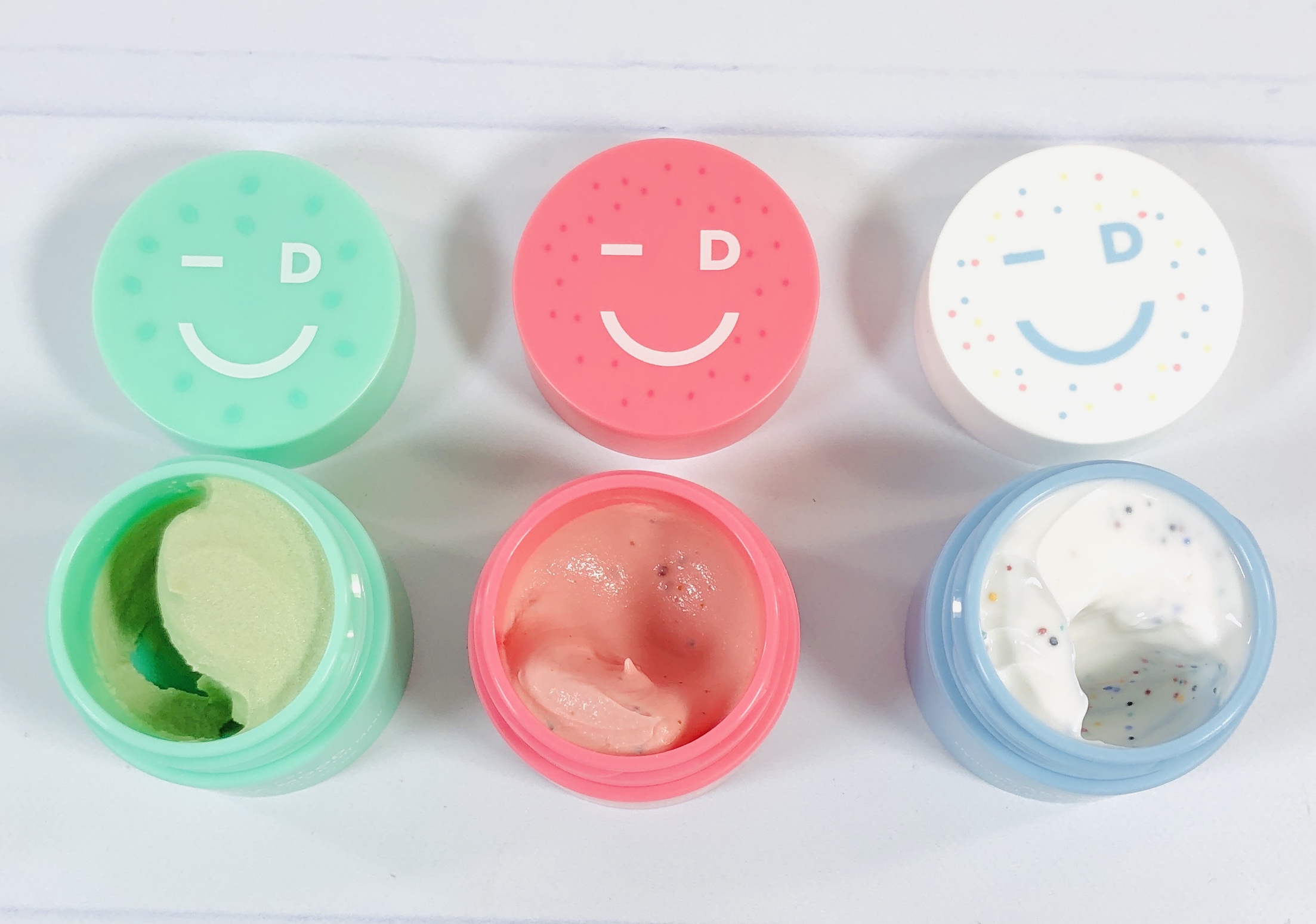 They even smell good: green smells like tea, pink smells like strawberry, and the funfetti one smells like cake batter! I passed these along to my teen daughter, who was excited to try this trio from Korea. Each one has maybe two full-face uses.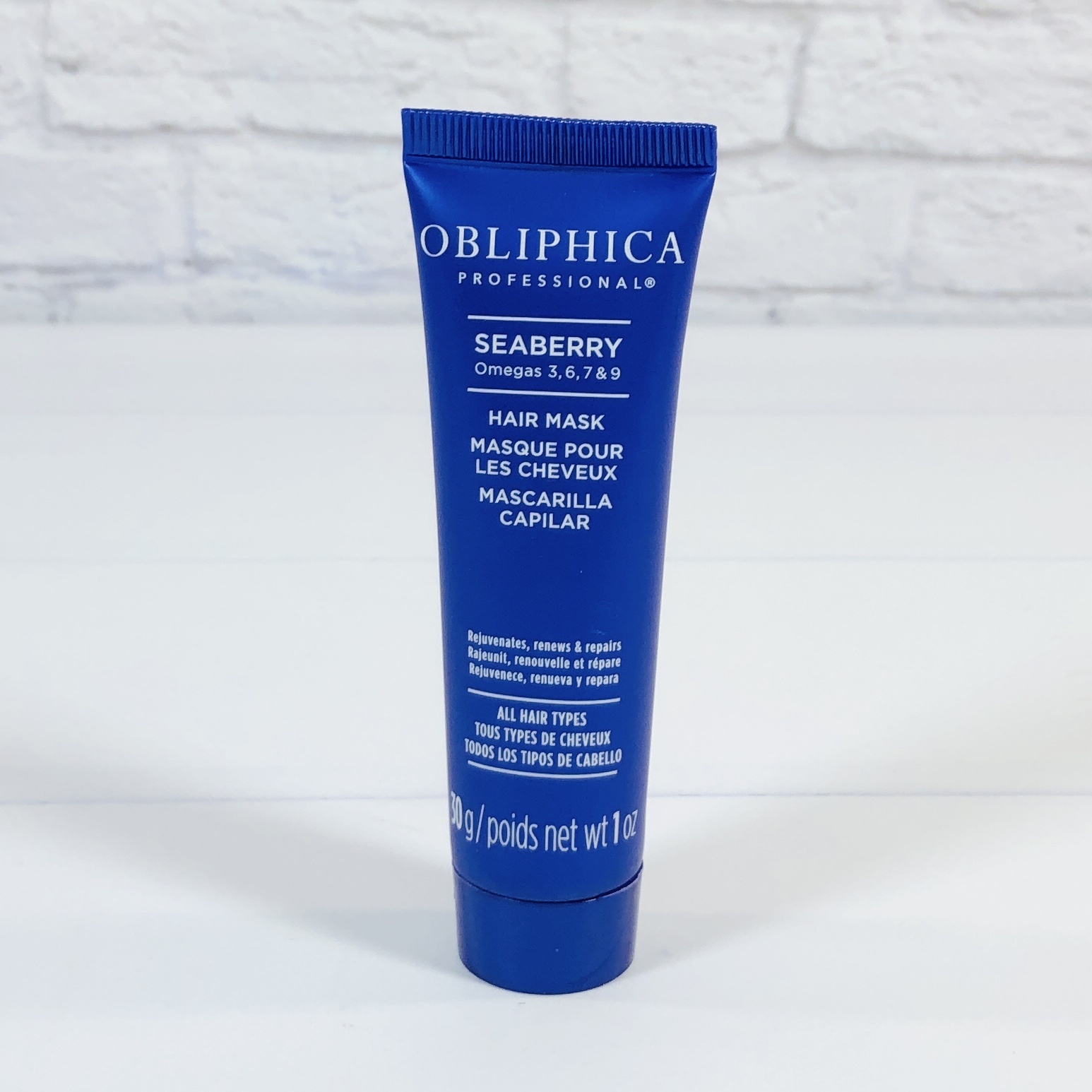 Obliphica Professional Seaberry Hair Mask (Deluxe Sample, $2.10) Using a hair mask once a week makes my hair feel rejuvenated. I start with a deep cleansing shampoo and then follow with this lovely smelling product, which is kind of purple! Leave on for 5 minutes before rinsing.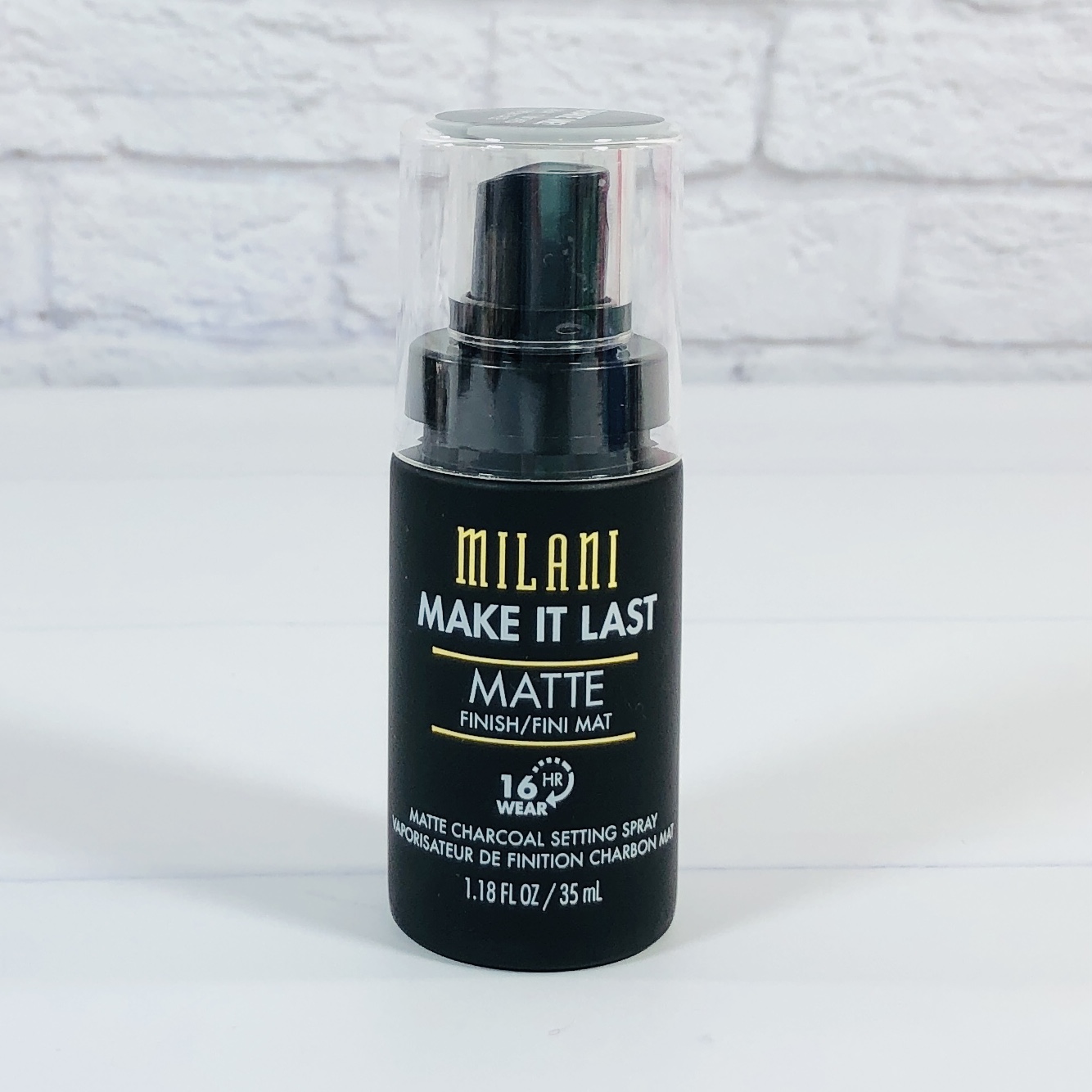 Milani Cosmetics Make It Last Matte Charcoal Setting Spray (Deluxe Sample, $5.82) A setting spray may help makeup last longer. This one is supposed to help keep shine at bay by absorbing oil and the second ingredient is alcohol so I can see it doing that.
It is lightly fragranced and I was very surprised to find that it actually left some black specks behind thanks to the charcoal! The mist itself is fine but I think this product is too drying for my already parched skin. I want oil on my skin!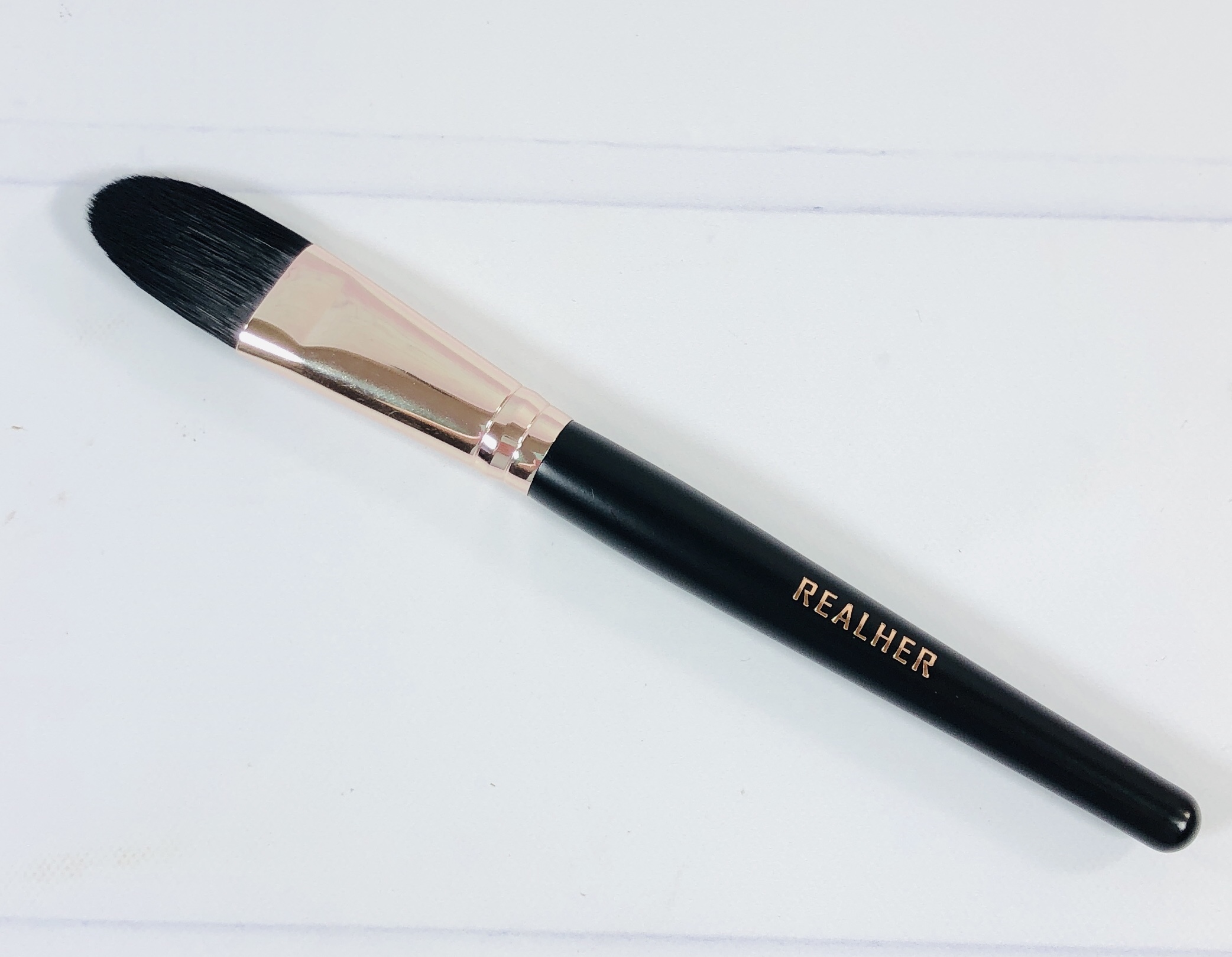 RealHer Nothing Is Impossible Foundation Brush (Full size, $20) I no longer wear liquid foundation but I love that this brush can be used to apply concealer or even to apply face masks or primer!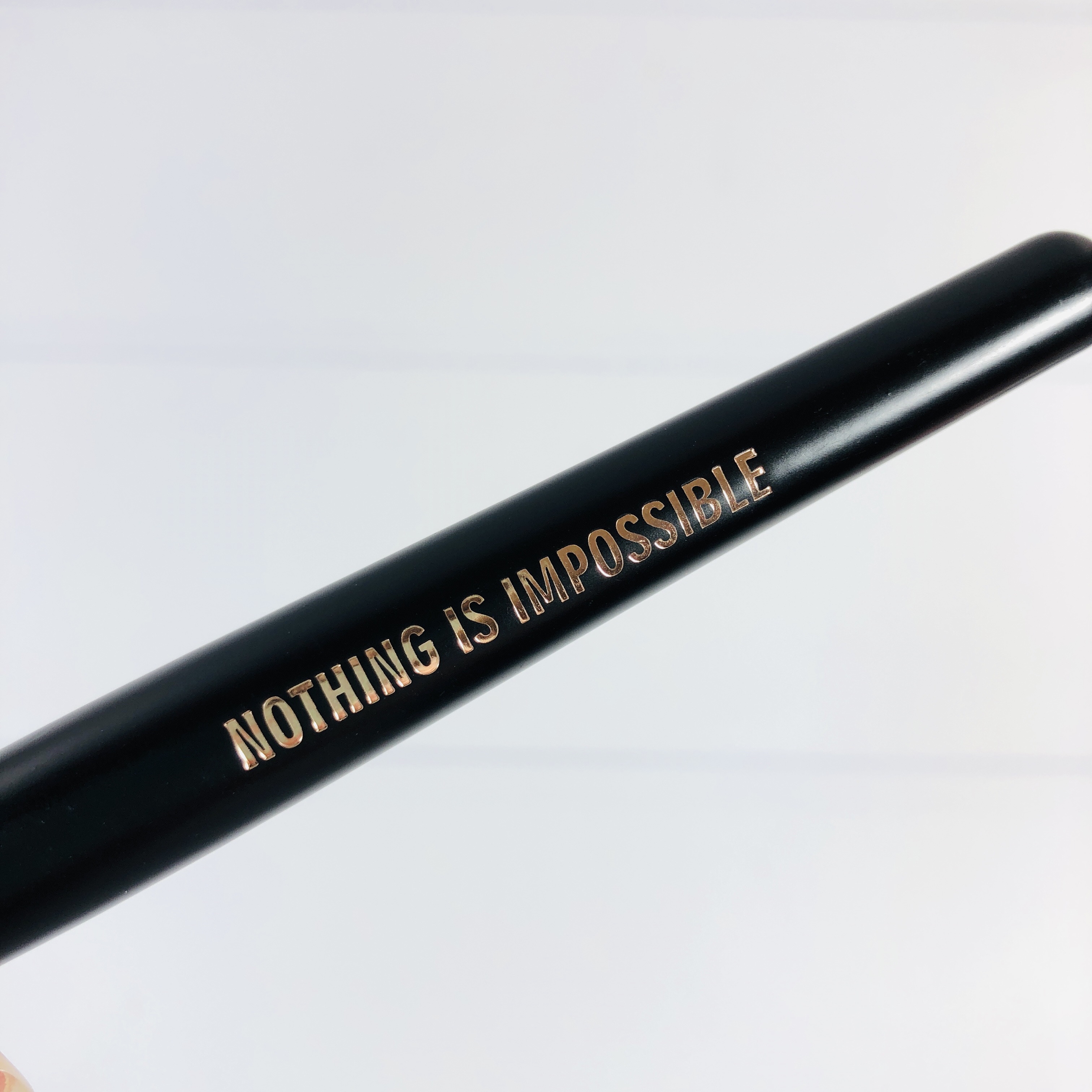 RealHer products always have an empowering message on them.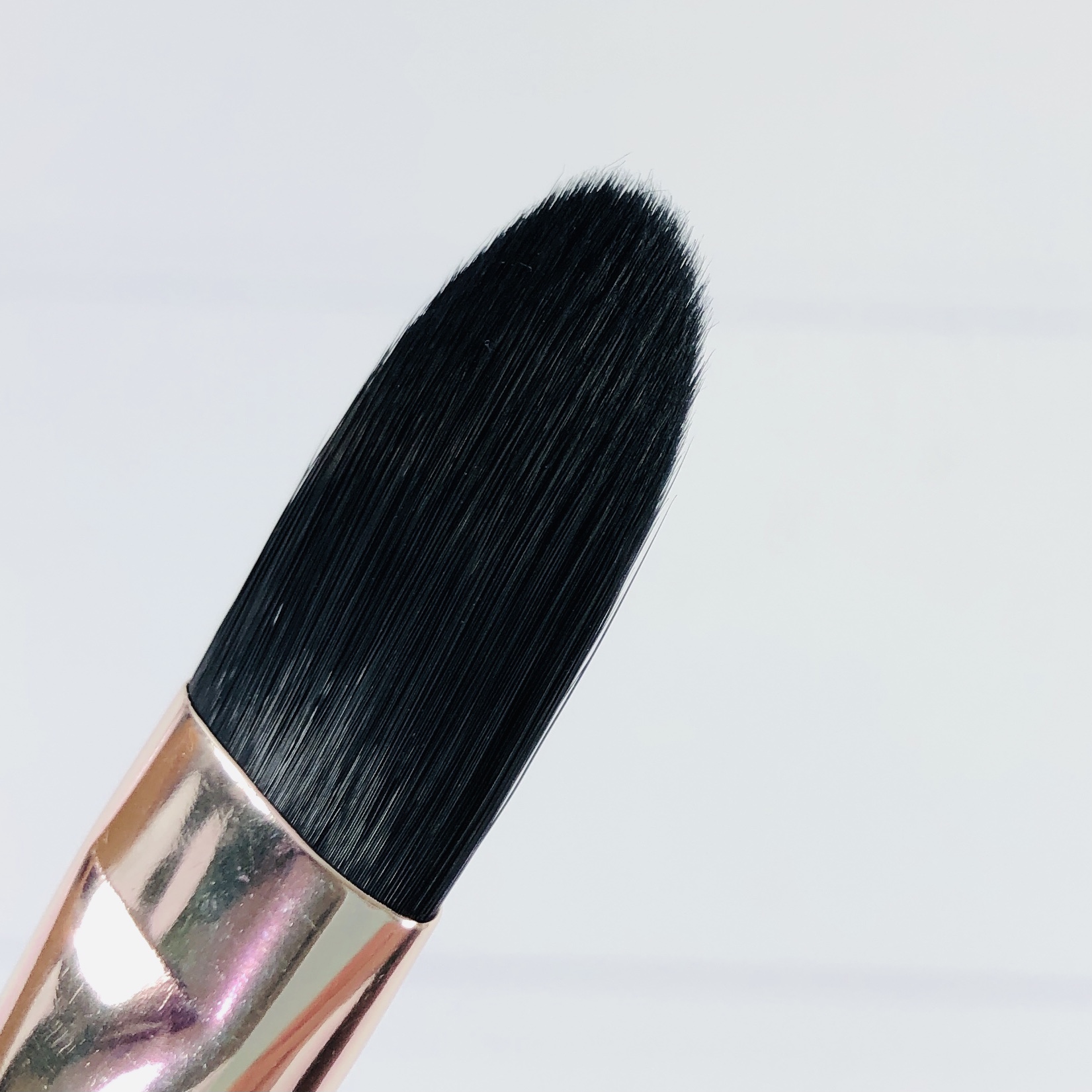 The flat, tapered tip makes this perfect for getting into the area around my eyes, nose, and mouth.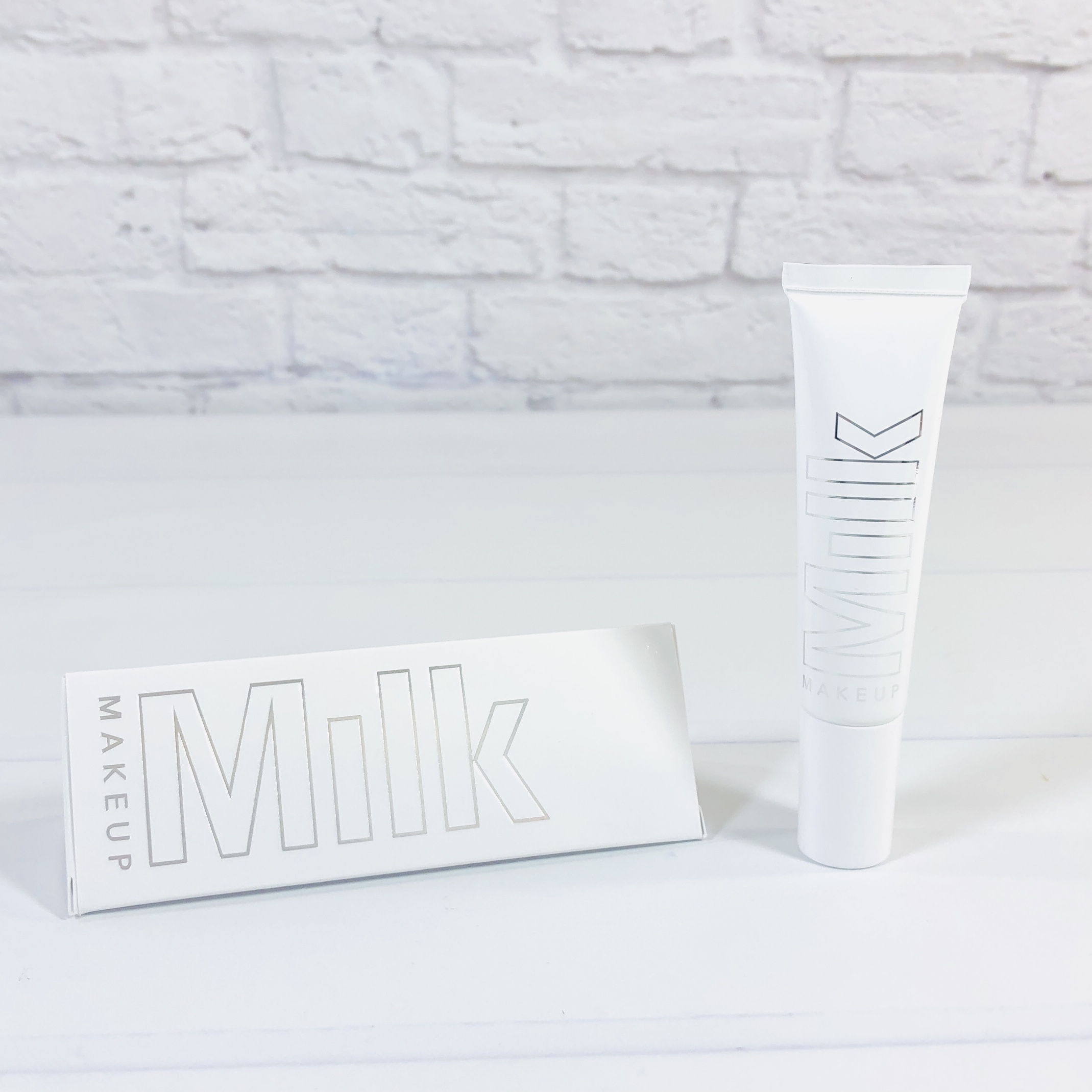 Milk Makeup Kush Lip Glaze in Chronic (Full size, $18) KUSH lip glaze is a green lip balm that goes on clear and hydrates lips with cannabis seed oil and shea butter. It has earned the Clean at Sephora badge.
The applicator felt very cool on my lips, I would like something similar for my undereye area! The product was hard to squeeze out and it felt a little gritty on my lips, although that's probably the shea butter and eventually it smoothed out. I liked the minty flavor.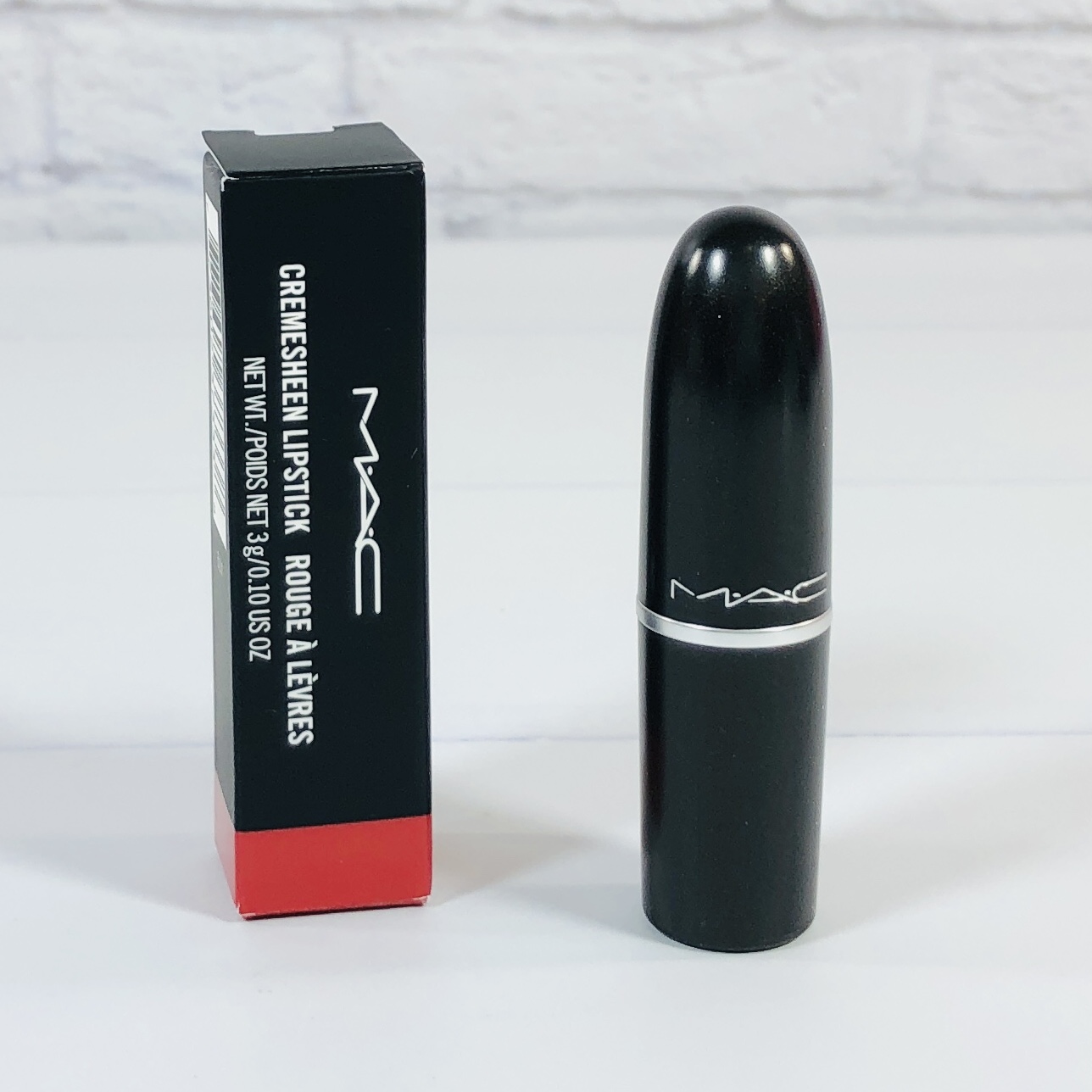 M.A.C. Cremesheen Lipstick in Sweet Sakura (Full size, $16.30) That MAC bullet looks so cool, doesn't it? My daughter's dance team all wear MAC when performing because it stays put.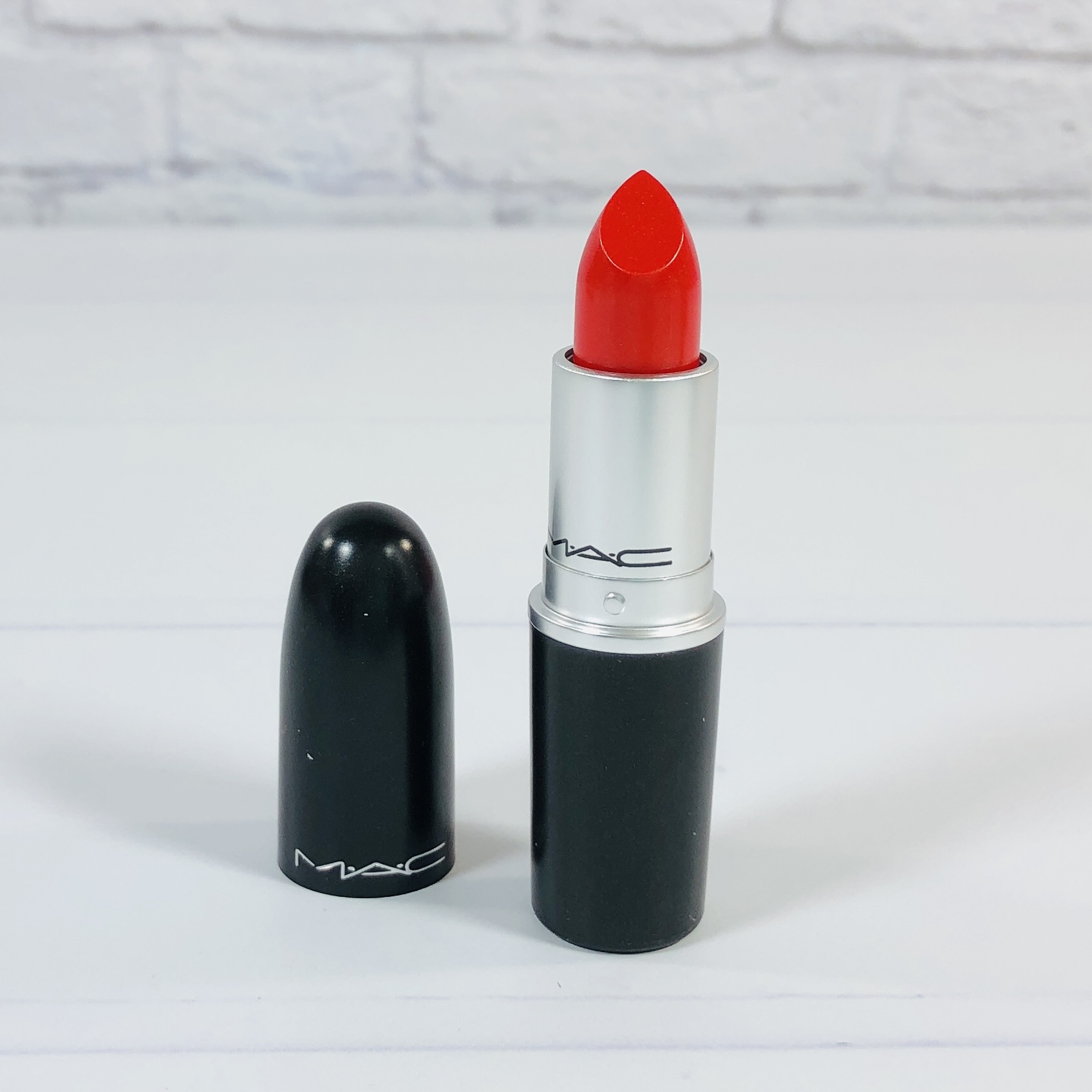 I was super scared when I saw this shade, I prefer a more subdued color. This one was described as "true red with soft gold pearl" and I relaxed when I swatched it on my arm, it's not super bold unless you keep applying! Even then it's not super opaque. I preferred the look I got when I swiped it on once, like a popsicle stain. It was bolder with a second stroke, but still wearable for me. Swatched below.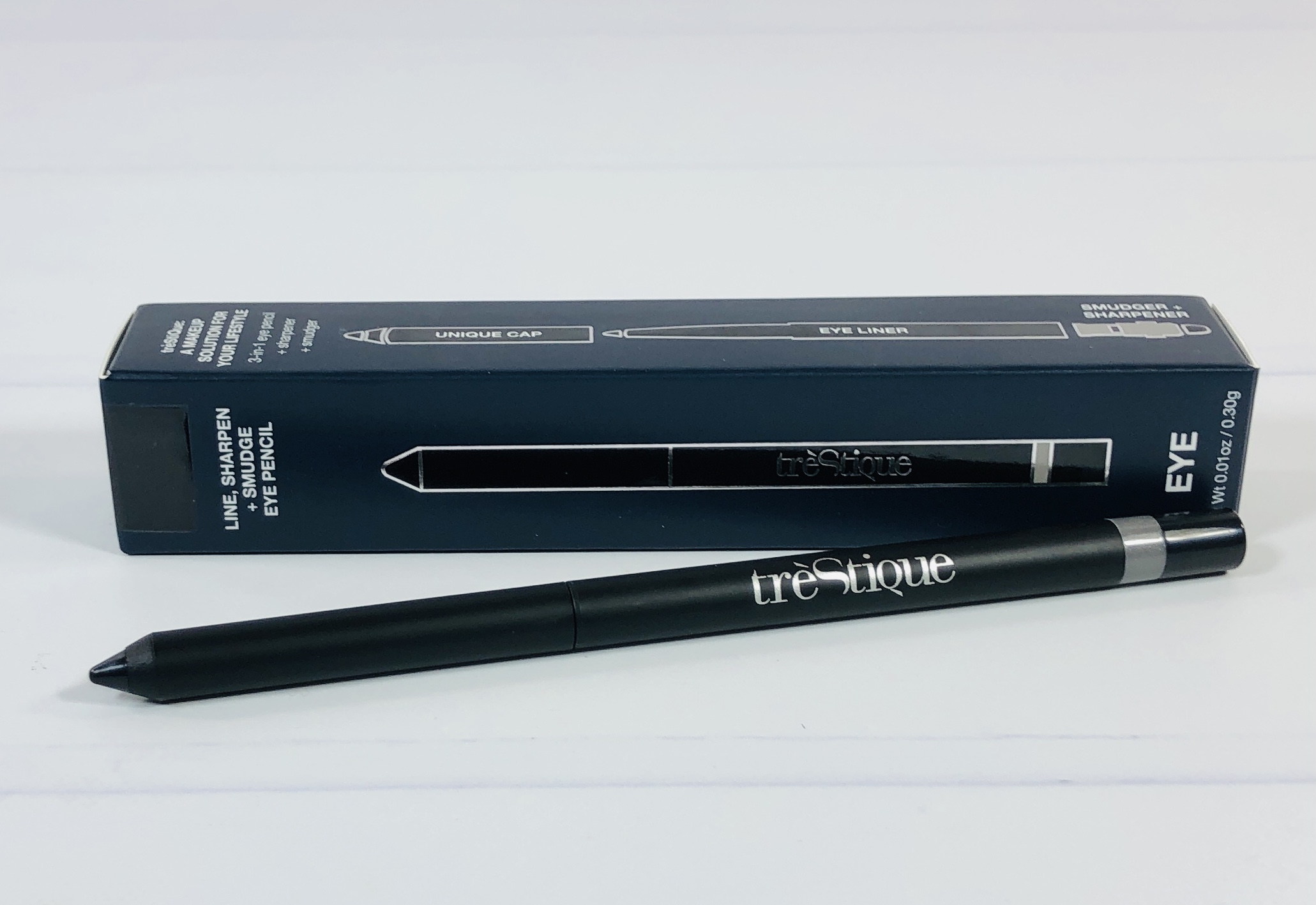 TrèStique Eye Pencil in Santorini Black Sand (Full size, $19) I always prefer a stick liner to liquid and this one worked well for me, no tugging!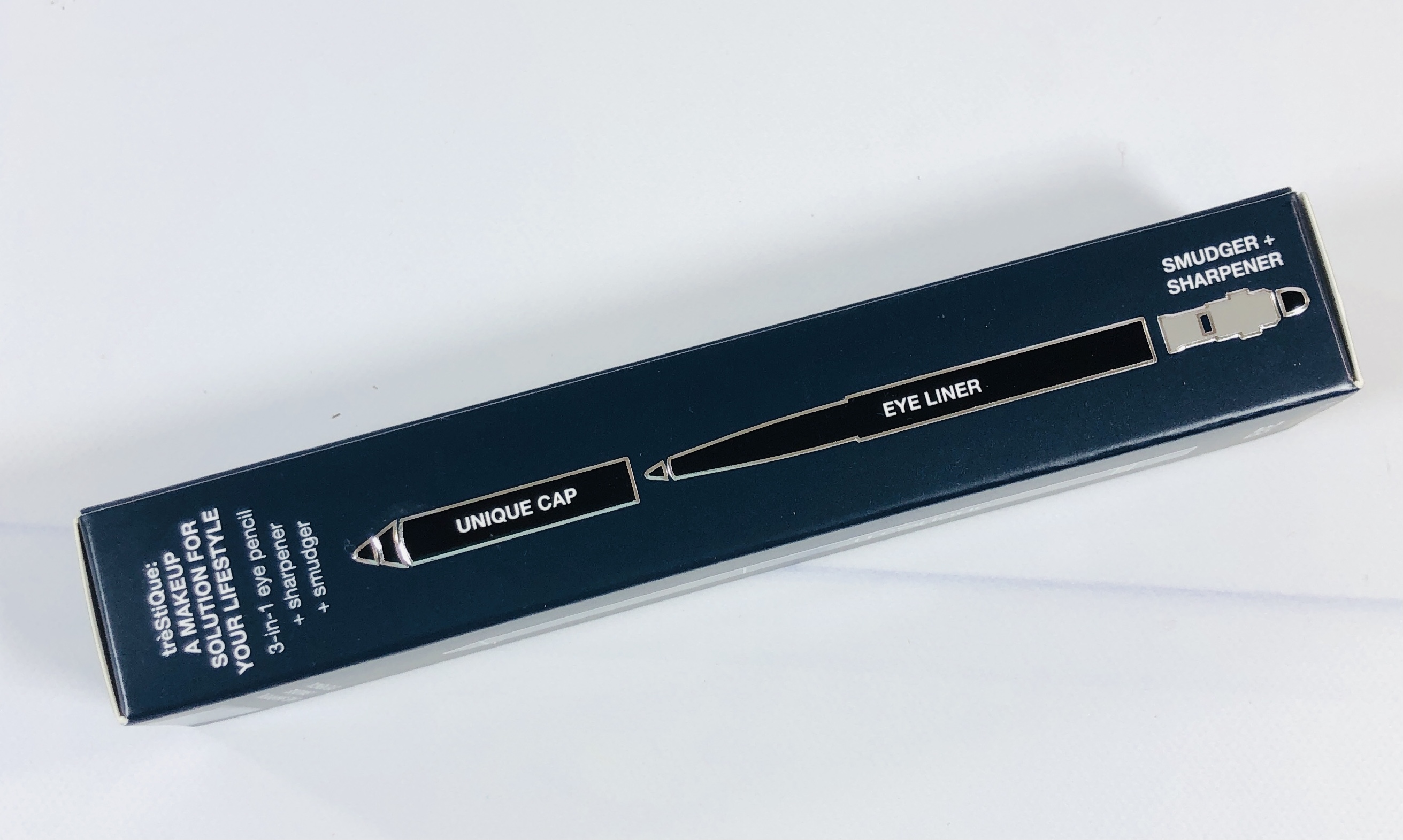 If you are new to this brand, then know that TrèStique has a cap that looks like the product itself, so don't be afraid to pull it off.
The liner glided on smoothly and without making a mess. It stayed on all day too.
If you remove the other end you will find a smudger, and I love this little sponge! It helped soften the line for a smoky wearable eye. I don't know why I have never considered looking into buying a similar makeup brush but I will now. If you pull this part off, you will find a sharpener for the liner. The liner is twist up but maybe some wearer's want it sharpened further. Swatched below.
Swatched on top is the MAC lipstick followed by the TrèStique eyeliner.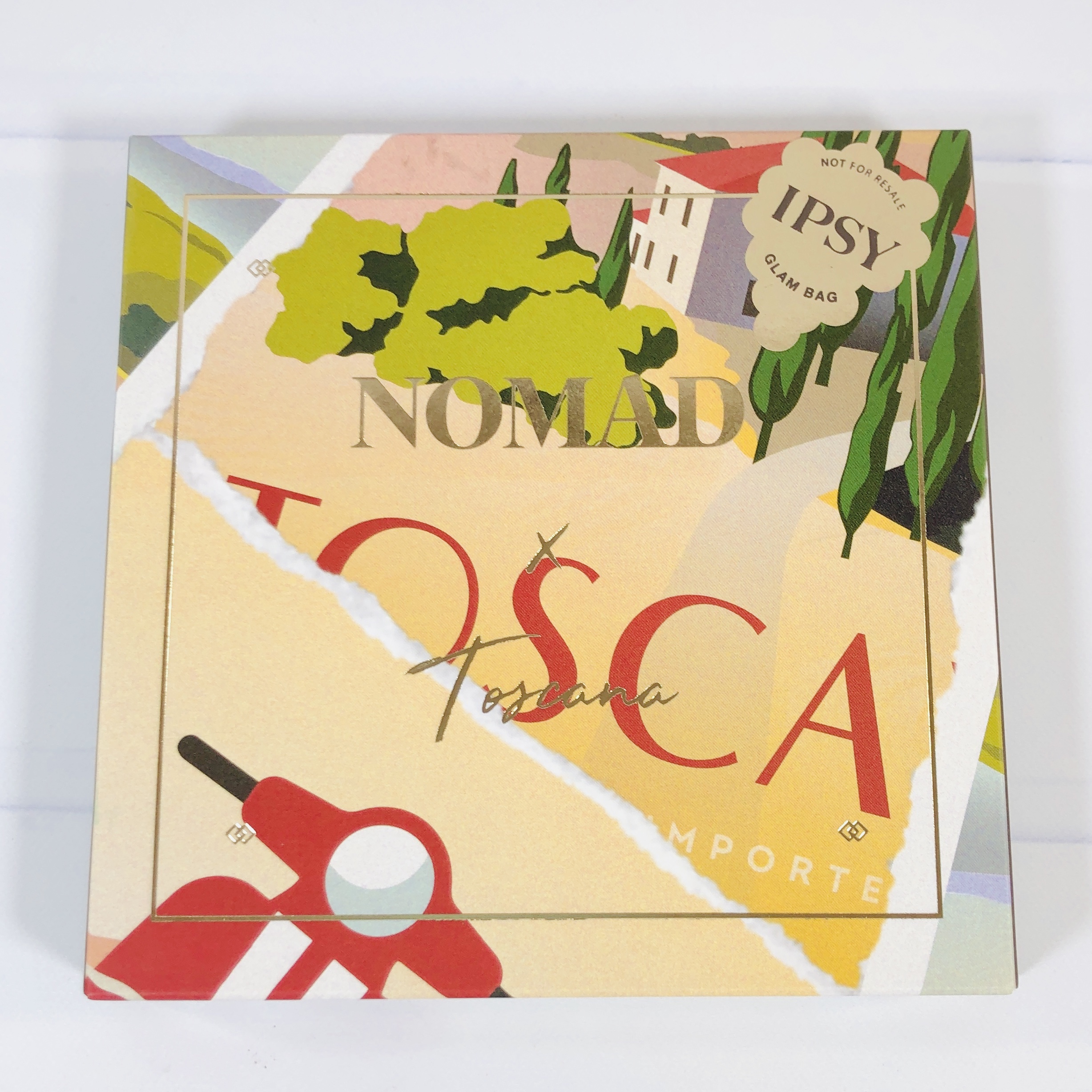 Nomad Cosmetics Nomad x Tuscany Intense Eyeshadow Palette (Full size, $27) A palette with colors inspired by (and designed on location in) Tuscany sounds splendido.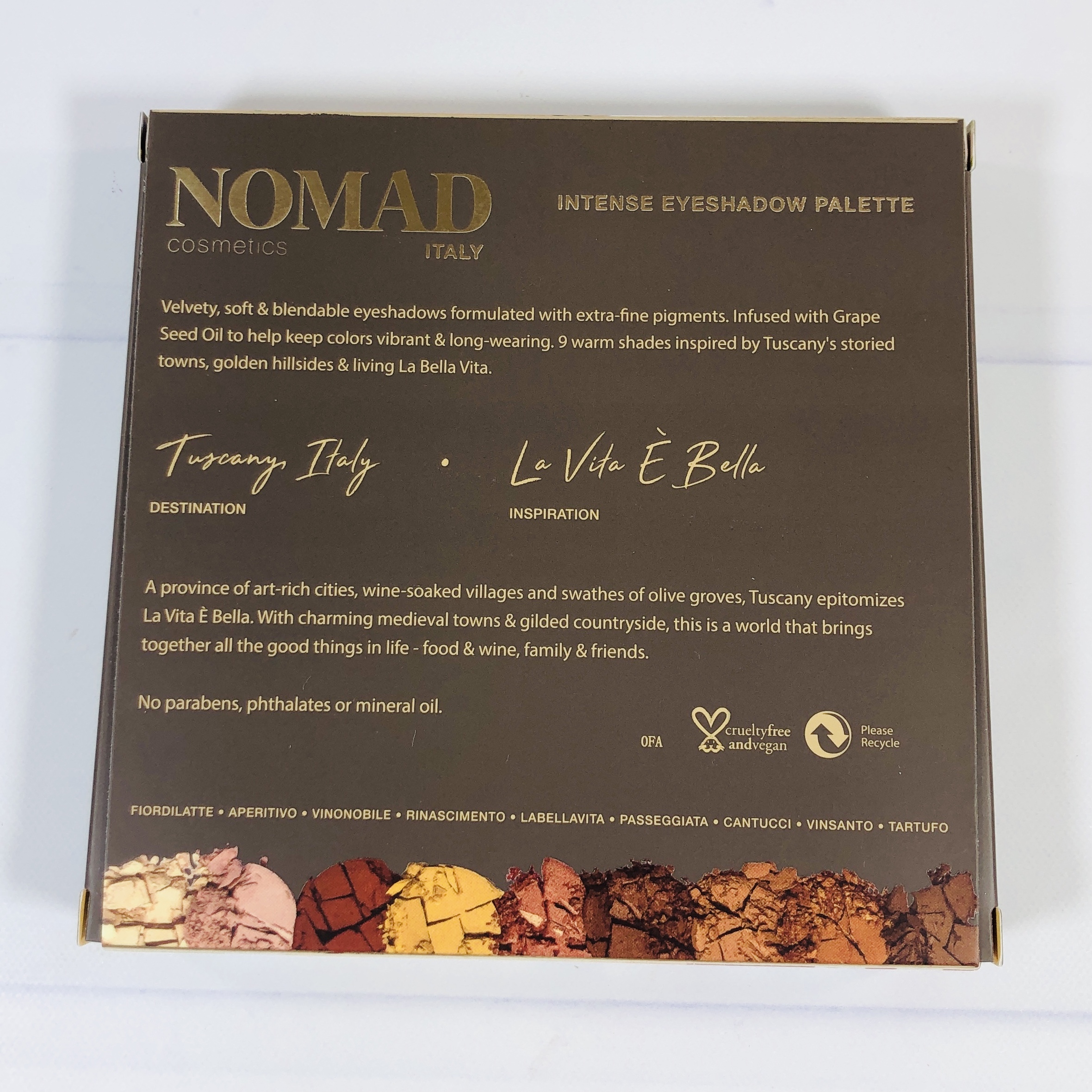 The palette is vegan, cruelty-free, and talc-free.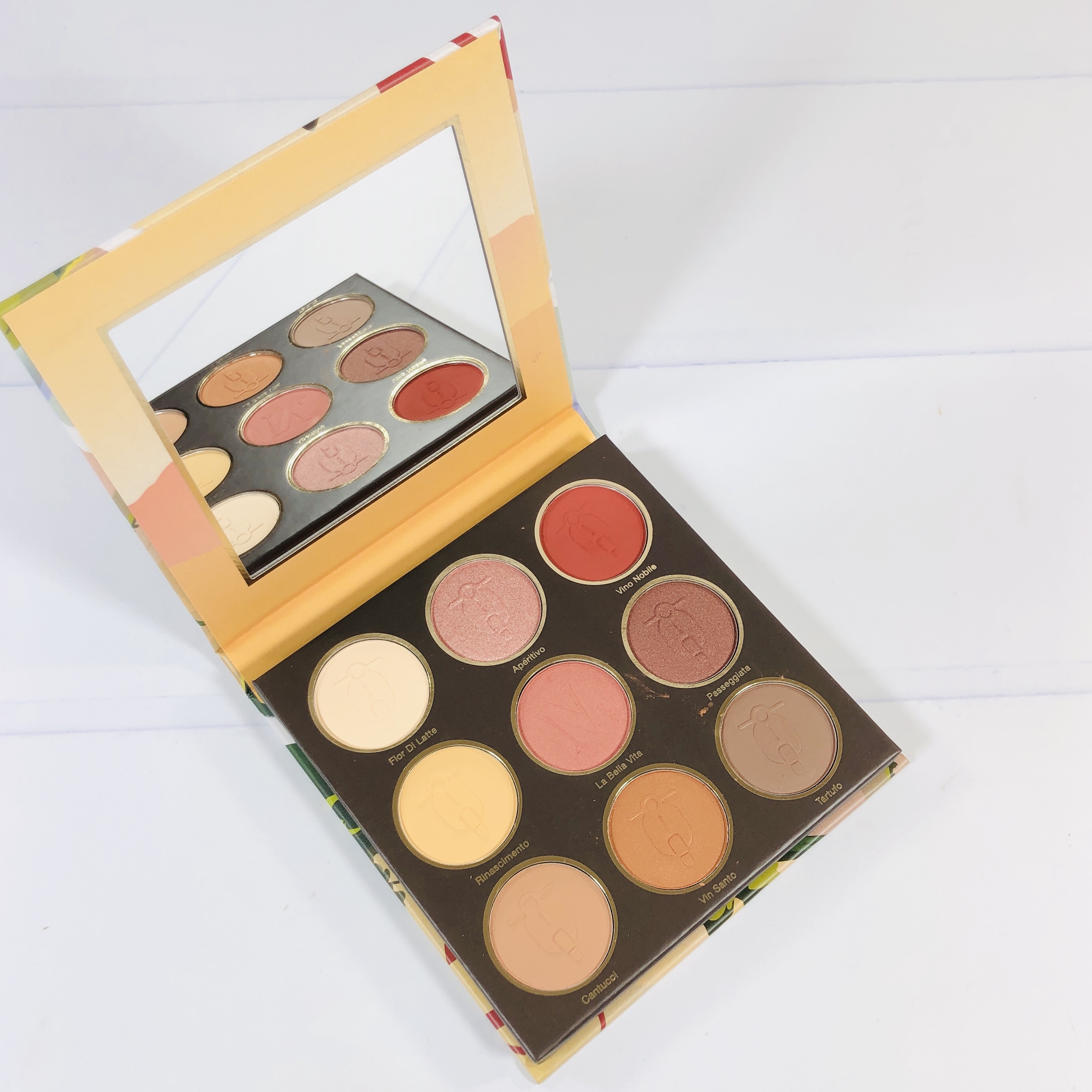 There are 5 mattes, 3 satins, and 1 shimmer and they blend beautifully.
FIOR DI LATTE – matte vanilla nude
APERITIVO – shimmer rose quartz
VINO NOBILE – matte red wine
RINASCIMENTO – matte golden cream
LA BELLA VITA – satin terra cotta
PASSEGGIATA – satin deep sienna
CANTUCCI – matte toasted almond
VIN SANTO – satin caramel gold
TARTUFO – matte deep taupe
Here they are swatched. Most of these shades are very wearable for me and I enjoy coming up with new looks every day.
While I'm sad that this was my final review of Ipsy Glam Bag Ultimate, I am super excited about the debut of Glam Bag X this coming February! Granted, most people may not need this much makeup and beauty items every month, but with two daughters it's actually been pretty nice, because if I get something that doesn't work for me, it usually works for one of my girls. I was exceptionally pleased with my MAC lipstick, NOMAD palette, TrèStique eye liner, Cottage Greenhouse face oil, and Kush lip gloss. My youngest adores her mini scoop mask set and my oldest is into MILK and her new matcha mask. The value for my November bag was around $241.62! It's kinda like paying for the MILK mask and NOMAD palette and getting the rest for free!
What do you think of the Ipsy Glam Bag Ultimate? Tell me your thoughts!