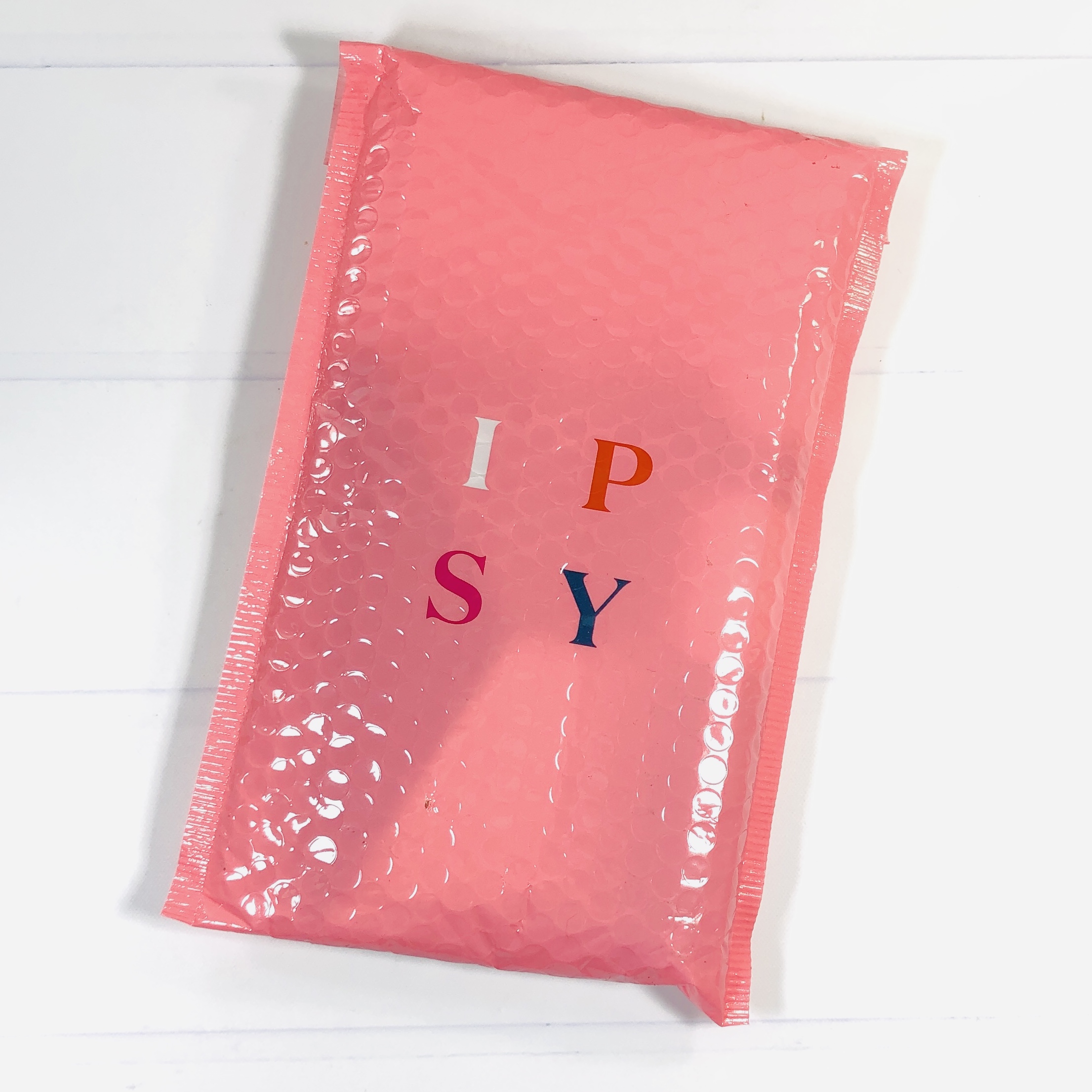 Ipsy is a monthly beauty subscription. You get five makeup, beauty, skincare, and hair care items in a cute bag for $12 a month! It's the most popular subscription box and a great way to sample new colors and beauty brands that you may have never heard of, as well as some of the bigger names. Ipsy also offers a Glam Bag Plus for $25 a month and Glam Bag Ultimate for $50 a month. They will soon launch Refreshments and Ultimate is ending in December and is being replaced by the quarterly Glam Bag X.
There are many bag variations every month for Ipsy – log in to your account to check out how-to videos and tips for your products.
IPSY was founded on a singular mission: to inspire individuals around the world to express their unique beauty. Everything we do is to support you on your journey to self-discovery, so you'll feel confident letting your unique beauty shine every day.
Most of my items were inside the cute makeup bag but make sure to double check the mailing bag, sometimes larger items (like makeup brushes) can be found there.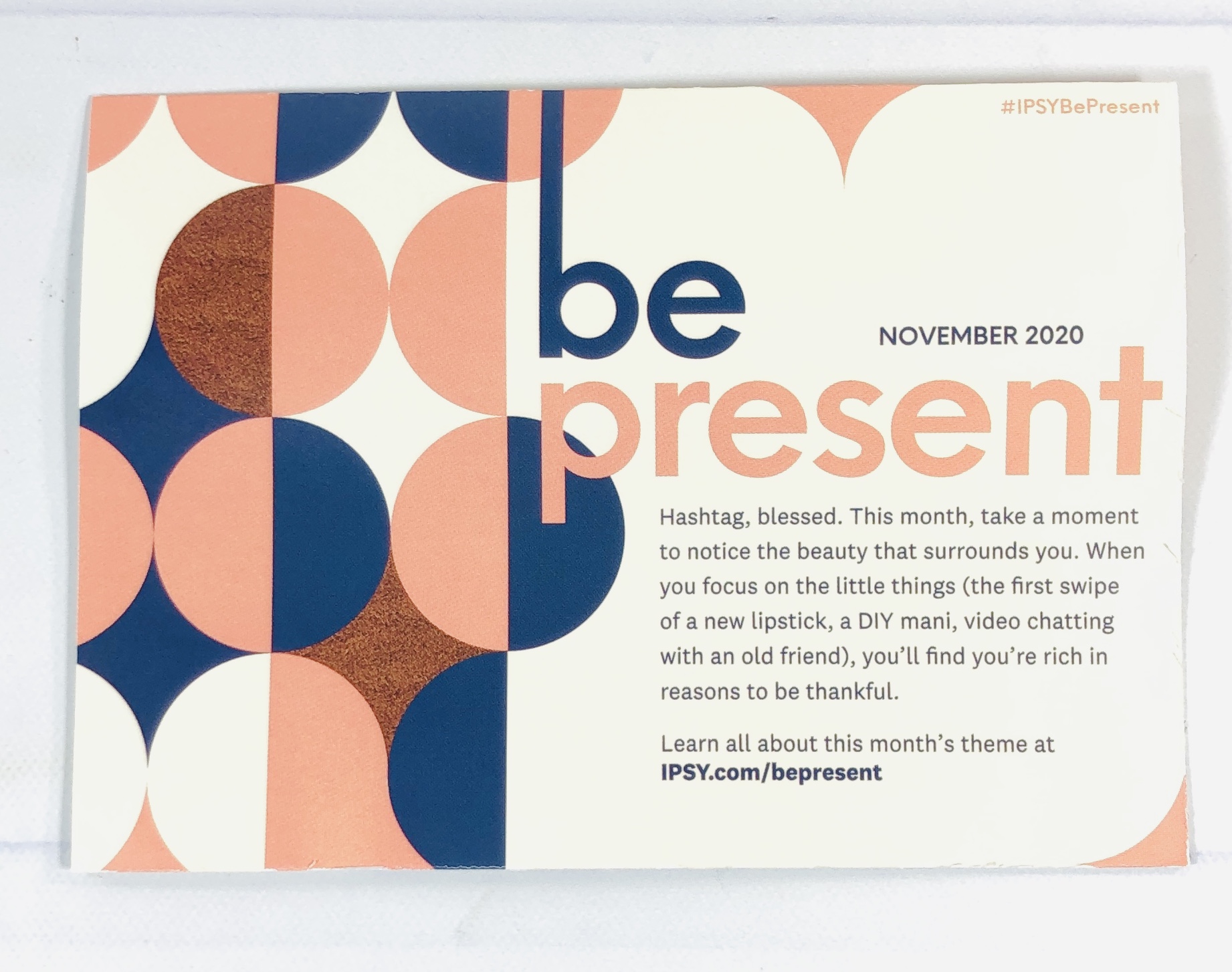 The theme for November is Be Present!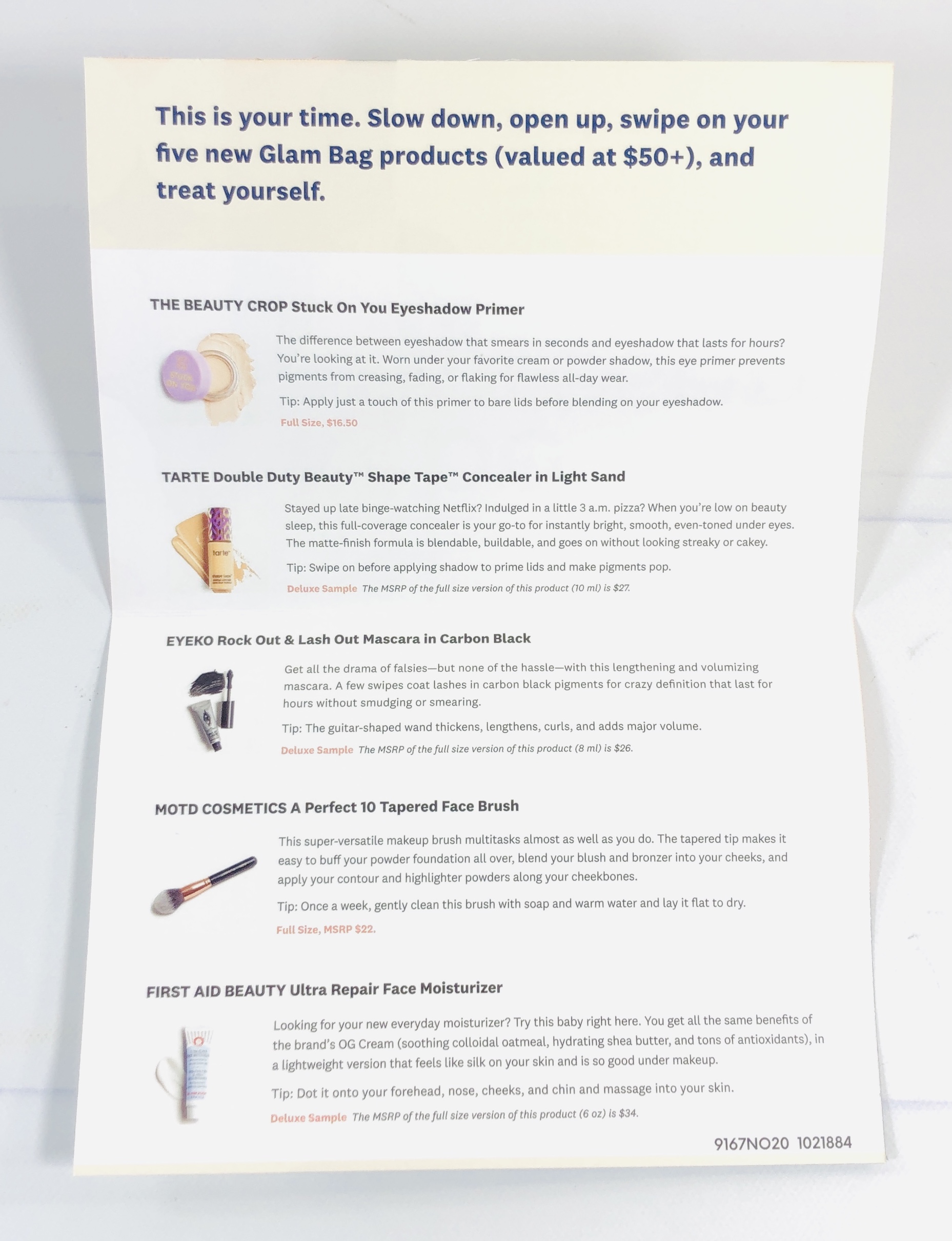 Inside Ipsy listed my 5 products and gave a brief description, plus it had the MSRP for the full sized product.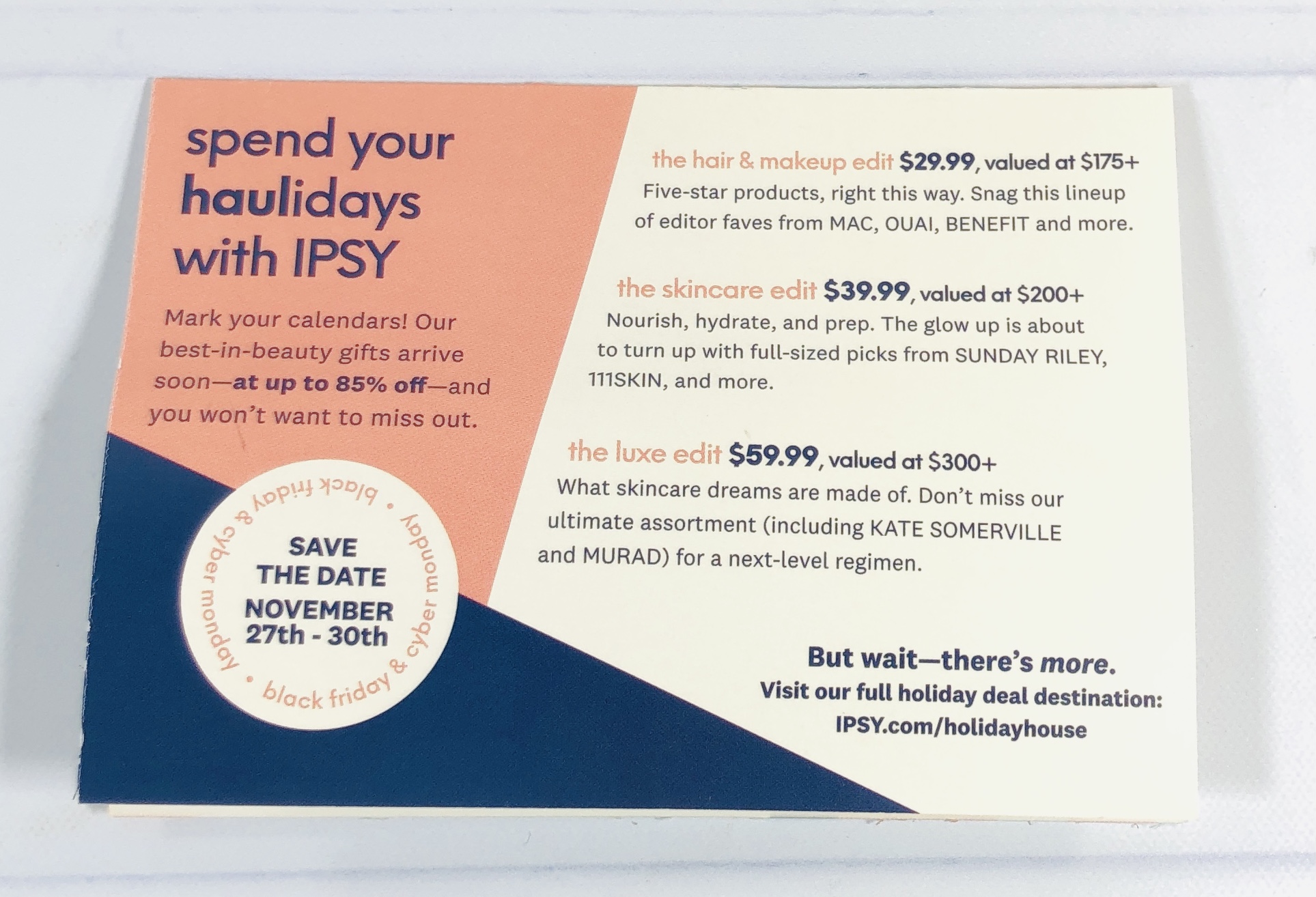 Don't forget that you can rate your items and you earn bonus points when you do that, so you can get additional products in your bag. All subscribers now have the chance to pick a product for their next bag – just log in on choice day and pick one!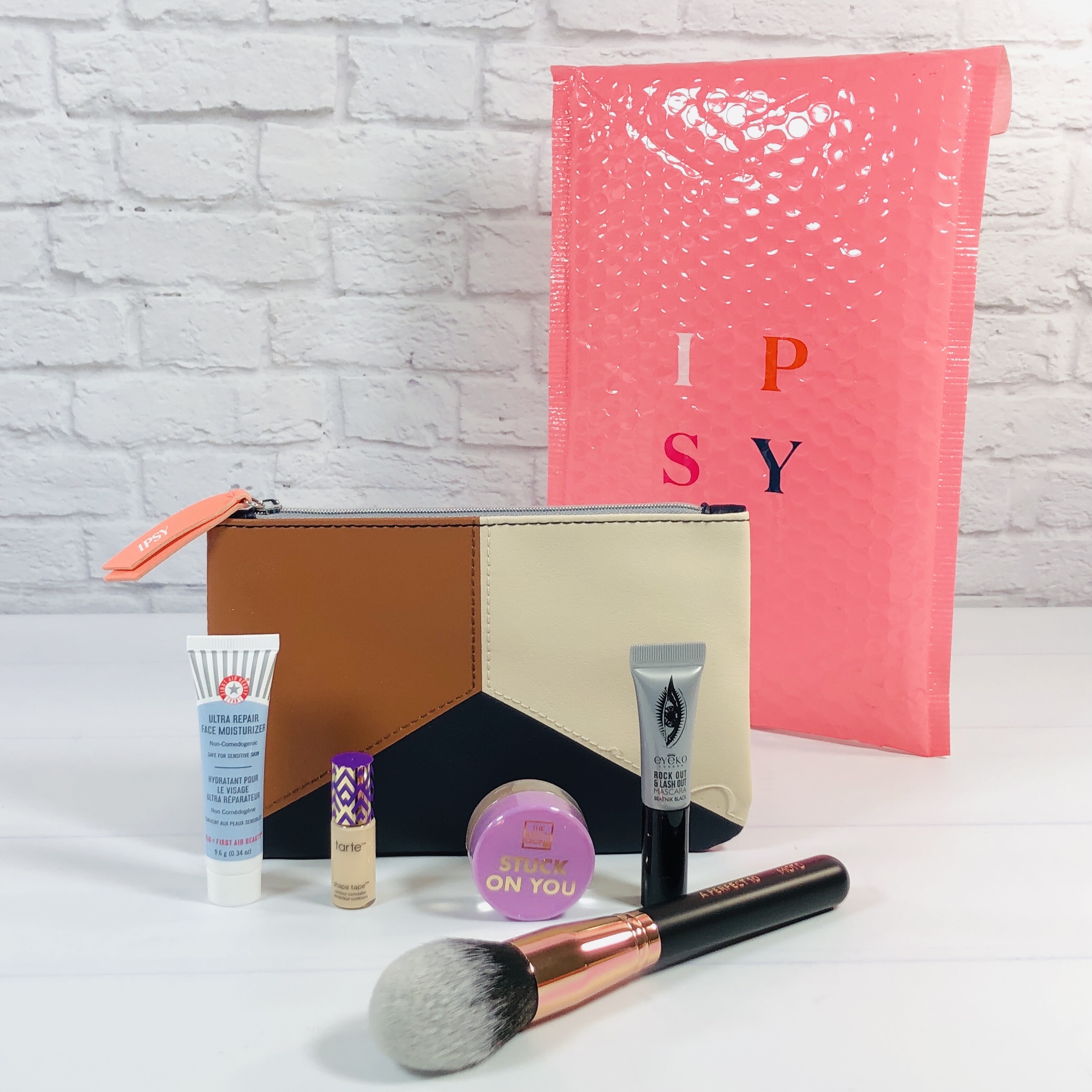 Everything in my box! You can find instructions for use and ingredients on the Ipsy app and website.
Ipsy Glam Bag The bag this month is a little classic, a little muted, but I love this style and think it is perfect for fall and going into winter. It has brown, beige, and navy blue colors on the front.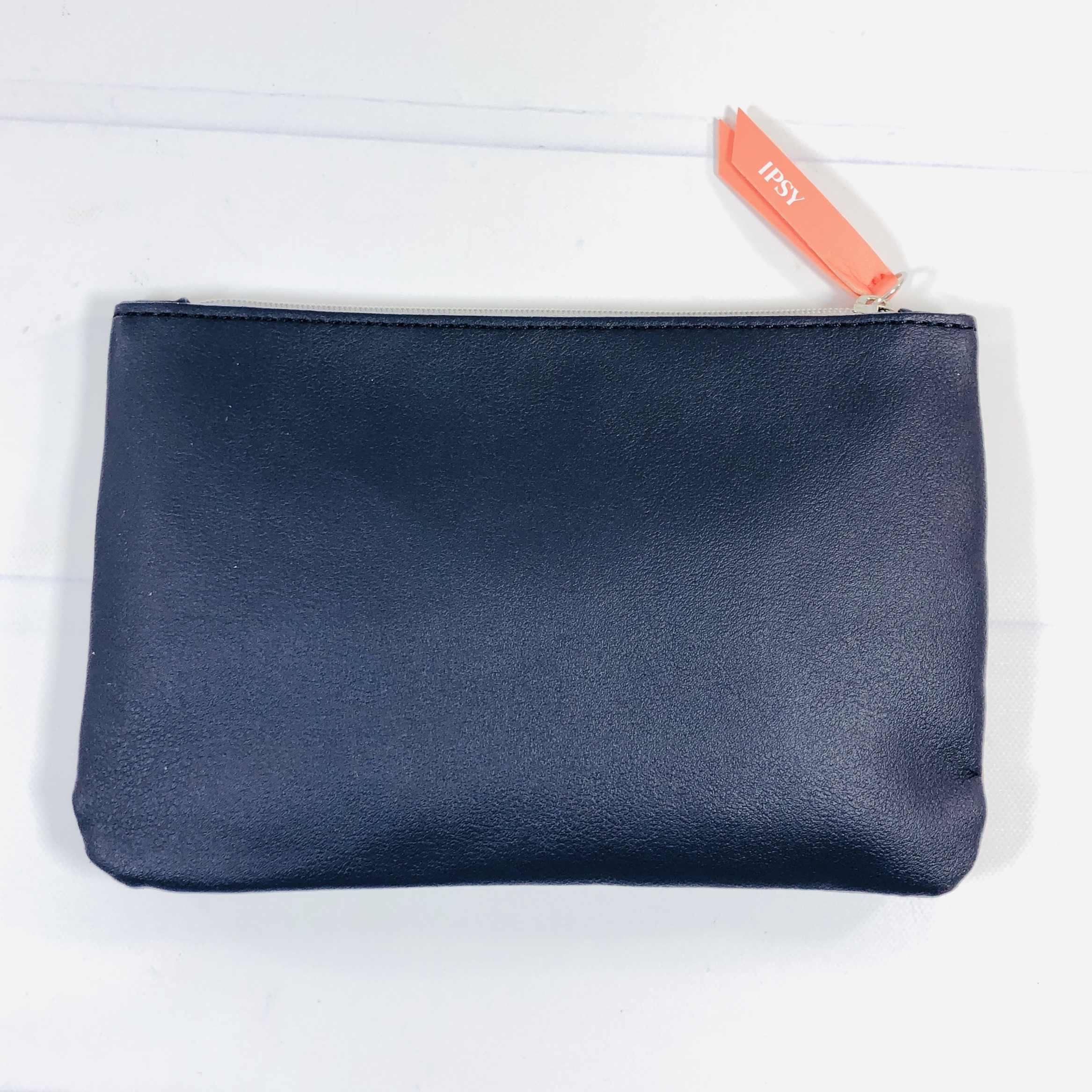 The back is solid navy and the peachy pink zipper pull says Ipsy.
The inside is lined with peachy polyester fabric and the zipper is silver-toned.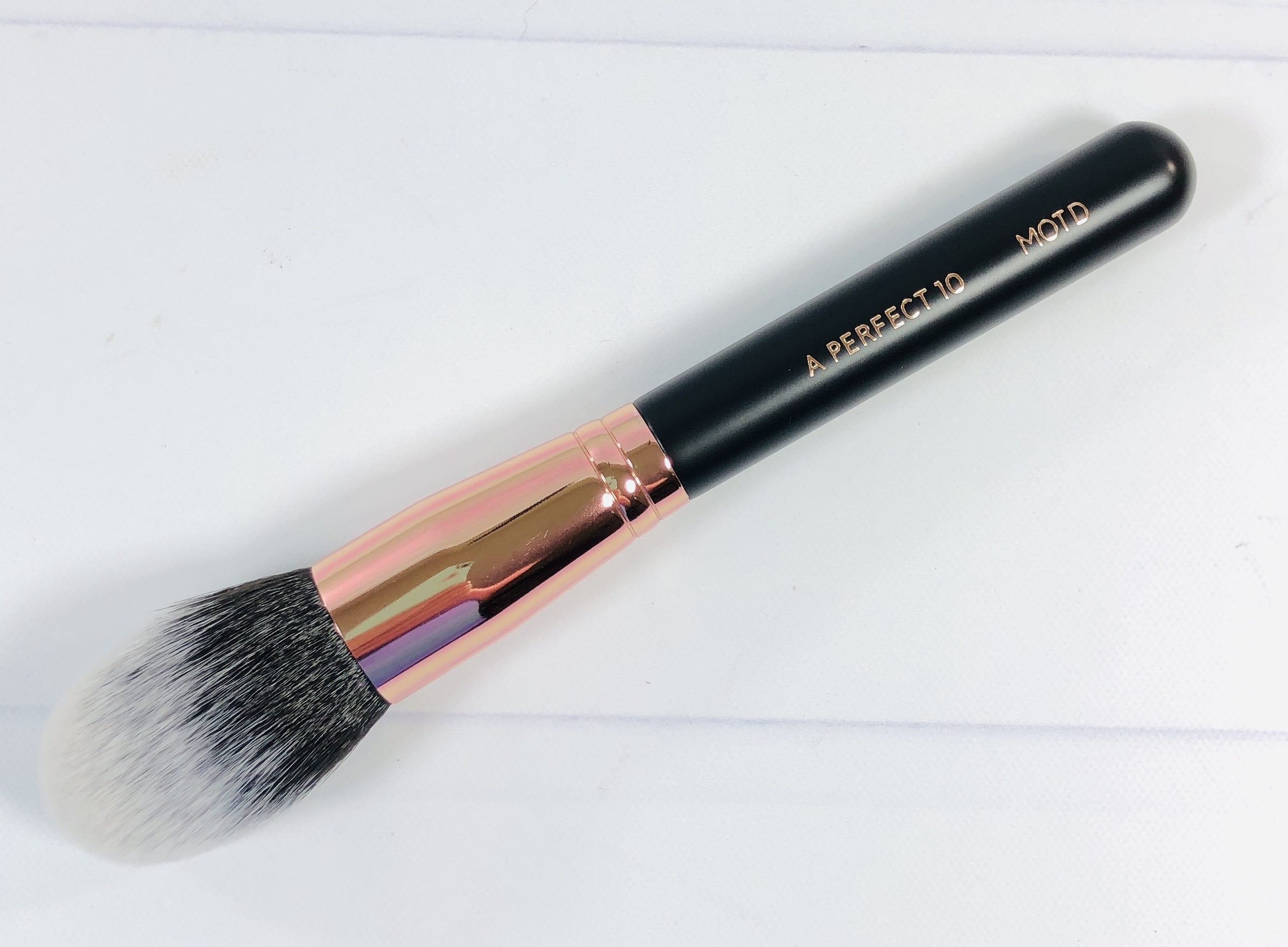 MOTD Cosmetics A Perfect 10 Tapered Face Brush (Full size, $22) This full-sized brush has vegan bristles, black handle, and rose gold ferrule.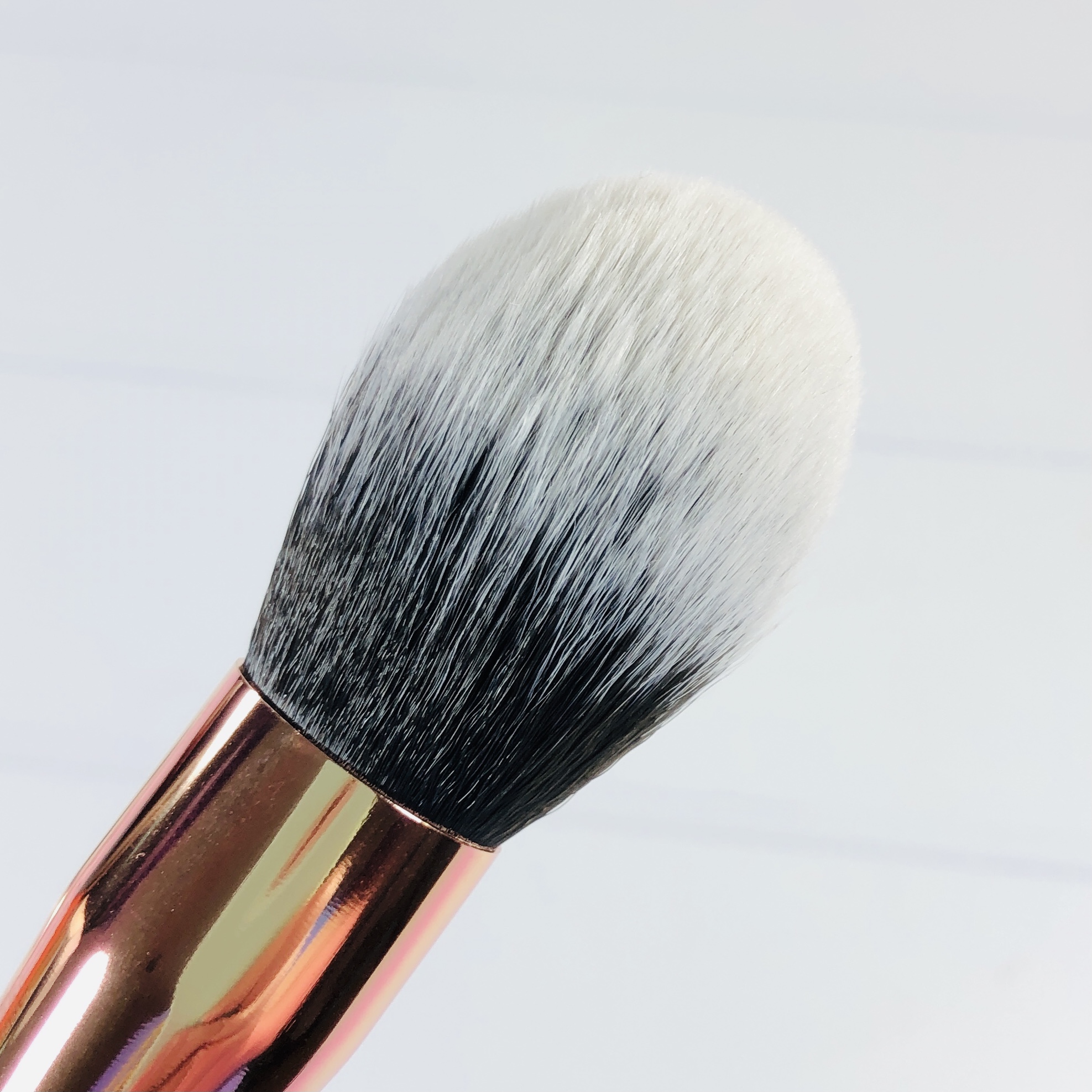 It's up to multitasking. It can be used to apply powders and blush, but I preferred using it for contour and highlighter. It's pretty fluffy and not too dense and I liked that the tapered tip helped me get product just where I needed it to go.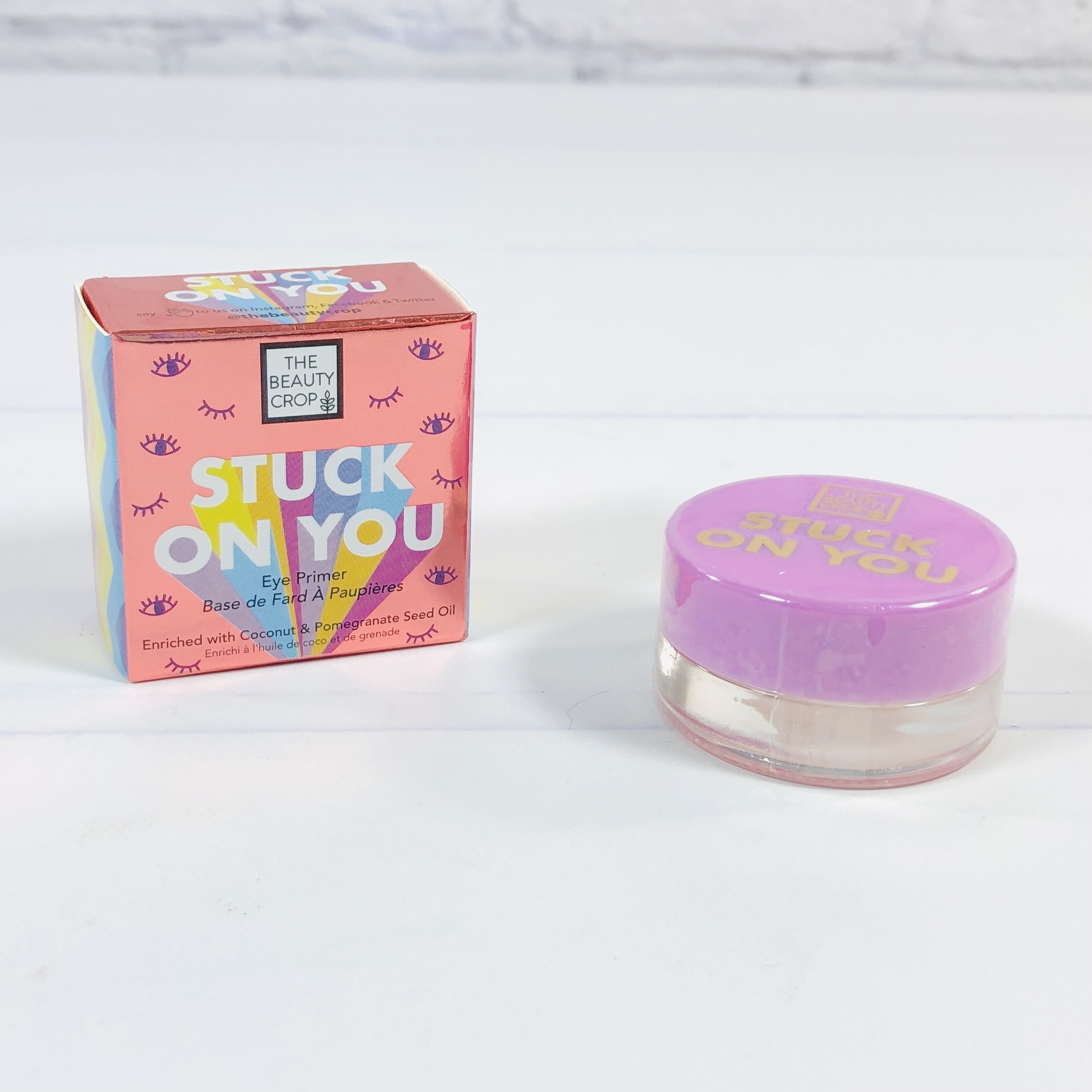 The Beauty Crop Stuck On You Eyeshadow Primer (Full size, $16.50) Every month subscribers get to choose one of their items and I chose this eyeshadow primer!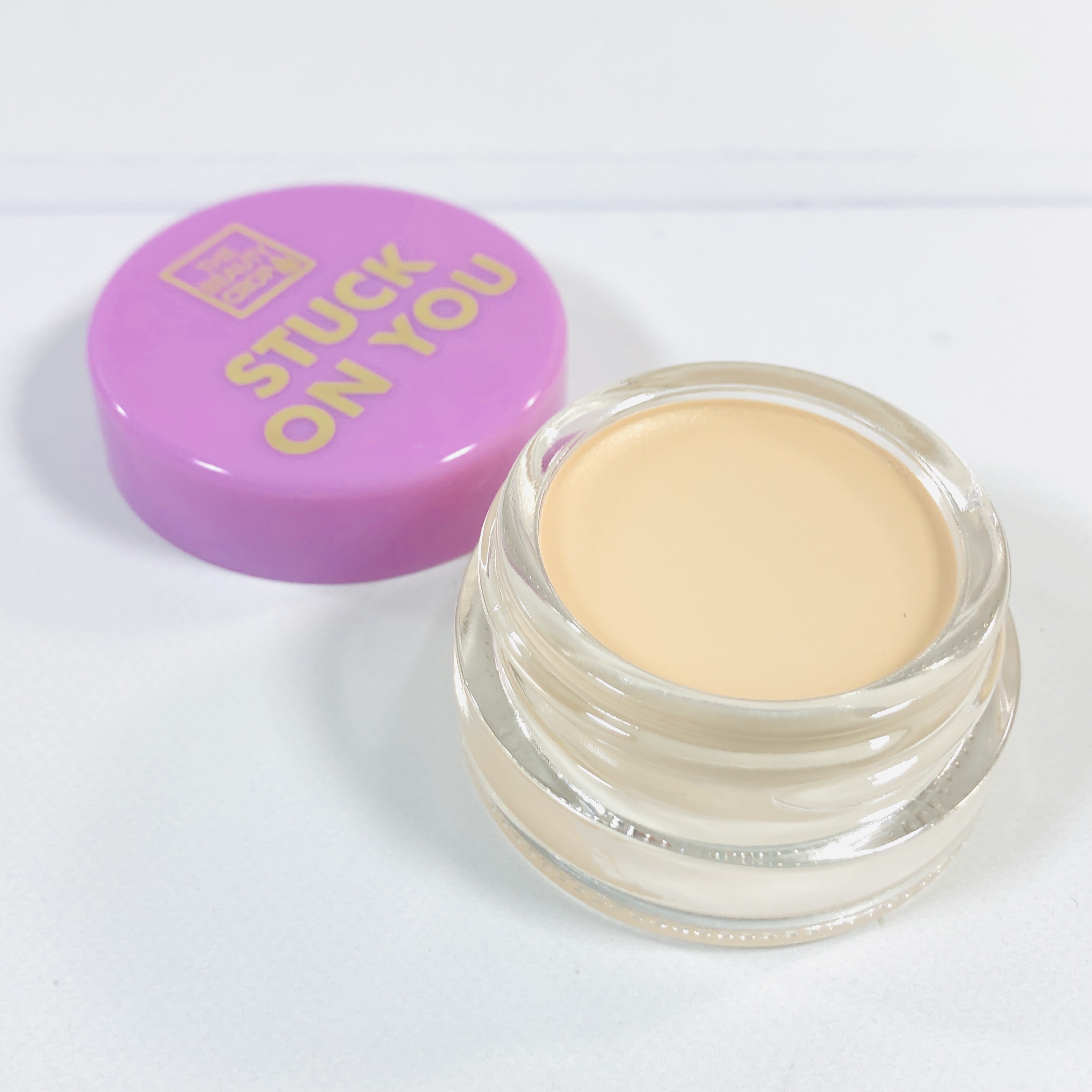 It is a bit like concealer and you just smear it on with your finger and the warmth will help smooth it onto lids. It can also double as a concealer under eyes too. It is made with coconut oil and pomegranate seed oil and is vegan and cruelty-free. I liked that it made a blank canvas for my eyeshadows!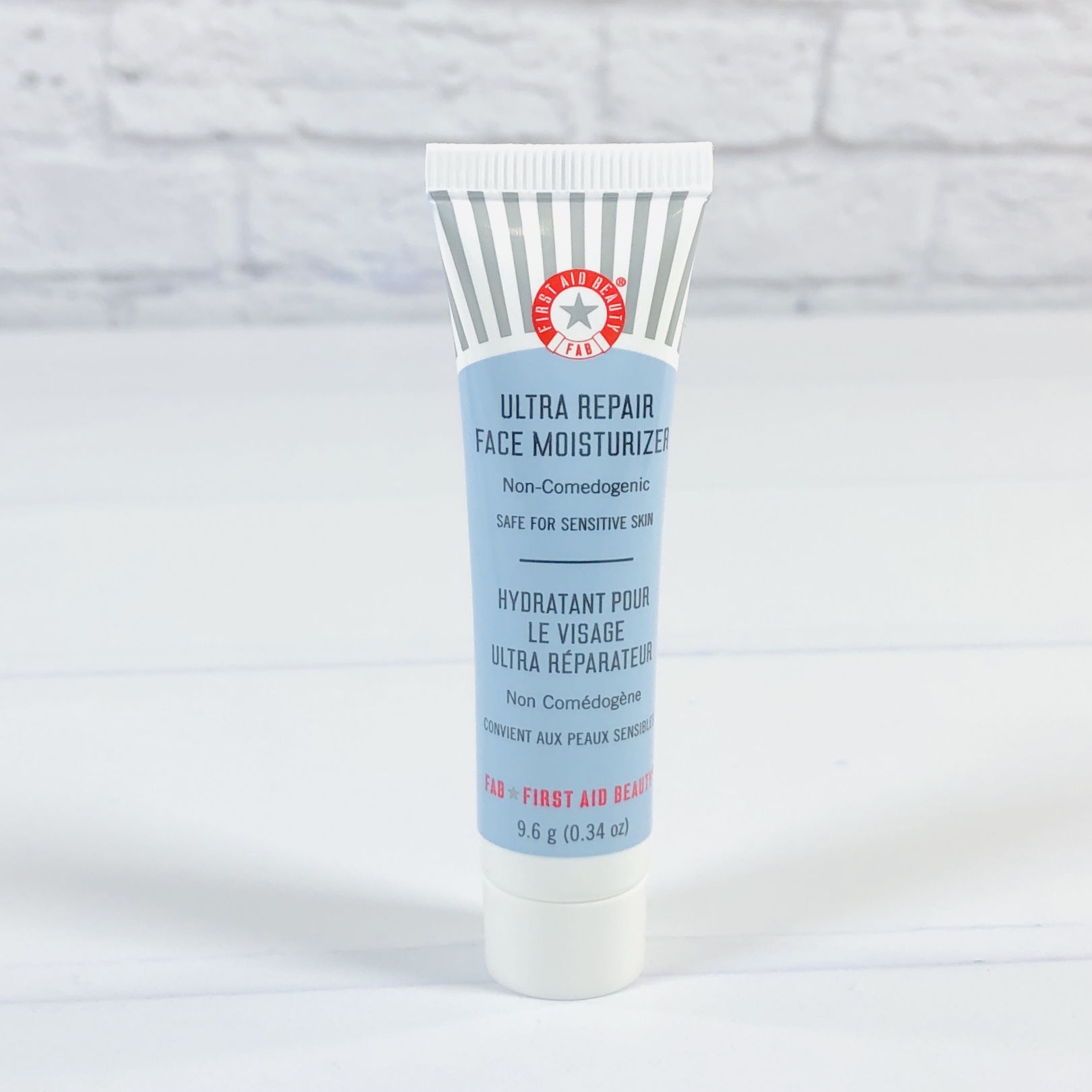 First Aid Beauty Ultra Repair Face Moisturizer ($5.20 value) Ipsy says this is a lighter version of the brand's original moisturizer and it is meant for normal skin. I applied it and it disappeared immediately, I think I need the OG for my dry skin. It has earned the Clean at Sephora sticker and contains colloidal oatmeal to calm skin and shea butter plus avocado oil to moisturize.
EyeKo Rock Out and Lash Out Mascara in Carbon Black ($4.20 value) I can't seem to get enough mascara and these little bitty ones get tossed after a month or so anyways so I say bring it.
This one had a unique brush head that just didn't work for me. They say you can skip the lash curler and this is supposed to curl and lengthen but I have short lashes so when I tried to get the skinny part near the base I was afraid I would poke myself in the eye with the bulbous end. I like the squeezy container though, it makes it easy to get the wand loaded with product.
tarte Double Duty Beauty Shape Tape Concealer in Light Sand ($1.35 value) I am always happy to get tarte in my bag and concealer is one of those items I need pretty much all the time. I have redness all over and the dreaded undereye bags and this shade worked fine for my coloring.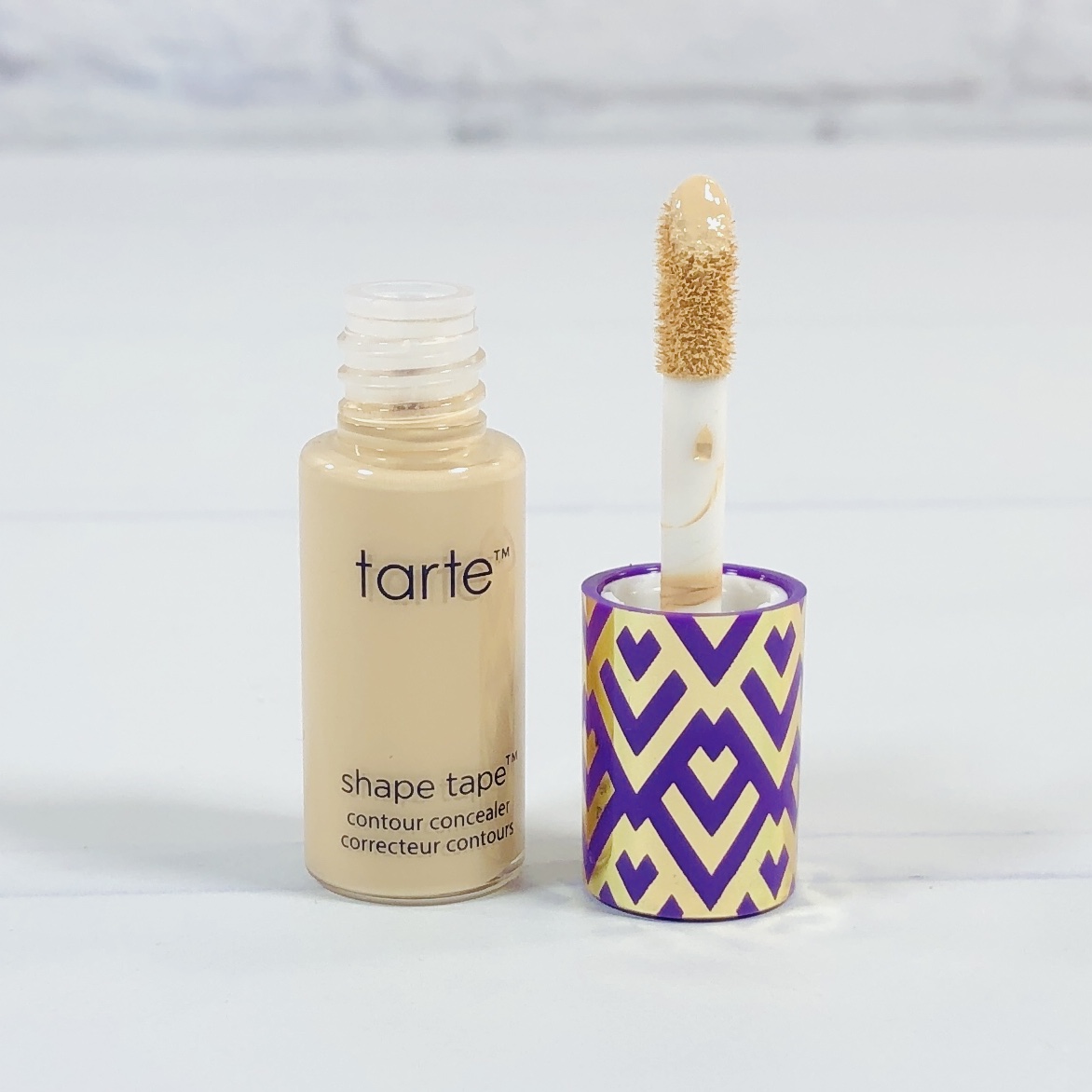 A little goes a long way and I dotted it under my eyes and even used it as an eye shadow primer. I blended it in by dotting it with my finger but a brush would work too. I set it with powder and it looked natural and not cakey.
Here it is swatched on my arm.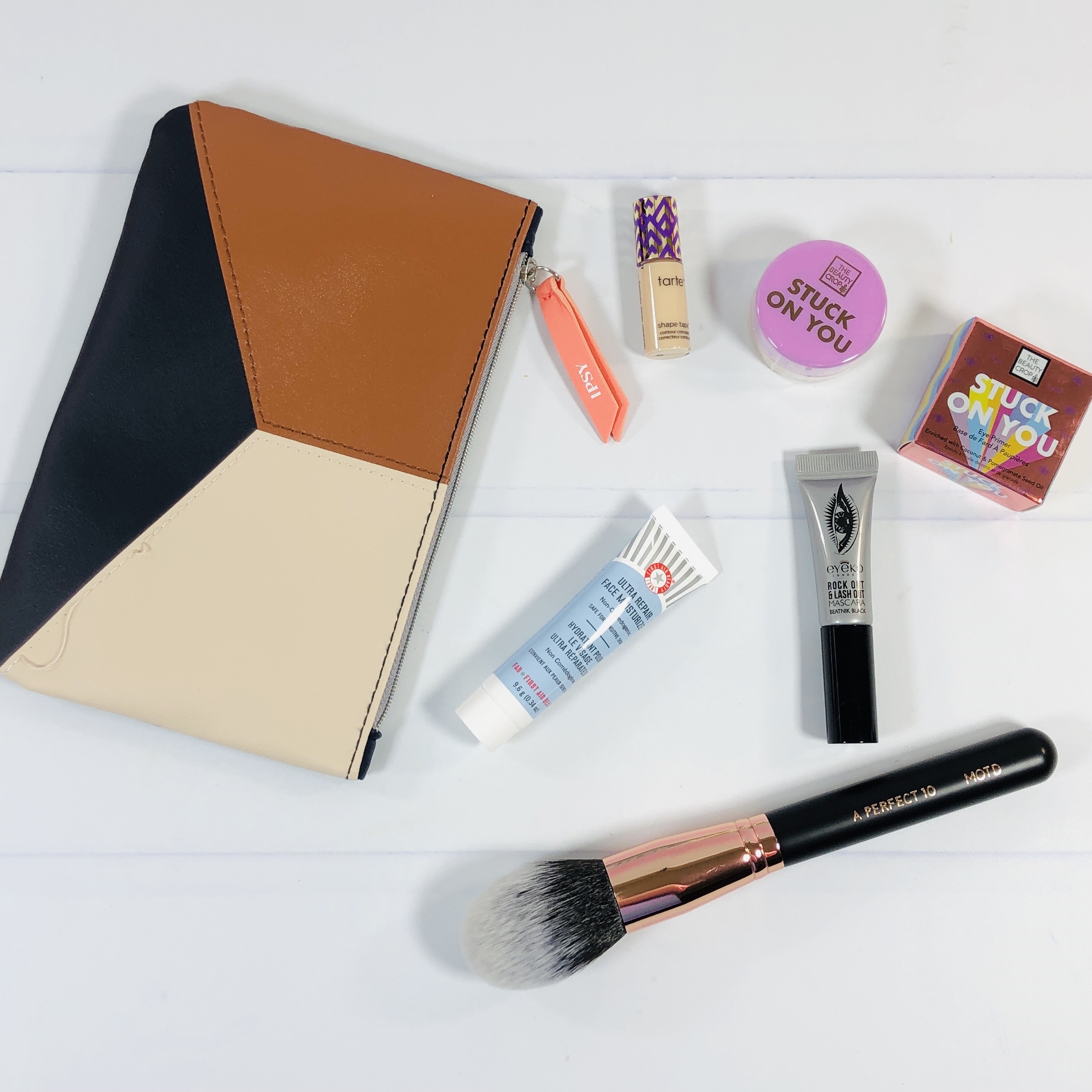 Not only did I love my adorable Ipsy Glam Bag, I also adored my new beauty products! One item was a moisturizer and the rest of the items had to do with makeup, and were basics at that. I started by applying the FAB moisturizer and followed with the concealer. I used the primer on my eyes and when I finished applying my usual products I topped it all off with the mascara. The MOTD brush helped me contour and highlight. Overall it was a good month for me! The value for my combo was around $49.25!
What did you get in your Ipsy this month?