Fit Lifestyle Box is a veteran-owned and operated subscription box filled with motivation to get your fitness life going. Every month, you will receive a full-size product (apparel, jump rope, shaker bottle), healthy snacks, supplements samples, workout challenges, and more. The box is $24 per month.
DEAL: Get 20% off on your first box! Use coupon code HELLO21.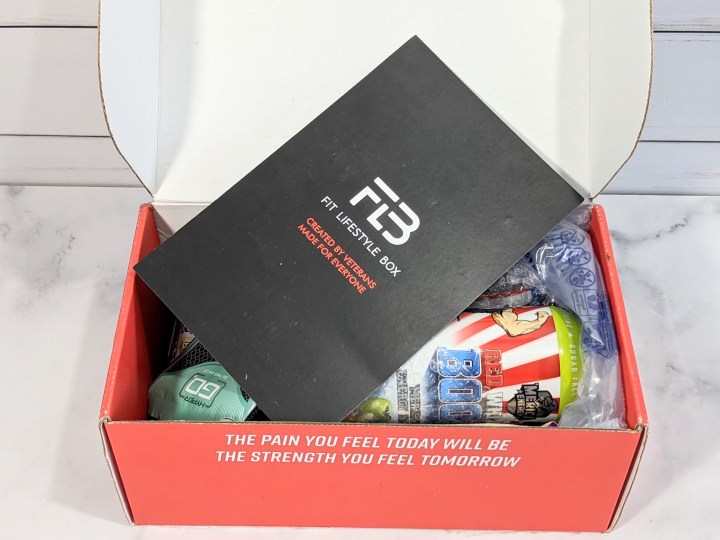 This month's box was full and heavy!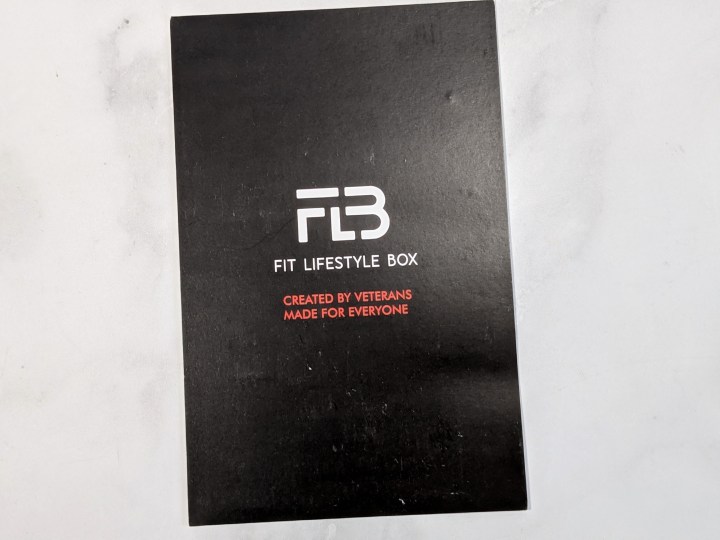 There's is no information card about the items in the box.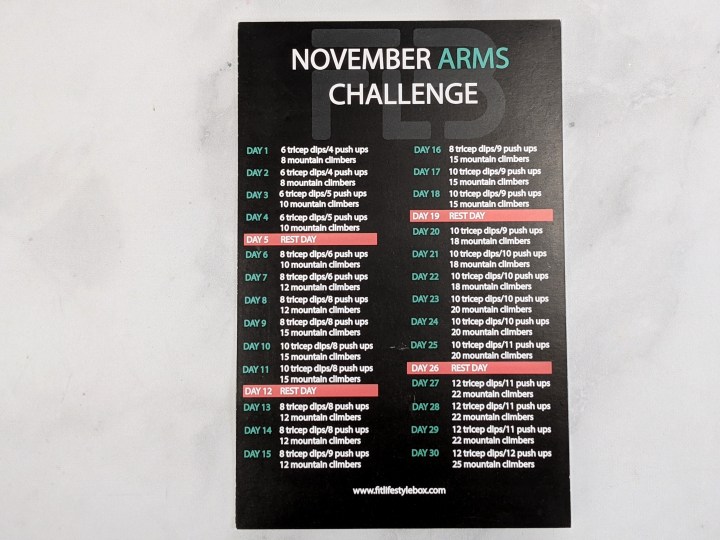 November's workout is all about the arms! The workout is based on three exercises (tricep dips, push-ups, mountain climbers) with a nice progression that doesn't feel overwhelming. Even though I received the box later in the month, I planned on trying it as a "30-day challenge".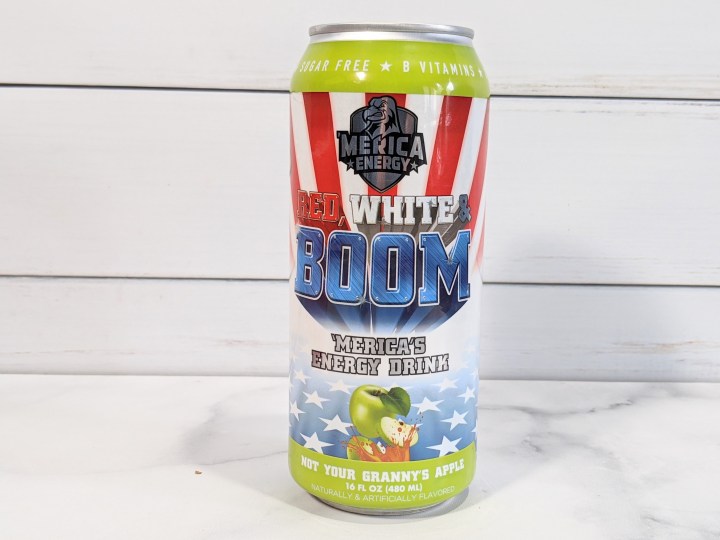 'Merica Energy – Red, White, Boom – Not your Granny's Apple. This was the heavy item and the first thing I picked out of the box. The can was well packaged with bubble wrap to make it fit snuggly in the box to avoid any leaks.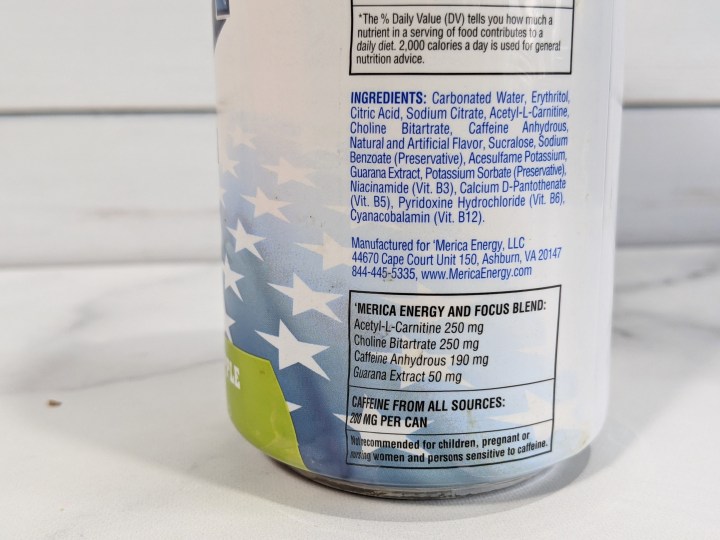 This is a tasty sugar-free energy drink. It contains 200mg of caffeine per can, and it's sweetened with sucralose. It also has 2mg of vitamin B6, 6mcg of B12, and 20mg of Niacin.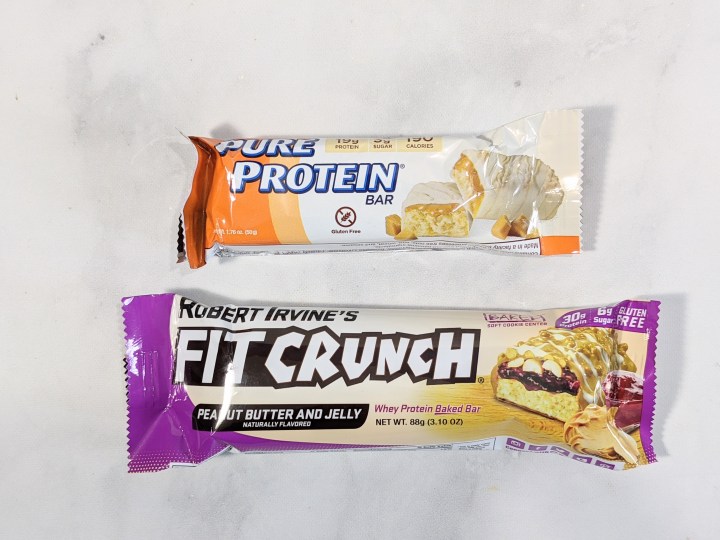 Pure Protein Maple Caramel. With 19g of protein for 190 calories, this is one of my favorite protein bars. It's chewy and sweet, with a nice rich caramel flavor (I can't say it's maple-flavored, but it's definitely caramel).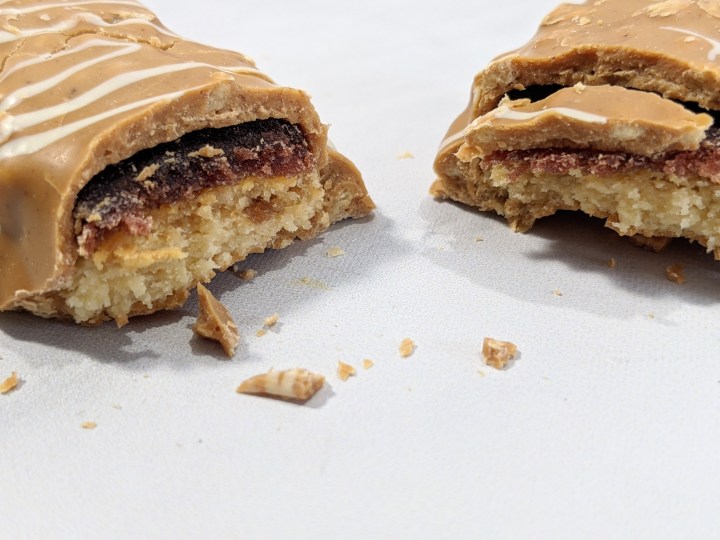 Robert Irvine's Fit Crunch – Peanut Butter and Jelly. A whole bar is 380 calories for 30g of protein and 27g of carbs. It's not as sweet as I thought it would be, but it's delicious. Even though the jelly flavor is there, I can't say what's the fruit flavor. The inside is soft and chewy and it felt more like a candy bar than a protein bar. I was quite satisfied with only a third of the bar!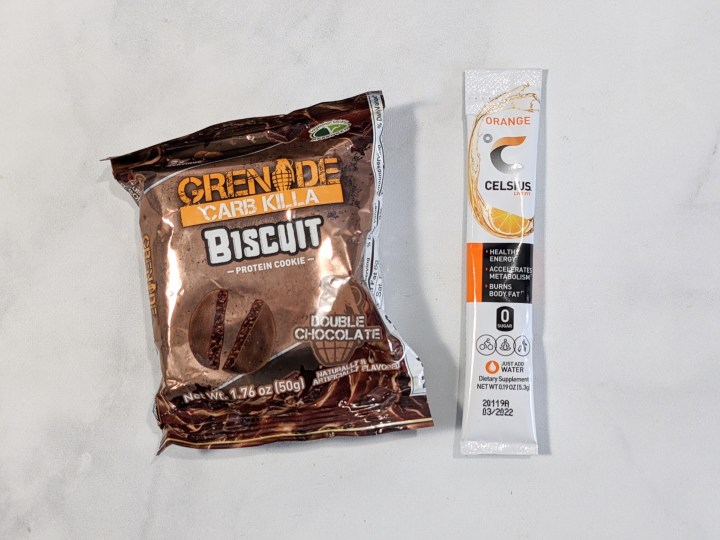 Grenade Carb Killa Biscuit. With 6g of protein per biscuit (a package contains 2), this is a great pick-me-up in a delicious chocolate flavor for 111 calories.
Celsius Orange On-the-Go Powder Stick. This zero-sugar pre-workout drink contains 200mg of caffeine.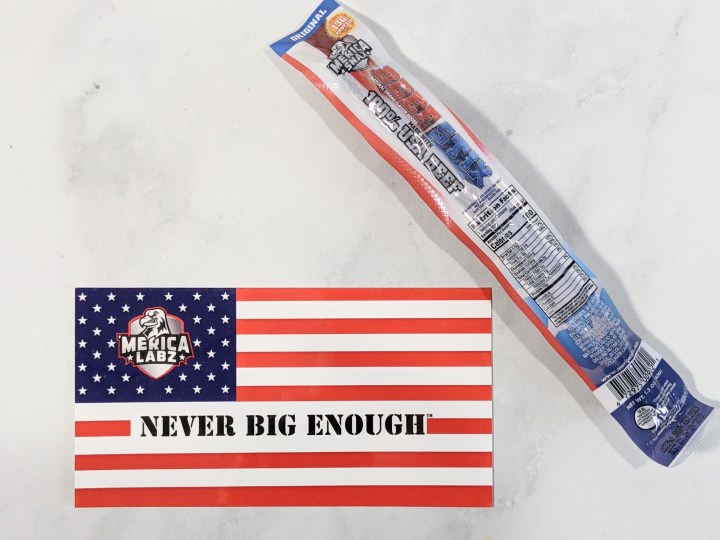 'Merica Labz – 'Merica Snax Beef Stix. Beef sticks are a great source of protein and these are no exception with 13g of protein for 100 calories. They have a nice flavor without being too salty.
'Mercia Labz sticker.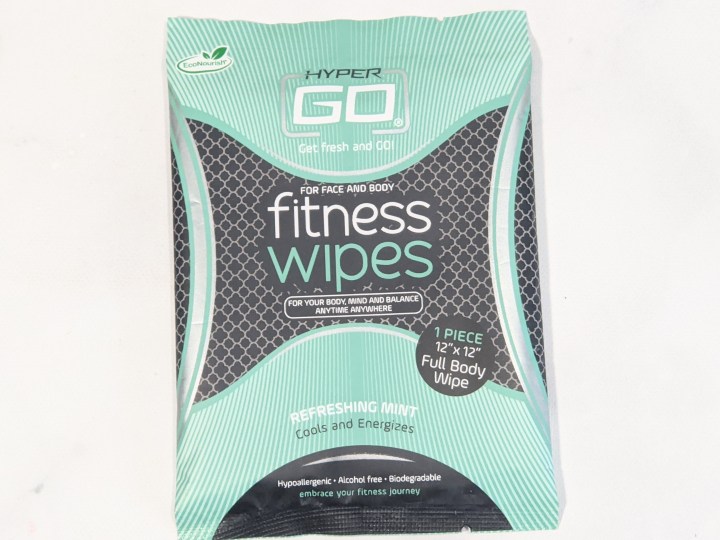 Hyper Go – Fitness Wipes. A 12″x12″ wipe, it has aloe extract, chamomilla extract, mint, vitamin E, oatmeal, and honey extract. The wipe is made with 100% biodegradable vegetable fibers.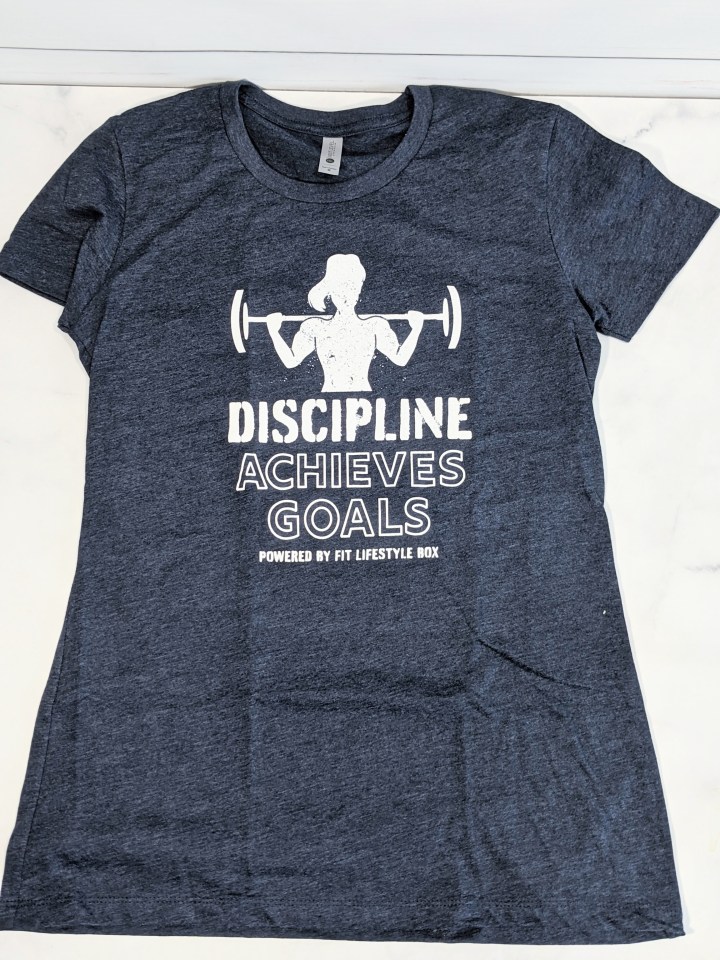 Fit Lifestyle T-Shirt – Discipline Achieves Goals. The main item this month is this light cotton t-shirt. I'm happy to get a t-shirt instead of a tank top.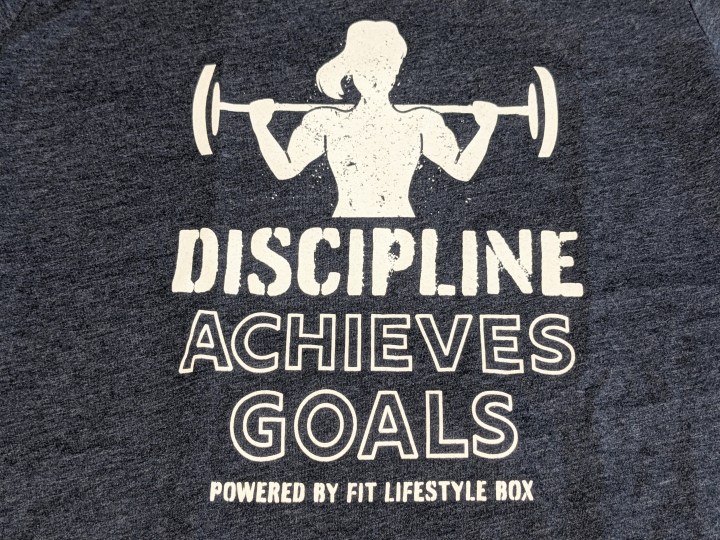 The design has a nice washed look to it and the fabric is thin but really soft.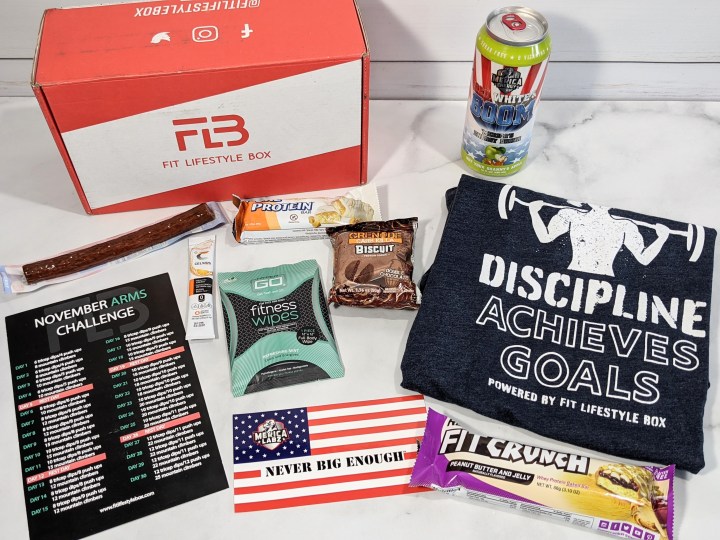 This month's Fit Lifestyle Box was a fun box filled with treats. I really like the t-shirt, and the Fit Crunch bar was delicious. I don't usually drink pre-workout or energy drinks, so both the on-the-go celsius drink and the Red, White, Boom one were nice first steps as they were both delicious and gave me a little extra kick in my workouts. I appreciate the simplicity of the November arms challenge as it has a nice progression that doesn't feel overwhelming for someone who has a pretty weak upper body, but more advanced people could add weights, or resistance bands, to increase the challenge. Overall, a fun box to discover new fitness snacks.
What do you think of this month's box?