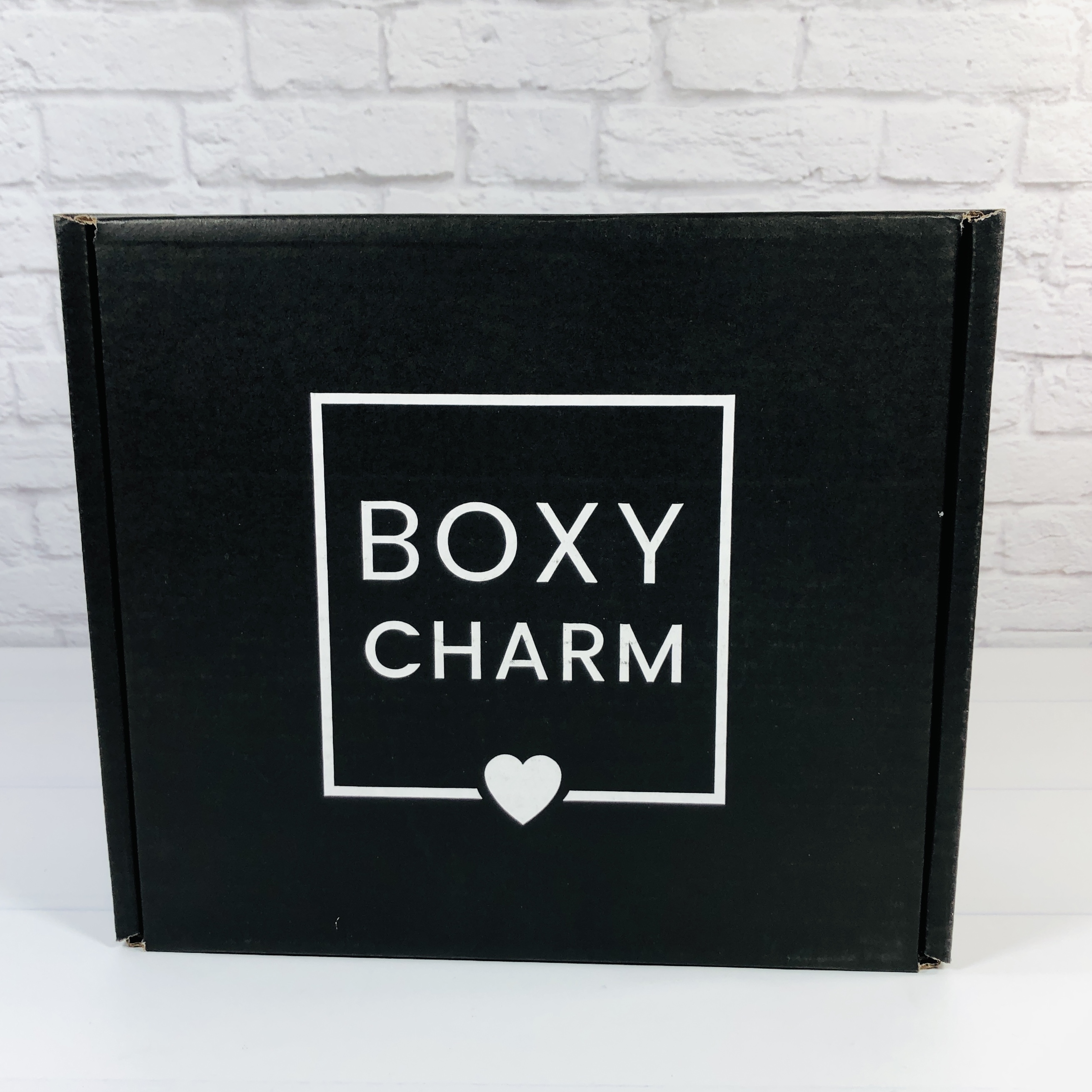 BOXYCHARM is a makeup and beauty subscription box that sends out 4-5 deluxe and full-size samples every month. In the past, the items have been mostly full-size products and the boxes have been able to maintain an amazingly high value.
This is a review of the upgraded quarterly BoxyLuxe subscription. You can see the full spoilers for the regular December 2020 BOXYCHARM boxes here. BoxyLuxe contains some of the items from the regular monthly box, and adds additional luxury items in a quarterly upgrade for an upcharge of $28.99 on your existing box once per quarter. You can find more info on BoxyLuxe here.
BOXYCHARM also has the BOXYCHARM Premium subscription, which is different than this – check out all you need to know about BOXYCHARM Premium here!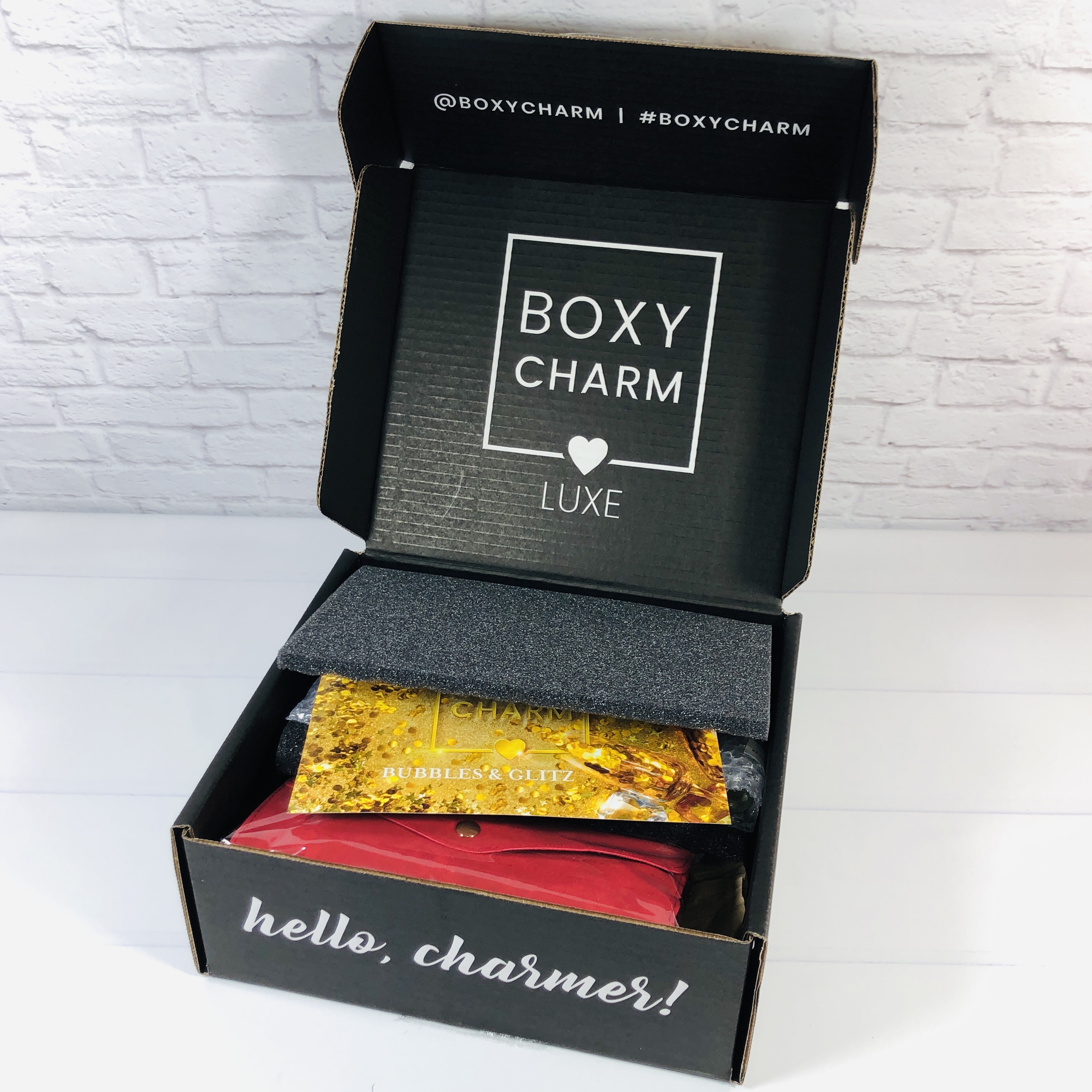 It's here! This is my first ever BoxyLuxe!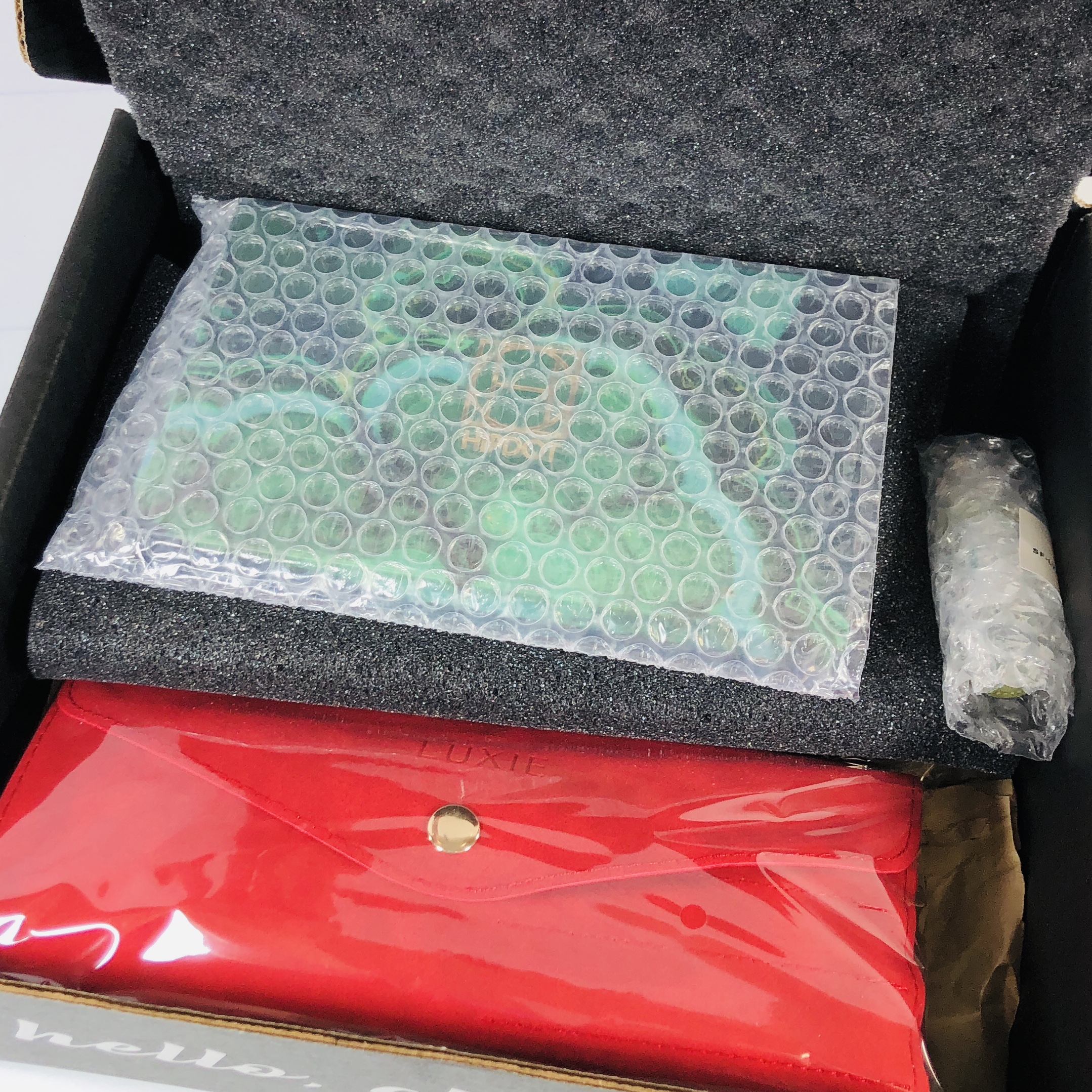 The items arrived in a black box. Most, if not all, of the items came in their original packaging and the items were cushioned with foam and some items were in bubble wrap.
The box includes an information card. The theme was Bubbles & Glitz!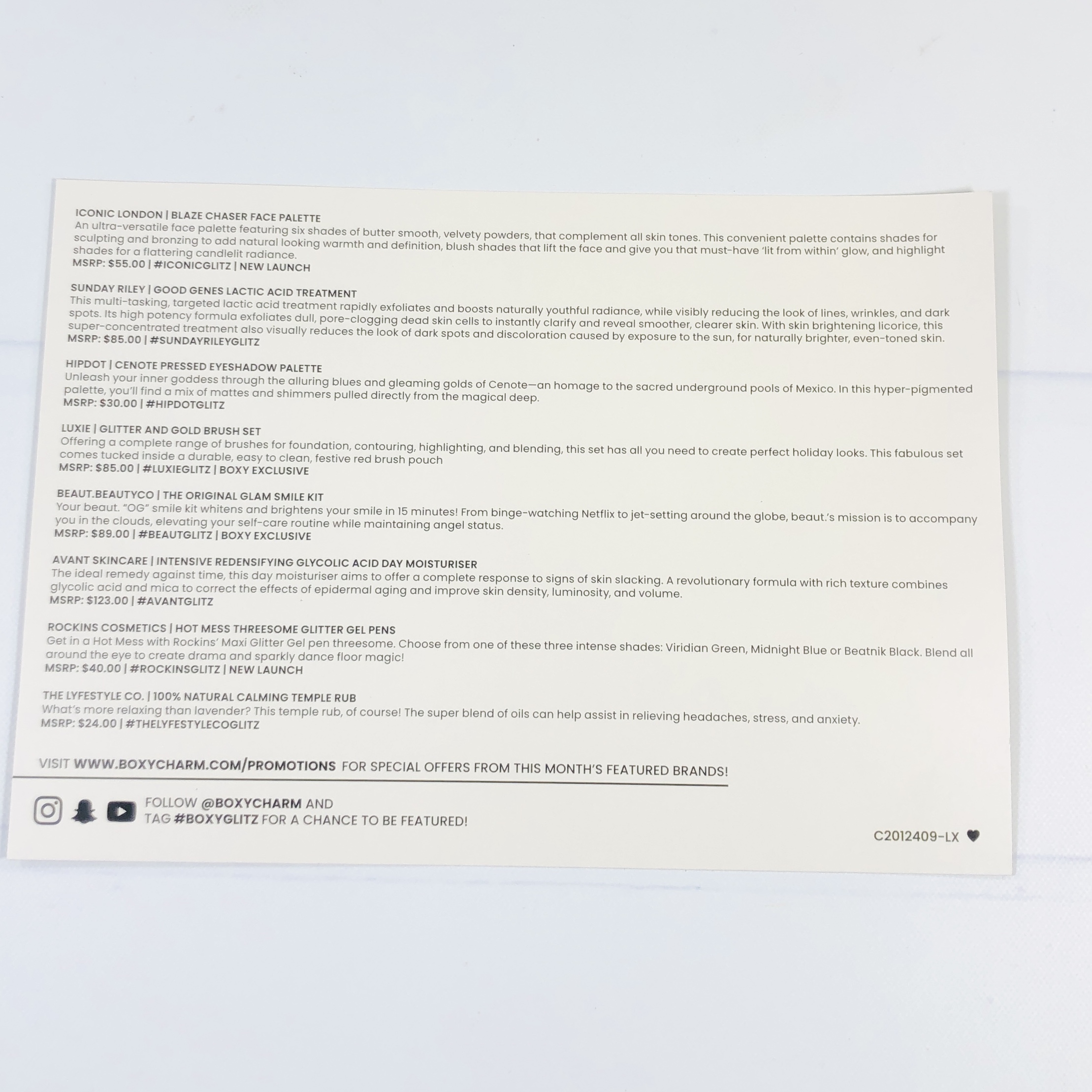 At the back, it lists all the products in the box, together with a brief description.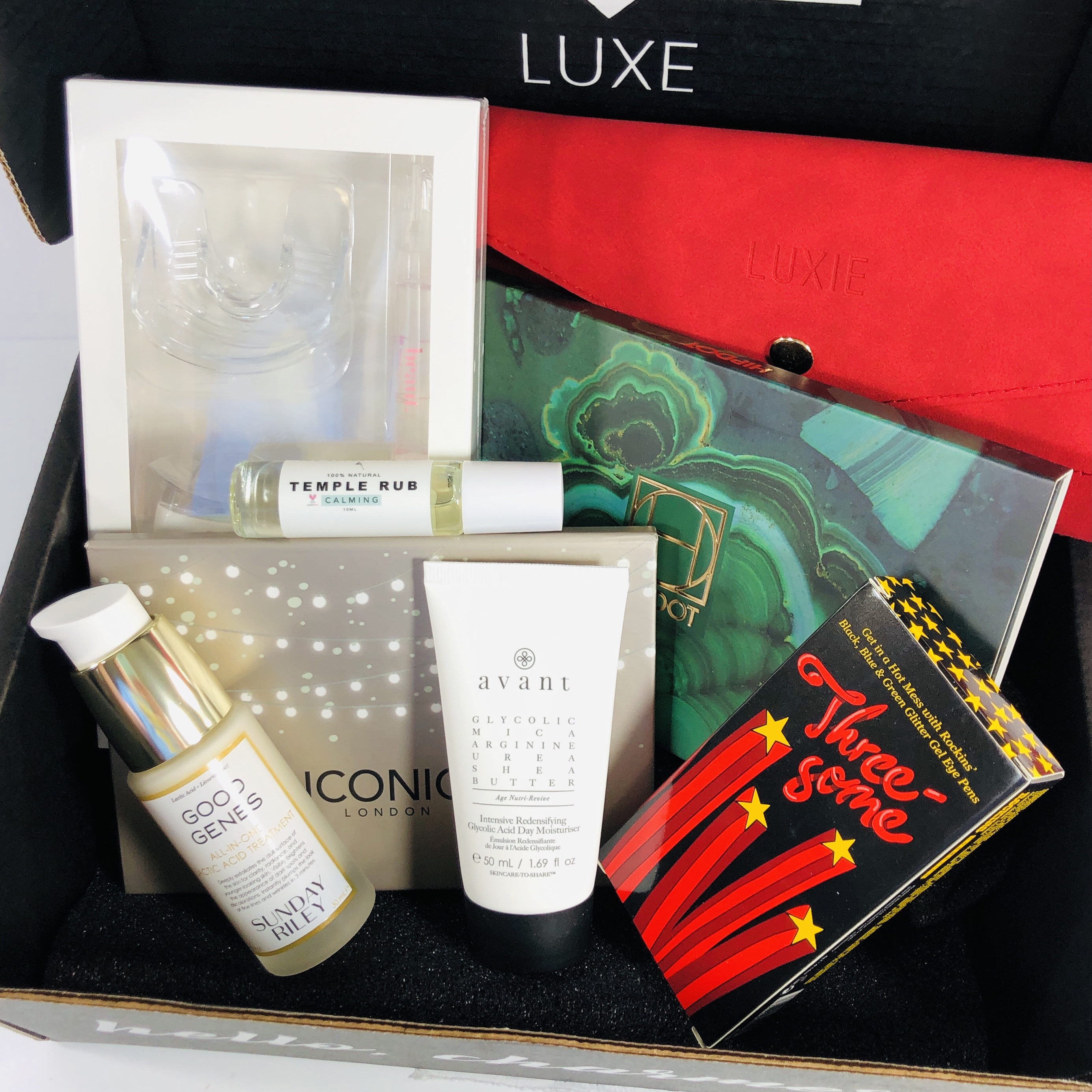 I'm so excited to try these products!
Everything in my December 2020 BoxyLuxe! You can see the full spoilers for the different variations of the December 2020 BoxyLuxe boxes here.
Once again, this is a BoxyLuxe review.
Avant Skincare Intensive Redensifying Glycolic Acid Day Moisturiser ($123 list price, on sale for $86.10) This is a new-to-me brand and it is a pricey one at that! 
It's a moisturizer that is supposed to help fight signs of aging by smoothing fine lines and wrinkles with glycolic acid and has shimmery mica to help boost radiance. It felt quite moist on my skin but eventually my skin drank it up and it wasn't greasy. It has a strong perfume scent that is pleasant but those with sensitivities may want to use it somewhere else, like the neck.
Sunday Riley Good Genes Lactic Acid Treatment ($85) A second acid treatment was in the box, but this time the star is lactic acid. This serum is supposed to smooth and retexturize the skin while helping reduce discoloration from redness and dark spots.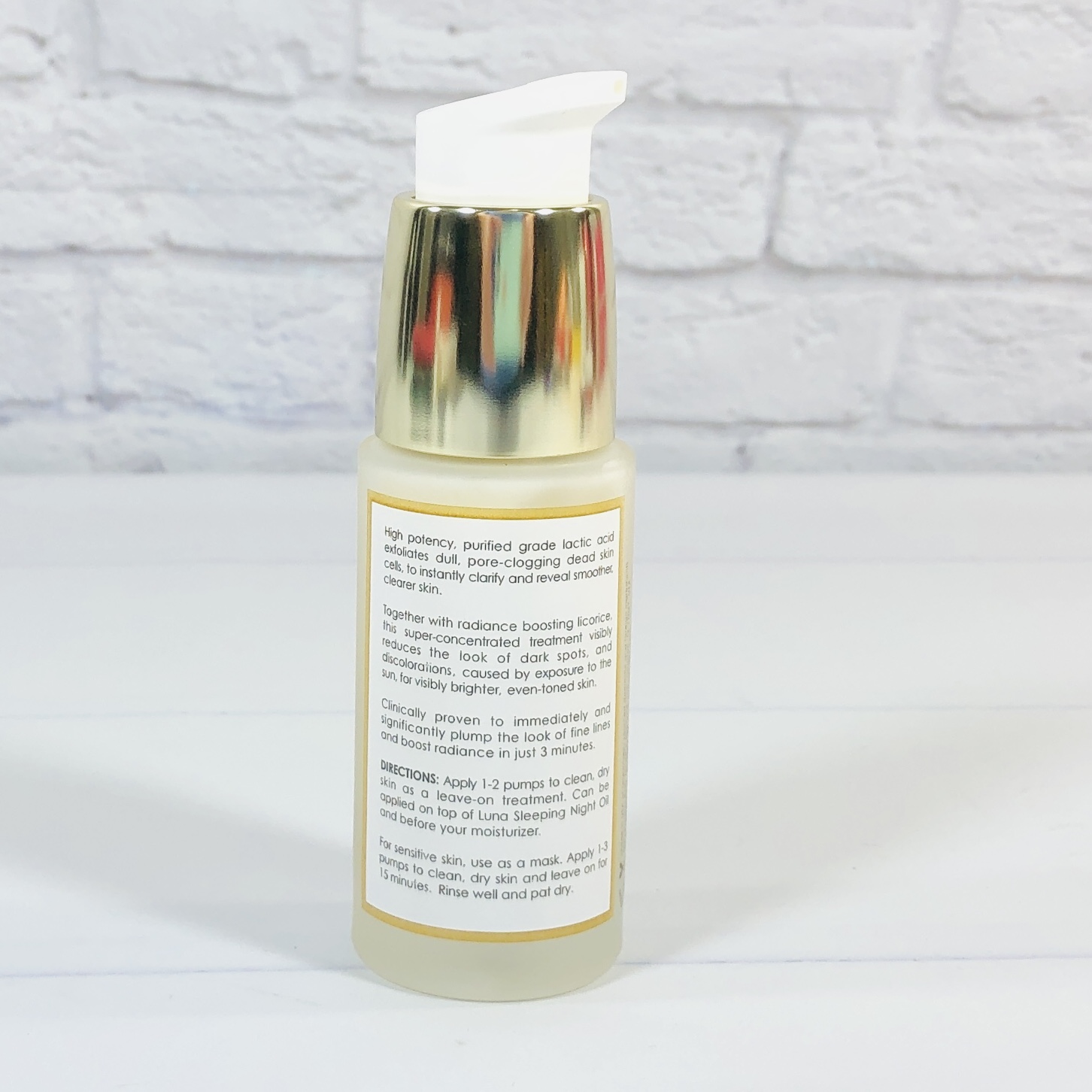 You can use twice a day, or even use this as a mask by mixing it with cleanser and washing off after 15 minutes. I thought it felt similar to the other moisturizer, silky at first but then disappearing after a while. The scent isn't as pretty, there is an underlying scent from the lactic acid that always reminds me of self tanner, but there is lemongrass oil to cover that up.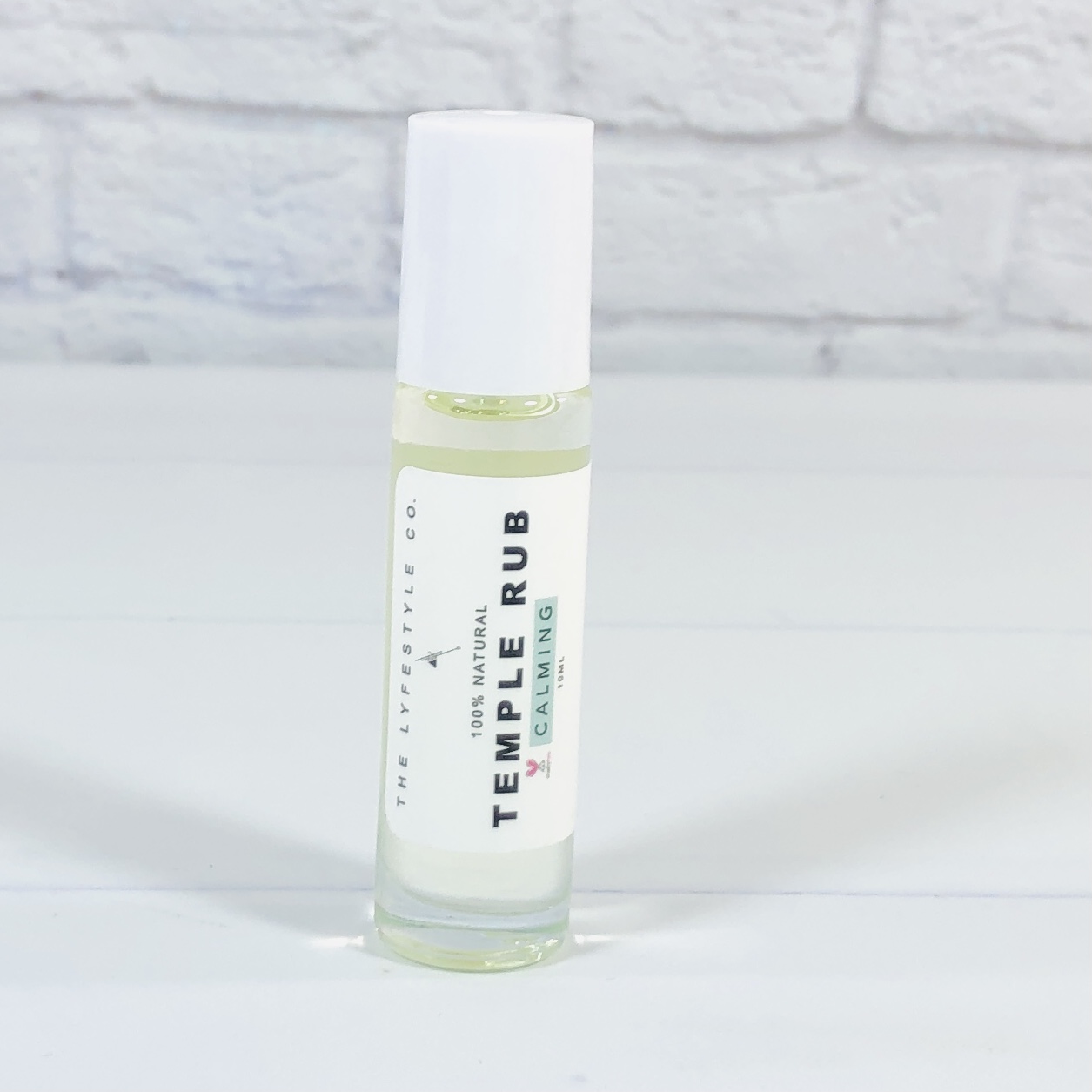 The LyfeStyle Co 100% Natural Calming Temple Rub ($24) Peppermint is a stimulating scent and it is said to relieve headaches, so here's a temple rub with that lovely natural scent inside.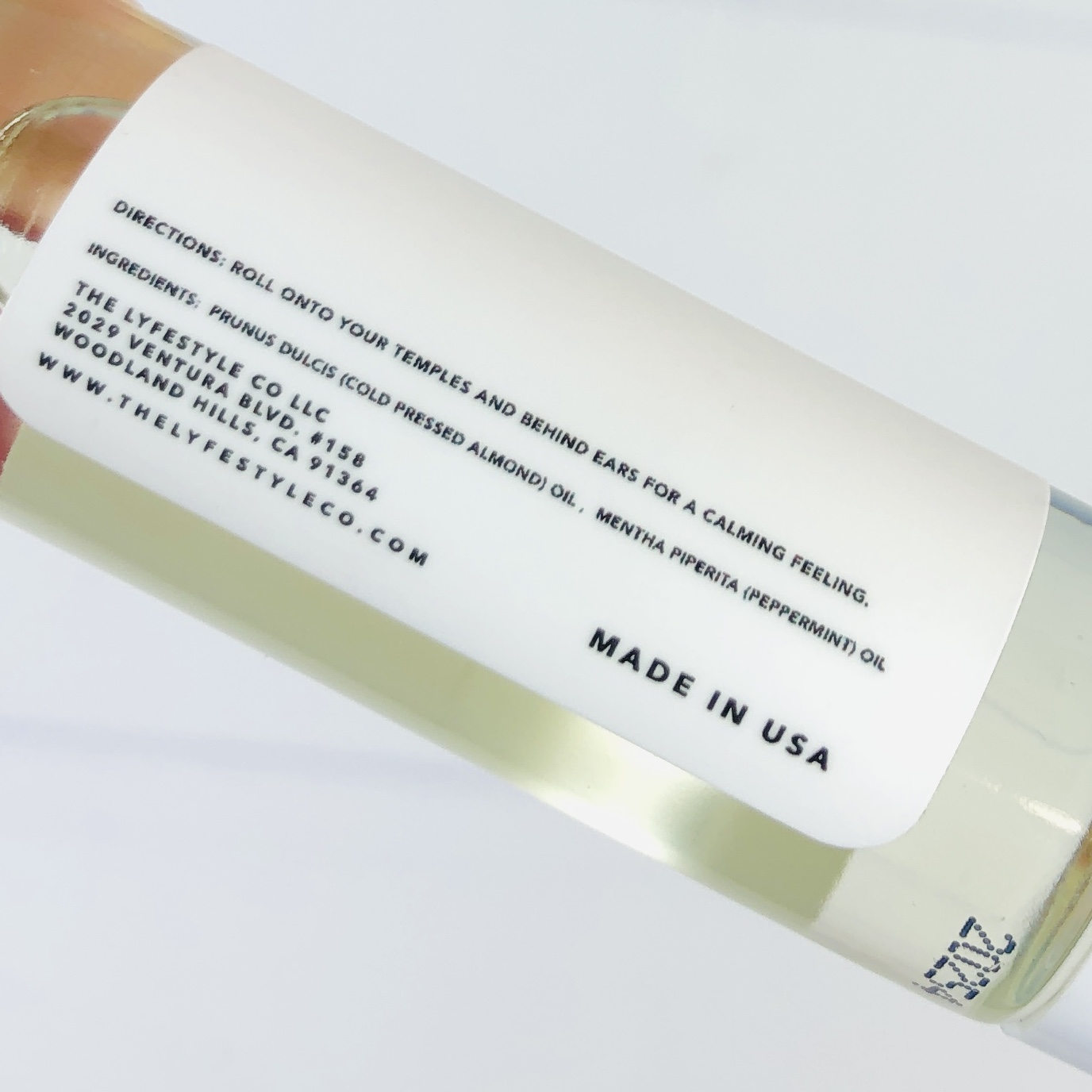 Sweet almond and peppermint essential oil are the only two ingredients. Essential oils by themselves are too strong to be applied directly to the skin so a carrier oil, like sweet almond oil, forms the base as it is a light smelling oil.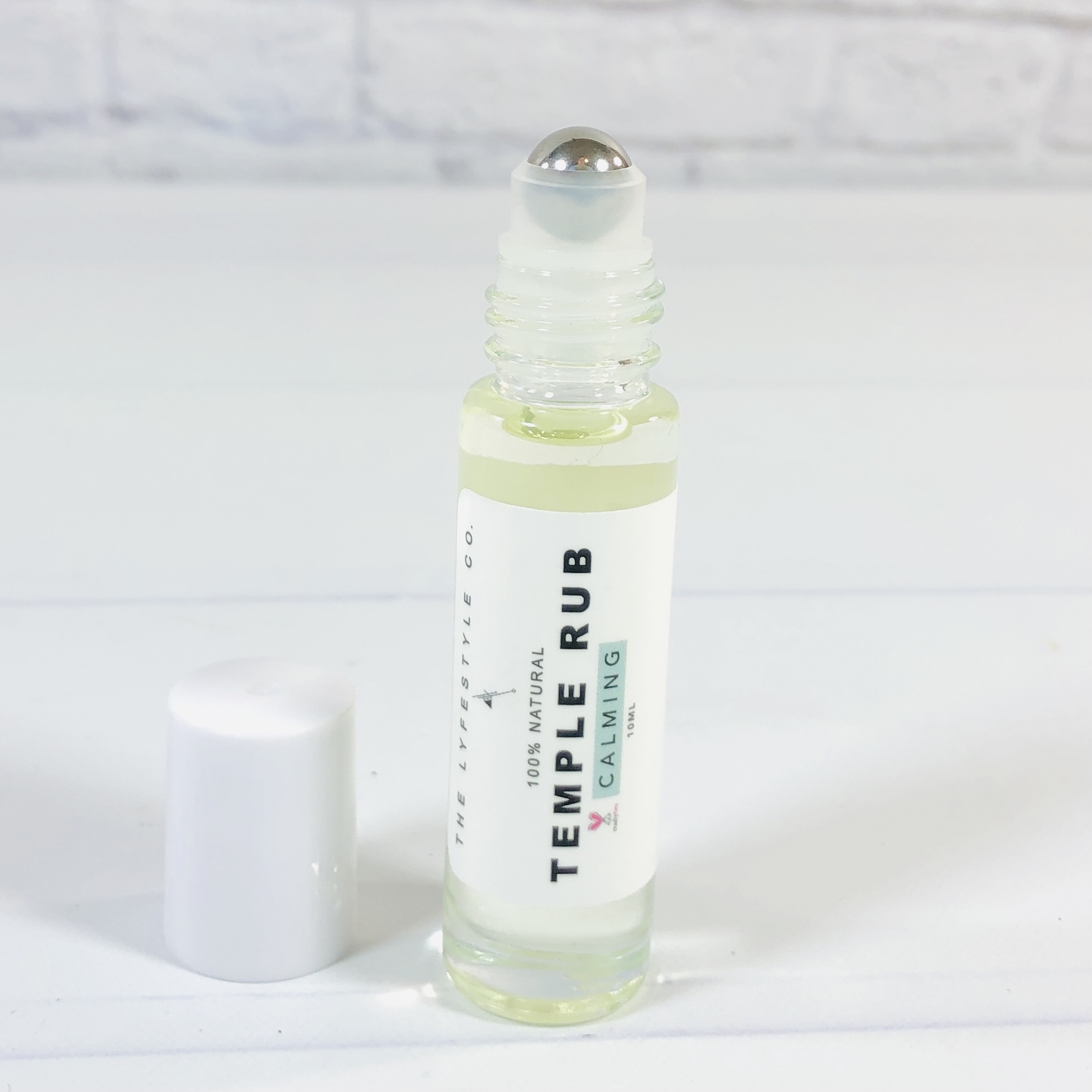 Simply roll the oil along the temples or even on pulse points like the wrist and take a deep breath to relive anxiety and headaches.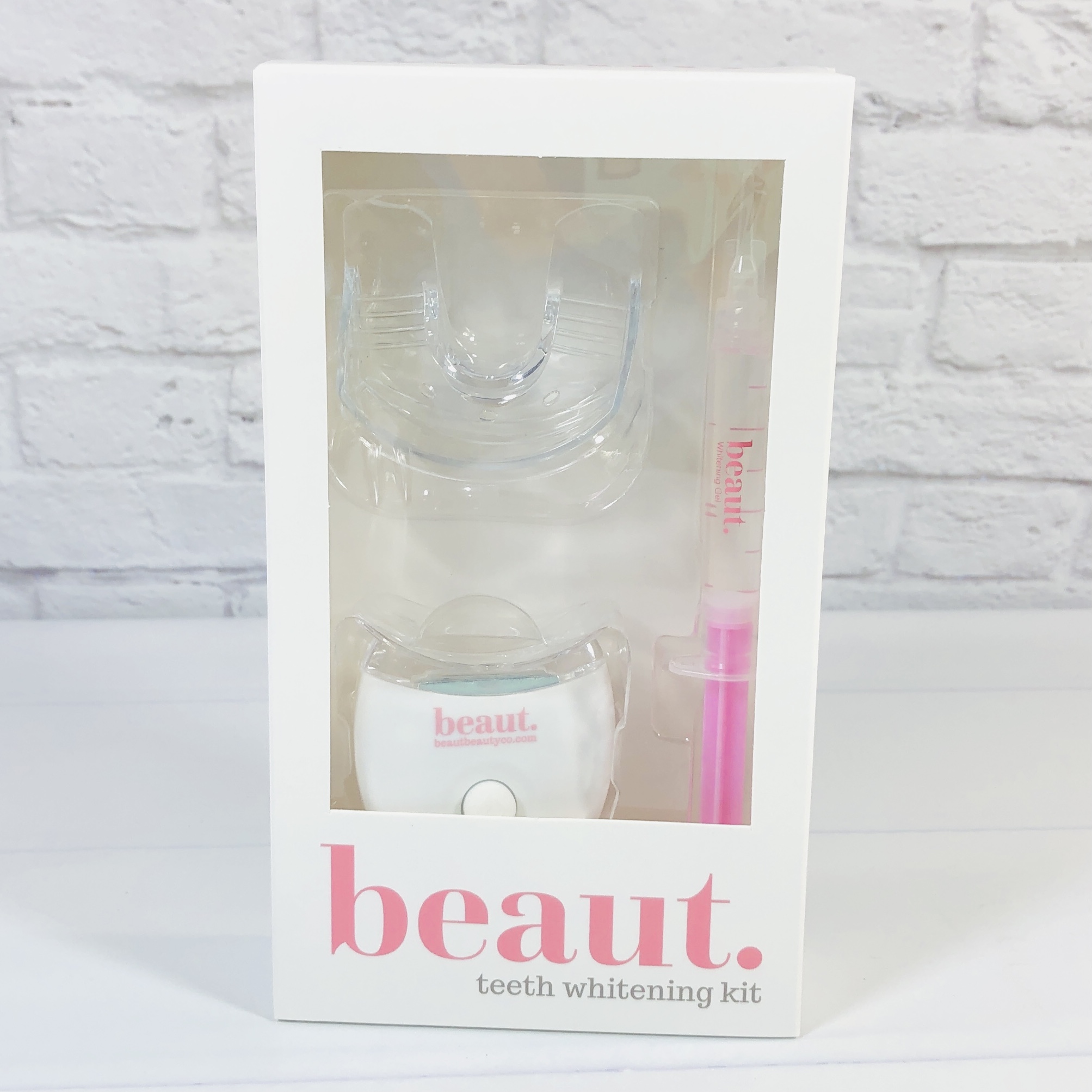 BEAUT.BEAUTYCO – The Original Glam Smile Kit ($89) A teeth whitening kit to get me ready to say "cheese" for the camera was in my box.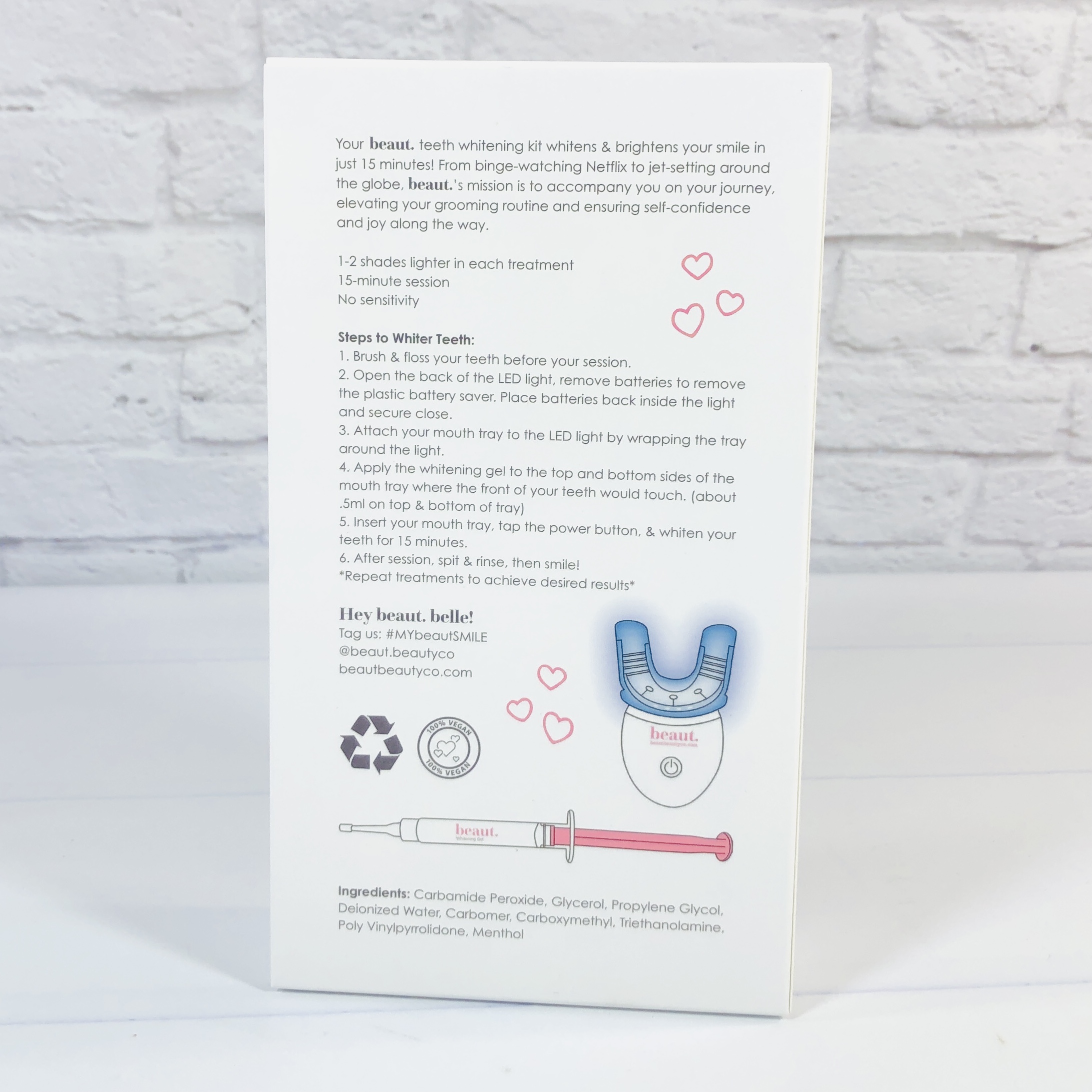 The instructions were on the back of the box. The active ingredient is carbamide peroxide.
Remove the battery saver (a piece of plastic that is underneath the batteries in the LED light) and reinsert batteries. The light should turn on. Attach the light to the mouth piece, then apply .5ml to both the top and bottom of the mouthpiece and insert into mouth. Turn on the light and chill for 15 minutes while the gel and light go to work. Spit the gel out afterwards, rinse, and there you go. There is enough gel for 3 treatments. Please note that it won't lighten dental work like crowns and fillings.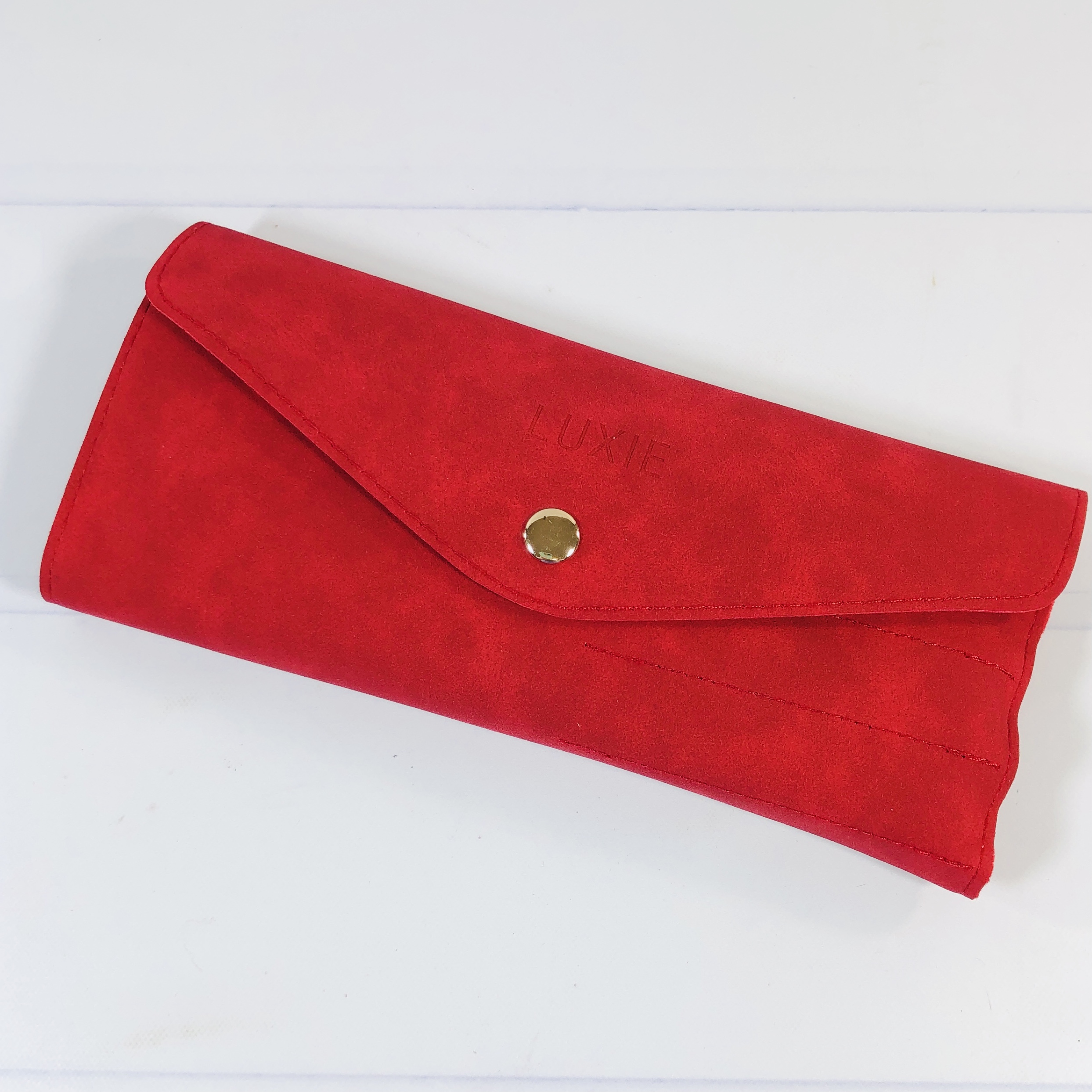 Luxie Beauty 8 pc Brush Set ($85 listed value) According to the card this is a BoxyLuxe exclusive item. A similar item is listed as $80 and on sale for $32, and in fact, almost all of the brushes are marked at a substantial discount on the Luxie site.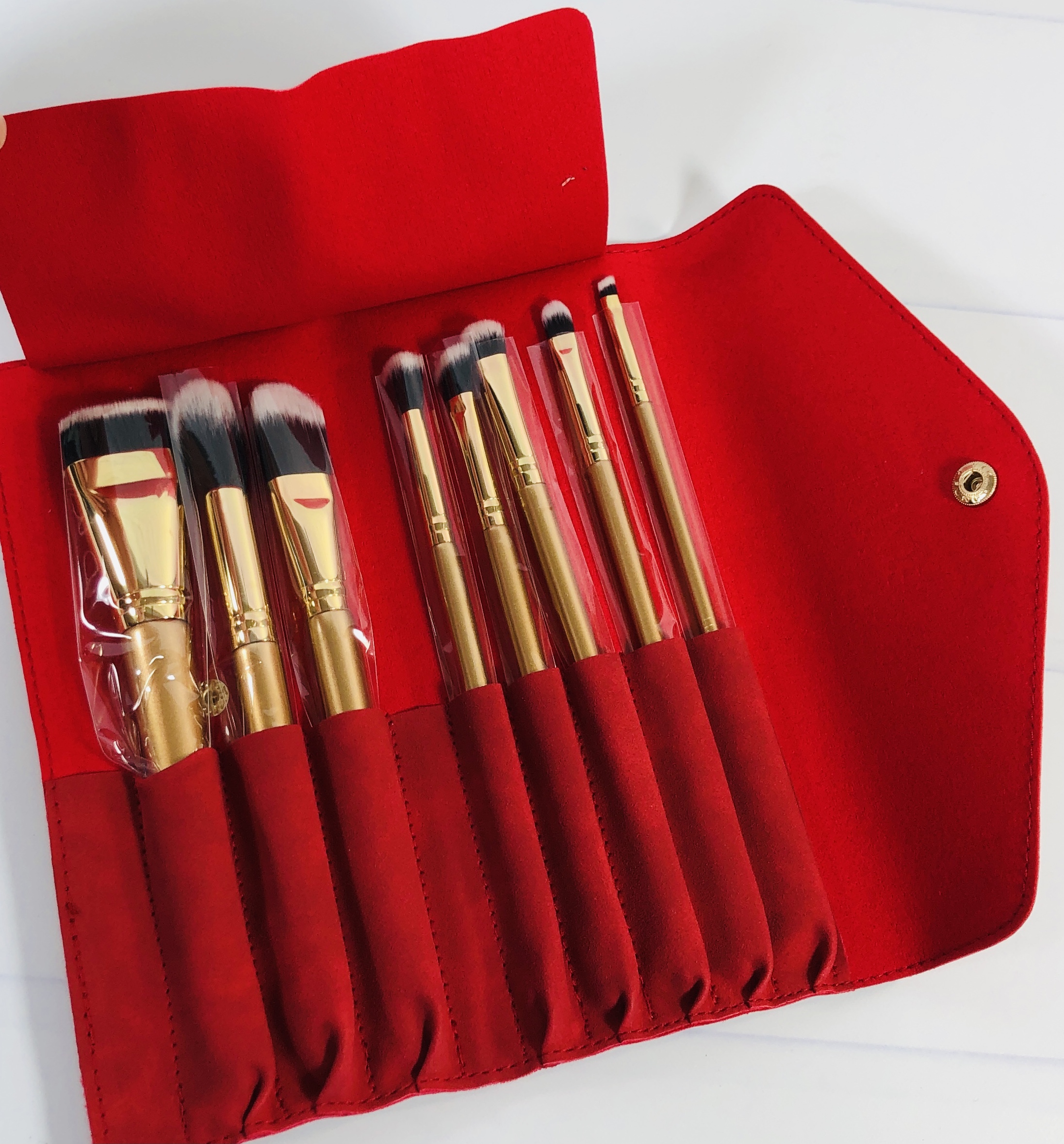 This set comes in a carrying case to keep it from mucking up a toiletries bag. It also looks so festive!
The brushes have gold handles and ferrules and synthetic bristles. I have Luxie brushes in my collection and am always happy to add more, they are well-made and long lasting.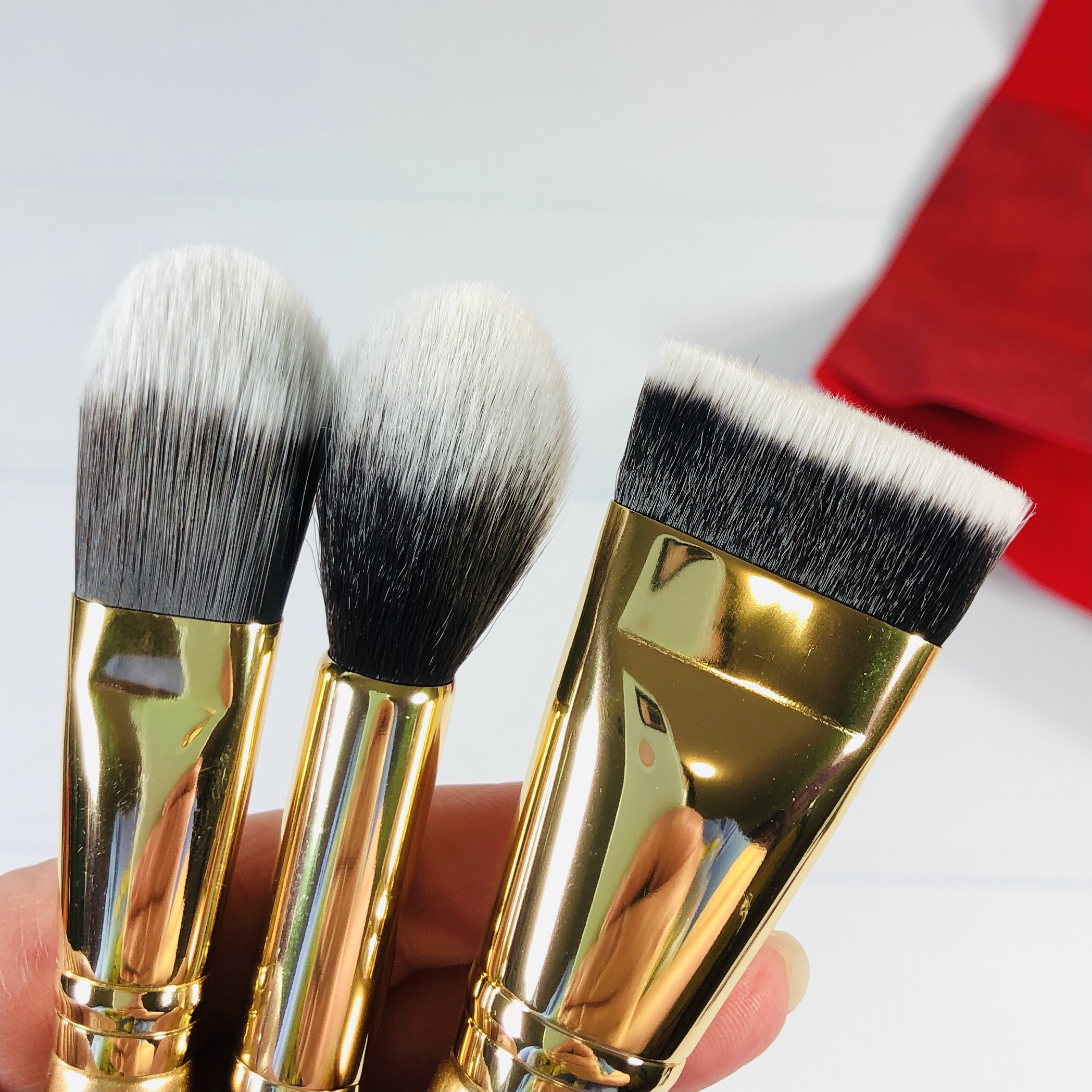 Here's the brushes from the left: Foundation, Tapered Highlighter, and Flat Contour. I think those names are pretty self-explanatory for the type of makeup they should be used with.
From left: Large Shader, Concealer, Small Angle, Medium Angled Shading, and Tapered Blending. These are meant to be used to apply, blend, and detail eye makeup.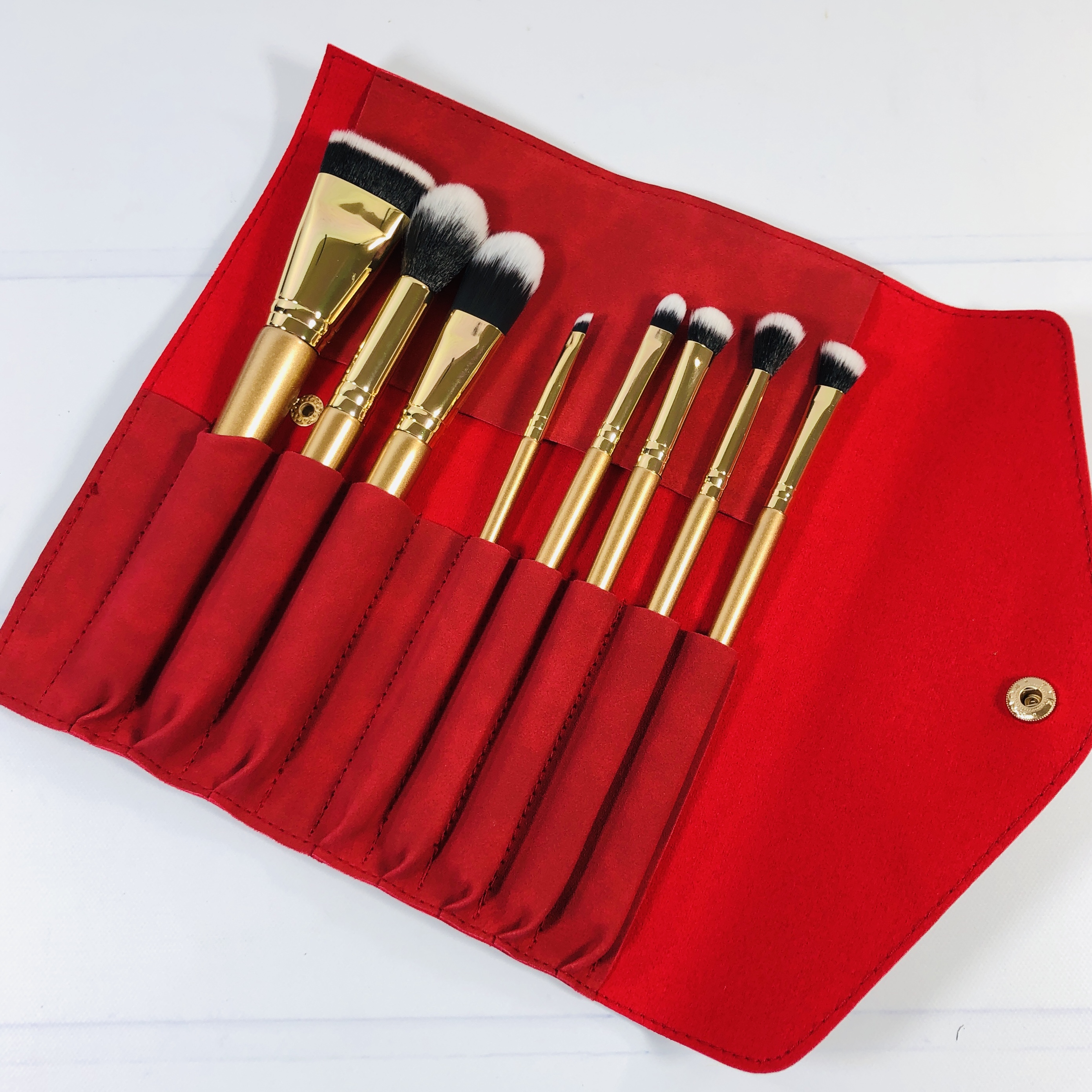 I am really happy with this set, because I can either use it daily, or I can keep it in my travel bag, ready to go at a moment's notice. After a trip I can wash my brushes, let them dry, and them stash them in the carrier until my next trip.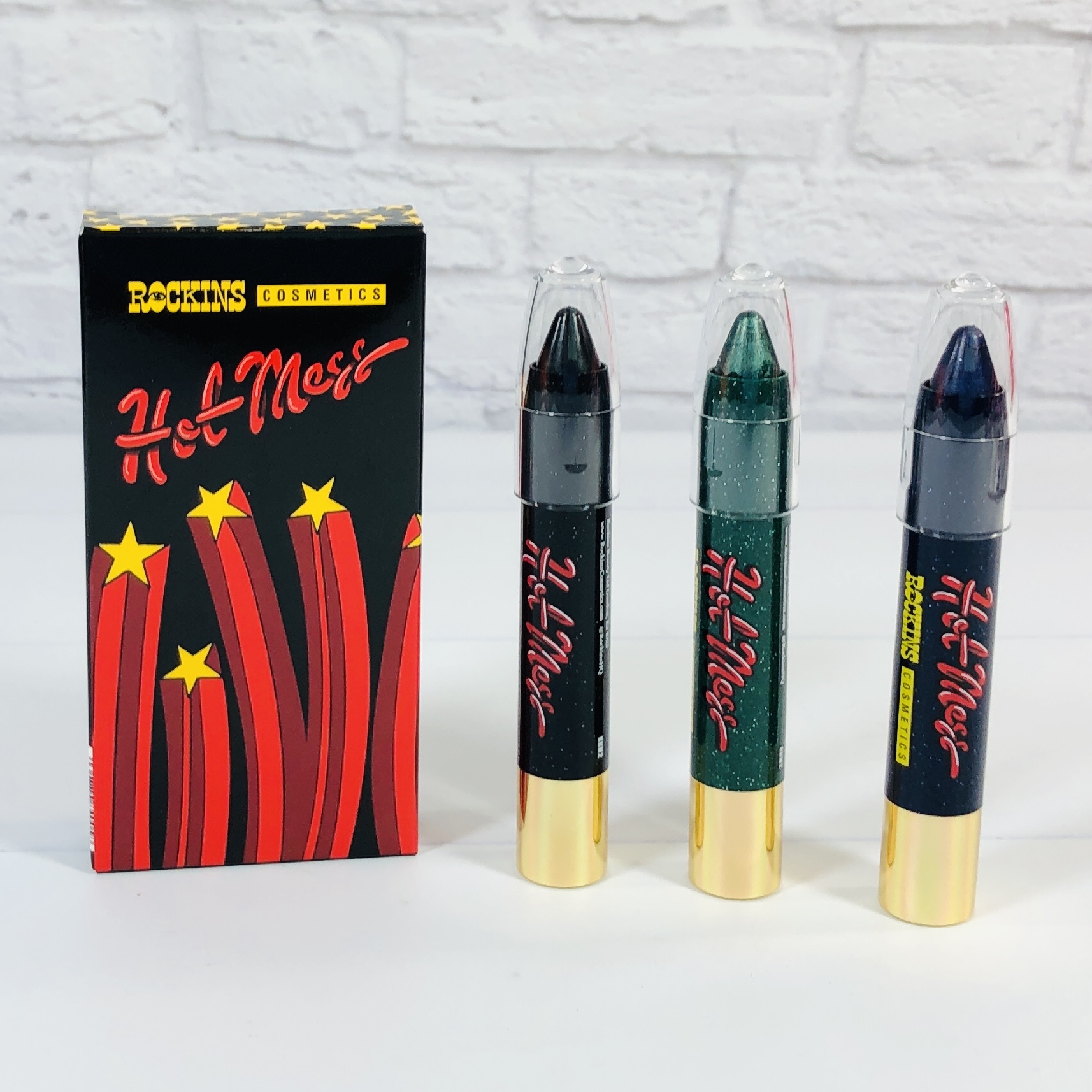 Rockins Cosmetics Hot Mess Threesome Glitter Gel Pens – CURRENTLY SOLDOUT ($40.18) Looking for a bold eye look for the holidays? Here ya go!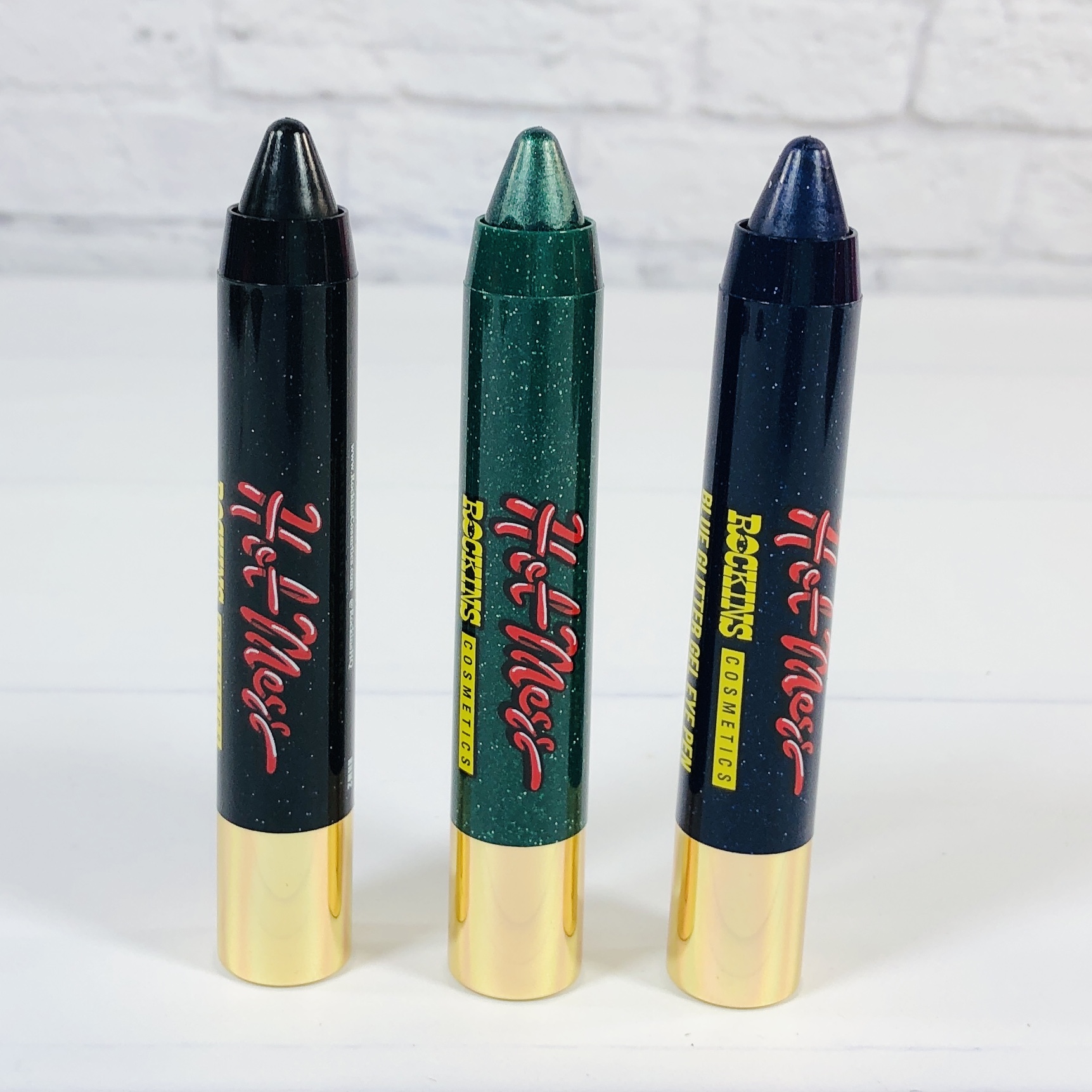 It's a set of three vibrant eye liners/eye pencils that have a glittery effect.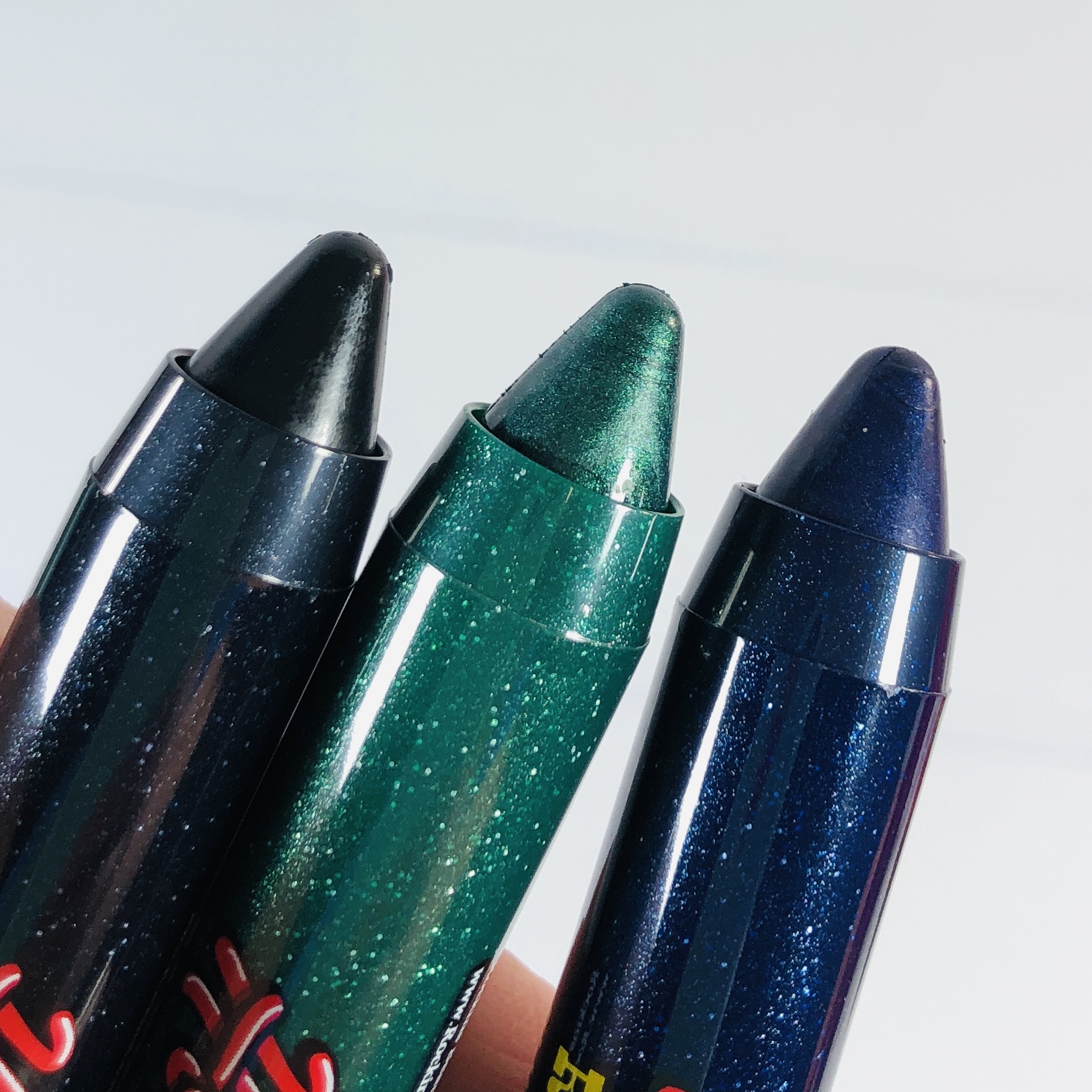 My high school self would have rocked these any day of the week, but now I save this type of look for the occasional dramatic eye. I gave the black color a go and I think these are not meant for any every day look, as they ended up smudging. Save them for going out on the town, or maybe out to your backyard. You can go dramatic for no one else but you if you want.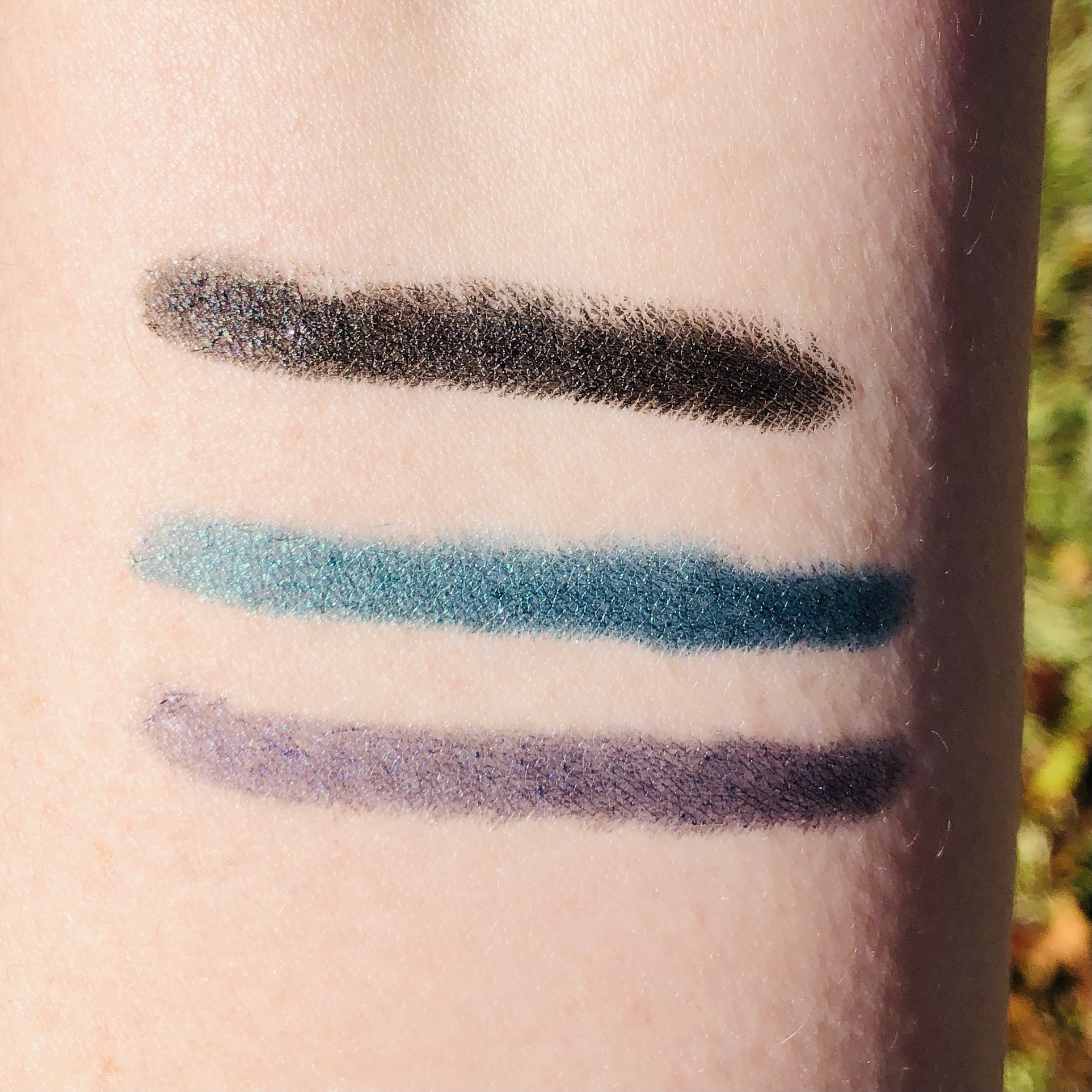 Here they are swatched!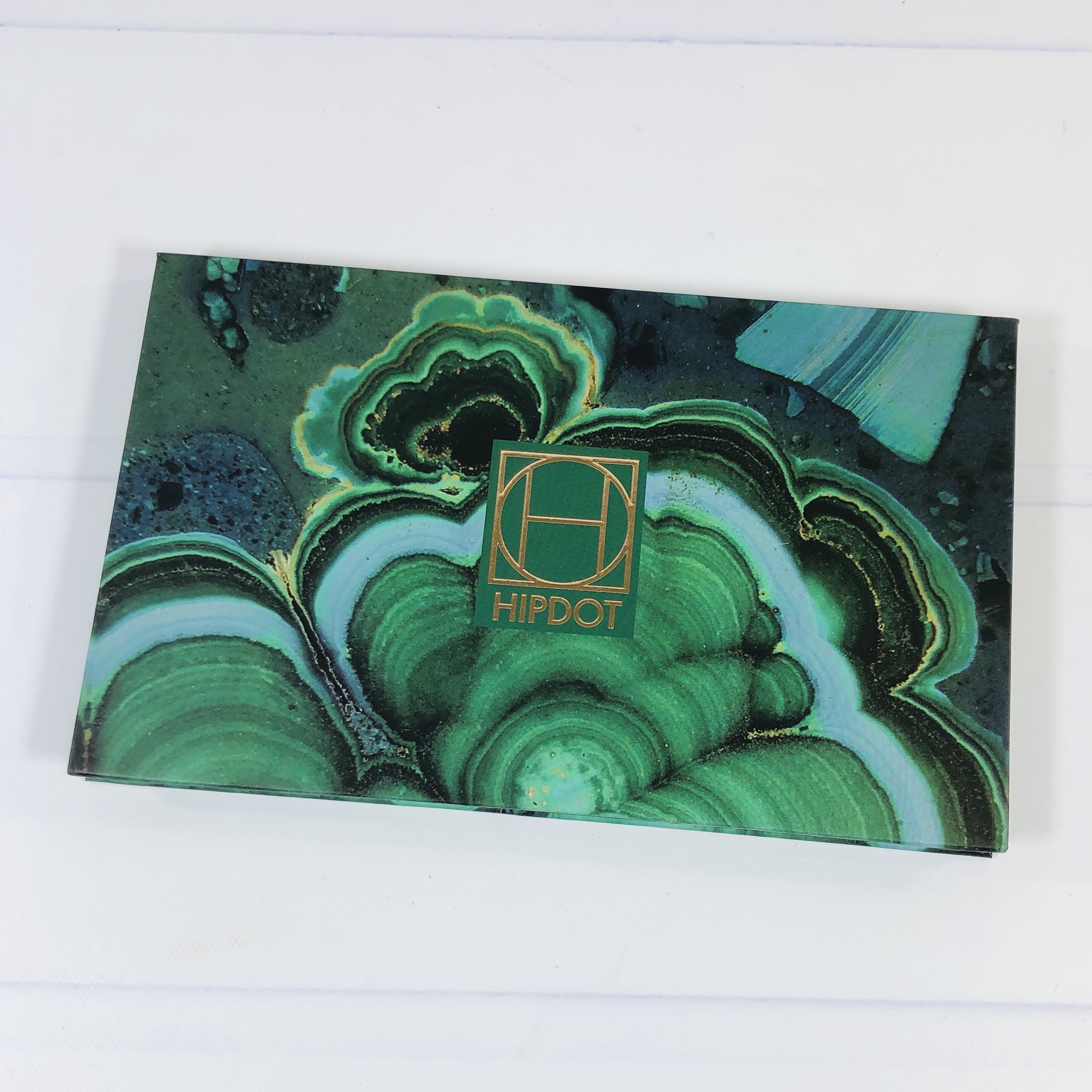 HipDot Cenote Pressed Eyeshadow Palette ($30) This is my first time trying Hipdot but this palette came in shades that my water-loving self adores.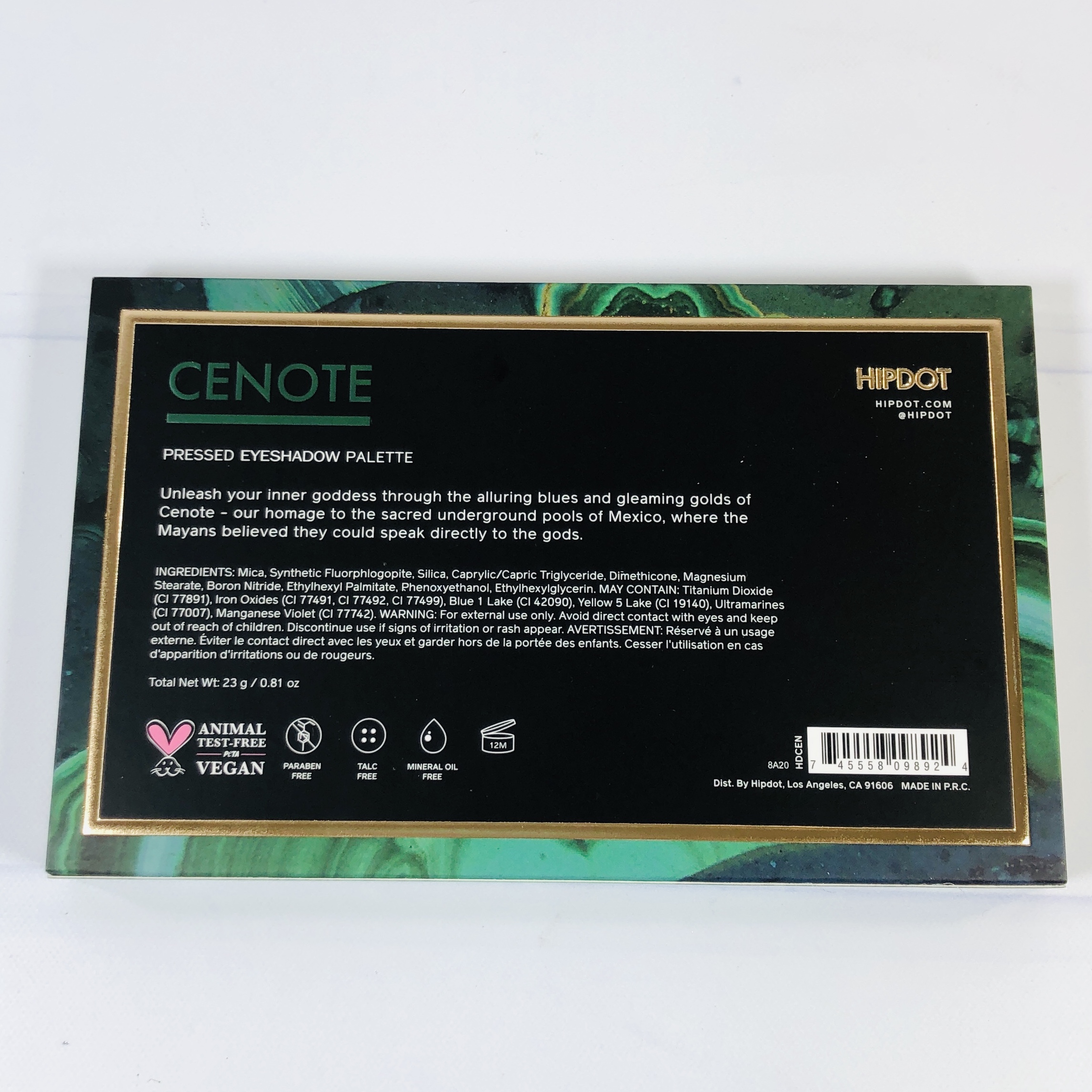 Ingredients were on the back and this formula is vegan and cruelty-free.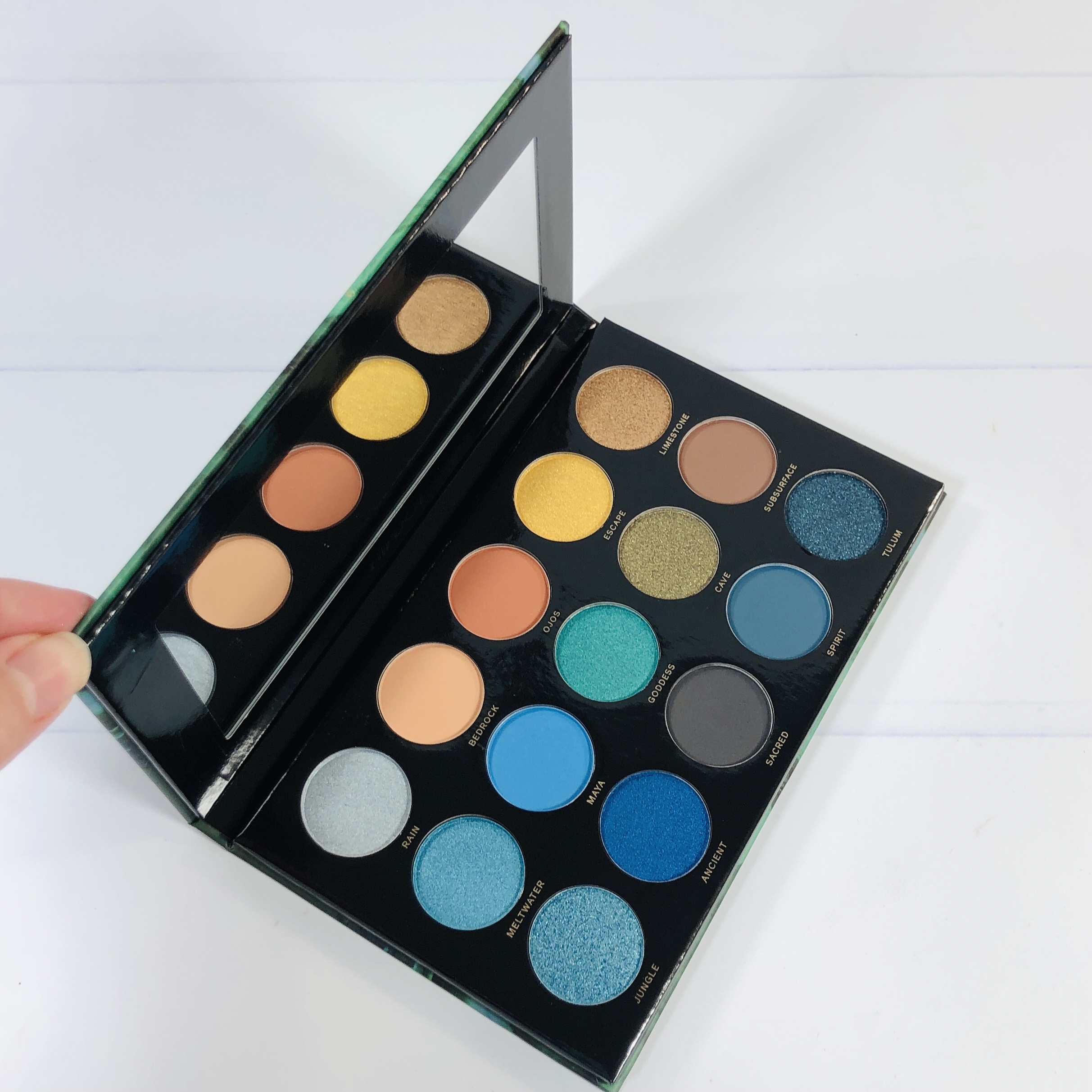 Oh, there's sparkles aplenty here!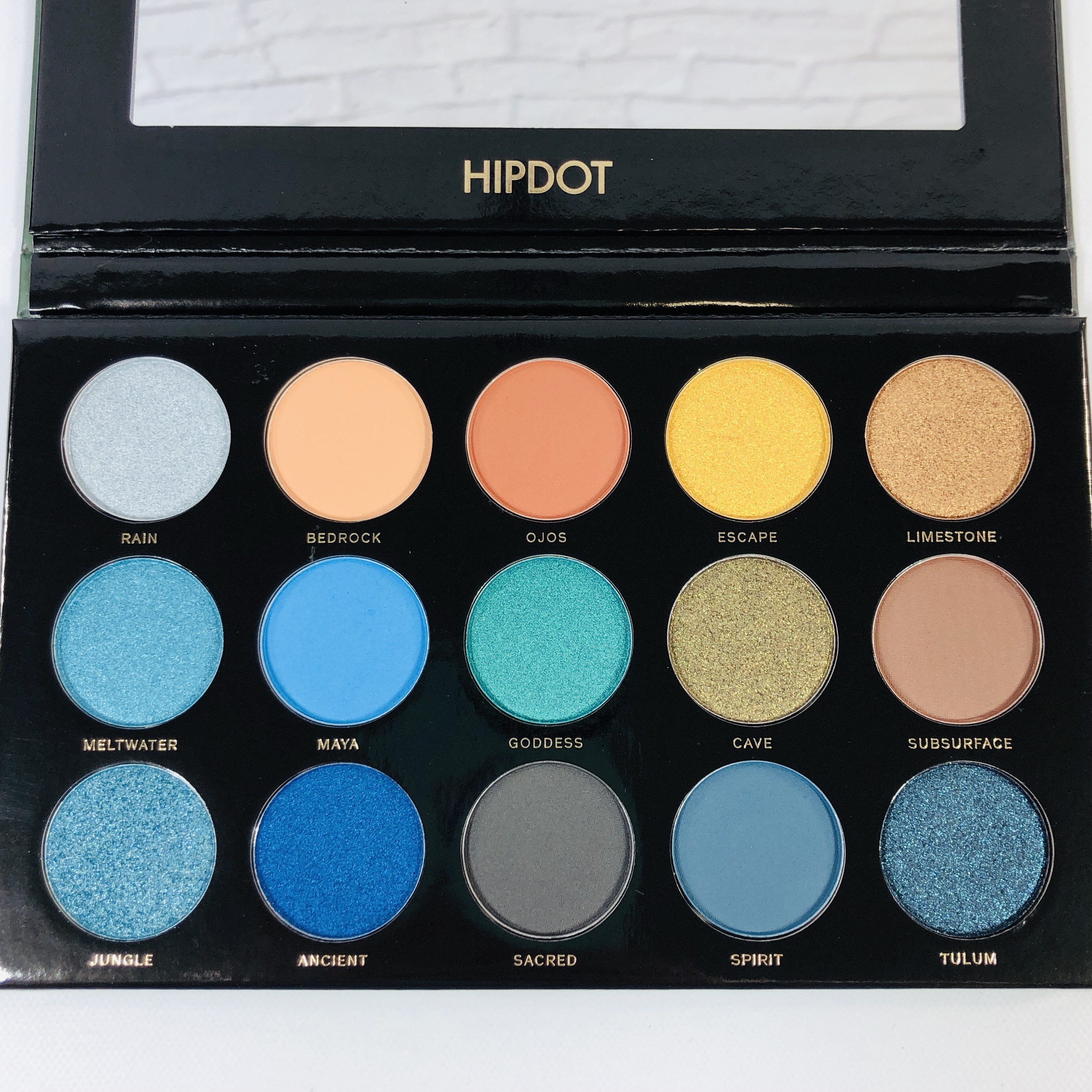 It's a mix of shimmers and mattes and the colors are lively, look at those blues!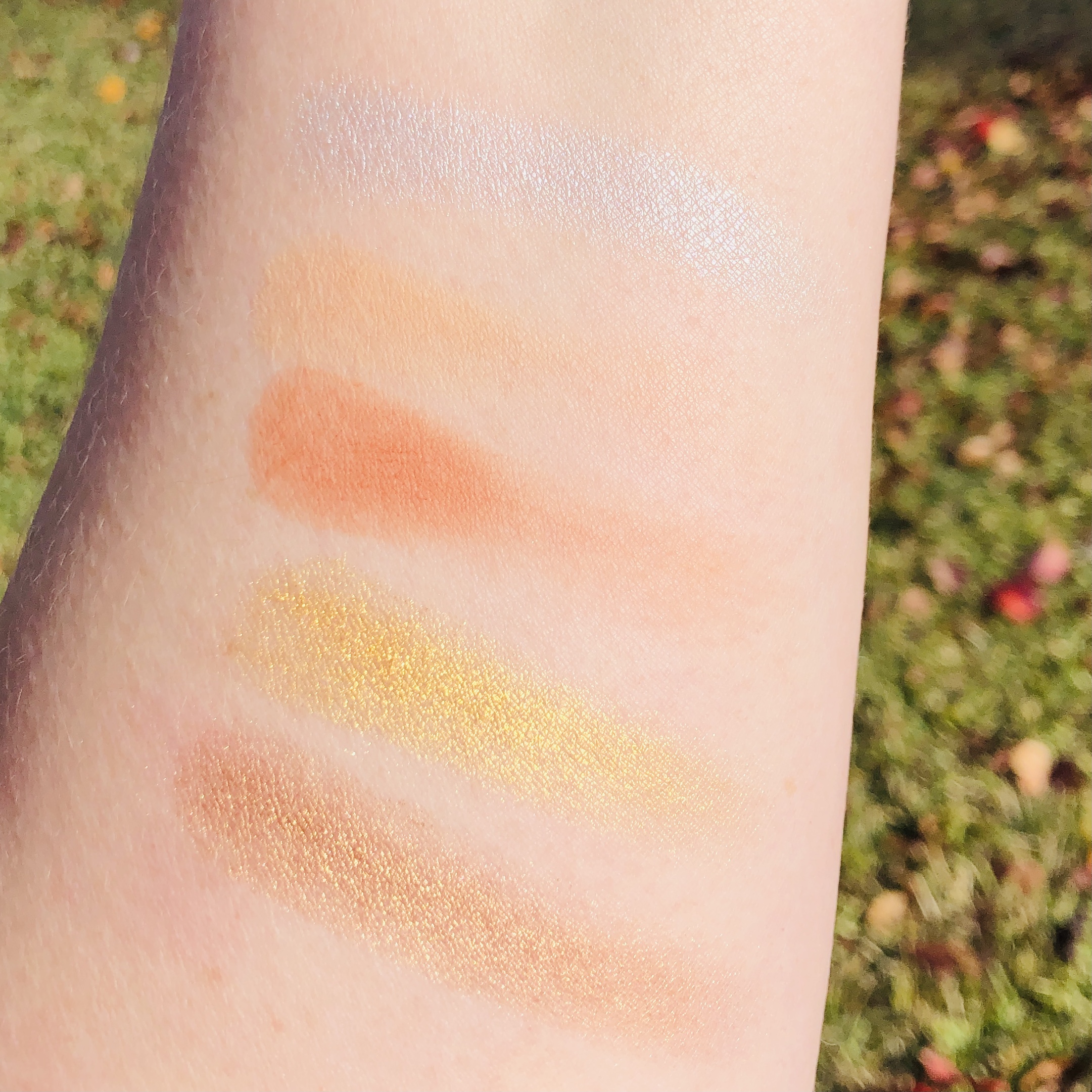 Here's the first row swatched.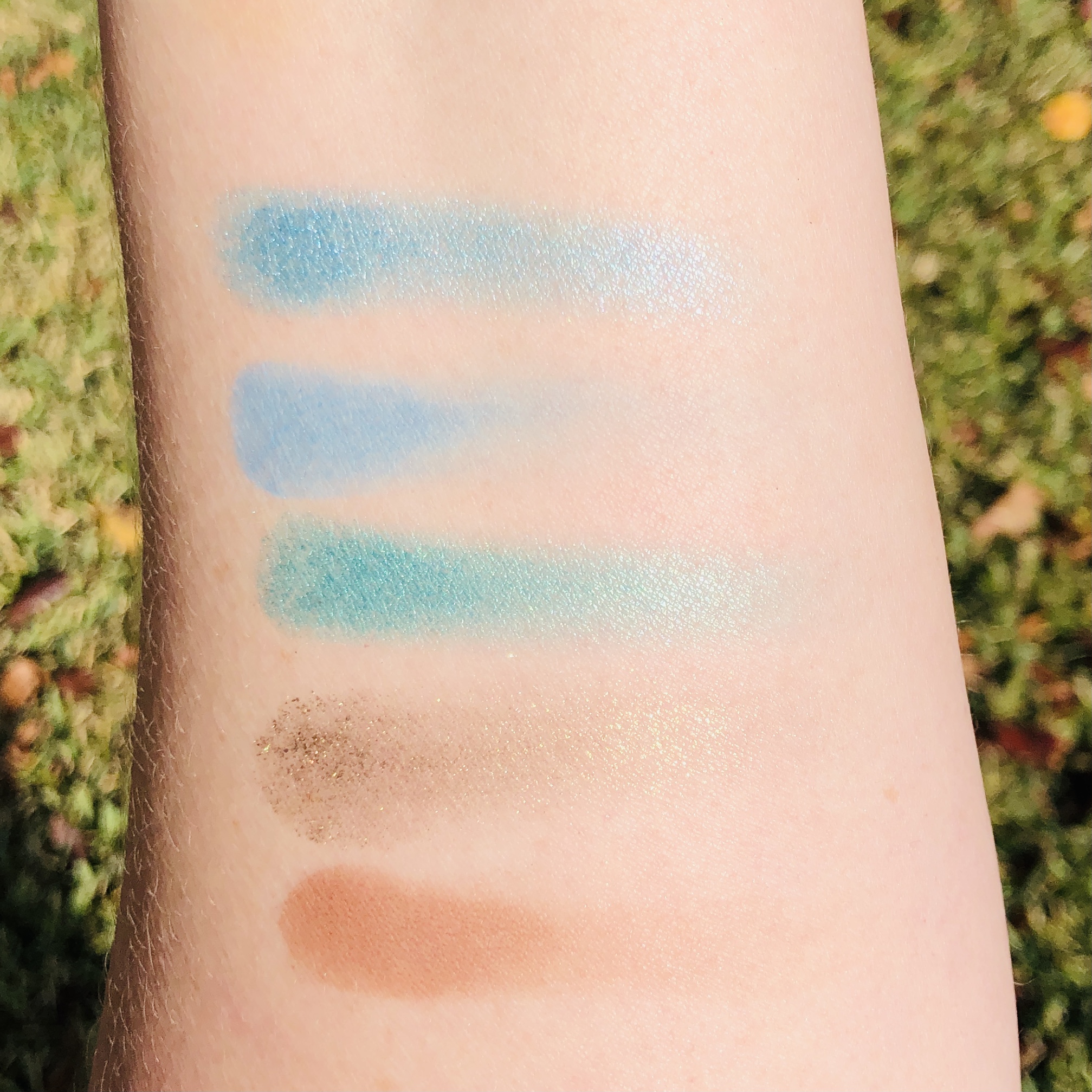 The second row can be seen here.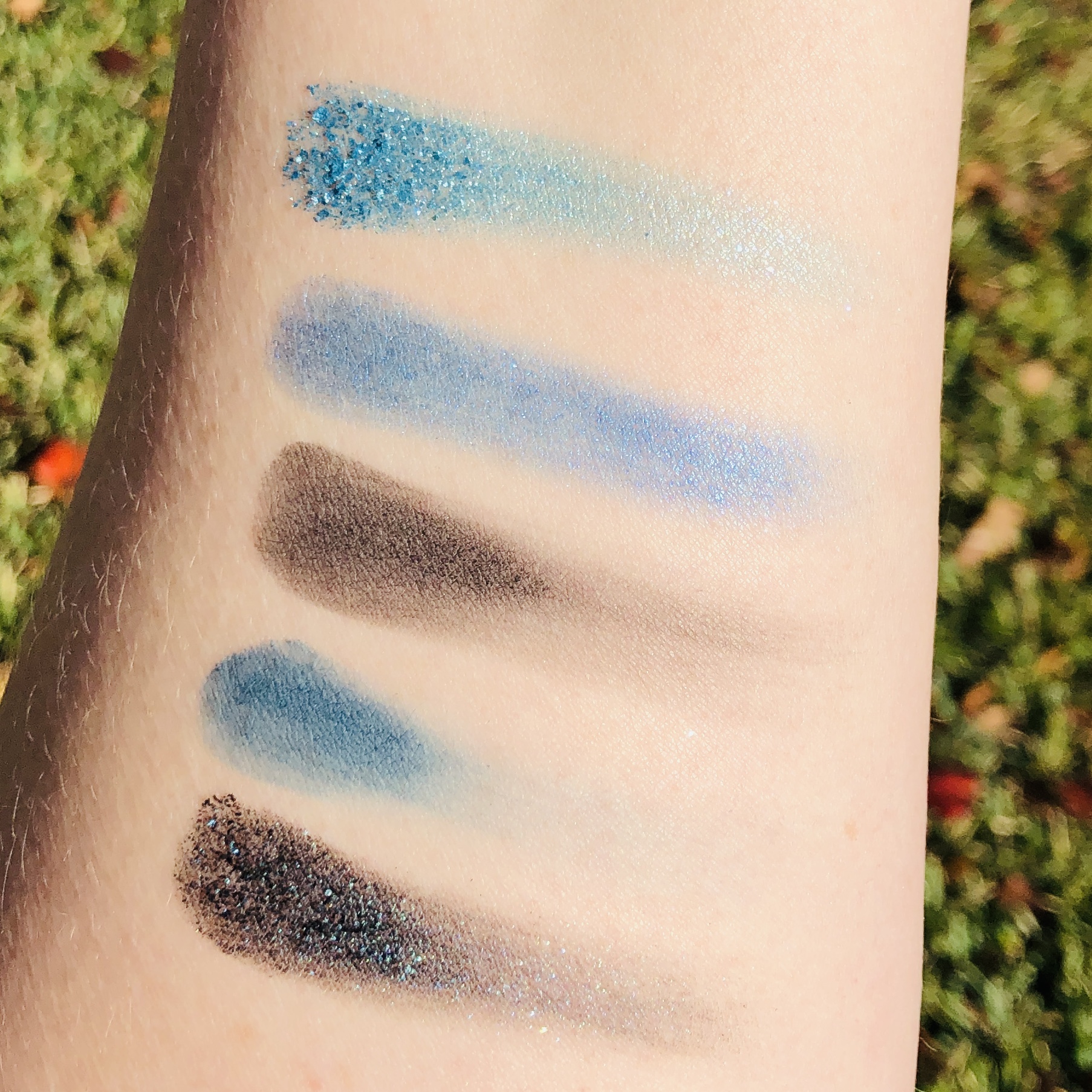 The last row is here and as you can see, some of those glitter shades are quite chunky. Make sure that when you apply the glitters, don't try to blend them out. I tried and ended up with the glitter chunking off and it stuck to my cheeks, under my eyes, etc. Just place it where you want it to go and don't mess with it afterwards.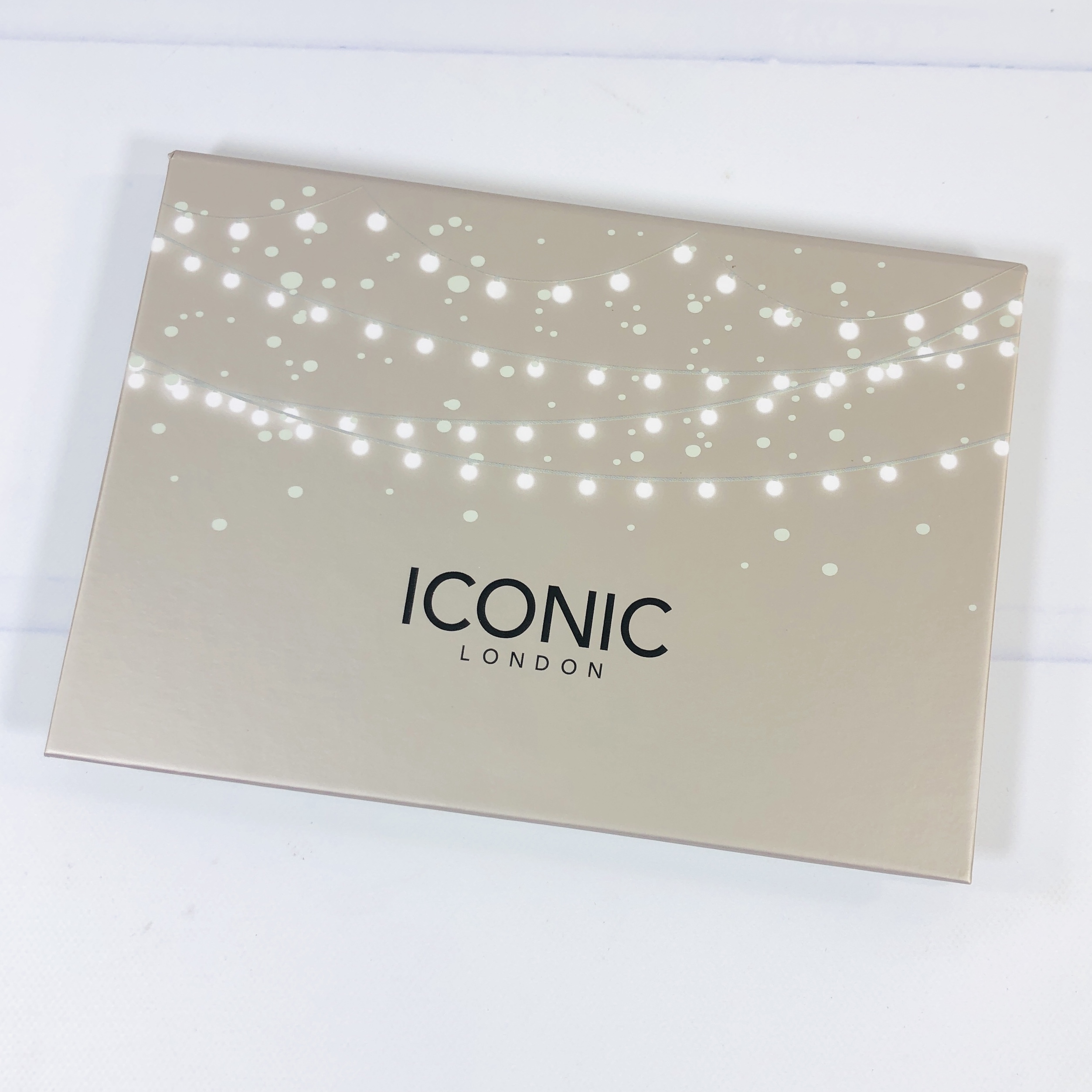 Iconic London Blaze Chaser Face Palette ($55) One more palette was in my box, but this one is for the face!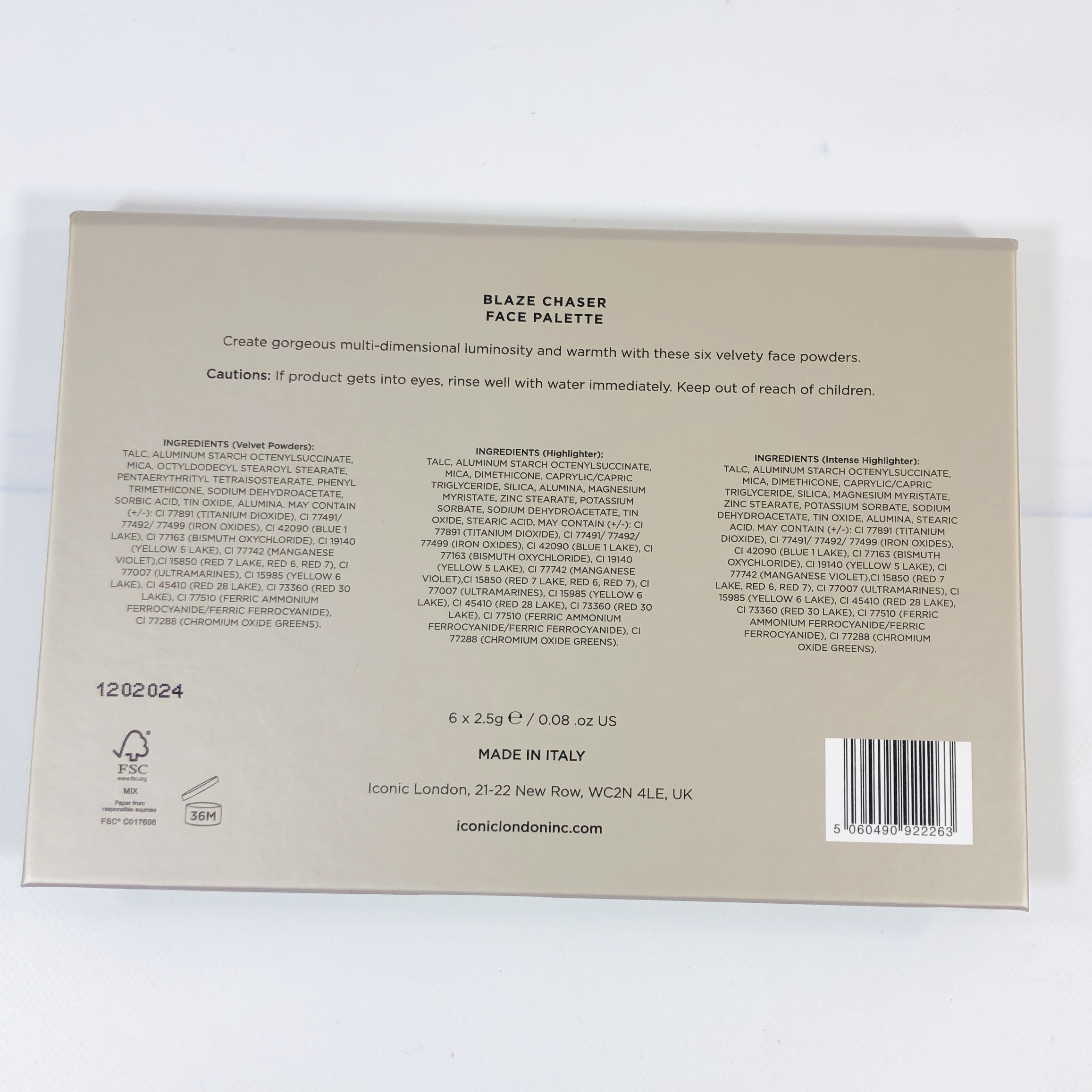 Ingredients were on the back along with a warning, this isn't eye makeup.
There's blush, highlighter, and bronzer in matte and shimmery shades.
The colors look both bright and dark but they weren't that deep on my light skin tone, which was a plus because I was worried I would look too 80's.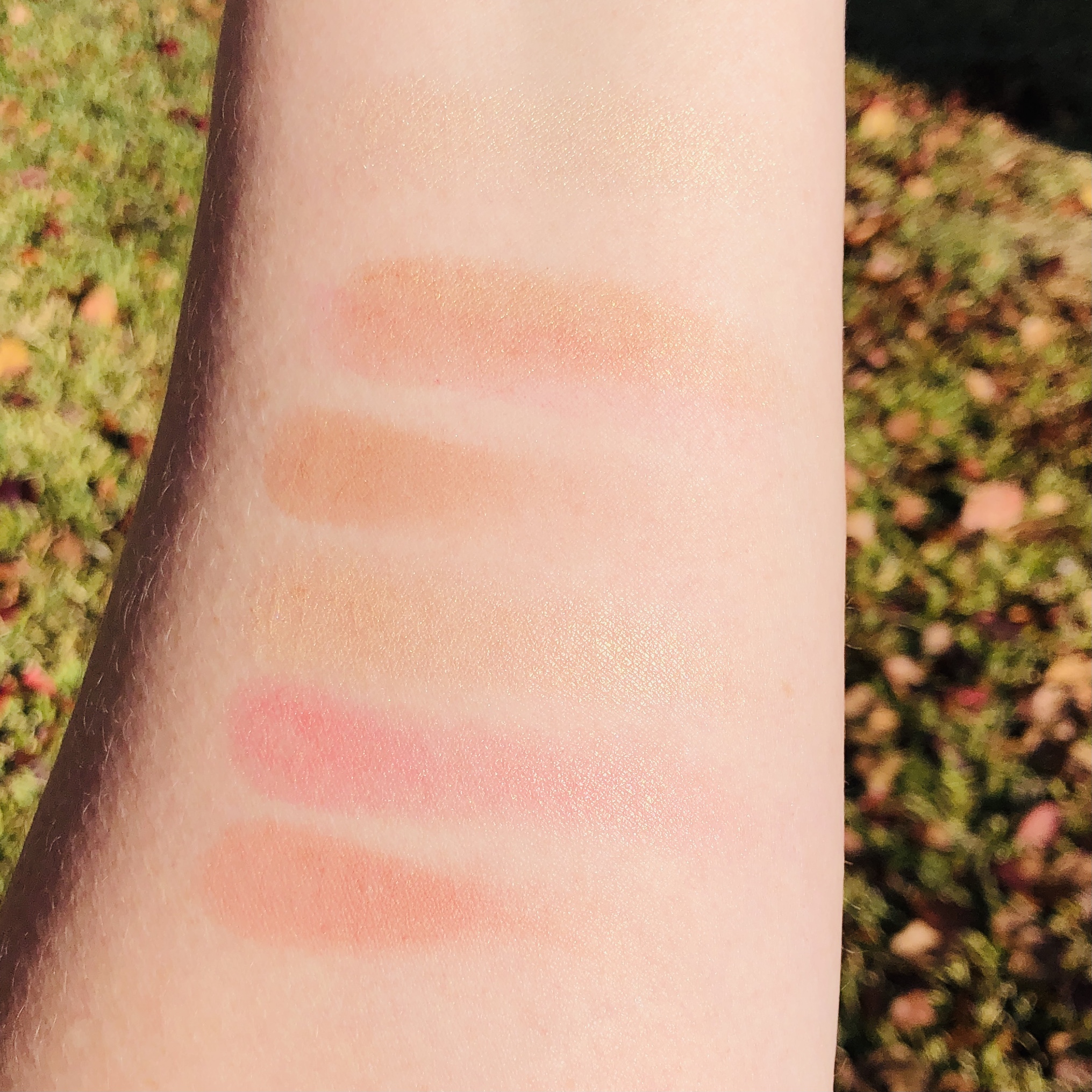 Here they are swatched, although that second line has a bit too much red thanks to the lipstick that refused to budge (FENTY has staying power!). See, not too dark or scary, perfect for me to warm up my face without having it look dirty. The blushes worked well too and now I only have to take one face palette on the road if I ever leave my house again.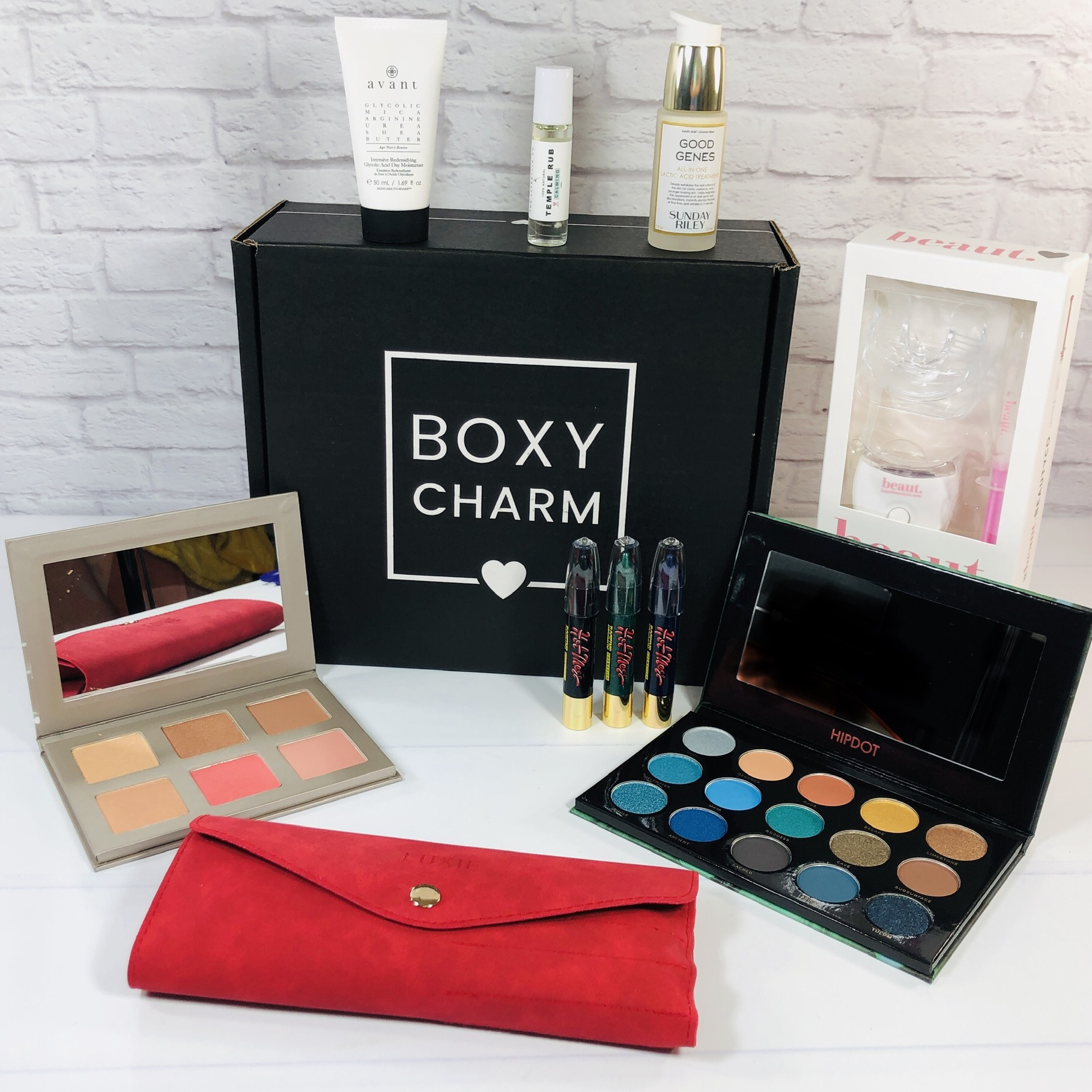 My December BoxyLuxe was so fun to play with, I enjoy coming up with bold eye looks with the Cenote palette. The Iconic face palette is in shades that work with my skin color. Of course, the Luxie brushes are perfect because they can be used with both palettes! Add in some skincare, some teeth brightening, some eye pencils, and a temple oil and I am one happy girl! Some of these brands were new to me, and I was familiar with Luxie and Sunday Riley already, so it was a good mix of brands. The value for my box combo was around $494.28 which is crazy high!
What's your favorite item in this month's BOXYCHARM?