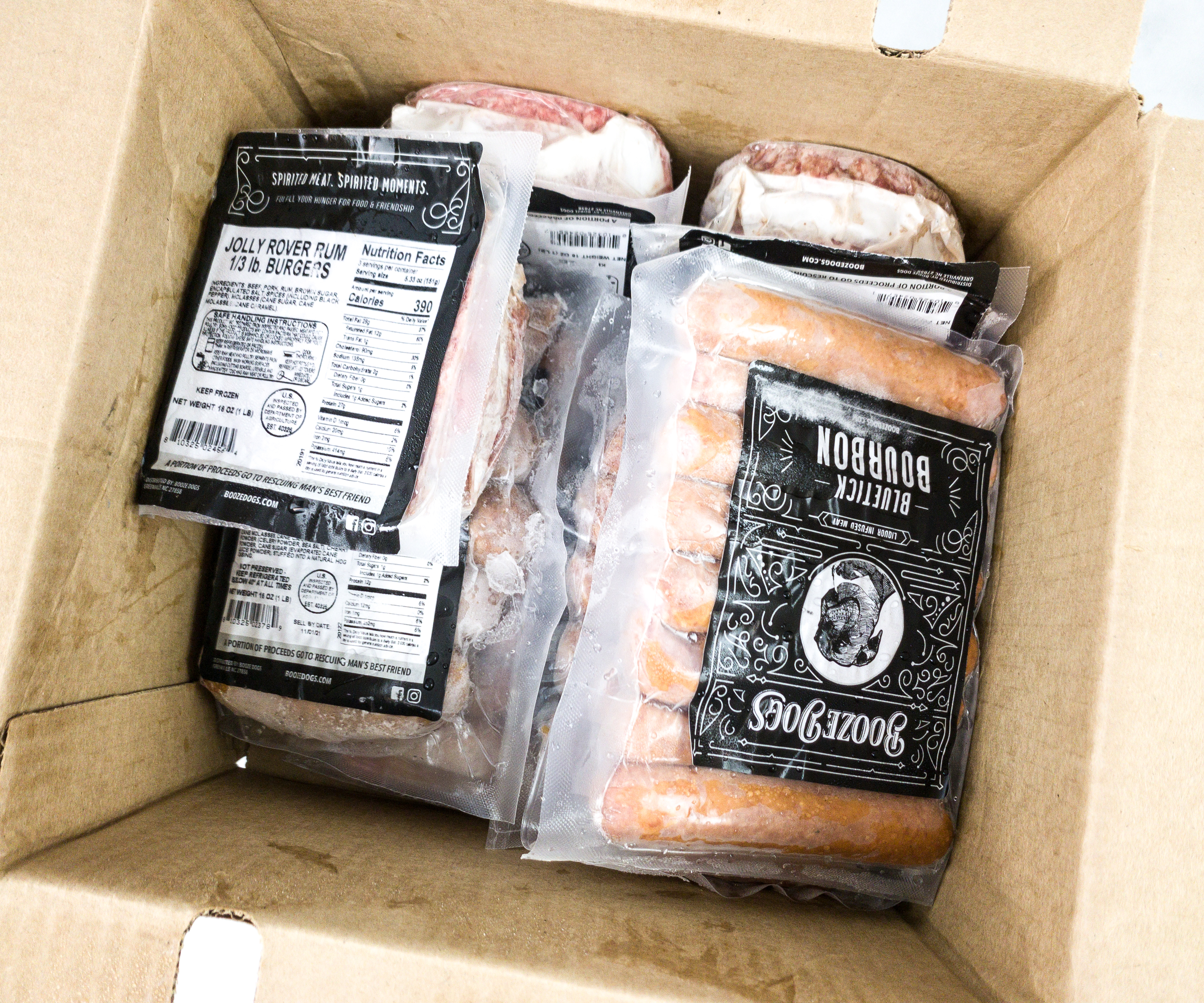 Booze Dogs offers a subscription of gourmet, small-batch liquor-infused meats. Selections vary between juicy 1/3 lb. burgers, smoked 3.2 oz bratwurst, and flavorful 2 oz. hot dogs authentically infused with bourbon, gin, or rum. Servings vary between 9-24 adults. The subscription starts at $59.99 every month with a 3 pound intro box. There's also a 6 pound box for $89.99 and a 9 pounder for $129.99. For multi-month subscriptions, you can receive the entire thing at once. A portion of every purchase helps in rescuing dogs in need!
This is a review of the 9 pound variety box – and there is so. much. meat!
Coupons:
The box was packed with dry ice to keep the items fresh. They also encourage recycling!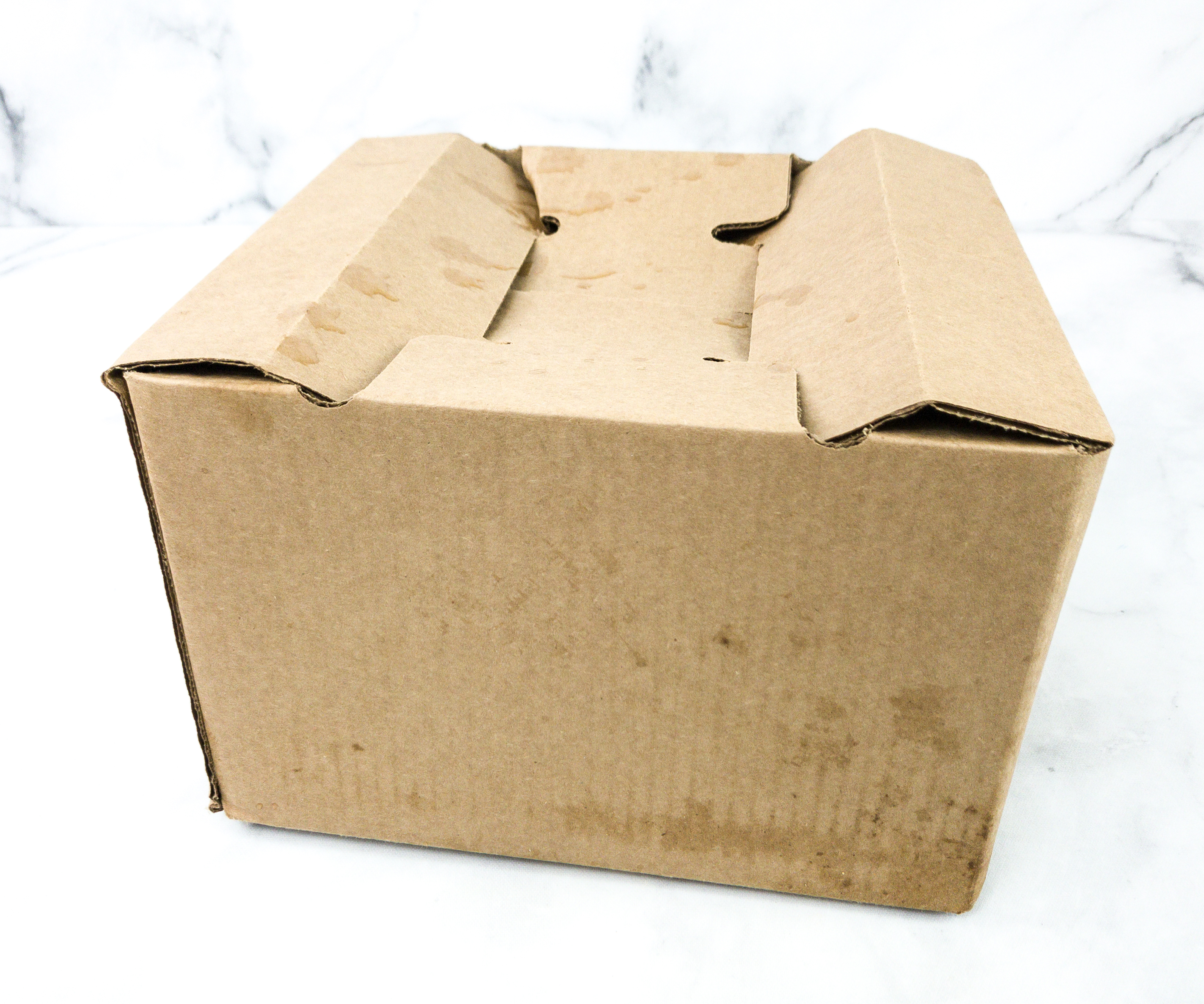 The box had an inner box to keep all the meat safe. Everything was still frozen when it arrived!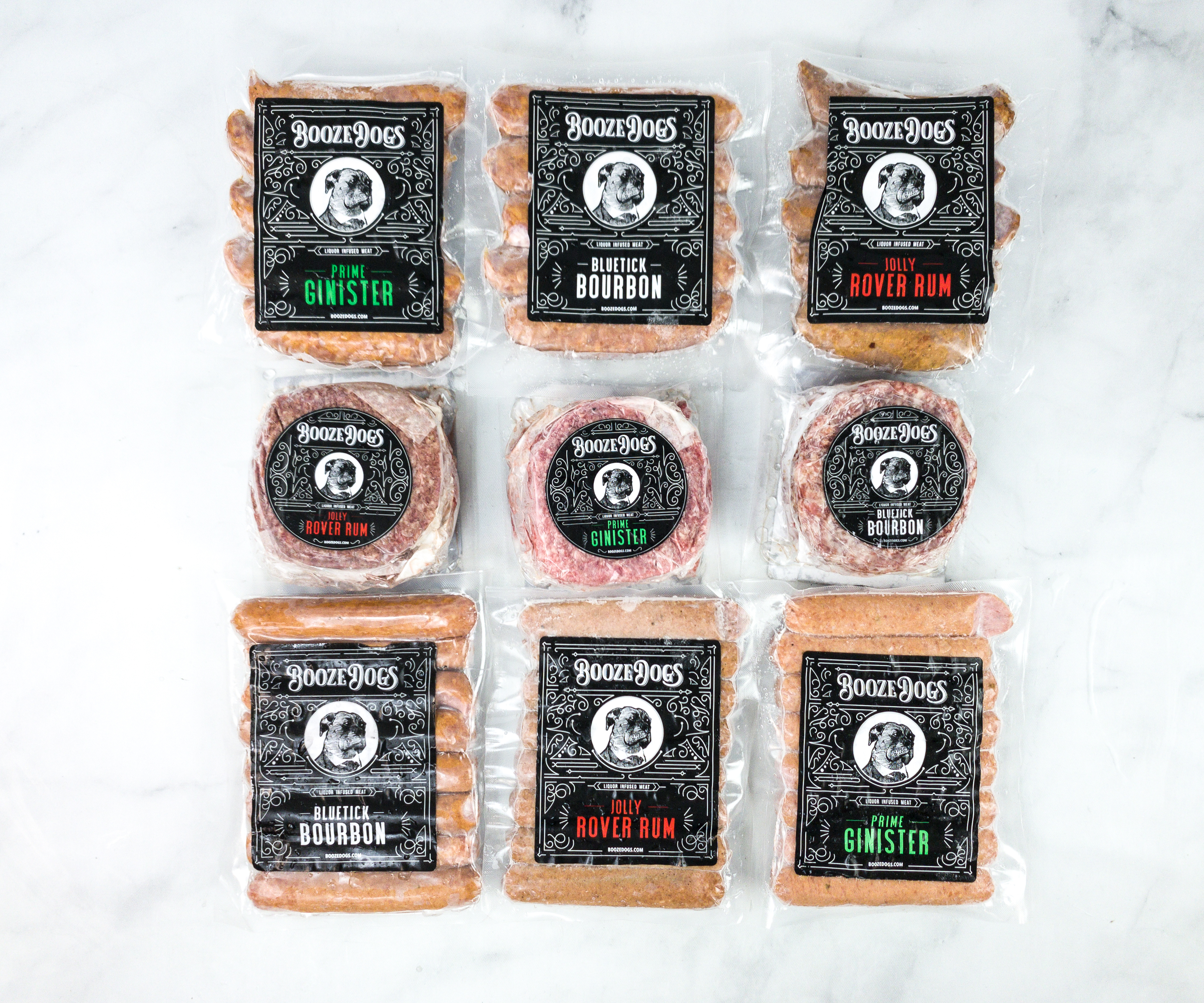 These meat products are infused with alcohol, hence the name Booze Dogs!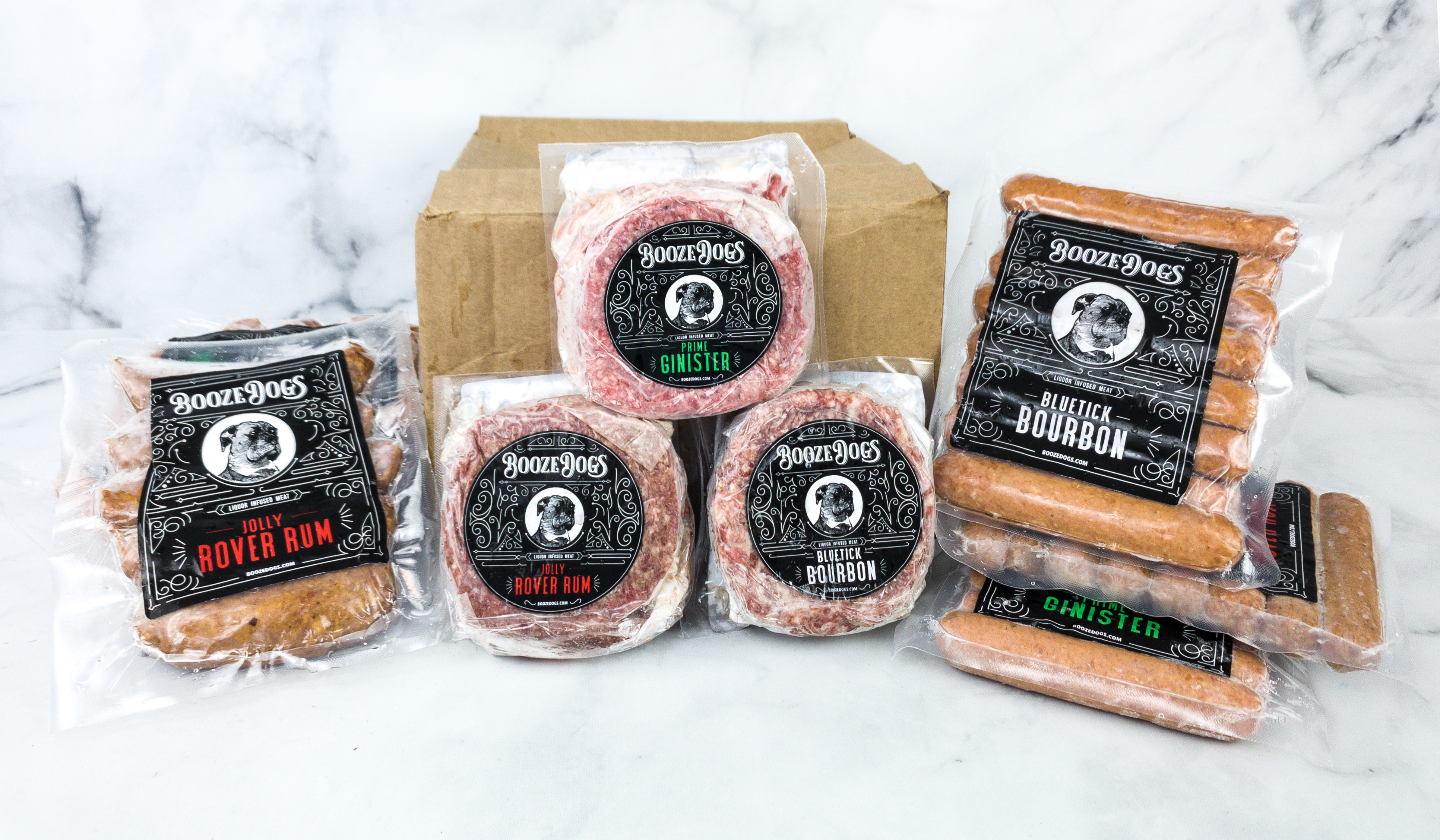 Everything in my box!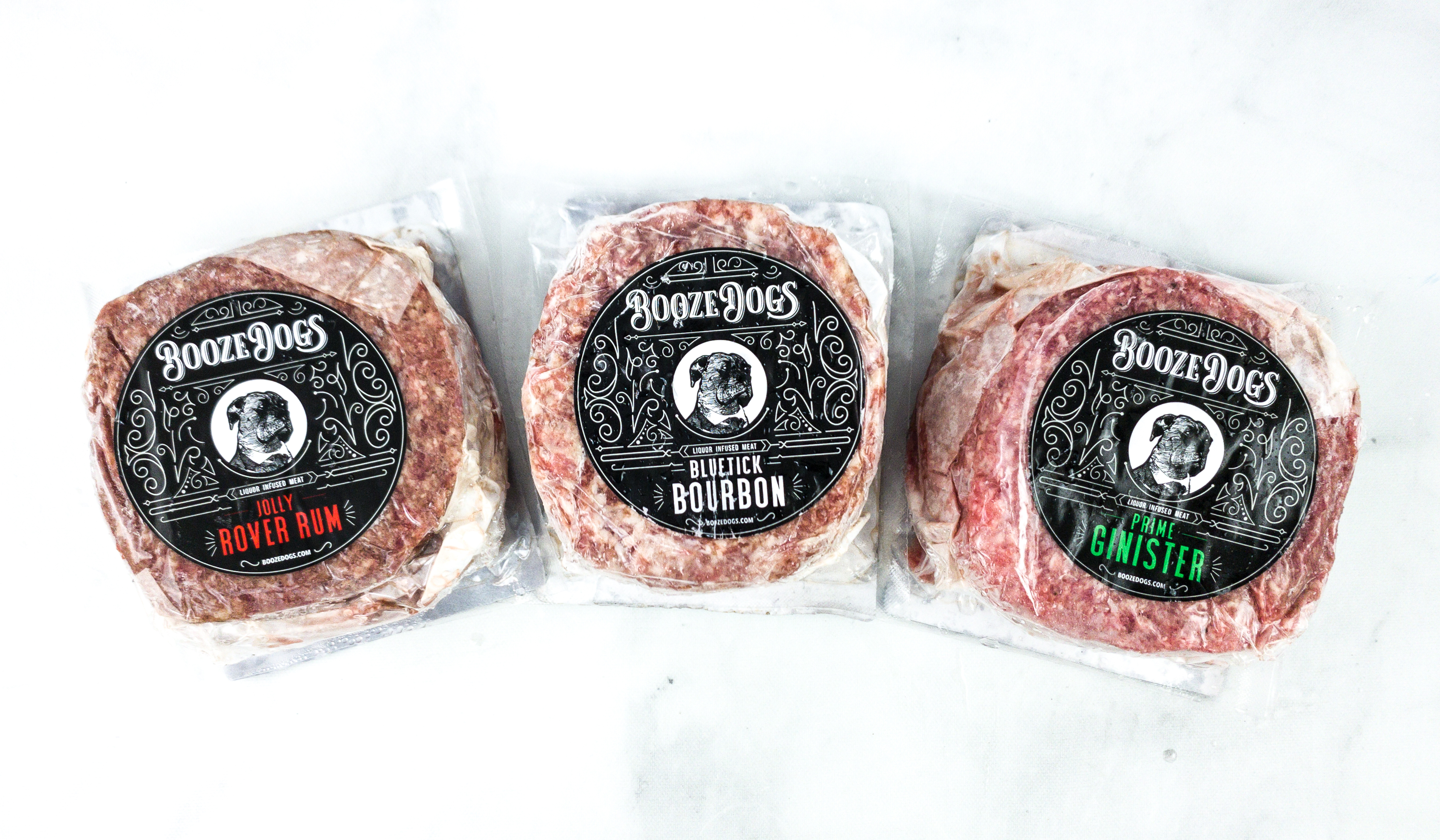 First up, here are three different flavors of burger patties!
Jolly Rover Rum Burgers. Right off the packaging, these patties smelled delicious. They boast of Caribbean flavors, without containing any synthetic ingredients!
Each patty contains a mix of beef and pork along with some other seasonings.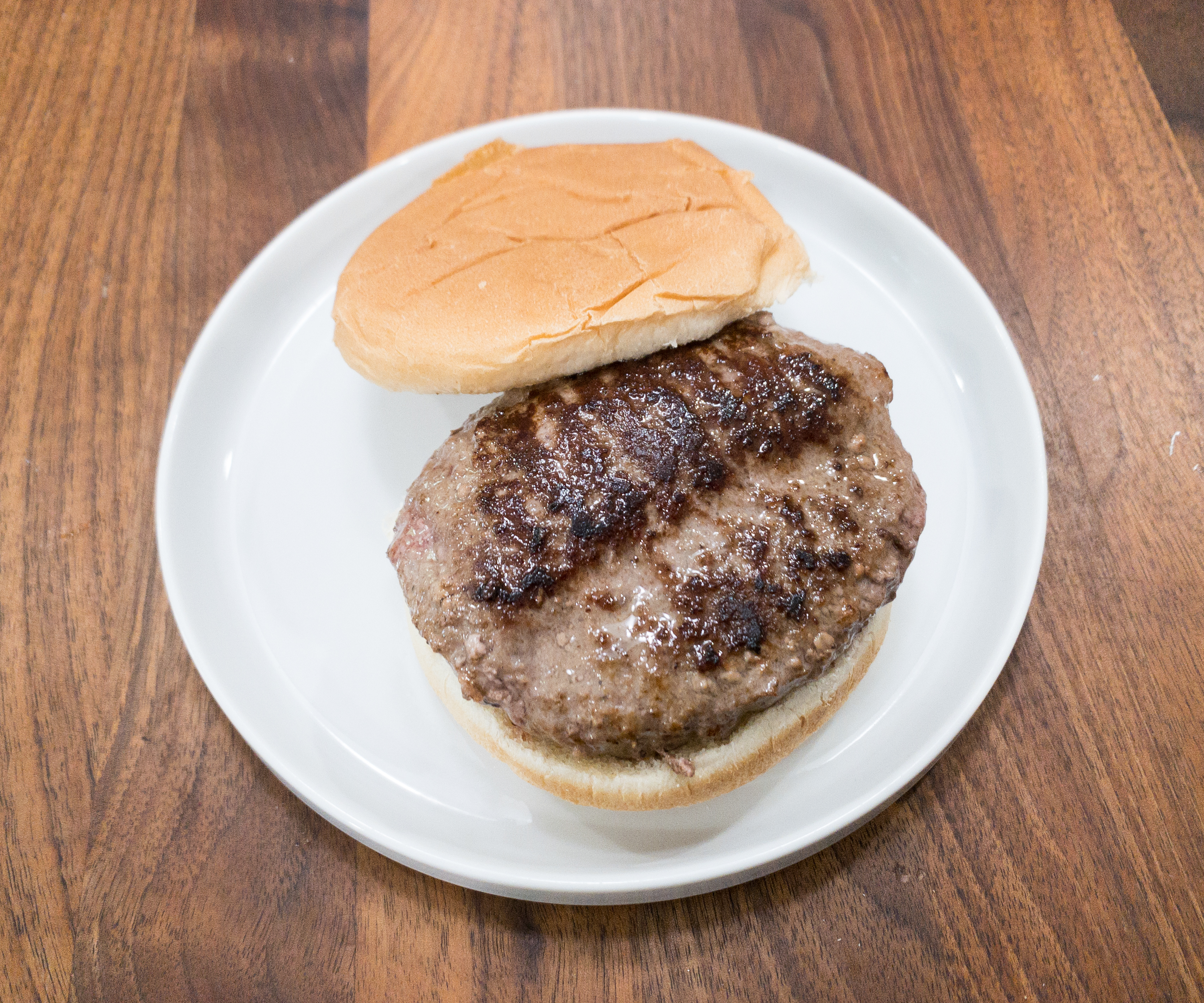 This contains brown sugar and molasses so it really chars up quickly and nicely. The aroma of cinnamon also makes it irresistible.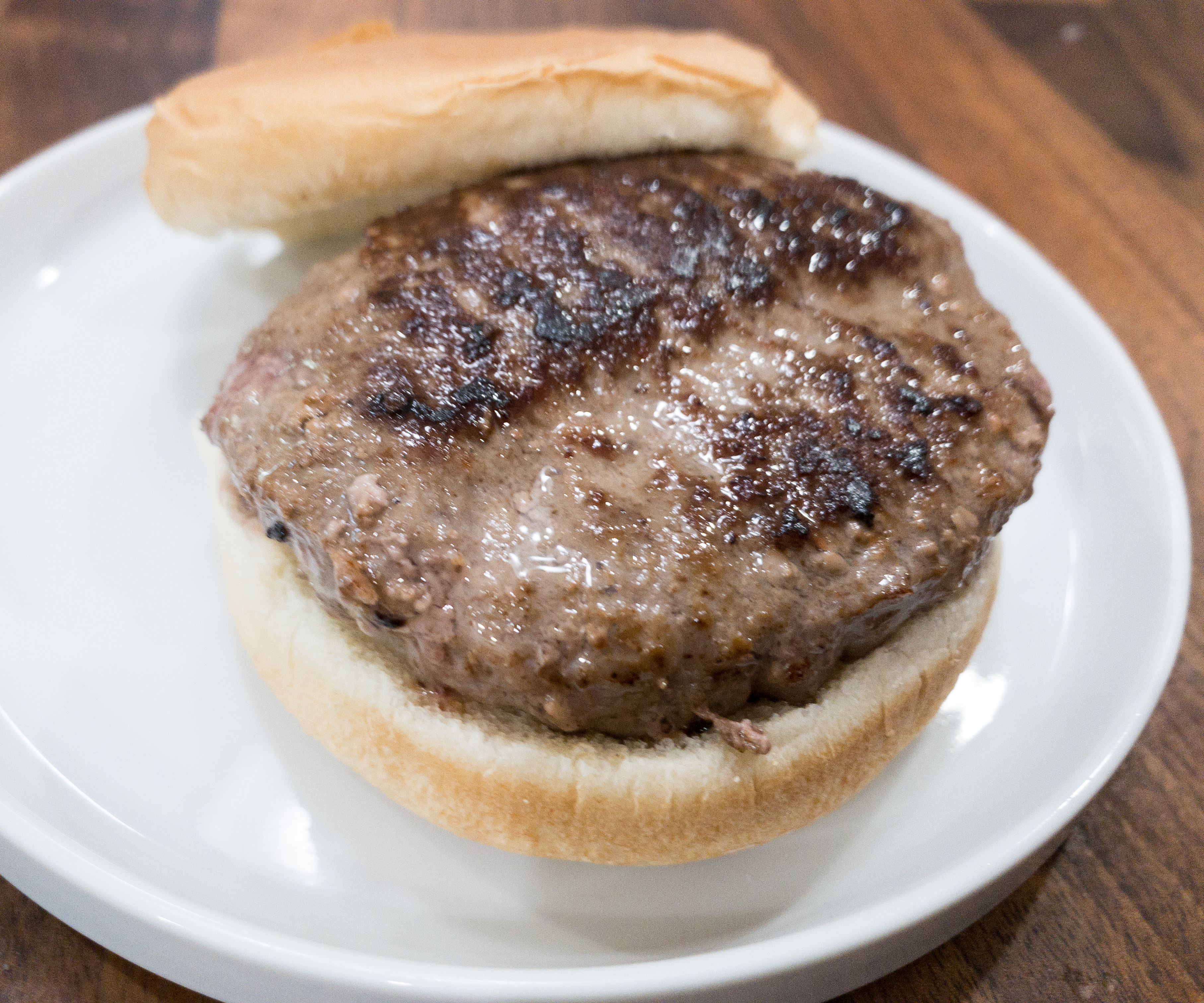 I get a hint of rum and nutmeg as well. The overall combination of flavors was really delicious!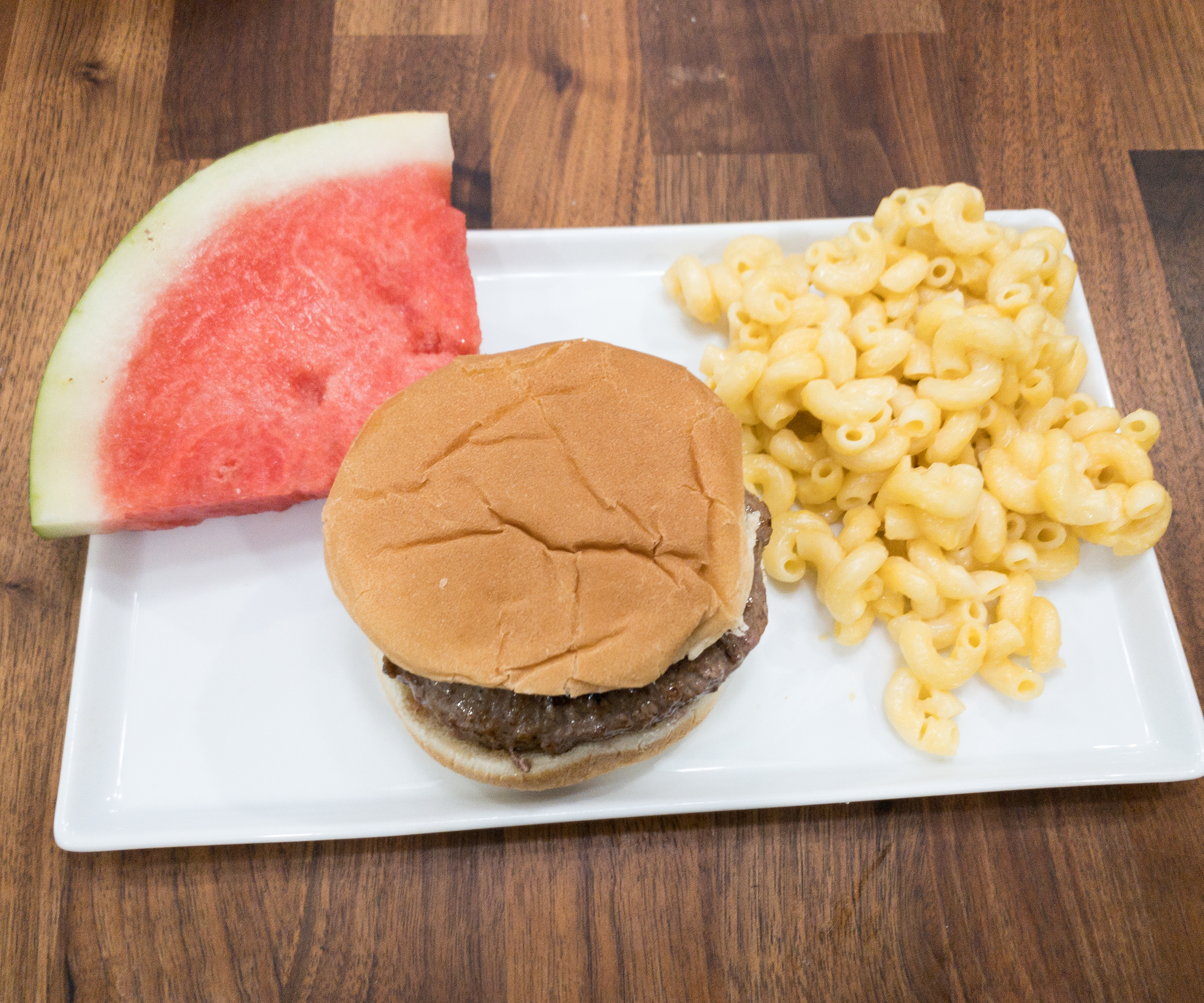 I added some mac and cheese as well as a slice of watermelon for the sides and it turned out to be a filling meal!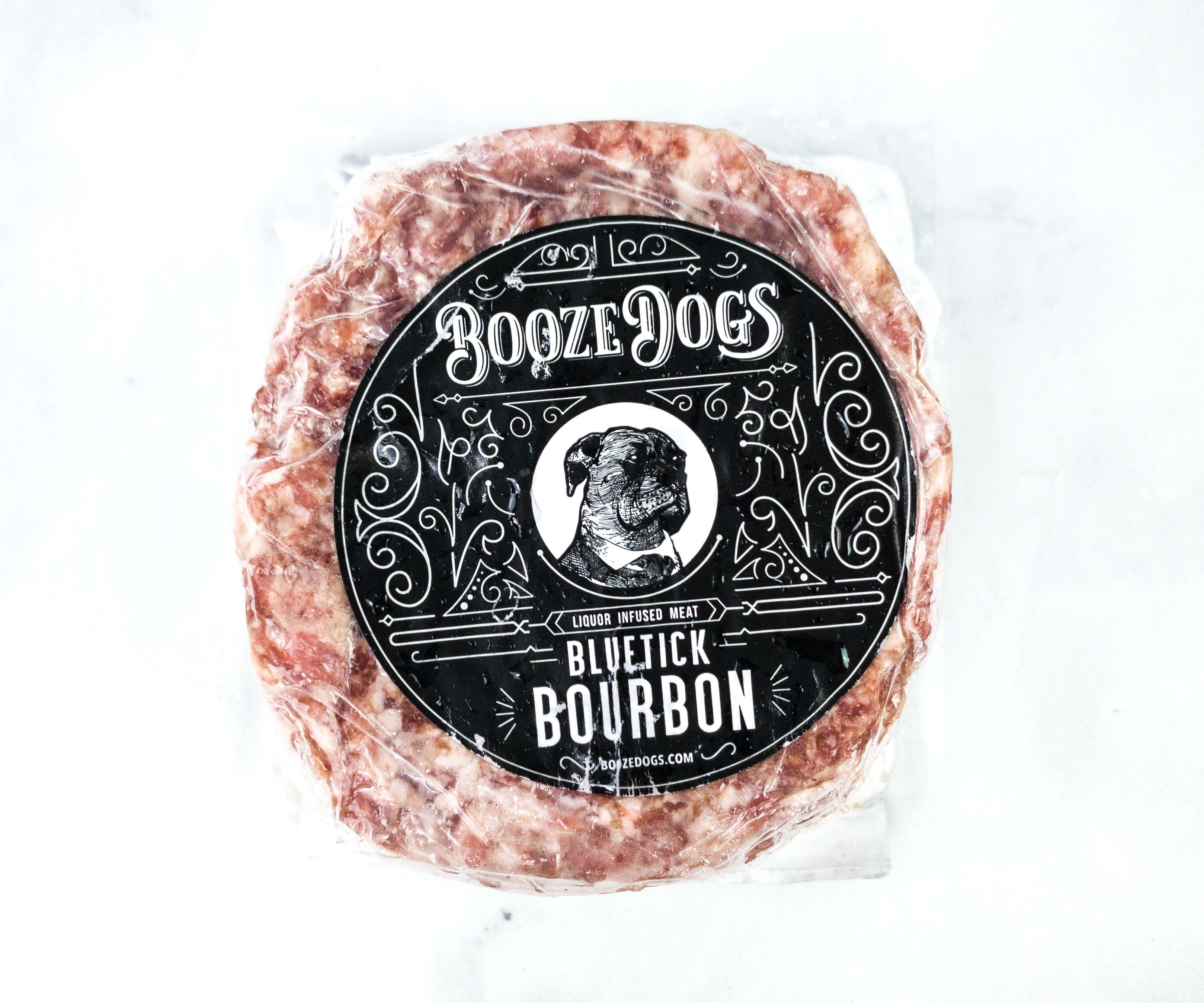 Bluetick Bourbon Burgers. Reminiscent of charred oak casks, these bourbon-flavored patties took our tastebuds on a wild ride to the heart of Kentucky!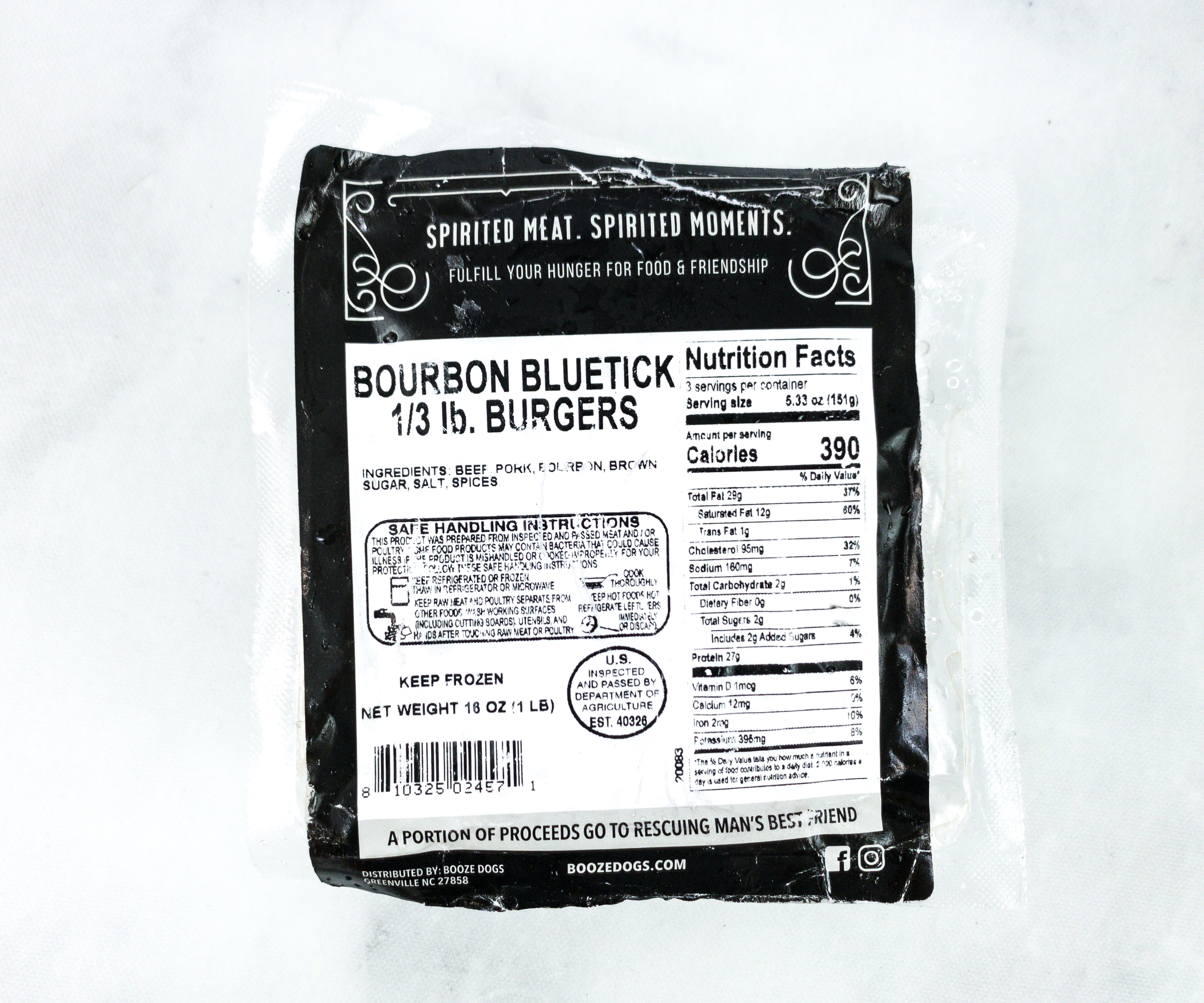 This one has bourbon and brown sugar together!
This came out slightly lighter in color compared to our first set. It also smells so good!
I put it inside toasted buns and it already looks so mouthwatering!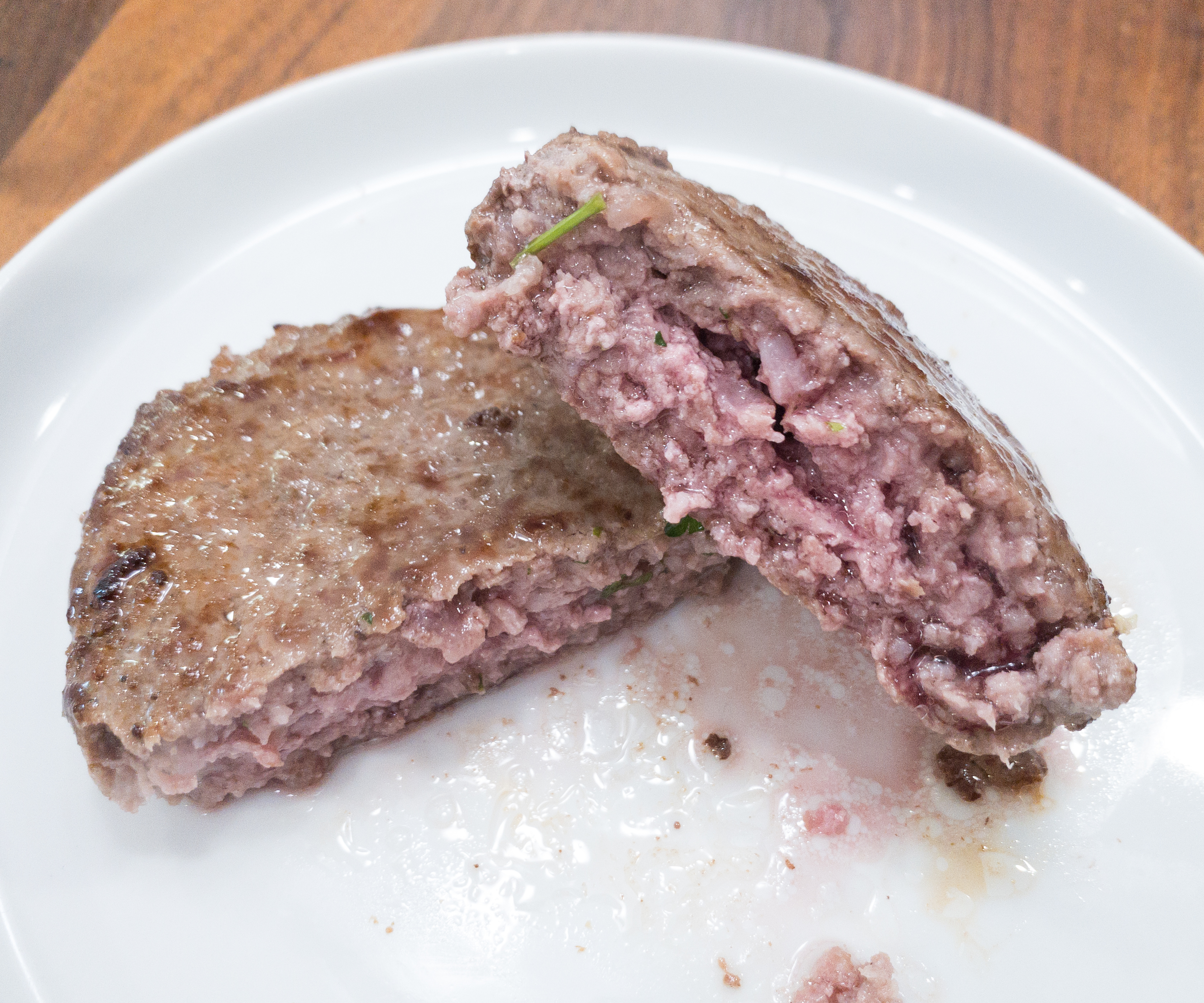 We had this cooked to a medium and it turned out really juicy. I like that it has strong notes of oak and caramel since it's infused with bourbon.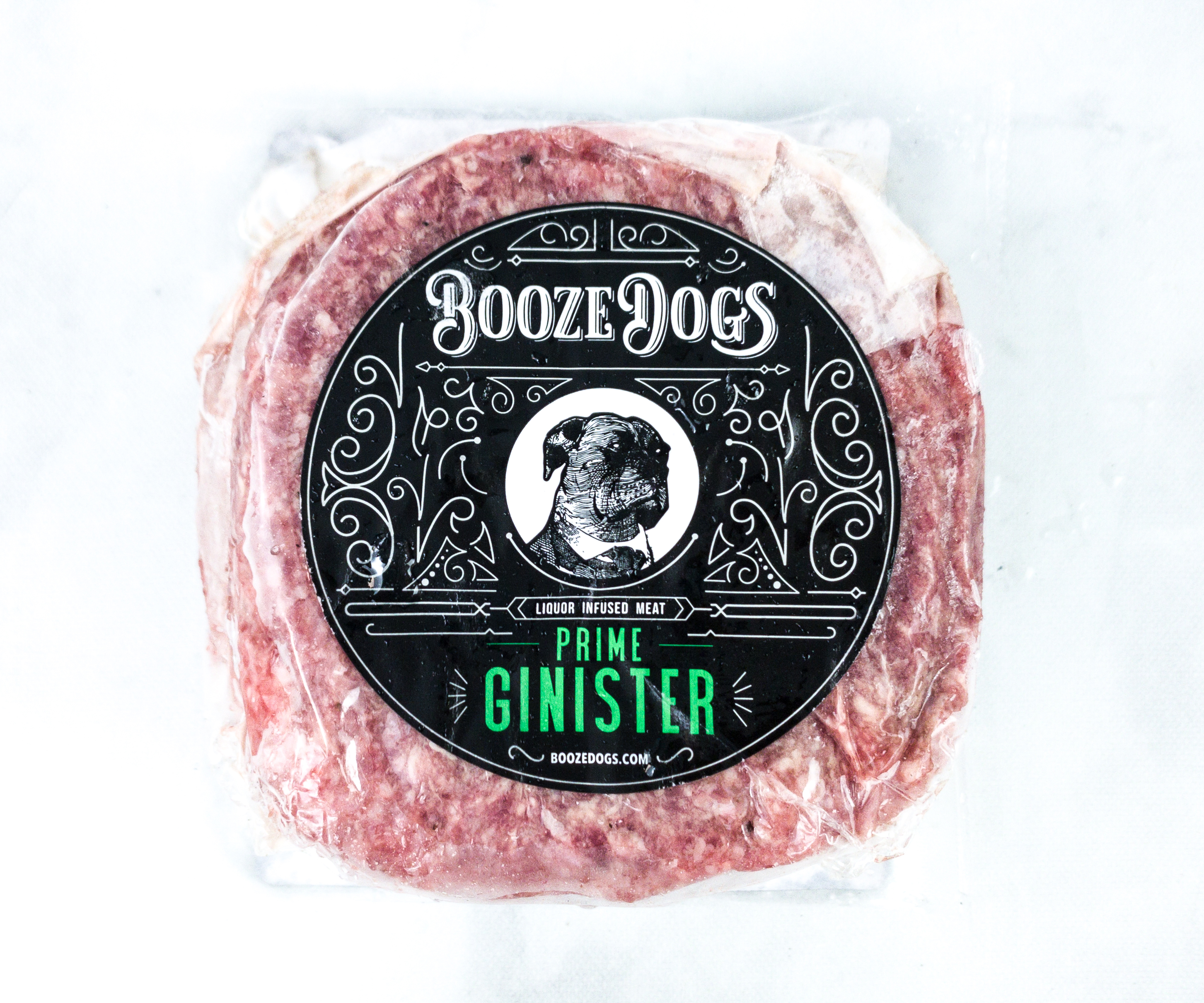 Prime Ginister Burgers. This 1/3 lb burger is infused with hints of citrus that you can taste with every bite!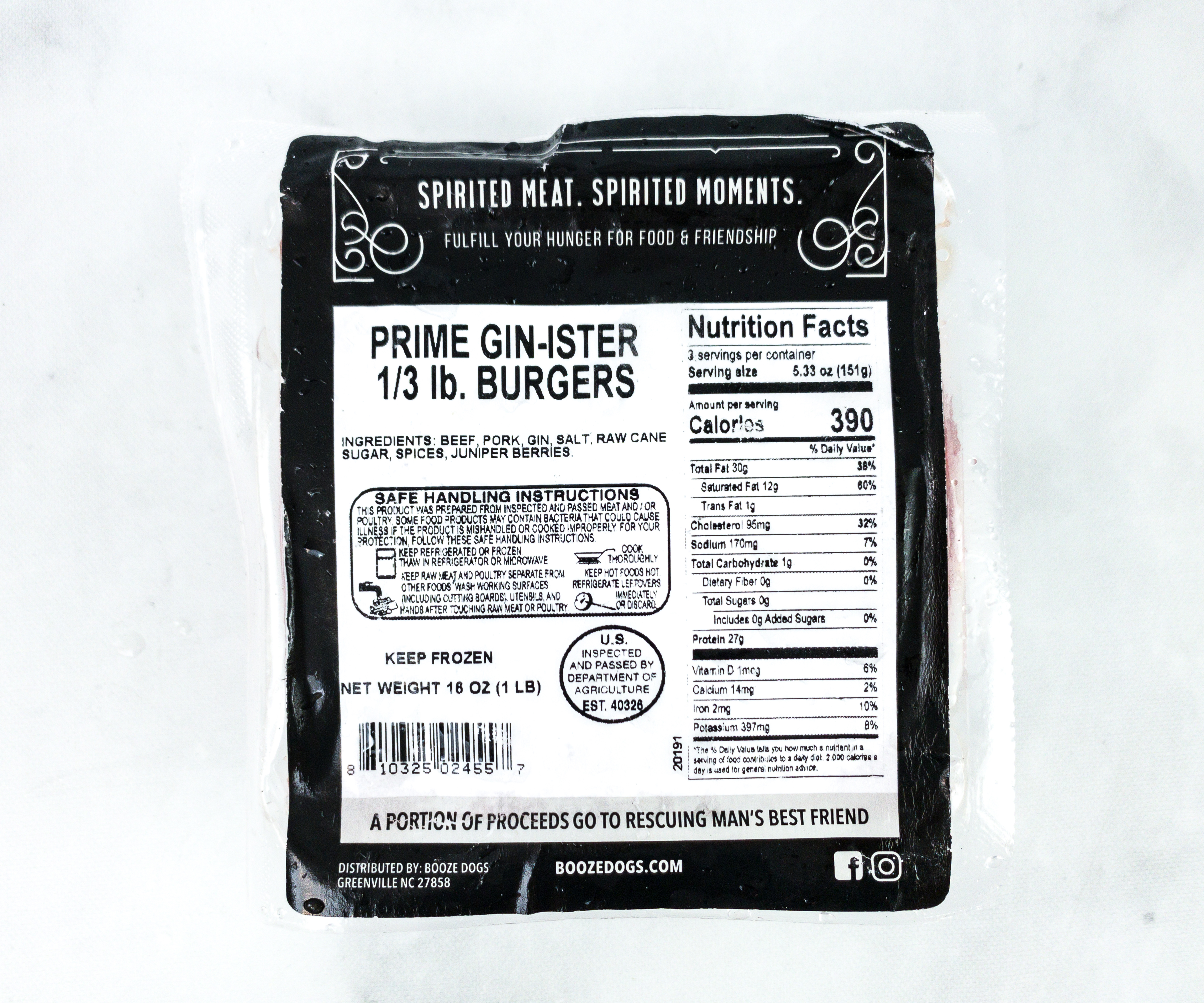 It has juniper berries which give out a bit of a tang that balances the deep, meaty flavor of the patty!
Compared to the first two, this has a paler color because it doesn't have the brown sugar ingredient that the others have. This one has a more intense meaty flavor that I really like!
This burger patty is infused with gin which I think helps level up the flavor of the meat! My wife wasn't crazy about this one – but she doesn't like gin.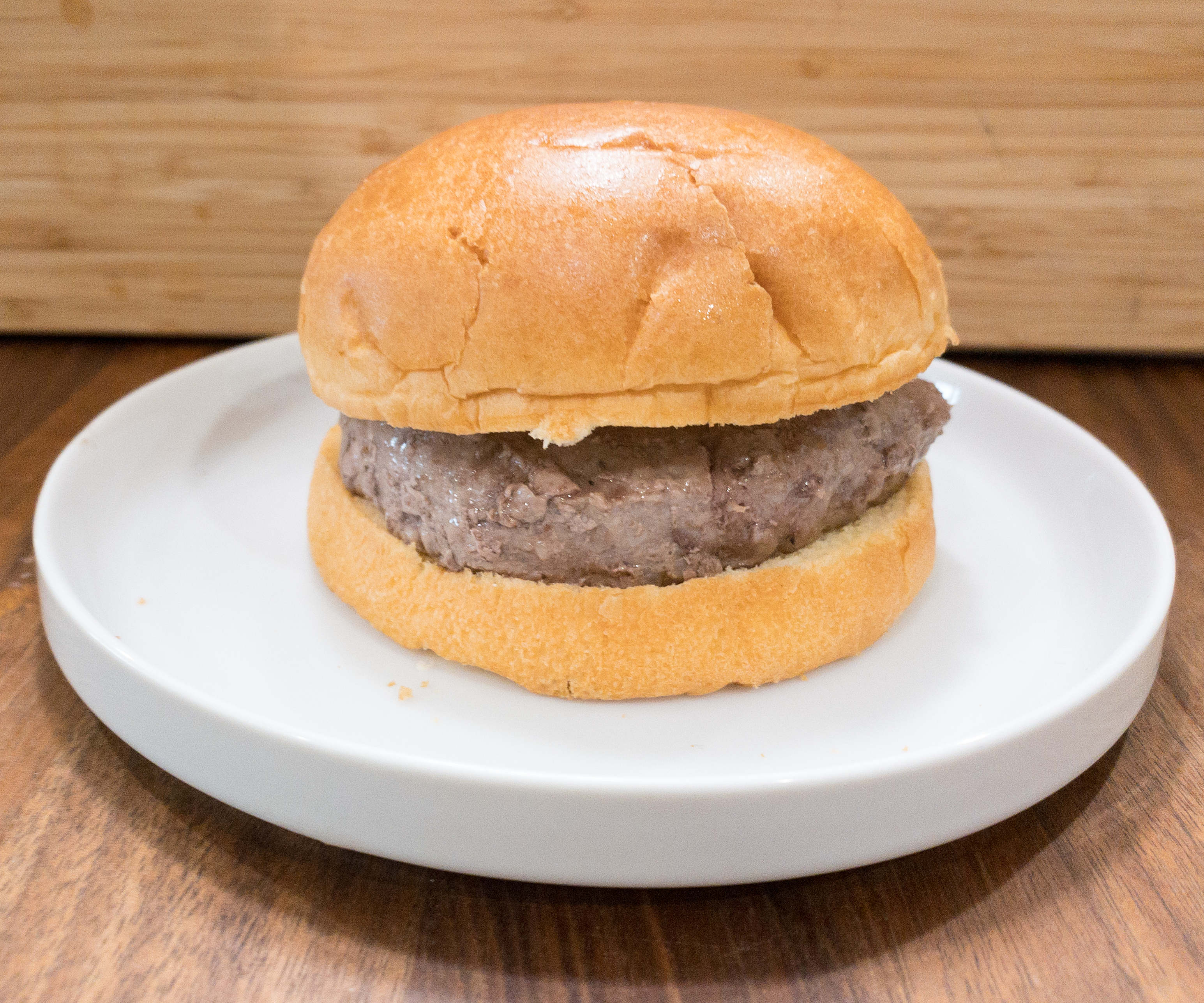 I like how juicy and tender the patty is. This is probably one of the best burgers I have ever tried!
Now, here are three variants of Booze Dogs liquor-infused hotdogs!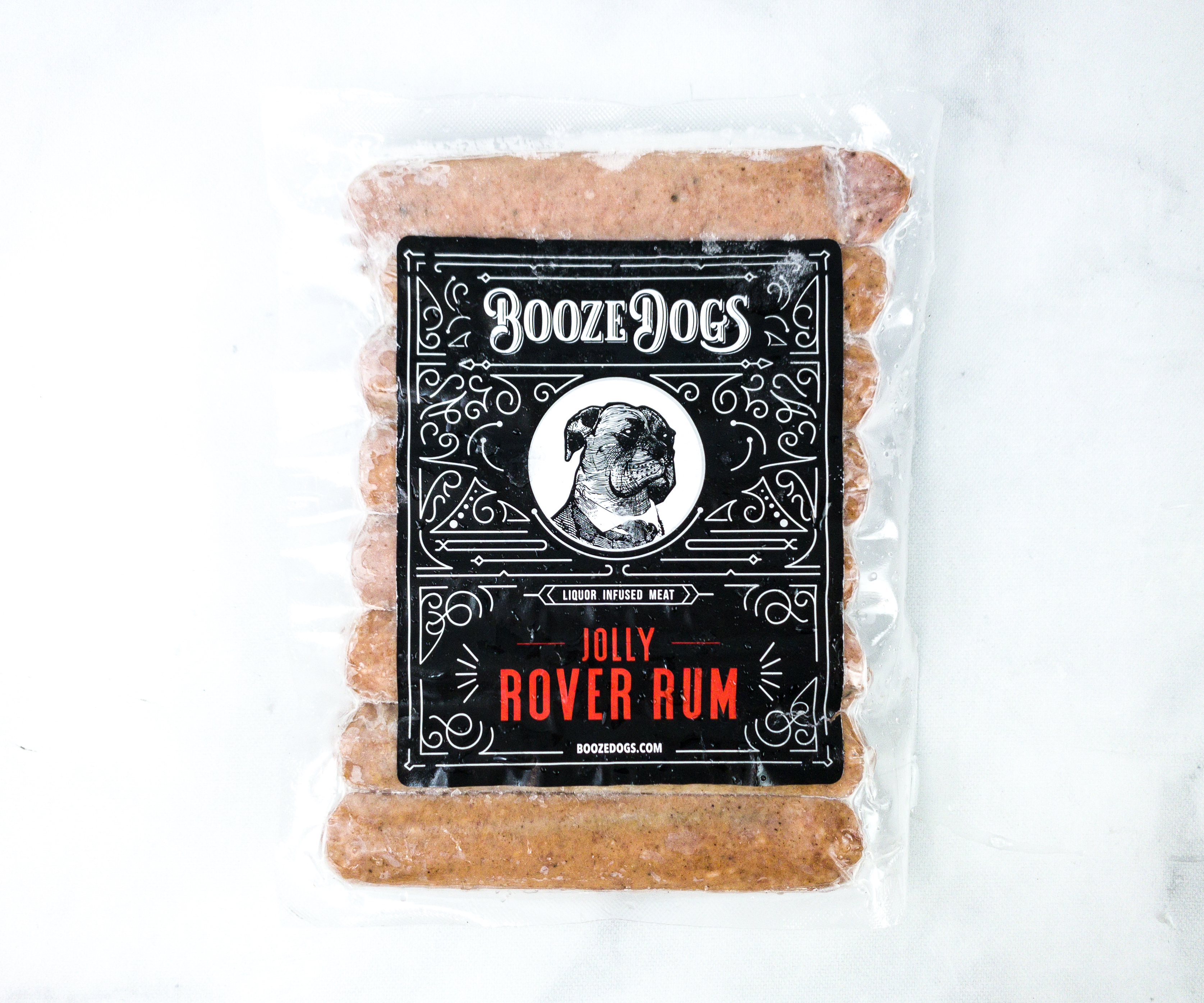 Jolly Rover Rum Hot Dogs. These hotdogs have the same flavors as the burgers. They are perfect whether served in a bun or as a breakfast meal!
The packaging says that there are no added nitrites or nitrates, except for those that are naturally found in the ingredients.
The cooked product looks really great!
We put it in a bun and added some caramelized onions!
I love how this feels on my mouth because I can tell that it's made from good quality meat. Each bite is bursting with flavor!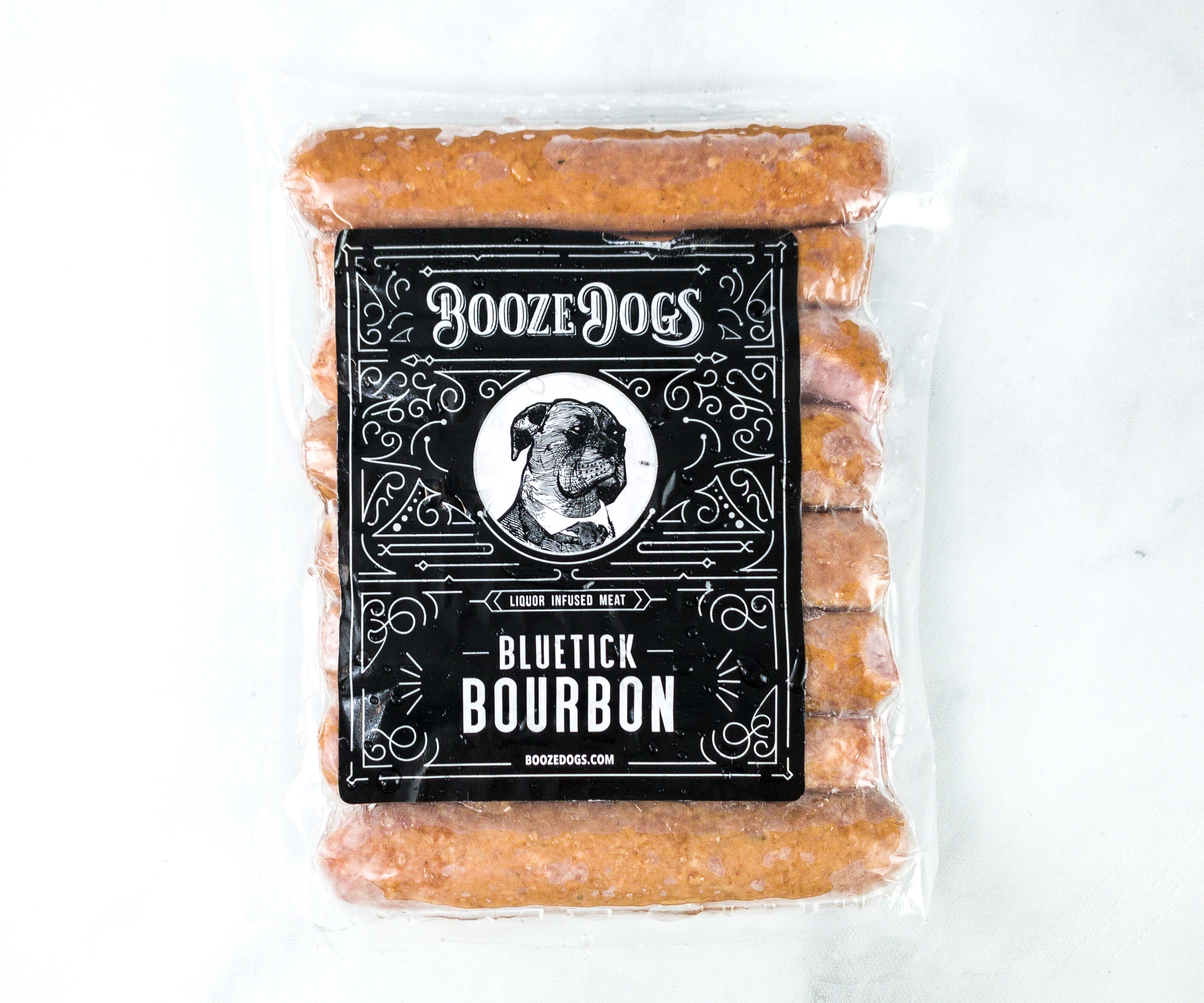 Bluetick Bourbon Hot Dogs. These bourbon-infused hotdogs, just like the patties, have a slight sweetness yet very savory profile!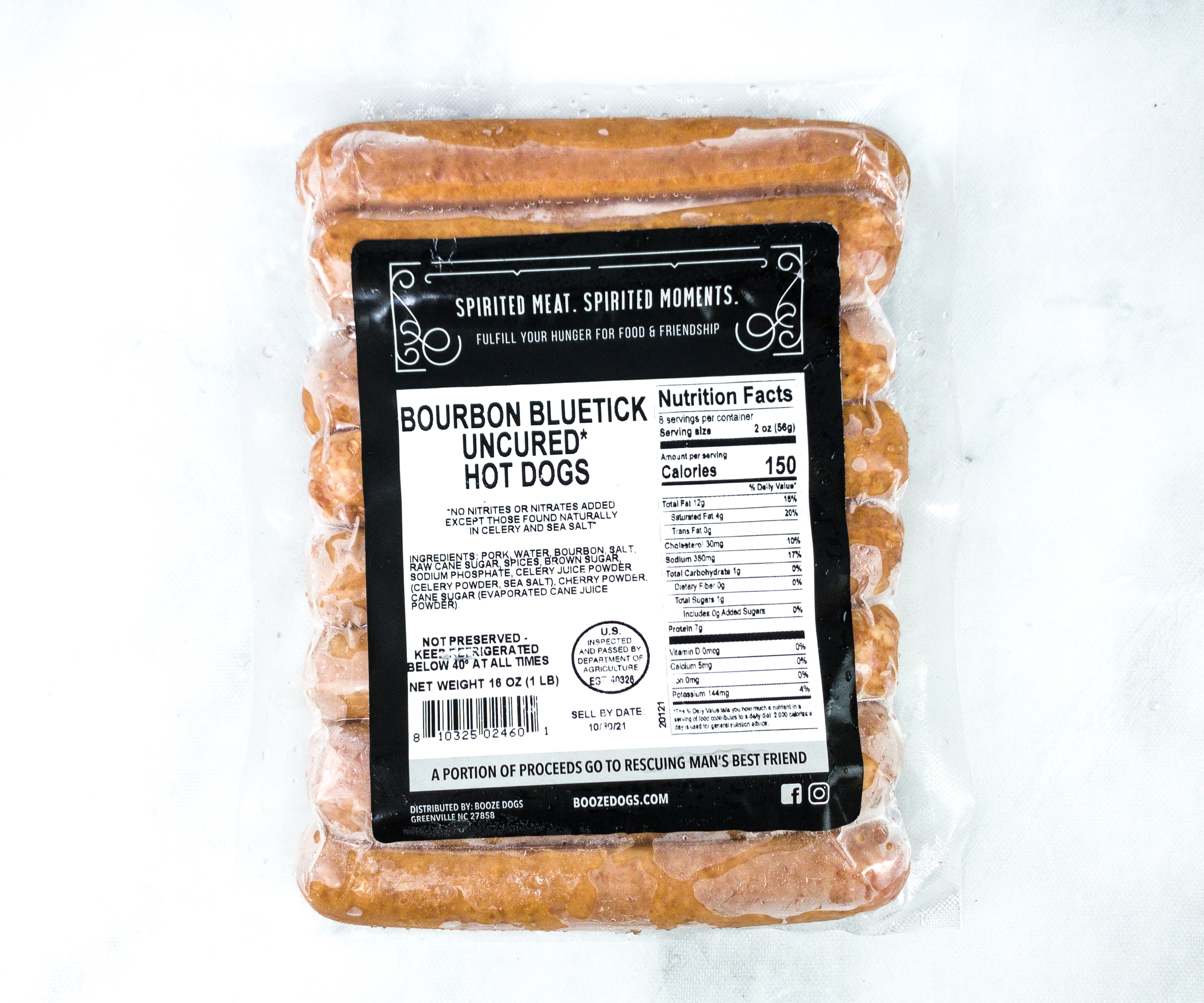 These hotdogs are not preserved so you receive them fresh and you got to keep it frozen until you're ready to cook them!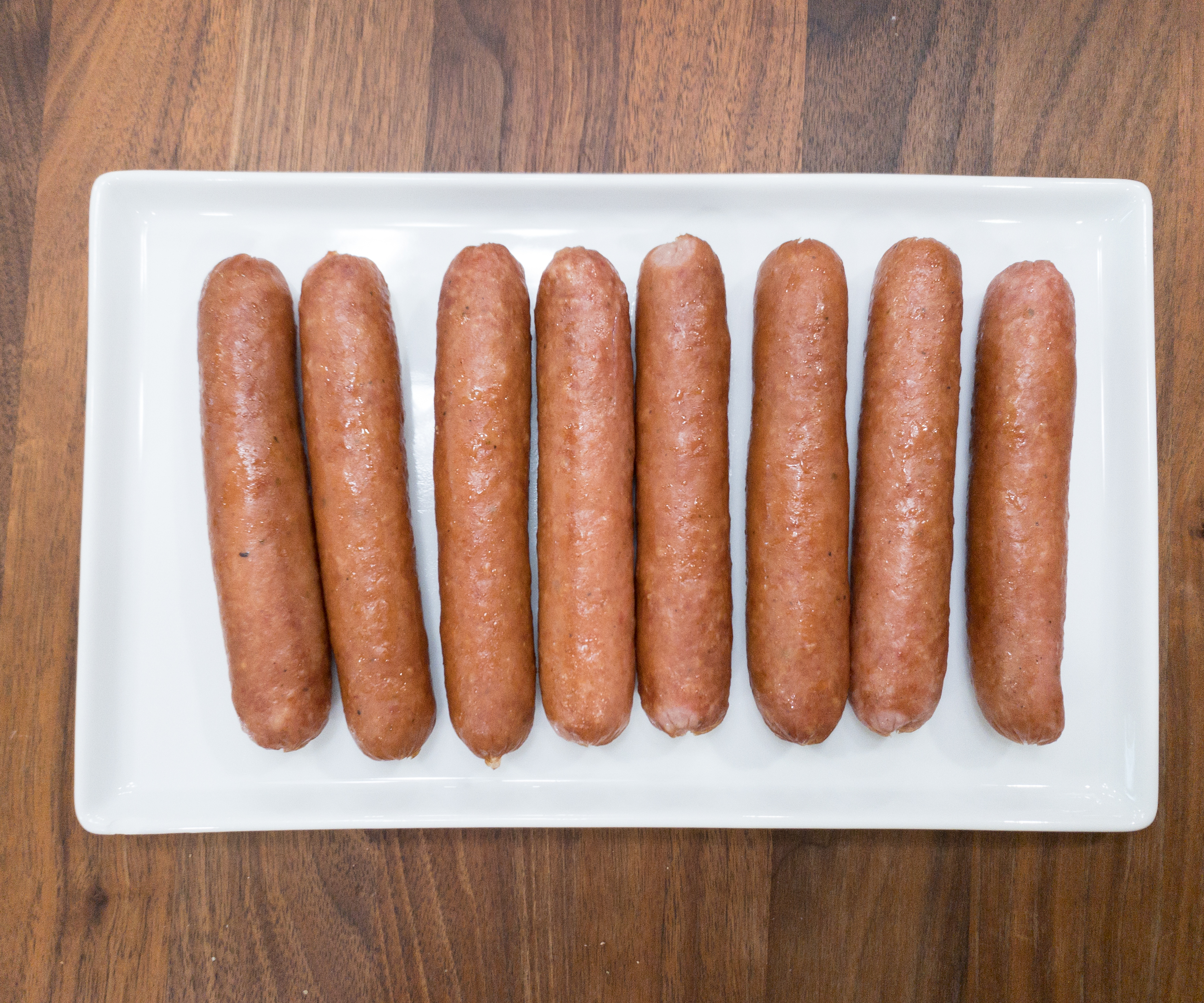 Unlike the Jolly Roven Rum, you can clearly see that there's less seasoning on this set. They don't have those black peppers poking around but they still look really appetizing!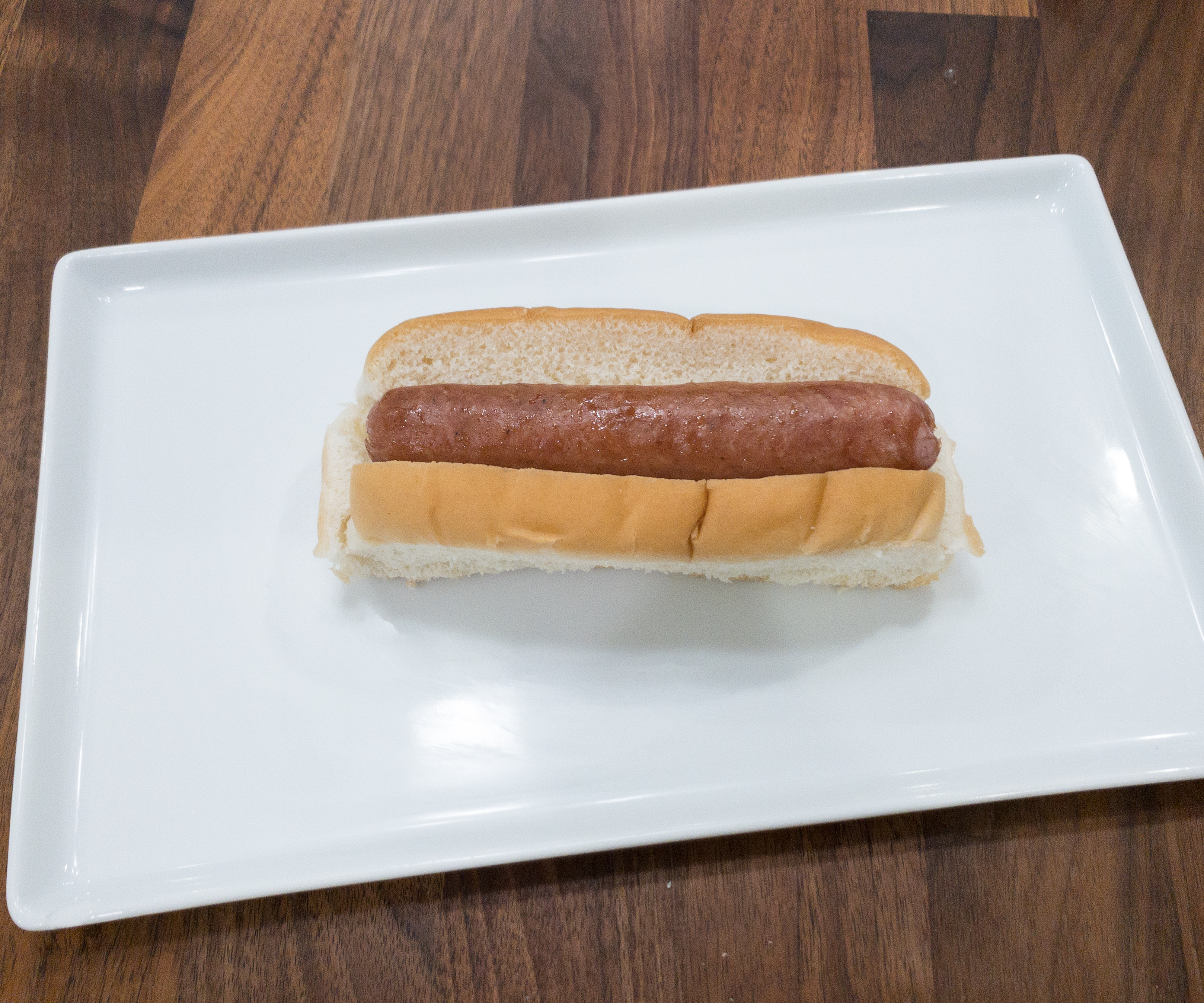 We put it in a but and I debated on what condiment it should go with.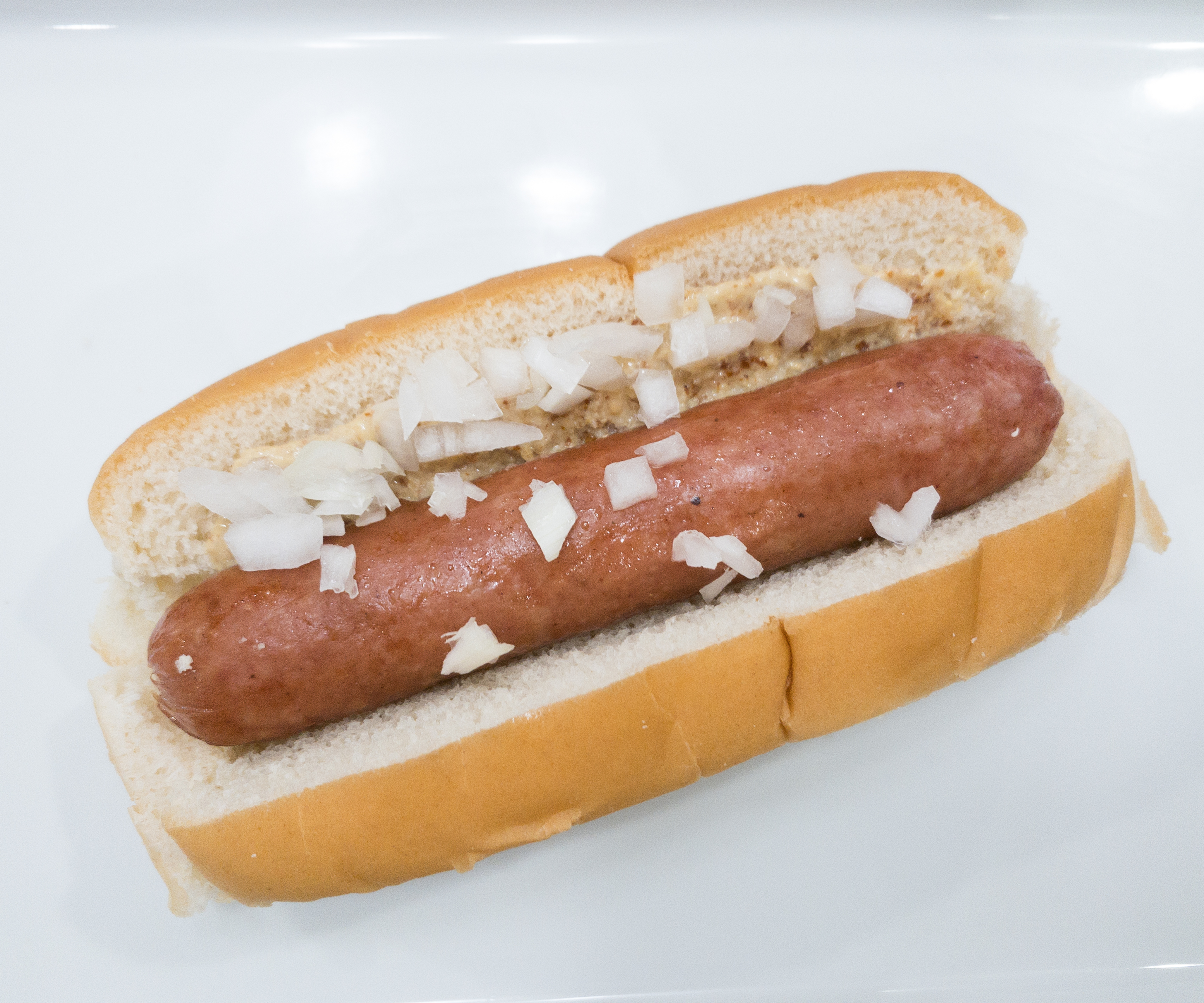 I ended up putting a tiny bit of dressing and caramelized onions and they tasted amazing! The slight crunch of the onions added a very beautiful texture to the flavorful meat.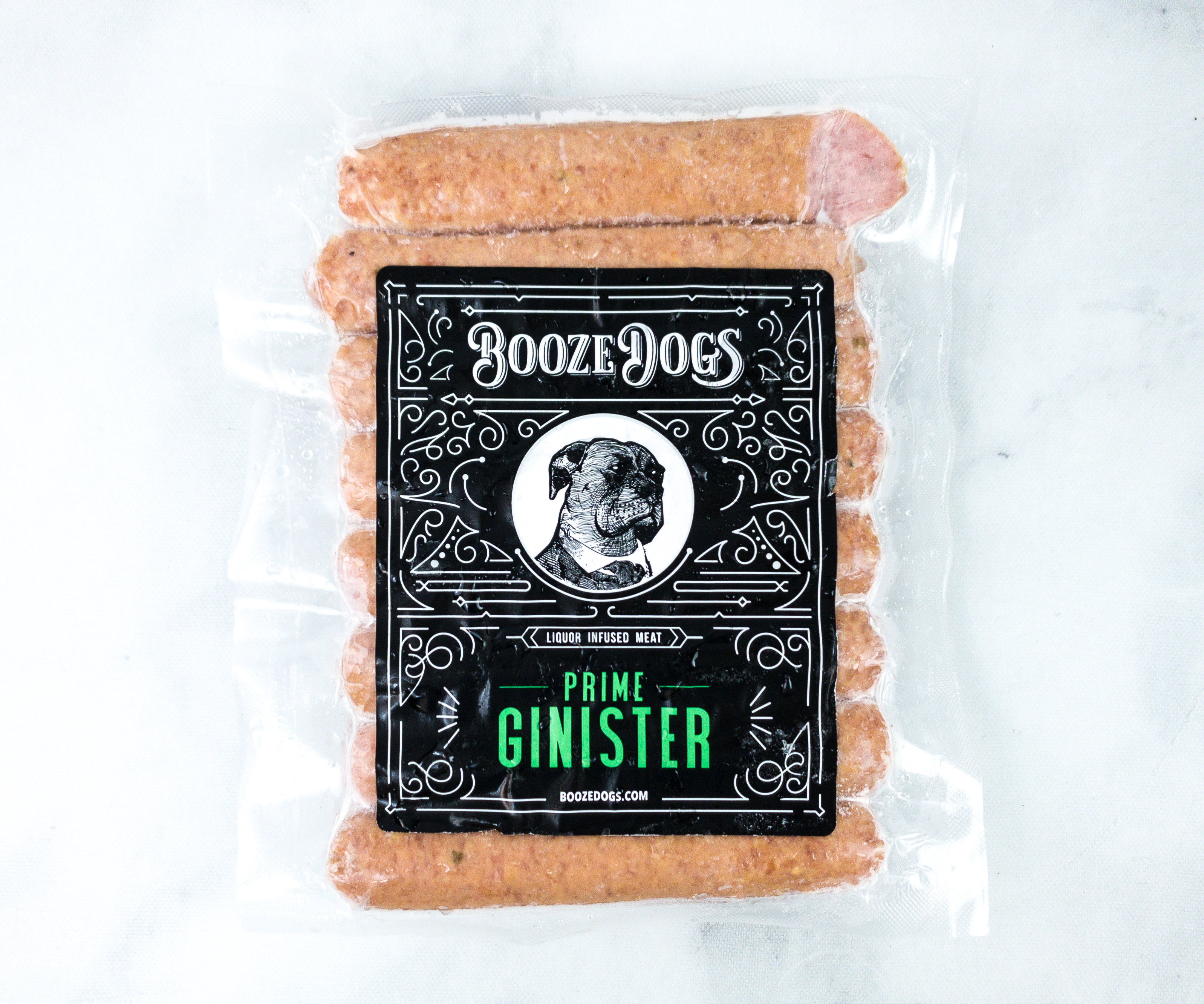 Prime Ginister Hot Dogs. The last flavor is Prime Ginister. This is the one that has juniper berries!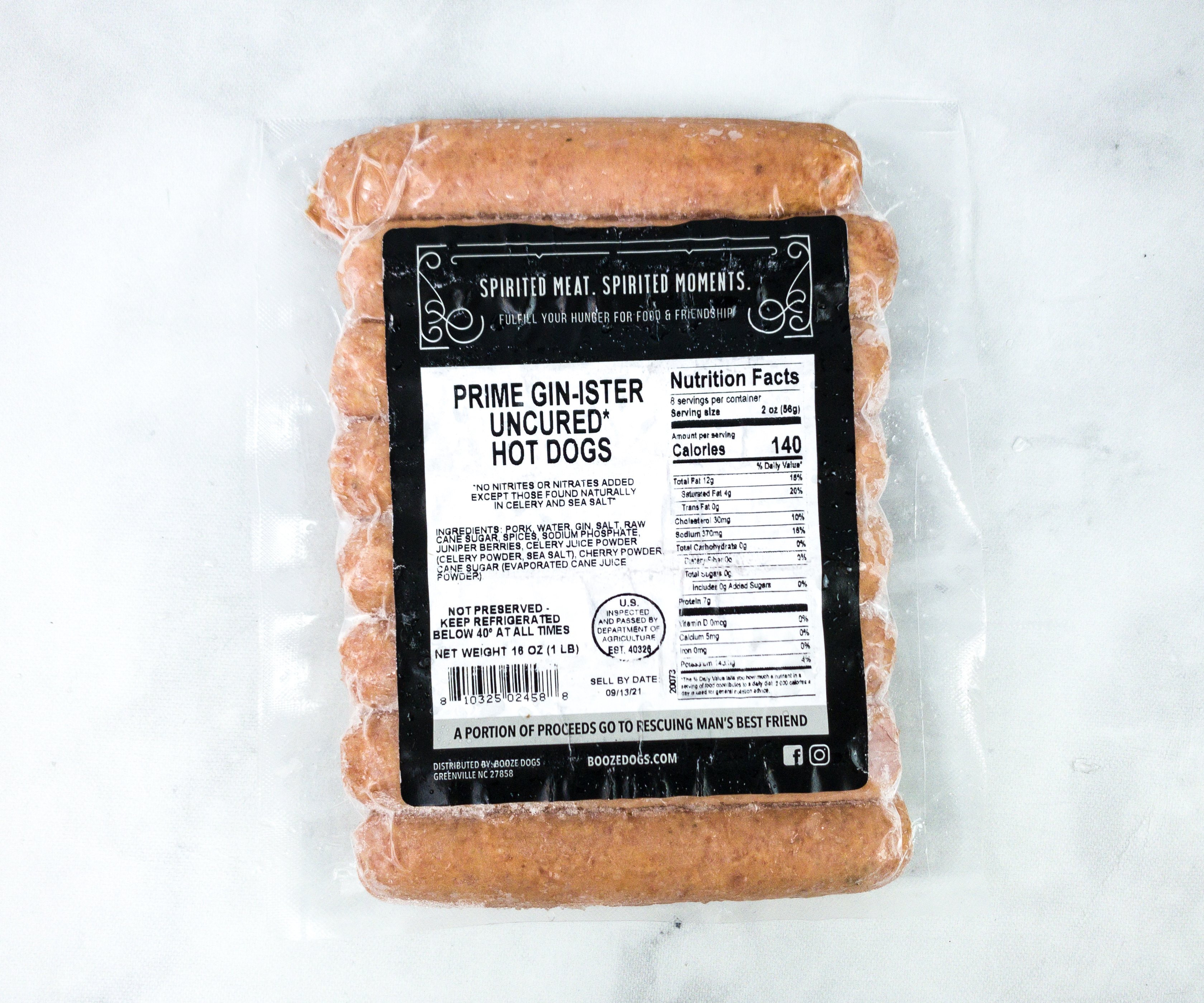 These are juicier and meatier than the usual hotdogs!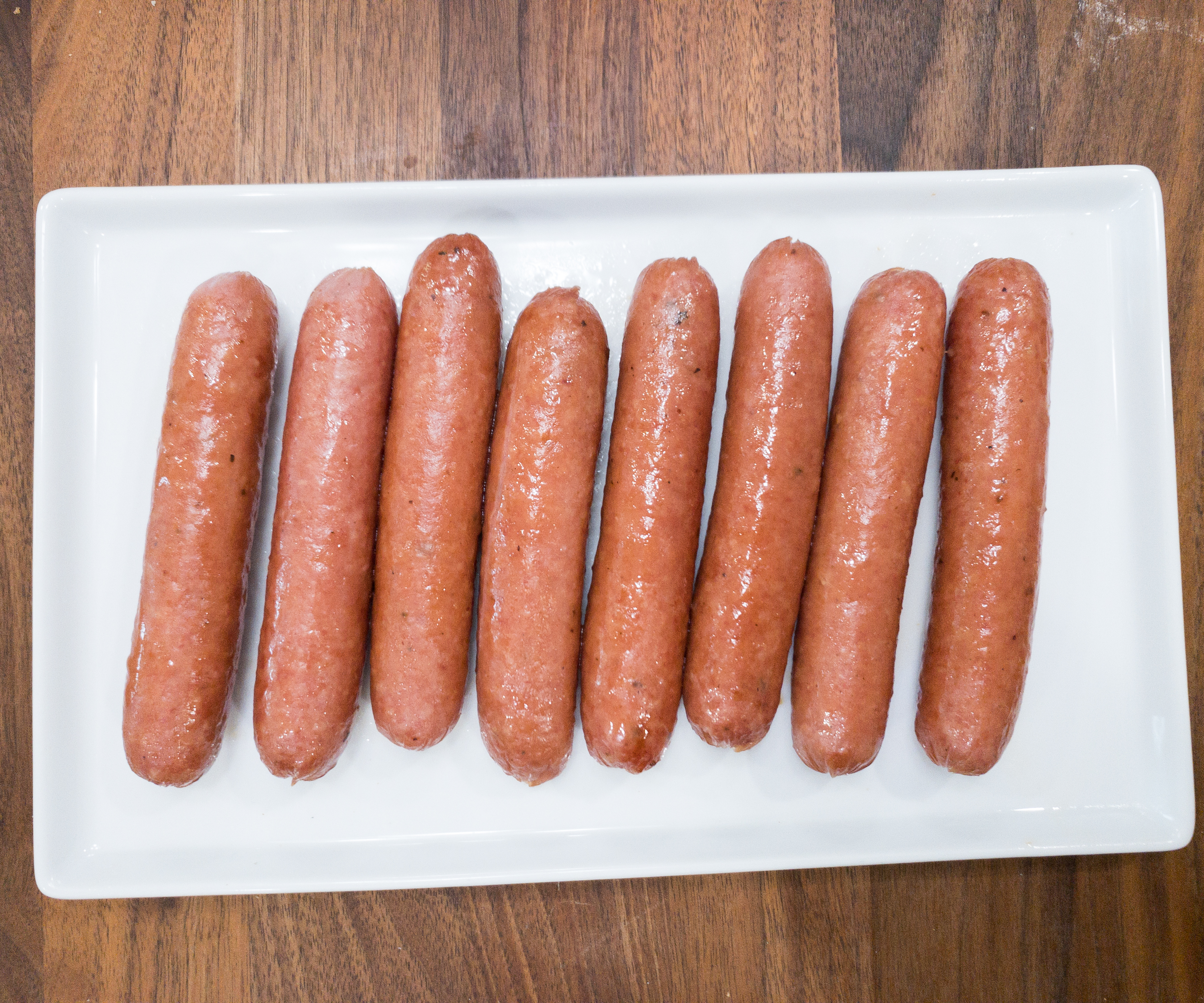 I love the color of this batch! It smells amazing as well.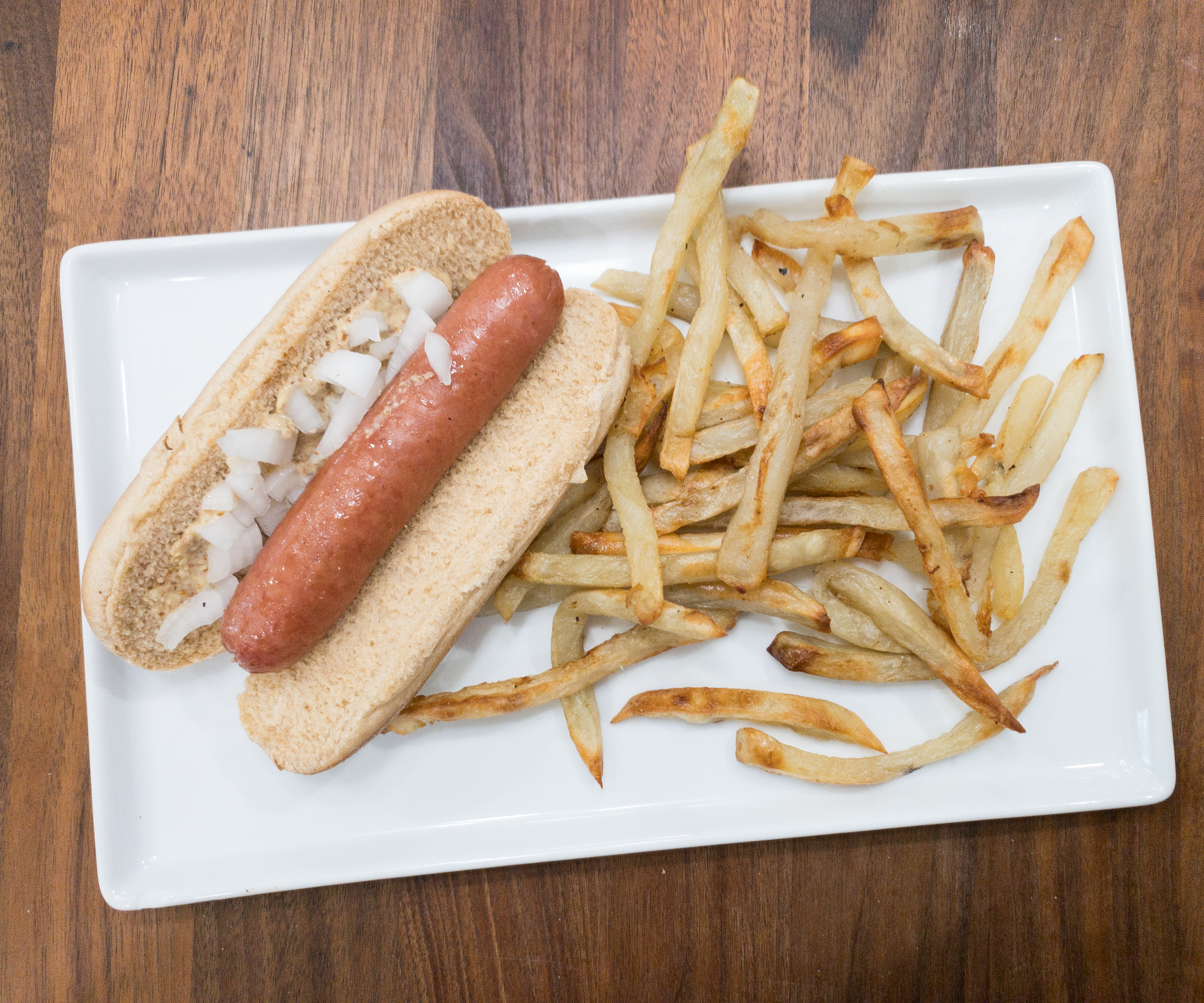 We made some fries to go with our hotdog buns. I also decided to put some caramelized onions because I love the texture it adds to each bite!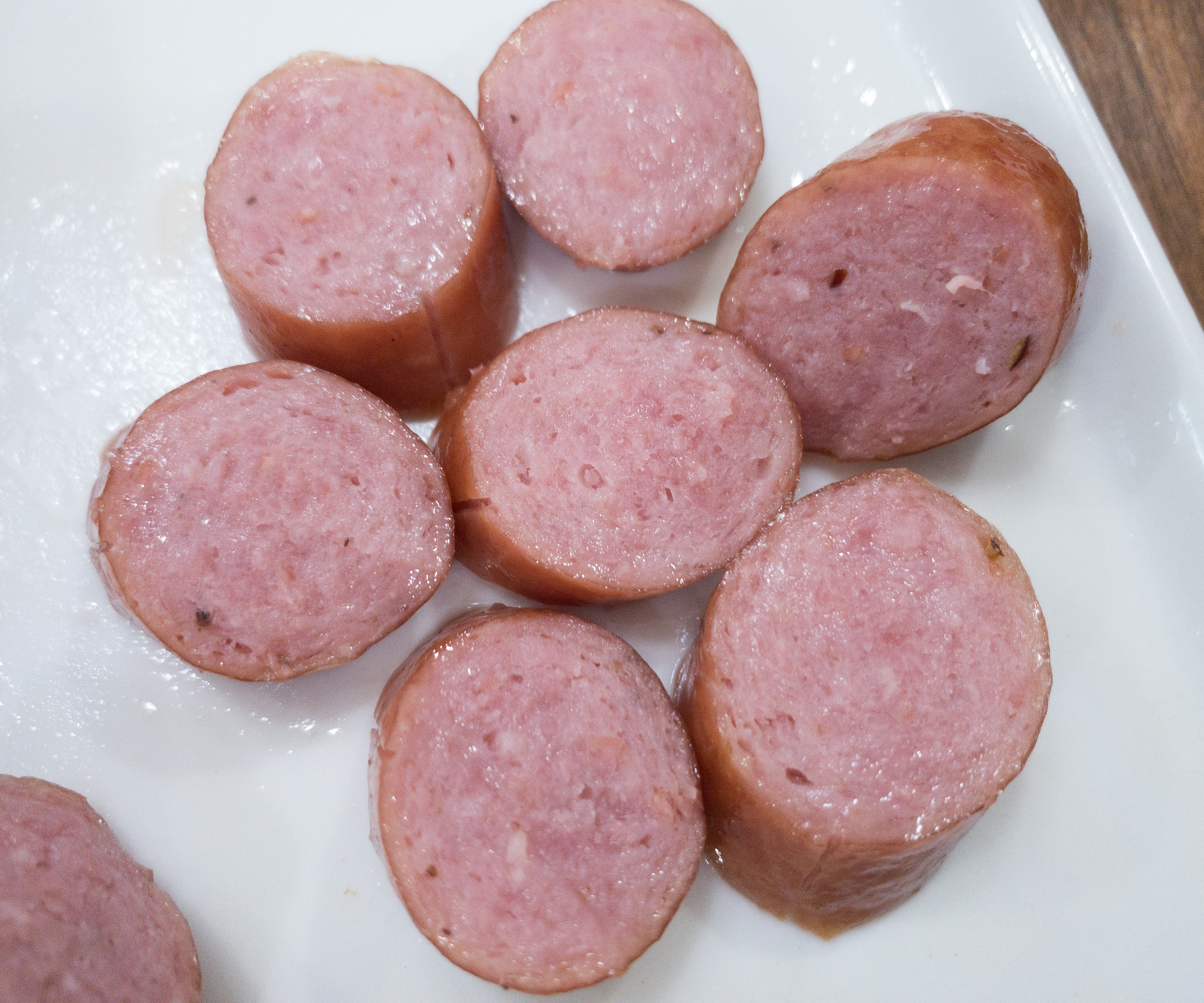 Here's how the hotdog looks like when cut into smaller pieces. I love how finely they ground the meat but you can still tell that it's not full of fillers, unlike regular hotdogs. This is a premium product!
We also received a set of their sausages, in the same flavors as the burgers and hotdogs.
Prime Ginister Smoked Sausage. I'm so excited to try their line of sausages because the burgers and hotdogs were nothing short of amazing!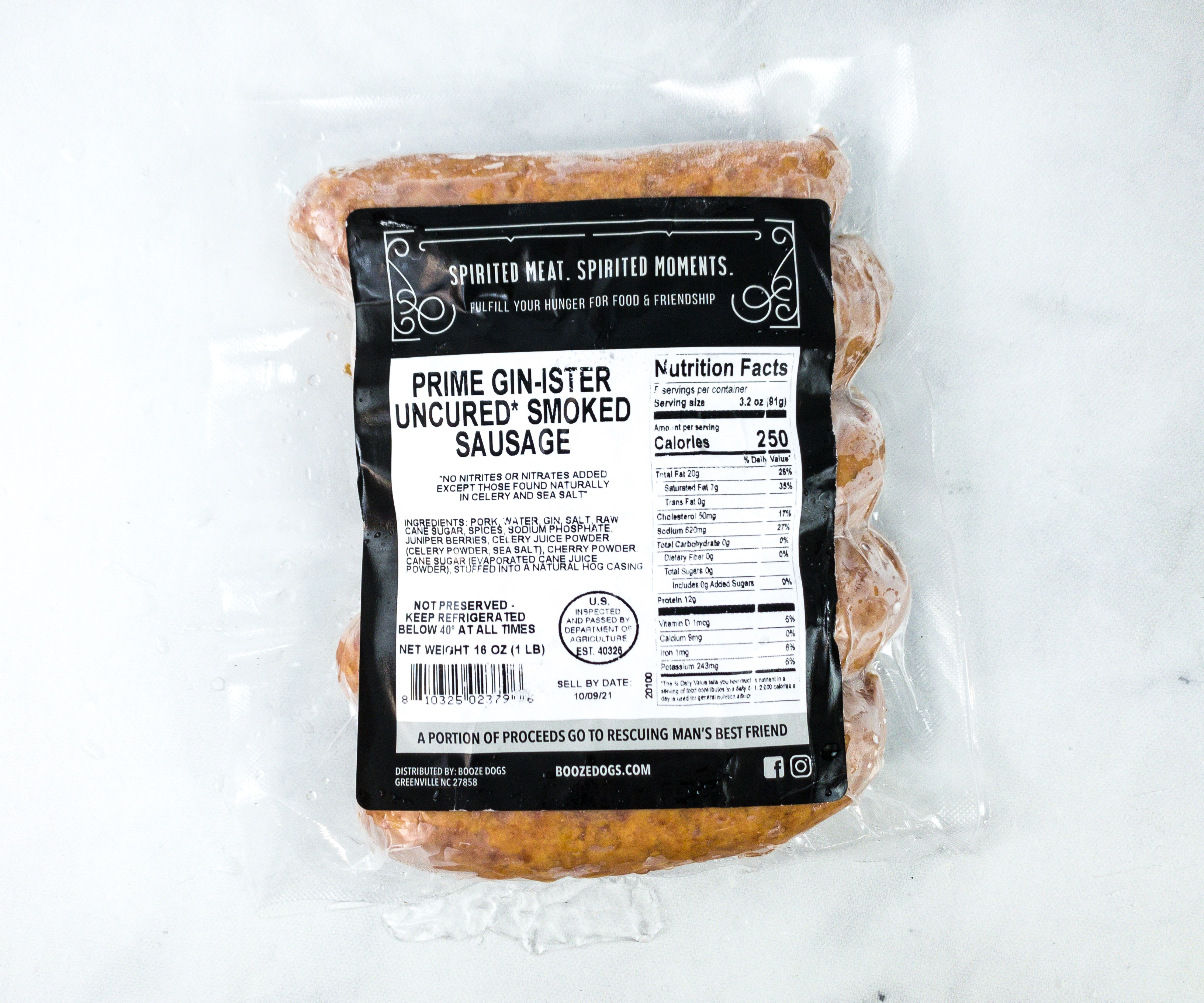 Just like the others, the sausages are uncured.
They are a bit shorter in size compared to the hotdogs but they are a bit thicker in width.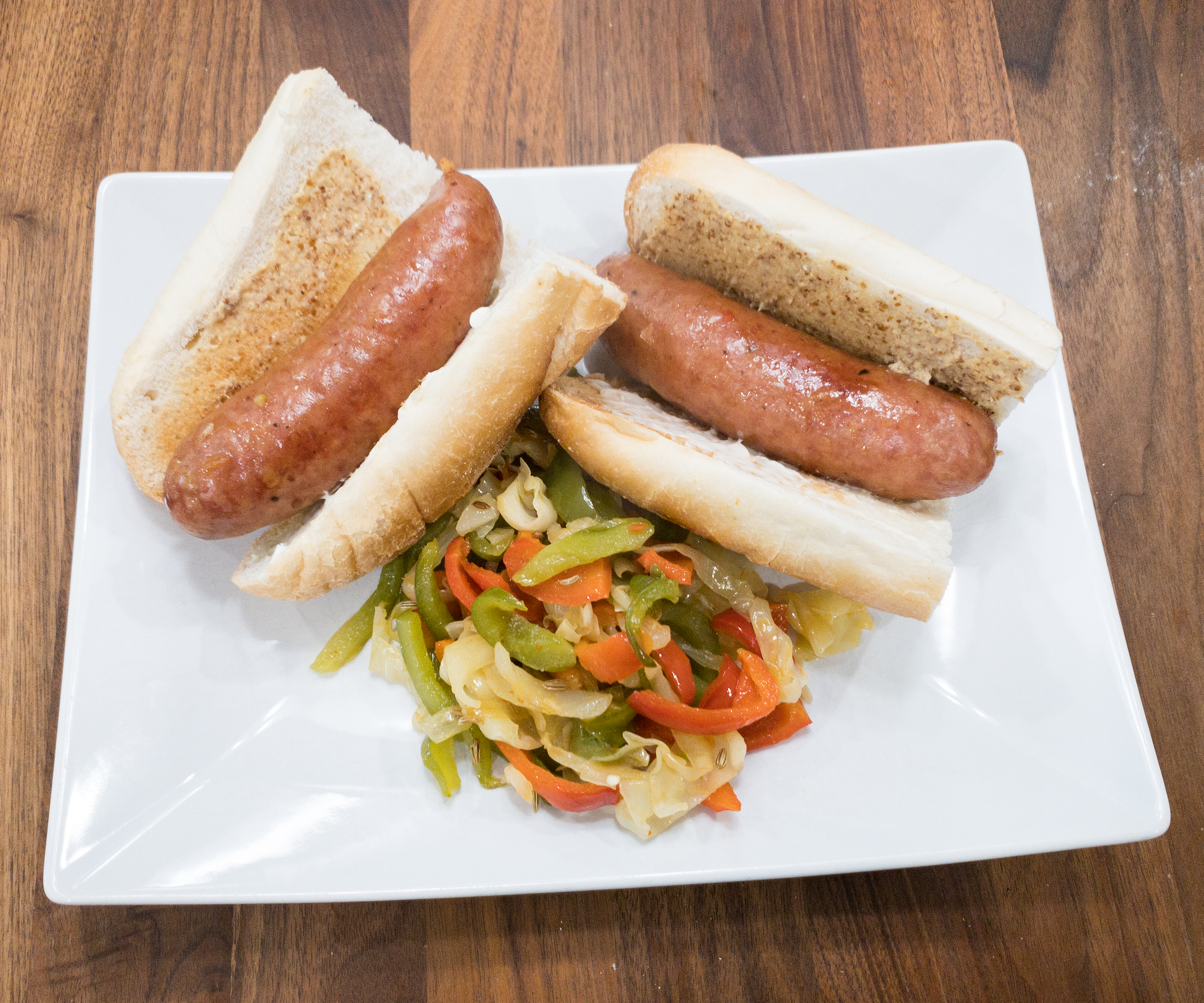 We enjoyed them with buns and some mixed vegetables!
The sausages have more of a bite to them but the flavor is just the same as the hotdogs. This one just has more grainy meat but it's still juicy and yummy!
Bluetick Bourbon Smoked Sausage. I'm really loving everything so far and for all the items, my favorite is turning out to be the bourbon!
You can either grill these or cook them on the stove, they taste great either way!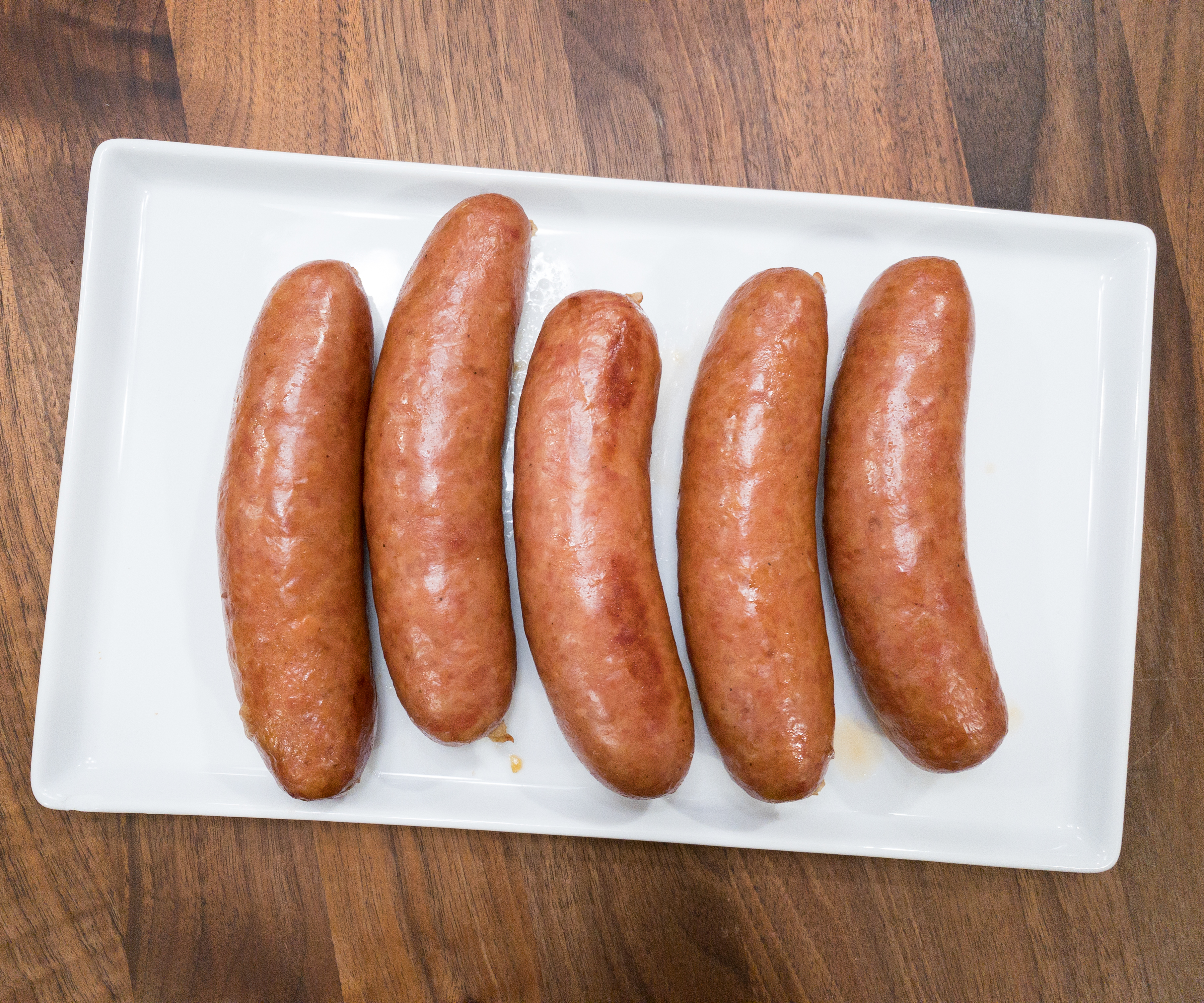 This looks mouthwatering as ever. The color is inviting and it also smells sweet and savory!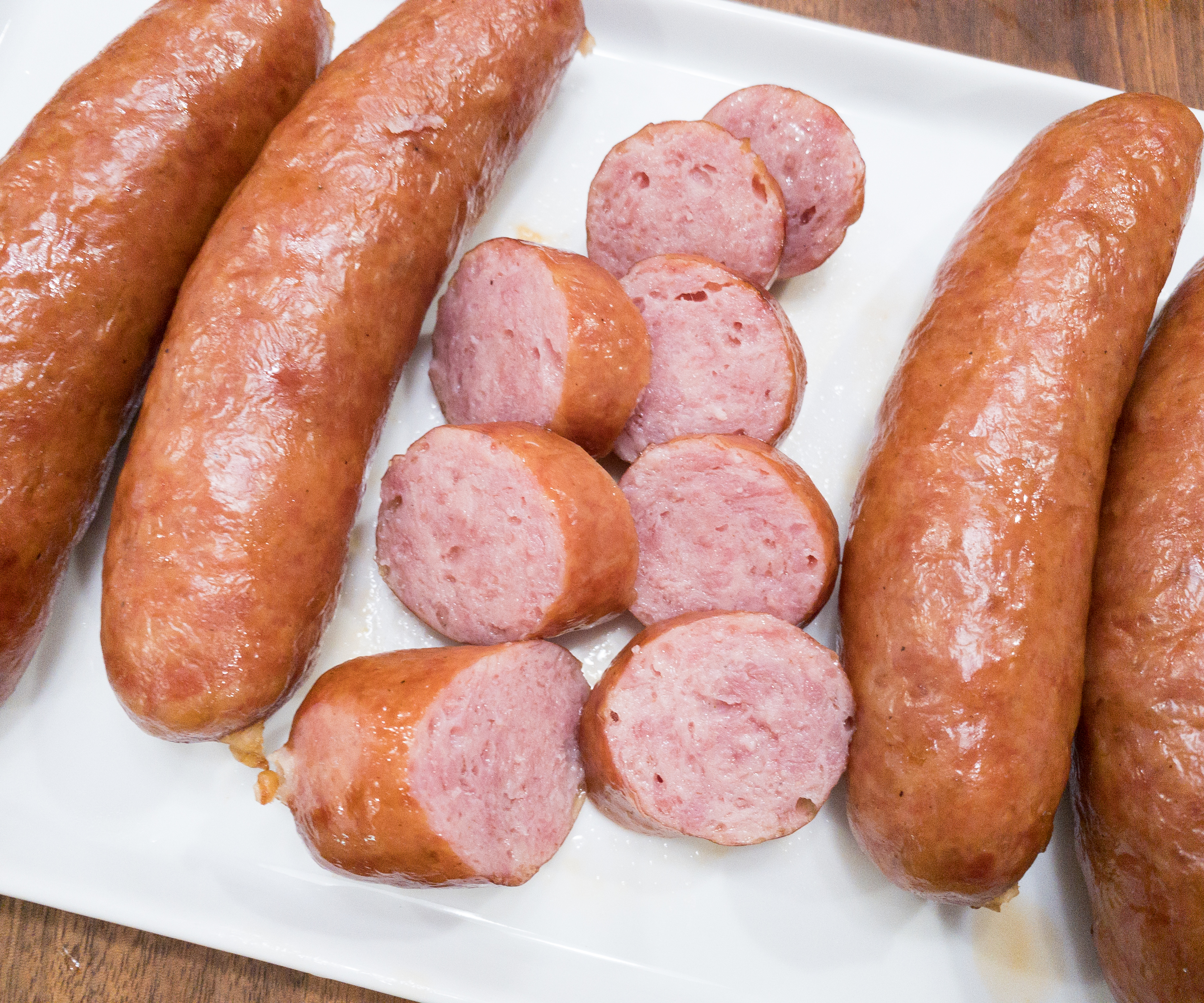 I like the slight crunch of the outside and the juiciness of the inside. Out of all the Bluetick Bourbon products I have tried, these sausages are my favorite! They don't really have much difference in the flavor but the texture of the meat is really exceptional.
Jolly Rover Rum Smoked Sausage. Upon opening, I can already tell that this one has a deeper rum flavor!
If you're big into spices, you'll probably like this one as well!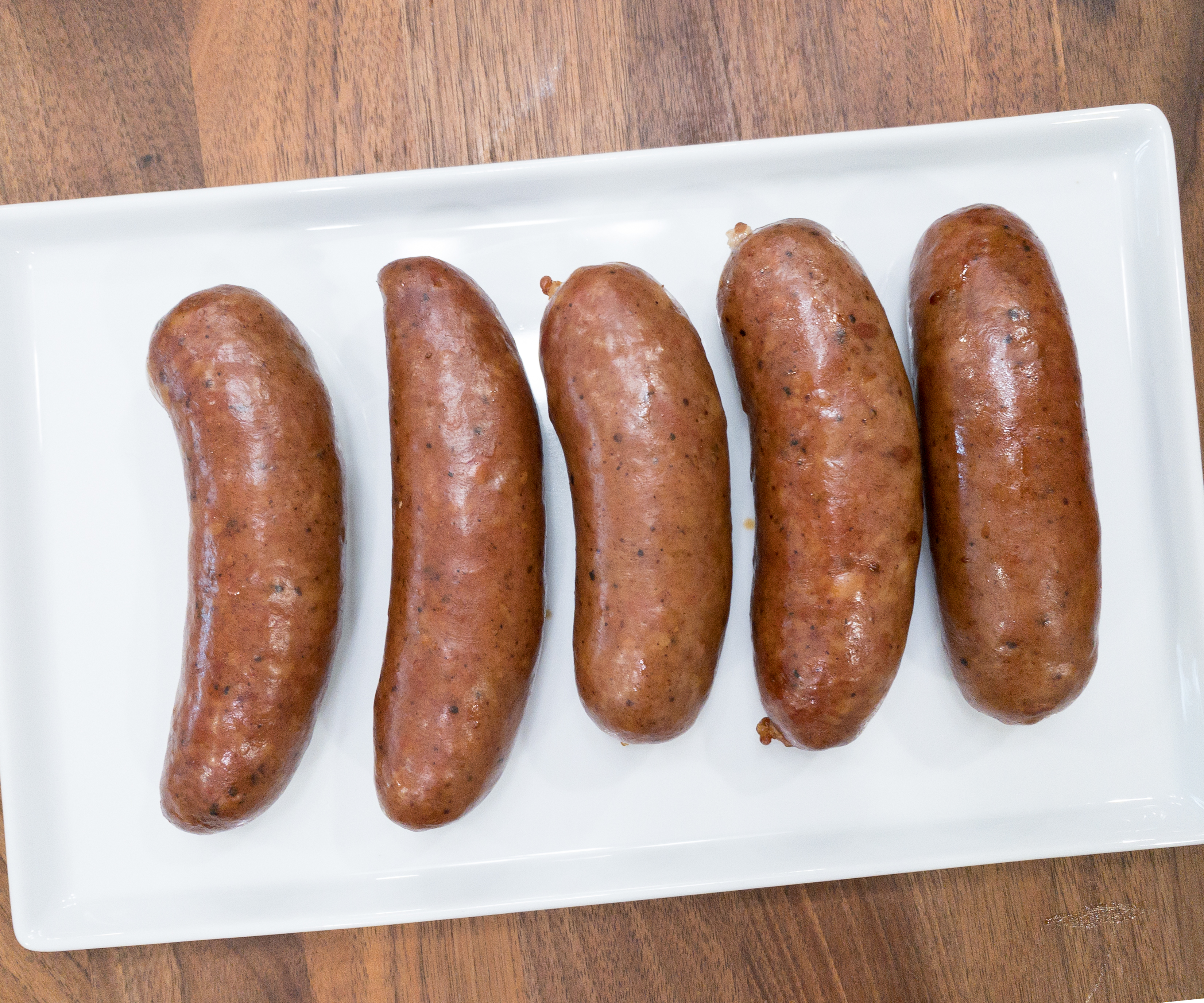 This looks darker than the first two flavors.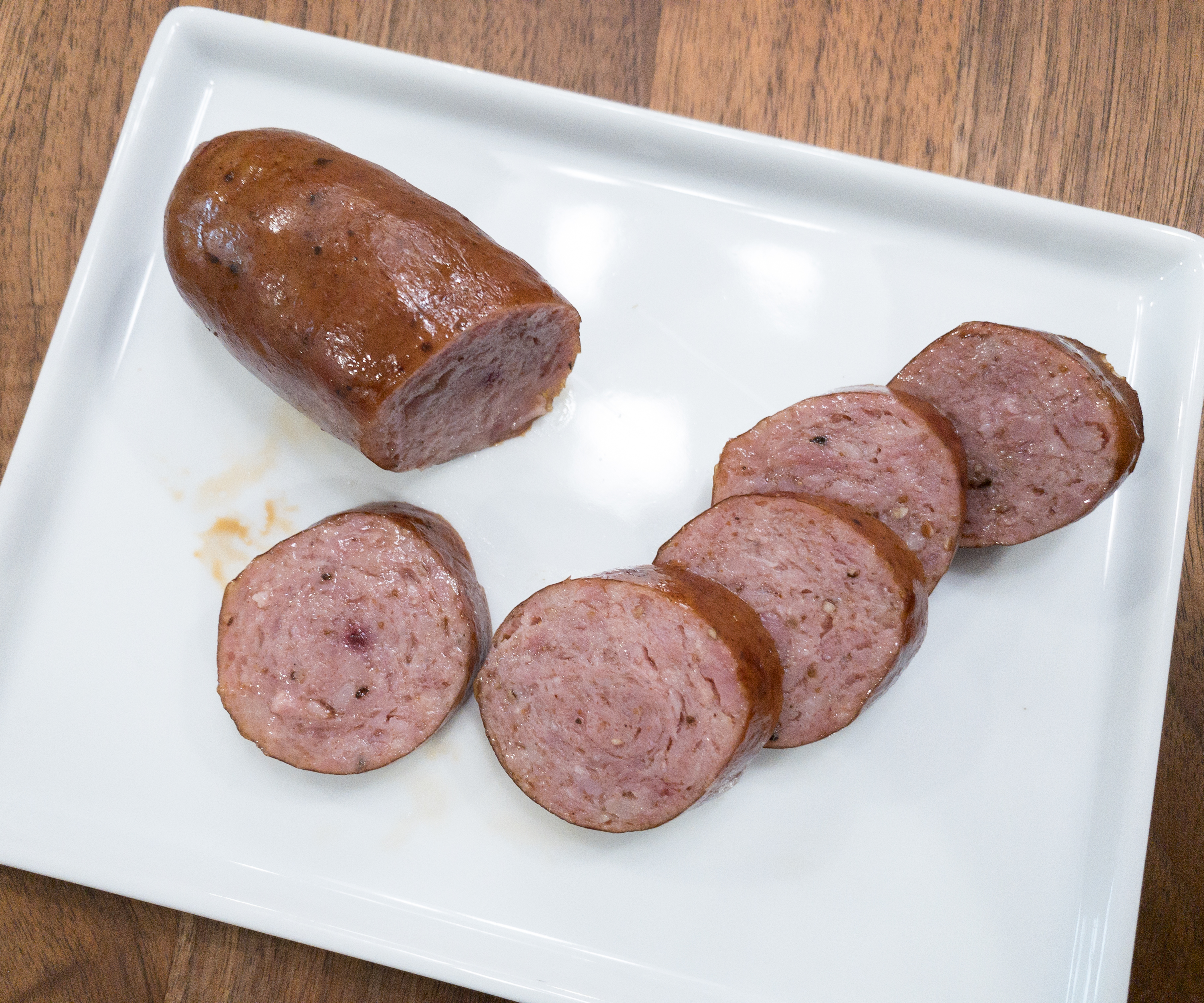 Each bite is just satisfying! It has that rum-infused flavor with hints of pepper and a hint of sweetness. You can really tell this one apart because of how loaded the spices are in here!
Our first box from Booze Dogs is impressive! We really enjoyed everything and I'm really fond of the booze infused hotdogs, burgers, and sausages. Although these meat products are alcohol-infused, the alcoholic content actually gets cooked off when they smoke each batch for 6 hours. What's left behind is the yummy flavor behind! That process takes these goodies on to the next level! My personal favorite is the bourbon-infused sausages! I love how meaty they are and each bite really is an explosion of flavor in my mouth. If you're into spices, you should try the rum-infused one, as it has the perfect balance of spice and sweetness! The burger patties were also great! Assemble them in a toasted bun with some ketchup, mayo, and mustard and you have yourself a filling meal. Getting or gifting this subscription is a great idea especially if you are meat lovers or if you need delicious meat for your next grilling party or something that just levels up the traditional meat experience.
What do you think of Booze Dogs?