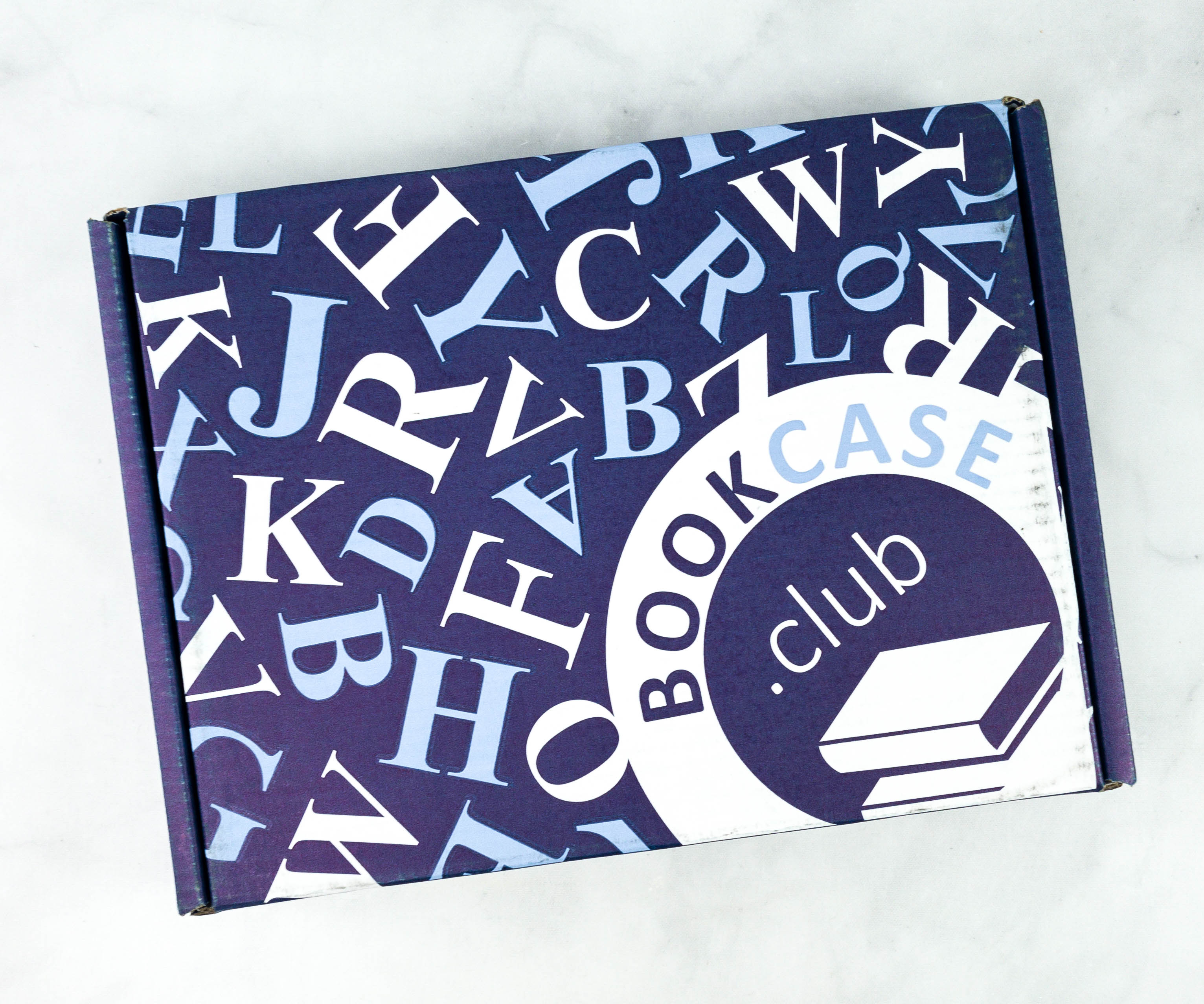 BookCase.Club is a monthly book subscription box offering different genres: Children's, Young Adult, Mystery/Thriller, Sci-Fi/Fantasy, Romance, and Historical/New Age/Contemporary Fiction. Each box contains 2 hand-picked books, except for the Children's box which includes 3 books. It costs $9.99 per month, making it one of the most inexpensive book subscriptions out there.
This is the review of Surprise-Me Fiction, a new offering that includes two engaging debuts and stand-alone fiction titles which may include historical, family saga, new age, literary, and contemporary.
DEAL: Save 50% on your first month! Use coupon code HELLOSUB501M. OR Get 10% off your entire order! Use coupon code HELLOSUB10.
When you sign up, you'll pick the genre.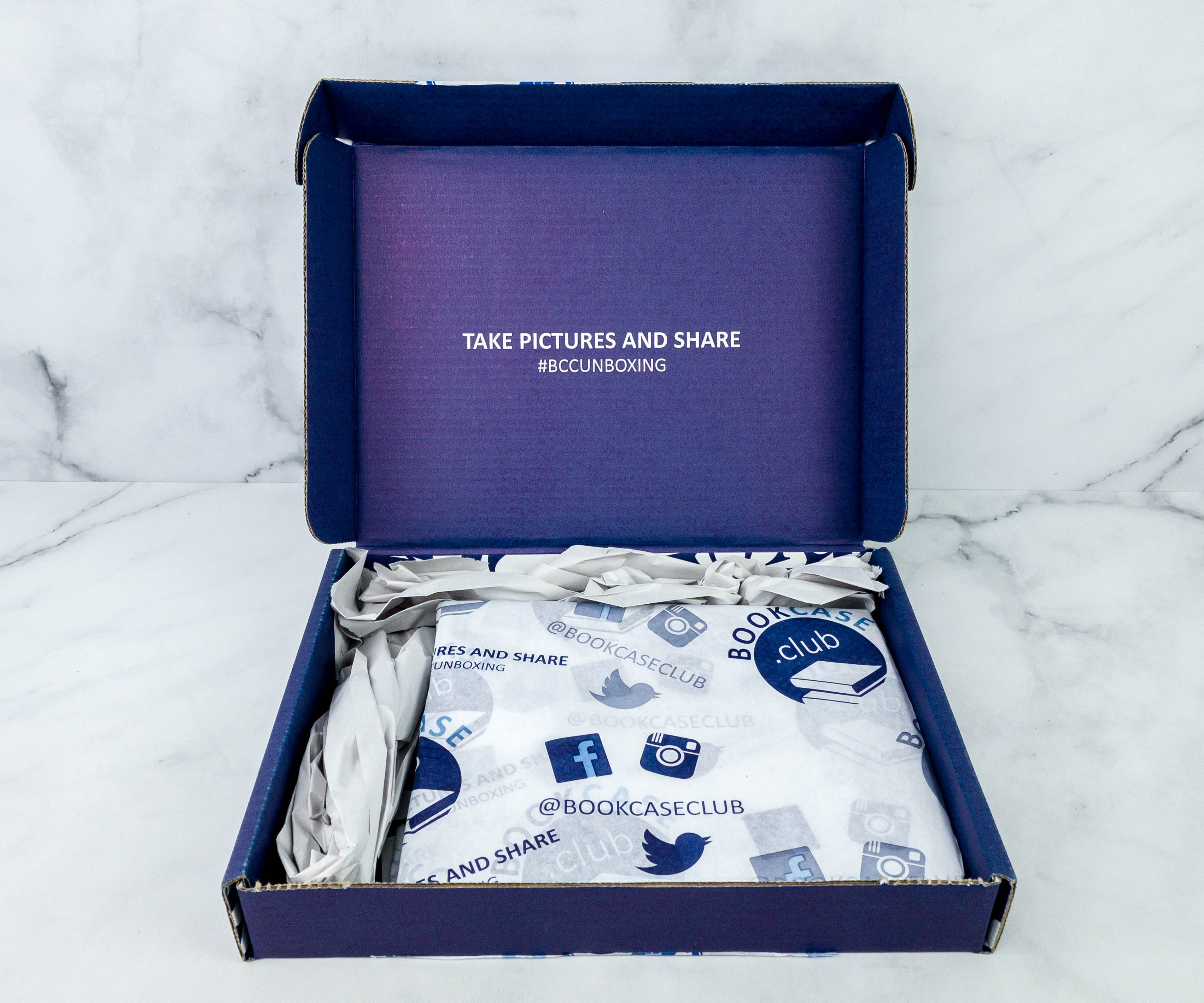 They encourage us to take pictures and share them on social media using #BCCUnboxing. The books were wrapped with Bookcase.club-printed tissue paper.
This month's Surprise-Me Fiction book picks are As Bright as Heaven by Susan Meissner and In Dog We Trust by Beth Kendrick.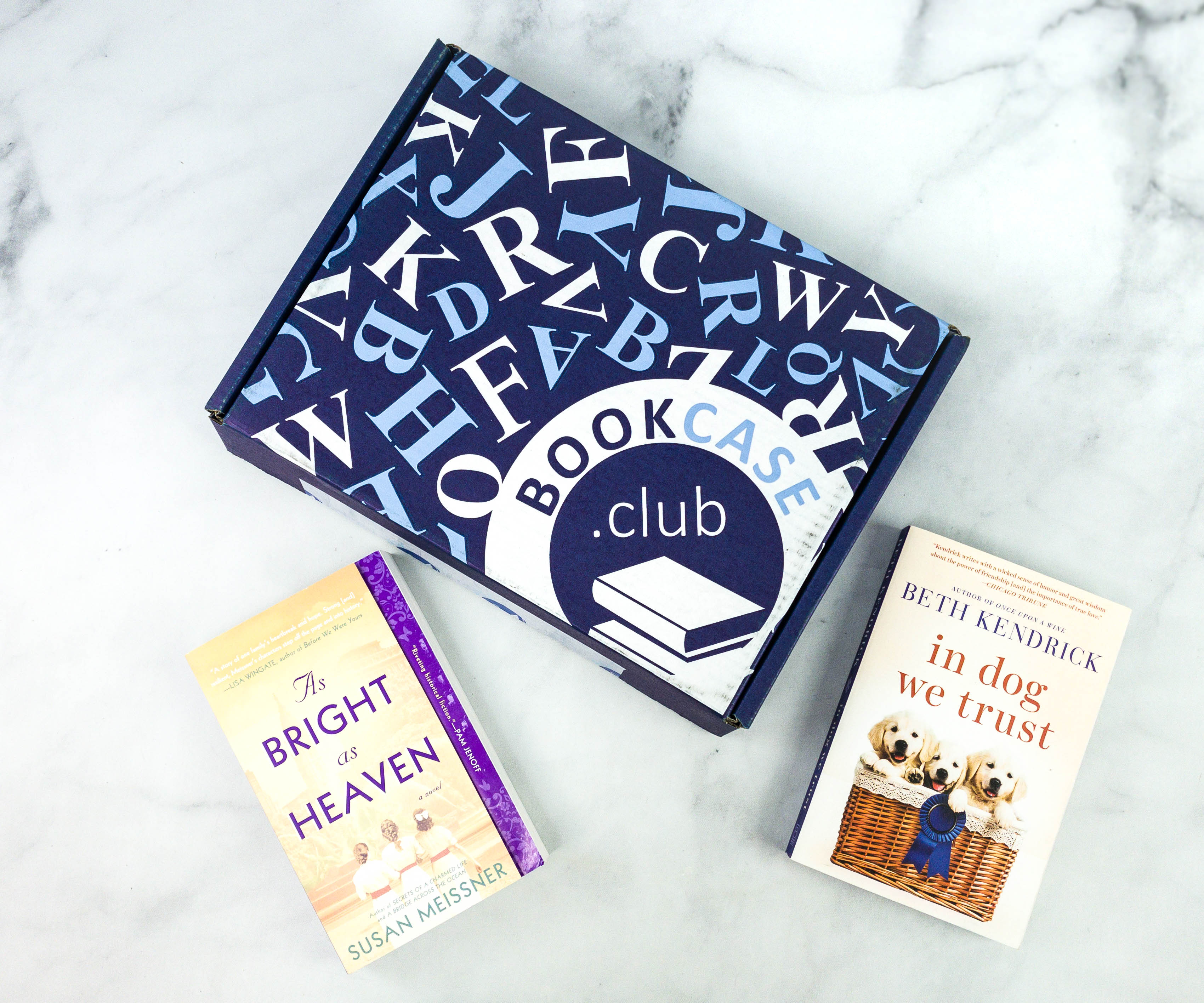 Everything in my box!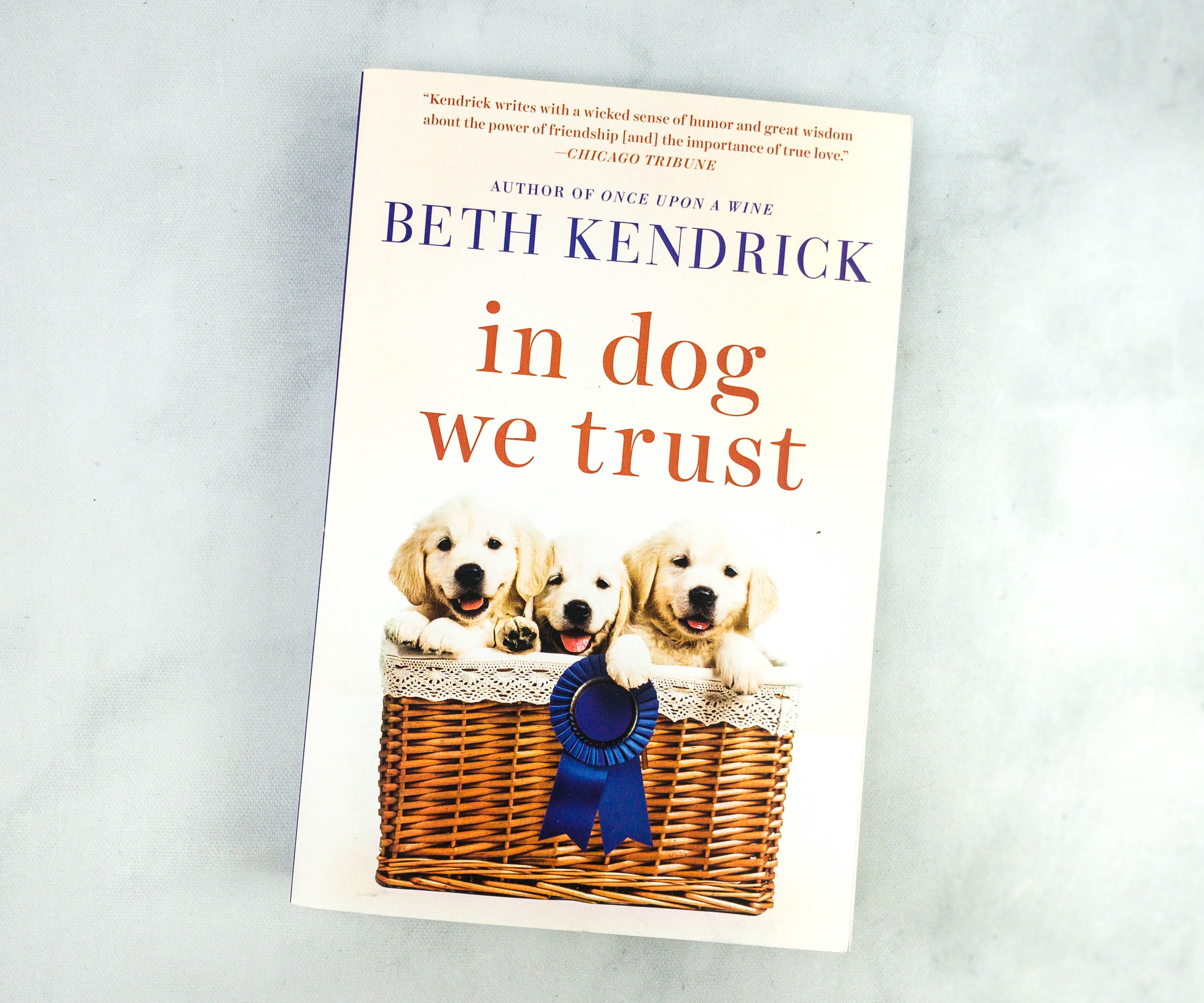 In Dog We Trust by Beth Kendrick ($9.99)
From the author of Once Upon a Wine, a new novel set in the charming seashore town of Black Dog Bay, Delaware.

When everything has gone to the dogs . . .

When Jocelyn Hillier is named legal guardian for the late Mr. Allardyce's pack of pedigreed Labrador retrievers, her world is flipped upside down. She's spent her entire life toiling in the tourism industry in Black Dog Bay and never expected to be living the pampered life of a seasonal resident in an ocean side mansion, complete with a generous stipend. But her new role isn't without its challenges: The dogs (although lovable) are more high-maintenance than any Hollywood diva, the man she wants to marry breaks her heart, and she's confronted at every turn by her late benefactor's estranged son, Liam, who thinks he's entitled to the inheritance left to the dogs.

Jocelyn has worked too hard to back down without a fight, and she's determined to keep her new fur family together. As she strives to uphold the "Best in Show" standards her pack requires, Jocelyn finds love, family, and forgiveness in the most unexpected places.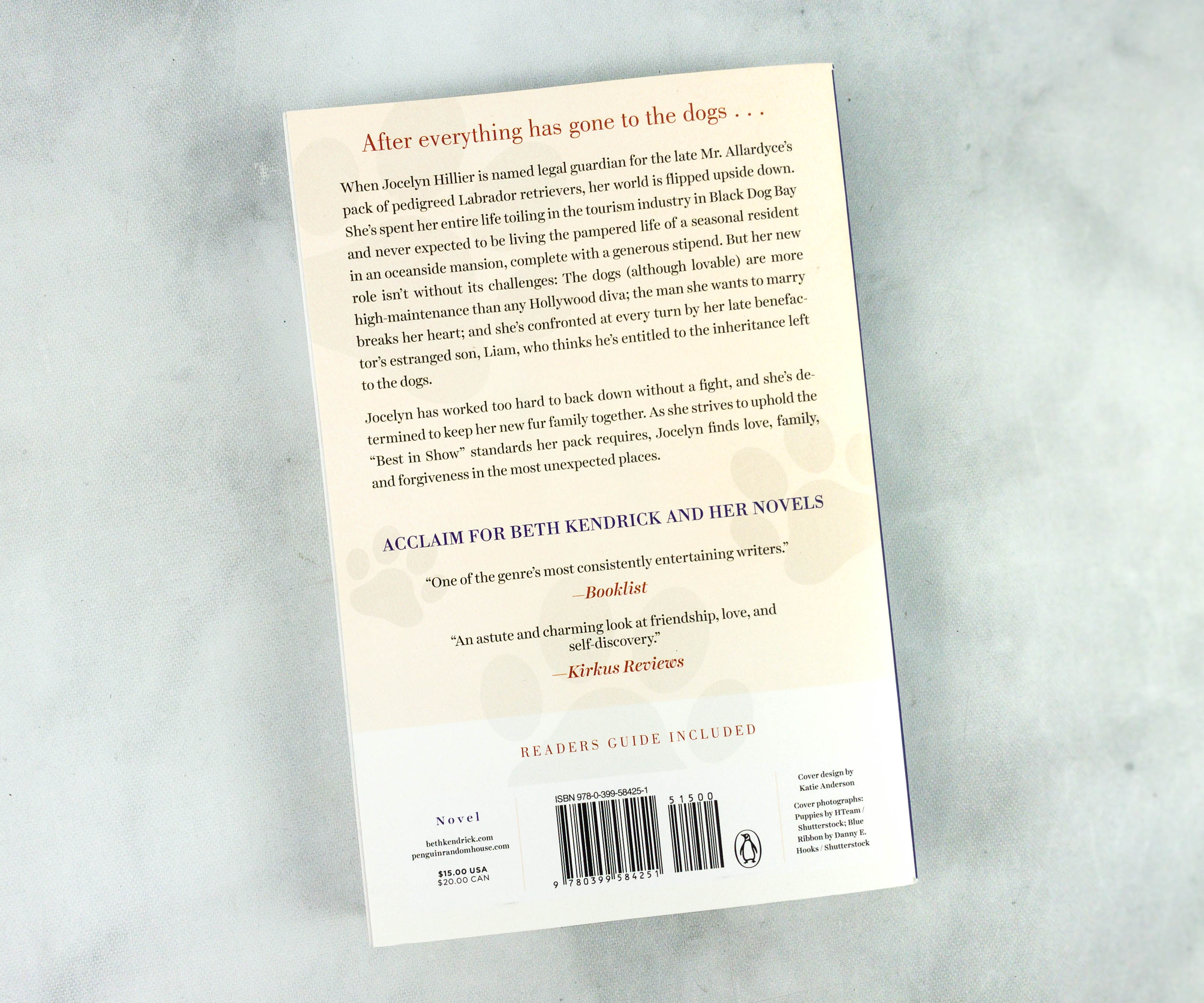 It's a contemporary romance with the right amount of humor and a lot of dogs!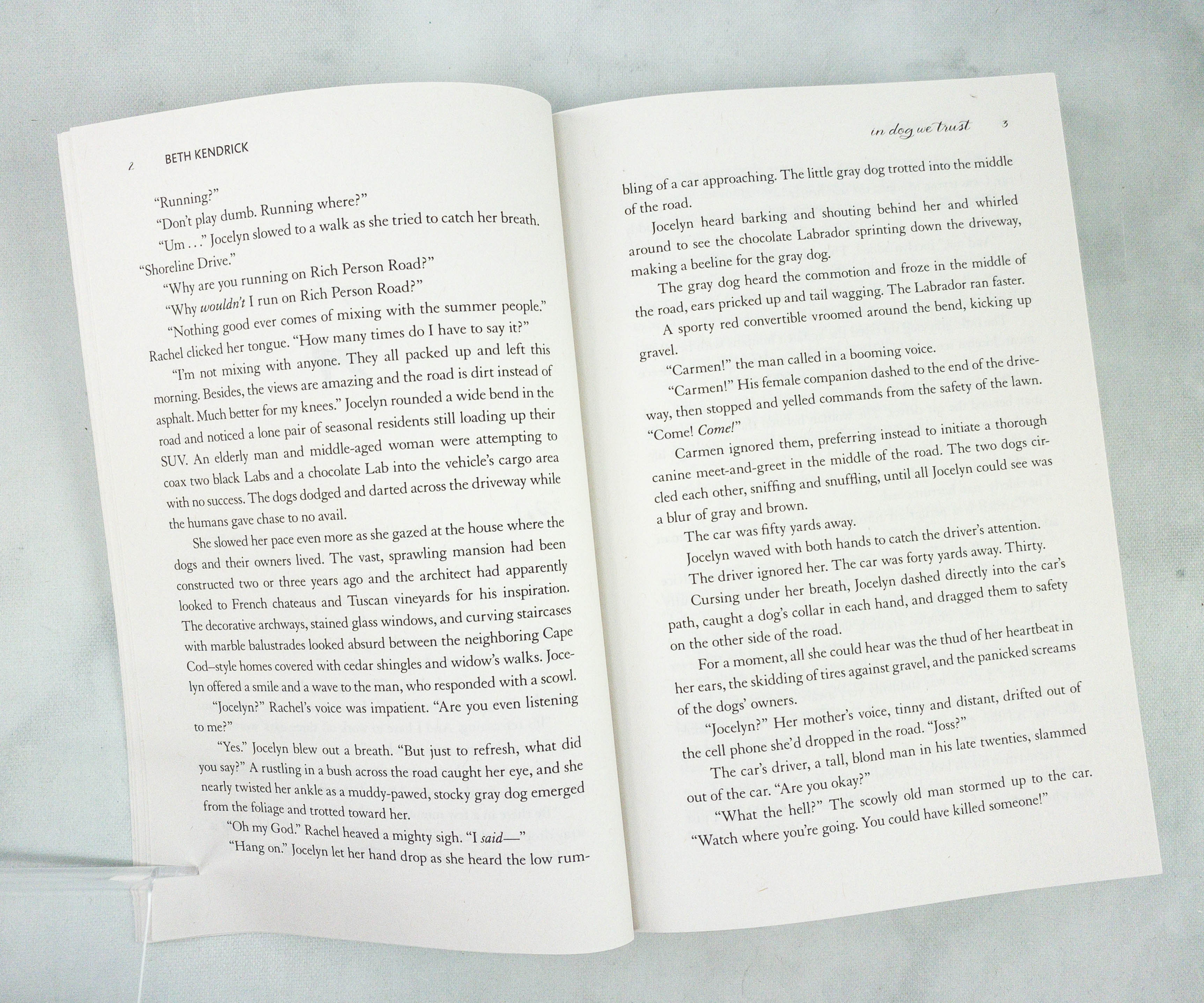 This is a great book to pick up if you're in need of a sweet and light read. Although there are heartbreaking parts, the overall vibe of the book is just uplifting.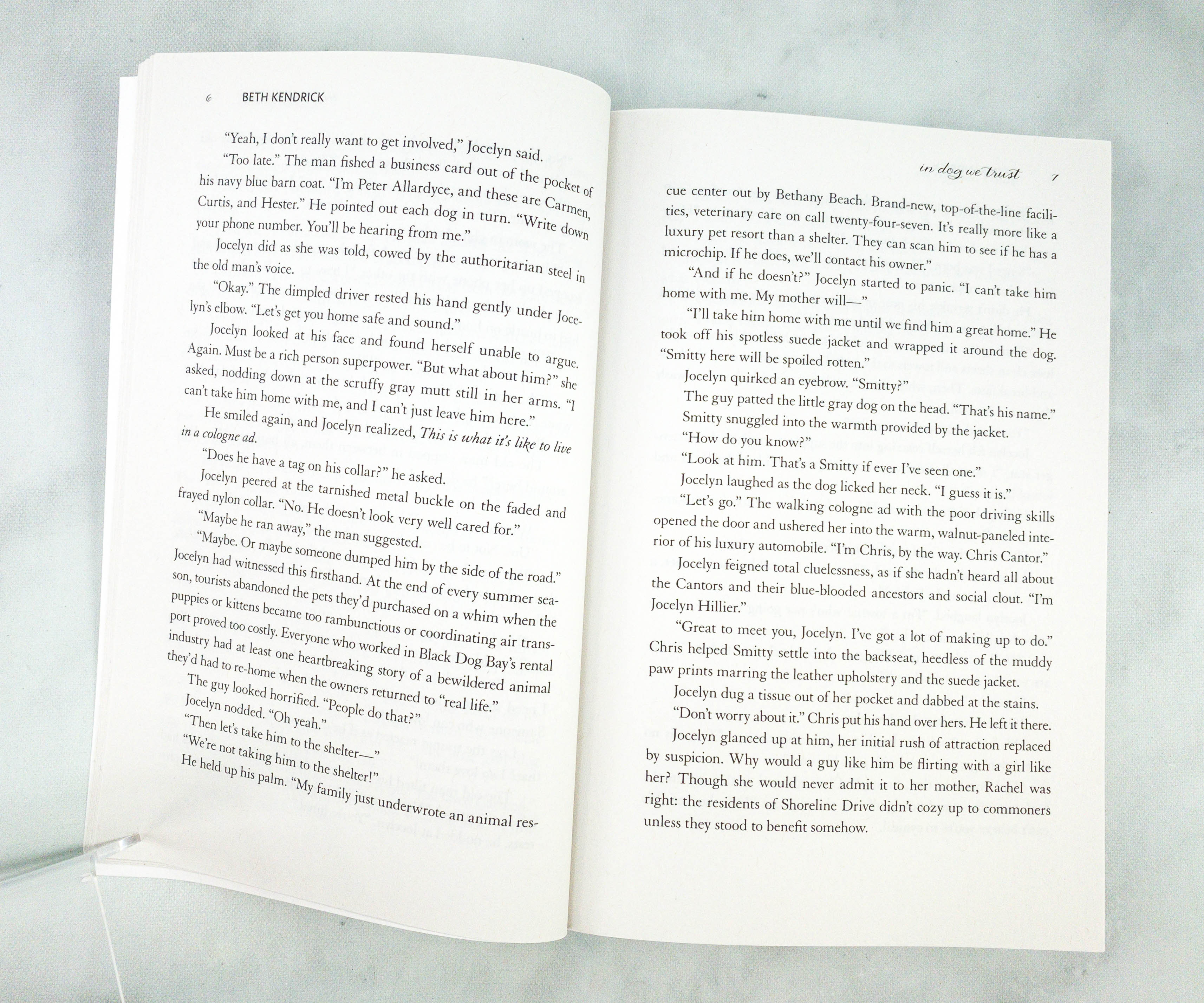 There are lots of life lessons to learn from this book, including compromise. Although the book is a part of a series, it can be read as a stand-alone.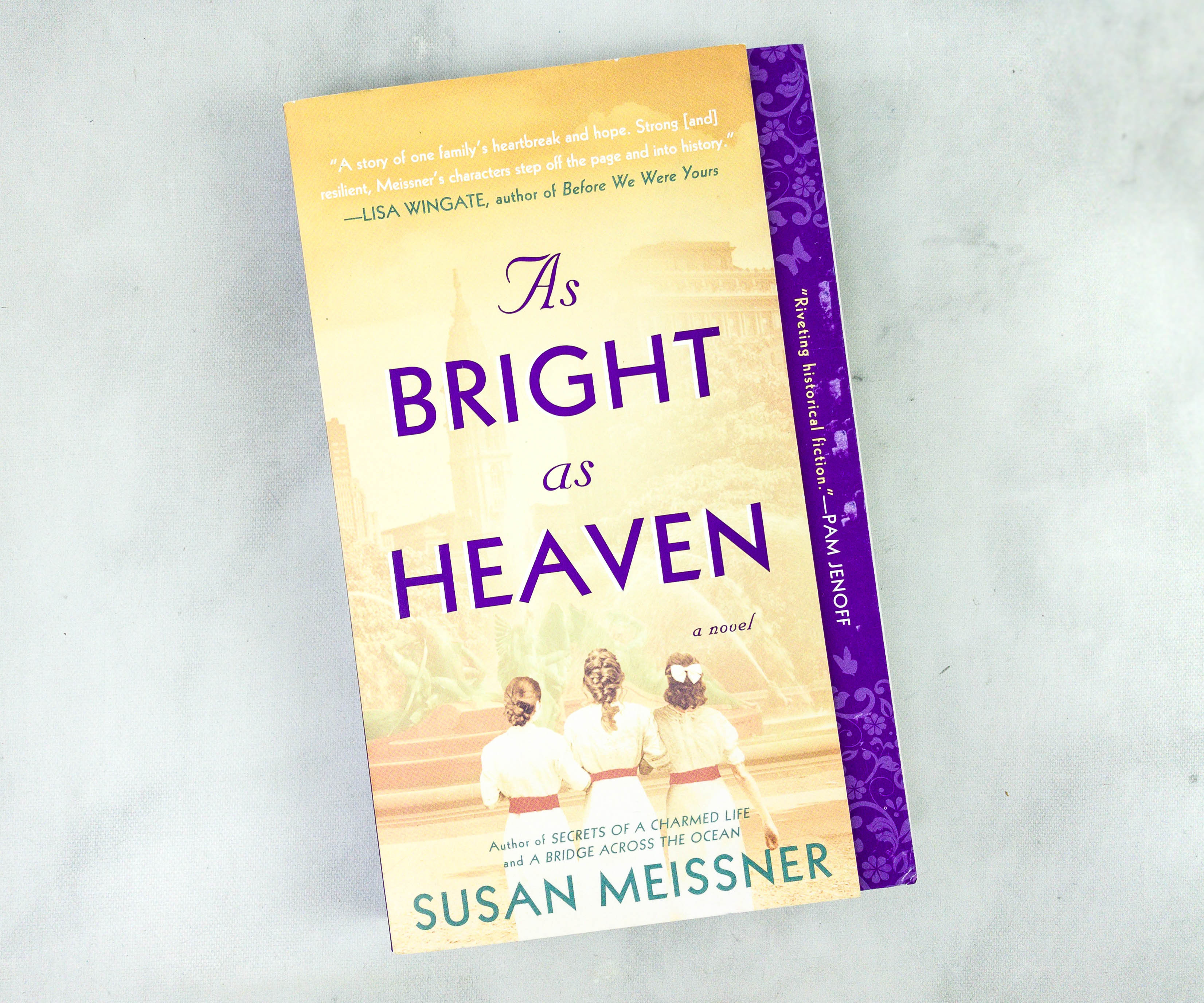 As Bright As Heaven by Susan Meissner ($13.70)
From the acclaimed author of The Last Year of the War comes a novel set during the Spanish flu pandemic of 1918, telling the story of a family reborn through loss and love.

In 1918, Philadelphia was a city teeming with promise. Even as its young men went off to fight in the Great War, there were opportunities for a fresh start on its cobblestone streets. Into this bustling town, came Pauline Bright and her husband, filled with hope that they could now give their three daughters—Evelyn, Maggie, and Willa—a chance at a better life.

But just months after they arrive, the Spanish Flu reaches the shores of America. As the pandemic claims more than twelve thousand victims in their adopted city, they find their lives left with a world that looks nothing like the one they knew. But even as they lose loved ones, they take in a baby orphaned by the disease who becomes their single source of hope. Amidst the tragedy and challenges, they learn what they cannot live without—and what they are willing to do about it.

As Bright as Heaven is the compelling story of a mother and her daughters who find themselves in a harsh world not of their making, which will either crush their resolve to survive or purify it.
This one is an excellently written historical fiction! It's set in 1918, during the Spanish flu epidemic.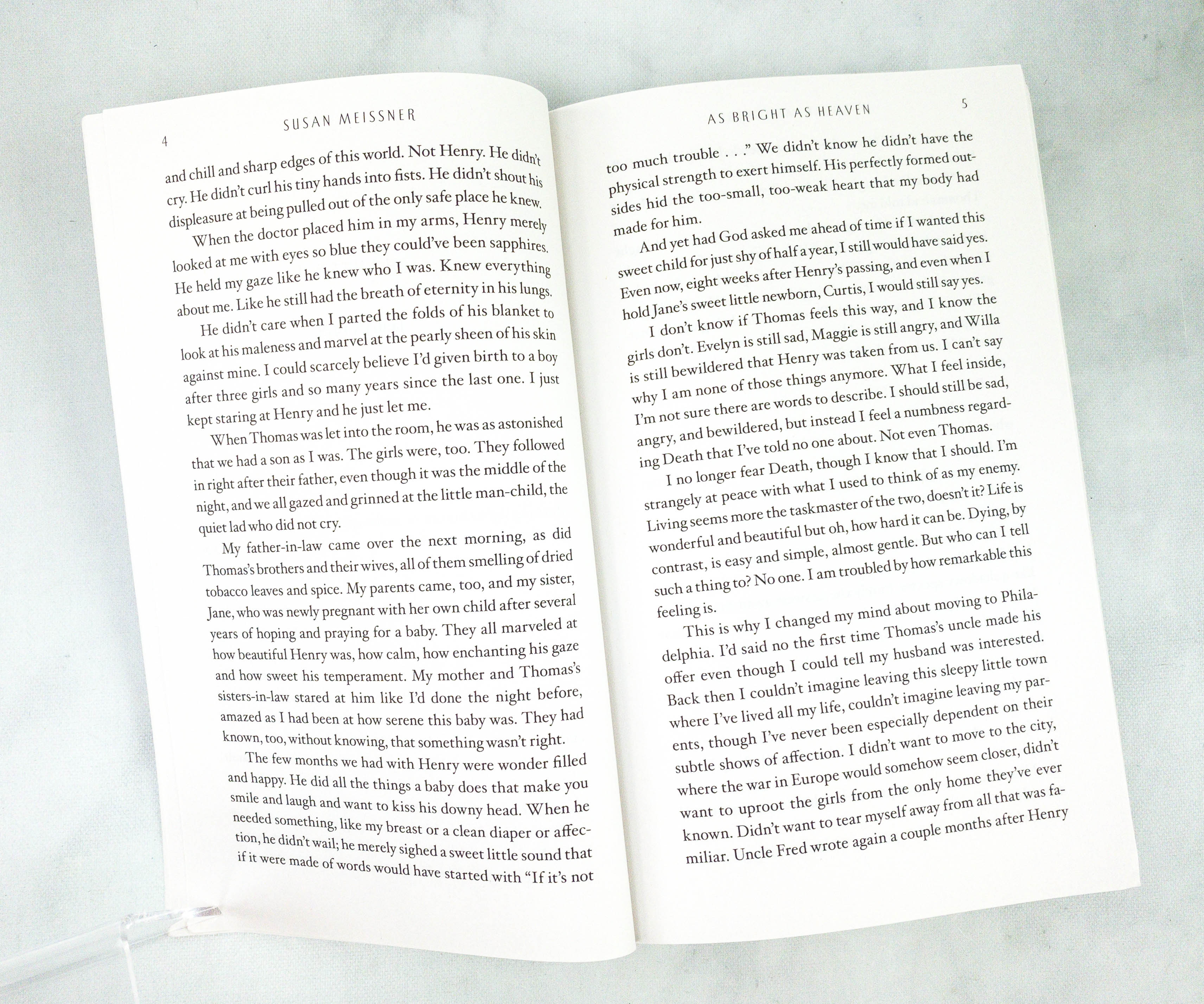 The story is told from several perspectives, but it never felt confusing to read. The prose just flowed seamlessly!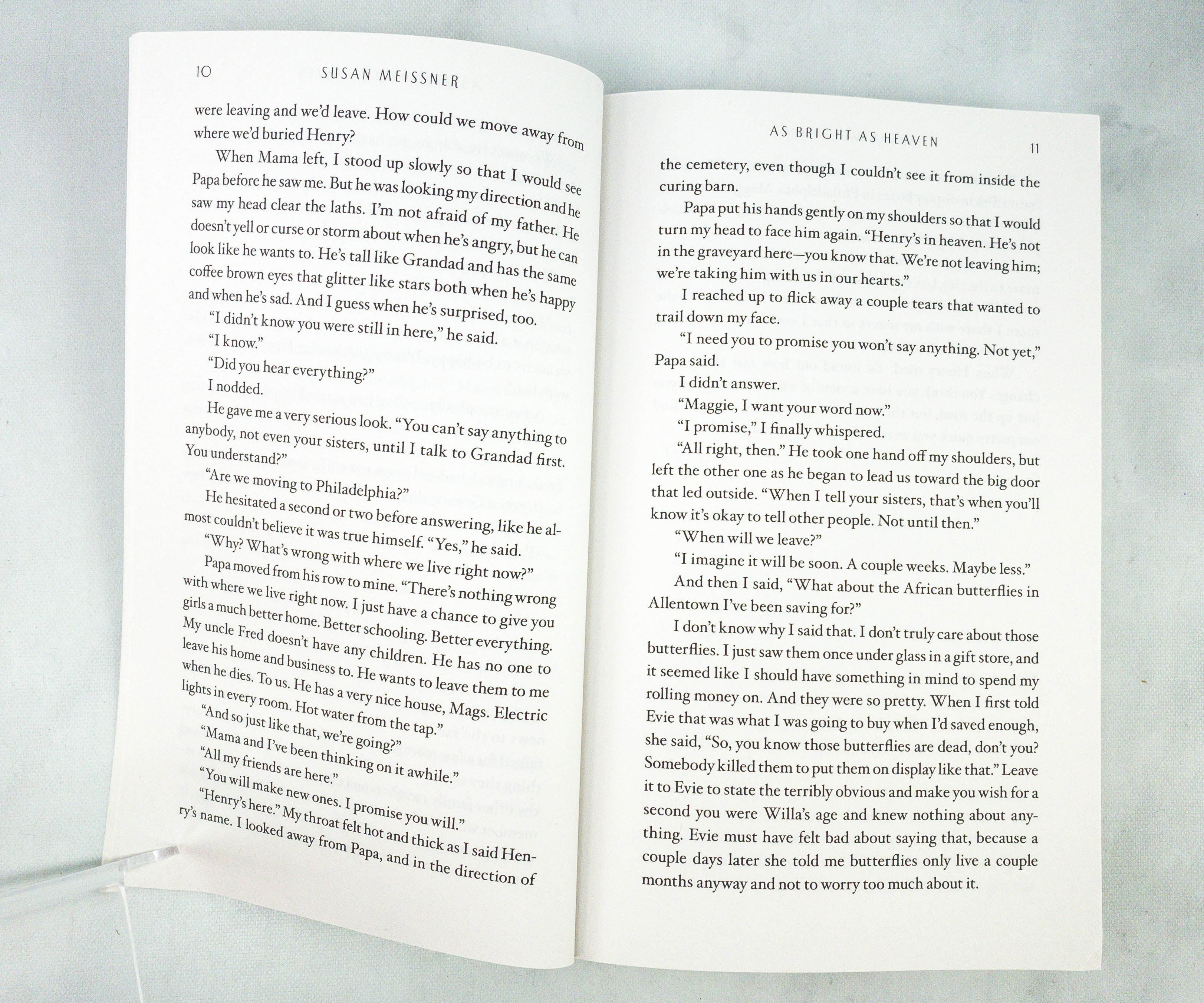 It's all about love and loss, and it's so well-written I might have cried a little while reading it. The character development in this story is also good!
There's no such thing as too many books! I love getting new ones delivered to my door every month, and so far BookCase.Club has really done a great job picking books that are right up my alley. This month's Surprise-Me Fiction box includes 2 well-written novels. One is a contemporary romance and the other is a historical fiction. I enjoyed reading them both and they kept me satisfied until the end!
What did you think of this month's choices? Have you tried any of the BookCase.Club subscriptions?