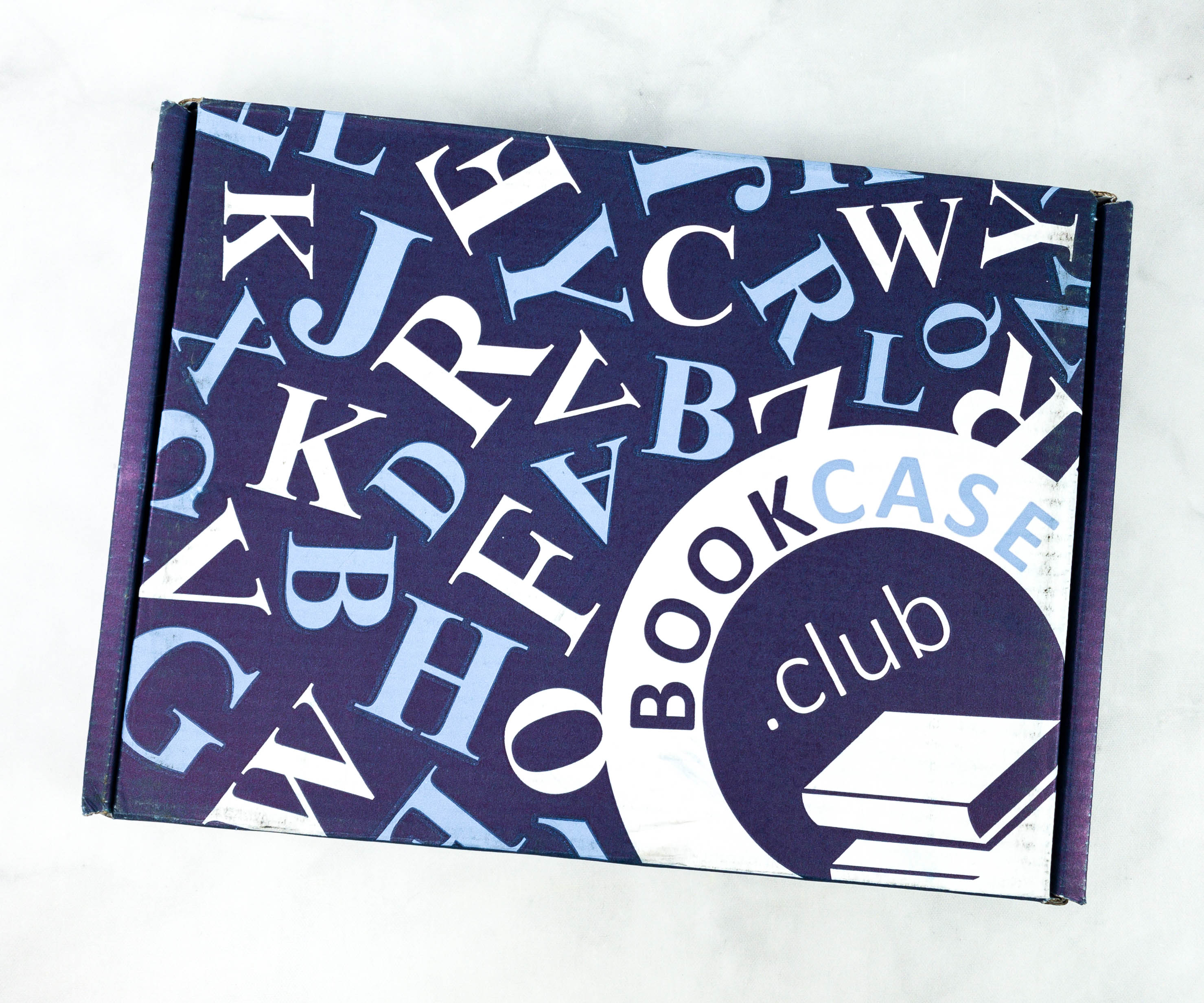 BookCase.Club is a monthly book subscription box offering different genres: Children's, Young Adult, Mystery/Thriller, Sci-Fi/Fantasy, Romance, and Historical/New Age/Contemporary Fiction. Each box contains 2 hand-picked books, except for the Children's box which includes 3 books. It costs $9.99 per month, making it one of the most inexpensive book subscriptions out there.
This is the Teenage Dreams Case, which is all about Young Adult novels.
DEAL: Save 50% on your first month! Use coupon code HELLOSUB501M. OR Get 10% off your entire order! Use coupon code HELLOSUB10.
When you sign up, you'll pick the genre.
They encourage subscribers to take a photo of the box and share them online using #BCCUNBOXING.
The books were wrapped in light blue paper.
This month's Teenage Dreams book picks are Dear Evan Hansen by Val Emmich with Steven Levenson, Benj Pasek & Justin Paul and Instructions for a Secondhand Heart by Tamsyn Murray!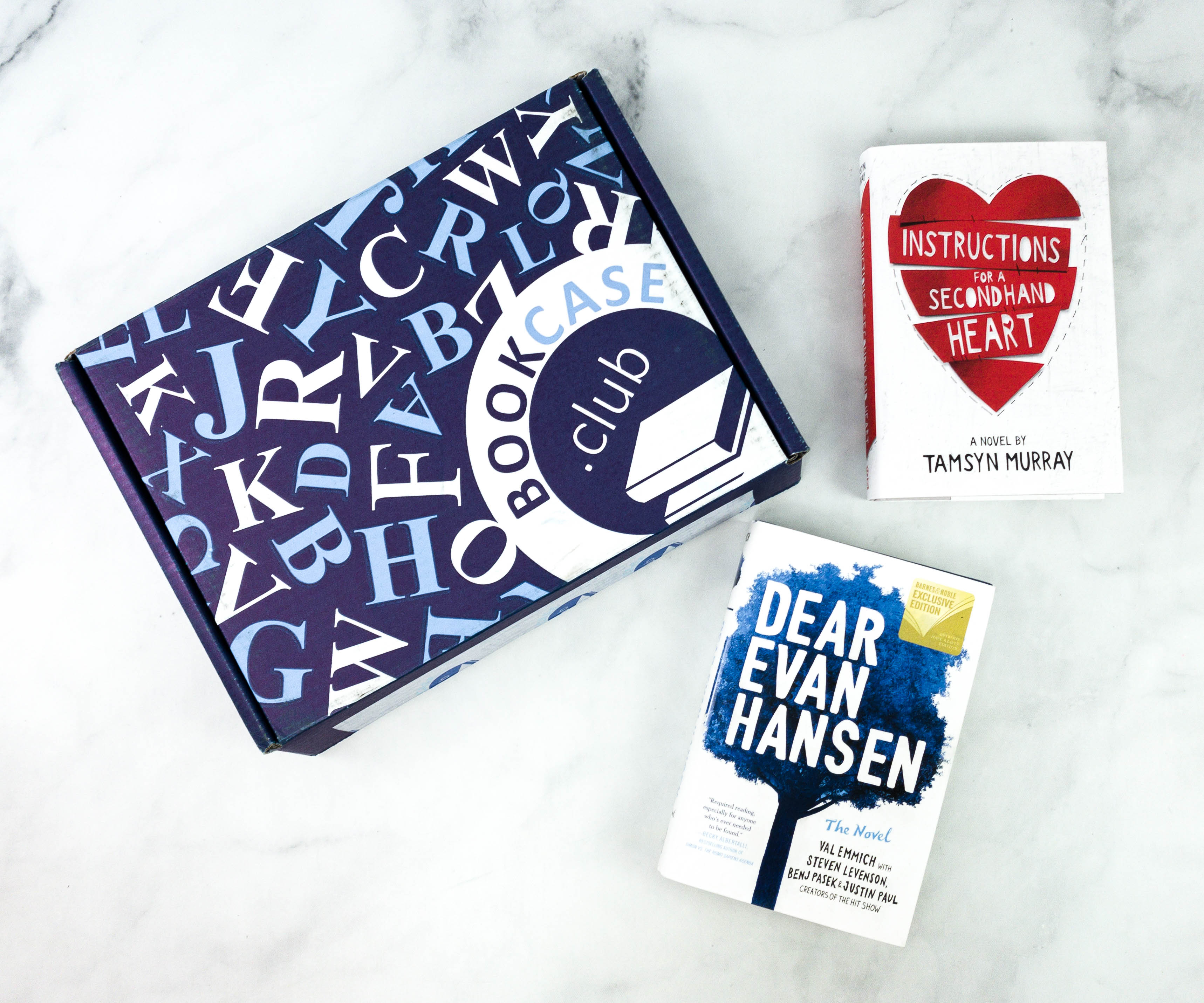 Everything in my box!
Instructions For A Secondhand Heart by Tamsyn Murray ($10.99)
A moving novel about grief, guilt, and the unpredictability of love, for fans of Everything, Everything and All the Bright Places.

Jonny knows better than anyone that life is full of cruel ironies. He's spent every day in a hospital hooked up to machines to keep his heart ticking. Then when an organ donor is found for Jonny's heart, that turns out to be the cruelest irony of all. Because for Jonny's life to finally start, someone else's had to end.

That someone turns out to be Neve's twin brother, Leo. When Leo was alive, all Neve wanted was for him (and all his glorious, overshadowing perfection) to leave. Now that Leo's actually gone forever, Neve has no idea how to move forward. Then Jonny walks into her life looking for answers, her brother's heart beating in his chest, and everything starts to change.

Together, Neve and Jonny will have to face the future, no matter how frightening it is, while learning to heal their hearts, no matter how much it hurts.

Features select graphic novel illustrations from Jonny's sketchbook.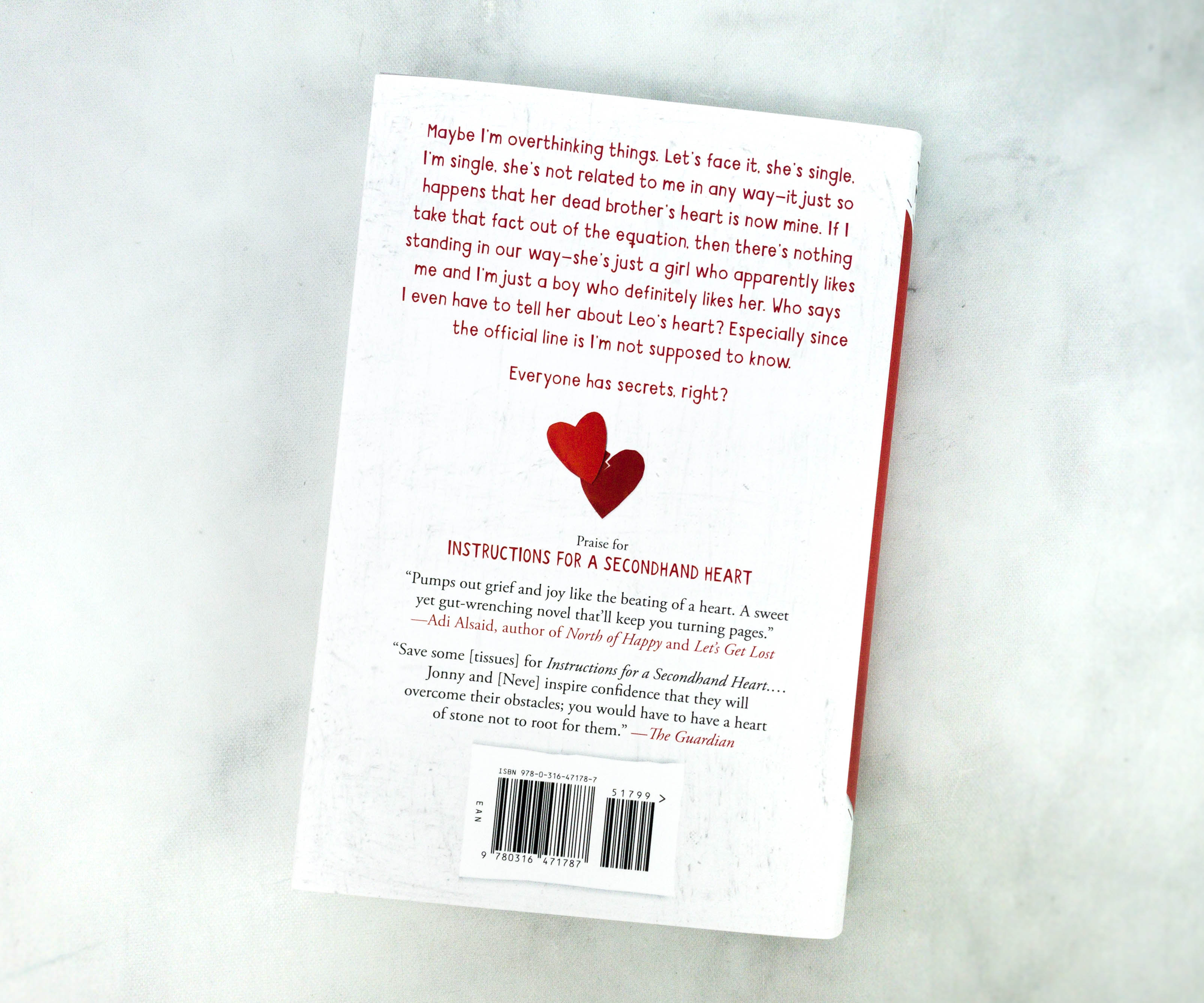 For those looking for a fresh YA contemporary romance to make them laugh and cry, this book is it!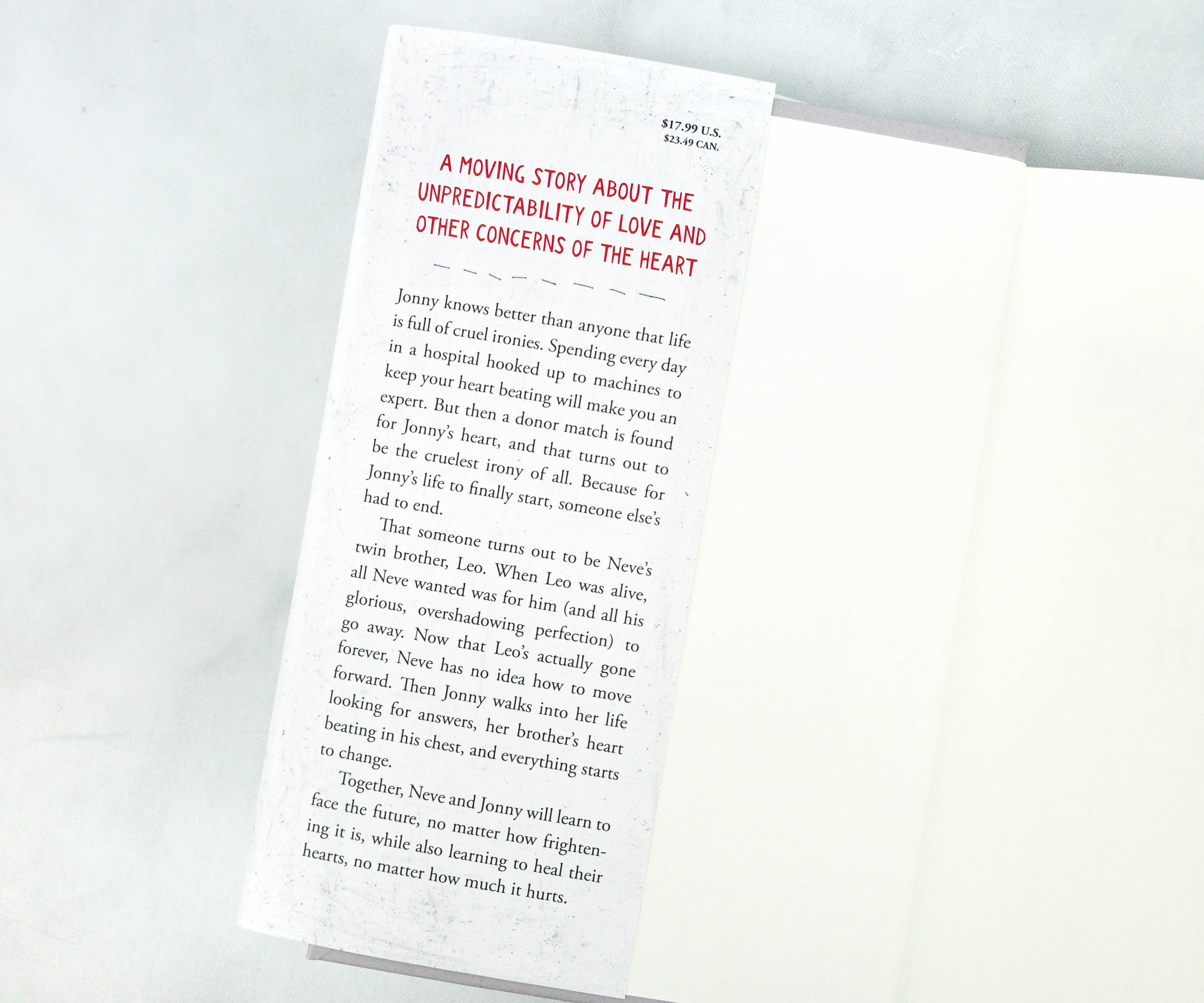 Jonny's heart donor is Neve's twin, thus the novel's title. Aside from the romance, what I liked about this book is the way it tackled loss and grief, as well as friendship and love.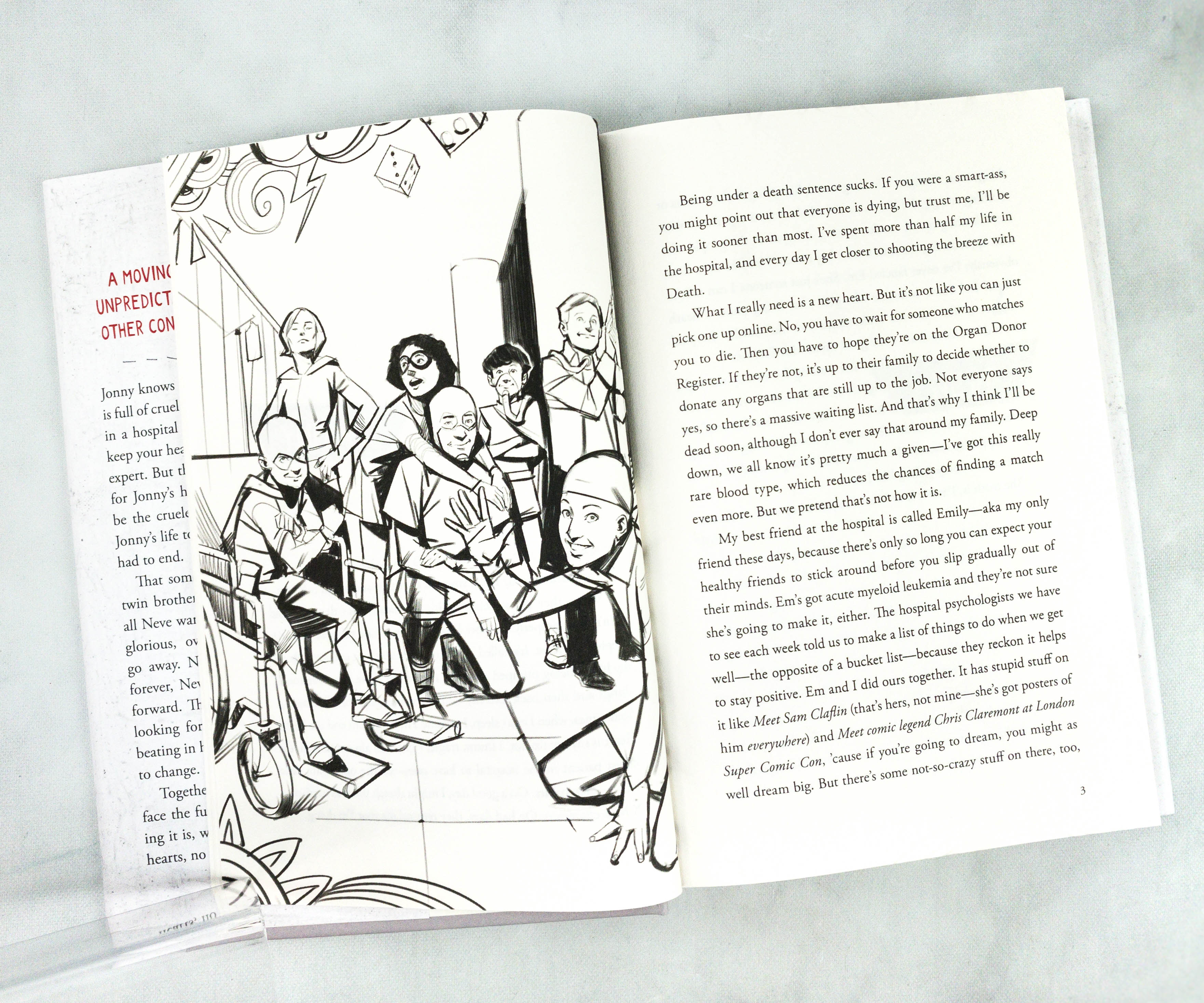 There are some comic pages in the book that made the story more interesting!
The characters and the author's storytelling style just made everything feel real. Reading it is quite an emotional journey, but it was worth it!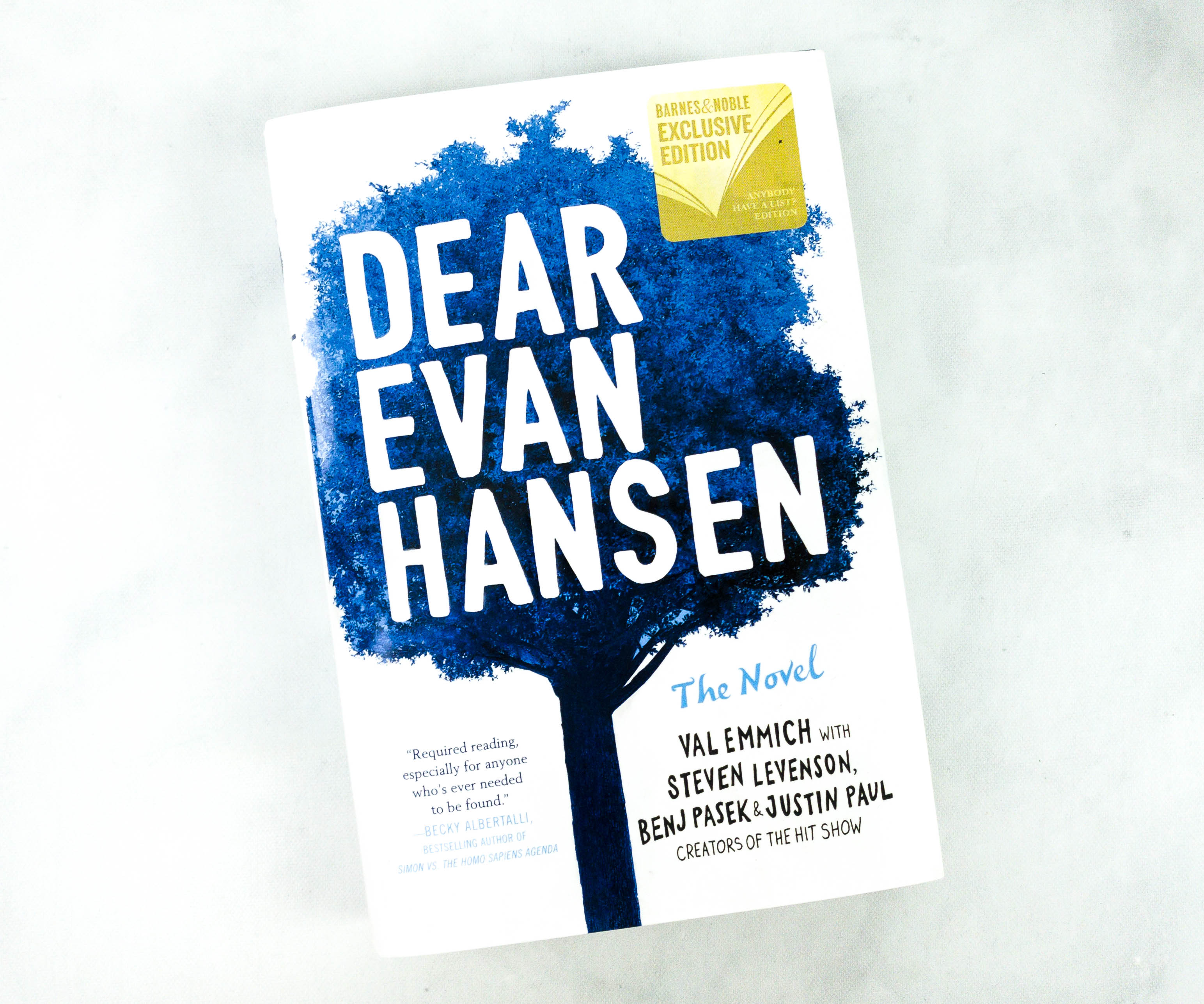 Dear Evan Hansen by Val Emmich with Steven Levenson, Benj Pasek & Justin Paul ($7.82)
From the show's creators comes the groundbreaking, bestselling novel inspired by the hit Broadway show Dear Evan Hansen.

Dear Evan Hansen,

Today's going to be an amazing day and here's why…

When a letter that was never meant to be seen by anyone draws high school senior Evan Hansen into a family's grief over the loss of their son, he is given the chance of a lifetime: to belong. He just has to stick to a lie he never meant to tell, that the notoriously troubled Connor Murphy was his secret best friend.

Suddenly, Evan isn't invisible anymore–even to the girl of his dreams. And Connor Murphy's parents, with their beautiful home on the other side of town, have taken him in like he was their own, desperate to know more about their enigmatic son from his closest friend. As Evan gets pulled deeper into their swirl of anger, regret, and confusion, he knows that what he's doing can't be right, but if he's helping people, how wrong can it be?

No longer tangled in his once-incapacitating anxiety, this new Evan has a purpose. And a website. He's confident. He's a viral phenomenon. Every day is amazing. Until everything is in danger of unraveling and he comes face to face with his greatest obstacle: himself.

A simple lie leads to complicated truths in this big-hearted coming-of-age story of grief, authenticity and the struggle to belong in an age of instant connectivity and profound isolation.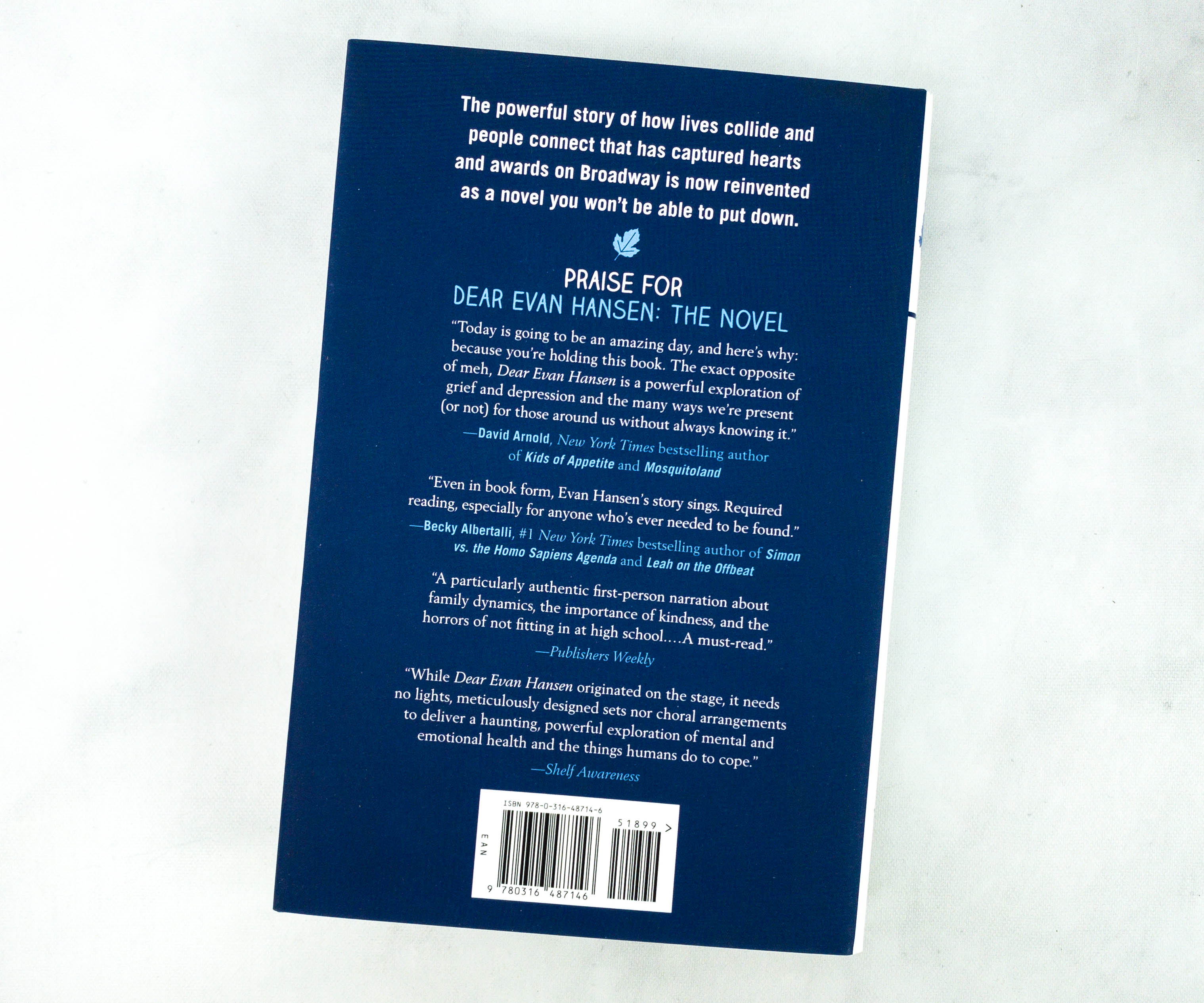 The back cover features reviews from other authors and publications. Whether you've seen the Broadway show or not, this would be a good read!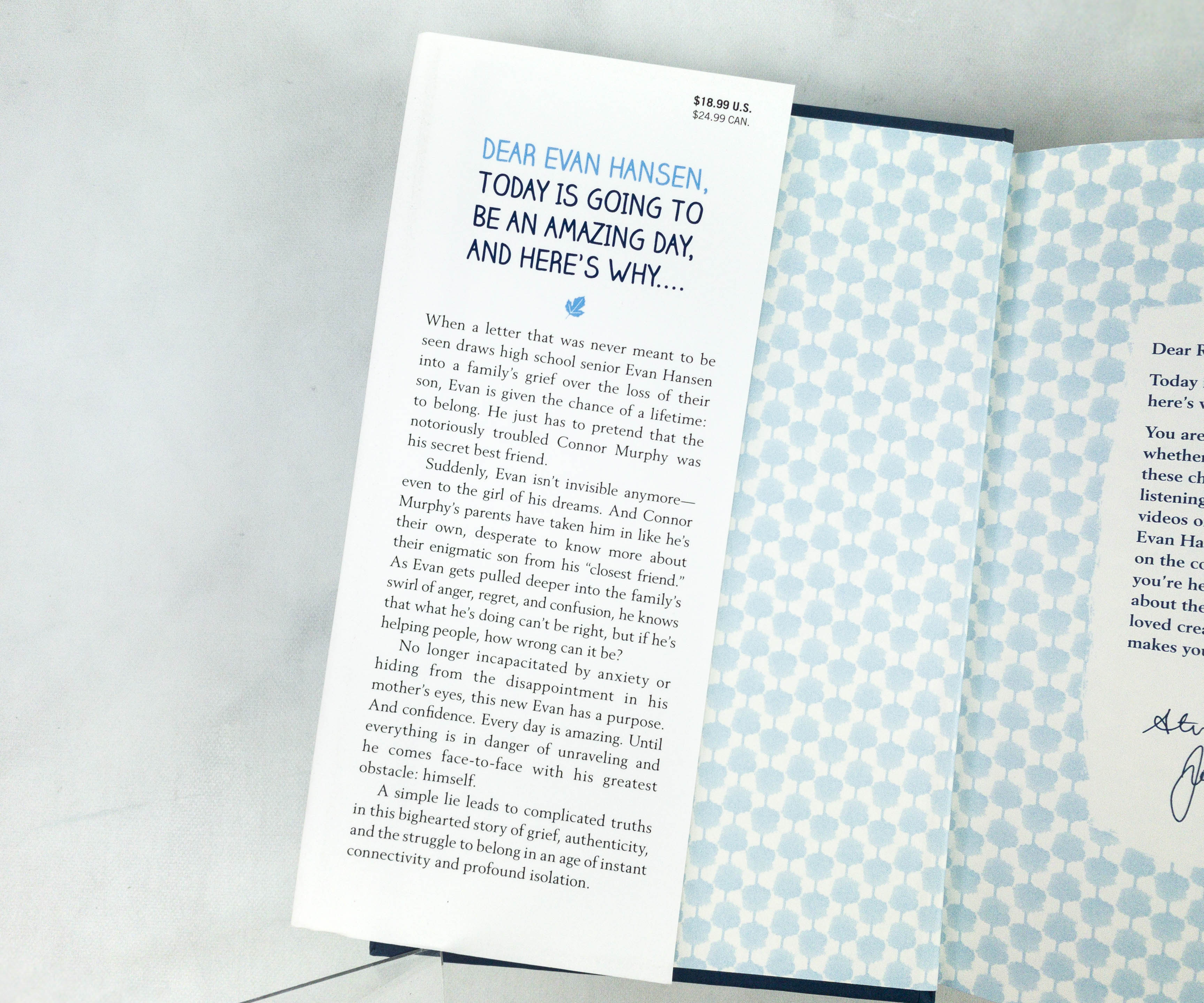 It's a contemporary YA fiction that tackles mental health, including anxiety and depression.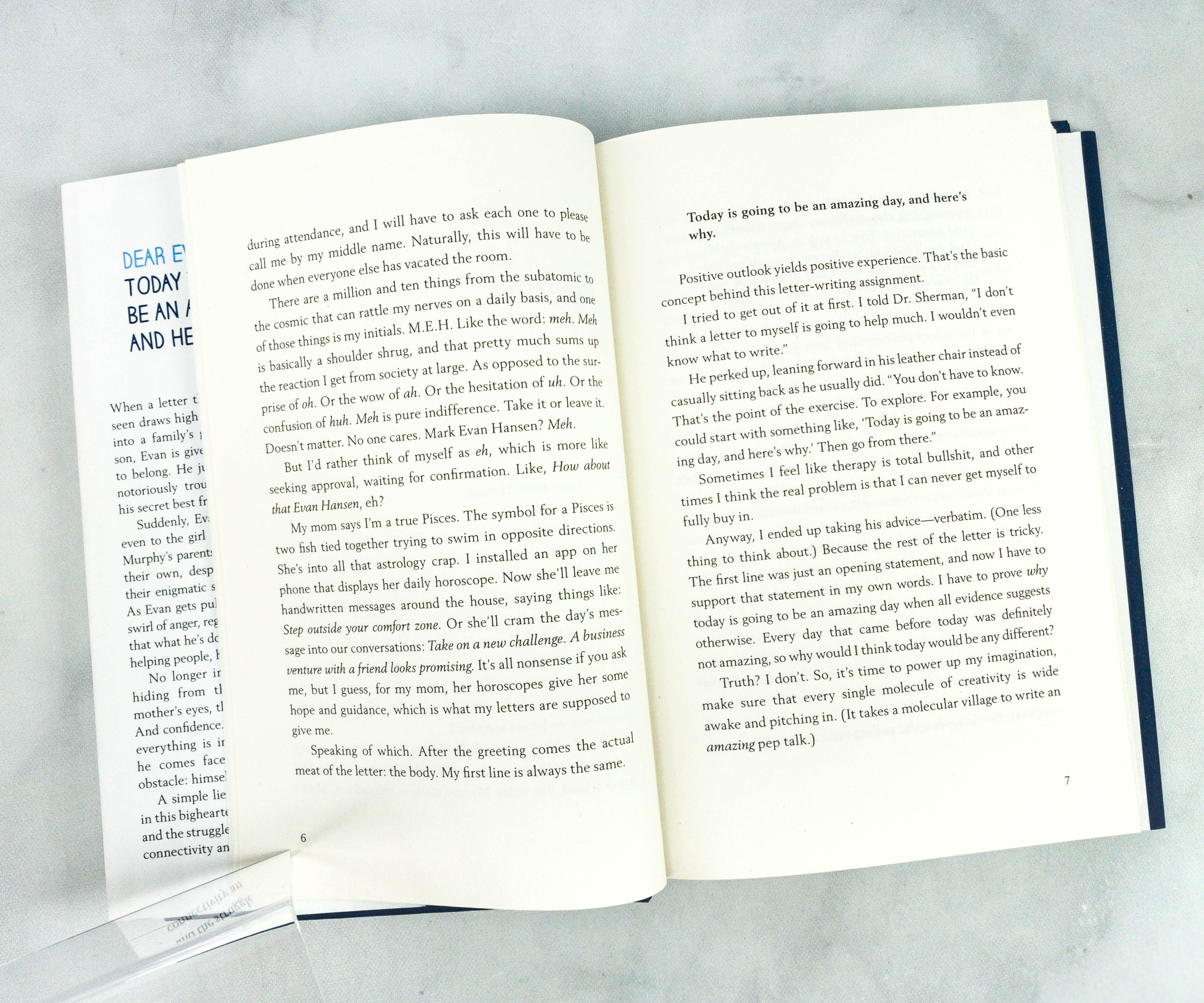 The story is written in the first person, which makes it quite realistic. Evan Hansen, the eponymous character, is flawed yet lovable. He's someone you can sympathize with, despite his bad decisions.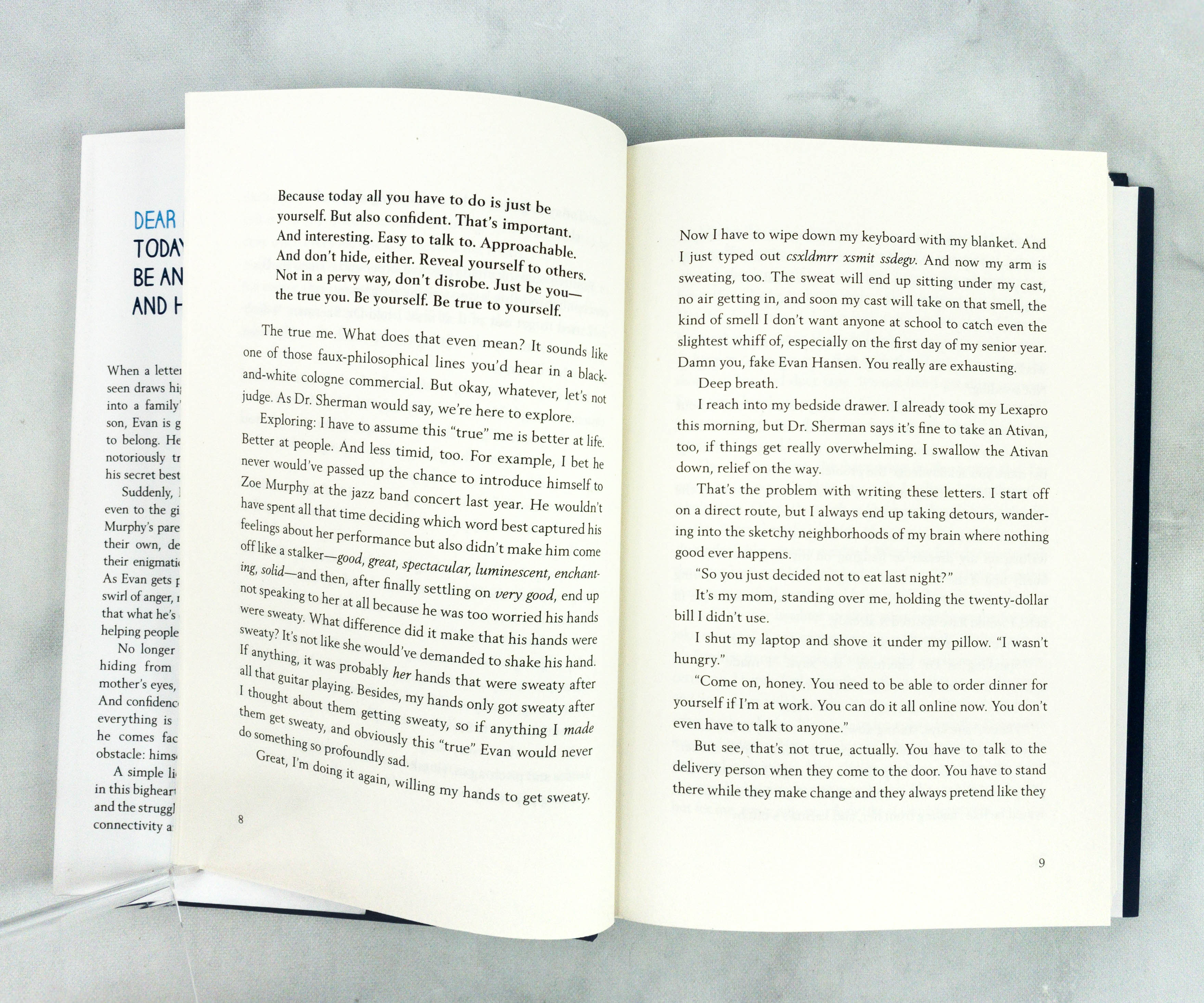 Also, the novelization of the play showed a deeper side of the supporting characters, and that's great!
I never run out of great YA books to read, thanks to BookCase.Club! They never fail to send interesting stories written by both well-known and up-and-coming YA authors so I couldn't be happier. This month's book picks were both a hit for me. One is the likes of The Fault in Our Stars, and the other is the book version of a popular Broadway show. If you're also a YA lover and you don't mind a little surprise, this subscription box would be a great way to get new reads. Other genres are also available, including Sci-Fi/Fantasy and Mystery/Thriller!
Have you tried BookCase.Club? What are you currently reading?