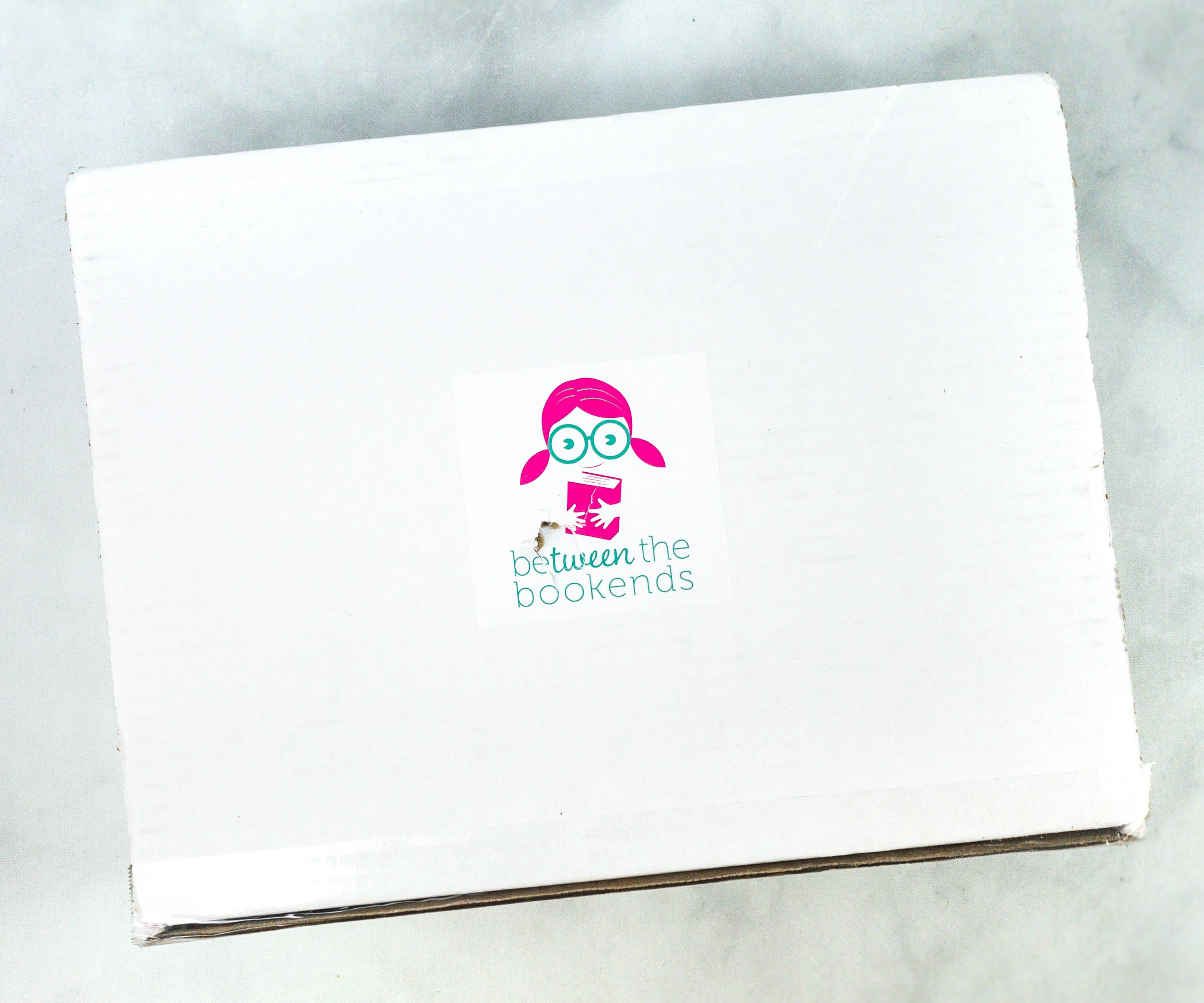 beTWEEN the Bookends is a book-themed subscription box for girls ages 9-13. Each box includes 2-3 books plus 6-8 age-appropriate beauty and lifestyle items curated just for tweens. The subscription is $29.99 per month. Also available is a Mini Box ($16 per month) with only 1 book and 3-4 beauty and lifestyle items, and a Just the Books Box ($12.99 per month).
DEAL: Get 15% off on your first month on any subscription plans! Use coupon code HELLO15.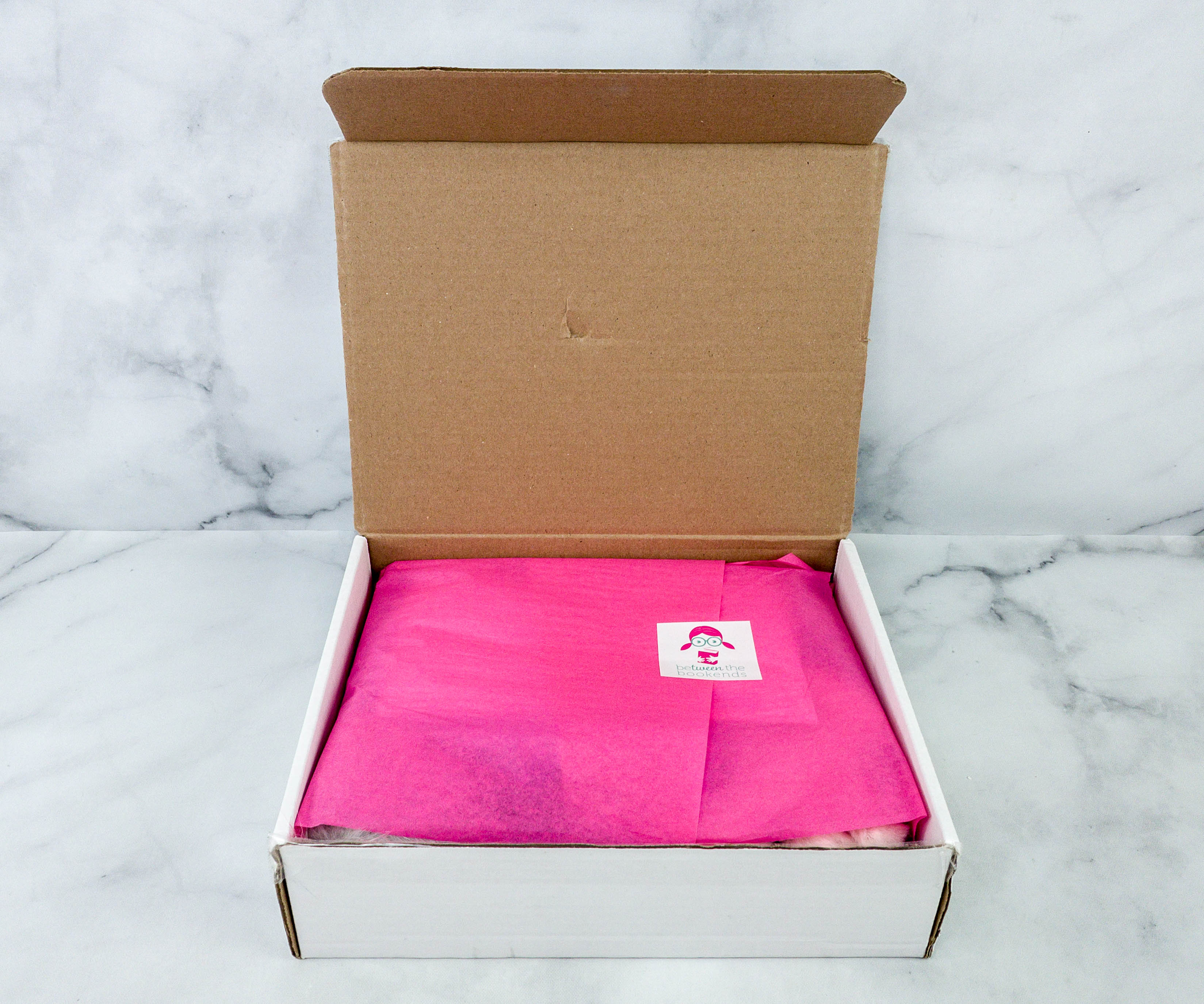 The items were packed in a simple white box.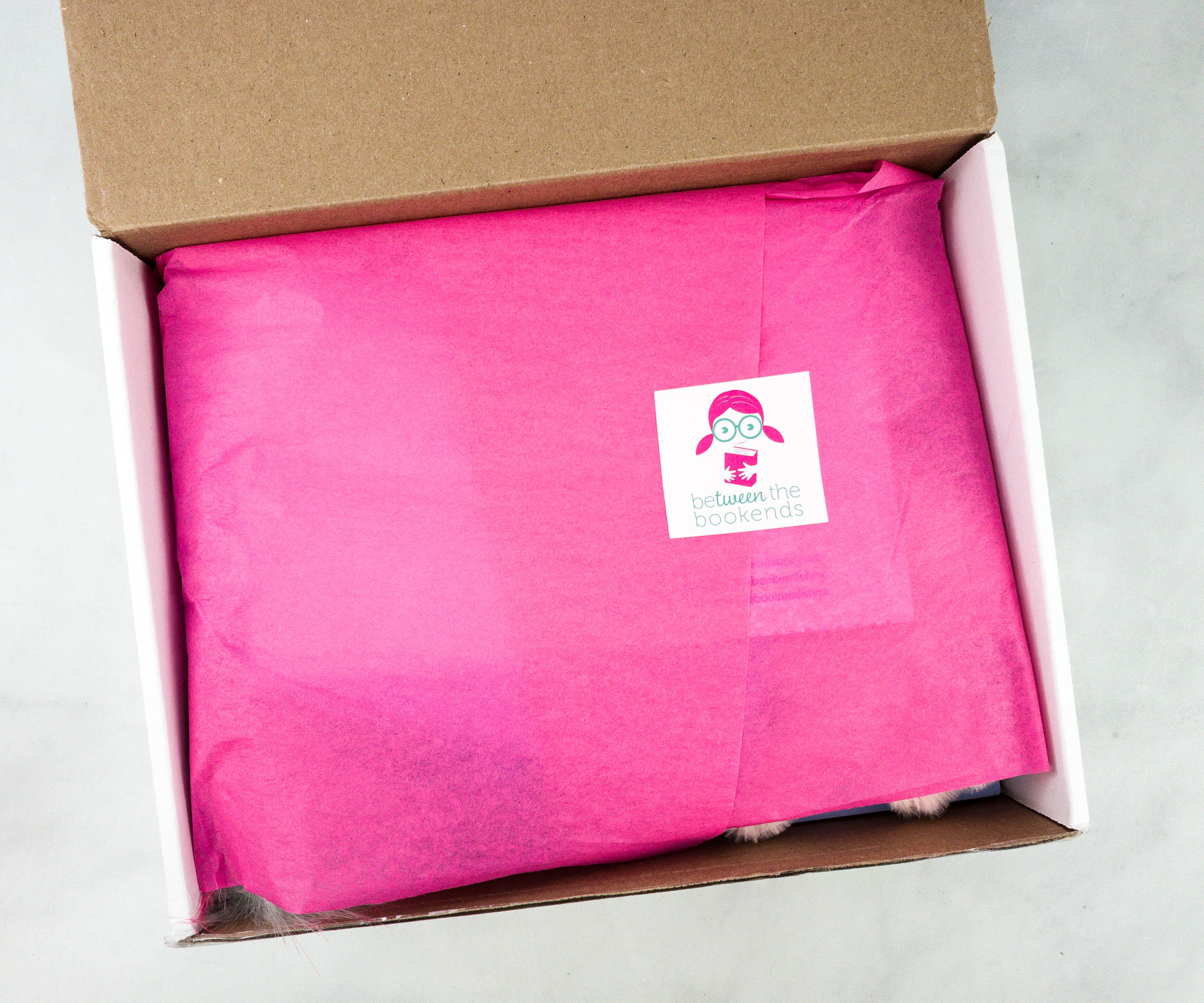 They were also wrapped in white tissue paper, sealed with a between the bookends sticker.
There's a lot of cute items inside!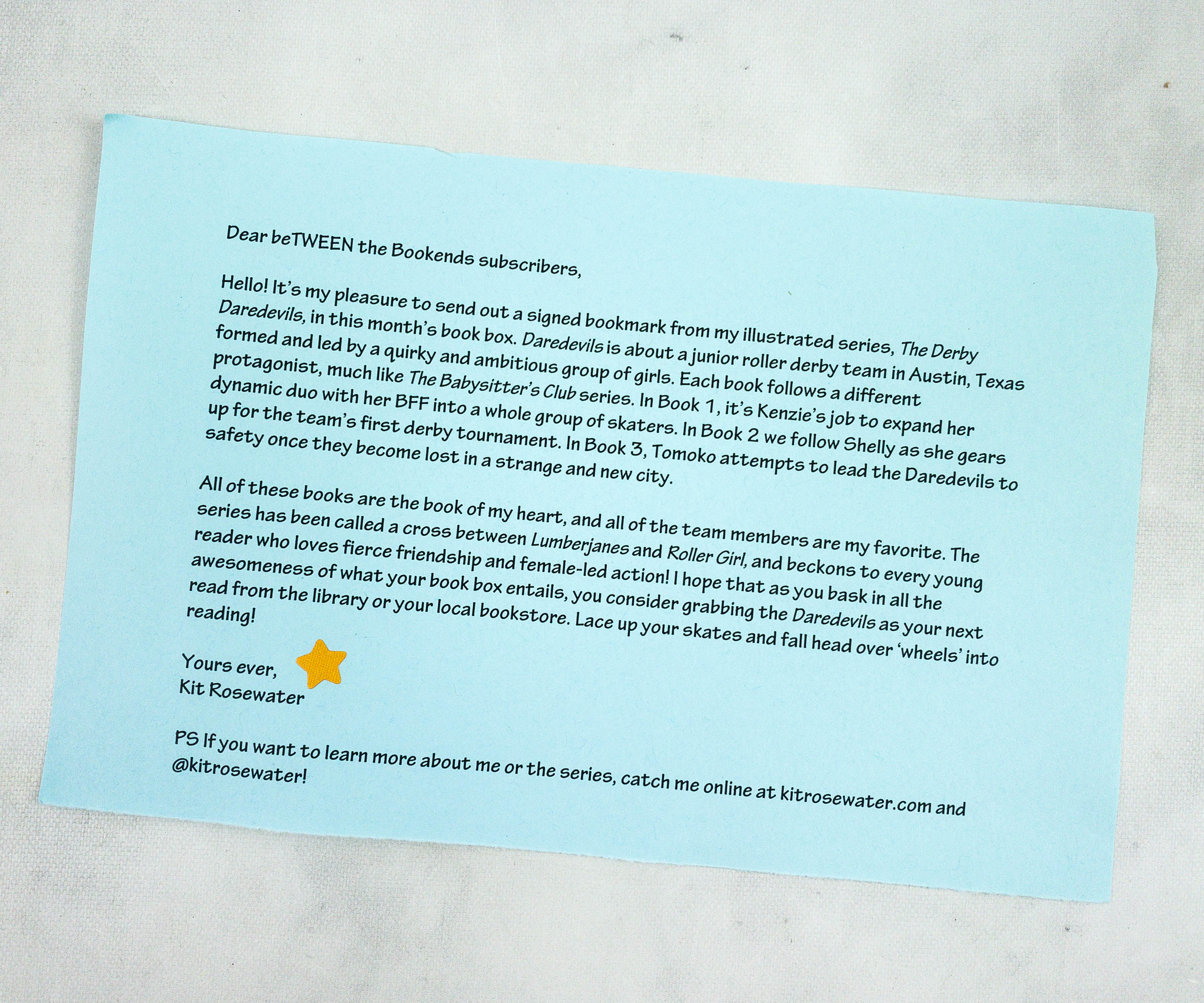 Also included in the box is a card with a message from Kit Rosewater, the author of The Derby Daredevils.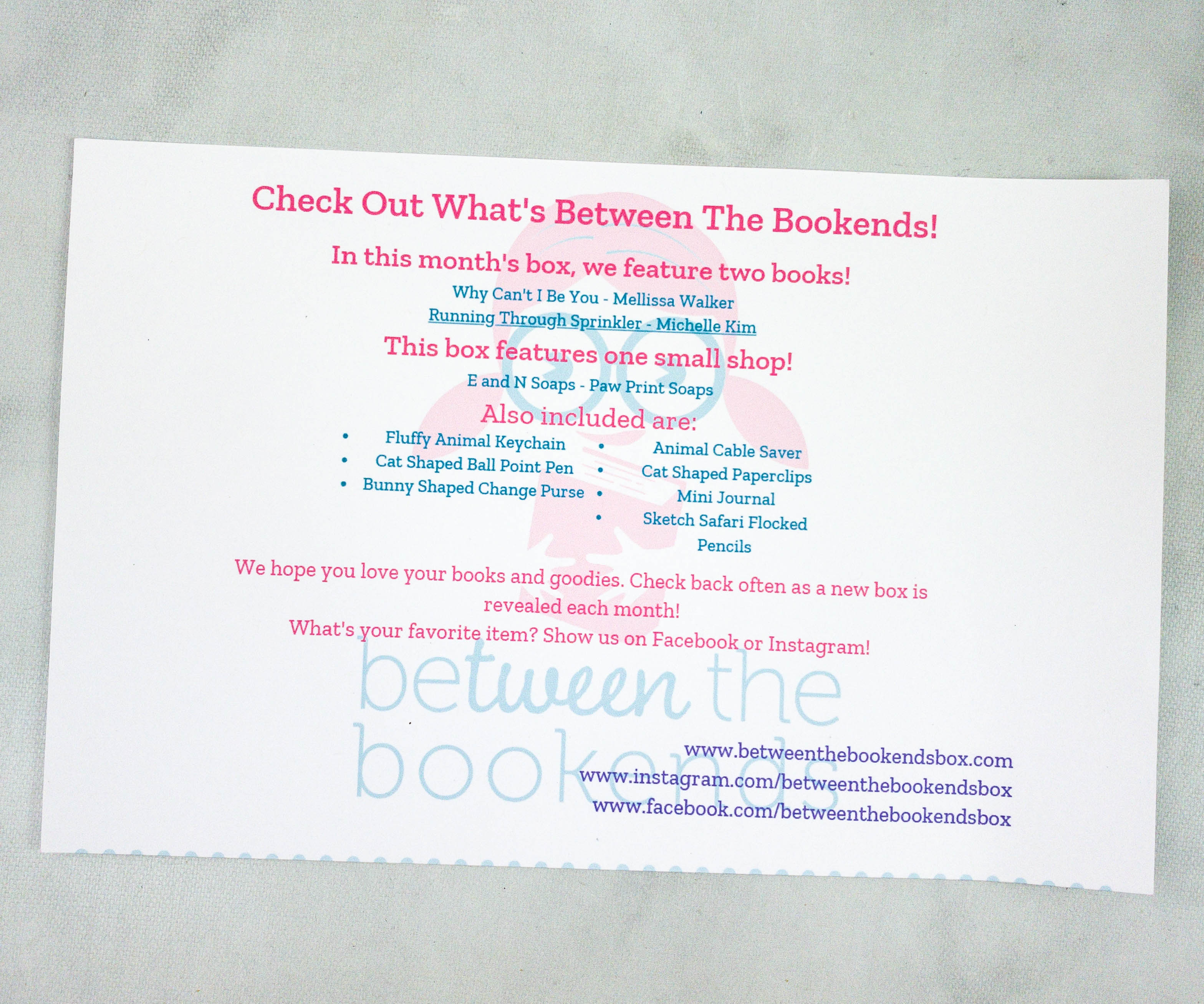 At the back, there's a list of everything inside the box plus the featured shops this month, which are E and N Soaps and Paw Print Soaps.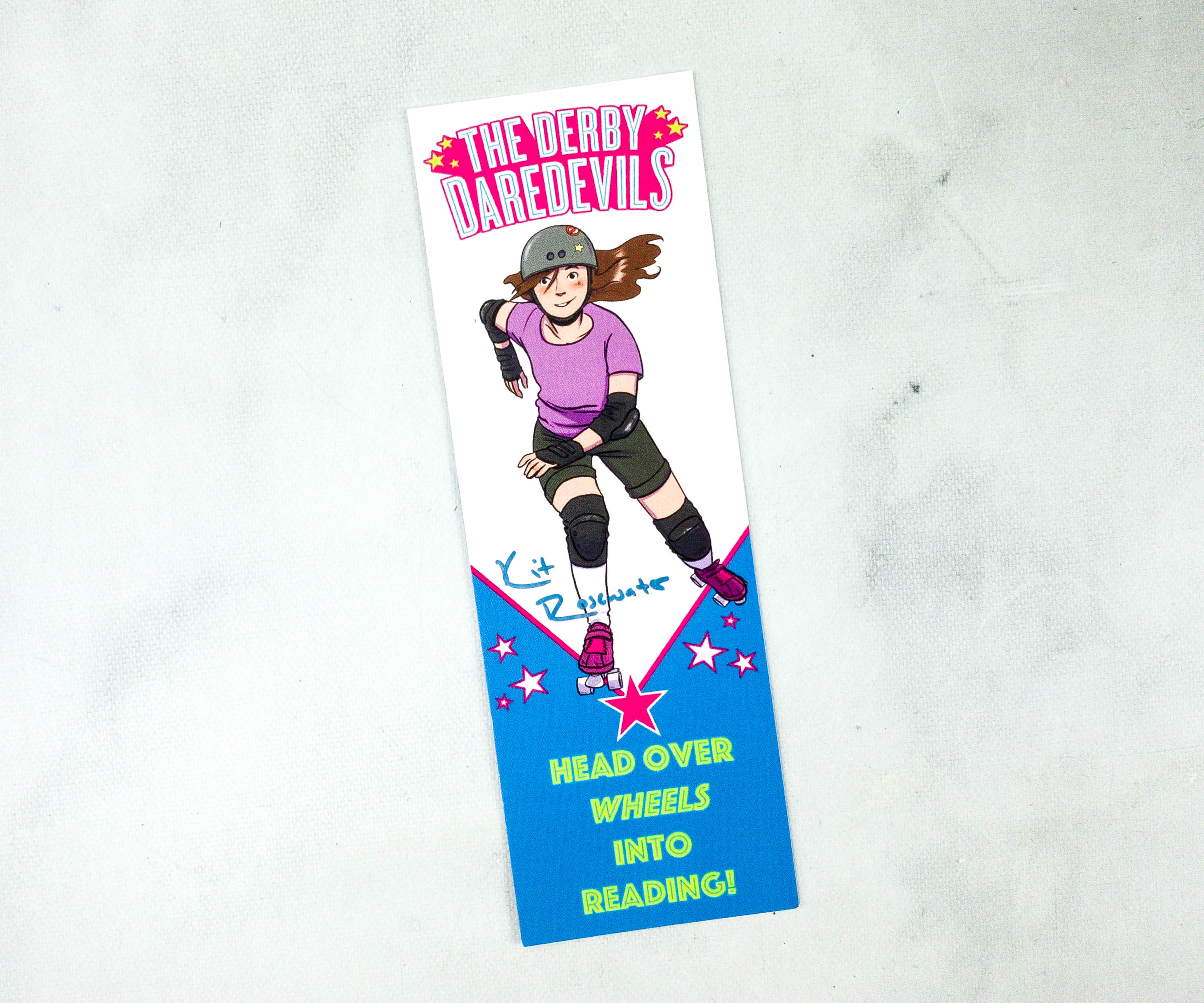 Here's a signed bookmark from Kit Rosewater.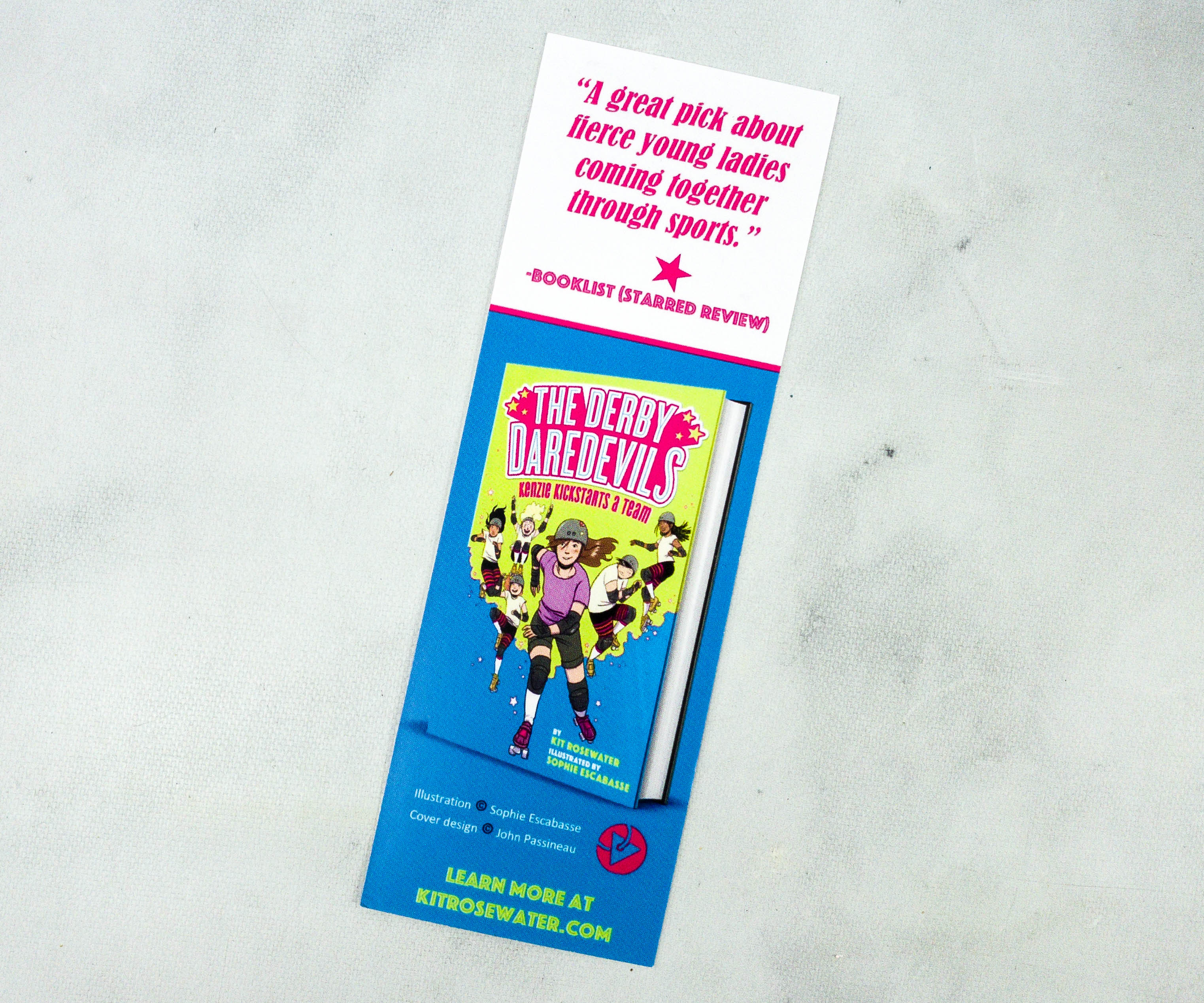 It features the cover of her new book, plus a short review!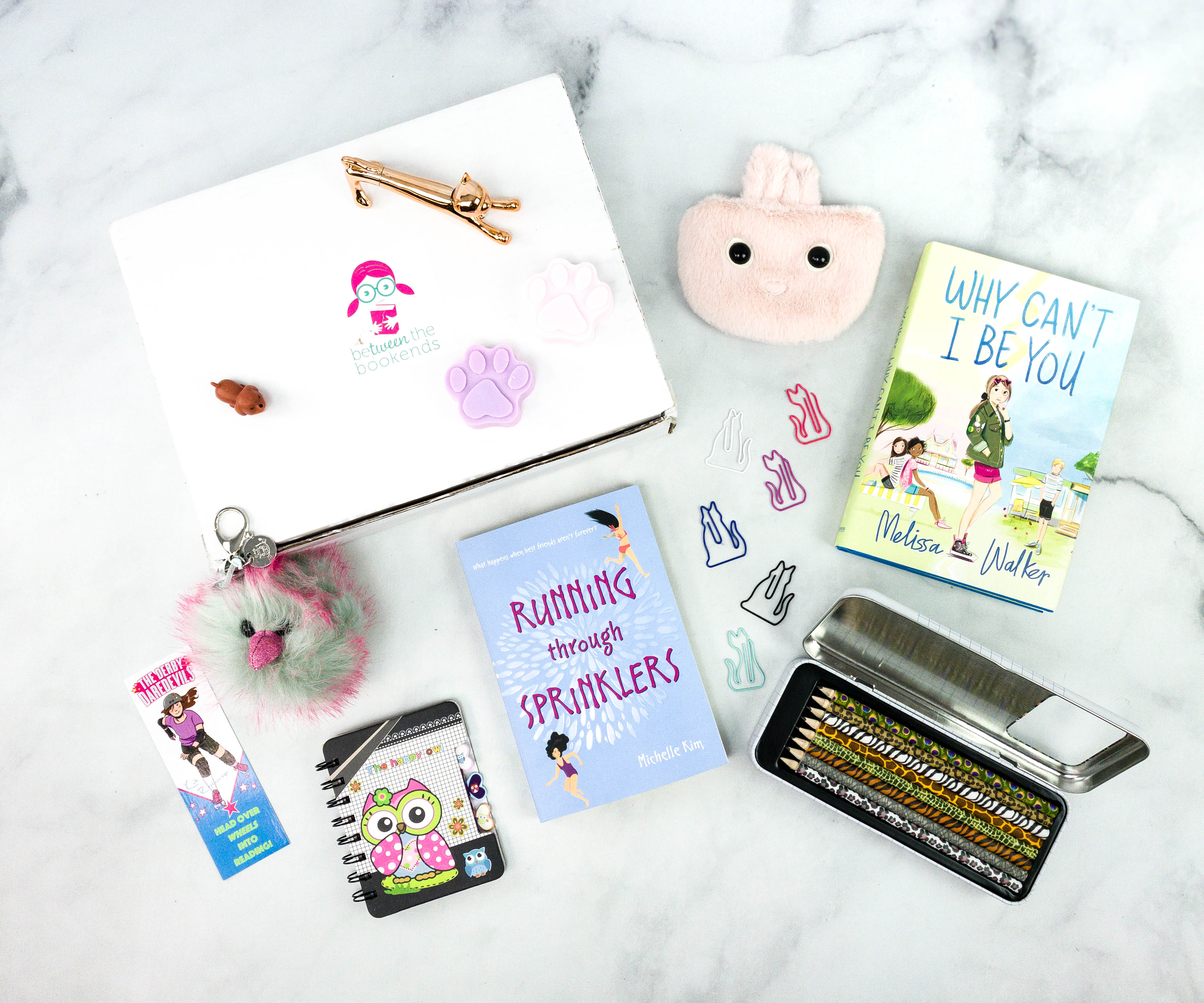 Everything in my box!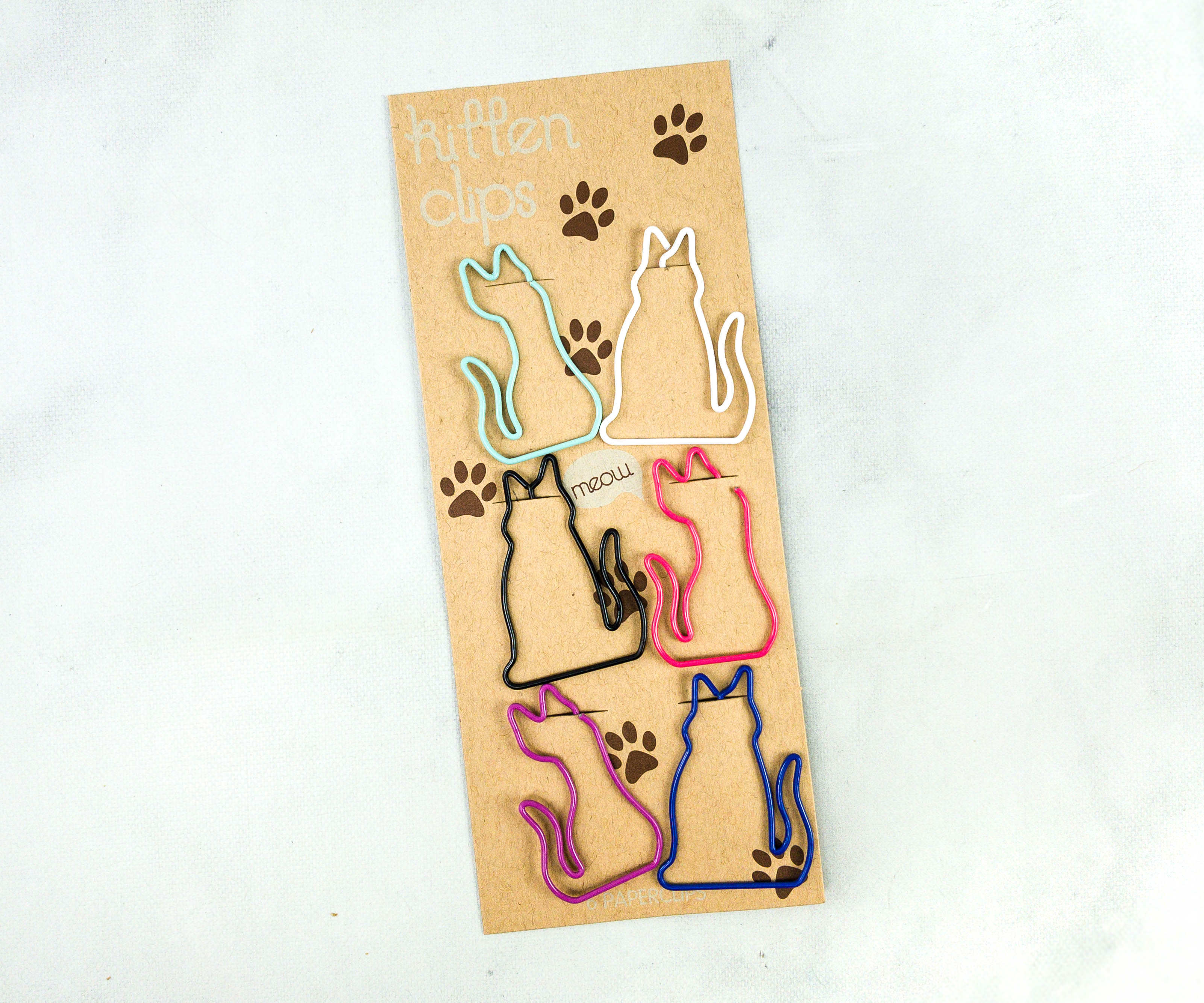 Cat Shaped Paper Clips. These cat-shaped paper clips are too cute. They even come in different colors!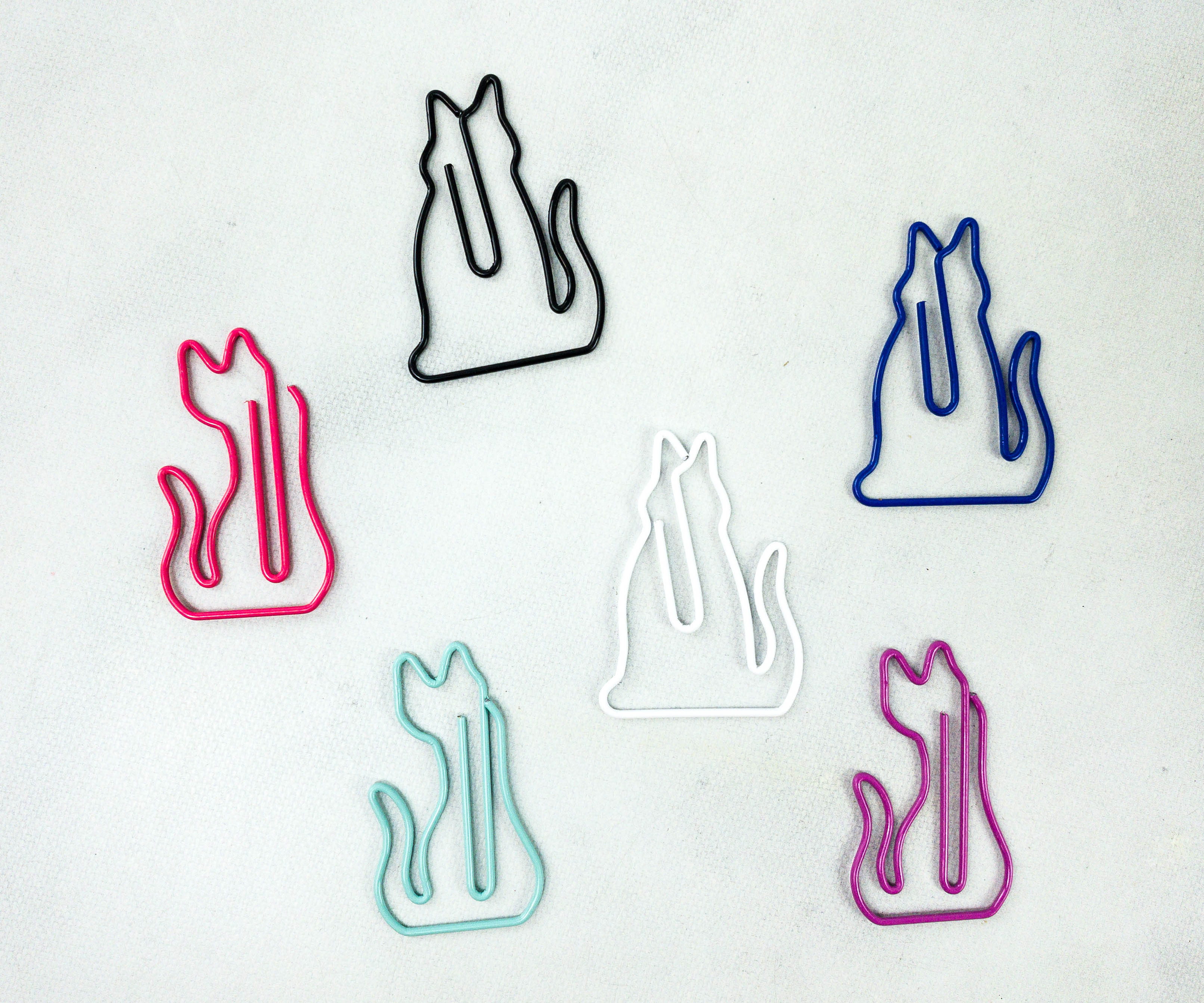 They make it fun to organize documents and other paper sheets, and they can even double as bookmarks!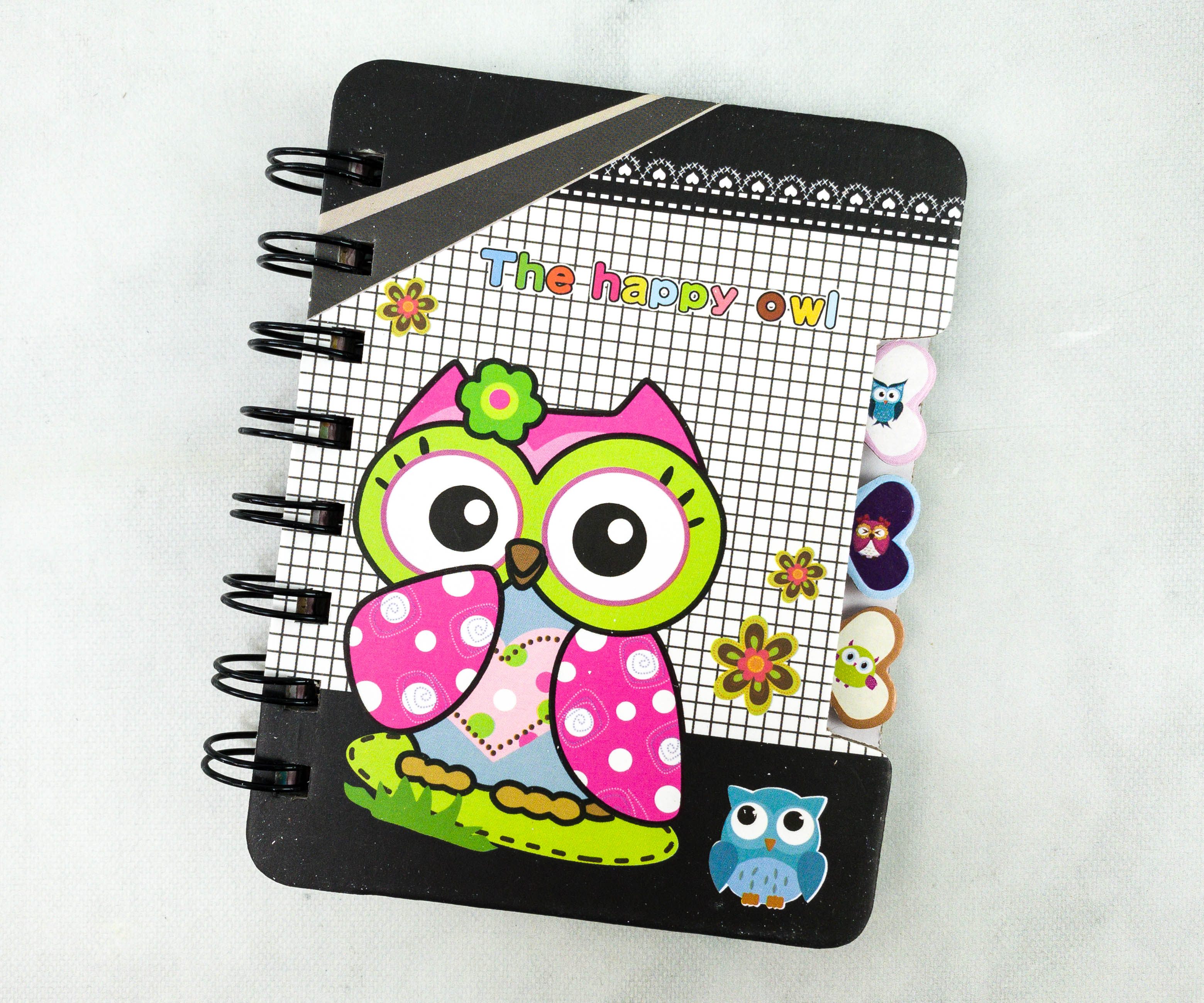 Mini Journal. This mini journal is so handy! My daughter can easily stash it in her bag, so she can write whenever and wherever the inspiration strikes.
It's spring bound, and it's also filled with colorful owl illustrations inside.
Some pages are lined, where you can jot down your thoughts or even your book reviews!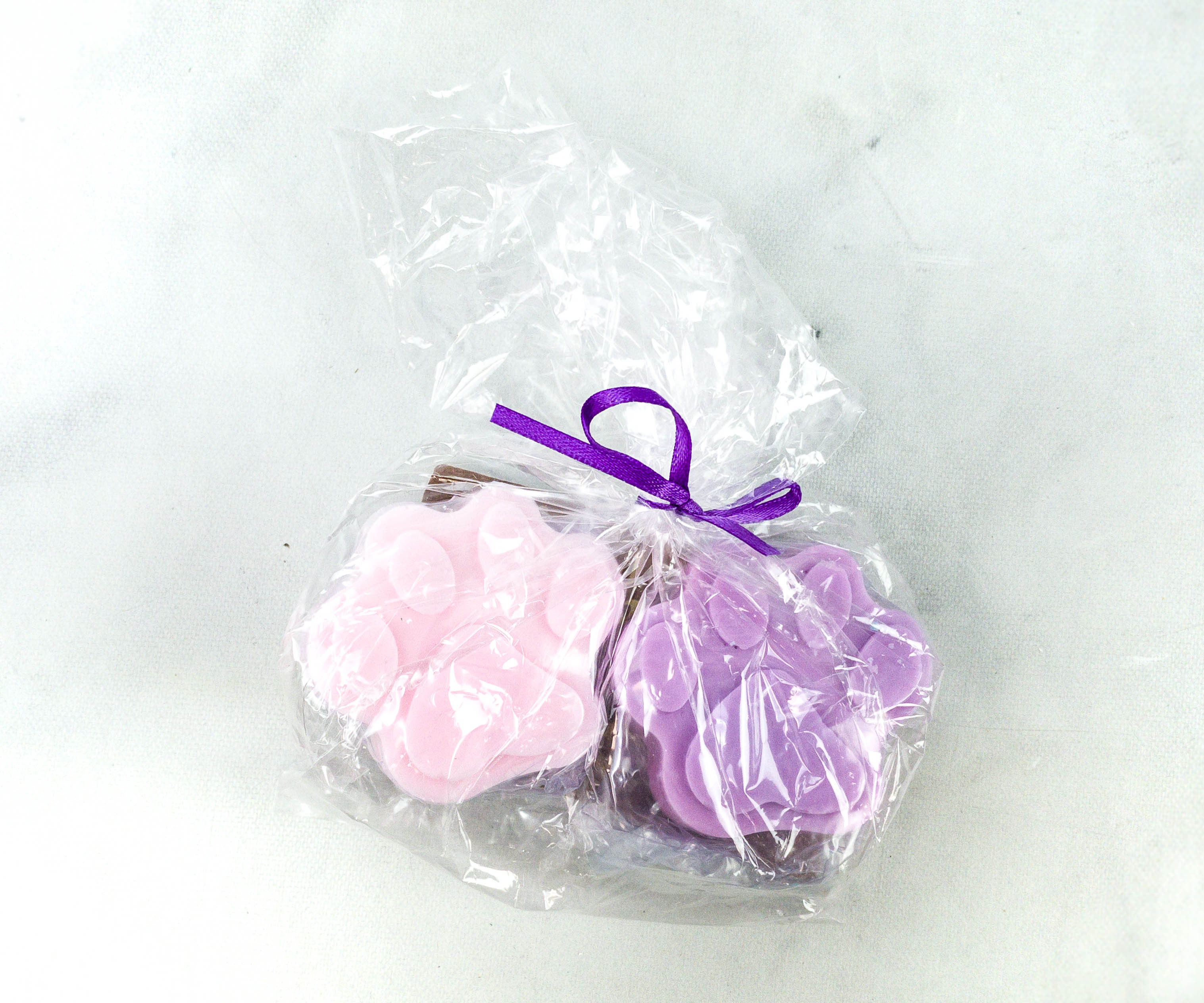 E and N Soaps – Paw Print Soaps. From one of the featured shops this month, the box includes 2 paw print shaped soaps!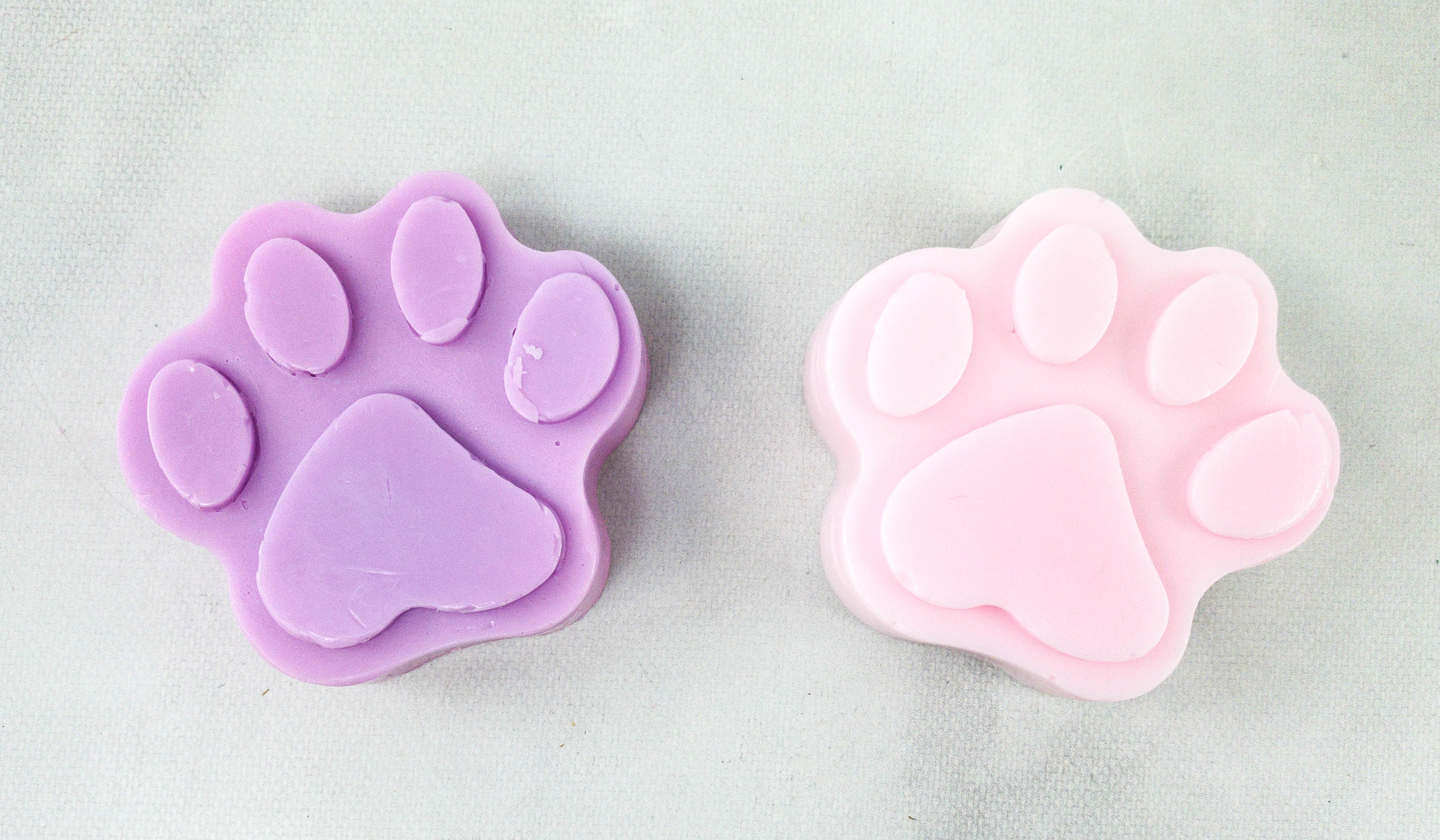 One is purple and the other is pink! They're not just cute, they smell super good as well.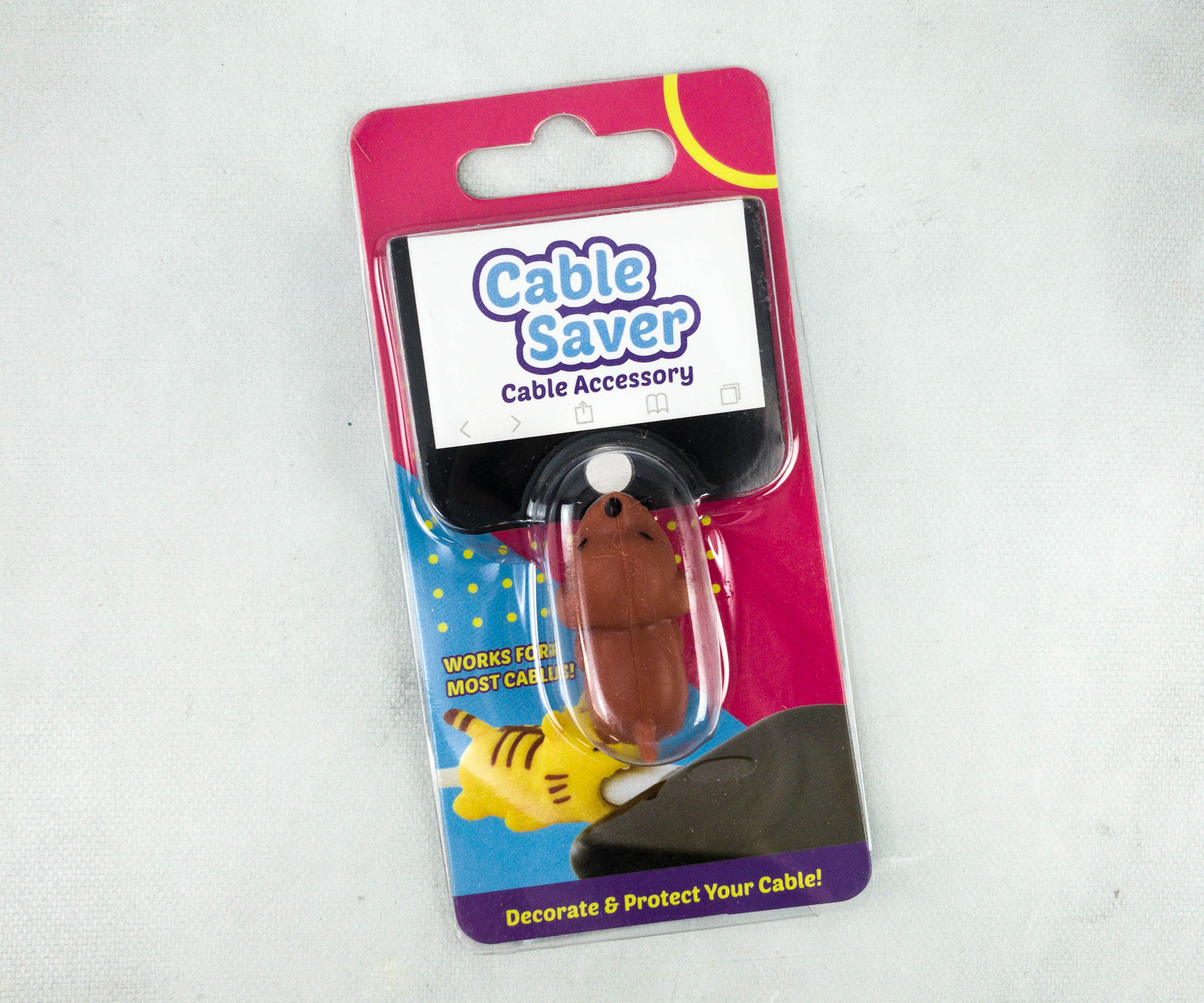 Animal Cable Saver. Here's another cute and useful item, a cable saver! It works on most cables and it helps prevent them from breaking.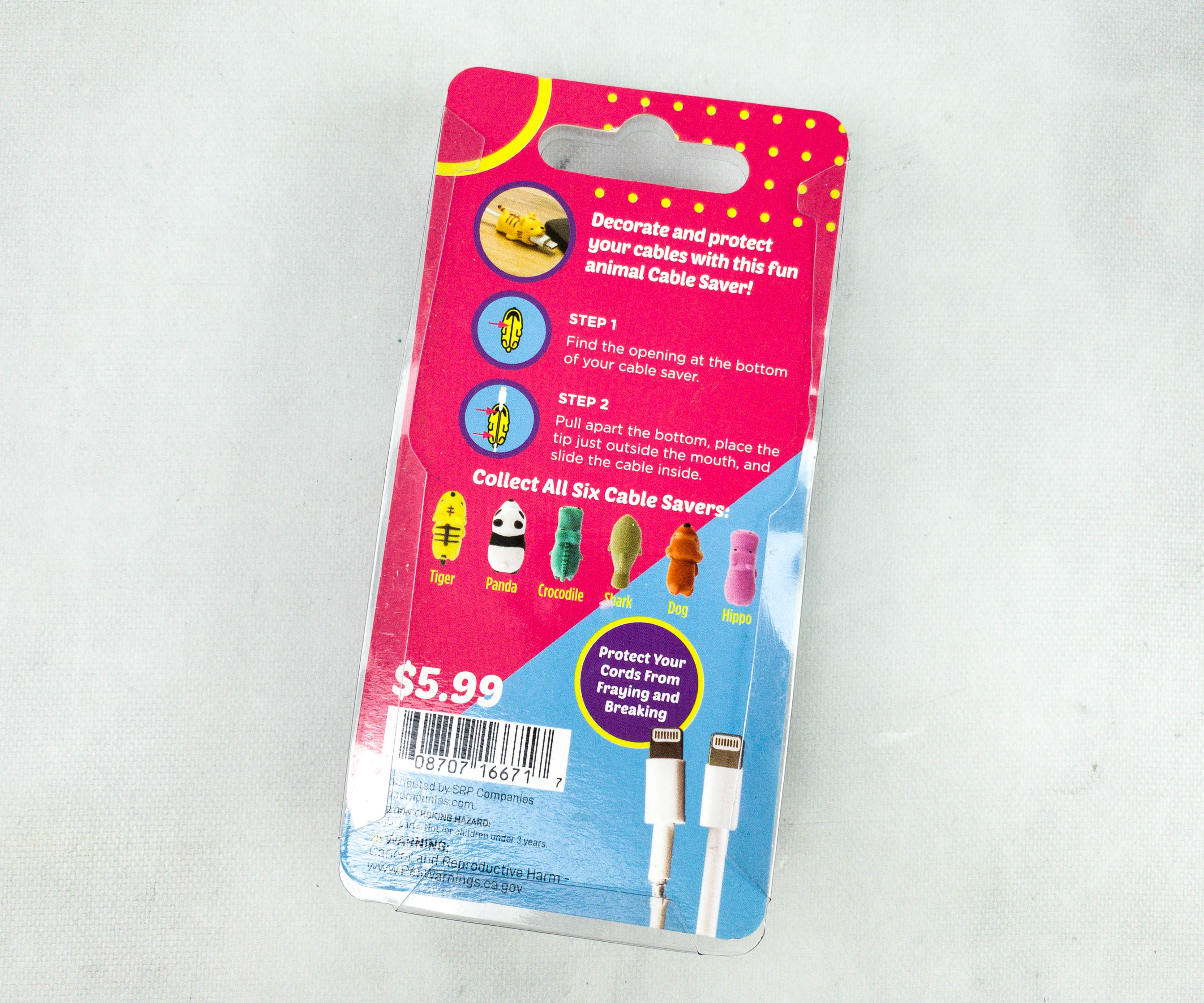 The back of the packaging shows all the available cable savers designs.
My daughter received the dog cable saver and she loves it!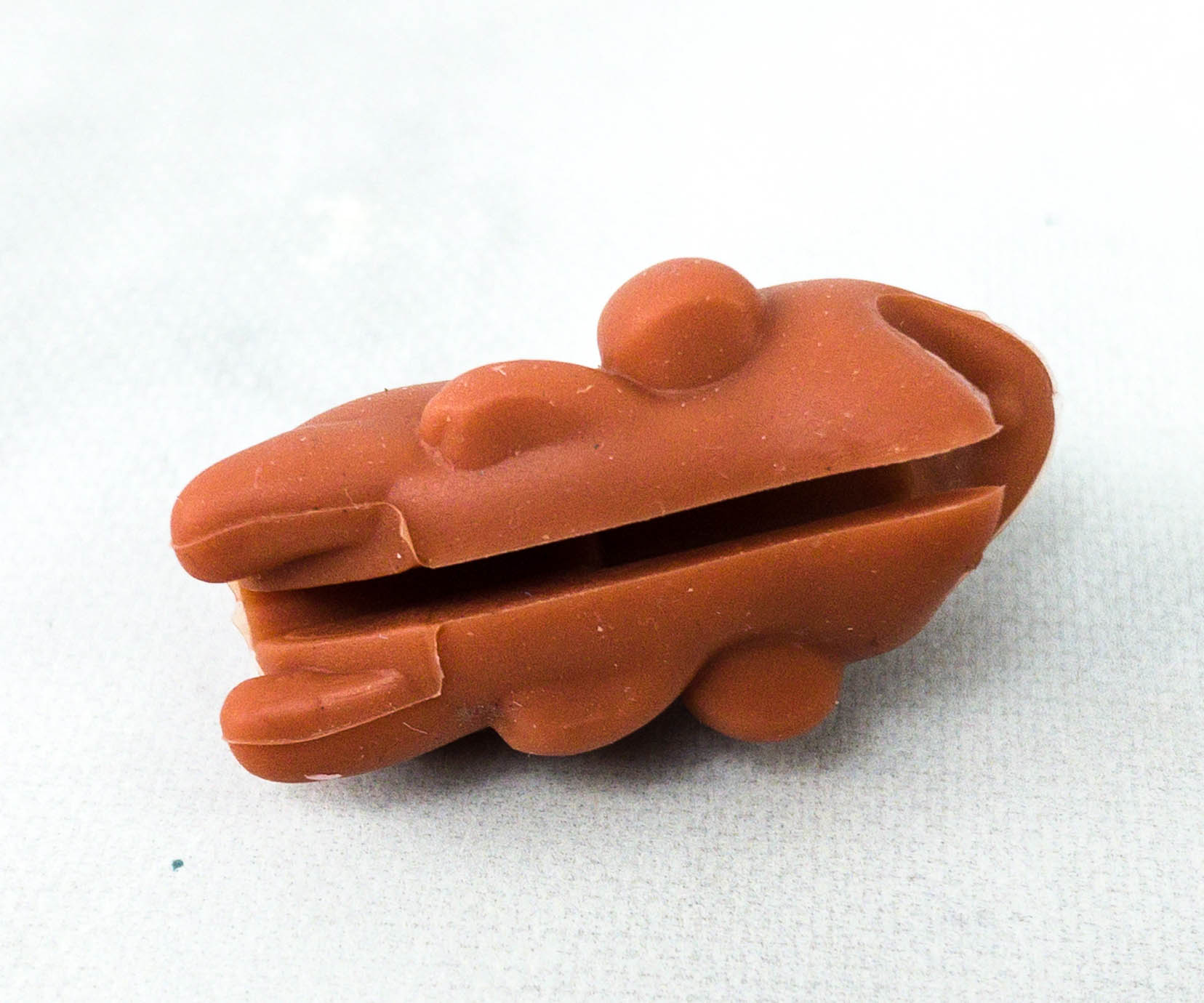 To use, just pull apart the opening at the bottom of the cable saver and place the tip just outside its mouth, then slide the cable.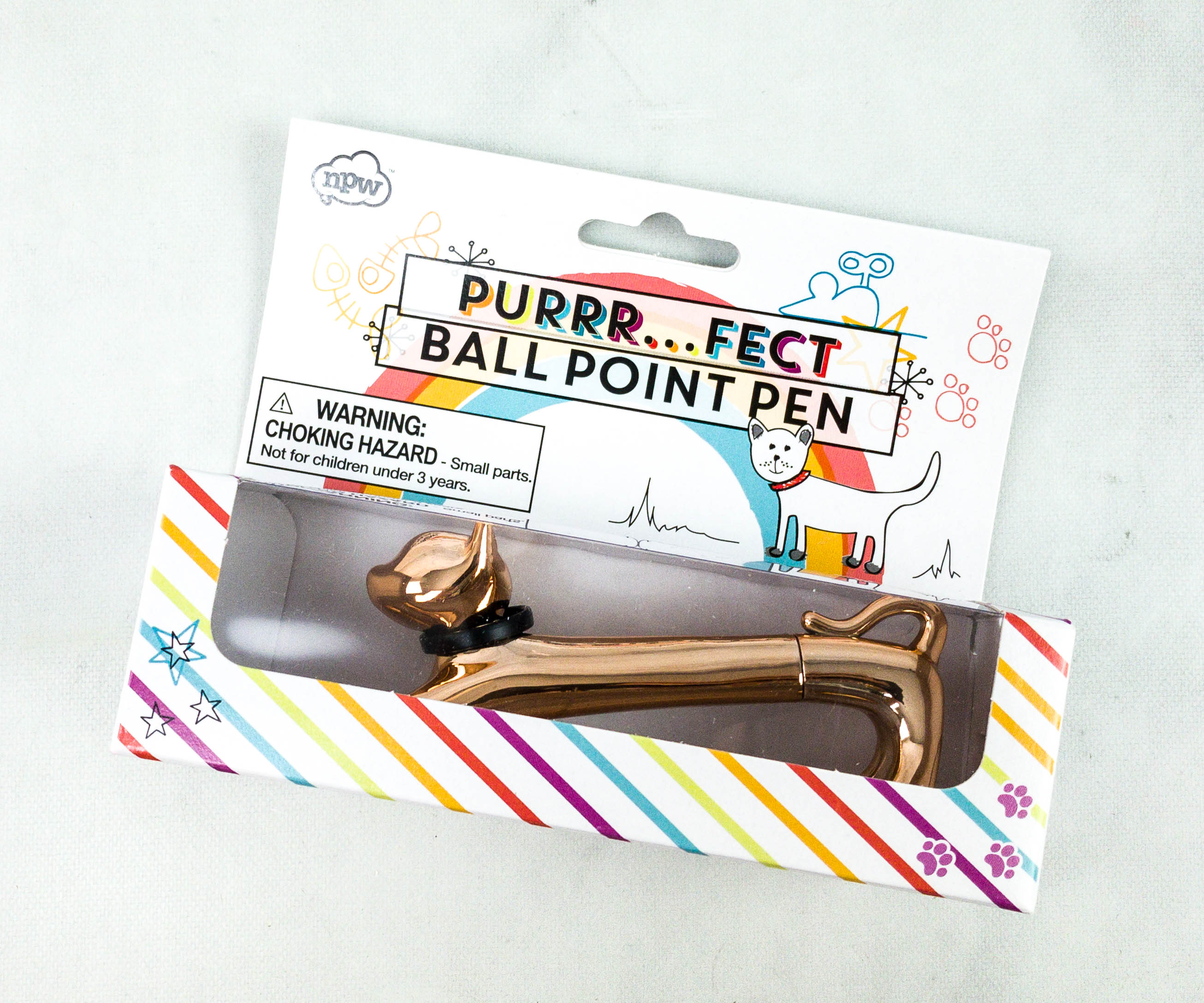 Cat Shaped Ball Point Pen. The unique pen arrived in its own box to keep it safe from scratches or any damage.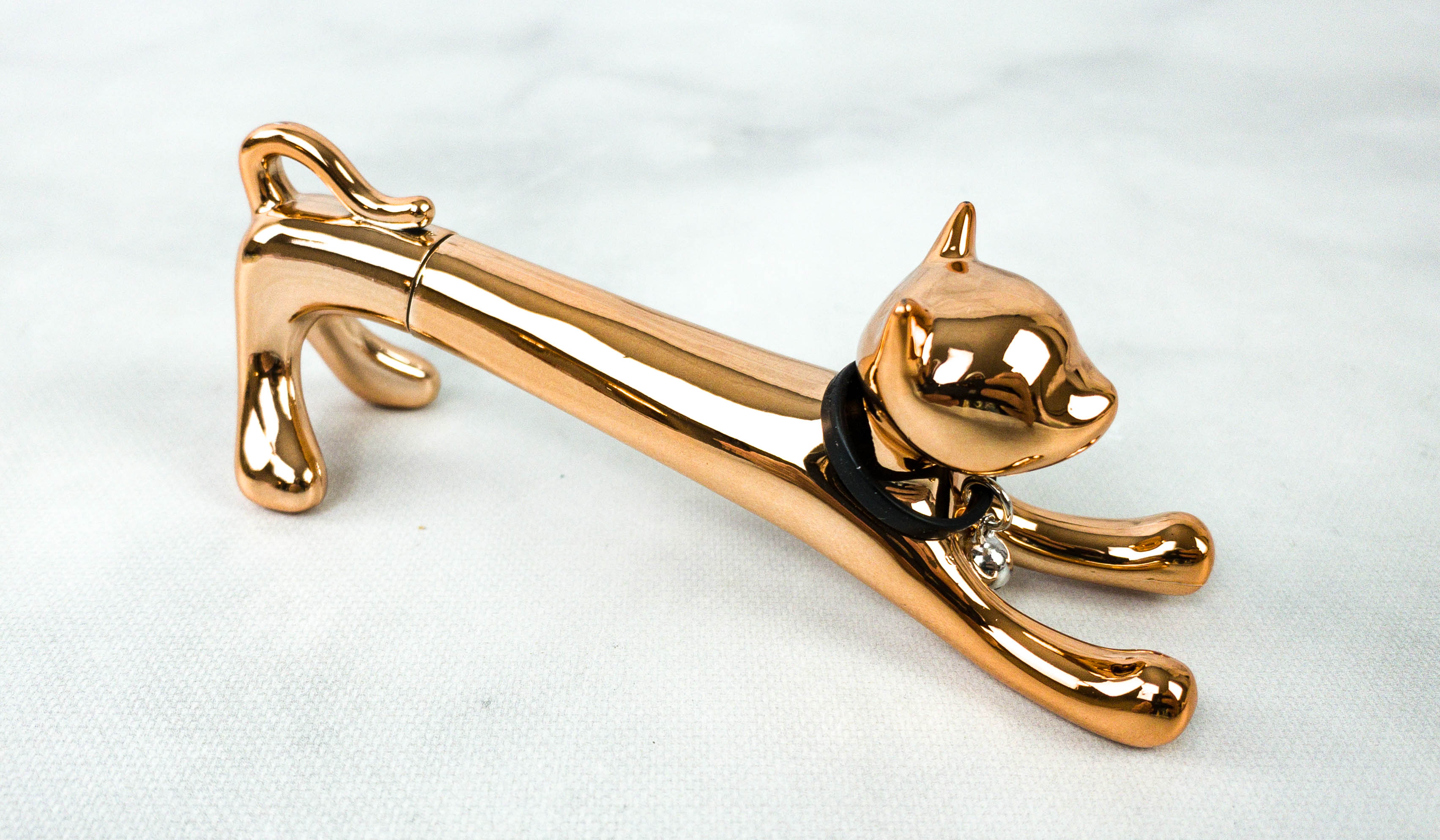 This may look like a figurine but it's actually a pen that also doubles as a nice display for any desk!
The upper part of the cat's body is where the pen is. It writes smoothly!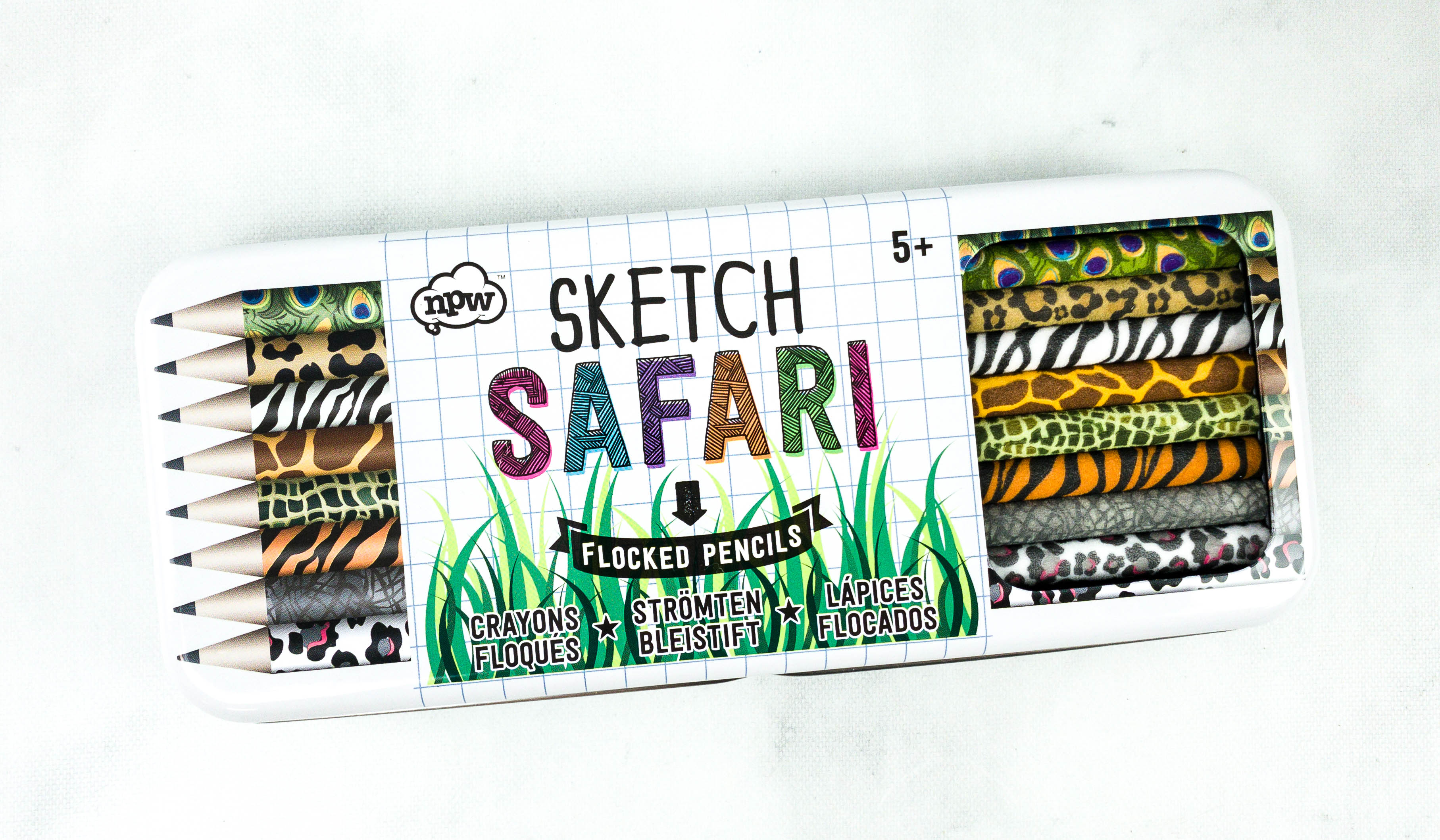 Sketch Safari Flocked Pencils. It's a set of pencils featuring different safari-inspired prints!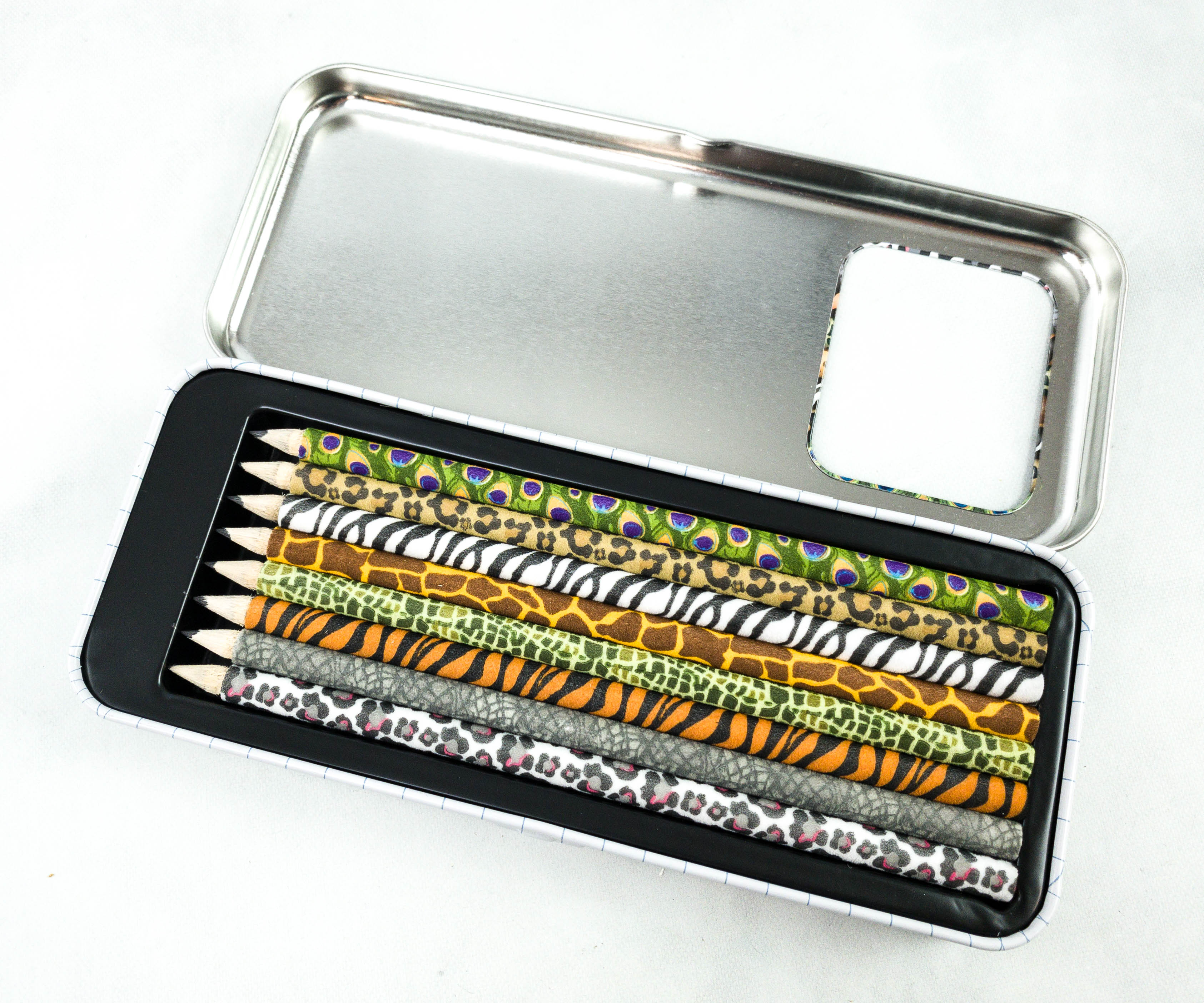 They come in a tin case, making them easy to store and organize. They are also pre-sharpened, so my daughter was able to use them right away. She loves the vibrant prints as well!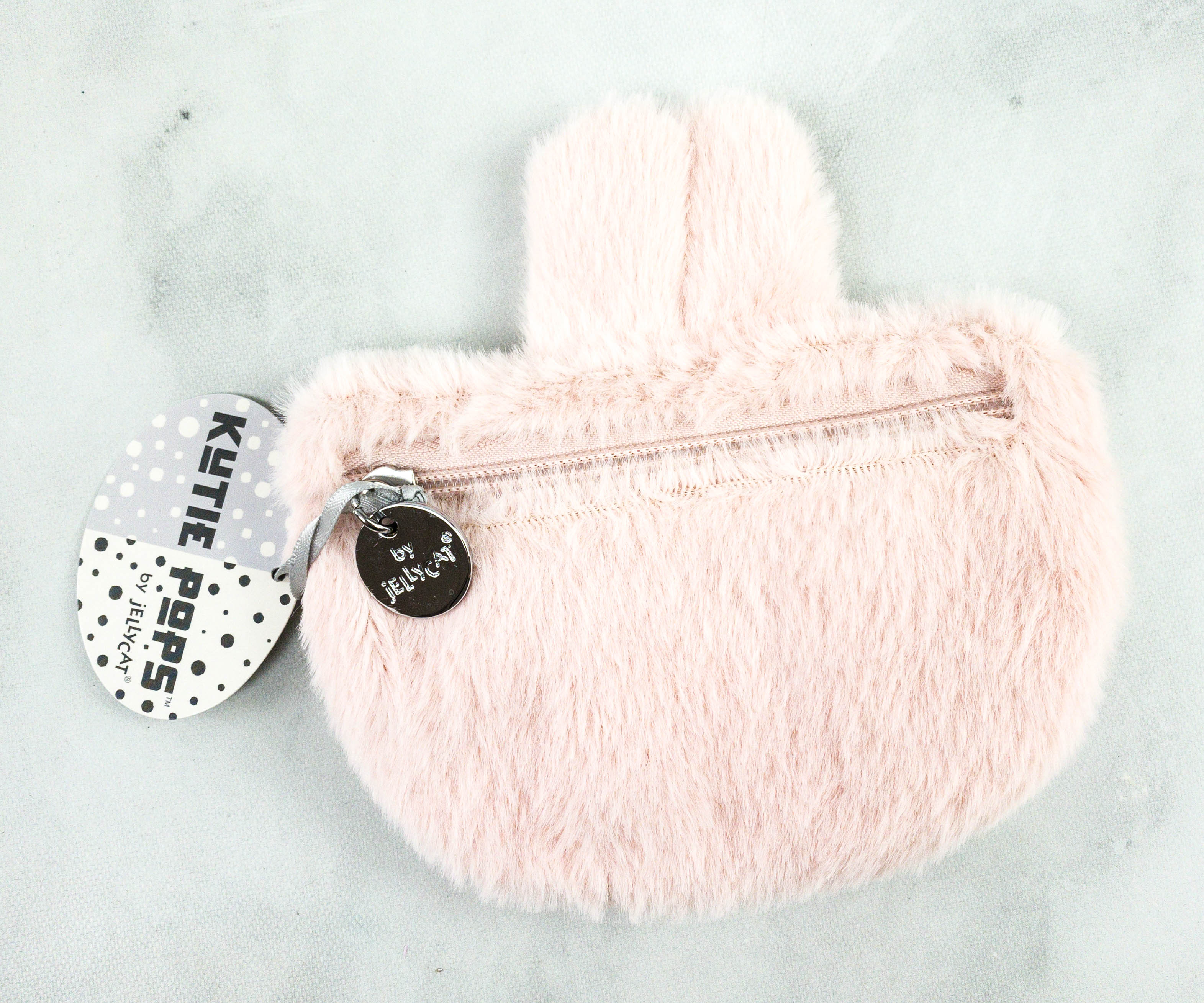 Bunny Shaped Change Purse. This bunny-shaped purse is soft and fuzzy!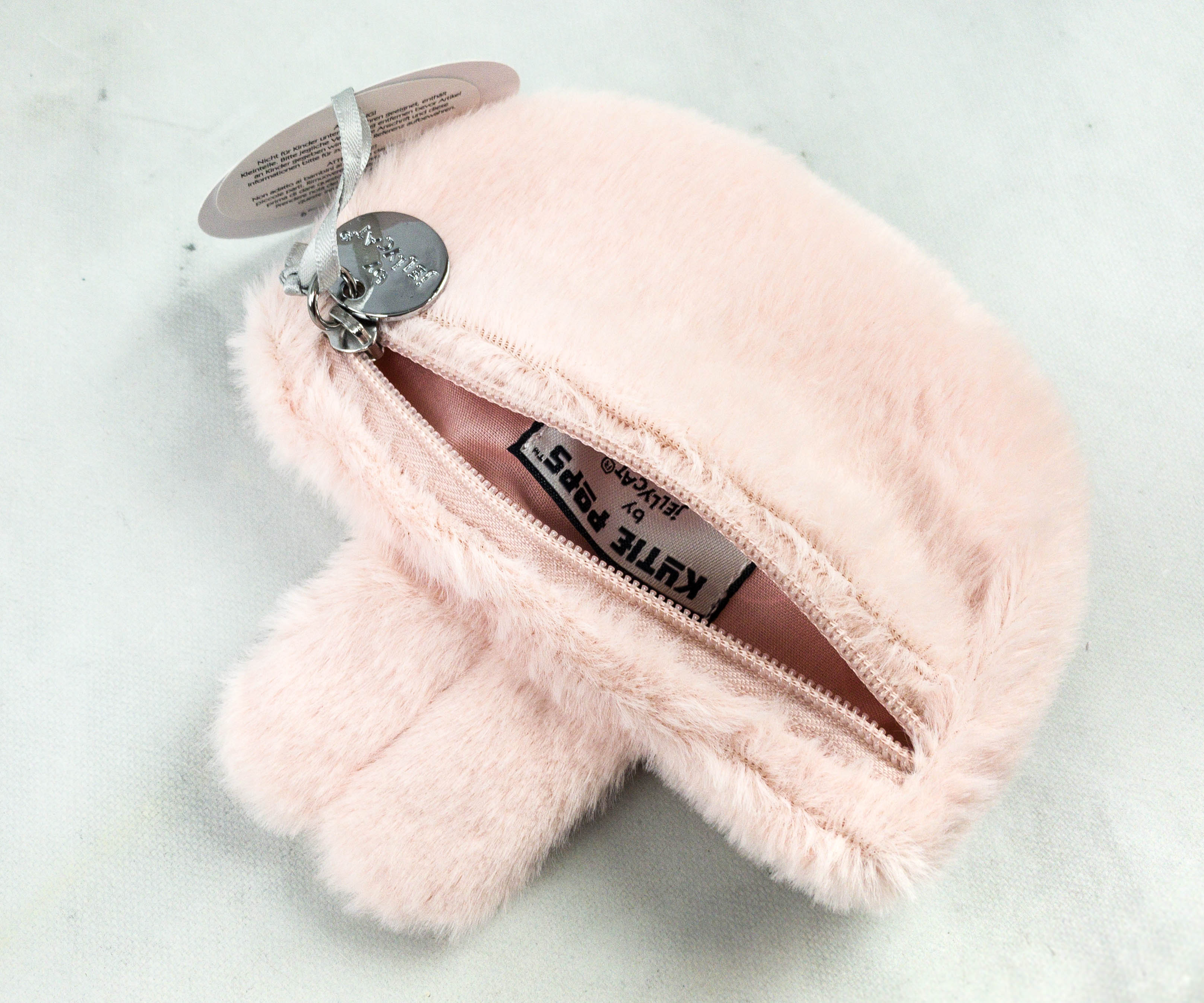 It can fit coins, trinkets, or other small items. It also has a zipper enclosure so you can easily secure the items inside.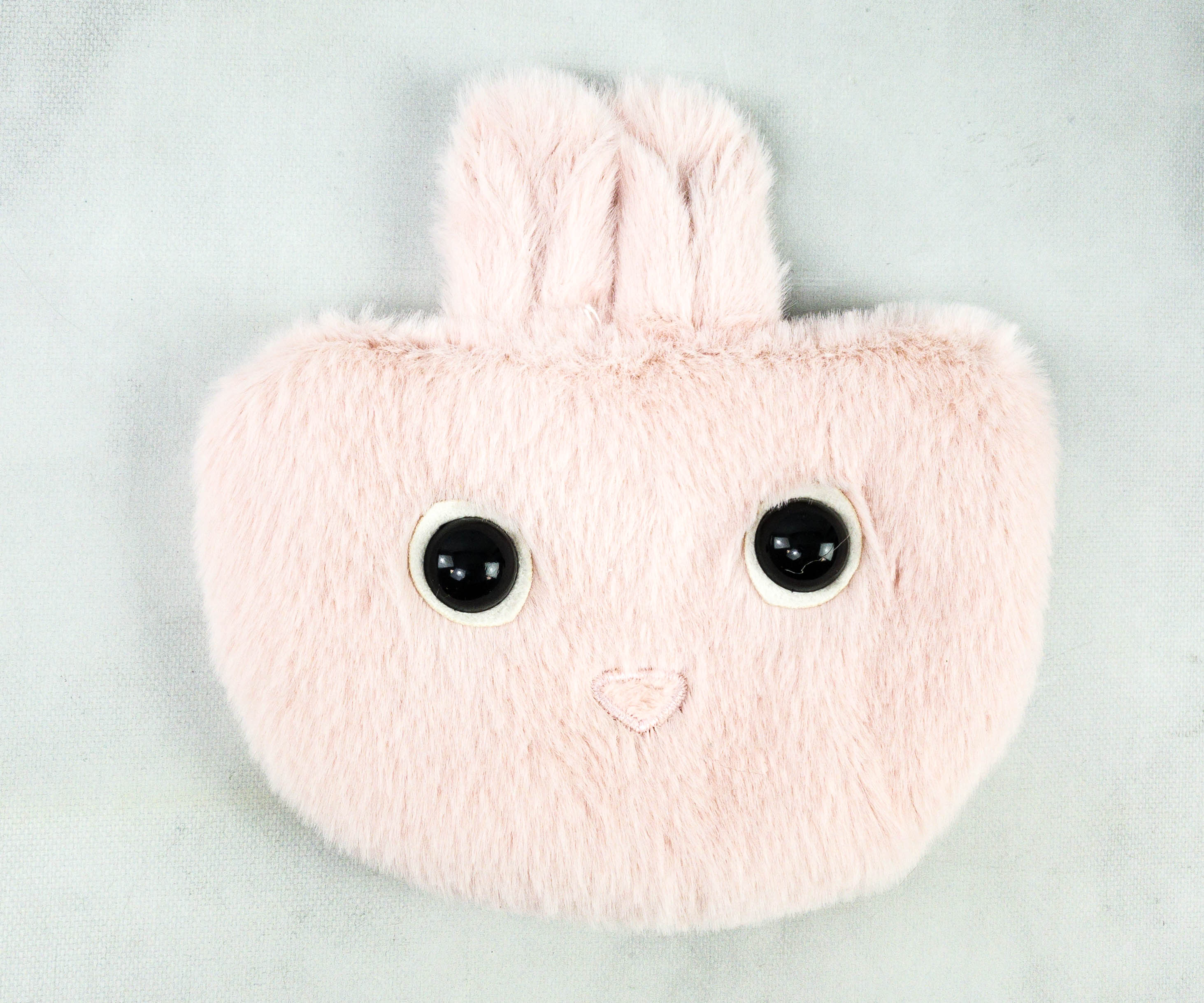 The front of the pouch features eyes and an embroidered nose. It's adorable!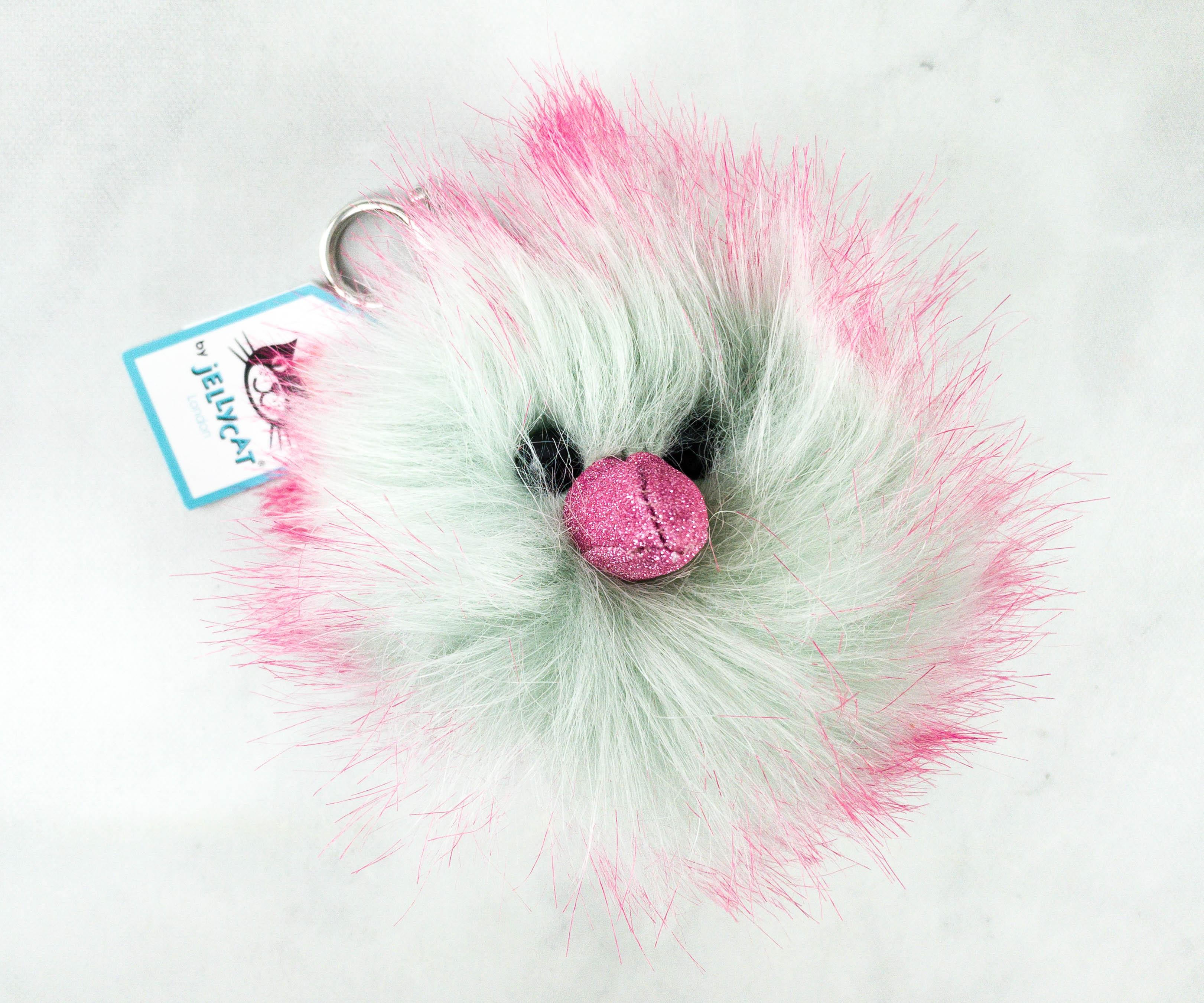 Fluffy Animal Keychain. To add flair to my daughter's bag, here's a fuzzy keychain with cute eyes and a glittery pink nose!
It's easy to attach to any purse or bag, and it also comes with a silver-colored cat charm.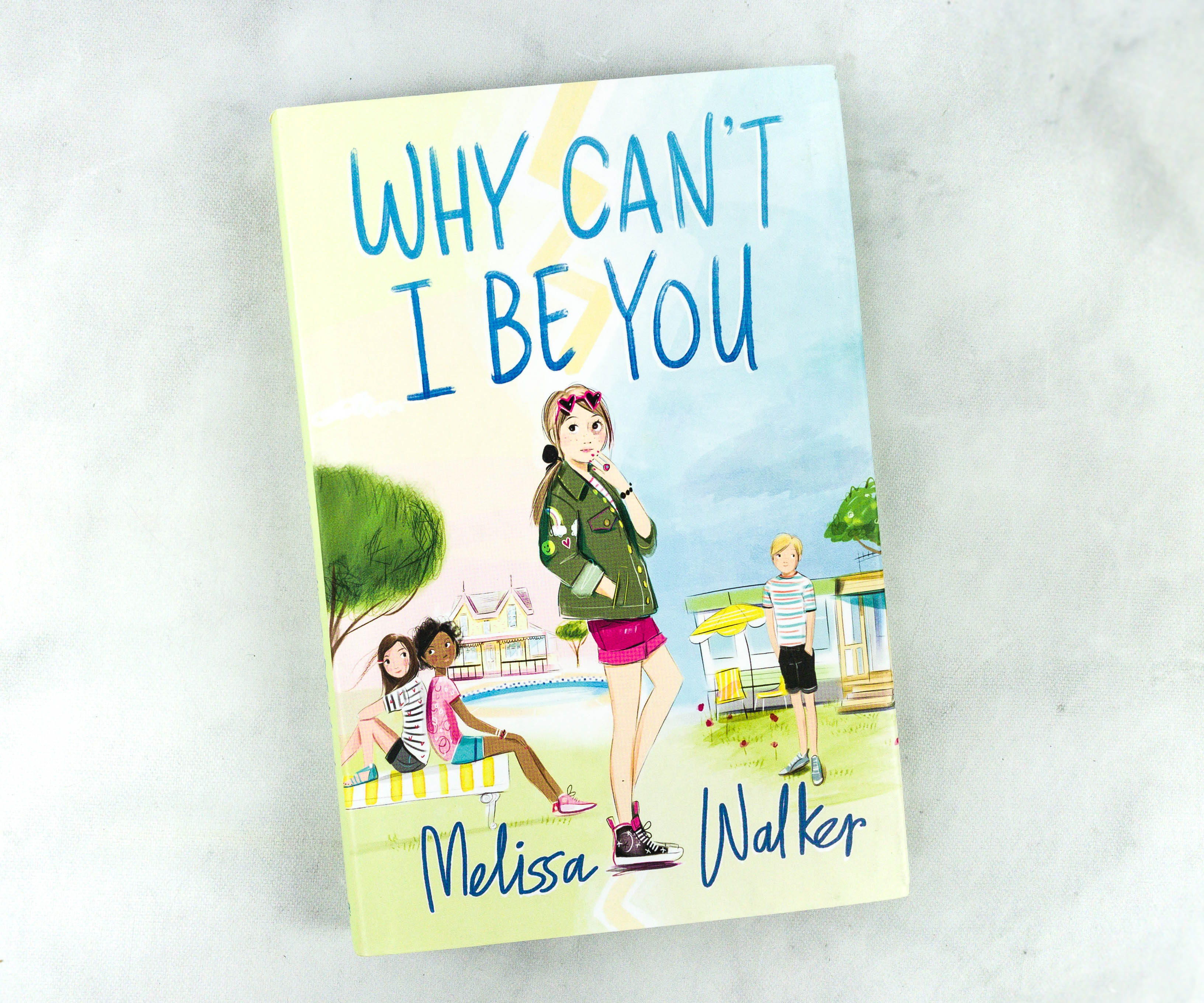 Why Can't I Be You by Melissa Walker ($1.98)
Claire Ladd knows that this summer is going to be special. She and her two best friends, Ronan and Brianna, are turning twelve. She is leaving camp behind and gets to do what she wants all day. She feels everything starting to change.

But things don't always change for the better.

With Brianna's cousin Eden visiting for the summer, Claire feels like a third wheel. Even though she is only a year older, Eden seems so much more sophisticated and glamorous . . . and when she's around, she takes up everyone's attention, including Brianna's.

But that doesn't explain why things have felt awkward with Brianna ever since she moved to a fancy new house, or why Ronan, who lives in the trailer next to Claire's, has started acting moody anytime anyone mentions his dad.

Claire has always been happy with her life just as it is, but as the summer wears on and the issues with her friends start to grow, she can't help but wonder: Would everything be better if she could just be someone else?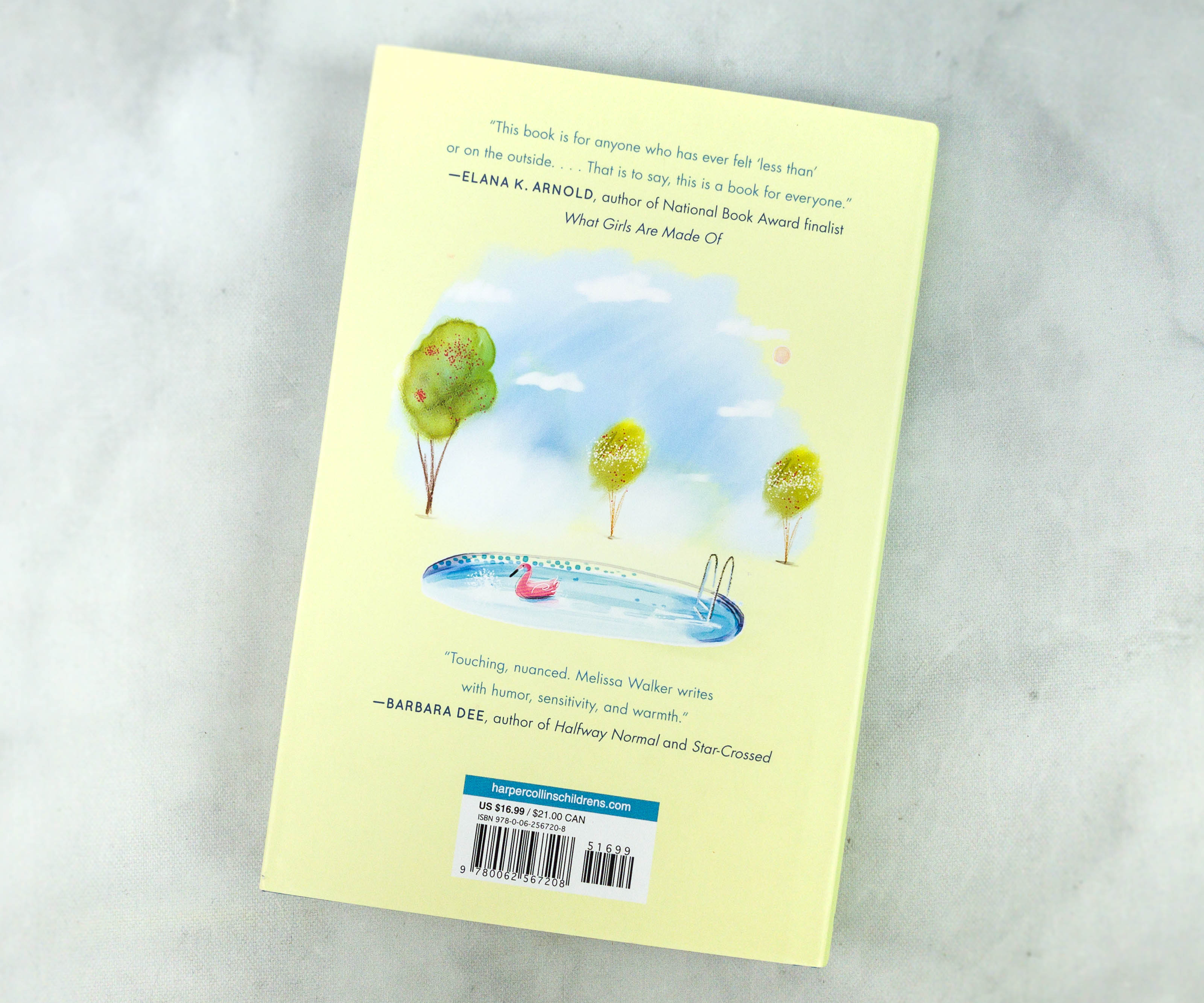 It's a hardcover book, featuring charming illustrations on both the front and back cover!
The first book in the box is set in summer and is all about friendship and family dynamics. It's something middle graders will be able to relate to!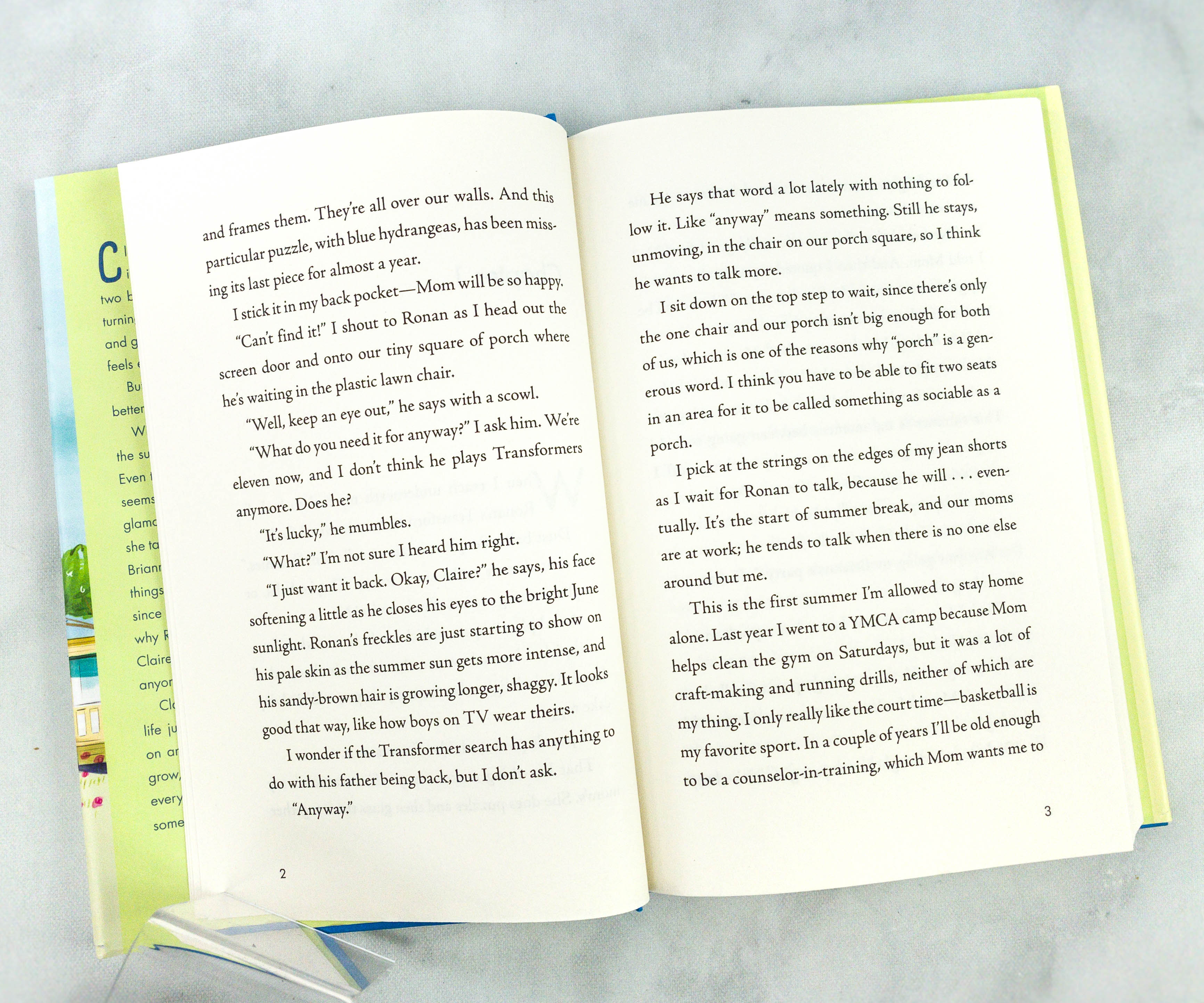 It's a light read and it's pretty realistic. The author did a great job of incorporating life lessons into the story without it being preachy.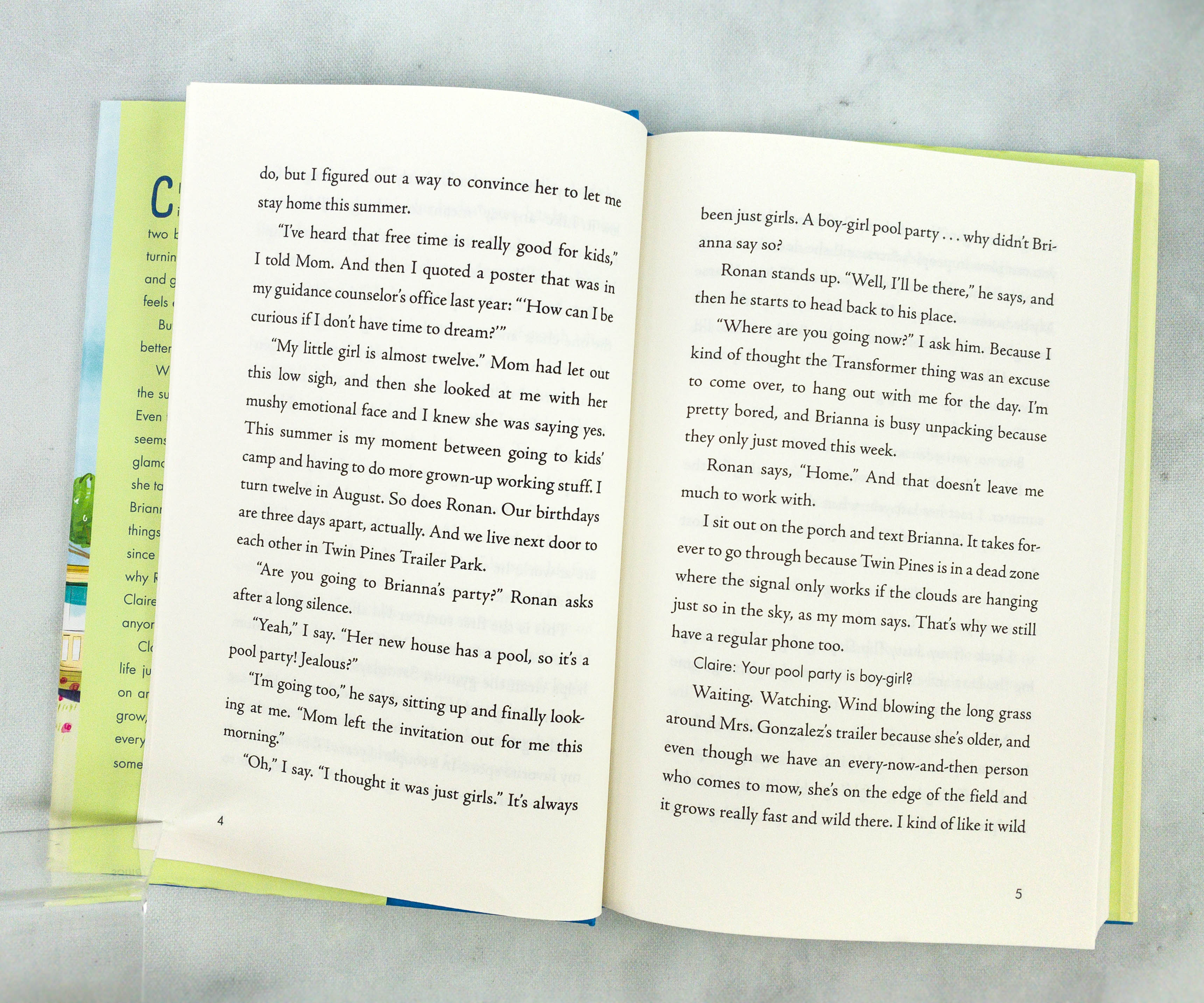 The characters were endearing and my daughter liked Claire, the main character who is funny and relatable!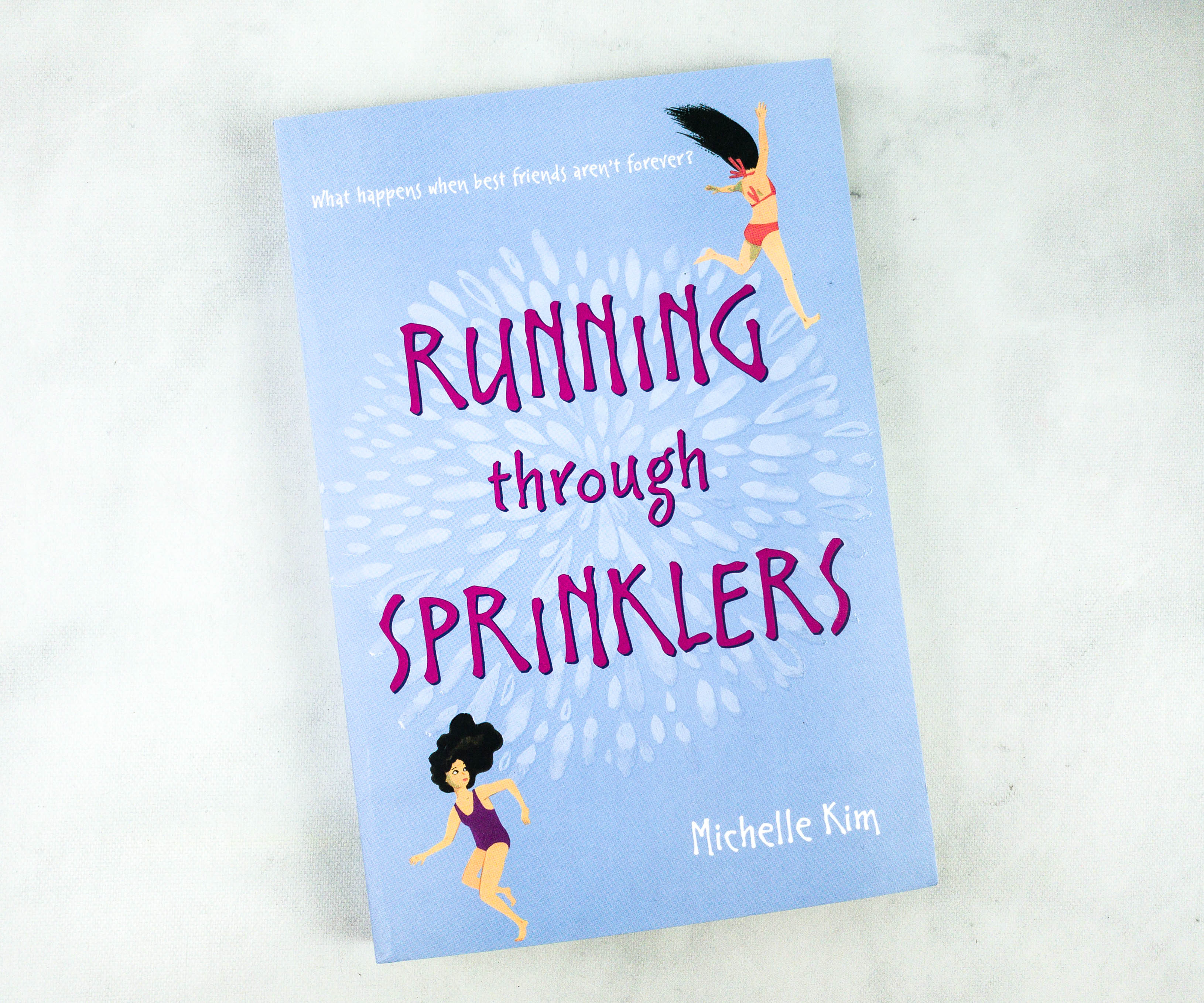 Running Through Sprinklers by Michelle Kim ($7.99)
Two life-long best friends grow up and begin to grow apart in this honest, deeply felt middle grade debut.

Sara and Nadine.
Nadine and Sara.

It's only ever been the two of them. Two halves of the same person. Best friends forever—until they aren't.

Everything has changed this year. Nadine has suddenly skipped a grade and gone to high school without Sara. No matter how hard she fights to save their friendship, Sara can feel it slipping away.

But change can happen from the inside, too. The forever-friend days of running through sprinklers and slurping up ice cream cones may be over. Yet in their place, Sara just might discover something new and wonderful: herself.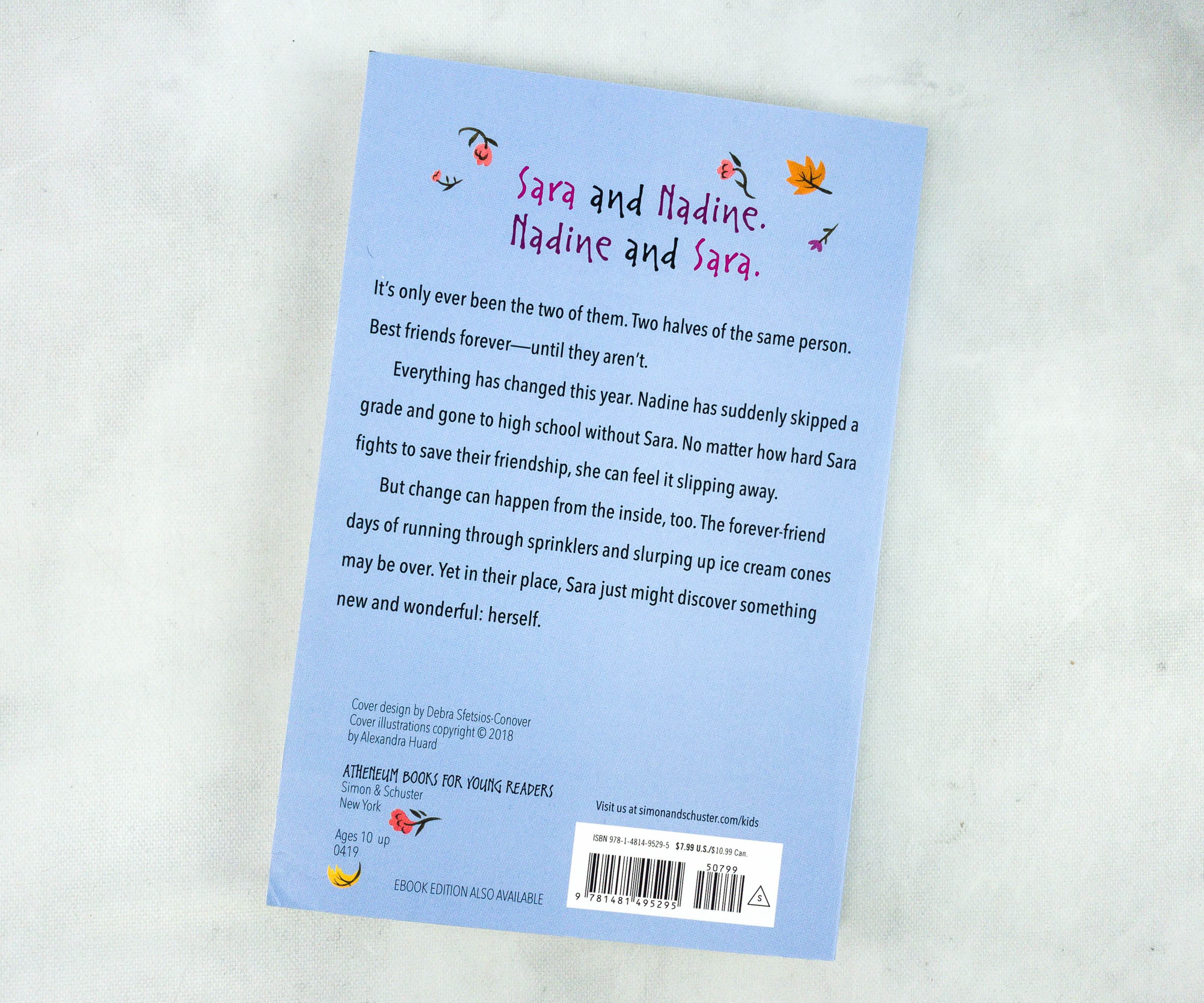 The second book is also about friendship! Anyone who has experience growing apart from a friend will be able to relate to this one.
The story is set in 1990s, but it was written in such a beautiful way that speaks even to kids of the present generation.
It's a great coming-of-age tale overall! If you're looking for a diverse book with multicultural characters, this one is also a good fit.
Getting new books is fun, but getting them with cute items on the side is even better! This is my daughter's first box from beTWEEN the Bookends and it's promising. The book choices are age-appropriate, while the rest of the box is a mix of stationery items and accessories that my daughter loves. Her favorites among the non-book items are the clips and the pencil set because they're super cute. Overall, this would make such a fun and age-appropriate gift to any tween who loves reading!
What do you think of the beTWEEN the Bookends box?