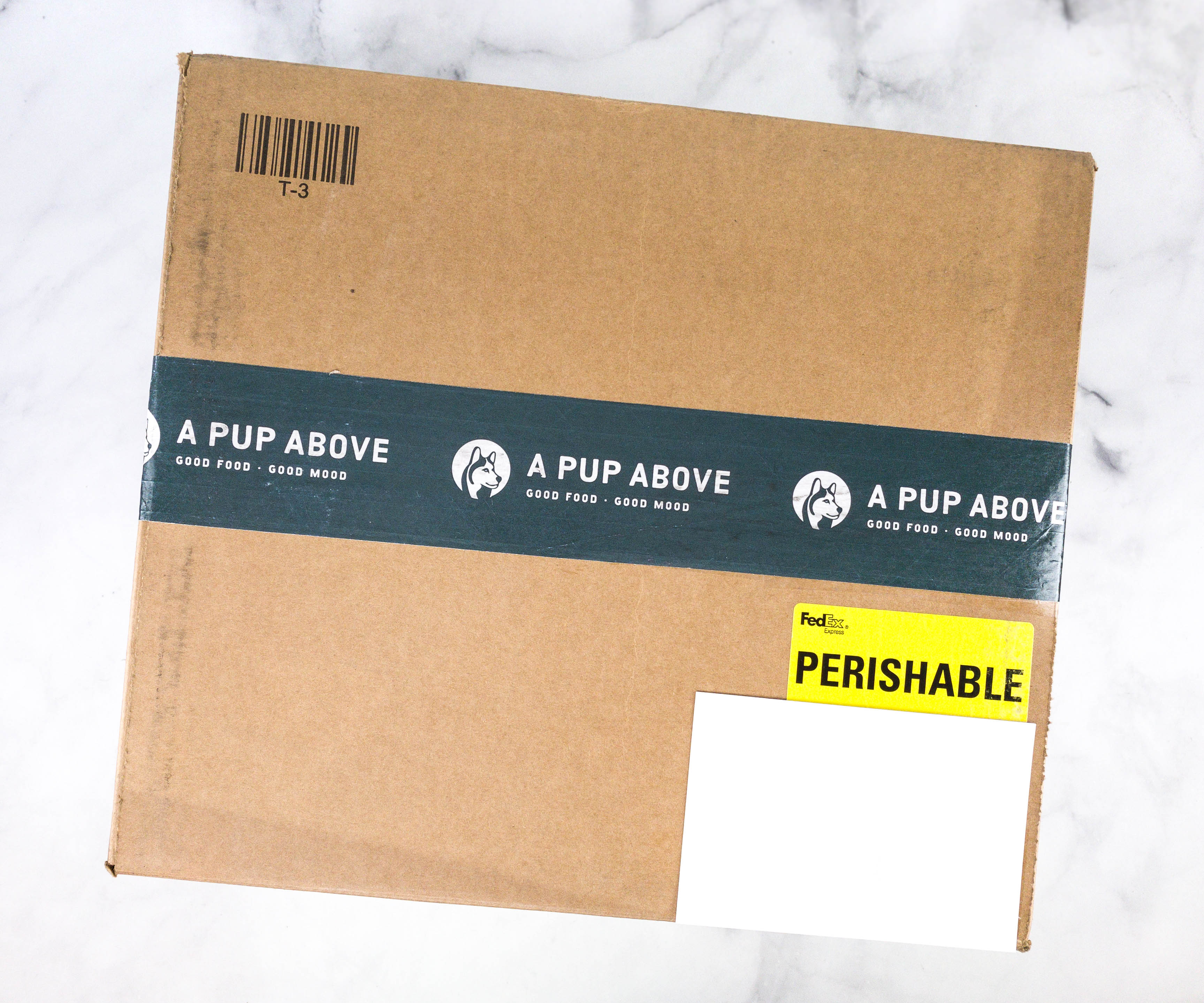 A Pup Above is a Texas-based company producing fresh dog food that's as close to homemade as it gets without making it yourself. A Pup Above meals are cooked sous-vide to lock in the nutrients, taste, and texture of its meats, whole vegetables, and fruits. All of its ingredients are human-grade, non-GMO, and pesticide-free. A Pup Above takes extra care in cooking its food by making its meals in a USDA certified kitchen in Texas following the same safety and quality standards as human food. The meals are delivered right to your door on a subscription basis, or you can test it out via their sampler pack. Their former name is Grocery Pup!
They currently offer four variants: Texas Beef Stew, Turkey Pawella Recipe, Porky's Luau, and Chicka Chicka Bow Wow. Each 3 lb bag is $31.49, while a 7 lb bag is $52.49. You can have them delivered to your door every 2, 4, 6, or 8 weeks depending on your needs. Also available is the Sampler Pack which includes all available recipes. It's $116.99 for a 3 lb Sampler Pack and $195.75 for a 7 lb Sampler Pack.
This is the review of the Sampler Pack.
DEAL:Save 15% off your first sampler pack order with coupon code SAMPLEHAPPINESS OR save 25% off your pup's first meal delivery with coupon code HAPPINESS25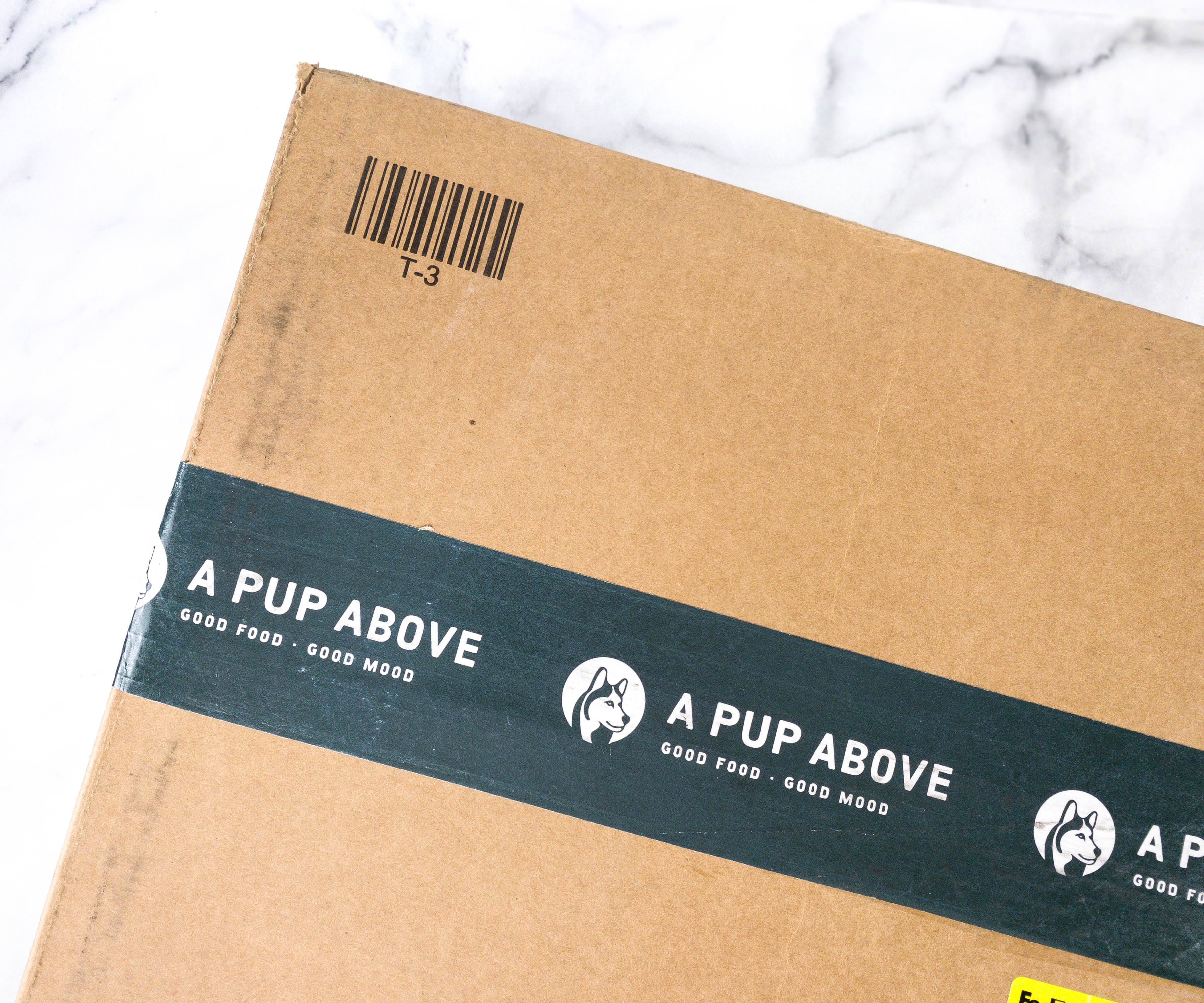 What makes A Pup Above dog food different is that they are cooked sous-vide in a USDA facility. This cooking process ensures higher nutrient retention and also helps enhance the food's flavors.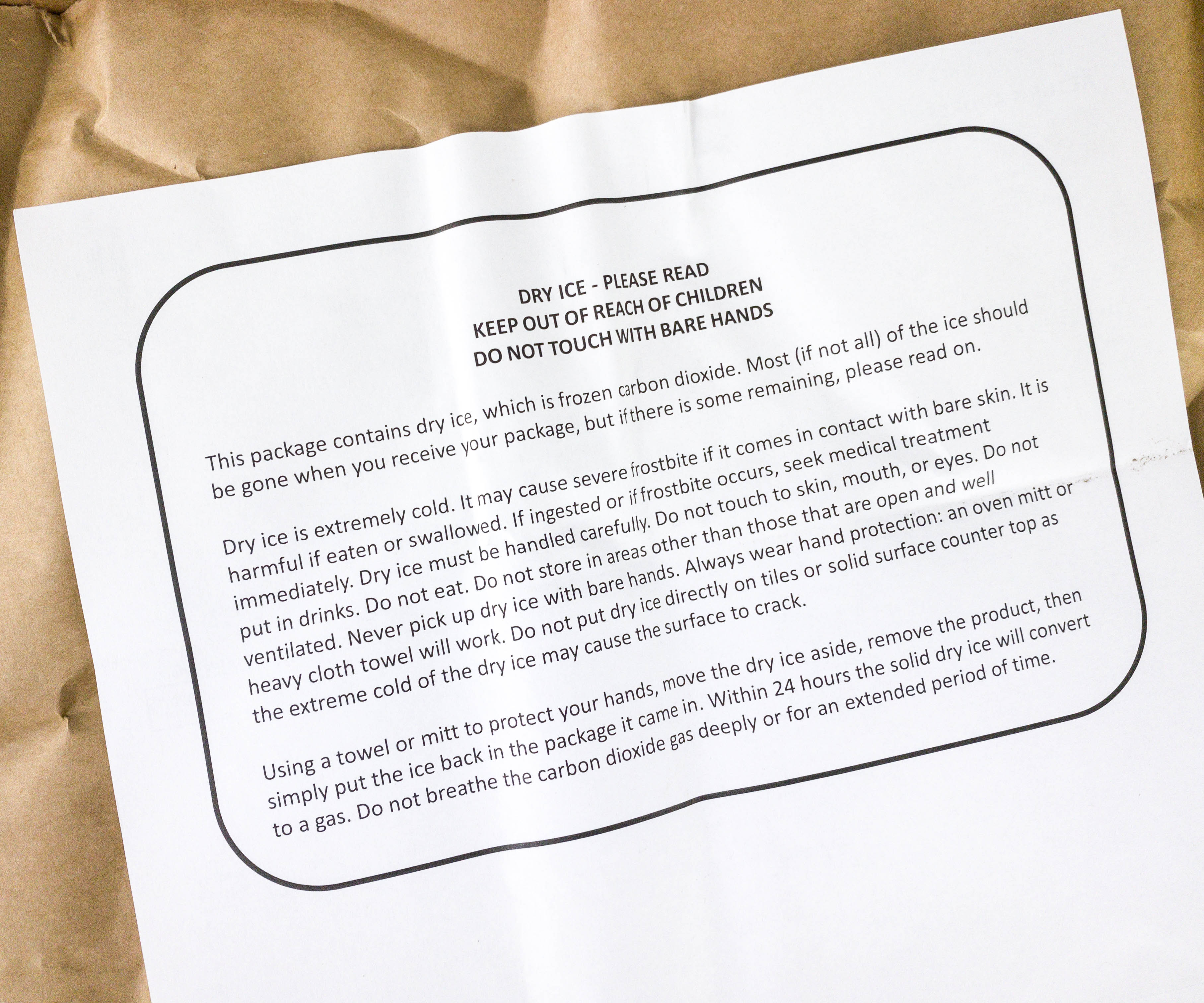 Inside the box is an instruction letter on how to properly handle the package. Their boxes and box liners are curbside recyclable.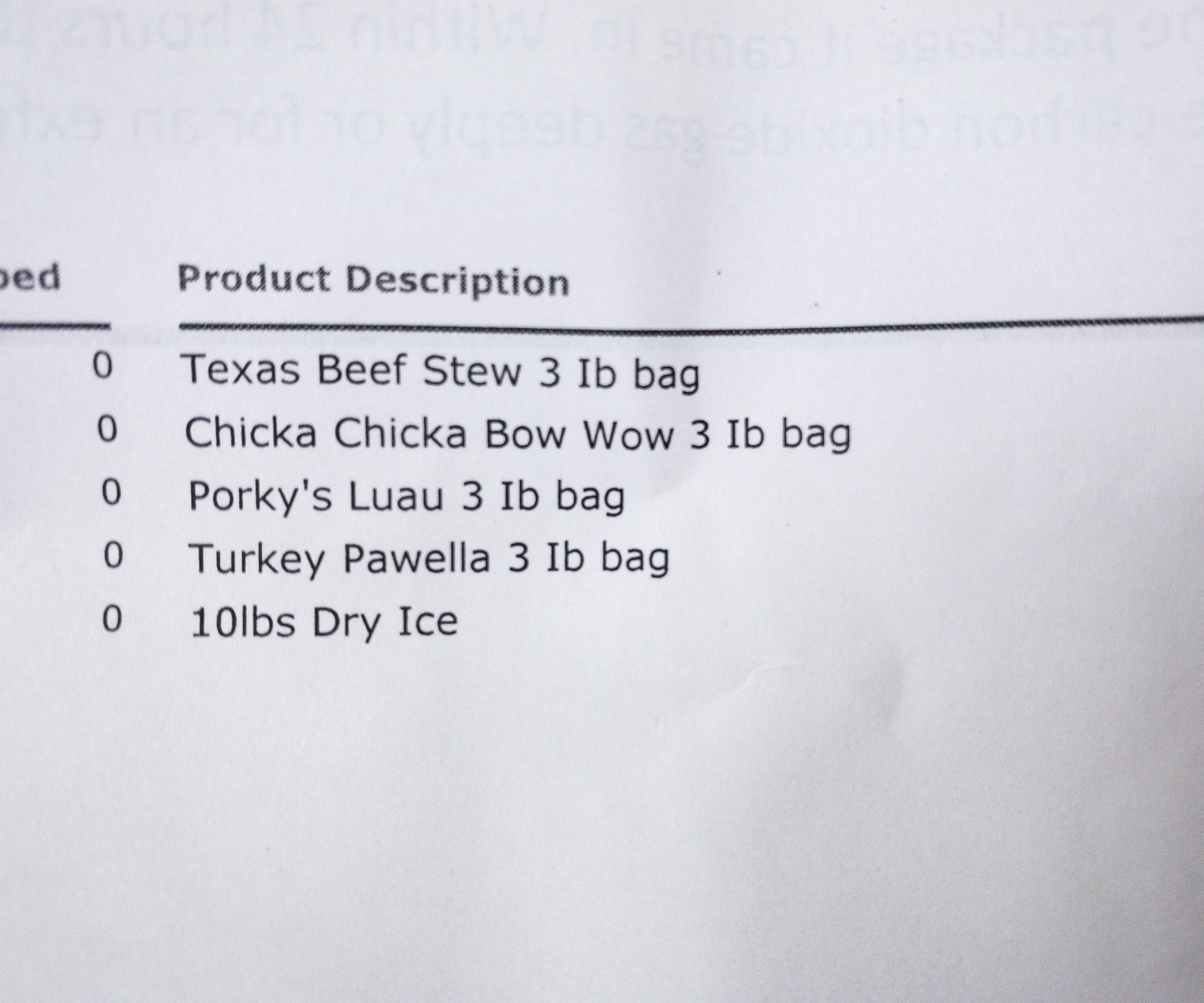 There's a sheet that lists all the items included in the box.
All the items were arranged inside an insulated bag topped with a large plastic bag of dried ice.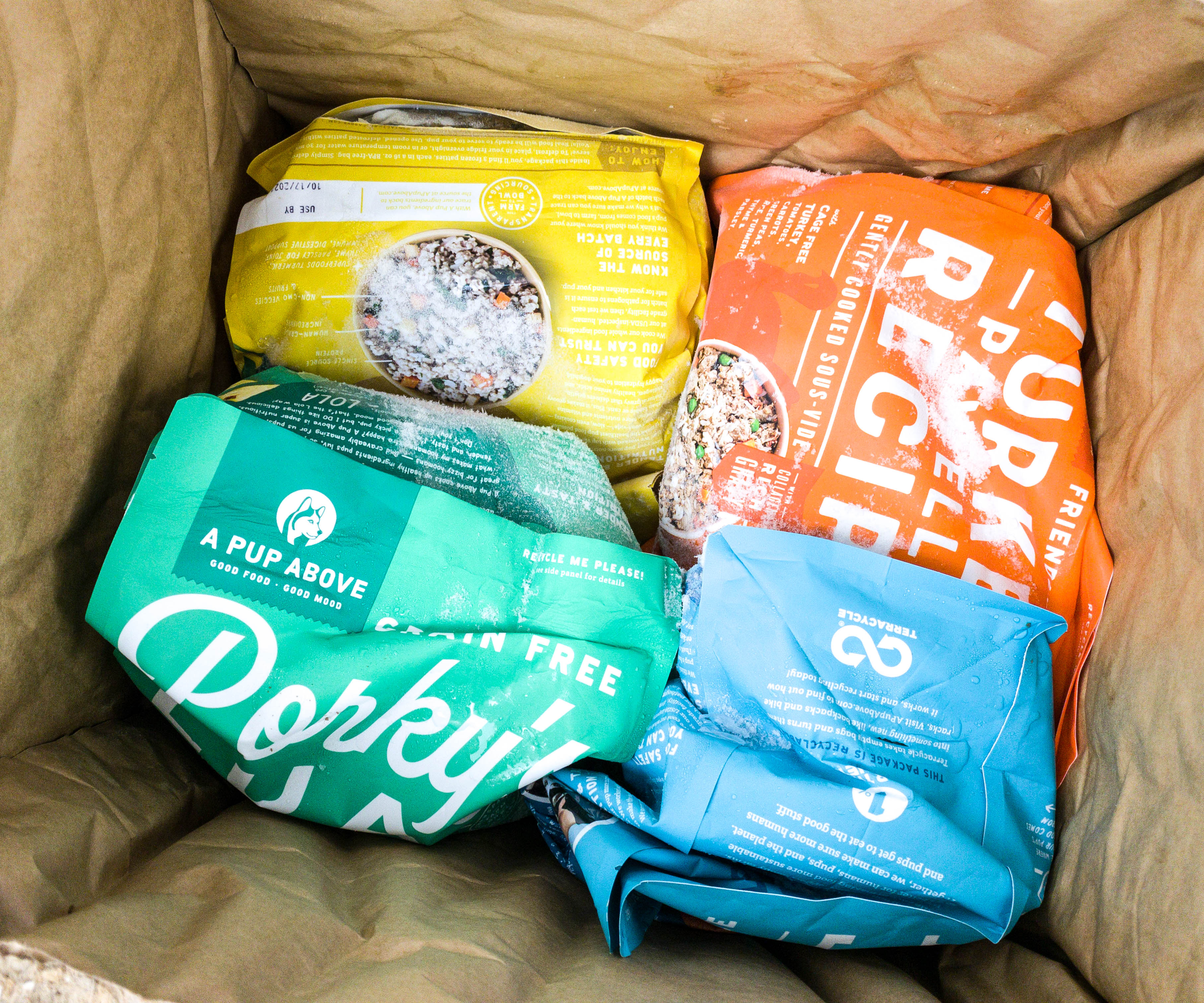 Inside the box are four different bags of dog food, neatly packed to make sure that they arrive in great condition.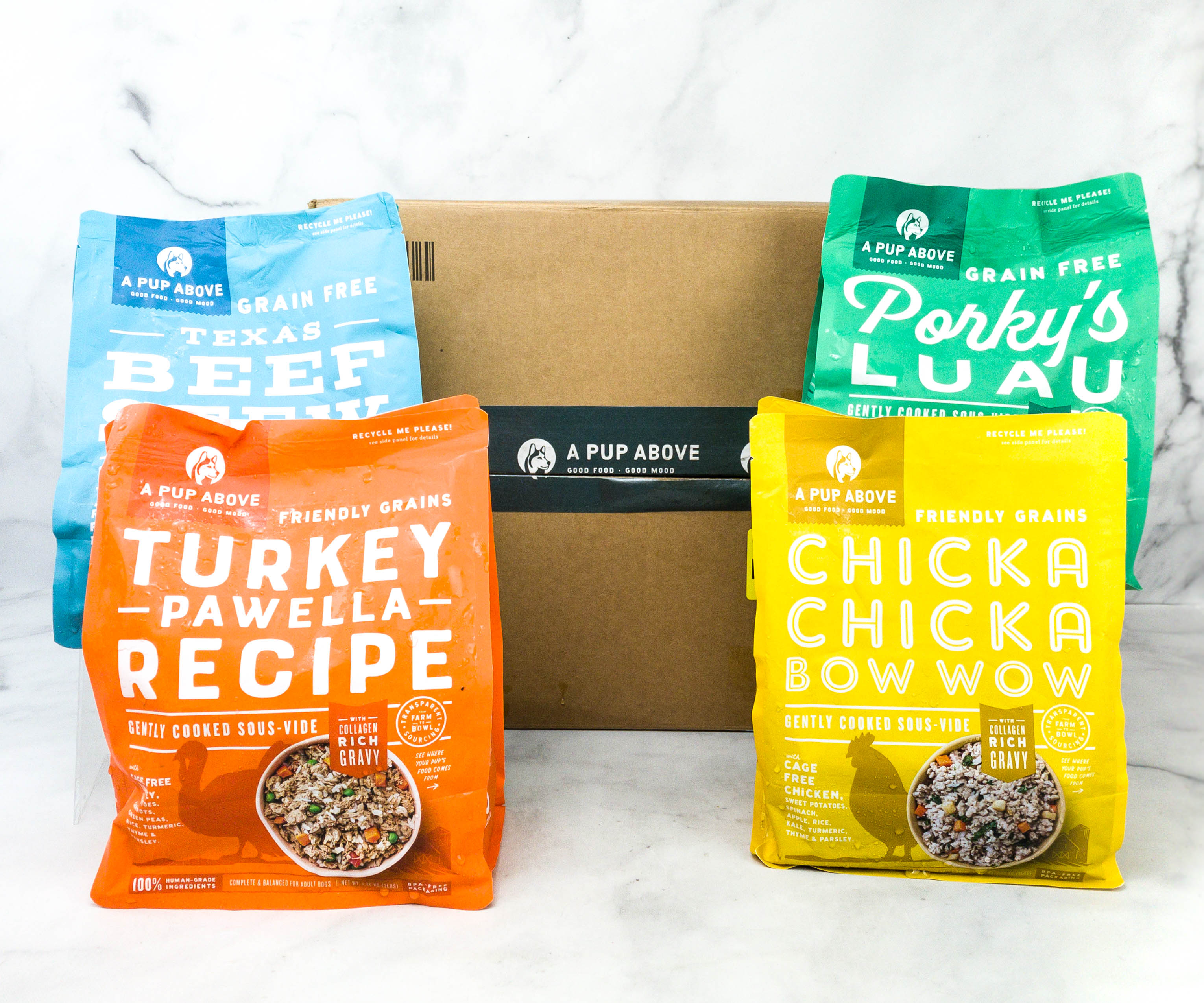 Everything in my box – the pups are trying all the flavors!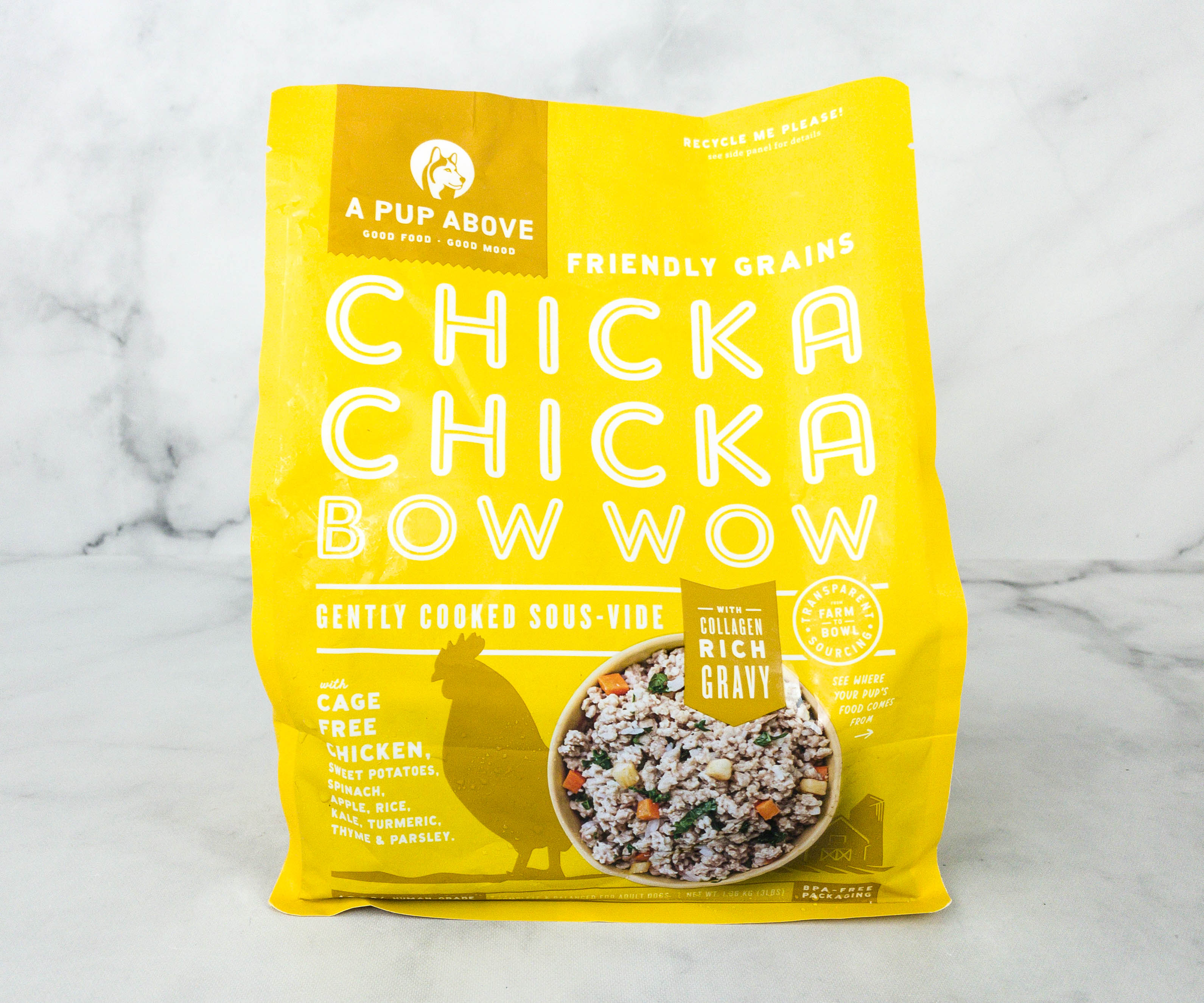 Chicka Chicka Bow Wow ($34.99) First up, here's the chicken-based meal made with human-grade ingredients. This is a great choice if your dog needs extra protein in their diet.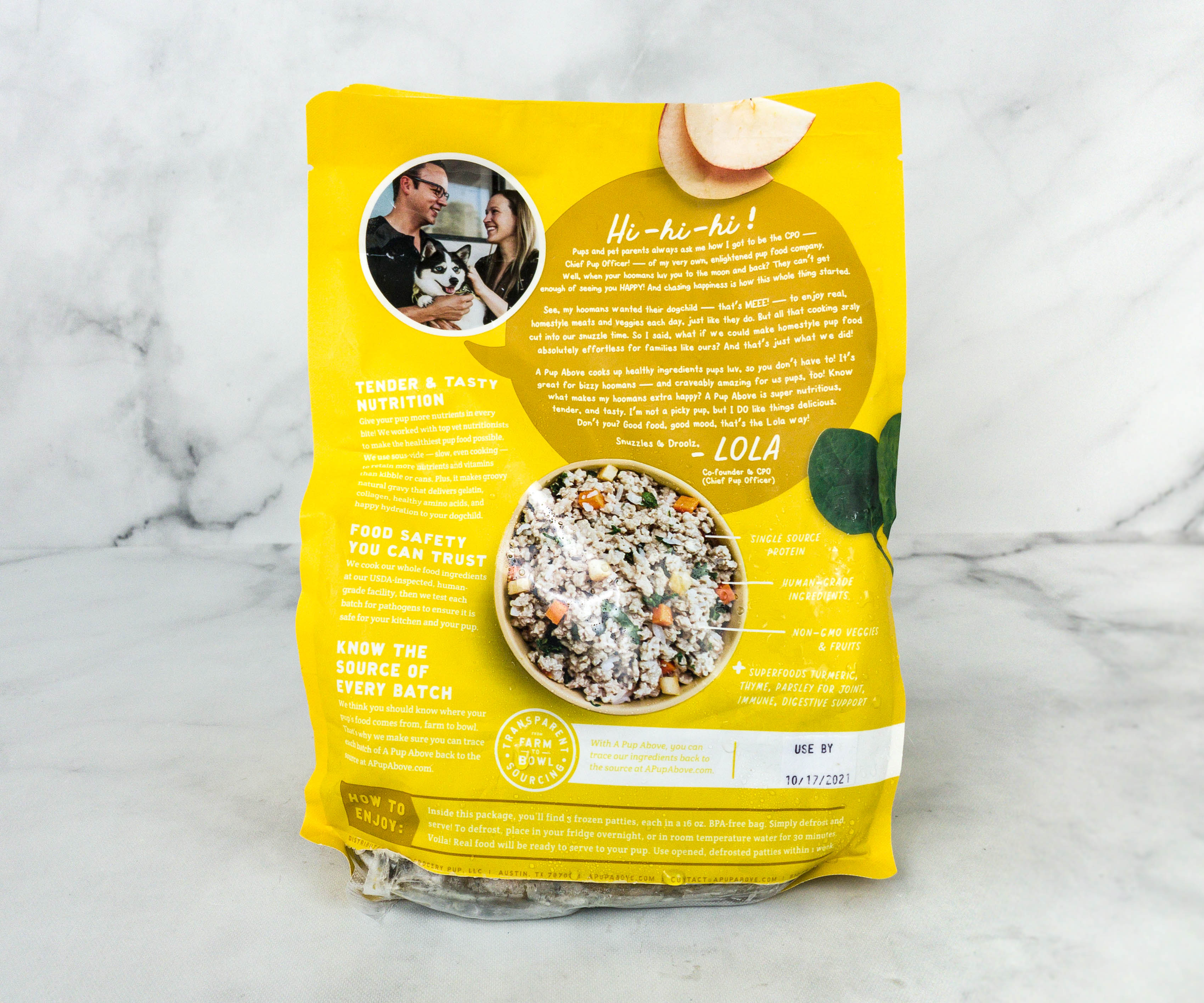 Aside from chicken, it also contains chicken, sweet potatoes, spinach, apple, rice, kale, turmeric, thyme, parsley, and Pup Above's own nutrient mix.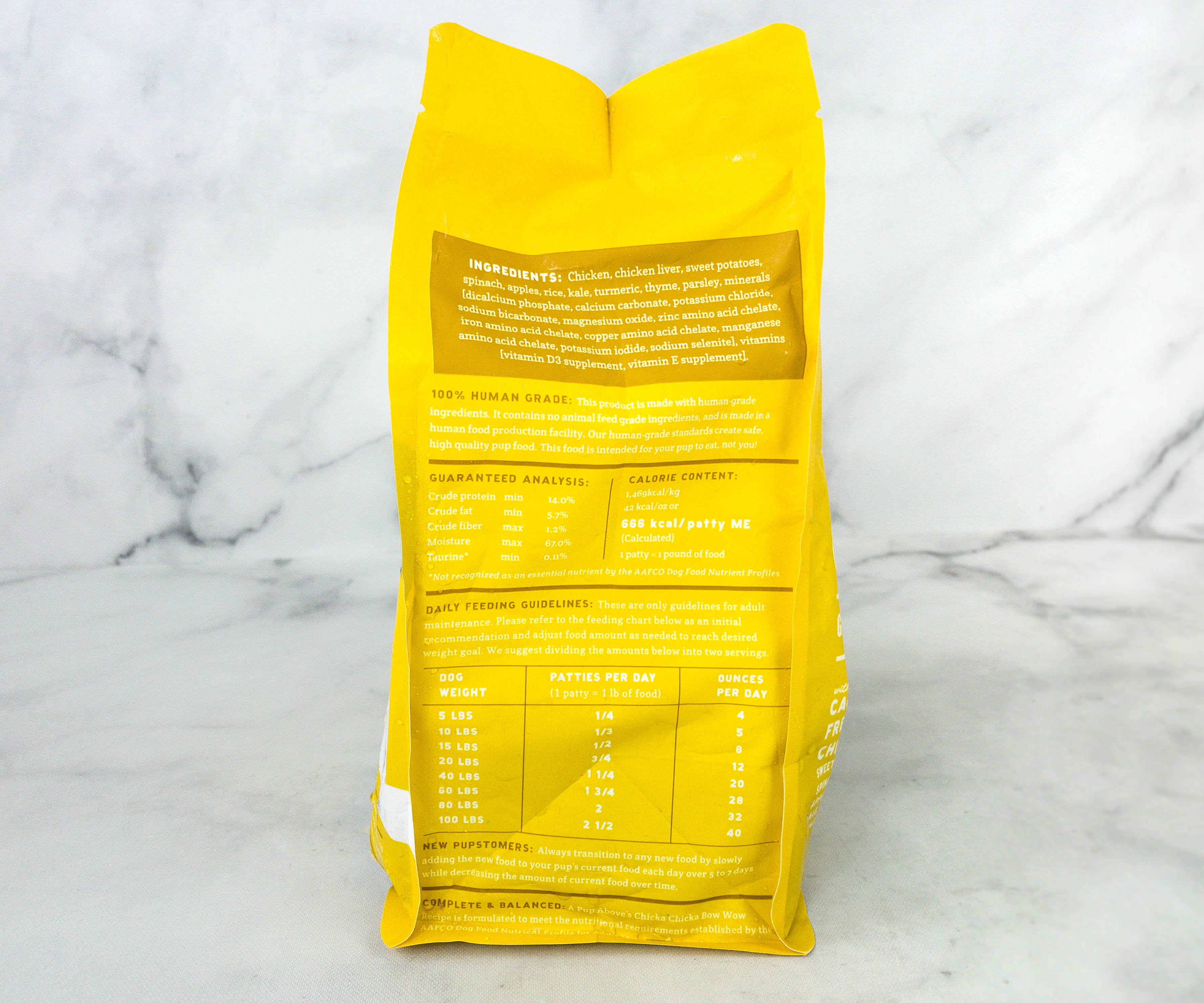 The blend of turmeric, thyme, and parsley helps support a dog's immune system and digestive system. They are also good for the joints!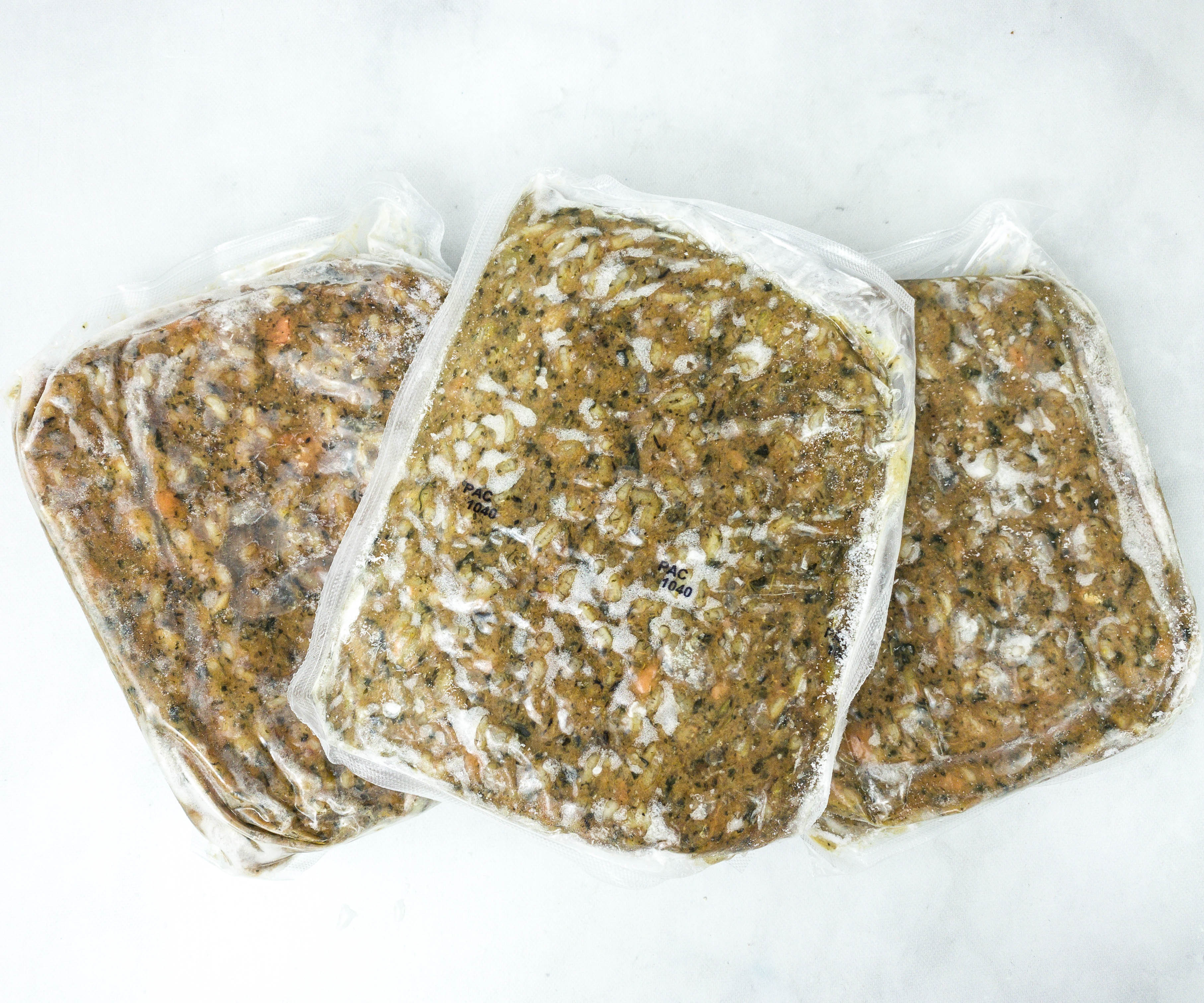 Inside the bag are three packs of frozen-solid, vacuum-sealed dog food.
It's quick and easy-to-prepare! All you just need to do is to defrost it and then transfer to a bowl. If your dog prefers warm food, you can add a bit of hot water to it as well.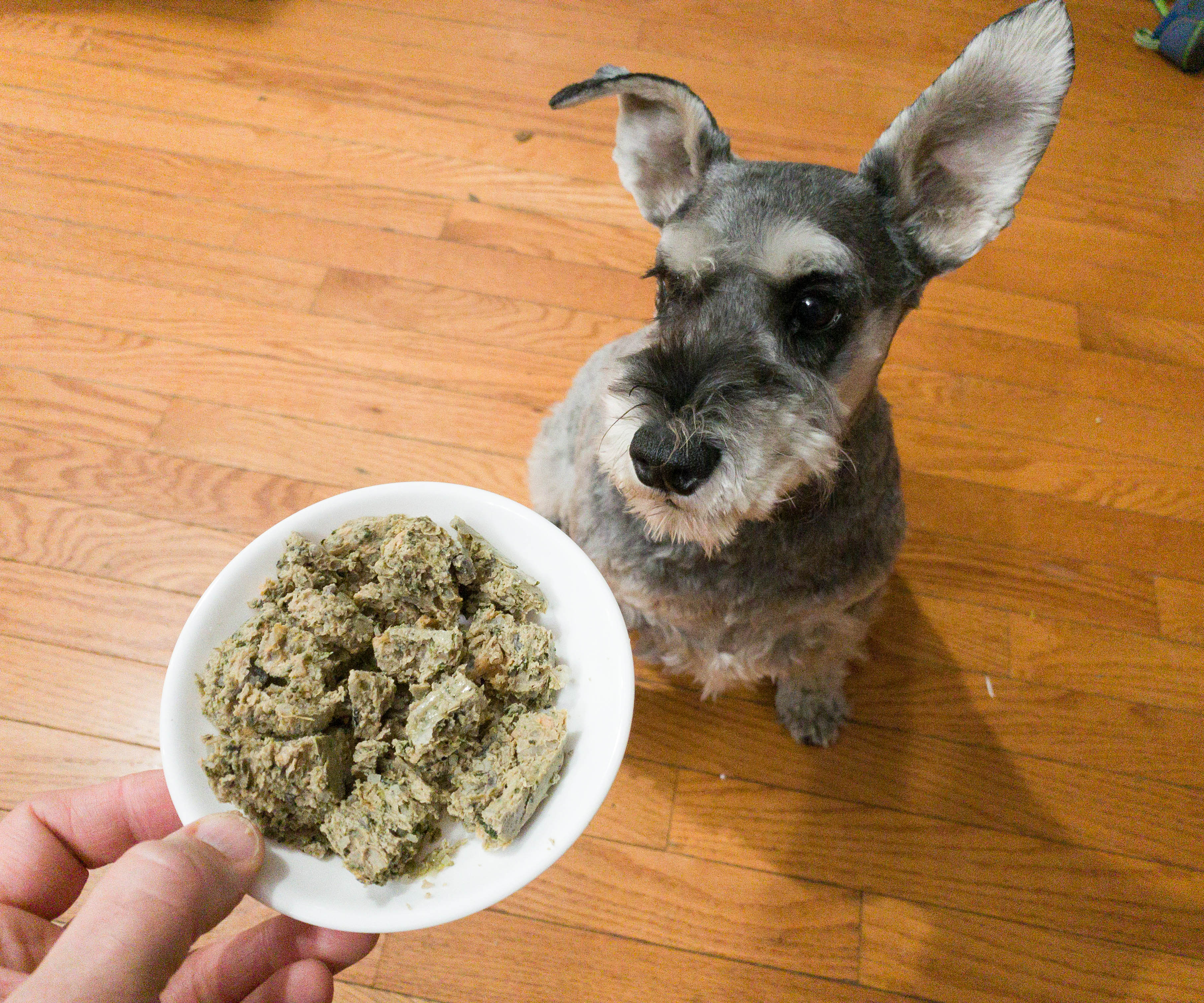 I served it straight from defrosting and Dean loved it!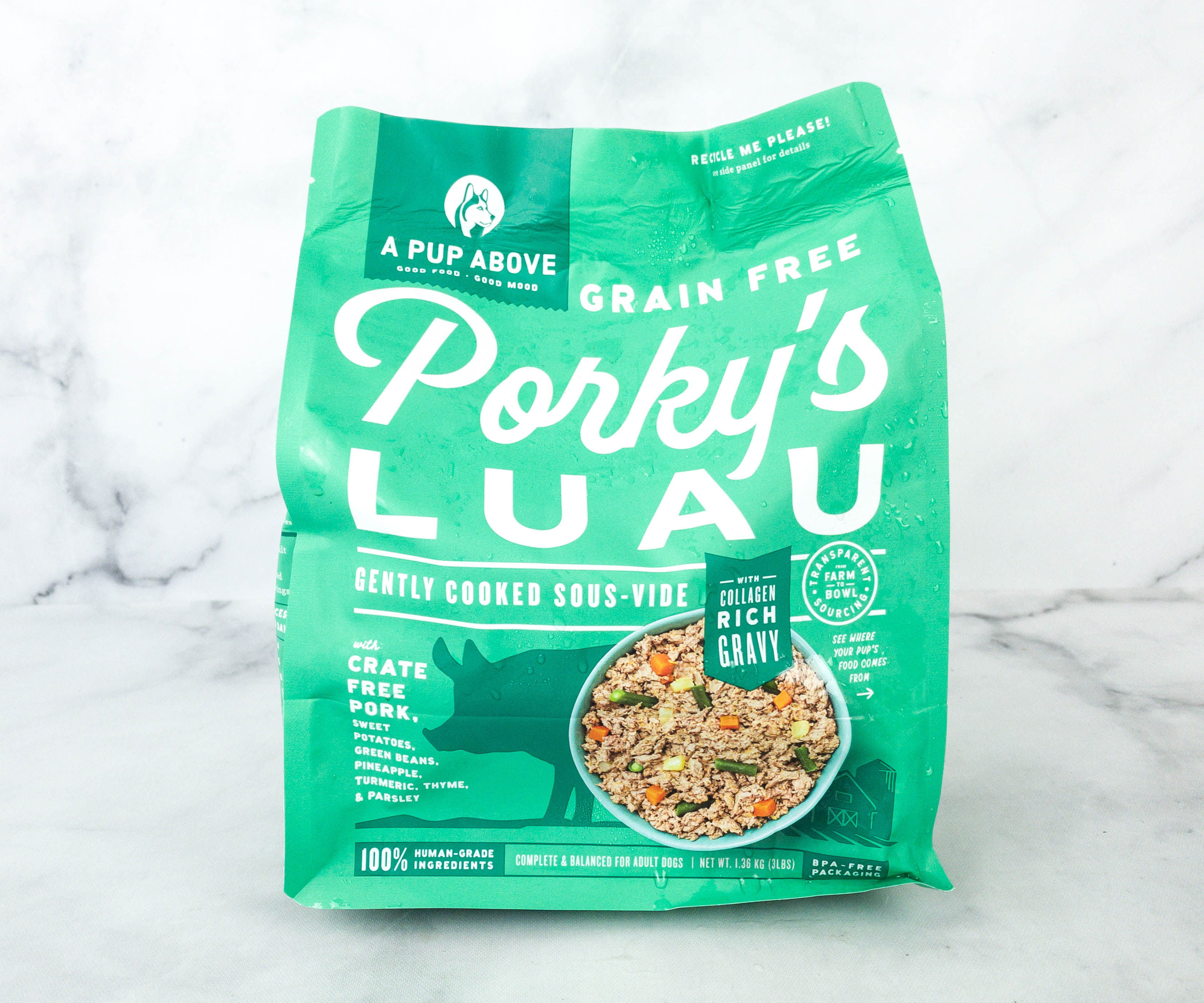 Porky's Luau ($34.99) This grain-free pork meal is rich in collagen that maintains their joint strength, as well as the condition of their nails and teeth!
The back of the pack features a simple breakdown and analysis of the food using the printed illustration. This dog food is made with non-GMO veggies and it also uses all-natural meat.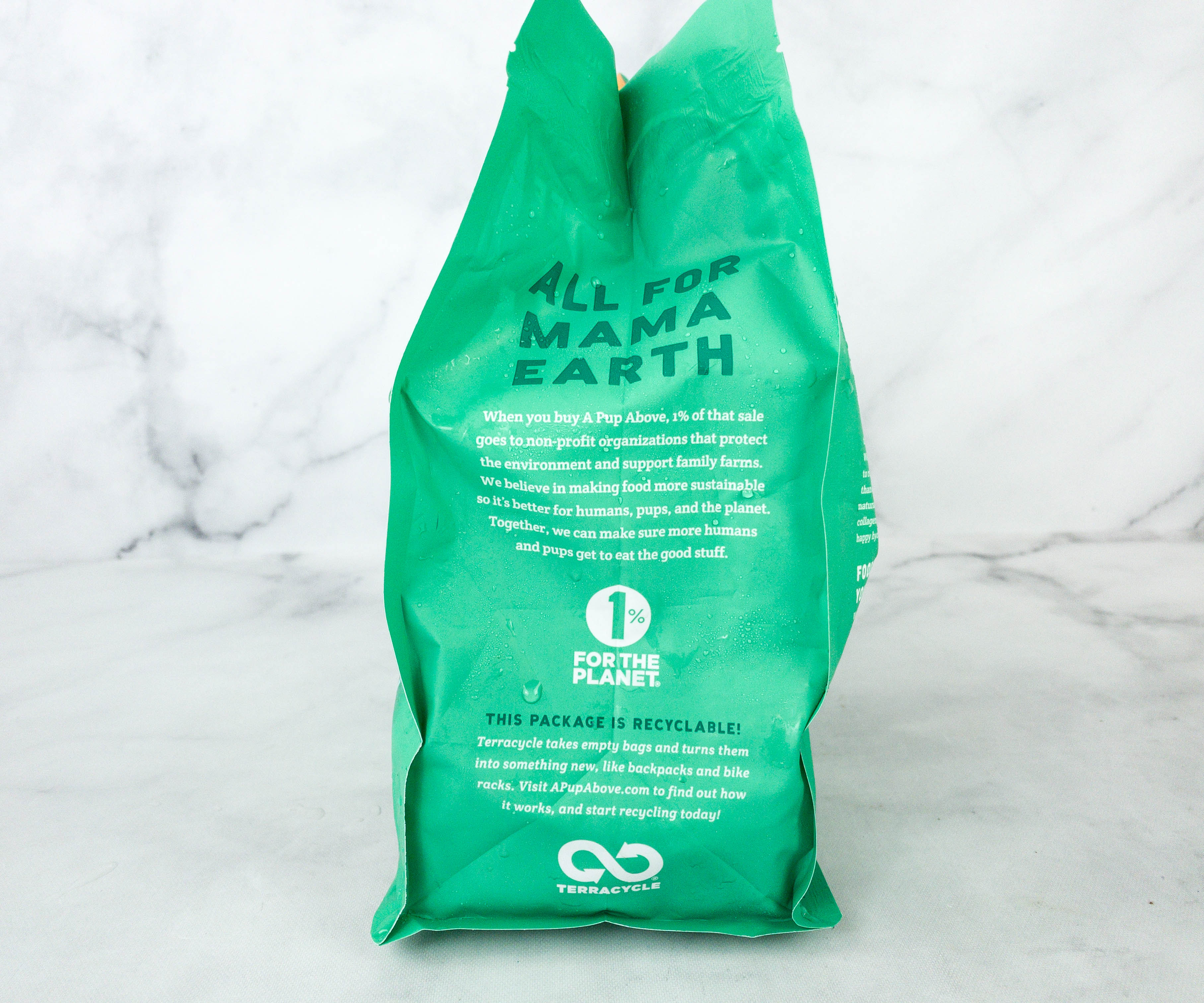 According to the packaging, 1% of their sales goes to a non-profit organization that protects the environment and supports family farms.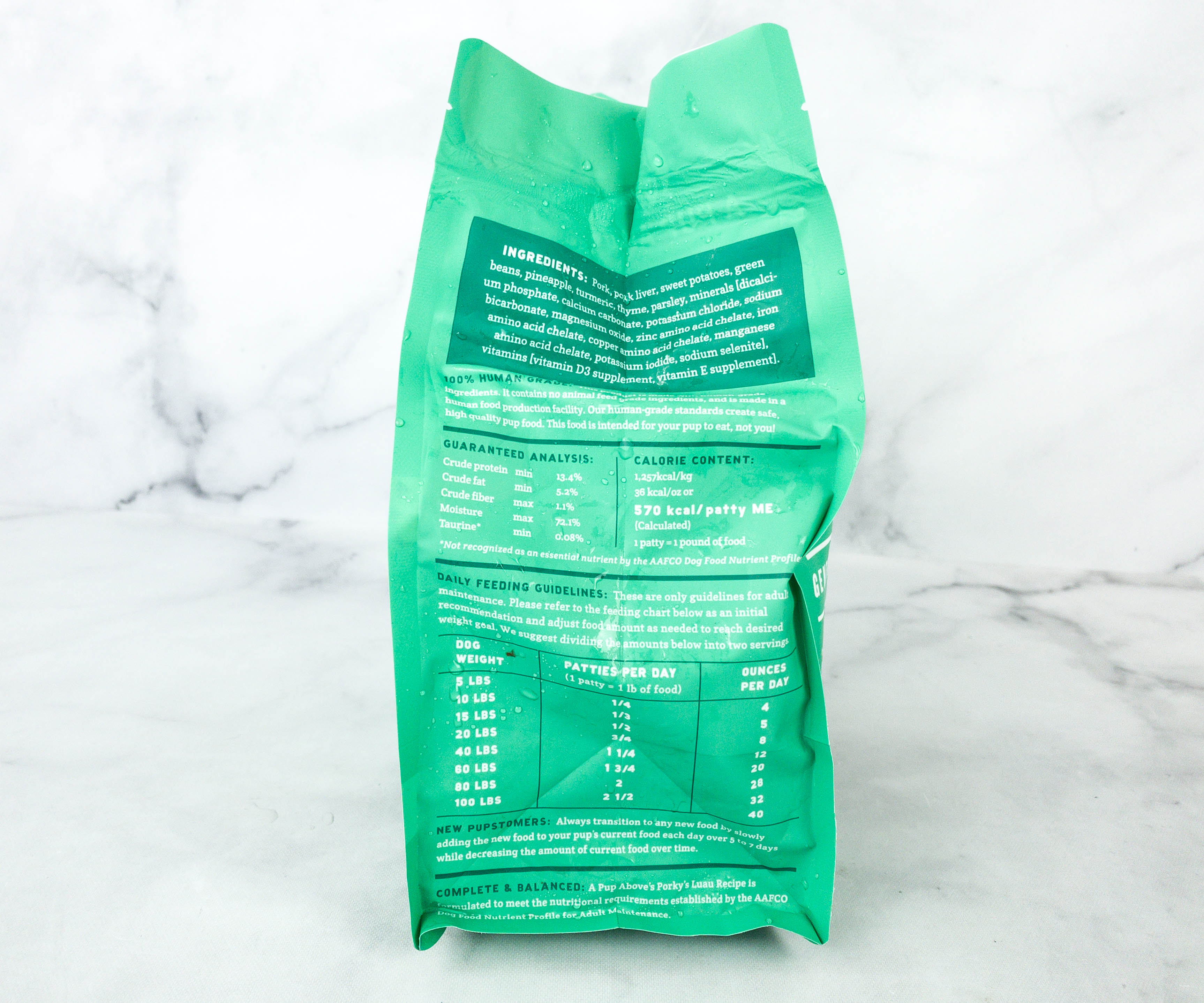 Aside from the anti-biotic free pork, this dog meal also contains sweet potatoes, green beans, pineapple, turmeric, thyme, and parsley.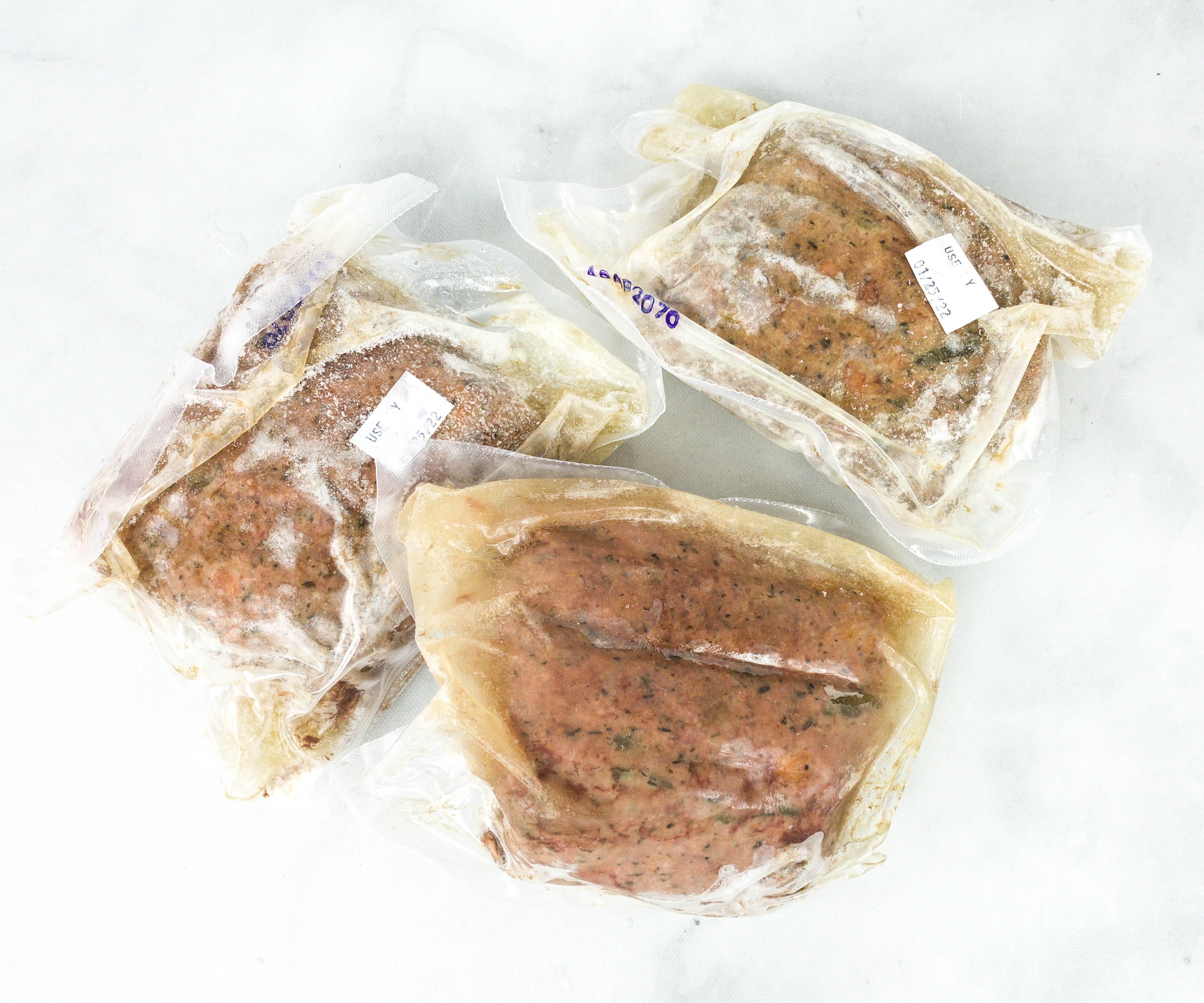 The pack also includes 3 bags of frozen dog food.
After transferring the meal on the plate, I could clearly see some bits of ingredients in the meal like green beans, sweet potatoes, thyme, and parsley.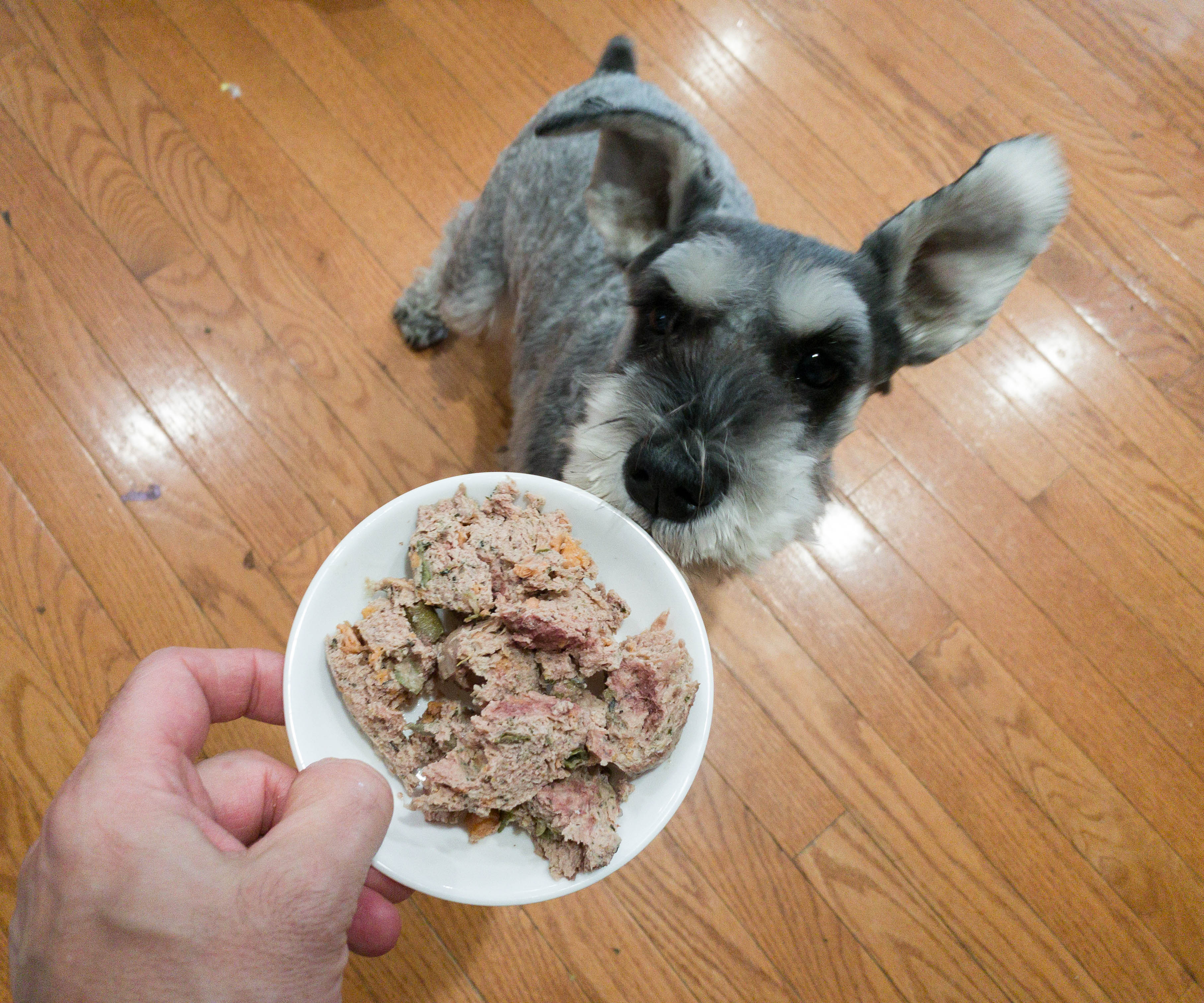 It's a different flavor, but my pup showed the same enthusiasm with the pork variant!
Texas Beef Stew ($34.99) Another great source of protein is beef! For this variant, they mixed ranch-raised beef with other healthy, human-grade ingredients such as tomatoes, green peas, carrots, potatoes, turmeric, thyme, and parsley.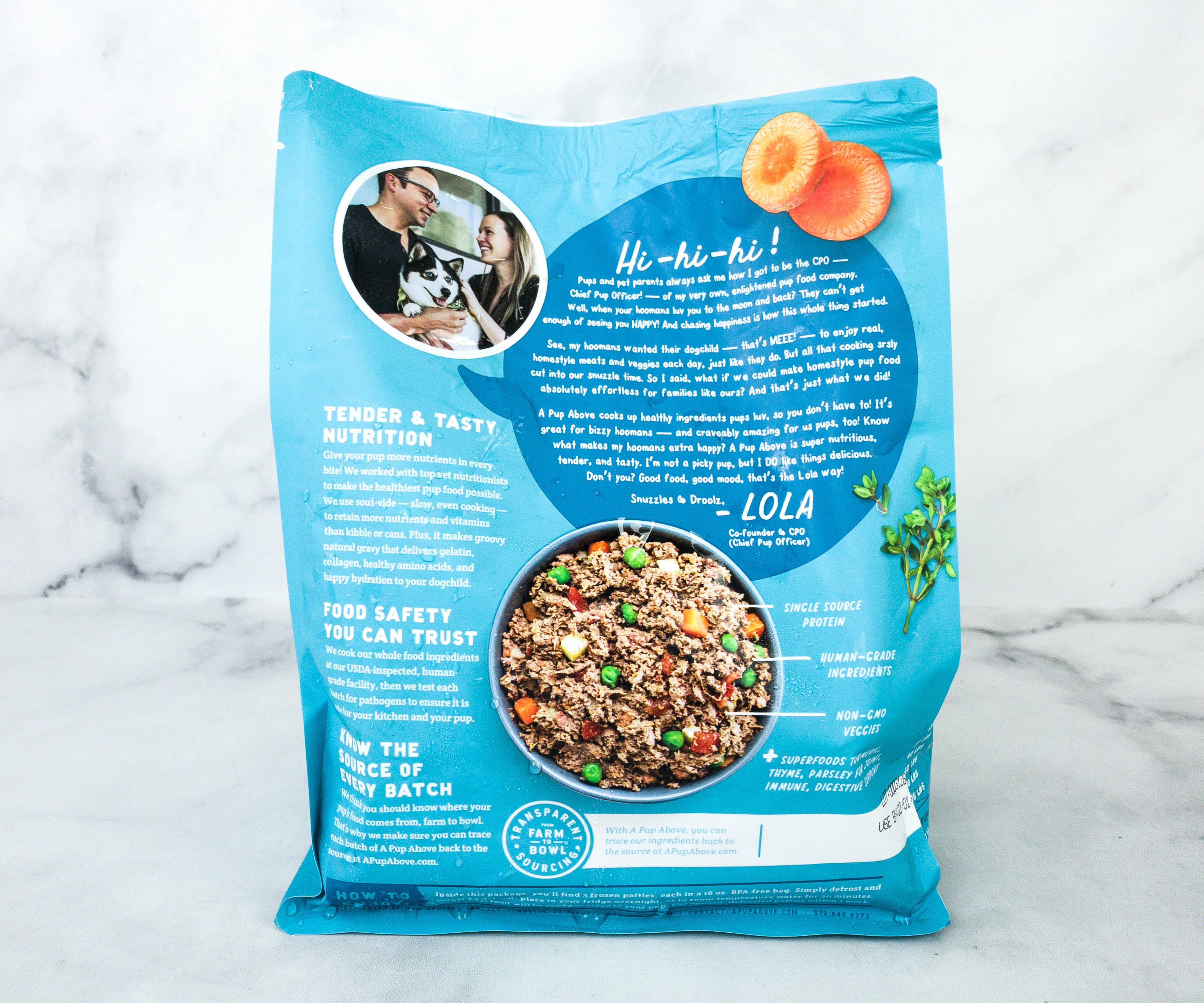 Another benefit dogs can get from beef is taurine, which is essential for heart health!
Just like the other meals, this one is made in a USDA human-grade facility!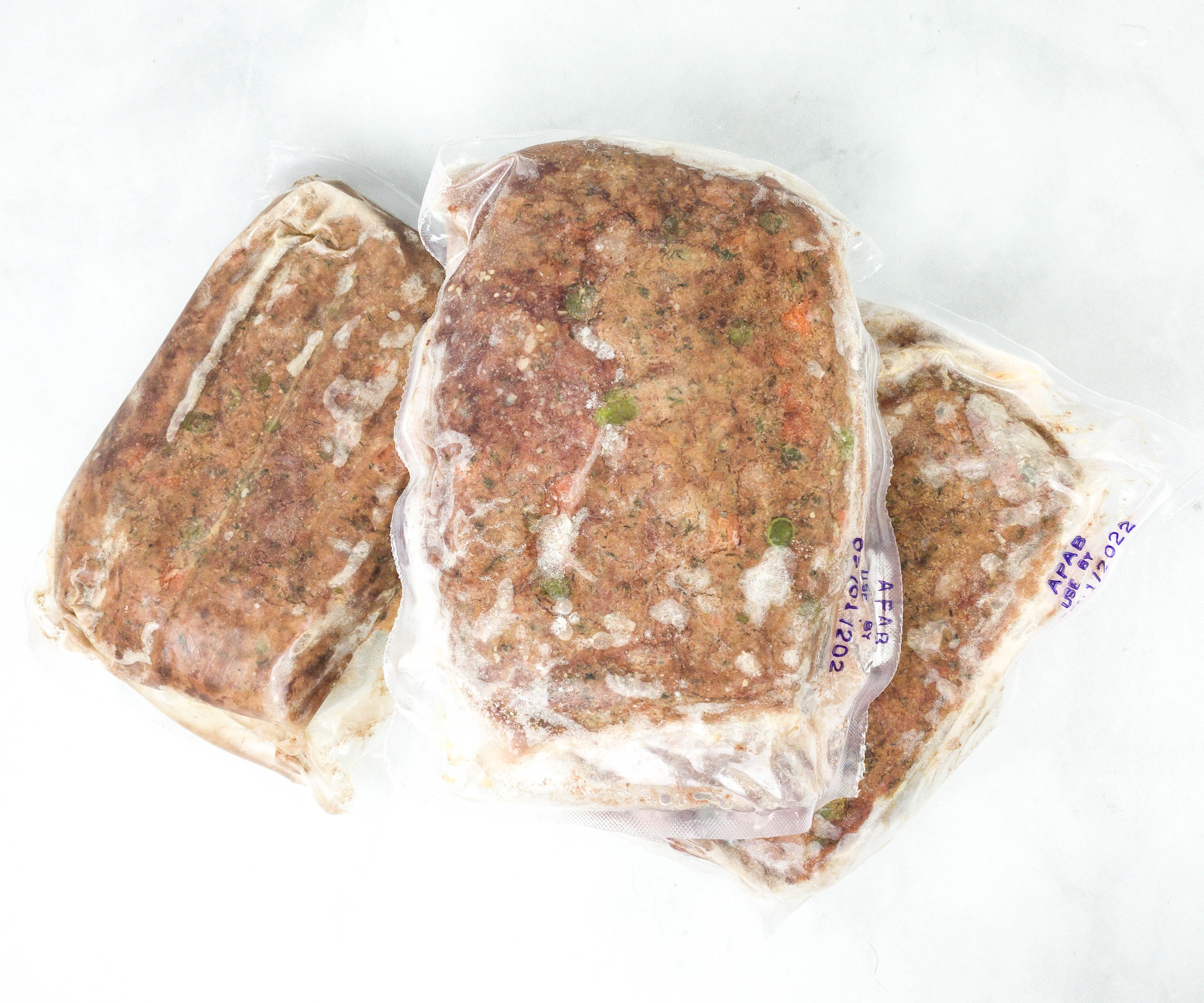 If this meal is kept properly, it can stay good up to January 2022!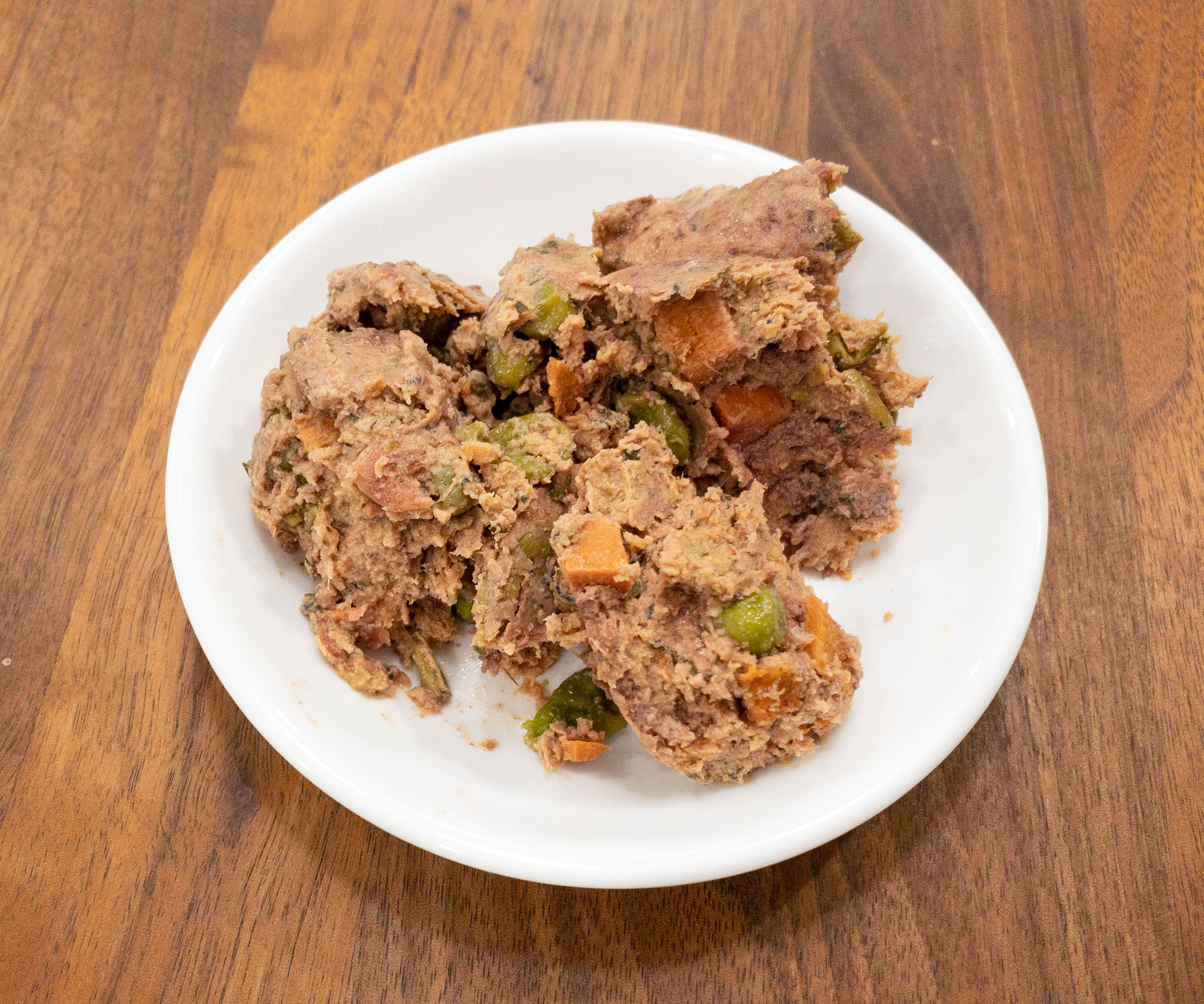 Here's a look at the beef meal! There is a generous amount of carrot and green peas in it!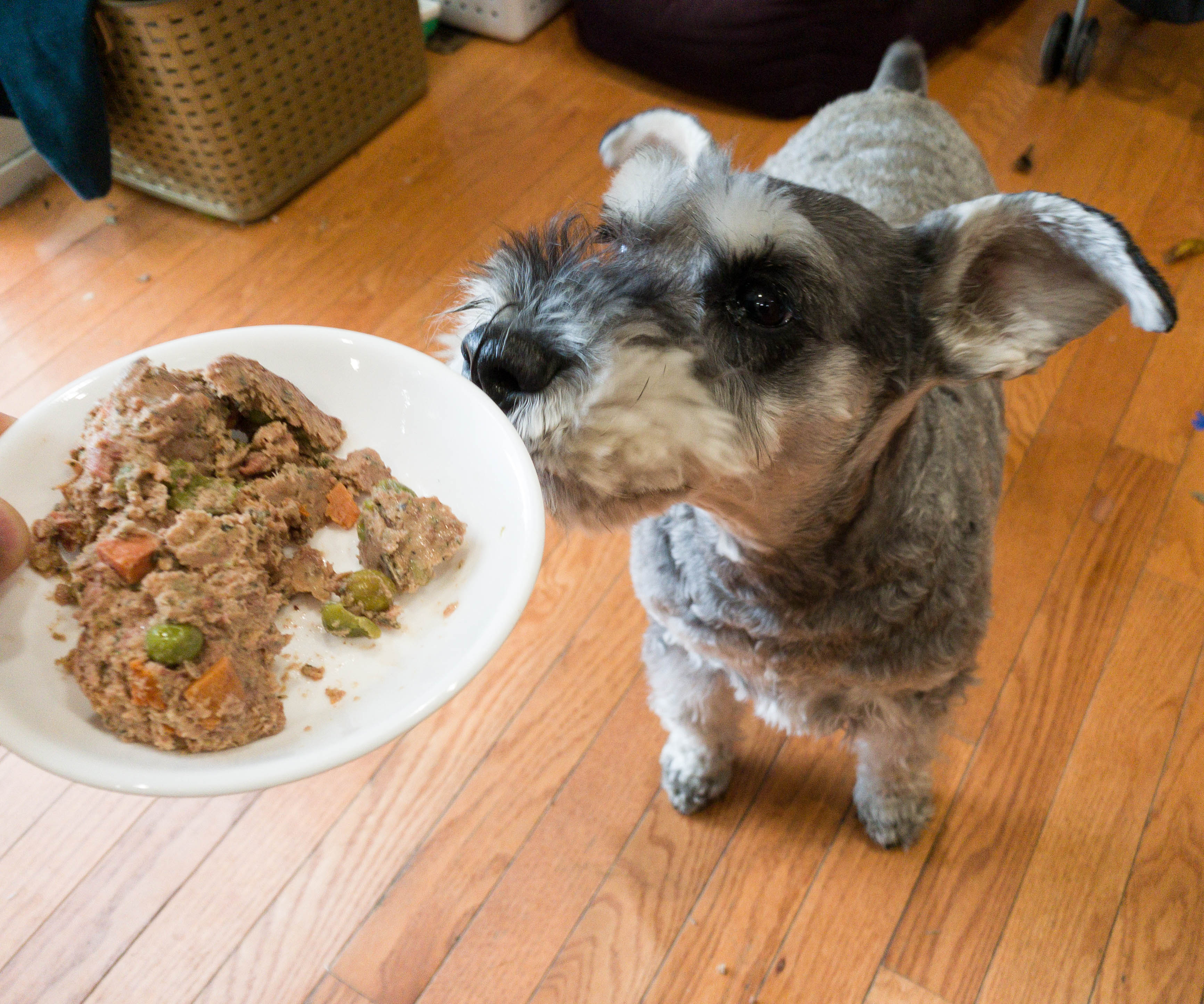 Dean sniffed it first, then devoured the meal after!
Turkey Pawella Recipe ($34.99) The fourth variant is made with turkey! It also contains tomatoes, carrots, green peas, rice, turmeric, thyme, and parsley.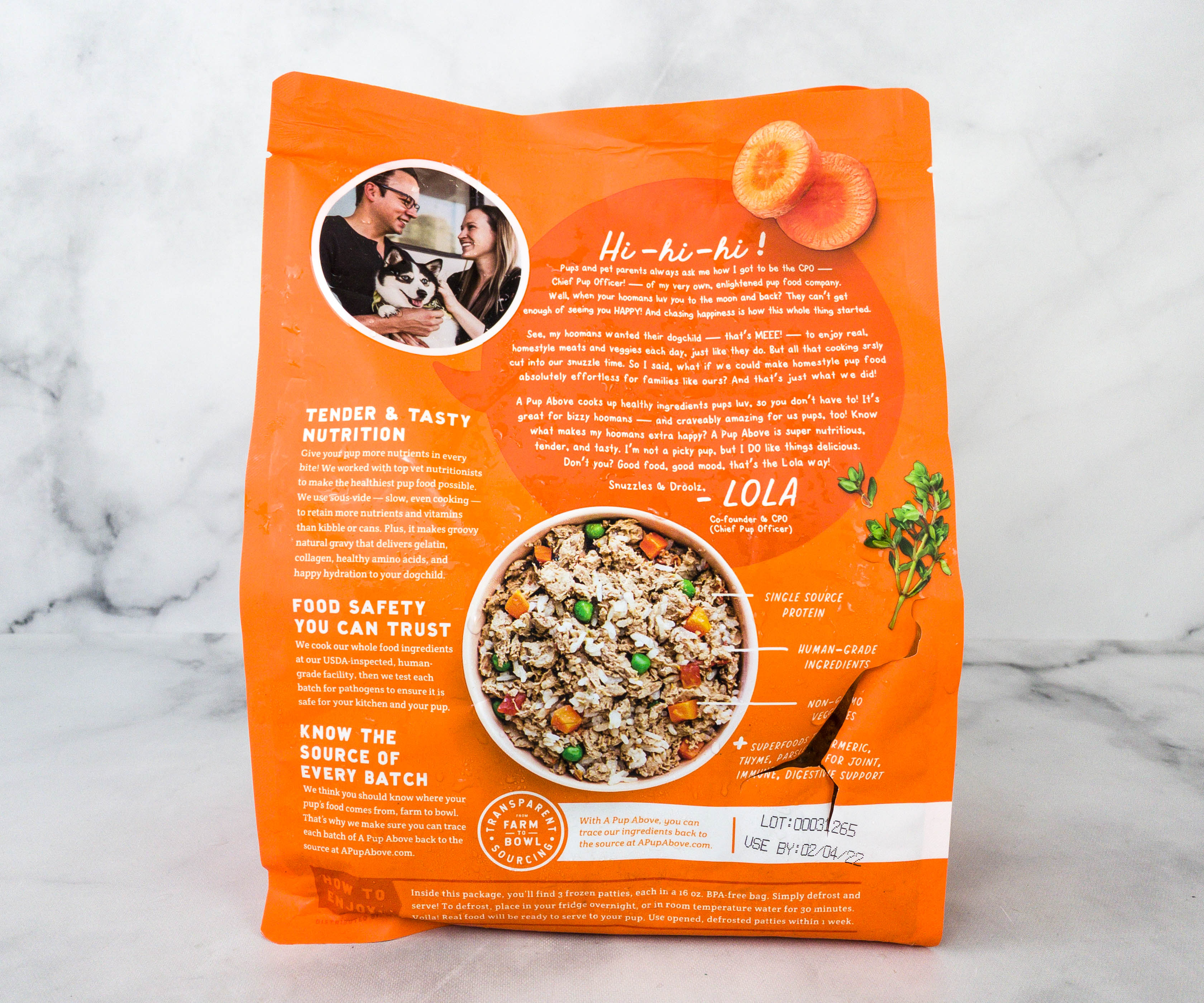 Turkey is rich in protein and helps build a dog's muscle.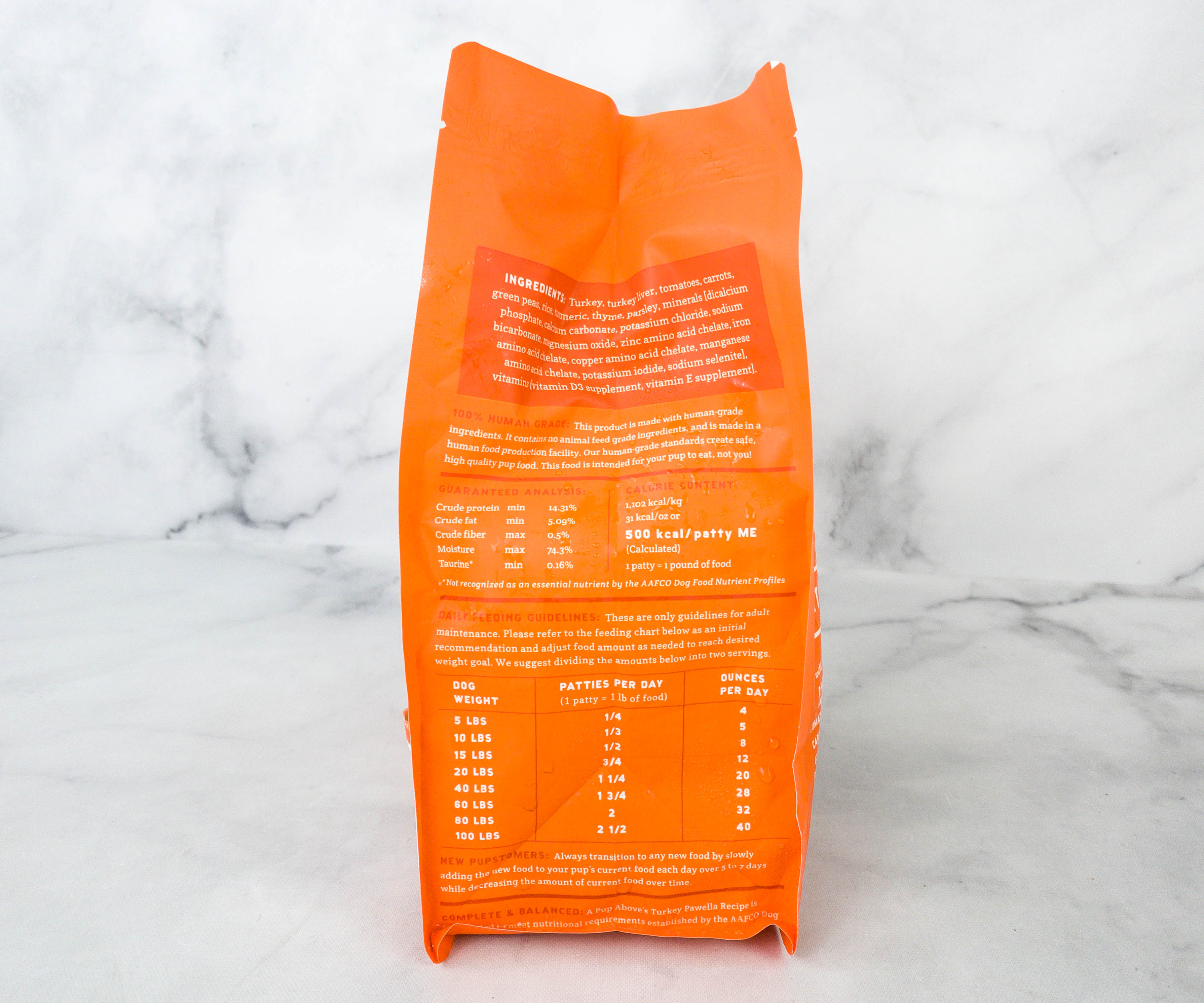 According to this side of the pack, each patty is equivalent to 1 pound with 500 kcal. per piece.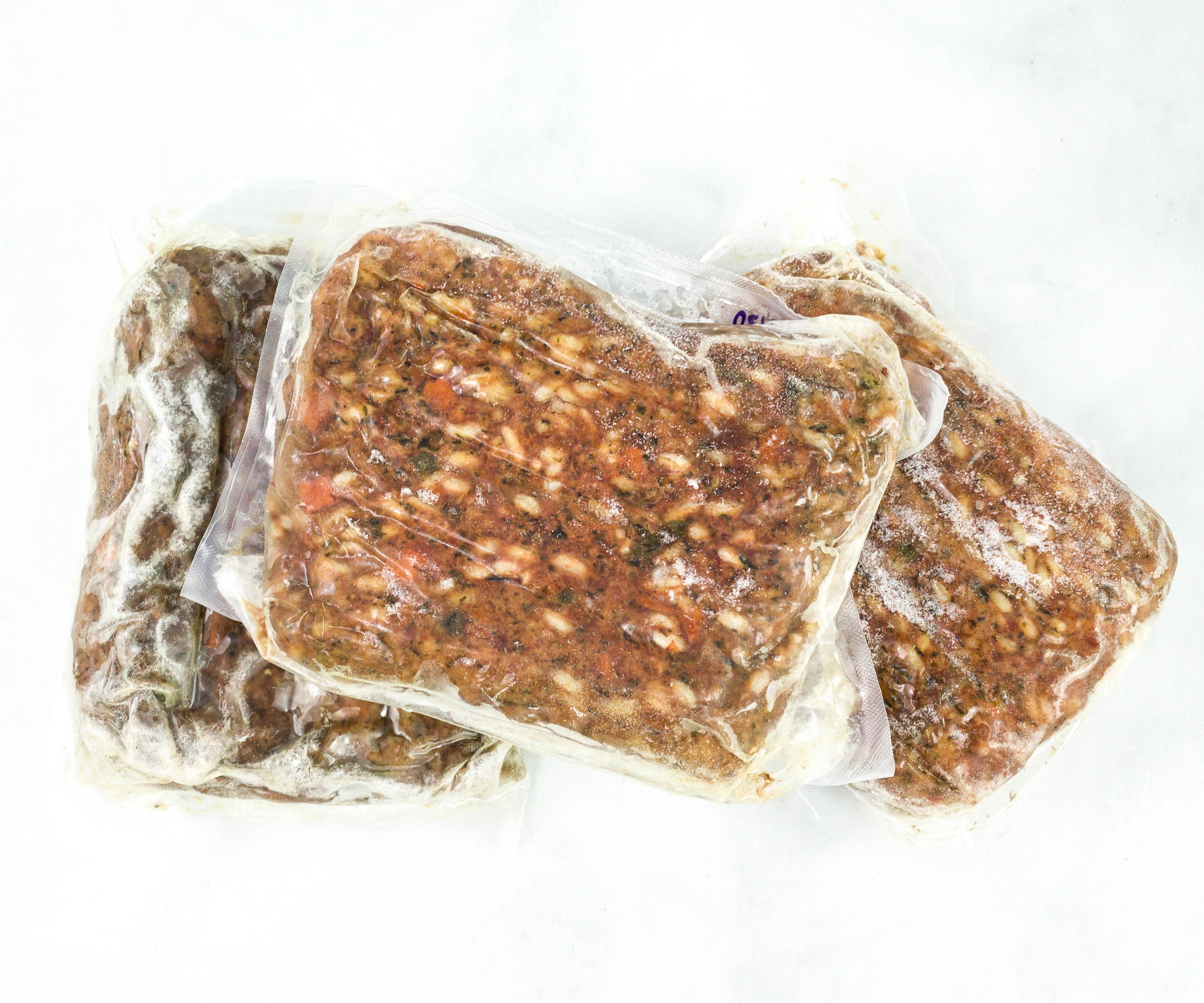 Here are the three separate packs of the turkey meal for dogs!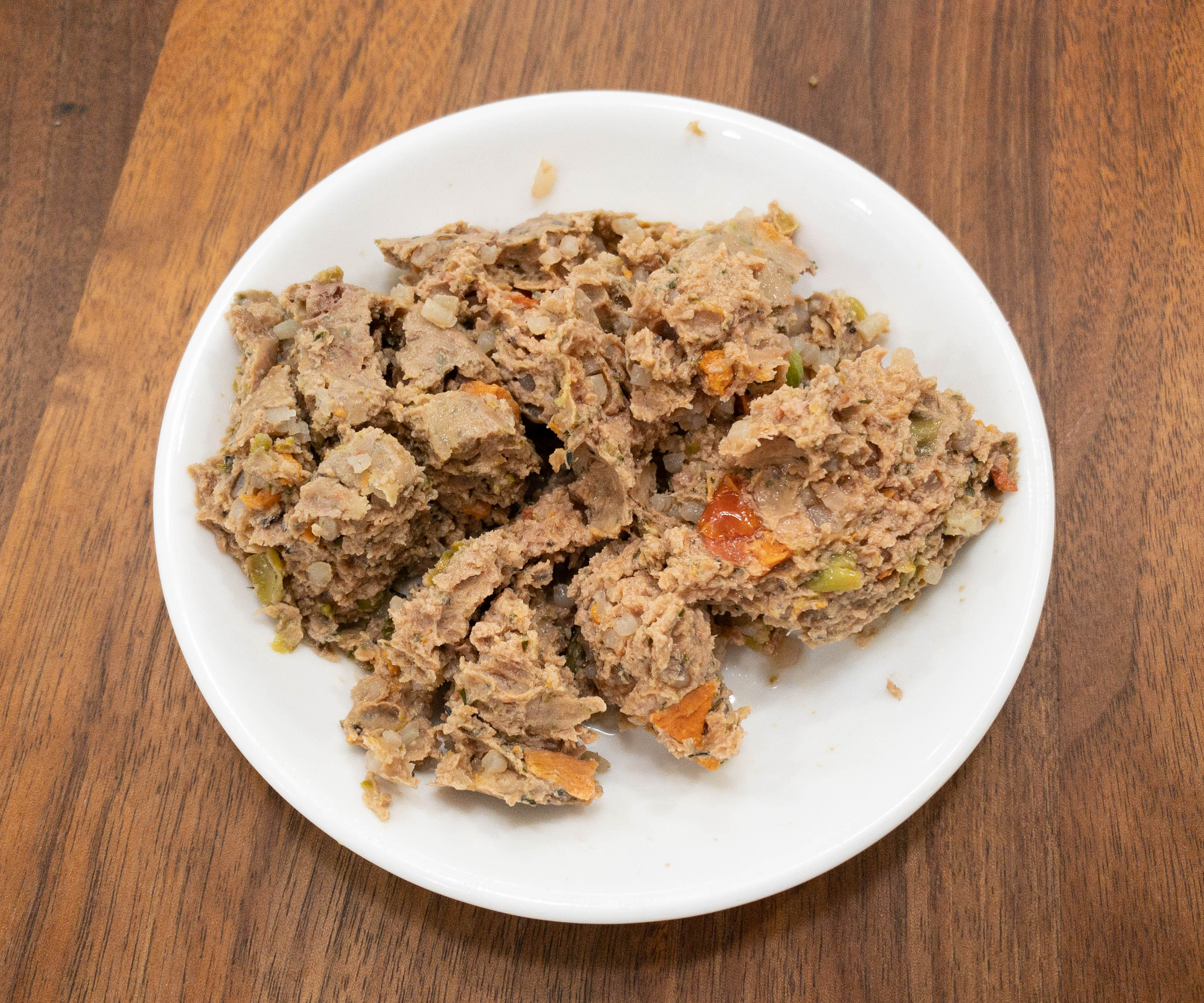 If your dog has allergies to beef or chicken, turkey is a good alternative option!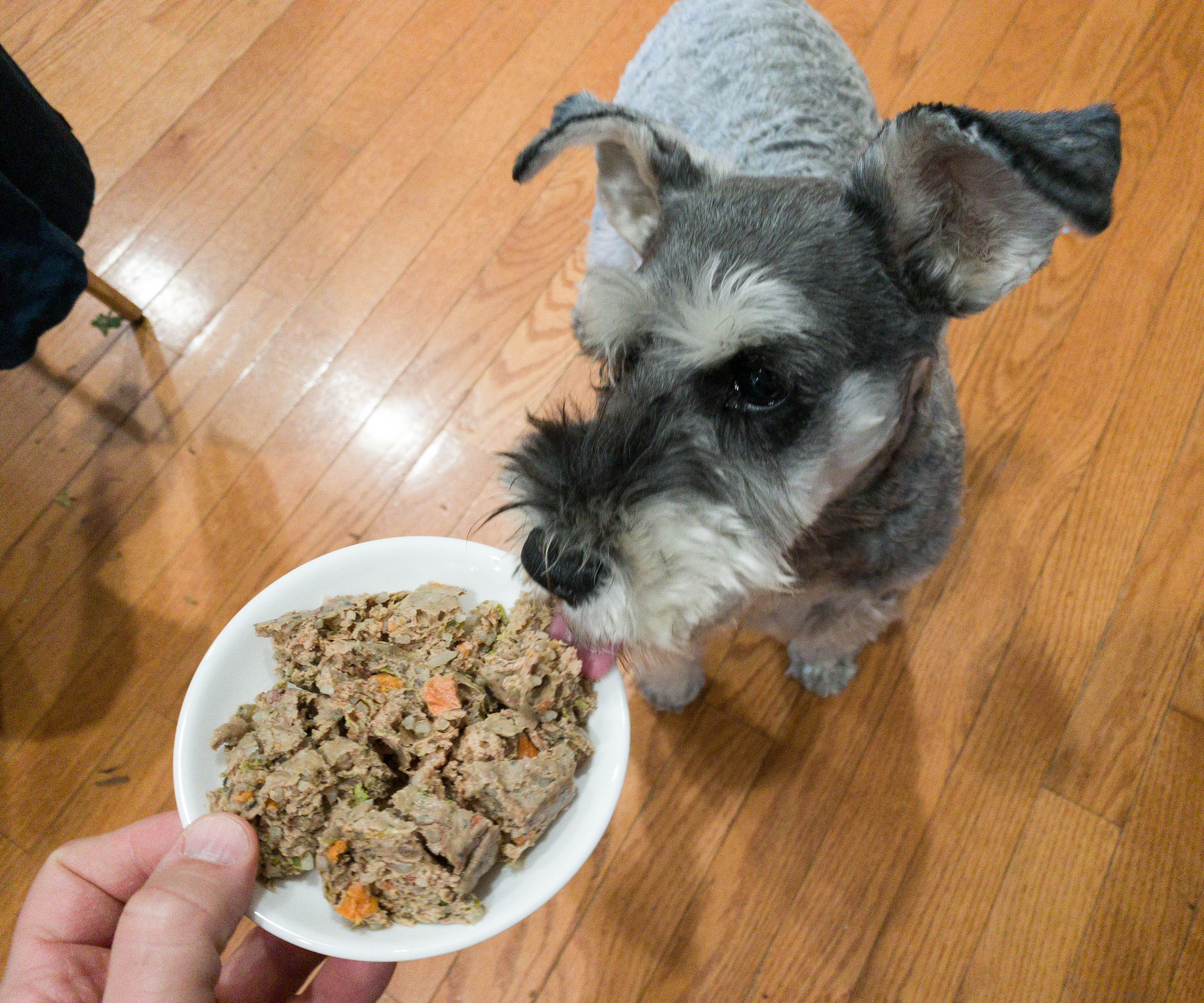 Judging by how Dean wagged his tail as he munched on this meal, he loved it so much!
A Pup Above box was absolutely amazing! All the 4 variants my pups tried were a hit. It's also good to know that they are not just tasty but absolutely nutritious for dogs as well. Most of them also had visible bits of veggies, so we really know that they're made of the real stuff only and none of the nasty fillers. The texture of the meals was just perfect! Even preparing the food was a breeze because all I had to do was defrost it and then serve. This healthy dog food subscription is definitely ideal for busy pet owners or simply if you want healthier food for your beloved pups! The Sampler Pack is a great way to test which variants your dogs love, but if you want to get just one flavor for a picky pup, you can do that as well!
What do you think of A Pup Above?