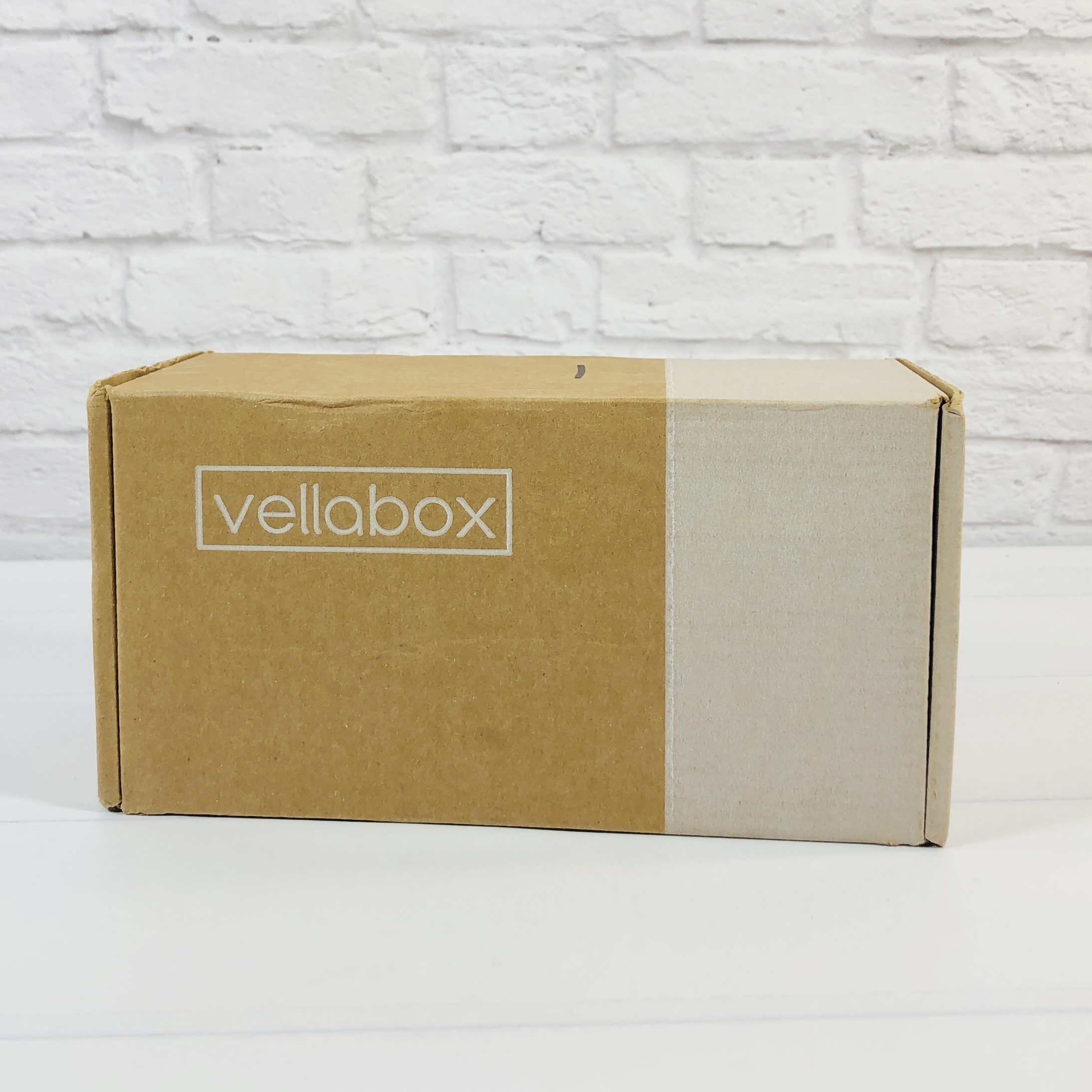 Vellabox is a monthly candle subscription! The candles are always in seasonally inspired scents and are created by the finest American artisans. Each box features a different candle brand. The candles are from small businesses and are made of all-natural wax, cotton braided wicks, and premium fragrance oils. Vellabox also includes a surprise lifestyle gift in every box!
Our Vellabox Candle Curator handpicks the candles and guarantees that they are always all-natural, seasonally relevant and bound to bring warmth and joy to any space. The surprise gift in your box each month is chosen carefully to align with our team's health-centric values.
DEAL: Get $5 off any purchase! Use coupon code HELLOSUB5.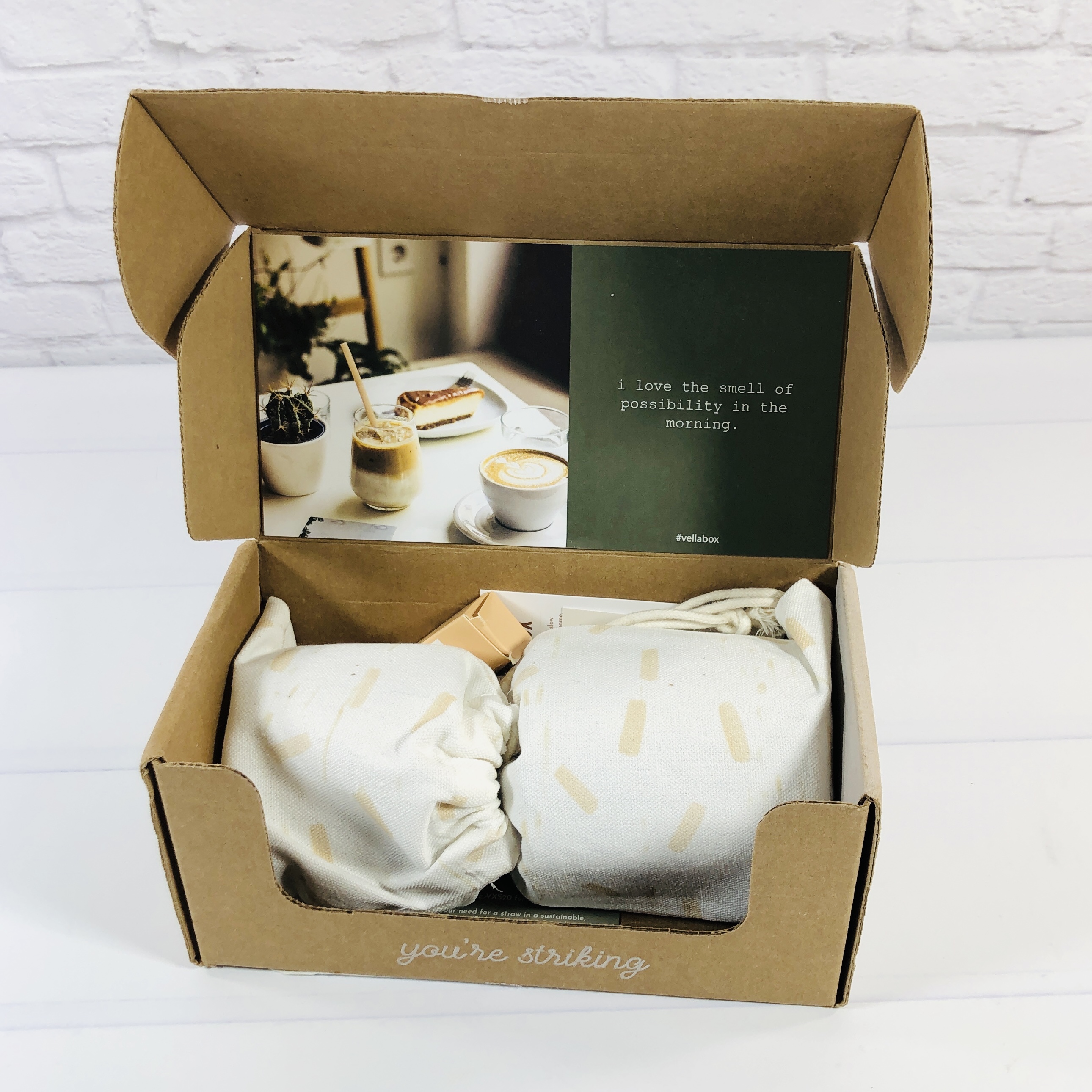 The first thing you need to do is decide which level you prefer. You can choose from The Lucerna Box ($10) which includes a 4 oz candle monthly, The Ignis Box ($20) with an 8 oz candle monthly, and The Vivere Box ($30) with an 8oz + a 4 oz candle monthly. Each level receives the bonus lifestyle gift, and the biggest box includes free shipping.
I am reviewing The Vivere Box.
The candles were in reusable drawstring canvas bags. The bags can hold items like jewelry or other trinkets.
There was a card with info on the brand, Bookend Candle Co., and a coupon code for future purchases from the featured brands!
We offer 100% soy candles without dyes or phthalates and with cotton wicks. We stay as natural as possible without compromising quality and affordability. Each candle has been lovingly hand-poured, and each fragrance has been personally curated and blended (so please allow for small inconsistencies!). All of our products are vegan and neither we nor any of our direct vendors test on animals. We also do our best to keep our use of plastics to a minimum.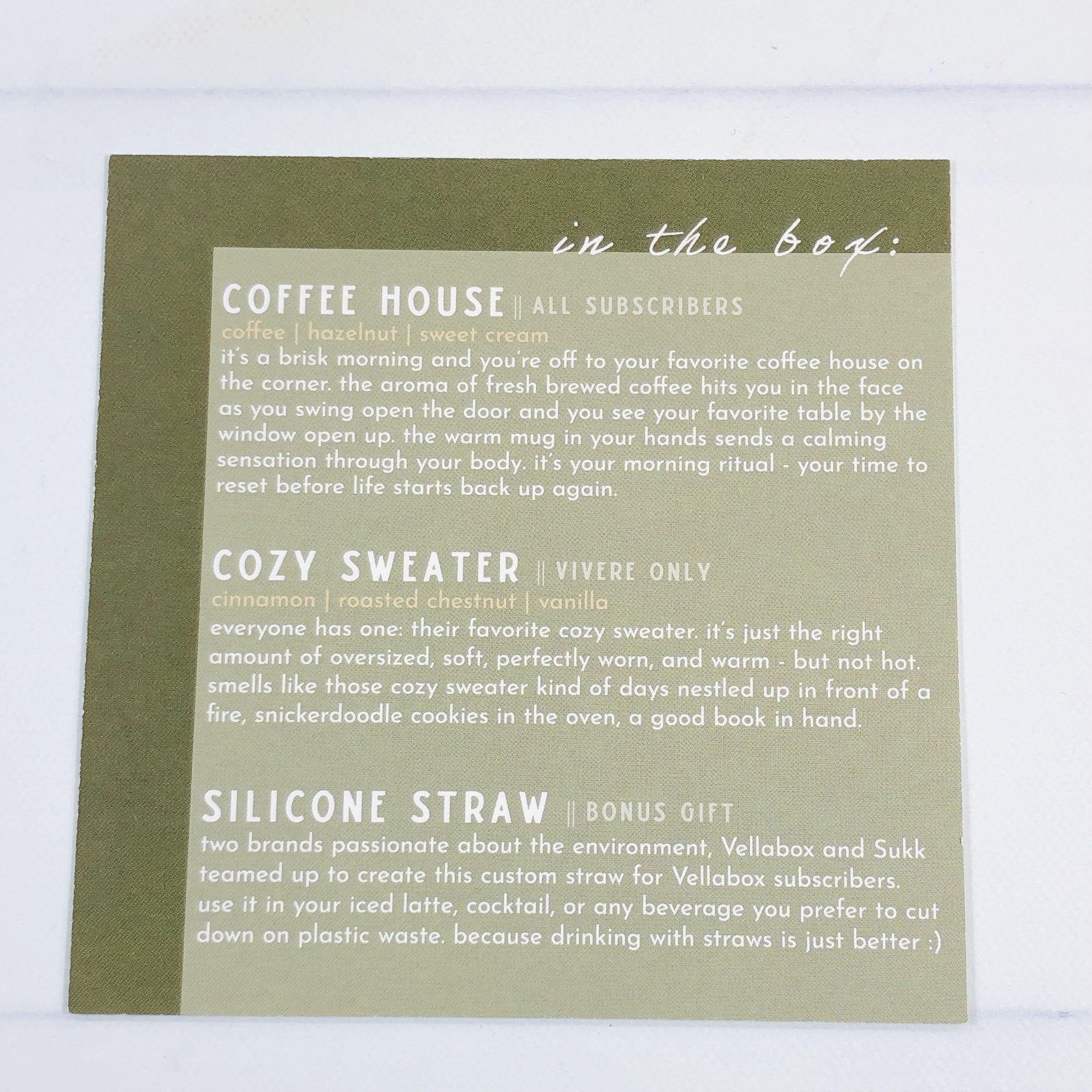 The back of the card had a description of each candle's scent and mentioned the bonus item for the month.
I received a card with some of the highlights of the Vellabox subscription.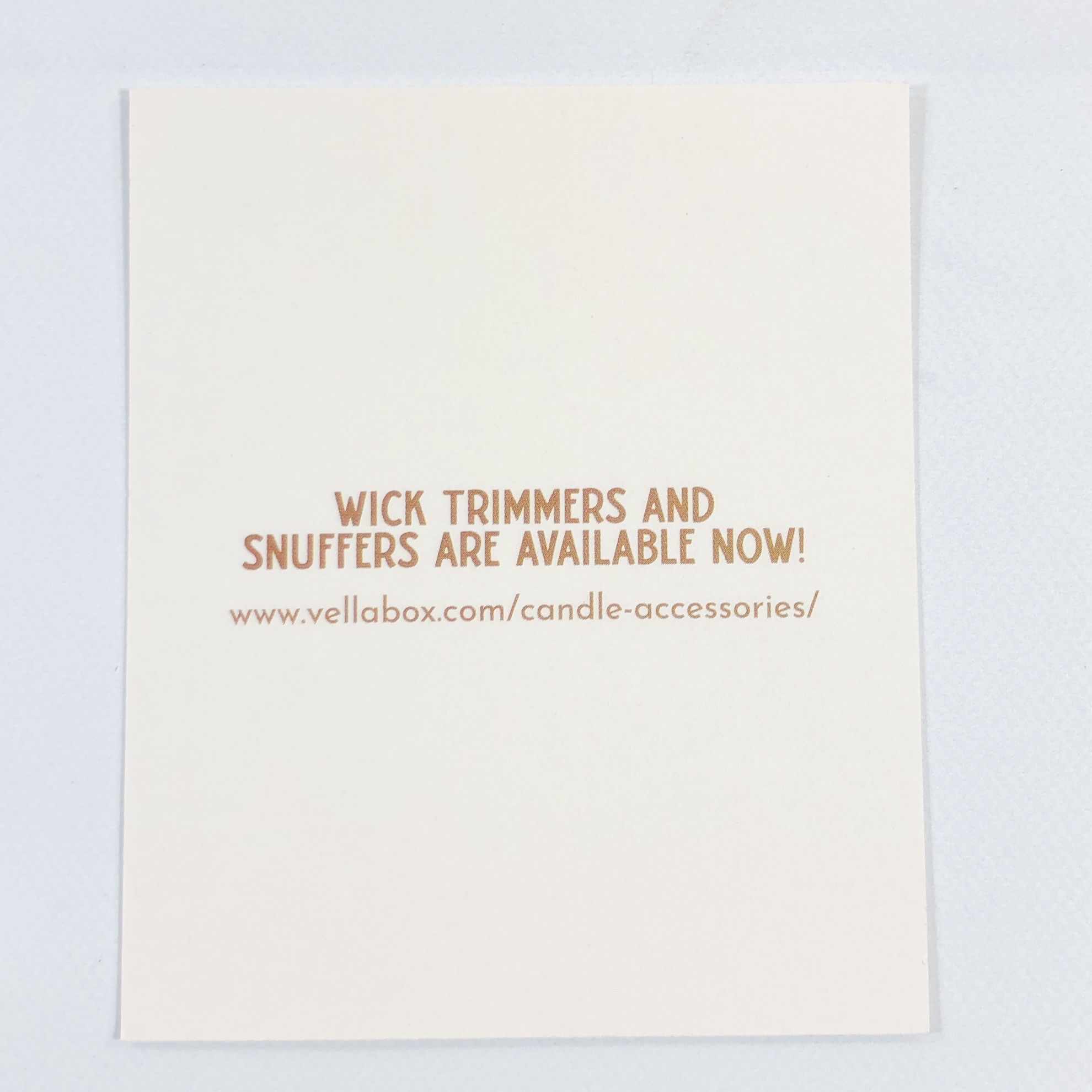 I received one more card that tells me candle accessories are available at the Vellabox website.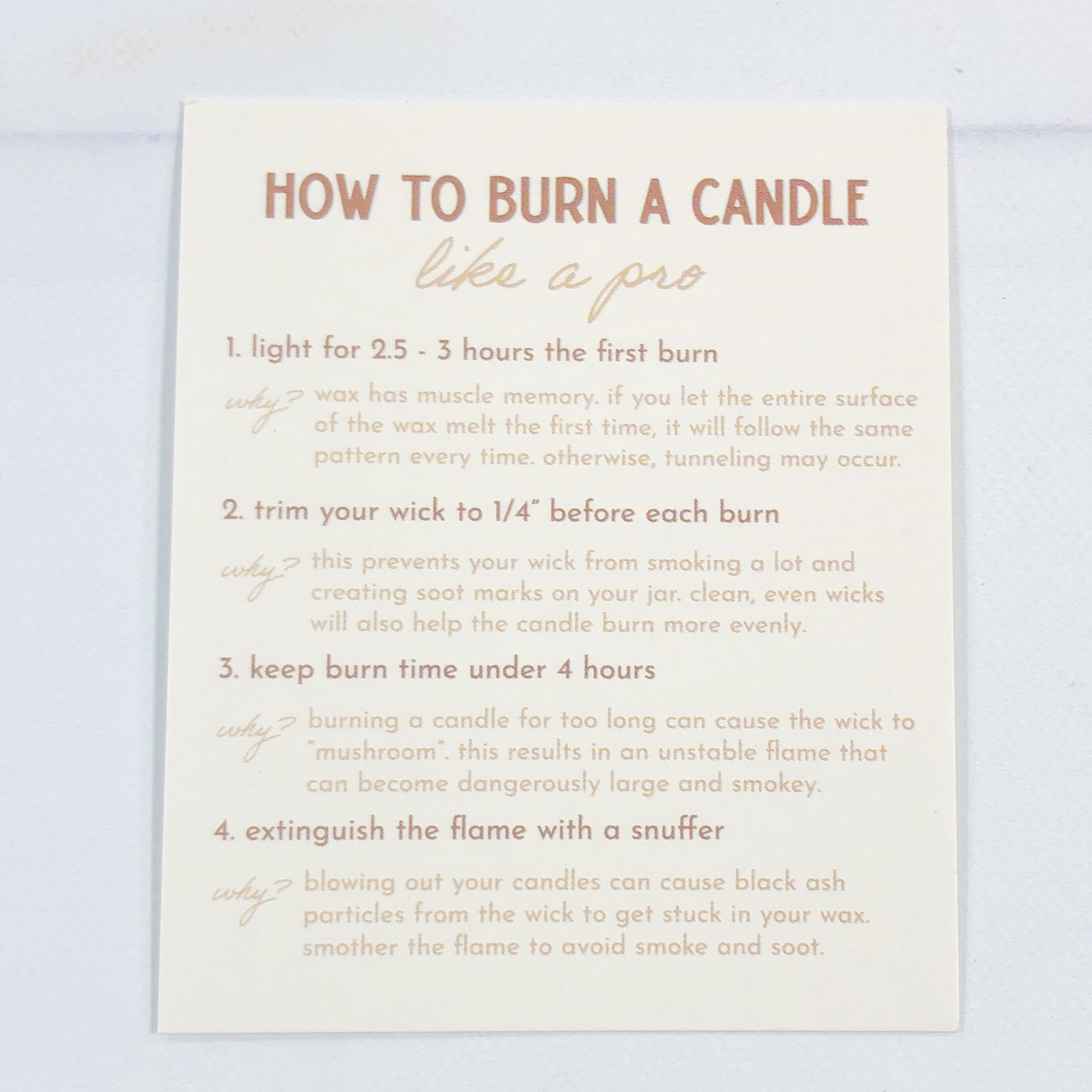 The back gave tips on how to properly burn a candle.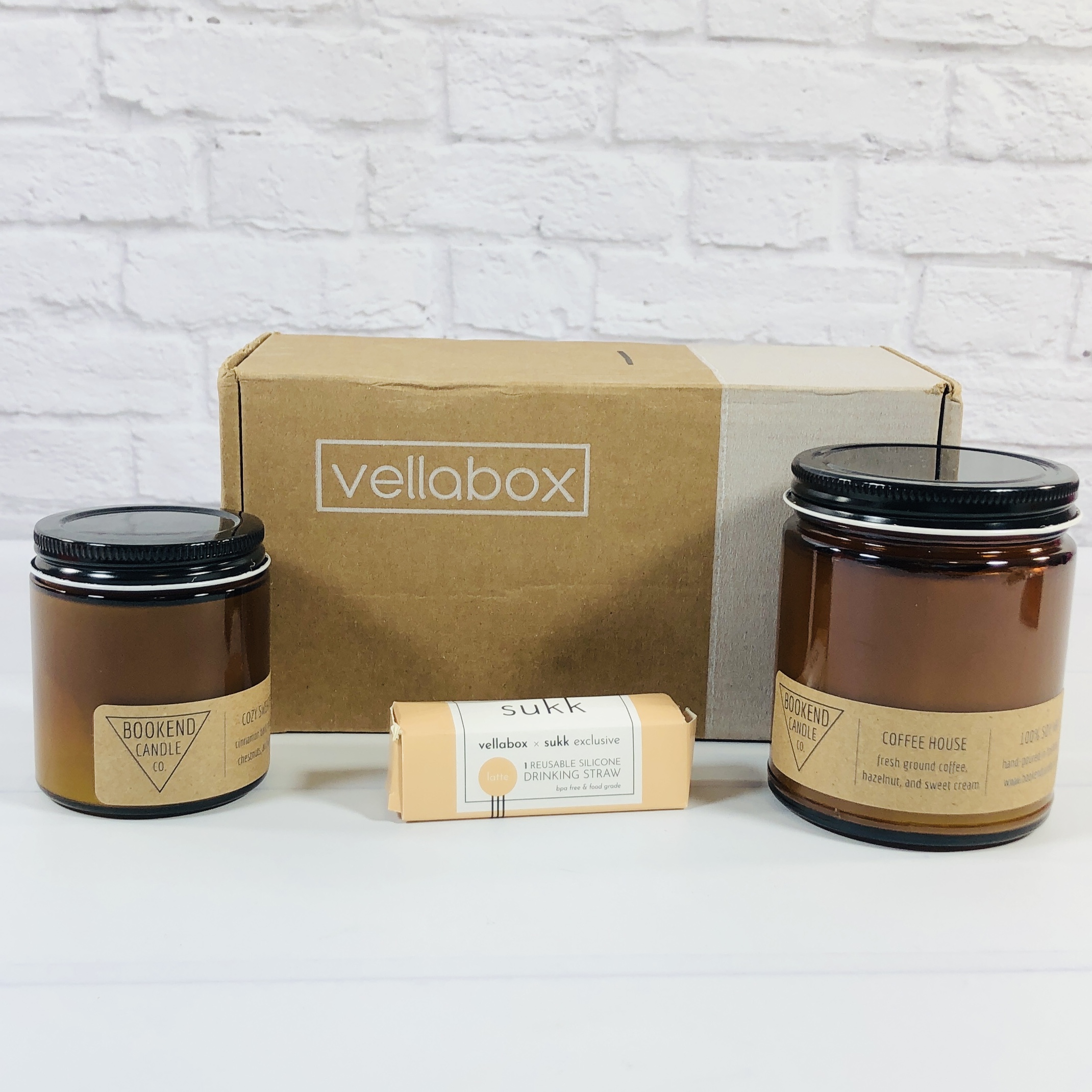 Here's everything in the box!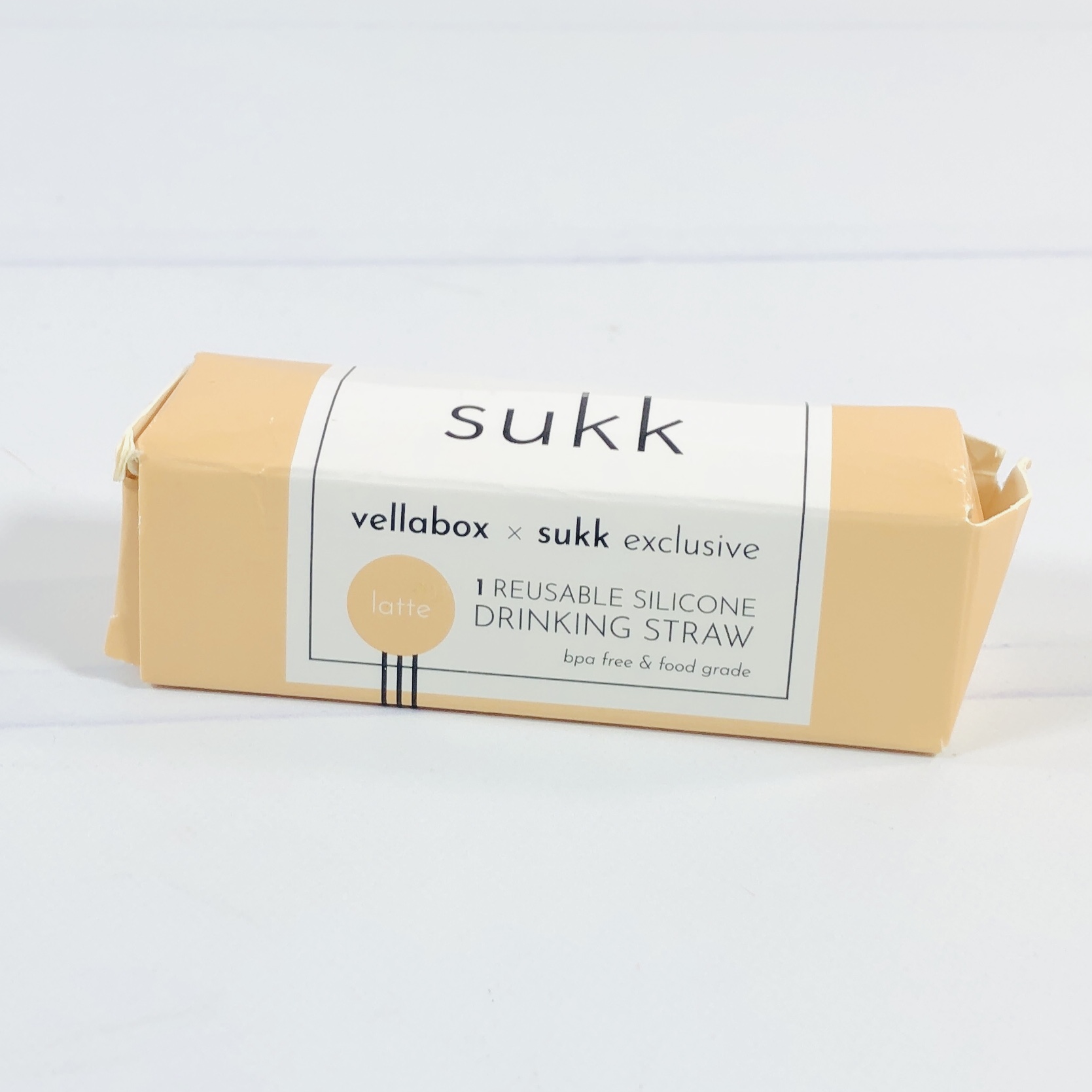 Sukk Reusable Silicone Drinking Straw (Buy a set of 4 for $10 here) We received an environmentally friendly item from Sukk, who makes reusable straws to cut down on plastic waste.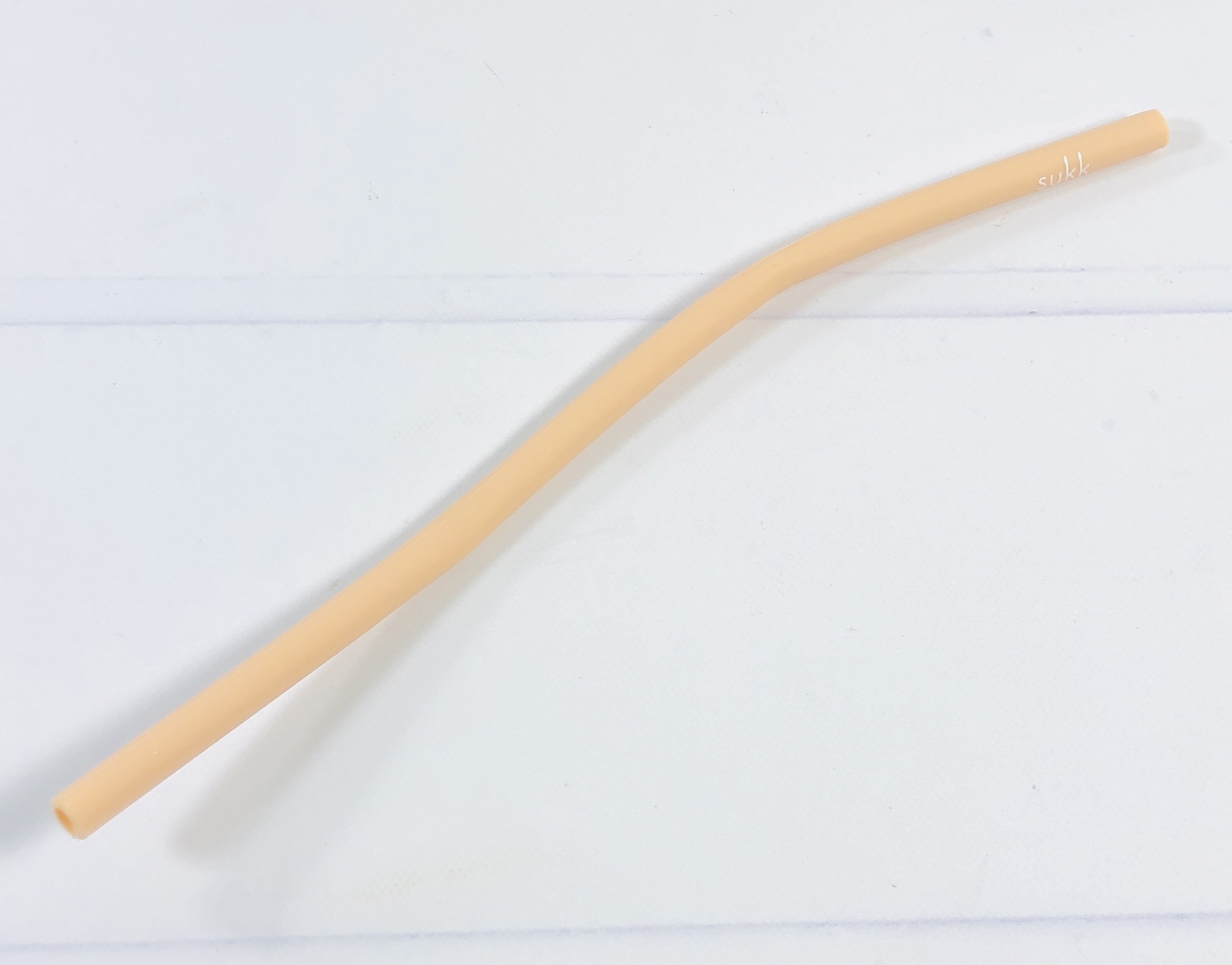 The straw is made of BPA-free silicone and is 8.5″ long.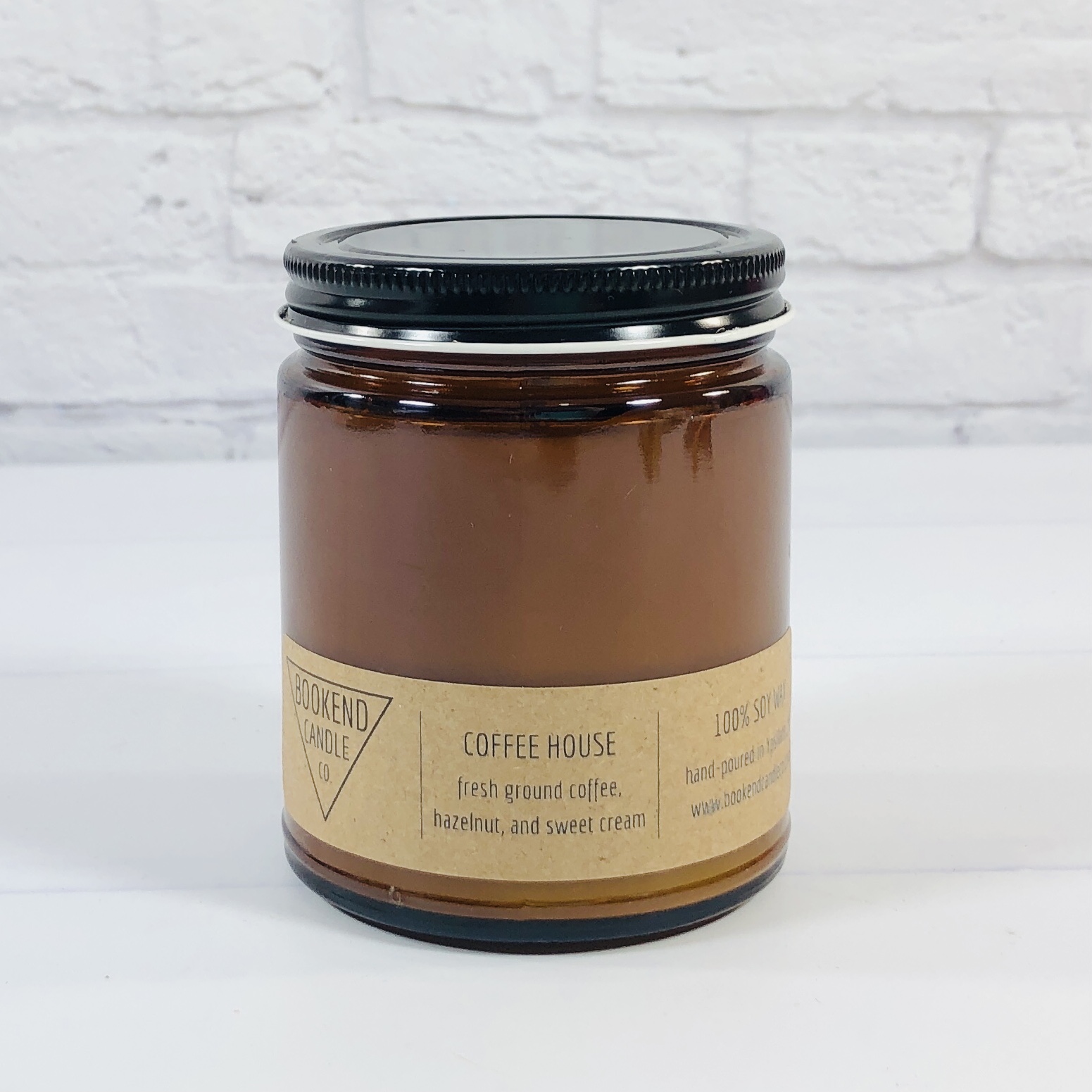 Bookend Candle Co. Coffee House Soy Candle ($16) I'm not much of a coffee drinker but I absolutely LOVE the scent of coffee itself! Add in some sweetness, a little bit of a nutty note and I'm over the moon. This candle smells like your favorite little coffee shop. Scent notes include coffee, hazelnut, and sweet cream.
The bottom has burning instructions and please burn where little hands or paws can't reach.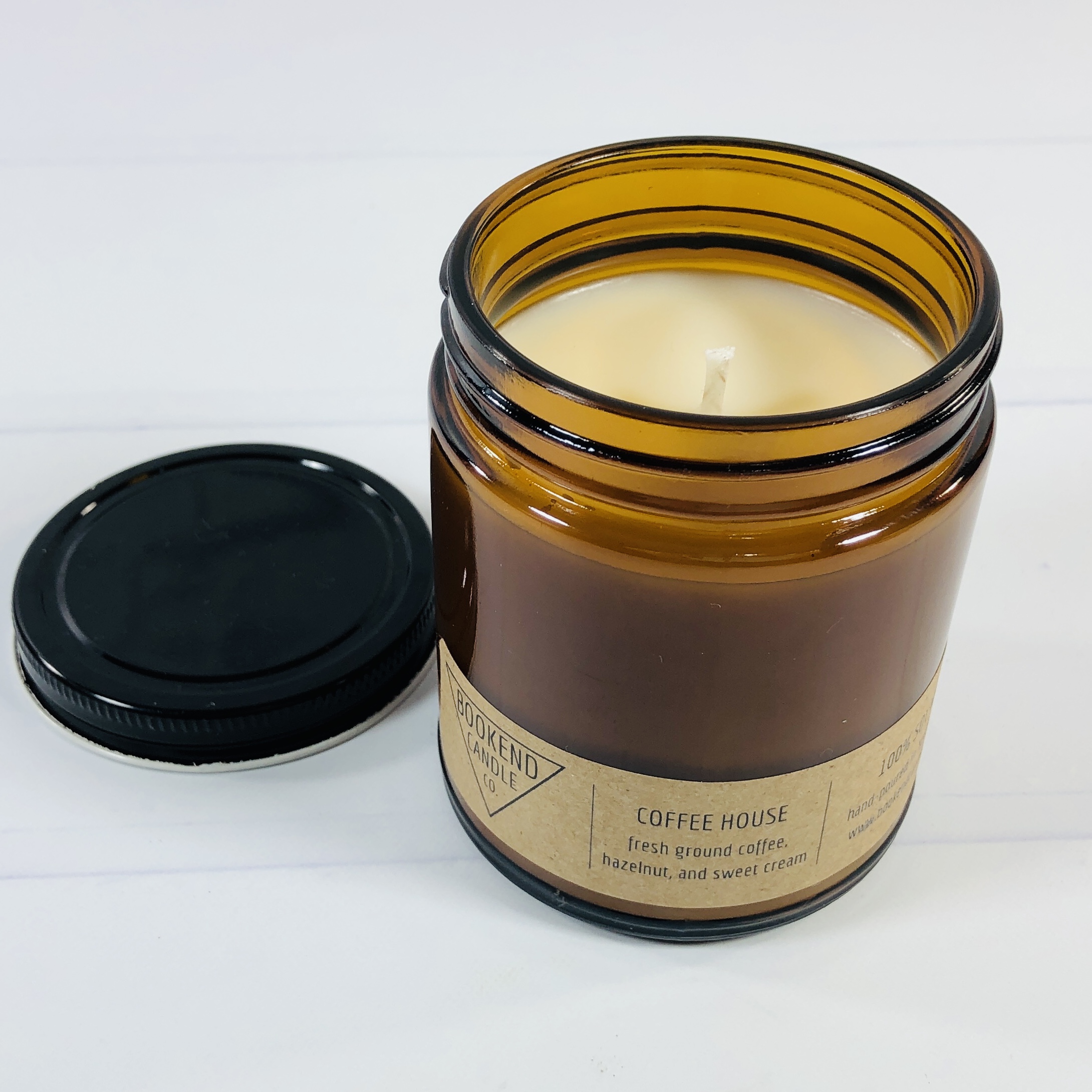 I thought this candle had better hot throw while burning than the next candle. It was still a polite candle, no one is going to walk into the house and get struck by a bold scent. It scented the immediate area around my living room table.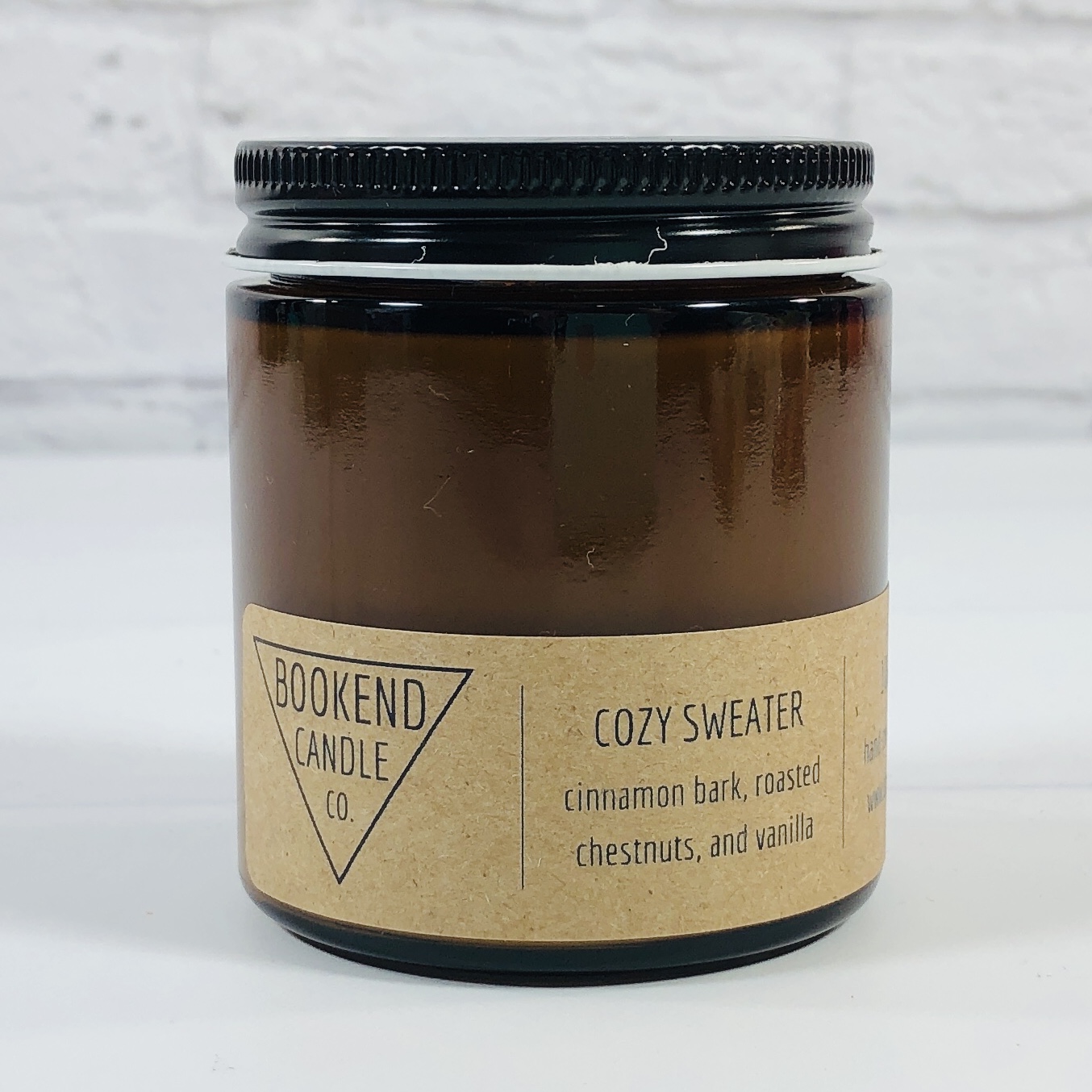 Bookend Candle Co. Cozy Sweater Soy Candle ($16 for 8 ounce jar or $10 for a 4 ounce tin) You will find with this subscription that sometimes candles are made especially for Vellabox and may not come exactly as pictured if you order from the brand's website. You can order this in a tin but the only way to get the glass jar in 4 ounces is through Vellabox!
Cozy Sweater has notes of cinnamon bark, roasted chestnuts, and vanilla. It smells warm and cozy, of course, and that cinnamon note is just lovely and it reminds me of rice pudding, all creamy and sweet. I really couldn't detect this unless I was standing close to the candle while it burned, but the cold throw is pretty good.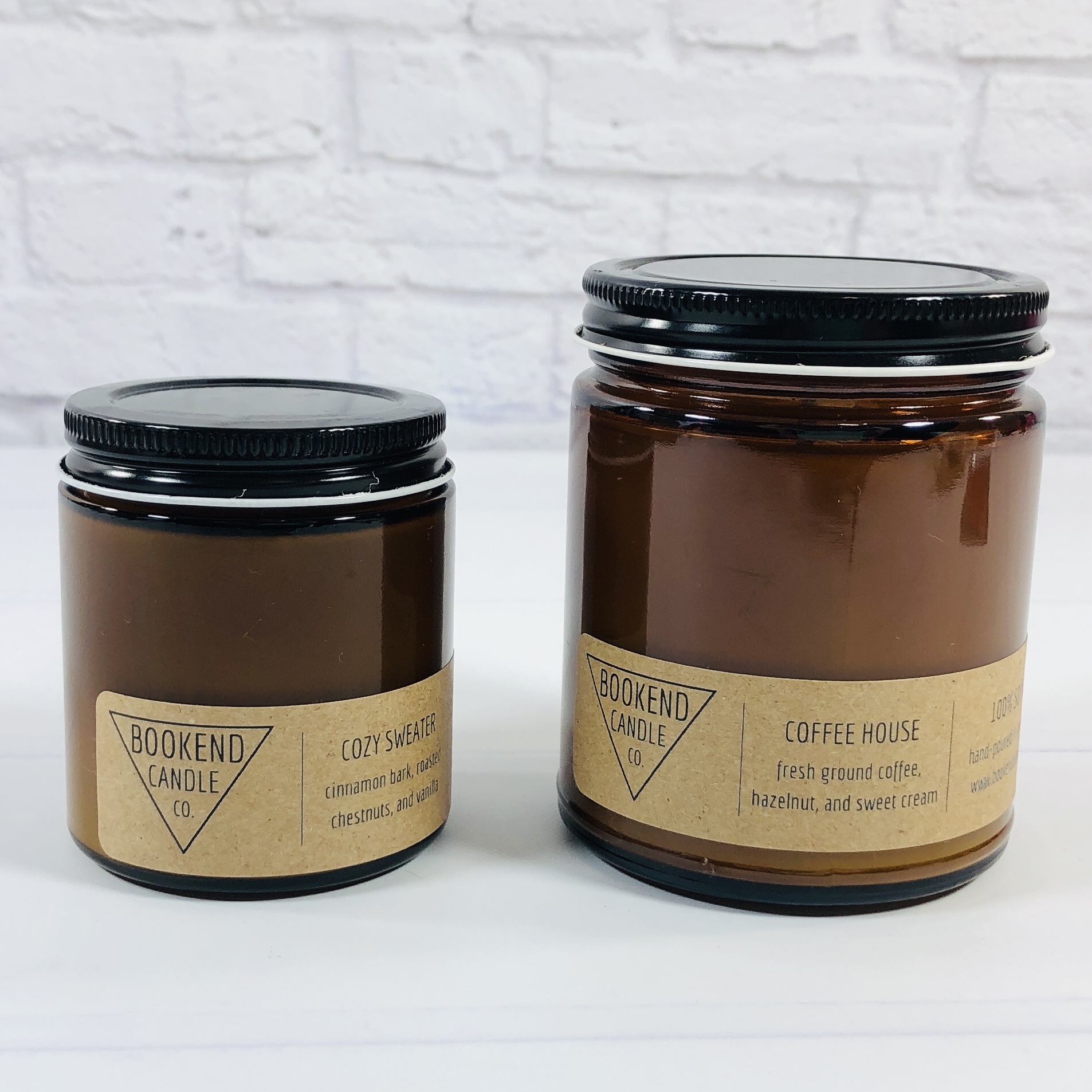 I am all about warm, spicy candle scents and these two hit the bullseye! I love that Vellabox has introduced me to candle makers I have never heard of before, and they have a nose for picking out amazing scents. I think this brand would be perfect for those who want a hint of scent without having it feel like an overpowering presence. Soy wax tends to burn cleaner than paraffin and of course the eco-friendly bonus item helps green up my life one product at a time.
What do you think of this box?