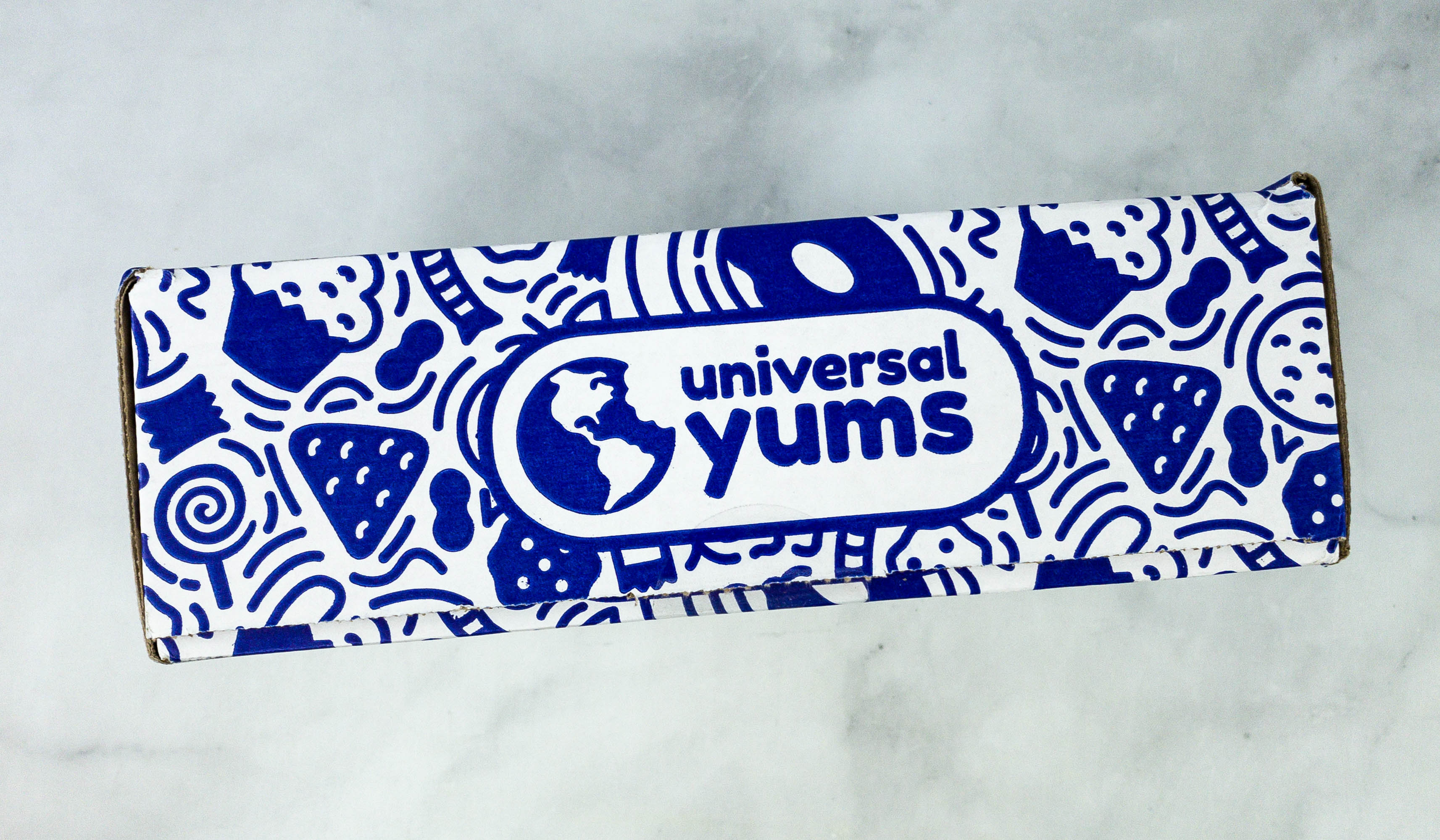 Universal Yums is an international snack subscription! Featuring a new country each month, the box contains unique and delicious snacks that are either difficult or impossible to find in US stores. They promise to always include a variety of sweet and savory snacks, all with the featured country's distinct flavors and spices. Each box also comes with an interactive guidebook containing an explanation of why they chose each snack, as well as trivia, games, recipes, and other cultural features!
There are three available box sizes:
Yum Box – 6+ snacks plus a 12-page booklet for $14 a month
Yum Yum – 12+ snacks plus a 16-page booklet and other bonus content for $25 a month
Super Yum Box – 20+ snacks plus a 20-page booklet and other bonus content for $39 a month
DEAL: Save 10% on a 6+months Universal Yums subscription!! No coupon code needed, just use this link to sign up!
This is the review of the Yum Yum box!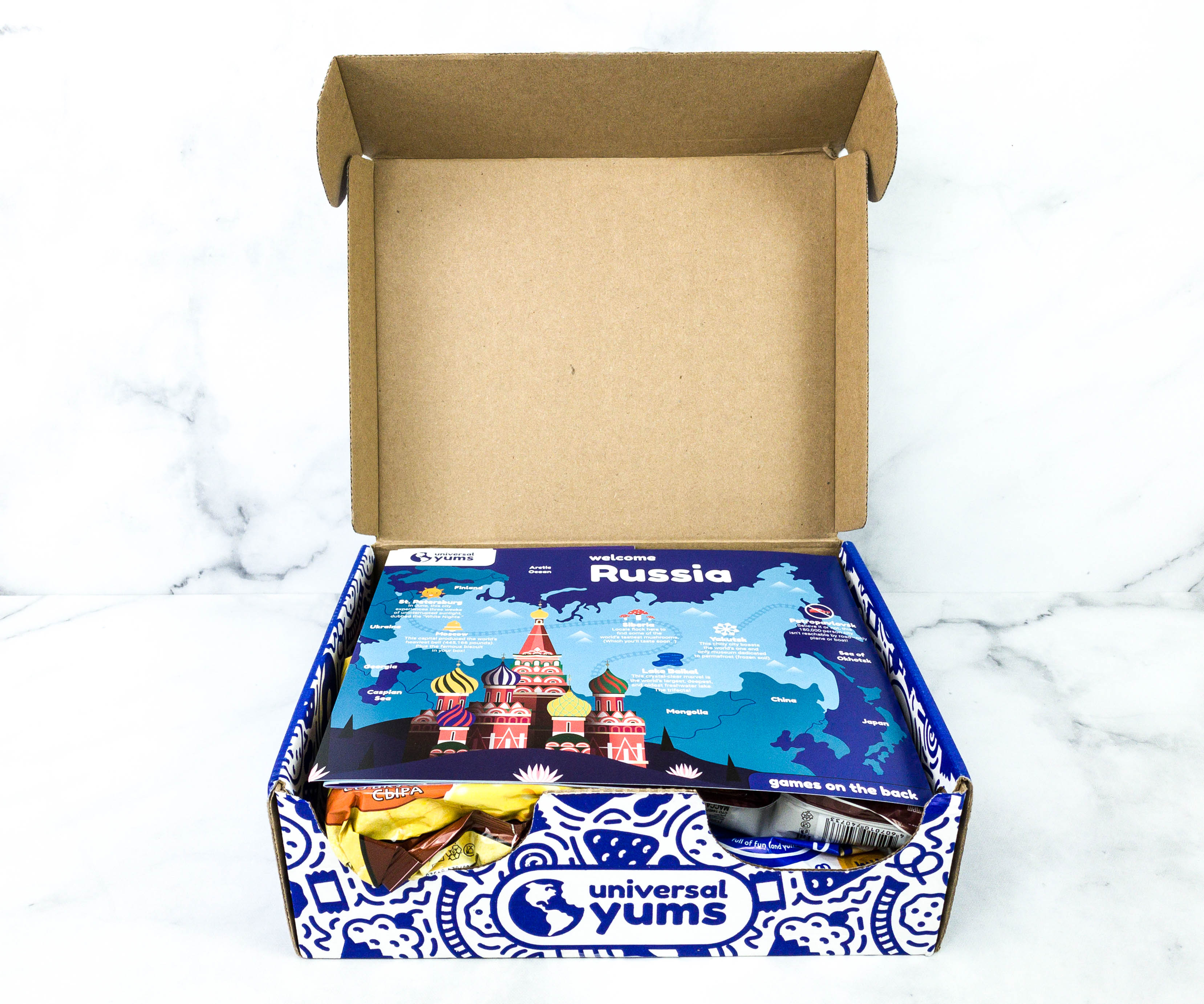 The featured place this month is RUSSIA!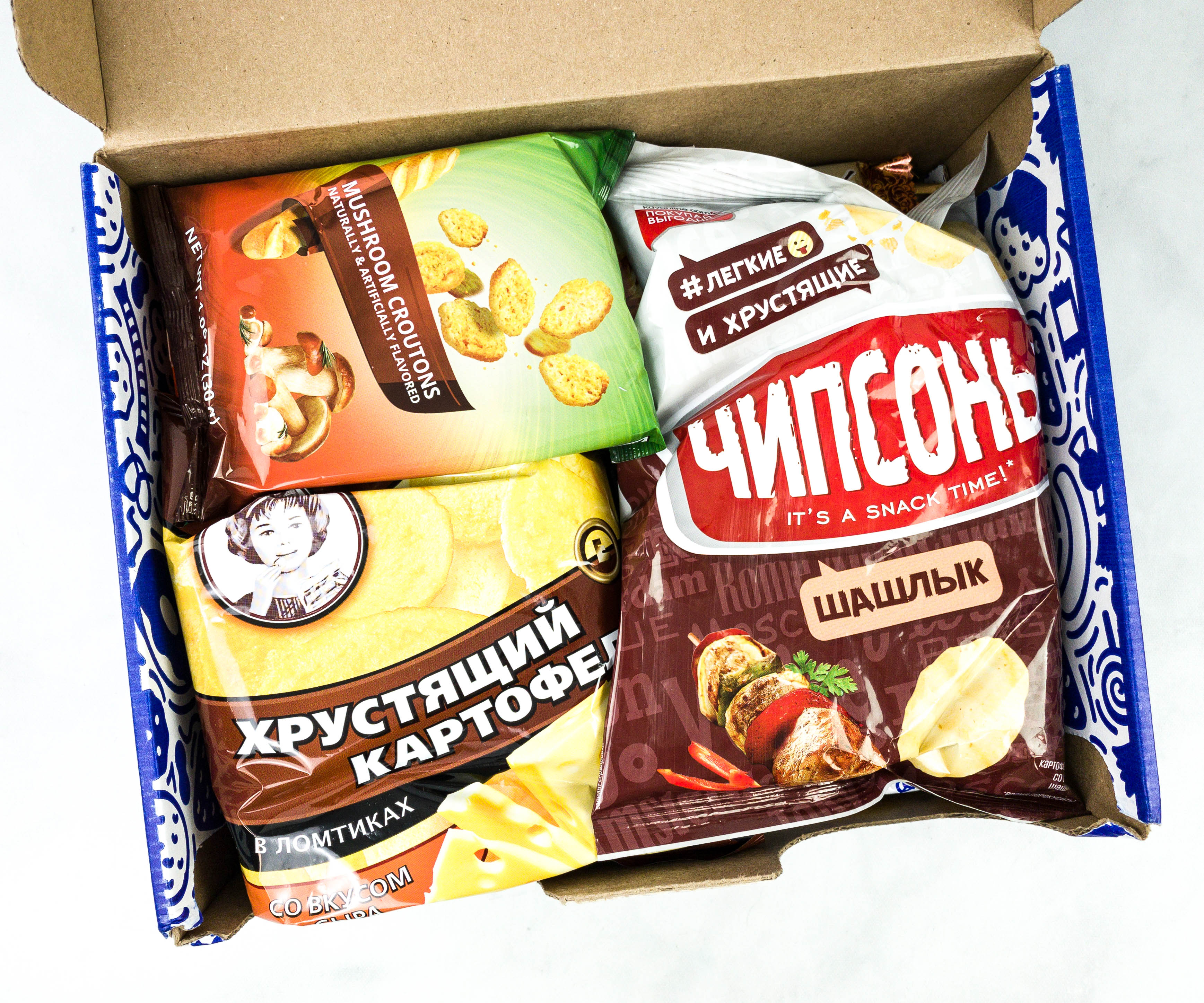 As always, the box is jampacked!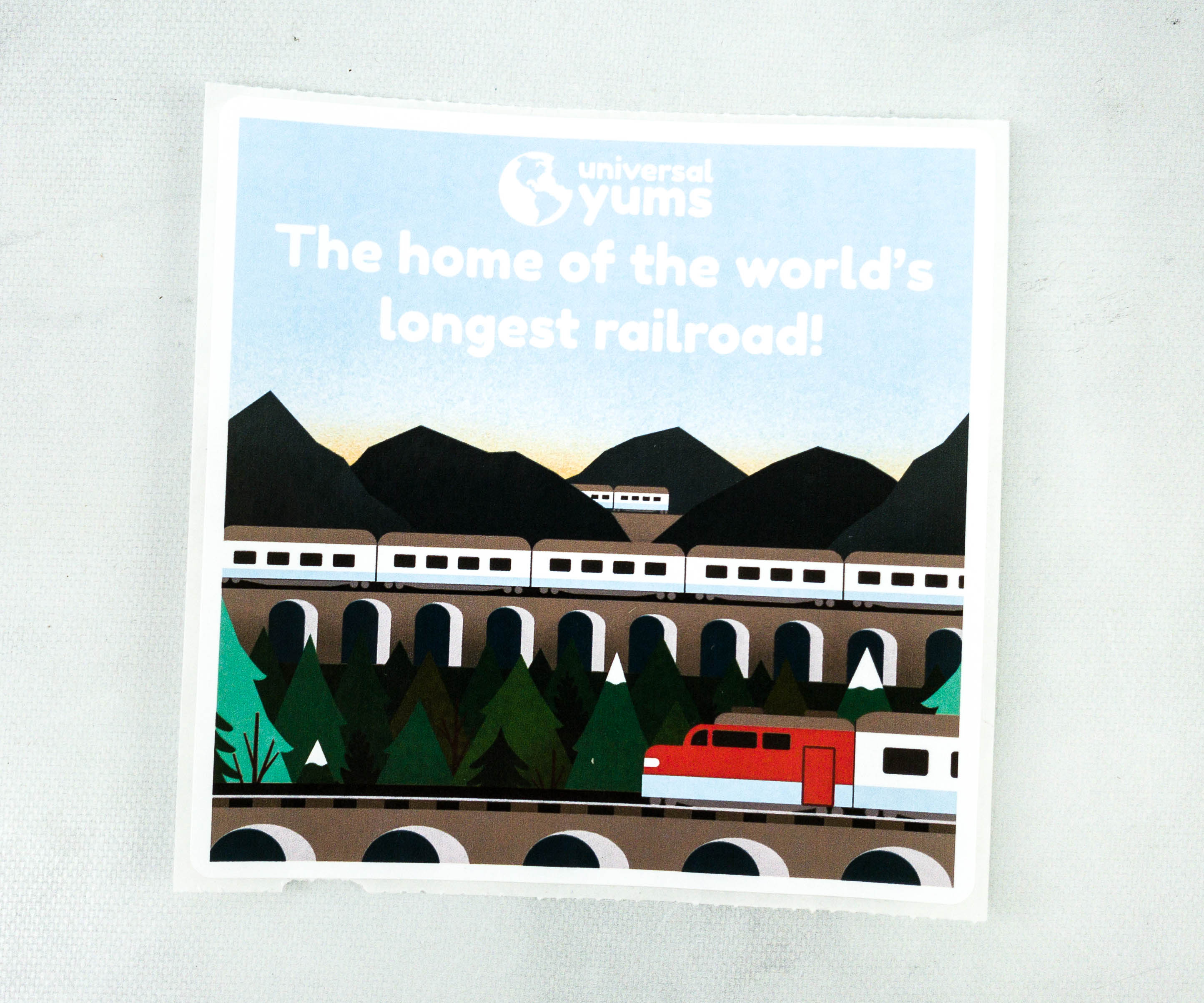 The Trans-Siberian Railway in Russia is the world's longest railroad. It's featured on this month's sticker.
This card features a map of Russia. It also gives us a brief overview of the country!
There's a sheet for The Official Yum Awards where you can rate all the snacks!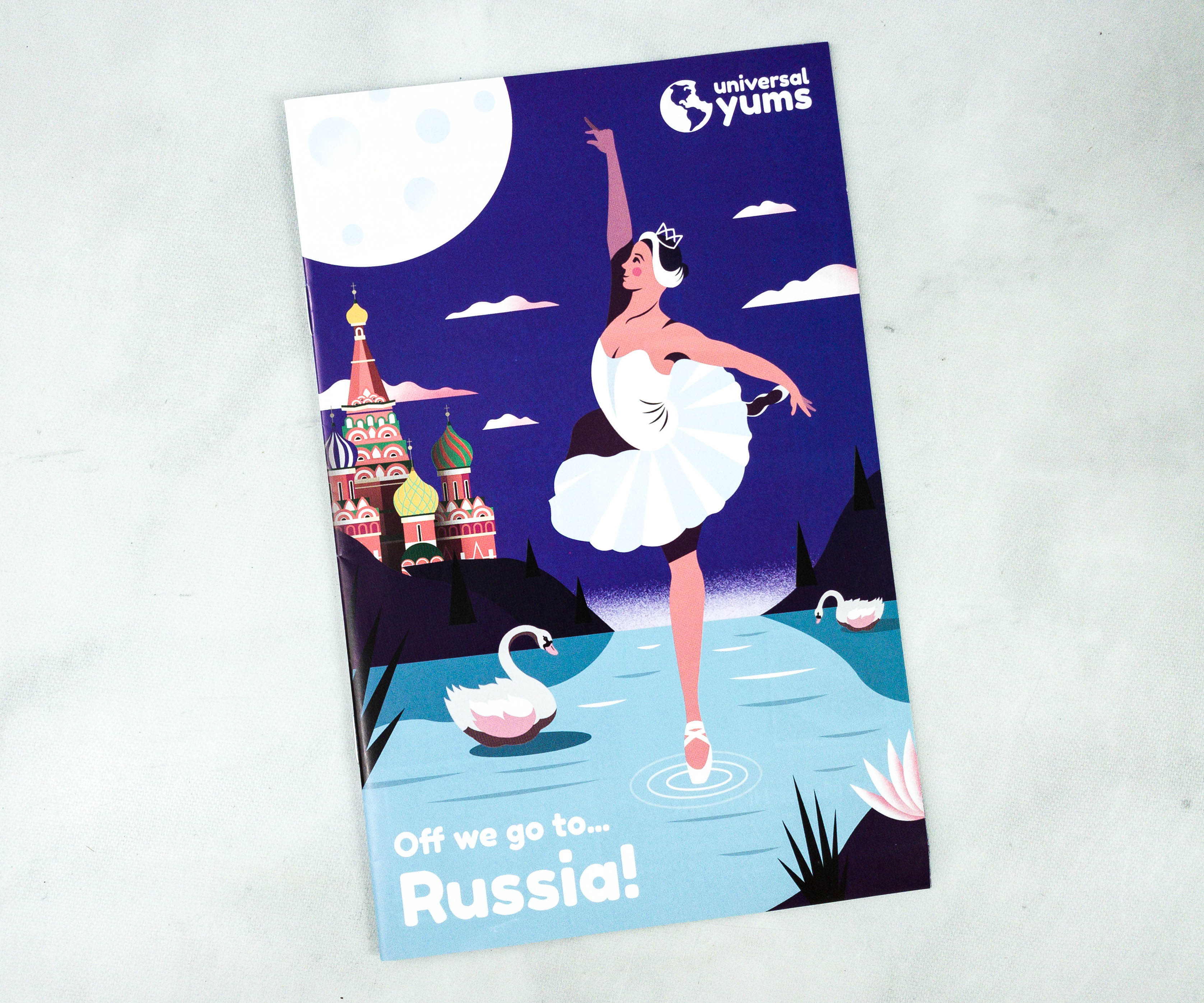 Aside from the sheet, we also received an information booklet.
At the back, they featured items that are available in The Yum Shop.
Inside the booklet, there are more fun facts about Russia, and some sneak peek of the country's rich culture and destinations. There's even a recipe for Stroganoff, a dish of sautéed pieces of beef served in a sauce with smetana!
Here's a trivia page where you can test your knowledge about this wonderful place!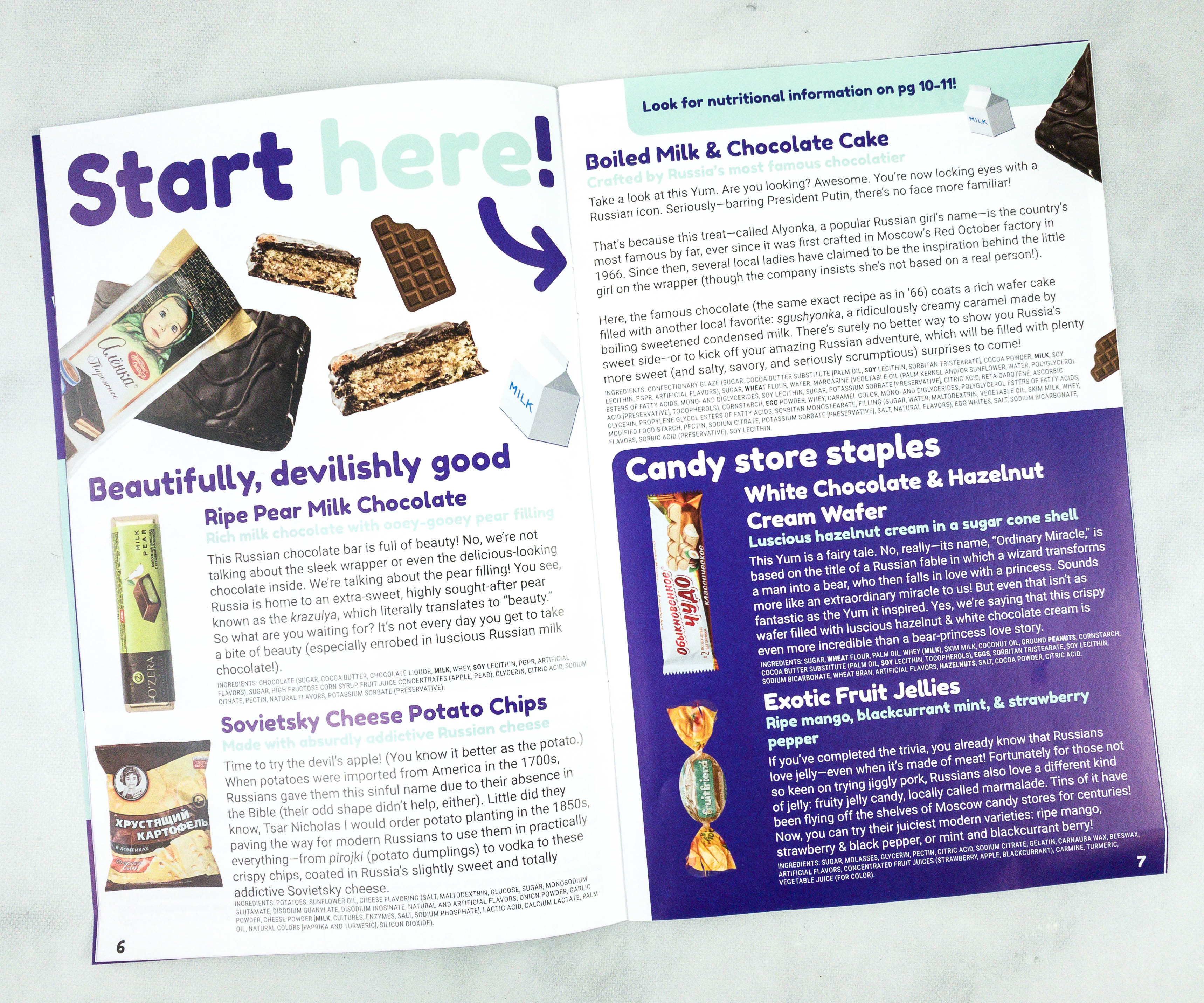 This booklet also lists down all the amazing snacks inside this box.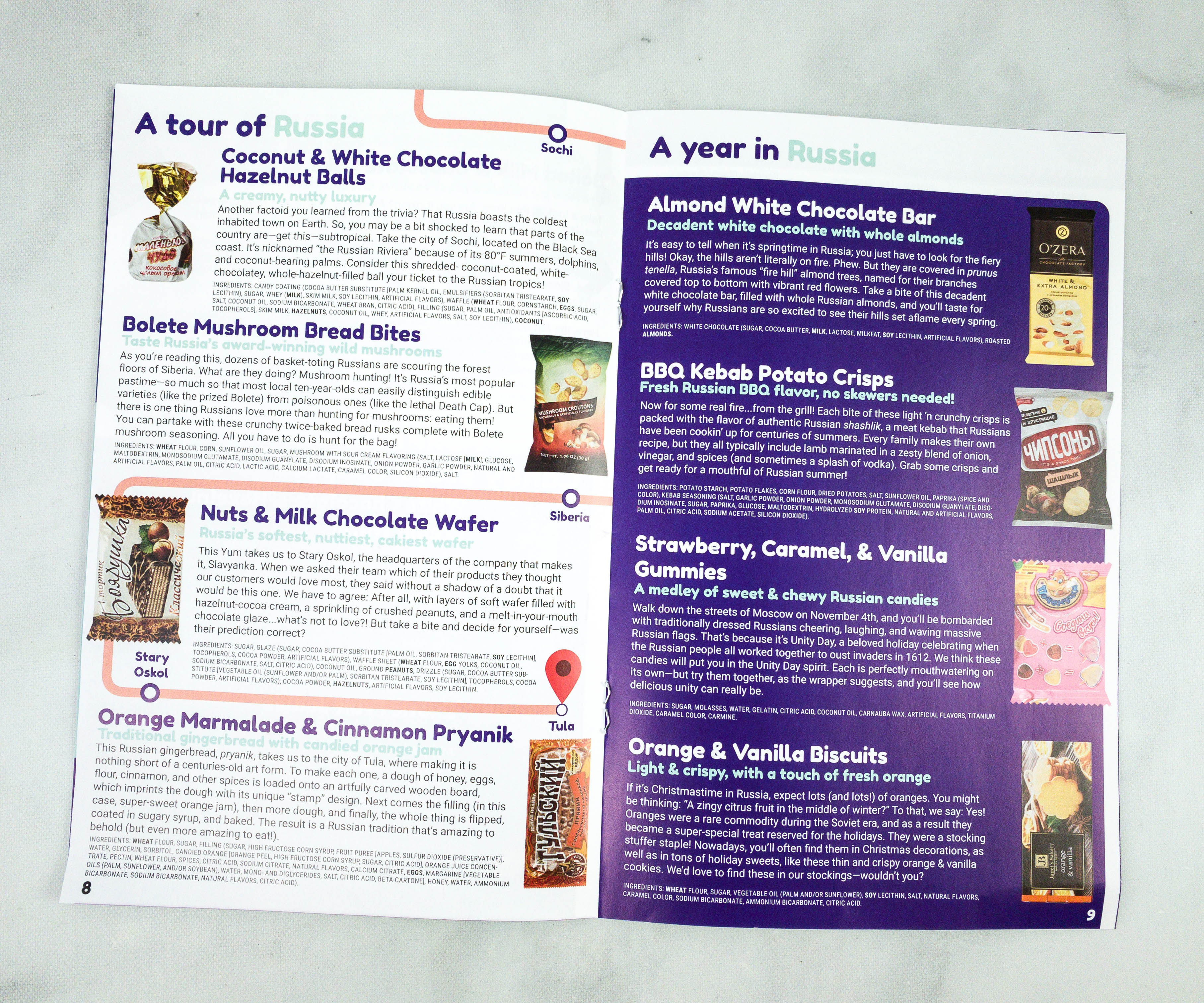 Each snack comes with a photo and a long description in the booklet!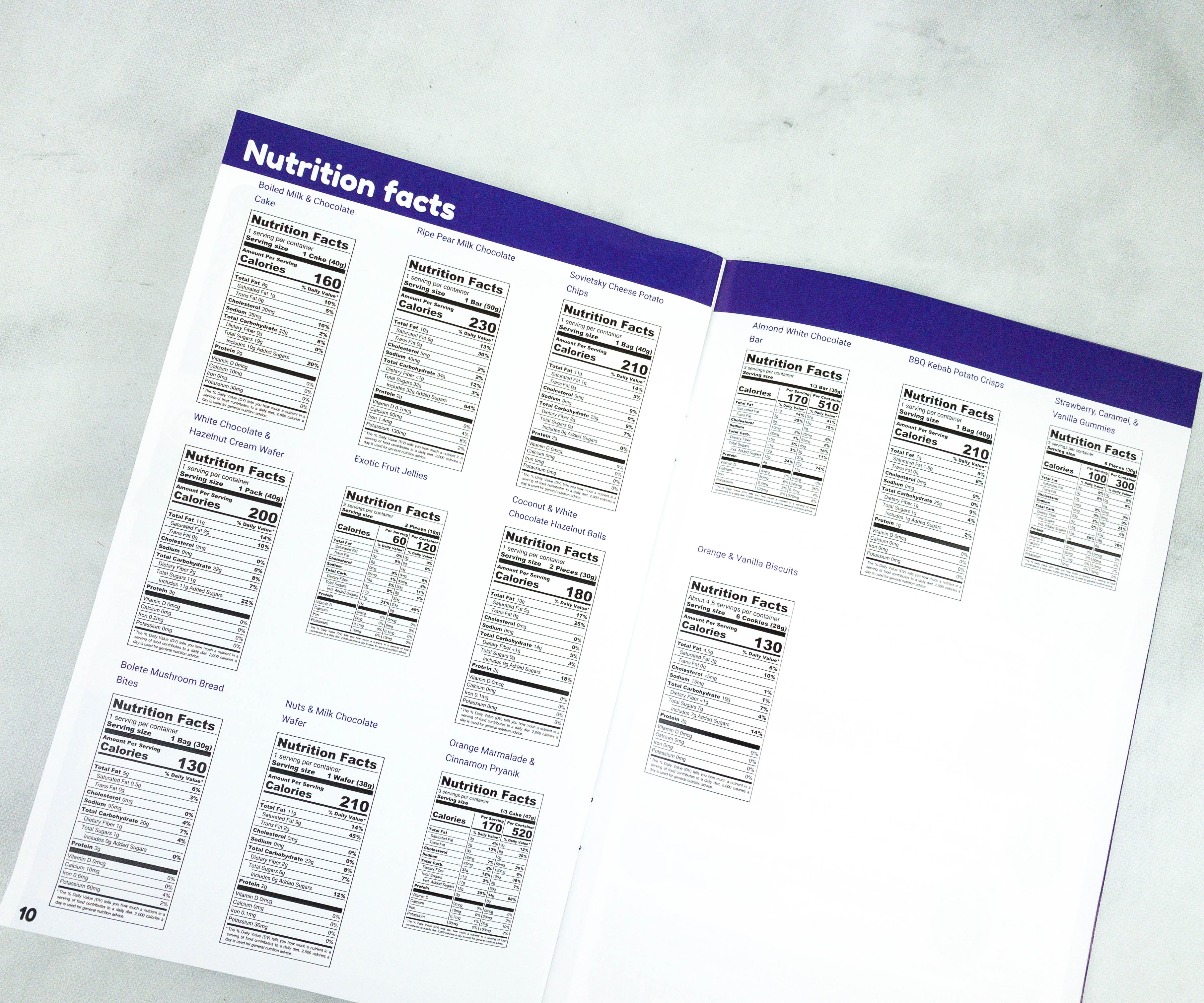 They also included the Nutrition Facts of each item this month.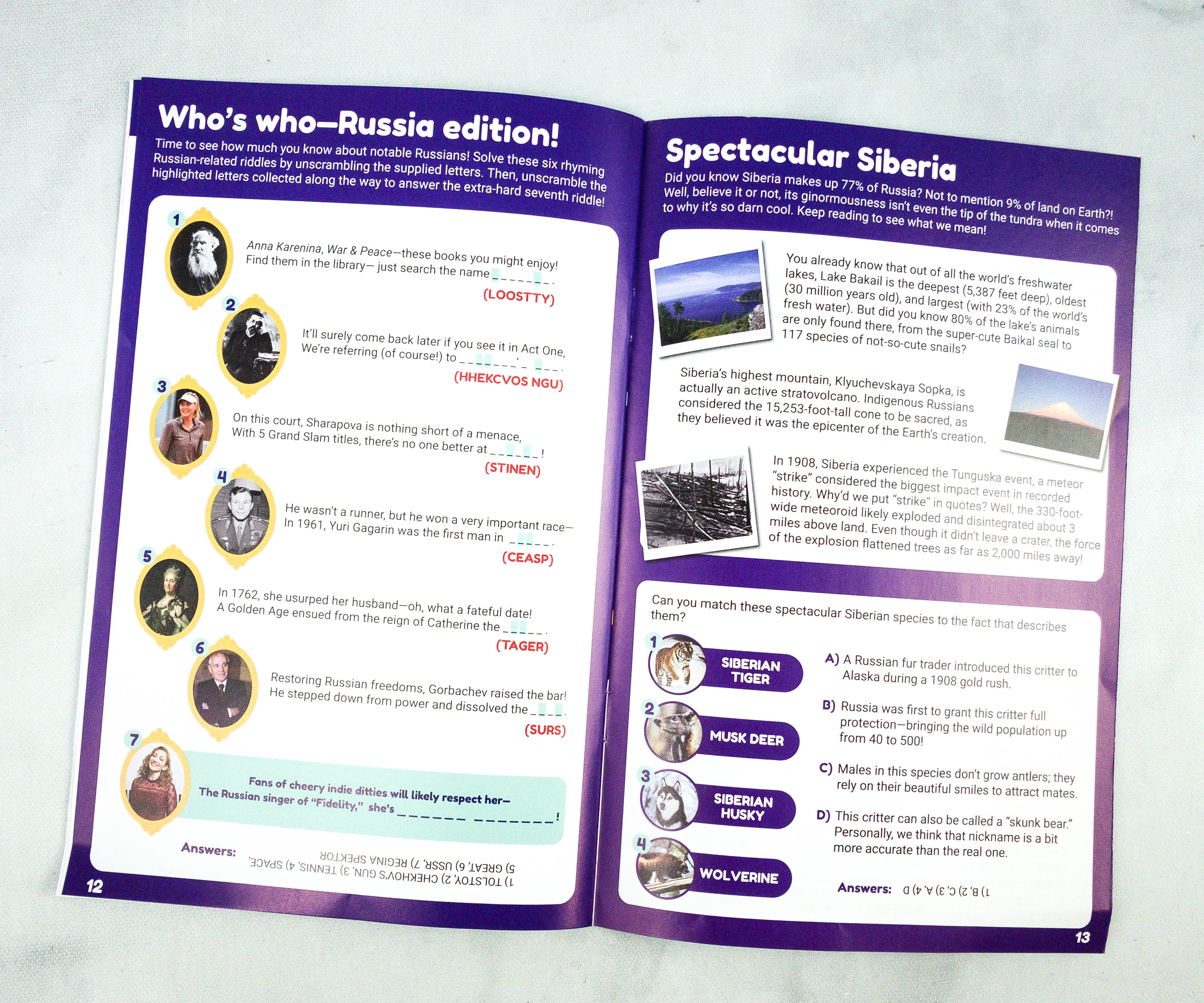 There are even fun quizzes you can play on your own or with friends!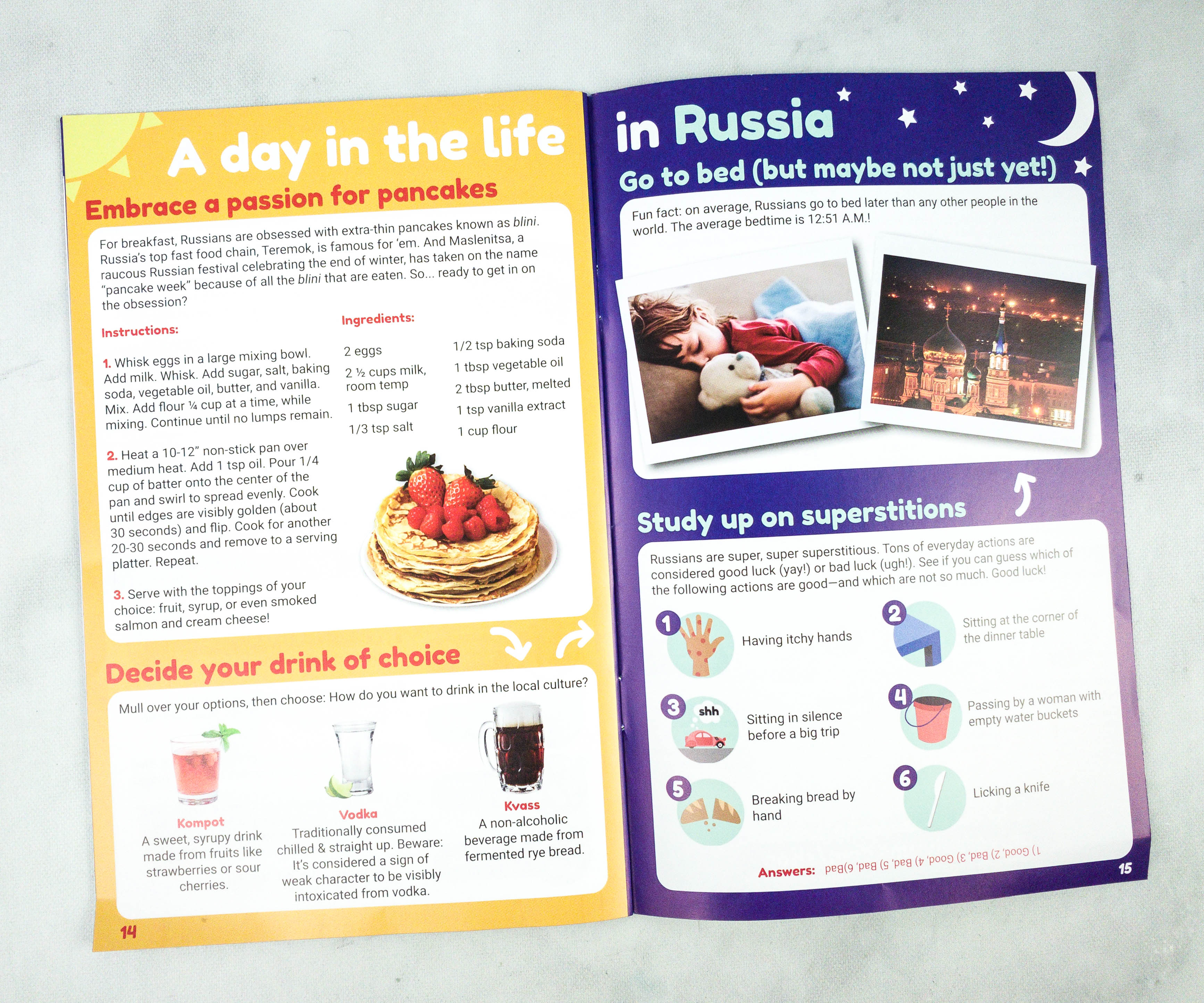 I loved reading this before taking a bite on this month's snacks!
Everything in my October 2020 box!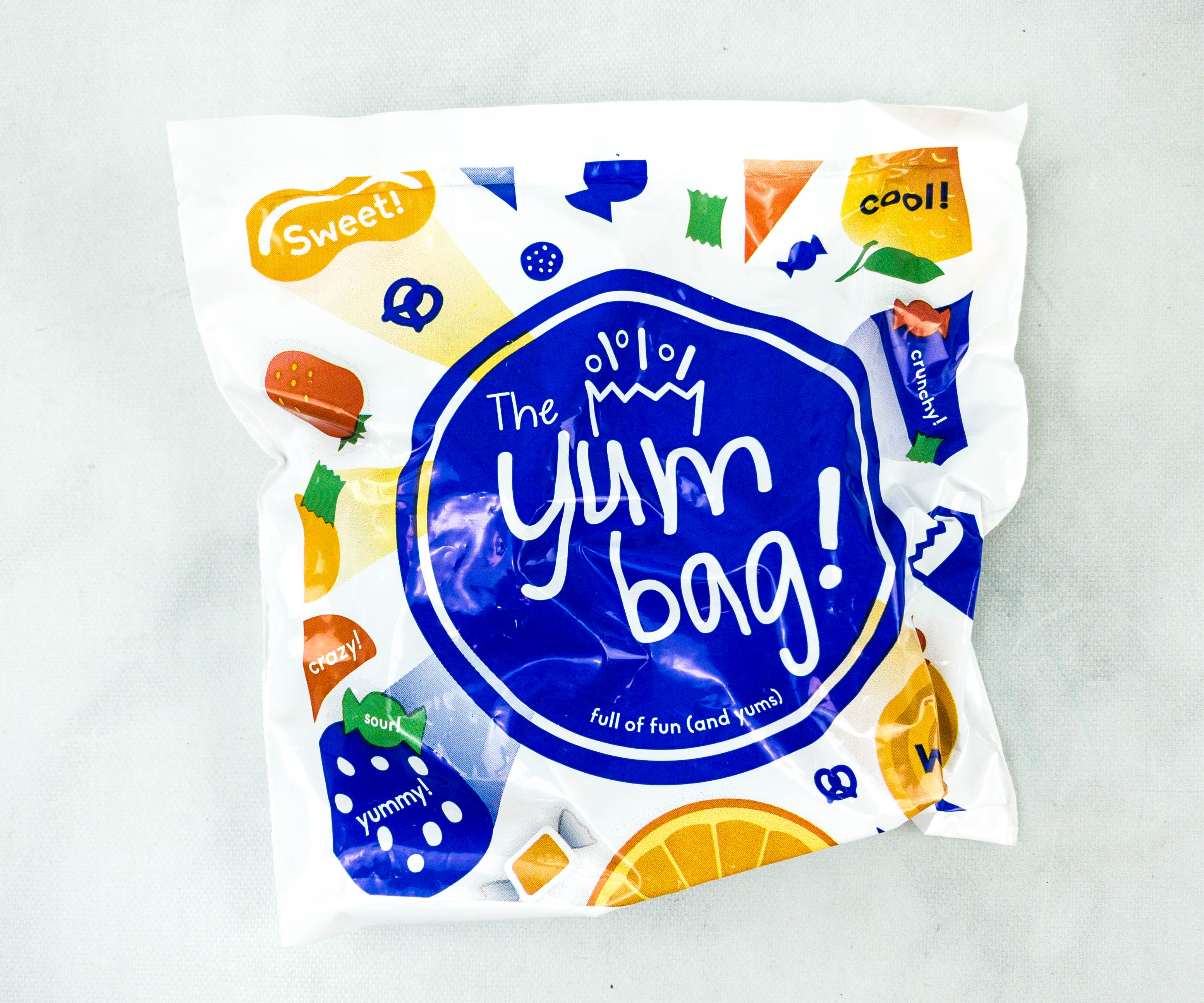 The Yum Bag. This bag is packed with candies from the featured country!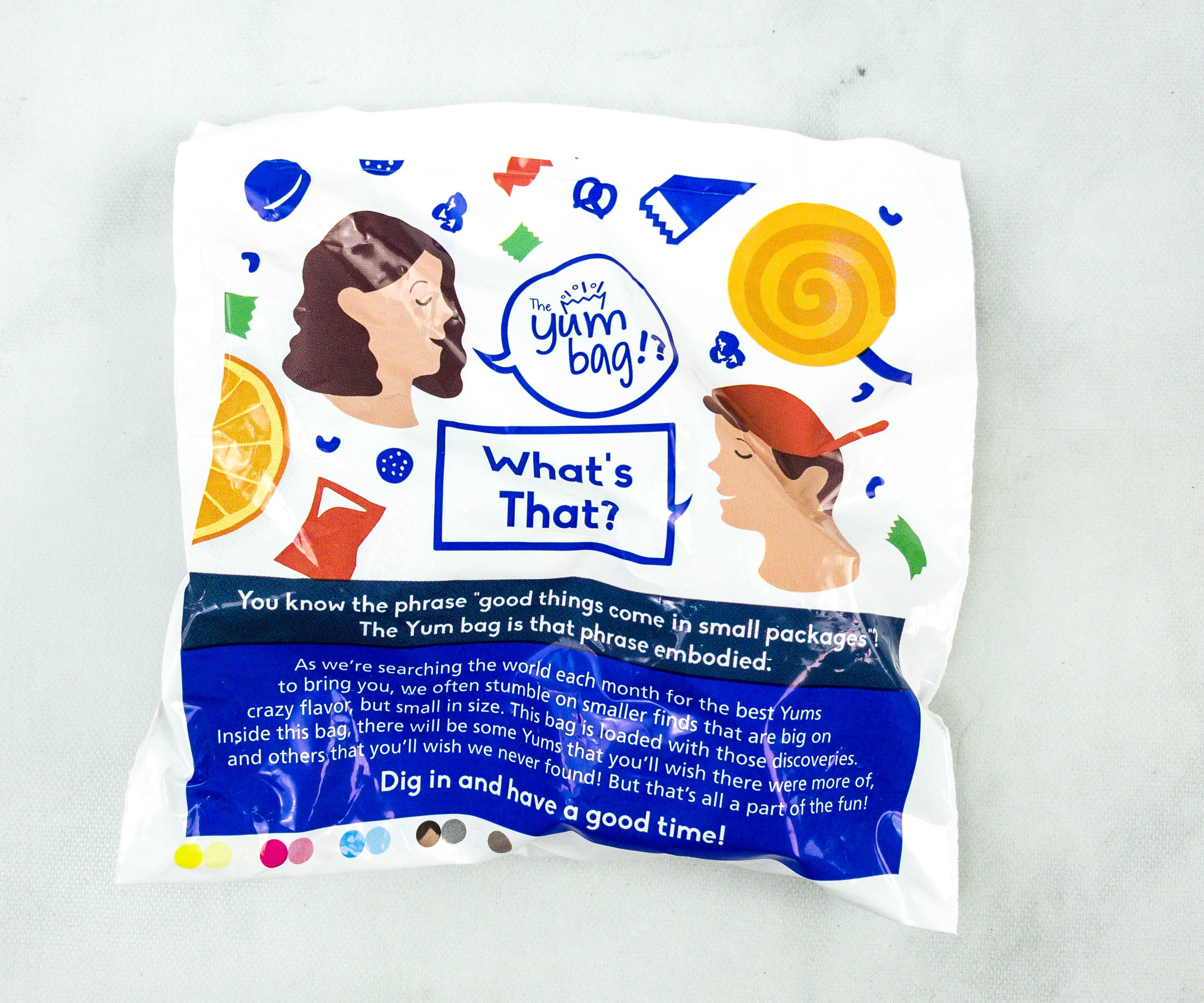 It may include flavors that you'll easily love and some that you may find weird and unusual.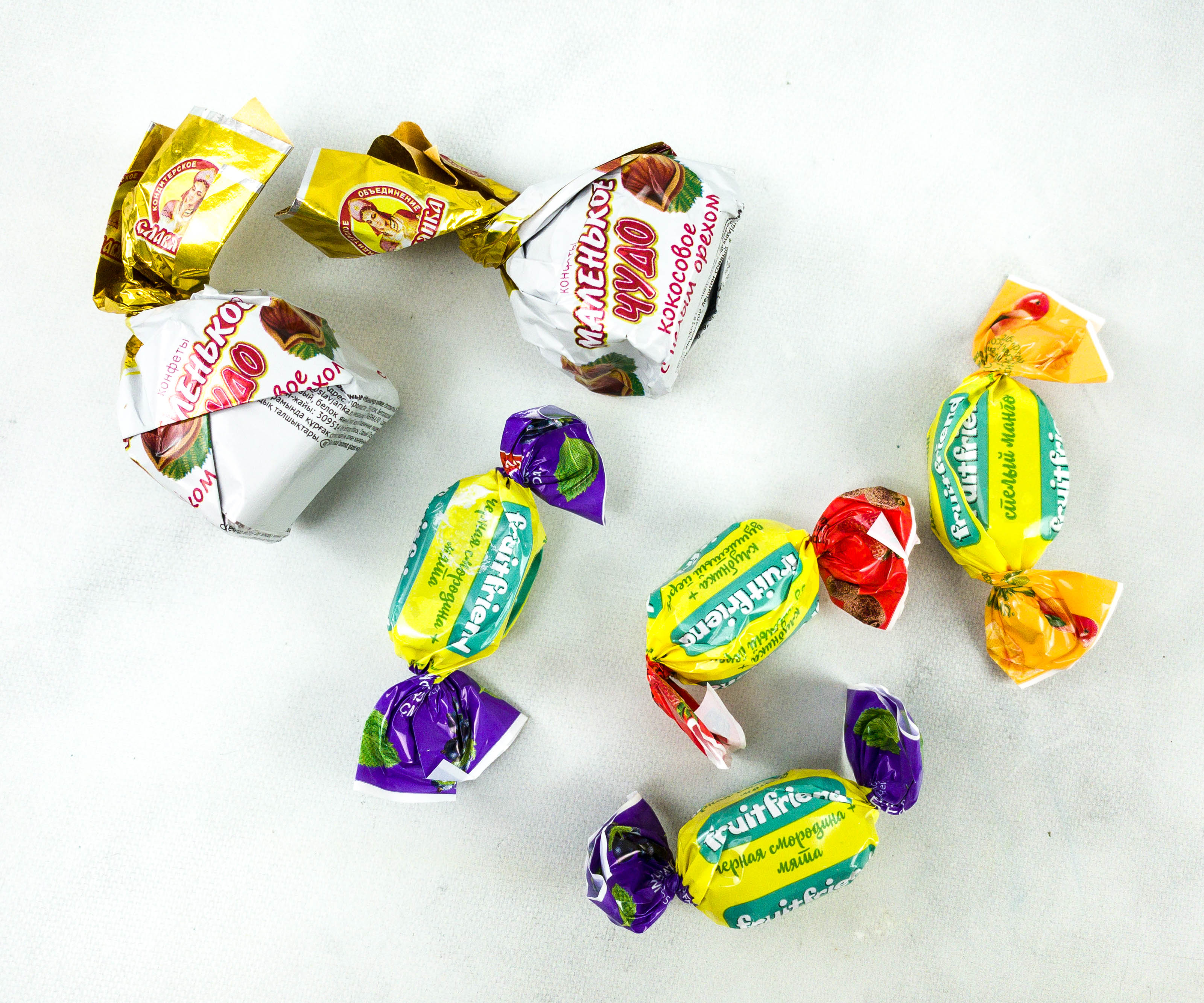 The treats from Russia have colorful wrappers!
Exotic Fruit Jellies. These fruit jellies are also called marmalades locally. They come in different flavors: ripe mango, strawberry pepper, and blackcurrant mint. The soft texture is perfect to go with the fruity taste of each piece!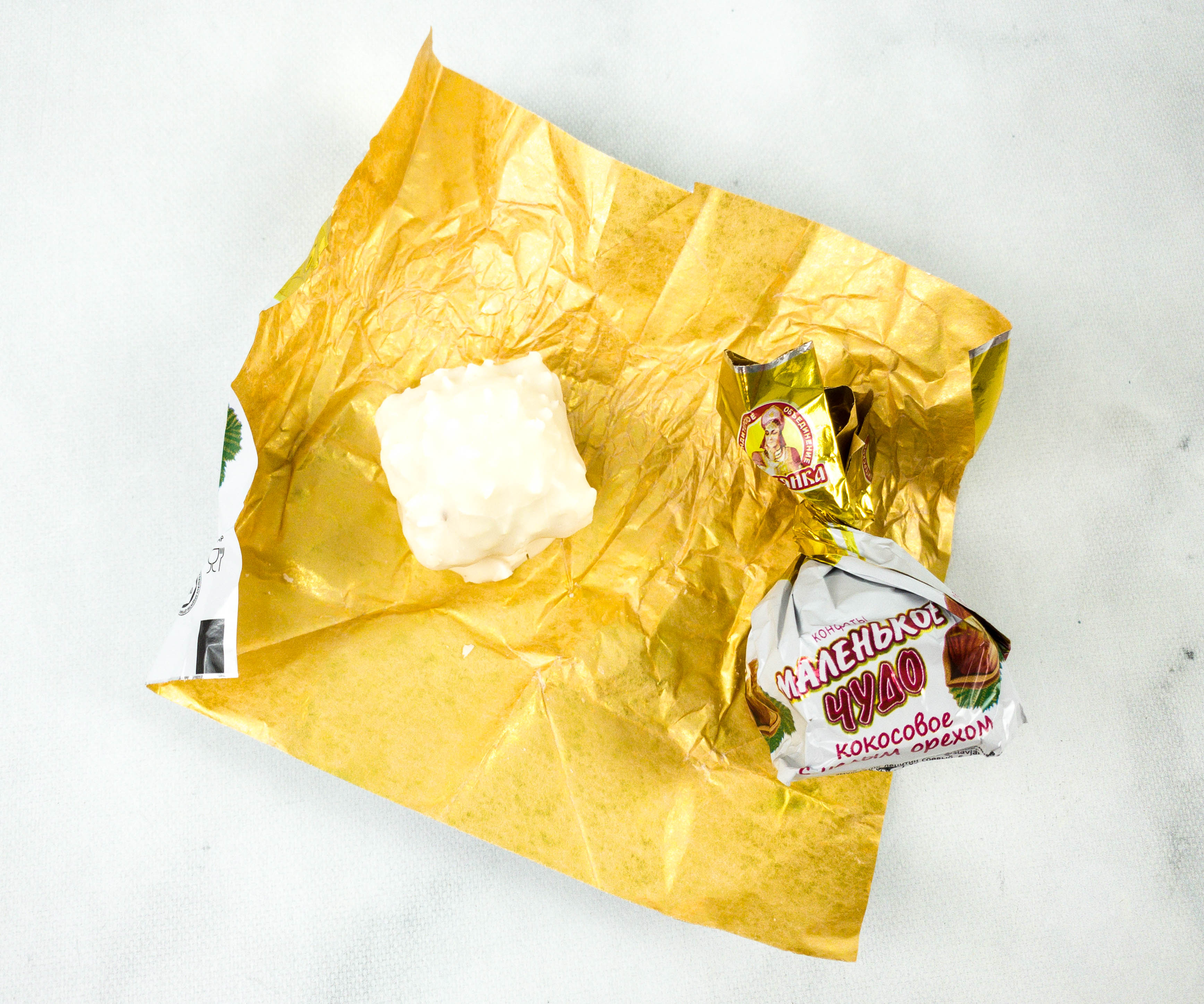 Coconut & White Chocolate Hazelnut Balls. I totally enjoyed this sweet snack! The combination of the taste and texture of white chocolate, shredded coconut, and hazelnut is perfect.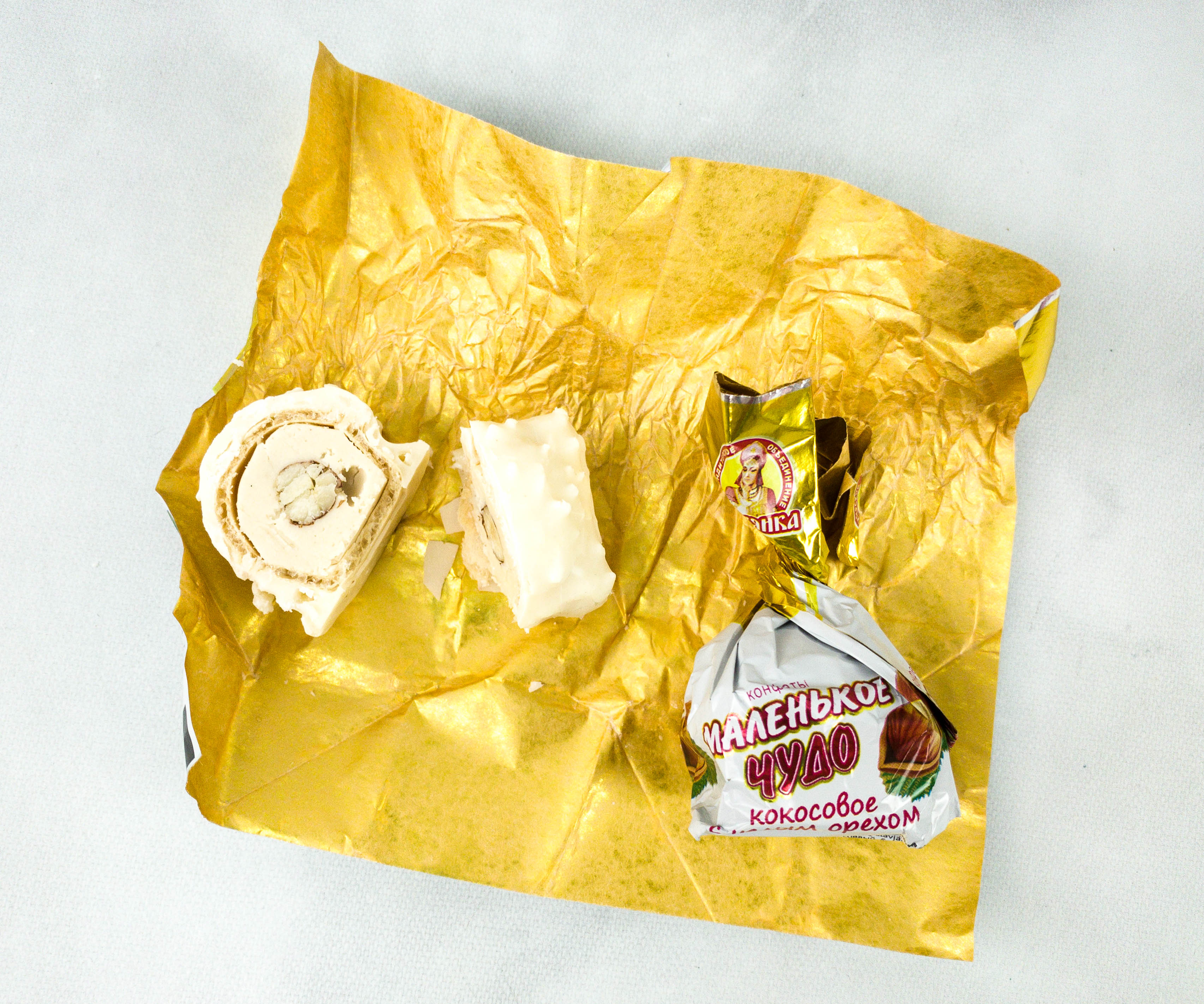 Here's how the inside of the ball looks like. It's smooth, chewy, and nutty at the same time!
Almond White Chocolate Bar. Perfectly roasted whole almonds, crunchy caramelized almond slivers, and creamy white chocolate are mixed in one bar. I'm a fan of almonds in chocolates and this one didn't disappoint. The taste was rich and so satisfying.
White Chocolate & Hazelnut Cream Wafer. This wafer snack hits the spot with its white chocolate and hazelnut filling. Each pack contains 2 wafer sticks that easily satisfied my hunger!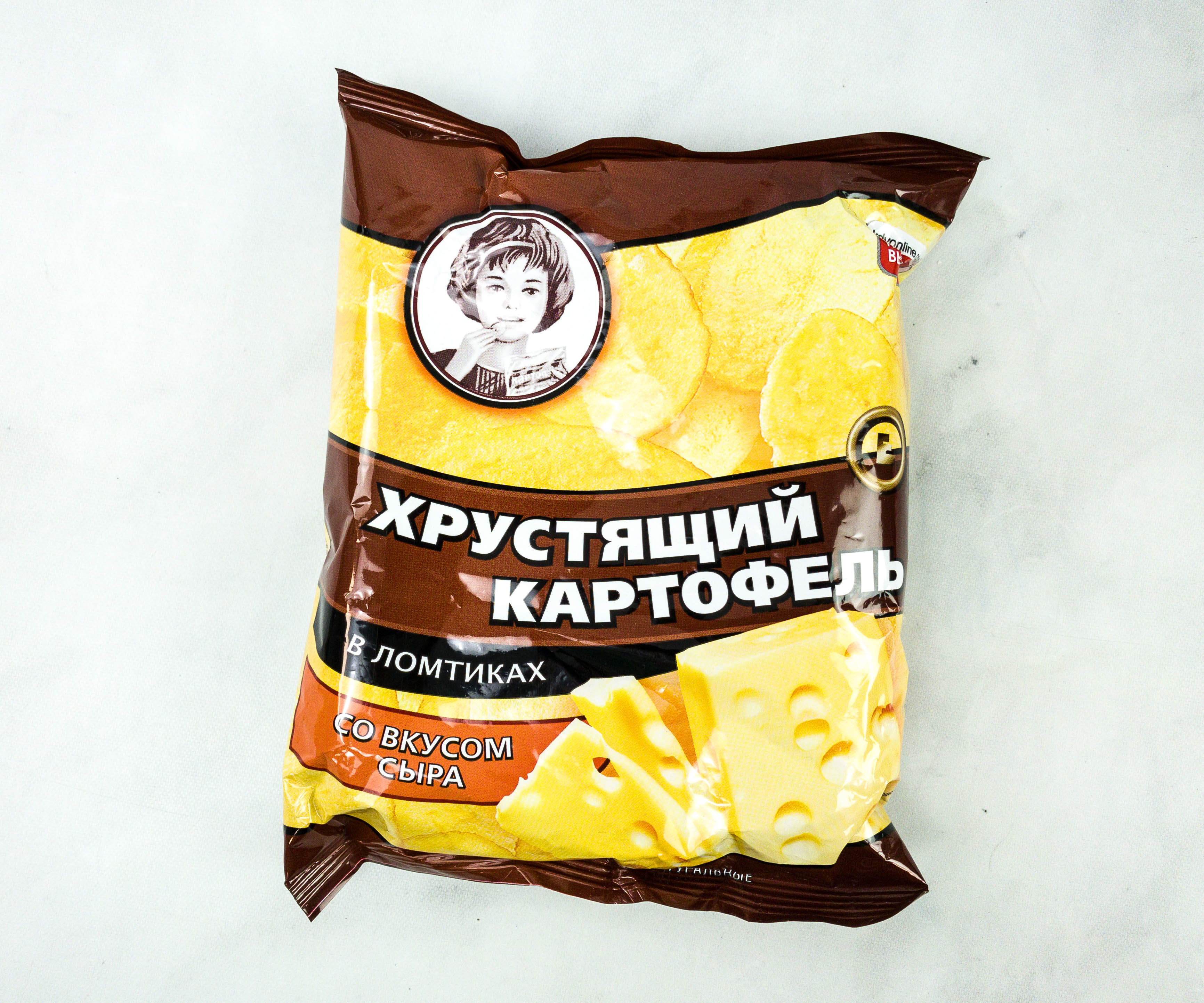 Sovietsky Cheese Potato Chips. These chips are cheesy, crispy, and savory! The thin potato slices are great on their own, but they also go well with a dip. Our family is a fan of potato chips and this is indeed one of the best that we have tried!
BBQ Kebab Potato Chips. There are a lot of popular Russian dishes and shashlik, a meat kebab, is one of them! These chips are inspired by the savory and smoky flavors of the shashlik. They were light and crunchy, and they also pair well with a cold drink!
Bolete Mushroom Bread Bites. Apparently, mushrooms are popular in Russia, and mushroom hunting is also said to be one of the favorite pastimes of Russians. They also have delicious mushroom snacks like these bread bites that are baked twice and showered with bolete mushroom seasoning. I love how crunchy and flavorful they are!
Ripe Pear Milk Chocolate. With the chocolate's rich pear filling, this is an instant favorite for me. I had this for my dessert and I am so happy how it completed my meal. I never imagined that chocolate and pear would taste so good!
Nuts & Milk Chocolate Wafer. Here's another wafer snack in the box! This time, it is generously coated with chocolate and sprinkled with crushed peanuts. The wafers had hazelnut cocoa cream to add more flavor. My kids loved it and paired it with milk!
Boiled Milk & Chocolate Cake. According to the booklet, this cake's recipe has been used since 1966 and it proved to be one of the best chocolate cakes that ever existed. The rich chocolaty taste, smooth texture, and creamy caramel were enough for me to agree. I enjoyed this up to the last bite and as always, I love the baby on all Alenka products!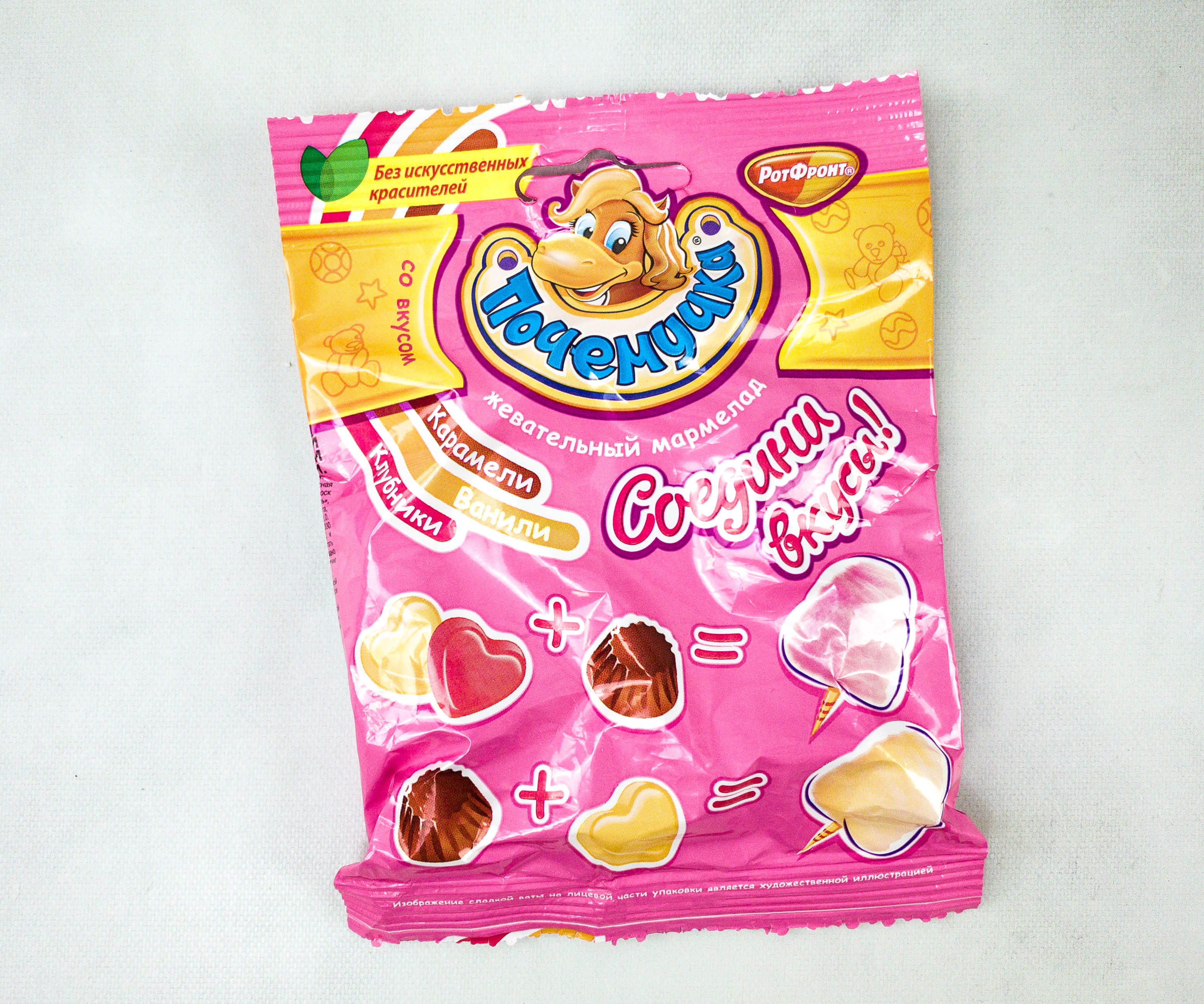 Strawberry, Caramel, and Vanilla Gummies. There's a mix of delicious gummy candy flavors inside this bag: strawberry, caramel, and vanilla. What makes the snack special is that you can try combining them to get a totally different flavor. I have tried them all and they are amazing. They are soft and the flavors blend well with each other!
Orange & Vanilla Biscuits. A well-balanced blend of tangy orange and sweet vanilla was used to make these biscuits taste so good. Each piece was crispy and it melts in the mouth as well. This is a unique and delicious flavor that I would love to try again in the future!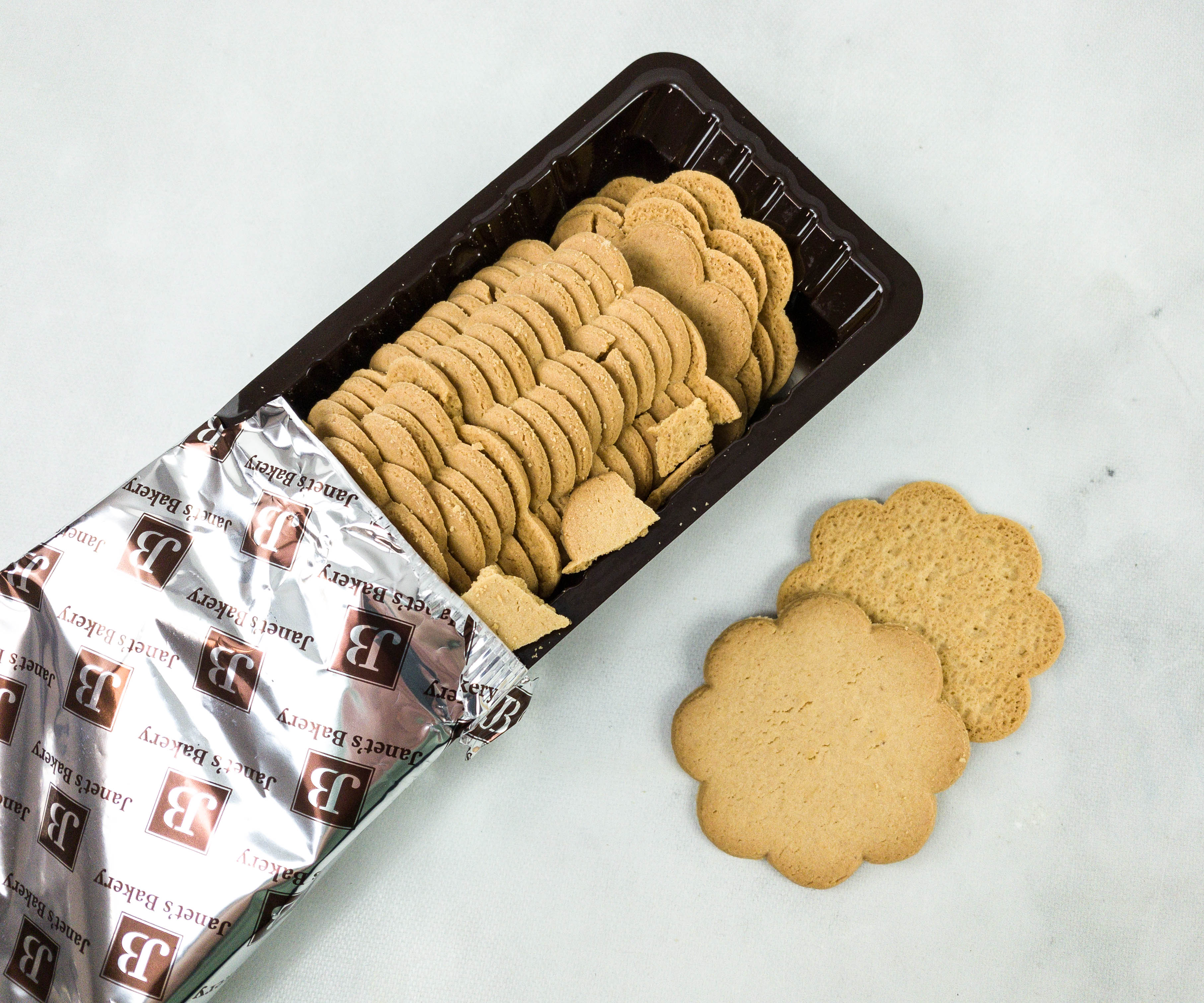 The biscuits are placed in a plastic tray to protect them from breaking during shipping.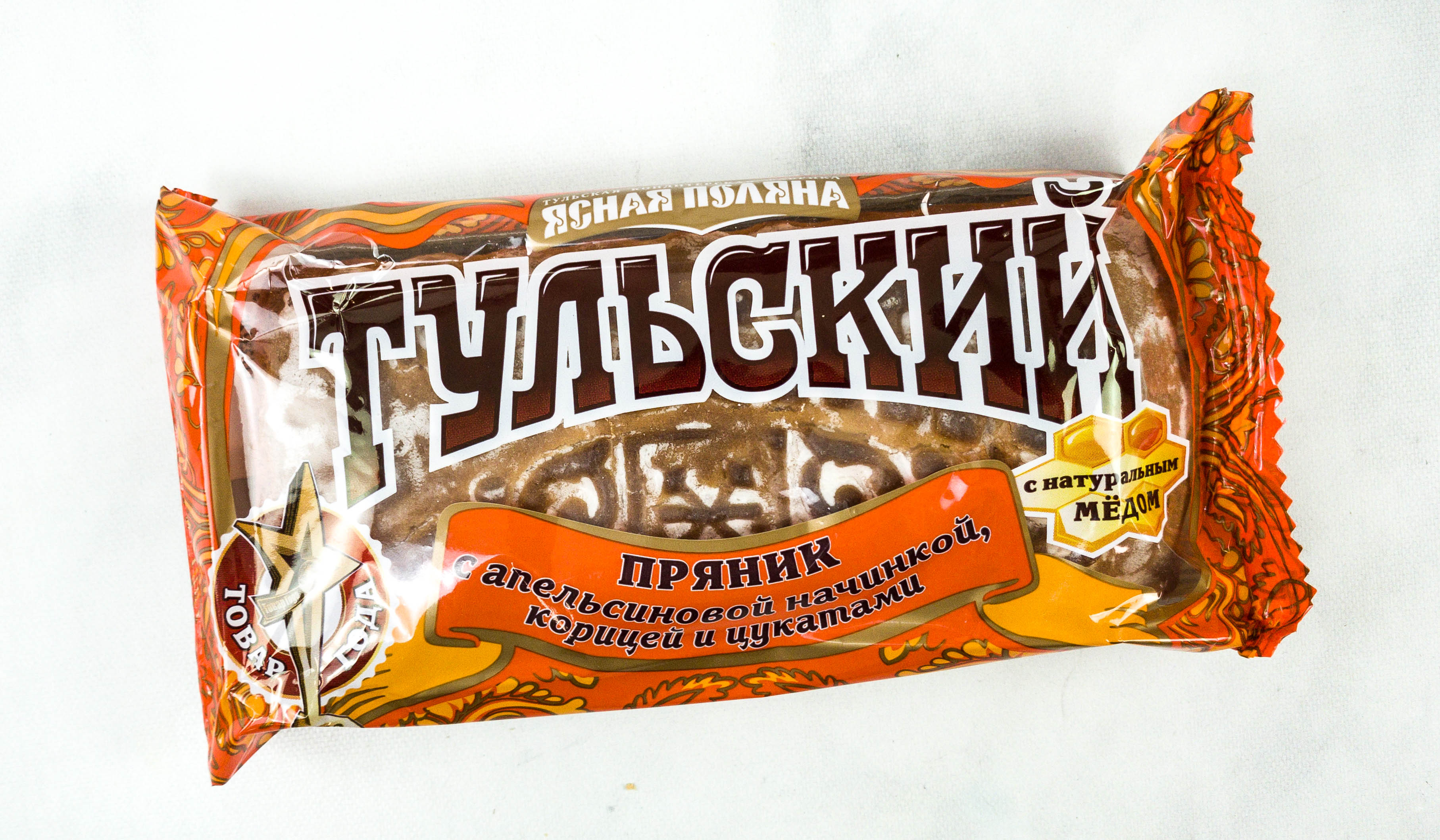 Orange Marmalade & Cinnamon Pryanik. A wooden board was used to make a stamp design on the surface of this sweet baked product. This is pyranik and it's also known as the Russian gingerbread. It's soft and sweet!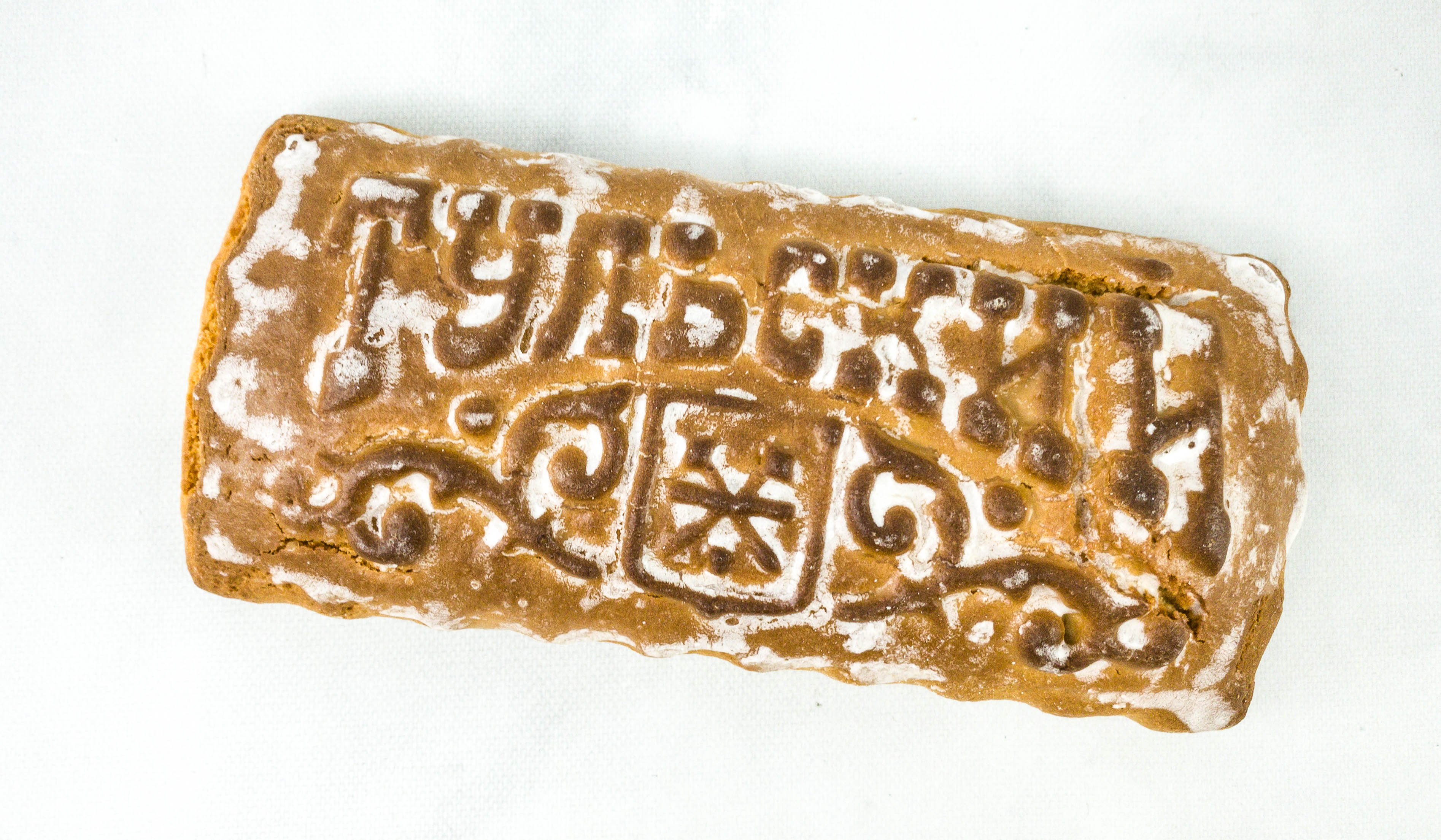 Each dough is coated with a sugary syrup. It did not just add flavor but also made it look more appealing!
The bread has a sweet orange jam filling. I find everything in this pyranik very special. The way it was made, the ingredients and the recipe proved that this product is something that Russians should be proud of!
This month's Universal Yums box introduced us to some of the best snacks from Russia. They were all great, from the chips to the candies and chocolates and everything in between. The box even included delicious bread and I was so delighted because the pyranik and the chocolate cake both tasted so good. They are undoubtedly my favorites from this box. If you're like me who loves trying different kinds of snacks from all over the world, this subscription is perfect for you! Every month means a new adventure for the tastebuds!
Have you tried Universal Yums? What do you think?