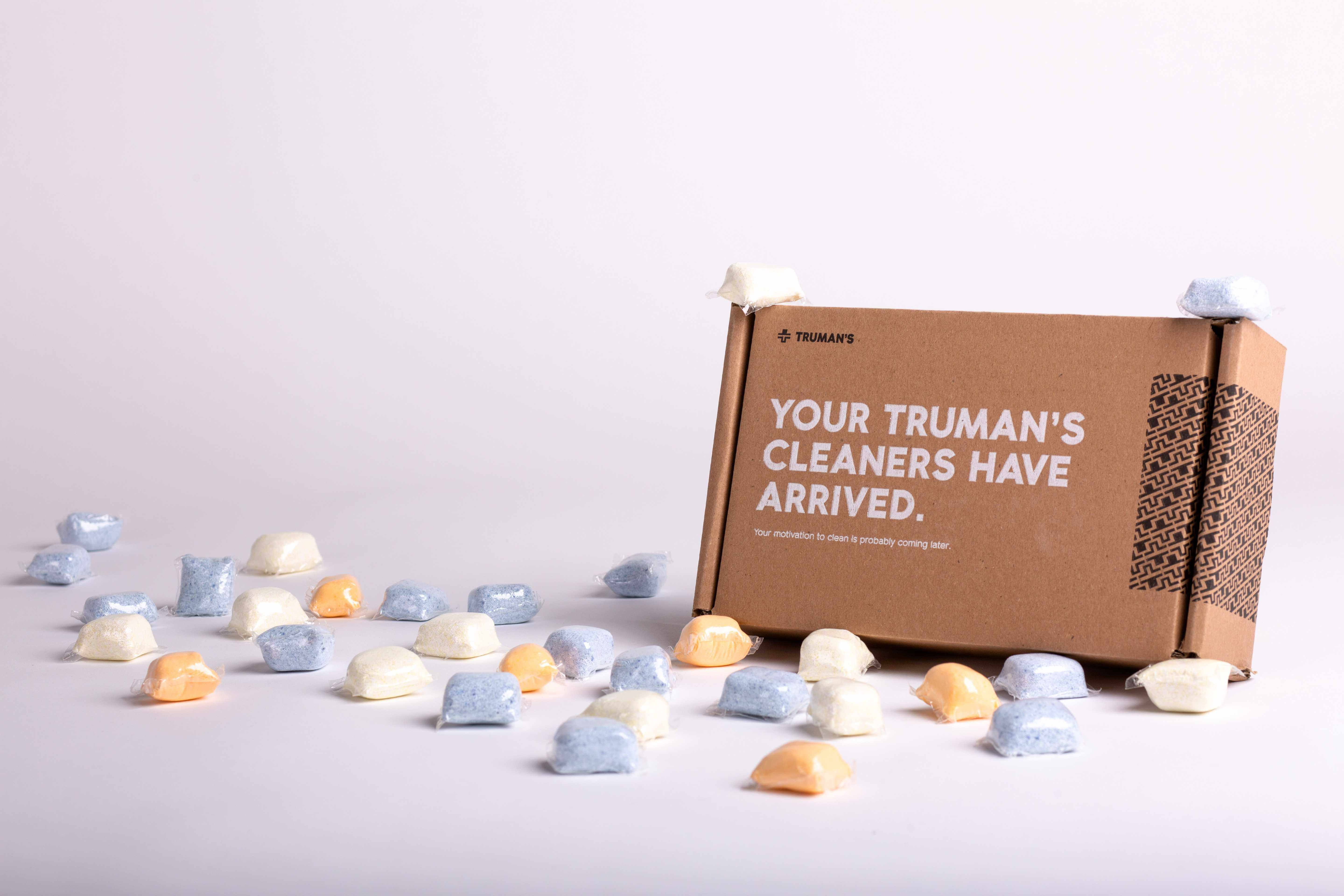 Truman's has a new coupon this Singles Day!
Get $10 off on $30+ orders! Just use this link to subscribe and coupon code SINGLE at checkout! Ends 11/12.
Here are the bundles available:
Home Care Membership Bundle ($29)
Truman's non-toxic solution for clean pants, plates and potties.
Includes:
30 bars of Your Dish Is My Command, Truman's dishwasher detergent
30 bars of Get a Load of This, Truman's laundry detergent
6 bars of Reporting for Doodie, Truman's toilet bowl cleanser
Truman's Membership perks
The Toilet + Laundry Membership Bundle ($25)
Truman's can handle your load, whether it's laundry or, well, some other load.
Includes:
30 Get a Load of This laundry bars
12 Reporting for Doodie toilet bars
Truman's Membership perks
The Toilet + Dish Membership Bundle ($25)
All of the bowls in your house are gonna be clean enough to eat out of. But you should probably stick to dinner bowls.
Includes:
30 Your Dish Is My Command dishwasher bars
12 Reporting for Doodie toilet bars
Truman's Membership perks
Here's a closer look at Truman's newest products:
Truman's Towels – 8 Count ($20)
Truman's eight towels are the perfect cleaning companions for your surface cleaners. Unless you use somebody else's surface cleaners, in which case they are total misfits.
Absorbently Awesome: Truman's Towels are the perfect complement to our arsenal of spray cleaners. Let that soak in.
Earth Friendly: These upcycled polyester towels are machine washable and infinitely reusable. Take them for a spin!
Long Lasting: Truman's towels are warranted for life! (Your life or ours, whichever is longest.)
Truman's Sponges – 6 Count ($13.50)
One sponge to rule them all. Use it wisely. Or use it foolishly. It'll work either way.
Versatile: Your dual-layered sponge is ready for battle, whether your dishes need a gentle rub or something more abrasive.
Earth Friendly: Truman's sponges are completely biodegradable, ensuring they receive proper burial at the end of their lives.
Packaged to Perfection: Our packaging is made from post-consumer recycled material and can be both recycled or composted.
Here's how Truman's works:
Get a Starter Kit Try any of Truman's non-toxic cleaners for 30 days risk free.
Get Some Refills We'll ship refills in sustainable packaging on your schedule!
Repeat Step 2 It's that simple! Now see if you can get somebody else to clean.
Here are the benefits:
Good Cleans Come in Small Packages

Save space:Because that 5-gallon jug of detergent is as burdensome on the planet as it is your back.
Saves plastic:Shipping products in recycled cardboard that can be recycled or composted* means a lot less junk in the trunk.
Saves money:Truman's versatile cleaners do the work of many and ship free to members, so you can keep more of your hard-earned cash. (Or shower your favorite cleaning company with lavish gifts.)
Are you getting the Truman's?