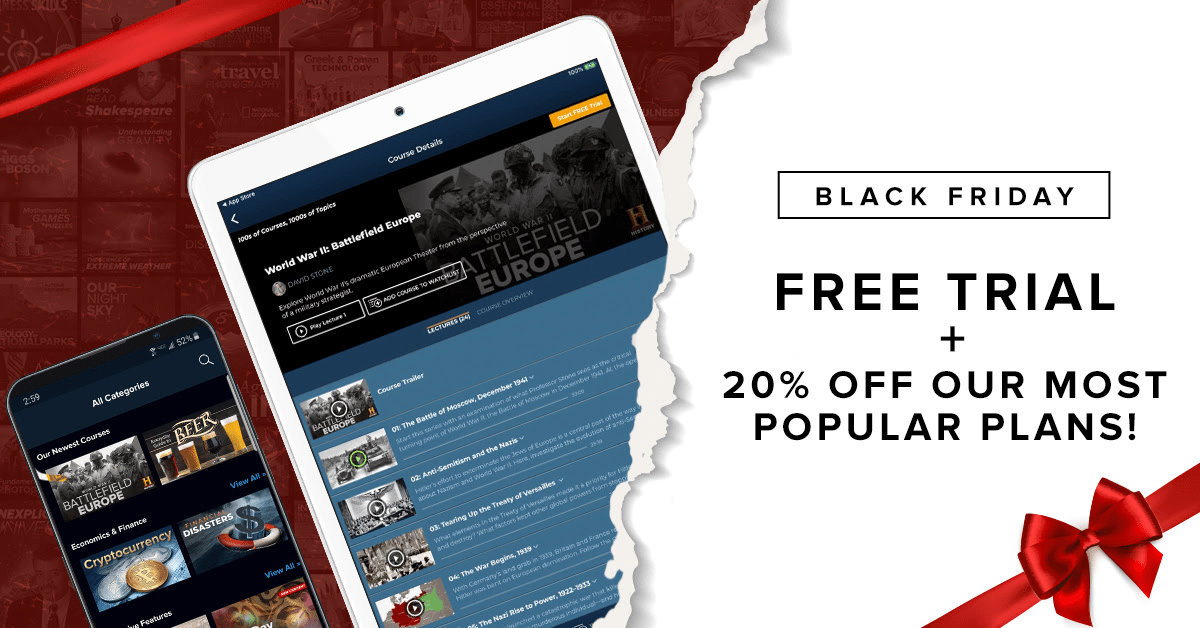 The Great Courses Plus has a new sale for Black Friday 2020!
The Great Courses Plus makes lifelong learning and personal enrichment available to anyone, anywhere. Our content-rich, unique courses provide you with a world of knowledge designed to expand your horizons, deepen your understanding, and foster epiphanies.
Get two weeks free trial + 20% off on select plans  when you use this link to subscribe. Ends 11/30.
Entire 14 days FREE & More at The Great Courses Plus!
How it works:
Sign Up for a Free Trial.
Find your favorite subjects and stream.
Download our apps so you can enjoy learning anywhere.
Here are the member benefits:
Get unlimited access to thousands of hours of audio/video lectures taught by the world's greatest professors.
Access new content added every month—guaranteed.
Access video, audio, and transcripts of every session.
Learn on the go with a bevy of The Great Courses Plus apps.
Get exclusive access to beautifully produced documentaries that explore today's most important ideas.
Here are the courses offered:
Economics & Finance
Food & Wine
Health, Fitness & Nutrition
History
Hobby & Leisure
Literature & Language
Mathematics
Music & Fine Arts
Philosophy & Religion
Professional & Personal Growth
Programs for Young Learners
Science
Travel
Are you trying The Great Courses Plus?