STICKII Club is a monthly sticker subscription. This subscription is $10 dollars a month, and you get an envelope full of sticker sheets, sticker flakes, and a few extra stationery items, like notepads or custom-shaped paperclips. Shipping is $1 to the US, $1.75 to Canada, and $2.50 international. There are 3 choices for this subscription – Cute (kawaii, warm, pastel); Vintage (retro, earthy, nostalgic); or Pop (bright, trendy, cool). You can even change your order every month if you like, as long as you do it by the cutoff date.
STICKII Club is a monthly sticker subscription with 3 styles to choose from. Enjoy endless varieties of stickers as unique as you are, plus member perks in our shop and early access to new releases.
This is a review of the Vintage Pack, formerly Retro Pack!
My items arrived in an envelope and everything was tucked into this vinyl holder.
I received two stickers that have the theme listed. I used one on the corner of my holder so I can quickly grab the stickers I need when looking for past packs. The second sticker can be used however you wish. You can store the vinyl holder in an A5 folio. The theme was Let it Snow. I live somewhere where it doesn't really snow so I thought these were lovely.
Everything in my Vintage Pack – Let it Snow!
STICKII Notepad Our notepad for the month features a design from a collaborative artist, @Carosurreal. It has an adorable design of a dog drinking something warm while journaling at a table. The pad is 3.5″ x 2.75″ and there are 15 sheets.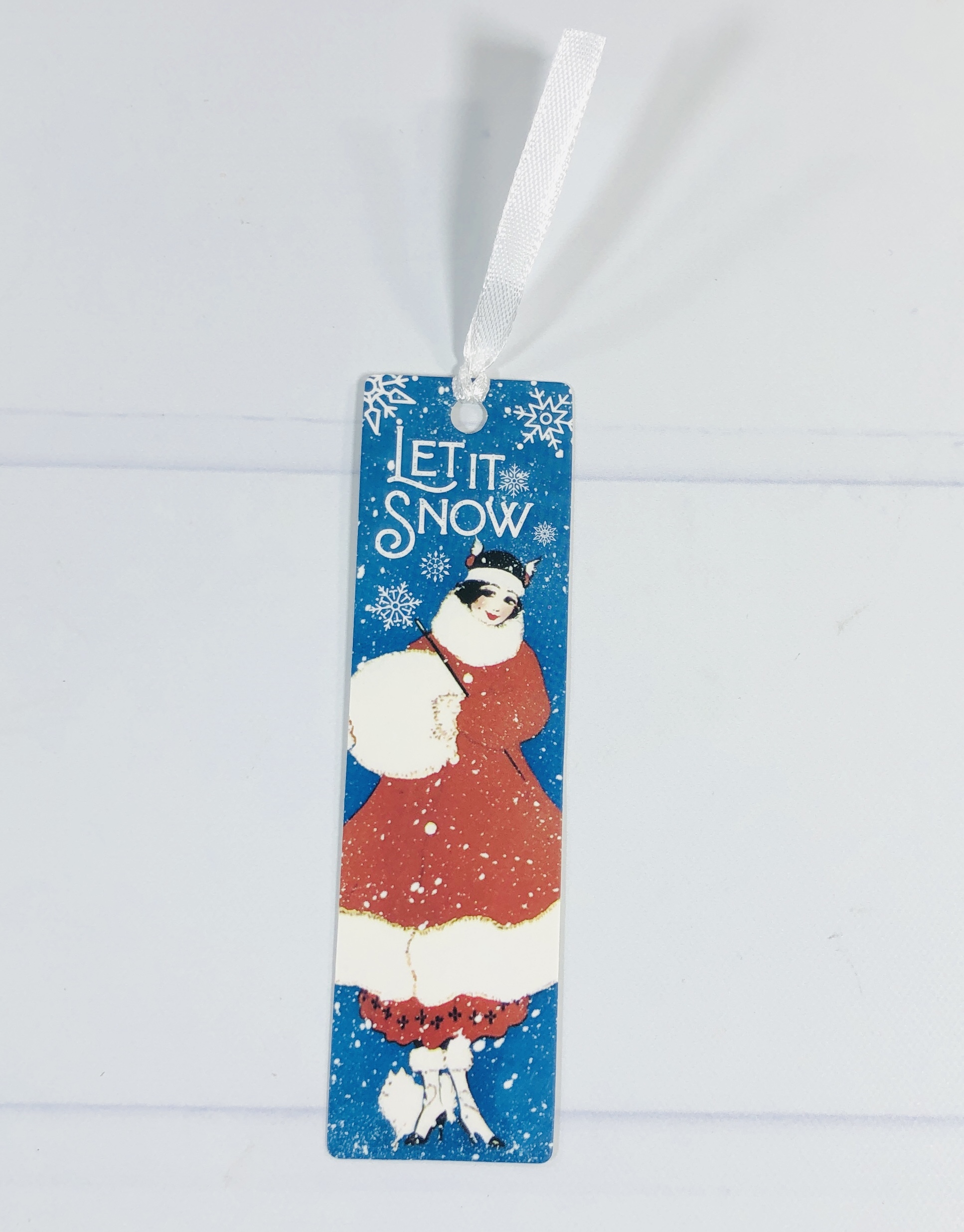 Let It Snow Bookmark has a smartly dressed woman with a big puffy muff, or maybe a snowman base. The bookmark is 5″ long and has a satin ribbon tied to the top.
I'm not sure what to call these Mini Cards. They are printed on cardstock and one looks like an advert for hot cocoa, and the other looks like the woman is boxing up cookies. They measure 3″ x 2″.
The back has a bit of space for writing, maybe they can be used as gift tags. The decoration on the back is in metallic gold.
Oh Deer Stickers shows antlered creatures with leaves, holly, even mistletoe decorating their heads. I especially like the pine cone stickers. Printed on paper.
Ice Skating Stickers remind me of a picture of The Beatles skiing for some reason. Printed on paper.
Cocoa Break Stickers shows a woman drinking a cup of a classic winter treat, or maybe she's drinking a mocha. Snack items are here too. Printed on washi with silver metallic touches.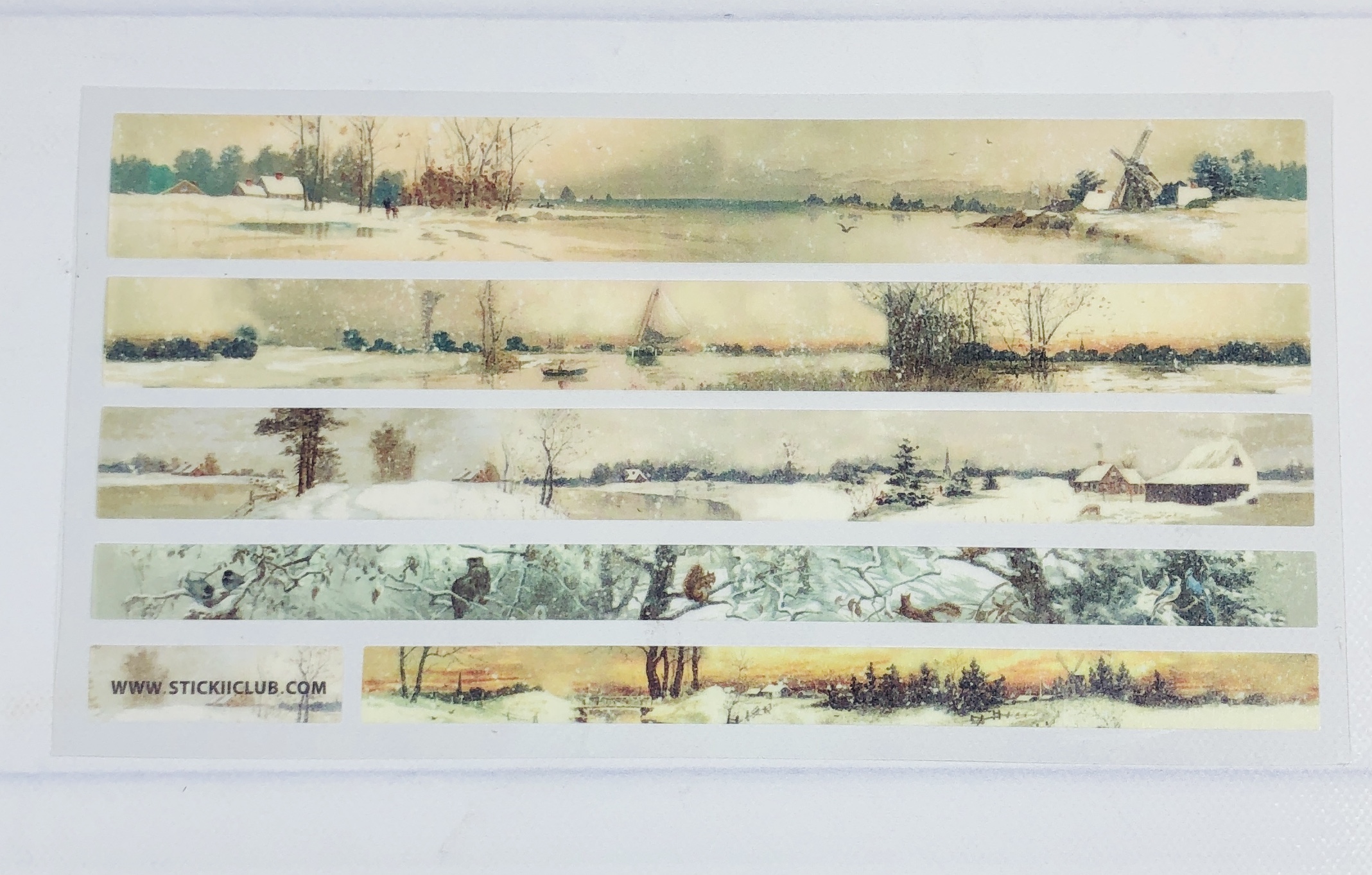 Washi Tape Stickers shows wintry scenes and I love the subdued colors.
Here's a little close up.
Carosurreal Sticker Sheet is from this month's collab artist and has adorable illustrations of bears, more cocoa (or tea or coffee, perhaps cider?), and a bespectacled kitty. Printed on glossy paper.
Bronze Beauty Stickers are vinyl and printed entirely in bronze metallic. I spy a house, mantle, antlers, and sweater.
Winter Sticker Sheet looks like an homage to some beautiful Japanese art. Printed on vinyl.
I was super pleased with the assortment of stickers and stationery in the November STICKII Vintage Pack! I love the different finishes and that some are adorned with metallic touches while others are subdued. The designs were very pretty and I really like the collab artist's style. I have been reading a lot more lately so the bookmark will be used and I can't wait to decorate my planner with my new stickers. You might use them for adorning letters or a journal, while my daughter tends to place them on her phone case. Let me know if you have any other ideas!
Let us know what you think of this month's STICKII pack!