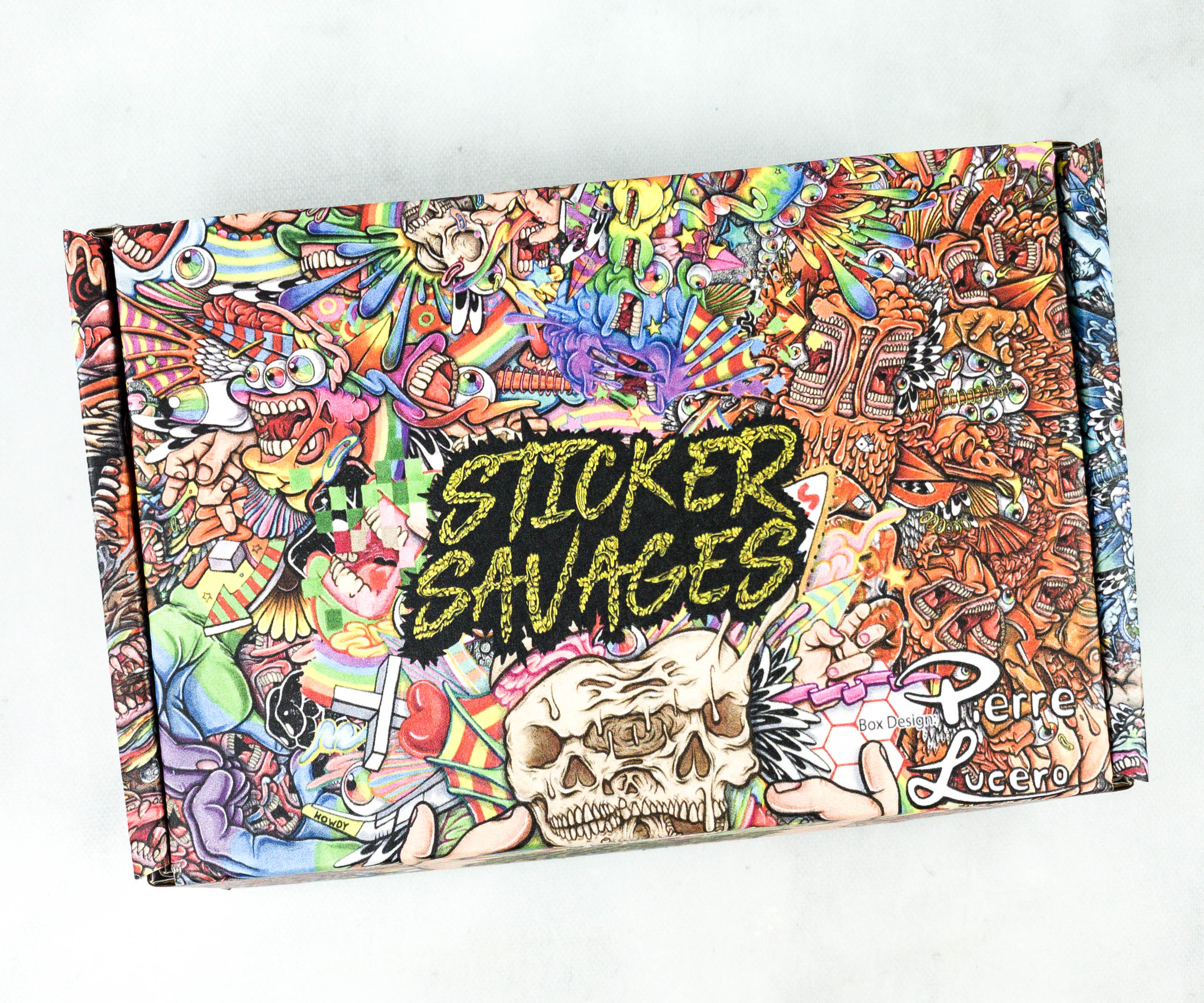 Sticker Savages is a monthly subscription box featuring 10 unique stickers from artists on Instagram. These artists are from around the world and the designs are stunning. Most of these stickers are Sticker Savage exclusives, which means they're printed for subscribers only. All orders come with a card featuring the artists. Shipping is free to the U.S. (and $9.99 worldwide). Sticker Savages is $11.90 a month, or save with longer subscription terms.
We are the dopest sticker box in the game. These stickers are created exclusively for our sticker subscription box, and are great for water bottle stickers, laptop stickers or just about any other thing you can think of. All of our stickers are printed on high quality waterproof vinyl, and are around 3-4in in size.
DEAL: Get 10% off your first box! Use coupon code HELLO.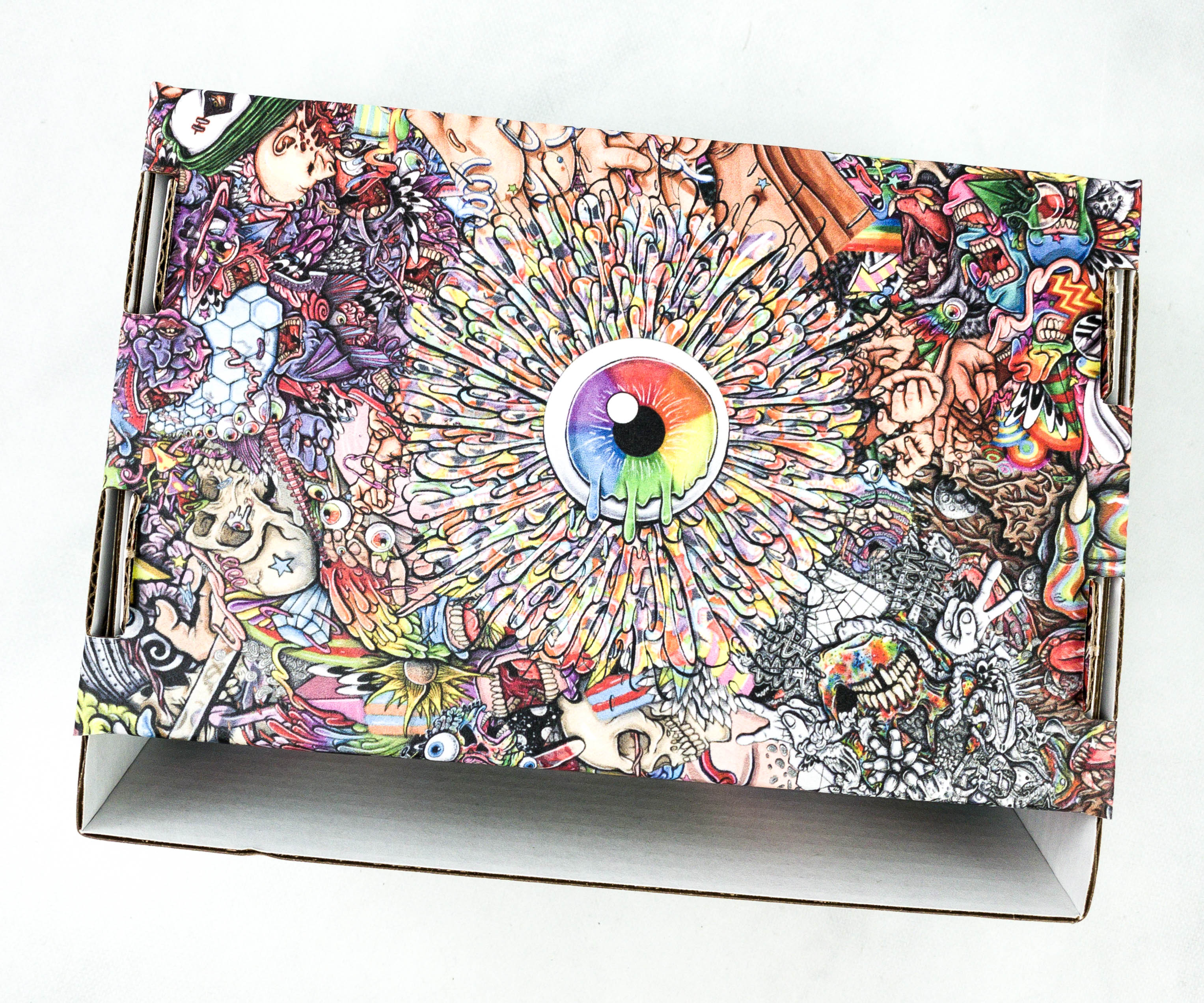 The box itself features eye-catching artworks!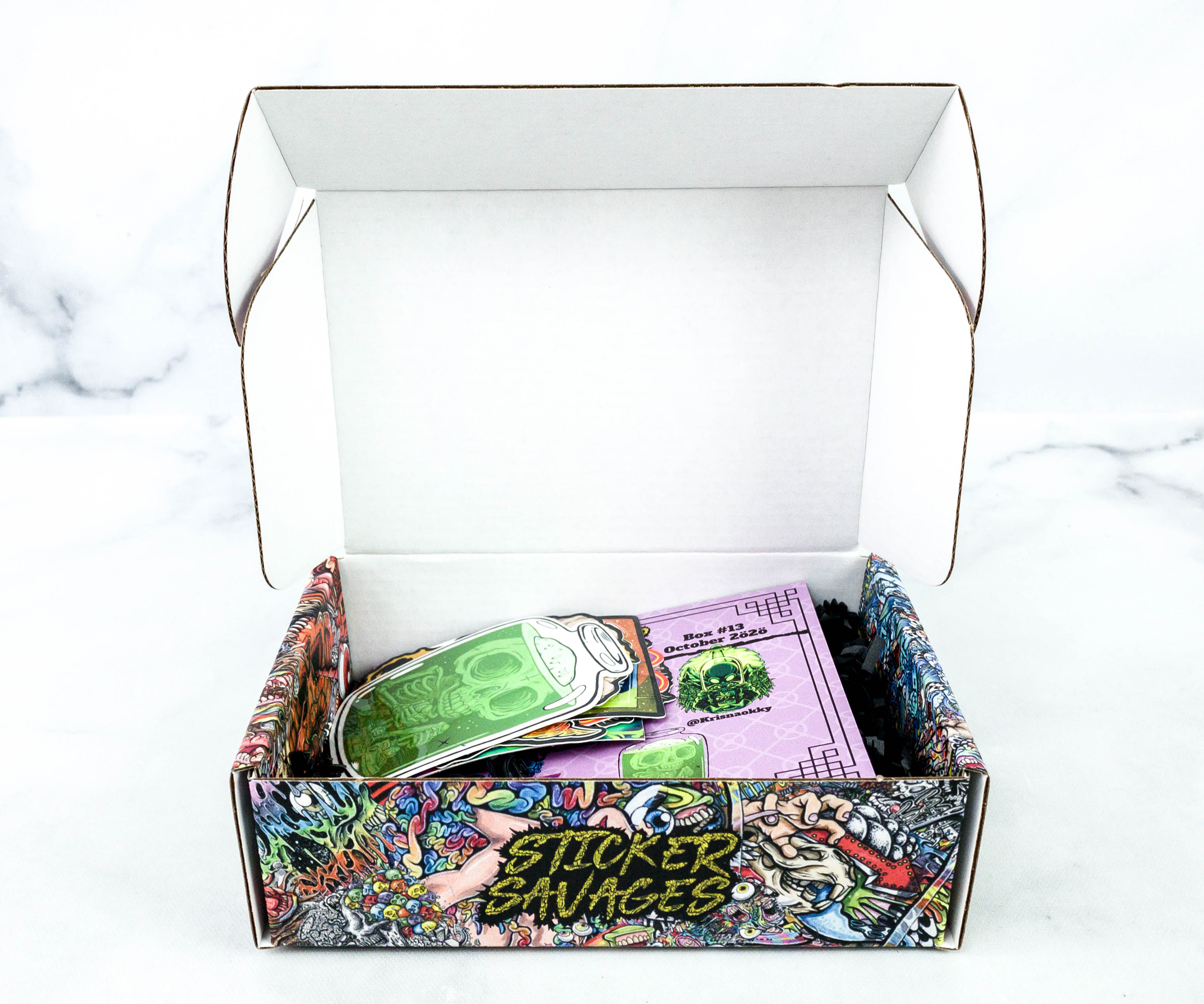 We're excited to finally open this box!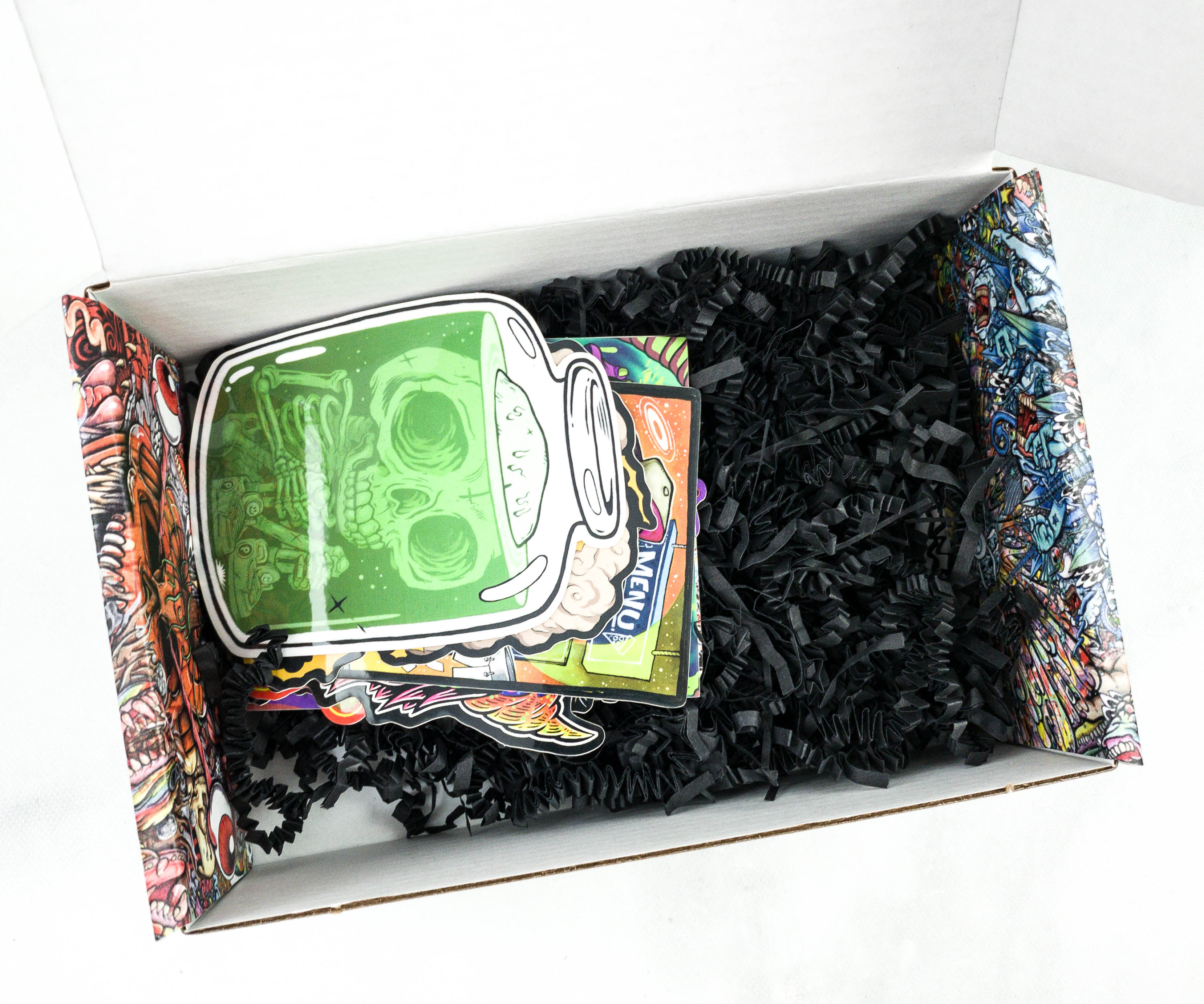 The stickers were packed with black squiggles.
There's a card inside that lists the Instagram handle of the artists.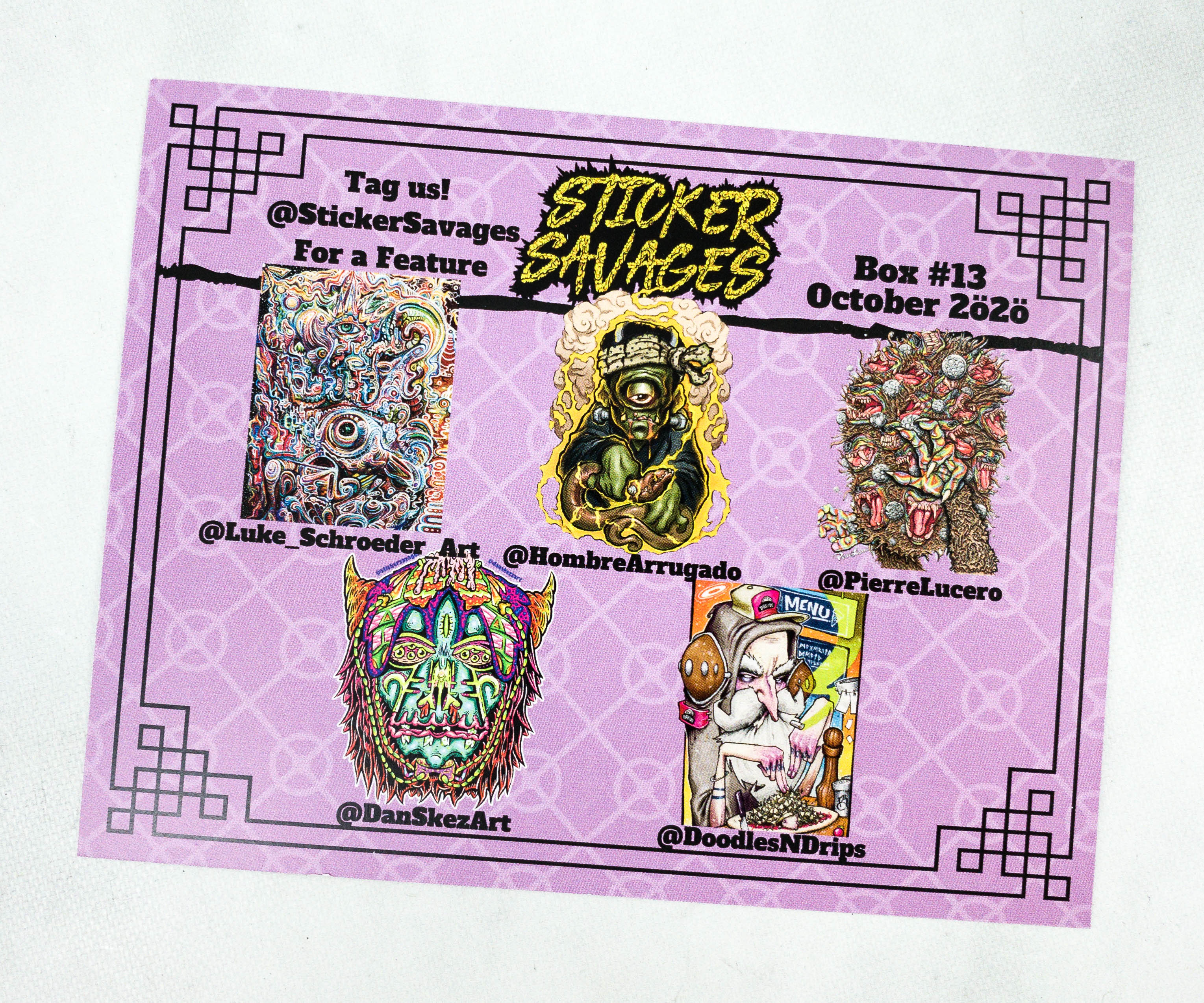 There are more artists at the back!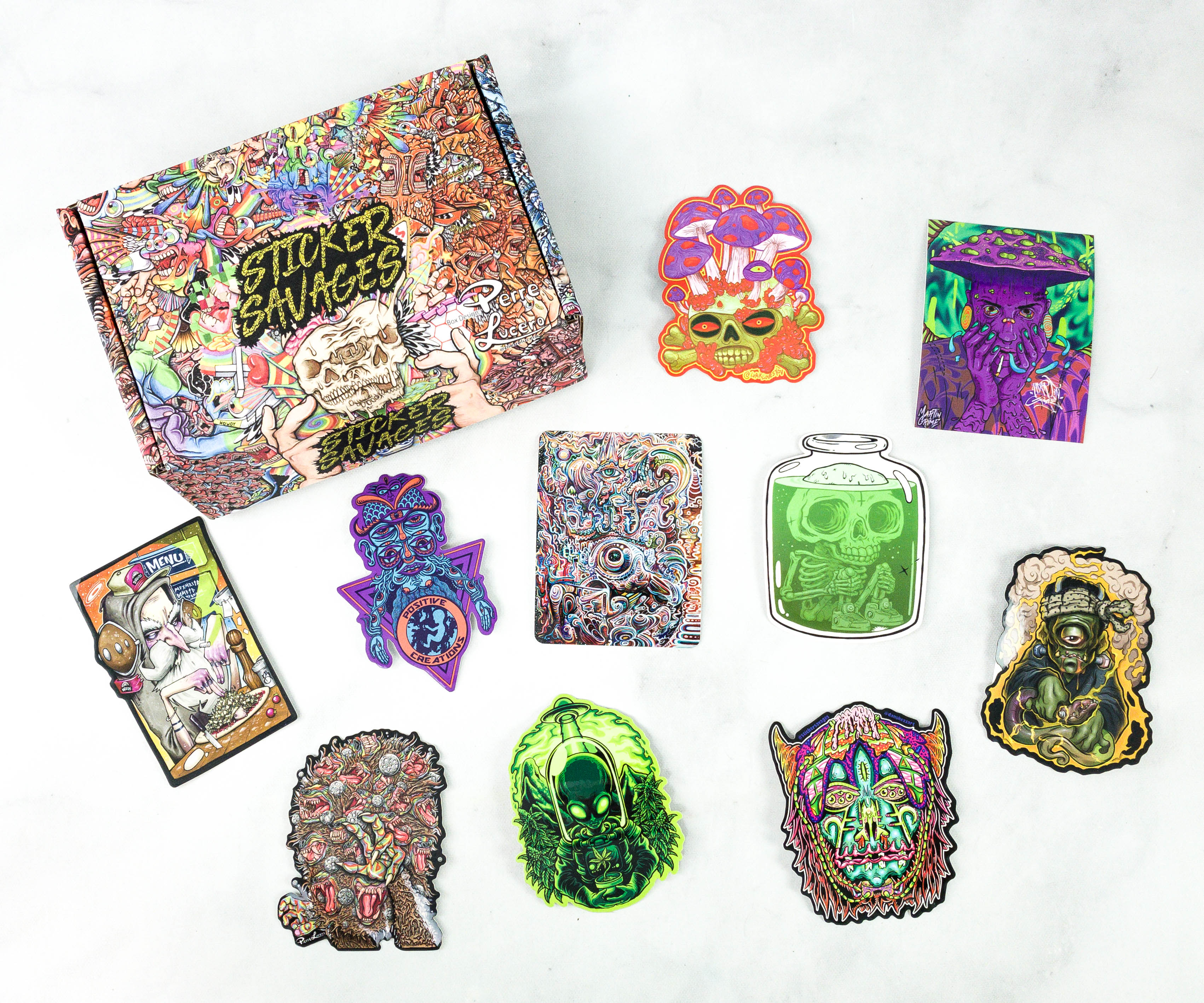 Everything in my box! I received 10 stickers designed by artists.
First up is a sticker from @ProZeet and it features a skeleton inside a jar. It's submerged in a green liquid with its shoes still on!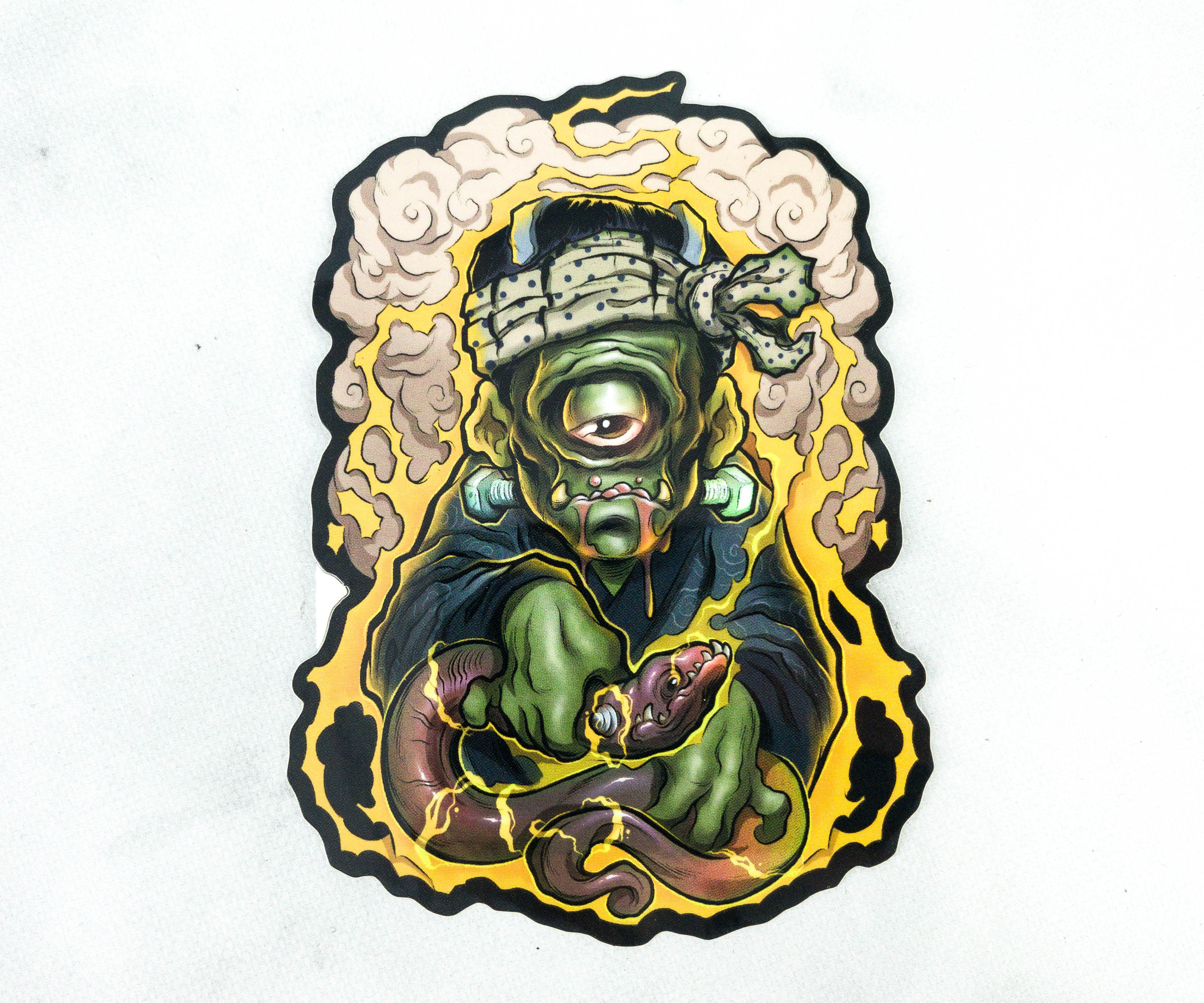 @HombreArrugado's concept for this sticker artwork is mindblowing. The creature looks like a combination of Frankenstein and a cyclops! It's also holding a mutated eel with electricity flowing all over its body!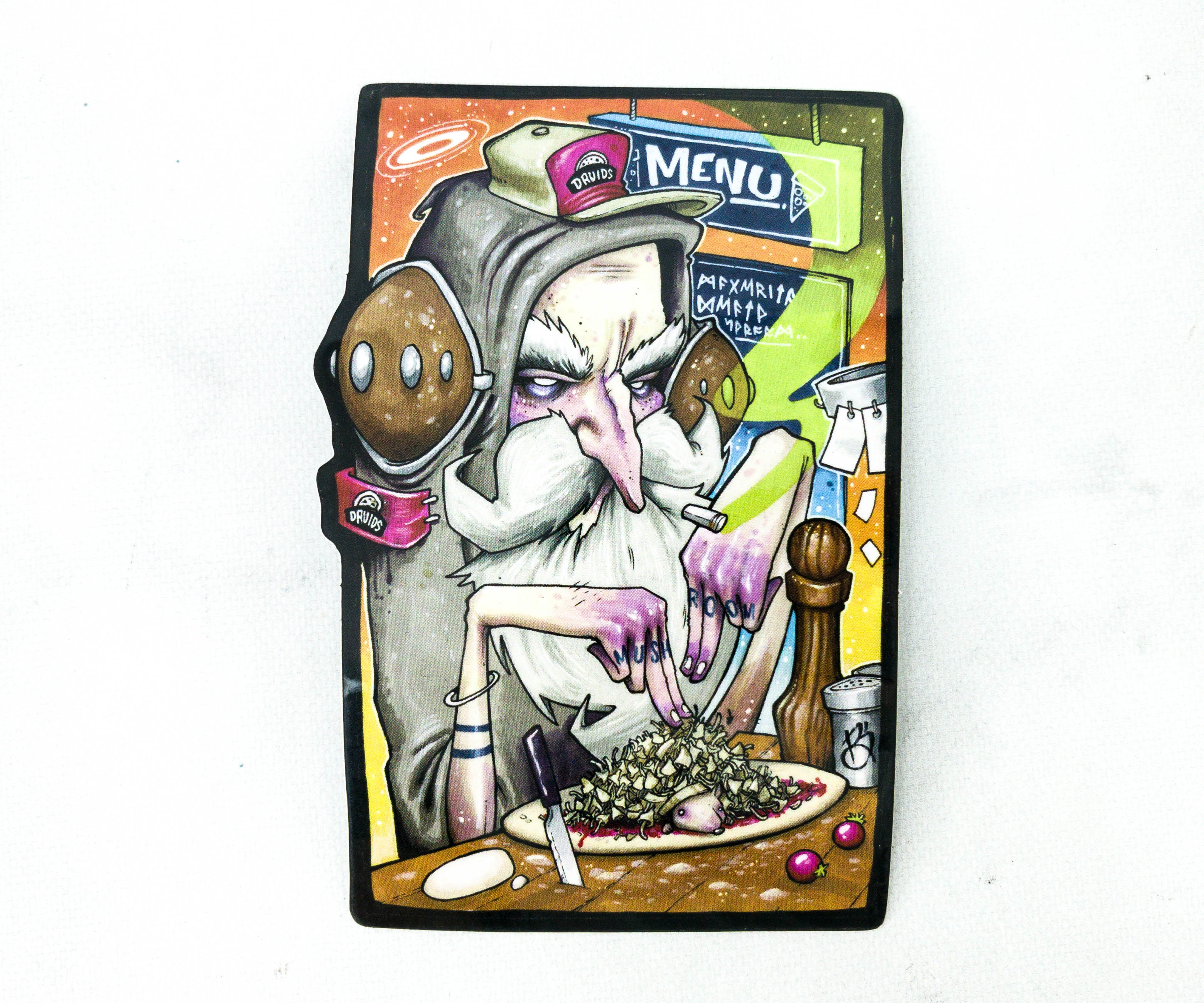 Here's another creepy sticker and it's designed by @DoodlesNDrips! It shows a person preparing a pizza full of mushrooms and rat meat.
@DanSkezArt used a lot of colors for this sticker design. This head looks interesting especially with the multiple pupils on each eye!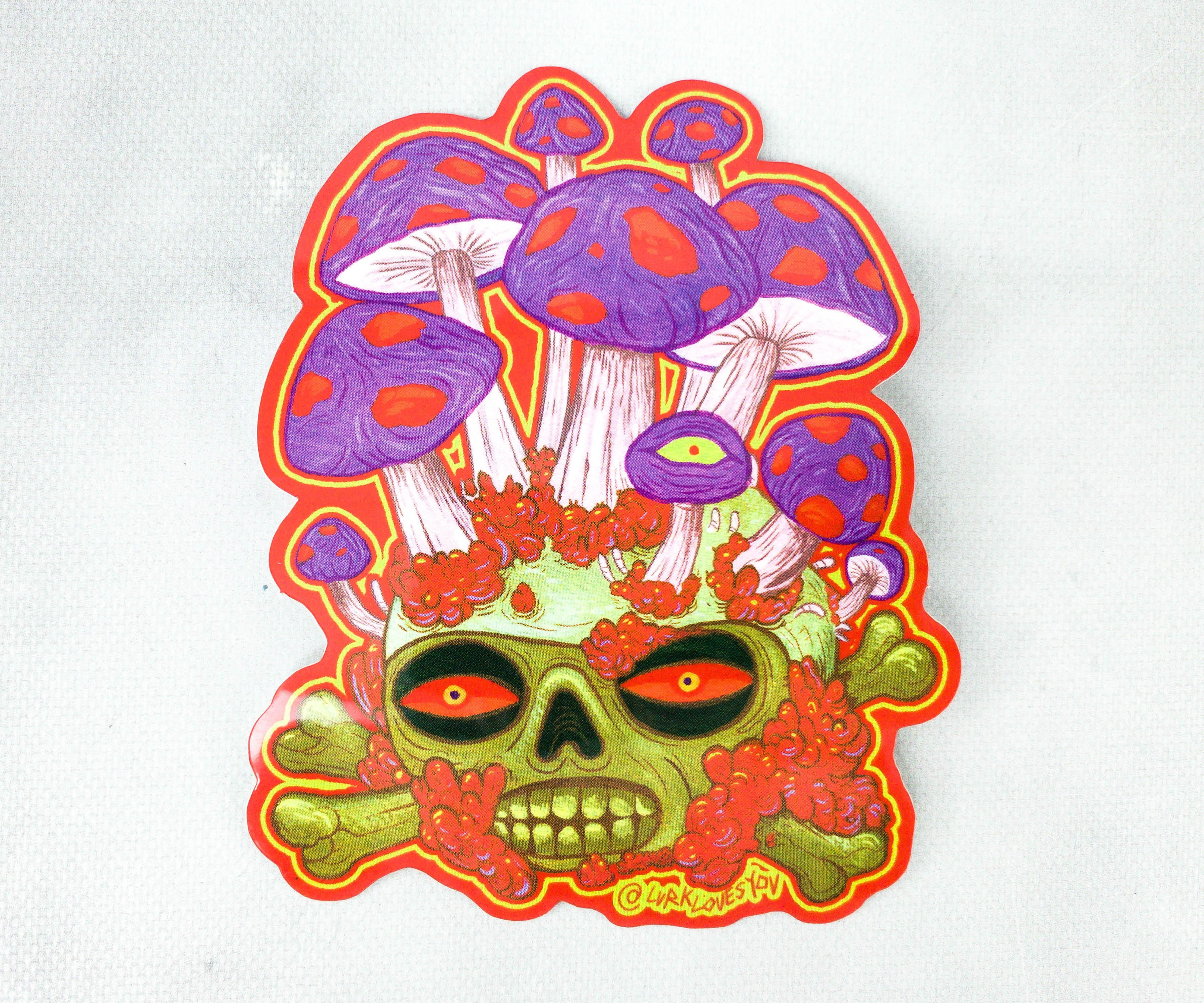 @LurkLovesYou's sticker stands out because of the mushrooms growing on top of the skull. The eyes are red and a grim look on its face makes me uncomfortable, but I really like the colors used in this sticker.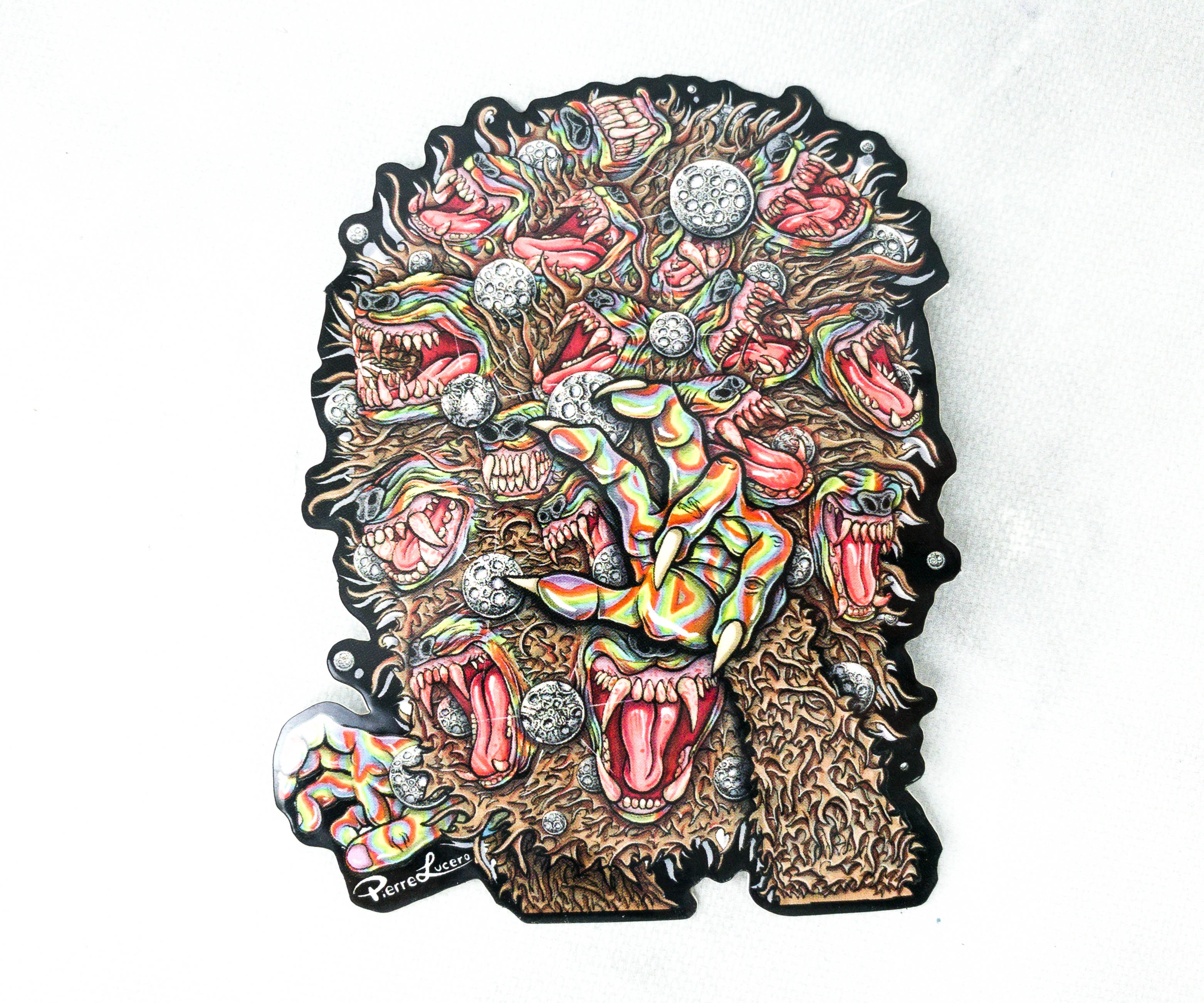 This work from @PierreLucero is not for people who have cynophobia or fear of dogs. It's like a werewolf with a head full of dog's mouths!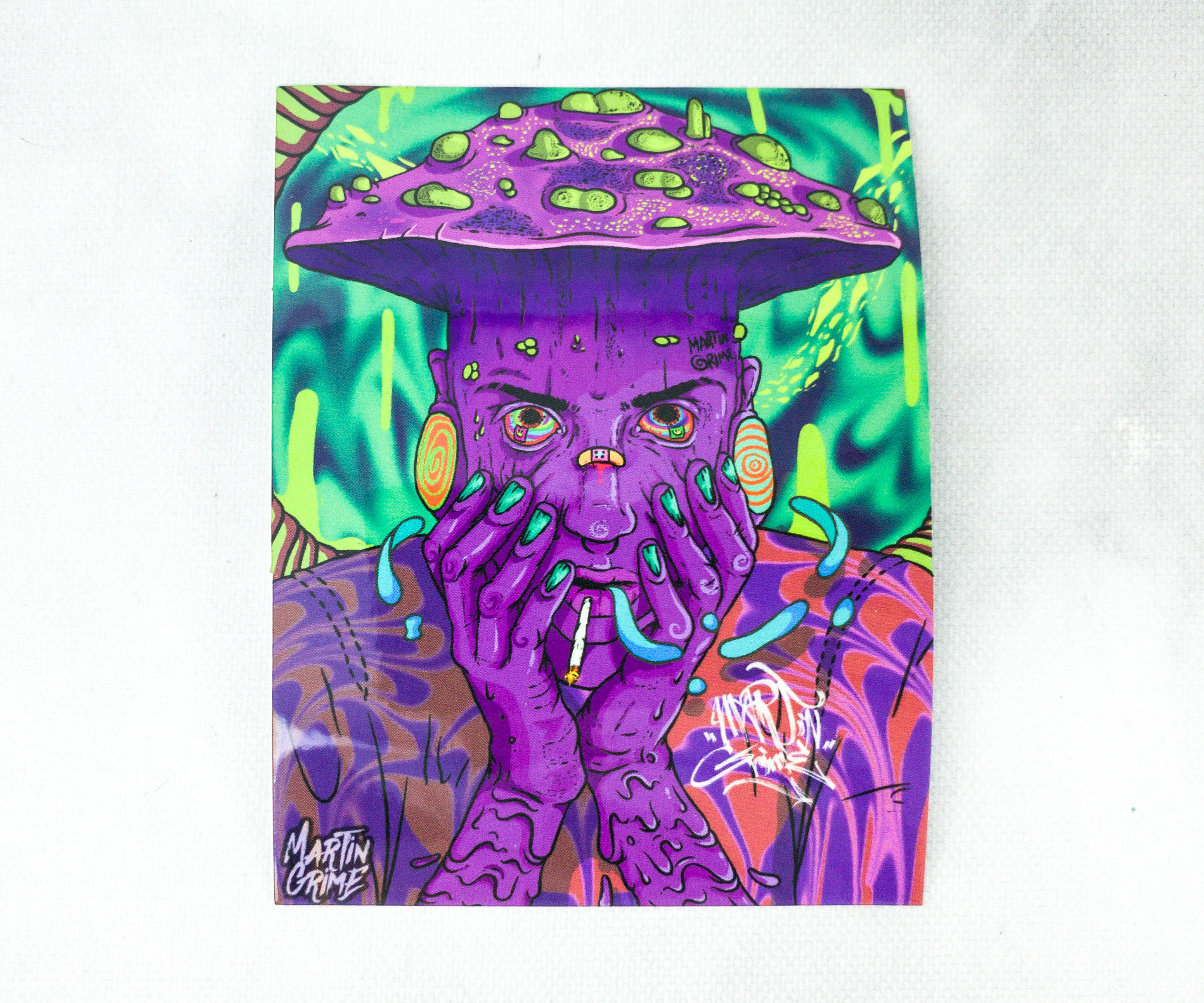 Another interesting design is this man with a mushroom head. The colors used are nice and the details are awesome! It's a nice artwork by @MartinGrime.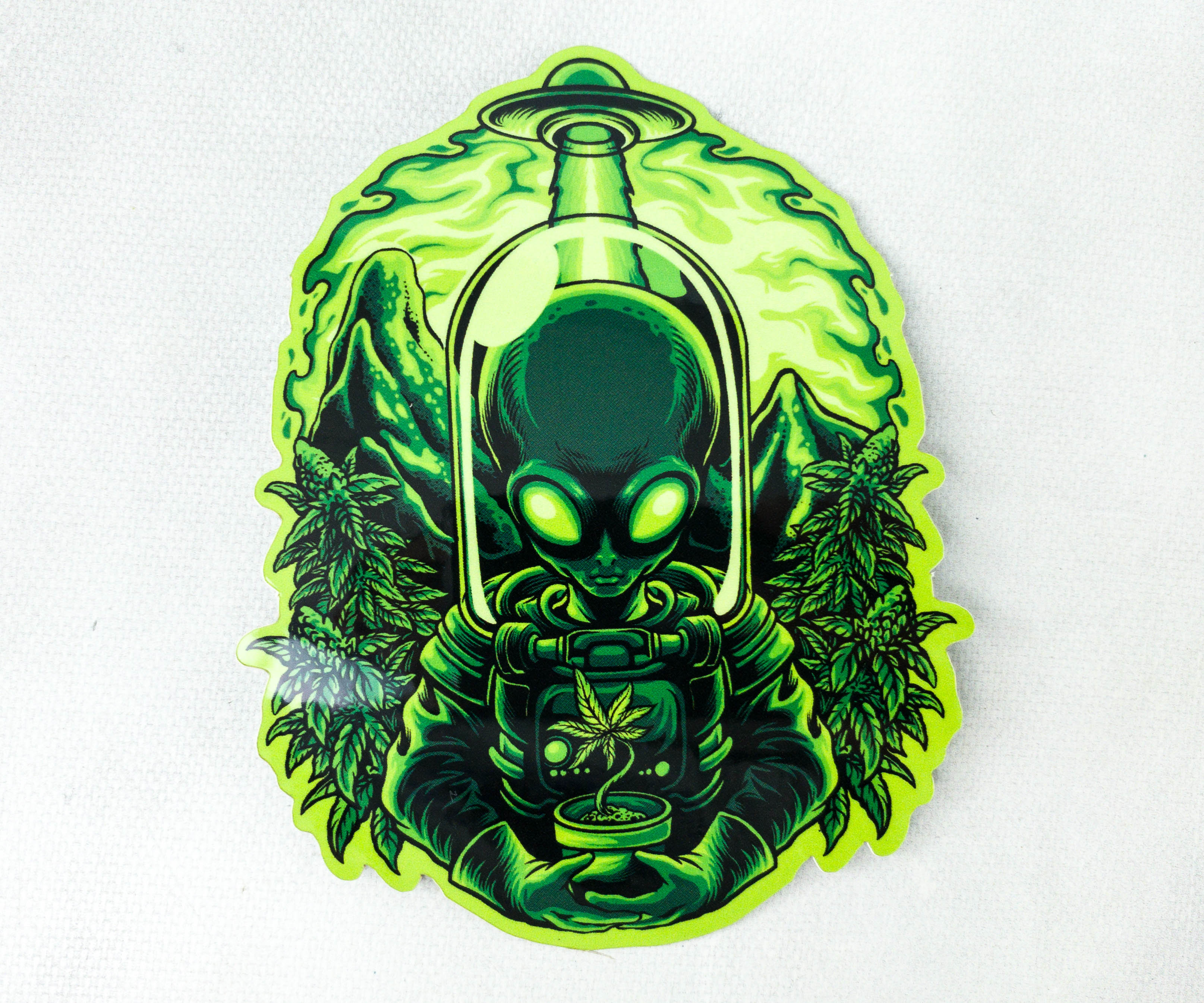 @Krisnaokky's sticker features an alien holding a Cannabis pot. This plant might be the reason why they came in peace!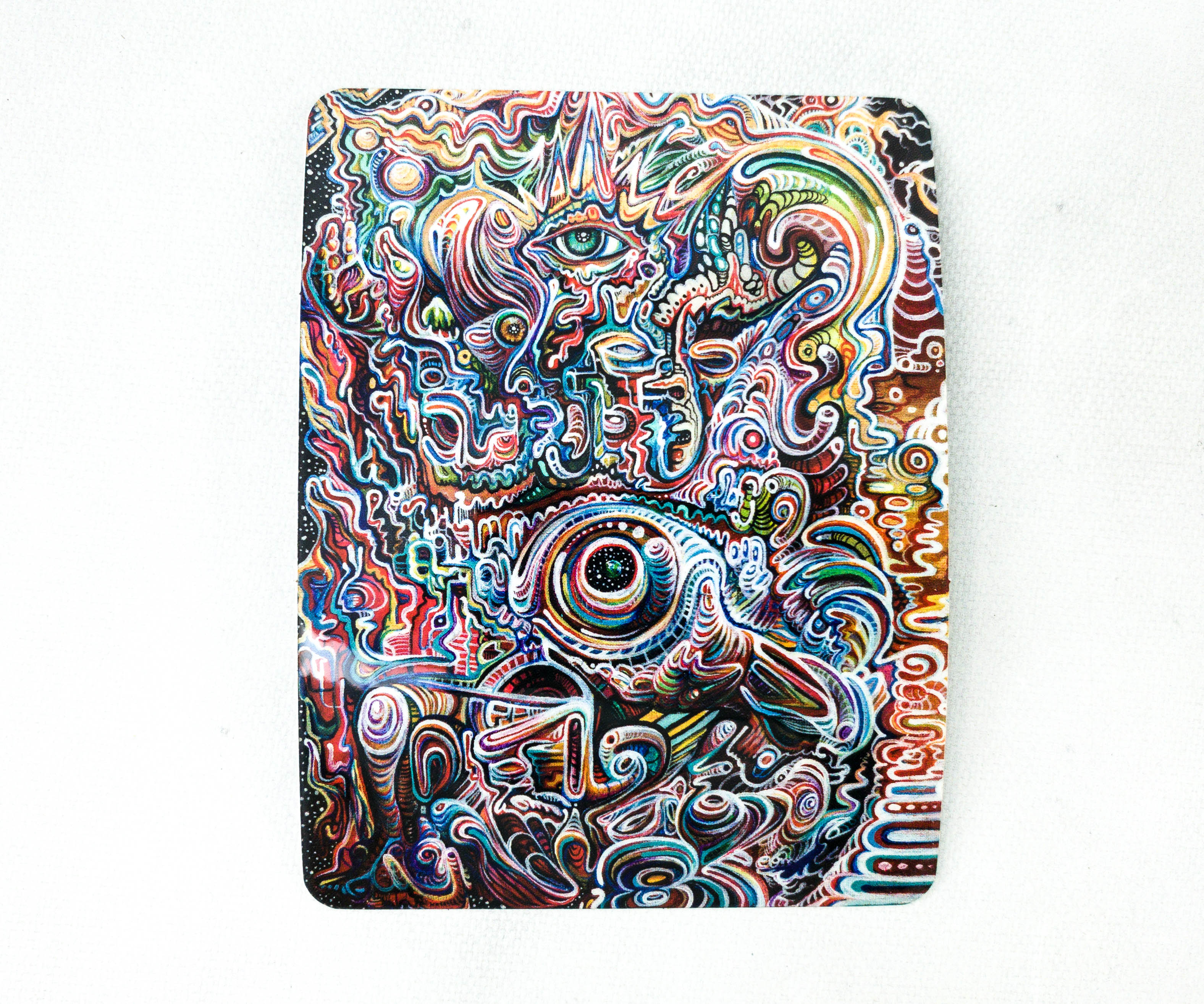 I like how @Luke_Schroeder_Art combined the colors and shapes on this artistic design. The more I look at it, the trippier it gets!
@Chris_Dyer shows a representation of a planet with a fetus like image on it. It's surrounded by the words "positive creations" with a man full of eyes all over his body on top of it.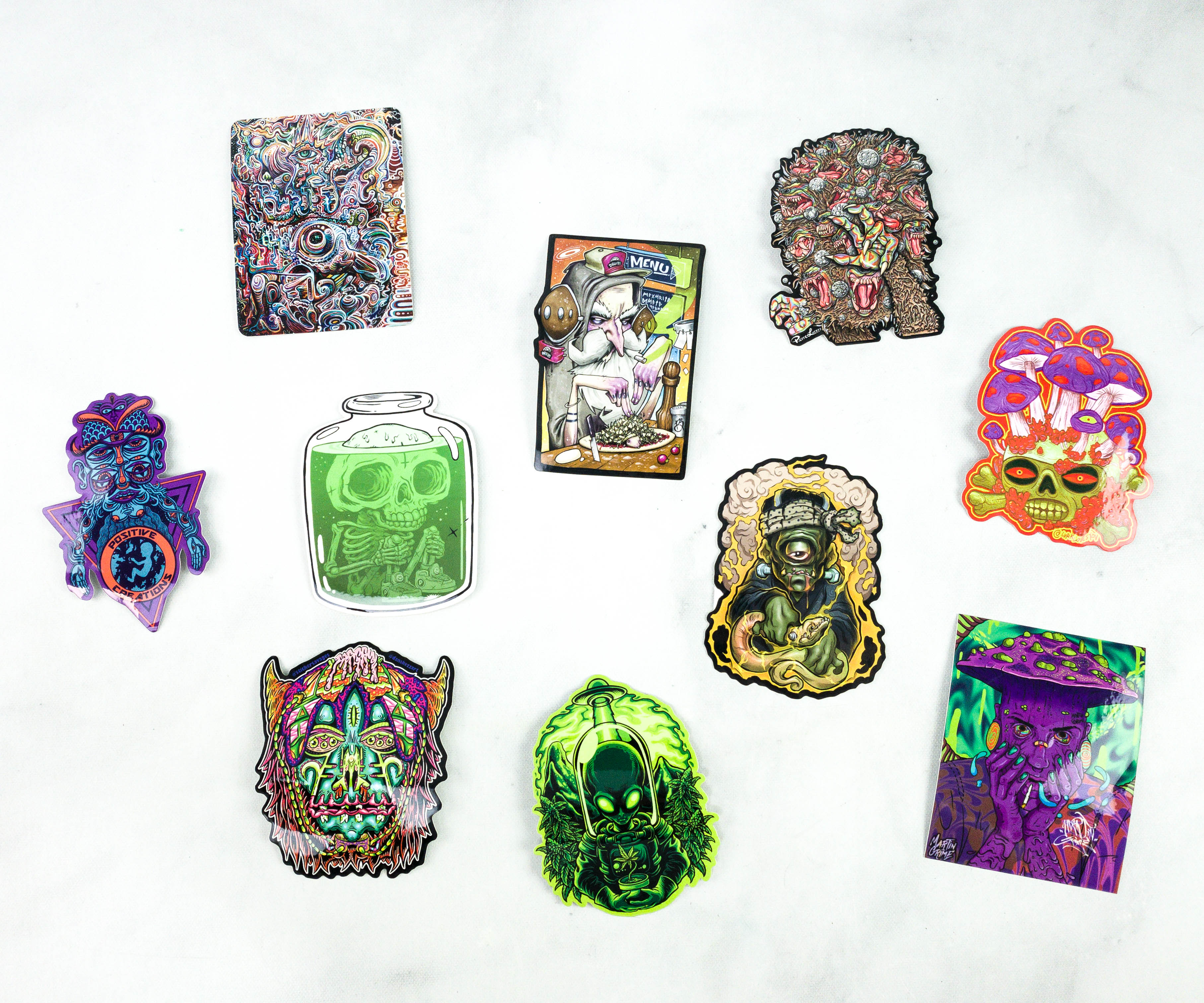 The stickers were great and all the artworks are unique!
Sticker Savages features another set of high-quality stickers this month, made by talented artists from around the world! I loved everything but my favorite is the sticker by @Chris_Dyer. I feel like there's more to his design, like he's trying to send a message using his art. The rest of the stickers are also high-quality, from the design to the print and the paper used. These stickers definitely add character and a unique look to any personal stuff, from laptops to skateboards and even your luggage!
What do you think of the Sticker Savages box?