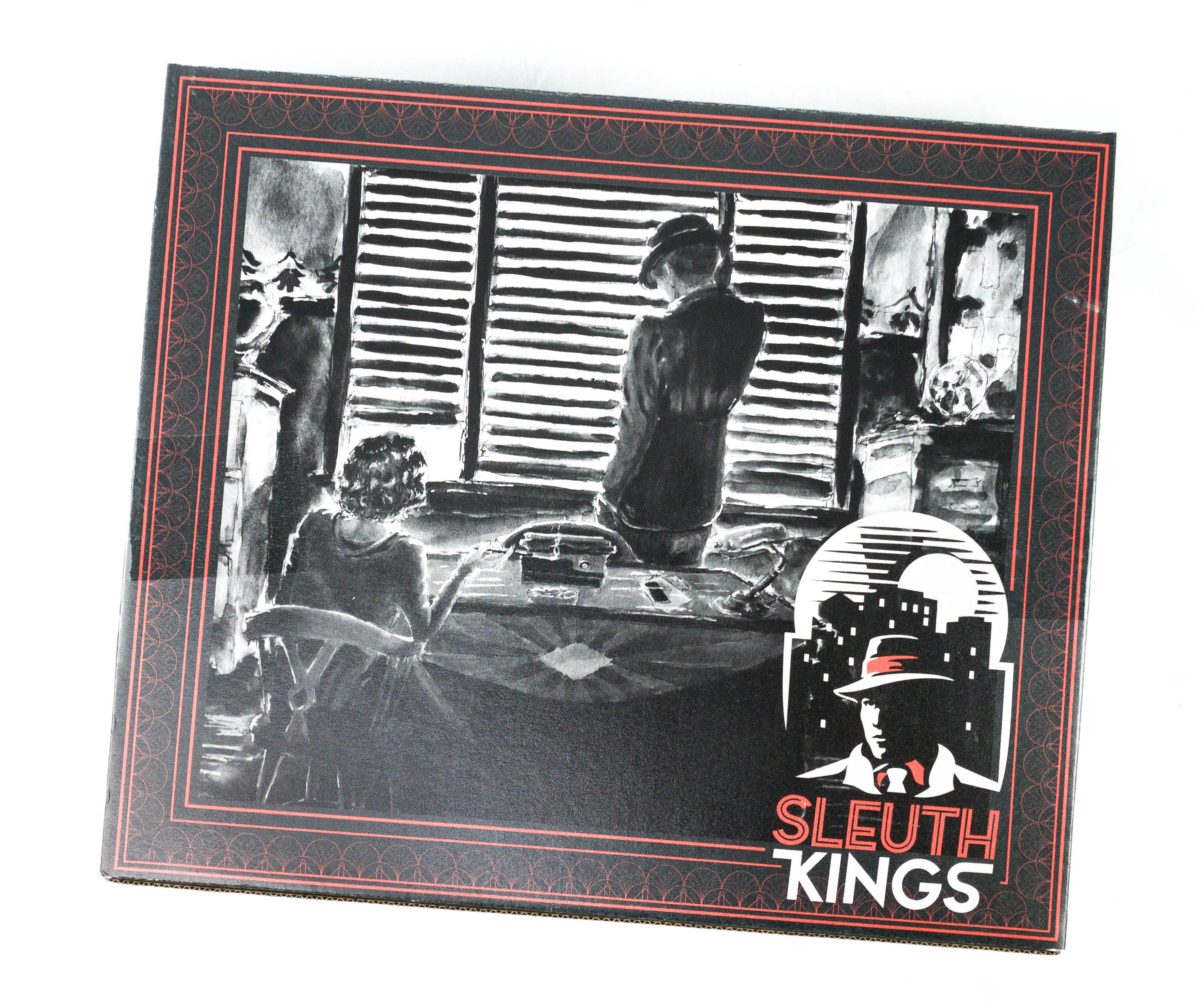 Sleuth Kings is an interactive monthly mystery box. Every month, a physical case file arrives full of evidence, puzzles, ciphers, and more. Plans start at $29.95 per month and they also have 3-month and 6-months prepay options. You will work hand-in-hand with Sullivan King, the lead detective, via email as you solve the case.
Each month's case is a new, stand-alone mystery that takes approximately 2-3 hours to complete. Each case includes an epilogue -a  follow-up letter from the client as well as a small gift. For every 4 cases you solve, you'll be rewarded with a FREE bonus case that revolves around the hunt for Sullivan's father.
DEALS:
Get $8 off first purchase Use coupon code HELLOSK .
Get 10% off of your order! Use coupon code HELLO10.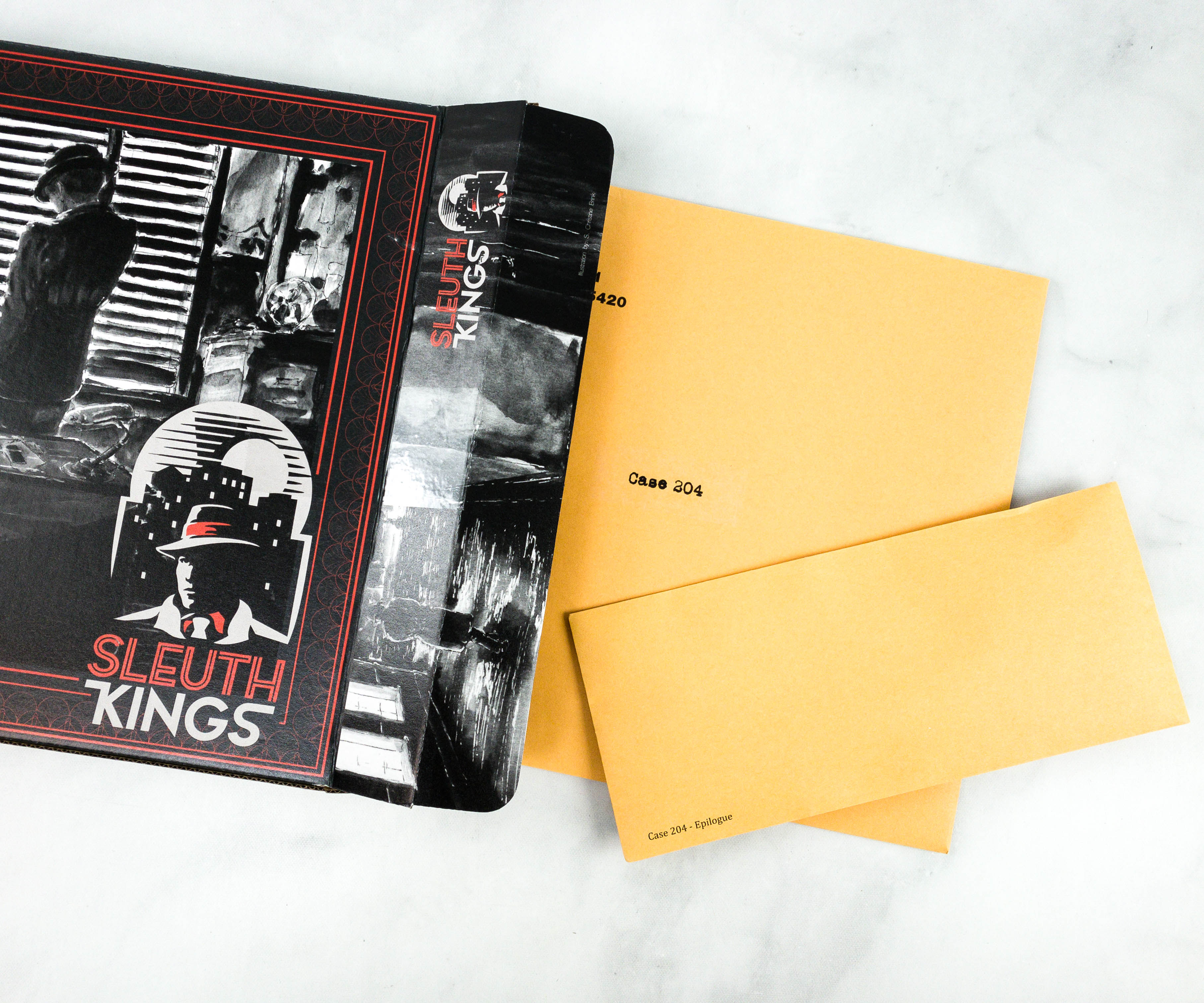 This is the review of Mystery Box Case 204 MONSTER MADNESS.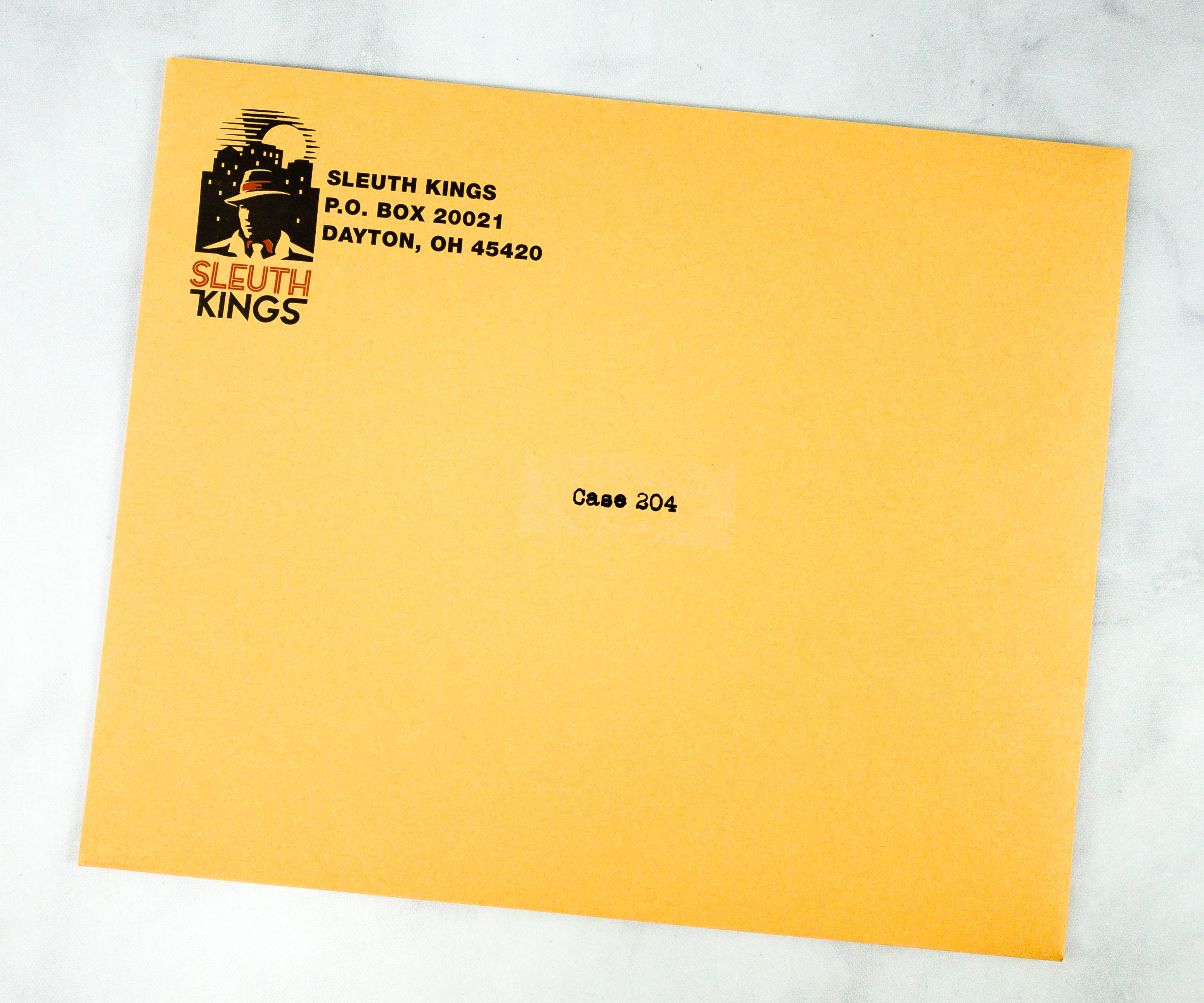 The mystery comes in an envelope. The only things written on it are the Sleuth Kings P.O. box address and the case that you will be working on.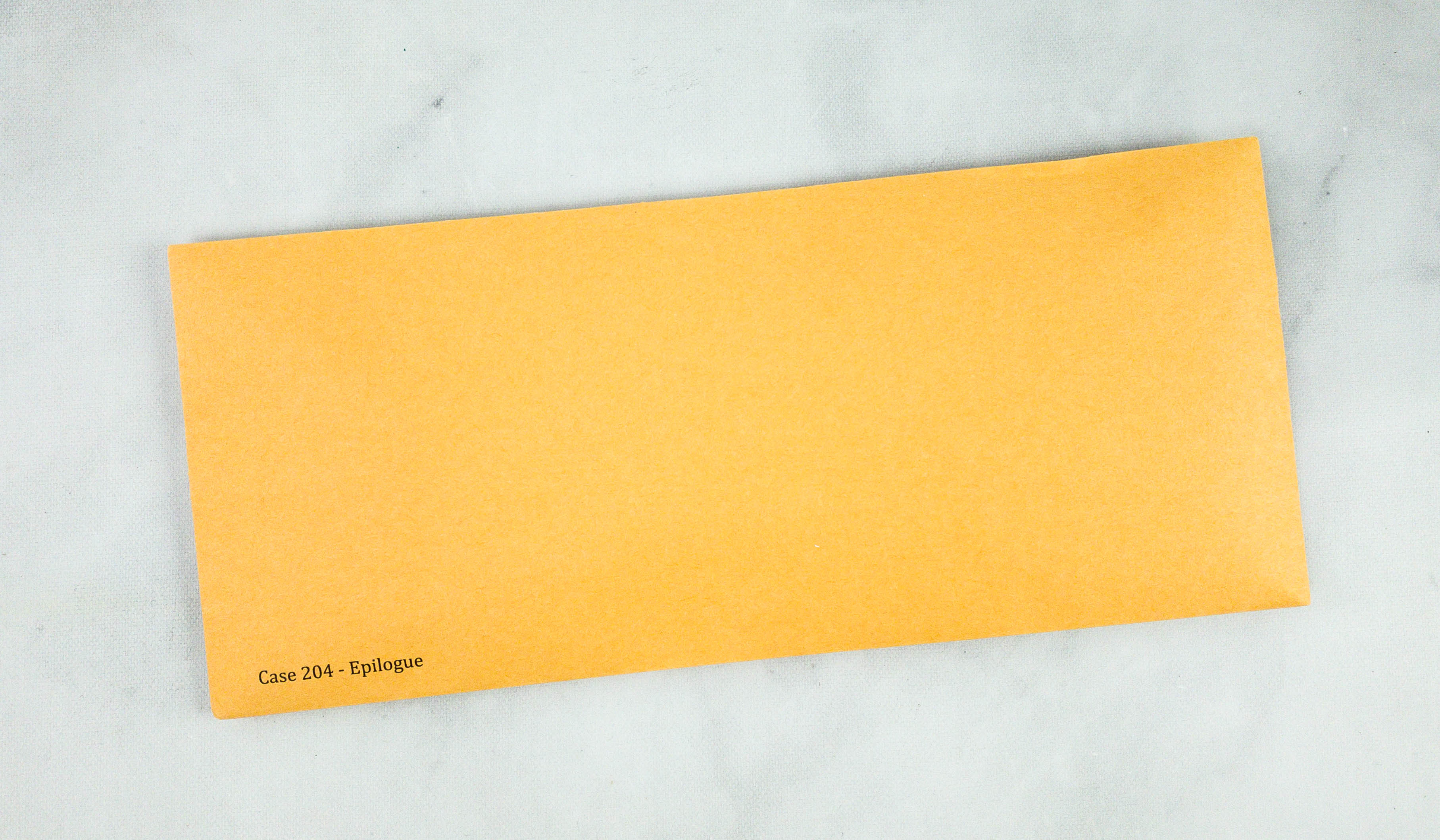 The epilogue is included and separated in another envelope.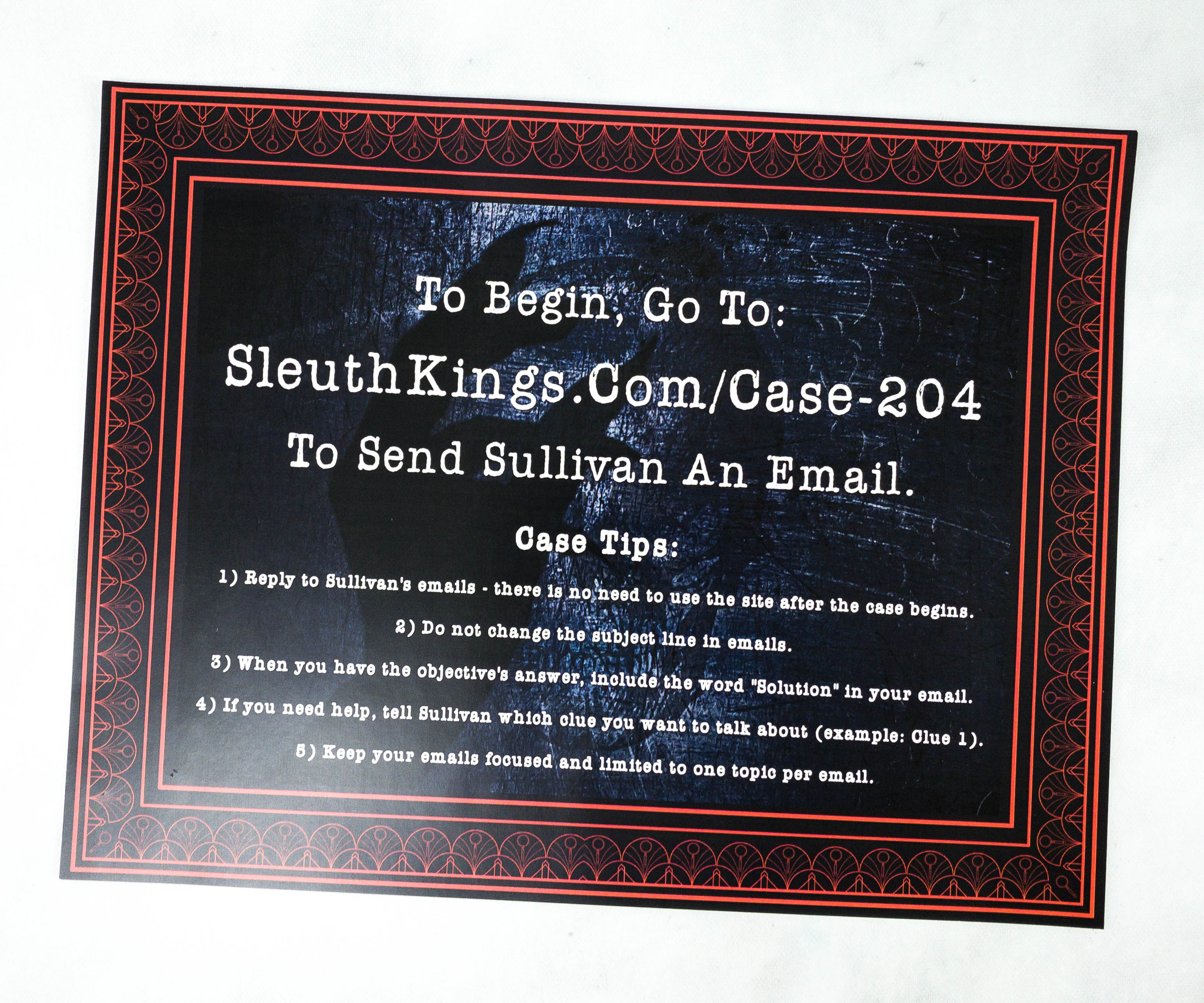 To begin with your adventure, you need to login to their website and send Sullivan an email.
The files are neatly arranged in a white folder, with Sleuth Kings branding in front. All the files are organized inside the folder and they are even separated by paper clips.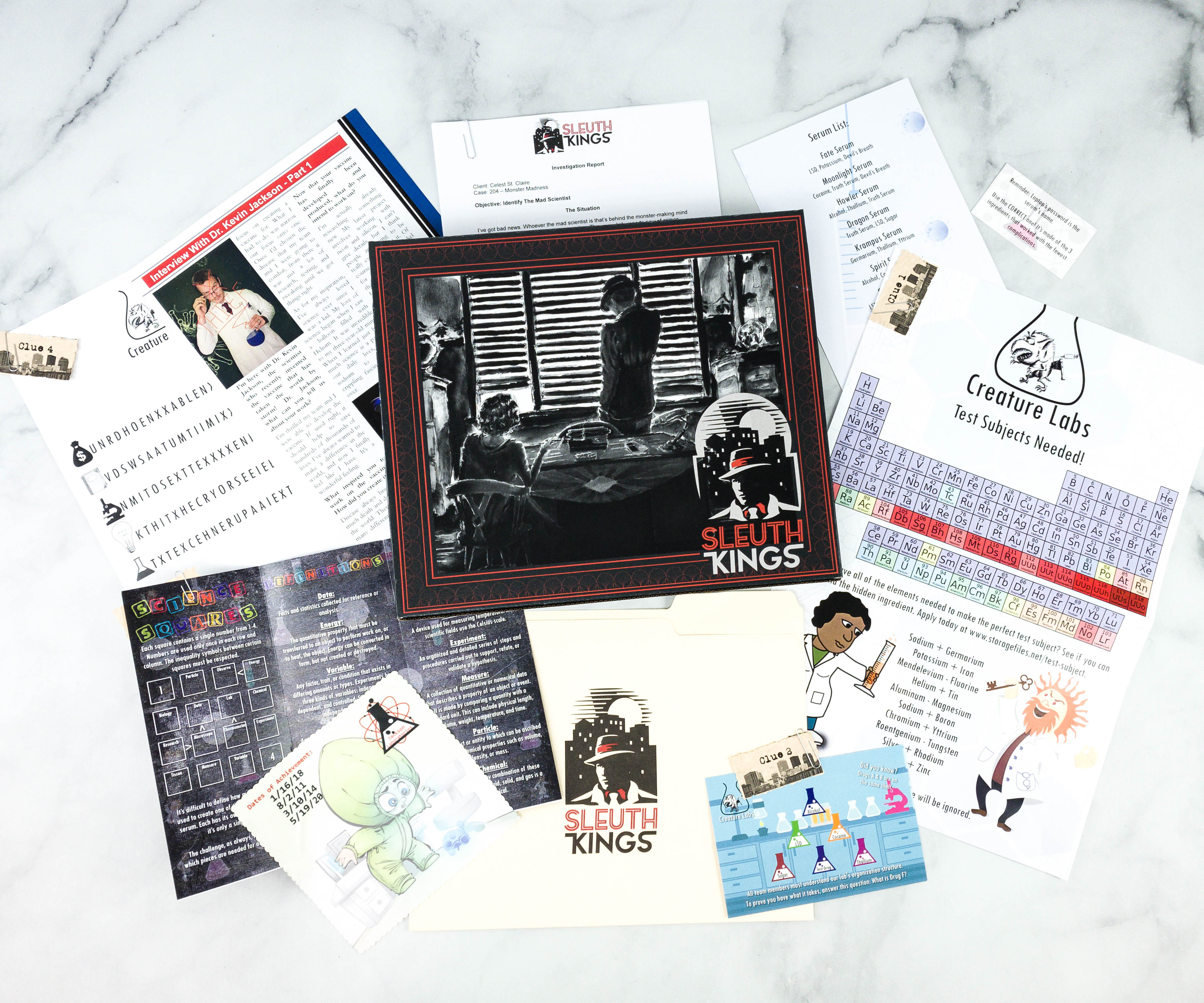 Everything in my box!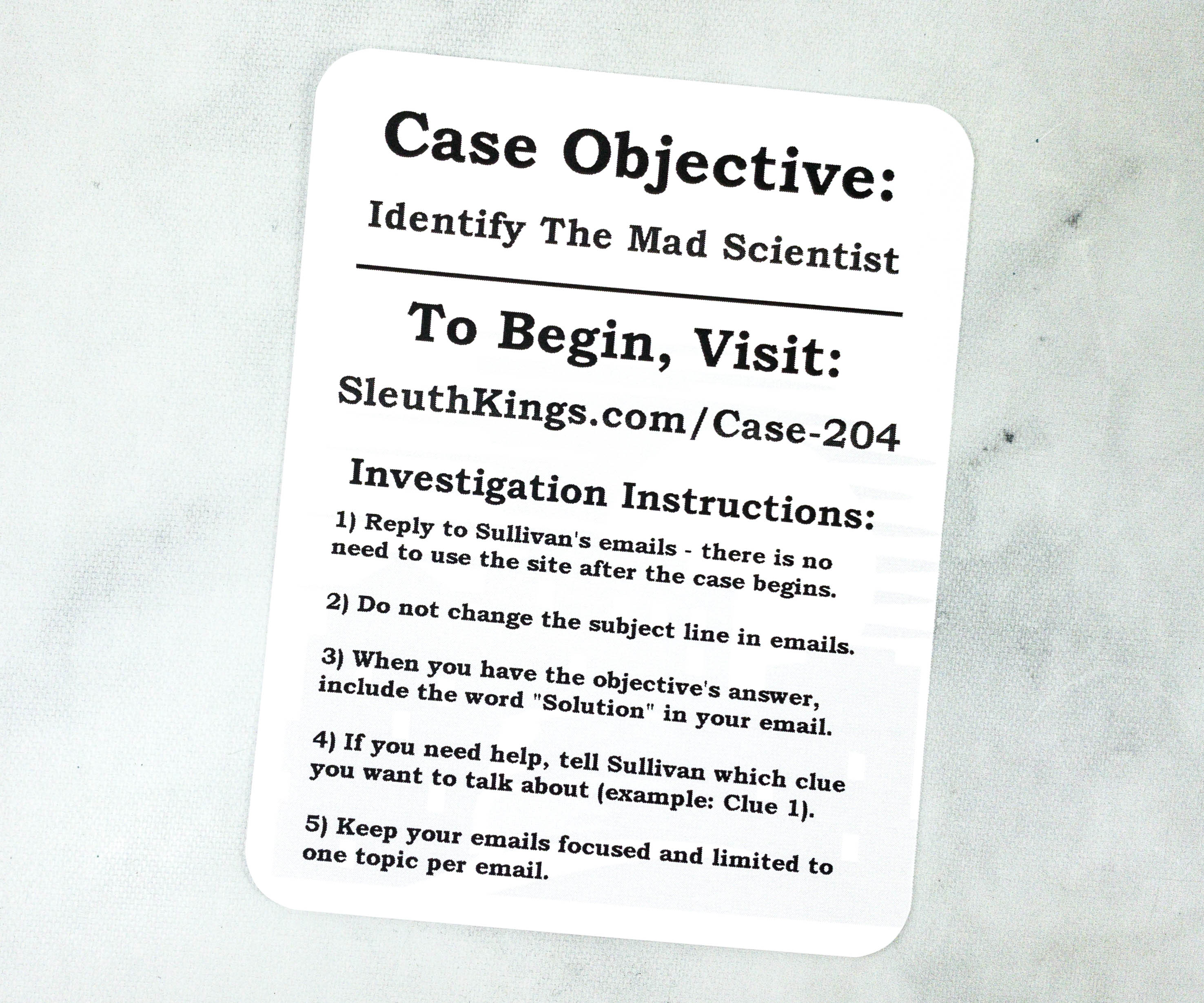 The case objective is written on a card. We have to Identify the Mad Scientist!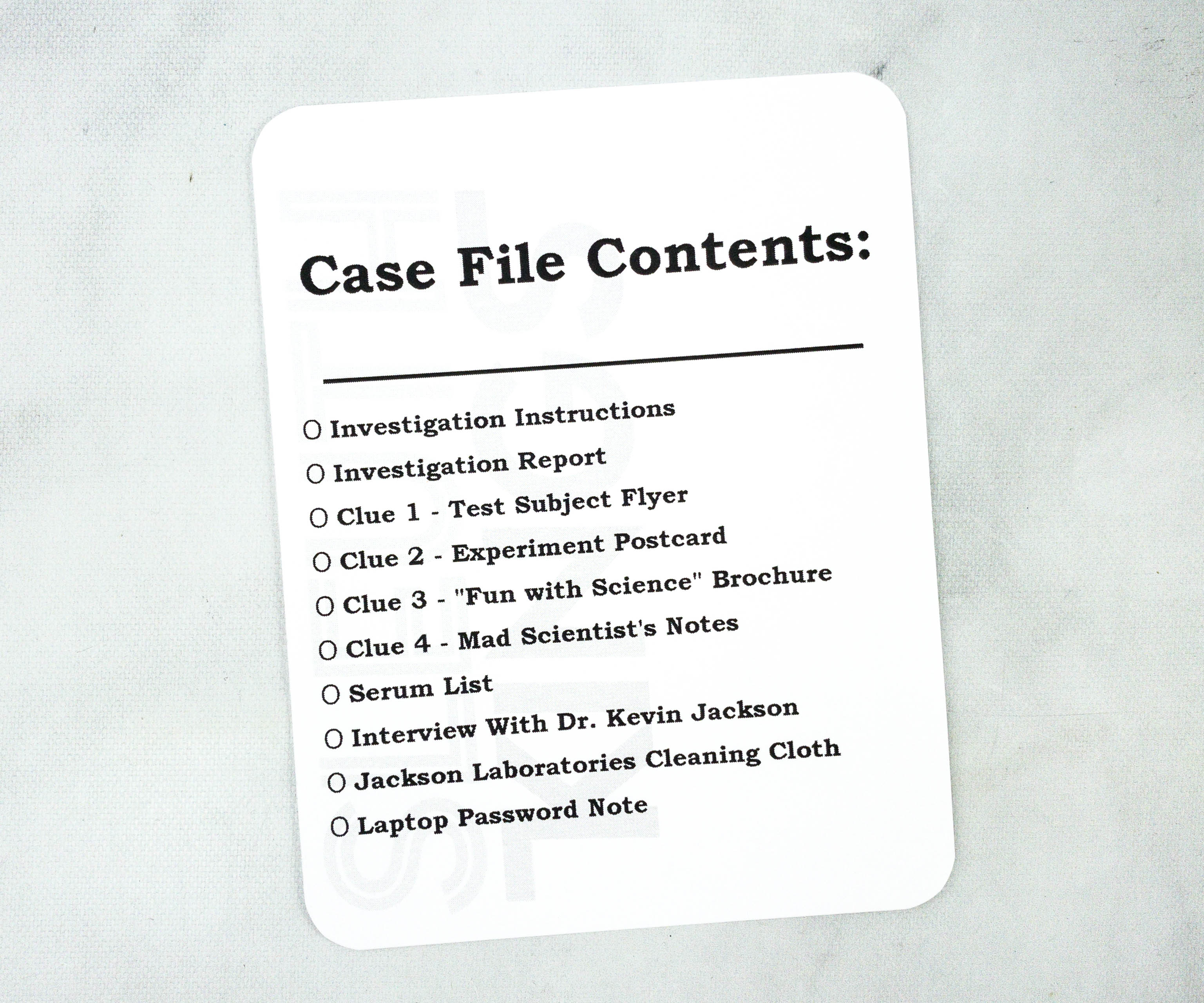 It also lists the contents of the case file: investigation instructions, investigation reports, clues, map, and more.
Here's the snuck-out letter from Celest St. Claire. We can use her help in solving this case by taking a look at the information on her website.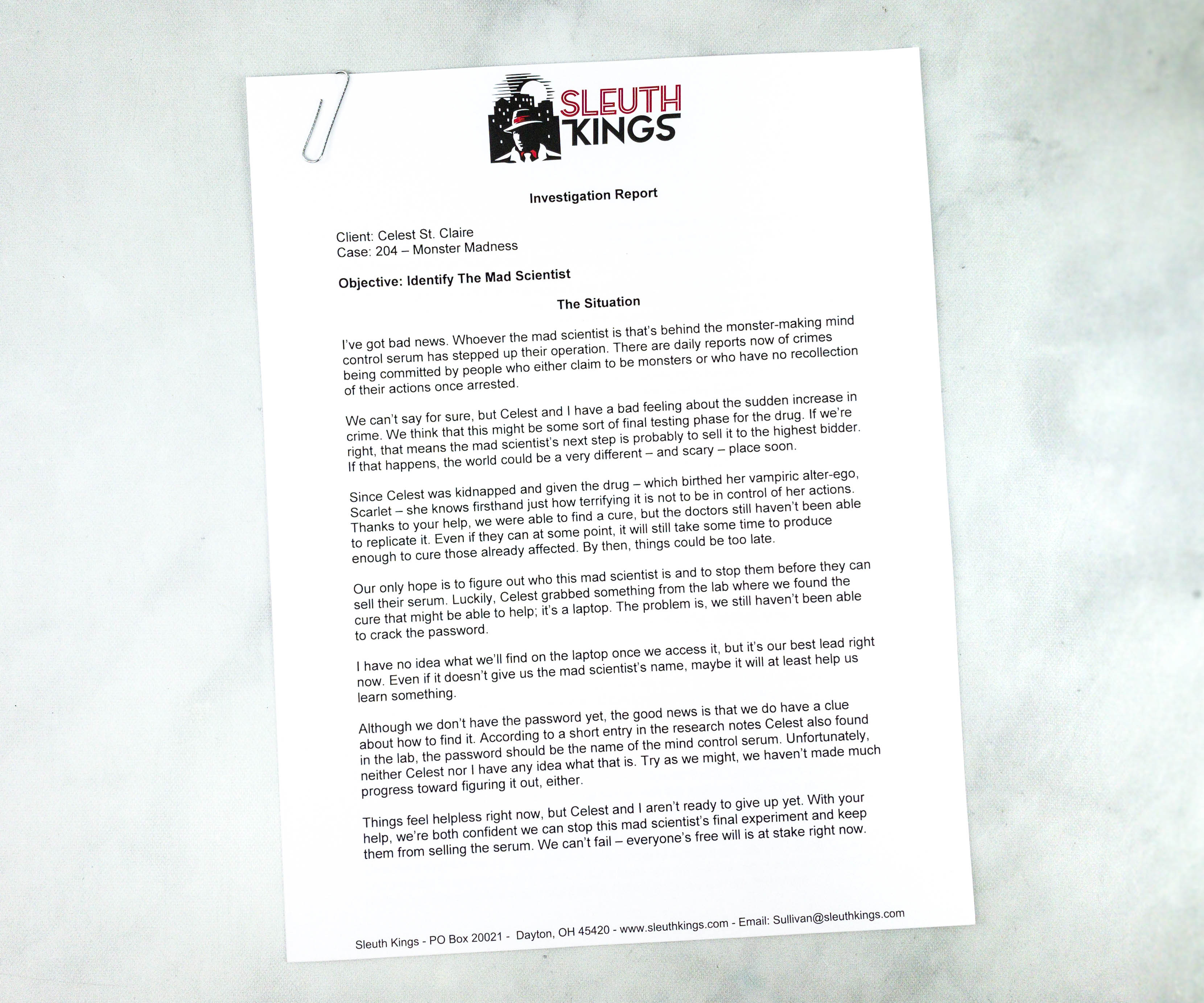 The investigation instruction sheet names the client, the case you will be working on, and the whole situation. Our client for this case is Celest St. Claire.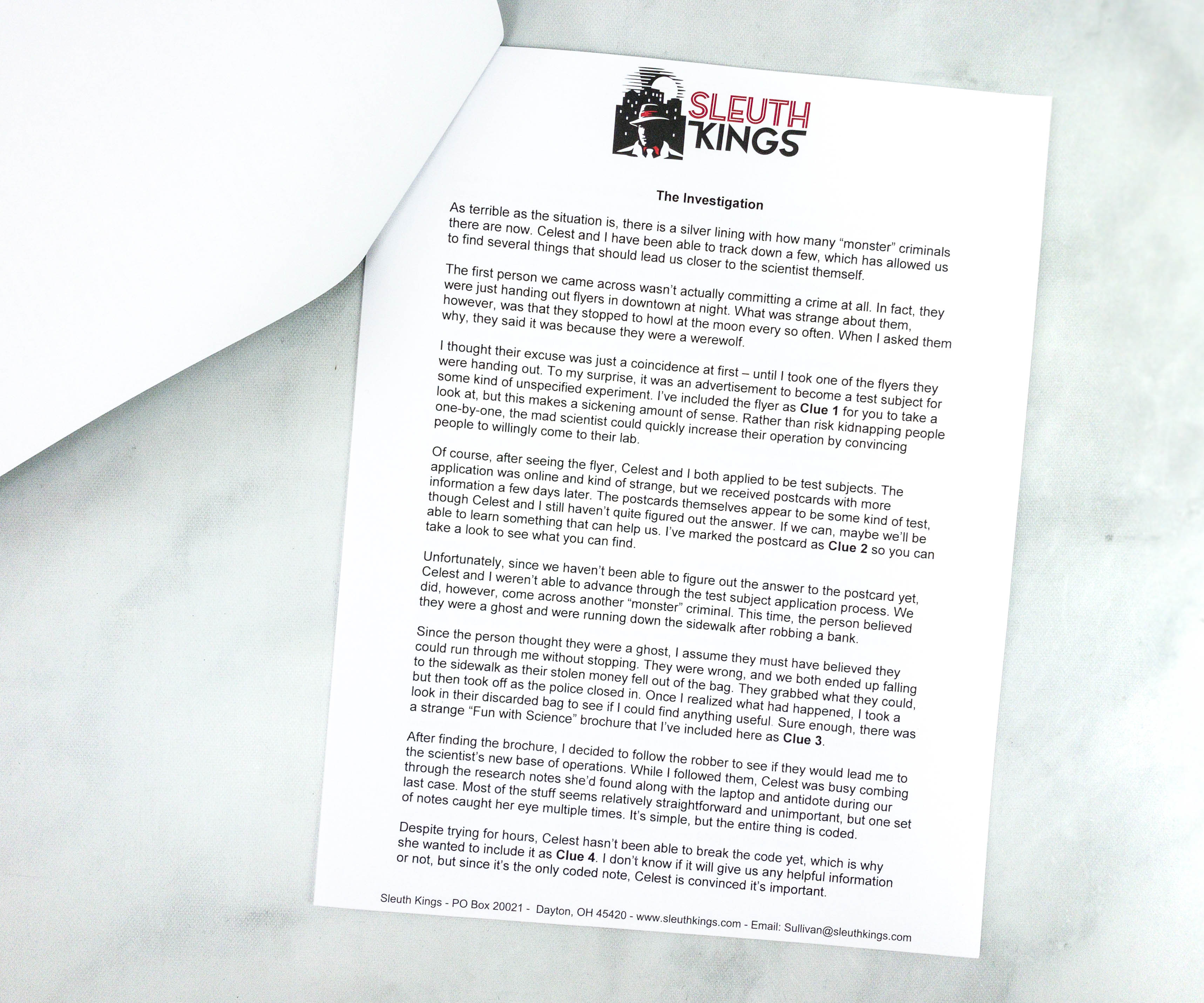 These sheets provide a bunch of information that will help you understand the case.
In this case, we need to find out the identity of the mad scientist and stop people from being robbed of their free will by this person's drug.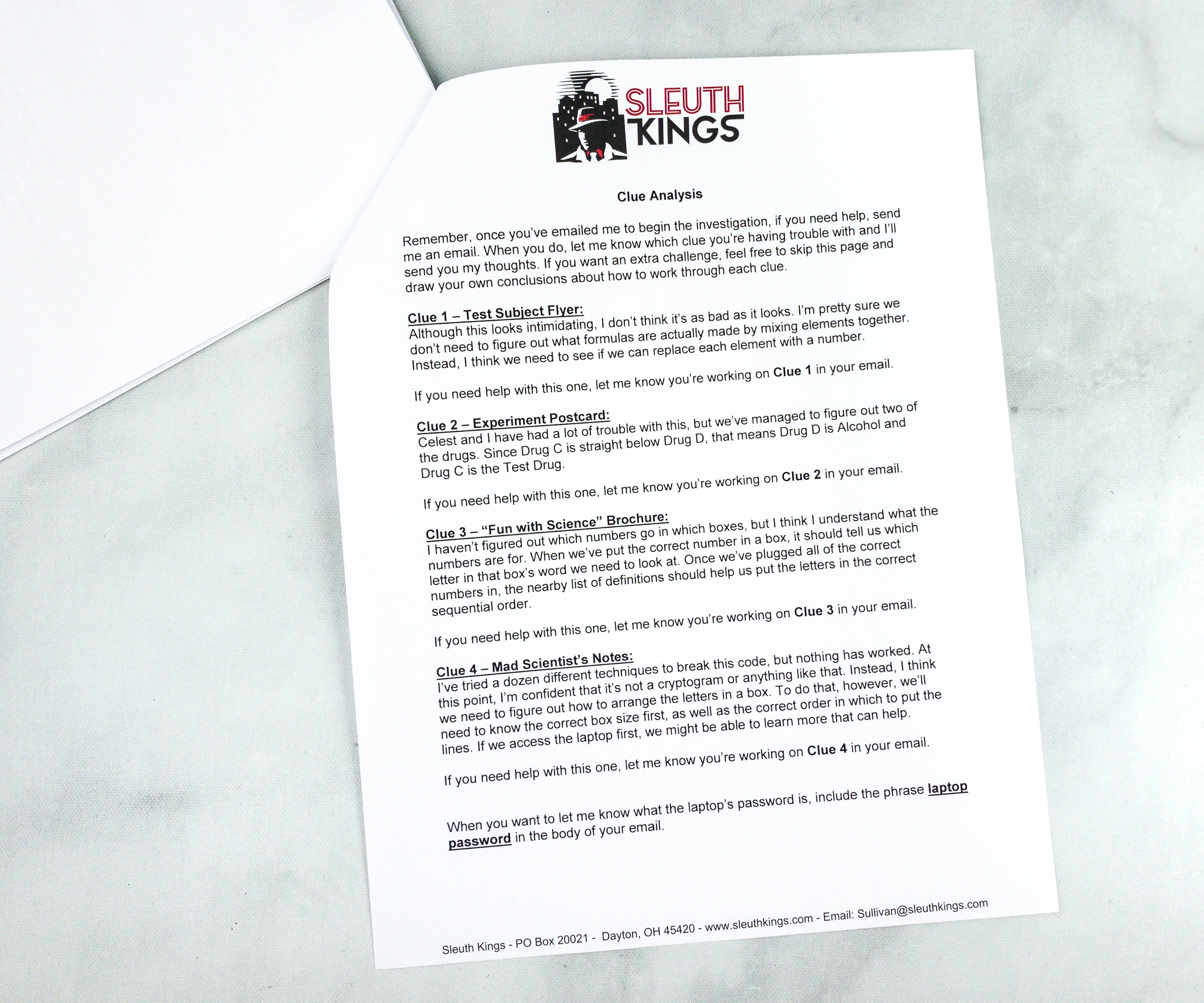 This clue analysis section helps us to further understand all the given hints and evidences to solve the case.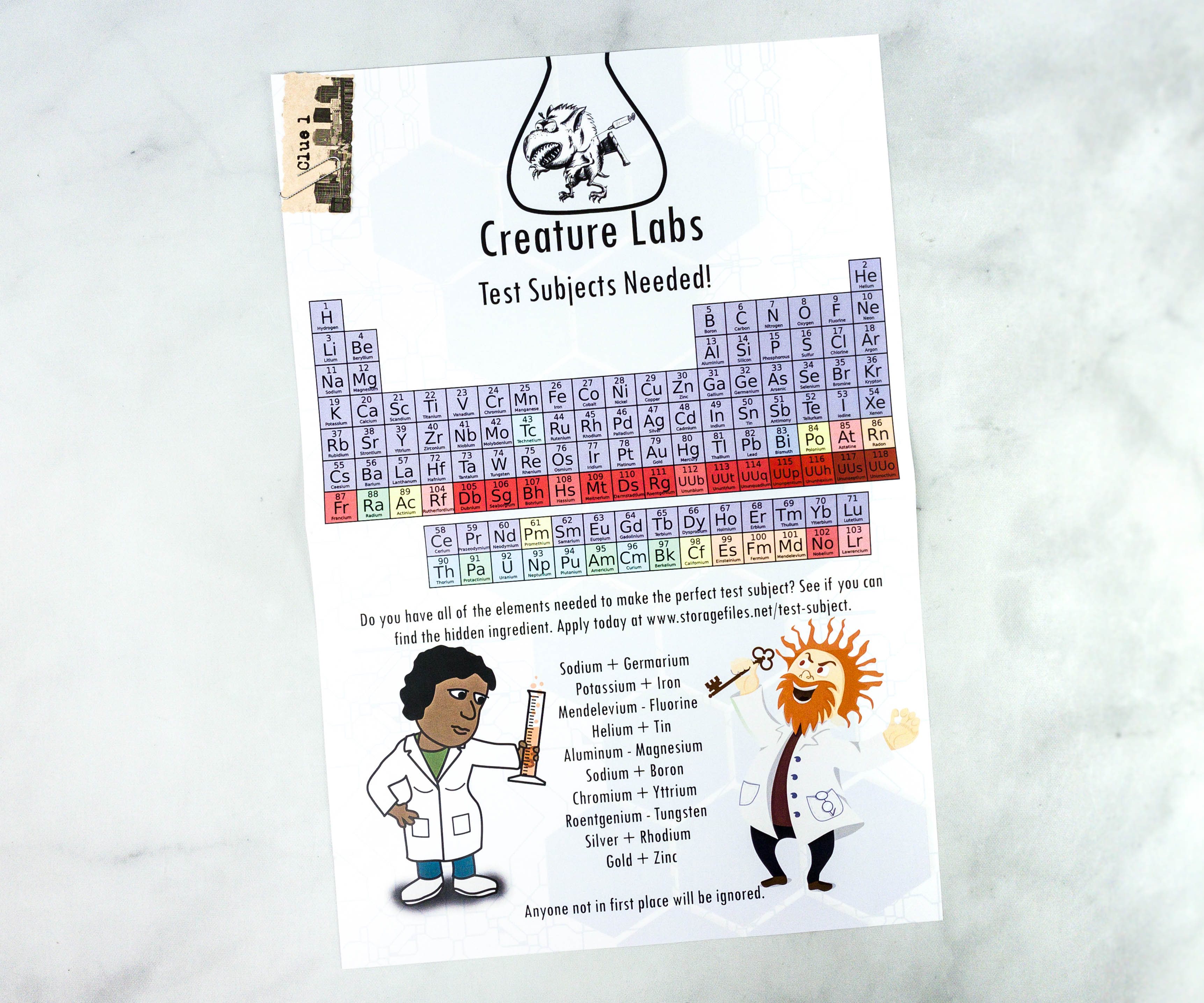 The first clue is this test subject flyer. It has the periodic table of elements, plus a list of elements needed to make the perfect test subject. I believe it contains a hidden message as well!
The next clue is an experiment postcard. It has a list of drugs and substances and at the bottom is a question, "what is Drug F?"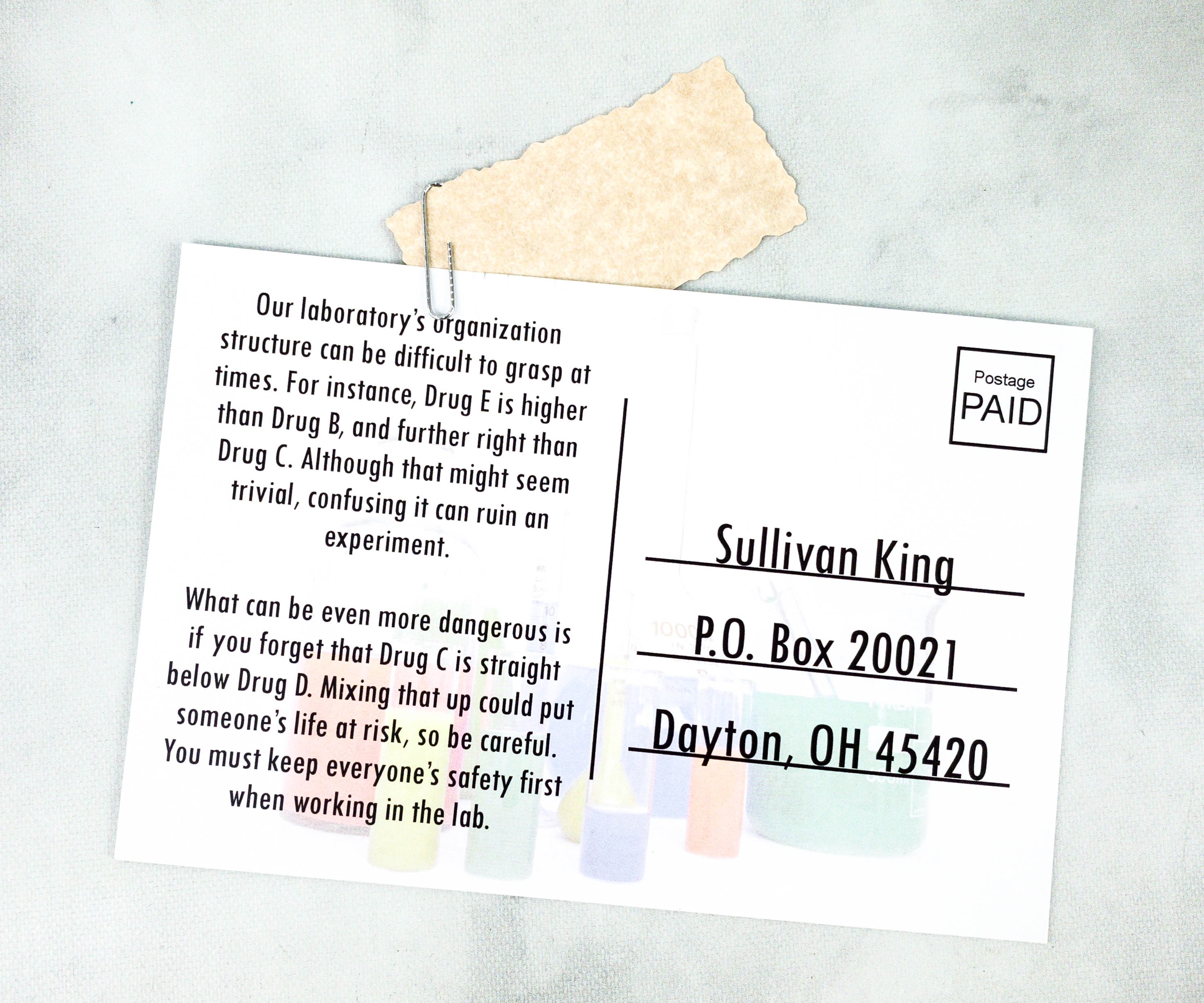 There are more clues at the back of the postcard. It also has Sullivan King's address on it.
This "Fun with Science" brochure is the third clue for this case.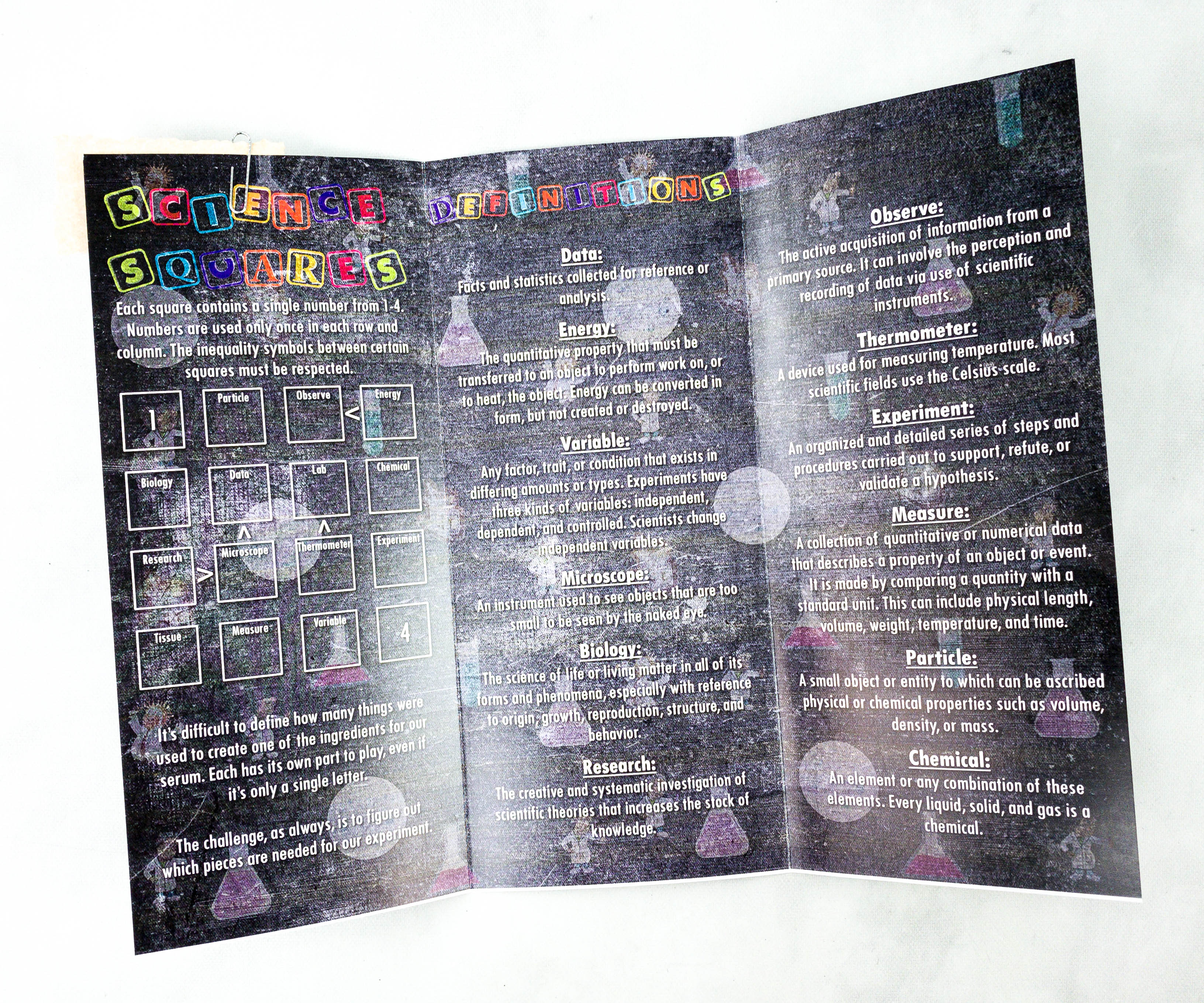 Upon opening the brochure, you'll see boxes with words and numbers. The other pages lists descriptions for every word inside the box. I need to arrange the squares to obtain my next clue!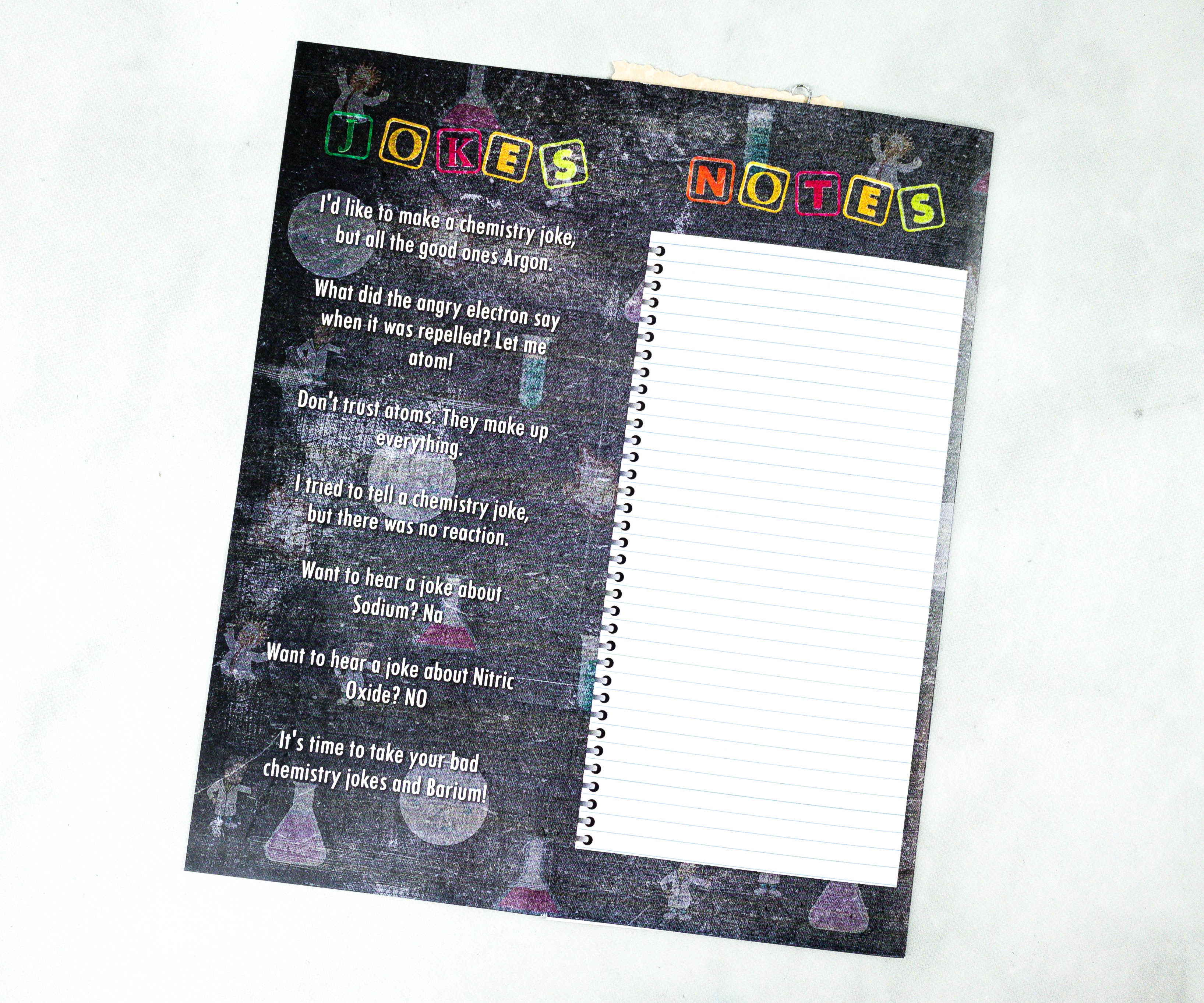 It even has a jokes notes portion on it.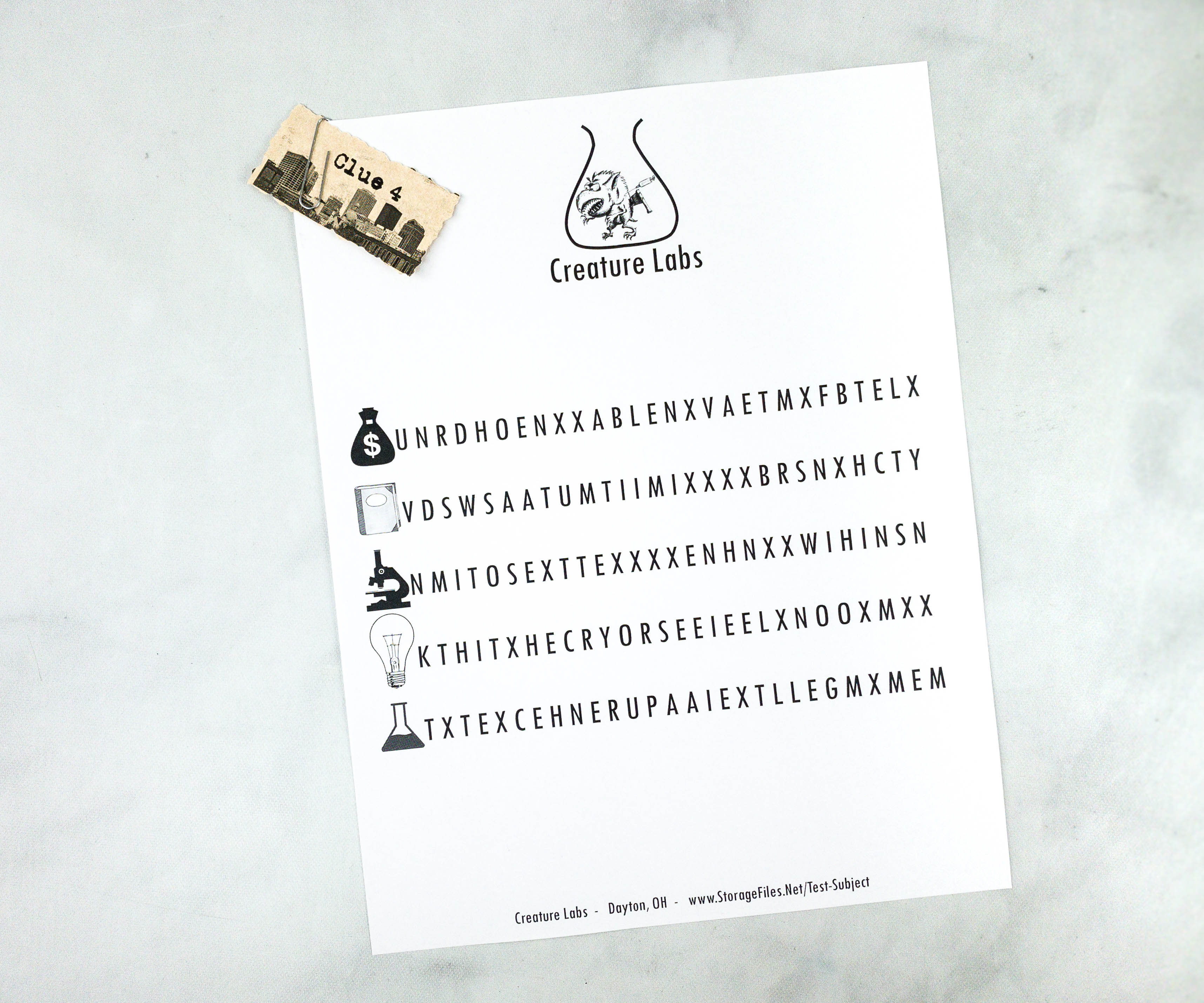 My fourth clue is this note from the mad scientist. It contains some random letters which I need to make sense of.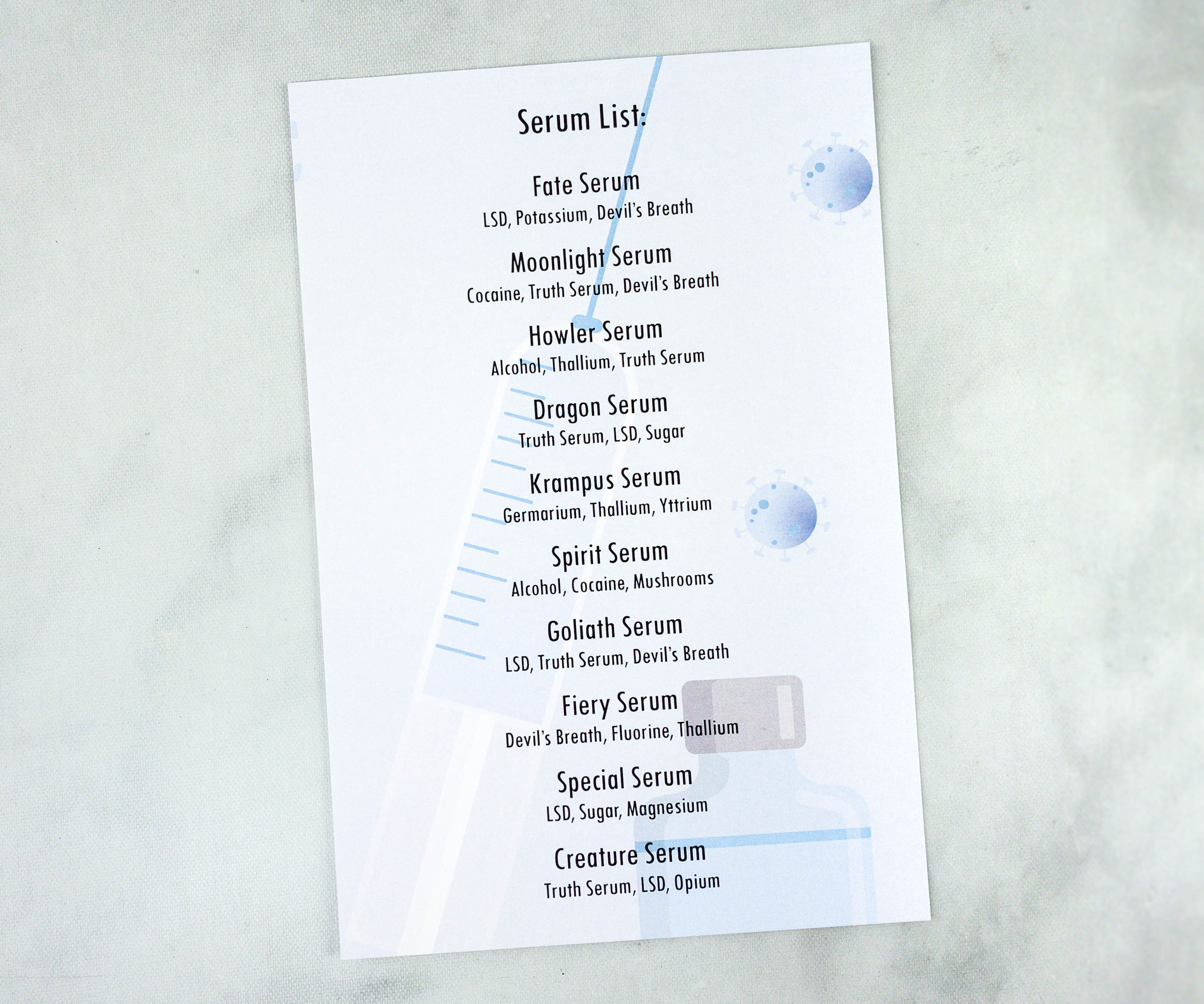 I also received this serum list together with their list of ingredients.
This is the magazine I found after the ghostly robber left. It's an interview with Dr. Kevin Jackson. His picture had an X mark and the word "thief" on it.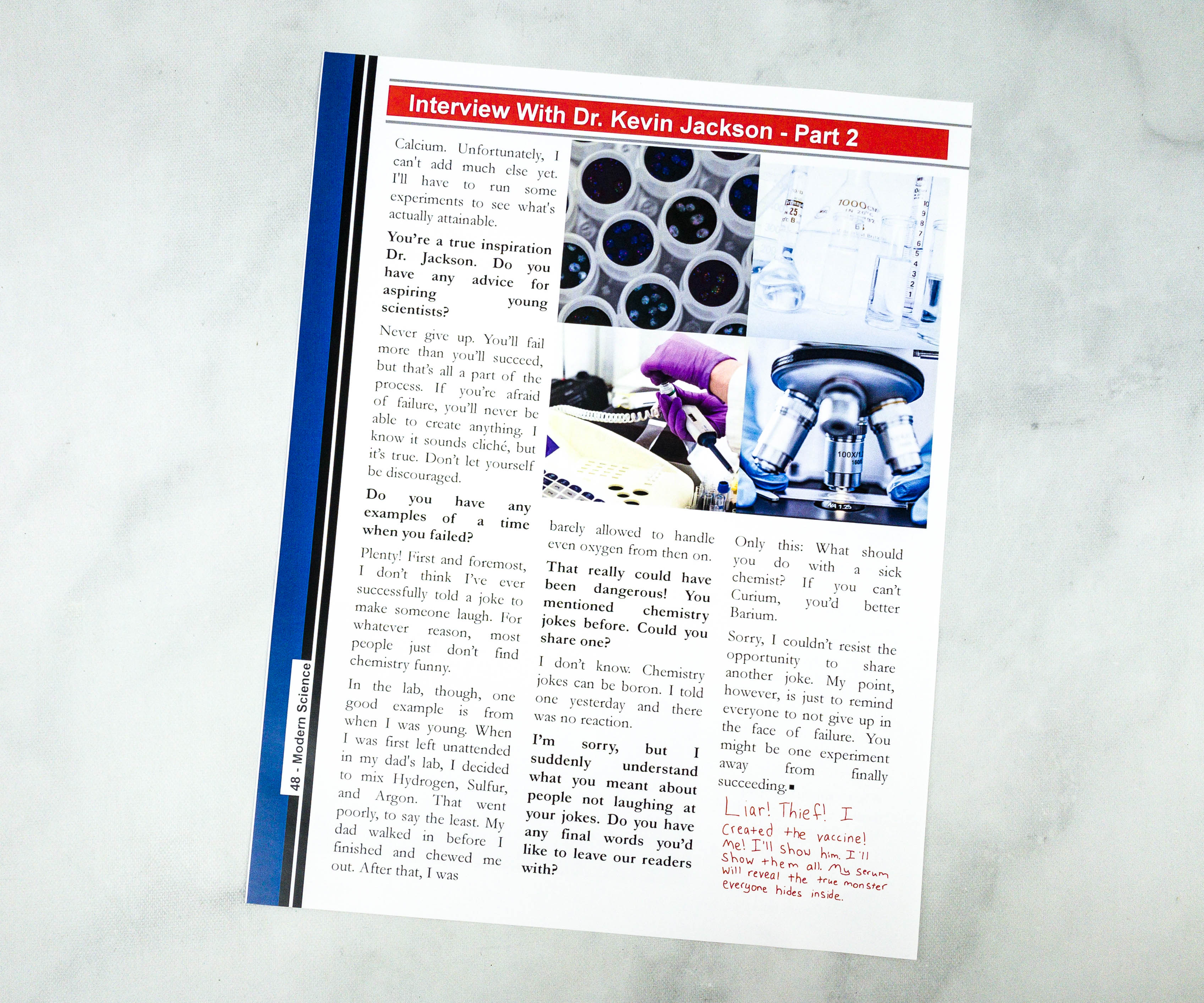 After the article, I noticed another set of words. I believe the one who wrote this is the same person who marked his photo on the previous page.
"Liar! Thief! I created the vaccine! Me! I'll show him. I'll show them all. My serum will reveal the true monster everyone hides inside."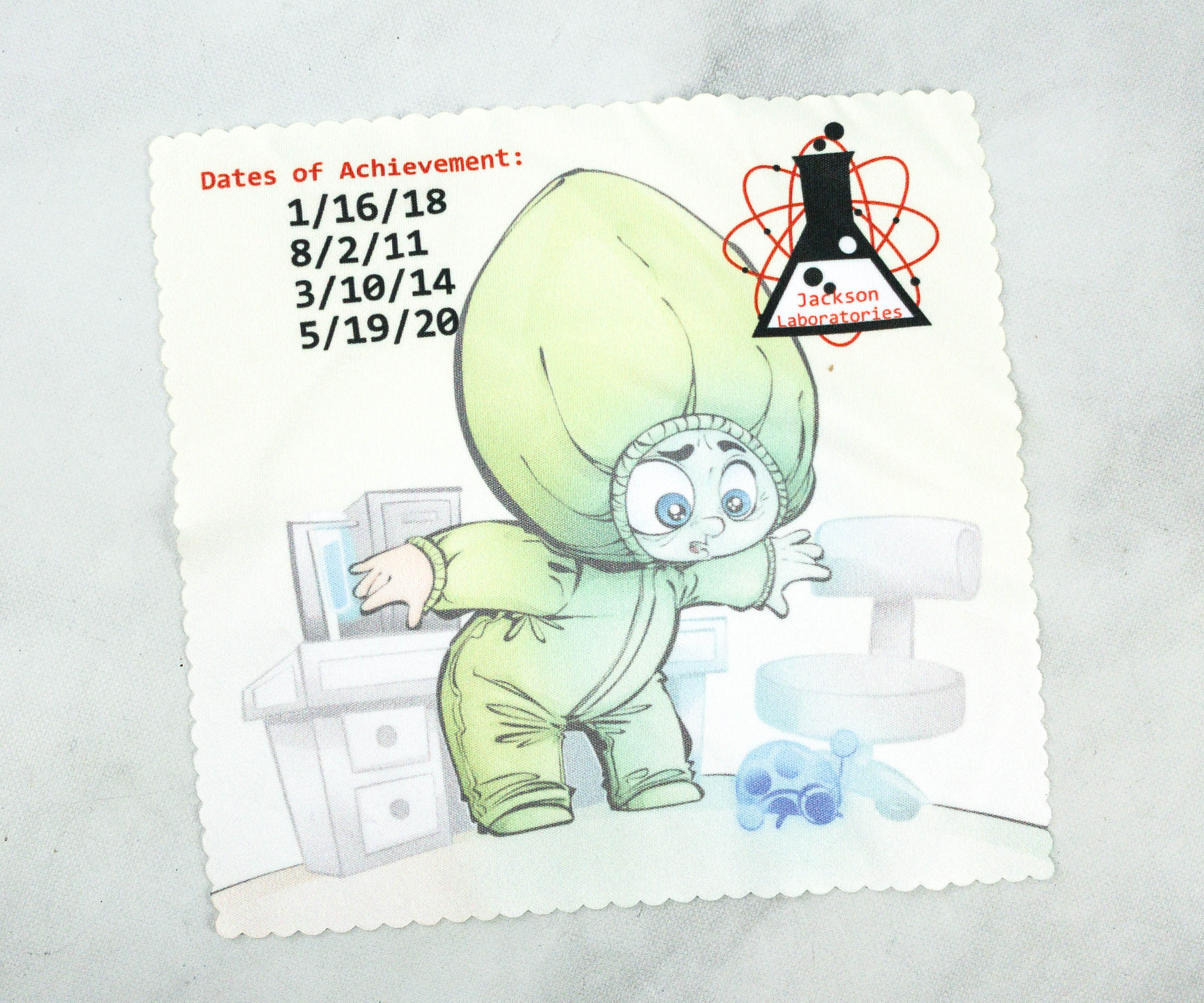 Among the items, I was able to retrieve is this piece of cloth. I hope that this may be useful in solving this case.
This card has a quick reminder of the laptop's password.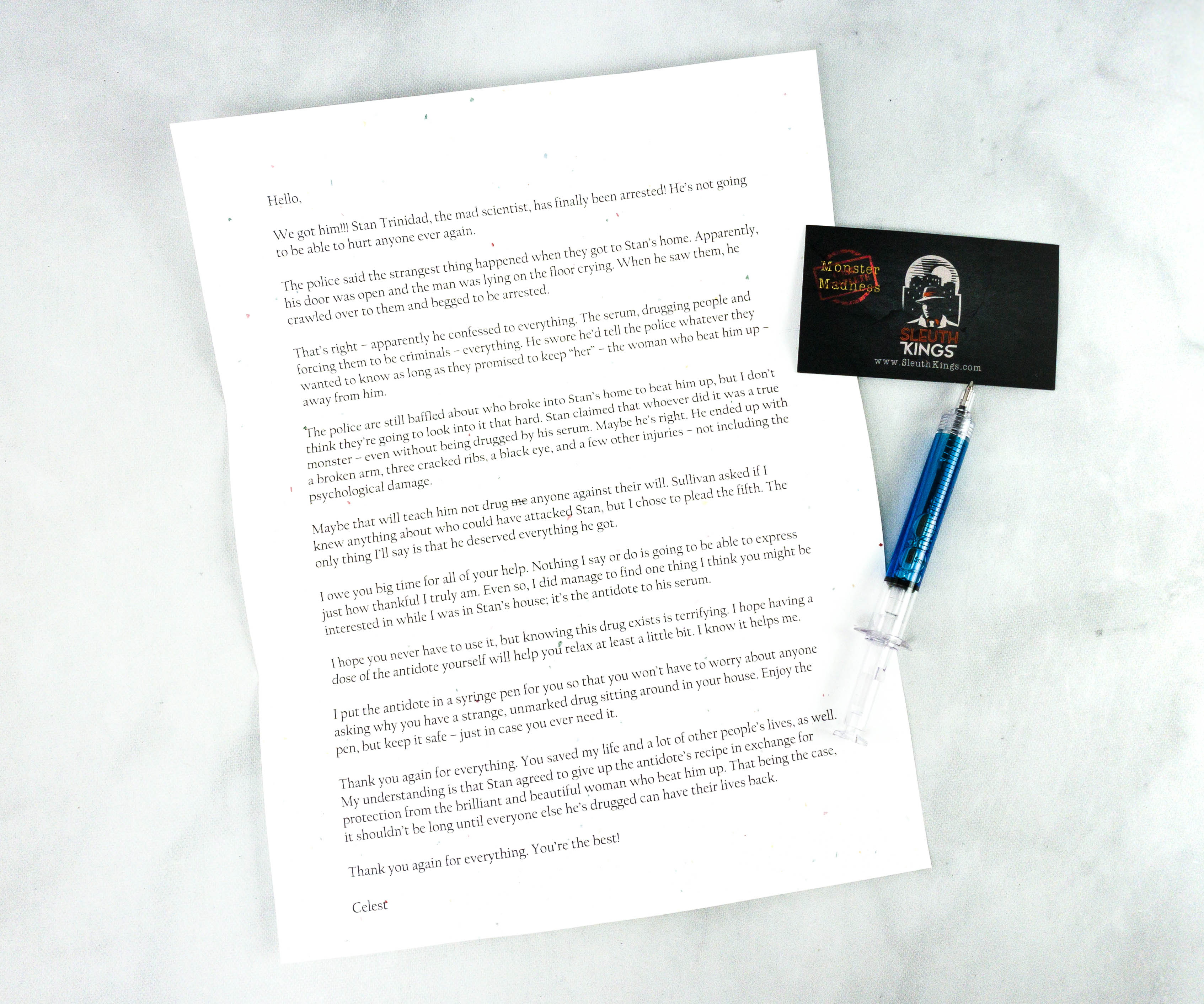 After solving the case, we can finally open the Epilogue envelope. Inside is a thank you letter I got from Celest. The mad scientist has been arrested and we were able to put an end on all of his wrongdoings.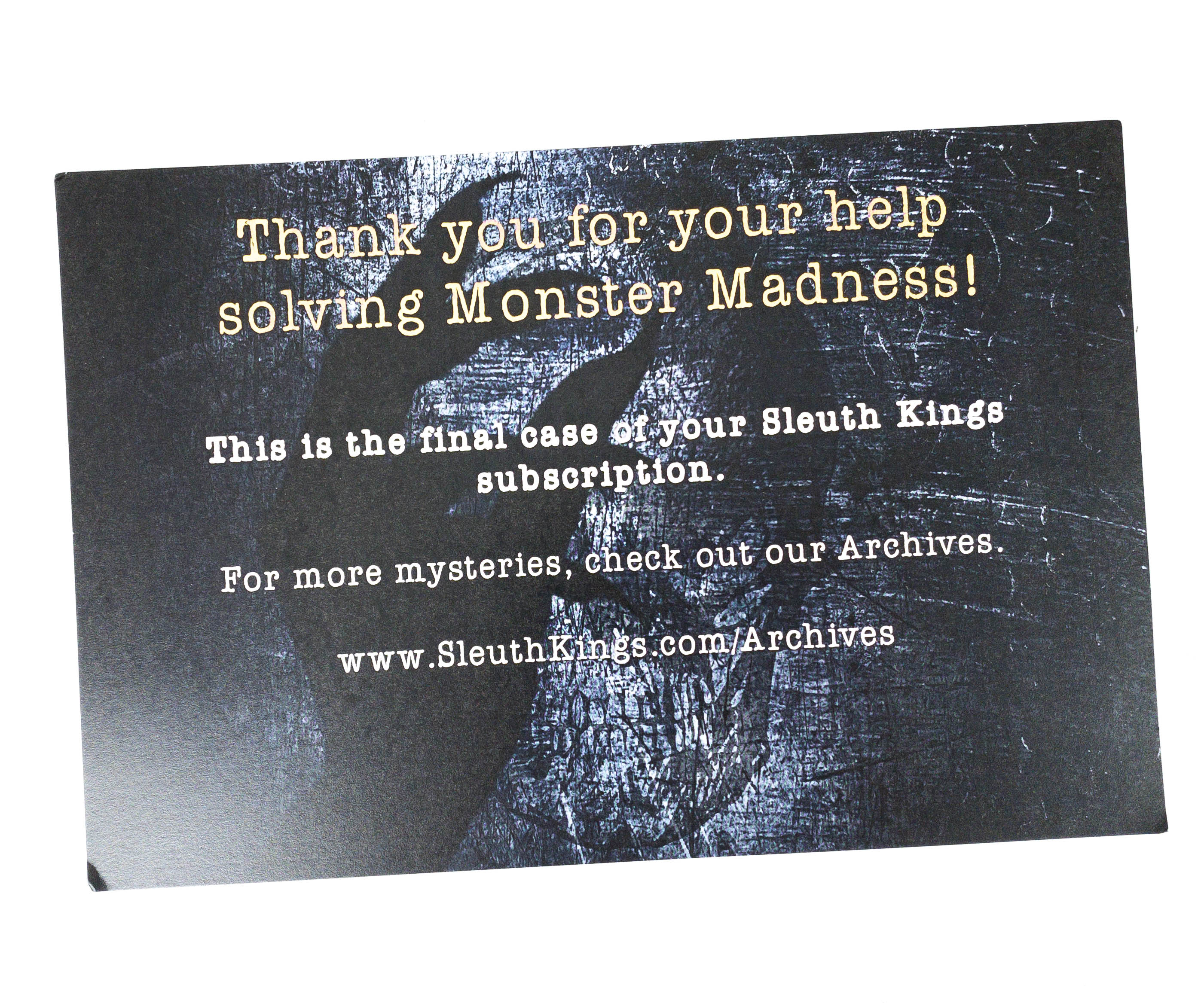 This month's case is the last for our Sleuth Kings subscription. It was a good run and I had so much fun solving them all! Their website is also available to view previous mysteries.
I really enjoyed my last case for Sleuth Kings! I was able to help Celestine find out about the mad scientist and discover the laptop's password so the mad scientist can be placed behind bars. I had a hard time decrypting the clues but it was all worth it! I just love the thrill of every case from this subscription, and they're a good brain exercise as well. All in all, this is a great subscription for people who love spending their time in solving mysteries!
What do you think of the Sleuth Kings box?